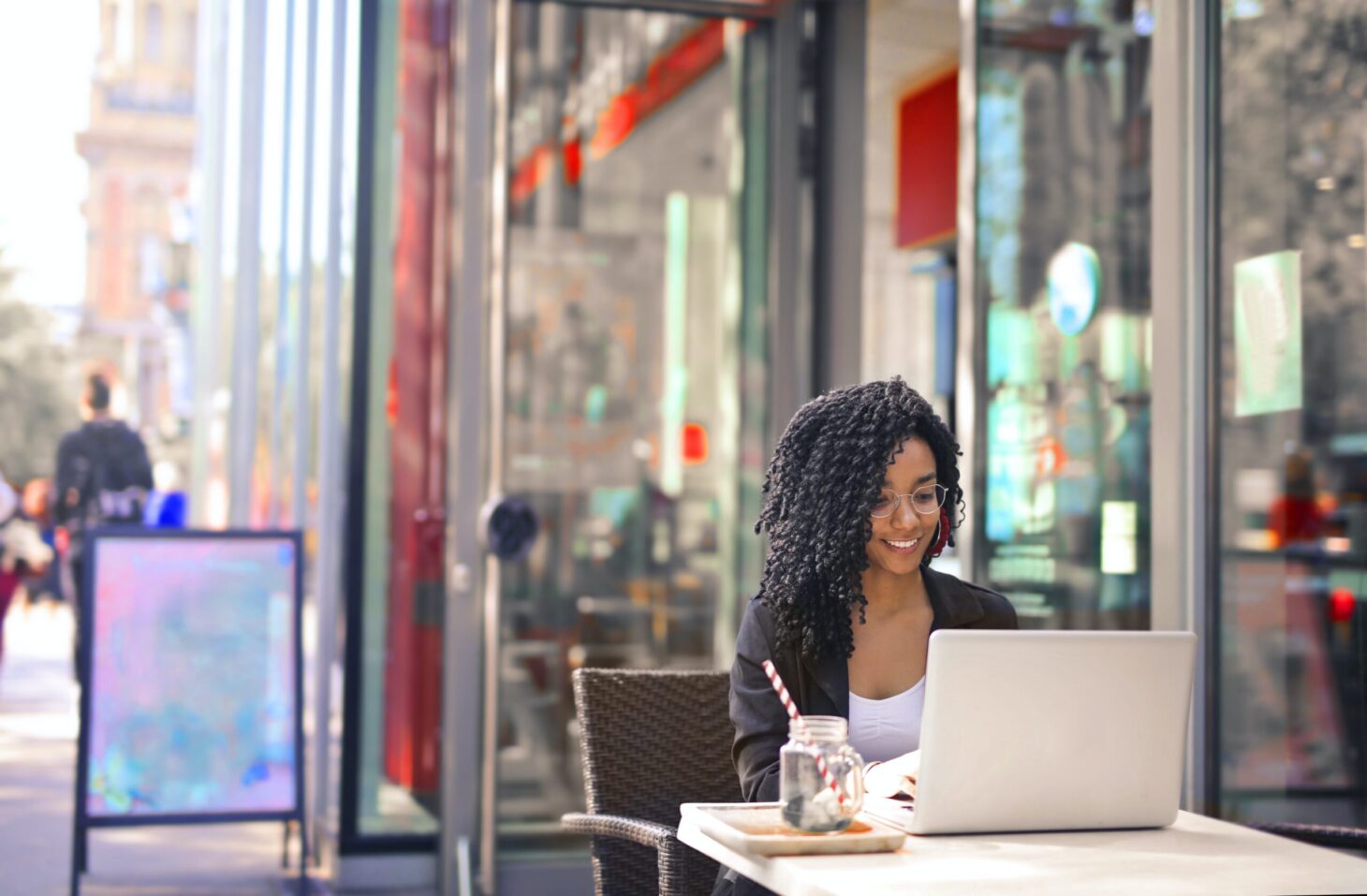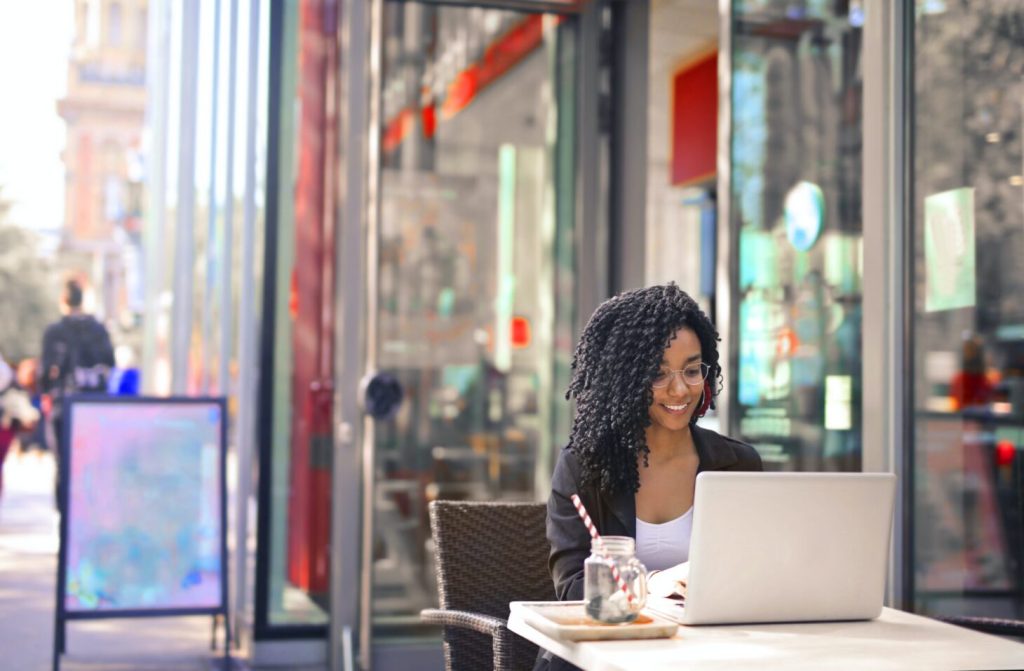 Nearly every person on the planet has dreams of exploring far off destinations, but did you know that your journey doesn't have to be limited to the few weeks you get off from work or the gap year between school? If you have ever fantasized about dropping everything and living out of your backpack, the life of a digital nomad may be the answer that you've been looking for. 
Digital Nomad Definition
But what is a digital nomad exactly? Rather than a job title or a career, being a digital nomad is a lifestyle. Many of you have seen the images of intrepid travelers looking out pensively into the distance over Ha Long Bay in Vietnam or drinking tea on Persian rugs in front of Petra in Jordan, but there's so much more to this life than the Instagrammable pictures you scroll through online. 
Those who travel the world continuously have to work hard at what they do. The riverboats down the Amazon and hikes to the summit of Kilimanjaro are just a small part of what goes into being a digital nomad. At the backpacker's hostel, these travelers have to get to work editing, writing, or slogging away online to fund their travels on the road.
Are you tired of the stagnant, mundane 9-5 lifestyle you've been living? We don't blame you! But never fear; you can continue your career or make travel your full-time job as a digital nomad. There's a whole world waiting for you outside of your cramped cubicle or crowded classroom. Whether you consider yourself to be a professional or someone with little work experience, you can still support yourself and embark on an adventure unlike any other as a digital nomad!

How to Become a Digital Nomad?
It won't take much to inspire you to become a digital nomad. Just open Instagram and start scrolling through the thousands upon thousands of pics of influencers posing on exotic sandy beaches and standing proudly on top of misty mountain peaks. Nomadic traveling is not a scam or some far off fantasy that only a select few can achieve. In this modern world, with more and more ways to promote yourself and make money online, literally anyone can become a digital nomad. But other than what you see online, what is a nomadic lifestyle like?
The obvious positive of becoming a digital nomad is the fact that you get to travel the world. Not only will you be checking off countries and experiencing unique cultures, but you'll also be able to take your time and feel truly at home in whatever city you are calling home. With no end date to your journey, you can really get to know a culture and country, rather than having to quickly get from point A to point B to cross off all the highlights on your itinerary. Digital nomads immerse themselves in whatever country they are in, and have the freedom to stay as long as they desire.
Find a Digital Nomad Community
It may sound lonely at first, traveling the world endlessly as a solo backpacker. But you'll quickly come to realize that you're not traveling down this road alone. Around the globe, you'll find many other travelers and digital nomads with the same lifestyle as you. Either online, in hostels, or in co-working spaces, you'll come across many other backpackers who are traveling continuously and have plenty of novel ideas on how to make a living as a digital nomad. This tight-knit digital nomad community supports each other in different ways, whether by sharing how to make money while on the road or by pushing the limits on new remote regions of the world to explore.
Digital Nomad Lifestyle
The life of a digital nomad isn't all late nights at the club in Barcelona and trekking up the mountains in Nepal. There are downsides to living off of the road that you will have to consider before you dedicate yourself to the laptop lifestyle. The first thing to note is that the distractions are enormously attractive. While in the Patagonia Mountains, will you really want to spend most of your time staring at a laptop writing mindless articles or being on call as a customer service agent? Of course not. With festivals to party at, mountains to climb, and beaches to nap on, you may find the digital nomad jobs fleeting.
Challenges of the Digital Nomad Lifestyle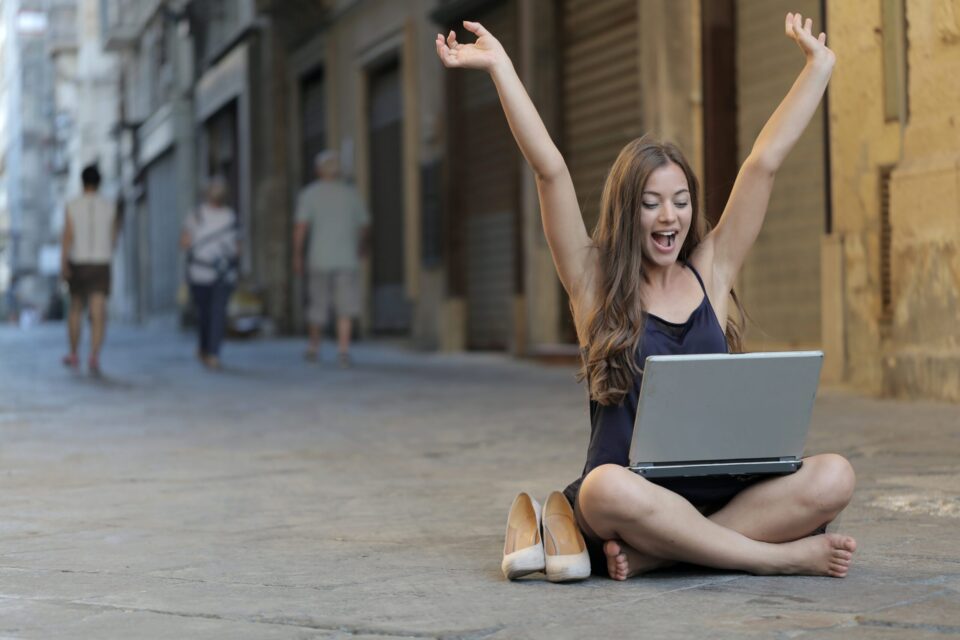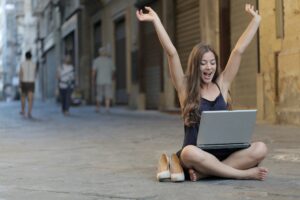 Another obvious drawback of living out of your backpack is the inability to get your work done. No matter how much self-discipline you may have to maintain a career while traveling, if you don't have electricity or a steady internet connection, you might as well kiss your job goodbye. Of course, in many countries, you'll never have to worry about anything other than high-speed wi-fi. But as a digital nomad, you're bound to be moving around a lot – often to countries that can't guarantee you a suitable place to get to work.
Like any other job, you're sure to find both pros and cons; being a digital nomad is no exception. Sure, you'll have the freedom to travel the world and visit places that you've only seen in magazines and on National Geographic. But the only way you can keep a digital nomad lifestyle sustainable is by setting routines, becoming self-disciplined, and learning new ways to get around the lack of electricity or internet.
What are the types of Digital Nomads?
Not all digital nomads are the same. As you may already know, being "digital" means that you are a remote worker, and "nomad" means you're always on the go. But before we can give you the answer on how to live as a nomad, you'll first have to look at the different digital nomad jobs and types of work that are available.
Self-Sufficient Traveler
The first kind of digital nomad is the self-sufficient traveler. These backpackers can fund their travels entirely by their own means, without having to work for an outside company or lend out their services as freelancers to clients. Through their website or blog, these digital nomads are able to earn a salary solely from affiliate links or ad revenue.
The key to becoming an independent, self-sufficient traveler is that you will need to amass quite an audience. Through various social media platforms, you can grow your base of followers and start generating revenue for your website. Some digital nomads can even charge other travelers to accompany them on tours to experience the lifestyle they advertise on their blog or vlog.
Freelance Traveler
One of the most important things to consider when trying to figure out how to become a digital nomad is how to manage your time. Being on the road all the time, and sometimes not having a stable internet connection can throw a wrench in making money while traveling. As a freelancer, you'll be able to have flexible hours, meaning you only work on projects when you have free time.
Of course, you'll still have deadlines to meet, but ultimately, you will be your own boss and arrange your work schedule to suit your travels. There are a multitude of careers to choose from as a freelancer. Photography, writing, video, programming, translating, transcribing, and even teaching can all be done as a digital nomad. As your own boss, you can also decide what jobs you want to take on and the rate you will be paid.
Traveling Professional
Even if you have established yourself in a profession or are working your way up a career ladder, that doesn't mean you have to put your entire life on hold while you pursue a new dream. It's possible for you to still have work in your field while exploring the world. No matter if you have a background in teaching, telecommunications, IT, or even medicine, you can still travel out of your backpack and continue your career.
One of the obvious drawbacks to being a traveling professional is that you'll have to dedicate yourself a lot more to fixed schedules, working with a remote team, and attending meetings via the internet. But as long as you plan ahead and have self-discipline, you'll find there are many digital nomad careers you can do while living out of hostels and hotels.
Entrepreneur Nomad
Another one of the top nomad jobs you can have is owning and operating your own business while traveling the world. Even if you don't have anything on hand to sell on Amazon or eBay, there are still ways to open up your store and support yourself while out on one of your adventures. While you may meet tons of business people on the road who are looking for ways to export their products to different countries, there are ways to start your own business without ever having to meet suppliers or customers face to face.
Dropshipping will have you acting as a middleman between your customers and the suppliers. By ordering things online, you can advertise products in your shop and have them sent directly from the warehouse to your customer. With websites such as Oberlo and Doba, you can get your business off the ground and get back to traveling!

So, How Can I Become a Digital Nomad?
Take the Leap
The most challenging thing to do in order to become a digital nomad is to take that first jump into the outside world. Many people talk about wanting to sell all their possessions and leave their friends and family behind, but few are actually able to cut the cord and begin nomadic traveling.
Everyone wants to travel the world and spend their lives as a romantic adventurer, but when it comes down to actually stepping outside their front door, many get cold feet. In order to be a digital nomad, you have to be courageous and willing to accept that you won't always know what tomorrow will bring. By being both brave and flexible, you can take on the world, explore new cultures, and discover remote destinations.
Find a Remote Job
What separates the digital nomad from your average backpacker or tourist is the fact that these veteran travelers have learned how to live and work on the road. The answer to how to become a digital nomad isn't as easy as traveling as long as possible, but being able to support yourself to the point that your adventure never ends. While we can't all become online sensations, there are many different ways to earn money while traveling. From opening an online shop to freelance work you can do from the computer, you'll need to find one of the many Remote work jobs that fit your skillset!
Budget Budget Budget
As a digital nomad, you can't always be booking yourself flights to get from country to country or checking into 5-star hotels. The key to living on the road is living frugally and managing your money carefully. This means choosing to take local transport instead of the luxury tourist bus, or staying in a dorm room rather than lounging around in your own private suite.
While this may sound unappealing to some, it actually helps you become more immersed in the local culture. Spending the same amount of money as a local person brings you closer to the country and the culture. While traveling continuously, you don't want to merely check off all the UNESCO sites from a list; you want to take your time and savor every bit of the destination. Have you ever wondered how to be a nomad with no money? The answer is simple – budget.
Learn to Live on the Road
Even if you can check all the things off the list, you still have one last challenge to face before you can call yourself a digital nomad. Even if you can move abroad, find a job, and budget your trips to stay on the road, eventually, loneliness may set in. It's really easy when you find yourself moving from hostel to hostel, watching new friends leave and old friends continue their lives back in your country, to get homesick. But to be a digital nomad is to be independent and rely on your own company while traveling.
Other than being good for your business, getting in touch with the international travel community will show you how small the world actually is, making it easy to make new friends and see where your itineraries overlap.
How do Digital Nomads make Money?
We've all seen the pictures of Instagram power couples and adventurous solo backpackers posing on the Great Wall of China and sailing down the Nile in Egypt. It seems like every time we open our phones, these digital nomads seem to be in a new country on a new journey. As expensive as flights are, how is it that so many backpackers can gallivant around the world? How do digital nomads make money, exactly?
One of the most common digital nomad careers is to combine your work and your travel. Obviously, using affiliate links on your blog or website is one way to both expand your brand and start raking in some money. But as you continue to make your way around the world, you're sure to have some stories, insights, pictures, and videos that most people can't even dream of. Many websites and organizations will pay money to use your photos and stories on their sites. Many of them will even credit you as the author, so you can fund your travels and promote your own blog at the same time.
Remote Work
Although not as appealing as becoming a traveling photographer or writer, another way to join the working nomads is to become a remote worker. If you already have an established career and are looking to keep climbing the ladder – or maybe you have a degree in a more technical field – you can still make a full salary while traveling from country to country. When compared with the other jobs, you will be making a lot more money. The downside is that you'll have to manage your time in such a way that you can be available for meetings, and adjust your schedule to suit your employer's.
Other than freelancing or being an employee while on the road, opening your own shop can help generate revenue and keep you continually traveling. Being your own boss, you get to determine how much you want to work and how much you want to get paid. With options such as drop shipping available online, it's possible to start your own store while living entirely from your backpack. Even while traveling, you're bound to come across many entrepreneurs looking to move merchandise from their country abroad. The one thing you have to be careful about is the fact that you will only earn money as long as you are selling products. With luck being a critical part of the equation, you'll want to be sure you have some background in sales.
What Are Some Popular Digital Nomad Jobs?
Copywriter
One of the easiest ways to become a part of the digital nomad community is to be a copywriter. Like many writing jobs, you don't have to stay in one place to open your laptop, start typing, and earn some money. The difference between your average writer and your life as a digital nomad copywriter is that a copywriter's focus is to call the reader to action. This can be done with a broad range of products – from the newest makeup on the market to inspiring the reader to embark on their next trip to Southeast Asia. 
With a strong focus on SEO (Search Engine Optimization), you will help businesses via their website, blog, or social media account to bring awareness to their company and increase traffic. With so many organizations looking for talented writers, you can easily find work while on the road and begin living a nomad life.
Blogger
We've all heard of the lucky travel blogger, gallivanting across the world writing about their adventures. As a traveler, it's easy to create your very own blog and write about all the experiences and places you visit while on the road. But the dream of actually turning your simple travel blog into a career is easier said than done. One of the easiest ways to start making money from your trips is to start sharing and selling your stores to larger, more established websites. Many travel websites will pay you to create guides and write about your experience abroad!
What many established travelers will tell you about how to become a digital nomad is to start posting affiliate links. As your blog starts to generate traffic, you can begin advertising websites such as Booking.com or Bluehost on your pages. For every click on the link, you will be given a small commission! This means you can travel and write – and get paid for doing very little. It's all about the passive income! Although you won't be making money right away, generating money from your blog is the goal of many travel nomads.
Online Teacher
If you are looking to make money right away, becoming an online teacher is one of the best ways to start filling your pocket on the road. Even though you may have a digital nomad blog, finding a class to teach online will have you making a steady income while traveling. No matter if you have a background in teaching or not, one of the most popular ways to begin tutoring online is to start teaching ESL. With websites such as VIPKid always looking for new teachers, you can be sure that you can always find work.
One of the things you have to consider before you start looking at digital nomad jobs is how much time they will take out of your day. Obviously, you are a traveler first, so you will want to focus on exploring ancient temples and tasting delectable street food. As an online teacher, you will have flexible hours, which means you will only take on classes when you find time throughout the day. Exploring during the day, teaching at night – you'll be living the nomadic dream lifestyle before you know it!
Videographer
Although becoming a blogger is a plausible way to start living a nomadic lifestyle, many of today's audiences don't spend time reading lengthy articles. If you're wondering how to live as a nomad, the best thing to do is to buy a selfie stick, turn on your camera, and start talking while you are traveling. The age of the vlogger has arrived, and it has taken the internet by storm. 
The easiest way to start making money on the road is to turn the camera on yourself. But much like a photographer, you don't have to keep all the attention on you while exploring the world. If you have some skills in video editing, you can become a videographer and start piecing together your footage from your latest journey to post online. It doesn't matter if you are posting interviews, wildlife scenes, or yourself guiding the viewer through the busy streets of Bangkok. Websites like Youtube allow you to monetize your channel once you have a sizeable and engaged audience.
Social Media Manager
The age of website dominance is over. Although it's essential that you have a home page where you can post all your content and have customers make purchases, a presence on platforms such as Twitter, Instagram, and Facebook is essential in the modern world to both engage and grow your audience. When it comes down to it, social media overshadows other traditional methods of marketing. But knowing how to use social media masterfully is a skill few possess.
Enter the social media manager. Many companies and businesses will hire you to manage, post, and engage with their followers on various platforms. Maintaining consistency is key when it comes to growing your market and creating a following on the internet. As a social media manager, you can start living a nomadic life and earn money while on the road. If you have a background in SEO and can reel in some of those extra followers, you will never be short of work as a digital nomad!
Translator
If you are fluent in another language, you can find work while traveling as a translator. Typically, working as a freelancer allows you to choose what clients you want to write for, and even decide what your payment will be. With flexible hours, you can still stay on the road and pick whatever times work best for you to complete tasks for your clients. 
Your job will consist of listening to prerecorded audio, watching videos, or reading text and translating it into the appropriate language. Obviously, some languages are more in demand than others, but websites such as Lionbridge and Appen will help hook you up with clients that require a translator. Regardless of whether you find yourself staying in a crowded hostel or a luxurious hotel room, as long as you have an internet connection, you can be a translator on the go!
Programmer
Programming is not something just anyone can do, but if you have experience coding or with computers, you can easily make the switch to starting to work while on the road. As a programmer living the nomad lifestyle, you will have the option to either work for a company directly or hire yourself out as a freelancer. With competitive rates, you can sell your services to the highest bidder.
The term programmer is a broad term that includes many different jobs. You could find yourself working with everything from full-fledged websites to developing the next big app on the market. Regardless of what you find yourself doing, you can work in a career that you love – all while exploring the world!
How to Become a Digital Nomad with no skills?
Just because you have no experience doesn't mean you can't live a life on the road. Online, you will find many remote jobs and opportunities that will hire backpackers like you, even though you may have little to no experience in the field. These entry-level positions will have you working from hostels and making money so you can keep traveling!
Transcriptionist
Some of the careers on our nomad list of jobs require some kind of experience or degree to start making money. But if you don't have any professional training or education, that doesn't mean you can't begin traveling as a digital nomad. As long as you have a wi-fi connection, you can start earning money as a transcriptionist. With many websites looking to hook you up with clients, you can find work at any time of the year.
As a transcriptionist, you simply have to type along with the audio that you hear. Of course, speed and accuracy are essential when listening to fast-paced recordings, but you'll be amazed at how fast you can adapt and become an experienced typist. As a freelancer, you can complete projects whenever you have the time. This means you can explore during the day and start burning the midnight oil to make some extra money.
Proofreading
With so many bloggers and travel writers out there, there's definitely a need for proofreaders. Although you 're not guaranteed a job checking over articles about travel, you will find an abundance of work proofing and editing drafts for everyone from backpackers to businesses. In an international world with so many people Google translating documents directly into English, you'll never have to worry about running out of work – or money.
If you are a native English speaker or have close to fluent skills, proofreading is the perfect job for digital nomads who have no professional background but want to continue traveling. As long as you are a decent writer, have a grasp on grammar and spelling, and can provide useful insights, you will find no end to your journey abroad! Although many of the jobs are in English, there is also a need for foreign language proofreaders as well.
Data Entry
Although data entry isn't exactly the most exciting way to earn money while traveling, it will sustain your lifestyle as a digital nomad. Working with graphs, charts, and word documents, your job description is exactly as it sounds – entering data. After looking at reports, customer info, or a pricing list, you simply enter that information into a spreadsheet.
In this day and age, nearly everyone knows how to use a computer. Of course, WPM (words per minute) and accuracy are vital to becoming a professional data entry person; this is a skill that younger generations can pick up quite quickly. So, what else do I need to find work as a nomadic data entry clerk? If you have experience with Word or Microsoft Excel, you're already qualified. What really makes this job appeal to digital nomads is the freelance opportunities and flexibility to make your own schedule!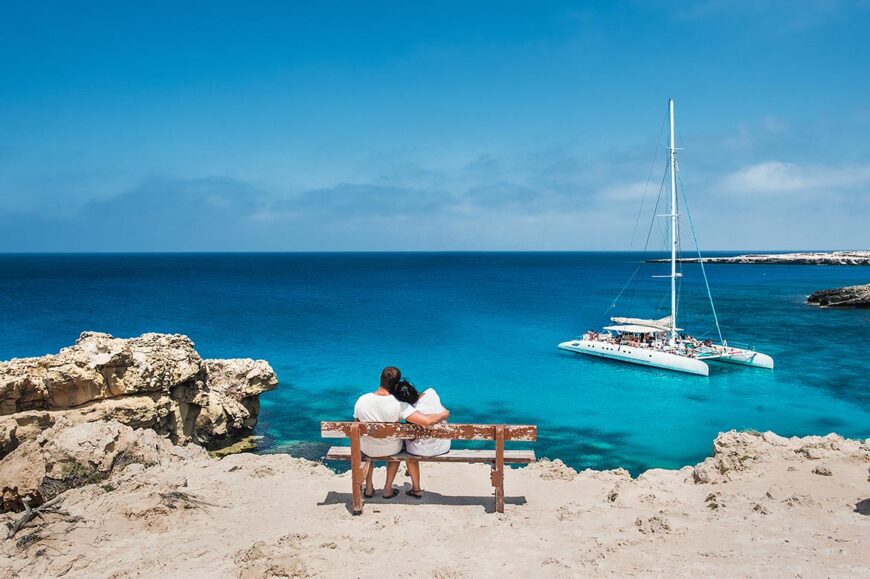 Best Countries for Digital Nomads
What is a nomad but a traveler who hops from country to country? Even when you're exploring the world, you need to find time to sit down, focus, and catch up on work before you start on your next adventure. Therefore, you will need to find a country or city that you can base yourself out of. Before picking a country to call your temporary home, you should consider a few things. Is this country a travel hub that allows me to visit many different places easily? Can I save money in this country? Can I both work and be inspired in this country? Surprisingly enough, you will find several nations that fit this bill!
Indonesia 
Indonesia has long been established as a hotspot for tourists, backpackers, and now digital nomads. Many travelers will dismiss places like Bali as being overcrowded, commercial, and an oversaturated Instagram influencer destination. While this is partially true, Bali has so much to offer digital nomads – from its hidden beaches to remote mountains. Also, Indonesia is most definitely not limited to just the small island of Bali.
Being a country of over 17,508 islands, you have endless new destinations to explore. Top that off with major transport hubs such as Jakarta, Bali, and Surabaya, and you'll be well connected to the rest of the world when it comes time to pack up your bag and start traveling again. With cheap hostels and hotels, delicious food that won't bleed your pocket dry, and a great internet connection in the major centers, Indonesia has so many options when it comes to discovering new places and working as a digital nomad. 
The Czech Republic 
Although Southeast Asia is one of the most accommodating regions in the world, you may not want to limit yourself. Europe attracts travelers from around the world with its rich history and natural beauty, but few can afford to travel across the continent for long. Lucky enough for you, there are countries like the Czech Republic where you can still find cheap hostels and grab delicious bites to eat while sticking to a budget.
With Prague as the obvious focal point, the Czech Republic is well known throughout the world as a place where the beer is cheaper than water. When compared to other countries in Europe, you'll find that there's a lot more than just alcohol that is cheap in the Czech Republic. Being a part of the European Union, you'll also be able to travel to places like Germany and France without lengthy or expensive flights. 
Thailand
The first country in Southeast Asia to begin attracting tourists from all corners of the globe has to be Thailand. While many of its neighbors were struggling with political and economic turmoil, Thailand's beaches, wildlife, and mountains were captivating the imaginations of many. Although it has long been on the tourist trail, Thailand and its main Digital Nomad cities such as Koh Phangan,  Bangkok and Chiang Mai are still some of the best countries in the world for digital nomads.
But what is it about Thailand that makes it so special? Despite finding loads of tourists constantly being shuttled to the country, there are still so many islands, jungles, and temples that are yet to be explored. Being the home base of many airlines, such as the budget airline AirAsia, you will be well connected to the rest of the region with cheap flights. Not to mention, the country is also inexpensive enough to save money and developed enough to get your work done with a stable internet connection!
Turkey
Ever since the earth started spinning, Turkey has been the bridge between Europe and Asia. From the Silk Road and now for modern digital nomads, this country is the link for travelers exploring the far off reaches of the world. Being a blend of cultures from all across the globe, Turkey is a country with rich culture and history, unique only to its lands. With many destinations such as Istanbul still off the beaten path, you'll find there are many places that haven't been touched by digital nomads.
Other than the bountiful number of wonders Turkey holds within its borders, the country is also a transport hub, taking travelers directly to cities in Europe, Central Asia, the Middle East, and Africa. No matter where your next trip may be, you're sure to find a flight from Turkey. And with daily expenses nowhere near that of Europe or the Gulf, you'll also be saving money! 
Mexico
There's no easy answer to the question of how to be a digital nomad in America. The United States is far too expensive and remote to even begin traveling to other countries in Central America, South America, and the Caribbean. That's precisely why Mexico is one of the best places in the Americas to base yourself out of as a digital nomad.
Being in a central location, Mexico is connected to dozens of countries, including the United States and Columbia. But it isn't just the location and the cheap flights that make Mexico an ideal place for travelers. This country and the cities of Tulum and Playa Del Carmen can easily suit the budgets of digital nomads looking not to lose all the pesos they earn online. With ancient pyramids and lazy beaches, you will also find so much in Mexico to explore!
The Philippines
When compared to countries such as Thailand and Indonesia, the Philippines is often overlooked in SouthEast Asia as a travel destination. Little do people know that The Philippines is a diverse country with everything from metropolitan cities to remote mountains and even secluded beaches. Made up of 7,641 different islands, you'll find that this country has a range of landscapes and cultures.
Other than simply exploring the Philippines, this country has so much to offer as a home base to relax and work before you book your next flight. Like many of the nations in Southeast Asia, you will be well connected to the rest of the world from cities such as Cebu and Manila. Being a modern country with a stable internet connection and cheap accommodation, you could easily find yourself returning to the Philippines after each of your adventures!
Georgia
Central Asia is one of the last frontiers for the digital nomad community. With countries such as Uzbekistan and Tajikistan only recently opening to the world, many travelers are strapping on their backpacks and booking flights to these off the beaten path countries. The starting point for many backpackers before they head over the Caspian Sea is the Caucasus Region. Out of the several countries situated there, Georgia takes the prize as being the best for digital nomads. 
This country may not be well known by your average tourist, but digital nomads have been flocking to Georgia over the last few years for its towering mountains, rolling emerald hills, and food that will make your mouth water. With prices much cheaper than your average European city, and plenty of places to grab a great Wi-fi connection, Georgia is a great country to plan your next adventure from!
Best Cities for Digital Nomads
Lisbon, Portugal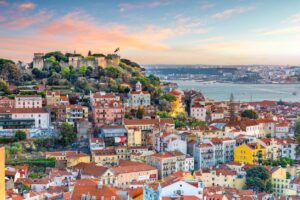 Much like some of the best countries to base yourself from as a digital nomad, you will also need to find the best city where you can save money, work without any hiccups, and easily get to your next destination. Portugal's capital city of Lisbon has long been known as a digital nomad hub in western Europe. When compared with the rest of the region, Lisbon is affordable and keeps you well connected to the rest of the world.
When you're not online working to fund your travels, you will find that Lisbon always has something to explore. You can't be on your laptop forever, so when you find time to take a break, Lisbon will support your adventures with its rich history, mouth-watering food, and bustling city life!
Ho Chi Minh City, Vietnam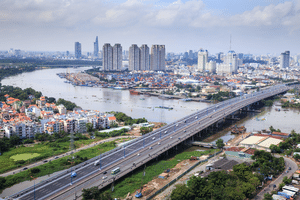 Vietnam is the newest country on the block when it comes to exploring the backpacking trail of Southeast Asia. It wasn't so long ago that Vietnam dominated headlines as being a warzone; now it's known as a tropical paradise. There's no better place to work in the region than the metropolitan city of Ho Chi Minh.
Ho Chi Minh City has made massive growth in the last several years. It has emerged from an overcrowded city as one of the leaders in the world for technology and development. What that means for digital nomads is that you will have all the best Vietnamese coffee you can drink from the cafes – along with a great internet connection. With so much to explore and a low cost of living, you will be able to work and save money before your next adventure!
Buenos Aires, Argentina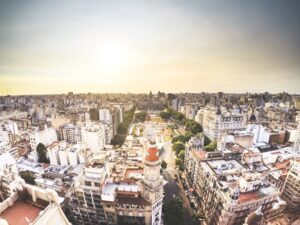 Finding a city in South America that is affordable, a transport hub, and caters to remote workers isn't easy. Between trips from the Amazon and the Patagonia Mountains, there's one destination where you can take a load off and catch up on work before your next adventure. Buenos Aires is not exactly the cheapest city in South America, but if you're frugal, you can definitely survive on a budget!
With a thriving youth culture, you'll find many like-minded individuals looking for collaborations when it comes to photography or writing. Even if you're just looking to work on your computer, there are loads of coffee shops where you can set up and complete your projects. Being close to some of the most beautiful places in South America, your next trip will never be that far away from Buenos Aires.
Chiang Mai, Thailand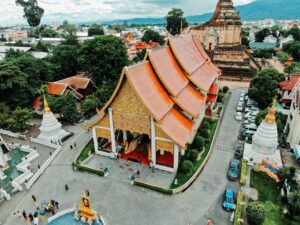 Taking you away from the beaches and islands of Thailand, Chiang Mai is nestled in the mountains of the country. Chiang Mai is no stranger to tourists, which may turn off some of the more off the beaten path travelers. But with its stunning natural beauty, remote tribes, and thriving culture, Chiang Mai digital nomads won't run out of things to experience and places to explore in the northern capital of Thailand.
Much like the rest of Thailand, Chiang Mai is perfect for backpackers living on a budget. With a large range of hostels and hotels, you can stay with like-minded travelers or cozy up in your own space without spending too much money. With loads of flights coming from Bangkok, Malaysia, and China, when you finally do decide to call it quits on Chiang Mai, you'll be off to your next destination before you know it!
Medellin, Colombia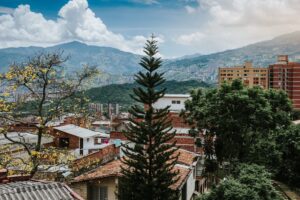 Now one of the safest and most diverse cities in South America, Medellin has emerged as a model in Colombia. It is one of the newest tourist hubs in the region. With many up and coming artists and designers now calling Medellin home, it's only natural that digital nomads would find this Colombian city one of the best places to base themselves in.
Being a mix of many different cultures and backgrounds, you'll discover that Medellin is a city where something new happens every day. Putting you on the doorstep of the Amazon, you'll be close to embarking on a new adventure after you've had your fill of relaxing and working in the city. With cheap food and accommodation, you'll be able to save money until you can finally book that bus or plane out of Medellin. 
Kuala Lumpur, Malaysia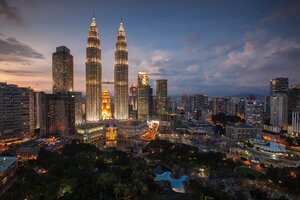 Malaysia is often an overlooked county amidst the neighboring tourist hotspots of Thailand and Indonesia. Little do many travelers know that Malaysia has just as many, beaches, jungles, and mountains as the rest of Southeast Asia! With Kuala Lumpur as its metropolitan capital, there's no better place to be connected to the rest of the world!
From Kuala Lumpur, you can get budget flights that take you to Australia, Vietnam, India, and Dubai! No matter where your next adventure might take you, you're sure to find a flight out of Malaysia without having to worry about too many pesky layovers. Being a relatively cheap city to live in, you'll find all the conveniences of a bustling metropolis with the soul of a village. With a diverse community coming from all over the world, there is so much to explore in Kuala Lumpur!
Budapest, Hungary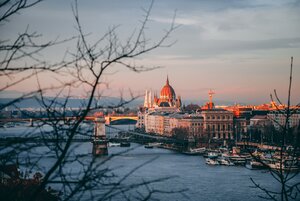 Many digital nomads find it hard to exist in Europe. With expensive hostels, outrageously priced food, and transportation that costs an arm and a leg, budget backpackers may steer clear of many European cities. That is unless you go to Budapest. Hungary's capital city has just as much old-age charm as the rest of the continent but stands apart with its cheap hostels and a comparatively lower cost of living.
With great internet connections and streets lined with coffee shops, there's an endless number of places where you can open up your laptop and get to work. With great food and a rich culture, you'll find that there is tons to do when you decide to take a day or two off. Being located in a central location, Budapest will easily get you to your next European destination – or onwards to a country outside of Europe!
Bali, Indonesia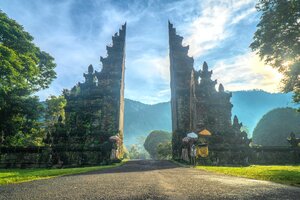 Bali is technically not a city; it's actually an island made of many towns and villages. Throughout the island, you'll find varying costs of living – with everything ranging from luxury villas complete with pools to cheap backpacker hostels where you will be able to save money hand over fist. The great thing about Bali is that even if you decide to book yourself into one of the fancier places on the island, you'll still be able to survive on a budget.
The beaches and jungles of Bali are no stranger to digital nomads. Being one of the first hotspots in the world for bloggers and influencers, you might fall under the impression that there is little left to discover on the island. But with so many travelers looking to get off the beaten path, and Bali having such a lively culture, you'll always be able to find new things to discover!
Mexico City, Mexico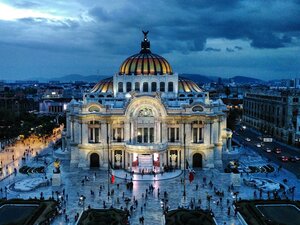 If you want to start exploring Central America, North America, or the Caribbean, Mexico is the go-to destination to base yourself out of before you start planning your next adventure. Although Mexico has many places to choose from, not every city will hook you up with cheap hostels or a stable internet connection. The one city that does check all the boxes for digital nomads in Mexico is no other than Mexico City!
Being the largest and fastest up and comer in the Americas, Mexico City is the location of many new businesses and aspiring artists. Being one of the centers of development in the region, Mexico City's internet connectivity has vastly improved in recent years. With tons of museums in the city, and lush jungles and ancient temples just a bus ride away, Mexico City is one of the best cities for digital nomads in Central America.
Taipei, Taiwan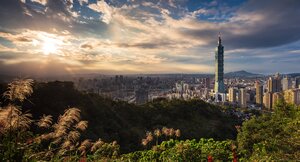 Taipei still hasn't quite taken the mantle as being one of the top digital nomad locations in East Asia. Compared to the likes of Hong Kong, Seoul, and Tokyo, however, Taipei is one of the most technologically advanced cities in the world. You can call it home without having to spend all that much money. With great, cozy hostels that make for the perfect home while living on a budget, Taipei will put you up in style while you're busy planning your next trip and working online.
Taiwan is a small island where every inch has its own distinctive culture and cuisine. With a great train system and cheap flights with Eva Air, you can easily start exploring other cities and even destinations abroad. With a fast internet connection, delicious street food, and a unique culture, you may find yourself staying in Taipei much longer than you had planned.
Famous Digital Nomads
Now that you have a good idea of what you want to do to make money while traveling the world, and which countries you want to head to first, there's no harm in looking at some experienced digital nomads and learning from their experiences. With everything from vloggers to former lawyers, you'll find that no matter what your background is, you can become a digital nomad as well!
Matthew Kepnes
Starting as an office worker confined to a cubicle in a hospital, Matthew Kepnes – or Nomadic Matt – fell in love with traveling after a trip to Thailand. This sparked an interest that would later turn into a raging fire. During his free time, Matt educated himself on the ins and outs of SEO, how to blog, and make a website. After a period of trial and error, Matt finally began to make money from his blog by selling links.
By increasing traffic to his website and hosting affiliate links, Matt was able to support his travels solely from his blog. Later, Matt began to catch the attention of the New York Times and wrote about how he was able to travel the world on a budget. Now a best-selling author, Nomadic Matt is known as one of the first successful digital nomads and pioneered a trail for the rest of us. 
Kiersten Rich
Kiersten Rich is another traveler who defines the meaning of nomads with her lifestyle. Beginning as a corporate wealth manager, she left her desk job behind after being inspired on a trip to Bolivia. Thus, The Blonde Abroad was born! From early on, she knew the importance of diversifying her brand. Other than just having a blog, she made sure to cover platforms such as Facebook, Youtube, Twitter, and Pinterest to reach a broader audience. 
It didn't end there for Kiersten; she continued to grow her business by launching an online store selling travel essentials and accessories. With her influencer status, she was also able to launch her own tour agency, showing tourists what it was like to live out all the articles they read online.  Forbes named her blog one of the best travel blogs around, so if you're looking for a template to follow, look no further than The Blonde Abroad!
Jodi Ettenberg 
Jodi Ettenberg never had the intention of becoming a digital nomad. Being a lawyer, she already had a job that offered a lot of security. During her one year trip around the world, she first created a blog just to connect with her family and friends back home. She had no idea that this humble website would grow into a brand known as Legal Nomads. With her stunning photography, transparency through her writing, and appeal to any who would call themselves a foodie, Jodi has created a model for all those wanting to become a digital nomad.
Covering topics from medical problems while traveling the world to where to get the best bowl of ramen in Japan, she has a wide appeal for all different kinds of travelers. After writing several books and growing her brand, she was able to make a living and continue to travel solely off her blog!
Bottom line, Can I Become A Digital Nomad?
No one has to be confined to an office cubicle for the rest of their lives. If you have dreams of venturing to far off destinations and exploring cultures that you have only read about in the pages of National Geographic, then the life of a digital nomad may be just the answer! Although it may seem like living this nomadic lifestyle is just as likely as winning the lottery, it's actually a whole lot easier than you would think. 
In the digital age, more and more roles are leaving the office and being done from home. While many choose to work from their brick and mortar homes, you could pack your bags, sling your laptop over your shoulder, and begin a life on the road! Even if you're not a master in SEO, you can find jobs writing, coding, or even teaching online. You don't have to have loads of formal experience to log in and start making money as a digital nomad!
Should I become a Digital Nomad?
So, should you become a digital nomad? Life on the road isn't all romantic beaches and exploring colorful bazaars; traveling continuously can get hard and lonely. And if your blog doesn't take off right away, it's easy to become discouraged and book that flight back home. But if you're ready to make the change, you can follow our guide on how to find the right job and the right countries to start your new life as a full-time traveler.
If you are independent, flexible, and have an adventurer's heart, you can start your journey traveling the world and never look back. And once you're bitten by the travel bug, the only thing on your mind will be where to go next. What does a nomadic lifestyle mean if not to live out of your backpack and wander wherever the wind might blow? Before you know it, your name might join those of the existing successful digital nomads, and you'll be showing newbie travelers how to explore the world forever!