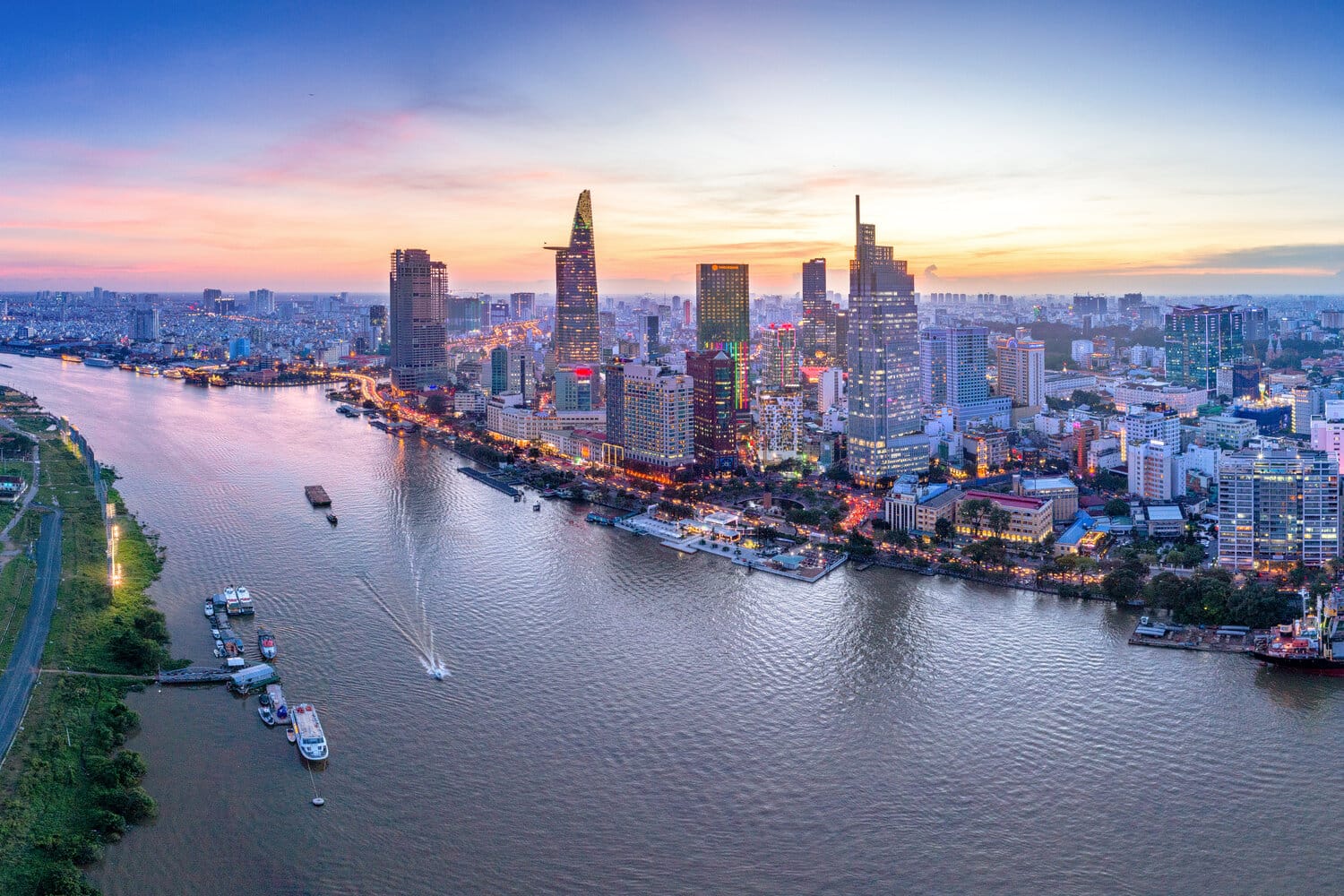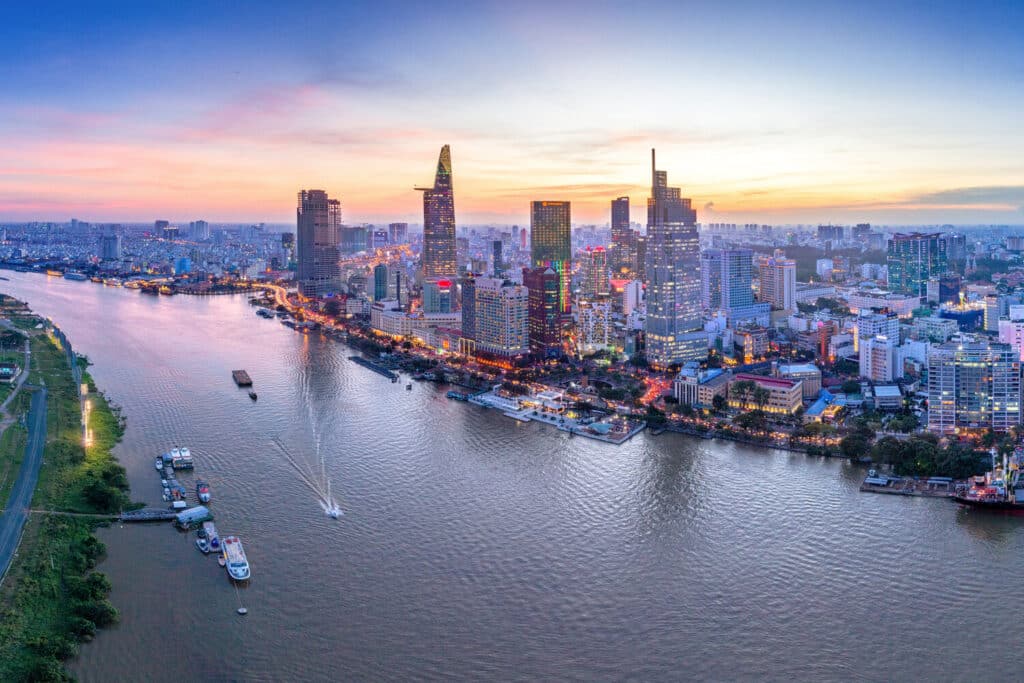 A Digital Nomad Guide to Ho Chi Minh, Vietnam
Super-fast WIFI speeds, inexpensive accommodation, a rainbow of street food and a thriving expat culture makes Ho Chi Minh City – previously called Saigon – a brilliant spot for digital nomads in Vietnam. Vietnam's largest and most populated city, it sits towards the southern end of the country and is a popular final spot for southeast Asia's backpacker crowd as well as those who fell in love with the city and decided to call it home on a more permanent basis. 
Ho Chi Minh City is home to almost nine million people spread throughout 24 districts and has seen extensive growth over the last few decades. And this is something that's set to continue rapidly: the city's population is expected to almost double to 13.9 million by 2025. Full to the brim with beautiful architecture, a thriving tech scene and an ever-growing number of international businesses, Ho Chi Minh City is international, diverse and an all-round exciting spot.
About 94% of the population in the city are Kinh (ethnic Vietnamese) and the largest minority ethnic group are the Chinese. The city is also home to many religions, including Mahayana Buddhism, Taoism and Confucianism followed behind by Roman Catholics and Hindus. Ho Chi Minh City's younger generations tend to speak a moderate amount of English, while those involved in the start-up culture are often fluent speakers in at least one other language. Outside of the main districts, English isn't half as widely spoken.
Ho Chi Minh City is a city of motorbikes, and Vietnam as a whole has the second largest motorcycle ownership in the world. The city itself is thought to be home to around seven million motorbikes, which adds to the fast-paced nature of Ho Chi Minh City and the perpetual energy in the air. Overall, it's a brilliant spot for anyone with a taste for culture, history, food or adventure.
Nomad Friendly
Value for Money
Internet
Workspace
English
Food
Safety
Health
Transportation
Friendly
Quality of Living
Living in Ho Chi Minh Overview
| | |
| --- | --- |
|  Meal, Inexpensive Restaurant | $8.76 |
| Domestic Beer (1 pint draught) | $1.75 |
| Cappuccino (regular) | $1.71 |
| Loaf of Fresh White Bread (1 lb) | $0.78 |
| Water (1.5 liter bottle) | $0.62 |
| One-way Ticket (Local Transport) | $0.93 |
| Basic Utilities (Monthly) | $122.29 |
| Internet | $12.29 |
| Fitness Club (Monthly) | $27.68 |
| Apartment (1 bedroom) in City Centre | $469.91 |
Currency: Indonesian rupiah (Rp)
[erw_exchange_rates_widget lg="en" tz="0″ fm="IDR" to="EUR,USD,GBP,AUD,JPY,RUB" st="primary" cd="" am="15000″][/erw_exchange_rates_widget]
ATMs
Max Withdrawal: Rp 3,000,000
Withdrawal Fee: Rp 30,000 – Rp 50,000
Use of Credit Cards: Mostly Cash
Digital Nomad Personal Experience in Ho Chi Minh
I arrived in Ho Chi Minh City not initially planning to stay long. I'd already explored Thailand and fancied a change but had mostly planned to stay in the north of the country. I travelled through Vietnam, working my way downwards from Hanoi and through Danang and Hoi An, before arriving in Ho Chi Minh City and immediately feeling almost overcome with everything going on around me. But the more time I spent in this colourful, bustling, atmospheric spot, the more I wanted to settle down and spend some time living here and settling into the local culture. 
I found it pretty easy to settle in – as I did throughout the entire country. Ho Chi Minh City might have a persistent never-slowing-down culture but it's also filled with warm, friendly people who somehow manage to sense newbies and envelope them in a sense of community. I think it helped to spend most of my time in the centre of HCMC, in District 1. Here, I found it was easy to source spare rooms in existing apartments (a great way to make friends) and navigate my way around the city at the same time.
Getting used to the traffic and pollution was a little bit of a culture shock – coming from London, UK, where roads are busy but rules exist. In Vietnam, "rules of the road" don't exist and the main trick is to essentially ignore everyone around you. After learning to cross the road by following Vietnamese people and briskly walking out without stopping, I soon adopted the same methods to driving and slowly got used to weaving in and out through the streets.
I also discovered that Ho Chi Minh City worked as a great home base for exploring the surrounding areas. It's easy to reach other famous spots like the Mekong Delta and Black Virgin Mountain from here. It's also easy to fly to further away spots, like Phú Quốc – a perfect holiday break for any digital nomad.
Work in Ho Chi Minh
Ho Chi Minh City doesn't hold back when it comes to coworking spaces and there are plenty of spots throughout the city's main districts (and further afield) where you can set yourself up for the day with a laptop in one hand and coffee in the other. HCMC as a whole has a great remote work culture, so you'll often find an even mix between foreigners and locals at these coworking spots. As a result, most coworking spaces in the city are well equipped with HCMC's famed wifi speeds, comfy desks, private booths and any number of other facilities.
Best Places to Work in Ho Chi Minh
The Hive
You'll find The Hive in multiple cities dotted throughout Asia, which makes it perfect if you're city hopping. This coworking space is known to be one of the best in HCMC, with printing equipment, Skype rooms, personal lockers and free coffee. The Hive also arranges weekly Thursday Socials as well as workshops, lunches and drinks to help build your own community as a digital nomad here. Prices start at $9 USD per day or $108 USD per month.
CirCO
CirCO is a two minute ride from popular spots like Pham Ngu Lao, Bui Vien, and Ben Thanh Market, putting it right in the centre of HCMC. Another popular spot, CirCo is one of the oldest coworking spaces and has its own tribe of loyal visitors. Fast internet, spacious meeting rooms and free drinks makes CirCo a great place to work for the day, as well as its lighting system that's designed to help you stay focused. Better yet, CirCo has its own gym in the basement; perfect for a quick stretch to break up your day. It's around $6.50 USD per day, $80 USD per month. 
Dreamplex
Known as one of HCMC's most luxurious coworking spaces, Dreamplex brings together everything a remote worker needs and more. With four bases across the city and 12 different working set-up styles, Dreamplex offers a great solution for anyone, no matter what sort of working environment you require. Its natural and sustainable interiors and on-site cafe and bistro makes it a brilliant spot for all requirements. $25 USD per week or $90 USD per month. 
Toong
The place to be for creatives in the city, Toong is an arty, colourful coworking space that also comes with its own garden, art gallery, library, napping room and concept store. Toong is great for meeting other creatives and the design and nature of this coworking space means it's friendly, laidback and perfect for newbies to the city. Toong also throws interesting, arty workshops with themes covering fashion, watercolour, film and more. If you're looking for a less traditional office space that still comes with ample working room, Toong is the answer. It's $6.50 USD per day or $85 USD per month. 
Spiced CoWorking
For those who struggle to work at a traditional desk setup, Spiced offers plenty of alternative options. Think hammocks, beanbags and standing desks, along with a large swimming pool, BBQ set up and ergonomic chairs. If you're looking to settle down for a long day of face-to-laptop work, Spiced probably isn't the best choice, but if you're looking to dip in and out of work with some socialising in between, Spiced is a suitable option with board games, a nap room, workshops and languages courses to keep you entertained. Spiced is $7 USD per day or $96 USD per month. 
HCMC has plenty of other coworking spaces including OfficeSpot, WORKSaigon, The Workshop and Workyos. The city is also home to a big coffee shop culture, where you'll always be welcomed in with your laptop as long as you buy a coffee or something to eat. Some of the best coffee shops for working here include The Workshop Coffee, ID Cafe, Saigon Coffee Roastery, The Old Compass, Kamakura, Metropolis Coffee and Bliss Coffee.
Best Places to Live in Ho Chi Minh
Best Neighbourhoods
Ho Chi Minh City is home to 24 different districts, each with its own charm and personality. As a digital nomad, you'll want to stick around in the lower numbered districts for the best community atmosphere, coworking spaces and cultural spots. 
District 1
District 1 is Ho Chi Minh City's most popular district for tourists, backpackers and digital nomads. This is where most of the fun happens: the coolest restaurants, biggest range of coworking spaces and everything in between. As well as endless skyscrapers, luxury hotels and rooftop bars, you'll find plenty of architectural heritage buildings, the Saigon river and popular tourist spots like the Saigon Post Office, Saigon Notre-Dame and Gia Long Palace.
District 3
Closely following District 1 is District 3, which has a similar personality and acts as a sort of overflow for District 1. Those with an eye for architecture will likely prefer District 3, thanks to its colonial villas and beautiful designs on every corner. District 3 is also a great spot for wandering around, which makes lunch breaks all the more interesting when they can be spent checking out tiny markets, upscale boutiques and gazing out over the other side of the Saigon river. 
District 3 has the advantage of being only a few moment's walk away from Turtle Lake, a brilliant evening hangout with a perpetually buzzing atmosphere. It's also lovely to wander around here during the day time for a breath of fresh air from the hustle and bustle of the city.
Phu Nhuan
Between the two of these is Phu Nhuan District, a more affordable midpoint that boasts plenty of delicious spots to eat. This is a slightly less well-trodden digital nomad spot, but it's still close enough to the action for those who spend their days in the tourist hot spots. 
Thao Dien
More seasoned nomads and those looking to settle down semi-permanently tend to shift towards District 2 and District 7. District 2 is home to the famous neighbourhood Thao Dien; the closest thing you'll find to European suburbs in Vietnam. This neighbourhood is a little more expensive than its surrounding spots, a fact that doesn't look like it'll change anytime soon. The southern edge of Thao Dien is currently seeing a big wave of apartment investments, suggesting it could become home to a wave of digital nomads or remote workers in the next few years. 
Phu My Hung
District 7 is one of HCMC's up and coming neighbourhoods, with a growing number of digital nomads setting up in shared apartments. Known locally as Phu My Hung, District 7 is only a 15 minute drive from the centre but comes with attractive qualities like tree-lined streets, quiet roads and spacious, modern apartment blocks. Those looking to call HCMC home for an extended period of time prefer District 7 for its almost suburban atmosphere. 
District 4
Looking to save money and live cheaply in the city? District 4 is the smallest district in Ho Chi Minh City and is home to the Saigon Port. While it used to be renowned as a slightly rougher part of the city, District 4 is now better known for its great seafood, water views and local markets.
Find an Apartment in Ho Chi Minh
Much like any big city, it's far easier to find somewhere to live when you've already arrived rather than in advance. It's definitely possible to source an apartment before you get to HCMC, but it's far easier to check in somewhere for a few days while you get used to your new surroundings, before taking in each of the neighbourhoods and checking out each apartment in person. 
So, with this in mind, most digital nomads check into either a hostel or an Airbnb for a few days. HCMC has plenty of high quality hostels with private rooms like Long Hostel, The Like Hostel & Cafe, and Della Boutique Hostel. Alternatively, head to Airbnb and find somewhere – probably in District 1 – to check in for a couple of days. Of course, you can use Airbnb to find a longer-term rental, but be aware that prices are generally higher and it's unlikely you'll find the best deals there.
Instead, utilise HCMC's digital nomad community. Check out one of the city's expat-focused Facebook groups, where people often post apartment rental information. Here, current digital nomads in the city are more than happy to offer advice and recommendations as well as sharing their thoughts on the best neighbourhoods and things to look out for. You can also use your time in those first few days in the city to ask locals for their recommendations and guidance for finding your new apartment. 
Flats in HCMC are usually well-equipped and many come with extra facilities like a swimming pool, garden, rooftop and other amenities. Most have a large range of furniture and cooking equipment, thanks to the city's large digital nomad community. It's also basically impossible to find an apartment here that doesn't have good wifi, and connections faster than 100MBPS are standard here. 
Depending on budgets, it's possible to find a nice, serviced apartment for yourself for around $500 USD per month in the city's most popular districts. If you're open to sharing an apartment, which many people here do, you can find a room for around $200 USD. Of course, the more premium your tastes, the more expensive apartments can be. Many apartments here come with all utilities and bills included, but if your set-up needs to be arranged yourself, expect to pay around $50 – $80 USD a month for electricity, heating, cooling, water, and garbage collection. 
As a rule of thumb, the closer you live to downtown, the higher your rent will be. Looking to save a little more money? Head outside of the most popular districts where rents are cheaper. Outside of the main city, you can find a one bedroom apartment from around $350 per month, or a shared apartment from around $150 USD. However, keep in mind that most digital nomads stick towards the centre for its ease of access and high range of facilities, which means factoring travel times into the equation if you're living further out. 
General advice: Keep in mind that not many apartments in HCMC are pet-friendly, which means you may have to search for longer or pay more if you're keeping a furry friend with you. Many buildings have CCTV and most come with a motorcycle parking lot. 
Cheap Places to Stay in Ho Chi Minh
It's best to settle yourself down in District 1 for your first few days in Ho Chi Minh City, so you can get to know the city and its quirks a little before you decide on a slightly more longer-term accommodation option. This also puts you right in the middle of the city, which means searching for your next hostel, hotel or apartment a little easier. Some of the best hostels in District 1 include WillHome Hostel, Long Hostel, Flipside Hostel and Town House 50 Saigon. If you'd rather check into a hotel for your first few days, consider Lief Mojo Saigon, InterContinental Saigon, Millennium Boutique Hotel or 24h Saigon Hotel for a low-cost stay that's centrally located. 
Other great options across the city include Riverside Serviced Apartments and Somerset Vista Ho Chi Minh City in District 2, Aqua Nhu Huynh 2 Hotel, Lien Thanh Hotel, Giang Linh Hotel in District 1 and Casita Apartments in District 7. 
If you're looking for something specific for your first few days in the city, it's easy to find plenty more options on Airbnb and Booking.com. Alternatively, spend some time scrolling through expat Facebook groups (mentioned above) as people often post about room shares that are available at short notice. This means not only will you be able to pick the brains of whoever you're sharing an apartment with, but it might also help for quickly making friends in the city.
Ho Chi Minh Visa
Your passport should be valid for a minimum of six months on the date you enter Vietnam and there's a chance your visa will be rejected if your passport is damaged in any way. Some countries are able to enter Vietnam visa-free for a 15 or 30 day period while others can apply for a visa on arrival. To do the latter, you need two passport-sized photos and an application form, which you can get at the airport. Longer stays in the country (usually for up to 90 days) require a pre-approved visa, which can be done via your closest Vietnamese consulate, or online via an agent. All up-to-date visa information can be found on the official website. 
A conventional, single-visit, 30-day visa costs $25 USD at the airport or more when applying through embassies. You can extend your visa easily in HCMC for a month ($40 USD) or two months ($60 USD), which takes up to 10 days to process. It's worth noting that it's easier and cheaper to extend your visa in the same city as the one you arrived in, which means if you entered through Hanoi or another city, it'll cost you around an extra $10 USD to extend in HCMC. Visa agents here are knowledgeable about working with digital nomads and the process is usually straightforward.
Culture and Food in Ho Chi Minh
Cuisine
Ho Chi Minh City is a haven for those looking for great Vietnamese food. But it's not only local flavours that you can enjoy here: the city is home to all types of cuisine with a particular focus on French, Indian, seafood and more. It's easy to find good places to eat here if you're following a vegetarian or vegan diet and it's nothing short of an adventure if you're a fan of street food.
Obviously it goes without saying that HCMC is incredible if you're looking to feast upon pho (pronounced "fuh" not "fo"), banh mi or other local picks. District 1 in particular is a great spot for hidden street food spots like Nam Giao, at 136 Le Thanh Ton Street, in an alleyway behind Ben Thanh market, and Hong Hanh, at 17A Nguyen Thi Minh Khao Street. Quan Sadec, Bot Chien Dat Thanh, Com Tam Tu Quy and 241 Vo Van Tan Street (directly in front of Thien Ban Pagoda) are some other great Vietnamese spots in District 3.
Vietnam's history means it's also a great spot for finding delicious French food. There are upwards of 10 French restaurants just in the centre of HCMC ranging from stylish, luxurious settings with multi-course options through to local, understated favourites that truly fulfil the definition of "off the beaten track". Head to La Villa French Restaurant for premium French dining, 48 Bistro for slightly more casual options and Le Jardin for inexpensive French food. 
The growing foodie culture in Vietnam means more and more Indian restaurants are popping up in Ho Chi Minh City. It's especially easy to eat vegetarian food here with some of the favourite restaurants including Ganesh Indian, Ashoka, Baba's Kitchen and Tandoor. 
Vietnam isn't just street food fare: there are a number of fancy restaurants dotted around that'll fulfil all of your anniversary, celebration or otherwise-smartly-dressed occasions. Head to The Royal Pavilion at The Reverie for Chinese fine-dining and La Villa for refined French cuisine.
Culture
HCMC is full to the brim with culture, fusing eastern and western tradition to bring together a little something for everyone. From art to music, fashion, history and architecture, it's easy to get swept away with a wealth of knowledge. 
Duc Minh Gallery is one of the most famed in the city; home to more than 1000 works of art inside a colonial museum. Gallery Quynh De Tham is another top choice, along with the Fine Arts Museum and Craig Thomas Gallery.
The National Museum of Vietnamese History is an obvious choice here, paying homage to every era of Vietnam's past. Expect to see Buddhist traditions, prehistoric tools and art and relics from Ham tombs or statues among many other sights. The Notre Dame Cathedral is another great choice for learning more about Vietnamese history. If you're interested in the Vietnam war, the Reunification Palace and the Cu Chi Tunnels provide lots of insight. 
Ho Chi Minh City is home to endless markets selling everything from traditional clothing to modern garments, accessories, trinkets and more. Ben Thanh Market is one of the most popular markets here with Dong Khoi Street coming in close behind. 
It's impossible to wander around the city without gazing up at the buildings around you. The Notre Dame Cathedral, the Opera House and the General Post Office are some of the most famous original buildings. Wander around District 1, along Dong Khoi and neighbouring streets for other cool sights.
Ho Chi Minh Nightlife
It's fair to say that Ho Chi Minh City has a little something for everyone when it comes to nightlife. Each district comes with its own subculture of evening entertainment, ranging from superclubs and huge events where smart clothes and cocktails reign supreme, through to the underground bars, live music spots and electronic music. Elsewhere, outside of Districts 1 and 3 you'll find more variety, in the form of theatre, ballet, performances and evening cruises. As Vietnam's city with the most foreign businesses, HCMC's overgrowing number of bars, restaurants, cafes and clubs means you'll always find something going on at night. 
District 1
As the centre of the city, it's easy to find a little of everything in District 1. This is the area home to some of HCMC's biggest and most famous clubs, with rooftop bars, panoramic views of the city and lots of dressing up. Some of the best spots in District 1 include Chill Skybar, considered the most popular and also home to a brilliant Happy Hour deal (88000 VND for all kinds of drinks from 5:30 pm – 8:00 pm) along with Rex Hotel Rooftop Bar and Saigon Saigon Rooftop Bar. 
Lush is the biggest club in this area and is always jam-packed with music, drinks and good crowds. Skyloft by Glow isn't far behind with a large expat crowd. You'll find a different bar or club on almost every corner in this district, with plenty of karaoke bars, beer bars and nightclubs to choose from. As well as being popular with foreigners, these clubs are also very popular with Vietnamese, making it a great opportunity for meeting local friends.
District 3
Looking for something a little more underground, or heading out with a smaller budget? District 3 doesn't have as many large scale clubs but what it lacks in superclubs, it more than makes up for with its street bars, pubs and live music spots. Here you'll find the ever-popular Beer Hoi on Pham Ngu Lao, similar to Hanoi's beer corner, and also The View in Duc Vuong Hotel: one of the most reasonably priced rooftop bars. 
District 3 is a popular nightlife spot for those who love live music, with spots like Fang, Snuffbox, MZ Club, RockFanClub and Yoko and Acoustic Bar always brimming with life. As the focus is more on community rather than pounding music, District 3 is another brilliant area for making new friends or hanging out with old ones. Here you can have a slightly more casual night than over in District 1.
Elsewhere
Ho Chi Minh City has a great selection of gay-friendly bars with energetic atmospheres and tunes to match. Some of the favourite places include The Tipsy Unicorn and Republic, which run special nights with endless entertainment. 
And the city's nightlife isn't just focused around drinking. Ho Chi Minh City is also great for those looking for a stylish evening, either on a dinner and drinks cruise down the Saigon River or over at the Saigon Opera House, which has a regular mix of concerts, ballet, live theatre and traditional dance. You can also head over to Ben Thanh Market – a night market that's open until midnight with a large selection of street food and a brilliant atmosphere.
Things to do in Ho Chi Minh
Explore Vietnam by water on a riverboat tour
See the city from a unique perspective by travelling down the Saigon river on a riverboat tour. There are a few different options depending on what sort of experience you're after and how much you're happy to pay. Dinner and drinks deals allow you to admire Ho Chi Minh City as the sunsets, usually offering a brilliant day-to-night experience to see the lights of the city turn on. There are also speedboat tours, floating river tours and private cruises offering different options. 
Visit the Notre Dame cathedral
Visiting the Notre Dame cathedral – officially called Cathedral Basilica of Our Lady of The Immaculate Conception – is a must-see for anyone visiting the city. This incredible building is almost 60 metres in height and sits right in the middle of District 1. As well as being surrounded by beautiful neo-Romanesque features, it's also home to Vietnam's oldest piano. You can take pictures outside, or step inside and wander around in silence. 
Check out Nguyen Hue Walking Street
Perfect for people watching and chilling out with a coffee, Nguyen Hue Walking Street is a beautiful, wide, walking promenade filled with musicians, street artists, statues and endless shops. Busy during daytime or night time, this street is a great place to enjoy some of Ho Chi Minh's City's day-to-day life with all the amenities around for shopping, eating, drinking or relaxing. Brightly coloured flowers line the street here with a variety of rooftop bars punctuating each end. It's the sort of place you'll aim to wander through quickly and accidentally spend a few hours getting sidetracked.
Ho Chi Minh City's temples make up an important part of Vietnamese culture and no trip to the city is complete without admiring at least a few of them. Two of the most famous here are the Mariamman Hindu Temple and Jade Emperor Pagoda, both of which should be explored at least once. Other famous temples in the city include Vinh Nghiem Pagoda, Giac Lam Pagoda and Thien Hau Temple. Some of the features date back for centuries and, as with all religious places, it's important to dress respectfully and remain quiet when visiting.
Feast your way through a motorbike food tour
Motorbikes and endless street food options go hand in hand in HCMC so the best way to tick both off your Vietnam bucket list is to combine them in one fun afternoon. There are plenty of different motorbike tours available, and the best ones will give you a real insight into Vietnamese foodie culture as well as helping you to figure out your way around the city. Expect to try unusual but authentic dishes that you'll almost definitely search for next time you're hungry.
Even if you're not typically a big drinker, visiting one of the city's many rooftop bars is a great way to spend an evening in Ho Chi Minh City. The city is full to the brim with different rooftops, some offering premium spirits and fancy cocktails, while others are cosier and more down to earth: places you can grab a cheap beer and sit back with some good company. You can also take some excellent photos of the city from these viewpoints. 
You'll almost definitely stumble across Bui Vien Street at some point during your time in HCMC, even if it's by accident. Otherwise known as "Western street" and previously called "the International Crossroads", Bui Vien Street comes alive after dark with clubs, bars, street food and other entertainment to suit all tastes. The vast majority of people here are foreigners and tastes and prices are catered for accordingly. If you've just arrived in the city and are looking to meet people and make new friends, this is a great spot for finding other digital nomads and backpackers from across the world.
Vietnam does many things well and one area it particularly excels in is coffee. Ho Chi Minh City has a big coffee culture – partially due to the country's excellence when it comes to coffee beans and grinding methods but also thanks to the big digital nomad community. Vietnamese coffee is usually made using ground dark roast Vietnamese-grown beans with a small metal drip filter. It's also sometimes enjoyed with condensed milk and egg (called ca phe trung) – which sounds like an unusual combination, but is a firm favourite for those who try it. 
Learn about the country's history at the War Remnants Museum
Ho Chi Minh City is home to plenty of museums but if you only check out one, make it the War Remnants Museum. It's hard to spend too long in Vietnam without speaking about the Vietnam war at some point and this museum is a great opportunity to learn about the First Indochina War and the Vietnam War fairly objectively. Even if you're not typically a museum person, it means you'll know your stuff when the conversation eventually comes up. Looking for more museums? Other interesting choices are the South Vietnamese Women Museum, Vietnam History Museum, Ho Chi Minh City Museum and the Fine Arts Museum.
Best Time to Visit Ho Chi Minh
Ho Chi Minh City doesn't fluctuate much throughout the year when it comes to weather, making it easy to pack for your stay there. Generally, it's hot and humid, with temperatures around 28c that don't jump too much in either direction. The weather here can be categorised into two parts: dry season and rainy season. The best time to visit Ho Chi Minh City is during the drier months of December to March, where heavy rainfall is unlikely (but still happens occasionally). May to September is peak rainy season, when heavy downpour can continue for days on end and an umbrella will barely protect you from the rain. Locals here are used to the heavy rain and will go about their lives as usual while expats and tourists often find it more of a culture shock. July to November is the peak typhoon period when weather outbursts are frequent and expected.
Ho Chi Minh for Families
Vietnam might mostly be pegged as a backpacker's destination but its versatility and bountiful culture makes it a great place to move to for families, too. District 1 is a popular choice for families in Ho Chi Minh City thanks to its large English-speaking population and ease of getting around. 
However, accommodation is more expensive here and may not be as family-friendly as other districts. District 2, across the Saigon River, is a more popular choice with families and offers lower-priced accommodation and more family-friendly facilities like schools, gyms and parks. District 7 is a popular residential area with tree-lined streets and a number of international schools nearby.
International schools are expensive in Vietnam and may be one of the factors that put off families from moving here. Fees at international schools in Vietnam range from around $17,000 to $35,000 per annum, with primary schools coming in a little cheaper at $15,000. Ho Chi Minh City does have an impressive collection of international schools covering British, American and International curriculum and native English-speaking teachers are the norm in international schools. Up-to-date information on school fees can be found here. 
It's easy to find daycare for younger children in HCMC, thanks to the city's large working culture. SmartKids is one of the most popular options and many hotels or serviced apartments can put you in touch with babysitting services.
It's also easy to keep children entertained in HCMC. Some of the city's most famous activities include Water Puppet Theatres, Saigon Zoo and Botanical Gardens, Dam Sen Water Park, KizCiti Centre and Artinus 3D Art Museum Saigon. The city's green spaces, like Tao Dan Park and around the Saigon River are brilliant for getting some fresh air and running around.
Living in Ho Chi Minh
Ho Chi Minh Transportation
HCMC might not be a walkable city but it's easy to get from one district to another. The most common method of transport here is motorbike, either hired or purchased and driven yourself, or using public transport, which comes in the form of Grab or Xe Om – Vietnam's national motorbike taxi service. 
It's easy and cheap to hire a motorbike in HCMC and it's likely your accommodation can arrange a bike for you. You'll likely need to give some kind of deposit (or your ID/passport) when renting a bike here and it's important to carefully check your bike before leaving the shop. Check the lights, indicators, horn and basic electric functions or, if you're staying in the city for longer, it can be worth taking your bike to a local mechanic and getting them to give it a quick once-over. 
A bike should cost you between 120000 – 300000 VND per day or slightly cheaper if you rent for a longer period of time. Monthly rental can be as cheap as 800000 VND. Common bikes here include Yamaha Nouvo, SYM Attila, and the Honda Airblade – most are automatic. It's mandatory to wear a helmet and to make sure you have the correct license and insurance. 
If you don't want to drive, you'll have no problem finding a motorbike taxi. You'll find both types of drivers – Grab and Xe Om – easily throughout the city. Grab is generally preferred for solo female travellers, thanks to its ability to track your journey via GPS as well as giving you the name and details of your driver in advance. Grab prices are set on the app, which can be downloaded and used with any Vietnamese SIM card. Prices for Xe Om taxis are usually reasonable and short trips usually cost between 20,000 – 40,000 VND. If the price seems a little high for your journey, it's acceptable to haggle it down. Drivers here don't always stick to the speed limits, but you can ask them to slow down if you feel uncomfortable. 
There are also plenty of car taxis in HCMC in the form of Grab and local taxis. Again, Grab is often the preferred method for international travellers, avoiding any language barriers or miscommunication. As with motorbike taxis, it's often safer for female travellers to call a Grab taxi rather than haggling with a local driver. 
While the vast majority of Vietnamese taxi drivers are friendly and eager to practice their language skills, Grab's advance payment system, fully-tracked routes and other safety features makes it more popular in the city. Be warned that HCMC is known for its heavy traffic, which makes motorbike taxis the preferred choice if you're in a rush or travelling during peak hours. 
If you'd rather avoid taxis, HCMC has a public bus system that's mostly reliable and is more suitable for journeys between further districts. A single bus fare starts at 5000 VND and the huge number of different routes means it's easy to get around the city this way. All information regarding the public bus system in HCMC can be found on the national website. The hop on, hop off city bus is also an option for getting around the city and offers a whistle-stop tour at a higher but less-stressful price. These buses operate almost 24 hours a day and a new one arrives at each stop every 30 minutes or so. Prices per adult are 330,000 VND. 
Fitness and Health
Ho Chi Minh City is home to plenty of gyms and workout spaces, no matter whether you're looking for a space to lift weights, beat your running PBs or join a group exercise class. The large digital nomad community means new opportunities in the fitness world are always cropping up. There's also a large number of well-equipped, western-style gyms if you're sticking around in Ho Chi Minh City for a longer period of time.
Some of HCMH's best spots for fitness:
Body Shape
A large, fully-functional gym in the heart of Thao Dien Ward with flexible memberships and plenty of group classes. Body Shape is one of HCMC's most popular options with a huge variety of equipment. Memberships are between one week and one year long and facilities include a weightlifting zone, cardio fitness, yoga, pilates and spinning. 
HD Gym Phú Nhuận
A cheaper gym with plenty of equipment: HD Gym Phú Nhuận is great for nomads who fancy a workout at a budget-friendly price. 
Star Fitness
This huge, colourful gym includes classes in all of its memberships, which means you can spend as much time in body combat, zumba, grappling, boxing, conditioning and more without paying extras. 
UFC Gym Vietnam
A great gym for martial arts, this gym has classes throughout the day and is just as suitable for experts as it is for beginners. You'll find something similar at MMA Gym Fitness Center and Saigon Sports Club. 
Other popular gyms in HCMH include national and International names like Curves Ho Tung Mau and Fit24. 
Ho Chi Minh People
Ho Chi Minh City is largely a friendly but busy city. Tourism makes up a large chunk of the city's income, so it's important to locals that it remains a safe and attractive option for international visitors. The vast majority of people who live in HCMC are more than happy to point you in the right direction, offer tips and advice or generally help you out. It's safe to walk around by yourself without attracting unwanted attention. 
People in HCMC may come across as rude at first, as being frank and direct is more common here than in neighbouring countries. While this might seem intimidating or unfriendly, it's rarely meant as anything more than an answer to a question. Ho Chi Minh City's younger generation are mostly very ambitious, making the most of the city's superpowered internet and chatting away with foreigners. But this friendliness is something you'll witness throughout every generation in its own way. 
The Vietnamese generally are very kind, welcoming people. Wander through the streets of HCMC with any inkling of facing the wrong directions and you'll often end up chatting to a local resident who will point you in the right direction. It's also common to spot free drinks advertised on the streets, which are designed to help those with less money like street vendors and taxi drivers. A far smaller percentage of older populations can speak English in HCMC but you'll always get a kind smile and a few gestures of encouragement. 
Much like any large city, there is a small problem with petty crime. This mostly comes in the form of pickpockets and street scams. Watch out for gambling on the street, which is often rigged and almost always results in losing your money. Overcharging can also be an issue, with everyone from street vendors to taxi drivers and occasionally even the police requesting or bargaining for money. Booking and paying for services in advance can negate some of this risk and it's worth negotiating if prices seem far higher than anticipated. 
Ho Chi Minh City also has an issue with prostitution, which is illegal, but still exists in the city. Prostitutes sometimes work in karaoke bars or similar and there have been reports of tourists having drinks spiked and valuables stolen. Sexual assault is semi-common for women, so avoid walking in poorly lit or secluded areas alone.  
On the other side of the coin, Ho Chi Minh City has a thriving tourist and digital nomad community, which makes it an easy city for making friends and socialising. The large number of hostels, hotels and other activities skewed towards the younger generation means there's always something going on. Coworking spaces here offer lots of opportunities to meet like minded travellers and a variety of Facebook groups for expats are also regularly updated with everything from coffee dates to motorbike sales and everything in between. Two of the most popular Facebook groups to join for meeting fellow expats are Expats in Ho Chi Minh City (Saigon) Vietnam and Expats in Saigon (Ho Chi Minh City).  
Ho Chi Minh Insurance and Medical Care
High standard medical care is widely available in HCMC. There are multiple hospitals and clinics throughout the city with English, French and Vietnamese speaking doctors who provide a high standard of care. Some of the most popular and widely used healthcare centres are Columbia Asia, FV Hospital, HCMC Family Medical Practice and Raffles Medical Group. Most digital nomads in HCMC tend to stick to their own travel insurance companies that are better suited for this lifestyle. Popular choices are World Nomads and Safety Wing and both are renowned for their extensive policies that suit a nomadic lifestyle. 
There are also Vietnamese insurance options available in HCMC, like Saigon Hanoi Bank (SHB), which is eligible to all Vietnamese and foreign residents living, studying, working in Vietnam. It's also possible to access good dental care in the city, especially at Dental Arts of Saigon where there are multiple foreign dentists on-hand. If you need a higher level of medical attention or hospitalisation, there are plenty of respected locations throughout the city. 
FV Hospital is thought to be the best for motorbike accidents, tropical diseases, surgery and diagnostic medicine, although in case of emergency you should visit whichever hospital is closest and ask to be transferred, if necessary. Hanh Phuc Hospital and Victoria Healthcare are two other popular choices for expats and other foreigners. It's always worth checking, before a hospital visit, that your insurance covers the location you're going to.
Make sure you are fully covered by reading our full Digital Nomad Travel Insurance guide.
Jobs in Ho Chi Minh
Unless you speak Vietnamese, it's difficult to get a traditional job in Ho Chi Minh City. And, before starting any work in the city, a working visa is required, which must be sponsored by an employer. Over time, more job opportunities are popping up for digital nomads in Ho Chi Minh City, but most of these roles are online based within the sales or IT industry. The thriving tech community in Ho Chi Minh City means networking is always within easy reach and finding freelance work in this area is relatively easy. 
There's also a huge community of expats working as English teachers in HCMC, either online or in schools. Most digital nomads here choose to do online teaching if they're only staying in the city on a month-by-month basis, due to the difficulties and language barriers of working a traditional role. Many people here also use the time to get involved with voluntary organisations or with non-governmental organizations. Sometimes these can lead to a paid role but, like mentioned before, a good grasp of Vietnamese is almost always necessary for job progression in the city. 
Finding jobs is usually done online, through websites like Vietnamworks.com, 1001vieclam.com or international platforms like CareerBuilder and Mywork. There's also a Facebook community group, Jobs for Foreigners in Ho Chi Minh City, which posts opportunities as well as advice on all things job related.
Check out our Digital Nomads Jobs Postings to find the best jobs available for Digital Nomads
Nomad Friendly
Value for Money
Internet
Workspace
English
Food
Safety
Health
Transportation
Friendly
Quality of Living
Cost of Living Ho Chi Minh
Ho Chi Minh City is cheaper than around 60% of cities in Asia and has a lower cost of living than around 80% of the world. The average digital nomad will spend upwards of $850 per month living in Ho Chi Minh City. This takes into account rent, commuting costs, motorbike rental and gas, coworking fees, living expenses and some room for social activities. A family of four will spend upwards of around $2,500 per month. 
Generally speaking, the cost of living in Ho Chi Minh City is low for foreigners. Rent almost always takes up the largest chunk of monthly costs here, particularly if you live alone and pay for bills separately. The low cost of transport, food and coworking spaces means commuting, eating out and finding a regular work spot are all easy tasks without spending too much money. 
That said, Ho Chi Minh City is one of the more expensive areas of Vietnam, thanks to its high-density population and huge business centre. But it's possible to live a cheaper lifestyle if you don't require too many home comforts. For example, a cheap dinner at a local restaurant will cost around $2, but a coffee in a digital-nomad friendly cafe will set you back around the same amount. 
It's also important to take into account costs that you might not have paid for in other countries, like paying for bottled water instead of drinking from the tap. Fruit and vegetables, petrol and topping up a phone SIM package are all inexpensive compared to most other digital nomad cities around the world. School fees for children, if applicable, are expensive and clothes shopping can come at a higher price, too.