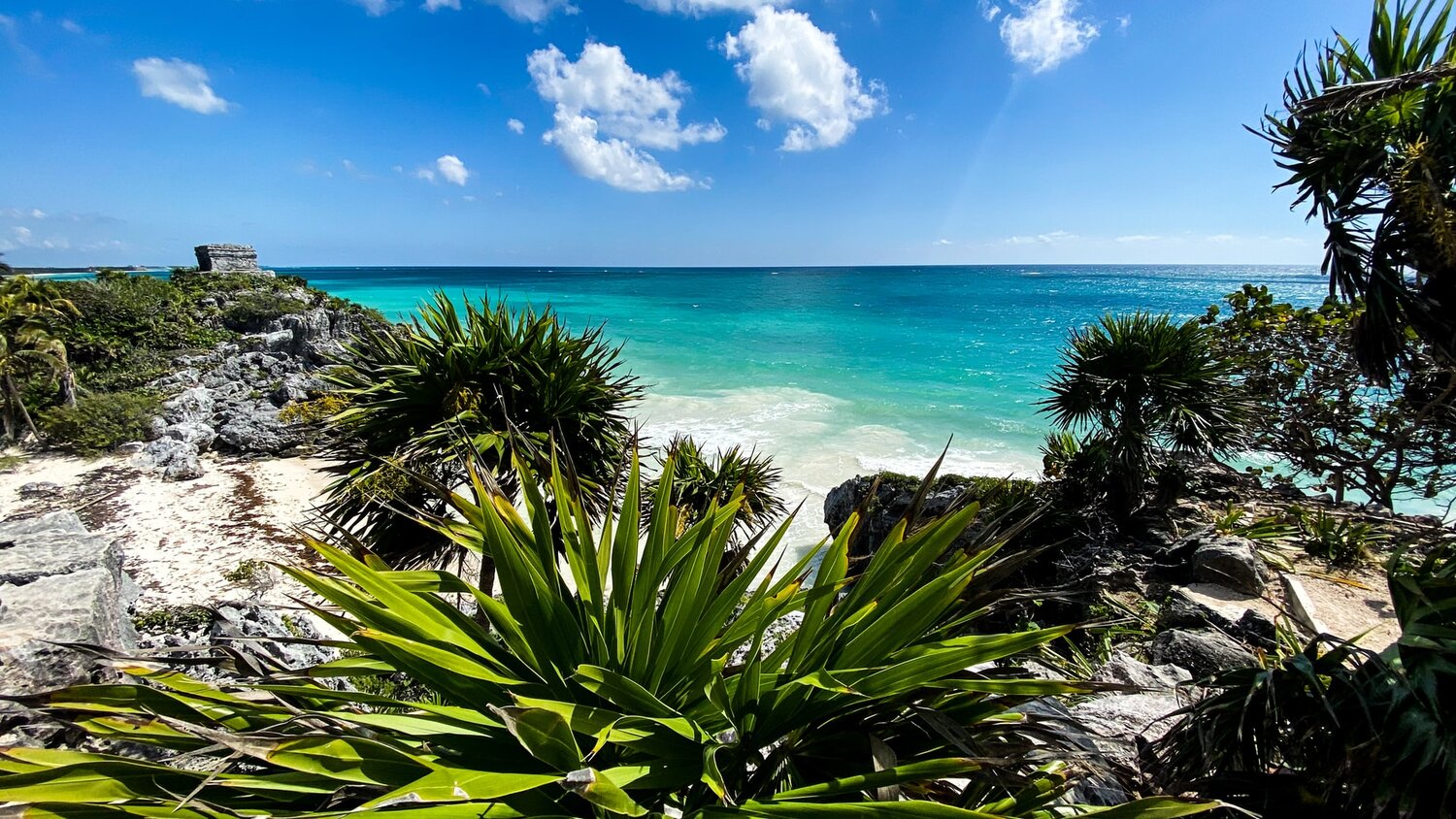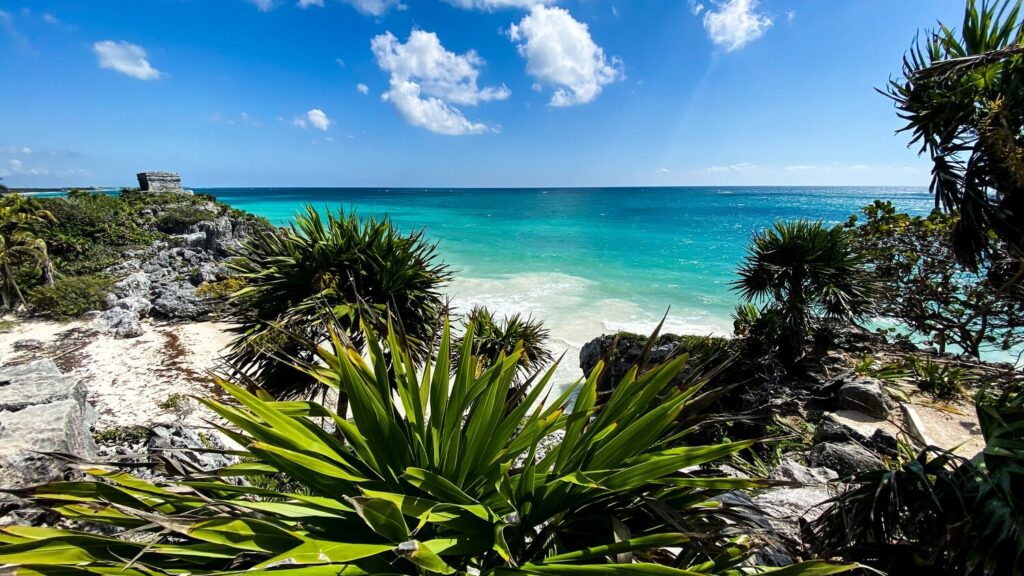 A Digital Nomad Guide to Tulum
Mexico has become one of the biggest digital nomad destinations over the last ten years or so. Remote workers flock here for many reasons. It is relaxed, affordable, and surrounded by beautiful nature and tropical beaches. Moreover, its proximity to the U.S. makes it an ideal country for American digital nomads to enjoy a relaxed and cheap life. 
While Mexico City and Playa del Carmen remain digital nomad hotspots, the small beach town of Tulum has recently come into the limelight too. Tulum is situated on the Yucatán Peninsula, close to Playa del Carmen and Cancun, the famous spring break destination. 
Tulum has rapidly grown in popularity in recent years, both with tourists and with digital nomads. Along with being home to some of the most beautiful beaches in the country, it's also an ancient Mayan port city full of preserved ruins.
In 2021, Tulum has become a hub for travelers and nomads into health, wellness, and spirituality. It's easy to get to from other parts of Mexico. Plus, the town is quieter than other Mexican tourist destinations, making it a preferred location for those looking for a chilled-out lifestyle.
Nomad Friendly
Value for Money
Internet
Workspace
English
Food
Safety
Health
Transportation
Friendly
Quality of Living
Living in Tulum Overview
Digital Nomad Personal Experience in Tulum
Tulum's popularity skyrocketed in 2020 during the Covid-19 pandemic. While most countries closed their borders, Mexico kept theirs open. This allowed remote workers looking for their next destination to come here to see out the pandemic. Many American digital nomads who usually travel to Asia came to Tulum instead. 
Like many digital nomads, I fell in love with Tulum when I visited. The town felt very different from other parts of Mexico I had been in, like Mexico City and even Playa del Carmen. Immediately I was drawn to the very welcoming locals and the small-town feel, which made me extend my stay in Tulum. 
Thanks to the growing expat community, I found Tulum to have the perfect blend between Mexican culture and western comforts. I also adored the unique bohemian yet chic vibe, which reminded me of certain hippy hotspots in Asia, like Bali and Koh Phangan.
Work in Tulum
With its laidback lifestyle and jungle backdrop, Tulum certainly has a lot to offer digital nomads who are looking to live and work in paradise. Remote workers can enjoy beautiful beaches, unique Mayon ruins, trendy eateries, and a fast-growing digital nomad community.
One of the downsides to living in Tulum is that the wifi is not as strong as in other parts of the world. This is mainly due to the location, as the town is essentially built around a jungle. Because of this, you may struggle to find a decent wifi connection in a standard cafe or restaurant. 
Therefore, coworking spaces are undoubtedly the best place to work from in Tulum. And luckily, there are some great coworking spaces in the town. What's more, new trendy cafes are opening up frequently that prioritize stable internet to accommodate the fast-growing digital nomad community. Here are my favorite spots to work from here.
Best Places to Work in Tulum
CoWorking Tulum
Coworking Tulum is not a standalone coworking space but a community where members can work at over 20 establishments in the neighborhoods of Aldea Zama, La Veleta, Centro, and the beach. These are all hidden gems, including beachside restaurants and rooftop cafes, which all boast Fiber Optic WIFI. You also get a 15-20% discount on food and drinks at every location.
The CoWorking Tulum club is perfect for remote workers and entrepreneurs who want to meet and network with other digital nomads. They arrange many events and dinners too, so you can easily find your tribe. In fact, the community feel of this coworking group is what makes it one of the most popular coworking memberships in Tulum. 
Sign up to become a member, and you'll get 7 days of free access to CoWorking Tulum, the community, events and all of its perks.
Digital Jungle
As the name suggests, Digital Jungle is a coworking spot set in a jungle-themed building. The space features lots of greenery, high ceilings, natural light, and wooden furniture giving it a natural and rustic style while creating a healthy work environment. The design of the building is even more impressive than the aesthetics inside. 
The internet is super fast and very rarely goes down, so it is a solid spot to be if you have a day of virtual meetings. The staff here are very welcoming, and they offer free water, coffee, and fruit. 
There are plenty of membership options and passes, including an hour pass, day pass, and -day pass. There are then both part-time and full-time memberships, so you can choose the plan based on how often you want to go there. You can also opt for the advanced monthly membership to have a private desk with lockable drawers.
Los Amigos Cowork
Los Amigos is Tulum's newest kid on the block when it comes to coworking spaces. This bright and airy space is very relaxed, dog-friendly, and has high-speed internet. Los Amigos promotes sustainability, so you will need to bring your own mug or reusable coffee cup to make a cup of coffee there. While it's a quiet place to work and never gets crowded, it doesn't have as much community feel as other spaces nearby.
You can buy day, weekly, and monthly passes, all of which include unlimited scanning and a certain number of copies and prints. The monthly membership also gives you up to 7 hours of meeting room use, so it is perfect for start-up businesses. Additionally, you can rent private offices for any duration between 4 hours to one month. 
BABEL Cafe
If you prefer working from cafes, you are bound to love BABEL. This centrally located cafe is popular with remote workers as the WIFI is superior and the food is delicious. They do plenty of tasty western food like sandwiches, bagels, and pastries, and the coffee is high quality. It has an open-air design, with both inside and outside tables.
Best Places to Live in Tulum
Best Neighbourhoods
Most digital nomads in Tulum base themselves in one of two areas. The first is the main town (Pueblo/Centro). Living here gives you direct access to an abundance of cafes, rooftop bars, and coworking spaces. The second is the beach, which is also known as Tulum's hotel zone. 
There are also two new up-and-coming neighborhoods where digital nomads are venturing to, Aldea Zama and La Veleta. Let's explore each area in more detail.
Tulum Pueblo/Centro
The downtown area is the liveliest part of Tulum and where you will find most of the restaurants, bars, and shops. It's also the most affordable district. The best thing about Tulum Pueblo, though, is the diverse range of establishments. You'll find street food vendors, classy cocktail bars, and everything in-between!
The pueblo is also a very artsy area where you can wander around the open-air artisanal markets and browse organic health food and cosmetic stores. The downtown area also has its own sub-neighborhoods, some of which are more quiet and local than others. 
Tulum Beach
The Tulum beach area is a 15 km stretch of coastline that runs from the castle down to the Arco Maya National Park. This district is choc-a-block with hotels so as you can imagine, it is the most touristic part of Tulum. 
However, unlike Cancun, Tulum beach isn't full of high-rise chain hotels. Instead, there are mainly eco-resorts and beach bungalows, so the neighborhood has maintained its natural jungle look and feel. Therefore, Tulum beach is a beautiful location that attracts digital nomads and tourists alike.
If you prefer living in a beach hut rather than an apartment, the beach area is undoubtedly for you. Even so, living here is generally more expensive than in other neighborhoods. What's more, you'll notice a fairly significant increase in prices in the restaurants and shops. 
Aldea Zama
Aldea Zama is Tulum's newest neighborhood, where you will find plenty of newly built condos and apartments. It's located between the downtown area and the beaches, making it a very convenient location to base yourself. 
Because it is a neighborhood that is still under development, Aldea Zama both pros and cons. The main advantage is that Aldea Zama is pretty quiet. Therefore, it's perfect for those looking for peace and quiet but without being far from the action. However, the downsides are that there may be construction going on outside your apartment, and it hasn't yet established a community feel.
La Veleta
In 2021, La Velata is becoming a haven for Tulum digital nomads, and there are new eateries, yoga studios, and coworking spaces opening up here. Because of this, it has more of an expat vibe rather than a local one like you would find in the pueblo. It is also a pricier area for renting. 
La Velata is located about a kilometer from the downtown area and is a bit far from the beaches. However, it is closer to Tulum's many excellent nature spots like the biosphere reserve.

Find an Apartment in Tulum
There are a few ways you can find an apartment in Tulum. Most digital nomads book an Airbnb before they arrive and then look for longer-term accommodation once they are in the town. You can find a monthly Airbnb stay for as little as $600 for a room or $800 for a small apartment. However, prices do go up and down depending on the season.
If you are only staying in Tulum for a few months, privately renting an apartment may be a bit cheaper than through Airbnb, but not a significant difference. However, if you're looking to sign a 1-year rental contract, you're more likely to get a cheaper deal renting privately. 
Either way, if you decide to book a place through Airbnb, try to contact the apartment owner beforehand. You can do this if you can find their website or social media page. This way, you can book privately and avoid the Airbnb fees. 
Another thing to consider is if the rental cost includes utilities. Some do, and some don't, so you should find this out before paying or signing a contract. Electricity bills can be pretty high in Mexico for Digital Nomads, especially if you use the aircon regularly. 
Average rental costs
Renting costs are slightly higher in Tulum than in other parts of Mexico, such as Cancun and Mexico City. However, accommodation is still considerably cheap here compared to the U.S. and Europe. 
If you rent outside of the city, you could find a one-bedroom apartment for as little as $400 a month. 

Within the city center, though, you are not likely to find an apartment of this size for less than $500.
Where to find an apartment in Tulum
Facebook groups and Facebook marketplace are brilliant places to find accommodation in Tulum. It's where I found my apartment there and is where I find the majority of my apartments and houses everywhere in the world.
There are some great Tulum community groups on Facebook worth joining. Check out 'Rentals in Tulum,' 'Tulum Rentals – Short and Long Term, and 'Tulum Digital Nomads.' Private landlords advertise their properties in these groups as well as on Facebook Marketplace. Considering how easy it is to find an apartment on Facebook, there isn't much need to go to an estate agent and pay additional fees.
Cheap Places to Stay in Tulum
There are some great hostels in Tulum, and these are an excellent way to keep your costs low if you are staying short-term. Moreover, if you're new in town and don't yet know anyone, staying at a hostel can help you meet people straight away. 
Of course, you don't have to stay in a shared dorm if you don't want to. Most hostels also offer private rooms for a reasonable price. Private rooms can provide an ideal balance between privacy and socialization. Here are some hostels worth checking out.
La Casona
La Casona is a colorful centrally-located hostel that offers both dorms and private rooms. A bed in an air-conditioned 4-bed dorm is around $225 for a month. Or, you can get a private twin room with a private bathroom for just over $900.
Emotion Tulum
Emotion is another downtown hostel with a lovely outdoor terrace, BBQ area, and an indoor kitchen. Monthly stays in the dorms start from $250, or $850 for a double room with a private bathroom.
Hostal Cha Cha Cha
Hostal Cha Cha Cha has simple, naturalistic decor and a fabulous outdoor area. There is a shared kitchen and free WIFI throughout. A monthly stay in the dorms starts from $380, or you can get a private room for around $750.
Casa Abanico
Casa Abanico is a lovely guesthouse in the center of town with brightly colored walls and a gorgeous tropical garden. It offers bohemian-style double rooms for $900 a month with a private bathroom, desk, and free WIFI. There is also a communal kitchen with free coffee.
Tubo Tulum
Not your average hostel, Tubo is an eco-friendly hostel resort with unique sleeping tubos (tubes), which are similar to sleeping pods. The tubos are situated in a tropical garden to create a campsite feel. 
Staying here costs less than $700 for a month, with daily breakfast included. You get a private air-conditioned tube with free WIFI, but there is not much space for your belongings. Still, it may suit you if you like minimalist living.
Mexico Visa for Tulum
The great thing about Mexico is that residents of 68 countries do not require a visa to enter the country, including the UK, Canada, the USA, Australia, and Northern Island. Moreover, nationals of these countries can stay in Mexico for up to 180 days! Therefore, it's easy to see why the country has become a popular destination with digital nomads.
However, even if you do not require a visa, you must have at least six months validity on your passport from the date of entry. You will also need to fill out a Multiple Migratory Form (FMM), either in-flight or upon arrival. 
For residents of countries that don't qualify for visa-free entry, you will need to apply for a visitor visa before coming to Mexico. A visitor visa will also give you 180 days to stay in the country.
It's important to note that working remotely in Mexico on both visa-free and tourist visas is a grey area. Some people may say that you need an official work visa to work online, but it is not precisely prohibited. To avoid any potential legal issues, you can apply for a temporary resident visa. This process does take some time, but it's very cheap.
A temporary resident visa will allow you to stay in Mexico for up to four years. So, if you decide to settle down in the country long-term, you'll need to look into this. Being on this visa will make life in Mexico much easier for you, too, as you'll be able to do things like open a bank account and buy a car. 
Culture and Food in Tulum
Food is the first thing people think about when you mention Mexico. The country is undoubtedly famous for its food, and you can find Mexican restaurants in most countries around the world. If you like Mexican restaurants in your home country, you will be blown away by the authentic cuisine you'll find once you are on Mexican soil!
Food in Tulum
Tulum, in particular, has a great mix of authentic Mexican food and western cuisine. Most digital nomads and expats welcome this variety because although Mexican food is delicious, you sometimes miss home comforts. 
Mexican food in Tulum tastes pretty different from the American Tex-Mex burritos and tacos. The cuisine here is also slightly different from in Mexico City and other regions. This is because the food from Tulum and the rest of the Yucatán peninsula is based on traditional Mayan food.
One of the most popular dishes here is 'Cochinita Pibil.' This is a slow-roasted pork dish made with Recado Rojo, a Yucatán spicy paste used in many meat dishes. Cochinita Pibil is often shredded and used in tacos. There is also a popular snack in Tulum called Piedras, which is like a fried dumpling made from corn and a filling.
Like in the rest of Mexico, You can find tacos everywhere in Tulum. Though the best ones are from the street food vendors, and they are super cheap too!  You will come across three ingredients in almost every meal; corn, beans, and chilies. Even so, you will find plenty of Mexican dishes that you have never seen or heard of too.
Dining culture
If rice is the staple ingredient for every mealtime in Asia, corn tortillas are the staple in Mexico. Mexicans will eat this bread variety for breakfast and lunch, and sometimes, also for dinner. Chicken is the most consumed meat in Mexico, followed by red meat. Eggs, milk, and fish are also widely used in Mexican cuisine.
Locals eat breakfast anytime between 7 – 10 am, typically consisting of sweetbreads and fruits or any variation of eggs served with tortillas. Chilaquiles, what we would consider as nachos, is also a popular Mexican breakfast. They deep fry tortillas before cutting them into quarters and topping with salsa, fried eggs, and sometimes cheese and sour cream. Locals often enjoy them with a side of (frijoles) refried beans.
For Mexicans, the biggest meal of the day is lunch, and most will eat this meal between 2 – 3 pm. Schools finish early in Mexico, around 1 pm, so locals eat a bit later to enjoy the day's main meal together. Lunch often consists of two courses, the first is typically a soup or salad. The main course is most often meat or seafood with rice, beans, and tortillas.
Mexicans eat dinner between 8 and 10 pm, and it's a much lighter meal than lunch. Locals don't like to spend much time cooking in the evening. They will either grab tacos from a street food vendor or prepare something quick, like quesadillas or tortillas filled with leftovers from lunch.

Tulum Nightlife
When it comes to nightlife, there are plenty of options in Tulum. There are laid-back bars with a jungle ambiance, sophisticated wine bars, and sleek rooftop bars. So, whatever your scene, you'll find your perfect bar in Tulum. You will find most of the town's bars downtown or along the beach. Here are some of the best bars to check out in both areas.
Batey Mojito and Guarapo Bar
Batey is a hip and vibrant mojito bar in the middle of the pueblo. I loved this bar as it has a very laid-back atmosphere, the mojitos are class, and they have fantastic live music. The food is just as good as the drinks, so you can enjoy tacos with a cocktail or two early in the evening and then stay to enjoy the live bands until late.
Santino Bar
Another downtown bar, Santino, is excellent for live music and dancing. The music is upbeat (lots of reggaeton), the atmosphere is lively, and the drinks are strong. They do good happy hour deals early in the evening, but the party doesn't properly start until around midnight. The place gets packed, but it never feels crowded. There are many other bars along the road, so many people bar hop and just stop by for a couple of drinks before heading to the next place.
Ciel Rose Sunset Bar
This small and secretive rooftop bar is located south of the hotel zone, in the jungle. Its location makes this bar very unique and gives it an exclusive feel. The 360-degree view from the rooftop is incredible, and it is one of the best places to watch the sunset while enjoying a beer. They also have a happy hour on many cocktails between 4 and 6 pm every day. It has a pretty chilled-out vibe, and the food and drink prices are very reasonable.
Casa Jaguar
Casa Jaguar is a beachfront seafood grill and cocktail bar with a rustic, jungle vibe. Casa Jaguar is known for its wild electronic music parties every Thursday. Still, it's a fantastic place to go for dinner and drinks any day of the week. 
Funky Burrito
Funky Burrito is a super fun, down-to-earth restaurant and bar in an outdoor jungle setting. If classy wine bars aren't your thing, check out this laidback spot for tasty local food, awesome music, and some of the best margaritas you'll ever have. The staff here make this bar what it is as they are extremely friendly and take great care of you. 
Elixyr Tulum
Elixir is one of the most aesthetically stunning bars in downtown Tulum. It is also a bit of a secret venue that can be easy to miss. It has a beautiful rooftop with a small pool, a resident D.J., and an award-winning bartender. All the staff here have brilliant hospitality, and you'll feel very welcome and at home. What's more, both the food and drinks are top-notch, and the prices are reasonable. They also hold LGBT nights every Thursday.
Things to do in Tulum
Tulum is full of natural wonders such as cenotes, ruins, lagoons, and of course, stunning beaches. Therefore, living in Tulum offers an abundance of adventures. Here are some of the best things to do and see here. 
Check out the cenotes
Tulum is full of fascinating underwater limestone caves known as cenotes. In the Mayan culture, cenotes were seen as the gateway to communicating with the gods. Today, some of the cenotes in Tulum are open and ideal for swimming. Others are semi-open, and a few are entirely underground, only accessible by a tunnel. 
Because of this, each cenote offers its own unique experience. Therefore, I would recommend checking out at least two or three. All cenotes in Tulum do have an entry fee. It is usually anywhere from 50 to 350 pesos per person. Here are some of my favorite ones. 
Gran Cenote

–

This cenote has crystal clear waters, which makes it perfect for snorkeling. You can also scuba dive in Gran Cenote, which offers a magnificent opportunity to see what lies deep down in the underwater caves.

Cenote Calavera

–

This small cenote is brilliant for swimming and snorkeling. You can jump into three holes, including one with the swing, which is the main attraction.

Dos Ojos

–

Also known as the 'two eyes cenote,' Dos Ojos is two unique cenotes connected by a 400-meter long passageway. The water here is transparent, and the temperature is pleasant. There are many impressive stalactites and stalagmites here, which makes it one of the best cenotes to dive or snorkel in. 
Explore the ancient Mayan ruins
Amazingly, still today, there are many ancient structures close to Tulum. Experts estimate that they were built between 250 – 900 A.D. These mind-blowing archeological sites are a must-see for any digital nomad living in Tulum. Here are some of the top Mayan ruin sites within driving distance from the town. 
Tulum Archaeological Zone

–

This is a small site located within Tulum. Although it's not as impressive as the others, it's still worth a visit. It costs only 80 pesos to wander around by yourself, or you can pay extra for a guide to learn about the history of this location. Go early in the morning as it gets hot and busy during the day.

Chichen-Itza

–

Chichen-Itza is a 2-hour drive from Tulum but is well worth the journey as it's one of the "New 7 Wonders of the World." It features excavated ruins of the large Maya city, including the iconic step pyramid. Most of the remains are well preserved, and the others have been restored. It's a good idea to pay for a tour guide as there is a wealth of knowledge to discover about this incredible site.

Coba Archaeological Zone

–

Coba is a 40-minute drive from Tulum. The park consists of three trails leading to three ancient structures. It features the highest pyramid in the region, Nohoch Mul, and you can climb to its top. Each route is between 1 to 2 km, so you can make a day of it, hiking or cycling around this beautiful natural setting. Alternatively, you can get taxi bikes to transport you around.
Relax on the white sand tropical beaches
Of course, one of the best things to do in any Mexican beach town is to spend time at the beach. When you've had a busy week and need a chilled weekend, head to the ocean. Some of the beaches in Tulum are owned by hotels. Therefore, these areas are reserved for the hotel's guests. However, many have beach clubs that sell day passes to the public for beach access. Papaya Playa Project, Nomade, Taboo, and Ziggy Beach are a few popular beach clubs in the hotel zone.
There are also three public beaches in Tulum, which are just as beautiful as the private ones. These are Las Palmas, Playa Paraiso, and Playa Ruinas. These beaches have a wide stretch of sand, so you can just rock up with your towel and find a spot. Alternatively, you can use one of the sun loungers and umbrellas by purchasing a drink or snack from the vendors. 
Visit Sian Ka'an Biosphere Reserve
Sian Ka'an translates to 'gateway to heaven,' and this biosphere reserve is a UNESCO World Heritage Site and the largest protected area in Mexico. It has over 2,000 square miles of freshwater marshes, mangroves, lagoons, and a barrier reef. As you can imagine, wildlife is abundant here, and there are lots of snorkeling opportunities too. 
Because the park is so big, most people visit one of two parts; Punta Allen or Muyil. You can see the reserve on your own by driving there or book a tour that includes transport. Muyil is much easier to get to on your own. The roads leading to Punta Allen are rocky and unsafe, so it is harder to access in your own vehicle. The reserve is a 60 to 90-minute drive from Tulum town, making a great day trip on the weekend.
Take a trip to Laguna de Kaan Luum
Laguna de Kaan Luum is an immense lagoon that sits just 9 kilometers from South Tulum. The lagoon has a cenote in the middle that gives the water a magnetic array of colors. The cenote also produces mud, so you can take a mud bath in the lagoon while you are there. There's also a shallow swimming area with a pier and hammocks. Entry is only 50 pesos, so it's one of the most affordable things to do in Tulum. 
Try kitesurfing
From November to May, Tulum can get pretty windy, producing big waves in the ocean. During these months, Tulum's beaches become full of kitesurfers. There are a handful of kitesurfing schools along Tulum's south coast. They offer lessons to beginners and equipment hire to those with experience. 
When the ocean is calmer, many people grab a paddleboard and go out into the water instead. In general, Tulum is a great place for watersports all year round.

Best Time to Visit Tulum
Tulum has a tropical climate which means it is hot all year round with a wet and dry season. Throughout the year, temperatures typically stay between 62°F (16°C) and 92°F (33°C). Even in the coldest months, it will rarely drop below 53°F (12°C). In contrast, it doesn't often rise above 96°F (°C).
Wet season
Tulum's rainy season begins in June and lasts until October. However, this doesn't mean that it rains non-stop from June to October. The wettest months are June, September, and October. Plus, rain storms typically last an hour or two only, and often the sun returns shortly after. There will rarely be more than two or three days of continual rain, so the wet season does not tend to disrupt your daily routine much. 
Dry season
The dry season is from November to May. During these months, expect clear skies, an abundance of sunshine, and pleasant temperatures. May and June are the hottest months in Tulum, with temperatures above 92°F (33°C). August also feels exceptionally hot, as this is when the humidity is at its highest. The coldest months of the year are November to early February. During these months, average temperatures are 70-80°F (20-25°C). 
Best time to visit
The coolest months of the year (November to February) correspond to peak season. Many tourists from America flock to Mexico at this time to escape the summer. Because the temperature is not too high, the weather is at its most pleasant and therefore, it can be the best time to visit if you don't mind the crowds. 
Alternatively, if you want to avoid the crowds and don't mind the heat, June through August is when the crowds thin out and the town becomes more peaceful. October is hurricane season as well as the wettest month. Therefore, most travelers avoid Mexico at this time. However, if you do find yourself in Tulum at this time of year, you'll get some fantastic accommodation deals.
Other climate information
The hours of daylight change throughout the year, although the region of Quintana Roo does not observe Daylight saving time (DST). Tulum's longest days are in June when locals enjoy over 13 hours of daylight. The shortest days are in December, even though there are still 11 hours of daylight. Sunrise varies from 6 am in June to 7:30 am in January. Sunset can be as early as 6 pm in November and as late as 7:30 pm in July.
Tulum for Families
Tulum is much safer than other parts of Mexico and is free from the gang and cartel activity that is prominent elsewhere. That being said, there are some neighborhoods with a bad reputation. Luckily though, these are not likely to be areas you would encounter. Therefore, Tulum is a safe town to live in with children. It also has a very easy-going feel that makes life here enjoyable for families. 
Top activities for children
The beaches

–

Tulum is blessed with soft, white sand beaches and crystal clear oceans, which makes the Tulum seaside ideal for children. The ocean is generally fine for children to swim in, and some of the beach clubs have facilities for children. For example, La Zebra Beach Club has a cool wooden playground on the beach area. 

Xel-Há Park

–

Xel-Há is a unique take on the classic water park. It's a natural park where children and adults can safely snorkel amongst the fish and swim with dolphins. There's a lazy river to float around and a scenic lighthouse. Older kids can climb this and then descend the 30 feet high slide. There is also a Children's world full of paddling pools, small water slides, and lots of playground equipment for younger children. 

Akumal Monkey Sanctuary

–

Akumal is a monkey sanctuary about a 30-minute drive from Tulum. There are many different monkey breeds you can see here, including spider monkeys and lemurs. All the animals have been rescued from circumstances resulting in them no longer being able to live in their natural habitat. The center offers 2-hour tours that let you touch and interact with the monkeys closely.
Schools
IIn Mexico, most schools are private. The few public schools there are often overcrowded and don't have a bilingual program. Therefore, if you plan to move to Tulum with your children, you should only consider private education establishments. 
In Playa del Carmen, there are lots of international schools. However, as Tulum is a small town, you will find only a couple of schools that offer bilingual programs. 
Tulum International School

– The school caters to preschool to 8th-grade students and runs a bilingual English and Spanish program. 
Green School Tulum – This is a newly established international school that caters to early years to middle years, and from 2022, also high schoolers.
Living in Tulum

Tulum Transportation
Unfortunately, there is no decent public transport in Tulum. There are a couple of bus routes that some locals take to work but are inefficient, unreliable, and rarely used by tourists or expats.
Luckily though, Tulum is a very walkable town. So, if you are staying in the downtown area, you will find that you can walk to most places. However, there are still several other options for getting around Tulum. 
Bicycles
Cycling is super popular in Tulum, and there is a bicycle lane from the town to the beaches. In addition, there are many places where you can rent or buy a bicycle. The prices vary depending on the season, but you can usually get one for a very good price if renting for a month. 
You may also find that your accommodation offers free bicycle use. This is a common additional extra that some hostels and Airbnbs in Tulum give their guests. Therefore, cycling can serve as a cheap or even free transport option if you're planning to spend most of your time within close proximity to the town. Plus, cycling doubles up as exercise too!
One thing to note, though, although bicycles are popular in Tulum, so is bicycle theft. Therefore, ensure you have a lock and use it whenever you leave your bike unattended. What's more, keep it within your residence at night, if possible.
Scooters and cars
Another popular mode of transport in Tulum and the rest of Mexico is scooters. However, unlike in other countries, scooters are expensive to rent. To make it worse, some places won't rent them out long-term during peak season. 
If you do want to rent a scooter, I recommend checking Tulum Facebook groups and marketplace for people selling or privately renting one. Most expats and digital nomads who stay in Tulum for more than a few months will buy a scooter and then sell it when they leave. 
You can also rent a car in Tulum, but there are far fewer car rental shops than scooter ones. Renting a car can also be very expensive, depending on the time of year.
Taxis
Unfortunately, there is no Uber or similar service in Tulum. It is easy to find a taxi on the street, but it can be costly. If you don't have a scooter or car, look for a reliable and affordable driver to use whenever you need to go out of town. Having this contact will make your journeys a bit cheaper than hailing a random cab on the street. The best way to find a driver is through recommendations, either word of mouth or online.
Fitness and Health
If you're looking for somewhere to keep fit in Tulum, you'll be spoilt for choice as there are many great options. Here are a few of the most popular gyms, fitness centers, and yoga studios in town.
Los Amigos Gym

– This three-level air-conditioned gym has everything you need and more. As well as state-of-the-art equipment, there is a climbing wall and juice bar. The monthly membership is very reasonable, and you can also upgrade to have use of the spa.

Zama Studio

– Zama is the ultimate center for your mind and body needs. They have a full class schedule with various activities, including vinyasa yoga, power yoga, mat Pilates, and sculpt fitness. You can pay a drop-in rate or purchase a weekly or monthly pass.

Tribal Tulum

– Tribal is a yoga studio and dive center in downtown Tulum. Whatever yoga style you prefer, you will find your favorite class at Tribal. They teach yin, restorative, vinyasa, Hatha, and Iyengar.

Tulum Jungle Gym

– If you like to exercise outdoors, Tulum jungle gym is for you. This outdoor gym is located right on the beach. All the equipment is handcrafted by natural materials – wood, bamboo, and stone. Here you will find dumbbells ranging from 2kg- 72kg, bench presses, squat racks, kettlebells, and so much more. There are also yoga mats and a stretch area.

Lucid Aerial Arts

– If you are interested in trying a new kind of exercise, check out this aerial studio. The center runs all-levels adult aerial classes four days a week. There are also classes for youths ages 10 to 14 and young children aged 5 to 9.
There are also a handful of spas in Tulum for your massage and body treatment needs. While massages aren't exactly cheap in Tulum, they are more affordable in the town rather than at the resorts. 
Tulum People
Tulum has just over 26,000 residents living there, making it a tiny community compared to other Mexican towns like Playa del Carmen. However, as Tulum is small, you quickly get a taste of the local life and become part of the friendly community. 
The primary language spoken in Tulum is Spanish. However, as the expat community grows here, so does the use of English. Additionally, because there are over 20 varieties of Maya language still spoken in Yucatán, you may come across these traditional dialects too.
While some locals in Tulum speak excellent English, most only know the basics. Therefore, it can be challenging to get to know the Mexicans living here if you don't speak conversational Spanish. In fact, without speaking the primary language, you will most likely only stay in the expat/digital nomad community.
Even if they don't speak English well, you'll find the locals in Tulum to be very friendly and warm. Mexicans are very welcoming to tourists, and although they may not have much, they are very generous. 
Like in many parts of the world, the family unit is fundamental to Mexicans. Mexicans are similar to the Spanish in the sense that mealtimes are seen as family time or opportunities to socialize with close friends. 
Mexican's can be very eccentric in their communication and expression, which can feel a little unnerving if you come from a more reserved society. However, Mexicans also love to gather to party and dance and are generally very fun to be around.

Tulum Insurance and Medical Care
Mexico has a public healthcare system, and everyone who works in the country automatically enrolls into the system. This includes expats working for Mexican-based companies but not digital nomads working for employers in other countries or online business owners.
Therefore, as a digital nomad living in Mexico, you will need private health insurance. However, having insurance is totally worth it as you will have access to the best hospitals and highest quality healthcare in Mexico. If you already have international health insurance, you can use this or buy local health insurance within Mexico to cover you during your time living in the country. 
Although healthcare in Mexico is pretty good, there is not a great choice in Tulum. Most medical centers here have mixed reviews and can be very pricey if you do not have insurance. 
Hospital de Tulum – This small, private medical center is a go-to for emergency cases and basic medical care.

Costamed Tulum – This modern private hospital has more facilities, including an emergency shock area, operating room, and endoscopy room. They also have radiology and Imaging services.

Hospiten Riviera Maya – This medical center is part of a hospital chain and is quite far from Tulum. However, it caters to mainly foreigners and tourists, so it is familiar with international insurance policies. 
There are also a handful of dentists in Tulum and plenty of well-stocked pharmacies.
Make sure you are fully covered by reading our full Digital Nomad Travel Insurance guide.
Jobs in Tulum
Most foreigners living in Tulum and the rest of Mexico are digital nomads who work remotely for companies in the U.S., Europe, or elsewhere. In general, there are very few jobs for foreigners in Mexico. The job market is not great for anyone here right now, including Mexicans. Plus, to work legally in Mexico, you need a work permit from the Institute of Immigration (INM). 
With that being said, you will also come across some expats who are working in Mexico. Most work as English teachers in the schools. For most teaching opportunities in Mexico, you will need to hold a TEFL/TESOL qualification and be a native English speaker. Some expats here also work in real estate, with some of the newer estate agencies being run by foreigners.
Check out our Digital Nomads Jobs Postings to find the best jobs available for Digital Nomads.
Nomad Friendly
Value for Money
Internet
Workspace
English
Food
Safety
Health
Transportation
Friendly
Quality of Living
Cost of Living Tulum
Living in Tulum can be very affordable as long as you are careful with your spending. However, the type of accommodation you choose will have a big impact on your monthly expenses. Moreover, electricity can be pretty pricey in Tulum. So, if you use air-con frequently, your electricity bills will be very high, significantly increasing your living costs.
Another factor that will greatly determine your cost of living is how you get around. If you mainly walk and cycle, your transport costs will be minimal. However, if you get taxis everywhere or rent a car, transport will quickly become a big expense.
Eating out is very cheap in Tulum, and you can enjoy a meal in a local restaurant for $5-6 dollars. In addition, a barista coffee in a cafe will cost around $2-$2.50, and local beer in a bar is only about $1.50-$2. Buying groceries to cook at home is also very affordable, so this is a good option for keeping your monthly spending low. 
Considering these factors, you can live in Tulum as a digital nomad for anywhere between $1000 to $1600 a month. However, most digital nomads and expats here find their monthly costs come in at about $1250.