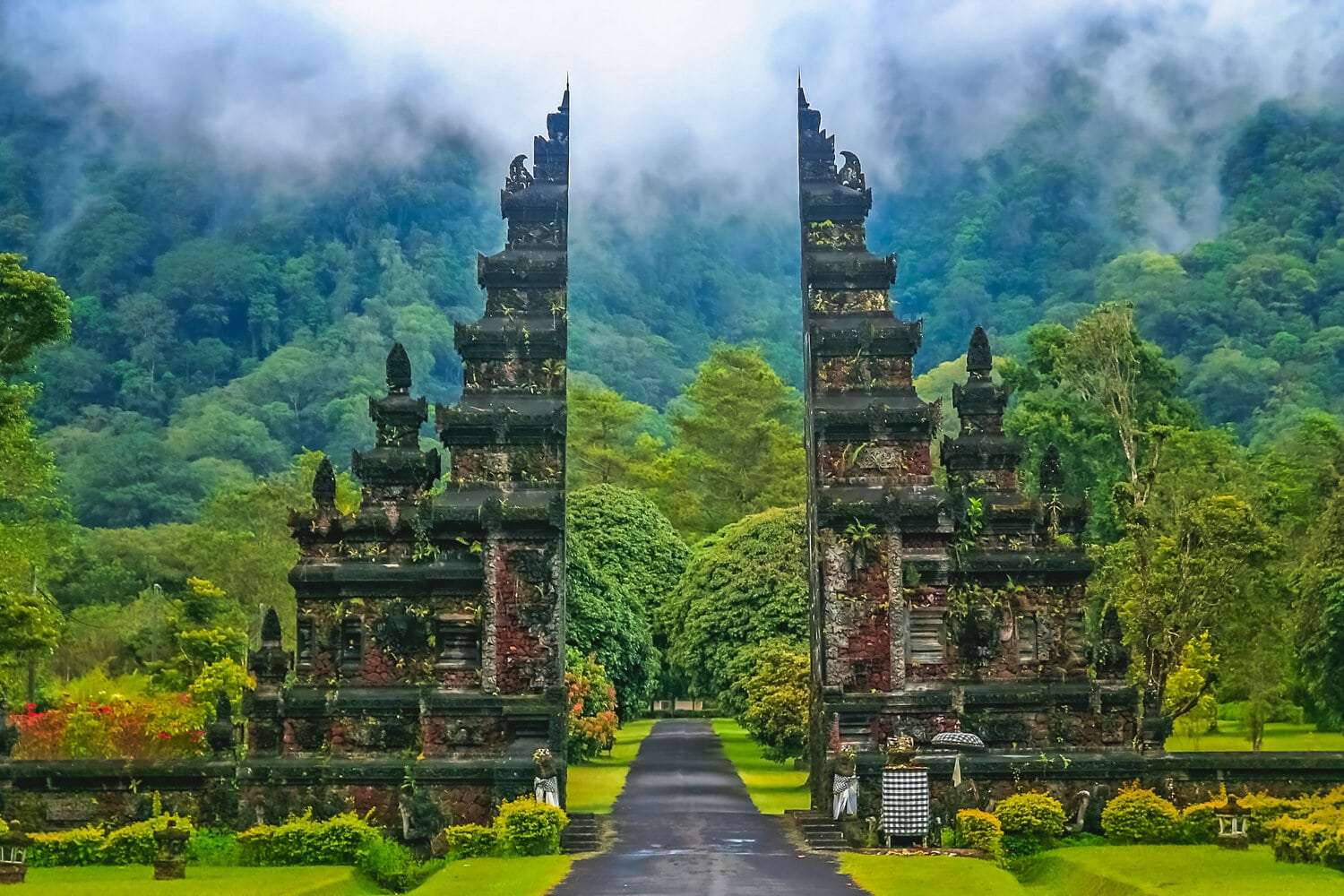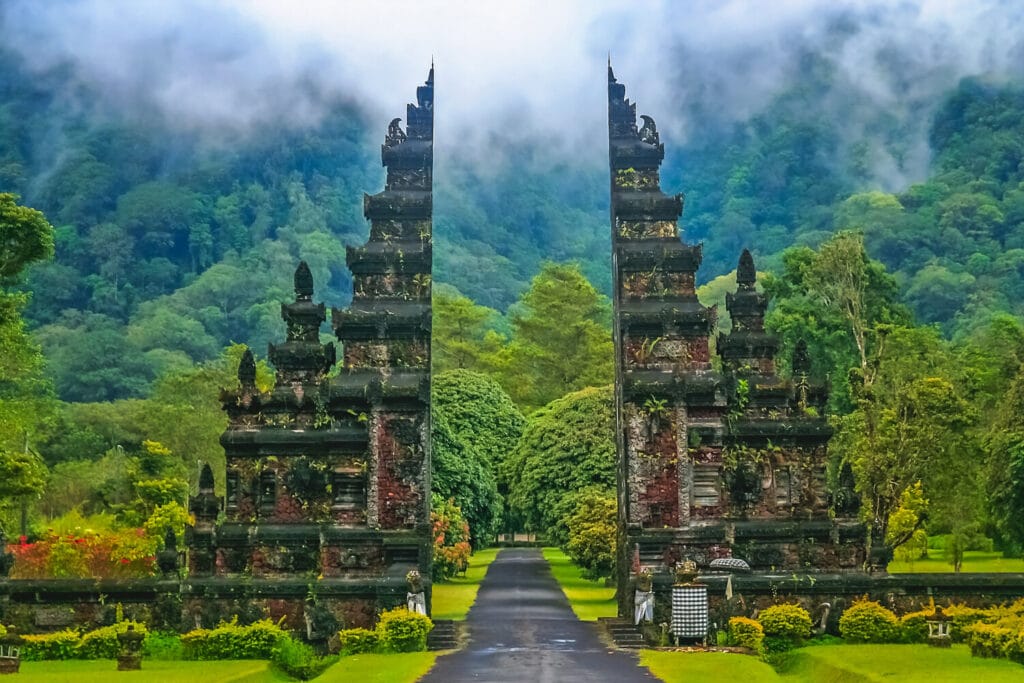 A Digital Nomad Guide to Bali, Indonesia
Bali lies in southern Indonesia between the islands of Java and Lombok. It is considered the most popular tourist destination in the country and is especially attractive for backpackers, budget travellers and digital nomads. Bali has a population of over 4 million people which are mostly concentrated to the southern part of the island while the centre and northern parts are more rural. 
More than 6 million tourists visit Bali every year which shows it is far from the untouched paradise it once was hailed to be. However, at more than 5,700km² the island is large and there still are many corners that haven't been overrun by hordes of tourists just yet. The much smaller neighbouring islands Nusa Penida, Nusa Lembongan and the Gili Islands have recently become hot new destinations for tourists and digital nomads alike. 
Bali is not only known for its world-class beaches and favourable climate, it also has a unique culture and history that is very different from the rest of Indonesia. Bali has a lot to offer including incredible surf spots, lush rice terraces, ancient temples, beautiful landscapes, scenic volcanos and so much more. Its world-famous diving and snorkelling locations bring millions of tourists to the island every year and have encouraged many digital nomads, entrepreneurs and remote workers to make it their permanent home. 
Bali has everything from impressive mountains, thick jungles and paradise-like beaches which is why many consider it to be the perfect island. It's known for its yoga and meditation retreats but it is also famous for having some of South East Asia's best nightlife with huge nightclubs and international artists performing regularly. In parts of the island, you'll find luxury resorts and high-end restaurants by the beach while others are more laid back and popular amongst backpackers and surfers. Bali simply has something for everyone.
Nomad Friendly
Value for Money
Internet
Workspace
English
Food
Safety
Health
Transportation
Friendly
Quality of Living
Living in Bali Overview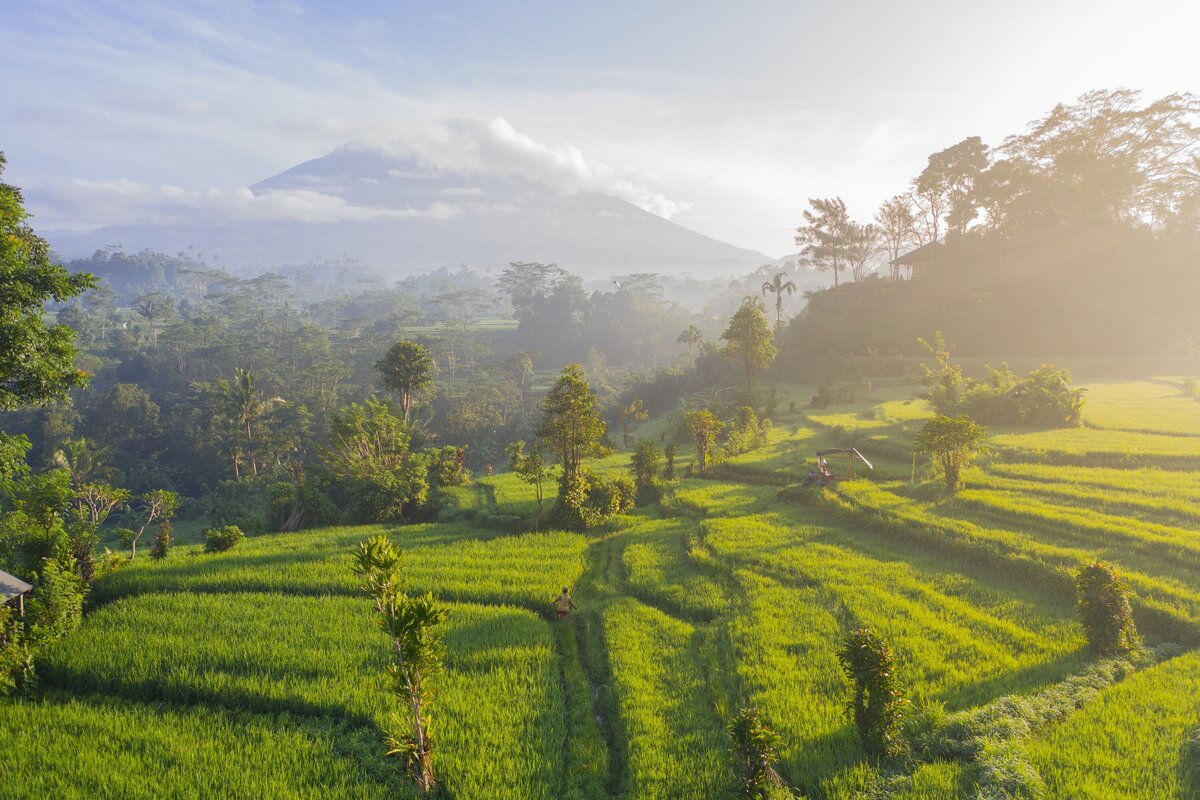 Digital Nomad Personal Experience in Bali
Over the years I've had multiple opportunities to live and work in Bali for varying amounts of time. The island is arguably the largest digital nomad hub in the world right now and not without reason. Bali has a unique combination of factors that attract remote workers worldwide and sometimes even lead to them giving up their life of location independence and settling down in this incredible place. 
Bali has always felt like home to me right from the time I first stepped foot on the island. At the time I was backpacking and not working remotely yet. I was blown away by how beautiful Bali was and how many expats seemed to live there. The backpacking trip ended up lasting for almost three months but none of the islands in South East Asia I saw stuck in my mind as much as Bali.
Bali is a place I could see myself living long-term which I haven't come across much. Usually, it's easy to become sick of a place after you've lived and worked there for a while but Bali is different. I think it's because the island is so large and multi-faceted that it's difficult to get bored. You could be living in Bali for many years and still not see everything. If you're sick of one area of the island you can just move on to another and have a completely different experience. 
Bali provides a unique community for digital nomads that doesn't exist in this form anywhere else in the world. The island is a magnet for freelancers and those who took the chance to leave traditional society in favour of a life of spontaneity and independence. Remote work can be lonely but in Bali, you're almost guaranteed to find like-minded people everywhere you go. This makes it an incredibly special place and is one of the main reasons why I keep returning.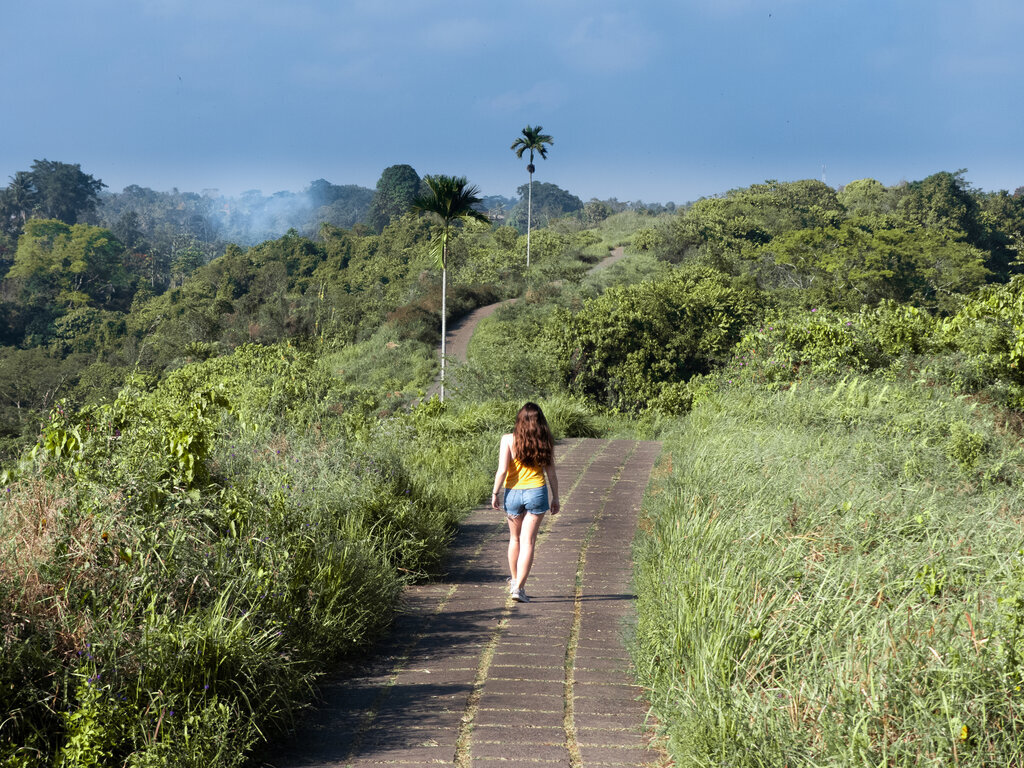 Work in Bali
Working from home permanently can be challenging especially as a digital nomad. While you can definitely get work done from the comfort of your own accommodation you might find it beneficial to work at a cafe, restaurant or coworking space to increase productivity. Bali has an incredible selection of beautiful beachfront restaurants and coffee shops, especially in the Canggu area. Some of our favourites include the Crate Cafe, District Canggu and the ZIN cafe. These are all modern and open spaces with affordable menus and a wifi connection.
Some digital nomads enjoy working at cafes and restaurants occasionally but most prefer actual coworking spaces. These provide high-speed internet, desks, a comfortable work environment as well as opportunities to network with other remote workers. Here are some of the most popular coworking spaces in Bali.
Best Places to Work in Bali
Dojo Bali is probably the most well-known coworking space in Canggu and all of Bali. For a 15$ day-pass, you get access to a fast wifi connection (300Mbps), air-conditioned conference and skype rooms, a beautiful swimming pool, printers as well as lockers to store your valuables. They hold regular workshops and networking events which makes Dojo an amazing resource for digital nomads. They consider themselves not only a coworking space but also a community of like minded individuals from around the world. Dojo is a great choice for anyone looking for a full experience of working together with social aspects as well. 
The Tropical Nomad Bali is a fairly new coworking space in the heart of Canggu. Their day-passes start at 13$ but they also offer monthly or unlimited packages. The space is modern and airy with great amenities such as a high-speed internet connection, ergonomic chairs, skype rooms and an in-house cafe. This space is focused on productivity and getting work done with fewer events and less focus on building a community like at Dojo Bali. If you're looking for somewhere to focus and work without distraction then this is the place to go.
With one coworking location in Canggu and two in Ubud, the Outpost Bali is a large and interconnected coworking community. The bright and airy space encourages productivity with an open-plan concept as well as private rooms and, of course, a pool. Daily rates start at 16$ which includes access to regular networking and social events. After a long day of working, you can reward yourself with a cold drink while enjoying the beautiful sunset from their large terrace. 
Hubud is a unique and unusual coworking space in beautiful Ubud. Located right next to the famous Monkey Forest, the space prides itself in being close to nature and constructed almost entirely from natural materials. Hubud has a cosy and intimate setting with a unique community of remote workers looking for peace and quiet. Hubud is a direct partner of Dojo Bali so they have many great offers available. Day passes start at 13$ and different hourly packages are also available. 
Bali Bustle is a centrally located, modern coworking space with great amenities such as an in-house gym. This is one of the more affordable workspaces in all of Bali with day passes starting at just 10$ including free-flow coffee, lockers, gym access and free limited printing. At 50-70 Mbps, the wifi at Bali Bustle might not be the fastest on this list but the space more than makes up for it. Get your work done from the rooftop lounge and take part in one of the weekly events such as yoga and cooking classes.
Located just minutes from the beach, Tribal is a very special hostel… With sleek, custom designed private and dorm rooms to ensure a good night's sleep, Tribal is Bali's newest and most modern hostel and comes with a twist… Check out the MASSIVE coworking area with dedicated booths, plentiful power sockets, high-speed wifi and super tasty coffee and kitchen to fuel a day's hard hustle!
Located in Canggu, BWork has a spacious, laid back coworking space with plenty of amenities. You can use the well equipped studio for video and audio recording, or book one of the large meeting rooms for private meetings.
If you need a break from work, you will also find other on site facilities. Such as the rooftop garden, yoga rooftop, pool garden and the Bwork Cafe.
This is a great place to meet other likeminded nomads and expats as there are many events happening all the time.
Read more about some other options for a coworking space in Bali. If you're looking for more options remote work-related, check out our complete Remote Work from Home Guide.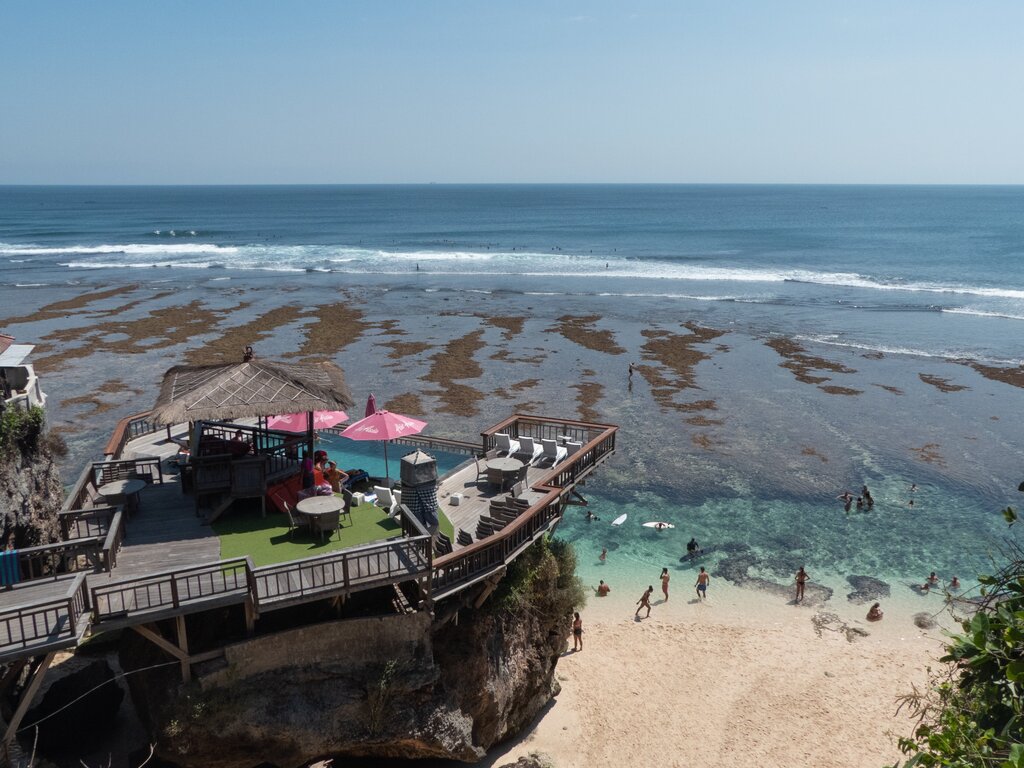 Best Places to Live in Bali
Best Neighbourhoods
The majority of the population of Bali lives in the south of the island close to the city of Denpasar. Many tourists choose to stay in Kuta, Legian or Seminyak which are well known for their nightlife and have many western restaurants and stores. These parts of Bali are densely populated and there is always something going on.
Villas in this area tend to be smaller with less outdoor space although there is a decent selection of guest houses. Kuta and Legian beach are usually quite crowded but decent for surfing. You'll find several coworking spaces in this area which can be beneficial for digital nomads.
Canggu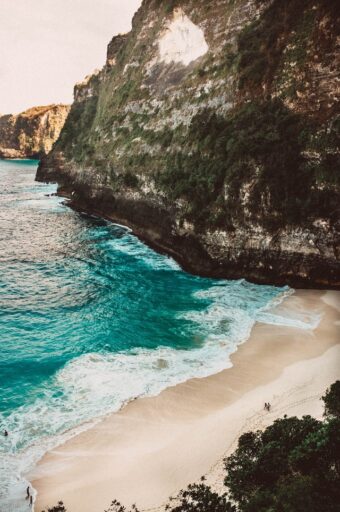 Arguably the best area to live in Bali as a digital nomad is Canggu. This area has been up and coming for the last few years and is a hub for digital nomads and remote workers. If you're working as an influencer or content creator this is the place to be. Canggu has an incredible selection of villas, although prices can be high if a central location is important to you.
If you want to enjoy the many benefits of staying in Canggu but are looking for something more affordable you should consider the neighbouring areas of Perrerenan, Berawa, Umalas or Kerobokan. They lie only a short scooter ride away from the heart of Canggu and are becoming more and more popular. Canggu can be quite crowded while its neighbours are still largely spared by tourist crowds. You definitely won't have any trouble finding cafes, restaurants or coworking spaces to do your work in this area. Canggu also has decent nightlife with a focus on backpacker culture. 
Ubud
If Kuta and Canggu are too busy and crowded for your taste you should consider living in the Ubud area. It is a quieter neighbourhood with yoga and meditation retreats as well as a focus on the local culture. Many digital nomads choose to escape to Ubud at some point to get work done and truly be productive. Ubud gives you the opportunity to reconnect with nature and truly embrace the Balinese lifestyle while still being able to work comfortably.
Sanur, Uluwatu and Nusa Dua
The areas of Sanur, Uluwatu and Nusa Dua on the southern tip of the island are less attractive for digital nomads as they tend to be more expensive. They are popular amongst tourists and you won't find much going on. However, you might find some affordable villas around Jimbaran which is also located in this area and could be a good alternative if you're on a budget.
The northern and eastern parts of Bali consist mainly of small towns with limited tourism. While you can find some great options for a getaway here keep in mind that the internet speed might be questionable which could impact your work.
As a digital nomad, you should focus on finding a place to stay close to Canggu when you first come to Bali. This will give you lots of opportunities to network and integrate yourself into the local community of expats. Once you're settled in, you can try out one of the neighbourhoods mentioned above. 
Find an Apartment in Bali
In Bali, most people live in villas which can be either shared or private. There is an incredibly large selection of villas of varying sizes on the market and most landlords are keen to rent them out for longer periods of time. You will be saving a considerable amount of money if you rent a villa for a whole year or even 6 months and not on a monthly or weekly basis.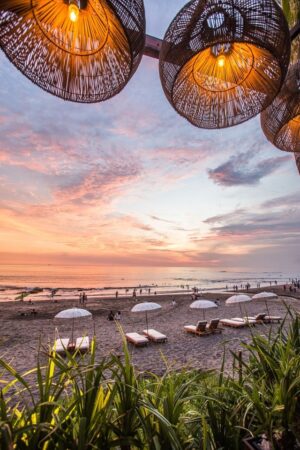 Prices for a double room with a private bathroom in a shared villa can be as low as 200$ per month and go all the way up to 800$ or more. The price depends a lot on where the villa is located and what amenities it has. If you're looking for a modern villa with a pool in Canggu you'll have to pay at least 450$ per month per room. However, a basic villa a little further away with no pool could be a lot more affordable. 
Most villas have at least two bedrooms going up all the way to 5 or 6 bedrooms. You might enjoy living in a shared villa with other digital nomads which could bring down the price. One-bedroom villas tend to be slightly more expensive. Finding potential roommates is best done over Facebook using local groups or on arrival through word of mouth or coworking spaces.
Before renting a villa always make sure to clarify what's included in the price. Most villas include a regular cleaning service (3-4 times per week) as well as pool maintenance. Some also include electricity and wifi costs although this may be separate in other cases.
Coliving Spaces
If you're trying to network and meet like minded individuals in Bali then you should consider joining a coliving space. These are usually connected to coworking spaces and can be a great way to network. However, coliving spaces are usually quite expensive and lack the privacy and space you might have in a private villa. It can be really helpful to stay at a coliving space when you first arrive in Bali where you'll most likely meet others looking for long term accommodation.
If you're planning to move to Bali as a digital nomad you shouldn't worry about booking accommodation before you go. You will find the best deals on arrival when you get a chance to get to know the area and decide what you want. Bali is oversaturated with accommodation options so you'll rarely have to worry about having nowhere to stay.
Book an Airbnb or hotel for the first few days and then start looking for something more permanent when you arrive. Use Facebook groups like Bali cheap House & Room Rental or Bali Housing and Accommodation to help you find the best villas and consider working with a real estate agent to get the best deal. Airbnb can also be a helpful tool to find places to stay. Coworking spaces and hostels usually have contacts for villa owners or people looking for a shared living situation.

Cheap Places to Stay in Bali
If you're trying to save money and live in Bali on a budget you might want to consider living in a guesthouse. These can charge as little as 100$ per month if rented for a longer time period. However, the rooms will be basic and you will share the common spaces with tourists that come and go frequently.
The kitchen in guest houses is often very basic with few appliances. If you're looking for a luxurious stay this won't be a great option, however, for those with a tight budget staying in a guest house might just be the most affordable accommodation in Bali.
If you're looking for low budget accommodation you might think that staying in a hostel room could be a good option. Hostels in Bali can cost anywhere from 7$ to 40$ per night depending on how nice the hostel is and where it is located. You'll soon notice that even the cheapest hostel room will eventually be more expensive than renting your own place long term. Some hostels offer long term stay options which could be quite affordable but you won't have much privacy or a good space to work.

If you value your own space and privacy but still want to live in Bali on a budget you should look at more basic villas around the Jimbaran area or further inland. These tend to be in need of updating and they usually come without a pool but can really help keep your budget small. If location is not very important to you there are some great deals to be found.
Exclusive Member Benefits in Bali
Similar Digital Nomad Destinations
Indonesia Visa for Bali
Most nationalities (over 160) do not technically need a visa to go to Bali. They can stay in the country for 30 days visa-free but have to leave once this time is up. For digital nomads who plan on staying in Indonesia for more than 30 days, it may be advisable to either get a 30-day visa on arrival which can be extended once for another 30 days or to apply for a 60-day visa before you go. This lets you stay in the country for 60 days before you have to exit.

Although many digital nomads do the famous "visa run" every 60 days to get a new visa this can be tiresome and expensive. To get around the 60-day visa rule many apply for a Sosial Budaya Visa which is meant for visiting Indonesian friends and family but is issued quite liberally. With this visa, you get to stay in the country for 60 days and can extend four more times for 30 days each giving you a total of 180 days in Indonesia before you have to leave. 
At the moment this is the best option for digital nomads who plan to stay in Bali for an extended period of time. Working visas are hard to come by and nearly impossible to get if you're not with a large company who is sending you to Indonesia to work. The only other way to get one as a foreigner is if you start your own company in Bali which might be an option if you're planning on making it a more permanent home base.
Culture and Food in Bali
It is a common misconception that Bali is its own country because it is so different from the rest of Indonesia. The island practises its own unique form of Hinduism which can't be found anywhere else in the world. It is distinctly different from Indian Hinduism and combines aspects of Buddhism and Malay ancestor cult.
While 87% of Indonesia is Muslim and a further 9,8% is Christian, 83% of Bali's population identifies as Balinese Hindus. They have their own traditions and beliefs which are unique to Bali with beautiful architecture, colourful traditional clothing and festivities.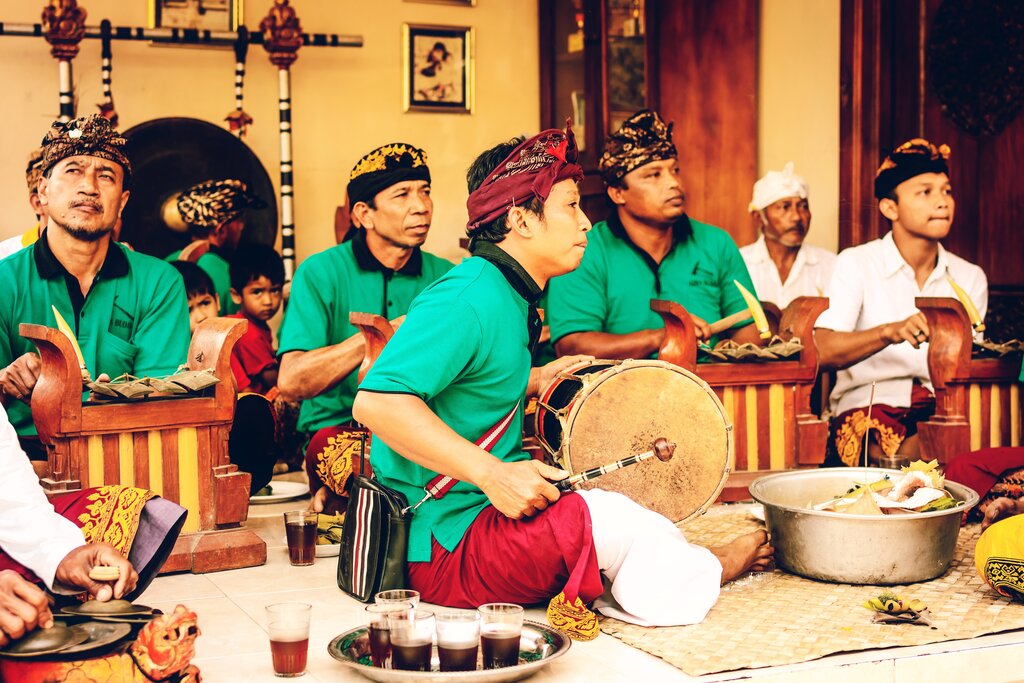 When you come to Bali, you'll soon notice the many colourful flower offerings in front of every shop and even in the middle of the street. They're called Canang Sari and are prepared every single day by the majority of the population to please the various gods. 
For the Balinese, the harmony between good and bad is very important in everyday life. Their beliefs are very close to nature and place importance on traditions and ceremonies. 
One of the most important days of the year in Bali is "Nyepi" or silent day. It marks the beginning of the new year according to the Balinese calendar and usually takes place some time in March. On silent day everything in Bali will be closed and no one is allowed to leave the house.
It is a day meant for fasting and meditation and in most cases, even the electricity and internet will be shut off other than for large hotels and hostels. The Banjar (local police) will patrol the streets and ensure no one is breaking these rules which can be punished with a fee. If you're in Bali during silent day you should make sure to go food shopping the day before and be respectful of this unique tradition.
Bali Local Food
If you want the best local culinary experience, you should go to a "warung". These small local restaurants are the best place to try all the dishes that are typical for Bali. The most popular ones are "Nasi Goreng" and "Mie Goreng", which are delicious fried rice or noodles served with vegetables or meat. Fish, chicken or pork mixed with vegetables and rice and seasoned with many different spices are also widely available and very affordable.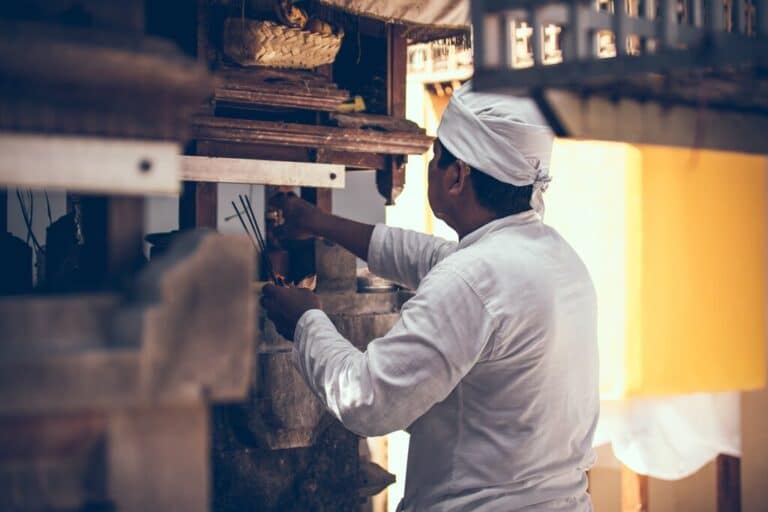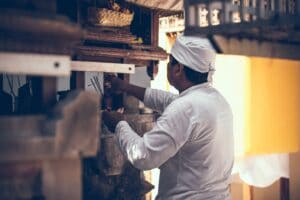 You can get a filling meal with a drink at a warung for less than 3$. Near the beach, you will often come across street stalls offering fried buttery corn on the cob for only around 1.50$. This is a great snack and won't break the bank.
Beef is not consumed very often in the local cuisine, as it is considered sacred in the Hindu religion. If you're looking for a juicy rump steak, you will find one in one of the many western restaurants. These offer high-quality foods from around the world like pizza, burgers or tacos.
While there are some affordable western food options around these can also be quite pricey so eating at a warung will be your best bet if you're on a budget.
Bali Nightlife
Bali is one of the best places for nightlife in all of South-East-Asia. Over the years Kuta's Jalan Legian has become a hotspot for large clubs, rooftop lounges and bars with very affordable drinks. A popular place to go in Kuta are the all-you-can-eat-and-drink BBQ nights where you pay a flat fee to have a delicious BBQ meal as well as free-flow drinks.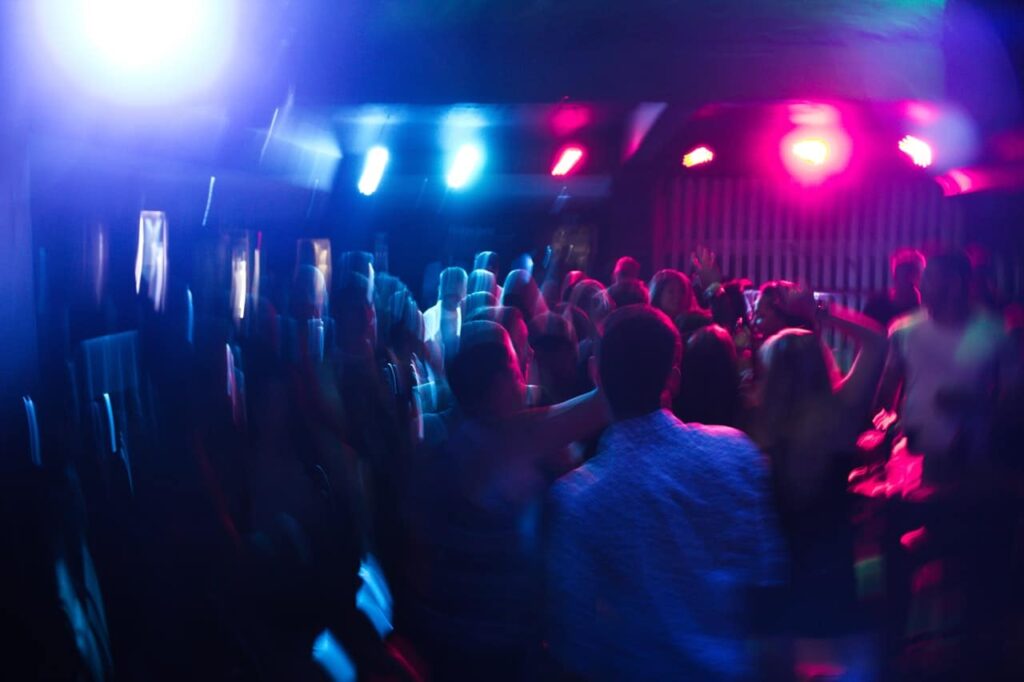 Skygarden and LXXY are the most popular clubs for these offers, both of which have incredible rooftop decks. Going out on a budget has never been so easy if all you have to pay all night is an 8$ entry fee. If you're looking to party then Kuta is the place to go. With packed clubs and international DJs playing all night you'll never be bored. Some of the most popular ones include The Engine Room, ShiShi Bali or the Bounty Discotheque. 
While Kuta is definitely the party central of Bali, you might enjoy Canggu's more laid back and less aggressive nightlife. You'll still find clubs in Canggu although they're more backpacker oriented with a community of expat and locals. Head to the Sandbar for parties on the beach or Gimme Shelter and Pretty Poison to party all night with renowned DJs. 
While you can find parties almost every day of the week the biggest nights to go out in Bali are Wednesdays, Fridays and Saturdays. Around Kuta, Legian, Seminyak and Canggu there are often large house parties in private villas which are popular amongst those living in Bali full time. Parties and club nights in Bali tend to go on until the early morning and some don't even start until midnight.
Canggu is known for its beach clubs which are great for a chill afternoon and turn into open-air clubs in the evenings. There is a great selection to choose from but some of the most popular ones include Finns Beach Club, Old Mans or La Brisa. Come here with friends in the early evening for some drinks and stay all night for some of Canggu's best parties.
Stay Safe
Bali's nightlife is considered to be relatively safe if you use your common sense. It's always advisable to take care if you're by yourself and avoid walking home alone as a female. However, this is not to say that Bali is dangerous, it is still a very safe place compared to large cities around the world.
It's advisable to steer clear of very cheap alcohol which is often homebrewed and can contain dangerous ingredients. This is common in many parts of South East Asia and can easily be avoided by buying bottled or name-brand drinks.
Bali has many great options for a relaxed night out if clubs and wild parties are not what you're looking for. You'll find small beach bars or quieter bars with live music all around Seminyak, Legian and Canggu. There is always something going on in Bali and with thousands of places to choose from there's something for everyone. 
Things to do in Bali
Visit Ubud

Ubud is a town known for its art and culture. It is a lot quieter than Kuta or Legian and a popular getaway for those interested in yoga or meditation. There are plenty of things to see in Ubud such as the Sacred Monkey Forest, where hundreds of monkeys roam freely. Then there are the famous rice terraces which are perfect for an early morning walk. In the centre of town, you can find the popular Ubud Market where you can shop for traditional art and souvenirs.

Participate in a traditional cooking class

Taking a cooking class is a great way to learn more about the traditional Balinese cuisine and culture. There are plenty of culinary schools to choose from around the island although some of the most famous ones are located in Ubud. Classes usually cost between 30-50$ per person and you will be taught how to cook multiple meals. Before cooking, you'll go to a traditional market such as the Jimbaran Fish Market to shop for your ingredients.

Admire the incredible Tanah Lot Temple

Tanah Lot, Bali. Photo by Nick Fewings

The Tanah Lot Temple is one of Bali's most popular attractions and an absolute must-see. This temple lies on a small rocky island just 50 meters from the beach. Located north of Canggu Tanah Lot is best visited in the evenings for sunset. Keep in mind that tourists are not allowed to enter the actual temple but the view of the outside is well worth a visit.

Take surf lessons

Bali is a great place for beginners to learn how to surf. Especially around Kuta, Seminyak and Canggu, the surf conditions are usually ideal for inexperienced surfers while the south of Bali is more challenging. Surf lessons are affordable and start at around 20$ for 1-2 hours. You can either join one of the many surf schools or hire a private teacher on the beach. There is a good chance that you'll be able to stand up on the surfboard after your first lesson.

Drive to Uluwatu

Uluwatu lies on the southern tip of Bali and is home to some of the best surf breaks on the island. Visit the famous Uluwatu Temple that lies on top of impressive cliffs and see one of the popular Kecak fire dance shows that make this area famous. Uluwatu is known for its incredible beaches that tend to be less crowded than those in Kuta or Seminyak. 

Explore abandoned planes

There are at least four (if not more) abandoned planes scattered around the island of Bali. Their origins are largely unknown but they have attracted crowds of curious tourists over the years. The planes are in varying conditions and some can even be seen from the inside. One of the most accessible ones sits on an empty lot in the south of Kuta right next to the main road while others are hidden further in the jungle.

Visit the waterfalls

Tengenungan Waterfall Ubud. Photo by guideyourtravel_

Bali is known for its many waterfalls which can be found in the dense jungle around the island. Some of the most famous ones include Tegenungan waterfall, Gitgit waterfall, Tukad Cepung waterfall and Sekumpul waterfall. Most of them are located inland and off the beaten track so factor in some time to get there. You can swim in the majority of Bali's waterfalls which is the perfect way to cool down after a long day in the sun. 

See the sunrise at Mount Batur

Mount Batur is the second largest volcano on the island of Bali. It hasn't had a major eruption since 1963 and is safe to visit. One of the best ways to see the volcano is to climb to the top in time for sunrise. The hike is fairly manageable and takes somewhere between 1,5 and 3 hours. The view of the sunrise is incredible and definitely worth the effort. Hiring a guide is mandatory and it is not advisable to attempt the climb without one. 

See dolphins in Lovina

Dolphin watching in Lovina. Photo by guideyourtravel_

Lovina is a small town in the north of Bali. It is one of the best spots in the area to see dolphins in the wild which is an incredible experience. Most tours go out in the early mornings in time for sunrise to spot dolphins close to the shore. Prices vary between 10-30$ depending on the size of the group and the boat. Some tours also include a snorkelling spot close by. You can book a tour with your accommodation or directly at the beach with local boat owners for a possible cheaper price. 

Go diving in Amed

If you are a diving enthusiast or would like to learn how to dive, Amed is the place to go. This little town in the north-east of Bali has the most beautiful underwater world in the area with incredible reefs and dive spots. But even for snorkelers, there is plenty to see such as the old Japanese shipwreck which lies in Lipah Bay. Amed is also a great place to stay for a few weeks if you're looking for a quieter part of Bali.

Visit Nusa Penida and Nusa Lembongan

Nusa Penida and Nusa Lembongan are two small islands close to Bali. They're perfect for a day-trip but you can also stay for a few days if you have time. The boat ride only takes around 40 minutes and cost 20$. Nusa Penida has some of the best beaches in the area including the famous Kelingking and Diamond Beach. Nusa Lembongan is smaller than Nusa Penida but just as beautiful with incredible scenery and a relaxing atmosphere. 

Swim with turtles on the Gili Islands

The Gilis consist of three small islands located east of Bali close to the shore of Lombok. The largest island, Gili Trawangan is famous for its vibrant nightlife and incredible underwater world. You can swim with green sea turtles right from the beach here without having to book an expensive tour. The main mode of transport here is the bicycle, as motorized vehicles are not allowed. The Gilis lie only a boat-ride away from Bali and are perfect for a weekend trip.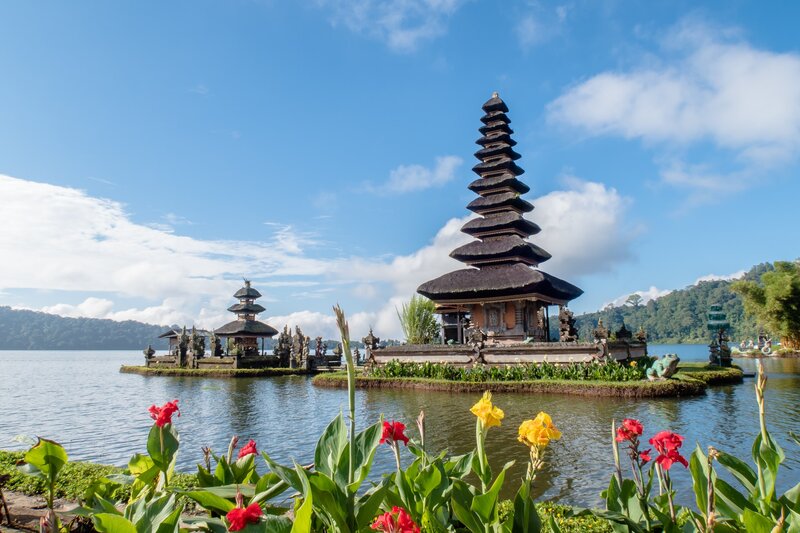 Best Time to Visit Bali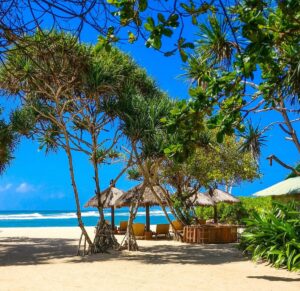 Bali has a hot, tropical climate with a distinct dry and wet season. From April to October, the weather is mostly dry with a low probability of rain and temperatures between 21°C and 32°C. The mountain regions of the island are usually slightly cooler and less humid. Most tourists tend to visit Bali between June and August when the weather is hot and sunny and the water temperature is at around 28°C. The island is busiest during this time and prices will be slightly higher.

The wet season in Bali begins in November and lasts until March. You can expect monsoon-like showers during this time which tend to happen at least once per day. Some roads can become impassable due to flooding which can slow down traffic considerably.
Temperatures are similar to those during the dry season but the humidity rises to almost 100% which can feel uncomfortable. However, you can still have sunny days in the wet season and many tourists like to visit during this time as accommodation prices are more affordable and the island is less crowded. 
One thing to note is that the ocean and beaches of Bali are at their most beautiful during the dry season. In the wet season, the sea will be rougher and tends to wash more trash and debris ashore. Underwater visibility is usually poor so it's not the best time to visit for snorkelling or diving.
Bali for Families
While many digital nomads travel alone a growing number of remote workers are choosing to take their families with them. Although it can seem daunting to start a new life in a foreign country with kids Bali is actually a great place to live with a family. Since the weather is always warm it's easy to find places to play and explore the great outdoors. Especially if you are renting a villa in a quieter neighborhood you can enjoy lots of time outside even when it rains.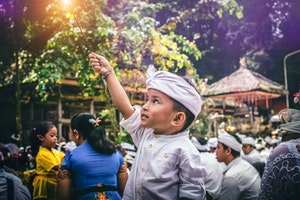 Bali's large expat community means there is an incredible selection of international school and childcare options. Unfortunately, international education is expensive everywhere in the world and you can easily end up paying thousands of dollars per year for education for your children. Of course, there are local school options as well which will be a lot more affordable but will require your kids to speak Bahasa. Living in Bali will be a great opportunity for children to grow up in a bilingual environment. Bahasa is a straightforward language to learn and especially young kids will pick it up in no time.

Bali is affordable and even activities with kids won't break the bank. Waterbom Bali is a popular waterpark that was voted the best in Asia. Spend the day here or at Bali Safari Marine Park where even the youngest can have fun and learn at the same time. The Lollypop Playland is an indoor playground in Seminyak that is great to visit on a rainy day. Of course, going to the beach will become a popular routine activity for your family and children as young as 6 years old can learn to surf. You'll love Bali for your family and might even consider making it your permanent home.
Living in Bali
Bali Transportation
The traffic in Bali is very busy and can be tricky to navigate for those who are not used to it. The most popular way of getting around is by scooter which makes driving through the narrow streets a lot easier and faster than by car. Renting a scooter is usually very straightforward and affordable. In most cases, you don't even need to leave a deposit or show your driver's licence, just a passport will be enough.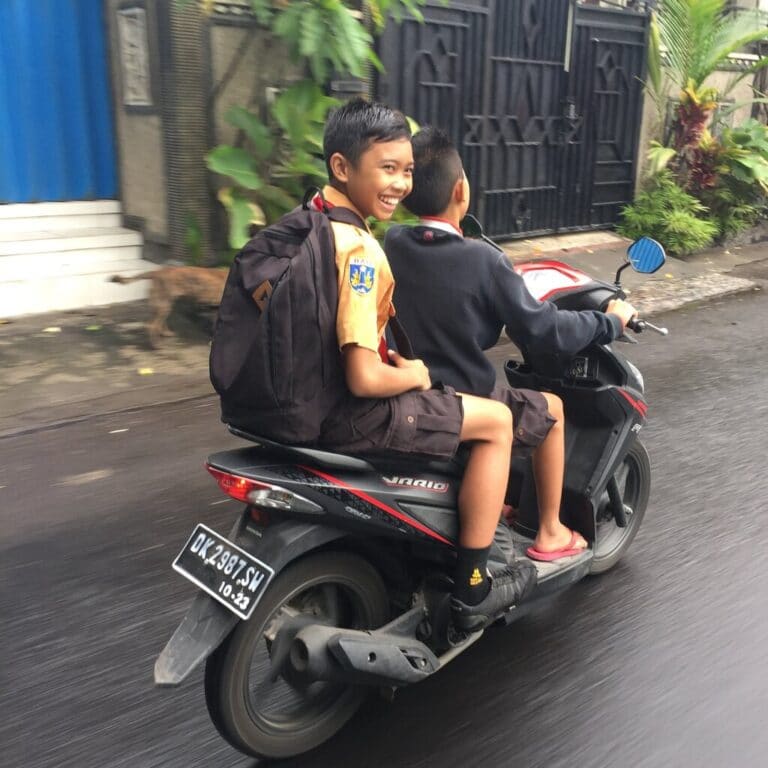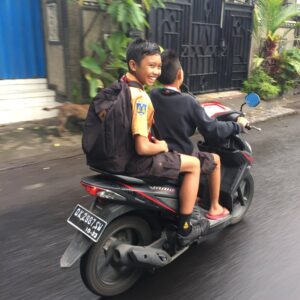 Prices for renting a scooter start at around 50,000 IDR per day and 500,000 IDR per month. Renting for a longer time period will reduce the price considerably depending on your negotiating skills.
Although driving in Bali can seem daunting most people actually get used to it fairly quickly. The key is driving with the flow of traffic and not taking unnecessary risks. Always wear a helmet and take it slow in the beginning.
If you're not comfortable driving a scooter you can always use ride-sharing services to get around Bali. These are extremely popular and very affordable. The most common apps are Gojek and Grab both of which offer rides in cars and on scooters as well as other delivery services. They work similarly to Uber and can only be used if you have an Indonesia SIM card.
Be aware though that Grab and Gojek are not very popular among the local taxi drivers. Some areas of Bali are restricted for ride-sharing services and you will have trouble finding a driver.
Taxis
Traditional taxis in Bali are usually expensive and they are known for frequent scams and ripoffs. If there is no Gojek or Grab available try to keep an eye out for Bluebird taxis which are regulated and only operate with a meter. They are easy to recognise from their blue colour and bird logo. A 10-minute taxi ride costs around 100,000 IDR, Grab and Gojek are usually significantly cheaper.
For longer distances or day-trips you could consider hiring a driver to take you around. This has the advantage that you can make multiple stops and don't have to worry about finding different drivers. Prices for one day (8-10 hours) start at 500,000 IDR and usually include petrol as well as any parking fees (discuss this with your driver before you depart).
You can find drivers through your accommodation or online in Facebook groups. Sometimes you can also ask Grab or Gojek drivers whether they offer day packages. 
Renting or buying a car is not a very common thing for foreigners in Bali due to the busy traffic and narrow roads. Cars are much slower and parking can be tricky to find so scooters are far more useful to get around.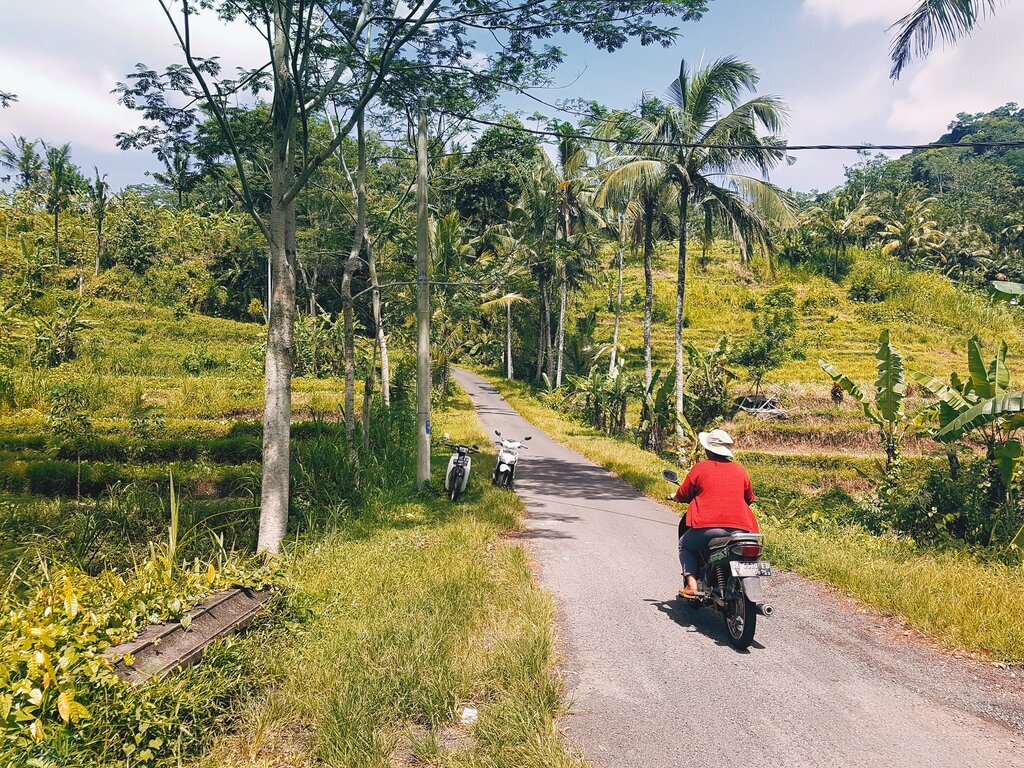 Public Transportation
There are few forms of public transport available in Bali. Some public busses exist that take locals and tourists between major parts of the island such as Kuta, Ubud, Nusa Dua and Jimbaran. Prices start at only 20,000 IDR for a ticket and the buses are air conditioned and even have wifi in some cases. However, they run infrequently and there are limited bus stops.
Click here to find out more about the available bus routes.
Fitness and Health
There are many great options for staying fit in Bali. The majority of digital nomads and expats like to go to one of the many gyms around the Canggu and Kuta areas. Gym memberships are usually quite pricey in Bali, however, they give you access to a great selection of different amenities such as saunas, swimming pools or fitness classes. 
Some of the most well-known gyms in Bali are the Body Factory, the Canggu Club or Hammerhead Fitness. Prices vary between 50$ and 150$ per month depending on whether you want access to all classes and amenities or just the gym. Most also have day passes available.  
If you're on a budget and not willing to spend a large monthly fee on a gym membership you should consider learning how to surf. Surfing is one of the most popular ways of staying fit on the island and everyone should try it at least once. Surfboards are easy to rent on the beach, however, it's much more affordable to buy one in the long run. There is no better way to start the day in Bali than with an early morning surf.
Another great way of staying fit is to try the Indonesian national sport Pencak Silat. This is a unique form of martial arts which focuses not only on the body but also incorporates elements of meditation and spirituality. There is a great selection of different martial arts schools in Bali which also teach kickboxing or muay thai. 
If you're interested in Yoga then Bali is the place to go. Especially around the Ubud area you'll find some of the best yoga schools around with meditation retreats and daily sessions being very popular among digital nomads.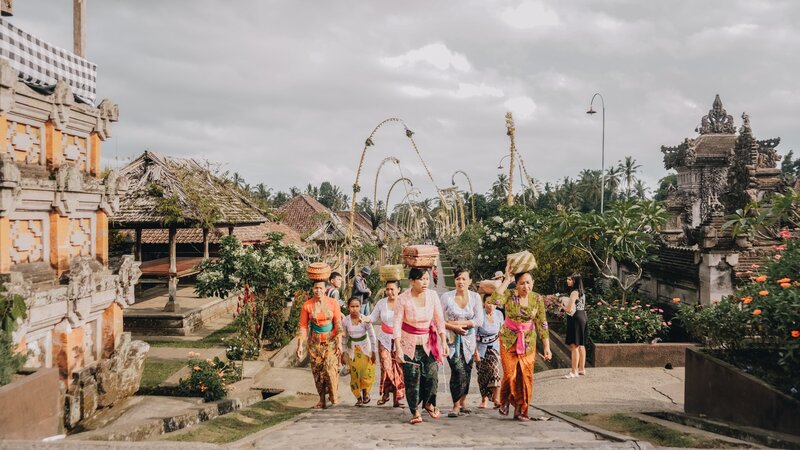 Bali People
Approximately 4,3 million people live in Bali or the Island of Gods as it is sometimes called. This is only 1,7% of Indonesia's population making it only a small part of what is one of the most populous countries on earth. Bali has its own culture and unique religion. 95% of the island's inhabitants are Balinese while the remaining 5% consists of Chinese, Muslims and expats from around the world.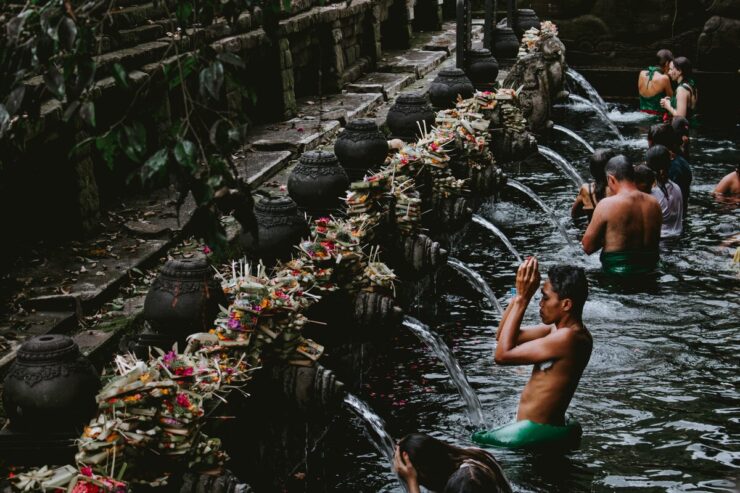 The national language of Indonesia is Bahasa Indonesia, which is very similar to the language spoken in Malaysia. The Balinese people speak their own version of Bahasa Indonesia called Bahasa Bali. The two are similar but are often considered separate languages. While some locals speak both, it is advisable for digital nomads who plan to stay on the island for an extended period of time to try and learn Bahasa Bali instead of Bahasa Indonesia.
If you're coming to Bali with no previous knowledge of the local language you'll be pleased to know that English is widely spoken. In the tourist areas, the majority of locals speak English and even in more remote parts of Bali, you'll be able to communicate somehow. The Balinese people are friendly and always willing to help should you need directions or assistance.
Tourists in Bali
Bali is a very popular holiday destination for tourists from around the world. As a digital nomad in Bali, you'll soon notice the large number of Australian tourists and expats who populate the island year-round. There is also a large Russian community, especially around the Canggu area.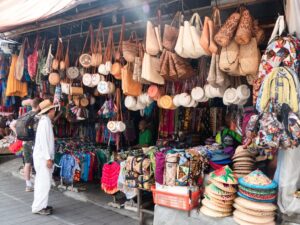 The most touristy part of Bali by far is Kuta. This area has been overtaken by partying tourists and is especially busy around the time of Australian "schoolies" (November-December) when thousands of young Australian graduates come to the island to celebrate. 
The Balinese people welcome tourists and expats as most of the island depends on tourism as their main source of income. However, there have been many cases of foreigners being disrespectful to the local culture and traditions. Bali is a very religious island with traditional values which need to be respected by visitors. Especially when visiting temples or sacred locations foreigners should be respectful and make sure not to break any rules.
An important thing to know about before coming to Bali as a digital nomad are the Banjar. They're a local community police that could be compared to a neighbourhood watch. When there is a problem, the Banjar are called first even before the police. They are considered the local police and usually act in cases of cultural or religious issues.
If, for example, people are planning to host a large party in a villa this has to be discussed with the Banjar first. Every neighbourhood has its own Banjar which consists of the married men in the community. As a foreigner living in Bali it is important to respect the Banjar and their rules.
Bali Insurance and Medical Care
Wherever you go to live as a digital nomad it is always good to have medical insurance and Bali is no exception. With the large number of expats and digital nomads living on the island the medical care is quite good and easily accessible for foreigners. Many medications are available over the counter at local pharmacies and booking a visit with a doctor is usually quick and easy. The majority of medical staff in Bali speak English and are used to tourists coming to them with common problems such as injuries from scooter accidents or stomach issues. 
There are private and public hospitals in Bali, the largest being located in the south close to Denpasar and Kuta. Treatment is usually reasonably priced, however, you should always have medical insurance when living abroad. If you're a long term digital nomad you will most likely have insurance from your own home country which is usually the most efficient and maybe even most affordable method (depending on where you're from).
If that is not the case there are options for getting insurance in Bali. However, these are usually expensive and the coverage is very limited. Informing yourself about insurance options before you arrive is, therefore, a much smarter move. 
If you have to visit a doctor in Bali you should always take your passport with you to identify yourself. You will have to cover all costs for your medical treatments up front which will later be reimbursed by your insurance company.
Make sure you are fully covered by reading our full Digital Nomad Travel Insurance guide.
Jobs in Bali
Foreigners are not allowed to work in Indonesia unless they own their own business or are sponsored by a company. Therefore it is unfortunately nearly impossible to find a job such as working in a bar or restaurant in Bali legally as a foreigner. Keep in mind that this of course depends on your own nationality. There might be exceptions for some ASEAN passport holders or dual citizenships. This regulation is meant to prevent foreigners from taking jobs from locals which is a policy that needs to be respected by those planning to live and work in Indonesia. Only if your employer can prove that you're not taking away a job from an Indonesian can you obtain a work permit.
If you're living as a digital nomad in Bali and are trying to make some money your main options are to look for work online or invest in local businesses. It is not very difficult to start your own company in Indonesia so if you're trying to find work this might be a good decision. Bali has a very large digital nomad community so you'll have a good chance of finding online work through networking events or coworking spaces.
Use Facebook groups such as Bali Expats Jobs & Business to find job postings and connect with others. Just make sure you are conducting all your work online and aren't not violating any visa requirements.
Check out our in-depth Digital Nomads Jobs Postings to find the best jobs available for Digital Nomads.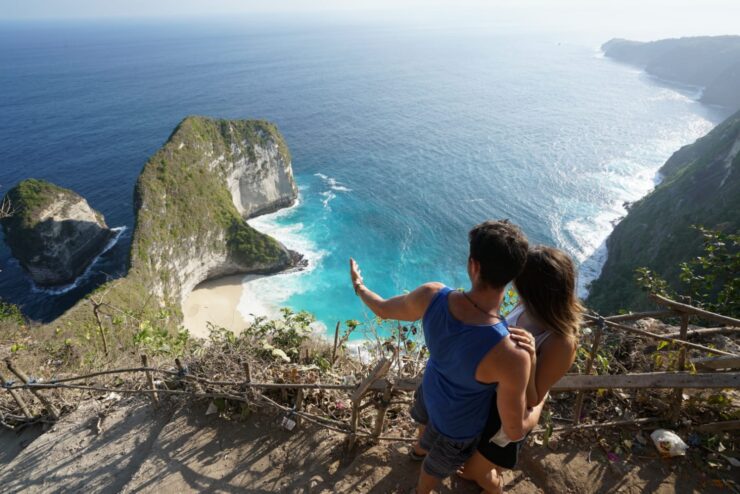 Nomad Friendly
Value for Money
Internet
Workspace
English
Food
Safety
Health
Transportation
Friendly
Quality of Living
Cost of Living Bali
Living in Bali can be very affordable, however, you can also spend a lot of money if you're not careful about your budget. The sample expenses below include the average costs for necessities such as accommodation, groceries, transport etc. If you're trying to save money you could for example choose to stay in a guesthouse instead of a villa which will bring down your expenses considerably.

If your budget is more flexible you should have a look at the optional costs which include things you might want to spend money on but don't have to. Again, these numbers are only approximations and could be lower or higher depending on personal experience.
Some tips to save money include shopping at fruit and vegetable markets instead of supermarkets, eating at local restaurants (warungs), buying a surfboard instead of renting one or choosing to stay at a guesthouse instead of a villa. All these tips will help reduce your budget and make living in Bali more affordable.
Sample Expenses for One Month in Bali
Essential costs
Room with private bathroom in a shared villa with pool (includes regular cleaning) – 450$
Bills for water, gas, electricity, wifi and household supplies – 70$
Scooter rental – 35$
Gasoline – 20$
Groceries (from local market) – 130$
SIM card top up – 15$
Laundry service – 10$
---
730$ total per month
Optional costs
Eating out and nightlife – 100$
Membership at a coworking space – 150$
Surfboard rental (cheaper to buy for long term stay) – 30$
Health insurance (varies greatly according to country) – 35$-100$
Budget for day-trips – 100$
Gym membership – 50$-150$