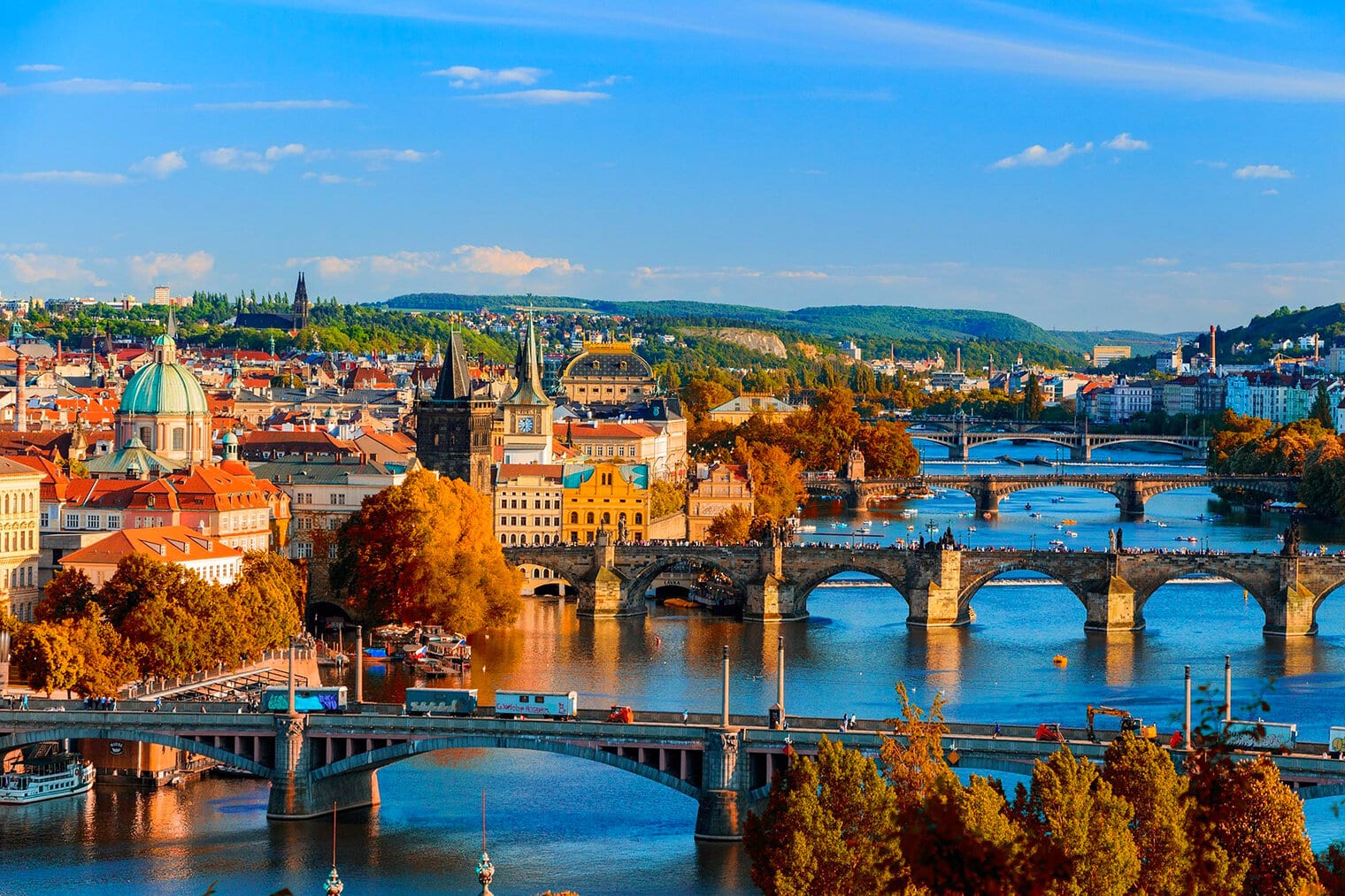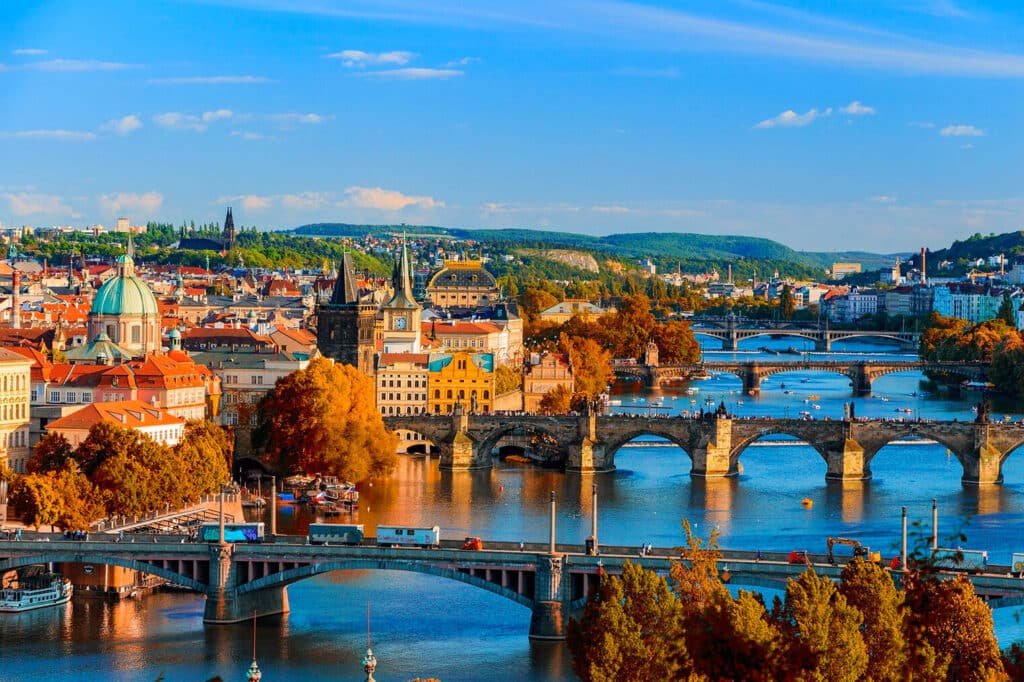 A Digital Nomad Guide to Prague
The Czech Republic, also known in its short form as Czechia, was formed on January 1st, 1993, after the collapse of the Soviet Union, and it is the 13th largest country in Europe. Previously it was commonly known as Czechoslovakia before the two countries divided to form the Czech Republic and Slovakia. Czechia borders Slovakia, Austria, Germany, and Poland. The official currency is known as the Czech koruna or Czech crown, and the official language is Czech.
Prague is the capital city of Czechia and is located in the west of the country. It has always been an important city as it was home to the ancient rulers of the region, and it still has an abundance of medieval architecture. Prague has the world's largest castle, central Europe's largest club, and the world's second most ugly building! The city will not disappoint with its quirks and historical value as it has become one of the most popular places to visit in central Europe. As well as its rich history, it is also becoming a place for alternative tourism, such as beer spas; it is also becoming a popular city with digital nomads.
The streets of the Old Town feel as if you have been placed into the scene of a fairytale, with the romantic cobbled streets and beautiful architecture. Czechia is known for its hearty warm meals and unique ways of serving beer, and you will certainly get a taste of this in Prague. This unique city is welcoming and friendly no matter what time of year you visit; you will find a lot going on, attracting people from across the world. 
Prague is becoming a great hub for digital nomads because it is located in the heart of Europe, making access very easy and affordable. The city is well developed with one of Europe's best public transport networks, it is affordable, and many coworking spaces have been popping up, making it extremely accommodating to digital nomads.
Nomad Friendly
Value for Money
Internet
Workspace
English
Food
Safety
Health
Transportation
Friendly
Quality of Living
Living in Prague Overview
Digital Nomad Personal Experience in Prague
I have visited Prague on a number of occasions, and I absolutely love the city for its historical buildings and great atmosphere. The first time I went to Prague was back in 2016, and I had a wonderful experience. I stayed in a hostel near the center, and I spent the days exploring the city and admiring the architecture. I was lucky to visit again in the spring of 2018 and again in the summer of 2019. I found that it was a great place to visit all year round as there was always something to do depending on the season.
Prague has a great vibe and good energy, and I met many like-minded people when I was there. I found the city had the perfect balance of old meets new, through its ancient architecture and castle to the nightlife and hip bars.
Czechia is one of my favorite countries because it still feels a little undiscovered and by being based in Prague means you have great access to some of the more rural areas of the country. It was around a two-hour train ride to the town of Olomouc, where a friend of mine started a hostel. This is an absolutely gorgeous city, and it is very underrated. As well as Olomouc, there are other hidden gems scattered around Czechia, and being based in Prague is great for making day trips to these quaint places. 
Another aspect I enjoy in Prague is the food; the hearty, rich meals make you feel whole and as if you are always eating a home-cooked dinner. For me, this was very welcoming and made me feel very at home in Czechia. Although prices have risen in the time since I first visited, it is still a very affordable city to stay in and to be based from.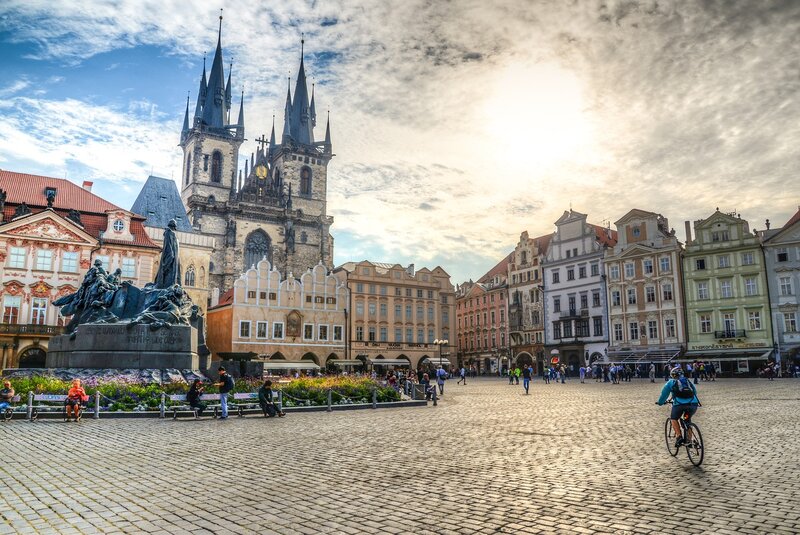 Work in Prague
Prague is a great city for digital nomads as there are over ten coworking spaces, hundreds of cafés and many hostels with cute communal areas to work from. The city has adapted to the needs of digital nomads and tourists over the years, and this is really seen in the extent of coworking spaces available. Many big brand coworking spaces such as WeWork and Impact Hub have locations in Prague. The average internet speed in Prague is around 106.8 Mbps meaning that any type of digital nomad work can successfully be completed in Prague.
Best Places to Work in Prague
Work Lounge
This is a modern and funky coworking space that is fairly centrally located. They offer a variety of memberships and packages to suit every digital nomad. For just $55 USD per month, you can have a limited access pass, which allows you entrance for four days, but you can attend events and have access to the community and network. This is great for someone who just needs a coworking space now and again. They also offer unlimited monthly access, 24/7, for $183 USD per month. If you need a reliable space every day, then this is the package for you. What makes this space unique is its modern, spacious design, creating a great work environment.
Coffice Prague
This coworking space labels itself as a 'coffice,' a co-office, which is a new take on coworking. They offer various packages, allowing ultimate flexibility, and they label themselves as a nomad-friendly space. You can use space for as little as one hour for a small fee of $2.50 USD. This is great for digital nomads, who perhaps need a space for a phone call or meeting. Their incredible flexibility with plans makes the coworking space very appealing to the digital nomad who doesn't always have structure or set working hours. 
WeWork
The WeWork Prague is a great option for someone on a lower budget that still wants quality. With their memberships starting from $36 USD per month, this is a great option for anyone who needs a minimum level of coworking. Their spaces are consistent and offer great facilities, so if you aren't already familiar with WeWork, then check them out online and see if they tick your boxes. 
Impact Hub
Impact Hub is a global brand of coworking space that acts as a center for entrepreneurs and local aspiring business creators as well as established digital nomads. Prices start from $18 USD per day, which is a little higher, but this is the best place to be if you are a start-up business or if you want to be surrounded by other entrepreneurs. 
HubHub
With two locations in Prague, Hub Hub is a great coworking space with 500 desks across two floors in just one of their locations. The Hub Hub locations are spacious and create a great work environment for digital nomads. Prices vary between the two locations, and they are a little more expensive than other coworking sites as it is more of a professional workspace with high-quality facilities. A one-month flexible membership will cost you around $295 USD per month.  
Locus Workspace
This is a great coworking space as it offers a fantastic variety of memberships to suit every type of digital nomad. From $70 USD for a monthly evening and weekend only pass to flexible monthly memberships for just $162 USD. Locus stands out as a coworking space because of its community; it isn't just a place to work. Locus hosts lunches, brunches, and various events and gatherings outside of work hours, so you really feel like you have a solid group of friends to hang out with at Locus. They don't just focus on the coworking side, but they also encourage the community to hang out in their free time too.
As well as coworking, there are many cute and hip cafés around the city, so if you prefer to work somewhere more public, then you should check out the following cafés. If you are looking for something a bit different, then here are some cafés that have power outlets, Wi-Fi, and a great atmosphere; Kavarna Liberal, Café Cobra, Café Pavlac, La Bohème Café, and café Jen. Cross Café is a chain of cafés across Prague that, whilst being quite basic, make the perfect location for a digital nomad to work from.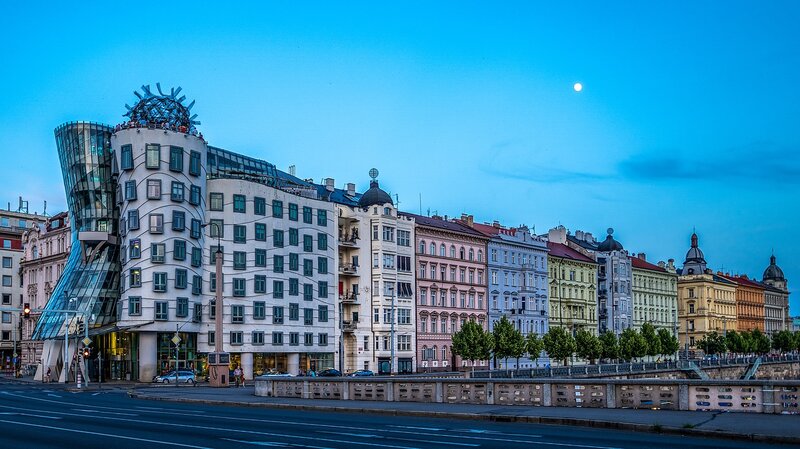 Best Places to Live in Prague
Best Neighbourhoods
Prague is a fairly large city, with some areas that are better suited to tourists and others more localized. Here are some of the best places to stay as a digital nomad, with a mix of vibes and atmospheres. 
Malá Strana
Located on the west of the river that divides the city, Malá Strana is a great place for nomads who are looking to still be within walking distance of the center but in a slightly quieter district. It is possible to find rooms in shared apartments or small studio apartments on the outskirts of this district for around $500 USD per month. In the center of Malá Strana, apartments on Airbnb can be very expensive as it is a nice area.
New Town (Nové Město)
The New Town area is pretty much in the center of Prague. It counts as the outskirts of the Old Town, so it covers a large section of the city and is mostly classed as the business center. This is the best place to be for convenience as literally everything you could want is on your doorstep. There is also a great selection of places to stay, from coliving penthouses from $400 USD per month to private apartments from $700 USD per month.
Smíchov
This is a great place to stay if you want to be situated a short distance from the center of Prague. On the west of the river and slightly south of the city is Smíchov, which is a great place to stay if you want to have views of the beautiful architecture of Prague. It is still easy to get to the center, using the tram system or other forms of public transport. Accommodation on Airbnb here starts at around $700 USD for one month.
Vinohrady
This is the area most popular with ex-pats and young professionals. It is popular because it only takes around 15 minutes on public transport from here to the city center, even during peak hours. Its great location is attractive to those who work in the city or who need quick, easy access. There are more choices for accommodation in the area, from flatshares to hostels and Airbnbs.
Žižkov
Finally, there is Žižkov which again is located pretty centrally, right next to Old Town, and this is the area where you will find many students and the youth of the city. It is a vibrant, lively part of Prague with lots going on, so if you are a bit of a socialite, then this is the place for you. Accommodation here on Airbnb typically costs anything starting from $800 USD per month.
Find an Apartment in Prague
There are many ways to find an apartment in Prague, and below are some of the best ways, from using Airbnb to hostels and coliving spaces. The rental price will vary dramatically depending on the area that you are located in. 
Airbnb
The average cost of an Airbnb in one of the most popular areas with digital nomads will be around $700 USD per month for a one-bedroom apartment. While this might seem like a lot when compared with other sites, you have to remember that this includes all bills and Wi-Fi. Not all apartments offer Wi-Fi, so make sure to check before booking and to ask for the internet speed too, particularly if you are planning on having some workdays from your accommodation. 
The Fizz Coliving
Coliving locations are slowly starting to pop up in Prague, and this is one of the top-rated coliving spots. For around $610 USD per month, you can rent a fully equipped studio in the coliving building. There is an onsite coliving space, communal kitchen, and communal hangout areas, as well as a movie lounge. They also host events for residents and have facilities such as private parking and washing facilities. So if you want everything under one roof, then this is a great option. 
Home to go
This is another great search engine to put you directly in contact with landlords rather than going through agencies. Apartments on here range dramatically in cost, depending on where you want to be in the city. However, most prices start from around $800 USD per month. A trick to hometogo.com is when you book last minute, or you notice a green dot on their calendars; this means you can get discounts. Green dots usually appear when the date is within the next few weeks, and this can give discounts of up to 50%, so if you are making a last-minute choice to go to Prague, then make sure to check this out as you might be able to find a really good deal. The great thing about using sites such as home to go is that you won't have to pay a security deposit on most rentals that are for under six months. 
Albertov Rental Apartments
This online agency specializes in short-term apartment rentals, specifically in Prague. This is a great resource for finding the perfect apartment and for getting an average rental cost. They offer apartments to rent from as little as one month, up to six months. The longer you book with them, the more discount you get. For example, if you book a one-bedroom apartment, it will cost anything from around $1250 USD for one month, but if you book it for over three months, then the monthly price drops to $1130 USD.

Cheap Places to Stay in Prague
For low-budget accommodation, your best bet is staying in hostels, guesthouses, or flatshares. There is a great selection of hostels in Prague, all offering a variety of facilities to suit each need. Here are some of the best value-for-price hostels in Prague. 
Hostel One Miru is a great hostel, centrally located and well equipped, costing $13 USD per night for a bed in a dorm room. The only downside to staying here is that you can only stay for a maximum of 14 days, which is quite common with most hostels, so you may have to change accommodation halfway through your stay. However, this minor inconvenience can save you on rent money as hostels are quite a bit cheaper than rented accommodation. 
Other lower budget hostels with high ratings are Hostel One Home which costs around $14 USD per night for a bed in a dorm, and Hostel Rosemary, costing around $13 USD per night for a bed in a dorm.
If you are happy to be located just outside the city center but close to public transport, then Hostel Fontana is a great option as a bed in a dorm here only costs $8 USD per night. Another slightly out the way location is Easy Housing Hostel. Its simple but spacious design makes a great place for someone who is just looking for somewhere to sleep. A bed in a dorm costs as little as $9 USD, but they also offer private rooms too.
Another option for cheaper apartments is using search engines such as Flatio.com. This is a little like Airbnb but for longer-term rentals, and it allows you to connect directly with the landlord or owner. It is possible to find apartments on here for as little as $350 USD per month. The average price here tends to be a lot lower than other rental websites.
Czech Republic Visa for Prague
The Czech Republic has one of the easiest entrance policies in Europe. Anyone who is an EU citizen can enter and roam freely within Czechia; you just need to have your passport valid for the duration of your stay. Visas are also not required from those who are from the Schengen area, meaning they can stay for up to 90 days. If you are from a visa-exempt country, you can stay for a maximum of 90 days, and if you do need a visa, you must obtain it before your arrival.
The best way to find out if you need a visa is to ask your embassy in Czechia or speak with the nearest Czech embassy in your country. Then you can find out the procedure you need to take to obtain your visa.
If you plan on working in Prague and are not from the EU or don't have the right to work, then you will need to obtain a work permit before our arrival. This can be done via an embassy. Czechia offers some great work visas for entrepreneurs, so make sure to research as there might be a more beneficial way for you to stay.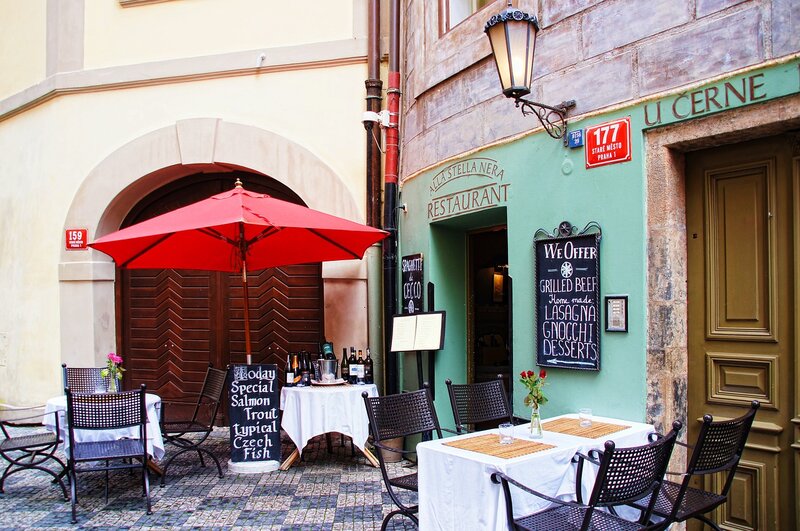 Culture and Food in Prague
Prague is a fantastic city for beer lovers and anyone that enjoys a good hearty meal. Much of the cuisine in Prague is based on traditional Czech recipes, which mostly consist of items such as goulash, the famous pork knuckle, and of course, beer. 
The Best Pork Knuckle
Pork Knuckle, seen as Pečené vepřové koleno on the menu, dates back to the 11th century and would have been a dish served after a hunt. This particular dish would have been cooked traditionally in an aromatic beer, on low, slow heat, to make sure the meat stays juicy and absorbs all the flavor possible. You will find it in many restaurants in Prague, but some of the best restaurants to try it at are U Cejpu and U Zlate Konvice. However, there are many breweries and restaurants serving it too, and other good places to try it are Potrefena Husa, Hostinec U Vodoucha, and Restaurace Kulový blesk.
Traditioanl Resturants
If you want to visit a traditional restaurant in Prague, then your best bet is to find where the locals go and trying to avoid some of the more touristy restaurants. However, having said that some of the tourist restaurants still serve some great food, it is just sometimes a little more expensive. Some good traditional resturants are Restaurace Mlejnice, U Bulínů, Old Prague Restaurant, Lokál and "K" – The Two Brothers. Many breweries in Prague serve up a selection of food and beer snacks with their great choice of locally brewed beers. Some of the best breweries with kicthens to visit are Klášterní Pivovar Strahov, Pocernicky pivovar and Brewery Boat.
Modern Cuisine
If you are looking for a restaurant that is serving up something a little different, then there is a great selection of restaurants to choose from. Many restaurants are experimenting with cuisine and developing some of the most unique and tasty treats in the country and here are just a few that are cooking up a storm in Prague. The Art & Food Had, Nota Bene, Spices Restaurant & Bar, and Rickshaw Prague.
Fast Food/ Street Food
There are many fast food places in Prague, serving a variety of traditional fast food delights such as burgers, but there are a few serving up Czech specialties. Most of these specialties tend to be sweet, and the most famous and iconic treat from Prague is the Trdelnik doughnut. Often served with ice cream in the center and many sweet sauces, these are every sweet tooth's dream come true, and they are on every corner. The recipe is over 200 years old and has become a phenomenon of Prague street food. Other popular sweet treats are strudel, kolach, and medovnik.
Vegan and Vegetarian
There is a great selection of vegan and vegetarian cuisine in Prague, so you don't have to worry about not finding anything to suit your dietary needs. As well as having modern twists on traditional dishes so that they can be enjoyed as a vegetarian-friendly version, there are also international vegetarian restaurants scattered across the city. With almost 20 vegetarian restaurants, you will not get bored. Some of the best vegan and vegetarian places to eat are Maitrea restaurace, Bebos bistro & bar, Vegan's Prague, Herbivore,  Restaurace Satsang, CHUTNEJ, bistRAW & Tea, Veget bistro café and Natureza Vegetarian House.
If you are looking for a nice dinner out, then make sure to check out Lehká hlava as it is a very well-decorated vegetarian restaurant with a quirky atmosphere. For a vegan buffet, then visit Sandokan Vegan Bistro, as it is a great hip café offering a great selection of vegan food.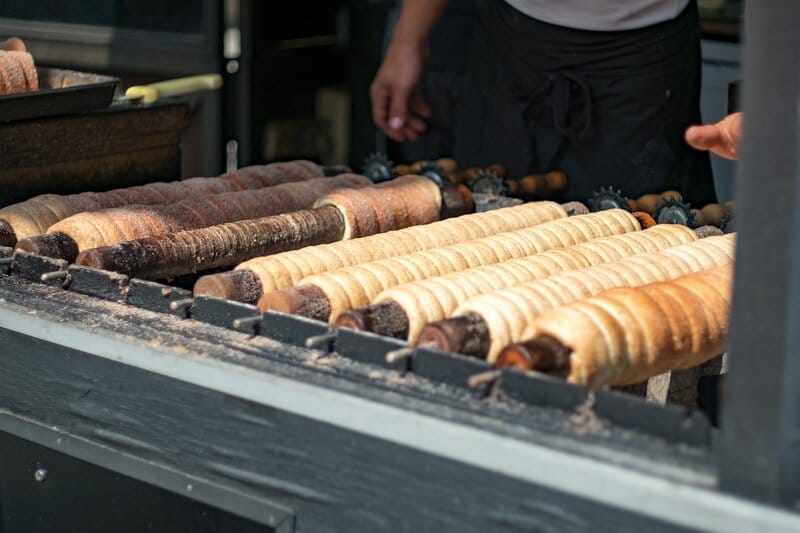 Prague Nightlife
Prague is a city that never sleeps, and you will find that there is something going on almost every night. Whether you want to have a chilled evening over a few drinks or some fine dining, or if you want to just let off some steam and go clubbing, Prague has it all. Prague is home to Central Europes largest club, and this draws many tourists every year to party in the capital of Czechia. 
Bar Crawl
There are many companies offering pub crawls in Prague but make sure to go with Prague Pub Crawl official crawl as you will end at Karlovy Lazne and have free entry! Most pub crawls cost around $29 USD, which includes multiple bar entries, unlimited drinks for the first bar, and other drinks specials. 
Karlovy Lazne
This is central Europe's largest club, split across multiple levels with a total of five dance floors, each with a different vibe playing varying music. It is considered to have some of the best sound and light equipment for a club in the world. The entry fees vary depending on the day of the week, and it costs around $12 USD in the week and around $14.50 USD on weekends. 
Nightclubs
There are many nightclubs in Prague, and some charge an entrance fee or require you to be part of a VIP list before entry. Here is a list of some of the best nightclubs in Prague Golden Tree Prague, Epic Prague, DÉJÁVU Music Club Prague, Ace Club, Chapeau Rouge, and Cross Club.
Night Tour
There is a great selection of walking tours in Prague, and some of the best occur at night. The haunted ghost walk costs around $25 USD and lasts around two hours. There are also guided night tours to enjoy the city lights, and these are sometimes run on a tipping basis, so they are free, but you are expected to tip your guide. It is possible to get night tours of most of the historical buildings and cathedrals.
Medieval Dinner
If you are a bit of a fan of medieval culture, then why not have a medieval banquet. This is a great way to spend an evening, and it is a unique experience over a five-course dinner. Prices start at around $50 USD. 
Beer Tasting
Czechia is famous for its Pilsner brew, and what better way to learn about the beer than through a tasting tour. For around $30 USD, you can have a beer tasting tour lasting around 1.5 hours. You will get to experience not only the different types of brew, but you will learn about the mysteries behind the famous Mlíko pint.
Night Cruise
If you want a more relaxed or sophisticated evening, then why not dine on a river cruise for as little as $40 USD. There are a variety of cruises, some offering three-course meals, other buffet self-service dinners, but whatever you choose, you are guaranteed to have a relaxed evening admiring the city lights from the river. The boat trip will take you past some of the most famous buildings and under some of the most prestigious bridges.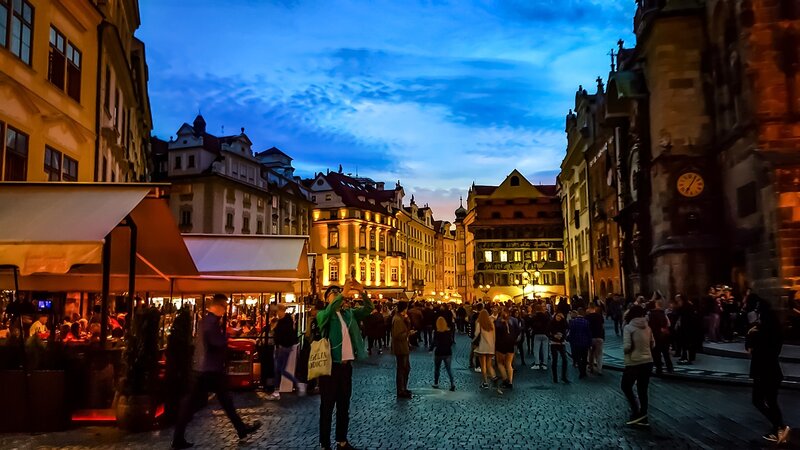 Things to do in Prague
Prague is a city rich in history, and this is best seen through its architecture and incredible buildings. Prague is known for its astronomical clock, its delicious street food, and its unique beer, as well as its museums, galleries, and an incredible nightlife scene. It is a great city if you are into architecture, history, and art as there are many free things to do in the city to cater to these interests. 
The Old Town is what Prague is famous for; its cobbled streets and old buildings make for the perfect setting for an afternoon stroll in what feels like a fairytale city. There are many walking tours and free city guides who will show you the best buildings and unique architectural features. 
This is one of Prague's most famous things to see as it is just magical. The astronomical clock is situated in the Old Town, and it is special because it was installed in 1410, making it the third-oldest astronomical clock in the world that is still operating. Every hour the clock strikes, and a little show happens, where a door above the clock opens, and small mechanical figures appear. Many people go on the hour to see this display, so make sure to get there early to get a good view.
This has become a bit of an alternative attraction to Prague, and it suits all beer lovers. There are many beer spas popping up over Prague, and they vary in prices depending on the package you want. For just yourself, it will cost around $80 USD for entry into the beer spa, where you will have your own tub to soak, have access to unlimited beer, and can relax on the wheat beds or relax in the tub. For couples, the price is around $119 USD if you want to share a tub, and the price goes up from there. Everyone gets a towel and slippers on entry, but there are special rooms that can be booked with saunas and extra places to relax.
There is a great selection of museums and galleries in Prague, showcasing art, history, and conflict. Depending on what you want to see, here are some of the top museums to visit in Prague. If you are a history buff, then these museums may be of interest; Museum of Communism, which costs around $7 USD entrance, Jewish Museum in Prague costing $20 USD entrance and Speculum Alchemiae, which offers a window into medieval science. Other museums offering a variety of entertainment are the Museums of Senses, Museum of Miniatures, Museum of Medieval Torture, National Techincal Museum, and the Kafka Museum.
There is a great selection of art galleries in Prague and here are just some of the best; Museum of Decorative Arts, Illusion Art Museum, Czech Museum of Music, Lobkowicz Palace, and Central Gallery. All have a variety of entry costs, and most can be found online view their websites. 
This is probably one of the most iconic things to see in Prague. The famous bridge was built in the 14th century, and it is very popular with tourists, especially for photo opportunities. It is free to walk across. 
Anyone who is a fan of the Beatles or John Lennon should definitely visit the Lennon wall. Although it is far from the home of the band, it is one of the world's largest tribute walls with graffiti of song lyrics and Lennon himself. It is free to visit. 
Another historical monument in Prague is the castle, situated on the west of the river, and it is a famous place to visit in Prague. The castle was home to the rulers of the country, and even today, it is home to the president. You can enter and walk around the gardens and grounds of the castle for free, and entrance to get inside costs around $16 USD for a standard ticket. 
Also known as Josefov, the Old Jewish quarter is located between the Old Town and the Vltava River. The place was once home to the jews that were banished from living in the city center, and many exiled jews from surrounding European countries fled here. The small district has six synagogues, and although many buildings were destroyed over the years, some remain. 
Located on the grounds of the castle is a treasure trove of artifacts that lie inside the St Vitus Cathedral. Inside you will see some of the most unique and oldest stained glass windows, as well as the tomb of St John of Nepomunk. You can take combined tours of the cathedral and the castle. 
Located a short drive out of the city, in a small town called Kutna Hora is one of Czechia's most interesting churches. Sedlec Ossuary is sometimes referred to as the 'bone church,' and you have probably seen it on Instagram as it is a popular spot for photos. In Kutna Hora, there are a collection of churches, abbeys, and the ossuary where a dramatic story led to the bones of the deceased villagers being placed inside the ossuary as sculptures. The eerie ossuary costs around $5 USD to enter, and you are presented with some of the most creepy sculptures that hold a deep meaning in history. 
If you are into mysteries, then you must visit the speculum alchemiae, the museum of alchemy. The museum is home to a secret underground potions lab that was built for Emperor Rudolf II and, at the time, was an act going against the church. This mysterious museum entrance costs around $32 USD, and the tour takes you on a journey underneath Prague.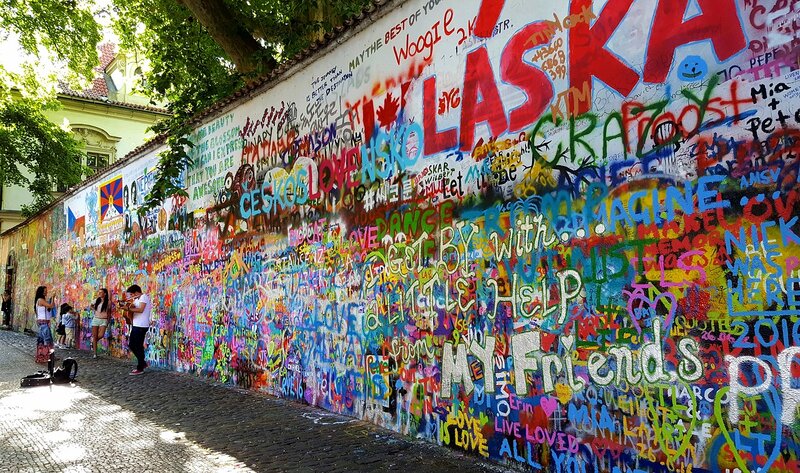 Best Time to Visit Prague
The weather in Prague varies year-round, with four defined seasons. Prague is in the Northern Hemisphere, so the summer months run from June through until September, with July being the hottest month with an average temperature of 18°C (64°F). 
The winter runs from December until around April, and January is the coldest month, with temperatures dropping to around -1°C (30°F). It is common for it to snow in Prague during the winter months, particularly at the end of December through to February. January and February are the least touristy months, mostly due to the cold weather, so this is a good time to visit if you like the snow and prefer a quieter city. 
The spring occurs in March, April, and May, with May being the wettest month. Autumn occurs in October, November time, and this is when you will see all the autumnal colors, and the temperature begins to drop. The days are mostly dry and cold as it gets into winter.
Prague for Families
Prague is a good city for families as it has many conveniences and facilities as well as lots of entertainment for kids all in one hub. There are international schools, daycares, hospitals, and there is a big ex-pat community in Prague, so you are likely to fit in well. The International School of Prague is the best known international school, accommodation around 60 different nationalities, and there are many more across the city. In terms of getting to know Prague before you arrive and having things in place, the best thing to do is search and ask questions on ex-pat forums such as families in Prague facebook group, ex-pat.cz, or ex-pat.praha.
As for entertainment, there is a lot to do with children, from exploring and walking around the Old Town and admiring the old architecture to visiting Prague Zoo or spending an afternoon in a park. If you are there during summer, then there are plenty of free things to do outside, but in winter you can still find entertainment via the museums and galleries.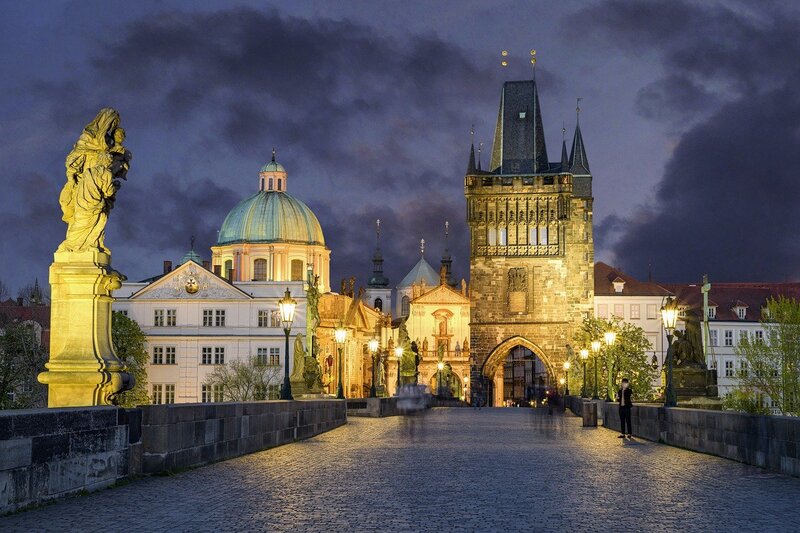 Living in Prague
Prague Transportation
Prague has a great selection of modes of public transport, from trams to buses and rental bicycles and their public transport systems are rated as some of the best in Europe. The tickets also work across multiple forms of transport. For example, if you buy a ticket for the tram, you can also use it on the metro and buses too.
Bus
There are a number of bus routes in Prague, and you will find timetables and services online. The important lines are 119, which connects Prague airport to the nearest metro line, as well as 112, which takes you to Prague zoo, from the city center. 
Metro
Prague's metro system has four lines that are all color-coded to make it fairly easy to navigate. Trains tend to start running from around 5 am and stop around midnight. The tickets in Prague are very affordable, and they have a variety of tickets on sale. You can get just a 30-minute ticket, which allows you to ride as much as you like within the given time frame for just $1.10 USD. They also have weekly and monthly metro tickets too, so once you had figured out your commute, you can decide what to invest in. A one-month ticket costs around $31 USD.
Tram
There are two tramlines running in Prague with a total track length of 500 km. The trams weave in and out of the city, meaning they take passengers on the most convenient routes possible. The price of the tram is exactly the same as the metro.
Train
The train is best used for longer journeys, such as visiting other cities in Czechia or even neighboring countries. The trains can be a little expensive if bought on the day; however, if they are booked in advance, you can get a ticket for as little as $35 USD to travel to another city in Czechia. Thetrainline.com is the best website for finding cheaper tickets and for booking in advance. 
Bicycle
There are multiple bicycle rentals places in Prague, but one of the best rated is City Bike Prague. They have a large selection of bikes that you can rent daily or for longer. They also offer guided city tours and more! Their guided tours start from around $30 USD, or if you just want to hire a bicycle, prices start from $16 USD for two hours. If you want a bicycle for longer, it may be better to ask at your accommodation before booking, as some have rentals for guests which are often more affordable. 
Electric Scooters
Companies such as Lime have come to Prague and other cities in Czechia, offering cheap, quick, easy transports options for anyone in major cities. Lime scooters require you to download the app and link with a bank card before riding. But it is really simple to use and a great way to sightsee. I love using electric scooters because they are very cost-effective, and if you are there in summer, you get a nice cool breeze rather than being packed in on public transport.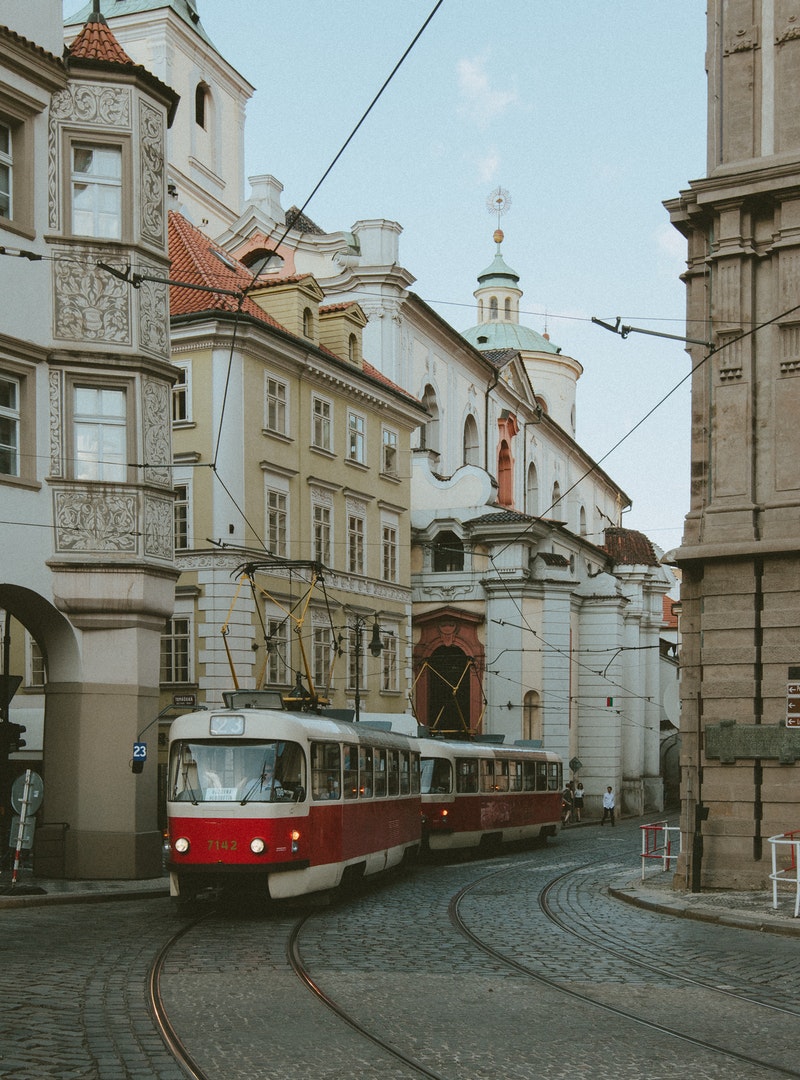 Fitness and Health
There is a great selection of gyms and fitness classes in Prague, so you won't have to worry about health when staying there. Whether you want to work out, take part in a relaxing yoga class or just go for a run, there are plenty of options for you.
R5 is a great leisure center that offers a variety of classes such as spinning and yoga, as well as functioning as a normal gym. Their prices are great, and it is centrally located. Their classes start at around $7 USD for drop-ins, but it is also possible to bulk buy, so you save a few dollars. They also have a sauna which costs around $11 USD for 90 minutes, and other facilities. 
Form factory is another great fitness center, and single entry costs around $14 USD. They offer a great selection of classes, from yoga to body combat and circuit training. This is a great place if you enjoy exercise classes and like variation of workouts. Pro One Fitness is $7 USD for a single entry, and if you bulk buy you can get a discount. A month-long membership of one entry per day costs around $47 USD per month. 
Xplore Fitness is another place with varied classes and a great selection of gym equipment. It is one of the more expensive gyms because it is also a wellness center, offering massages and personal trainers. Entry costs around $13.50 USD for a single entry, but they have many packages and special classes on offer.
Prague People
The people of Prague are very friendly and welcoming towards any visitors, and they will make sure you have a good time. The population is mostly Czech, with a very small percentage being foreigners when compared with the number of locals. 
Like with most countries, it is common in Czechia to move to the capital city as this is where you are likely to find the best jobs and earn the most, hence the densely populated city. After WW II, there were many effects on the region and, in particular, Prague. Statistics show that there is still a higher female-to-male ratio as a result of the war. There are also fewer people having families, or if they do, they are kept small due to the need of both parents needing to work. As a result, there is a small natural increase in the population every year. 
Unless you speak Czech, then you may not notice, but there is a Prague accent. Prague natives have a distinct accent within the country, so if you are familiar with it, it is easy to notice. 
When you visit Prague, you will feel this energy and this hardworking vibe amongst the city and more so in areas of business. You will also notice that there are still many places where the menus are only written in Czech, and many people will not speak second languages. As tourism grows and more younger generations learn other languages in school, there has been a slight increase in the number of bilinguals in Prague; however, this isn't the case across the whole city. In the touristy areas, there will be people who can speak English, but outside of Old Town, this is less common.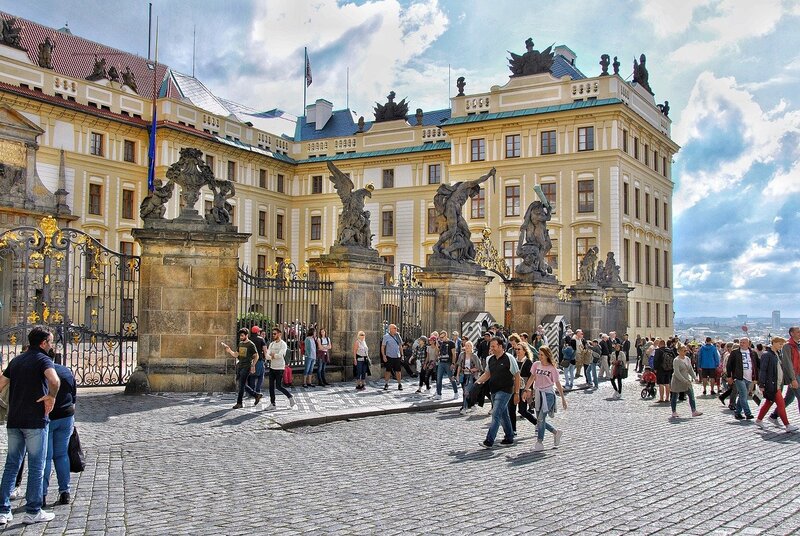 Prague Insurance and Medical Care
Wherever you travel, it is always advised to have health and travel insurance in place because you never know what could happen. The healthcare available in Prague is of high quality, and there are multiple international hospitals in the city, with doctors and nurses that are used to accommodating foreigners.  The standard of healthcare in Prague is high, so there is no need to worry if you have a medical emergency as you will receive good care. It is best to have health insurance in place or have a European health card with you as the expenses could quickly mount up.
Doctor-prague.com is a great resource for finding prices and practices for foreigners in Prague. A doctor's visit with health care insurance will cost you around $37 USD. Most practices will also only take cash payments, so make sure to get receipts in case you do get treatment and need to make a claim with your insurance. 
Although Prague is a safe city, it is always best to take out insurance that covers your belongings as well as medical, as accidents can happen anywhere. If you are bringing expensive equipment, then make sure to cover your work items as some forms of accommodation that don't have safes, or secure locker rooms may lead to stolen items.
Make sure you are fully covered by reading our full Digital Nomad Travel Insurance guide.
Jobs in Prague
Finding a job in Prague can be somewhat easy, depending on your industry. There is a huge need for those who work in tourism, as well as Prague being the capital of Czechia, meaning all major companies headquarters are based there. So this means that you will find many opportunities that don't require you to speak Czech.
Just bear in mind that salaries in Prague are not the highest in Europe, so expect t be earning a little less than countries in Western Europe. However, it is common to get great benefits with work such as long vacation time and flexible working hours.
The best way to find a job is to search online; websites such as glassdoor.com, goabraod.com, and Linkedin are great ways to find work before you arrive. This way, your employer can obtain a visa for you and have it ready for your arrival. There are also other ways of finding jobs online that are a little less reliable, like using Facebook marketplace and Facebook groups for remote jobs. 
If you are a language teacher, specifically teaching English, then this is another avenue of work as learning English is becoming more popular, and the demand for English teachers is growing. Using websites such as telf.com and the British Council are good ways of finding jobs in specific cities.
You will also notice that tourism is a huge sector in Prague, so you might find when you arrive that you are able to pick up casual work such as bar jobs, waitressing, or jobs working with tour agencies. It is worth contacting some places before you arrive if this sounds like something you are interested in, and make sure to check out when their peak season is, as this is when they are most likely to be hiring.
Check out our Digital Nomads Jobs Postings to find the best jobs available for Digital Nomads.
Nomad Friendly
Value for Money
Internet
Workspace
English
Food
Safety
Health
Transportation
Friendly
Quality of Living
Cost of Living Prague
The expected cost of living varies from person to person and will be very dependant on your needs. Prague is still a city where you get great value for money, but as it is becoming more popular with tourists, the cost of living is slowly starting to rise. 
On a low-end budget, you should expect to pay around $1007 USD per month. That would be $350 USD on accommodation in the form of a studio apartment found on Flatio.com, $36 USD on WeWork coworking, $31 USD on the monthly public transport pass. Then an estimated $15 USD per day on food, which is $450 USD per month, $40 USD on fitness, in the form of some classes combined with walking and running, which are free, and then finally around $100 USD for leisure. 
It is possible that you could spend less if you don't pay for any activities and make the most of the free sights that you can see by walking around. Street food also tends to be cheaper as well as cooking at home, so you might find you could spend even less.
On a higher-end budget, making the most of the city and having your creature comforts, you should expect to be paying around $1524 USD per month. Broken down that is $610 USD per month for a studio apartment in Fizz coliving, $36 USD per month on WeWork coworking, $20 USD per day on food, so around $600 USD per month. Then $47 USD on a gym membership, $31 USD on public transport, and around $200 USD on leisure.