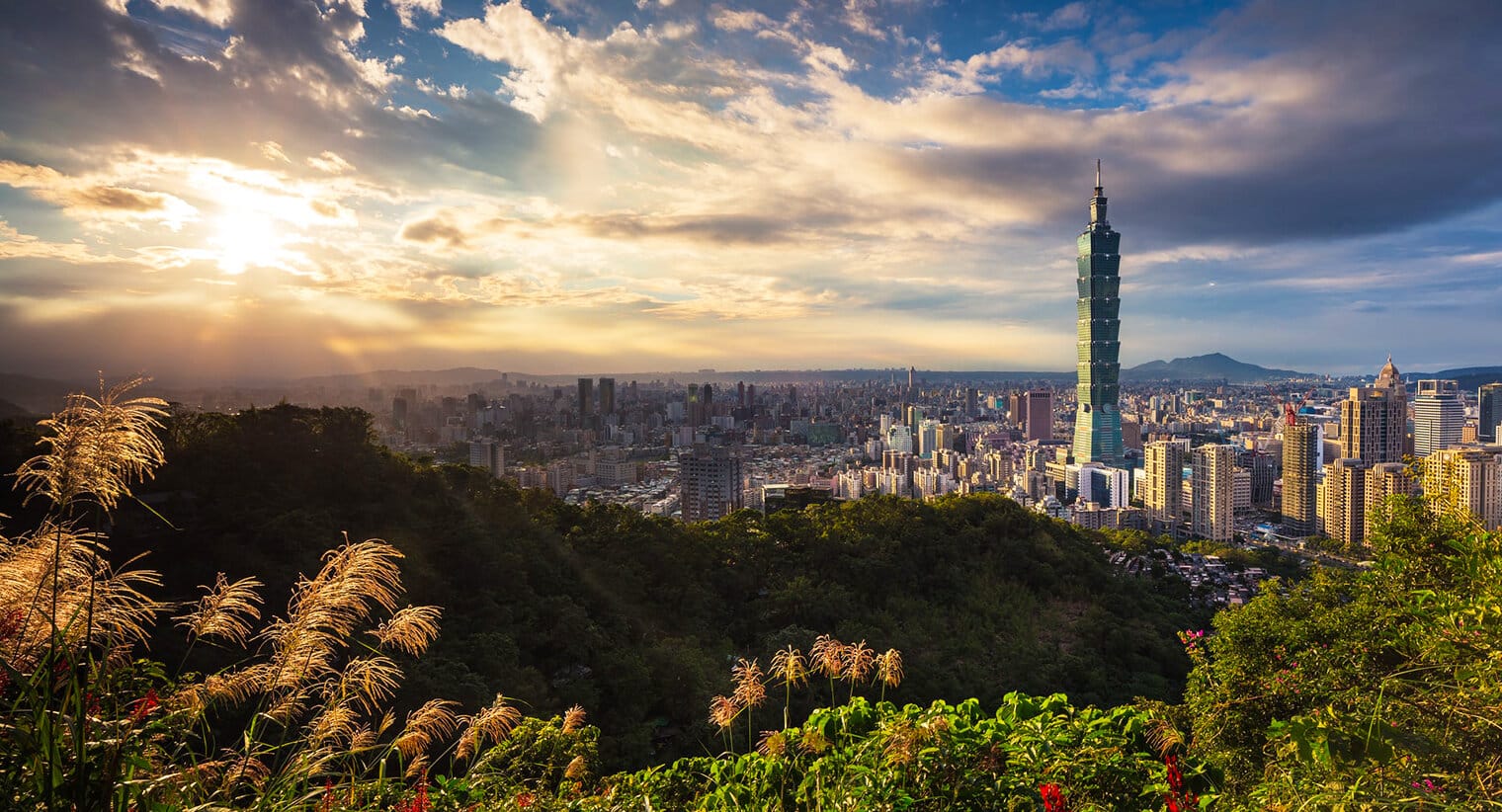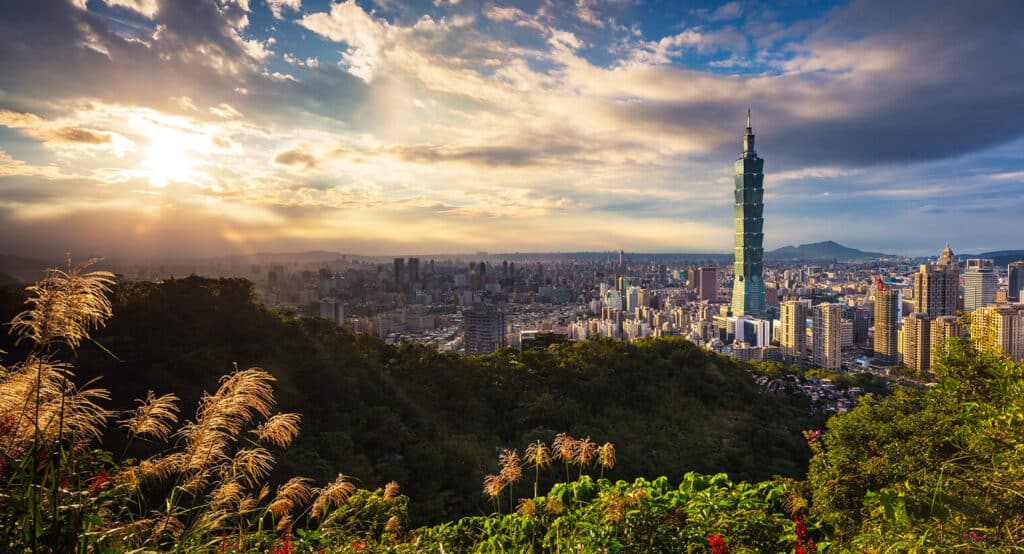 A Digital Nomad Guide to Taipei, Taiwan
Taipei is one of the most important cities in Taiwan. While it used to be the largest city, it is still considered to be Taiwan's economic, political and cultural centre. Because of Taiwan's political history, Taipei is known to be a modern cosmopolitan metropolis. 
Taipei is located on the Tamsui River on the north side of Taiwan and is completely surrounded by New Taipei City. While it has an area of 272 square km, its population is estimated to be around 2.65 million inhabitants. 
Taipei and Taiwan's independence status still remains ambiguous as they have their own government but are still considered a part of the Republic of China. While Taipei is an important centre for overseas trade, it is still recognized as part of China and not as a separate entity. However, most of Taiwan's important factories which produce textile and apparel are located in Taipei. You can also find the manufacturing of electronic products, electric machinery and equipment as well as printed materials and precision equipment being produced in this city. 
One of the things that makes Taipei special is its strong mix between its industrial feel and the amount of beautiful nature and landscape it holds. While Taipei is not considered a major touristic city, it still somewhat relies on tourism. The government even tried to promote Taipei for tourism and putting it on the map through its commercial projects by building the world's tallest building in 2003, until Burj Khalifa was built in Dubai and took the title from it.
Nomad Friendly
Value for Money
Internet
Workspace
English
Food
Safety
Health
Transportation
Friendly
Quality of Living
Living in Taipei Overview
| | |
| --- | --- |
|  Meal, Inexpensive Restaurant | $4.69 |
| Domestic Beer (1 pint draught) | $2.07 |
| Cappuccino (regular) | $3.54 |
| Loaf of Fresh White Bread (1 lb) | $1.78 |
| Water (1.5 liter bottle) | $1.27 |
| One-way Ticket (Local Transport) | $0.90 |
| Basic Utilities (Monthly) | $87.88 |
| Internet | $28.28 |
| Fitness Club (Monthly) | $44.35 |
| Apartment (1 bedroom) in City Centre | $673.36 |
[erw_exchange_rates_widget lg="en" tz="0″ fm="EUR" to="EUR,USD,GBP,AUD,JPY,RUB" st="primary" cd="" am="1″][/erw_exchange_rates_widget]
Max Withdrawal: €400
Use of Credit Cards: Widely Accepted
Digital Nomad Personal Experience in Taipei
The first time I visited Taipei was my first encounter with Asia altogether. I remember one of the things that caught my attention was the vast amount of motorcycles and how they lined up at the traffic lights and were even more than cars. Taipei is a city with such a strong contrast that makes it absolutely stunning. The more you stay in Taipei, the more you feel the need to uncover a new layer and really start to understand what a magnificent city it is. While Taipei has a very strong cultural and historical vibe to it, you can also spot it has a modern side to it that really makes it stand out. 
On the plane, I was seated next to a beautiful Taiwanese teenager who didn't speak a word of English. But that didn't stop her from complimenting me, asking why I was visiting and making small talk throughout the entire flight with the help of a translating application. That's just a sample of the friendly and welcoming feeling you'll be flooded with when you set foot in Taipei. 
Taipei has many different vibes to it, but when you add them together, they give you the full picture of the city. As you roam the streets, you'll find street markets with so many local products, street food and crafts that you will just love. This part of Taipei shows its depth and roots and how alive the city is. However, walk in the other direction and you'll encounter vast green areas with tea farms and some of the most beautiful landscapes and scenery your eyes will ever see. It's such a hidden gem that you completely forget where you are. However, the traditions and the customs of the Taiwanese makes every single part of Taipei an exciting and adventurous experience.
Work in Taipei
Best Places to Work in Taipei
FutureWard
 One of the best places to work as a digital nomad in Taipei is no other than FutureWard. Here, you'll be able to choose from a range of office spaces depending on your casual or formal needs. You'll also find many events taking place in their event space and you can even book the recording studio or podcasting room if that fits your line of work. Otherwise, you'll find others scattered around the standing desks, shared desks and beanbags, making it a friendly atmosphere to work. 
To book an open seat at FutureWard, it would cost NT$ 500/day ( USD 17.95) or starting from NT$ 5000/ month (USD 179.55).
The Hive
One of the most beautifully designed coworking spaces in Taipei, the Hive offers an easy and comfortable space that you'll want to go to every day. From the shared steps with a cushion to make you feel at ease or the standing desks, you'll be able to get busy straight away. It's also a great place for a digital nomad to meet other people as they have community lunches and drinks, too. And if you happen to get hungry, just pop into the onsite cafe and grab a bite or something to drink. 
You can book a spot at The Hive for NT$ 400/day (USD 14.36) or you can even choose to rent a private office for a month for NT$ 18,000 (USD 646.38). 
Connect
A hub for entrepreneurs and remote workers makes Connect an energetic and enthusiastic place to work. Surrounded by young, talented beings filled with energy gives off an incredible vibe and atmosphere. Here, you can find Skype rooms, a projector and even ergonomic chairs to make sure you're completely comfortable and ready to take the entrepreneur scene by storm. 
You can book a spot for a day for NT$ 380 (USD 380) or even rent a private office for NT$ 6890/month (USD 247.42). 
CLBC
If you're looking to meet clients, CLBC has a very business-like and corporate vibe to it that will make it a suitable location. You can also book spaces for music events, video equipment or even find a skype room for your video conference. 
Booking a spot starts from NT$ 150/hour (USD 5.39) or you can get a monthly membership for NT$ 6000 (USD 215.46).
Changee Creative House
Changee Creative House is a cozy and rustic venue is an excellent spot for digital nomads. You can find shared desks, lounges and balcony spaces where you can easily set up and work away. 
For a monthly membership, you'll pay an average of NT$ 3,500 (USD 125.68). 
SkyCo Taipei Dome Coworking Space
SkyCo Taipei Dome Coworking Space is a nice coworking space with good equipment and free tea and coffee. The store manager is friendly, and the location is convenient.
Best Places to Live in Taipei
Best Neighbourhoods
Before you move to Taipei, it's good to have an idea of what neighbourhood would suit your needs. From nightlife to historical or even one with a central location, here's everything you need to know
Zhongzheng
If it's your first time visiting Taipei and are looking for a central location, then Zhongzhen will tick all the boxes. It's not only Taipei's most important transport hub and where the main station is located but also has incredible architecture on Liberty square, a popular night market where you can get to take a walk and get familiar with the Taiwanese culture while feasting on some of Taipei's best street foods. In this neighbourhood, you'll find more budget-friendly options as well as a strong sense of the Taiwanese culture and entertainment around every corner. That's why most tourists and foreigners like to stay in this neighbourhood. 
As it's home to the Chiang Kai-Shek Memorial Hall where many tourists tend to visit to see the changing of the guards every day on the hour between 9-5. The buildings around this area are incredible to look at as they seem historic while being built in the 20th century.
Datong
If you're visiting Taipei on a tight budget, then the neighbourhood you should be checking out is definitely Datong. With a still relatively central location, Datong is situated to the north of Zhongzheng and still offers easy access to explore the city. You'll even find some of Taipei's most important attractions located in this area and several temples that cannot be missed. This gives the area a strong cultural and spiritual feel to it, too.
Xinyi
One of the most things many digital nomads search for when choosing a neighbourhood to live in is how alive it is at night. If you're one of those people, then Xinyi is the best neighbourhood for you. It's not just the modern heart of Taipei, but you'll also find skyscrapers, lights and crowds that are up until late in the night. As a digital nomad, you definitely won't be bored in this neighbourhood. Xinyi gives off the same vibe you'll feel when visiting New York's Time Square and is where you'll find Taipei 101. Because of its crowd and popularity, it does come with a higher price tag but is where all the action happens at night. 
In this area, you can also find one of Taipei's most famous restaurants known for its dumplings filled with xiaolongbao. If you live in this area, you can figure out what time of day to try this delicacy without having to queue up. 
Wanhua
If you're looking for a more hip vibe, then there's no other neighbourhood for you quite like Wanhua. While Wanhua actually holds most of Taipei's historical buildings, it is a haven for urban explorers. Here, you'll find many authentic Taiwanese restaurants, night markets and be in an area that isn't just lively but has a unique soul that you just can't help but fall in love with.
This neighbourhood was built during the Japanese occupation in 1908 and is one of the oldest neighbourhoods in Taipei. While the place is historical and filled with fascinating buildings, the atmosphere is young, lovely giving it an extra special feel. Wanhua has actually become the cultural centre of Taipei where many exhibitions and shows occur regularly. 
One of the most popular streets in this neighbourhood is Bopilia Street, which used to be an old street in Taipei and has been restored to give tourists and foreigners a chance to experience what the city felt like decades ago. 
In this neighbourhood, you'll also find local art and galleries that will give you a sense of Taiwanese talent, or you can even go shopping in one of Taipei's popular shopping locations: Ximen. 
Ximending
Another exciting nightlife neighbourhood is Ximending. It is far more popular for the younger generation and considered to be one of the coolest areas of the city. Taking a walk around the neighbourhood at night, you'll find street performances, hidden temples and many surprises that will truly offer a unique experience. While this is one of the best nightlife places in the city, it can be a tad busy, noisy and packed with tourists and locals who come in packs to this hipster neighbourhood to experience its incredible vibe. If you don't mind the noise, crowd and bright lights, then you'll find some of the most budget-friendly places to stay in this area, too.
Find an Apartment in Taipei
Because the Taiwanese don't speak much English, finding an apartment in Taiwan can be quite difficult. But there are a few ways to help make the experience easier. While befriending a local will always put you in the right direction as the Taiwanese are very friendly and helpful, the most basic step to do on your own is joining some of the famous groups that offer apartments and rooms for rent in Taipei: 
At the beginning of every semester, you'll find these Facebook groups flooding with people posting and apartments being taken in the blink of an eye. But fret not, there are alternatives where you can find a place to stay. Here are a few websites where you can start your search: 
MyRoomAbroad

591.com.tw

Urhouse.com.tw

Tealit 

Craigslist 

Trip Advisor 

Verbo.com

Airbnb 

Rentaltw.com

Sublet
While online options sound like an easier way to search there are other options such as the red advertisements posted around the neighbourhood or any of the national real estate agencies. The latter will also be a great advantage if you don't speak Mandarin as many landlords could be quite wary about renting out to foreigners due to the language barrier. 
Zhongzheng

: Renting a one-bedroom apartment in Zhongzheng can cost between NT $22500- NT $25000( USD 806 -USD 900). However, you could find cheaper alternatives by renting a private room in a shared apartment. This would probably cost somewhere between NT $10,000 – NT $15,000 (USD 358 – USD 537.67)per month with different options of private or shared bathrooms available. 

Datong

: Renting an apartment in Datong starts from around NT $ 19,000/ month (USD 681) whereas renting a room in a shared apartment could cost you on average around NT $12,000 per month (USD 430). 

Wanhua

: Apartments in this area are usually a lot more expensive than the rest of the city and a one-bedroom apartment could cost around NT $100,000/month (USD 3,585). However, you could cut the costs but still find it a lot more expensive than other areas by choosing to share an apartment with other flatmates. A private room in Wanhua would usually cost around NT $50,000/month. (USD 1,792)
While many contracts will be for a year, just be clear with your landlord or agency on how long you want to stay and many of them offer a way out of the contract without any fines or extra fees. In some cases, you might have to find an alternative solution by finding another tenant to take your place. However, posting on the Facebook groups or once you get to know the locals will be a good step into helping you find someone else to take your place. 
Another point you need to take into consideration is discussing with the landlord or agency some things that might not be included in the contract. Always ask if there are any extra costs such as electricity, water, internet or if that is included in the rent price already. It is also important to ask what happens if something is damaged or needs repairing at the apartment and who is expected to fix it or pay for it. Having these things sorted out from the very beginning will save you a lot of hassle with the landlord during your stay.
Cheap Places to Stay in Taipei
While one of the most expensive costs in Taipei will definitely be your accommodation, it doesn't mean you can't find cheap alternatives. As mentioned above, as a foreigner, your best bet and finding hidden gems and price cuts will be through a local, colleague or someone who has been living in Taipei for a while. 
If you're still new to the city, have checked the Facebook groups and still can't find a place to stay, then hostels will come in quite handy. At least you won't have to pay too much until you find a place of your own. These options won't exactly work for long-term but are an excellent solution once you arrive in Taipei and start hunting for apartments in person. Here are a few hostels where you can stay in Taipei: 
Taipei Livepal Hostel – $7/night 

Duckstay Hostel – $8/night 

Sleepbox Hotel – $9/night 

406Inn Hotel – $10/night 

Daan Park Design Hostel – $10/night 

Angel's Hostel Taipei Ximen – $10/night 

Starbox Hostel – $10/night 

Caveman Hostel – $10/night 

Fun Inn Taipei – $11/night 

Mango53 Inn – $11/night 

I Play Inn – $12/night 

Cheers Loft – $12/night 

Le Passage – $12/night 

New May Flower Hotel – $13/night 

Meander Taipei Hostel – $13/night 
In general, most hostels have shared rooms, shared bathrooms and only a few have a shared kitchen, which makes it difficult to consider staying long-term. However, if you're new in the city and still don't know anyone, this can be a great way to meet other backpackers, nomads and visitors who you can explore the city with or get to meet other locals.
Taipei Visa
If you're planning to visit Taipei for less than 90 days, you can easily get a tourist visa on arrival. If your visit will last for 6 months or longer, you will be required to apply for a Taiwanese permanent resident card. However, the process is quite expensive and requires a whole lot of investment that makes it unnecessary for a digital nomad. 
As a digital nomad, you have two options: 
Exit and enter the city every 3 months to renew your tourist visa. 

Apply for a Taiwan entrepreneur visa: Because the government recognizes the importance of innovation, it has made the process quite simple to obtain this visa. However, you'll only be eligible if: 

Acquired $70,000 in funding.

Received acceptance to become part of an incubation program run by the government.

Have overseas or domestic patents. 

Won awards from entrepreneur or design competitions. 
Culture and Food in Taipei
The Taiwanese cuisine is heavily influenced by different parts of China, but mostly by the Fujian province. Food is a huge part of the Taiwanese culture, with so many exciting dishes that make Taiwan a culinary destination you don't want to miss. The Taiwanese cuisine consists of simple and local ingredients that are put together and transformed into something delicious. While each city might have slightly different dishes, here are the highlights that you absolutely must try when in Taiwan: 
Niu Rou Mian:

Beef noodle soup sounds quite basic, right? But not in Taiwan. It's one of the staple dishes in Taiwan and you'll be able to find it pretty much everywhere you go. The soup consists of a variety of flavours and herbs that really implement the beef and make it a must-try. 

Lurou Fan:

If you're a fan of pork, then this could possibly end up being your best dish in Taiwan. A dish made of braised pork cooked in soy sauce with five other spices with a side of white rice is what you're in for when you order Lurou Fan. You can choose between sliced pieces of pork belly or a whole piece but be sure that in all cases the pork will be tender and complement the sauce perfectly. 

Stinky Tofu

: Before you get repelled by the name, this is one of Taiwan's most famous street foods. The tofu is deep-fried and dipped into a sweet and spicy sauce. It is called Stinky Tofu for a reason, though; when the tofu is fried, it tends to give off quite a strong scent that isn't exactly appealing. If you can get past the odour, then you're in for a big surprise and is definitely an experience you should try when in Taipei. 

Oyster omelette

: Add a new addition to your eggs in the morning and try Taiwan's oyster omelette for breakfast. The dish is pretty straightforward with scrambled eggs and small oysters combined with a tangy sauce. You'll either love it or hate it, but it's one of those dishes you have to try. 

Scallion pancakes

: This savoury snack is a very popular Taiwanese dish that can be found at any night markets. The pancakes are a very thin layer that is pan-fried in oil with small green scallion pieces. The oil makes the pancakes super crispy from the upside, but still soft and flaky from the inside, giving it a wonderful contrast. 

Ba wan

: You can't be in Asia and not feast on some sort of dumplings. This giant snack is the Taiwanese take on dumplings and is sticky and gooey in texture. It is made of a starchy dough and is filled with pork and vegetables. After it's cooked, it is served with a tangy sauce that really adds to the flavour. 

Mango shaved ice

: This dessert is something that can be easily addictive. It's exactly what it sounds like, a pile of mango ice shavings and can be found at any night market as it is a famous Taiwanese dessert. 
While there are so many other Taiwanese dishes you should try, these are the ones on the top of the list. 
When it comes to the Taiwanese culture, you'll find that the people are quite reserved, traditional and conservative by nature. Like many other Asian countries, Taiwan's culture is focused on the family and is quite patriarchal. But while the culture is influenced by China, there is also a noticeable Japanese influence that cannot be missed. 
However, the longer you stay, the more connected you'll feel to the people and the place. With it having so much to offer in terms of incredible scenery, food, exciting activities and extremely friendly people, it's pretty easy to fall in love with Taipei and its people. 
Taipei Nightlife
Taipei's nightlife is filled with a variety of things to do that will suit your taste whatever you're looking for. From night markets, street performances, temples, exhibitions and shows to red-light districts, clubs, bars and locals gathered around in the streets filled with lights and music. If it's your first time in Taipei, here are a few things you can do when the sun goes down in Taipei: 
Visit one of Taipei's night markets
The night markets can be found all around Taiwan and are one of the absolute attractions you have to experience when in Taipei. The markets not only give you a deeper understanding of Taiwan as a country, but you can even start to understand the difference from one region to another based on their night markets. 
While the market itself is an attraction that is crowded, vibrant and very lively, you'll also be able to shop local crafts, find some really good deals and of course, try the street food that is one of Taipei's specialities. 
Take a stroll on Rainbow bridge
While this bridge just connects the two neighbourhoods of Neihu and Songshan by day, at night it comes alive as the bridge reflects a rainbow of colours on the water beneath it, making it the most colourful bridge in the world. If you're into photography or want to experience something breathtaking, you'll definitely enjoy the scenic walk and the magnificent ambience that it creates. 
Cycle around Ximending
This district not only comes alive at night but is also one of the most bike-friendly neighbourhoods in the city. With its own bike lane, you can enjoy the scenery, cycle around the river, across one of the parks or even head downtown where all the local shops are located. 
Visit the red-light district
Located near Taipei Main Station you'll find Taipei's famous red-light district. The entire area lights up as the bars and pubs come alive and where buying a girl a drink can cost you quite the bill. Be sure to be aware of what you're getting yourself into before heading to this area. However, it is definitely an area that is considered a top tourist attraction in Taipei.
Clubs and bars in Taipei
45 Old Bar Coffee:

Because of its cheap prices and happy hours, it has become quite the student hangout and is usually packed with a younger crowd. But, if you're looking for noise, a crowd and cheap drinks with no dress code, then this place is about to become your favourite bar in Taipei. 

Barcode

: Unlike Pub 45, you need to dress to impress at Barcode as it is pretty much the place to be in Taipei. As it is located on the fifth floor, it has a stunning view of the Xinyi shopping district showing skyscrapers and bright lights. Here, the DJs will be playing a mix of classic house music to funk, new wave or even acid Jazz. You'll find a wide variety of cocktails and drinks at the bar that will make you come back for more. 

Blue Note

: Known as one of the most popular music venues, you'll find live bands playing mainly on Fridays and Saturdays. As it's a small and cozy environment, it gets crowded very quickly and usually requires you to go early if you want to find a table. The music here is mostly Jazz, but the atmosphere and vibe are absolutely incredible. 

The Brass Monkey:

If you're used to a sports bar, then this is definitely the place to be. Many expats choose this pub because of the flat-screen televisions that show some of the most important international games and you'll also find a lively bunch of people playing pool, foosball or darts while having a beer or two. The DJs play lively and entertaining music and the owners are friendly and welcoming keeping the crowd happy and entertained. 
Things to do in Taipei
Apart from the incredible things to do in Taipei at night, the city offers so many fun, exciting, cultural and adventurous things to do, that it makes it difficult to get bored when in Taipei. While the list can be endless, here are some of the absolute must when in Taipei: 
Visit the city's temples

One of the most popular attractions and landmarks of Taipei are the many temples you can find situated in each area. Visiting them will give you an insider's perspective into Taipei's culture, traditions and history, too. The temples are also a beautiful sight and a glory to look at. Some of the temples that should definitely be on your list are Mengjia Longshan Temple, Baoan Temple, Qingshan Temple, Confucius Temple, Ciyou Temple and Guanyin Temple.

Visit Taipei's tallest building and get a bird's eye view of the city

Taipei 101 was built with a Guinness World Record in mind of becoming the tallest building in the world. It held that record up until Dubai built the Burj Khalifa. While it is no longer considered the tallest building, it is still a must-visit as you get to experience the world's fastest elevator as you climb up to the observation deck on the 89th to the 91st floors and get a fantastic view of the city like no other. 

Go to a tea tasting at one of Taiwan's many Tea farms

Taiwan is known for its tea and has numerous tea farms where they plant and harvest their own tea. One of the best things to do in Taipei is visit a tea farm, get familiar with the entire plantation process and indulge in a variety of tea tastings. It will definitely be the highlight of your day. If you're lucky, you'll even get to pick some tea leaves yourself the Taiwanese way. 

Eat, eat and eat some more

We've already mentioned that Taipei's night markets are an absolute must and a huge part of the Taiwanese tradition. While there are many night markets, the must-visits where you can find the best street food are Shilin, Raohe, Tonghua, Ningxia and Huaxi. Because Taipei's culture is heavily dependent on food, the food scene is incredible even beyond the street food and going out for dinner or experiencing some of Taipei's most authentic restaurants is an absolute must. 

Hot springs

Soaking in hot springs can do your skin wonders as it acts as a natural detox. That's why visiting Taipei's Beitou Hot Spring should be on the top of your list. Not only is it a natural spa for your body, but the view and scenery are absolutely to die for. 

Hike Elephant Mountain

If you're looking to do some exercise while exploring nature, then it's time you hike Elephant mountain. While it's a short, steep hike from Xiangshan metro station, expect to climb 500 stairs to the rock viewing point and 600 stairs to the viewing platform. Many people like to hike up to watch the sunrise or sunset and experience the stunning views of Taipei from the top. Expect to reach the top in around 30 minutes, or longer if you're physically unfit. 

Experience the true Taiwanese traditions in some of Taipei's most famous festivals

If you're staying for a while expect to experience the best nights of your life when it's time for a typical Taiwanese festival. During the first half of the year from January – July there are several festivals such as the Taipei Lantern Festival, Lunar New Year and street parades celebrating the birthdays of the Gods. During these times, the city's festivities are brought out to the maximum with costumes, music, dance, performances and of course, a whole lot of food. 

Get a knife massage

In Taipei, you won't just get any massage, but one with blades. Known to be part of the traditional Chinese culture, knife massages are still highly recommended and quite popular in Taipei. Before you get thwacked numerous times with a knife, you'll be handed a list of benefits which include improving sleep, boosting metabolism, improving blood circulation, fighting fat and helping any sores along with a price list. Usually, it costs around NT$220 for a 10-minute massage or NT $ 1200 for a 60-minutes massage. 

Hop on the Taipei Double Decker bus

On this bus, you'll get the chance to visit some of Taipei's top attractions and indulge in its culture, history and architecture. Some of the many attractions include Taipei 101, CKS Memorial Hall, National Palace Museum, Sun Yat-sen Memorial Hall, Temples, Huashan 1914 Creative Arts park and many more. 

Take a Taiwanese cooking class

Because you'll be addicted to Taiwanese food, it's a fun and exciting opportunity to attend a cooking class and learn how to make some of Taiwan's speciality dishes. You'll find numerous ones all over the city and can even take up a different dish every month or so and get familiar with the secrets to Taiwanese cuisine. 
Best Time to Visit Taipei
The weather in Taipei is usually warm all year round with a tropical climate. While the winters are quite warm, the summers are known to not be only hot, but also quite wet with thunderstorms and typhoons. So, be sure to bring your umbrella along. However, even during the hot summer months, you'll still get to feel the breeze coming from the ocean cooling the weather down and making it tolerable. While the average temperature throughout the year is around 22 degrees Celsius, the lowest average temperature is between 12-17 degrees Celsius. 
During the typhoon season in the summer from July-September, the rain provides the water supply for Taiwan, but can also cause flooding and huge damages. 
Spring

: During the months of March-May, the average temperature in Taipei offers highs of 25 degrees Celsius and lows of 19 degrees Celsius. 

Summer

: During the months of June-August, the weather is quite hot and humid with frequent thunderstorms and typhoons. The temperature in the summer is around 34 degrees Celsius with lows of 25 degrees Celsius. However, June is still considered to be the most popular month for tourists to visit as they can hit the beach and go surfing. 

Autumn

: From September to November, the weather is still warm and sunny, but slightly cooler than the hot summer months making the weather ideal in Taipei. During these months expect highs of 30 degrees Celsius and lows of 18 degrees Celsius. 

Winter

: The winter months of December-February are usually quite foggy, but not too cold. However, the nights can get a bit cold with lots of 8 degrees Celsius. 
Taipei for Families
Because Mandarin is the language used in Taipei, most schools are in Mandarin and will be difficult for children who do not speak it. However, as one of the most expat-friendly cities in Asia, there are other international schools in English, most of which follow an American curriculum. Just keep in mind that because of the low supply of schools and large number of expats, the waiting lists for schools can take quite a while. This requires you to start the application process early on to try and guarantee a spot for your child. Here are some of the best international schools in Taipei: 
Taipei American School- American curriculum: Children from 4-18 can be enrolled and school fees differ according to age but range from NT$ 835,840- NT$ 930,495. (USD 29,960 – USD 33,353)

Taipei European School – IB, British, German and French curriculum. Children from 3-18 can be enrolled and school fees range from NT $466,000- NT$ 693,400 per year. (USD 16,703 – USD 24,854)

Grace Christian Academy – American, Christian curriculum: Children from ages 6-18 can be enrolled and fees range from NT $ 388,000 – NT $ 478,000 per year. (USD 13,907 – USD 17,133)

Morrison Academy Taipei – American, Christian curriculum: Children from ages 5-18 can be enrolled and fees range from NT$ 516,000 – NT$ 613,000 per year. (USD 18,495 – USD 21,972)

Taipei Adventist American School – American, Adventist curriculum: Children from ages 6-14 can be enrolled and fees range from NT $ 450,000 – $498,000 per year. (USD 16,130 – USD 17,850)

Dominican International School Taipei – American, Catholic curriculum: Children from ages 4-18 can be enrolled and fees range from NT $ 297,101 – NT$ 493,356 per year. (USD 10,649 – USD 17,684)

Hsinchu International School – American curriculum: Children from ages 3-18 can be enrolled and fees range from NT$ 310,000 – NT $450,000 per year. 

Kang Chiao International School – IB, American curriculum: Children from ages 12-18 can be enrolled and fees are not announced by this school. 

Taiwan International Montessori Experimental School – Montessori: Children from ages 3-15 can be enrolled and fees are not announced by this school. 
As for daycares and nurseries, most of them will offer Chinese-English instruction with a not-so-good level of English. But, if necessary here are a few to consider:
Taipei Oxford Cultural & Educational Institute

Everygreen Montessori Bilingual Kindergarten

Little Lily 

Pa Pa Jordan International Preschool 

CKids American Preschool 

Smart Start Preschool 

Gym Baby

Childs World 

Hess International Kindergarten 

Gu Gu House Baby School 

Taipei Cats Multicultural Bilingual Preschool 

Taipei Youth Program Association 
Living in Taipei
Taipei Transportation
Getting around in Taipei is fairly easy due to the well-connected Metro system. As a digital nomad planning to stay for a while in Taipei, your best bet when it comes to transportation is getting an Easy Card as it gives you special discounts on public transportation systems in Taipei. Otherwise, you can pay for your ticket in cash or even by credit card. 
A ticket costs NT $20-65 (USD 0.72 – USD 2.33) based on the distance and the number of stops. Or you can also get a one-day ticket for NT$200. (USD 7.17)
An Easy Card will allow you to get on the metro, city bus, taxi, rent a bike or even pay in shops. The prices are discounted on the metro and you'll get a free 30 minutes when using public bicycles. 
Long-distance bus
Taipei bus station has numerous buses that go to other cities at a cheap cost. From here you can travel to Kaohsiung, Tainan, Chianti, Hualien, Taichung every hour. 
City bus
In Taipei, there are around 300 different bus routes and most of them will take you to the scenic spots you need to go to. Just remember that the drivers do not stop at every stop so, you have to alert them you're getting off beforehand to make your exit. A one-section journey on a bus in Taipei costs NT$15.(USD 0.54)
Taxi
The yellow taxis in Taipei are also another option of transportation in the city, but will require you to put up with the heavy traffic in the city. The taxis in Taipei have a flat rate of NT $70 (USD 2.5) and cost NT$5 (USD 0.18) for every 250 m. If the taxi will wait for you, expect an additional cost of NT$5 (USD 0.18) for every 1m 40 seconds during the day time.
Bike
There are so many bike sharing options in Taipei. In fact, you'll find over 180 bicycle leasing stations. If you have an Easy Card, you can rent a bike for NT$10 (USD 0.36)for every 30 minutes for the first 4-8 hours. 
Motorcycle
If you're a regular, then motorcycles are one of the most common transportation options available in Taipei, but it is not for the faint-hearted. You will need to have an International Drivers license to rent a motorcycle. The fare usually differs from one place to another but starts from NT $40. (USD 1.43)
Fitness and Health
While spas and massages are very popular in Taipei, the number of gyms and people signing up to take care of their physical health has also increased. While there are many private gyms, public community sports centres are a lot cheaper and don't require any contracts to be signed. As a digital nomad looking for a gym where you can find an English-speaking instructor or personal trainer, your best bet is to head to the larger more known chains. 
Public sports centres in Taipei

: There are many public sports centres across the city that offer basketball, baseball, tennis, badminton, swimming, volleyball, rock climbing, football, indoor facilities and even classes such as martial arts and yoga. However, the specific classes and sports offered will depend according to the sports centre you go to. 

Running

: If you're looking to get fit outdoors, head to any of Taipei's national parks and you'll find several people running, jogging or walking. 

Cycling

: You can easily rent a bike using your Easy Card and head to the riverside parks where there are cycling tracks. Or you can go on the many expeditions around the city and use cycling as a sport and means of transportation to discover the city. 

Youth park

: Here you'll find basketball courts, tennis courts, a swimming pool and even a skating rink. 
Private gyms in Taipei 
TDF Fitness

Achilles Gym 

Myway Fitness Strength & Conditioning 

Taipei Sports and Fitness Center 

Soulfit

1st Fitness Heping Branch 

Kat Fitness

Sunfish 

Gymcube

Fun Fitness

Fang CrossFit

UFC Gym

World Gym 

Fit Gym 

Core Space
Taipei People
The Taiwanese people are one of the friendliest, kindest and most helpful nations you can encounter. Even though the majority of Taiwanese do not speak English, they will still go out of their way to help you and try to understand what you need. Their welcoming nature makes people fall in love with Taiwan and feel at home. The Taiwanese love to make new friends and have an interest in getting to know people from different cultures making them constantly approaching foreigners and offering a warm welcome along with lots of smiles. 
The Taiwanese are very heavy on family and really take care of their elders. Family is the core focus and respecting your parents, grandparents and elders is a huge part of their upbringing. The Taiwanese are polite people in general and will rarely ever be put in a situation where they're labelled as rude. 
One of the things that make the Taiwanese quite special is while their heritage and culture are so strong, they do not pass judgment whatsoever. They are used to be around foreigners of different beliefs, tradition and values and will accept you just the way you are. 
When in Taiwan, expect to be invited to the homes of the locals as they love to play host. They will go above and beyond to ensure that you're comfortable and having a good time. They're so generous that they will also pamper you with excess food whether you're in their homes or eating out. However, you must understand that the Taiwanese are a bit sensitive and might feel like they didn't prepare enough food if you finish everything that's provided. So, always be sure to leave something behind as a gesture that they've done it just right. 
One other aspect that you'll notice besides their warmth is their love for having a good time. They're warm, bubbly and full of laughs making their company quite enjoyable and a night out with them absolutely remarkable. However, the Taiwanese are not too fond of spending their time in bars and clubs but instead will probably grab a bite to eat at a restaurant as food is such an important part of the culture. 
Taiwan in general is one of the safest places you can visit because of how honest the people are. Whether you forget your wallet or purse behind, you'll find it exactly where you left it.
Taipei Insurance and Medical Care
If you're a citizen or have residency in Taiwan, you'll be able to get National Health Insurance. While it is not always all free, most things are covered under the insurance, or just require a small fee to be paid. The amount will differ from person to person depending on their salary and how many dependents they have. The quality of healthcare whether in the public or private sector is generally quite high with excellent facilities and trained, specialized medical workers. 
One of the downsides of the public health care system comes in the wait time for each appointment. This is reduced massively with private health care. 
However, as a digital nomad, you'll be required to get private health insurance to be able to visit a hospital or clinic. Most of the medical workers in the private healthcare sector will be English-speaking and have better communication with expats. While it does offer excellent care, it does come with a hefty price tag. You can compare from different packages by some of the insurance companies below: 
Allianz Care 

Cigna Global 

Integra Global 

AXA 

Aetna 
Make sure you are fully covered by reading our full Digital Nomad Travel Insurance guide.
Jobs in Taipei
Finding a job in Taiwan might not prove easy, especially because of the language barrier. However, the Taiwanese are starting to value the importance of learning English and many people seek English tutors for their children. This could be an excellent opportunity for a digital nomad in Taiwan looking to make a living.
For citizens from the US, Canada, UK, Ireland, New Zealand, Australia and South Africa, to be eligible for a teaching job, you need to hold a bachelor's degree and two years of work experience. However, to work in a public school, you will need to have a teaching license or certification. If you don't, you can still work in a buxiban or cram school. 
To work legally, an expat would need to obtain a work permit and ARC which is usually prepared by the company you'll be working for. In some cases, a physical exam at a hospital may be required to obtain legal work status. 
For a company to hire a foreigner in a sector other than education, the company is required to prove that they are unable to hire a qualified local or that the foreigner will serve the company better than the candidates available locally. This can make it quite difficult and stressful for companies to hire foreigners. If the company does require a foreign candidate, they must have a bachelor's degree and have two years of relevant work experience or a graduate degree. 
If you're still determined to find a job in Taipei, here are a few websites to help you on your job hunt: 
Tealit.com (English Jobsite)

Myu.com.tw (for teachers looking for students)

LinkedIn 

104.com.tw (Chinese)

1111.com.tw (Chinese)
Check out our Digital Nomads Jobs Postings to find the best jobs available for Digital Nomads.
Nomad Friendly
Value for Money
Internet
Workspace
English
Food
Safety
Health
Transportation
Friendly
Quality of Living
Cost of Living Taipei
While the cost of living in Taipei is relatively cheap overall, it is not as cheap as many neighbouring Asian countries. Here are a few prices of everyday items to help you get an idea about the expenses you'll be incurring: 
1 litre of milk: NT$ 93.25 (USD 3.34)

A loaf of bread: NT$ 55.63 (USD 2)

1 kg of rice: NT$ 91.08 (USD 3.26)

A dozen eggs: NT$ 75.27 (USD 2.7)

1 kg of cheese: NT$ 603 (USD 21.6)

1 kg of chicken: NT$ 305.53 (USD 10.95)

1 kg of beef: NT$ 603 (USD 21.6)

1.5 litre water bottle: NT$ 37.55 (USD 1.35)

Bottle of wine: NT$ 400 (USD 14.34)

Domestic beer: NT$ 51.35 (USD 1.84)

Imported beer: NT$ 65.74 (USD 2.36)

A pack of cigarettes: NT$ 120 (USD 4.3)

Single ticket on public transportation: NT$ 22.5 (USD 0.81)

Monthly pass: NT$ 1,280 (USD 45.88)

Meal at an inexpensive restaurant: NT$ 120 (4.30)

Cappuccino: NT$ 28.36 (USD 1.02)

Gym membership: NT$ 1,300 (USD 46.6)

Preschool or daycare: NT$ 16,800 (USD 602)

International Primary school: NT$ 460,000 (USD 16,488)
While the average rent for accommodation will vary depending on the size and location of the apartment, you could find a one-bedroom apartment in the center for around NT$ 20,000 (USD 716.90) and an additional cost for utilities of around NT$ 2,600/month (USD 93.2).