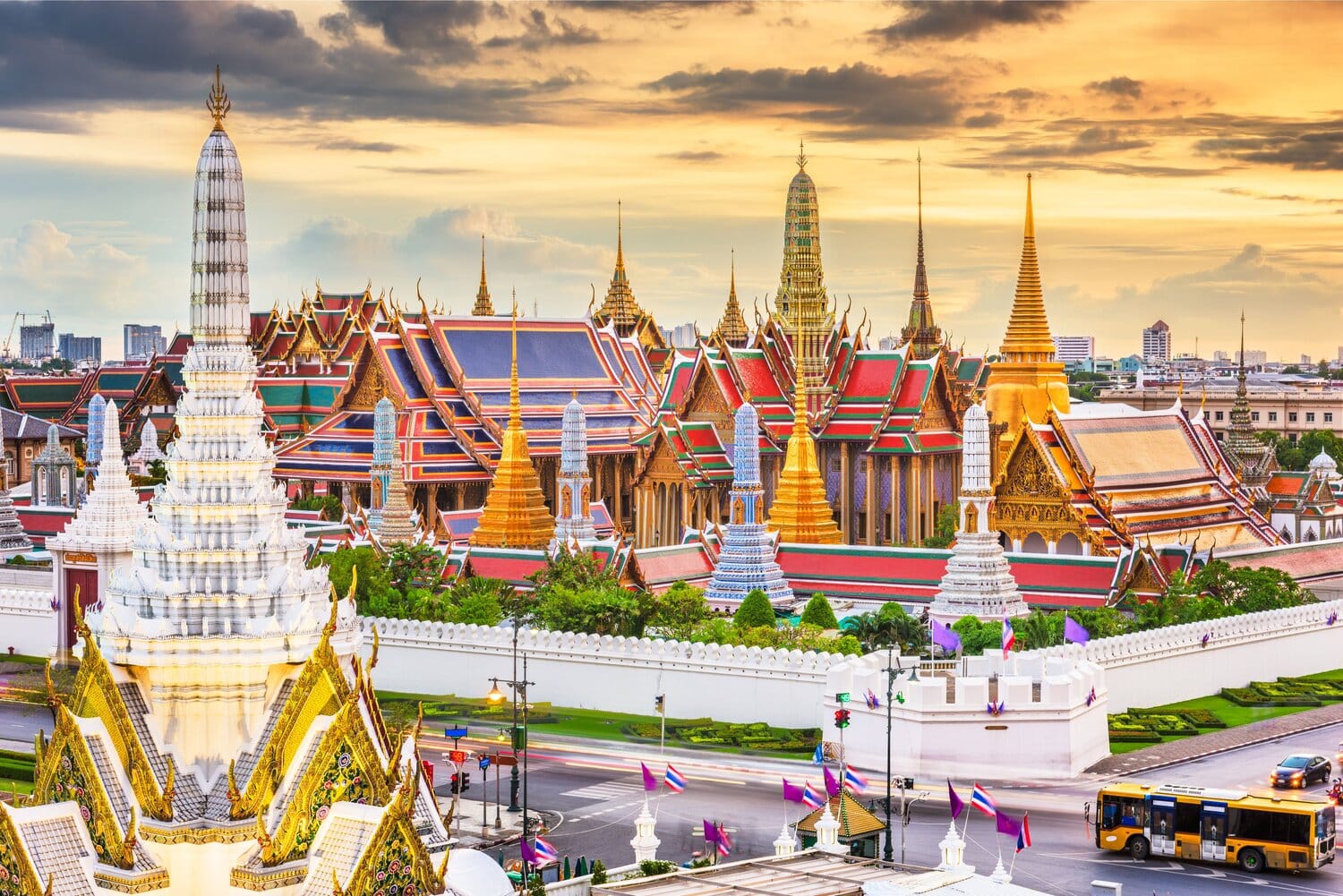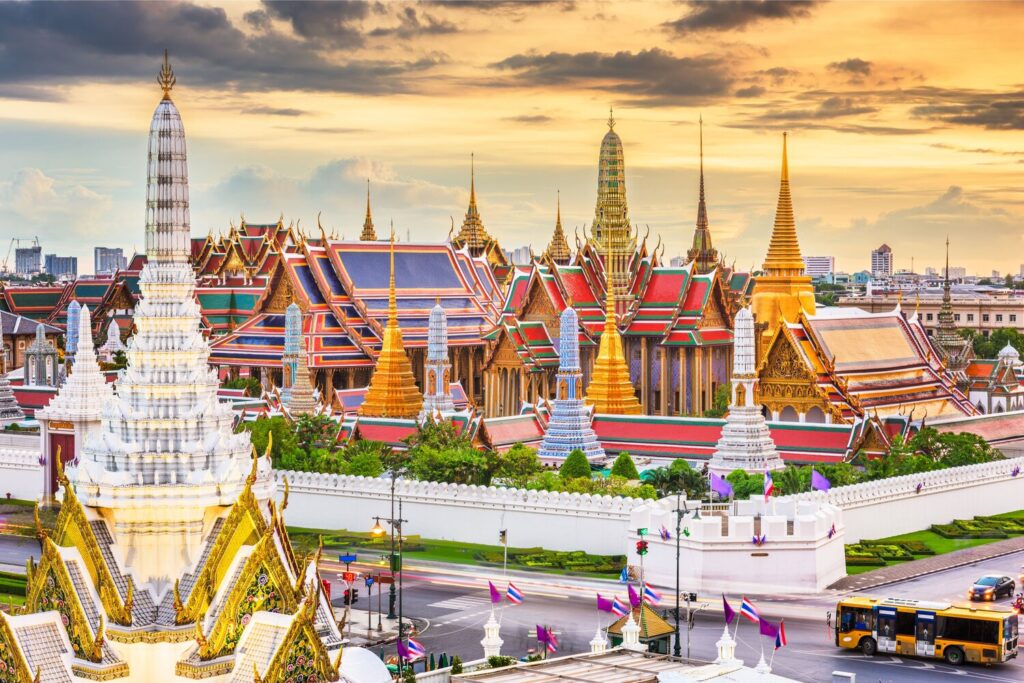 A Digital Nomad Guide to Bangkok
Thailand is a country in Southeast Asia and known to be the Land of Smiles; just like the name, Thais generally are friendly and known for their warm hospitality. The country's capital city, Metropolis Bangkok is one of the most visited cities in the world and a favourite travel transit for backpacking in Southeast Asia. 
When many visitors think of the city, street food tends to cross their minds first, because Thai food is found in many cities around the world from Los Angeles to Georgia (country). Other than that, the vibrant and diverse culture of Bangkok adds a huge element to the city, and just like other big cities in the world, you'll meet many interesting characters.
Unfortunately, kissing in public is kind of frowned upon due to Asian cultural values, however, holding hands in public is very common.
Over these recent years, digital nomad culture has become a huge deal and many travel around with their laptops, just to find freedom and work and life balance. Co-working spaces and cafe culture have become in higher demand, because the needs for work fluidity and digital nomad lifestyle.
Thus, many nomads have decided to call Thailand their new home temporarily and permanently. The country has a good balance between warm weather, beaches, cold weather that literally is below 0 degrees celsius, rainforests, hills and city culture; these reasons are massive contributing factors for nomads to relocate to this particular country.
Nomad Friendly
Value for Money
Internet
Workspace
English
Food
Safety
Health
Transportation
Friendly
Quality of Living
Living in Bangkok Overview
| | |
| --- | --- |
|  Meal, Inexpensive Restaurant | $1.94 |
| Domestic Beer (1 pint draught) | $2.33 |
| Cappuccino (regular) | $2.16 |
| Loaf of Fresh White Bread (1 lb) | $1.24 |
| Water (1.5 liter bottle) | $0.52 |
| One-way Ticket (Local Transport) | $1.31 |
| Basic Utilities (Monthly) | $73.46 |
| Internet | $16.92 |
| Fitness Club (Monthly) | $55.56 |
| Apartment (1 bedroom) in City Centre | $559.35 |
[erw_exchange_rates_widget lg="en" tz="0″ fm="EUR" to="EUR,USD,GBP,AUD,JPY,RUB" st="primary" cd="" am="1″][/erw_exchange_rates_widget]
Max Withdrawal: €400
Use of Credit Cards: Widely Accepted
Digital Nomad Personal Experience in Bangkok
For LGBTQ+ travelers, homosexuality isn't criminalised and highly accepted by Thai society. The city is well renowned for Kratoeys, AKA transsexuals.
The city hasn't had its LGBT pride parade for over ten years. However, Chiang Mai has become rather persistent with holding Pride Parades within the recent years. You could check it out and join their parade.
Bangkok city has become a lot of digital nomads' favourite hub to live for a while from food and a fairly affordable city to stick around. Plus, it has a balanced variety of west meets east kind of vibe, and that makes it a favourite to foreign professionals to invest in their businesses and relocate to the city.
If you're serious with upskilling and starting your online business, Bangkok is the place for you, especially the social integration here is quite competitive and serious about upgrading their careers.
If you're a non-local and want to live in Bangkok for several months, it could be a little tricky as a digital nomad and the biggest contributing factors to those reasons are visas, and cultural barriers.
However, that's ok, what matters the most is baby steps and figuring things out, whether to go left and right. Let me start with cultural barriers, I'm a Thai national myself but with a globalized mindset, and sometimes, when you want to start hanging out with other locals or generally interact with them, certain things might seem of a cultural shock to you. 
It's important to be mindful that the questions that the locals here ask about you might be a little too personal from your age to where you live; but that's their way of trying to get to know you. The locals here are really friendly, and sometimes if you order from the same food vendor, they'll give you extra for free. Even though money is still an important tool, there are many who don't see it that way in Bangkok.
Work in Bangkok
Like in many cities, Bangkok's coffee and co-working space culture have grown a lot, because many have realised that the conventional office culture has become overrated and a wasteful routine. 
Cafes and co-working spaces foresaw that problem and the change of behaviour in hustling and grinding. So, they've made their work spaces more convenient and create less barriers for people to communicate and socialize. 
Therefore, these places are friendly enough for digital nomads to stick around with their affordable cups of coffee, rental space, and fast and free wifi. 
So I've decided to pick digital nomad worthy spots for you to sit down and get your zen on. Here are some tips for you to be mindful of when going around the city, as it's not easy to go around in a pedestrian unfriendly.
Best Places to Work in Bangkok
Co-Working Spaces
JustCo
JustCo.'s situated in Bangkok's office district, Sathorn, also known as the business district of Bangkok city. Its hustle and grind work culture can motivate you to get things done and luckily, this coworking space is there, but it isn't very cheap. The perks of this place is for entrepreneurs who recently started their journey and this place can provide you the business address you need.
Fees: One Day Access JustDesk Basic package, ฿990 (33.02 USD).
If you're interested in other packages, and want to aim high, their plans and pricing are listed on their website.
Launch Pad
The Launch Pad is also around the business district of Bangkok, and each zone is divided into 4 different floors. It has a very simplistic, minimalistic, and traditional office design, if you're a workaholic and super serious with your deadlines, this is suitable for you.
Fees: Daily Access 350 THB
The Hive ThongLor
The Hive Thonglor is based in Thong Lor, and just off Sukhumvit Road. This co-working space has a cafe and rooftop vibe to it. If you're into coffee breaks, and chats over coffee, this place could just be for you to work, play, and grind. 
If you're a young entrepreneur that needs a less serious vibe, this place is just for you. 
Fees: Day Pass for Hot Desk Package ฿330 (11 USD).
Union Space
Union Space is another trendy and stylish co-working space, it kind of has a New York vibe to it and with a tad bit serious entrepreneur culture.
It also has a rooftop space where you could enjoy the outdoors with their rooftop setting. You could sit down and order their food, which is healthy and very affordable.
Fees: Daily Work Pass  ฿200  ( 6.64 USD)
Cafes
Too Fast Too Sleep @ Samyan is a 24/7 cafe for students to go study. However, it sometimes can be a little loud because of group discussions and young people's vibrant energy. 
It does have its peak and low season, because it's popular for Thailand's Chulalongkorn University students to go and grind hard – This all depends on their examination schedule.
Best Places to Live in Bangkok
Best Neighbourhoods
Some of the best ways is to look through Facebook groups for expats and locals that speak English. That's where you could do some networking and gathering some insights, so you'll get a better understanding of how things work around here. 
There are apartments that cost way cheaper than hostels, however, please keep in mind that most apartments and cheap condominiums are looking for tenants that are willing to commit to a 6 month rent, and most of them have strict rules that must be followed accordingly.
In this section, lists of areas and accommodations have already been listed at your convenience.
Downtown Bangkok
Silom Area – Business district
Silom, interchangeable name is Sathorn. Within the area, it has quite a number of fancy restaurants and bars. The downside of it is it gets too busy during prime time, where you could be stuck in traffic for hours even when your last destination is only 2KM away
Apartments (Cheap – Expensive)
Condominiums
Thong Lor & Ekamai – Trendy areas

You'll definitely meet other expats here, and this is where expats love to hang out around here. There are quite a number of fancy and cool bars, however, it's not a really cheap area to live in.   

Ekamai is paralleled to Thonglor and that's where the Eastern Bus Terminal lies at and you can sit around to wait for your bus at a cafe nearby. This area is filled with cafes and bars, and a favourite area to many expats.

Asoke & Onnut 

This neighborhood is very popular and attractive to many Westerners, especially for young ones, you are looking for condos to rent. If you're coming into Bangkok with your mates, you better rent and live together, because the cost of living in condominiums aren't so friendly to your wallets!

Onnut didn't have a trendy rep, as much as Ekamai, but it's more calm, cheaper, and desirable for many to live in. It's moved towards the center into many people's radars.

Asoke Area

Apartments

Condominiums

Onnut

Apartments 

Condominiums 

Victory Monument – In between suburbs & downtown area

Victory Monument is close to the malls, food outlets, roundabout with all the bus stops and the buses take you in and out of the city. It's a fairly cheap and quiet area to live in with everything you need, however, it's more popular for the locals to be around there.

Apartments

Condominium
Suburb Areas
Ramintra

Suburban areas are unknown to many expats. Their locality makes them unattractive, however, the plus side is, it's cheap and necessities like grocery shopping, banking, access to public transport are very convenient.

Apartments

Condominiums

Lad Prao – A suburban business district

Lad Prao area is a cheaper alternative to live around. It is also still convenient to live around there. Both the BTS and MRT underground trains are easy access to commuters, which makes the place an attractive melting pot.

Apartments

Phahonyothin – Neighborhood close to Don Mueang Airport

Phahonyothin area stretches 30km from Ari and merges with Viphavadi Rang Rd (North of Bangkok area) and stretches towards the north all the way psat Don Mueang Airport towards Thailand's heritage site  of Ayutthaya. If you drive far enough, you can reach the Northern Thai city of Chiang Rai (Next to another digital nomad hub, Chiang Mai). The area has grown interest to expats due to its affordability and convenience.

Bang – O – Nonthaburi side

Depends where you are in Bangkok, but it takes only 30-40 minutes from the victory monument to take you to Bang- O area. It's right across the river and in a tiny province next to Bangkok. The area isn't as popular to expats, because of it's super local vibe. If you're looking for somewhere more local, you could stay around there.

Thawi Watthana – Salaya – 30 KM away, only accessible by bus

Thawi Watthana is outside of Bangkok city and a suburban area. However, you aren't a city person and want to get out of the city's hustle and bustle. This area could be a great option for you. It's possible to share a house with someone around there. 

Salaya is already a district in Nakhon Pathom province. It's right next to Thawi Watthana. Many locals misunderstand that Thawi Watthana is a part of Salaya. The cheapest options to get to Salaya and Thawi Watthana are take the 515 bus from victory monument or the train from Hualumphong Bangkok Train station and get off at Salaya Railway station.

Houses

Apartments
Find an Apartment in Bangkok
Cheap Places to Stay in Bangkok
Bangkok Visa
There are visa options but not all rules apply to all nationals due to Thailand's relationship with your country. So it's very important to double check with the Thai Embassy in your country of what visa options they could provide you.
Some of my friends are freelance scuba dive instructors, and manage to live in Thailand throughout the whole year without having to rely on a company issuing them a work permit and a visa. There are many hidden rules about how visas work around the world, I'm sure if you have the proper skills and wits to want to be in Bangkok enough, you'll find a way.
Ever since travels have become way much harder in 2020, Thailand recently started a Special Tourist Visa programme for those who can travel in the midst of the pandemic. However, you've got to be really loaded with money.
Here's the official website for you to double check and find opportunities for you to issue yourself a visa: https://thaievisa.go.th/
Culture and Food in Bangkok
Earlier, I touched base on Bangkok being thought of for its street food, and if you are a foodie, the city has a great variety of food. If you miss your local cuisines back home, you'd have no problem, because Bangkok has literally everything you need from Turkey breasts to French dried beef. 
But before I mention the supermarkets where you could get your olive oil, cheese and wine, I'll give you some tips on how to enjoy Thai cuisine. You might have tried some Thai dishes in your hometown, and some of the mainstream dishes found on the menu are most likely Pad Thai or Green curry. Thai food is more than that, because every region in Thailand has different flavours and ingredients; and you might not have heard many of them.
Things to do in Bangkok
Bangkok is a city that doesn't leave you indifferent. In addition to its gastronomy and the bustle of its nightlife, there are plenty of things to see during the day.
The

Grand Palace

is the most visited tourist place in Bangkok. Built in 1782, the year Bangkok officially became the country's capital after the fall of the Ayutthaya and Thonburi kingdoms, the complex includes more than 100 buildings, palaces, and pavilions. It is surrounded by a 1.9-kilometer-long wall and there the king performs official ceremonies.

Another extraordinary building is the

Chakri Mahat Prasat palace

, built by King Rama V to be his residence. The ticket allows you to visit all the buildings, the textile museum and the Royal Thai Decoration and Coin museums.

The Buddhist temple

Wat Pho

, is one of the oldest in the country and the second largest tourist attraction in Bangkok. Inside you can admire a reclining Buddha 45 meters long and 15 meters high that represents the death of Buddha. The visit lasts about an hour and a half.

Wat Arun Temple

, located between the Grand Palace and Wat Pho Temple, is known for its prang: an 82-meter tower covered in pieces of colored porcelain. It is surrounded by 4 smaller prangs, also inlaid with mosaics. It is worth visiting at night.

During the weekend you should visit

Chatuchak market

, the largest market in Thailand. It is organized into sections according to what is sold. There is also a large part dedicated to food. Get ready to walk inside the crowd!

The

Golden Mount

, built on top of a hill, will allow you to enjoy a 360-degree view over Bangkok. You can walk up its long staircase where you will find fountains, statues and various gongs that you can play to attract luck.

Khao San Road

is one of the main tourist attractions in the city. There, you will find cosmopolitan bars and restaurants where foreigners hang out at night.

The alleys of the

Chinatown

district transport you to China with its commercial stalls and street vendors of Chinese food. At

Talat Mai

, the Chinatown market, you can stock up on fruits and culinary oddities. You'll also find here the

Golden Buddha

(Wat Traimit), a 5.5-ton, 3-meter tall solid gold Buddha. Originally, the statue was made of gold stucco and housed in another temple in Chinatown. But when the temple had to be destroyed, the monks decided to move the statue to Wat Traimit. As it was being transported, the stucco cracked, revealing the gold. They realized that the statue was completely made of gold and that it had been covered in stucco to protect it during the invasion of Thailand by the Burmese. Since then, Wat Traimit has been a major pilgrimage destination for Thais and is one of the most important temples in Bangkok.

In

Dusit Park

there are 2 main buildings of different styles. The first is the Dusit Palace, in the Italian Renaissance style. It is the place where the famous photos of the royal family are taken that are seen almost everywhere in Thailand. The second is the Vimanmek Mansion, the former royal residence. It is the largest golden teak building in the world.

Jim Thompson House

, once owned by an American art collector and businessman, is the best place for art lovers. Jim helped make Thai silks famous and used by leading international fashion designers in Milan and London. The house was built from various sections of traditional wooden houses and today it is a museum. You can only take guided tours.

In terms of museums, the

National Museum

is the largest in Southeast Asia and tells about the history and culture of Thailand.

Siam Museum

is a more playful history museum, with videos and games. In the

Museum of the Royal Barges

you find the 8 royal barges that the king used when he traveled. The

Bangkok Art and Culture Center

exhibits contemporary art and the Doll Museum has a collection of traditional Thai handmade dolls.

If you like heights like I do, try the views from Vertigo Moon Bar, Sky Bar Lebua, Tres Sesenta Salón, Park Society, Nube 47 in the financial district and Cielo Rojo on the 55th floor of Central World.

The tallest building in Bangkok is the

Baiyoke tower

and it has a terrace on the 77th floor and another revolving roof deck on the 84th floor. If you want to go there, you must buy your tickets in advance as it is a very touristy place. Be prepared to pay quite a bit for cocktails and bear in mind that the dress code is quite strict.

Within the city, another recommended activity is to take a

river cruise

. It will allow you to discover the temples and monuments from another perspective. Especially at night, when the city lights up. Several companies also offer dinner cruises on the Chao Praya River.

You can also attend a

Thai boxing match

. Muay Thai, inspired by the combat training of Thai soldiers, is the national sport of Thailand. More than just a fight, Muay Thai is above all an art form. The fights are accompanied by musicians who adapt the rhythm to the movements and blows.

Outside of Bangkok, you can take a day trip to the floating markets. Of course, some were created just for tourism. If you only have to choose one, I recommend visiting Damnoen Saduak floating market, one of the most famous.
The historic city of Ayutthaya is only an hour's drive from Bangkok. It was the ancient capital of the kingdom of Siam. Today it is a UNESCO World Heritage Site and has numerous temples to visit. Buses and trains to Ayutthaya depart daily as organized tours.
In Kanchanaburi you will find the world-famous bridge over the River Kwai. Built by thousands of war prisoners during World War II, the bridge is one of the most important historical sites in Thailand.
Best Time to Visit Bangkok
Thailand has 3 seasons, but the temperature depends on which region in the country you're in. Don't forget that the country is right near the equator, so the deeper south you go, the hotter it gets.
Winter
However, Bangkok is in the center but it's still generally really warm and humid, except in December where the city drops to 18 degrees celsius at night. If you haven't seen snow for a year, the weather can be cold for you here, as according to others who haven't gone through winter for quite awhile.
If you think Bangkok's winter season isn't cold enough for you or it still reminds you of summer in Europe, you can try camping out in the national parks around Northern Thailand or Northern eastern Thailand – Chiang Mai, Pai, and Nan are well known provinces in Northern Thailand that can drop to 0 degrees celsius, they could get really cold until you can see your own breath evaporating into air. 
Summer
Summer in Thailand starts in March and April is the month of Thai New Year, where the country's favourite water wars are known to be the most festive events happening around the country – dates for this fun event is 13th April to 15th April every year.
However, Bangkok always closes off Silom and Khao Sarn Rd, for the crazy water fest of Songkran. If you wanna enjoy Songkran somewhere else, Pattaya, Chiang Mai, and Phuket set up foam parties with DJ's turning up the turn tables. 
On the other hand, this particular season in  Bangkok is not very pretty and it gets very hot, especially the fact that it's not a really green city and it's full of concrete.  There's barely any air around downtown areas, because it's congested with people, and high rises block the wind flow. When you walk in malls around the city, you could be surprised how much they blast the air conditioning. It's important to keep yourself hydrated and wear some sunscreen, because UV rays in Thailand are really strong.
Bangkok for Families
Bangkok is a modern and cosmopolitan city, with a lot of public transport and cheap prices. The high concentration of foreigners, known as farangs, means that it is easy to join sports clubs, language study groups and excursions with people who speak the same language.
Bangkok is also known among expat circles as a great place to raise children abroad. In HSBC's latest Expat Explorer survey, Thailand ranked higher than the US and UK for the quality of child care. It was considered much easier to integrate as a family in Thailand than in the UK, and additionally one of the cheapest cities in the world.
The survey also reported better health and healthcare services, with Thailand ranking seventh on the health leaderboard. Bangkok has hospitals that rival western facilities. Private healthcare here is exceptional and available at low prices. However, you need international health insurance.
As for society, They love children and interact affectionately with them. In Bangkok your children will be showered with affection. However, the attention can be overwhelming. It is important to explain to them that they are not trying to be intrusive, but that it is a form of welcome to them.
Living in Bangkok
Fitness and Health
If you are looking for a fitness center, Bangkok has a couple of international chains. California Wow, the American-styled chain has several branches on Silom Road, Siam Paragon and Sukhumvit Road. You can also find Fitness First, the UK-based fitness chain, that has a branch in Landmark Plaza of the Landmark Hotel.
¿Do you prefer a personal trainer? Try with Revolution Fitness. You choose the location of your workout.
If you are visiting the city, there are also some hotels with well-equipped gyms like Pathumwan Princess with a vast number of aerobic and weight machines, free weights, two group exercise rooms, tennis courts, squash courts, basketball gym, reading room and a salt-water swimming pool. Banyan Tree counts with an amazing spa and a deluxe fitness center. JW Marriott has one of the most well-equipped gyms in Bangkok and a spa that was voted as the best men's spa in the city.
Make sure you are fully covered by reading our full Digital Nomad Travel Insurance guide.
Bangkok People
As mentioned earlier, people in Bangkok are friendly and they'll talk to you if you engage them. If you're asking around for directions, they'll help you out or buy food at a regular food vendor, they'll give you a bit extra.
Finding true friends in Bangkok can be tricky, as it is a big city and the mentality is quite individualistic. Luckily, social media have made life a lot much easier for everyone, especially for digital nomads who love to socialise and join new events. 
You can find the list of social media groups and apps below:
Social Media groups:
Facebook:
BANGKOK EXPATS CLASSIFIED

Digital Nomads Thailand

Expats in Bangkok

Expats in Thailand

BANGKOK EVENTS & ACTIVITIES 
Social Media Apps:
Meetup.com

Tinder

Couchsurfing.com

Instagram
Also, another easy way to meet new people is the conventional way of grabbing a drink at a bar.
Jobs in Bangkok
Most common jobs that travelers and digital nomads look for are listed here:
English Teacher Both Online and Offline:

Teaching English is the most common and easiest job to get, especially if you're a native English speaker. However, you need to have the qualifications that the schools require. The schools either require a CELTA or TEFL as a teaching qualification, and on top of that, a Bachelor's degree in anything. 

Scuba Dive Instructor:

Thailand has one of the most beautiful dive spots in the region, and scuba diving has become a trend for scuba dive instructors who tend to stick around for quite awhile. Before the pandemic struck, Thai dive spots are a favourite holiday winter getaway for Europeans and East Asians, so the job kind of became in high demand.

Programmer:

If you're a programmer, it's very likely that you'll get to work from your computer and companies have realised that it's not necessary for people to commute to work. So, programming or IT related jobs will always be in high demand in many parts of the world. 

Content creator:

Content creating through social media has become a huge deal, and we couldn't imagine it 10 years ago. Especially for video creators, companies will literally sponsor you to showcase their product if you're a popular creator like Nas Daily. 

Dropshipping:

If you've got an entrepreneur mindset, dropshipping can make you earn lots of money and maybe it could help stay in the country long-term.
Check out our in-depth Digital Nomads Jobs Postings to find the best jobs available for Digital Nomads.
Nomad Friendly
Value for Money
Internet
Workspace
English
Food
Safety
Health
Transportation
Friendly
Quality of Living