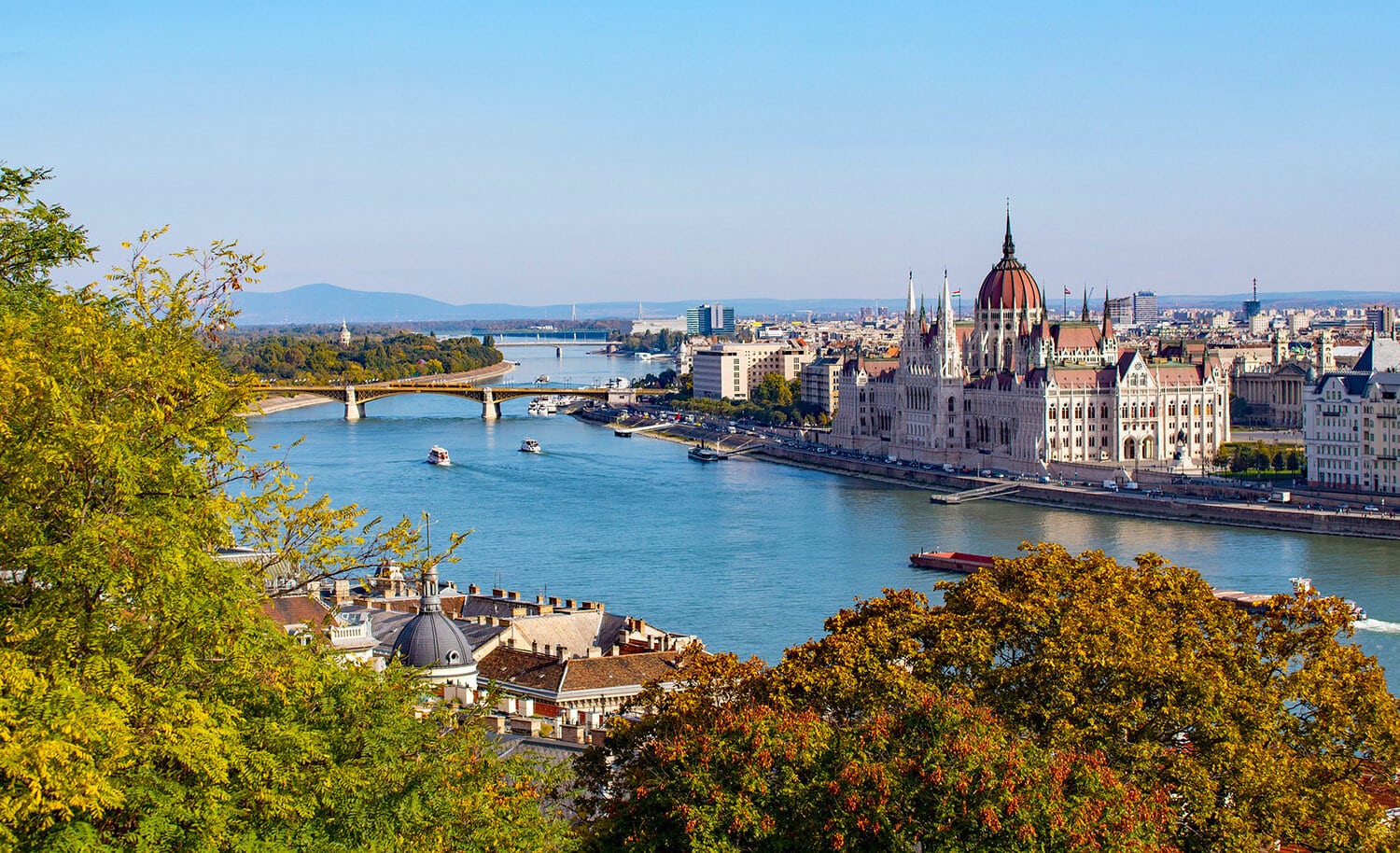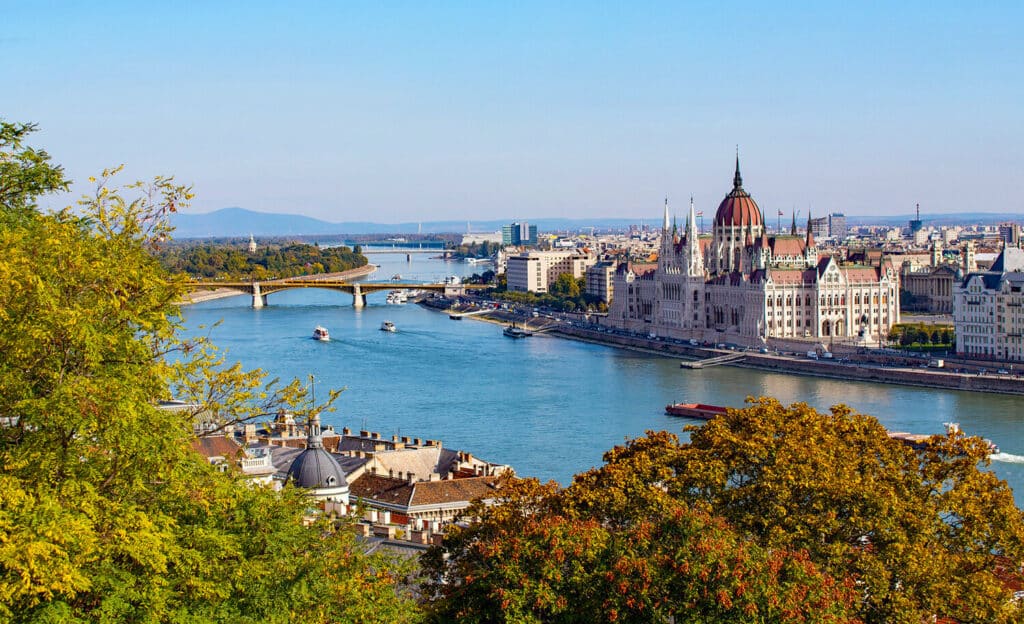 A Digital Nomad Guide to Budapest
Whilst it might not be the first city that springs to mind when considering your next destination as a digital nomad, Budapest, in Hungary, has been increasing in popularity in recent years thanks to its appealing combination of a rich and exciting culture and low cost of living. Offering up a distinctively Eastern European experience that is punctuated with medieval castles, stunning architecture and of course, the city's famous relaxing thermal baths and it's little wonder this unique capital is fast gaining itself acclaim as the next top destination for nomads. 
Budapest is quite possibly one of the most affordable cities to live in in Europe, and promises to give you plenty of bang for your buck. Life here is slower-paced than in many capital cities across Europe, and considerably less expensive than in other popular nomad cities across the continent, such as Rome, Paris and Barcelona. Although you can expect to pay more here for accommodation, utilities and eating out here than elsewhere in Hungary, it still offers some incredible value for money, so if you're looking for a base that offers up maximum enjoyment for minimal cost, this might just be the city for you.
The city of Budapest is built around a curve in the Danube river, and comprises a rich and diverse landscape, with hilly Buda in the west juxtaposing interestingly against the flat area of Pest in the east. Once two separate cities, they are now very much one, with Turkish and Austrian influences still evident and the legacy of the Soviet regime memorialised in the form of the city's many museums.
With over 100 bath houses built on the city's famous hot springs, Budapest also offers up the perfect work / life balance, with locals, expats and digital nomads alike taking to these healing thermal waters at the weekends to wash away the stresses and strains of the week. If you're going to be living here, then it's a must, and once you've tried it, it'll likely become a regular part of your wind-down routine. It certainly did for us, and we couldn't resist heading there after a long day – the perfect place to spend a chilled out evening in the city or before you hit the bars.
Nomad Friendly
Value for Money
Internet
Workspace
English
Food
Safety
Health
Transportation
Friendly
Quality of Living
Living in Budapest Overview
| | |
| --- | --- |
|  Meal, Inexpensive Restaurant | $8.10 |
| Domestic Beer (1 pint draught) | $2.03 |
| Cappuccino (regular) | $1.81 |
| Loaf of Fresh White Bread (1 lb) | $1.33 |
| Water (1.5 liter bottle) | $0.39  |
| One-way Ticket (Local Transport) | $0.89 |
| Basic Utilities (Monthly) | $152.06 |
| Internet | $13.11 |
| Fitness Club (Monthly) | $43.58 |
| Apartment (1 bedroom) in City Centre | $487.54 |
| | |
| --- | --- |
| Child Friendly | |
| Cultural Tolerance | |
| LGBTQ Friendly | |
| Traffic Safety | |
| Nightlife | |
| Large DN Community | |
| Young Community | |
| Proper Hygiene | |
| Clean | |
Emergency Numbers
Police
112 or 107
Ambulance
112 or 104
Fire-fighters
112 or 105
Money Handling
Currency
Hungarian Forint (Ft)
Max ATM withdrawal
100,000 HUF
Tipping
Yes
Communication 
Languages
Hungarian
Calling code
+36
Time zone
UTC+01:00 (WET)
UTC+02:00 (WEST)
Health
Tap Water
Drinkable
Vaccinations
None
Digital Nomad Personal Experience in Budapest
Budapest is home to an ever-expanding digital nomad community, which although isn't as large as those found in more traditional hotspots such as Barcelona and Lisbon, is equally as appealing. Nomads here are in search of something a little different, and that is exactly what they get. Nonetheless, you will still find a vibrant social and networking scene and plenty of opportunities to meet and connect with other remote workers living in the area.
Meetup, as in most digital nomad cities, is very present here, and its website and local Facebook group are great ways to keep abreast of all of the nearby gatherings, social get togethers and networking events that are happening in the city. Similarly, the Digital Nomads Hungary and Budapest Digital Nomads groups on Facebook are also worth checking out – we met some great people through these and both are updated regularly with posts and information you may find helpful during your time here, such as job listings, room and board, and upcoming events.
Of course, some of the most interesting people you will meet here are the locals, so be sure to take the time to get to know them, and to pick up a little of the local language if you can. They'll appreciate it more than you think, and despite their reserved exteriors, are often some of the friendliest and funnest people you'll encounter in the city.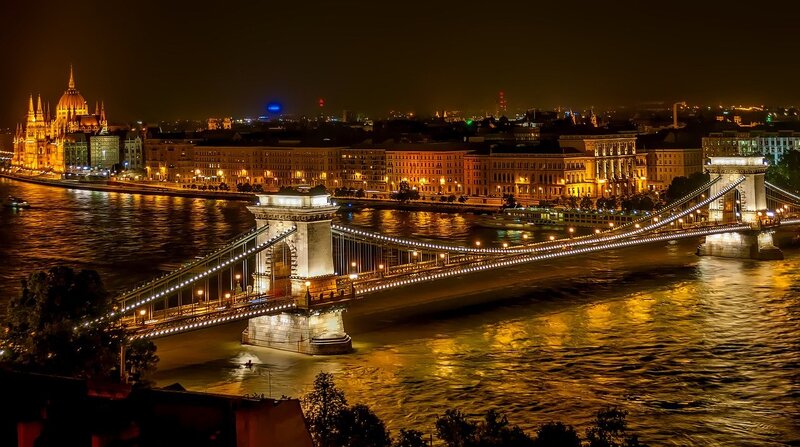 Work in Budapest
Internet speed
As a digital nomad in Budapest, you'll have little trouble setting yourself up for an efficient work day. Internet speeds are good here and service is reliable, ranking 12th globally in Speedtest's Global Broadband Speed Survey, conducted in December 2019. And, when you consider that it ranked just below the USA, which came in 11th, you can rest assured that you'll be well connected throughout your stay in the city.
The average fixed broadband speed in Hungary is 128mbps for downloads and 65mbps for uploads, with mobile speeds coming in at 42 mbps and 16 mbps respectively.
Best Places to Work in Budapest
Co-working spaces in Budapest
There are plenty of co-working spaces in Budapest, and the scene continues to grow. Great places to set up for a quiet day as work as well as for a more sociable experience, most spaces offer a choice of private offices or open-plan desks, depending on your preference. They also boast a range of additional features to set you up for success – from on-site cafes to meeting rooms.
Some of the best choices include:
Impact Hub Budapest
If you've been a nomad elsewhere in Europe, then no doubt you will be familiar with Impact Hub already. Its Budapest iteration offers up a modern and inspiring workspace with a range of different membership schemes to choose from. You can expect to pay around 15,000 HUF (around $50 USD) to 54,000 HUF ($150) per month for ongoing access, with a free four-hour trial before you decide whether or not to commit.
Loffice
An excellent choice for the sustainability conscious, Loffice has won numerous accolades for its efforts in alternative energy across its variety of locations across the 6th district of the city. Prices quoted are excluding the local 27 per cent VAT, so be aware of this when researching and choosing your preferred work spot.
Mosaik
 If you're looking for a more ad-hoc work space and perhaps like to mix it up a little bit with a more casual set-up at the local WiFi cafes, Mosaik is a great pick. Offering day passes for around 3,300 HUF exclusive of VAT (approx. $11), its riverside location makes it an attractive prospect. And if you do decide to make your membership a little more regular, then annual passes are also available for those sticking around in the city a little longer.
Kaptar
 A busy central space that is friendly, open, and buzzing on the daily, if you're in search of a little extra inspiration, then Kaptar is the place. Light, airy and filled with fast WiFi and cool creatives, it's as much a place to meet and socialise as it is a place to get those work assignments done.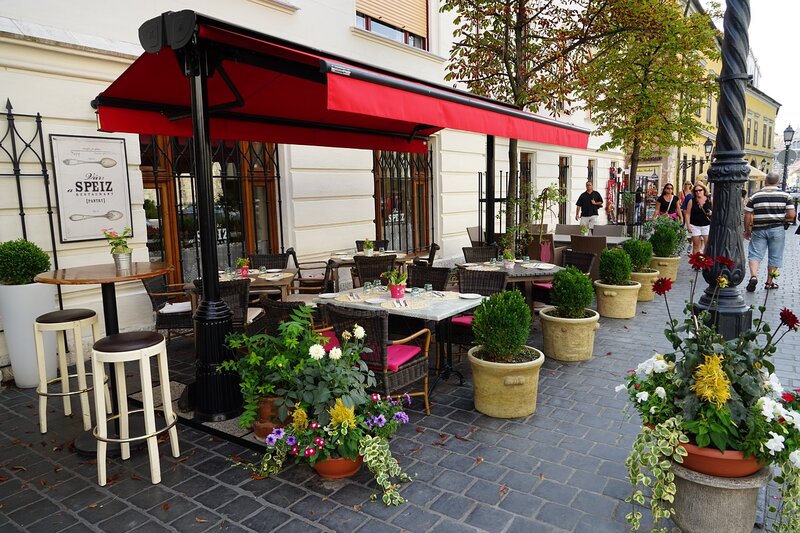 Best Wi-Fi Cafes in Budapest
Prefer an even more laid-back work environment that won't cost you the earth? There are plenty of well-connected Wi-Fi cafes in Budapest that will make for the perfect base, each offering up great coffee, good food and the chance to get chatting to locals and other nomads alike.
Fabrik: A trendy and compact and cafe offering a free workshop room and serving up some of the best pastries, juices and coffees in the city.
Flow Speciality Coffee Bar & Bistro: If good coffee is a must for you, then so is this spot. The hot drinks are to die for, and there is a varied vegan menu of mouth-watering dishes to choose from to keep you fuelled up throughout the day.
Madal Cafe: A zen space with an appealing spiritual vibe and some impressive coffee art.
Libraries
In search of somewhere a little quieter where you can work for free? Budapest just so happens to be home to some of the world's most beautiful libraries. Check out the National Library of Foreign Literature or the National Széchényi Library, where you can work in elaborate, high-ceilinged rooms in a tranquil and peaceful environment.
Best Places to Live in Budapest
Best Neighbourhoods
Budapest is a diverse city, comprising 23 districts each with their own unique landscape and vibe and a mixed residential makeup. Where you choose to live or base yourself during your time in the city comes very much down to personal taste and preference, but central areas are always a good choice for easy accessibility to co-working spaces, cafes and local amenities, as well as digital nomad and expat meet-ups, and other social events.
For somewhere in the thick of the action, be prepared to check out some of the districts in lively Pest. District five is located downtown, but is very touristy and can be quite noisy as a result.
Buda, meanwhile, offers a quieter and calmer living experience, and some spectacular cultural and historical sites.
You can expect to pay between 370 – 660 Euros for a private apartment, depending on your requirements. The former will get you a small studio in the city centre, while the latter will afford you a fully-equipped two bed if you're keen to share with a fellow traveller.
Here are some great places to start looking when you arrive in the city:
Belváros-Lipótváros
Otherwise known as District V, Belváros-Lipótváros runs along the River Danube, from Margaret Bridge in the north down to Liberty Bridge in the south. Largely considered to be the downtown area of Budapest, it's home to many of the city's main attractions, such as St. Stephen's Basilica, the Hungarian parliament building and the Shoes on the Danube memorial.
If you enjoy living in the thick of the action, then this is the district for you. Markets, festivals and events can often be found taking place in Liberty Square, while Váci utca and Deák Ferenc – the fashion street of the city – is a great place to stock up on some of the latest Hungarian highstreet brands.
Well connected and easy to explore on foot, this neighbourhood is a great choice for digital nomads and expats in Budapest who are looking for a prime position from which to enjoy the local culture and engage in the city's social scene to the fullest. Due to its convenient location, it's a little pricier than many of the districts further from the centre, but you can still find some reasonably priced accommodation if you know where to look.
Erzsébetváros
Budapest is known for having a great party scene – not least thanks to its edgy 'ruin bars' – and District VII is the perfect place to base yourself if good nightlife is your vibe. A sprawling neighbourhood and the most hip and bohemian in all of Budapest, this area was once part of the Jewish ghetto, which means you'll still find a smattering of kosher shops and a synagogue here, which are a nod to its former heritage. With a plethora of hipster cafes, vintage shops, food trucks and of course, those all-important ruin bars scattered throughout, it's a fun and lively place to base yourself during your time in Budapest.
Although it's a busy area with tourists, this also means that it is well-connected via public transport, and easily walkable, too.
Újlipót
A chilled and trendy area located just north of the city centre, Újlipótváros makes up the inner section of district 13 and is home to row upon row of pretty, modern homes which make for an attractive and interesting contrast to the 19th-century revival buildings that are present across most of the city.
A popular neighbourhood amongst young families, this neighbourhood features numerous cafes, art galleries and book shops, mainly centred around Pozsonyi Road. Szent István Park, with its pretty flower displays, is surrounded by some of the most beautiful houses in the area.
A quiet and civilised neighbourhood with a suburban feel, it's a great choice if you prefer to base yourself away from the main throng but without compromising on amenities.
Várkerület
Also known as the Castle District, or District I, Várkerület is the hilly and historical part of Buda and includes Castle Hill,  Tabán, Krisztinaváros and parts of Gellért Hill.
Once a neighbourhood reserved only for the noble, it became more inclusive after World War Two and these days, is one of the most popular areas of Budapest amongst tourists. It's easy to see why, as with its prime picturesque waterfront location, it is steeped in rich history and is often the location of choice for some of the city's main cultural events.
Should you decide to base yourself here while living in Budapest, then be prepared for a buzzing atmosphere during the day and elevated rental prices. Visitors tend to flock to the area to see notable sights such as the Buda Castle Palace and Fisherman's Bastion – but things calm down after dark, when they head elsewhere in the city to enjoy the evening.
Two tramlines pass through the district, as well as multiple bus lines. There is also a funicular which will take you up to Castle Hill if you can't quite face the walk.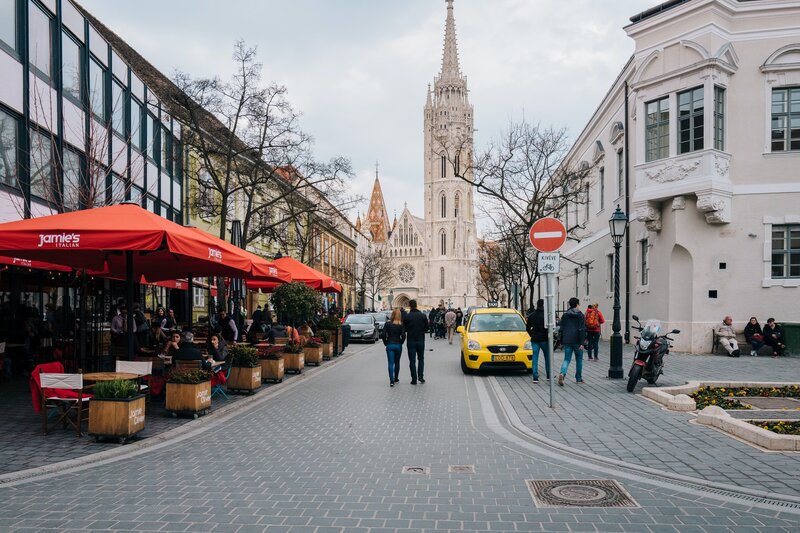 Find an Apartment in Budapest
Unlike many European cities, where finding suitable accommodation can be both stressful and expensive, in Budapest, you'll likely find yourself the perfect set-up for your budget with relative ease. 
There are numerous options to consider across the city, and a plethora of beautiful and affordable flats and apartments ever-available on Airbnb. If you prefer to live communally and are looking for more of a social scene, then there are plenty of hotels to choose from, too – none of which will come anywhere close to breaking the bank.
Once you've chosen your preferred district, check out some of the following to get you started with your search – it shouldn't take you long to secure your perfect place.
Airbnb: Cute and aesthetically pleasing rooms can be found here with a discount for longer stays.
Hostelworld: A one-stop shop for locating the best hostels in the city for very affordable prices, and featuring a range of private and communal dorm room options.
Roommates Budapest: Great for short-term shared accommodation and a social style of living
The LiveMyHome and Budapest Rentals Facebook groups can also be helpful when it comes to locating an available room at short notice.
Cheap Places to Stay in Budapest
Co-living spaces:
Hostels:
Long-term lets:
Hungary Visa for Budapest
Hungary is a member of the European Union and the Schengen Agreement. As is commonplace in the EU, those with an EU passport can enter and leave Hungary easily under the free movement of people, with no border controls between member states, and you may  also settle here for an unlimited amount of time. 
If you're coming from outside of the EU – for example, from the UK or the USA – then you'll need to apply for a tourist visa. These are generally valid for a period of  90 days – however, if you already hold a visa for another Schengen Area member state then this will remain valid until its expiry date when entering Budapest.
but your passport must have at least three months' validity remaining before you travel, otherwise you may be refused entry.
There are varying rules depending on where you come from, so be sure to look at the specific requirements for your circumstances online before you travel.
Culture and Food in Budapest
Cuisine
There's no denying that Budapest is better known for its edgy nightlife and rich history than its cuisine, but nonetheless, Hungarian food is hearty, tasty and warming, and a must try during your time in the city. Going hungry in Hungary is certainly not something you'll have to worry about, and Budapest is home to some great restaurants. Here are some dishes to look out for on the menu to get a taste of traditional Hungarian fare:
Goulash:

Perhaps the nation's most famous dish elsewhere in the world, Hungarian goulash is a hearty winter dish that everyone should try at least once. A comforting stew comprising meat and spices, which is most commonly served as a soup, you'll find varied takes on it throughout the city, and if you're a meat eater, it certainly won't disappoint.

Chicken Paprikash:

A rich dish that also happens to be one of the most popular in Budapest, Paprikash comprises chicken coated in a thick sour cream sauce and finished with plenty of paprika.

Jókai Bean Soup:

Another warming soup dish, this time made from vegetables, sausage and topped with sour cream. Perfect to warm up with on the coldest of winter days.

Túrós Csusza:

A decadent and satisfying dish comprising egg noodles, bacon, cheese and sour cream.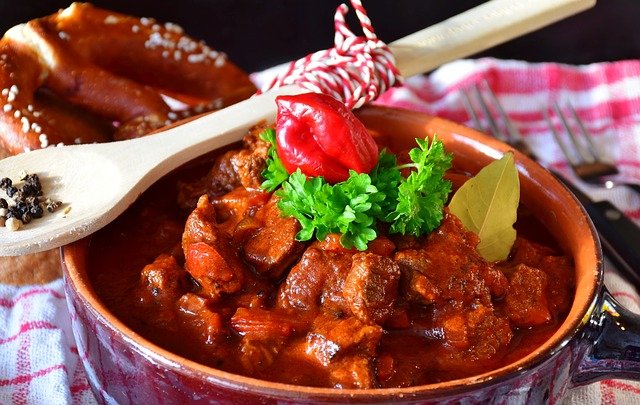 Restaurants
Budapest's vibrant food scene has been fuelled by a recent restaurant boom due to culinary influences from overseas, resulting in a range of eclectic dining choices across the city. From traditional eateries to Michelin-starred restaurants, the city has something for everyone – good news if you're planning on staying put for the long-term.
Don't neglect to check these top picks out while you're here:
Alexandra Book Cafe:

A unique cultural hotspot nestled on the second floor of one of a former 1884 casino, its walls are adorned with breath-taking masterpieces by the painter Karoly Lotz, giving it a distinctly historical feel. Exuding style and opulence throughout thanks to its Art Nouveau style, here you can dine on a mouth-watering selection of bagels, sandwiches and Francia

krémes

– all washed down with some of the best coffee in town, and of course, while connected to the cafe's free WiFi.

Costes Restaurant:

Becoming the fist Michelin-starred eatery in Budapest back in 2010, Costes remains one of the very best places to celebrate a special occasion over impeccable food. Oozing style and sophistication and serving up specialities such as roasted quail stuffed with duck liver and baby spinach and cauliflower purée, courtesy of Portuguese head chef Miguel Rocha Vieira, it's certainly a gastronomic experience to remember.

Gundel:

Opened in 1910 by renowned Károly Gundel, this award-winning and Michelin-recommended restaurant is a must, having won itself a well-deserved reputation as one of the leading names in Hungarian gastronomy.
Culture
Budapest was badly damaged during WWII, and the lasting effects on its people are still present even now, despite the city's buzzing cultural and social scene, plethora of remarkable sites and landmarks and tourism boom. As Budapest becomes more and more popular amongst foreign visitors, the city and its people are enjoying the influx of money being generated by tourism.
The city is home to a large Jewish community and a historical Jewish Quarter, which has since become one of the most exciting and progressive neighbourhoods in the city, featuring edgy ruin bars, trendy shops and cafes and an interesting juxtaposition of new and old architecture.
The capital is a city which offers something for everyone, from the National Gallery and historical museums to the Opera and thermal spas – and with excellent nightlife and a great social scene, there's a lot to love about it as a digital nomad.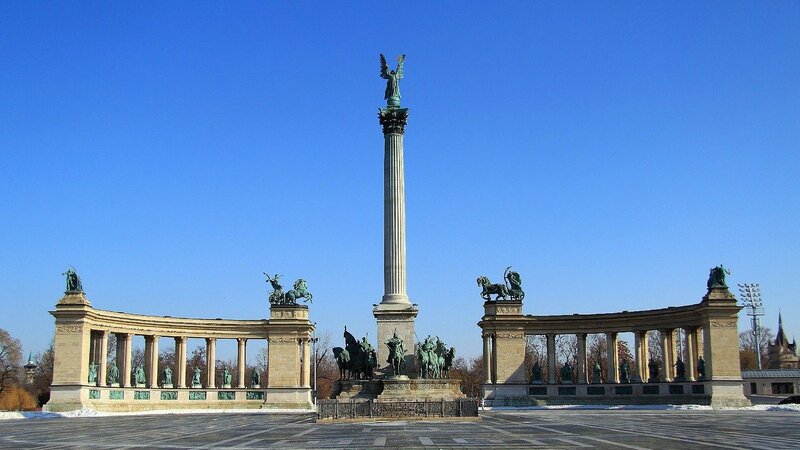 Budapest Nightlife
If you're a lover of a vibrant nightlife scene, then you can't not love Budapest. This trendy city arguably offers up the best evening experience in all of Europe thanks to its edgy 'ruin bar' culture, opening late and into the early hours and attracting a fun-loving crowd of drinkers, dancers and all-round party animals. 
Locals have transformed some of the city's ex-Soviet buildings into retro clubbing hotspots, putting Budapest nightlife well and truly on the map, and with their communist-era paraphernalia and the trendy crowds they attract, there are few better places to while away an evening over a few beers.
Having said that, the leafy Gozsdu Passage in the Jewish Quarter is another popular spot, where locals pour into the Szechenyi Baths for cocktails and dancing at the weekend. Some say the capital could give the likes of London and Berlin a run for their money, and it has to be said that they're not at all far off the mark.
Budapest's best nightlife spots
Szimpla Kert

Budapest's ruin bars began with Szimpla Kert back in 2002, which after setting up elsewhere in the city, moved to its current home in the Jewish Quarter two years later. Still the epicentre of Budapest's nightlife scene today, it's also one of the most iconic bars in the city, and with its quirky atmosphere and set-up, you can enjoy your drink in everything from open-top cars to converted bathtubs, to the sound of electronic beats. It has to be seen to be believed!

Instant

With eight bars and two courtyards, Instant is the biggest ruin bar in Budapest and can be found located in the same building as the famous city club, Fogas Ház. Live music early on in the evening slowly transitions into full-on rave later on, and with its hanging sculptures and intriguing decor, it's worth a visit at least once.

Racskert

Set in a former car park, this laid-back, graffiti-covered ruin bar offers a fun atmosphere from the outset, and has fast become a favourite amongst the locals thanks to its cheap drinks, tasty vegan snacks and live folk music.

Mazel Tov

Located in the lively and edgy Jewish District, this sprawling cultural space is surrounded by greenery and wrapped in twinkling fairy lights. Not just a great place to grab a drink (or several) al fresco, it's also a good spot to enjoy some shareable cuisine, with mediterranean-Hungarian fusion plates served up alongside your cocktails.
Things to do in Budapest
Budapest is a diverse city offering an endless list of things to do. And, whatever your vibe happens to be, you'll find something to suit you. It would take you at least a few months to see and do enough to get a true feel of what the city has to offer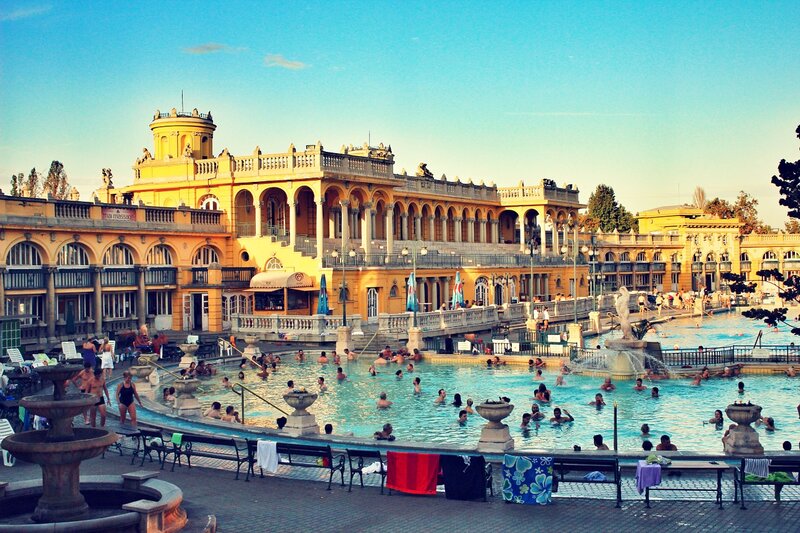 Thermal Baths

Budapest is famous for its hot springs and thermal baths, making them a must during your time in the city. And, with hundreds to choose from, you could easily try a different one out every weekend. The Gellért Baths are the most famous, and feature art nouveau architecture and dramatic Roman columns. The Szechenyi Baths are another great pick, with a variety of pools of varying temperatures. Both excellent places to relax and unwind after a busy working week, and a good choice for socialising with new nomadic friends, too.

The city's famous Pool SPArty takes place at the Szechenyi Baths every Saturday during the spring, summer and autumn months – tickets can be bought online in advance.

Buda Castle & the Fisherman's Bastion

Two of the city's most historic sites, Buda Castle and the Fisherman's Bastion are  in easy walking distance of one another and accessible via both bus and train routes. Head over at sunset for some spectacular views and to soak up the romantic atmosphere. Steeped in rich history, you'll want to make this one of your first ports of call on arrival to the city.

The Chain Bridge

Prior to the building of the chain bridge, Budapest didn't exist as one city. Instead, it was divided into two separate cities – Buda and Pest – which were separated by the Danube River. It was the building of the bridge in 1840 that brought them together. As a point of huge historical significance, it's an important spot to check out, and a great point of discussion with the locals.

The Hungarian Parliament Building

This iconic building was constructed in the 1800s to mark Hungary's 1000th anniversary. Today, guided tours are available to the public when the National Assembly is not in session, so if you're eager to take one then it's best to check out availability and book online in advance.

The Pinball Museum

You might be surprised to know that Budapest is the birthplace of a number of different puzzles and games – including the famous Rubik's Cube. As a result, it offers up a thriving gaming scene, and at the Pinball Museum you can play on over 130 pinball machines all day long for a small entry fee. Certainly one of the more unique ways to spend your free time in the city.

The Farmer's Market

Head to Budapest's buzzing farmer's market on a Sunday morning for one of the best brunches in the city. Open from 9am to 2pm, here you can feast on freshly baked breads and pastries while stocking up on fresh produce for the week ahead.

Eat With

Eager to get to know the locals a little better while in Budapest? EatWith offers a great opportunity to socialise over dinner. Here, locals post dinner party listings which you can sign up to join for a small fee – so if you're looking to brush up on the local lingo or sample some excellent traditional home-cooked fare whilst making friends, this is your chance to do so.

Sziget music Festival

With Covid-19 restrictions set to be eased later this year, it's possible that the city's famous Sziget music festival could be back on the cards. This week-long international event, which draws music enthusiasts from across Europe, takes place in late July or August on the Danubian Island in northern Budapest, and is one of the city's most vibrant and exciting calendar dates each year.

Shoes on the Danube

When visiting the Chain Bridge, stop off at this moving memorial, which was greeted by Gyula Pauer and Can Togay in memory of the civilians who, during World War II, were ordered to take off their shoes by the Hungarian military before being shot into the river. A sad but essential point of interest to help you truly understand the city's history.

Janos Hill

A hike to the highest point in Budapest will afford you breath-taking panoramic views of the city. To get there, take the 291 bus to Zuglo and either walk or take the chairlift to the top, Elizabeth Lookout Tower offers the best sweeping vistas – just don't forget your camera.

Cross the border by train

With nearby neighbours including Austria, Croatia and Slovakia, it couldn't be easier to jump on a train and take yourself off across the border for the weekend when you've exhausted Budapest's rich cultural and social scenes – which in all honesty, will take you some time. Even so, an overnight stay in Vienna or Zadar is well worth the journey and will make for a quick and easy getaway.

Attend the Formula One Grand Prix

Taking place at Mogyorod in August, the Hungarian is a must for adrenaline junkies – but be warned, because at this time of year, it can get very hot, so a hat and sunscreen are a must!

Sip wine at the Budapest International Wine Festival

If you fancy yourself as a wine connoisseur – or perhaps just enjoy a good drink – then this festival is an excellent opportunity to try some of the best the nation has to offer – and makes for a great social occasion, too.
Best Time to Visit Budapest
Budapest enjoys four distinct seasons throughout the year, and its summers and winters are at the two different ends of the extreme – with hot, sunny weather during the former, and icy temperatures and snow during the latter.
Thanks to the warmth of the summer months, it's a popular time with tourists, so if you're a digital nomad planning on heading to Budapest at this time then be prepared to pay inflated prices for accommodation as a result. Winter can also get busy, particularly around Christmastime, when visitors head to the city to enjoy the Christmas markets.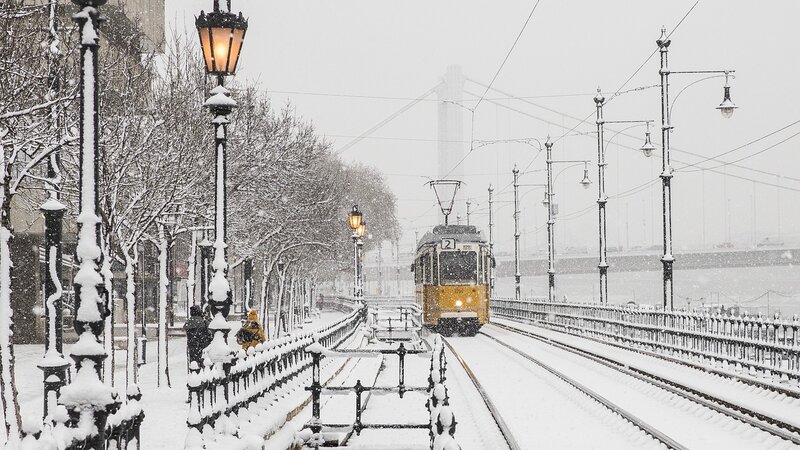 Spring
Spring runs from March through to May, with weather warming up towards the middle and days becoming pleasant and sunny. Even so, it can be a little unpredictable at this time of year, with rainy days still common. Average highs in march are around 11°C, while by May, this rises to 23°C.
Summer
Peak tourist season is during the summer months, from June through until the end of August. Days are long and sunny, and require light attire to get you through comfortably. Average temperatures rise from 26° to 28° by late August, and the heat can feel somewhat oppressive in the city.
Autumn
September to November is shoulder season, and a great time to travel to Budapest. Or, if you're already there, it's a chance to enjoy it to the full without the crowds. September is still warm, with plenty of sunny days, but from October onwards, temperatures begin to drop. Infact, this is the season during which you'll see the most dramatic change in temperature, with September's average highs of 23°C dropping as low as 9°C by late November.
Winter
Temperatures can drop pretty low  between December and February, averaging 3-4°C – and the air can feel particularly bitter at night. Expect cloudy and overcast weather and be sure to have a coat, hat and scarf at the ready for snowy days. January is the coldest month, with average highs of 3°C and lows of -2°C, with things a degree or two warmer either side.
Budapest for Families
If you're planning on travelling to Budapest with family and staying put for an extended period of time, then you may wish to look into schools and daycare centres for your children while you're here. 
Budapest is home to a number of English-speaking and international  schools for children of all ages, which include the following:
Britannica International School:

National Curriculum for England / GCSE / A-Level. 390 students aged 5-18. Independent and privately owned.

British International School Budapest:

National Curriculum for England / IGCSE /IB Diploma. 900 students, aged 3-18. Independent and privately owned.

Greater Grace International School of Budapest:

American curriculum / American High School Diploma. 210 students, aged 4 – 18. Independent, privately owned and non-profit.

Budapest British International Academy:

School developed curriculum. 175 students aged 1-12. Independent and privately owned.

Lycée Français Gustave Eiffel de Budapest:

French curriculum / Brevet / French Bac. 650 students aged 5 – 18. Independent, private, non-profit.
Daycare Centres
For digital nomads and expats with children of preschool age, there are also numerous English speaking daycare centres located across the city, many of which can be found in the 2nd and 12th districts. These are some of the most popular choices:
Apple Tree Kindergarten:

Children aged 1.5 – 6

The English Garden:

Children aged from 4 months to 7 years

Planet Kids' Kindergarten:

Children aged 2-5 years
Family-Friendly Activities in Budapest
Budapest Zoo:

You can rarely go wrong with a day at the zoo when it comes to keeping children entertained, and this set-up, which dates back to the 19th century, won't disappoint. Featuring a range of exotic and domestic animals and a packed schedule of daily talks and shows, it's bound to put a smile on everyone's faces.

Andrássy Entertainment Centre:

A unique day out which features digital exhibits offering an unusual venture into the virtual world.

Cyberjump:

the largest trampoline park in Central and Eastern Europe, this place guarantees a day of fun for the whole family, featuring additional activities including battleball, slamball and climbing,  and will leave children tired enough to drift off to sleep with ease come bedtime.

Children's Railway:

This unique train ride isn't just great

for

kids, but is also operated almost entirely

by

uniformed children, aged between 10 and 14, and will take you on a scenic jaunt around the rolling Buda hills.

Centre of Scientific Wonders:

Located in the Óbuda district and filled with breath-taking science exhibits that will impress children of all ages, this place is just as intriguing for the adults. A great educational day out for all.
Living in Budapest
Budapest Transportation
As you'd expect in a capital city, Budapest is well-connected by a range of different public transport networks, with trams, buses and trolleybuses both plentiful and reliable. Run by a company called BKV, transport runs from 4.30am until 11.30pm, and tickets – whether daily or weekly – are relatively inexpensive. Weekly adult passes, which are valid across all forms of transport, can be purchased for around €16, with tickets dispensed from vending machines in most stations.
Metro:

The city's three underground metro lines – M1 yellow, M2 red and M3 blue – meet at Deak Ter in Pest.

Buses:

On arrival in Budapest, you can purchase a ticket for shuttle bus 100E, which will take you directly into the heart of the city for 900 HUF (

€2.52 / $3.05 USD). Within Budapest, you can expect to pay around 350-400 HUF for a single journey (it's cheaper to buy your ticket beforehand, rather than on the bus). It's also essential to validate your ticket on entry to avoid the risk of being fined.

Trips, timetables and more information can be found

here

.
Taxis:

As you'd expect, taxis in the centre of Budapest can be pricey, although they can still be the most convenient option when looking to get somewhere very specific or off the usual public transportation routes. Look out for yellow taxis from companies FoTaxi, Bolt or CityTax – but avoid any that say 'freelancer', as these are often scams. Most of the reputable companies have apps that you can download to make booking a cab ride easier. Popular ride-sharing apps like Uber and Lyft no longer service the city as government policies now prohibit it.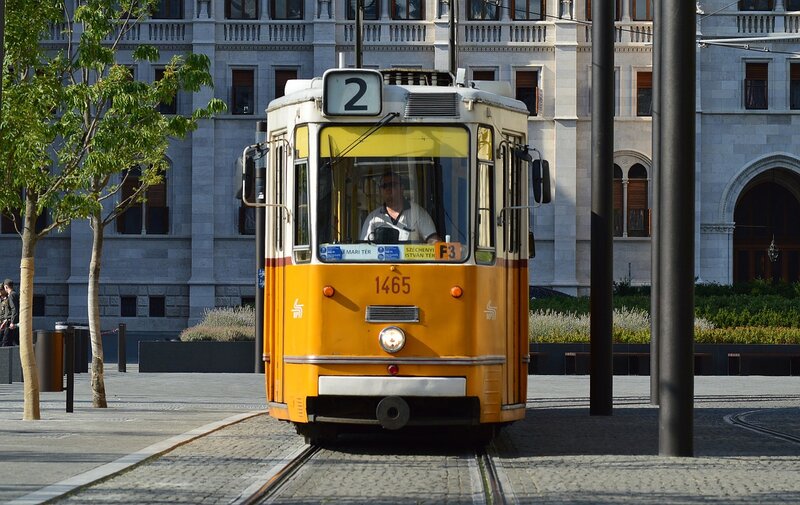 Bike Rentals
Getting around the city by bike is cheap, easy, and a greener way to travel. You can rent yours from Donkey Bike or MOL Bubi, the latter of which has green rental stations all over Budapest, while the former requires you to book in a collection via the Donkey Bike app.
Cars and motorcycles
If you're flying into Budapest then you can hire a car from one of the major chains on arrival at the airport for around €60 per day. This covers unlimited mileage but excludes insurance – and you'll also need to purchase an International Driving Permit.
Fitness and Health
Budapest has an excellent health and fitness scene, with over 200 km of cycle trails around the city and numerous watersports activities and events happening throughout the year. As the 'City of Spas', it's also an excellent place to head if you enjoy indulging in a little rest and relaxation, with locals bathing in Budapest's many thermal baths since the Roman Empire.  Thermal water is known to have a healing effect on the human body and as such, doctors in Budapest even prescribe regular sessions to patients with muscle and joint issues as part of their treatment plans.
Gyms & Fitness Centres
Budapest is home to a variety of different gyms and fitness centres, offering up a range of classes and equipment to suit all tastes. Many of them are located centrally, making them quick and easy to access via public transport. These are some of the best:
Life1 Wellness:

One of the best fitness centre brands in the city, Life1 Wellness has several branches around Budapest and the broadest selection of equipment and classes including everything from spinning to yoga and in some cases, swimming, too.

Oxygen Wellness:

If you're looking for somewhere where you can relax and unwind directly after your workout, then Oxygen Wellness offers up a set-up comprising saunas, steam rooms and a rooftop terrace as well as a gym and group classes. It's the best of both worlds, in one.
Swimming pools
Csaszar-Komjadi:

Named after one of the best hungarian swimmers of all time, this pool is located on the Buda side of the city and has served as a training facility for many Hungarian Olympians.

Alfréd Hajós National Swimming Stadium:

Located on Margaret island, this centre features a selection of indoor and outdoor pools to choose from – the latter of which make for a popular spot in the summer for families enjoying the sunshine.

Duna Aréna

: Close to the city centre and usually busy with locals, Duna Arena has also taken over from its predecessor to become the current training ground for Hungary's best swimmers.
Running
There aren't many running trails in Budapest, but for shorter jaunts, you can jog the 5.3km path that runs around Margaret Island. This route offers some great views of the Pest and Buda side of the river. City Park is another option, offering a 1.2km stretch for runners in the city.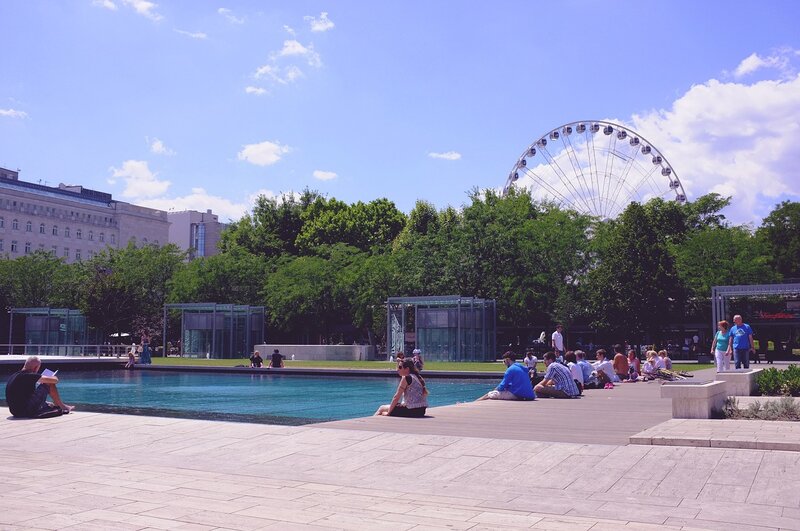 Budapest People
Budapest is an interesting and diverse city, but life here was damaged during World War II and the after effects of the suppression during the Soviet rule, in some ways, remain evident. Although the last Soviet soldier left over 20 years ago, the country is still recovering, which may account for the guarded and introverted demeanour of the locals in Budapest – but if you give them a chance and take the time to get to know them, you'll soon find that they are just as friendly as anywhere else, if not more so. In fact, if you can win them over – which although isn't easy to begin with, is certainly achievable with persistence – then they will be only too happy to invite you into their homes, and their hearts, too, with a warmth that will take you quite by surprise.
While there are numerous museums in the city that will provide you with an important insight into times gone by, none will provide you with quite such a stirring account as the locals can do. Able to offer a first-hand insight, into many cases, into the division and fear that Budapest endured, a deep and frank conversation about the past will no doubt help you to gain a new understanding of the way things, and people here, are the way they are.
Expect to be told it like it is while in Hungary – the locals are straight-talking and won't hesitate to let you know if something isn't to their liking. Don't take it personally though; there is no harm meant by it – it's just another one of those cultural differences to get used to.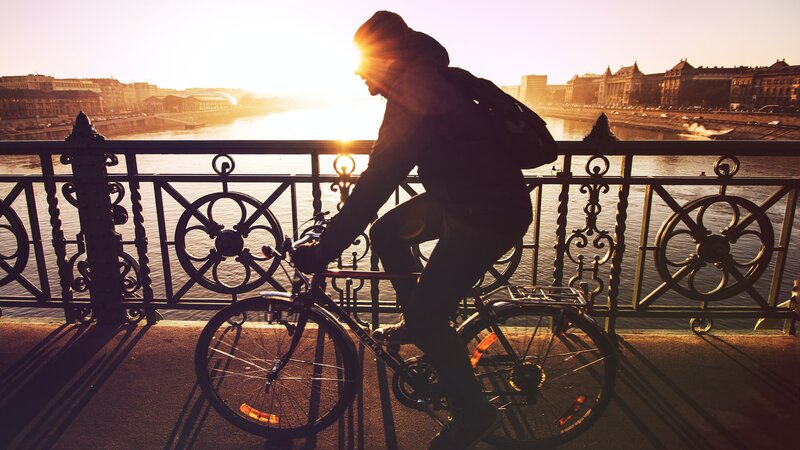 The education system isn't up to the same standard in Hungary as it is in some other European countries, so although English and some other foreign languages are spoken to some degree here, it is less commonplace. As such, you might find that there is more of a divide between the locals and the digital nomads and expats living here – but this is more often than not only down to the language barrier, which can make forming close relationships hard. With this in mind, if you can pick up a few words of the lingo then you'll quickly make your way into their good books.
Most Hungarians are very proud of their country – particularly those in the older generations, so expect to see a certain level of nationalism as a result. Hungary was once a great nation, and ruled central Europe for centuries, and the after effects of this remain strong. Under the Treaty of Trianon, the country lost two-thirds of its territory – but what it didn't lose was its spirit.
Budapest Insurance and Medical Care
The healthcare system in Hungary is universal, and funded by the tax-payer. Organised by the state-organised National Health Insurance Fund, all healthcare is free to children under 16, as well as to students, pensioners, parents with babies, and those on low income.
Owing largely to ongoing improvements in healthcare, the life expectancy in the nation has been rising consistently in recent years, and infant mortality rate is low.
EU nationals and residents of Iceland, Liechtenstein, Switzerland and Norway who are living or working in Hungary can access the healthcare as is deemed necessary on medical grounds and can visit any doctor with whom the National Institute of Health Insurance fund Management has a contract. However, if you're in need of secondary care, with or without hospitalisation, then you'll need to visit the designated specialist within your local area. You'll need to have a European Health Insurance Card, as well as your passport or ID card with you in order to be seen, or, if insured in Hungary, a TAJ (national insurance) number.
If you're coming from outside of these areas then taking out comprehensive health insurance is recommended before you travel to ensure that any treatment you require during your stay will be covered.
Hungary is one of the leading destinations for health tourism globally, attracting 42 per cent of European health tourists annually and 21 per cent globally. It is particularly popular when it comes to dental care, with some of the most sought-after procedures available at very affordable prices (ranging from around 40 – 70 per cent of those in the UK, the USA and Scandinavia.
Make sure you are fully covered by reading our full Digital Nomad Travel Insurance guide.
Jobs in Budapest
If you're considering looking for additional work opportunities while in Budapest, EU citizens typically do not require a work permit in order to do so within Budapest or elsewhere in Hungary. However, if you are a non-EU citizen then you will need to apply for a working visa – as opposed to a tourist visa – in advance. Taking employment whilst on a tourist visa is illegal and could have serious repercussions.
Since English is widely spoken in Hungary, you shouldn't have much trouble communicating and the demand for native English speakers is high in some industries. You will also likely find some positions available to teach English – within language schools or privately – so completing a TEFL before you travel is advisable if this is an employment area you'd like to explore.
Although things are different during the current COVID-19 pandemic, with many shops, cafes and restaurants remaining closed, these are also good options for picking up some additional income under normal circumstances. Having said this, the demand for jobs in the city is likely to be increased once restrictions have been lifted and lockdowns end entirely, in line with current unemployment rates as a result of the pandemic.
Check out our in-depth Digital Nomads Jobs Postings to find the best jobs available for Digital Nomads.
Nomad Friendly
Value for Money
Internet
Workspace
English
Food
Safety
Health
Transportation
Friendly
Quality of Living
Cost of Living Budapest
The expected cost of living in Budapest, when compared with other popular digital nomad cities such as Rome and Barcelona, is relatively low, which is one of the reasons it has become such an attractive prospect for those seeking a low-budget lifestyle. And, if you're travelling from the US, then good news – because the cost of living here is a whopping 52.2 percent lower than in New York. Even so, as a capital city, you can expect to pay more for most things here than you would elsewhere in Hungary.
The currency here is the Hungarian Forint, otherwise known as 'HUF'. Although Euros can be used in some places here, they are not universally accepted – so be sure to exchange for some local currency to ensure that you have cash on hand when you need it.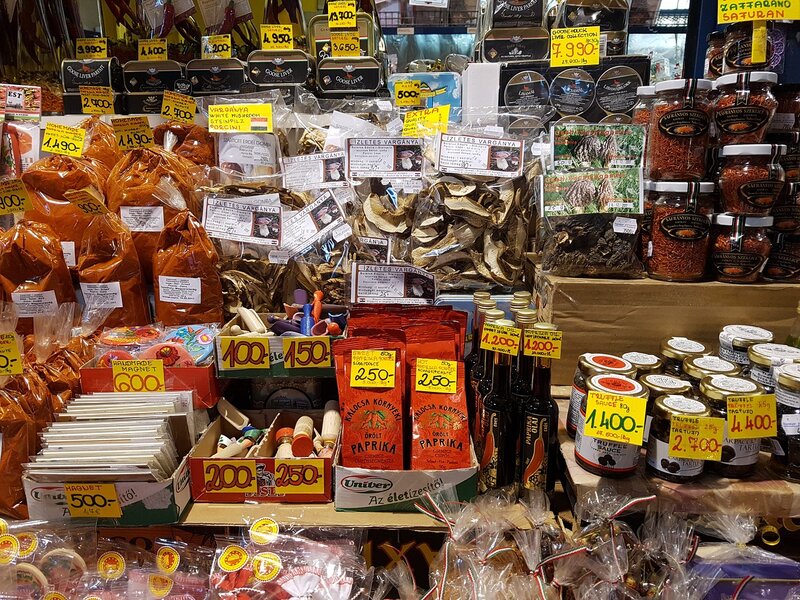 Here are some examples of what you can expect to be paying out each month while living in Budapest:
Basic one-bedroom apartment in the city centre:

€

370-

€

590 / $450 – $715 USD per month

Fully equipped two-bed apartment in the city centre:

€660 /

$800 USD per month

Monthly utilities (gas, electric, water):

€145 / $120 USD

Monthly travel pass: €29.50 / $35.70

Dinner at a mid-range restaurant:

€6.50 – €8 /

$8-10USD

One night stay in a hostel

€8 – €16 /

$10-20 USD (depending on the time of year)

Domestic beer:

€1 /

$1.50 USD

Cappuccino at a mid-range cafe 

€1.44 / $1.75 USD