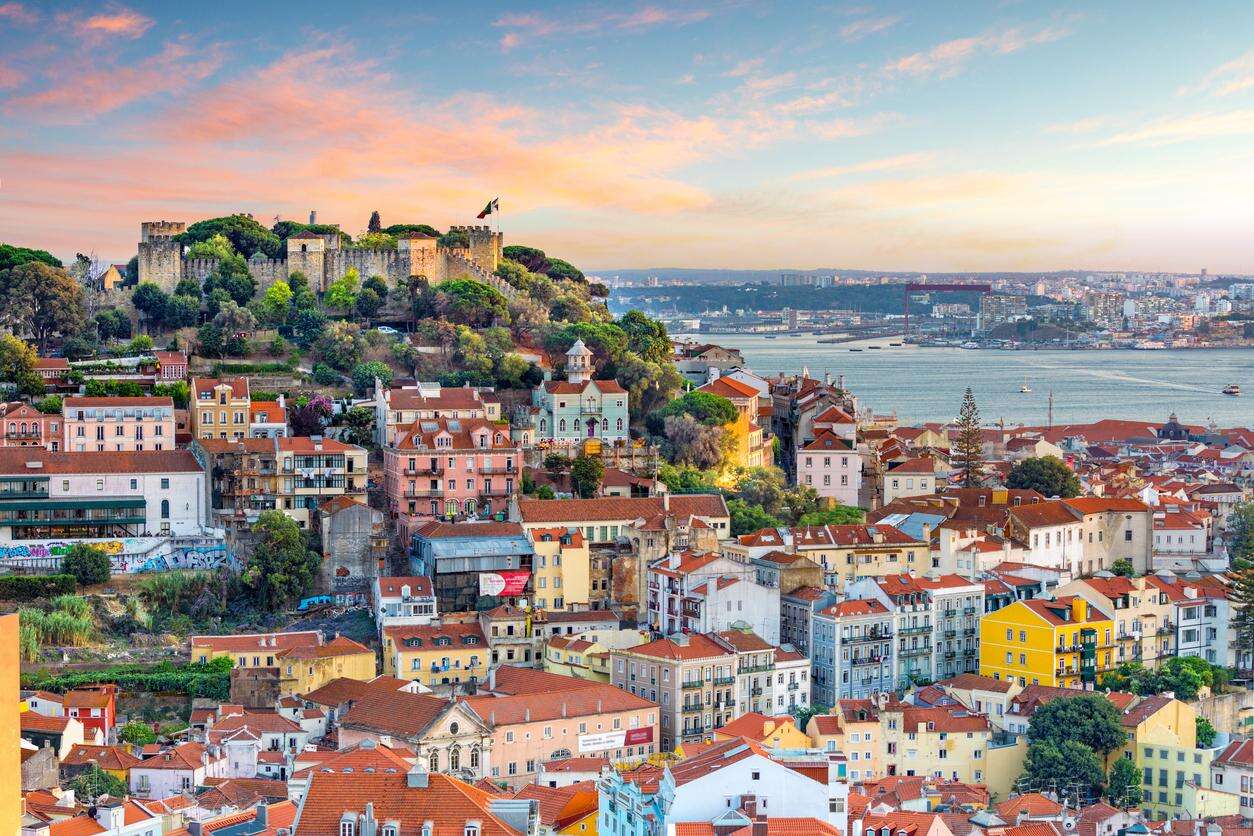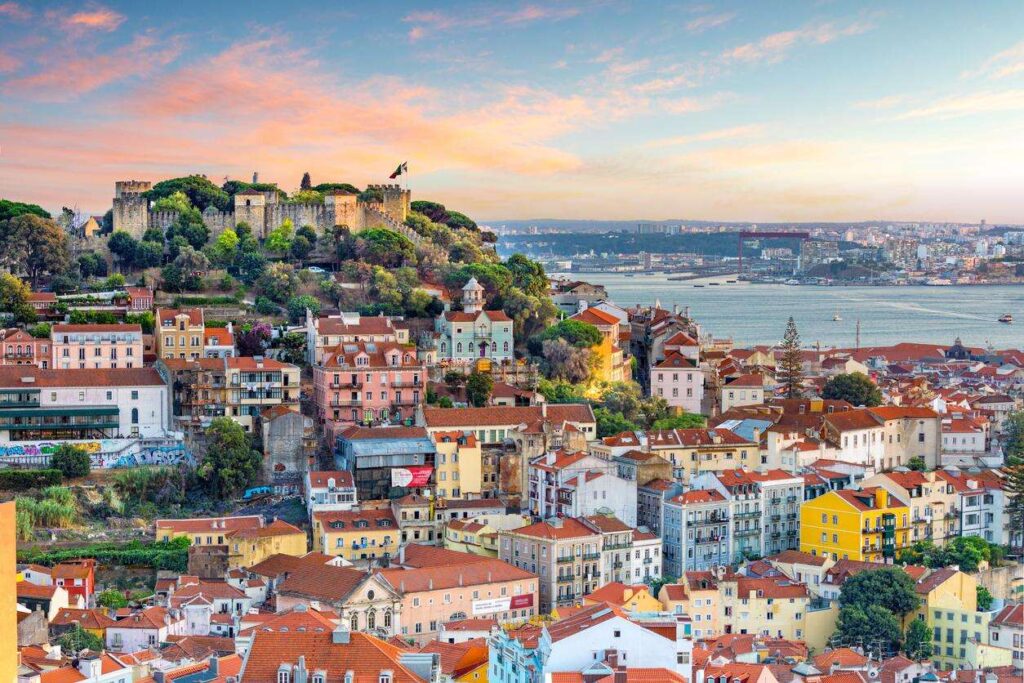 A Digital Nomad Guide To Lisbon
Located in western Portugal on the estuary of the Targus (Tejo) River, Lisbon is one of most up-and-coming capital cities and is fast becoming a favourite spot for digital nomads from around the world, who flock here in search of warm weather, rich culture and a low cost of living compared to other European capitals. With a population of around 500,000 within Lisbon city itself and as many as 3 million residents within the broader Metropolitan area than expands outwards from it, it's a vibrant location that has plenty to offer and that keeps those who do leave at some point relentlessly coming back for more.
There's no denying that life in Lisbon is good. With a sunny climate that comes with around 300 days of sunshine year-round, it's little wonder that this cosmopolitan waterfront metropolis attracts those in search of the good life, and as a result, there is a buzzing digital nomad community and an impressive co-working scene that sees new venues popping up seemingly every day in a bid to cater to demand.
There's a lot to get involved with in the community for both new and current expats residing in Lisbon, and from workshops and skill-sharing events to stand-up comedy nights and socials, it couldn't be easier to integrate yourself into city life and you'll quickly start to feel at home.
Add to that the warmth and friendliness of the locals, an impressive arts and culture scene and the plethora of bars, eateries and viewpoints that are located in easy walking distances of most of the city's main neighbourhoods, and it's the perfect base that offers quality of life and supports just the right balance of work and play.
Nomad Friendly
Value for Money
Internet
Workspace
English
Food
Safety
Health
Transportation
Friendly
Quality of Living
Living in Lisbon Overview
Digital Nomad Personal Experience in Lisbon
For me, it was this slower pace of life that won me over, and the countless like-minded souls that I met during my time here. Lisbon is booming with new start-ups and innovative hubs, which means it attracts a positive crowd with big goals in mind, but it was the open-mindedness and maturity of those whose paths crossed mine and the exciting and meaningful conversations that made the experience what it was.
Waking up each morning and wandering down to the river for a coffee at sunrise is the ultimate way to start each day in Lisbon, and descending its pretty, hilly streets, which are lined with intricately-tiled buildings with colourful façades, before the city wakes up is something truly special indeed, and a chance to see Lisbon in a different and all-together more peaceful light.
With trendy Wi-Fi cafes that make for the perfect casual wo-rkspaces mushrooming, it couldn't be easier to find a place to set yourself up for the day, and in fact, the working week has never felt quite so appealing.
Nomad organisations such as 'Digital Nomads Lisbon' organise weekly socials and co-working days via MeetUp.com, which make it quick and convenient to find your tribe – not to mention making connections that will likely stay with you for life but you'll just as likely getting chatting to some interesting people in your coffee shop of choice.
Lisbon has something for everyone, and for me, its rich blend of Portuguese culture, the mouth-watering local foodie scene and the spectacular viewpoints you can't help but stumble across daily all added to its endless charm. It's smaller than the vast expanse of London, which makes it easier and more convenient to explore, and each neighbourhood has its own unique vibe.
Finding accommodation here can be tricky and, in the wake of the ongoing Covid-19 pandemic, the Portuguese economy has taken a hit.
Even so, with its vast community of expats, Lisbon remains one of the best European cities for digital nomads to consider in 2021 and beyond – and these are the many reasons why.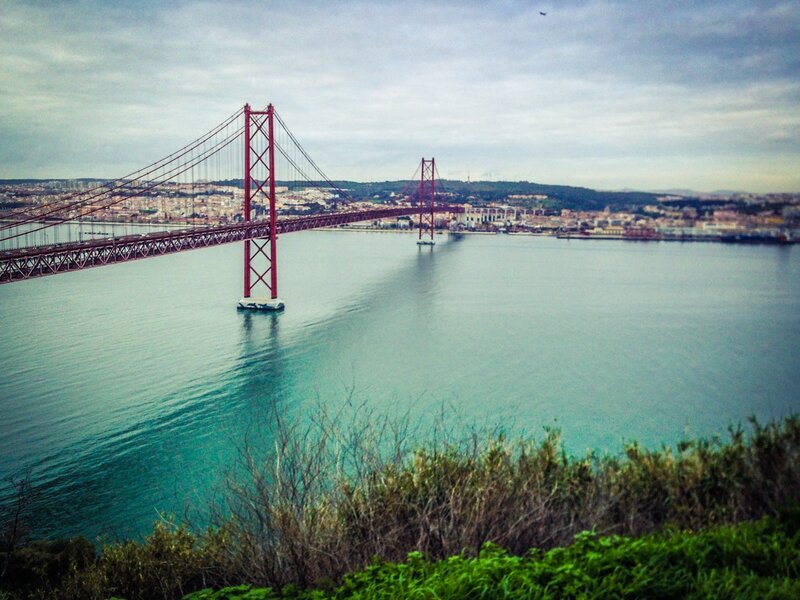 Work in Lisbon
Lisbon offers a great variety of creative and inspirational co-working spaces for digital nomads and other freelancers, and has been quick to embrace the work-where-there's-Wi-Fi culture that comes with both. The spaces here aren't just your usual, run-of-the-mill open plan office spaces, and you can expect to find a vibrant and uplifting space to suit all tastes. And, if you prefer an even more casual option, then you can head to one of the city's many diverse coffee shops and cafes, which offer excellent capability, wonderful coffee and of course, pasteis-de-nata that are simply to die for.
With such a lot of choice, it's tempting to work your way around them all – and better still, you can.
Here are some of the top co-working spaces and coffee shops with Wi-Fi in the city to consider for those days where you want to get stuff done. As an added bonus, they are also great places to meet other digital nomads, and enhance your Lisbon social scene as a result.
For reference, the average internet speed in Lisbon is good, at around 20.8mbps, and all co-working spaces offer reliable connections.
Best Places to Work in Lisbon
Co-working spaces in Lisbon
Avila Spaces
Winner of 'Best Co-work in Lisbon' in both 2018 and 2019, this contemporary work space, located on Av. República offers a relaxed yet stylish environment for digital nomads and remote workers. Featuring a number of fully equipped meeting rooms and a sophisticated co-working business lounge, it offers a range of set-ups to suit all tastes and needs – including private office suites for those days when privacy and full concentration are key.
There are also a range of membership plans on offer, starting at €150 per month (or €138 per month if paid annually) for a Business Class package and rising to €200 per month (or €183 if paid annually for Executive Class. For between €50 and €78 a month, you can also secure yourself a virtual office.
Work Avenida
If you're looking for a work base that's about as central to Lisbon's Business District as you can get, head to Work Avenida, at Avenida Liberdade, 262. A newer space that opened its doors in fairly recently, it offers co-working and virtual offices and features a variety of meeting rooms along with a business lounge, terrace and pantry.
What we love about this space in particular is the effortless combination of modern décor with the classic architecture of this beautiful building – and the fact that, at €30 per day for a flex membership, it's a great choice if you're not sure how long you're going to be sticking around in the city or have ever-changing travel plans.
A fixed rate monthly membership is a little on the pricey side, at €300 per month, but you're paying for one of the trendiest spaces in the city. A private office, likewise, will set you back €800 per month, with meeting rooms priced at €40 per hour.
Unicorn
Unicorn offers two fully-serviced Lisbon co-working spaces – one of which is located on the afore-mentioned Avenida da Liberdade (10), while the other can be found at Marquez Rua Filipe Folque, 2.
A favourite amongst coffee lovers, this place offers free barista coffee, filtered water and fruit to keep you fuelled up throughout the day – which is always a welcome touch. There is a community manager on hand at both locations to welcome your guests, send your mail and offer support as needed throughout the day, with offices accommodating between 4 and 30 people, depending on the size.
With membership plans starting at €180 per month, it's one of the more affordable choices for co-working in Lisbon, and comes with all of the extra bells and whistles, too.
Heden
Easily one of our favourites, Heden, which can be found just off a central square in Graça at TV. Pereira 35a, 1170-312 Lisboa offers a light and bright workspace as well as one of the coolest and calmest atmospheres on the block – plus, for creative types, it even houses its own art studio. This is a great option for those who like to live a little more spontaneously, with flex desks available for €10 for half a day or €15 daily.
Tea, coffee and fruit are all included and there's a laid-back lounge area for relaxing over a coffee and a magazine when you need some time out.
Cafes with Wi-Fi
If you're looking for somewhere a little more laid-back to work and without the necessity of a membership, check out the following cafes and coffee shops – all of which make great spaces for a casual day of work meetings and offer a great opportunity to meet other digital nomads, too.
Copenhagen Coffee Lab – A favourite amongst Lisbon's digital nomads thanks to its chilled vibe and excellent coffee. 
Address: R. Nova da Piedade 10, 1200-192 Lisboa
The Mill – Offers fast Wi-Fi, excellent third-wave coffee and a Portuguese menu with an Australian twist. 
Address: R. do Poço dos Negros 1, 1200-335 Lisboa
Hello Kristof – simple, Nordic inspired décor and a selection of international magazines to keep you occupied during screen breaks.
Address: R. do Poço dos Negros 103, 1200-337 Lisboa
Boa Vida – Features an intimate upstairs area for a quieter working environment and serves wine, making it perfect for post-work socials.
Address: R. do Poço dos Negros 119, 1200-337 Lisboa
Wish – Minimalistic café located in the LX Factory offering plenty of seating and numerous power outlets.
Address: Rua Rodrigues de Faria 103, Espaço G, 02A, 1300-501 Lisboa
Best Places to Live in Lisbon
Best Neighbourhoods
Cais do Sodre
One of the most centrally located neighbourhoods in Lisbon, Cais do Sodre is a great place to base yourself for easy access to all of the city's major sites and amenities and is close to the port, the Time Out Market (otherwise known as the Mercado da Ribeira, where you'll find some of the best food in the city) and the iconic Pink Street.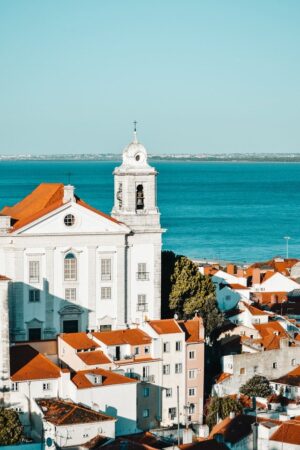 The Ribeira das Naus waterfront, along the Tejo Estuary, is in walking distance, and a great place for a lunchtime stroll or for a post-work drink in the sunshine. From here, you can also jump on board one of the daily ferries to the city of Almeida, on the other side of the river.
You'll also find co-working space Outsite in the neighbourhood, which is an ideal location to work and to meet other digital nomads in the city.
Alfama
Alfama is the oldest neighbourhood in Lisbon, and was the only one to survive the 1755 earthquake. It's also one of the most charming, and buzzes with life at almost every hour of the day or night. A maze of quaint, cobbled streets that wind their way up a steep hill overlooking the Rio Tejo, it has a distinctly 'lived in' feel, with the intricate and colourful tiles that adorn each home chipped and showing their age, and washing hanging out on the wrought-iron balconies – but that's all part of its charm.
Pastelarias serve up strong coffee and pasteis de nata, music drifts from the many Fado bars in the area, and street vendors barbecue fish and serve liquor shots on the street.
The neighbourhood is also home to the iconic Sao Jorge Castle, and on Tuesdays and Saturdays, the streets come alive with the Feira da Ladra flea market. A must at sunset is to make your way up to the spectacular Miradouro de Santa Luzia, which offers sweeping views of the Alfama rooftops framed by grapevine-draped terraces, and a vibrant atmosphere of live music, dancing, drinking and socialising.
Príncipe Real
The trendy and upmarket neighbourhood of Principe Real is a haven for foodies and culture vultures alike, and is home to some of Lisbon's best boutique shops, high-end restaurants and trendy, speakeasy style bars. Located on one of the city's 'Seven Hills', it also offers some great opportunities to take in some of the city's best vistas. 
As you wander along Rua da Escola Politécnica, you'll get to take in landmarks including the Estrela Basilica, 25 de Abril bridge and the Cristo Rei statue – and continuing on further you'll reach the spectacular Miradouro de São Pedro de Alcântara, (just as you cross into the 'Barrio Alto' neighbourhood) which comes alive at night as food vendors set up their stalls in front and live music gets underway as the sun goes down.
Bairro Alto
A hilly neighbourhood filled with bohemian bars and stylish eateries, there's no denying that Bairro Alto is one of the trendiest neighbourhoods in Lisbon, and also happens to be the place where most people head on a Saturday night to socialise. With this in mind, it can also be one of the busiest, but with its side-streets filled with apartments and one of the most breath-taking view-points – Miradouro de São Pedro de Alcântara – located right on your doorstep, if you can handle a little extra footfall then there's a lot to love about living here.
With a distinctly cool and edgy vibe and a plethora of great restaurants, cafes and bars to choose from, it can be tricky to find accommodation here thanks to its popularity, but if you don't mind the effort then it'll be more than worth it.
Baixa & Rossio
With Baixa and Rossio being home to some of Lisbon's main landmarks and most iconic sights, the neighbourhood which stretches between the two is the perfect choice for a base for first timers to the city, and offers a range of shopping and dining options, too. Destroyed during an earthquake in 1755, this 'downtown' area of the city was rebuilt in the 18th century. Here, you can find the bright yellow Praça do Comércio, the pretty Brasileira Café and the historic Livraria Bertrand (the oldest bookshop in the world that is still trading today).
Owing to its rich historic and cultural appeal, this neighbourhood is also particularly popular with tourists – so if you've visited Lisbon before or intend to stay for a while, then you might want to look for somewhere a little further out from the main throng.
Find an Apartment in Lisbon
Finding an apartment in Lisbon can prove tricky if you don't plan in advance, so if you're hoping to move to the city then be sure to do your research beforehand to avoid any unnecessary headache on arrival. Lisbon is a university city and a top choice not just for students from around Portugal, but from all over the world, with thousands flooding the city at the start of each new semester – so if you happen to arrive at the beginning of the academic year then finding an apartment in a desirable area and for a reasonable price will be difficult.
Add to that the growth of the Airbnb market in the city – which has seen many long-term accommodation choices turned into short-term holiday lets, and the options for digital nomads and those wanting to stay a little longer in the city are no longer what they once were. 
With this in mind, it's wise to book into an Airbnb or other short-term rental property for at least a few weeks before you arrive to ensure that you have plenty of time to look for one that suits your needs when you get here. Even better, arrange your long-term accommodation online before you arrive in the city – the process can often be lengthy and this approach will save you from the unnecessary stress once you're here.
Airbnbs in Lisbon can be expensive due to demand from the tourist market, so they are best avoided for the longer-term. Uniplaces is a good option for students and is much cheaper than Airbnb – but beware of the hidden cleaning costs that are often added by landlords, and that aren't always made clear upfront.
Couchsurfing is another port of call if you're looking for somewhere a little more short-term whilst you find your longer-term abode. You'll often spot ads during the school holidays and during semester breaks, which is a great time to land a prime spot.
The best time of year to look for long-term accommodation in Lisbon is during the holidays or the semester break. In December, Erasmus students finish their studies and often leave the city – making it a better time than during the summer months, when the students who are leaving are replaced with an influx of tourists instead, and prices at their highest.
Recommended websites:
Cost of renting an apartment in Lisbon
As with any capital city, rental prices are higher than elsewhere in the country, but are still relatively reasonable when compared with other European equivalents which means some good deals for expats as a result.
For 80 square metres in the city centre, you can expect to pay around €850, but if you're prepared to live a little further out then you will find better prices. A studio flat costs around €500, while a one-bedroom apartment comes in at around €660 per month. Bills for electricity and water are additional, so you'll need to allocate around €45 per person, per month for these on top.
Cheap Places to Stay in Lisbon
Sunset destination Hostel:

This hostel, located on

Praça do Duque de Terceira, Estação Ferroviária in Cais do Sodré, is easily the best hostel that Lisbon has to offer and features its own swimming pool and 24-hour bar. A great place to stay when you first arrive in the city and are looking to get set up with a more permanent base, and a great place to meet other nomads, too.

Hub Lisbon Patio Hostel:

A spacious hostel with a laid-back atmosphere, here you'll find a mixture of dorms and single rooms and a distinctively social vibe.

Selina Secret Garden:

One of the most popular co-living spaces for digital nomads in the city, Selina secret Garden offers a range of different accommodation options and features a common room, rooftop area, swimming pool and bar.

Outsite:

One of the largest co-living spaces in Portugal, Outsite, which is located in the central Cais do

Sodré neighbourhood,

houses over 30 en-suite rooms, a co-working space and cafe.
Exclusive Member Benefits in Lisbon
Similar Digital Nomad Destinations
Portugal Visa for Lisbon
For those travelling from within the EU, no visa is required to enter Portugal as it is part of the Schengen area, making it easy to come and go to Lisbon as you please without any restrictions on time. You'll also have the right to live, work and settle here – no questions asked – which goes some way to explaining why Lisbon has become such a hotspot amongst European nomads in recent years.
For UK citizens, the recently signed Brexit deal means that somewhat different rules should be observed by Brits, who can travel to the nation visa free but are limited to 90 days in Portugal out of any six-month period.
US and Canadian citizens can also stay in Portugal for up to 90 days without a visa – but if you're planning to stay for any longer than that, and you will need to look into the various types of working visa available to work out which best suits your circumstances.
Culture and Food in Lisbon
The Portuguese culture is vibrant and exciting, and there's certainly no shortage of its influences in Lisbon. Centred around the likes of art, literature, food and sport – as well as religion, it's evident just about everywhere you look – and that's all part of the city's incredible charm.
Food
As a nation, Portugal has a rich foodie culture, and anywhere you go in the country you will no doubt come across cafes and restaurants serving up some of its most mouth-watering traditional dishes. From fresh fish to succulent pork dishes and hearty, garlicky soups, dining in Portugal is a sensory experience that serves up influences from other countries such as Brazil, Angola and Mozambique alongside its own home-grown flavours. 
This is owed largely to the fact that in history, many of the Portuguese lived in overseas colonies, later returning when each one declared independence. Sugar cane and pineapples were cultivated in Brazil and chili peppers took root in Angola, all of which were later brought back to Portugal, and are now key ingredients within some of Portugal's – and Lisbon's – signature dishes, in the case of the latter including the famous piri-piri.
The Algarve region is famous for its seafood, although the country's most famous dishes are all based around 'bacalhau' (cod). Dried salt cod dates back to the 16th century, when Portuguese fishermen learned to salt the fish to make it last longer during the voyage home. Must-try dishes include bacalhau à brás (cod served with eggs, onions and potatoes) and bacalhau à Gomes de sá (a cod casserole with sliced potatoes, hard-boiled eggs and black olives).
A Cevicheria (R. Dom Pedro v 129) serves up some of the best fish dishes in Lisbon, while the Time Out Market is a great place to pick something up to try on the go.
Lisbon is famed for being home to some of the nation's best pasteis de nata – an egg custard tart which originated from the Jerónimos monastery, with the world-famous cafe Pasteis de Belem serving up the very finest of the bunch.
If you're a meat eater, then the tasty bifana – a barbecued pork sandwich – is a must try, and a typical dish from the city.
Arts
Lisbon enjoys a thriving art scene and regularly plays host to world-class exhibitions. It is also home to some fantastic contemporary art of its own, and features a range of galleries and museums that showcase its home-grown art, including the Museu Nacional de Arte Contemporânea do Chiado and Hangar – one of Lisbon's most established art centres and gallery spaces, set on the hillside in the quiet neighbourhood of Graça.
Meanwhile, the Museum of Art, Architecture and Technology (MAAT) is often dubbed Lisbon's answer to the Tate Modern, while the Underdogs Gallery is a celebration of Lisbon's impressive street art scene.
Of course, one of the most widely recognised forms of art in Portugal is Fado music – a traditional folk style genre that can be heard drifting out of the city's many bars on an evening and often, during the day, too. Amalia Rodrigues – one of the most famous Fado singers – passed away in 1999, and the country declared not one, but three days of national mourning as a result.
Religion
There is no official national religion in Portugal, but the most dominant is Roman Catholic – and the country is home to some beautiful basilicas as a result that are worth a visit if you're so inclined.
Portuguese culture also comprises an element of folklore and superstition. While stories tend to include an element of Roman Catholicism, they also tell of mythical creatures and fantasies.
Holidays
The 25th April marks the Carnation Revolution, which freed Portugal from the dictatorship initiated by Antonio Oliveira Salazar, and is the most celebrated annual holiday in Portugal.
Many people also observe religious holidays, including a large Carnival celebration in the lead-up to lent, which although is not as prolific as its Brazilian equivalent, still features huge parties and parades which fill the streets for several days.
Sports
Spend a week or two in Portugal and you'll quickly come to experience the immense passion the nation has for its football, and this is certainly evident in Lisbon. The Portuguese national team, captained by Cristiano Ronaldo, is currently ranked as 5th in the world by FIFA.
Portugal also has a small bull-fighting culture, but this has now largely died out, and never experienced anywhere near the popularity here as it did in Spain.
Lisbon Nightlife
As Portugal's capital, it comes as no surprise that Lisbon offers a thriving nightlife scene, and whether you prefer a more laid-back evening at a cosy wine bar or a raucous night out at one of the city's many nightclubs, there's something for everyone.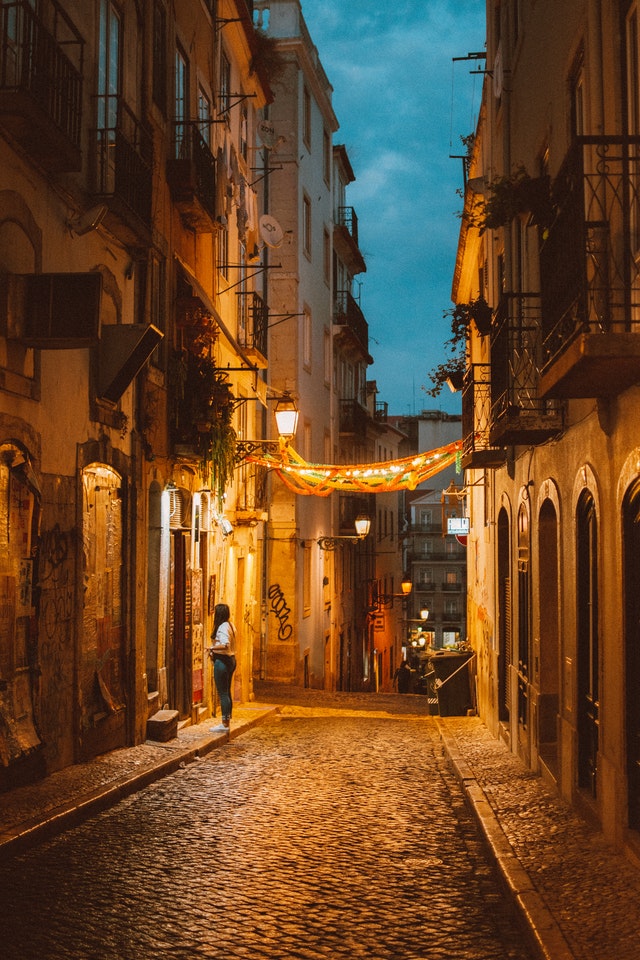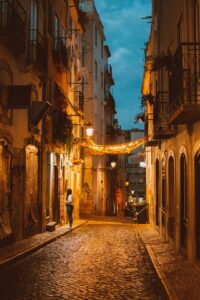 These days, Lisbon is recognised as one of Europe's most up-and-coming party spots – and with good reason. Taking on a whole new ambience when as sun dips below the horizon, you can enjoy live music at one of the venues along the water's edge, enjoy after-dinners at a swanky rooftop bar or book your tickets for a lively DJ set – or better yet, do all three.
Lisbon's more laid-back bars tend to attract digital nomads looking to meet other travellers, and offer a vibrant social scene as a result. Here are some of the bars, clubs and wine bars to check out when you arrive and see what best suits your tastes.
Best Bars in Lisbon
Ministerium Club – Praça do Comércio 72 Lisbon
A regular haunt for some of Europe's biggest name DJs playing a mix of house and techno music, Ministerium has managed to maintain an air of exclusivity over the years due to the fact that it still only opens on Saturdays, and is housed in a former Portuguese Ministry of Finance building which adds to its unique feel.
K Urban Beach – Cais da Viscondessa Lisbon, 1200-109
In search of a little escapism after a busy day of co-working? K Urban Beach is exactly what it sounds like, and offers an evening at the beach without even leaving the city. Set against the River Tagus, it features a man-made patch of sand and a distinctive laid-back vibe. Here, you can expect bright colours, electro-pop beats and a tropical party atmosphere that transports you straight to an Ibiza-style pool party on the sand.
Musicbox – Rua Nova do Carvalho (Pink Street), 24 Lisbon
Centrally located on Lisbon's iconic Pink Street in the edgy Cais do Sodre neighbourhood, Music box has fast become one of the city's trendiest bars and with its gritty, underground vibe it regularly plays host to rock bands, hip hop artists and DJs from around Europe. The feel here is relatively intimate, with a capacity of just 300 – and with something for everyone, it's a great place to meet and socialise with other digital nomads and friends.
Lux Frágil – Av. Infante D. Henrique, Armazém A 1950-376 Lisbon 
One of the most sophisticated clubs in Lisbon, Lux Frágil is a playground for the rich and famous, and has become a popular place for celebrity spotting as a result. Set right next to the city's waterfront, it comprises a club, bar and rooftop lounge and often features iconic DJs throughout the year. The spectacular sunrise views from the terrace – if you can carry on that long – are a must.
Dock's Club – Rua da Cintura do Porto de Lisboa, 1350-352 Lisbon
Set in a warehouse which gives it a distinctive urban feel, Dock's Club attracts a varied crowd thanks to its varied calendar of events. Nights span a range of genres, ranging from hip hop and R&B to classic club nights and with six bars, a sophisticated VIP area and an excellent range of themed nights on offer, make sure to visit at least once.
Things to do in Lisbon
There is no shortage of things to see and do in Lisbon, and you could easily spend a few months here without exhausting your list. From live music and world-class DJs to museums, art galleries and an excellent foodie scene, it enjoys all of the options you'd expect from a capital city – and, thanks to its proximity to some of Portugal's best beaches, a lot more, too.
Add to that the spectacular range of day trips you can easily take using public transport from the city – and of course, all of the major iconic sites in Lisbon itself – and there is something to do for every day of the week.
The beauty of setting up base in Lisbon means that over time, you'll start to enjoy it just as the locals do – and once you've ticked off many of the major 'must do's, you'll begin to discover a world far beyond what you first see on arrival to the city. The locals know exactly where to find the best food and the coolest bars (and the cheapest, too), so be sure to take the time to get to know them.
Here are some of the activities and pursuits you won't want to miss during your time in the city.
Indulge in some shopping at Feira da Ladra

Lisbon's answer to London's Portobello Road market, Feira da Ladra – which happens every Tuesday and Friday at the Campo de Santa Clara – began in the 13th century, and has continued to be a huge draw for city dwellers ever since. From art to antiques, socks to silk scarves, there's something for everyone here. Come early to avoid the crowds, then head for a good cup of coffee and refuel with a traditional Portuguese breakfast afterwards at one of the many nearby cafes.

Taste test the Time Out Market (Mercado da Ribeira)

Whether you're eager to taste some of the best and most authentic Portuguese food in Lisbon or to lay your hands on some exciting modern twists on your favourite cuisines, the Time Out Market, which features more than 40 food stalls, has got you covered. Every item of food here has been chosen, tested and tasted by an independent panel of city experts – who also happen to be Time Out's very own team of critics.

Go for a stroll in Parque Florestal de Monsanto

This highly underrated park is an impressive three times the size of the iconic Central Park in New York, and is the perfect place to indulge in a spot of exercise. Best of all, it's so big that you can come here numerous times and never see the same stretch – even if you're out for a long run or a cycle. This is also a great spot for summer picnics or simply soaking up the sunshine with a good book.

Take in the view at Portas do Sol

Thanks to its hilly composition, the viewpoints in Lisbon are many – but one of the most popular has to be at the Portas do Sol cocktail bar, which overlooks the Alfama and the Tejo river. This is a great spot at sunset and features regular DJ sets at the weekends, when it becomes a lively spot for those in search of a little dance floor action and all the cocktails they can drink.

Explore LX Factory

An amalgamation of shops, cafes, markets, concerts and exhibitions, the LX Factory is a cultural hub in Alcantara and is a great place to soak up some entertainment and spend some of your hard-earned cash. Whatever you feel like doing, this place has got it all, and it's one of the city's most popular destinations, day and night, as a result. 

Peruse the MAAT Architecture & Technology Museum

The latest contemporary art museum in Lisbon, the MAAT has been causing quite a stir in the city since its inauguration in 2016, not least thanks to its unique and Instagram-worthy exterior. Located close to the iconic Torre de Belém, its strong architectural lines, which were dreamt up by British architect Amanda Levete, draw crowds from across the city and beyond, and with a plethora of exhibitions – both permanent and temporary – happening throughout the year, you'll likely want to head back more than once.

Pause for a pitstop at Pastéis de Belém

While you're in the area, it would be rude not to stop in at this world famous pastelaria for one of Lisbon's very best custard tarts. The walls of its tea rooms are lined with the pretty blue and white azulejos Portugal is famed for, making it a popular haunt for locals as well as the tourists who queue up outside for takeaway.

Made with the flakiest of puff pastry and a rich, creamy filling that is perfectly crisp on top, at just €1.10 each, they are cheap enough to fit into any digital nomad's budget and are an absolute must that will keep you coming back for more countless times.

Dine at LOCO

If your budget allows, then a blow-out meal at Michelin-starred eatery Loco – perhaps for a special occasion – is a must. An haute cuisine restaurant headed up by Chef Alexandre Silva, who also happens to be one of the most impressive in the city, the mood here is laid-back and relaxed – but be prepared for a taste sensation, with an avant-garde take on Portuguese cuisine, and be sure to book well in advance to secure your table. 
Day trips from Lisbon
Sintra – Take the train to the magical civil parish of Sintra, where you'll have the chance to take in fairytale-like palaces and castles and soak up some of the area's rich history.
Cascais – A coastal city with a laid-back, beachy vibe, around an hour's train ride from Lisbon. Great for surfing, stand-up paddle boarding and soaking up some rays.
Ericeira – another seaside community on the western coast and the only European spot in the World Surfing Reserves. Bring your board and be prepared to catch some impressive rays.
Wineries and vineyards – The Setúbal region, south of Lisbon, is home to some great wineries, while Alentejo, which is a little further afield, produces some of the best Portuguese wines.
Best Time to Visit Lisbon
 There are many reasons that Lisbon, Portugal attracts quite so many digital nomads these days, and its warm, Mediterranean climate is one of them. Due to its far west location within Europe, overlooking the ocean, its climate is particularly mild compared with other European cities and the city enjoys hot and sunny summers with pleasant weather that stretches well into autumn/fall, followed by rainy but mild winters.
Lisbon's mean annual temperature sits in the low 60s (F), or around 17 °C, with the influence of the Gulf stream and the proximity of the Atlantic Ocean mediating the weather conditions throughout the year.
August is the warmest month, with highs of 82 °F (28 °C), while the coolest temperatures are in January, averaging 50 °F (10 °C). The average monthly rainfall is between 01. Inches (3mm) in summer and around 4 inches (100mm) in winter.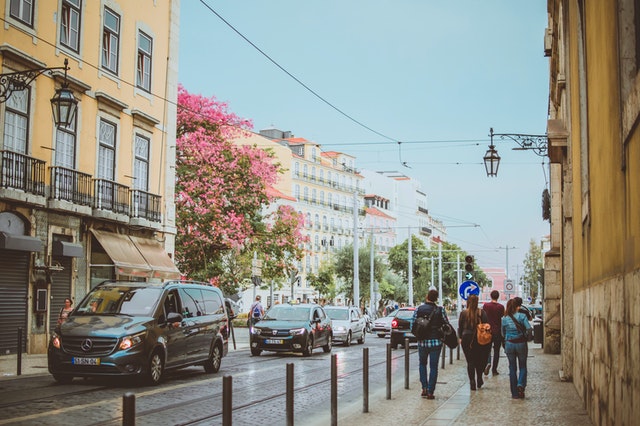 Lisbon for Families
In Portugal, the majority of children under the age of three are taken care of either by family or by informal babysitters. There is plenty of financial support here for stay-at-home mothers, and as such, nurseries and childcare centres are uncommon.
The Lisbon area is home to three main international schools and one prep school. Compared to other European cities such as Barcelona or Rome, the family expat community remains relatively small, although as numbers have risen in recent years, schools are all either at, or even slightly over, capacity.
There are two schools offering British curriculums (the International Preparatory School and St. Julian's). A Levels are not offered at either, having been replaces by the IB Diplom instead.
The international and bilingual schools in the city which cater to expat families and their children, include:
Carlucci American international School of Lisbon: Adapted curriculum/ American High School Diploma/ IB Diploma; ages 3-18; co-ed; day; independent; private non-profit; 690 students
International Preparatory School: Adapted National Curriculum for England; ages 3-11; co-ed; day; independent; privately owned; 290 students
St Dominic's international School, Lisbon:PYP/ MYP/ IB Diploma; ages 3-18; co-ed; day; independent; private non-profit; 750 students
St. Julian's School: Adapted National Curriculum for England/ IGCSE/ IB Diploma; ages 3-18; co-ed; day; independent; private non-profit; 1,100 students
Things to do for families in Lisbon
Thankfully, there are a range of child-friendly activities and attractions in Lisbon, as well as green spaces and nearby beaches for family days out in the summer. Top family attractions in Lisbon include:
The Oceanário: One of Lisbon's most beautiful buildings and one of the most impressive aquariums in the world, the breath-taking Oceanário in Parque das Nações is a must visit for families with children. Featuring immersive exhibitions and a range of ocean animals including sharks and turtles, as well as super cute sea otters and penguins, it also happens to be the largest of its kind in Europe.
Jardim da Estreia: One of Lisbon's most popular parks, this large green space is home to two cute cafés, a large children's playground and a garden library, with a beautiful collection of exotic trees and treasure hunts to keep kids entertained.
The Beach: Within just 15-30 minutes of travel from Lisbon, you can reach some of the coastline's best beaches, including the Costa da Caparica stretch and São João , which features some lovely restaurants and plenty of parking.
Living in Lisbon
Lisbon Transportation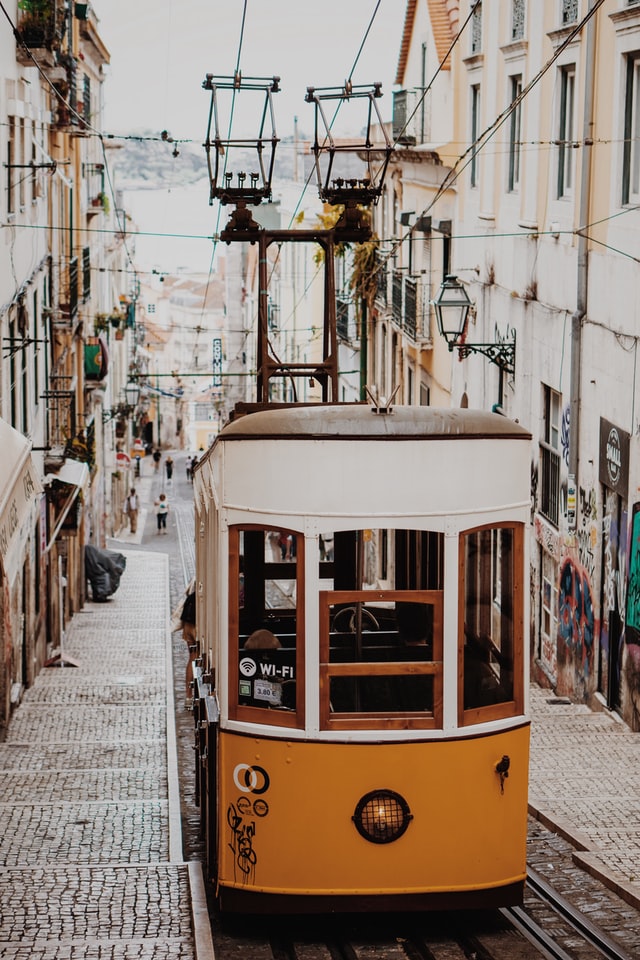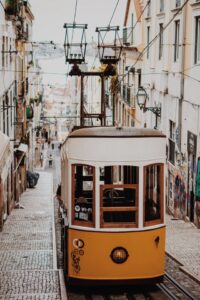 Despite being remarkably hilly, Lisbon is also an extremely walkable city, and exploring it on foot is one of the simplest pleasures you'll get to enjoy during your time here. With pretty, tiled houses and azulejo-adorned churches and cafes at every turn, there is always something new to admire, most of which you would miss should you choose to take another means of transport.
An excellent compromise, however, is to use the city's tram network. Not only is it a great excuse to get that iconic Lisbon photo, but it will also take you where you need to go fairly quickly without you having to miss any of the sights along the way. Tickets are cheap, at €40 per month or around €1.10 for a single, and will get you to the top of just about any hill in the city, so if you're tired from a long day of exploring, then hop on board.
Lisbon has a fleet of 600 buses and 146 different bus routes, making it by far the most versatile way to get around, if at times, it can be a little slow. There are two bus lines in Lisbon – the quickest of which runs from Praça do Comércio and another which leaves from the financial centre. A one-way ticket will set you back €4, while €5.50 will get you a return.
Lisbon's Metro
For travelling longer distances, the metro is also very affordable, and in some cases can be the fastest way to get where you need to go. It's often a speedier option than taking multiple buses or a combination of buses and trams, and with tickets starting at €1.50 for a single fare, or €6.40 for 24-hour unlimited travel, it certainly won't break the bank.
This one is a bargain if you're planning on travelling a lot in one day, because it includes all Lisbon trams and buses, too. It's worth bearing in mind that the metro system is fairly limited, so you won't want to rely on them all of the time and they might not always get you where exactly you want to go.
Whilst Ubers are readily available in the city, we strongly avoid giving them a miss when you're new to the city. Due to the nature of the traffic system in Lisbon, they often have trouble accessing your location, which can result in frantic phone calls from the driver, much frustration and long waits!  Once you've gotten to know the place a little better (and ideally, have brushed up on your Portuguese), this will get easier, as you can arrange a more suitable pick-up point with your driver.
Lisbon is connected to the interior of Portugal – and to the rest of Europe – by both rail and road, making it easily accessible from pretty much anywhere else on the continent. Access to the city is via the 25th April Bridge, which just so happens to be one of the largest suspension bridges in Europe.
Fitness and Health
Like many European capital cities, Lisbon offers an excellent health and fitness scene, and one that caters well to the digital nomad, too. Many nomads who plan to stick around for a while opt to join low-cost gyms like Fitness Hut, where you'll find flexible contracts that cater perfectly to those with ever-changing plans.
Aside from that, there are a range of other gyms, health clubs and yoga studios in the city that will allow you to get your heart pumping and your blood flowing after a day at your desk. 
Of course, you don't have to join a gym or pay for classes to stay fit in Lisbon – just walking up and down its many steep hills and along its windy streets will do the job. 
Gyms and Yoga Studios
Fitness Hut – an affordable and flexible gym with multiple branches across the city.
Academia Life Club – waterfront gym with fully-equipped fitness suite and indoor and outdoor workout spaces.
Baraza Yoga – a small studio in Cais do Sodre offering affordable daily classes.
The Bakery CrossFit – offers daily Crossfit classes and the opportunity to pay by class, week or month.
Lisbon People
One of the most attractive things about Portugal for digital nomads is no doubt its people, who are warm, friendly and tolerant and will be the first to make you feel welcome in the city if you approach them in the same way. Where some countries can go a little over the top in this sense, the Portuguese come across as entirely genuine in their approach. The people in Lisbon are, like in many busy capital cities, a little more reserved and serious than in other parts of Portugal, but this is to be expected. 
Many of the Portuguese who live in Lisbon have worked abroad and lived elsewhere in Europe at some point, and many nomads will tell you that they tend to be the most sociable and outgoing, as they are used to mixing with people from around the world. Those who haven't can take a little longer to form a connection with – but this is the norm in most countries.
Of course, thanks to the ever-expanding digital nomad and expat community in Lisbon and the distinctly international feel, the social scene is thriving, so you'll likely have little trouble meeting others and making friends. A great place to do this is in the city's coolest cafes, which typically have excellent Wi-Fi and offer a laid-back setting in which to connect with others and chat over a coffee or a post-work beer.
Despite the fact that the Lisbon metropolitan area only occupies around 3 per cent of Portugal's total area, more than a quarter of the country's inhabitants reside here. In the 1970s, Lisbon experienced a surge in population due to migration from rural areas of the country and the return of natives who had been living overseas in the nation's African colonies, which had since gained independence.
As the 21st century began, foreign residents accounted for around one tenth of the Lisbon population, with immigrants from Angola, Brazil and Cape Verde having made it their home. Since then, the foreign population has continued to grow, and with the city now a hotspot for digital nomads from across Europe, North America and beyond, it has quickly transformed into a cosmopolitan metropolis. 
Lisbon Insurance and Medical Care
As the capital city of Portugal and a major urban area, Lisbon enjoys a larger concentration of doctors, nurses and other healthcare professionals than anywhere else in the country, with a number of hospitals encompassing state, private and military.
There have been ongoing efforts to modernise the city's facilities – in particular, the public hospitals, with additional branches of some of the larger hospitals opening in other areas of the city.
Digital nomads in Lisbon can either pay to access the private healthcare system or get health insurance to cover it. If you're a resident of an EU country, or Norway, Switzerland, Sweden, Iceland or Lichtenstein then you'll also be able to access emergency medical treatment under the same terms as Portuguese residents through the EHIC scheme. Do bear in mind though, that this only covers certain medical treatments – so it's wise to take out additional medical insurance to ensure that you have all bases covered.
Make sure you are fully covered by reading our full Digital Nomad Travel Insurance guide.
Jobs in Lisbon
Like most European cities, Lisbon has been impacted by the ongoing COVID-19 pandemic, and the jobs market has suffered as a result – which means that if you don't already have a source of income then moving here now could prove challenging. 
The jobs market, when compared to Portugal's more developed neighbours – for example, the UK or Germany – is fairly small and unemployment even before the pandemic began was at 12 per cent. Under normal circumstances, the average salary in Portugal is already quite low, and even with good qualifications and an excellent level of experience, you'll likely earn more in other countries.
The average monthly salary in Lisbon is around €600 – €800 per month. However, if money is not your main motivator and the opportunity to live by the sea and enjoy a slower pace of life is, then this might not be an issue for you.
Despite its challenges, Lisbon is famous for its start-up scene and is the preferred choice for many young entrepreneurs who are looking to launch new businesses – which means there are some fast-developing new companies and more opportunities for locals and digital nomads in the city as a result. Even so, this is likely to have stalled somewhat in the wake of the current global situation.
Jobs within tourism and hospitality have traditionally been some of the easiest to find, but with long hours, hard work and low pay, it's not for everyone. However, if you're simply looking to supplement your nomadic endeavours with a little extra income then it might be worth exploring once the situation has returned to near-normal. Restaurants, bars, coffee shops and tour companies are all good places to start.
Of course, knowing a little Portuguese will greatly increase your chances of landing a role, and there are some great schools in the city that will help you get started. And if you can't yet speak a word, there is always demand for English language teachers in language schools across the city, where speaking English is considered an important skill to have.
Employment law in Portugal allows employees to work for up to 60 hours per week, but the majority work an average of 40 hours per week (or eight hours per day).
Holiday entitlement for full-time employees is 22 days per year, plus the nine annual Portuguese bank holidays.
If you're from an EU country or elsewhere in the Schengen area then you are entitled to live and work in Portugal. However, after 90 days in Portugal you will need to register with your local junta (council). You won't require a work visa, but you must apply for a Cartão de Residencia (residency card) after six months or risk being fined.
If you're moving to Lisbon from another country then you'll need to check out the individual requirements to secure a work visa.
If you're planning to work in Portugal then you should also apply for a Número de Identificação Fiscal or Número de Contribuinte (NIF), which entitles you to pay taxes and receive free healthcare.
Check out our Digital Nomads Jobs Postings to find the best jobs available for Digital Nomads.
Nomad Friendly
Value for Money
Internet
Workspace
English
Food
Safety
Health
Transportation
Friendly
Quality of Living
Cost of Living Lisbon
One of the main draws of Lisbon for digital nomads is the low cost of living, which although (as is the case with almost all capital cities) is steeper than elsewhere in the country, is lower than in many other capital cities across Europe, including the likes of neighbouring Spain and France. Of course, there are certainly cheaper destinations to set up base in on other continents, but for those looking to either settle or spend time in Western Europe, it's a great choice.
Examples of monthly living costs
Rental of one or two bedroom flat – €620 
Total estimated additional monthly costs – €555 

Basic utilities (gas / electric / heating / cooling (based on

85m2

apartment)- €110 
Internet (60bps/unlimited data) – €33
Meal at an inexpensive restaurant – €8
Domestic beer at a bar – €2 
Cappuccino at a coffee shop – €1.60
One-way ticket on local public transport – €1.70 

Monthly pass for local public transport –

€40