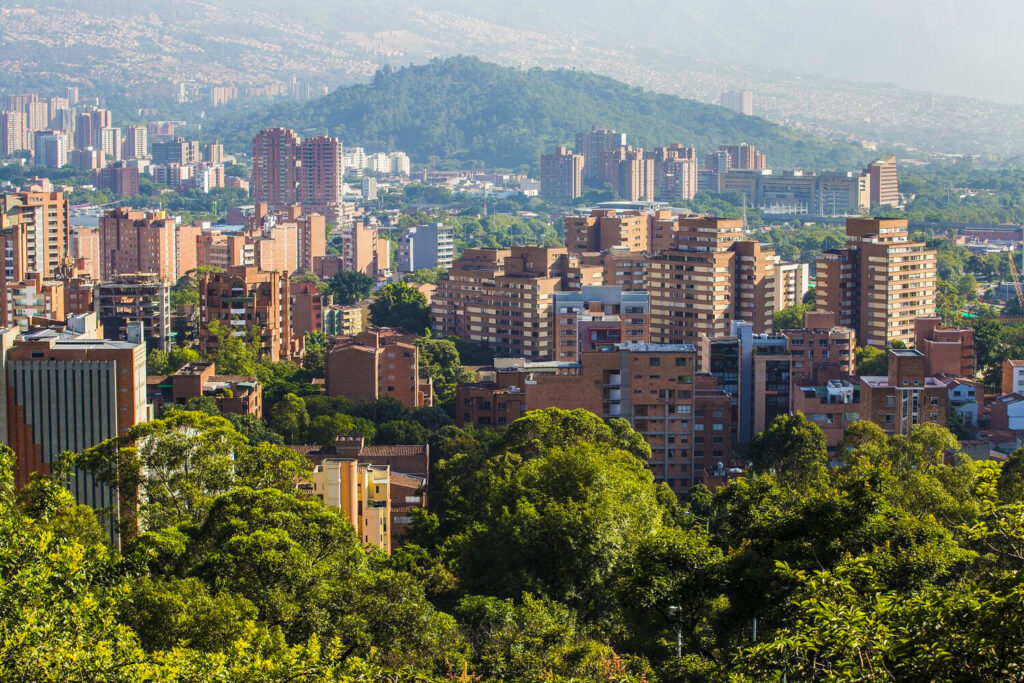 A Digital Nomad Guide to Medellin
Medellin is magnetizing to many expats with its matchless vibes. It's fair to say that Medellin is a must destination for anyone who is visiting Colombia.
Medellin is the second-largest city in Colombia after its capital, Bogota. It is also located up in the mountains of the Andes chain. However, as opposed to Bogota it's not that far above the sea (1,495 m) which makes Medellin – "the city of eternal spring". For that reason, the city gives a pleasant sensation of a perfect level of humidity and temperature. Of course, it can rain from time to time but after all, it feels like a shower – warm and nice.
If Bogota has its business-oriented vibe Medellin can be, no doubt, – a hipster city. It's artsy and laid back. There are heaps of places to go: from authentic coffee shops with coffee from the neighbor hill to a huge Botanic Garden with secular ferns and 4500 types of flowers.
Another thing that the city is proud of – a developed transport infrastructure. There is not just a regular metro system "Metroplus", but also linked to its system of cable cars, which can take you up the hill. The perk is that it secures you from traveling to the hill by foot because at its bottom you see slums of the city: many tiny one-or-two-floored buildings, sometimes with no roofs.
Many expect the infamous city to be full of narcos and criminals waiting for them behind the corner. But in fact, Medellin is a relatively safe place. Of course, you have to make sure that your belongings are not sticking out of your bag, or have not to walk showing off all your "treasure" in the street. Just believe me everywhere in Latin America it'd be risky.
Nomad Friendly
Value for Money
Internet
Workspace
English
Food
Safety
Health
Transportation
Friendly
Quality of Living
Living in Medellín Overview
Digital Nomad Personal Experience in Medellin
"Compra los caramelos para tu novia" – one street vendor approached us in the crowded street of El Poblado neighborhood late in the evening. My beloved said well-learned "No, gracias" without asking me if I, actually, want a candy from the vendor's box hanging in front on his neck. To our surprise, the man was not discouraged at all. Instead of leaving, he just opened the under-bottom of his little box, where to our astonishment we could see many bags of green and white stuff of different sizes. "Compra para tu novia" – repeated he. We quickly moved our heads and went off. 
It was the first night in beautiful Medellin in the most touristy place we could ever have chosen to stay full of gringos ("foreigners") and joyful Colombians – El Poblado neighborhood. The street was lively, people were playing drums and singing in the central square. The air was stuffed with delicious food smells from the restaurants and happy noises of drinking people were buzzing all around. 
Apart from all these wonderful things around, the amazingness of the night was that it didn't get colder at all! After living for so long in the climate of Bogota you don't really know what to expect from the weather. It can easily change 5-7 times per day, but one thing you know for sure that the night is colder and it's better to have a jacket. In Medellin, on the flip side, it was always nicely warm. It incredibly tuned the mood!
Every time I visited Medellin it always had something new to offer. I attended some open-air concerts, watched football matches with locals in small cafes and even convenience stores, got lost in big parks and gardens, had BBQ with a panoramic view, made new friends, and, of course, visited popular hipster bars and spaces. 
Work in Medellin
Worldly-wise digital nomads would recommend Medellin as one of the top places for remote work in the Americas. Some years ago it did not stay unnoticed by the neighbours from North America. As a result, many travelers from the States and Canada took advantage of the same time zone, affordable prices, and inexpensive flights from their homes. Though, of course, the city is extra popular among other digital nomads from all over the world too. Here you can find great support from the local expat community which organizes different social events: meet-ups, language exchange clubs, and so on for newly arrived.
Best Places to Work in Medellin
Quokka Coworking Startups

Especial Coworking

Ofizen – Siembra Coworking

Urbania

Al Alma

Pergamino
If you are looking where to start – the best choice would be El Poblado. Many remote workers base in this area. It is a southeastern commune with 22 neighborhoods. There are 3 metro stations along the side: El Poblado Station, Aguacatala Station, and Ayurá Station.
Some travelers find it a little bit more expensive than average in the city, but it is fairly deserved. El Poblado is trendy and has a bunch of perfect places for remote work. Here you find cool co-work spaces, quiet coffee shops, cafes, and restaurants. To start with, try the country's famous Juan Valdez, the matter of pride for all Colombians. It is a wide-spread chain of authentic Colombian coffee shops. To my knowledge, it is often compared with Starbucks as its better version with outstanding coffee right from the "next-door" coffee plantation. Also, close-by the Parque Lleras you can find such work-friendly cafes as Urbania, Al Alma, Pergamino, and others. 
Apart from coffee shops, the spirit of the digital nomadic life is in the coworking spaces of El Poblado. It is worth mentioning Selina Coworking, which gathers under its creative roof a great community of travelers. The place is a convenient hub to focus and get productive; uniquely having its own recording studio for any of you serious musicians out there! It's also a space to meet like-minded people and participate in a variety of different social activities.
The other co-working spaces, which are also in El Poblado and can offer its coziness and zippy wifi are Quokka Coworking Startups, Especial Coworking, and Ofizen – Siembra Coworking. You can expect a welcoming atmosphere, delicious coffee, workshops, and other perks of being a digital nomad!
Concerning the wifi and its speed… Personally, I never had a problem with the internet in Medellin. It is quite a megapolis with solid infrastructure that fits like a glove to the lifestyle of an online worker. The cafes usually have wifi with a speed of around 10 Mbs to offer. Regarding mobile internet, Medellin has the reliability of 4G. The most popular internet providers are Claro and UNE, and you can choose your best option from up to 50-100 Mbs.
Best Places to Live in Medellin
Best Neighbourhoods
As a digital nomad, you probably would like to live somewhere vibrant and cultural at the same time. All hours online must be compensated with great outdoor and leisure. Otherwise, what is the point of being a nomad if to spend time at home office all day long and not to look for adventure in a new place?
Medellin is a perfect place for adventure! Sometimes expats have enough of one neighborhood and don't even go further! However, it is good to have options. So, here I will share with you the four most popular areas to live in Medellin.
El Poblado
First of all, the famous El Poblado is the place exceedingly popular among expats and visitors. And it is definitely deserved. El Poblado has a great location. It is a huge area, but you can easily get by metro everywhere from here. During day time the neighborhood is very appealing. People come here for shopping or just to spend time in the cafes and restaurants next to the Parque Lleras. Nightlife in El Poblado is the best! If you are a party animal, that is the place you might stay put. Though, you are better to be careful at night and avoid shady corners.
El Poblado is a big district, so you can find here luxurious hotels and cheap hostels depending on the subsections. For example, Lower Poblado will be a cheaper option and on a walking distance from the center of the neighborhood.
Laureles
The second best comes Laureles, which is also a big authentic neighborhood of the city. Though it is quieter than El Poblado, it still has its nightlife. La 70 is a favored street of locals as well as Calle 33 – a great place for live music with rock bars and salsa restaurants. Laureles could give a great cultural experience, but it might be a bit more expensive for living rather than other neighborhoods.
The third option on my list is Envigado. This area is considered as the downtown of the city, nevertheless, it is quite big and there are good places for rent as well. The heart of this neighborhood is Parque de Envigado, which often welcomes festivals and outdoor activities. Most choose Envigado because it is quieter and much greener than others. But if you are going out you still find good restaurants in El Dorado.
La Candelaria
The last to mention is La Candelaria, the center of Medellin. Many foreigners actively choose it as a hub of their travel. The best part is that you are living in the historical heart of the city. Many must-see landmarks are located here, like  Plaza Cisneros, Plaza Botero, museums, etc. Though, the center never is the safest place in Colombia. Apart from thrilled tourists, you find around restless beggars and, sometimes, pickpockets. Also, I would recommend being on the alert at night time. 
How to find an Apartment
Finding a place to live in a new city might be challenging, especially if you don't speak the language and don't know any locals! 
My experience was unbelievably good, but previously I had made several steps to ensure my luck. We all know that it is better to book someplace to stay temporarily before you are able to find a medium or long-term stay. In my case, I got a room on the Couchsurfing website for a month! It gave me some time to look for a place and also saved my money. But the novelty was that I found a place where I subsequently stayed for 5-6 months just by walking in the street of the neighborhood I liked. I saw "Arriendo" on someone's window, so I called the number. Old ways still work.
Certainly, there is a more convenient place to look for rather than walking in the street. You can research on some websites like Airbnb, Vico, Facebook, Roomster, and even Couchsurfing. The last one is more about the cross-cultural experiences between hosts and guests. Usually, people don't accept long stays there, but still, it might be an option if you are good at negotiating.
Whilst looking for a good furnished apartment or room in Medellin, probably you've come across the Airbnb website as it is the most well-known server for renting short and long terms all over the world. Sometimes it can give you a discount if you stay longer than 1 month but still, it is considered as one of the most expensive options. 
Another server commonly used in Medellin is Vico. The website offers over 800 furnished rooms for rent and the registration is absolutely for free. The pricing is also very affordable like 500,000 pesos ($140 USD) per month for the cheapest room and 800,000 pesos ($223 USD) per month for an average one. 
Many travelers including me use Facebook pages for finding a stay, though for some people it might seem a little dodgy. However, there could be good offers for a good price and you can find them in such groups as "Medellin Rooms", "Apartments and Expat Info", etc.
Without knowing Spanish, it could be a struggle to find a room. In this case, the solution for English speakers is Roomster. American website helps to find a furnished place in 192 countries all over the world. The downside of it is that it is not a free service and you need to subscribe for a three-day trial for $5.95, two weeks for $14.95, or four weeks for $29.95. The rate for the rooms can vary from 287,758 pesos ($80 USD) to 1,798,484 ($500 USD) per month.
Cheap Places to Stay in Medellin
We all know that a penny saved is a penny earned, especially during travel! Of course, whilst traveling one of the greatest expenses is accommodation. So, to minimize it and enjoy our life to the fullest we can look at some low-budget accommodations that Medellin has to offer. Indeed, there are a lot!
Clearly, the low-budget places to stay here are hostels, and they are plenty in El Poblado, La Candelaria, and some other neighborhoods. For example, you can stay starting from $6 USD  up to  $20 USD per night in a dorm room, and the better are facilities and location, the more expensive the hostel will be. A good website to check out the hostels in Colombia is Hostelworld.com. 
My tip would be to choose the location of the hostel wisely because, anyway, booking some blocks away from the center of your neighborhood doesn't hurt but saves a good deal of money. For instance, if you stay in El Poblado, look for something beyond Parque Llera's surroundings. According to the website Hostelworld.com, popular choices are Hostel Rango Boutique (for a dorm here you pay only $11 USD, a private room is $34 USD), Purple Monkey (a dorm for $8 USD and a private room is for $24USD), Albaka Hostel (for a dorm is $9 USD, a private room is $21 USD). These hostels and many others are nearby Calle 43 and they have considerably similar prices and facilities. The cheapest hostels might be found in La Candelaria neighborhood like Joseph el Paisa Hostel (only $5 USD for a dorm and $11 USD for a private room). However, it is not a recommended location for tourists to stay, because of the criminal activity at night.
Exclusive Member Benefits in Medellín
Similar Digital Nomad Destinations
Colombia Visa
Beyond a shadow of a doubt, Colombia is a country with easy access for many international visitors. However, I would recommend checking the requirements for your particular case on the official website of the Colombian Embassy in your country. As an example, for American and European Union citizens the visit with tourist purposes is visa-free for a stay of 90 days in any 180-day period. It is still necessary to have a valid passport and, on some occasions, the return flights could be asked for at the borders. So, keep it in mind, when you are traveling for a short term. But be aware that it is possible that one time won't be enough for exploring all the abundance of what Colombia has to offer to its guests! The tourist visa, which is called V visa, is under the limit of 180 days per year. There are over 30 different types of visas for foreigners, so you have a chance to prolong your stay if you find the fit. To minimize the hustle you can look for local agencies that help expats with it. I stayed in Colombia for almost a year and my experience was not a novelty. Like many others, I started my adventure with a tourist visa. Later I transferred it to a volunteer visa, which before 2017 was TP visa type. It gave me an opportunity to stay during the project as well as to take up study courses that did not exceed the visa's time frame.
Culture and Food in Medellin
You are in the right place if you are looking for new cultural and gastronomic experiences! 
In past years Colombia has been influenced by Spanish, African, Arab, and, in some ways, American cultures. Certainly, it shaped the culinary preferences of Colombians and brought out a rich savor-sweet-salty flavor of food! 
Before coming to the Antioquia region where Medellin is a capital you would probably hear about Bandeja Paisa, a big dish of red beans cooked with pork, white rice, carne molida (ground meat), and other mouthwatering side dishes. It became so popular all over the country, that many people see it as a symbol of all Colombia (abundance of everything) and not just of its original Antioquia region. If you are not afraid of blowing the budget in a few weeks you should try all the traditional dishes that Medellin has to offer: Bandeja paisa, Sancocho soup, Pescado Frito (fried fish), Lechona, Ajiaco soup, and many others.
Meanwhile, street food is also huge in Colombia! Colombia can easily compete with some South Asian countries like Thailand or Vietnam for the first place of affordable and varied street food delights. In Colombia, each region has its own style and specialty in food. For example, arepa (a corn pancake with different fillings) is customized almost in every city.  Specifically in Medellin, you can try arepa de chócolo, arepa de queso,buñuelos, churros, milky juices, obleas, empanadas, patacones, and so on.
Antioquia can be considered as a conventional region where many Colombians wear distinctive white with black strip hats and honor their traditions. On the other hand, Medellin has developed as a hub for youth subculture blooming with lots of hipster coffee shops, fancy restaurants, and different concert and creative spaces. Also, because of the well-developed infrastructure, the city is loved by businessmen and so Medellin vibes with youth, business and authenticity attract thousands and thousands of tourists every year.
Other interesting details that can help you to recognize any "paisa" – a Medellin citizen – are the prominent accent and common for this region slang words. For example, if you get used to hearing "tu" when Colombians address you, in Medellin, it would be "vos". Also, many consider the paisa accent smoother and speech – slower than in other cities and you might fall in love with this version of Spanish as it could be easier to understand. Another favored custom by people is a greeting kiss on a cheek that is quite common not only among friends but with fresh acquaintances as well.
Though people are relaxed and friendly everywhere in Colombia you can find paisas a little bit more laid back. Personally, I was impressed that people look more groomed and that they care about the esthetic side of life.
Medellin Nightlife
Don't miss out on the nightlife in Medellin! Who didn't go out at least once in Colombia – haven't even been there. Sorry, but it's true, the nightlife is huge in Colombia and in Medellin specifically. There are plenty of places to go out with friends or alone and it's hard to stay disappointed when there are so many cheerful locals and tourists around! 
The party district in Colombia is usually called La Zona Rosa, which's where all party people dance and socialize till the morning light. It won't be a big surprise to say that in Medellin La Zona Rosa is located in El Poblado neighborhood where many foreigners find their travel "dock" and spend days and nights without budging but it doesn't mean that Colombians don't visit it too. First of the popular is La Parque Lleras which has many clubs and bars, though, more expensive ones. It is perfect for everyone and not just for salsa lovers: here you can find electronic music, chic rooftops, and just familiar to westerns pubs like Berlin Bar, Envy rooftop, La Octava bar, Woka Lounge. In the same area, there could be found Provenza and Manila streets with some more options if you are going to stay night through in EL Poblado. There you can visit 20Missions Cerveza bar, Le rooftop of Los Patios, El Arranque Cafe, Victoria Regia bar, and others.
For a more authentic experience, it is a good idea to go to Calle 70 in Laureles neighborhood. More locals, loud salsa music, and dancing … are truly good for immersion in the Colombian vibe. Check out some places, like Cafe Cliché, Panorama Rooftop bar, La Abadia Gastropub, Del Patio Bar, Barrio Central.
Of course, for unstoppable party lovers, there is another checkpoint – Calle 33. It's a long street with bars and clubs to fit every taste so it could be hard to pick one at first. In the meantime, It is highly recommended to use Uber taxi or other apps traveling from one bar to another. Some bars could be good but in hidden distant streets.  
A very touristy way of spending the night would be a Chiva bus party. It is a popular attraction that definitely turns into one of the brightest memories. The great deal of it is that you have a tour to the best party spots of the city and you don't need to rack your brain where to go.
Things to do in Medellin
Medellin is great all year round! Luckily, the weather is very smooth and welcoming here in any season, but if you really feel like catching up with something unusual and very local, my advice is to come during Medellin's Flower Festival which takes place in August. 
What is Medellin's Flower Festival?
 It is an annual celebration for 10 days flooding the city with parades of flowers, cars, and people, throwing concerts and good vibes. People are dancing, singing, and drinking from the morning to late at night. It is a great chance to participate in something truly local and dynamic.
If August is not the time of your visit there is another highly recommended occasion in December – The Medellin Christmas Lights. They are quite special here and not just popular among Colombians who travel with their families to Medellin from all over the country just to enjoy the holiday atmosphere but in the whole world! So, if there are no plans for the next Christmas Eve yet here is one – to see Medellin Christmas Lights.
Otherwise, there are plenty of places to go at any time of the year:
Museo de Antioquia

The museum of Antioquia is recognized due to the pictures of the famous Colombian artist Fernando Botero. It was donated with around 100 Botero's artworks and, also, has modern art and sculptures of other Colombian artists – a great find for art lovers. The entrance is 18,000 pesos ($5 USD).
Plaza Botero

Visiting the museum of Antioquia will be incomplete without seeing the Botero square right in front of the museum! There are wonderful sculptures of the artist, the beautiful cathedral and facade of the museum itself – very picturesque! Twenty-three bronze sculptures of chubby men and women installed on the Plaza fascinate the imagination of tourists and paisas with their simple and outspoken life. The entrance is free.
El Centro

If you want to understand Colombia better a walking tour is a good opportunity to hear the stories firsthand. Some of the tours of the city center of Medellin are offered for free or for donations and could be a perfect start to knowing the city. The true stories about narcotraficantes, politics, and megapolis growth are what you hear on these tours. Apart from that El Centro which is also called La Candelaria is very beautiful and has many hidden gems that are worth finding.
Jardín Botánico

There are no words to describe all the beauty and awe of the Botanical Garden of Medellin, and if you are a true lover of nature and plant diversity excites you as it does to me, you have to see it! The Botanical Garden is a huge territory of 14 hectares, where you can find a tropical forest, a small lake, a desert garden, a butterfly farm, and lots of bird species. The entrance is free.
Parque Arví

For everyone who is staying in Medellin for more than a day, I recommend seeing Arvi Park which is located a little bit further than other attractions of the city but it is definitely worth seeing. Arvi Park is in Santa Elena, the rural area of Medellin and to get there, probably, takes around 1 hour but again it depends on where you are setting off from. The great part of the travel is a ride on Metrocable cable cars from which the beautiful panoramic view of the city landscape is observed. The giant park has a territory of 16,000 hectares and can offer a variety of activities like hiking, horseback riding, camping, etc. It has 54 km of walkable trails. The entrance fee is overall 13,200 pesos ($ 3,80 USD).
Coffee farms

One of the must-visit in Colombia is a coffee farm, of course, – the place where you can have a half-day or a day tour on the plantation and to see the complete coffee process. That coffee you can eventually enjoy in the nearby coffee shop or right there on the plantation under the leaves of palm trees. The coffee region – the famous coffee triangle – doesn't include Medellin, but it doesn't mean that there are no coffee farms here. Indeed, you can find local small family businesses within just 4-10 km from the city. Tours are so varied that you have to choose what suits you more: a bike tour,  a personal or with a group, a short tour or a long combined tour where you can also see another outdoor attraction – Guatape.
Guatape

It is a perfect getaway for a day or so. The village, or how it's called here "pueblo", is located just a couple of hours away from Medellin. In Guatape you can find many nice restaurants and cafes in the cozy streets with colorful facades. It also has a popular tourist sight – the giant rock El Peñón with the beautiful view on the shimmering blue lake.
Comuna 13

Ones who are interested in authentic creepy stories about the streets of Medellin will love to get on the tour of Comuna 13. Some decades ago it was considered one of the most dangerous places in the world, but now it's safe for tourists and locals. Due to urbanization and the intense work of the city administration on refinement it became a hotspot for touring. However, be aware not to stay here after dusk. The tours are usually with commissions, but walking on your own is for free.
Overall, there are numbers of places to visit on your Medellin travel and it can excite even a jaded nomad with years of experience. The eight things to do, that I mentioned above, are just the tip of the iceberg! Many more are on your own way of adventure and so as people all are different, we find different things that we enjoy. As for me, even immersion in coffee shop culture with all those deco and artsy spaces, the tastiest coffee, and beautiful paisas around is already a reason to see Medellin again and again
Best Time to Visit Medellin
The stunning weather of Medellin makes every tourist fall in love at first sight with the city! As it was mentioned already, Medellin is well-known as the City of the Eternal Spring, and here's why…
Medellin is located quite far above the sea at a height of 1,500 meters in the Andes Range. It is lower than Bogota where weather is unpredictable during the same day sometimes, and, also, the capital can be quite chilly. On the other hand, Medellin is stably warm almost all the time and all year round. The trick is that despite the tropical rainforest climate in which the city is located, the mountains and the altitude shift it to a subtropical climate which is a lot smoother. Other lowland cities on the same latitude can definitely make you sweat to hell!
All year round the thermometer shows something around 15-30 ° C (59 to 86 ° F). There are no seasons of the European standard, like snowy winters and golden autumns, but rainy and dry seasons instead. 
Subtropical Rainforest climate assumes a lot of precipitation, so the rainy season happens in April to May, October to November, and dry season – in December to February, June to August.
I was lucky enough to visit Medellin only during the rainy season. It was meant to be wet but, surprisingly, I was caught in the rain only once and it was the pleasantest rain that has ever happened to me! I still have these memories of the nice warm drizzle early in the morning that made all nature around glitter and filled the air with freshness.
Medellin for Families
I met many expats who decided to raise their families in Colombia and particularly in Medellin. Many North Americans and Europeans find Medellin very convenient and affordable and prefer to stay for a long term. The reason I heard from them is that Colombia is a very family-oriented country, they tend to make their children a priority and that's why almost all possible activities you could do alone are adapted or modified with comfort for children's participation as well. 
If you are on a short trip with little ones you can easily find a nanny or a caregiver (empleada) who will help you out with almost everything: taking care of kids, cooking, washing, cleaning, etc. Another great option is a daycare, there are plenty in Medellin and the same are schools. You need to shop around before choosing one because the choice is broad and schools can be traditional and international. To my knowledge, it's popular among expats to take children to a traditional school, as it can help with becoming bilingual very quickly. According to the expats' rating, the top schools for kids in Medellin are Montessori, La Compania de Maria, The Columbus School, and Los Alcazares.
Safety is not the least for parents who decide to move their child to the drug ex-capital of the world. Fortunately, Most of my Medellin acquaintances state that it became very safe in the last decade, especially in such neighborhoods as El Poblado, Laureles, and Envigado. So, shrag a thought of constant preoccupation and alarm.  
As was mentioned before Colombians love children and many activities are arranged in favor of families with kids. If you want to make the day very special for the whole family visit: Parque Explora (an interactive science museum and aquarium), Hacienda Napoles (a theme park with a water park and zoo), and Parque Norte (a traditional amusement park). Trust me, your children will squeal in delight!
Living in Medellin
Medellin Transportation
First what really takes tourists by surprise is the convenience and uniqueness of a public transportation system in Medellin. Especially, if you travel from Bogota you know that public transport is a big part of daily life in Colombia. Many people go to work and back making huge lines on the Metrobus stations. That's why Colombians are proud of the metro in Medellin. Basically, it is only one rail-based metro system in the country. In fact, the metro of Medellin is not just train lines but a huge organ that is logically divided into several elements: a rail-based metro, a bus system, and cable cars. The rail-based metro of Medellin has 2 lines and 27 stations. Its length is approximately 31 kilometers and it connects the major neighborhoods of Medellin. 
The bus system is called MetroPlus and it connects further subsections in the valley to the main hubs of the city. Also, the metro is being elaborated with so-called extensions of cable cars, which are called the MetroCable. They serve as a transfer between the valley and the mountain parts of the city.
The metro of Medellin is the fastest and the cheapest way to get around. In case of a short stay you can pay less than $1 USD per ride, for a longer-term I would recommend buying a Civica metro card.
Though the metro system is convenient it doesn't work at night and operates only till 11.00 pm and 10.00 pm on holidays. Therefore, it could be a good idea to download some taxi applications like Uber, Tapsi, etc. It is much safer to use applications rather than flagging down cars in the street, especially at night. 
The taxi can charge as minimum as 5,600 pesos ($ 1,60 USD) and from the airport, the fare equals approximately 80,000 pesos ($23 USD).
Another way of getting around in the city is cycling. Medellin has a system of public bikes, the only complication for a traveler is that it requires buying a MetroCard, which can be a bit of a hustle with paperwork, queues, and so on. The public city bikes service is called EnCicla and it is available for free during the first hour. So, if you enjoy riding maybe it is worth renting a bike!
If you are a confident driver and you are ready to risk taking a car – a good rental service is also available in Medellin. You can find world-famous Hertz, Global Car Rent, AVIS Medellin, and some other car rental shops. The minimum price is approximately $19 USD per day. 
Fitness and Health
Having been seated through the day working online as a digital nomad can be incredibly exhausting for your body but fortunately, Colombia is a perfect place to maintain an active healthy lifestyle. Also, it is worth mentioning that the medical service here is much cheaper in comparison to many western countries. I myself was hooked on orthodontic care because it was of high quality and super affordable! You can be sure that you will receive inexpensive treatment and medicine if you have a need. 
If you are used to exercising your body, you can find everything to satisfy your fitness itch in Medellin: spacious gyms with different classes, free calisthenic parks, various yoga, and dance studios. There are many gyms that are just behind the corner, like the chain of Bodytech.
Moreover, the government provides free fitness activities throughout the country which you can participate in. Every Sunday there is the Ciclovía organized in the streets of Bogota and Medellin. Basically, they block the main streets and form a special lane for cyclists and runners. Apart from that, you can find some calisthenic parks with weights and everything you might need to exercise if you don't want to buy a membership in numerous fitness centers. 
Diet is also not that hard as it might seem at first glance. Yes, there are many high-calorie delights that make gaining weight easy, but there are lots of healthy organic food in Colombia as well. Just think of the abundance of fruits and vegetables that this tropical climate can offer. It is an insanely big variety that has all the necessary vitamins and minerals for the body! The most important thing is not to overindulge in everything.
Medellin People
People in Colombia are very diverse, just like the Colombian wild landscape that includes everything from high snowy mountains to scorching hot deserts! Perhaps, this diversity is the reason for people having such a strong feeling of identification with their regional culture and taking pride in being a part of it.
Colombians love to joke about the different peculiarities of their folks and, in fact, they have special nicknames for each of them. For instance, people, who come from Antioquia land, are known as paisas. That is why, often when Colombians are talking about this region, you might hear the informal name of it – "Paisa land".
Though the first time I met paisas was not in Medellin, it was quite easy to pick up their origin because of the distinguished accent and the manner of the speech (slower than of many other Colombians and with distinct "pues" and "vos"). Besides, they were very "amable" (lovely) and they tended to say "amable" about almost everything which was very cute. We became friends in a snap, and here is necessary to mention the first fact: paisas are very friendly and optimistic. Later in Medellin, I only got more firmly convinced in it, while meeting new people and making acquaintances and friends. 
Some foreigners mistake paisas' friendliness with shallow or even scheming interest but it is not so. Most paisas are open and generous with what they have and readily share it with strangers and there is no hidden intent. They are just designed like this!
Apart from being good friends, paisas are great negotiators. They know how to do business and are happy to help with solutions if they have them, and even if they don't, probably they would try to find someone who does. Networking means a lot to these people and they take advantage of it naturally and with ease.
Many expats choose Medellin as their new beautiful home and people play not the last role in this decision. While Medellin is considered one of the most beautiful cities in the country, people here, surely, meet the city's standards.
My first impression of paisas was that they are very attractive! It is not a secret that, in some cases, it is connected to the excess of the available plastic surgery specialists. For a long time, Medellin has been known as the capital of inexpensive and high-quality plastic surgery of the world. So, you definitely meet beautiful and stylish people here, especially, at night in the party district. It might even seem as if you are surrounded by models: women with curvy bodies, long hair, and plump lips everywhere!
Overall, paisas are able to charm with their good nature and pretty faces. No wonder that here you find many mixed couples in which a foreign partner couldn't resist the fascination of the paisa culture and people and stayed for good. Also, it is quite common among foreigners to hunt the second half in Colombia, due to the reputation of their hotness, just like it is sung in Shakira's songs.
Medellin Insurance and Medical Care
Nomadic life can certainly be unpredictable and health insurance takes the center stage among all travel concerns.
Living in Colombia is a great adventure and most foreigners after the expiration of their international insurance think of ways to secure their health on the spot. Regardless of the reputation of the Third World country, Colombia is rated 22nd for the quality of healthcare system out of 191 countries, which sets it among the top in the medical industry. 
No wonder that in recent years medical tourism is booming in the country! People from North America or Europe are keen to come for a medical treatment that can be 60-80 % cheaper than in their home region. Besides, the quality of the service provision is by no means worse.
There are several options for foreigners to get provided with medicare in Colombia: the first one is an EPS plan and the second – a Prepagada plan. 
The EPS plan (Entidadas Promotoras de Salud) is the mandatory insurance for everyone who legally resides in the country. In order to apply for it, foreigners are required to have a Colombian ID (cedula) issued for those who are officially employed or have other relevant visa conditions. As a user of this plan, you can count on the primary medical services and make appointments in a public hospital.
The Prepagada plan is a private plan for someone who wants to have full and quick access to all medical services. It is obviously more expensive than the public EPS, but at the same time there is no requirement for the Colombian ID, the foreign passport will be enough.
Make sure you are fully covered by reading our full Digital Nomad Travel Insurance guide.
Jobs in Medellin
In recent years Medellin has become so popular that it swiftly grows with fresh members of the expat community. Sooner or later, new-comers that desire to live in Medellin realize that they need to find a source of income in order to stay on a long-term basis. For digital nomads it might not be a problem, working online is the best option if you want to travel and be flexible but,  in other cases, you need an offline job. And it might be challenging to get hired abroad, especially without a language. Keep in mind, that depending on the field it might be required to speak at least some Spanish.
So, among the questions that usually arise are: Where can I find a job in Medellin? Will the working visa be provided by the employer? 
So, if you have in mind to move to the City of the Eternal Spring, my advice will be to check the job offers online beforehand. It might be helpful and it can tremendously save your time and nerves. You can use popular websites such as Glassdoor.com, Indeed.com, Expat.com, and different groups on Facebook, like "Jobs For Gringos Medellin" etc. You also can try volunteer programs that are abundant now and vary activities from coffee picking jobs to teaching at public or private schools. Though, be aware that their rules also vary and some programs charge for participation and don't allow staying for long. However, in my opinion, it can be a good start. 
Normally, a working visa is provided but still, many companies prefer hiring locals due to the extra administrative work that is required for visa sponsorship. Therefore, get ready to elaborate on the advantages of your employing as Colombians won't miss "aprovechar" an opportunity to hire someone worthy.
Check out our in-depth Digital Nomads Jobs Postings to find the best jobs available for Digital Nomads.
Nomad Friendly
Value for Money
Internet
Workspace
English
Food
Safety
Health
Transportation
Friendly
Quality of Living
Cost of Living Medellin
Moving to Colombia as a digital nomad is beneficial in many ways and not the least for the finances. According to the research, the average monthly cost of living in Medellin is approximately  3,090,000 Colombian pesos ($ 854 USD) for a single person and approximately 6,650,000 Colombian pesos ($1836 USD) for a family of four. Moreover, the city is rated as 89% cheaper than the rest in the world, and it definitely adds some attractiveness for newcomers. Not just the cost of living is cheap, the city facilities are also very developed and meet the standards of the Western world.
In Medellin, the lifestyle you want to maintain will significantly influence your monthly budget. If the high-class amenities are what you expect, be ready to spend $150-200 USD per day on luxury hotels, fancy restaurants, and bars, taxis, or rented cars. On the other hand, for a modest living, even $30 per day can be enough if you stay in a hostel (approx. $10-15 USD) or use Couchsurfing.com and stay for free, go to local cafeterias ($5- 10 USD) or cook meals yourself, use the metro ($ 0, 70 USD for a ride) or just walk.
For digital nomads who have committed to spend longer in Medellin, it is possible to pay from $300 up to $1,300 per month for the rent of just the same type of an average apartment. The reason is the neighborhood's rank and choosing the trendiest spot can cost a pretty penny. Otherwise, food, transportation, and entertainment are quite cheap and everyone can afford something according to their finances.