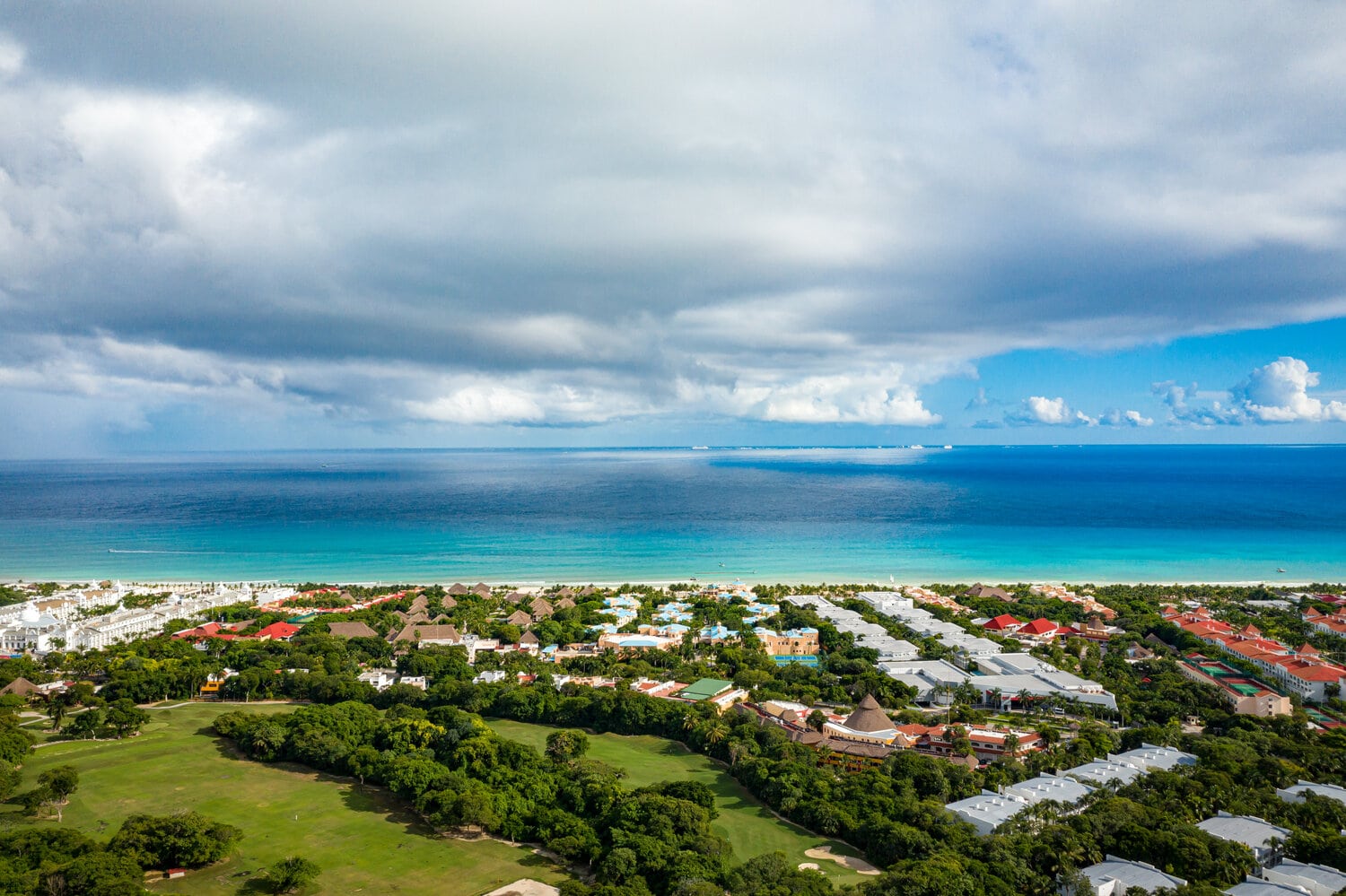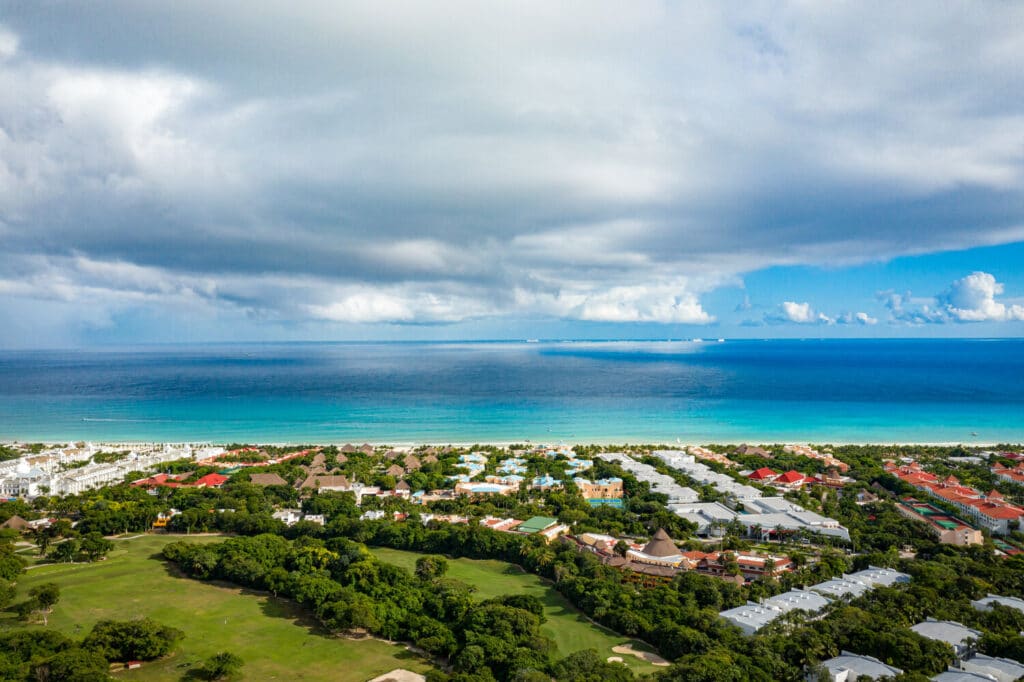 A Digital Nomad Guide to Playa del Carmen
Playa del Carmen is a favourite amongst digital nomads for a number of reasons. Located on the Yucatán peninsula on the shore of the Caribbean Sea, Playa del Carmen was once a little fishing village which has long since been transformed into a booming tourist destination. Its incredible beaches, comfortable climate and reasonable prices have attracted thousands of remote workers over the years.
Mexico is one of the easiest and most affordable countries around for obtaining a long term visa which makes moving there all the more easy for most nationalities. Playa del Carmen has a very favourable location with lots of day-trip locations such as Cozumel, Tulum, Holbox, Merida or Cancún close by. The state of Quintana Roo is known for its fascinating history with Mayan ruins all around. Combining affordable living costs and decent infrastructure Playa del Carmen is a paradise for digital nomads looking to get away from busy cities and set up life in a laid back beach town. 
Playa del Carmen has the benefit that you are in complete control over how much you want to spend living there. Its shoreline is dotted with luxury resorts and gated communities perfect for those looking for comfort and quality. However, just because your budget is tight doesn't mean Playa del Carmen is not an option for you. You can just as easily rent a room or a basic apartment and live an affordable life in Mexico. 
There are many sides to Playa del Carmen. Having other digital nomads and remote workers around always has the benefit that you'll find all the resources you need are already put into place. Coworking spaces are popping up all around town and Facebook groups will help you truly immerse yourself in the local community.
Nomad Friendly
Value for Money
Internet
Workspace
English
Food
Safety
Health
Transportation
Friendly
Quality of Living
Living in Playa del Carmen Overview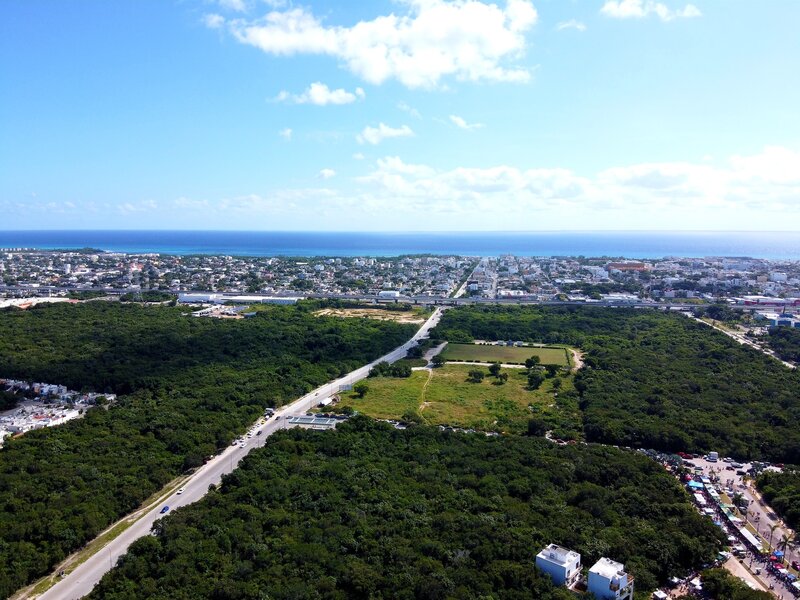 Digital Nomad Personal Experience in Playa del Carmen
It is true what they say, Playa del Carmen feels very different from the rest of Mexico. What I appreciated about this town was how small it is but how much there is to do and explore at the same time. Mexico for Digital Nomads is an easy country to navigate as a foreigner. The culture is open and welcoming and the language is easy to learn. With just a bit of basic Spanish you'll be able to find your way around and people are always willing to help. 
Life in Playa del Carmen is never stressful or overwhelming. For me it never stopped feeling like a beach vacation. With such a high quality of life and a relatively manageable cost of living there is no real reason not to live in Playa del Carmen at least once as a digital nomad. My favourite were the many trips you could do on the Yucatán peninsula. It is incredible how much there is to see in the area and how diverse the attractions are. From swimming with whale sharks to seeing ancient ruins or admiring the local art there is always something to do. I'd highly recommend renting a car at least once and driving down the coast or to places like Chichen Itza. 
Then there is the delicious food. Mexico has one of the best cuisines in the world in my opinion and it doesn't have to be expensive to eat out. After living in Playa del Carmen for a while you'll know exactly where to go for the best tacos or other local specialties. Finding a work life balance is incredibly easy in Mexico. You can get work done in the mornings and spend your afternoons by the beach. Even the coworking spaces feel like you're on vacation. Why anyone would like to live and work anywhere else in the world is beyond me.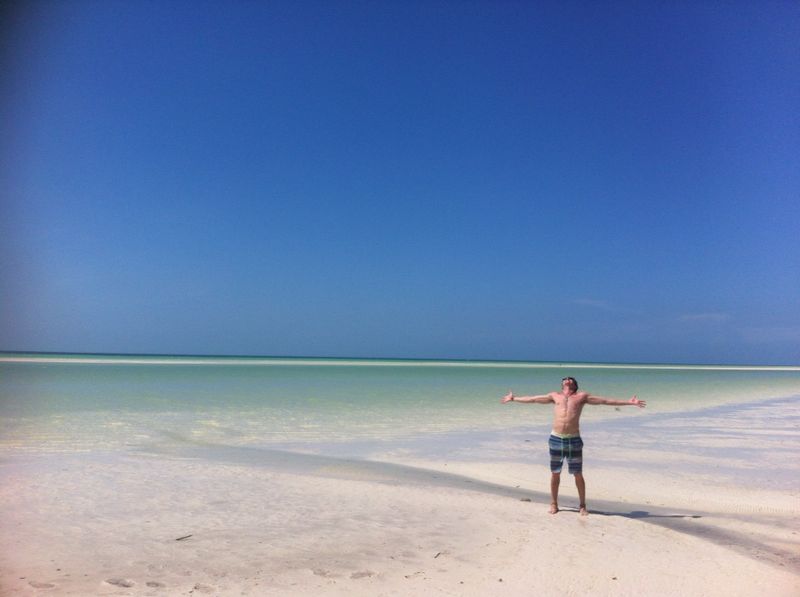 Work in Playa del Carmen
You'll find no shortage of places to work from in Playa del Carmen. The town has an incredible selection of little restaurants, cafes and beach clubs all perfect for getting some work done on the go. As a digital nomad you'll enjoy the many hidden spots and beachfront places where you can have a drink while still being productive.
Working from home is also a great option and especially good for those visiting Mexico on a budget. Keep in mind that not all rental apartments will have great wifi so make sure to check the speed before you decide on a place.
If a noisy cafe is not for you and you can't imagine being home alone all day you should try one of Playa del Carmen's coworking spaces. Here is a list of the best ones in town.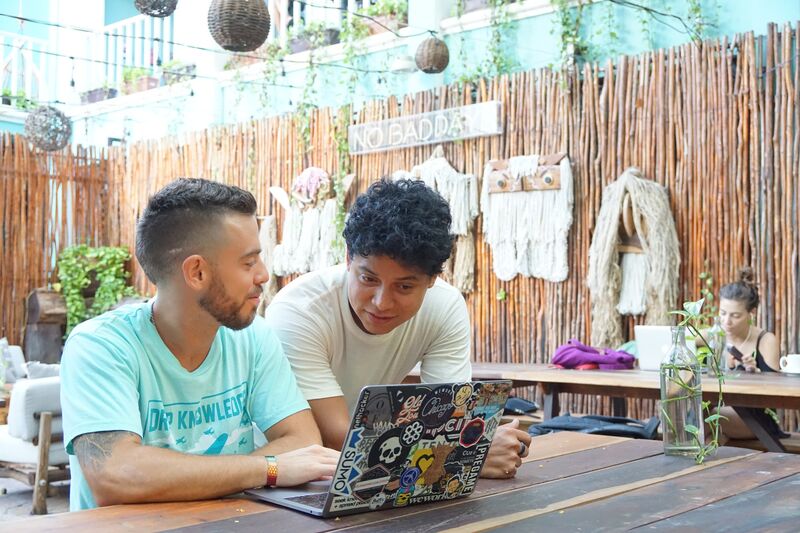 Places to Work in Playa del Carmen
Selina Cowork in Playa del Carmen is a large hostel chain that offers the perfect work-life balance for you. With a beach-side location and incredible reviews, this hostel is a great place to stay for those wishing to be productive and surround themselves with other digital nomads. This space has modern coworking facilities with high-speed internet, free coffee and tea, a swimming pool and air-conditioning. Selina Cowork offers great amenities for digital nomads such as standing desks, private rooms and a library. Prices start at 10$ per day and weekly as well as monthly passes are available.
Work Zone Coworking lies a little further away from the touristy areas of Playa del Carmen, around 30 minutes from the beach. This coworking space is perfect for those coming to the area to work without any distractions. It's a hotspot for digital nomads who live in Mexico long term and who are looking to improve their Spanish. Spend your lunch break on the sun terrace or relax in the lounge which has Netflix access, a Playstation and a Wii. Prices start at 10$ per day and you'll be pleased to find that this area is a lot more affordable than the city centre of Playa del Carmen.
Bunker Coworking in Playa del Carmen lies just two blocks away from the beach and is known for its incredibly fast internet speeds and friendly atmosphere. You can rent private or shared spaces on a monthly, daily or weekly basis. Bunker Coworking also holds regular workshops for members which can be a great networking tool. A day pass costs 12,5$ which can be well worth it if you're looking for a modern and versatile workspace. This is also one of the only pet-friendly coworking spaces on this list.
The Cowork In combines comfort with functionality and provides a great work environment for digital nomads. While its location is not the most central, the Cowork In boasts some of the best wifi in the city which is perfect for those coming to do their work. This space is made for working and designed to encourage productivity. There is an outdoor space which is perfect for relaxing during your lunch break. Prices start at 12,50$ per day.
Nest coworking is one of the most popular coworking spaces for digital nomads in Playa del Carmen. It's known for its central location right on the 5 Avenida, the busiest street in town. The space is separated into wings with different themes and work styles. Nest offers both communal and private areas most of which have a quiet and concentrated atmosphere. The outdoor space is especially popular as are the courses that Nest regularly offers. A day pass costs around 15$ and there are long term options available.
be sure to check out some other coworking spaces in Playa del Carmen.
Where to live in Playa del Carmen
Best Neighbourhoods
Where you should stay in Playa del Carmen will depend a lot on whether you will have a car or not. The area is large and you might have trouble getting around if you're only reliant on public transports and taxis. If you're not planning on buying or renting a car you should definitely look for a place to stay in the Centro. Everything in this area is accessible by foot and while there are both touristy and more local neighbourhoods in this area you'll find pretty much everything you need. 
Playa del Carmen is a safe place, however, if you're concerned about walking home alone late at night as a female or living by yourself you should try to stay somewhere between the 30 Avenida and Avenida Juarez. This area is deemed to be safest although you're unlikely to have problems if you stay outside it. The closer you stay to the beach in Playa del Carmen the more you should expect to pay for accommodation.
Places close to the 5 Avenida which is Playa del Carmen's main tourist and party street can also be quite expensive. However, there are plenty of places to choose from in the Centro so there is no real need to stay somewhere else if you don't want to. Some of the nicest and most convenient areas to stay in the Centro include Colonia Hollywood, Coco Beach and 38th Street.
Gated Communities
Playa del Carmen has an incredible selection of gated communities and resorts perfect for those looking to have everything in one place. One of the most famous and largest residential communities in the area is Playacar. This giant complex is located in the south of the city and has everything from a golf course, shopping malls and even some Mayan ruins. You will always find incredible apartments in Playacar, however, expect to pay a lot more than you would outside of the community. 
There are also other, smaller gated residential areas such as Selvanova, Los Olivos or Ounta Estrella. These are usually located further away from town with not much available within walking distance. However, they offer incredible amenities and high-end safety facilities. Staying in a gated community is a great choice for those coming to Playa del Carmen with their family. If you plan to stay in a gated community in Playa del Carmen you need to own a car. Otherwise you will have to rely on taxis to get around. 
Colosio is a fairly new area in Playa del Carmen with lots of new construction and relatively affordable prices. Located just north of the Centro this area is close to the beach with beautiful views. The city centre and all its amenities are not too far away which can be a great compromise between location and price. However, this area is not the safest especially if you're exploring the area on foot. Having a car is highly recommended if you're staying there.
Find an Apartment in Playa del Carmen
If you're a digital nomad coming to Playa del Carmen to stay for a few months or maybe even longer you should find accommodation on arrival. You can use websites like Playa Rentals to look for apartments or houses for rent, however, you'll find the best deals when you're there and can take some time to decide where exactly you want to stay. Oftentimes you'll want to look at a place in person before you commit to renting it to compare things like wifi speed, location and the amenities. A great way to do this is booking a hostel or hotel for the first few days in Playa del Carmen and then taking some time to look at different apartments or houses. This is also important for avoiding possible scams.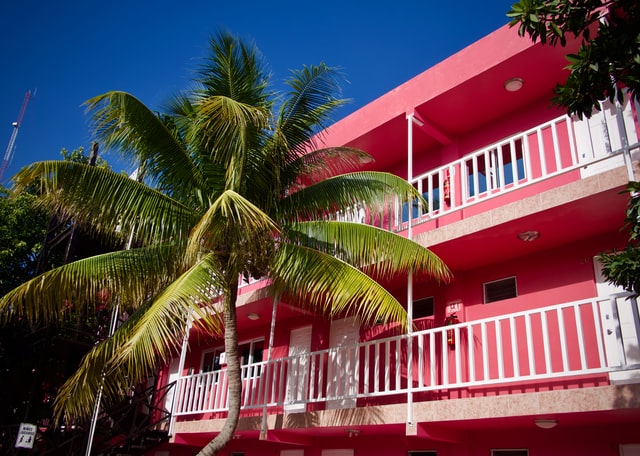 Many rentals in Mexico are not advertised online so sometimes the best way of finding a good deal is by simply walking around a desirable neighbourhood and keeping an eye out for signs. Usually, homeowners are keen to rent their places as soon as possible so moving in the next day should not be a problem. 
Another great way of finding rental apartments in Playa del Carmen is by browsing Airbnb. While most places will seem quite expensive at first, many landlords also rent out their properties long term, especially during the offseason. Definitely try contacting some homeowners on Airbnb and try to negotiate a lower price if you commit to staying for a few months or even a year. It will help a lot if you speak Spanish which might get you a better price.
One of the best ways of finding a place to stay as a digital nomad in any city is on Facebook marketplace and in Facebook groups. Playa del Carmen has many different ones like Mexpats Club or Rentas y Roomies where different types of apartments and houses are posted regularly. The landlords advertising in this group will usually be used to hosting digital nomads and be familiar with their needs. This is also a great opportunity to network with other like-minded people in Playa del Carmen and even find roommates. Renting a larger house with other digital nomads can save you a lot of money and could make your time in Mexico a lot more enjoyable. You can always view a property before you sign a contract and decide whether it is for you
Of course, if you are short on time and want to arrive in Playa del Carmen with a plan you can look for a place to stay beforehand. However, committing to a contract before you see an apartment in person can be risky especially if you have no prior experience of renting in Mexico. 
Prices of rental apartments and houses in Playa del Carmen vary greatly according to location and season. You can find a shared unit for as low as 250$ per month although you should expect to pay at least 600$ for a one-bedroom apartment. For luxury places with a pool and a central location you should expect to pay at least 1,000$ per bedroom if not more.

Cheap Places to Stay in Playa del Carmen
If your budget is tight and you want to save some money on accommodation in Playa del Carmen you should consider staying somewhere further away from the centre of town. In general, the closer to the beach the more expensive an apartment will be. Especially those with a view of the ocean will cost you a lot of money. Try to look for places around the Centro, away from the tourist places which usually won't break the bank. You'll find the most affordable options by simply walking around and calling numbers on for-rent signs which are sometimes not advertised online. Ask around for rooms in shared houses or look for potential roommates in Facebook groups to bring down the cost of rent. Finding a basic house with several bedrooms further away from the beach might be the most affordable option for living in Playa del Carmen. 
In general, what makes a place expensive in Playa del Carmen is the location and the amenities. If there is a pool or balcony you'll pay a lot more than for a room in a more basic house. If you're really trying to save money try to avoid tourist areas and holiday rentals which will be a lot more expensive than those geared towards locals. You'll have a huge advantage if you speak some Spanish which will make asking around a lot easier. Keep in mind that prices will be more expensive from December to March during the high season. You'll find the most affordable options from May to October when less tourists visit the area.
If you enjoy being around people you could also consider staying in a hostel long term. This can be incredibly affordable although you'll have little privacy and no set workspace.
Mexico Visa for Playa del Carmen
A large number of nationalities are eligible for Mexico's free tourist visa which lets you stay in the country for up to 6 months. For digital nomads this is an option, however, tourist visas can be limiting and you need to be very careful about conducting work online without an official work visa. It is not per se prohibited, however, you might be entering a grey area and it could be better to apply for a temporary resident visa just to be on the safe side. Plus you'll have the added benefit of not being forced to exit the country after 6 months which can save you time and money.
The temporary resident visa makes a lot of things easier like buying a car, opening a bank account or even buying land. As a digital nomad it will make you more flexible although applying for the visa is associated with a little bit of effort. You will have to apply before you enter Mexico and will most likely have to be interviewed at a consulate before you can be approved. The process takes some time and you should take care that you have all the required documents to make sure you don't have to start over. The good news is that it only costs 36$ to apply for a temporary resident visa and you get to stay in Mexico for up to 4 years. This is the perfect solution for digital nomads hoping to make Mexico their long term home.
Culture and Food in Playa del Carmen
Mexico is known for its colourful culture and delicious food that is being appreciated all around the world. Playa del Carmen was once a quiet fishing village which has long since been transformed into a busy beach town popular amongst digital nomads, expats and tourists. Despite the many luxury resorts and brand stores Playa del Carmen has not lost sight of its roots. The town manages to combine both the traditional and modern culture of Mexico with ancient Mayan ruins dotted around the landscape. The town is colourful and vibrant with authentic artisanal products and art as well as incredible food. 
A popular celebration in Playa del Carmen is the famous Semana Santa. This special form of celebrating easter is found in Spanish-speaking countries around the world but Mexico puts its own unique twist on it. For two weeks schools and many businesses close and hundreds of thousands of visitors will arrive in Cancún and Playa del Carmen to celebrate. During this time the streets are packed and there will be parades and many celebrations all around. Semana Santa is arguably the most important traditional holiday in Mexico and can be an incredible sight to witness.
The official language in Playa del Carmen is of course Spanish, however, you will find that some people actually still speak the ancient Mayan language. All around town you'll encounter Mayan influences especially in the arts and cuisine. Playa del Carmen's ancient history is rich and fascinating and will make you want to stay in this mysterious place for longer than you might have planned.
Mexican Food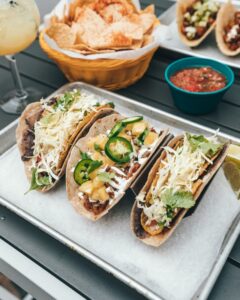 Playa del Carmen is a great place to visit for real authentic Mexican food. This is not to be confused with the Americanised Tex-Mex which many might consider to be Mexican. Come to Playa del Carmen for some of the best tacos around as well as incredible enchiladas and much more. Tacos are best enjoyed from a local street food stall which is not only affordable but also incredibly delicious.
In many restaurants around Playa del Carmen you can order home-made guacamole which is prepared right at your table and served with chips. This form of guacamole is unlike any other you might find in countries around the world and should be at the very top of your must-try list when visiting Playa del Carmen. While you are there you should also make sure to try Marquesitas, a type of crepe filled with both sweet and savory items. Then there is Pozole, a hearty soup with many unique flavours. Also keep an eye out for so-called Salbutes, pan-fried tortillas served with various toppings. Salbutes are usually eaten as a small snack and can be found at street food locations as well as small restaurants.
A Mexican proverb says: "Comida sin Chile es como amor sin besos" (a meal without chili, is like love without kisses) and this can be clearly seen when ordering traditional food in a restaurant in Playa del Carmen. You will find Tortillas, tacos, enchiladas, quesadillas sometimes rolled, sometimes flat, sometimes soft or hard with different fillings everywhere and they will soon become your favourite food.
Playa del Carmen Nightlife
It's no secret that Playa del Carmen is a bit of a party town. In recent years more and more clubs have been popping up around the city centre and there are plenty of tourists around who come to Playa del Carmen for the main reason of dancing the night away by the beach.

As a digital nomad living in a popular tourist location with vivid nightlife can be both a blessing and a curse. On the one hand you will have to endure loud clubs and crowded streets full of drunk tourists but on the other you'll have a town at your doorstep where others spend their vacation.
The good thing is that nightlife in Playa del Carmen is very concentrated to the Centro and not as spread out as it is in many other cities. That means if partying is not for you you won't come across it much if you don't live somewhere close to the 5 Avenida, 10 Avenida or 12 Avenida. This is where you'll find the majority of clubs and bars. Definitely avoid renting an apartment nearby if you are looking for peace and quiet.
Some of the most famous clubs in Playa del Carmen include Abolengo, Mandala, Tribeca, Coco Bongo and La Vaquita. Come here to party all night and have drinks with friends. Most clubs charge an entry fee or cover somewhere between 5$ and 10$. If you're on a budget you should try arriving at a club before midnight which will often get you in for free.
A great way to meet new people when you first arrive in Playa del Carmen is to go on a pub crawl. You'll pay a flat rate fee which gets you access to a variety of different clubs around town and even includes a few drinks. You won't have to organise or plan anything and can focus on having fun with new friends.
The biggest night for going out in Playa del Carmen are Saturdays. Most clubs will be closed Sundays to Tuesdays but bars will still be open during those days. Thursdays and Fridays are usually also quite busy and a good choice for going clubbing especially during the high season.
Dress Code
You'll be glad to know that few clubs or bars in Playa del Carmen have a dress code. It's a beach town so everything is very relaxed with no strict guidelines. While some party-goers like to dress up there is no real need to if you don't want to. You won't have any trouble getting into the majority of bars in shorts or even flip flops. 
Laid back nightlife
If you're looking for a more laid back nightlife experience you should head to one of Playa del Carmen's many bars. There is lots of live music around and drinks are more affordable than in clubs. For a relaxed night with friends we'd recommend Caiman, Fah, Kitxen or La Bodeguita del Medio all of which are located somewhere in the Centro close to 5 Avenida. 
Things to do in Playa del Carmen
Take a dip in a cenote


Cenotes are freshwater pools formed by the collapse of underground caves. Their water has a pleasantly cool temperature since it comes from underground and is the perfect way of refreshing yourself from the midday heat. There are three different types of cenotes on the Yucatán peninsula. Open cenotes are completely open air such as Cenote Azul south of Playa del Carmen. Then there are semi open cenotes that are partially covered, but have larger openings where fresh air can get through, such as the famous Cenote Ik Kil Cenote which lies further inland. Finally there are the underground cenotes that are part of a tunnel system without daylight like Cenote Multum-Ha. If you have enough time, you should check out all three types, each one has a unique experience to offer.

Explore Chichen Itza


Chichén-Itzá, Mexico

Chichen Itza is a large Mayan ruin complex located just over two hours from Playa del Carmen. It is part of the new seven wonders of the world and one of the most famous tourist attractions in the area. It is definitely a good idea to get there early in the morning right after it opens, as the heat can get very unbearable around noon as crowds of tourists arrive in large buses. If you want to learn more about the Mexican culture, the entrance fee of $13 is definitely worth it. You'll be amazed at the fascinating history of this incredible place.


Visit the Frida Kahlo Museum


Frida Kahlo is one of Mexico's most famous artists and Playa del Carmen is home to an entire museum dedicated to her work. Come here to learn about her life and the stories behind her artwork. The museum is a modern and diverse space with many interesting exhibits that will let you delve deeper into Mexico's rich culture. The museum is still fairly new and why it doesn't exhibit any original pieces by Frida Kahlo yet there are plans to do so in the future. Opening hours are from 9:00 am to 11:00 pm every day and the entrance fee is 15$.

Witness the Flying Pole Dancers of Papantla at the Parque Fundadores


The Parque Fundadores is a small park on the beach of Playa Del Carmen that is easy to spot because of its 16-meter high statue. Every day you can watch the incredible spectacle of the Flying Pole Dancers of Papantla climbing the pole and performing an incredible dance that is an incredible sight to witness. With flute and drum music this is a must-see for anyone visiting Playa del Carmen. While you watch the spectacle, you can buy cut fruit for $1 at one of the many fruit stands as a refreshing midday snack. Don't forget to leave a tip for the performers at the end of the show to keep this great tradition going.

Take a ferry to Cozumel


The largest island in Mexico, Cozumel can be reached within 40 minutes by ferry from the pier of Playa del Carmen. Tickets cost around $19 for a return trip which you can buy online or directly from one of the vendors on the beach. Cozumel has a lot to offer and you could even stay for a few days or plan a weekend trip. In addition to historic Mayan sites, there are many incredible beaches on Cozumel where you can swim with turtles or go snorkelling. Take some time to explore the island with a rented bike or beach buggy and enjoy one of the many restaurants or beach clubs.

Enjoy a day at a rooftop club


If you want to have a relaxing day, but don't want to take a long drive, spend your day in one of the many rooftop pool clubs in Playa del Carmen. The entrance fee varies from club to club depending on what they have to offer. For a rooftop club with a DJ and an ocean view, you will have to pay about $30, which you can use as a credit for drinks or a delicious lunch from the in-house restaurant. It's worth coming early to get a good spot in the shade, otherwise you'll be exposed to the midday heat.

Take a day trip to Tulum

Cenote Tortuga, Tulum, Mexico. Photo by Jorge Fernández Salas

Tulum is a very popular beach town about an hour drive south of Playa del Carmen. This is a great spot for a day-trip or to spend a few days if you have the time. Probably one of the most exciting things to see in Tulum are the famous Mayan ruins, which date back to the 13th century. They're located on a cliff, providing a great backdrop for photos or to simply explore. There are numerous cenotes nearby which offer the perfect refreshment after a long day. Don't forget to visit one of the many world-class beaches that have made Tulum so famous.

Visit Isla Mujeres

Isla Mujeres, which translates to "the island of women", is named after the Mayan Goddess Ixchel, the Goddess of fertility and happiness. It's located 85 km north of Playa del Carmen, just off the shore of Cancún. A 20-minute ferry ride will take you to this gorgeous island, which has a more relaxed and laid-back feel than the busy Cancún. If you're an avid diver or snorkeller, you should visit the Underwater Museum of Art in Isla Mujeres where you can see old cars and sculptures underwater. If that's not for you, you can explore the island by golf cart or stroll through the old town where you can admire the Sea Wall Murals created by street artists to draw attention to the extinction of endangered marine animals.

Walk Playa's famous 5th avenue

Playa del Carmen's famous 5th Avenue is known for its many bars, restaurants and legendary nightlife. During the day, you will find everything your heart desires from shopping malls with well-known brands such as Hollister or Abercrombie & Fitch to souvenir shops and small stores selling local products and art. At night, 5th Avenue is transformed into a colourful and busy street with cocktail bars and large clubs just around the corner. This is a great place to come for dinner with a decent selection of restaurants that offer local specialities for dinner. If you need a break after a long day of work, 5th Avenue offers the perfect distraction during the day and at night.
Best Time to Visit Playa del Carmen
Temperatures in Playa del Carmen average between 27°C and 32°C with high humidity and fluctuate little throughout the year. Maximum temperatures are reached in the summer months from April to September when the weather is hot and wet. The rainiest months are from June to October when monsoon-like showers and thunderstorms are common.

The period between June and the end of November is considered hurricane season on the Caribbean coast. Playa del Carmen does experience some hurricanes, however, usually they are manageable. If you're planning to arrive in Mexico during this time keep an eye on the weather to avoid cancelled flights.

The months from late November to May are considered dry season, with a maximum of 7 rainy days per month. This is a popular time for tourists to visit Playa del Carmen and prices can be high. You'll get to enjoy warm weather with little rain.
The water temperature remains constant throughout the year with a warm average of 28°C. From April to August Playa del Carmen is frequently affected by large amounts of seaweed that are swept ashore by the changing currents. The beaches are covered in the algae which can make the water brown and murky. Usually the mainland is more affected by this than the nearby islands which means that many tourists will escape to Cozumel or Isla Mujeres. The seaweed season has gotten more and more unpredictable in the last years so you'll most likely encounter it at some point. City cleaning and hotel staff try their best at cleaning the beaches regularly so swimming can still be possible.
Playa del Carmen for Families
Playa del Carmen might have the reputation of being a party town but it's actually a great place to live with your family. There's a decent selection of private international schools around with some good local options as well. Childcare and private tutoring are quite inexpensive in Mexico although international school fees can be high. 
Playa del Carmen's favourable climate makes life with kids easy. The beach is never far away and you'll find a lot of outdoor activities for the whole family. If you're coming to Playa del Carmen with children it's definitely worth finding an apartment or house with a pool. Always having access to one will make your life as a parent a lot easier and will help your kids settle in. Whether you're sending your kids to a local school or an international option they will have to learn at least some Spanish at some point. This will be a huge advantage later on in life when speaking multiple languages will be a great benefit. Definitely invest in Spanish lessons or get in touch with local families. You can also consider joining a Spanish-speaking day-care or after-school activity for the whole family to participate in.
One of the best things to do with kids in Playa del Carmen is Xcaret Eco Park. This all-in-one theme park and resort has activities for families and kids of all ages. This place is worth a day-trip or even a weekend if you're willing to spend some money. Crococun Zoo is another popular family-friendly activity in the area with lots of exotic animals to see and learn about. If you have slightly older children you'll love the many opportunities for snorkelling and water sports which you can find all around Playa del Carmen. Check out the local cenotes and of course, spend a day at the gorgeous beaches.
Living in Playa del Carmen
Playa del Carmen Transportation
Playa del Carmen does not have its own international airport so most people choose to fly to Cancún instead which lies around one hour north. If you land in Cancún, you have several options to get to Playa Del Carmen. There is a public bus from the airport to Playa Del Carmen which is probably the cheapest option for around 11.50$. The disadvantage is that the bus only brings you to a public bus stop and you have to make your way to your accommodation alone from there. 
You can book an official airport taxi to take you to Playa del Carmen from Cancún online in advance, which will cost about 45$. You'll pay at least 70$ if you book one on arrival at one of the many counters. If you are planning to rent a car anyway, it might be worth doing it directly at the airport to save the cost of a taxi ride. When you book your accommodation, look for free pickup services offered by many hotels and resorts.
Once you are in Playa Del Carmen, you can actually walk to most places or take a bike which you can rent in one of the many small stores. For longer trips within Playa Del Carmen you can take a taxi if you don't have your own car, but watch out for inflated prices and scams. Taxis have fixed rates and the drivers are actually required by law not to charge more, but this is rarely controlled. Always ask for a taximeter and do not agree to fixed rates which will almost always be overpriced.
If you have trouble finding a taxi, you can call one using Whatsapp numbers but they tend to charge a 10 peso flat rate fee.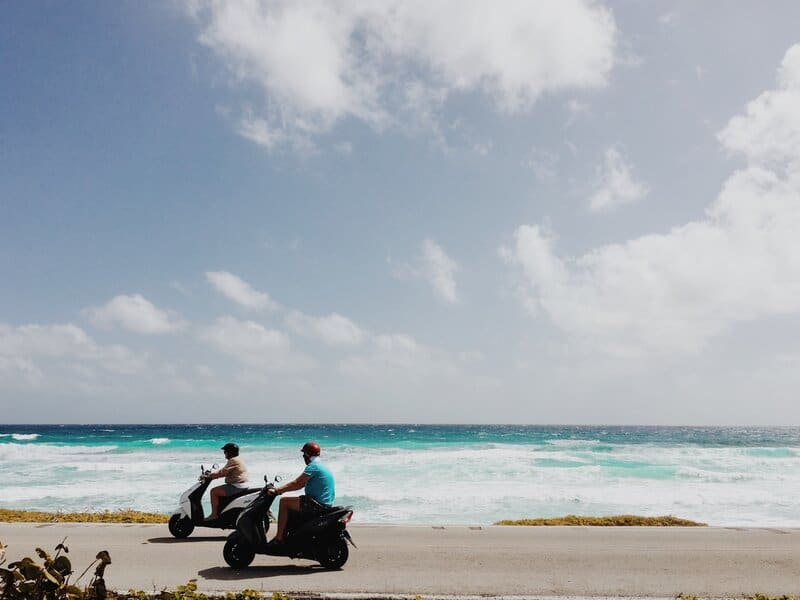 Buses and Colectivos
Playa del Carmen has a decent public bus system which is very affordable. However, most routes lead to the outskirts of Playa del Carmen which might not be very useful to you if you live in the Centro. If you have the opportunity you should definitely try out the buses especially if you're staying in Playa del Carmen on a budget.
A really great form of public transport in Playa del Carmen are the so-called "Colectivos". These are small minivans that drive along the coast from town to town. They mainly drive on the highways and stop anywhere where people want to get in or out. In Playa Del Carmen there are two official routes, one to Tulum and one to Cancún. For a single trip you'll pay between 1-2$  which is much cheaper than a taxi. However, it must be mentioned that Colectivos tend to be very cramped and getting a free seat can be tricky. Space for luggage larger than a daypack is usually not available. If you are going on a trip with a larger group, it is better to take a taxi and share the cost.
If you're planning on staying in Playa del Carmen for an extended time it's highly recommended to buy or hire a car. This will make you a lot more flexible especially if you plan on doing some sightseeing in the area. If staying in the Centro is your plan then you'll most likely get by without one, however, you'll have to factor in transport costs for taxis or buses should you wish to leave the city.
Fitness and Health
Playa del Carmen has plenty of options for digital nomads to stay fit and healthy. Because the weather is quite hot in Mexico most people prefer working out in indoor gyms to keep cool. Some gated communities and apartment complexes might have their own gyms for residents to use. If this is not the case Playa del Carmen has some great gyms to choose from. 
Evolve Fitness has three locations close to the Centro with regular classes and a great selection of equipment. Prices start at around 48$ per month which includes access to all locations. 
Another popular option is The Gym which offers even more fitness classes than Evolve as well as a large swimming pool. At 56$ per month it is a little more expensive, but it might be worth the investment for those wanting to work out regularly.
You should also check out the Mario Villanueva stadium which has a large running track as well as a soccer field open to the public. They have a small outdoor gym perfect for a quick workout on a budget.
With the ocean at your doorstep a great option to stay fit in Playa del Carmen is to go for a swim or try your luck at water sports. While it's not really possible to surf in Playa del Carmen it's a popular spot for Stand-Up-Paddles. There is even stand-up-paddle yoga which requires a lot of focus and concentration. Not a fan of fancy workouts or swimming? A simple run by the beach can be an incredible way to start your day in Playa del Carmen.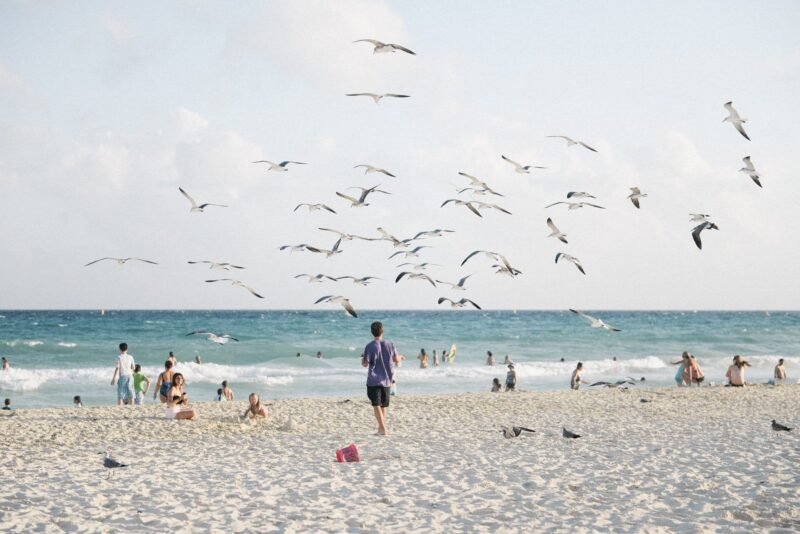 Playa del Carmen People
Playa del Carmen has just over 250,000 inhabitants including a large expat community. Many digital nomads appreciate the small size of this town as it is not too overwhelming but still has plenty of things to see and do. Once a small fishing village Playa del Carmen has been enjoying a considerable increase in tourism over the last years. Its comfortable climate, beachfront location and laidback lifestyle has attracted thousands of digital nomads and remote workers who have created a growing expat community.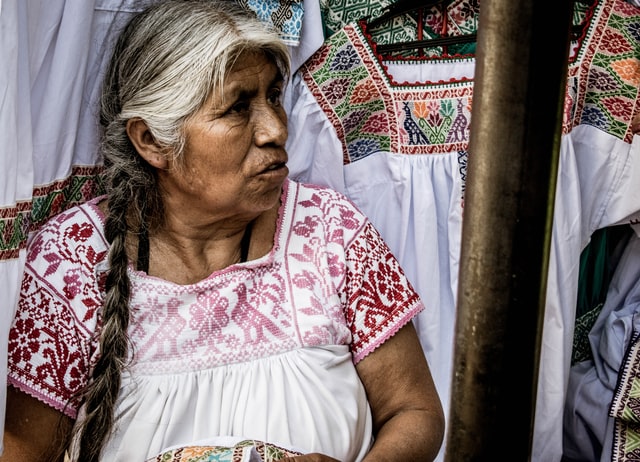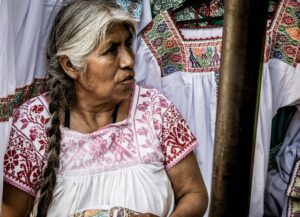 The main spoken language in Playa del Carmen is Spanish although you'll find that some locals have also kept the Mayan language alive. While learning Mayan is not a necessity you should definitely consider learning at least some Spanish which will help make your life in Playa del Carmen a lot easier.
Of course, most people speak English in the tourist areas such as 5 Avenida, the beach clubs and large restaurants. However, you'll soon notice that outside of this little bubble you won't get very far without some basic Spanish knowledge. Luckily the language is easy to learn and with a bit of practise you'll be able to communicate in no time. Especially trips to the doctor's office or official documents such as rental contracts are usually only conducted in Spanish. Learning the language will be an important investment if you plan to stay in Mexico longer.
The people in Playa del Carmen are friendly and open towards foreigners. Tourism is the main industry in the area and Playa del Carmen is a popular location for expats from around the world. To make connections with like minded people have a look at the Facebook group Mexpats which aims to connect foreigners living in Playa del Carmen. There are a large number of American expats in the area although you'll find people from all around the world.
Safety
Playa del Carmen is considered a safe place to live. It's a holiday destination so you won't have to worry about crime or personal safety while you are there. As in any town there are safer areas and those that should be avoided after dark. If you stay somewhere around the Centro and avoid walking around alone late at night there is no need to worry. 
Playa del Carmen is often described as feeling different from the rest of Mexico. This might be due to its popularity amongst international tourists but the town has many European and South American influences. Chances are you'll always find someone from your own home country in Playa del Carmen. It's a very international place considering it is so small which can help with the culture shock you might experience if you're coming from another country. Mexico is a friendly and open place with incredible culture and beautiful scenery. It's a great spot to live as a digital nomad and should not be missed.
Insurance and Medical Care
Medical care in Playa del Carmen is decent and up to international standards. There are multiple hospitals, clinics and doctor's offices around town which you can go to in case of an emergency. However, keep in mind that Playa del Carmen is not a big city. For more specialised and complicated treatments expats and locals tend to go to the nearby city of Mérida which has world-class facilities and might be the better option. For minor treatments or regular checkups the hospitals and clinics in Playa del Carmen are more than sufficient. 
Hospitals in Mexico are for profit which means you usually need to provide a proof of funds before receiving treatment. For urgent care or emergency procedures this can quickly cost between 1,000$ and 2,000$ if you are a foreigner in Mexico. As a digital nomad you should always have Nomad medical insurance which is usually best to obtain from your home country. Prices can vary greatly depending on where you are from but medical insurance is almost always worth it just for the peace of mind. In general, you will have to pay medical fees up front and the insurance company will reimburse you later on.
A regular doctor's visit in Playa del Carmen will cost around 3$ with services such as blood tests or x-rays all costing extra. Medication is usually quite affordable and can be obtained at one of the many pharmacies without any problems. Keep in mind that most doctors do not speak English so come with a Spanish-speaking friend or be prepared to translate.
Jobs in Playa del Carmen
Finding a job in Playa del Carmen will be difficult but not impossible. First you need to consider the legal aspects of working in Mexico as a foreigner and whether you need to apply for a permit. This can take some time but is possible if you really want to find a local job. However, keep in mind that like many countries Mexico has a policy of hiring its own nationals over foreigners. Therefore companies must find a reason why the job cannot be done by a Mexican and should instead be given to a foreigner. This can be tricky especially for unskilled jobs.

If you're a digital nomad already and are looking to earn some extra money it is highly recommended to look for work online rather than in Playa del Carmen. This will save you the trouble of having to obtain a work permit and you won't encounter any legal issues. If this is not possible for you you can try Facebook groups or local job boards to see if anyone would be willing to hire you. In most cases, you will need to speak Spanish to find a good job although some tourist businesses might be looking for English speakers. Again, keep in mind that it is important to respect local laws and regulations. If you're visiting Mexico and planning to stay there for a while you should have a steady source of income available to you or work on making money online to make sure you are not going to be in financial trouble.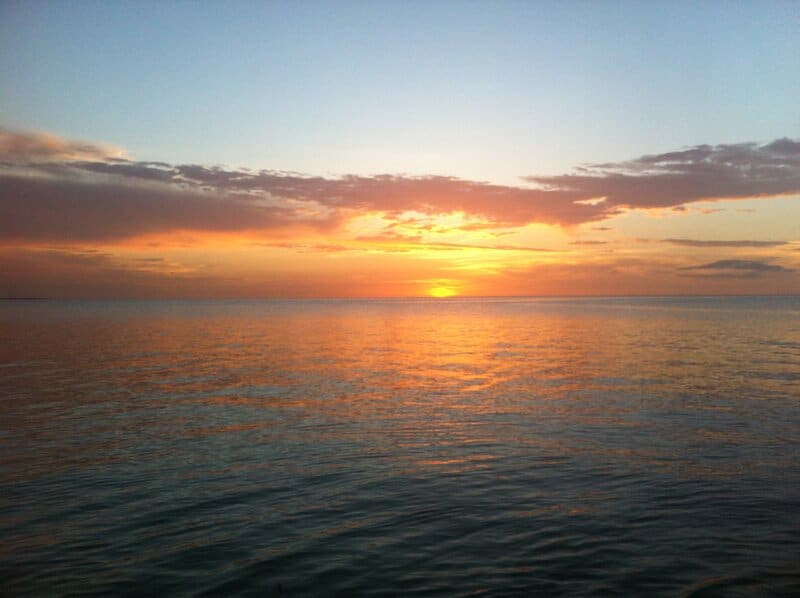 Nomad Friendly
Value for Money
Internet
Workspace
English
Food
Safety
Health
Transportation
Friendly
Quality of Living
Cost of Living Playa del Carmen
Playa del Carmen is a decently affordable place to live as a digital nomad, however, you can also end up paying a lot depending on your lifestyle. You can keep your budget fairly small if you stay in very basic accommodation which you might find for as little as 250$ per month for a double room. Electricity usage will usually also have a large effect on what you spend and can get quite expensive. Of course, eating out and nightlife will be expensive so shopping in local grocery stores and cooking for yourself is highly recommended.

Transport is another factor that can either be really expensive or affordable depending on where you live and if you have a car. If you have an apartment with a central location you might be able to walk to most places. However, if you have a car or need to rely on taxis these expenses will add up over time.
If you stay in a very basic apartment, walk everywhere or take a local bus and try to save money on groceries and electricity you might be able to cut down the budget below to around 550$. 
Sample expenses for one month in Playa del Carmen
Essential costs
Basic one-bedroom apartment- 600$
Bills for water, gas, electricity, wifi – 150$
Public transport – 40$
Groceries – 150$
Cell phone plan – 30$
Laundry service – 20$
---
990$ Total per month
Optional costs
Eating out and nightlife – 150$
Membership at a coworking space – 150$
Health insurance (varies greatly according to country) – 35$-100$
Budget for day-trips – 200$
Gym membership – 50$
Long term car rental (around 50$ per month for insurance if you buy a car) – 1000$
Gasoline – 75$