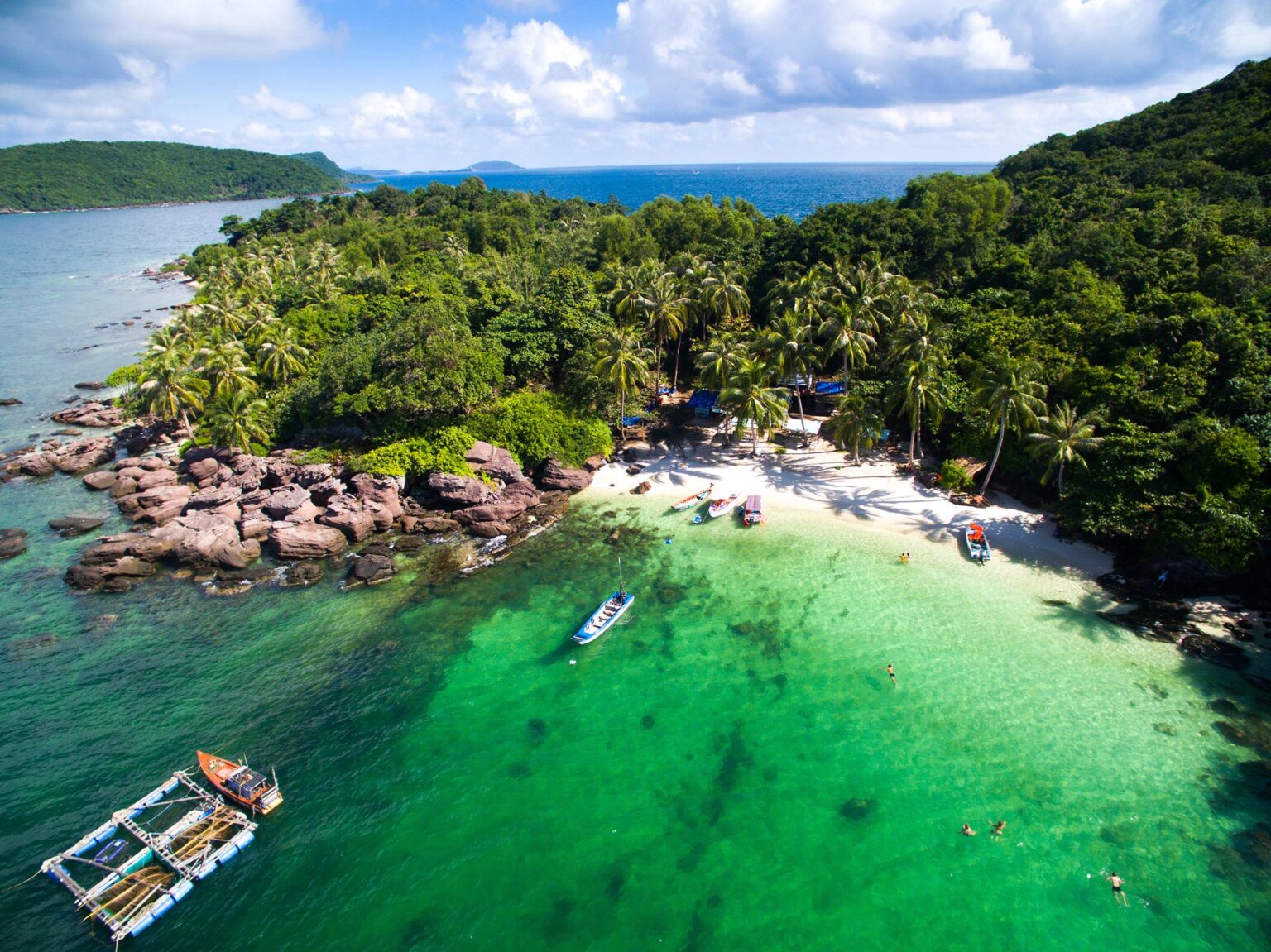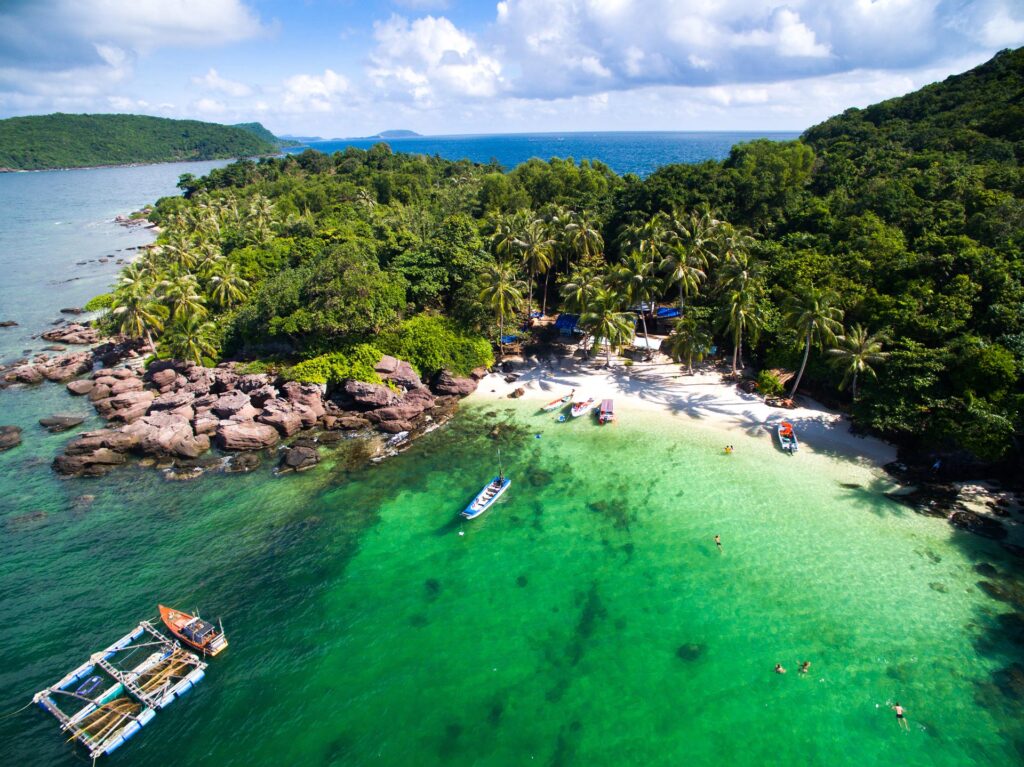 A Digital Nomad Guide to Koh Phangan
Ko Pha Ngan (or Koh Phangan) is the ideal, all-inclusive island in the Gulf of Thailand. It is surrounded by little sister Koh Tao in the north and big sister Koh Samui which can be seen from Phangan's southern coast. It's just a short ferry ride away from either of the sister islands and the mainland city of Surat Thani. If you've heard of Koh Phangan before, it is either for the legendary, original Full Moon Party or for Koh Phangan's brief appearance in Leonardo Dicaprio's The Beach (2000). 
Koh Phangan is great for digital nomads, as it has a lot to explore for people with every interest. You'll want the time to see and do everything so that you can live like a Phangan local. For starters, Haad Rin sunrise beach holds the biggest all-night beach party you can imagine. Every. Single. Month. However, be warned that the date of the party often gets pushed back a day from the actual full moon to respect Buddhist holidays. Love the party lifestyle? There are epic, psychedelic parties every day of the week if you know where to look!
Maintaining an active lifestyle is essential to mental health (and helps balance the partying, too!) There are plenty of hikes up to Koh Phangan's several peaks or to picturesque waterfalls. Always bring a swimsuit with you because you never know when you'll stumble upon a secluded beach, a hidden waterfall or a pristine pool. Skinny-dipping is considered culturally insensitive despite how tempting it may be. 
There are several gyms to practice Muay Thai with the best located in Thong Sala. Find your favorite trainer, and become a pro. Or just watch the pros at fight night at one of the many stadiums around the island.
Activities and adventures in Koh Phangan don't stop there. Head inland and enjoy serene yoga retreats. Rent a moto for the day, strap on a helmet, and go explore all the beaches on every edge of the island. A wide highway lined with coconut trees goes across the middle of the island and connects all the different towns. If you fancy something more…arousing, make sure to check out the tantric yoga retreat.
With so many beautiful beaches and even more ways to unwind, you are sure to fall in love with Koh Phangan for one reason or another. Here's my guide to island life in Koh Phangan.
Nomad Friendly
Value for Money
Internet
Workspace
English
Food
Safety
Health
Transportation
Friendly
Quality of Living
Living in Koh Phangan Overview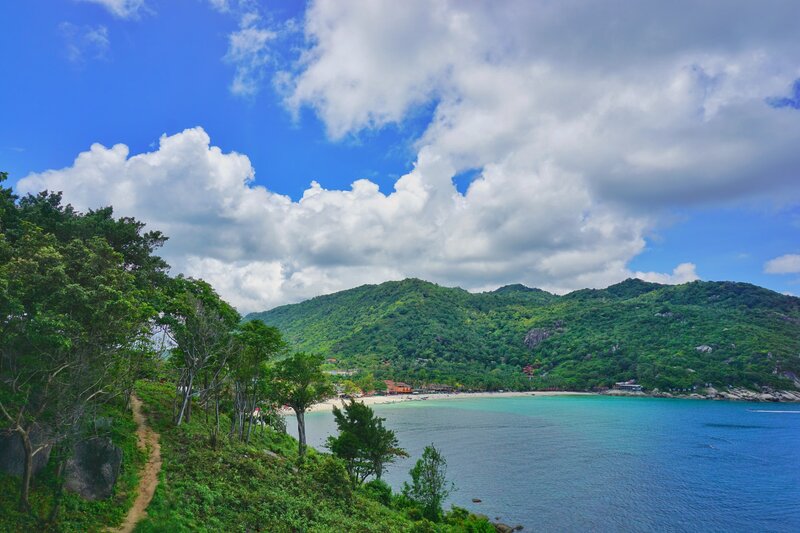 Digital Nomad Personal Experience in Koh Phangan
I first got to Koh Phangan in February 2019. I stayed near Thong Sala for a couple of days before heading down to Haad Rin. Thong Sala is the commercial center. There are banks, shopping centers, night markets, and more. I stayed at Good Times which has its own beach, pool, and bar. It's right next to Dancing Elephant hostel which leads to some pretty great parties on the shared beach. My favorite part about this spot is how shallow the water gets at low tide; you can walk out half way to Koh Samui on the sand bars.
Haad Rin is about a 30 minute moto ride south with only one road in and out that climbs over a steep mountain. If you are not confident driving a motorbike, make sure to take a taxi into Haad Rin, as those hills are no joke. That being said, make sure to pick up any essentials from Thong Sala before heading down to Haad Rin.
On my second day in Koh Phangan, I rented a motorbike for 250 baht (8 USD) for the day. The motorbike arrived, as usual, with an empty tank. The common price found in town is 50 baht (1.60 USD) per liter, so be on the lookout for the rare price of 40 baht per liter when driving out of town. I drove around stopping at about five different hostels looking for work. As it was just two days before the full moon, most hostels already had the help they needed for the month. I was lucky enough to walk into one lobby where the owner had just received notice that a staff member had to cancel and would not be there for the party. And just like that, I found my new home at Wild and Wandering. 
I really enjoyed my experience "working" the full moon parties. I had the insider perspective on the whole event. I knew locals and was able to go off the beaten path. All the guests knew me and came to me for advice. I still had plenty of time to party and made a lot of good connections along the way! My expertise in Koh Phangan remains Haad Rin, however I had plenty of time to explore and get to know the whole island.
Work in Koh Phangan
Wifi is a universal word and is essential to any digital nomad. Throughout my travels, I have had my fair share of struggles with feeble wifi connections. However, Koh Phangan has a strong 4G data signal in all urban centers. This means you can opt to use your phone's hotspot to work from any cafe or restaurant regardless of the wifi speed.
Unlimited data packages are highly recommended, as they are cost effective and more reliable than searching for a strong internet connection. Sim cards can be purchased at the airport or at most convenience stores, such as 7eleven or Family Mart. AIS is one popular network, and the unlimited data package can range from 399 baht (13 USD) to 1699 baht (57 USD) per month, based on your needs. 
That being said, my favorite off the grid work spot is an abandoned bar on Haad Rin beach. The bar was shut down by local officials over five years ago for selling "magic shakes." Despite how it sounds, it is not creepy at all and has one of the best views in Haad Rin. To get there, head to the north end of Haad Rin beach, and follow the steps up to the elevated building that looks out over the sand and sea. Bring a towel or yoga mat with you, as it is not perfectly clean. This place is perfect for a morning workout, a quiet place to catch up on work, or just a secluded spot to be with your thoughts.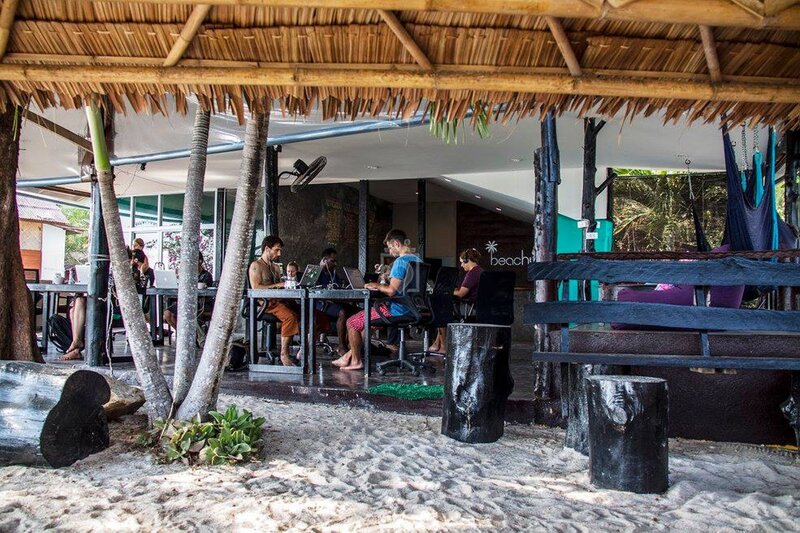 A general rule of thumb is that any place in Haad Rin will be busy and possibly loud during the full moon week and quiet and peaceful the rest of the month. If you are looking for a more formal work space, here's my short list of places with strong internet suitable for digital nomads:
Best Places to Work in Koh Phangan
Harbour Cafe
Harbour Cafe is located next to Haad Rin pier. It has a great coffee and drink selection, some delicious looking pastries, a great atmosphere and a steady wifi connection.
Doppio Cafe
Doppio Cafe is located in Thong Sala. It usually doesn't get too busy. It has fast wifi, A/C, an endless supply of coffee, and serves breakfast and lunch.
Dots Coffee
Dots Coffee is also located in Thong Sala. Although meals are not served here, there is good coffee and plenty of outlets. This place can get pretty busy, so it is not ideal if you need peace and quiet to stay focused.
Hundred Islands Coffee
Hundred Islands Coffee is just a five minute motorbike ride from Thong Sala. There is fast internet, a great breakfast, and good company.
Bubba's Coffee Bar
Bubba's Coffee Bar is located in Baan Tai and offers organic, locally sourced food and coffee. The air-conditioned cafe offers fast wifi and free drinking water.
Over the Moon Cafe
Over the Moon Cafe is situated amongst a coconut forest in the heart of Srithanu. It offers a great atmosphere and amazing coffee.
BeacHub
BeacHub is a membership-based coworking space in Srithanu. This is an awesome spot to be productive, while at the same time relaxing. It is located right on the beach. Not only does it have beautiful views and a warm breeze, but it also has a growing community. The membership fees can be pricey (190 USD per month), but it may be worth it depending on your work space needs.
Cospace
Cospace is another coworking space that has two locations in Koh Phangan. It offers fast internet, printers, A/C, pool and beach access, meeting rooms, drinking water, and community events. Cospace memberships are more affordable at only 200 baht (6 USD) a day or 3000 baht (100 USD) a month. 
Remote & Digital
Remote & Digital offers 2 beautiful seaside locations, One in La Casa Tropicana in Baan Tai, and the other at Sunset Hill Resort. The spaces are comfortable and air conditioned, with phone booths, printers and fast internet connection. There is also great food and coffee at the restaurants on site. Monthly rates are 3000 baht (100 USD).
Best Places to Live in Koh Phangan
When choosing where to live in Koh Phangan, there are a few questions you'll want to ask yourself first. Do you want to buy a motorbike or do you want to be able to walk to everything you need? Do you want to live in a jungle setting or on the beach? Do you want to live near the parties or do you want peace and quiet? And finally, how much do you want to spend? These questions can help narrow down the housing options in Koh Phangan and help you pick an area to live in.
Beachfront bungalows are going to be more expensive than jungle bungalows. If you choose to stay at a hotel or hostel, they often offer monthly rates. Budget hostels can be as cheap as 5 USD a night while some beach bungalows go for 30-60 USD per night. There are plenty of "workaway" opportunities on Koh Phangan if you want free accommodation in exchange for part-time work. This is the route I took when living in Haad Rin. I had my own room and a light and flexible work schedule most of the time. For the week around the full moon, work was a lot busier and we slept in the staff dorm. I still had plenty of time to visit the beach and enjoy happy hour. This worked for me and my schedule, but it definitely does not work for those with a heavier remote workload.
Best Neighbourhoods
Thong Sala
Thong Sala is the biggest town and is the commercial center of the island. It gets very busy but has the most cafes and work spaces. Thong Sala is no "tropical paradise," but you will find yourself frequenting the town for the essentials. You will find supermarkets, local markets, and plenty of gyms to practice Muay Thai. Here you can also access the ferries headed to mainland Thailand.
Baan Tai
Baan Tai is south of Thong Sala. It is still on the coast but has more of a jungle feel to it. You can relax on the beach with a view of Koh Samui, but better swimming can be found elsewhere. There are a handful of good cafes located here. This location is less crowded and more peaceful but close enough to the hub if you need anything.
Haad Rin
Haad Rin is the most southern town. This is the backpacker hub of Koh Phangan. It has plenty of hostels, bars, and beaches. The town looks drastically different the week of the full moon party than the three weeks after. The town can be pretty peaceful inbetween full moon parties and you can enjoy the whole beach to yourself. The beach here is huge and fantastic for swimming. There is a Family Mart and a 7 Eleven in the center of town for most of your daily needs. However, if you need anything from Thong Sala, it is a 30 minute motorbike ride over the mountain.
Chaloklum
Chaloklum is located on the northern side of the island and home to the most slow-paced town you can find while still enjoying an internet connection. Here you can find the cheapest beachfront bungalows on the island. It is growing in popularity, so more cafes are popping up. It is another 30 minute ride to Thong Sala on the big highway that stretches across the island.
Srithanu
Srithanu is the big town north of Thong Sala where you can find coworking spaces, restaurants, yoga centers, beaches, and more. It is a hub for tourists and digital nomads seeking a relaxing or spiritual experience. Less than a 20 minute ride to Thong Sala.
Hin Kong
Hin Kong is located between Thong Sala and Srithanu, so it is close to everything you would need. This town has the best views of the sunset. It is less busy and has more affordable accomodation than its neighboring towns.
Find an Apartment in Koh Phangan
Although it may not seem ideal, the best way to find an apartment for rent is to drive around and call the phone number on the 'for rent' sign. This does take extra time and require you to already be on the island, but it is the best way to find some of the best deals on the island. If you are like me, you may like to have a place to stay (at least for a couple days) before you arrive. You could either stay at a hostel or a beachfront bungalow for the first week while you scope out the accommodation options.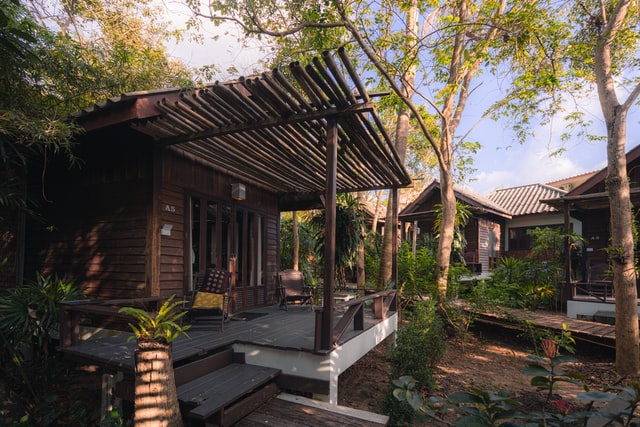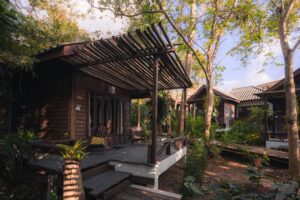 Another great resource is the Facebook community. Start by searching "Koh Phangan Houses for Rent", and you will find a handful of different Facebook groups. You will find plenty of housing options for between 5,000 baht (less than 200USD) and 20,000 baht (less than 700USD). There are super nice villas for 60,000 baht to 80,000 baht per month (around 2500 USD). These options will usually come furnished, be either a one bedroom or a studio, and be equipped with a kitchenette. Most rentals are month to month. If you do not like your first rental or just want to change locations, you can ask around to find the perfect place for you.
There are pros and cons to looking online for accommodation in Koh Phangan. Online listings and prices are marketed for foreigners, so online prices will never be the best rates. However, being tailored to foreigners means the accommodation is ideal for digital nomads who do not want to worry about furnishing a place. Finding a place on a Facebook group is similar to booking accommodation on Airbnb. Everything will be taken care of before you arrive. For best rates, get to know the locals and ask for recommendations.
Lastly, you can try local real estate agents, although I have never tried this method. If you are looking for bougie accommodations, going through an agent will get you some pretty wild housing. The top three recommended agencies are Samui Phangan Properties, Phangan Island Properties, and Phangan Home. 
Cheap Places to Stay in Koh Phangan
Here are some of the recommended low budget accommodation in Koh Phangan:
Exclusive Member Benefits in Koh Phangan
Similar Digital Nomad Destinations
Thailand Visa for Koh Phangan
Most foreign passports qualify for a 30-day visa exempt stamp for tourism purposes. You can extend your stay by 30 days two separate times (in total a 90-day stay) by either visiting a provincial Thai immigration office or a border immigration office. Each extension will cost 1900 baht (57 USD). The two closest immigration offices to Koh Phangan are in Koh Samui and Surat Thani, the closest mainland city. Each extension adds on to the original 30 days. You could even get the first extension as soon as you arrive in Bangkok if you arrive knowing that you will be extending your stay.
Update February 2021: 30-day visa exempt stamps have been extended to 45 days through September 2021. Check with the Thai embassy in your country for the most recent updates.
In order to legally work in Thailand, you need both the Non Immigrant Business Visa and a Work Permit. The business visa costs about 65 USD, and the work permit costs about 100 USD. Both are good for up to a year.
Foreigners are not allowed to stay longer than 90 days within a 6 month period without a more permanent visa type. For long-term visa applications, contact the Thai Embassy in your country. You can also visit the nearest immigration office if you are already in Thailand, but you may still be required to do a border-run. If you plan on working at all while in Thailand, get the business visa. Otherwise, you are at risk of facing major fines and potential jail time. The work permit is also required, as it proves that you are paying Thai taxes.
Culture and Food in Koh Phangan
Thai food is one of my favorite cuisines, and it is so much more than just pad thai. If you have never done a Thai cooking class, I highly recommend trying it when you get to Ko Pha Ngan. Thai food has so many unique flavors and offers delicious vegetarian options. You can get to know the different flavors of curry – red, green, yellow, panang, jungle – and pick your favorite.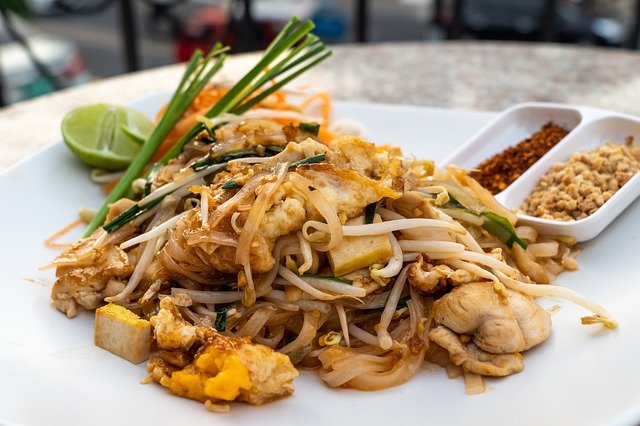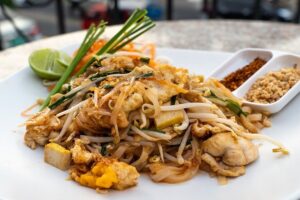 Eating on a budget means eating Thai food. For the most part, it is going to be just as cheap to go to a restaurant as it would be to buy all the ingredients and cook for yourself. Pad thai and other noodle dishes range from 30 baht (1 USD) to 70 baht (2.30 USD). My rule of thumb: don't pay over 100 baht for pad thai.
While plenty of the wifi cafes will offer western breakfast options, a budget breakfast is a Thai omelette, which is just an omelette laid over a big scoop of rice. Top it off with Thai sweet chili sauce, and this breakfast is good for curing hangovers and other upset stomachs. Most cafes, restaurants, and street stands offer Thai iced tea and coffee which is super sweet and available all day long. A good price is 30 baht (1 USD).
When it comes to Thai restaurants, I really cannot make recommendations for "the best" because it is all good! Most restaurants have a menu by the door, so you can check if it is within your budget. Other than that, I say try them all!
There are two night markets in Thong Sala that offer a lot of Thai specialties that you will not find in a restaurant. Go hungry and get a little bit of everything. The Phangan Food Court and the Phantip Night Food Market occur daily, but there are additional weekly markets around Thong Sala that offer fresh produce, as well. During the full moon parties, you can also find these types of street market food in Haad Rin. I learned how to say fried chicken in my visits to the food stands, although my pronunciation was always terrible.
Koh Phangan is also known for the vegan options and restaurants popping up- especially in the Srithanu neighborhood. Some of the highly recommended vegan restaurants include, Eat.co, Orion Healing Centre, and Pure Vegan Heaven.
Food Safety: Many people traveling to Thailand for the first time experience some form of food poisoning or an otherwise upset stomach. There are a couple tips if you have a sensitive stomach. 
Stick to restaurants, as health standards are higher here than street food.

If buying street food, make sure they cook it or heat it up in front of you.

Avoid meat. There are plenty of yummy vegetarian options that will reduce exposure to bacteria in undercooked meat. 
Koh Phangan Nightlife
In Koh Phangan, there is plenty of party to go around. The recurring monthly parties include the full moon party, two half moon parties, and a new moon party. The exact dates do not always line up with the lunar cycle due to Buddhist holidays or other government events when alcohol is not allowed to be sold. The full moon party is about 100 baht (3 USD) and is located on Haad Rin beach. This party transforms Haad Rin.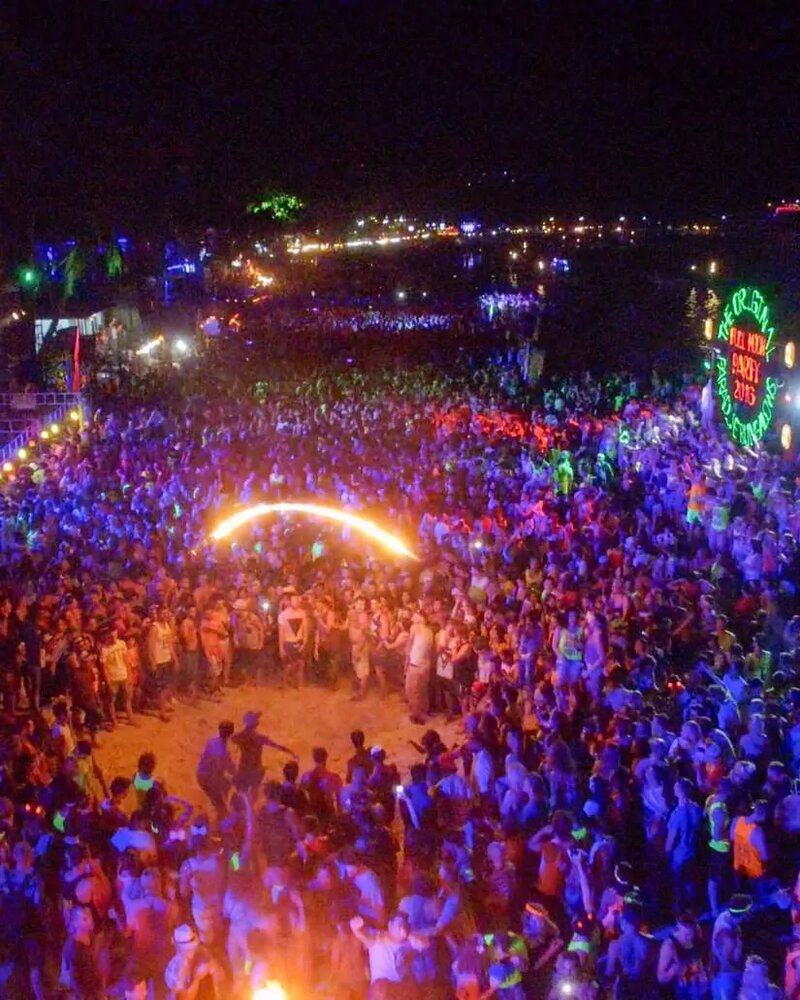 There are hundreds of stands selling bucket cocktails and even more artists offering glow-in-the-dark paint designs. The beach is nicknamed Sunrise beach. Around 6:30 in the morning, the final hours of the party, the sun shines on the beach and who is left, exposing empty bottles and tossed straws. Only a fraction of the 30,000 party goers are left, and the beach will be pretty empty until well into the afternoon.
The other moon parties are 500 to 800 baht (16 to 27 USD) per ticket, located inland, and require a taxi to get you there. I recommend buying the ticket through a hostel because they will arrange the taxi for you and include it in the price of the ticket.
Waterfall and jungle parties are similar to the half moon and new moon parties. They occur before and after the moon parties. These parties serve to offer party options for the party-hard visitors. I personally prefer the beach parties, but you can go and decide for yourself!
Garden of Eden is a party that happens on Tuesdays and Saturdays (unless the full-moon party is that night). It's about 1000 baht (30 USD) round trip. Head to Haad Rin beach to catch a taxi boat out the island hosting the party. Taxi boats return in the morning, so make sure you are ready to party all night long!
OXA beach is close to Haad Rin, as well. They have regular parties that have good vibes and good techno music. Check their facebook page for the party schedule. They usually start in the afternoon and end around midnight.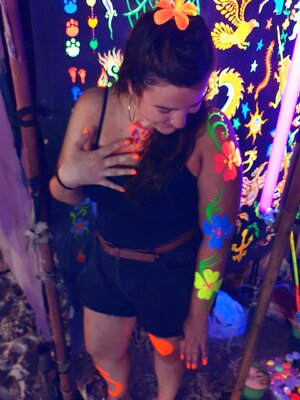 For more crazy all-night parties, get to know locals and other foreigners. A lot of people on this island love to party, so there is something going on every night if you know where to find it. Most of the backpacker hostels have fun bars. You are welcome even if you aren't staying there. Goodtimes, located between Baan Tai and Thong Sala, often has beer pong and other games going.
In addition to all night parties, who doesn't love Happy Hour? Happy Hour is a good way to wind down at the end of a long work day or a great way to start the evening. A lot of bars have Happy Hour specials, but the best specials also come with a sunset view. The sun sets around 6:30, but being on the equator, it does not last long. Get to your sunset destination by 5:30pm. My favorites are Coral Bungalows and Escobar in Haad Rin. Amsterdam Bar and other bars in Hin Kong also have amazing views of the sunset. When in doubt, follow the sun!
Things to do in Koh Phangan
Beaches
Koh Phangan has an endless list of beaches. Some are better than others. Most beaches facing Koh Samui are shallower and, in some spots, a bit rocky. They can still be okay for swimming but generally have less waves. The rest of the coasts have bigger waves and, therefore, sandier sea floors. The following are my top recommended beaches.
Being on a peninsula, Haad Rin has three main beaches. On the eastern side, the sunrise beach hosts the full moon party. It is the largest and best for swimming. Some reviews say it is littered with trash, but that is simply not true. Three out of four weeks every month it is perfectly clean and relatively empty. Only during the full moon week does it get crowded, and only because of party-goers does it become littered. The local government hires a hard-working clean up crew to clean the beach every morning.
On the western side lies a shallow beach with a rocky shore. Although not ideal for swimming, it is a perfect location for a sunset walk or happy hour drinks. My personal favorite is Coral Bungalows which has great happy hour specials just in time for sunset, the best pizza on the island, and an awesome pool party a couple times a month.
Lastly, there is a beach on the south western side of the peninsula which you can get to by following signs to Cocohut beach resort. These shores are good for swimming and sunbathing. The beach is usually filled with guests from the neighboring beach resorts. The hidden gem of this beach is the boardwalk located at the southern end. 
Haad Than Sadet Beach is a more secluded beach that can have some nice waves. The beach has a lot of seashells on it, but it's fine once you get into the water. There is a cave to check out on one side and a big rock to jump from on the other. Most of the beach goers here are staying at one of the bungalows nearby, so it never gets too crowded. On the long road to this beach, you pass by the trail head to some waterfalls, so save enough time to visit both.
Bottle Beach is a pretty popular beach to visit. The tricky part is the long sandy road. You cannot take a motorbike down it. Depending on how much energy you have, you might take a 100 baht (3 USD) taxi down to the beach or back up at the end of the day. The other option is to visit the beach by taxi boat. 
Malibu Beach is on the northern side of the island. Although relatively small, it can be a lot of fun. There is often volleyball and other games going on, and it's good for swimming, too!
Visible from Malibu Beach, Mae Haad Beach is much bigger in comparison. The beach itself is nice, and the water is warm and shallow. However, do watch out for boats coming in and out. It is right in town should you need anything.
Haad Yao is another shallow beach, allowing the water to get bathtub-level warm. There are a couple resorts and hotels lining the beach. It's very family friendly, and you can get any drinks, snacks or meals from one of the beach-side cafes and bars. There are also massages available right on the beach.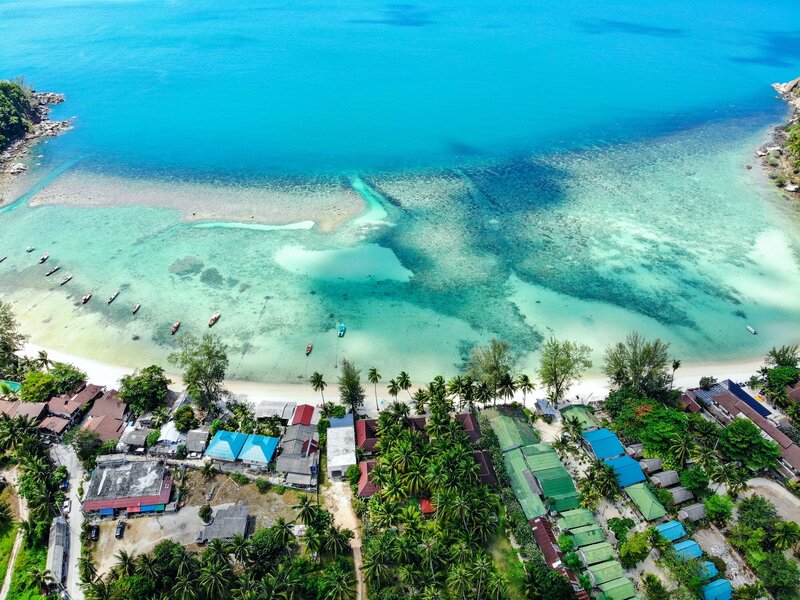 Temples
If you are looking to experience some Thai culture, consider exploring some of the Buddhist temples of Koh Phangan. While they cannot compare to the temples of Chang Mai and northern Thailand, they are impressive in their own right. Please remember to be culturally appropriate when visiting temples. For both men and women, cover your shoulders and knees and take off your shoes if you are allowed inside the temple. Most temples have either free admission or the fee is less than 2 USD.
Although there are several temples worth visiting, here are my top three in Koh Phangan. Wat Paa Sang Tham has a unique golden rock and is located in a jungle setting. Admission here is free. Wat Pho Chinese Temple Goddess of Mercy is the most popular temple in Koh Phangan. It is unique due to its Chinese architecture. It is located near the village of Chaloklum and costs 40 baht (1.30 USD) per person. Wat Chaloklum is a pristine white and gold complex of temples. Few tourists visit this temple despite its beauty and free admission.
Waterfalls
Phaeng Waterfall is located in the middle of the island in Thansadej National Park. The most impressive waterfalls actually have two sections: Phaeng Noi and Phaeng Yai. The second is just a 250 meter trek past the first. Like most waterfalls on the island, it can dry up towards the end of the dry season (around April). Continue hiking through the jungle to reach the island's highest point (Khao Ra) and a great lookout at Dom Sila.
Paradise waterfalls is located on Chaloklum road. The main pool by the entrance is usually filled with swimmers, but a 45 minute hike into the jungle will take you to the main waterfall.
Than Sadet is a 3 km stretch of beautiful rock formations, falls, and pools. You can climb up and down as much as you want of it. Because there are so many separate pools, it is never too crowded. These waterfalls can be accessed on the road leading to Haad Than Sadet Beach.
Angthong National Marine Park
While there are plenty of boat tours around Koh Phangan that will bring you to beaches only accessible by boat, the single must-do boat tour will take you to Angthong National Marine Park. There are over 40 separate islands that offer a breathtaking panoramic view. A day tour will take you to see white sand beaches, caves, lagoons, and limestone cliffs. Tours start around 2000 baht (66 USD) per person. The park entrance fee, 300baht (10 USD), is not always included in the price.
Best Time to Visit Koh Phangan
Koh Phangan is a beautiful tropical climate. The weather and seasons are similar to the rest of Southeast Asia; there is a wet and dry season rather than a hot and cold season in temperate climates.
The bulk of the rain falls in October and November. During these months, it will rain most days. May also gets a lot of rain, as this marks the beginning of the rain season. June through September gets a moderate amount of rain. The rainstorms are mostly tropical thunderstorms, so they will not last all day but rather dump a lot of rain in a short period of time. Storms can last only 30 minutes to 2 hours and then the sun will come out again!
February and March are the driest months. You will never have to worry about rain ruining any plans. By the end of March, the waterfalls might start to dry up, and they usually remain dry until a couple months after the rain starts. Be careful of swimming in still water, as there may be parasites. A moderate current will wash out anything harmful and is safer for swimming.
The hottest months are May and June with the average temperature at 32 or 33 degrees celsius (90 degrees Fahrenheit). The coldest month is January with the average high only at 28 degrees celsius (82 degrees Fahrenheit). During the cold months, it can get surprisingly chilly at night. Humidity is almost always 80% all year round. 
Koh Phangan for Families
Despite Koh Phangan's reputation for endless partying, there are plenty of family friendly activities and locations that are fun for all ages Any of the beaches, waterfalls, yoga centers, and boat tours I already mentioned are suitable for children – you know your children's adventurousness. In addition, the Big C Supermarket has a children's play area which is perfect for toddlers and young children. For older children, check out The Challenge. It is an aquatic adventure course much like the American TV show "Wipe Out." Entrance is 500 baht (15 USD) for the day.
To avoid the party and backpacker atmosphere, I suggest finding accommodation near Haad Yao or Srithanu. Haad Yao has a shallow beach with small waves, so it is perfect for small children. These areas also offer a lot of snorkeling, paddle boarding, kite surfing, and other water sports. If you are in need of a babysitter or nanny, ask around your friend group or connect with other digital nomad families for their recommendations for good childcare.
There are a number of school options for your younger children. However, older children might consider finishing their school in Koh Samui which is a 30 minute ferry ride away. Koh Samui is much bigger and has more options for schooling. The biggest Thai school on Koh Phangan is the Thai National School located in Baan Tai. For international school options, there is the Si Ri Panya International School also in Baan Tai for kids 5 to 11 years old which follows the British National Curriculum. The Wisdom College Tutorial School in Thong Sala for students 11 to 14 years old follows the Cambridge Curriculum.
Living in Koh Phangan
Koh Phangan Transportation
Arriving at Thong Sala Pier, you will likely be bombarded with moto-taxi drivers. They have set rates to different towns in Koh Phangan. Make sure they show you their little card with the rates on it. If you are uncomfortable riding on a motorbike or have a lot of luggage with you, contact your accommodation ahead of time to arrange a car pickup for you. Depending on where you are going, moto-taxis can range from 50 baht to 500 baht (1.60 to 16 USD). There are also pickup truck taxis that have benches in the back. These are more affordable if you are crossing the island but require planning ahead. They have higher rates if there are less people. If it is full, it can be as cheap as 100 baht (3 USD) to go from Haad Rin to Thong Sala.
Most visitors to the island rent motorbikes. They cost between 200 and 300 baht (6 to 9 USD) per day to rent. Petrol is between 40 and 60 baht (1.30 to 2 USD) per liter. This is definitely the more economical choice for visiting beaches on the far side of the island.
If you will be staying a long time or are staying somewhere more remote, you may want to consider buying a used motorbike. Staying in Haad Rin, I only rented a motorbike when I wanted to explore the island or run errands in Thong Sala. I had a good relationship with the shop owners and got a good deal. However if you will be using it often, it is much better to buy and resell when you leave. For example, I saw a motorbike for sale for 5000 baht (175 USD). My friend wiped out on a sandy road on a rented motorbike and had to pay 5000 baht in repairs for the broken mirror and scratches.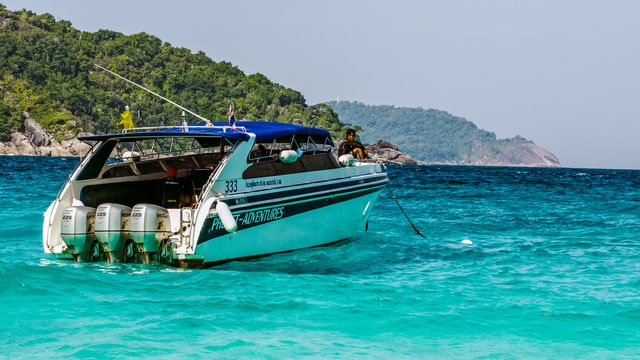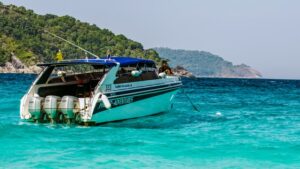 That being said, there are a couple of safety advisories for you if you choose to drive a motorbike either one time only or daily. Wear a helmet! I know it's cool to have your hair blowing in the wind, but I have seen too many bad motorbike crashes to ride without. Wear closed-toed shoes. I had an old pair of slip-on boat shoes that were my driving shoes. Otherwise, you can scrape up your toes from simply stopping too fast. Wear sunscreen.
Riding around in the wind can mask the heat from the sun, but you are still getting burned. Lastly, respect the local driving culture. Other drivers might cut you off, but there is no need to get mad. Just slow down – you are on island time. There is no "right of way" here like there might be back home. Cars and motorbikes honk to let you know they are there, not because they are mad. It is good practice to honk when pulling out on a road or when passing someone, as it protects both you and the other drivers. Cooperate with other cars and motorbikes on the road, and try not to be in a rush. 
Fitness and Health
Yoga Retreats
Koh Phangan has plenty of yoga options for people of all levels. Srithanu is home to a bulk of the yoga centers, but there are close-by options wherever you are. Here are the top three yoga centers to check out:
The Sanctuary offers three classes a day. One is designed for beginners, and the other two are normally Hatha Vinyasa style and open to all levels. This yoga center is located deep in the jungle and offers a relaxing atmosphere. A single class costs 10 USD, and a week pass costs 60 USD.
Orion Healing Center faces the ocean in Srithanu. Classes are held daily, and workshops and retreats are also offered. Open to all levels, a single class costs 12 USD.
Pyramid Yoga offers Chakra yoga. It is located high up in the mountains, providing yogis with fresh air, beautiful mountain views and peaceful jungle vibes. A single class costs 10 USD.
Muay Thai and Other Gyms
Muay Thai, or Thai boxing, is a popular activity in Koh Phangan for both locals and foreigners. There are arenas in Haad Rin and Thong Sala if you want to watch a match. If you want to learn yourself, most of the gyms are located in Thong Sala and Baan Tai. Most boxing gyms have weight lifting equipment if you are not interested in boxing. Gyms that have both equipment and Muay Thai are Phangan Muay Thait & Fitness Gym in Thong Sala, Diamond Muay Thai also in Thong Sala, and Evolve Health Club in Srithanu.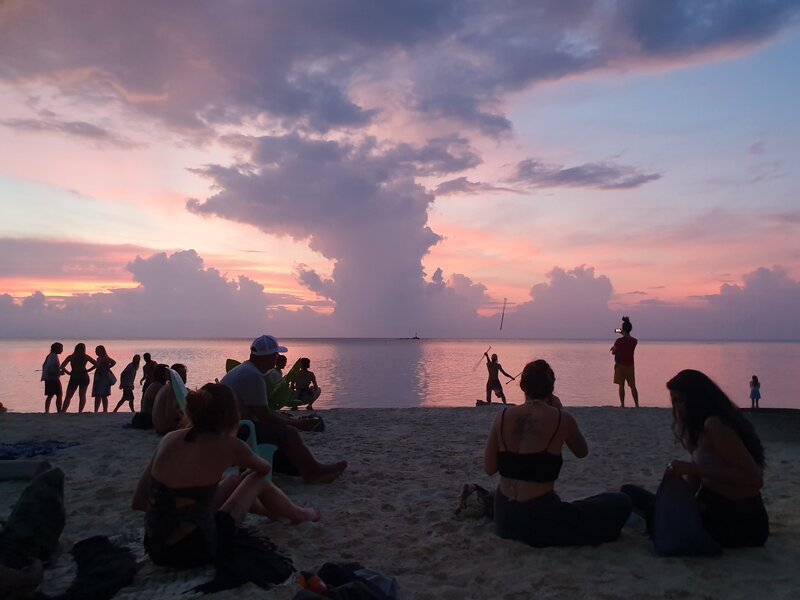 Koh Phangan People
Same Same but Different
Similar to other digital nomads, I like to travel to get to know the people and the culture, rather than just seeing the sights. In order to build meaningful relationships with Thai people in Koh Phangan, you have to understand the cultural differences that exist and adapt to the Thai way of doing things. Learning to say hello and thank you can go a long way. Men greet others by saying, "sah wah dee khrap!" and women greet by saying, "sah wah dee khaa." Likewise, thank you is "khob khun khrap," and "khob khun khaa," for men and women, respectively.
Keep an eye out when entering cafes, hostels, tattoo shops, or other businesses. It is customary to take off your shoes and leave them outside. Don't worry, they won't get stolen. Because of this custom, it is easier to wear slip on shoes when you know you will be taking them off often.
"Saving face" is a part of all cultures, but it is definitely more important in Thai culture than in Western cultures. In order to preserve one's reputation, folks may avoid confrontation or other arguments in public. It is also rude to bring up someone's mistake in public. This is particularly important with business partners.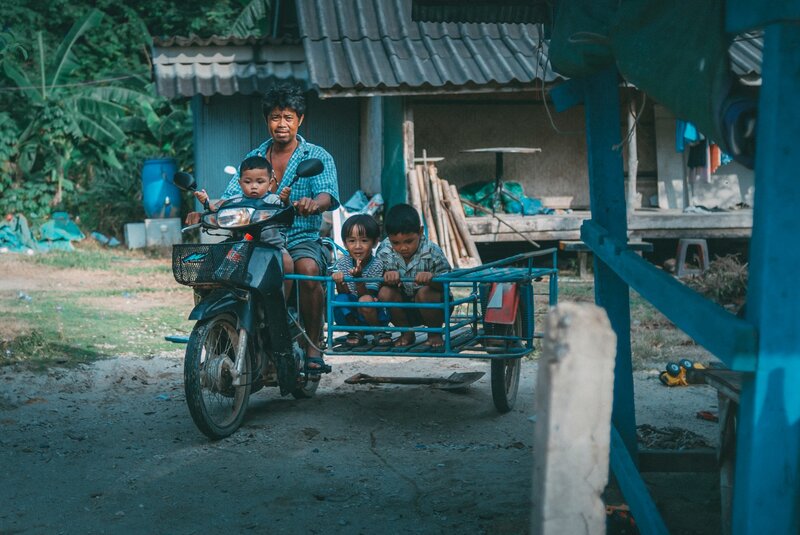 Sa-nuk (fun)
An important value to the Thai lifestyle is fun. Not only is that referencing parties, but also the food and good company that is cherished daily. In the Thai language, a common greeting asks, "Have you eaten yet today?" You may even be offered food, and while it is not rude to decline the offer, your friends would really appreciate the chance to share a meal with you.
The reason the parties are so great in Thailand is because of its people, not because of tourism. Every April, Thailand celebrates Songkran which marks the Thai New Year. During this week-long festival, everyone is in the streets splashing water at each other, either with hoses, water guns, water balloons, or buckets. It is a free-for-all, and you will get wet.
Thai people love to party. By making friends with locals, you will find the best parties and sometimes get free entry! Lastly, use "5555" when texting your Thai friends. It means "hahaha," and will get you brownie points with your new friends.
Bartering
Bartering culture can change around Thailand, so just because you saw a lot of bartering at a market in Bangkok does not mean it is acceptable in Koh Phangan. If a price is marked, do not barter. If a price is not marked, it is okay to barter. However when you low-ball something, that can be taken as very rude to the seller. It is best to offer a fair price from the beginning, and the seller will generally accept. Remember that you are the guest in Koh Phangan; pay a good price for good products.
Koh Phangan Insurance and Medical Care
Many digital nomads choose to purchase international travel insurance that covers medical insurance, as well. Aetna International is one of many options. These plans can cost 5000 USD per year on average. If you already have medical insurance, see what international or travel options they may offer.
Koh Phangan has a handful of hospitals should you need to see a doctor. The neighboring island of Koh Samui may have additional facilities if you need any treatments or services not offered in one of the Koh Phangan facilities. If you need to see a doctor, there is no ridiculously long wait time and it is fairly affordable. For American travellers, the charge to see a doctor here is likely less than your co-pay back home.
For most minor medical issues, you can visit the pharmacy. There are several pharmacies in each town for your convenience. For common ailments such as mosquito bites, sun burns, and skinned knees, Koh Phangan's pharmacies are fully loaded with treatments. They also have medicines popular with the tourists including Ritalin and Valium.
For preventative treatment, it is recommended, not required, to have Hepatitis A, Hepatitis B, and yellow fever vaccines up to date. Rabies vaccination and malarial prophylaxis are only recommended if you plan on spending a lot of time in the jungles (mainland Thailand) or working closely with animals. These vaccinations are available at some health centers throughout Thailand. For more health information and vaccination recommendations, consult with your local travel clinic.
Make sure you are fully covered by reading our full Digital Nomad Travel Insurance guide.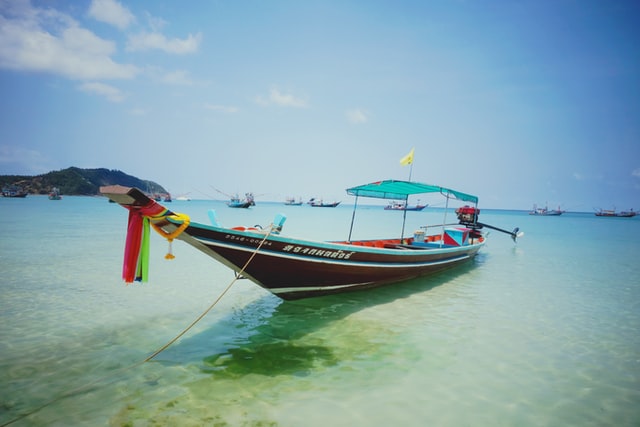 Jobs in Koh Phangan
There is plenty of work to be found in Koh Phangan if you are interested in hospitality and other tourism-based services. You can exchange free accommodation and discounted food and drink for about 20 hours of work a week at many hostels. It is considered "volunteer" work, and they usually require at least a two to three week stay. Work includes reception, changing sheets, and minor cleaning. Most hostels looking for volunteers will fill their positions a week before the full moon to make sure they have coverage for the rush of tourists. It will be hard to find volunteer work (aka a free place to stay) right before the full moon party.
If you can commit to a couple months or more, you will likely be able to find paid work at many hotels, hostels, cafes, and bars. This work, however, will pay a local wage which may not be sufficient income for the digital nomad lifestyle. It is best to budget local work as supplemental income to your remote work. Remember that both a business visa and a work permit are required for both volunteer and paid work.
Work outside the hospitality sector is rather limited in Koh Phangan. With some luck, you might be able to find teaching jobs, including teaching English. Even if you are a native English speaker, either a teaching degree or a TEFL certificate is required to find good work in this field. If you have neither of these qualifications, there are several remote English teaching jobs that do not require certification.
Check out our in-depth Digital Nomads Jobs Postings to find the best jobs available for Digital Nomads.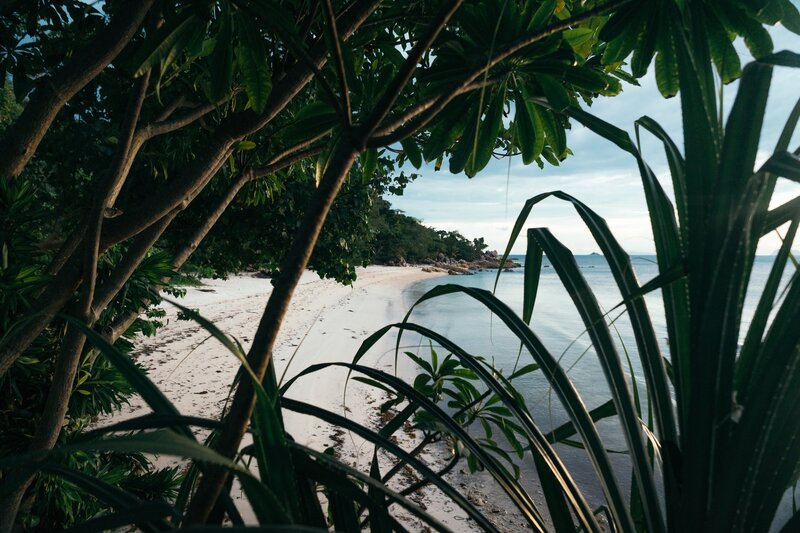 Nomad Friendly
Value for Money
Internet
Workspace
English
Food
Safety
Health
Transportation
Friendly
Quality of Living
Cost of Living Koh Phangan
The cost of living in Koh Phangan really varies by the lifestyle you prefer. Do you want to save on accommodation, so you can splurge on food and activities? Or do you want to feel at home at Koh Phangan and are willing to spend a lot for the right place? A single traveller can spend as little as 150 USD on one month's rent. However, you are more likely to spend around 200 USD to 400 USD for jungle bungalows and around 500 USD for beach front bungalows. 
Food is another variable. Thai food is the cheaper option where most meals are between 40 and 90 baht- all under 3 USD. Western food, including breakfast, is usually 100 baht to 250 baht (3- 6 USD). A pizza may even cost 450 baht (9 USD). This is all without going to fancy restaurants. Many people will get toasties from 7 Eleven for about 1 USD. Depending on what and where you like to eat, your food budget will vary. Plan for spending 10,000 baht (330 USD) on food each month, as you can always go under budget.
There are basically three options for transportation on Koh Phangan. You can taxi everywhere, rent motorbikes as needed, or buy your own bike when you arrive. Taxi cost can range from 100 baht to 500 baht (3 USD to 15 USD). How close you live to town will ultimately determine how often you need a taxi. Motorbike rentals are usually 250 baht (8 USD) per day- do not pay more than 250 baht. Each liter of petrol is 50 baht (1.66 USD). If you choose to buy a motorbike, you will likely pay between 5,000 and 10,000 baht (175 to 330 USD). This is the more economical option if you live a little outside town or will be traveling daily to different workspaces. It will cost more at first, but you will save money overtime. Assuming you rent a motorbike every other day, your monthly transportation budget is about 175 USD.
For entertainment, there are a lot of free activities like hiking, beaches, etc. Big parties can be expensive (25 USD) compared to the cost of everything else. Knowing the cost of parties, boat tours, and other water sport activities, you will be able to plan ahead and budget your leisure activities.