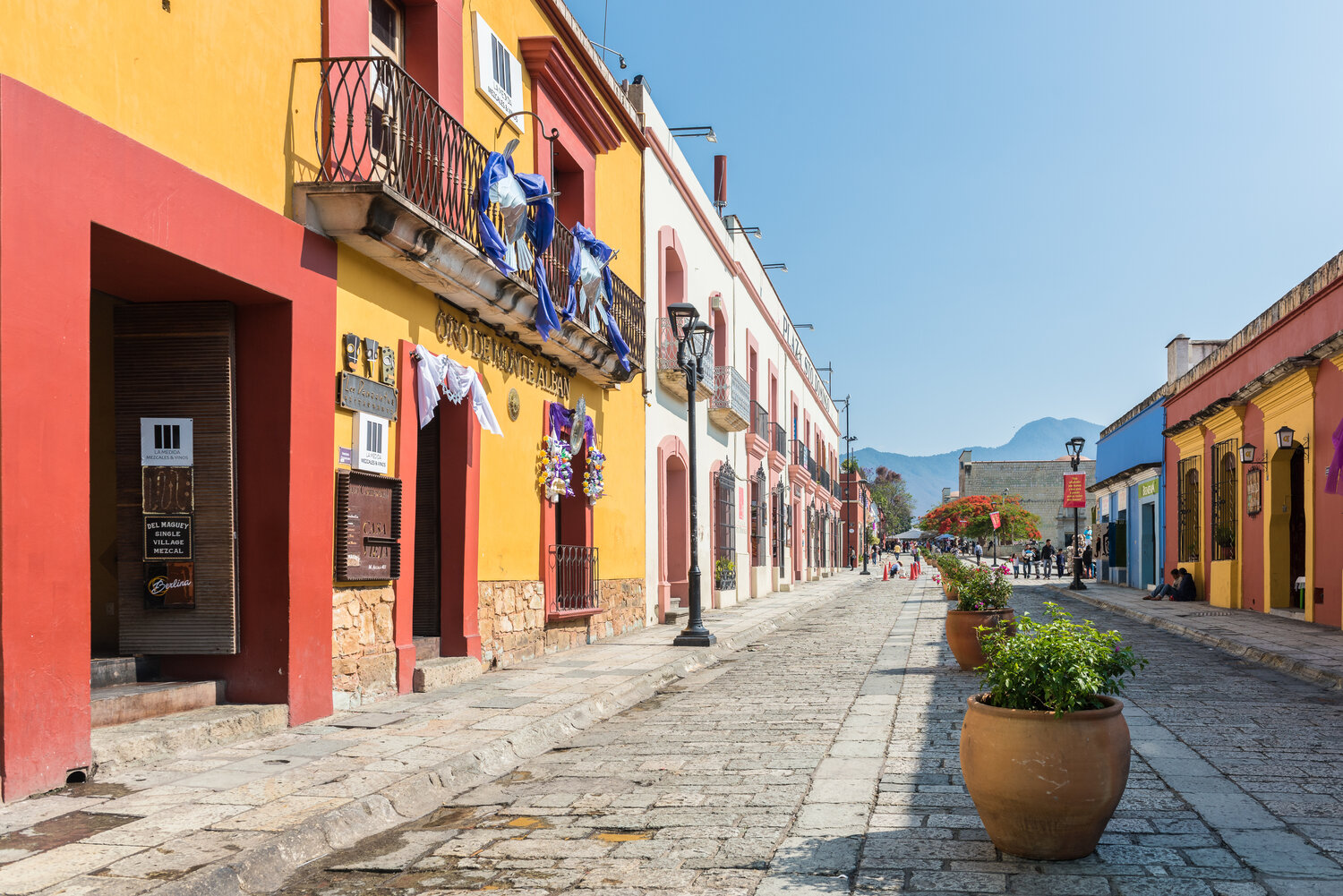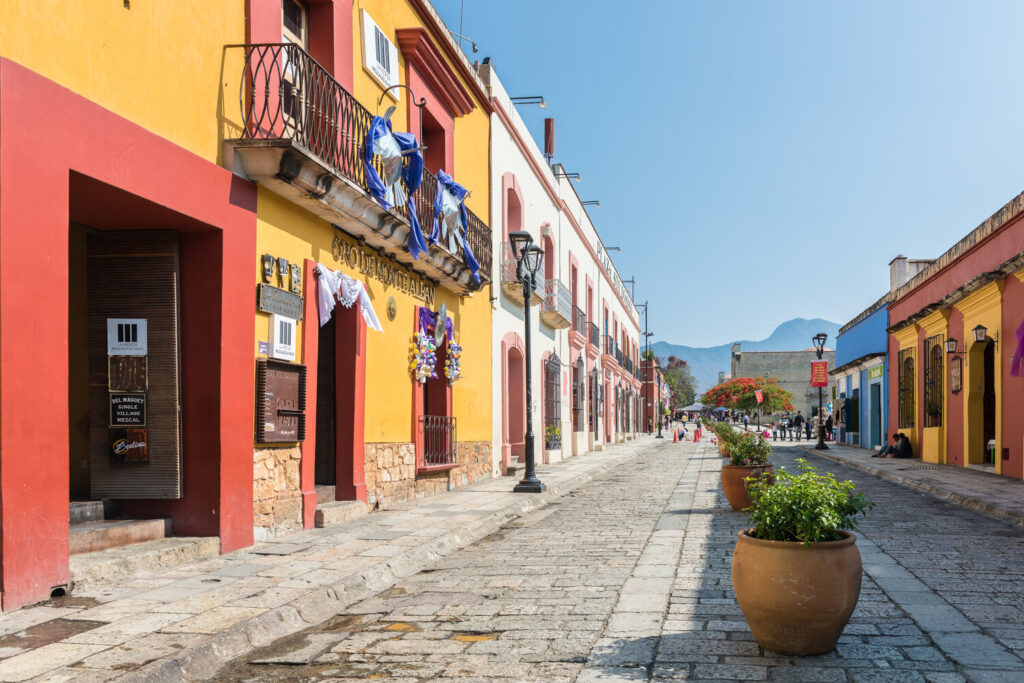 A Digital Nomad Guide to Oaxaca
Located in Southern Mexico, Oaxaca may not be as popular as Mexico City or Cancun, but it certainly offers plenty to digital nomads. 
A land teeming with culture, history, and some of the most delicious food in the world, Mexico is also reputed for its affordable prices. As such, this place draws backpackers and digital nomads from all around the globe. It certainly doesn't cost a lot to live comfortably in Oaxaca and you hardly even need to compromise on your quality of life. 
While Mexico does have a reputation for being dangerous, Oaxaca certainly stands out in terms of safety. Indeed, crimes in the city are mostly limited to pickpockets, purse snatching and the like. I do need to point out that protests in the city are quite common. While they do not get violent, people do put up roadblocks and limit access to certain places. 
It's also wise to avoid walking around alone at night after bars and pubs close. In touristy areas, such as Zocalo, it's also advisable to keep your belongings close to you since there's been quite a few pickpocketing incidents in this area. Generally speaking, neighbourhoods such as Reforma, El Centro, Jalatlaco and most shopping malls are quite safe, even late at night. 
One of the major advantages of working remotely from Oaxaca city is that you can easily explore other Mexican regions during the weekend. For example, Puerto Escondido and its pristine beaches lie just a 25-minute flight or 10-hour bus ride away. Additionally, Huatulco, with its many waterfalls and secret beaches, lie just a ten minute drive from the city.
If you've got some extra time- and money- to spare, you can always hop on a flight to more popular provinces such as Cancun, Tulum, or Mexico City. During off peak season, flight tickets to these regions are usually slashed by nearly half the original price.
Nomad Friendly
Value for Money
Internet
Workspace
English
Food
Safety
Health
Transportation
Friendly
Quality of Living
Living in Oaxaca Overview
| | |
| --- | --- |
|  Meal, Inexpensive Restaurant | $4.61 |
| Domestic Beer (1 pint draught) | $1.04 |
| Cappuccino (regular) | $2.18 |
| Loaf of Fresh White Bread (1 lb) | $1.39 |
| Water (1.5 liter bottle) | $0.44 |
| One-way Ticket (Local Transport) | $0.39 |
| Basic Utilities (Monthly) | $28.40 |
| Internet | $16.99 |
| Fitness Club (Monthly) | $20.63 |
| Apartment (1 bedroom) in City Centre | $412.52 |
Currency: Indonesian rupiah (Rp)
[erw_exchange_rates_widget lg="en" tz="0″ fm="IDR" to="EUR,USD,GBP,AUD,JPY,RUB" st="primary" cd="" am="15000″][/erw_exchange_rates_widget]
ATMs
Max Withdrawal: Rp 3,000,000
Withdrawal Fee: Rp 30,000 – Rp 50,000
Use of Credit Cards: Mostly Cash
Digital Nomad Personal Experience in Oaxaca
My first time in Oaxaca was as a Digital Nomad. I headed there after a brief stint in laid back Bacalar and I must say that I was in for quite the culture shock. Not only was Oaxaca so much louder – by several decibels might I add – but locals are so friendly that they'll often go out of their way to engage you in conversation. People always seem to be in each other's business in Oaxaca city, but it didn't take me long to realize that this was all part of the charm and allure of the place. 
One of the many things that I liked the most about working from Oaxaca was that I was never too far from amenities such as ATMs, supermarkets, and restaurants. I would also recommend that you explore the city on foot to soak up the local vibe in its most unvarnished form. 
Since Oaxaca is one of the world's biggest producers of coffee beans, you can expect to find an abundance of cafes where you can set up shop for the day. 
Now as far as Wi-Fi is concerned, there's a definite inconsistency: while some places offer solid and speedy connection, others may be choppy at best. If you want to subscribe to a mobile network package – which I strongly recommend that you do – you may wish to consider one of the three main providers: AT&T, Movistar Mexico, and Telecel, which is what I personally used during my stay in Mexico. It's good to know that Telecel is more expensive than the other providers but I was informed that it's also more reliable. 
As far as touts and scammers are concerned, I certainly had an easier time in Oaxaca than in more touristy areas like Playa Del Carmen, La Plaz, and Tulum.
Work in Oaxaca
Oaxaca admittedly does not have plenty of high-quality coworking spaces but the ones that I visited were adequately priced and spacious. I do have to give you a heads up about Wi-Fi though: like I said, Internet in Mexico can be inconsistent and so, there were a couple of instances where the connection would go in and out. This did not happen often and for the most part, I was satisfied with the spaces that I worked from.
Best Places to Work in Oaxaca
Convivio Oaxaca
A veteran nomad friend of mine recommended this place which he described as a 'long-standing staple' in the city's remote working scene. I must say that after spending the majority of my time working from there, I agree with him. Wi-Fi was surprisingly fast and reliable for the area which means that I was able to conduct plenty of video meetings with zero interference. 
Located on the Ruta Independencia in the city centre, Convivio is open from 9am to 7pm on Mondays and Tuesdays and 6pm to 1.30am on Saturday. The rest of the week, this spot is open from 9am to 1.30am, perfect for night owls like me. In fact, I'm pretty sure that's the only coworking space in the city that stays open until so late. 
With wooden tables, metal chairs, and large sofas, there's a distinctive coffee-shop vibe to Convivio. In fact, this place even offers a faux bar area with candles for a delightfully cosy vibe in the evening. While the agency does not provide private offices, they do have a Skype room as well as a Skype booth for private meetings. The rates are quite affordable too, with a daily pass priced at Mex$200, a five-day pass at Mex$800, or a 10-day one at Mex$900. A half-month subscription will set you back Mex$1,200 while a monthly one costs Mex$1,750. 
Selina
Another well-established coworking spot in Oaxaca, Selina has decent Wi-Fi but it's sometimes prone to outages. Also located at the very heart of the city, Selina is certainly hard to miss thanks to its bright pink building. Boasting a very relaxed atmosphere, this place draws a younger crowd and even has a much-sought-after hammock area where you can just kick back with your laptop. There's also a cactus courtyard and a library zone that's teeming with books centred around Mexican history. 
The common working space is tastefully decorated with very comfortable seating, but I absolutely loved working from their rooftop terrace while soaking up the sun. Another thing that I quite liked about Selina was its on-site coffee bar which offers reasonably-priced specialty drinks. If you have a hard time finding accommodation in the city, you'll be glad to learn that this place even features co-living services. While I did not stay there, friends of mine did and they couldn't stop raving about the on-site accommodation. 
In terms of prices, a day pass costs Mex$200 while a general pass costs Mex$2,000 per month for the common area. Digital nomads who want their own dedicated desks should fork over Mex$4,250/month. All passes provide access to meeting rooms. 
Work Coffee Inc.
While this place may appear nondescript from the outside, this is the perfect place for digital nomads who are seeking networking and collaborating opportunities. Work Coffee Inc. is found on Emilio Carranza street and, true to its name, there's plenty of emphasis on coffee culture. 
In fact, I'll admit that the first time that I stepped in there, I was convinced that I got the location wrong since at first glance, it looked like I'd stepped right in a college-style cafeteria. It didn't take me long to realize that it was an actual cafeteria, and the common working space was smack in the middle of it all. Therefore, if you're looking for a quiet and peaceful environment, this may not be the place for you. Digital nomads who would like to explore the local cuisine while working, however, will most undoubtedly find their joy there. 
I was informed that Work Coffee Inc. does sometimes offer private offices, depending on availability. The price for a private area usually hovers between Mex$4,000 and Mex$5,000 per month. The premises also feature a private meeting room on the first floor that can accommodate up to eight persons. A spot in their common working space costs between Mex$100 per day, although you can get monthly packages for around Mex$850. 
What I personally did not like was that the internet speed depends on your package of choice which means that you need to subscribe to a more expensive membership option if you want fast Wi-Fi. This place is open from 10am to 7pm, Monday to Saturday. 
Here's the good news: if you can't afford a coworking membership package, there are plenty of cafes dotted throughout the city where you'll most likely find other digital nomads frantically typing away at their laptop. Most of the time, the staff won't even give you a hard time about staying for half a day – if not a full day. The not-so-good news, however, is that while several cafes have free hotspots, the connection is not at all reliable so I would absolutely recommend that you get a mobile data package. 
Below are some of the best cafes that I worked from during my stay in Oaxaca: 
Café Brújula:

Café Brújula is actually a chain coffee shop in Mexico, but I can absolutely recommend their Santo Domingo branch which is located right opposite the iconic church. Wi-Fi was surprisingly decent for a public hotspot and their courtyard seating area offers the ideal environment for writing or other creative projects. During the week, it can get crowded at mealtimes so you may wish to head there during off-peak hours. This café is open from 8am to 10pm Monday to Saturday and 9am to 9pm on Sundays. 

Newbie Cafeteria:

Found in historic Jatalaco, Newbie Cafeteria has quite a high concentration of local remote workers, ideal for those who would like to mingle with residents. Don't be deterred by the graffiti-covered pathway, it's all part of the charm. Indeed, Newbie Cafeteria has a distinctively hipster vibe, most likely owing to its young and artsy crowd. Wi-Fi isn't all that good but, in my opinion, it's a great spot to get some offline work done while sipping on one of their excellent cold brews. 

Mondo Café:

I'll level with you – this place provides good internet and some of the best coffees I tasted in Oaxaca, but for some reason, it only offers three tables. As such, you may wish to head there early if you want to bag a seat. Now, whether or not you'll be able to spend several hours working from there largely depends on the server who's on duty, the time, and the number of people waiting to get in. Be sure to ask for whatever specialty coffee of the week they have since they're always coming up with new and innovative brews. Located in the city centre, this café is open from 8am to 7pm Monday to Friday and 10am to 5pm on Saturdays. 
A.M. Siempre Café: Easily recognizable by its brightly coloured murals, this café lies in the laidback area of Barrio de Xochimilco. Open 8am to 9.30pm Monday to Saturdays and 8.30am to 7.30pm on Saturdays, this café is highly popular among remote workers. Despite its cosy and relaxed interior, A.M. Siempre Café has plenty of antique-style accents and furnishings. Think trendy Montmartre Café setting in Paris. Wi-Fi can be so-so, but like I mentioned before, it's always a good idea to have your own mobile network data.
Best Places to Live in Oaxaca
Best Neighbourhoods
Because Oaxaca is a small city, you'll find that most neighbourhoods are within walking distance of each other and some even tend to merge. Despite their proximity though, each area has its own personality and while one neighbourhood may seem all sleek and modern, the other can make you feel like you've stepped back in time. Therefore, it's never a bad idea to explore as many areas as you can before deciding where to settle, especially if you're going to be there for a long time. 
Santo Domingo and Zocalo
If you're a first-time visitor to Oaxaca, you may wish to check out neighbourhoods such as Santo Domingo and Zocalo. Since these areas are centrally located, you'll be within walking distance to public transportation as well as cultural attractions such as markets, museums, and art galleries. I do have to point out that Santo Domingo tends to be far livelier than Zocalo, especially on Friday and Saturday nights. Santo Domingo also tends to be slightly more expensive than Zocalo which is known for its quieter streets and affordable housing. 
Jalatlaco
For an artsy, bohemian vibe, you can consider Jalatlaco, located west of the city centre. My personal favourite place to stay when I'm in Oaxaca, Jalatlaco features cobblestone streets as well as brightly coloured, colonial-style Spanish architecture. This region is also known for its avant-garde eateries, such as the Restaurante del Barrio de Jalatlaco, Café Solen, Santa Hierba Jalatlaco, and El Son Istmeno, which is a personal favourite of mine. Because it's something of a hidden gem in Oaxaca, there's not a lot of tourists in Jalatlaco and as such, you can expect housing prices to be on the more affordable side. 
Barrio de Xochimilco
Digital nomads who would like to live like a local may wish to drop anchor in Barrio de Xochimilco, which also happens to be home to several Mexican families. Often hailed as the oldest area of Oaxaca, Barrio de Xochimilco dates all the way back to the Pre-Columbian settlement although you'll still see vestiges of ancient buildings in the area. Because it's home to a high concentration of locals, you'll find plenty of produce and textile markets, pharmacies, small-scale restaurants, and schools. Unfortunately, there's not much to do at night since most establishments tend to close early. 
Santo Domingo
Like I mentioned above, Santo Domingo offers plenty of nightlife, but a lesser-known fact is that Calzada Niños Heroes in Eastern Oaxaca boasts plenty of vibrant bars and nightspots. Because it's less touristy than Santo Domingo, this is another neighbourhood that features affordable to mid-range housing options. I do have to point out that this region isn't exactly family-friendly due to its raucous all-night parties, most of which tend to spill out of the clubs and onto the streets. 
Calzada Niños Heroes
Solo travellers seeking a good time, however, will most undoubtedly find their joy in this particular party zone. In terms of safety, Calzada Niños Heroes does have a few recorded cases of drink spiking so you may wish to keep an eye on your beverages when clubbing in this neighbourhood. During the day, however, this region is no more dangerous than elsewhere in Oaxaca. 
Find an Apartment in Oaxaca
Digital nomads who are watching their budget will be glad to learn that it doesn't cost a lot to find a decent apartment in Oaxaca. It's true that some neighbourhoods are more expensive than others, but if you ask me, even the upscale areas can be easy on the pocket if you adjust your expectations. Rental prices do tend to go up in the summer so if you'd like to slash your expenses even more, you may wish to head there off season. 
The first thing to bear in mind when renting a place in Oaxaca is that the real estate market can be quite tough to navigate through. For starters, the language barrier can be an issue if renting directly with the owner and less scrupulous people may try to take advantage of the fact that you're not fluent in Spanish. 
Therefore, if you're going to stay there long-term, you may wish to book through a reputed agency in order to be on the super safe side. Like elsewhere in the world, you'll need to pay agency fees (usually the equivalent of two months rent), but if you ask me, it's absolutely worth it if it means avoiding potentially more expensive scams. 
When renting an apartment in Oaxaca, you may also be asked for a surety to co-sign the contract with you. It's important to know that the surety should be a Mexican resident who has his or her own mortgage-free place in Oaxaca. Agencies will also require a credit check and character references. 
Given the extensive variety of houses, studios, and apartments in Oaxaca, it can get quite overwhelming to find the right place. As such, I found it easier to browse through websites such as:
Additionally, you may wish to consider: 
Now, if you would like to brave the local real estate market on your own and contact the owners directly, you can always browse through social media pages such as:
While you will be potentially exposed to scams, the major advantage is that you won't need to pay agency fees. You can also try to negotiate on the price: in my experience, most locals are willing to lower their prices by 5 to 10%, especially in low season. 
Speaking of prices, your choice of neighbourhood has a direct impact on how much you'll pay for rent – although like I said, even expensive areas are more or less affordable. Touristy regions like Santo Domingo usually charge between Mex$8,000 and Mex$22,000/month for housing. 
In neighbourhoods such as Jalatlaco, however, it's entirely feasible to find a basic studio or apartment that ranges from Mex$4,000 to Mex$6,000 monthly. If you're planning on staying in or near the city centre, expect to spend between Mex$7,600 and Mex$20,000 per month on rent.
Cheap Places to Stay in Oaxaca
Digital nomads who are only going to be in Oaxaca for a short while may consider websites, such as Couchsurfing, where you'll find over 6,000 hosts who are willing to accommodate you for free. While meals are not included, it's considered good form to take care of the cooking whenever you want – although it's by no means compulsory to do so. Usually, most hosts only expect some conversation and company. 
As far as free accommodation is concerned, you can also consider options such as Work Exchange programs, where you volunteer for different types of jobs in exchange for complimentary housing. Popular work exchange programs are Workaway and Worldpackers.  
If you don't mind shared accommodation, you may even consider one of the many hostels throughout the city. On Booking.com for example, you'll even be able to book a bed in a mixed dormitory for as little as Mex$105 per night. On Airbnb, you can rent a room in someone's house for around Mex$250 per night. 
Like I mentioned above, it's possible to cut back on rent by opting for a less expensive neighbourhood. Therefore, I would recommend finding a place that's away from the city centre to curb your housing expenses. For example, El Llano in North Oaxaca offers various options for around Mex$270 per night. It's also a good idea to check out co-living options such as U-Co which has apartments in various areas of the city. The main advantage with co-living or flat-sharing option is that you split the rent and other utilities with other tenants, which means that you can even find options for as low as Mex$1,000 – Mex$2,000 per month.
Oaxaca Visa
First time visitors to Mexico will be happy to learn that the country's visa process is extremely straightforward. Indeed, there was very little red tape or paperwork involved – mostly because tourist visas are offered for free to various nationalities. It's good to know that digital nomads who already have a multiple entry visa for the USA, the Schengen Area, Japan, or the United Kingdom do not need to apply for a new visa before entering Mexico. 
A tourist visa enables you to stay in the country for up to six months. Whether or not your country is on the visa exemption list, you do need to fill out an Entry Immigration Form prior to your arrival. If you're visiting during high season, I would absolutely recommend that you fill out the form in advance in order to benefit from expedited entry at the airport since the queues at Oaxaca's International Airport can be notoriously long. 
Now, if you're going to stay in Mexico for six months or more, you can even apply for a temporary resident visa. While the visa grants you a stay of up to four years, it is approved per year and renewed for one to three years. At the end of the four-year mark, you can try applying for a Permanent Residence Visa, but these aren't exactly easy to get. 
The main advantage with a Mexican temporary visa is that it allows you to buy a plot of land, work, own a vehicle or even open a local bank account if you want to. It does take some time to get approved since the screening process involves several appointments at the consulate. You also need to set aside around Mex$800 for the visa.
Culture and Food in Oaxaca
Given the exceptional blend of flavours that its cuisine showcases, it should come as no surprise that Mexico was the very first country to receive a UNESCO culinary heritage recognition. In fact, Oaxaca is even hailed as the 'Land of a Thousand Moles' owing to the sheer variety of moles available in the city. 
Unlike other Mexican provinces like Cancun, I noticed that Oaxacan cuisine tends to have richly layered notes with plenty of miniature avocados, chocolate, moles, quesillo cheese, meats, and grasshoppers on the menu. Of course, it goes without saying that flaming hot chilli peppers are basically a staple in the city so be sure to let your server know if you can't handle the heat.  
Some of my personal favourite dishes in Oaxaca include: 
Enfrijoladas
These are basically fried corn or flour tortillas generously laden with a thick, treacle-like sauce and beans. In Oaxaca, the beans are actually stewed with avocado which brings a pronounced aromatic note to the sauce- not unlike bay leaves in a stew. Local families often eat it at breakfast and variations include crumbled chorizo or a fried egg on top. 
Tacos de Huitlacoche
I won't lie: when I first saw a street vendor selling these, I couldn't help but notice that at first place, Tacos de Huitlacoche looked quite unappetizing indeed. After all, it's basically a grey fungus that grows on corn. Still, on my local friend's recommendation, I was willing to try a nibble and I must say that of all things, I never expected this dish to taste like truffles. 
With rich, velvety notes tinged with just a hint of sweetness, Tacos de Huitlacoche are only available between May to November and depending on the harvest conditions, they can actually be quite rare elsewhere in Mexico. While I had it in a taco, they're also served in quesadillas or empanadas. 
Tejate
Technically, this is a drink and not an actual dish as such but believe me when I say that it can be just as filling as a proper meal. I was told that the Tejate actually dates back to prehistoric Oaxaca, even before the arrival of the first European settlers. This delightfully thick drink has a texture that's reminiscent of a double foam milkshake. 
Made from Flor de Cacao – a ground up flower – this drink also contains mamey seeds, cacao beans, and ground maize. The Flor de Cacao brings deep, earthy and perfumed notes to the drink and in my opinion, the best way to savour it is from a market stall on a hot summer's day. 
Sopa de Mariscos
I liked this one so much that it quickly became my go-to lunch while in Oaxaca. For starters, this seafood soup is usually served right in the traditional Cazuelita pot in which it was prepared. The tangy tomato broth can be extremely spicy though so be sure to ask about the spice level before ordering it. Toppings normally include chopped coriander, snapper, crab, mussels, and prawns. It's served alongside a wedge of lime as well as a hunky piece of bread or a soft corn tortilla for dipping. 
Oaxacan Mole
The backbone of Oaxacan cuisine, mole is made from chilli and since each variety has its own distinguishable chilli, locals categorically refuse to mix and match different varieties – as is sometimes the case in other Mexican areas. This elaborate dish is usually saved for special events such as weddings and unlike other regions in the country, Oaxacan Mole tends to have a pungent, sweeter note. 
If, like me, you end up falling hard for mole, I would advise you to try it in several eateries across the city since no two recipes are the same and there are plenty of regional varieties in Oaxaca. 
As far as the local culture is concerned, rest assured that you'll never run out of cultural festivals to attend during your time in the city. The most popular by far is All Saints Day in November and for that day, you'll find plenty of parades and other festivities throughout the city's cemeteries. On All Saints Day, altars are also decorated with various food items such as fresh sugar cane, nuts, fresh fruit, Mezcal, bread, chocolate, and sometimes beer. 
Another popular festival in Oaxaca, La Guelaguetza is dedicated to Xilonen and Centeotl, both goddesses of corn. Every year, La Guelaguetza is celebrated near the end of July and during that time, the city sees plenty of parades with locals dressed up in colourful costumes. The main celebration takes place at the very summit of Fortin Hill and after the ceremony, sombreros, as well as other handicrafts, are gifted to the public.
Oaxaca Nightlife
While the Oaxacan nightlife doesn't get as wild as in say, Cancun, there's still a few spots that you can explore after dark. Areas such as Santo Domingo and the Zocalo are especially known for their abundance of pubs, karaoke bars, and dance clubs. Locals are actually very fond of bar crawling so on Friday nights, it's quite common to see large groups of people ducking from one pub to the other. 
In my opinion, there's no better way to soak in an authentic Mexican nightlife experience than by checking out Macedonio Alcalá after dark – especially on Friday and Saturday evenings. This pedestrian street turns into something resembling a lively, open-air club after sunset, with locals and foreigners mingling under the night sky as each person brings their own drinks and music.
Below are my favourite nightspots in the city: 
Los Portales
Especially famed for its live Mexican music, Los Portales lies on the Zocalo at the very heart of Oaxaca. A firm favourite among locals, this pub commonly hosts themed evenings and karaoke sessions. While it does lie in a touristy area, I found their meals and drinks to be quite affordable, especially considering the live entertainment that it offered. 
Like virtually every pub in Oaxaca, Mezcal lies at the base of most cocktails, and I can recommend their Smokey Arroyo or Te Verde Margarita. According to the friendly bartender, these cocktails are best enjoyed with a side of fried or grilled grasshoppers. Now, I wasn't quite that adventurous but it certainly seems to be something of a delicacy in the area so you may wish to give it a try. 
Praga
Overlooking the Church of Santo Domingo is found Praga, a laid back bar that doubles as a coffee house in the late afternoon. This place is particularly animated on Friday nights with live music and entertainment. You'll often see patrons spilling out onto the curbside seating area, but a lesser-known fact is that there's a second Al Fresco spot right on the rooftop terrace, complete with a quaint little bar that serves up handcrafted cocktails. From there, you'll be treated to a bird's eye view of the city skyline sparkling from all sides. 
Granted, Praga is quite tame and relaxed when compared to other nightspots in Mexico, but if you ask me, it's the best place to be if you want to spend an evening away from the bustling crowds. Jazz nights and karaoke parties are also organized on a regular basis. The drinks were surprisingly inexpensive for a place that's quite popular among tourists. Located in Centro Historico, this bar is open from 4pm to 11.45pm, Monday to Sunday. 

Mezcalería In Situ
While you'll find specialty Mezcal bars virtually everywhere in the city, this one is a favourite of mine, mainly because of the extensive variety of Mezcal that it offers. I was told that this bar actually has over 200 types of Mezcals, so rest assured that you'll never run out of new cocktails to try! The staff is also exceptionally friendly and even took the time to give me a brief crash course in the local drink- even if they had to shout over the beats of the music. 
Mezcaleria In Situ regularly hosts Mezcal-themed events and tasting sessions, so keep an eye out for these. Located in the city centre, this place is open from 2pm to 11pm Monday to Saturday. 
Sabina Sabe
Another nightspot that's located in the city centre, Sabina Sabe is undeniably among the classiest places in Oaxaca so expect prices to be on the higher side. It goes without saying that most of their drinks are Mezcal-based, but you'll also find plenty of craft beer, spirits, and an excellent wine selection on the drink list. Along with their moreish drinks, this pub is also known for its great food with grasshopper tacos and beef carpaccio taking centre stage on their menu. 
In terms of entertainment, Sabina Sabe often hosts live cooking and mixology sessions by celebrity chefs and bartenders. Occasionally, you'll be privy to karaoke nights, themed parties, and live Mexican music. This place is open from 1pm to 1pm every day except Tuesdays.
Things to do in Oaxaca
With a vibrant cultural heritage, mesmerizing landscapes, and the most beautiful landscapes I've seen in Mexico, Oaxaca is an absolute dream come true for travellers. Since I was trying to stick to a strict budget during my time in the city, I was glad to discover that several attractions were either free or super affordable. 
Owing to the city's heritage, you'll find that most of its popular attractions are centered around the local culture. After all, Oaxaca is one of the few cities that's recognized as a World Heritage Site by UNESCO. 
Here are just a few of the best things to do during your stay in Oaxaca: 
Jardín Etnobotánico de Oaxaca

Located in the ancient monastic area located right behind the Templo de Santo Domingo, the Jardín Etnobotánico de Oaxaca has a spectacular variety of plants, including various types of cacti. An excellent representation of Oaxaca's biodiversity, this garden easily stands as one of Oaxaca's best attractions. In fact, this garden was first established to explore the relationship between people and plants and as such, you'll find plenty of exhibitions dedicated to the artistic as well as cultural traditions of Oaxaca. Unlike other botanical gardens that I visited in the past, the Jardín Etnobotánico does not have any signage. Our guide told us that this was a deliberate move to ensure that the garden maintains a seamlessly aesthetic look. I would suggest that you allocate around two hours for the tour which is conducted in German, French, English, and Spanish. Located on the Ruta Independencia, this garden is open 10am to 1pm, Monday to Saturday. Entry is free for kids from 0 to 12 years old and Mex$50 for adults. After touring the garden, you may wish to check out the Church of Santo Domingo de Guzman, known for its splendid architecture. Located right behind the Jardín Etnobotánico, this church was founded back in 1575 and boasts earthquake-proof, two-metre thick walls. The Church of Santo Domingo de Guzman is also reputed for its golden family tree showcasing 34 members of the Sy Domingo de Guzman family tree. With 11 chapels, this church additionally boasts lavishly decorated altars.

Hierve el Agua

When I found out that there was a site with petrified waterfalls, I knew I had to check it out – and that's in spite of the arduous hike that leads to the site. First things first: I would absolutely recommend that you book a guided tour, especially if you're not used to the region. Secondly, be sure to pack some mosquito repellent and plenty of sunscreen, even if you're visiting in the winter. And lastly, be sure to keep your belongings close to you and absolutely ignore anyone who tries to approach you. After all, this is one of the most popular tourist sights in Mexico and it's positively laden with touts, scammers, and pickpockets.  If you're used to the region and want to skip the guided tour, you can always rent a car or get a private taxi that will take you to the site. In fact, I would absolutely recommend doing that if you're familiar with Oaxaca since guided tours can sometimes rush you. Now, while Hierve el Agua literally translates to boiling water, the natural mineral springs are actually on the colder side – even with the notorious Mexican sun burning above. It's not a bad idea to bring a swimsuit so you can enjoy a soothing dip in the sulphur, magnesium, and calcium-infused waters. From the springs, you will be treated to an absolutely mesmerizing view of the petrified waterfalls that blend seamlessly in the rugged landscape. If you want to avoid the crowds, you may wish to head there early in the morning and believe me when I say that it's quite a unique experience to sit back in one of the mineral-rich pools as you soak up the misty landscape with nothing but the sounds of nature all around you. The official entry fee is Mex$25 per person. You'll also need to pay Mex$10/person road maintenance fee charged by the locals.

Zapotec City at Monte Albán

Whether or not you're interested in the local history and culture, I would absolutely recommend a visit to Monte Albán's Zapotec City, located just six kilometres from Oaxaca's city centre. Getting there is quite easy: you can simply hop on a bus from the Mina 501 terminal for Mex$50 (round trip) or grab a taxi for around Mex$80. Hailed as one of the earliest cities in Mexico, Zapotec still houses ancient ceremonial centres, artwork, and abandoned cities. A more gruesome feature of this site is the human remains that date back to the Zapotec Civilization- although everything's been fossilised by now. At Zapotec City, you'll also find the ancient Main Plaza which once used to house the elites of society. This particular site also used to be the headquarters for most civic and religious ceremonies. Not far from there are two ballcourts that have beautifully sustained the test of time. What particularly impressed me was the intricately carved staircase that leads to the South Platform. From there, you will be treated to awe-inspiring views of Zapotec City. Monte Alban is open every day from 8am to 4.30pm. Kids aged 13 and younger can enter the site for free while adults have to pay Mex$55 for an unguided tour. Guided tours cost around Mex$250 and you'll see plenty of licensed guides on standby at the ticket office if you want to hire someone on the spot.

Cerro del Fortin

A popular jogging spot in Oaxaca, Cerro del Fortin also happens to be one of the most scenic trails I've ever visited in Mexico. The trail actually starts from Calle Crespo where you will find the Escaleras de Fortin, another ancient staircase known for its gorgeous architecture. A short hike from there will take you to a stone underpass that lies right at the foot of the Auditorio Guelaguetza, an open-air auditorium that is known for the towering statue of Benito Juárez. Further up the trail is found a space observatory followed by a planetarium that lies right by the upper hill. Now, as mesmerizing as the sunset is from there, I would advise you against hiking in this area after dark since it can get quite dangerous at night. This site is entirely free to visit although you'll most likely come across touts in fake uniforms who will try to charge you an 'entry fee'.

Museo de las Culturas de Oaxaca

Fair warning: unless you're interested in the local history and culture, this particular attraction will seem boring to you so you may wish to skip it. But since I've always been fascinated by the local history, touring the Museo de las Culturas de Oaxaca was easily one of my very best experiences in the city. A unique aspect of this museum is that it chronologically walks you through the area's history, all the way from ancient times to today's modern era. Additionally, there's also a hall dedicated to the local language, music, pottery, and even medicine.  One of my favourite exhibitions at this museum is no doubt the Treasure of Tomb 7, a truly dazzling collection of precious jewels, gold, and carved bones that were originally unearthed from a time in Monte Albán. I do have to point out that the museum's signage is entirely in Spanish. If you're not comfortable with the language, you can always grab an English audio tour from the front desk. From the second-floor balcony of the building, you'll even be treated to gorgeous views of the botanical garden. In fact, the museum connects to the Temple of Santo Domingo, so you can easily fit all three attractions in the same day. The Museo de las Culturas de Oaxaca is open from 10am to 8pm, Tuesday to Friday. Tickets are priced at Mex$70 per adult.
Best Time to Visit Oaxaca
Oaxaca's year-round tropical savanna climate is drenched in abundant sunshine virtually all year long. Because of its dry and wet tropical climate, there's no significant difference between summer and winter except for the occasional precipitation on warmer days. 
Owing to its elevation of around 5,000 feet above sea level, summers in Oaxaca don't get as unrelentingly hot as other Mexican cities. April and May are the warmest months, with highs of 33 degrees Celsius during the day and lows of 15 degrees Celsius at night. 
This period is considered high season in Oaxaca since plenty of international travellers flock to the city to enjoy the pleasantly warm weather. If you're planning on visiting the city then, I would advise you to make your reservations in advance, especially when it comes to accommodation and activities.  
After April comes the wet season which lasts from May to September. The rest of the year is relatively dry with very little rainfall or thunderstorms. My personal favourite time to visit Oaxaca is actually in September which, incidentally, happens to be the rainiest month in the city. However, there are virtually no crowds, and the lack of tourists means that you'll benefit from some excellent deals in terms of prices. Rest assured that it doesn't continuously rain in September, so there'll still be plenty of sunshine to enjoy outdoor activities. 
Do remember that the months of July, November, and December can be quite busy as well since this is when the city celebrates its main festivals such as the Night of the Radishes, the Guelaguetza, and Dias de Los Muertos.
Oaxaca for Families
Full disclosure: I did not travel to Oaxaca with kids so I cannot give a first-hand account of my experience, but it didn't take me long to see that the city is quite family-friendly. Like I mentioned before, Oaxaca city has generously sized pedestrian streets, perfect for strollers or families traveling with small children. You'll find children-oriented products such as diapers and formula virtually everywhere you go. 
Digital nomads who are planning on staying in the city for a long time with their families may wish to consider private schooling since public schools mostly conduct classes in Spanish. 
Luckily enough, there are quite a few English speaking institutions in the city that follow international curriculums. These include The Cambridge Academy on Ruta Independencia, Liceo Federico Froebel located in Ricardo Flores Magon, and Harmon Hall Oaxaca, also found on Ruta Independencia. 
Additionally, Oaxaca city and its outskirts feature plenty of places during the weekend and holidays. Below are some activities that adults and children alike will undoubtedly enjoy: 
Parque Nacional Benito Juárez

: Located just outside the city, this massive park houses both the San Felipe and Huayapam rivers. An excellent base for hiking, picnics, and other outdoorsy adventures, Parque Nacional Benito Juarez is also known for its biodiversity and has over 230 species of both migratory and resident birds. It's also populated with plenty of mammals, fish, and reptiles of various sorts. 
Yaguar Xoo

: Kids will no doubt enjoy watching and learning about different animal species at this conservation zoo located in Tlacolula de Matamoros. Open from 10am to 5pm, Mondays to Sundays, this zoo has quite a large population of lions, bears, tigers, foxes, racoons, jaguars, and more. Tickets cost Mex$100 for adults and Mex$65 for kids. 
Chocolate Tours: If there's one thing Mexico is known for – other than its divine tamales and tacos – it's the local chocolate. There are plenty of chocolate grinding shops offering guided tours throughout the city, but my personal favourite is Chocolate Mayordomo on Mina Street. On only will the tour take you throughout the chocolate making process, but you'll also get to sample some of their local delicacies.
Living in Oaxaca
Oaxaca Transportation
If you ask me, Oaxaca is one of the best cities in the world to explore on foot. There's even a large pedestrian walkway known as the Andador de Macedonia Alcala where you can stroll while soaking up the sights without having to worry about traffic. 
Alternatively, Oaxaca offers different modes of transportation that you can use to get around: 
Bus
Buses cover most of the city and several of them also service out of town areas. Best of all, they're extremely affordable with tickets costing between Mex$10 and Mex$20 for regional routes and Mex$300 to Mex$600 for out of town trips. You can also hop on a Colectivo which is basically a privately-owned van that's even cheaper than the bus. 
Taxi
While I found some Cancun taxi drivers to be quite unscrupulous, I didn't have any negative experience with Oaxacan drivers. I wasn't taken on any impossibly long rides – as was often the case elsewhere in Mexico – and even if most taxis weren't even fitted with a meter, I found the rates to be quite reasonable. You can grab a taxi from one of the designated stands known as Sitios. It's always a good idea to agree on the fare before getting into the car and while tips aren't compulsory, they're certainly appreciated. 
Private Taxis & Ride Hailing
While private taxis are undeniably more expensive, they're ideal for late-night outings when regular taxis aren't available. Some of the highest rated private taxis in Oaxaca City include: 
City Taxi Oaxaca Official: +52 951 291 1349

Turitaxi Oaxaca: +52 951 345 9111

Central de Autobuses de Oaxaca: +52 951 502 0560

Taxis Privados Aeropuerto Oaxaca: +52 951 101 8625
Because Uber isn't available in Oaxaca, you'll find other ride hailing services such as DiDi, a Chinese-owned company. Now, prices are certainly far more affordable than taxis but if you're a first-time visitor to the city, I would recommend against using the app since I found it hard to navigate through. Twice, I ended up miles away from my original destination. Additionally, DiDi drivers aren't always available in the evening and drivers can sometimes cancel the ride at the last minute. 
Car Rental
Unlike more congested places like Mexico City, I would say that it's quite safe to drive in Oaxaca. In Mexico, cars drive on the right side and the roads are relatively easy to navigate. I do have to warn you about potential scams though: sometimes, the agency may claim that you damaged the car upon return and charge you extra for it. As such, I would recommend that you take pictures and videos of the car- complete with timestamps- before signing the contract. 
In off-season, you can rent a car for around Mex$300 per day while the price for high season can range between Mex$400 and Mex$700 per day, depending on the model. In most places, a valid US driving license should suffice although non-US citizens may need an international one. 
Some of the highest rated rental agencies in Oaxaca include: 
Fitness and Health
There's no denying that Mexican cuisine is quite high in carbs, saturated fat, and red meat. While the older generation isn't exactly known for being health conscious, there's a fitness culture that's emerging among younger people. Like I mentioned before, locals like to jog along the Cerro del Fortin in the early morning and during the weekend, you'll often find families going for long hikes in the city's outskirts. 
Personally, I'm quite fond of swimming but since there aren't any beaches near Oaxaca city, I ended up visiting public swimming pools a few times per week. Some of my favourite ones include Escuela de Natación Anacondas and Alberca Olímpica. Most of these municipal-owned pools were quite inexpensive and provided decent amenities. 
Alternatively, you may wish to check out fitness and health centres, most of which feature swimming pools, private coaching, and classes. Some of the highest rated gyms in the city include:
I found most gyms to be quite reasonably priced, with memberships costing between Mex$400- Mex$1,000 per month. Most gyms stay open until quite late in the evening, perfect for those who would like to avoid the crowd while working out. 
Football being the unofficial national sport of Mexico, you will find plenty of regional matches throughout the city. Locals are also fond of taekwondo, golf, rugby union, track, racquetball, basketball, tennis, and Basque Pelota, which is basically a court game that resembles baseball.
Oaxaca People
Anyone who's been anywhere in Mexico can attest to the fact that the country has some of the warmest and most welcoming people on earth. The first time that I went to Oaxaca was with the expectation that locals would be somewhat grumpy or resentful of the sheer number of tourists, expats, and digital nomads swarming around their scenic city. The last thing I expected was for them to extend such kindness to foreigners who were basically invading their area. 
But as I got to learn more about the country and its people, I realized that kindness lies at the very heart of Mexican culture. For example, while gratuities are merely appreciated and not compulsory in Oaxaca, you'll notice that most locals try to tip at least 10% whenever they eat out. Since locals are extremely proud of their country and want to make a good impression, you may also notice that they'll go out of their way to help foreigners. 
Along with kindness, respect is another element that takes centre stage in Mexican culture. Chivalry is well and truly alive in Oaxaca, with most men offering their seats to or holding doors open for women. Men are also expected to foot the bill when eating out, regardless of who invited whom. Families are very important to locals and as such, adult children often live with their parents so they can take care of them in their old age. Because elders are treated with the utmost respect, they're usually seated and served first at mealtimes. 
Language can sometimes be a barrier in Oaxaca so here are some key phrases that you may wish to learn before heading there: 
Hola, cómo estás

: Hello, how are you?

Buenos dias

: Good morning

Me Llamo

: My name is… 

Mucho gusto

: Nice to meet you 

Buenas noches

: Good evening 
An unofficial rule in Mexico is 'the more the merrier' which is why it's considered acceptable to bring an extra guest or two to social events without informing the hosts first- provided, of course, that it's not a closed event. 
Rest assured that you don't necessarily need to bring something if you've been invited to eat at someone's house, although a small gift or an inexpensive bottle of wine will certainly be appreciated. The one thing that you should bear in mind is that most dinners last for around two to three hours since locals like to converse around appetizers and drinks for quite a while before moving on to the first course. 
Etiquette-wise, it's important to know that locals consider it poor form to refuse refreshments outright so if you don't want to accept something that's being offered to you, you can just tell them that you'll have it later. 
Most people in Oaxaca are deeply religious and/or spiritual which is why several local establishments are closed on Sunday since the owners usually attend mass followed by a family lunch. The Virgin of Guadalupe is one of the city's most important deities, so it's considered poor form to pose for pictures with her statue or disrespect her in any form.
Oaxaca Insurance and Medical Care
Rest assured that there are plenty of good doctors, dentists, and opticians in the city. In fact, Oaxaca is known for its affordable albeit high quality dental care that draws people from all over the world. Medical services are at least 50% more affordable than in the U.S, which is also why you'll see several Americans flocking to Mexico for various treatments. 
While by no means compulsory, an international health insurance plan is recommended when traveling to Mexico, especially if you're planning on getting private health care which is notoriously more expensive. I would absolutely advise you to opt for private care whenever possible because, as excellent as public hospitals are, they're not as consistent as privately-owned establishments. Furthermore, I noticed that the nursing staff aren't very fluent in English which may potentially lead to medical errors and complications. 
Fortunately enough, there are plenty of great English-speaking private hospitals and clinics in Oaxaca, namely: 
In terms of medication, Oaxaca city has plenty of drugstores and pharmacies – colloquially known as Farmacia. I noticed that locals usually tend to go to the pharmacy instead of the doctor's for minor medical issues. 
Most Farmacias also have an in-house medical consultation run by interns or freshly graduated doctors, so it's entirely possible to have a basic health check-up right at the pharmacy. Some places don't even bother asking for a prescription but it's always a good idea to travel with them, especially if you need sleep aids, psychiatric drugs, or antibiotics.
Make sure you are fully covered by reading our full Digital Nomad Travel Insurance guide.
Jobs in Oaxaca
Digital nomads who wish to work in Oaxaca should imperatively have a valid permit that will allow them to integrate the local job market. To work in Mexico, you also need either a permanent resident visa or a temporary resident one that ranges from six months to four years. It's important to know that it's necessary to have your work permit ready even before entering the country. 
Now, while it's still possible, I must warn you that it's quite difficult to land a job in Oaxaca. Not only is it a relatively small city but openings are so scarce that plenty of locals actually need to migrate to other parts of Mexico in order to land a decent job. I would also recommend that you take some Spanish classes before integrating the local job market, especially if you're not fluent in the local language. 
Digital nomads who have a Bachelor's or Master's degree as well as a teaching certificate may try to apply for the position of English teacher at one of the city's private schools. Alternatively, you can also consider hosting private English teaching sessions for adults. Bear in mind that you absolutely need to be TEFL-certified to teach English anywhere in Mexico. Foreign English teachers usually make between Mex$10,000 and Mex$22,000 per month. 
If this is something that interests you, you may wish to check out websites such as: 
When browsing for jobs (in any field), it's also worth combing through sites such as:
Nomad Friendly
Value for Money
Internet
Workspace
English
Food
Safety
Health
Transportation
Friendly
Quality of Living
Cost of Living Oaxaca
Regardless of your budget, it's very easy to live comfortably in Oaxaca, which is probably why you'll find plenty of backpackers and broke digital nomads who are just venturing out. Indeed, the monthly cost of living in Oaxaca is significantly lower than Europe or the United States and even a mid-range budget would suffice for a spacious apartment in the better end of town. 
Rent may be your biggest expense, but if you're judicious about where you'll live, it's quite easy to cut back on costs. Digital nomads who are planning on spending most of their time outside to sight-see or work from coworking spots may wish to consider a basic, no-frills studio in an affordable neighbourhood such as Jalatlaco for around Mex$4000 per month. Flat-sharing will set you back around Mex$1,500 per month. If you can afford your own apartment, expect to spend between Mex$6,000 and Mex$ 12,000 monthly. 
For transportation, you can set aside around Mex$250 for a monthly pass while utilities such as garbage, water, cooling, heating, and electricity usually cost around Mex$600/month. You may wish to set aside Mex$350 per month for internet (60Mbps) and Mex$500 for entertainment such as eating out, group tours, bus tickets to the outskirts, and various attractions. 
Nomads travelling with their children may need to fork over around Mex$2,000 monthly for full day, private kindergarten and around Mex$36,000/yearly for private primary schools. For gyms, it's entirely feasible to find a decent membership that costs Mex$500 monthly. 
All things considered, you will need around Mex$13,200 per month – including childcare and gym memberships- which converts to around USD 600.