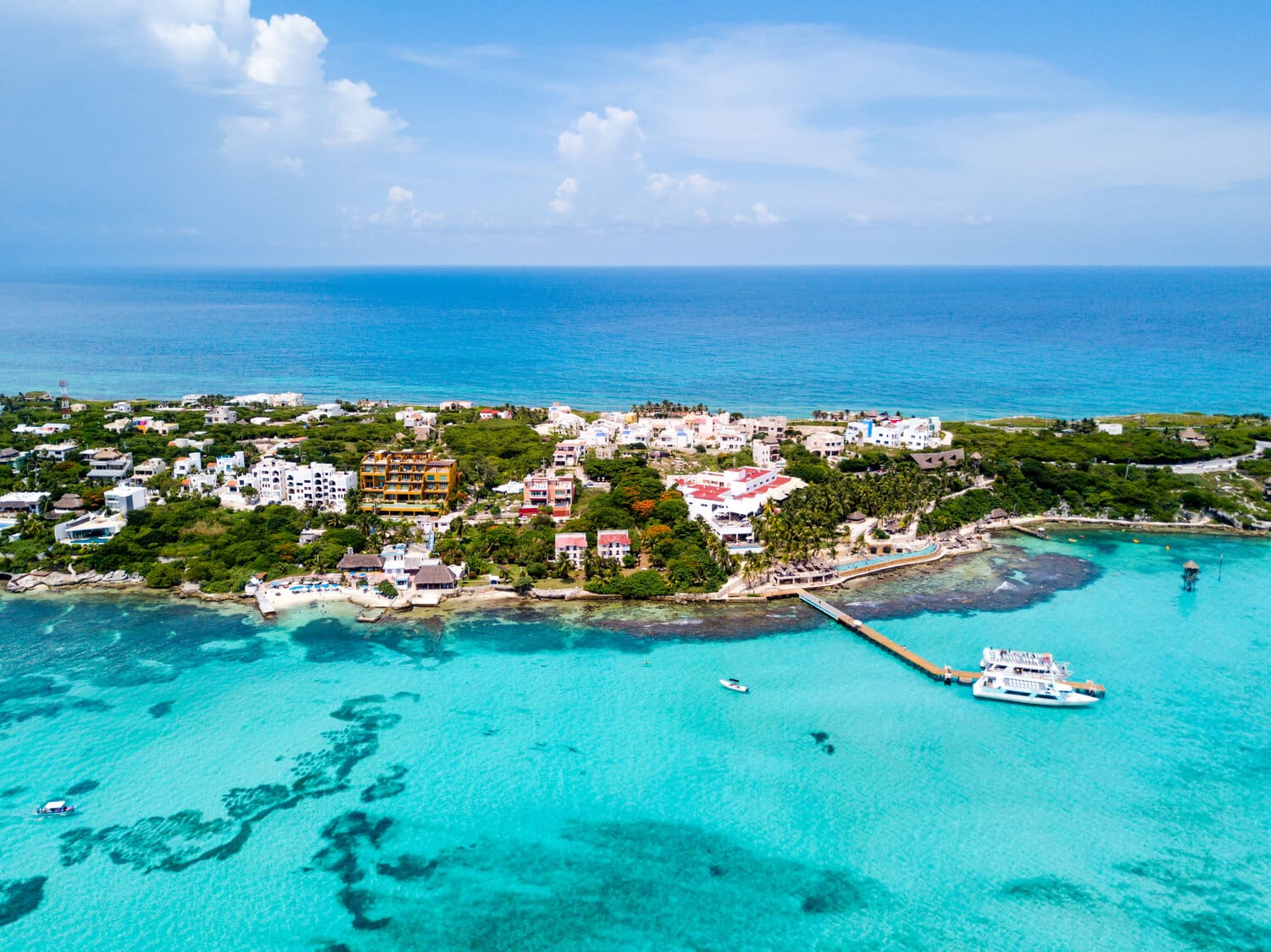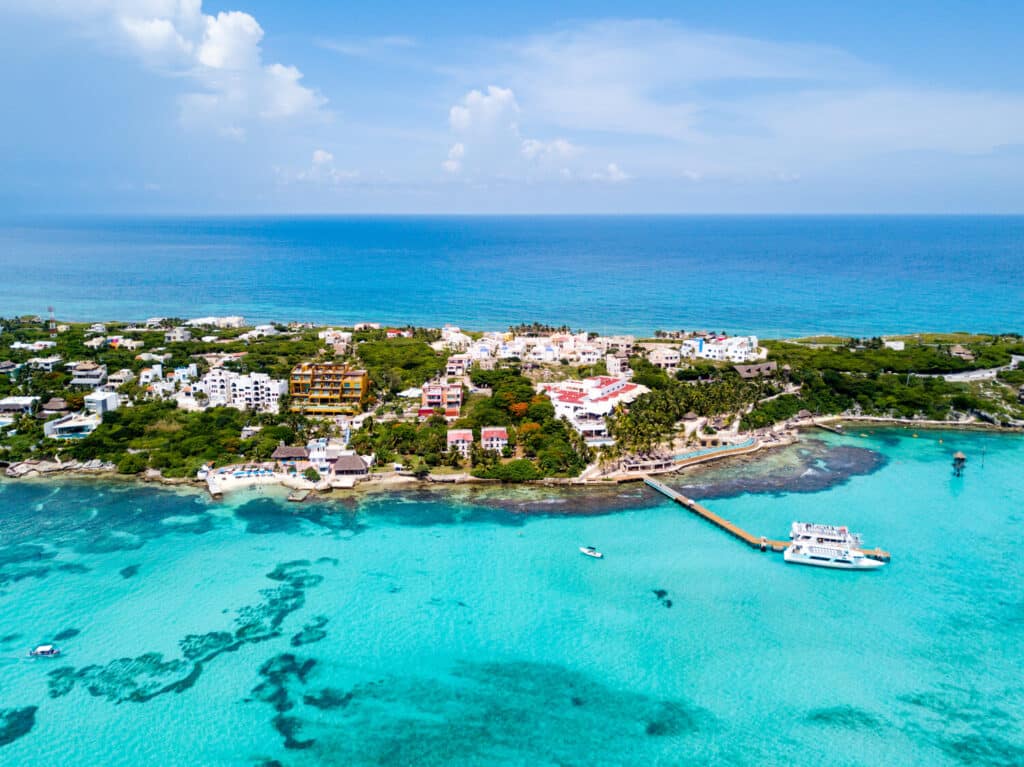 A Digital Nomad Guide to Isla Mujeres
Isla Mujeres is a small island located off the coast of Cancun in Yucatan, Mexico. It's only around 7 kilometres long and 650 metres wide, so it's by no means a large place. The name Isla Mujeres translates to "Island of Women". The island received this name because of the many little statues of the Mayan goddess of fertility that were scattered around the landscape when the Spanish first arrived in the 16th century.
Isla Mujeres is sometimes nicknamed "El Amanecer" de Mexico, which means the sunrise of Mexico. This is because Isla Mujeres marks the country's easternmost point, so it's where the sun first rises in the mornings. 
With a population of only 12,000 people, this island has a tightly knit community. Its proximity to the digital nomad hotspots of Cancun, Playa del Carmen and Tulum means that there is a small but steady community of expats and digital nomads present on the island. Most remote workers come to Isla Mujeres for only a few weeks or months as a little escape from the far busier coastal areas. It's mostly popular with tourists, but with more remote workers gathering on the island, there seems to be great potential for Isla Mujeres to become a more popular digital nomad hotspot in the future.
This island is known for its natural beauty and serene atmosphere. While you'll encounter quite a few tourists in Isla Mujeres, they don't tend to stay very long, and if you visit during off-peak times, you might be lucky enough to see the island in a different light. Isla Mujeres most likely will never become a party island, so definitely expect it to be quiet. It's also slightly more expensive than the mainland, but luckily Mexico is an affordable place to live in as a digital nomad, so it's still not too expensive.
Nomad Friendly
Value for Money
Internet
Workspace
English
Food
Safety
Health
Transportation
Friendly
Quality of Living
Living in Isla Mujeres Overview
| | |
| --- | --- |
|  Meal, Inexpensive Restaurant | $6.57 |
| Domestic Beer (1 pint draught) | $1.46 |
| Cappuccino (regular) | $2.55 |
| Loaf of Fresh White Bread (1 lb) | $1.32 |
| Water (1.5 liter bottle) | $0.68 |
| One-way Ticket (Local Transport) | $ |
| Basic Utilities (Monthly) | $26.76 |
| Internet | $25.21 |
| Fitness Club (Monthly) | $ |
| Apartment (1 bedroom) in City Centre | $601.60 |
Currency: Indonesian rupiah (Rp)
[erw_exchange_rates_widget lg="en" tz="0″ fm="IDR" to="EUR,USD,GBP,AUD,JPY,RUB" st="primary" cd="" am="15000″][/erw_exchange_rates_widget]
ATMs
Max Withdrawal: Rp 3,000,000
Withdrawal Fee: Rp 30,000 – Rp 50,000
Use of Credit Cards: Mostly Cash
Digital Nomad Personal Experience in Isla Mujeres
Mexico is one of the world's most popular countries for digital nomads, and the Yucatan peninsula especially attracts countless remote workers every year. Isla Mujeres was one of the biggest surprises for me in the area and is a place I will always return to. I was expecting an island overrun by tourists but instead found a little piece of paradise.

This area of Mexico has problems with large amounts of seaweed which is swept ashore during the months of April to August. This essentially ruins the beautiful beaches that Yucatan is usually known for, making swimming almost impossible. However, while the mainland is drowning in smelly seaweed, the islands are usually spared and suddenly become some of the most popular places to go in the area. During this time, a lot of digital nomads flee to Isla Mujeres, and it becomes a hub for remote workers. However, there are also a lot of tourists that visit the island. If you prefer off-the-beaten-track locations while you travel, Isla Mujeres might not be the place for you. You'll definitely come across families, backpackers or honeymooners who are just visiting Mexico for a week or two. In the long run, this can get a bit annoying and crowded. A lot of tourists also come to Isla Mujeres for just a day trip meaning it can get very busy during the high season. Since the island is so easy to reach from Cancun, you'll encounter boatloads of visitors coming onto the island and then disappearing with the last ferry. Living in a tourist place as a digital nomad isn't ideal, but unfortunately, the most beautiful places in the world are heavily frequented by tourists. For me, living in Isla Mujeres is worth it because of its stunning natural beauty. However, it might not be for everyone.
Work in Isla Mujeres
Isla Mujeres is a small island, so the selection of workspaces for digital nomads is very limited. There are no dedicated coworking spaces, but a few hotels or hostels do offer office space which could be a good option for remote workers.
Best Places to Work in Isla Mujeres
Selina Hotel and Hostel
The most well-known shared workspace on the island is at the Selina Hotel and Hostel. This is a lively place to stay in the north of the island, just a quick walk from all the best beaches. They have wifi and a dedicated working space for guests. The wifi speed is generally somewhere between 25 and 50 Mbps which is reasonably fast for a small island like Isla Mujeres. However, keep in mind that large uploads might take a while, so if your job depends on a high-speed internet connection, you might encounter some problems. Luckily Selina's coworking space is quite affordable. A day-pass costs 12$, and for a weekly membership, they charge 44$. The coworking space is small but rarely very crowded, so you can choose between hot desks or meeting rooms suitable for larger teams. The space is open and welcoming and a great place to network. Since a lot of remote workers who come here also live in the attached hostel, there are a lot of opportunities to get to know new people and collaborate. There are also occasional social events, although they focus more on drinks and good food than business topics. Isla Mujeres is definitely a place to relax and work casually. If you truly want to be productive, this might not be the best spot. There is far too much to see and do.
Since Selina is the only real coworking space on the island, you might have to consider finding alternative options for office space in Isla Mujeres. Consider carefully if you'll be staying in a hotel or hostel and whether you'll have access to a desk there. It might be advisable to rent an apartment instead so you can have a dedicated workspace at home. This might not be the ideal place to work as a digital nomad but with not a lot of public places to choose from, it is probably your best chance at productivity in Isla Mujeres. 
Mango Cafe
Another option is to get some work done in a public cafe or restaurant. Not a lot of places in Isla Mujeres have free and fast wifi, so the selection is limited. The Mango Cafe is a decent choice for those who don't mind a bit of background noise while they work. It's located close to the centre of town, so it's easy to reach. However, consider that the Mango Cafe is a restaurant so you cannot stay here all day. It's a good choice for a few hours of work, but after a while, you'll probably have to move. The good news is that the food is incredibly delicious and also quite affordable, so it's a fantastic lunch spot.
Cafe Mogagua
Cafe Mogagua which sits in the northern parts of Isla Mujeres, might also be a good option. It has usable wifi although it's not the best. It's probably most suitable for remote workers needing to send a few emails or do some light work online. They do have loud music playing for most of the day, so it's far from a quiet spot. The food is fantastic but more expensive than at the Mango Cafe. Its close location to the beach makes this cafe very attractive for anyone looking to get a few hours of work in before heading to the water.
Best Places to Live in Isla Mujeres
Best Neighbourhoods
Isla Mujeres can essentially be split into three sections. There is the touristy north with incredible beaches and lots of hotels and beach clubs. Then there is the centre of the island or Meteorológico. This is where most of the locals live and also where you'll find the most affordable prices. The south of the island and the neighbourhood of La Gloria is a lot quieter and more relaxed. This area is excellent for families and those planning to stay on the island for a while. Here is more information on each neighbourhood.
Playa Norte
When you first arrive at Isla Mujeres, you'll most likely be in Playa Norte. This is where the ferry arrives and also where you'll encounter lots of day-trip tourists. Here you'll find nice hotels, busy bars and lots of things to do. Playa Norte has some of the best beaches on the island, so if you stay here, you'll always be within walking distance to the ocean. Tourists tend to gather in the most beautiful places, so Playa Norte is not the best spot to get to know authentic Mexican culture. This area is constantly busy and really expensive. If you're travelling on a budget, you won't have much luck finding a place to stay here. While there are some hostels like Selina, it definitely won't come cheap. Stay in Playa Norte if you won't be in Isla Mujeres for very long and want to be close to all the action. It'll be great fun but also exhausting. You'll find primarily large hotels in Playa Norte, and it's not so easy to find actual apartments since tourists usually aren't interested in renting something long term. 
Meteorológico
If the busy beaches of Playa Norte aren't for you, why not head a bit further south to Meteorológico? This is the best neighbourhood for getting an insight into local life and is far less popular among tourists. Meteorológico makes up most of the centre of the island, which is relatively narrow. There are lots of little shops, restaurants and bars all offering much lower prices than in Playa Norte. Most locals live in this area, and there are fewer fancy hotels and more colourful little houses. If you want to rent a place long term in Isla Mujeres, this area is your best bet at finding an apartment on a budget. Meteorológico is where most remote workers living in Isla Mujeres permanently chose to stay. It's budget-friendly and down to earth. Since the island is so small, you don't have to worry about being too far away from the beach. You can reach Playa Norte in just a quick drive.
La Gloria
Finally there is La Gloria and the southern part of Isla Mujeres. This area is the quietest and also safest region of the island. You'll find more luxurious apartments here with stunning sea views and all the amenities of a resort. This is an excellent choice for families or digital nomads coming to the island for a longer period of time with lots of money to spend. La Gloria is definitely not affordable, but if you're lucky, you might get a good deal for a longer lease.
Find an Apartment in Isla Mujeres
Finding a permanent place to stay that isn't a vacation rental in Isla Mujeres is difficult. The market is crowded with holiday homes and hotels, and few landlords are willing to drop their prices to monthly rates. You can look online, but you'll most likely only encounter extremely high rates of thousands of dollars each month. Check out websites like Sublet.com, Anyplace.com or Long term Lettings to get an idea of the available properties. Again, the prices will most likely not be representative, though. You can also try Facebook groups where private landlords might be advertising their properties. 
It will be difficult to get a reasonable price for a nice apartment in La Gloria or Playa Norte since nightly rentals to tourists will achieve much higher rates. The lower prices will be more common in Meteorológico, where you should be able to find a place to stay for around 400-500$ per month. Most apartments come furnished and include a basic kitchen and air conditioning. For amenities like a pool, you'll pay a lot more, and your rent might go up to around 1200$ or more. Also, make sure to check Airbnb. While most places to stay will be very overpriced there, you might be able to find the occasional deal. It's also always worth asking Airbnb hosts for a discount should you stay for a more extended period of time. 
Finding somewhere to stay in Isla Mujeres online is tricky, and you most likely won't get the best deal. If you can wait until you arrive to look for accommodation. Only book a hotel or hostel for the first few days and then go out looking. This might be a bit time consuming, but it'll be worth it. Most places available for rent are not advertised online, especially those geared towards locals. Ask around and check out local bulletin boards. Always keep an eye out for signs in windows that indicate that a place is available. Asking at hostels is also a good idea. You might even meet some like-minded people you could share an apartment with to keep costs low. Being spontaneous is always a good idea in Mexico and will lead to endless possibilities.
A lot of digital nomads actually meet in hotspots like Tulum or Playa del Carmen and then decide to go to Isla Mujeres together as a group. They'll spend a few weeks or months on the island before moving on to another place. If you're not up for exploring Isla Mujeres by yourself, definitely head to the mainland first and stay at a hostel or coliving space. You're guaranteed to meet other remote workers whom you can travel and stay with for a while. There is a large digital nomad and expat community in the area, so people tend to have a lot of social connections. If you stay in Isla Mujeres for a while, you're guaranteed to meet others who have experience renting here and can give you helpful tips.
Cheap Places to Stay in Isla Mujeres
Hostels are always a good choice for low budget accommodation in Mexico. Isla Mujeres has a decent selection, although nightly rates will be slightly more expensive than on the mainland. You'll pay around 15-20$ per night for a bed in a shared room at the Selinas hostel, which also has a convenient coworking space. Other hostels might be as cheap as 10$ per night. You can ask the staff whether they offer discounted rates for longer stays. That way, you might be able to get a shared room for under 300$ per month, which is a very reasonable price. The Nomad's Hostel, for example, is an excellent choice for remote workers. It has a fantastic beachfront location and is modern and clean. Prices for a bed in a 24-bed room start at just 11$, which is unbeatable for the location. However, you might not have as much privacy as you're typically used to. Hostels are affordable, but you'll also have to worry about noise roommates or keeping your belongings safe. For budget travellers, it's the best option in Isla Mujeres, though.
If you're travelling in a group, you should look into renting an apartment or small house together. Many properties on the island have several bedrooms, and if you split the price between a larger group of people, you'll be able to get nightly rates down to around 250$. This is a great deal, so definitely look into it. You can also try finding flatmates on the island, but this might be a bit more difficult since the digital nomad community is relatively small.
Isla Mujeres Visa
Mexico has some of the best visa conditions for digital nomads in the world. Most nationalities are eligible to stay in the country for up to six months on a tourist visa which is completely free and very easy to obtain. In most cases, this will be more than enough time to spend in Isla Mujeres or the rest of Yucatan. Just make sure you're only working and earning money online, as working locally is prohibited on this visa.
If six months are not enough for you to explore Mexico, you could apply for a temporary resident visa. This is not an easy process, but it's worth it if you've fallen in love with Mexico and want to make the country your home for a while. The visa is valid for up to 4 years and only costs 36$. This is almost unheard of in the world of digital nomad visas. It's incredibly affordable and lets you have a lot more freedom during your time in Mexico and do things such as buying a car or opening a bank account. However, the process of obtaining a temporary resident visa is extensive and will require you to have all the correct documents. You'll also most likely have to do an interview process at a nearby embassy, so consider carefully whether you really need this visa or if the regular tourist visa is enough. Six months is usually enough time to spend in Mexico, and you can always exit the country and return later.
Culture and Food in Isla Mujeres
Mexico is world-famous for its delicious cuisine and arguably one of the best places to live as a digital nomad when it comes to culinary experiences. When you think of Mexican food, tacos and burritos might come to mind. However, there is actually so much more to Mexican food than just the Americanised versions you might know from your home country.
Tacos are, of course, one of Mexico's most famous recipes, but nothing tastes better than an authentic street food taco prepared in a traditional way. Tacos in Yucatan usually contain some sort of meat but are also available as vegetarian options. They're topped with pico de gallo or salsa verde and taste absolutely delicious. The best thing is that since they're so small, you can have two, three or even more of them in one sitting. There are many restaurants around Isla Mujeres that make incredible tacos. Los Tacos de Humo, which is located in Playa Norte, is an excellent choice, for example. Prices are reasonable, and the tacos are to die for. For delicious street food in Isla Mujeres, the Mercado Municipal is definitely the place to go. There are lots of options to choose from, and the prices are absolutely unbeatable. All dishes are prepared authentically and will leave you wanting to come back for more.
Another dish you need to try during your time in Isla Mujeres and the rest of Yucatan is Cochinita Pibil. This is one of the most iconic dishes of the area and consists of slow-roasted suckling pig served in tortillas with beans and onion. It's somewhat similar to a taco but has such a specific taste that you absolutely need to try it. The pig is roasted underground in banana leaves, and only the best cuts are used. You'll find Cochinita Pibil in restaurants around the island or served as street food. The restaurant La Lomita is continuously rated as one of the best eateries for authentic Mexican food on the island. Their guacamole is especially good, and they also serve fantastic margaritas. Make sure to stop by for lunch or dinner at least once during your time on the island.
Mexico is a diverse place, and its culture is colourful and absolutely mesmerising. Everything here is about art, and every street corner seems to have something new in-store. Mexican music is a huge part of the local culture, and you'll often encounter street musicians or live music playing in the evenings. There are plenty of opportunities in Isla Mujeres to shop for hand-crafted souvenirs to take home, which include beautiful statues, colourful figurines and hand-painted china. You can also find lots of colourful fabrics and clothing items which are perfect for the hot weather.
Mexico also has its ancient Mayan culture, which is still present today. Isla Mujeres is home to the ruins of a former Mayan temple and was once considered a spiritual site by the Mayans. Some relics of this ancient society still exist today in this area of Yucatan, and it's a fascinating culture to learn about.
Isla Mujeres Nightlife
Cancun and Playa del Carmen definitely steal the show when it comes to nightlife in Quintana Roo. However, considering how small Isla Mujeres is, the nightlife is surprisingly decent if you know what to expect. This is not the place to come if you enjoy wild parties every night, though. The mainland will be much better suited for that. Isla Mujeres is better for small bars, live music and then the occasional beach party. There are some venues that stay open quite late, though.
The island's nightlife is almost exclusively concentrated in the north, close to Playa Norte. This is where most of the tourists stay, so coming here in the evening will be your best bet for a fun night out. Jax Bar and Grill is one of the island's most popular bars. They have live music almost every night and even have a small dance floor. The bar is American-themed, and they also serve food so you can have dinner before you start drinking margaritas. Then there is La Kokonuts which is probably the closest thing Isla Mujeres has to a nightclub. This place stays open very late and is always good if you want to dance the night away.
The Selina Hostel is also a great spot to party on the island. They often host a DJ and have parties on the beach on weekends. In addition to La Kokonuts, this is probably the place that stays open the latest on the island and parties here are known to go way past midnight.
Of course, there are a lot of more laid back bars in Isla Mujeres as well. Enjoy cocktails and music at Terraza Isla Mujeres or Scorpion Bar 1. There is a great selection of places to choose from, and most of your nights in Isla Mujeres will most likely be spent with a drink in a bar somewhere. Some of the most beautiful spots for drinks are located along the beach. You can sit outside, watch the waves and maybe even dip your feet in the water if you want. Buho's is one of the most popular beach bars on the island, and their cocktails are absolutely incredible. The Na Balam Hotel is another fantastic choice and a favourite among tourists. They serve delicious tapas, and although drinks can be a little pricey, it's more than worth it for the incredible sunset views. For a more local and authentic experience, head to La Tablita, which plays Spanish music and serves little snacks you can enjoy alongside a cold beer. While you don't need to drink to go out in Isla Mujeres, it is definitely quite common in Mexico. Fortunately, the beer is relatively light and refreshing, and you can order cocktails without alcohol if you like. Of course, drinking tequila is very common, and since it's produced in the country, you should try it at least once. Alcohol is quite affordable, which makes going out in Isla Mujeres relatively budget-friendly for digital nomads.
Things to do in Isla Mujeres
Isla Mujeres is a small island. One of the most fun things to do here is to rent a golf cart and explore the area. Golf carts are easy to drive and don't go very fast, so almost anyone can drive them. You do need a valid driver's licence at most rental companies, though. A golf cart costs around 50$ per day, although rates get significantly cheaper if you rent for a week or more. Most golf carts seat two people, and you might have to pay more for one with more seats. Definitely make sure to compare the prices of different rental companies to get the best deal.
The north of Isla Mujeres is covered in beautiful beaches, but the south actually has a relatively rough coastline with jagged rocks and impressive cliffs. Visit the iconic Mayan ruins and learn more about Yucatan's incredible history. For a relaxed place to snorkel and swim, head to Garaffon de Castilla. For an entrance fee of only 5$, you can use the changing rooms, bathrooms and lounge chairs to relax while you enjoy picturesque views.
Go to the Underwater Museum of Art
In an effort to protect the local reefs and encourage tourists to visit other parts of the island, Isla Mujeres actually constructed an underwater museum with more than 500 different submerged sculptures. The artist Jason deCaires Taylor came up with most of them and gave this incredible place his unique touch. You can see the museum either by glass-bottom boat or by going on a snorkelling or diving trip. Not only is this a fun tourist destination to visit, but the sculptures also act as artificial reefs, which helps with local conservation projects.
Between the months of June and September, Isla Mujeres becomes a hotspot for swimming with whale sharks. These giant animals can reach a length of 13 metres but are actually not dangerous to humans. Swimming with them is safe and an incredible experience you'll never forget. Join a boat tour that will take you out to the open ocean, where you'll see the whale sharks. On some days, you might even get lucky and encounter giant manta rays as well. Tours cost around 125$ per person but the high price is more than worth it. Just keep in mind to never touch the animals and keep a respectful distance.

Try the best local street food
Mexico is known for its delicious food, and Isla Mujeres is no exception. The Mercado Municipal is one of the best spots around town to try local street food specialities and get to know all the best Mexican dishes (possible link: https://guideyourtravel.com/25-foods-and-dishes-you-need-to-try-when-visiting-mexico/) . The food is incredibly affordable, so this is one of the best budget-friendly spots to eat on the island. Local restaurants will be slightly more expensive but still reasonable enough. You won't have trouble finding a meal for around 5$ per person.

A turtle farm doesn't sound like a very environmentally friendly place, but the Tortuga Granja in Isla Mujeres is actually a very ethical venture that focuses on the conservation and rehabilitation of sea turtles in Isla Mujeres. It's located close to the hatching grounds of sea turtles on the island, and volunteers collect and gather eggs that were laid in the sand to protect them from predators or human interference. Once the baby turtles have hatched, they are released into the ocean. This is always a popular event and for an entrance fee of 3$ tourists can watch. Just make sure never to touch a baby turtle if you see one in the wild.

Isla Mujeres is an incredible place to go scuba diving. With crystal-clear waters and a fascinating underwater world, this is the best place to get your PADI certification. Visit the Underwater Museum or dive close to the reefs. You'll encounter many different species of fish and might even see turtles if you get lucky.

Spend the day at a beach club
In the northern parts of Isla Mujeres, you'll encounter a lot of beach clubs and small resorts. This is the perfect place to relax and unwind while you enjoy picturesque views of the ocean. You can rent a sun lounger for around 15$, which will go towards drinks and food in most cases. Go swimming, play beach volleyball or read a book while you enjoy cocktails and local specialities. There is lots to see and do in Isla Mujeres, but sometimes you need to do absolutely nothing to truly feel relaxed.

See an island made from plastic bottles
Isla Mujeres is actually home to a floating island that is made almost entirely of plastic bottles. It may sound unreal, but the Joysxee Floating Island actually exists. The creator Richard Sowa began constructing his island in an effort to get rid of plastic waste. For just 2.50$, he'll come to collect you from shore in his small boat and show you the island. It's an incredible sight to see and a unique place you won't find anywhere else.

Isla Mujeres is a lively island that includes a small town centre. This is a great area to go shopping, eating out or for some drinks in the evening. While it might not be the largest place, you can easily spend an afternoon here. Keep an eye out for beautiful street art, which makes the perfect photo subject.

Volunteer with stray dogs
If you want to give back during your time in Mexico, you should look into volunteering with stray dogs in Isla Mujeres. Isla Animals is a fantastic organisation that works with abandoned or injured animals. They're always looking for helping hands, and you can show up without an appointment. They will let you take a dog on a walk or help in the animal shelter. Even if you don't have much time, a short 30-minute walk will be the highlight of a stray dog's day. Find a new furry friend and give back to the community by volunteering with Isla Animals.
Best Time to Visit Isla Mujeres
The weather in Isla Mujeres and most of Yucatan tends to change very little throughout the year. It's usually hot and humid, with temperatures between 26°C and 33°C. January to April is one of the best times to visit the area as there will be little rain, and the heat will be manageable. May through September are the wettest months with high chances of rain and extreme humidity. This is also when the hurricane season takes place, and a lot of tropical storms come to this area of Mexico. Luckily, Isla Mujeres is usually spared from the worst of it, and storms don't tend to do too much damage. However, keep an eye out for cancelled flights during this time of the year which does happen frequently. 
The water temperature is always warm in this area of Mexico. It averages at 27°C, which makes Isla Mujeres the perfect place to swim year-round. The island is also occasionally spared by the notorious seaweed season. This occurs from April to August when masses of seaweed are swept ashore, making the beaches essentially unusable. Isla Mujeres still experiences seaweed, but it's usually far less than the mainland. 
The island is definitely hot, so if you're not a fan of air conditioning and warm outside temperatures at all times, Mexico might not be for you. Make sure to pack sunscreen and be prepared to sweat a lot. Luckily, there are plenty of bars where you can cool down with a refreshing drink.
Isla Mujeres for Families
Isla Mujeres is a beautiful island, and children would be lucky to grow up in an incredible place like this. However, the schooling situation isn't ideal for digital nomads. While there are expats that live on the island, there are definitely not a lot with families. There are no options for international schools, and all education takes place in Spanish. Young kids might be able to adapt to this, but older children will have trouble. There are some good local schools for children aged ten and below, though, so families with small children will most likely be able to get by. However, the mainland might be a better choice for digital nomads looking to relocate to this area of Mexico. There will be more options for hospitals or urgent care, which is always good to have close by when you're travelling with children. Isla Mujeres is definitely small, and while it's a fantastic vacation spot or place to spend a few months, it might not be ideal for longer stays.
That being said, this shouldn't discourage you from visiting Isla Mujeres with your family. Perhaps plan to stay here during the school holidays or while your children are young enough where they can easily integrate into a local school. There are definitely plenty of things to do on the island that the entire family will enjoy. The beaches are, of course, the star of the show. The water in Yucatan is shallow and warm, so it's perfect for playing. Older children can learn how to scuba dive or snorkel and enjoy paddle boarding or kayaking. There is also a water park on the island and the turtle farm, both of which are fantastic places to spend an afternoon or even an entire day.
Living in Isla Mujeres
Isla Mujeres Transportation
Isla Mujeres is only 7 kilometres long, so you can actually walk from one end to another if you feel like it. If you drive, it takes around 30 minutes to reach the southern end from the north. Most tourists will either rent a golf cart when they get to the island. This is a good option for long term visitors, but you need to be aware that it can get quite pricey after a while. Golf carts can cost as much as 50$ per day, although you'll most likely get a discount if you rent monthly. While they're super convenient and fun to drive, golf carts are mostly just a tourist attraction on the island. Locals tend to drive cars or scooters. You probably won't need a car unless you're moving to the island permanently and have a family. A scooter is a good option, but you need to be experienced to ride it. The traffic can sometimes be a bit crazy, and roads tend to be very narrow in Isla Mujeres. If you've never ridden a scooter before, this is definitely not the place to try for the first time. 
A great low-cost and environmentally-friendly way to get around Isla Mujeres is by bike. You can rent bikes in several locations around the island, or you could even buy one if you want to stay for a while. A bike will take you to all the important places on the island but won't be as expensive as a golf cart. Just beware of the sun. It can get quite hot after a while to bike around, so bring plenty of water and always wear sunscreen.
If you want a more comfortable form of transport, you could rent or buy a car in Isla Mujeres. Buying one is a bit of a process for foreigners, though, so only do this if you're sure that you'll be staying on the island for a while. Renting is a great option but will cost a lot of money. You'll easily pay more than 600$ per month unless you're lucky to get a good deal. As convenient as having a car can be, you also need to consider that the island is very small, so parking space is limited. You'll be very flexible because you can drive everywhere, but you might struggle to navigate the narrow roads. With lots of tourists driving around in golf carts, traffic can be slow, so having a car might not be worth it.
Isla Mujeres also has a basic bus system. It mostly operates without stops, and you can just get on and off wherever you like. Tickets vary from 1$ to 2$, and the bus is mainly used by locals. You can get to important parts of the island, but the buses can be quite crowded during rush hours. They're not the most reliable but can be helpful occasionally. 
To get to the mainland, you can take the ferry, which departs every 30 minutes to an hour. The first ferry leaves around 6:00 am in the mornings and goes as late as 11:00 pm in the evenings.
Fitness and Health
If you're interested in watersports, then Isla Mujeres is the place to go. This is the perfect place to learn how to scuba dive or get into swimming. You can also try other fun activities, such as wing diving, which lets you be towed underwater behind a boat while you enjoy the underwater world.
For a more traditional workout, head to the island's main gym, which is called Gym Tonic. It's located near the centre of the island and is mostly used by expats and locals. The gym might not be the largest, but considering most hotels have their own, there is no real need for more equipment. It's open most days from 5:00 am to 11:00 pm and also offers fitness classes. Memberships start as low as 22$ per month, which is an absolute steal. 
If you're looking for a place to stay in Isla Mujeres with an in-house gym, you should look at the Ixchel Beach Hotel. This hotel has a lot of amenities, including a large pool suitable for swimming laps and a dedicated fitness centre. It's not the most affordable hotel but great for anyone looking to work out close to home. Privilege Aluxes is another excellent option. Their fitness centre is modern and even has a view of the grounds. It's a great place to stay in shape during your time in Isla Mujeres.
Isla Mujeres People
The permanent population of Isla Mujeres lies somewhere below 13,000, so it feels very much like a small town. The island receives thousands of visitors every day, though, and on occasion, there will be more tourists in Isla Mujeres than actual residents. This is something you have to expect before coming to the island. It's not a quiet or serene experience, and many attractions in Isla Mujeres are geared towards tourists. If you're looking for an authentic place to experience Mexican culture, this might not be it. However, the people are extremely friendly and welcoming here. Isla Mujeres is an open place where all cultures and nationalities are welcome. It's also an LGBTQ-friendly place, although the scene is very small. 
You'll find all types of travellers in Isla Mujeres. A lot of families like to come here but many also just visit for a day trip. There are also a large number of honeymooners or couples on a romantic trip. Backpackers and budget-travellers tend to stick to the mainland, which is more affordable, but those brave enough to venture to the island absolutely love it. The majority of tourists here are Americans which is unsurprising considering they don't like to travel very far from home. Locals have adjusted to the high tourism numbers and tend to be very tolerant towards visitors.
The currency in Mexico is the Mexican peso, but the US dollar is actually widely accepted as well. Just keep in mind that the currency exchange will be less favourable if you pay in dollars as the shop or restaurant will be able to control the exchange rate. However, using dollars can also be better in some instances, so you need to decide on a case-by-case basis. Always clarify whether you'll be using dollars or pesos before you buy something. They both use the $ sign, so it might be confusing sometimes to tell the two apart. Also, keep an eye out for scams involving currency. Some taxi drivers might ask you to pay in dollars even though you were expecting pesos. This is not extremely common in Isla Mujeres but does happen occasionally. Also, be careful when using ATMs on the island. Some will overcharge you or might even copy your PIN number. This is not always the case but try only to use reputable ATMs ideally recommended by other travellers. There aren't many places to get cash on the island, so after a while, you'll know which ones are trustworthy. Cash is definitely the preferred payment type in Isla Mujeres so leave your credit card at home as much as you can.
These warnings should not put you off travelling to Isla Mujeres, though. The island is considered to be very safe, and scams can happen anywhere in Mexico. You'll definitely be less vulnerable here than in a big city if you use your common sense.
Isla Mujeres Insurance and Medical Care
It won't come as a surprise that a small island like Isla Mujeres has some issues with medical care. While there is a small hospital on the island, they are only equipped to handle minor issues and are not the best place to treat complicated illnesses. Most patients with an urgent need for treatments such as a heart attack or a stroke need to be transported to the mainland, most commonly Cancun, where there are larger hospitals. This means that if you have a history of medical issues, Isla Mujeres might not be the best place for you. The doctor's on the island are very professional and knowledgeable, but they can only do so much with limited equipment. However, the hospital is being invested in and has improved a lot in the past years. For example, they can now handle childbirth while pregnant women used to have to go to Cancun to have a baby. There are both public as well as private ambulance services on the island which can help in case of an emergency. 
Keep in mind that hospitals in Mexico tend to be for-profit, meaning you'll have to prove that you're able to pay before you'll be treated. This makes it essential to have travel insurance that will cover your medical expenses in case of an emergency. Complicated treatments in Mexico can cost thousands of dollars, so it's essential that you are prepared for all types of situations. It's usually best to have an insurance policy from your own home country which will cover you when travelling abroad.
Make sure you are fully covered by reading our full Digital Nomad Travel Insurance guide.
Jobs in Isla Mujeres
Isla Mujeres is an island that primarily lives off of the tourist industry. There are not many jobs to be found on the island, and digital nomads should not rely on finding local work to earn money. Foreigners are not allowed to work in Mexico on a tourist visa, and making money locally is strictly prohibited. If you break these rules, you might be subject to fines and even deportation. As a digital nomad, it's important to always respect local laws and regulations and treat your host country with kindness.
Even if you do have a work permit for Mexico, consider whether you really need the money and if there aren't opportunities to make an income online. Unemployment is an issue in the entire country, and foreigners should avoid taking jobs away from locals. There are several ways you can make money online, so you should make sure your finances are stable before you begin your digital nomad journey.
The most common jobs in Isla Mujeres are in the hospitality or tourism industry. If you have the correct permits to work in Mexico, you could start by looking in Facebook groups or local job boards to find work. Some resorts or hotels hire seasonal workers during the high season. Hostels also sometimes offer work for accommodation deals where you work a few hours a week in exchange for a free stay. All of these could be options for earning money in Isla Mujeres, but again it's highly recommended to make your living online instead.
Check out our Digital Nomads Jobs Postings to find the best jobs available for Digital Nomads.
Nomad Friendly
Value for Money
Internet
Workspace
English
Food
Safety
Health
Transportation
Friendly
Quality of Living
Cost of Living Isla Mujeres
Isla Mujeres might be more expensive than the mainland but it's still a really affordable place to live. You can find a cheap place to rent for only around 300$ per month and a much nicer one for around double of that. For 800$ per month you'll get a really nice property with several bedrooms and a garden. Transport is also incredibly affordable on the island. Buses only cost a few dollars and a rented scooter should also be decently affordable. Mexico is truly a paradise for digital nomads on a budget. You can explore the country for very little money if you use long distance buses. The ferry to the mainland costs 16$ for a return ticket so you can easily take day-trips to Cancun, Playa del Carmen or Tulum. Isla Mujeres has a lot to offer considering it's so affordable. It's home to some of the best beaches in the world and you'll have the picturesque ocean at your doorstep every single day. Even if the cost of living were twice as high it would still be reasonable for such a beautiful island.
Sample expenses for one month in Isla Mujeres
Essential costs
600$ basic one-bedroom apartment
100$ bills for water, gas, electricity, wifi 
50$ public transport
150$ groceries 
40$ cell phone plan
_________________
≈ 940$ total per month
Optional costs 
200$ eating out and nightlife
200$-300$ health insurance (varies greatly according to country)
150$ budget for day-trips
25$ gym membership
80$ gasoline
500$ golf cart rental
170$ membership at a coworking space