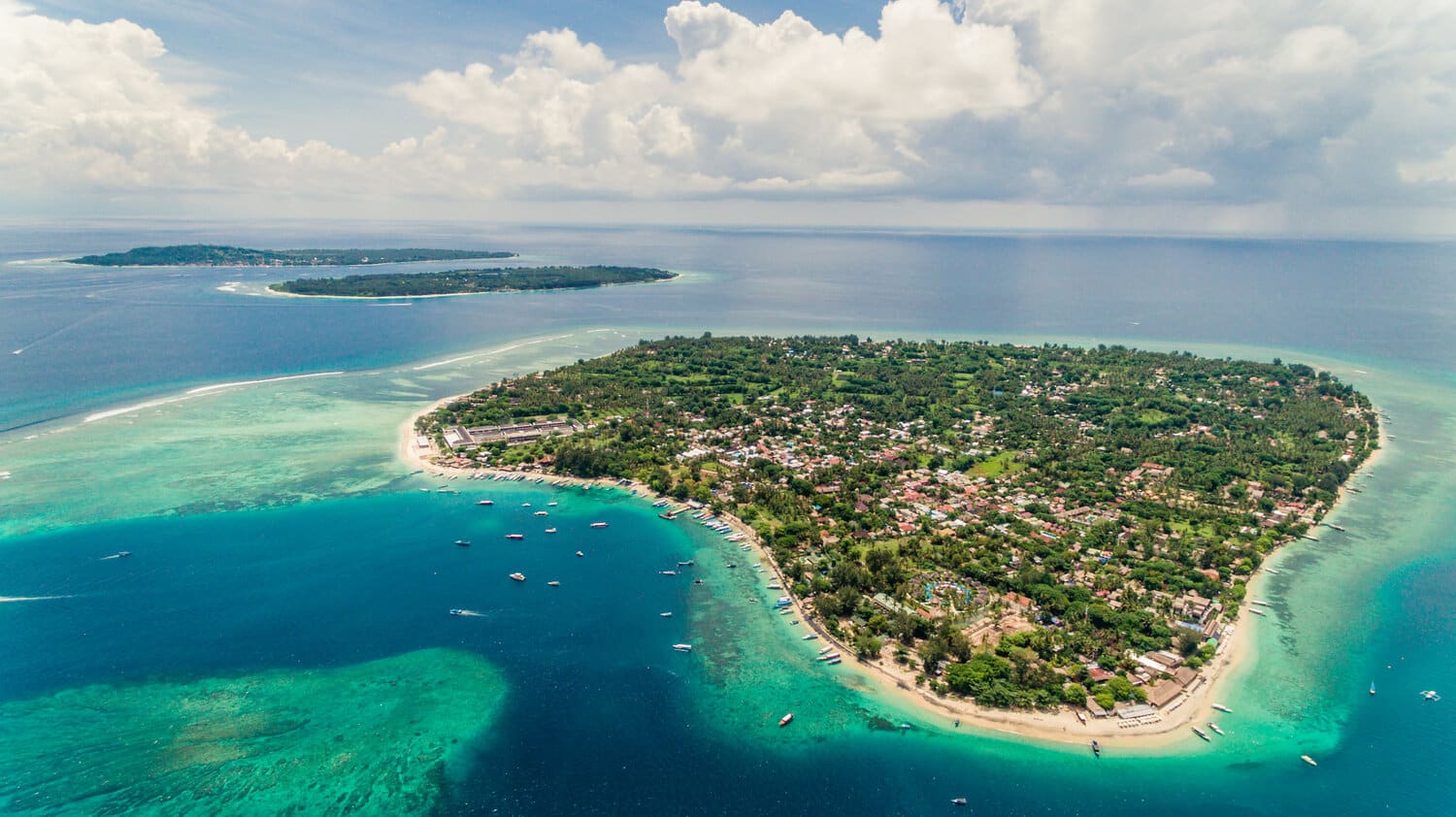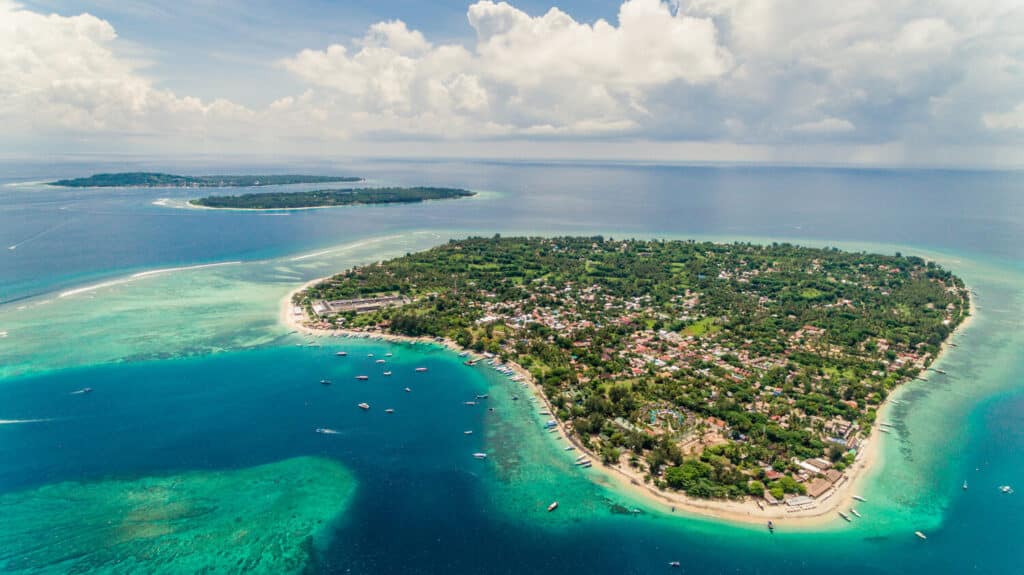 A Digital Nomad Guide to Gili Islands
The Gili Islands are three pristine islets which make up a small fraction of largest archipelago in the world, Indonesia. Situated between the Indian and Pacific Ocean, it's a bridge between Asia and Australia, which makes it a travel hot spot in South East Asia. The beauty of Indonesia lies not only in its picturesque beaches but in the other vast landscapes from soaring mountains, active volcanoes, tropical rainforests and swampy mangroves which is why it has something for everyone.
With a population of 273million it makes Indonesia the fourth most populated nation in the world. However with the Gili Islands total population standing at less than 4500 it gives you an idea of the tranquility that these pieces of paradise can bring. 
Just a short boat ride away from Bali is what makes them the perfect location for Tourists, Backpackers and Digital Nomads alike. Made up of Gili Trawangan, Gili Air and Gili Meno, each island offers a unique experience and lifestyle for you depending on what you are after.
Gili Trawangan is the largest of the three and once arriving on the Island, if the beach didn't already mesmerize you, then the feel that you have stepped back in time sure will with horse and carts awaiting your arrival. This is due to the island not allowing motor vehicles which not only being great for the environment only continues to give the island a magical, untouched feel. 
This island is notorious for its partying scene, and for good reason. With an abundance of lively bars and friendly travelers, this island truly does live up to its name for anyone looking for a good time. However the main attraction for most is the scuba diving, with a number of professional dive centres offering courses for all ages.
Gili Air is another popular island whereby here you will have more families, and it's safe to say the largest amount of Nomads due to it having a more laidback vibe. The activities are similar and you can still embrace the aquatic underworld but with less partying so it's perfect if you're prone to temptation. 
Finally you have Gili Meno. Although closer to Gili Trawangan it is the calmest of the islands and has been famed as a honeymoon destination. If you're a turtle lover then they have an amazing turtle sanctuary which you can visit. Otherwise you can sit back and relax on the sandy beaches or take a walk around the saltwater lake or mangrove forests.
Nomad Friendly
Value for Money
Internet
Workspace
English
Food
Safety
Health
Transportation
Friendly
Quality of Living
Living in Gili Islands Overview
| | |
| --- | --- |
|  Meal, Inexpensive Restaurant | $1.74 |
| Domestic Beer (1 pint draught) | $2.61 |
| Cappuccino (regular) | $2.28 |
| Loaf of Fresh White Bread (1 lb) | $1.76 |
| Water (1.5 liter bottle) | $0.61 |
| One-way Ticket (Local Transport) | $0.24 |
| Basic Utilities (Monthly) | $78.66 |
| Internet | $36.88 |
| Fitness Club (Monthly) | $57.67 |
| Apartment (1 bedroom) in City Centre | $392.07 |
Currency: Indonesian rupiah (Rp)
[erw_exchange_rates_widget lg="en" tz="0″ fm="IDR" to="EUR,USD,GBP,AUD,JPY,RUB" st="primary" cd="" am="15000″][/erw_exchange_rates_widget]
ATMs
Max Withdrawal: Rp 3,000,000
Withdrawal Fee: Rp 30,000 – Rp 50,000
Use of Credit Cards: Mostly Cash
Digital Nomad Personal Experience in Gili Islands
My first trip to Gili Trawangan was when I spend a short 3 month trip traveling alone as a Nomad around Indonesia, Philippines and Malaysia. I arrived first to Bali and kept hearing Gili this and Gili that. Initially I was wondering who this famous person was, only to find out (to my utter embarrassment) that Gili was actually the collective name of three small islands not far off the west coast of Lombok. Well what could I say, I just had to go! Arriving with my bag and no expectations I was blown away by the beaches and happy atmosphere the moment I disembarked from the boat. But my first impressions just kept getting better and better after reaching my guesthouse and was blown away by the friendliness of the staff. Although it was basic accommodation they went above and beyond just to make me feel comfortable and welcome. 
After settling in I set myself to work and found that there were a huge amount of cafes available with a lot of backpackers and Nomads alike. Being alone I was surprised at the smiles from strangers and hellos and good morning which always put a real spring in my step. 
Having already completed my PADI license the year before I was excited to be able to dive in the Gili Islands. With over 30 major dive spots and over 45 minutes speaking with the team on which dive spots I should do (bless their patience) I dived at Sharp Point, Turtle Heaven and Manta Point. Oh boy oh boy was I blown away. The colour and diversity of the coral reef was something I had never encountered and the sheer amount of different species of fish was unbelievable. I felt extremely lucky to have seen a huge Hawkbill Turtle and my first dive. In addition to the diving I enjoyed walks around the island an evening spent at the restaurants on the beach so it was more a relaxing and productive time I spend on Gili Trawangan. I originally only planned to stay 5 days which extended to 15 days due to the laid back vibe and new experience I could encounter every day.  
Fast forward 5 years and I returned with my boyfriend over a Christmas period. Being with someone else and it being a national holiday really changed the experience. I found there was a huge number of evening activities from BBQs around a bonfire, live bands all the way to crowded bars and nightclubs until the early hours. Although I was part of a couple the vibes off other travelers and locals didn't change and we soon found it easy to mingle and enjoy a drink with like-minded people. After this we traveled to Gili Air which was a nice contrast where we got to relax by the pool, take snorkeling day trips and unwind with a nice book in the evening.
I'm glad I experienced the islands in both scenarios as I am able to see that although the Islands have varying environments with one being more a partying paradise versus the others being more tranquil the activities and atmosphere are never forced upon you but merely gives you an opportunity to encounter the islands as you wish.
Work in Gili Islands
Gili Trawangan and Gili Air have an abundance of cafes and restaurants which allow you to relax and experience paradise while still being motivated and completing required tasks and deadlines. As with any Nomad, I always suggest pocket WiFi as a 'worst case scenario' so that you're not stuck if all hell breaks loose. However there are still various places which offer great ambience and workspace.
Best Places to Work in Gili Islands
Cafes and workspaces on Gili Air
B-52 CAFE
This little cafe is probably the best spot on the island to work. The Wi-Fi is slow, but you should get by with low bandwidth tasks. It does get busy here, though, and the busier it gets, the slower the Wi-Fi gets.
Musa
Given the fact it is a restaurant (and a popular vegan one at that) it can tend to get busy here and the Wi-Fi isn't great, but it's a nice place to sit and work among likeminded people. So if you want a snack of vegan delights or just a coffee while you work the atmosphere is great for this.
Breadilicious
This is another popular spot to get some work done and there is more seating and power outlets available so if nearby B-52 is too busy this is another option. But be warned they tend to have slower Wi-Fi.
Sharkbites
This craft beer bar is not exactly a cowork space. However, it does have slighter faster Wi-Fi then its other neighbouring cafes and is never full so if you need to spice things up this place can help.
Pachamama Cafe
Co-working pachamama cafe
The best option for working remotely on Gili Air. The Wi-Fi is fast and the interior is stunning – crammed with plants and beach side decor with an open, airy feel and if you need some human contact or motivation this place is normally full of other Nomads.
Business Facilities
Gili Air has one main internet cafe called SkyNet which is in close proximity to the main ferry port. It has basic photocopying facilities and strong cable internet if the Wi-Fi is letting you down.
Nevertheless, the best way to get some printing and scanning facilities if you need them are to head to the reception area of one of the bigger hotels. For free (or occasionally a small fee) they'll be happy to do your admin for you and most people on the island are incredibly accommodating if you need some assistance.
Cafes and workspaces on Gili Trawangan
The Banyan Tree
Being a Vegan Nomad (I'm not bias I promise) this establishment really is a true gem. Situated right on the gorgeous beach and with their tantalizing vegetarian and vegan food, this place really is somewhere to come for energy food and a great working environment. It has many seating options available either outside on the balcony, the large terrace right on the beach. or inside where there is an air-conditioned area and with it offering Breakfast, lunch and dinner and with a variety of fresh juices, smoothie bowls and coffee this place will be a sure winner with their speedy internet and multiple electricity sockets 
Kayu Cafe
'Kayu' means wood in Bahasa Indonesia, and as soon as you step foot in Kayu Cafe you will know why – everything is made out of wood. This gives this cafe a warm feel. Located on the main strip of Gili Trawangan, Kayu Cafe is a popular coffee shop/work café as this beachfront establishment has the best of both worlds: great breakfast, lunch and dinner options and a perfect work setting in their cool air-conditioned space. 
Manta Dive & Chappy's Bar
Manta Dive is one of the most popular SSI dive schools on Gili Trawangan. And with a popular dive school, you need a popular bar and restaurant. 
Chappy's Bar has a great all-day menu, with some cheap daily specials as well. They have a good variety of breakfast options like sandwiches, wraps and salads, all very reasonably priced. For the UK traveller, you can find some classic pub breakfast options like beans on toast and bacon. On Thursdays, it's grilled cheese sandwich day, and this bestseller is beloved among many divers. 
Scallywags
For our ideal working environment, I did choose to spend half my time Scallywags, a local café just 2 metres from the beach. Internet? Power sockets? Comfortable seating? Check, check and check. You also get stunning views of the sun and surrounding islands. For as little as the price of a fresh juice each day, I had the ultimate office space.
Coffee and Thyme
Coffee and Thyme first opened their doors on Gili Air opposite the pier. Soon it became a beloved coffee shop and meeting place and decided to open up on its neighbouring island. Coffee and Thyme is situated on the main strip of Gili Trawangan, located within only a few minutes by walking from the main harbour and with air-conditioning and some strong coffee it's a great place to work.
Cafes and workspaces on Gili Meno
Bibi's Café
A small but simple establishment which has good Wi-Fi and simple breakfast and juices. 
Sasak Café
Probably the strongest Wi-FI on the island which serves Indonesian and seafood in an open air environment. As the sun sets and you're done with work it becomes a lively establishment with live music where you can kickback and relax with a cocktail or two.
Best Places to Live in Gili Islands
Best Neighbourhoods
With the Gili Islands being made of three main inhabited islands it really comes down to what sort of experience you want and the type of person you are.
Gili Trawangan
Gili Trawangan is the largest of the islands and has over 50% of the total Gili Island population located here. It is notoriously known as the 'party island' and although it does have a lively party atmosphere and events almost daily, it doesn't have the Khao san Road type atmosphere. I like to call it a more regulated drinking environment. And what I mean here folks is that if you want to have a drink and a dance you can. Not your thing? No problem. It's easy to steer clear and not be up all night to the sound of music and drunk people screaming at 5am outside your window. Every night one bar is open past 1am while the others close shop so it has the best of both worlds. The partying folk have somewhere to drink a glass or two and the other folk can head to bed without the boom boom boom in their ears from multiple bars. 
However, asides from the night time activities Gili Trawangan offers much much more. There is the easy going atmosphere from the back-packers and Nomads alike which make it easy to make friends and with the beautiful décor of cafes and restaurants with almost all having a view of the ocean it makes working much more fun. 
Most people tend to stop on the east coast of the island since this is where the harbour is located and has more restaurants, cafes and shops. The north part of the island is where you find the larger (and more expensive) resorts and has a very quiet and tranquil atmosphere.
Gili Air
Gili Air is the stunning island closer to Lombok and here you will see more families. The island has the same attractions and excursions as Gili Trawangan such as diving and snorkeling but has a more laid back and relaxed vibe. Working by the ocean while hearing the water lapping the shore followed by an evening of dinner on the beach with a cocktail or two really is some people's paradise. It doesn't have a late night atmosphere and by far it is here you will encounter the most Nomads.
Gili Meno
Gili Meno is situated in the middle of the Gili Islands and this island is known as the honeymooners destination. However, don't let this put you off. You may be alone, with a friend or as a group but it doesn't mean you can't go there or will feel awkward. Far from it. The mere fact it is a hot spot for honeymooners just gives fact that it is the quieter of the islands so has a more tranquil and peaceful feel. They have some of the most gorgeous Yoga studios and retreats and since island hopping is extremely easy and convenient it gives you a nice excursion option.
Find an Apartment in Gili Islands
There are many options to finding an apartment, One of the best ways is joining the Facebook group for the Gili Islands and searching for 'rent'. Here you can get lots of tips of finding an apartment and what is currently available and how to contact the apartment owner direct. 
Another way is by checking out websites such as booking.com or Air BnB whereby you can see photos and have maps as to how close they are to the harbour, beach and other local amenities. 
However if you're not going in peak season (such as on Christmas or New Year's day) typically you can arrive on the island and someone from each family-run guesthouse are normally waiting at the harbour encouraging you to stay at their accommodation. This isn't done in a forceful way and with the islands being so small it is easy for them to allow you to see the property first so you can inspect for yourself and negotiate a price.
My first experience going to Gili Trawangan was that I initially booked a guest house for two nights using booking.com and then once I arrived I asked locals of any availability for other (cheaper) guesthouses. I was able to find a cute family-run establishment that was in my budget range which was perfect.
Cheap Places to Stay in Gili Islands
M Box (Gili Trawangan) – This hostel is a whole lot of fun. Having stayed here myself the place is clean with extremely friendly and helpful staff. Included in the price you get free breakfast, Wi-Fi, towels and linen and with a pool and games held daily it's a great place to meet and mingle with other travelers. Its only 5 minutes walking from the harbour and the dorms have maximum of three people per room so it's not too crowded.
Price: $14 dollars per night for a bed in a 3 person dorm
L Js Bungalow's (Gili Meno) – These larger style bungalows have private rooms with air conditioning, private bathroom and garden view which is where the free breakfast is served daily. Situated in front of the undeniably gorgeous beach it is not unusual to see turtle sightings here
Price: $11 dollars per night for a double room
Ana Warung Bungalows (Gili Meno) – Located on the beachfront in front of one of the best snorkeling spots these small and simple rooms have free Wi-Fi, private bathroom and a patio so you can sit outside and relax. Included in the price is also free breakfast which has the most delicious fruit juices on the island.
Price: $9 dollars per night for a single room 
Begadang (Gili Air) – This cute style accommodation has fast Wi-Fi, a chillout lounge and a mushroom (don't ask) shaped pool. Along with various board games for you to use for free at your leisure they also have every Tuesday and Saturday a movie night on an outdoor projector with free popcorn (so cute!)
Price: $7 dollars room rate per night (sleeps 2)
Beranda Ecolodge (Gili Air) – If you want to feel at one with nature then Beranda Ecolodge might just be for you. The rooms are set in Indonesian traditional village style with wooden and bamboo furnishings. The lodge has an outdoor swimming pool which is a great place to take a swim, a well maintained garden for you to sit down with a good book to relax and free Wi-Fi throughout the property if work needs to be done and emails sent.
Price: $7 dollars per night for a bed in a 4 person dorm  
$14 dollars per night for a private room
Gili Islands Visa
For Indonesia there are a variety of options depending on your length of stay but firstly you need to ensure that your passport is valid for 6 months from day of arrival otherwise entry into Indonesia will not be permitted. 
For a 30 day stay or less the simplest way is to get the 'Free Visa Stamp' on arrival which is offered to more than 160 countries. However this is not extendable so if you already think 30 days is not enough to discover all the magic of the Gili Islands you should apply for a 30 day tourist visa at the Indonesian Embassy upon your arrival in Indonesia. This VoA costs 500,000 IDR (around $35 dollars) and can be extended for an extra 30 days.
Other options available would be:
Multiple Entry Visa which allows you to stay up to 60 days per visit with a validity of 1 year and issued by consulate or embassy outside Indonesia

Social, Tourist or cultural Visa (B-211) which allows you to stay 60 days and can be extended three times for 30 days each. However this may be seen as more complex as it is issued by consulate or embassy outside Indonesia and a Sponsor Letter is needed
A kind reminder would be that if you overstay your visa you incur a penalty of $70 per day for under 60 days over-stay so bear this in mind and don't let paradise allow you lose track of your days! 
Culture and Food in Gili Islands
Food
Indonesian food is rich in flavour and diversity. One dish can have dozens of versions across localities. The famed satay, for example, has at least 20 different recipes adopted in different regions, depending on the local taste and availability of ingredients. The strong spices are frequent across most dishes but if spices aren't your thing, there are an array of other foods such as sweet and sour which will surely be able to tantalize your tastebuds.
"It's not a real meal without rice' really sums of the Indonesian's way of thinking but why is rice such a staple in the their diet? Interestingly it dates back to history and culture whereby the Goddess of rice, Dewi Sri is highly regarded in Java and Bali, which means all dishes come with rice.
Although the recipe for any one dish can vary between city, culture or family the top foods you have to try when adventuring to the Gilis are:
Pronounced: sop boon-toot
Sop buntut is a delicious oxtail soup. This Indonesian food is found mostly in West Java and is made up of fried or barbecued slices of oxtail in a clear broth. Feeling adventurous? Eat like a local and drizzle a bit of lime or lemon on top to bring out the flavour.
Pronounced: ren-dang
If you love a curry, you're sure to want to try a bowl of beef rendang. This Indonesian food is much like a beef curry, but without the broth. It is made from thick, tender diced beef that is slowly cooked in a gravy of coconut milk and spices for several hours. 
Literally "mix-mix," this dish is an Indonesian Salad. However don't let the word salad make you disregard this delicious dish as with the addition of the country's classic peanut sauce covering the vegetables really makes it a game changer!
Pronounced: na-see go-reng
Nasi goreng is Indonesia's unique version of fried rice and also the country's national dish. You won't find anything quite like it when visiting other countries in Asia due to the different incorporation of flavours and spices.
Pronounced: sa-tay
Satay consists mostly of skewered meat cooked over coals but for vegans and vegetarians you can also find Tempeh satays. A quick and easy snack which can easily be found all over Indonesia.
Pronounced: see-oh-my
Like Chinese dim sum? Well, meet Indonesia's version. Siomay is a traditional staple of Indonesia cuisine, essentially fish dumplings that are served with steamed potato, cabbage and eggs. 
Pronounced: In-dough-me
You don't really have to go to Indonesia to taste Indomie, but it's certainly worth having while you're there! If it's a staple in every Indonesian College Student's diet, its surely good enough for a budget backpacker or Nomad to eat.
Pronounced: Tem-pah
Originating from the Island of Java way back in the early 1800s this plant-based food remains a staple addition in the Indonesian diet, where it is typically fried and served with spicy sauces. Although one might say being a vegan I am bias, the texture adds a special something something to any salad.
Pronounced: mar-ta-bach
Had enough of the savoury dishes? Martabak to the rescue! This sweet Indonesian food is the country's spin on a pancake, usually filled with anything from chocolate and nuts to cheese and are only available at night and is something not to miss!
Being vegan myself I know the worry that you will arrive to a small island and have nothing but air and leaves to live off. But fear not. There are various (and delicious) vegan / vegetarian restaurants and cafes which will make you want to just eat more and more and more. On Gili Trawangan the Banyan Tree is a great spot which often gets crowded due to it additionally being a great Nomad working space due to its fast Wi-Fi and with its delicious wraps and smoothie bowls it's a wonderful place to eat Breakfast, Lunch and Dinner. Pituq Waroeng is another awesome place for Indonesian Vegan food such as amazing Satays and vegan Rendang. On Gili Air you can't miss Good Earth Café offering healthy wholefoods and Musa Cookery which has vegan pancakes, fusion salads and fresh juices. Gili Meno too secludied for vegan? Think again. Nourish restaurant offers daily tapas and a selection of raw foods.
Language
There are over 700 languages spoken across Indonesia. Bahasa Indonesia is the language of communication which you will hear on television and spoken by the government and is 20% of the population's first language. Other major languages spoken are English, Dutch, Javanese, and smaller local dialects. On the Gili Islands the people are indigenous to the island of Lombok whereby they speak Sasak. 
Alcohol
Although a predominantly a Muslim nation this hasn't hindered the alcohol culture which is wildly available at bars, restaurants and supermarkets. In fact, Indonesia even has some of its own traditional spirits such as tuak (made of palm-sap wine), arak (made of rice of palm-sap) and Balinese brem (made of rice wine). However due to the lack of regulations on homemade brewing I would stick to beers and spirits that you know!
Religion
The main religion is Islam with other religions such as Christianity, Hinduism, Buddhism found across the whole of Indonesia. What makes Indonesia and the Gili Island's such a great place to feel welcomed is that all major religious celebrations are not only accepted but they assist in organizing celebrations ad festivals regardless of their own beliefs.  
Gili Islands Nightlife
Depending's on which island you chose will depend upon how you spend your time once the sun sets. 
Eating out – Gili Trawangan
With an abundance of restaurants on the beach there is no better way to dine out – under the stars with your toes in the sand is a sure way to make you appreciate the surrounding nature.
Caribbean style beach front restaurant makes it a perfect location and if the food didn't fill you then you have to try their amazing deserts which rumour has, are the best on the island.
In need of a pizza fix? Pizzeria Regina to the rescue. This Italian owned restaurants allows customers to make your own pizza 
For the vegans and non-vegans alike, this small and quant establishment will make your mouth water. With their organic dishes from hummus bowls to wraps it won't fail to impress.
It has tacos which means one thing, a lot of people so don't be surprised if you have to wait amongst the crowd
Want to have some shisha while chatting with friends and other Nomads alike? Then head to Persona Restaurant which offers great Indian food and also holds outdoor film nights! 
If you like to drink and dance, Gili Trawangan is the island for you. Although small compared to Bali this doesn't stop them parting and what adds to the fun is that there is a scheduled party scene so you never have to worry if there is a better party elsewhere.
Monday: Blue Marlin
Tuesday: Jiggy
Wednesday: Tir Na Nog (Irish bar)
Thursday:Quiet night due to prayer
Friday: Sand Bar
Saturday: Sama Sama
Sunday: Evolution
Cheap drinks, dance floor and bustling atmosphere its no wonder this club is always full of fun and laughter
Situated on the beach with a pool and DJ booth, if this hasn't already tempted you then their signature cocktails sure will.
Things to do in Gili Islands
The Gili Islands are three, small untouched islands with white sandy beaches and crystal clear waters. If the sound of this doesn't entice you then the fact they have some of the best scuba diving spots in south east Asia just might. 
The marine life you can encounter is an extensive list with each dive a colourful and mesmerizing sight for all. Turtles are easy to see and sometimes just sitting with a coffee on the beach one can be spotted up close to the shore. Other underwater life which are easily spotted are Reef sharks, barracuda, trevally and if you're lucky eagle rays are not uncommon! 
Set aside from the diving aspect, the Gili Islands are extremely small so have a very homely and welcoming feel. You may arrive alone but it won't be long before you meet others be that at a café, in a bar or walking along the beach.
Yoga in a tree house

Yoga in a tree house – Sunset Beach Yoga on Gili Trawangan has an adorable yoga shala in a tree house with a direct view of the white sands and crystal clear water.

Catch a wave Surfing

Catch a wave Surfing – Gili Trawangan has a fantastic surfing point just 300 metres from the southern end of the island and in the wet season can provide up to 6 foot swells! Just don't forget your wetsuit and booties as there's a long coral reef which you don't want to dampen your surf high.

Scuba diving at Shark Point

Scuba diving at Shark Point – not heard of Shark Point or Deep Turbo? A day on the Gili Islands will have you learning the underwater dive spot lingo. With an array or professional diving schools and mesmerizing dive spots its easy to see why people become addicted to the undersea beauty.

Free diving with sea turtles

Free diving with sea turtles – want to try your hand at being a human mermaid? Free diving might just be for you. Gili Island Diving School has a centre on each of the three Gili islands offering lessons and courses so see how many turtles you can spot.

Watch the sunset while swinging on a hammock

Watch the sunset while swinging on a hammock – – love one or hate one, you have to see at least one Gili Trawangan sunset. Every day as the sun is setting just head to the west. Not sure which bar is best? You won't need to think. The Exile bar's lively and crowded atmosphere will be a sure fire way that this is the spot. Sitting directly in front of twin set of swings and a hammock which are positioned out in the ocean, this allows you to take the most romantic (if that's your thing) and beautiful new Instagram posts. Not a fan of photos? Grab a cold beer or a fruity cocktail and sit back and relax while the sun gradually sets.

Snorkeling with Nemo

Snorkeling with Nemo – on the north-eastern side of Gili Trawangan is where you'll find the best spot for snorkeling so take the short walk to this secluded spot and see what fish you can encounter.

Ride a sea horse

Ride a sea horse – A seahorse she says? Got you thinking there! Of course not a seahorse but definitely a real horse! Trot or gallop along the coast line which can be found on the East side of Gili Trawangan for all you animal lovers.

Jiggy Boat Party

Jiggy Boat Party – Want a fun day of drinking aboard a boat? Jiggy boat part certainly can help you there. Hosting parties with onboard DJs with various stops to enjoy a swim in the ocean with atmosphere guaranteed is a must.

Bounty Ship Wreck dive

Bounty Ship Wreck dive – not an actual a ship wreck but an old pier which is in the shallow waters off the coast of Gili Meno. It has amusing items which divers can encounter such as old bicycles to explore.

Watch the sunrise with a cup of Kopi Luwak Coffee

Watch the sunrise with a cup of Kopi Luwak Coffee – coffee produced from partially digested coffee bean from the Civet cat's (ahem) waste product not to your liking? Fear not! The fact that it is only produced in Indonesia with the exquisite taste of caramel and chocolate should be enough to wash away this thought while you relax and watch the day begin with the sunrise like a local.

Cooking class at sweet and spicy

Cooking class at sweet and spicy – Fallen in love with Indonesian food? Want to know how to take this cuisine home to show your friends? And you certainly can with the lively and fun class at Cooking School Sweet & Spicy. This school offers classes for all ages and dietary requirements demonstrating the traditional dishes from mie goreng to the famous peanut sauce (oh my oh my!).

Visit the turtle sanctuary on Gili Meno

Visit the turtle sanctuary on Gili Meno – not had any luck with finding turtles on your dives? Don't fret! Gili Meno has a specialized turtle conservation centre which is a privately owned centre providing a safe environment to hatch turtle eggs and nurture the newborns until it is safe to release them in the wild.

Hike the hill viewpoint on Gili Trawangan

Hike the hill viewpoint on Gili Trawangan – on Gili Trawangan you can head to the southern part of the island and take the short hike where you can see the other Gili Islands, Mount Rinjani on Lombok and Mount Agung on Bali.

Fly underwater on a subwing

Fly underwater on a subwing – want to move like a dolphin around the Gili Islands? Then these 3-4 hour trips will be perfect for you to part take in the underwater action.

Watch a "Stick Fight" tournament

Watch a "Stick Fight" tournament – every Sunday afternoon at the market place on Gili Trawangan you can encounter a traditional a 'stick fight' or a 'Presean' in the local Sasak language. This old age tournament is a tradition of two selected fighters with a sick and shield and if often accompanied by music and dancing.

Visit the night market for some local cuisine

Visit the night market for some local cuisine – At the south eastern coast of Gili Trawangan you only have to be within 50 metres before you start smelling the aroma of the seafood satays and spices coming from this small but quant market. With the food freshly caught each day and cheaper than the restaurants it makes it hard to say no

Island Hopping

Island Hopping – feel like a new adventure but want to keep it short and sweet? Take a day trip to the other islands. Whether you just want a new environment to work or to experience something different, the convenient timing of the boats makes it so simple and quick so there's no reason not to!

Kick back and relax to some reggae music – Sama Sama

Kick back and relax to some reggae music – Sama Sama bar on Gili Trawangan is the place to go if you love live music and reggae music. With a fun crowd and cheap drinks it makes this cozy establishment a fun way to relax and unwind.
Best Time to Visit Gili Islands
Besides the attraction of beaches the stable weather is a huge factor that attracts many tourists and Nomads alike. Being close to the equator brings year round heat but take not that it does have a dry and rainy season with the rainy season being from November till March and dry season being from April-October. 
However don't let the thought of rainy season hold you back to visit the Gili Islands. Rainy season doesn't mean it's raining every day, all day. The rain mostly falls by the end of the afternoon. And to share a little secret with you: there is no better feeling than a natural shower after a long hot day on the beach. 
The average temperature is between 27 C and 32C and the average humidity is 70%.
The peak months are July and August which coincides with 'peak' season which runs from April to October so if you like the cooler weather September and October may be best to avoid the hot summer. Peak month in the wet season tends to be December and January where travelers take advantage of Christmas on islands.
Gili Islands for Families
Although the Gili Islands are probably more well known by back-packers, the beauty and vast array of things to do makes it a lovely place for families. Allowing child to love and embrace nature in the Gili Islands is easy and safe. The instructors are highly qualified so young children can start to learn to dive and experience the fun that the underwater world has to offer. 
Furthermore there is the chance for children to snorkel. A hotpot for families with young children is a secluded area outside of Scallywags Beach Club which has shallow water and a colourful array of fish for the children to encounter. 
Grabbing a bucket and spade and heading to the beach is also an all-time favourite for children. You can relax with your coffee or fruit juice while the children scamper around making castles and forts until the sun starts to set.
Depending on your accommodation there are also many hotels that offer child services and activities with qualified and reliable hotel staff. Be that pool games, colouring or team games there is always something to excite the children.
In terms of education for children there are a few options. Homeschooling has always been quite popular among Digital Nomads but if parents prefer their children to enter a more traditional school environment then Gili Bumble Bee Montessori may just be what you are looking for. This school, which follows the Montessori curriculum, was started as a homeschooling project in 2013 in a cozy class of 12 on Gili Trawangan but over time has expanded and they now have their own school. With an intake of children from 2.5 – 9 years old with school holiday and class immersion programs it's a great way for your children to continue their education in a safe and environment. 
Living in Gili Islands
Gili Islands Transportation
How to get to the Gili Islands
Due to the Gili Islands having no airports one option would be to fly from Bali to Lambok International Airport (LOP) which is around $20 one way with a short flight time of 30 minutes. From here you would need to hire a private car and speedboat to make the 90 minute drive to the harbour then 10 minute speed boat at a total cost of $36. 
Another (cheaper) option is by taking the speed boat or ferry.
There are a variety of ports you can choice from depending on your location but the three most popular are Amed Beach, Padand Bai and Serangan Harbour.
Amed Beach – South Bali; 1 hour transfer and around $35 dollars one way
Pedand Bai Harbour – East Bali (Ubud); 1.5 hour transfer and around $42 dollars one way
Serangan harbour – North Bali; 2.5 hour transfer and around $57 dollars one way
Please remembers most boats have a 25kg baggage limit so its always best to double check before buying your ticket if you have a lot of luggage.
It's easy and convenient to island hop and there are an abundance of transfer offices on each island which allow you to book and schedule as you please. You can choice to do day trips or longer stays and even venture out to Lombok for as little as $20. 
How to travel around the islands
As mentioned, the islands have no vehicles so if you arrive to Gili Trawangan with heavy luggage one way of getting from A to B is to get a horse and carriage. However this is sadly a talk of controversy due to the supposedly bad treatment the horses suffer. Therefore a more environmentally friendly way is to hire a bicycle or using your two little feet. A walk around the whole island can be done in 2 hours and is a great excuse to wonder and see the different beaches and bars along the way.
Gili Meno and Gili Air don't have horse and carriages so walking is the main method of commuting and a walk around Gili Air would take you 2 hours and a slightly shorter wander of 1.5 hours around Gili Meno.
Fitness and Health
With the ocean at your feet it's easy to feel the call of the sea and to take a swim or a refreshing dip. Swimming not your thing? A cycle or walk around the islands allows you not only to exercise but also have an excuse to find and explore all parts of the island at your own leisurely pace.
But swimming with the fish is only the beginning. Each island offers snorkeling, scuba or free diving with qualified instructors. Whether it's your first time, already hold a license or want to become a dive master there is a course or adventure waiting for everyone. One of the most popular diving schools on Gili T is definitely Manta Dive due to their friendly and knowledgeable staff but all the dive schools I've encountered have fantastic reviews. 
For all those Yogis there is no need to worry, Gili has your back! Each island has a variety of studios and times to suit all. For those of you who are wanting to try something a little different then what better way than with 'Fly Gili SUP Yoga'. Offering the unique experience of yoga on an SUP at sunrise, this really is a magical way to start your day. If on the other hand you prefer a lie in (I know I am guilty once in a while) the you can try 'Sunset Beach Yoga', which just like their name suggests, offers daily classes at the famous west side of the island allowing you tranquility and calm while the sun sets. This studio not only offers Vinyasa but also 'Flying' yoga. Gili Air is no different with studios H2O Yoga and Meditation Center and Gili Meno offering a yoga retreat for those wanting to indulge at Seri (drop in classes available).
For any gym goers who want to train and work off all those Satay Skewers, Gili Air offers a fantastic gym called 'Holiday Fit' that has a variety of machines, free weights and cardio equipment in an air conditioned (halleluiah) environment. What's even more exciting is they have the most fabulous little café offering protein shakes, smoothie bowls and fresh juices which make a perfect post workout snack!
Gili Islands People
Indonesians are extremely warm and respectful people. Don't be surprised if you get called 'Ma'am' as it is purely a sign of respect. The main religion is main Islam (86%) and each island of the Gili's has a mosque which emits sounds of live prayers 5 times a day. Other religions are Christianity, Hinduism, Buddhism so all religions are welcomed and accepted. 
Indonesia is an interesting country in terms of its economy. They are a huge exporter of petroleum and natural gas and supply a large amount of commodities such as palm oil, coffee, sugar and cocoa with tourism holding 5% of their economy. Although this may seem like a small percentage overall, with the divide of the rich and poor quite wide, this 5% is relied upon by a huge amount of locals on the Gili Islands.
Indonesian people are extremely friendly towards family and strangers a like. Don't be surprised if you ask for directions and are taken their directly by a local who won't accept a tip but a mere thank you in return. The thought of helping someone in need is integrated in their culture and is not about receiving something back which is why you find so many Nomads find it so hard to leave a culture of such warmth.
The Gilis are home to the Sasaks who are the native people of the Gili Islands and Lombok, although the local community include; Balinese, Arabs, and other Indonesians from other islands. The Sasak's are mainly Muslim and they still speak their own language Sasak, though English is commonly spoken by the locals. A fun fact I was told by a local from Gili Trawangan is that there are 983 Indonesian families living on Gili Islands in total!
Gili Islands Insurance and Medical Care
As with any country, it is always highly recommended to obtain travel insurance for both medical and personal belongings. Although throughout Indonesia it is regarded as extremely safe, it is always best to air on the side of caution; especially if your job revolves around you expensive items such as laptops!
For medical care I would always take out insurance. On every Gili Island there are several clinics which provide basis care and medications but for serious injuries or health care issues which would seek a hospital visit it means traveling to Lombok to the closest international hospital. This hospital called 'Rumah Sakit Harapan Keluarga' hospital and is just south east of Mataram on Lombok. Therefore medical insurance can really help in such an event.
The clinics on the island have efficient staff who can speak basic English but I would also advise carrying a basic first aid kit just to ensure you are not without something that you may find hard to find on the islands at their local pharmacies or clinics. 
Another key thing I carry and use daily on the islands is mosquito spray to protect myself from mosquito bites as not only to avoid the annoying itchiness but although not common, there are still some cases of dengue and malaria.
Finally in terms of health the tap water is something that should be avoided so try to stick to bottled bottle and avoiding the ice cubes to ensure no upset stomachs. 
Make sure you are fully covered by reading our full Digital Nomad Travel Insurance guide.
Jobs in Gili Islands
The Gili Islands are predominately reliant on tourism and hospitably therefore this gives way to a few opportunities to find another side hussle to your main method of employment such as: 
Dive instructor

– With the Gili Islands being renowned for their underwater life its no wonder almost every traveler wants to go on a dive and with every island having an abundance of centers it shouldn't be too hard to find a position.

Hotel employee – with the huge reliance on tourism there are many hotels / guesthouses that would always need help from admin staff to cooks and cleaners.
Bar or restaurant worker – there are a number of restaurants and bars so if hospitality is your thing then be sure to connect with them as it's also a great way to interact and make new friends.
Teach Yoga – if you are already a qualified yoga teacher there are various companies who offer daily yoga sessions who I'm sure would always welcome new teachers.
Photographer – with serene settings from the white sandy beaches to the exotic underwater marine life, this place is a dream come true for any photographer.
Check out our Digital Nomads Jobs Postings to find the best jobs available for Digital Nomads.
Nomad Friendly
Value for Money
Internet
Workspace
English
Food
Safety
Health
Transportation
Friendly
Quality of Living
Cost of Living Gili Islands
The expected cost of living always varies depending on your budget so can be as cheap or as expensive as you make it. But on the whole the islands have extremely cheap living costs and the highest expense will most likely be your accommodation. However, as with many Nomads, this place is paradise if you are taking advantage of geo-arbitrage! Below I have listed average expenses but depending on your budget range a budget on Gili could look as follows:
Accommodation: $250 
Workspace: $150
Commute: $15
food: $200
leisure: $100