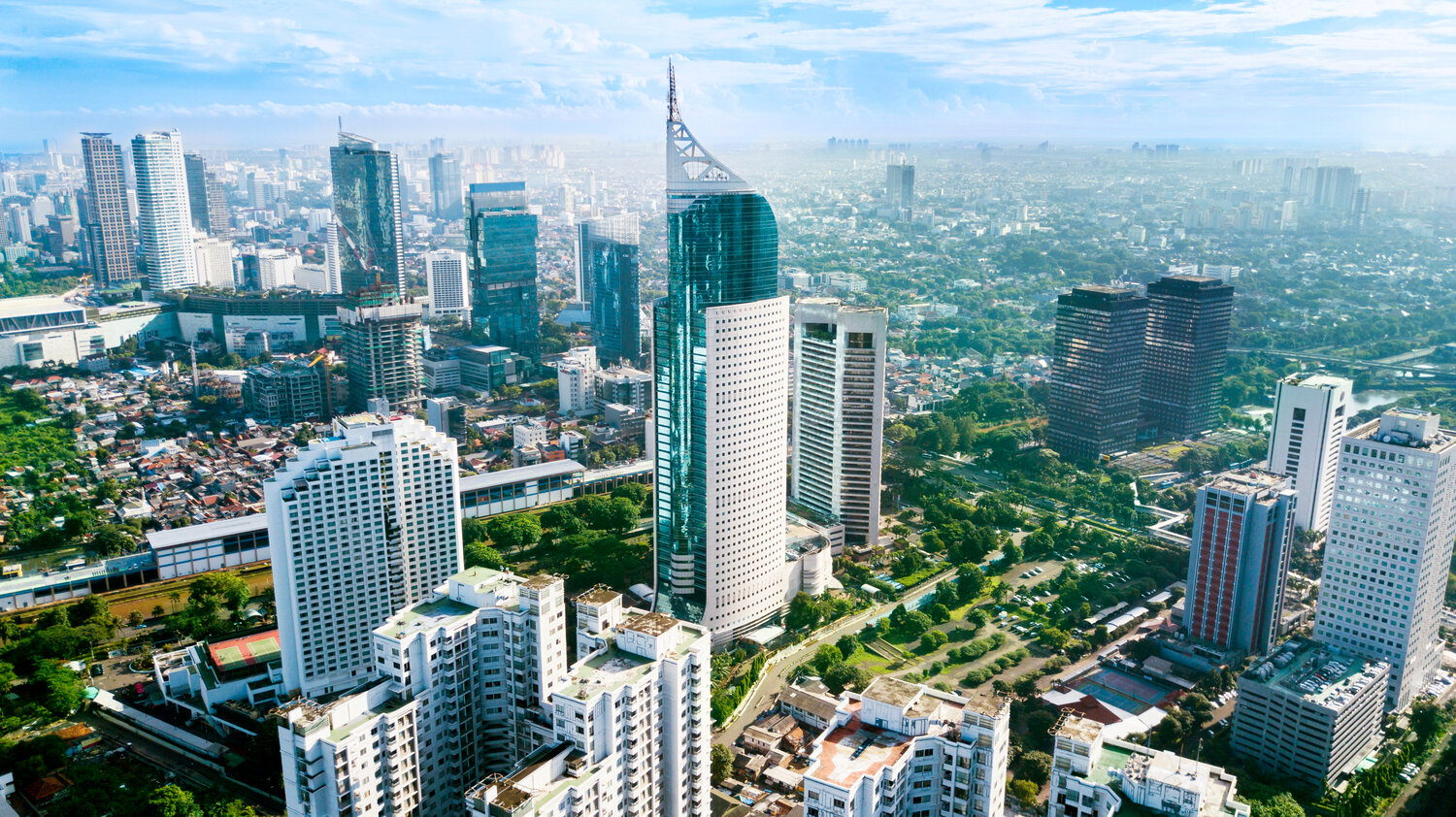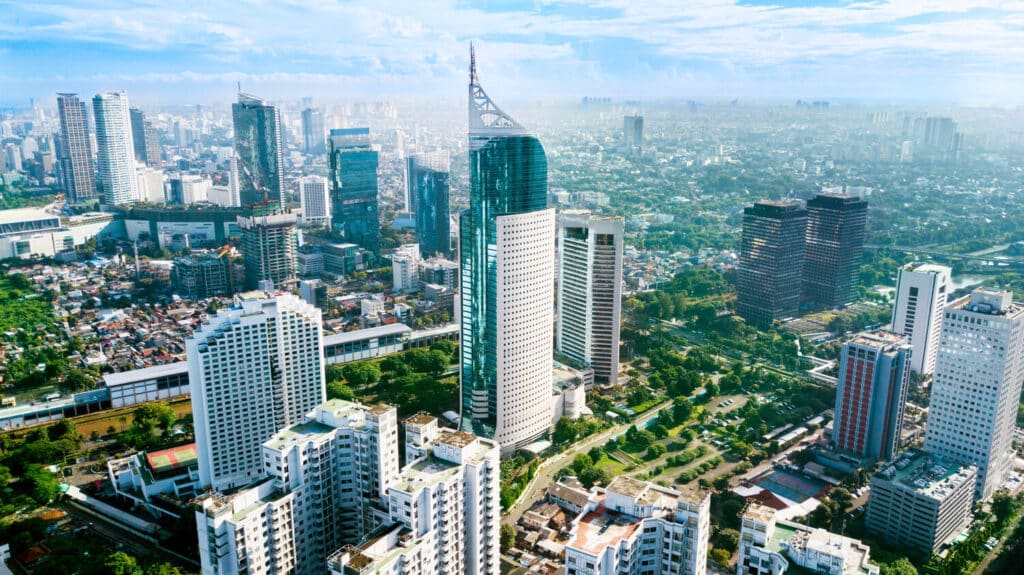 A Digital Nomad Guide to Jakarta
Regrouping over 300 ethnic groups, including a vast number of Polynesian and Malay descendants, the capital city of Jakarta is often referred to as Indonesia's business hub. 
Standing in stark contrast to Bali's laidback beaches, Jakarta is an immense metropolis with a population of nearly 36 million. 
Colloquially referred to as 'The Big Durian', this multi-cultural city is home to a large population of expats, mainly because of its thriving economy and low cost of living. Yes, the internet connection could be better and yes, some streets are reminiscent of Mumbai – complete with traffic jams and piles of trash on the pavement. However, if you do know where to go, Jakarta can be an excellent place for digital nomads who wish to immerse themselves in the city while learning about its profound heritage. 
One of the (many) good things about living in Jakarta is that you get to connect with travellers from various corners of the earth. Indeed, the city attract hordes of digital nomads each year, and this has given rise to a fair number of coworking spaces, networking events and hip cafes. 
Jakarta may be one of the least-expensive capital cities in the world, but the currency can be somewhat confusing for first timers. Like everywhere else in Indonesia, Jakarta's currency is the Indonesian Rupiah. This currency is represented as both Rp and IDR (both mean the exact same thing and have the same value). Now, as though this isn't confusing enough, the Rupiah's low value means that you'll be paying for a lot of stuff in millions, something that can quickly get overwhelming. 
My advice would be to download a reliable currency convertor on your phone so you can easily determine the value of your purchase. If, like me, you happen to be terrible at maths, a calculator wouldn't hurt either.
Nomad Friendly
Value for Money
Internet
Workspace
English
Food
Safety
Health
Transportation
Friendly
Quality of Living
Living in Jakarta Overview
| | |
| --- | --- |
|  Meal, Inexpensive Restaurant | $2.79 |
| Domestic Beer (1 pint draught) | $2.79 |
| Cappuccino (regular) | $2.58 |
| Loaf of Fresh White Bread (1 lb) | $1.21 |
| Water (1.5 liter bottle) | $0.49 |
| One-way Ticket (Local Transport) | $0.28 |
| Basic Utilities (Monthly) | $92.09 |
| Internet | $32.29 |
| Fitness Club (Monthly) | $44.12 |
| Apartment (1 bedroom) in City Centre | $472.06 |
Currency: Indonesian rupiah (Rp)
[erw_exchange_rates_widget lg="en" tz="0″ fm="IDR" to="EUR,USD,GBP,AUD,JPY,RUB" st="primary" cd="" am="15000″][/erw_exchange_rates_widget]
ATMs
Max Withdrawal: Rp 3,000,000
Withdrawal Fee: Rp 30,000 – Rp 50,000
Use of Credit Cards: Mostly Cash
Digital Nomad Personal Experience in Jakarta
I first visited Jakarta as a tourist, and I'll never forget the cultural shock that I experienced after heading into the city right after touring Bali. The serene atmosphere that I experienced in the Island of Gods was brutally replaced by the constant buzzing of traffic, non-stop noises and train compartments that were bursting apart at the seams with commuters. 
The weird thing? I instantly fell in love with the city – so much so that a few months later, I returned as a digital nomad. 
Virtually anyone who's been to Jakarta can attest to the fact that as crowded and noisy as the megalopolis can be, there's a charm to it that constantly pulls you in. Beneath the old-school surface lies a surprisingly modern, cosmopolitan world punctuated by friendly locals, mesmerizing sights and glitzy high-rise buildings that house some of the best clubs I've ever been to. 
Because of its location, Jakarta serves as an excellent jumping point for digital nomads who would like to explore the sprawling Indonesian archipelago. From the capital, you will be less than two hours to both Badung and Yogyakarta. 
As much as I enjoyed my time in that vibrant city, I'll be the first to admit that Jakarta doesn't have the best internet speed. While several malls and café do provide free Wi-Fi, the connection was choppy at best. 
Most apartments offer a slight improvement in terms of speed, but the stark reality is that the average download speed in the country is around 14 Mbps – much below the average internet speed in the entire Asian continent. Apparently, this has something to do with the country's unfortunate geographical locations and topography. 
If you don't mind paying extra, my advice would be to invest in a slightly more expensive albeit more reliable internet provider. In my experience, ISPs such as Oxygen, Biznet and Indihom are more stable than most. Your location in Jakarta matters too – I've noticed that Northern and Central Jakarta tend to have better internet connection than elsewhere in the city.
Work in Jakarta
There's no denying it, Jakarta's no Bali, but that doesn't mean that you won't find your fair share of places where you can set up shop in the city. While it doesn't have quite as many refined spots as Ubud or Kuta, I was still pleasantly surprised by the number of places where I could work from in Jakarta. 
Best of all, since these spots are primarily aimed at expats or travellers, you may even get to meet and network with other digital nomads. Fair warning though: I did come across some cafes with average Wi-Fi that kept breaking up during my Zoom meetings. In my opinion, it's best to fork out on a proper coworking space with more stable Wi-Fi.
Best Places to Work in Jakarta
CoHive
This has to be my absolute favourite coworking space in the city. In fact, I spent more time at CoHive than any other remote working spot, namely because they've got offices all over Jakarta. With whitewashed furnishing and bright, airy spaces, CoHive offers ultra-high-speed Wi-Fi, printing and mailing services, communal areas, free flow beverage spaces, as well as meeting rooms. With a couple of exceptions, most of their offices are centrally located near public transportation. This is also one of the rare remote working spots in Jakarta to offer an Event Space that can host up to 200 guests. 
In terms of pricing, CoHive boasts better rates than most. If you want to simply check out the place, you can always get a Daily Pass for IDR 75,000. A private desk will cost IDR 900,000 per person per month while a Team Desk that can accommodate up to four persons costs IDR 3,200,000 for the whole group. You also have the possibility of opting for a co-living package right on site. CoHive is open from 9:00 to 18:00 on weekdays. 
JustCo
I did a lot of work from JustCo Singapore when I was in the Lion City, and I was glad to find out that they've also got three bases in Jakarta – The Plaza Office Tower, AIA Central and Sequis Tower. While all three spots are decent enough, I did prefer The Plaza for its faster internet speed, relaxation areas and laid-back vibe enhanced by Batik motifs. With an in-house café, JustCo is open 24/7, so this may be the best choice for those who need to work odd hours. 
In most cases, it's also possible to transfer your membership from one JustCo centre to another, including offices based in other countries. Unlimited access to a desk in the communal area will set you back IDR 1,800,000/month while a dedicated workstation costs IDR 2,500,000 per month. This company also offers the option of renting a personal studio for IDR 3,000,000 per month. 
Estubizi
Located in southern Jakarta, more precisely in the trendy district of Kebayoran Baru, Estubizi offers virtual offices, coworking spaces, meeting rooms, service offices and event halls. While I did enjoy the layout and complimentary tea or coffee, I must say that this remote working spot did not have super-fast Wi-Fi. However, this may be just the right community for start-up companies or aspiring entrepreneurs since Estubizi focuses quite heavily on networking and puts you in touch with business coaches who can steer you in the right direction. If you're planning on traveling across Indonesia, it's good to know that Estubizi also has over fifty coworking spaces throughout the country. 
What I really liked about Estubizi is that it's the only spot to offer an hourly plan, perfect for when you only need to cram in a few hours of work. You can book a two-hour package for IDR 50K or a daily package for IDR 100K. With a monthly package of Rp 1100K, you will have a dedicated desk, complimentary access to events hosted by Estubizi and an eight-hour access to the meeting room. Digital nomads also have the option of booking a yearly plan for IDR 11,000K. Estubizi is open from 8:00 to 18:00, Monday to Saturday. 
As mentioned earlier, coworking spaces certainly do offer more in terms of internet reliability and speed. However, there's still a handful of cafes where digital nomads can get work done while sipping on Indonesian coffee or tucking into an Acai bowl. 

Honestly, this seemed more like a restaurant than a café to me – most likely because of the extensive and ultra-delicious options on the menu. Located in Pulo, South Jakarta, Kroma is open daily from 8:00 to 22:00 and is one of the most popular eating spots among digital nomads in Jakarta – as evidenced by the many #BetahDiRumah hashtags floating around on social media (literally translated as #FeelAtHome). Wi-Fi was also surprisingly decent for southern Jakarta. If you're planning on working from Kroma, I can highly recommend their Earl Gray Cloud Macchiato.

True to its name, this place offers the best of both worlds: a hip space where you can get work done or kick back with a cup of coffee while connecting with other nomads. What I really liked about Workroom Coffee was its trendy set-up – think shabby-chic armchairs and a Parisian-Bohemian vibe. Located in Menteng, an upscale neighbourhood in central Jakarta, this café is one of the rare few spots that remain open until 22:00 on weeknights – perfect for those who work international hours. With reliable Wi-Fi, it also has the added bonus of serving up the best Indonesian speciality coffee that I ever tasted in the city. 

Every digital nomad knows that Starbucks is always an excellent place to work from – the coffee's good, they don't rush you to give up your table and it can be pretty quiet if you go off-hours. I was pleasantly surprised to find that the many Starbucks outlets in Jakarta were no exception. In fact, I even got to sample a few unique items on their local menu such as the peanut butter panini. However, Wi-Fi, like virtually everywhere in Indonesia, can get choppy at times. I especially liked the Starbucks at Grand Indonesia, a multipurpose complex located in Central Jakarta. On the downside, because it's located near one of the city's largest malls, it can get quite noisy at times so this may not be the place for those who need a quiet work environment.
Best Places to Live in Jakarta
Best Neighbourhoods
If you're a first-time visitor to Jakarta, it's all too easy to feel overwhelmed by the city's geographical diversity and versatility. Each region has its own vibe, culture, and customs, so moving from one neighbourhood to the next can sometimes feel like moving to a whole different country. For example, while Central Jakarta has a bustling and distinctively modern atmosphere, the downtown area can sometimes feel like it's been frozen in time with slow to no internet, ancient traditions and a more conservative approach to life. 
The Greater Jakarta region encompasses the regencies of Bogor, Tagerang and Bekasi as well as five adjacent cities – South Tangerang, Tangerang, Bekasi, Depok and Bogor. 
Most digital nomads tend to drop anchor in Jakarta's 'Golden Triangle' which extends from South to Central Jakarta and is fringed by three main roads – Jalan H.R. Rasuna Said, Jalan Gatot Subroto and Jalan Jenderal Sudirman.
Menteng
Let's start with Menteng, one of Jakarta's oldest neighbourhoods. If you ask me, this region is perfect for digital nomads who would like to escape the hustle and bustle of the city. Known for its elegant buildings that date from colonial times, this neighbourhood houses several members of the Indonesian government. Because Menteng is quite conservative, you won't find a lot of bars and nightclubs, but there's plenty to do for families. This relatively safe neighbourhood is reputed for having some of the most legendary restaurants in the city. On the downside, real estate in Menteng can be eye-wateringly expensive. Additionally, older buildings can sometimes be prone to plumbing issues. 
Kemang
While this suburb in southern Jakarta is unfortunately notorious for its insane traffic congestion, it still remains a popular choice among expats because of its proximity to international schools and academies. The good thing about Kemang is that it offers a variety of housing options to suit every budget. While there have been some registered cases of petty theft and home burglaries, it's still among the safest areas of Jakarta. In terms of entertainment, Kemang is reputed for its incredible art scene and features an extensive array of local as well as international restaurants. 
Senayan
Another upscale neighbourhood, Senayan is known for its high-rise condos and mega malls that boast international brands such as Balenciaga, Yves St Laurent and more. While this area also houses a handful of public and international schools, it's more popular among solo travellers or young couples because of its glamorous nightlife. You'll never run out of things to do and explore in Senayan with health clubs, golf courses and ample dining options to choose from. As glitzy as this region is, it still offers affordable housing options. In terms of safety, Senayan is prone to bag snatching and the occasional petty theft. 
Glodok
Because it is located right at the heart of Jakarta's Chinatown (West Jakarta), Glodock can get quite packed and noisy at times. However, it's one of the safest neighbourhoods in the city and offers affordable housing. Just a heads-up though: apartments and houses in Glodock tend to be smaller than elsewhere in Jakarta, mostly because the neighbourhood is so dense. Not everyone speaks English in this area, so language may be something of an issue as well. If you're on a strict budget though, you'll be glad to know that the cost of living in Glodock is lower than average with plenty of cheap restaurants and markets to explore.
Pantai Indah Kapuk
Located in Northern Jakarta, this gated community is quite safe. Housing prices can be somewhat higher than elsewhere in the city but it's very popular among expats and local families. One of the best things about this up-and-coming neighbourhood is that it never floods, not even during monsoon season. With both international and public schools, this area also houses a massive mangrove forest, shopping malls, country club, golf club, open-air markets as well as a water park. Like most places in Northern Jakarta, the internet connection in Pantai Indah Kapuk is quite stable. The bad news is that it can be quite hard to land a short-term apartment in this area.
Find an Apartment in Jakarta
Because Jakarta is such a vast city, digital nomads will be spoilt for choice when it comes to finding a place to stay. High-rise condos, small, detached houses, and apartments are widely available with prices to suit just about every budget. One thing that's worth noting is that the language barrier may be something of an issue during your apartment hunt so either hire a guide who speaks English or download a translation app to avoid any confusion and potential issues. 
While I didn't find it hard to land an apartment in Jakarta, I will say that it can be time-consuming to sift through the extensive number of options. My suggestion would be to narrow your choices according to your plans and budget. For example, if you're planning on working from cafes or coworking spaces, you may want to consider renting a place in Jakarta's Central Business District to avoid commuting through endless traffic. On the other hand, if you would like to get away from the noise and the city, you'd be better off with an apartment in the downtown or Old Town area. Northern Jakarta is where you'll find more upscale neighbourhoods with newer buildings and international stores. 
If you're planning on staying in Jakarta for a short time, you can always check out Facebook groups such as Jakarta Property Solution where you can browse through daily, weekly or monthly leases. Holiday Homes and Booking.com also offer excellent options for short term rentals. When dealing directly with apartment owners, don't be afraid to negotiate on the price since most owners tend to inflate their prices on social media. For example, a basic studio in Central Jakarta normally costs between Rp 5,000,000 and Rp 8,500,000 per month – depending on the provided amenities and exact location – but it's not surprising to see owners asking for up to Rp 9,500,000 or even Rp 10,000,000 per month. 
Due to the shocking number of bureaucratic scams in Jakarta – something that I very narrowly escaped myself – I would urge you to go through a reputed agency for long-term rentals. Along with the usual agency fees, most real estate companies will ask for copies of your bank statements, proof of income and/or payslips and visa. Most real estate agents are proficient in English so the language barrier shouldn't be an issue here. 
Some of the most popular real estate agencies that cater to expats and digital nomads include All Jakarta Apartments (founded by an expat), Jendela 360 and Lamudi, which is commonly hailed as Indonesia's most reliable estate agency. You can also check out websites such as Expat.com to connect with former expats who have property up for rent in Jakarta. 
It's important to know that internationally owned serviced apartments have the right to increase rent by 10% to 12% every year. Most apartments also charge you an 11% service charge as well as 10% VAT. 
Digital nomads traveling with families may prefer South Jakarta, known for its excellent schools, sprawling parks and family-friendly activities. South Jakarta houses plenty of gated apartment complexes with fitness facilities, children's playgrounds, putting green and sometimes even a swimming pool. A 85m, two-bedroom, two-bathroom apartment in a complex may set you back IDR 21,000,000 /month. 
On the other hand, solo travellers who would like to enjoy Jakarta's nightlife to the fullest may check out accommodation in Plaza Senayan where a basic, one-bedroom apartment costs around between IDR 15,000,000 and IDR 17,000,000 per month. Meanwhile, a centrally located apartment places you right where all the action is, do remember that it can get quite noisy, and these regions tend to attract more petty thefts or tourist scams. On the plus side, you'll have the best supermarkets, boutiques, hospitals, and pharmacies right on your doorstep.
Cheap Places to Stay in Jakarta
Digital nomads who are on a tight budget can always check out a unique type of accommodation known as Kost which basically refers to the Indonesian version of house-sharing. 
Whilst on the small side, most Kosts offer a furnished private bedroom with Wi-Fi, electricity, and other utilities included in the package. A Kost can cost between Rp.100,000 and Rp.130,000 per month, with shared kitchens and bathrooms. For a slightly higher price, you can sometimes land a Kost with private bathroom. 
On the downside, these co-living spaces usually accommodate between 15-40 people so you can forget about quiet and laidback communal areas. Still, if you're an extrovert, it's an excellent opportunity to mingle with locals, backpackers and nomads from all over the world.
It's also worth checking out websites like Couchsurfing.com where you'll find over 60k hosts in Jakarta willing to open their doors to travellers for free. Alternatively, you'll find that Jakarta has plenty of hostels with prices as low as IDR 50,000/night for a bed in a mixed dormitory. If shared sleeping spaces aren't your thing, you can always check out guesthouses where a private bedroom will cost between IDR 90,000 and IDR 125,000 per night. 
You may also want to check out more affordable neighbourhoods, especially in East Jakarta where real estate prices tend to be lower because this area is highly industrialized. For example, a basic one-bedroom apartment in Jatinegara may be as low as IDR 4,000,000 per month. Apartments in East and Central Jakarta tend to be smaller than those in the North and South.
Jakarta Visa
Visas aren't exactly easy to get in Indonesia, but the country does offer an exemption to 169 countries. If your country is on the list, you will be granted a 30-day stay but bear in mind that this cannot be extended. For this reason, many digital nomads choose to go on a 'visa run' rather than face tedious paperwork – at the end of their visa, they simply hop on a plane to the closest destination and then return to Indonesia for another 30 days. 
While this is perfectly legal, not everyone can afford to jump on a flight every month so it may pay off to check out other visa options. If your country happens to be on the pre-approved visa on arrival list, you will benefit from a 30-day stay that can be extended by another 30 days if you decide to stay in Jakarta for longer. It's important to know that you can only extend your stay once with this particular visa.  
Alternatively, digital nomads can apply for a Single Entry Visitor Visa that entitles them to a maximum of 60 days in the country. However, you will be allowed up to four visa extensions, giving you up to 180 days in the country. A Single-Entry Visitor Visa approval from the DGI will set you back IDR 200,000.
Travelers who frequently fly into Indonesia can apply for a Multiple Visit Visa which is valid for a year. When applying for this visa, you may be asked to produce documentation such as a letter from a guarantor, proof of sufficient funds (minimum of USD 1500 in your bank account), return ticket and passport-sized photos. 
Additionally, Indonesia offers the possibility of applying for a Work Visa that allows you to integrate the local workforce, but these are notoriously hard to get and there's a lot of paperwork involved. Unless you're planning on launching your own business in Jakarta or are being sponsored by a renowned international company, most work visas applications are turned down.
Culture and Food in Jakarta
Jakarta's diverse cuisine stems from a glorious medley of Sulawesi, European, Sumatran, Malay, Javanese and Asian influences. In my opinion, there's no better way to experience the city's heritage dishes than to visit the Pekan Raya fair which is held in June and July of each year. Featuring live cultural performances, this fair encompasses Indonesian exhibitions from all over the country and offers the chance to sample dishes that have been passed down over centuries, with each generation adding its own special twist to the recipe. 
Several components of Jakarta's cuisine have actually been imported from various regions of Indonesia and adapted to the city. When checking out the local food scene, you'll quickly come to the realization that most dishes have the words 'Nasi' or 'Mee' in them. Here's a quick tip for you – Nasi means rice and Mee means noodles, both absolute staples in the city. On the other hand, you'll rarely find bread or bread-based meals on the menu. 
Here are some of the best meals that I was lucky enough to sample in Jakarta: 
Otak-Otak
This may loosely translate as 'brain-brain fish cake' but I can assure you that it does not, in fact, contain any brain matter. Very popular on the streets of Jakarta, this delicacy consists of Wahoo fish paste, spices, coconut milk and lemongrass. Everything is mixed together and steamed in a fragrant banana leaf before being served alongside a very spicy peanut sauce. You'll often find vendors selling Otak-Otak at the bus stop or alongside the markets. 

Nasi Kucing
This one literally translates as cat rice but again, rest assured that the translation doesn't have anything to do with the ingredients – there's no cat in the rice and it's not pet food either. Instead, Nasi Kucing gained its name from the way that it's commonly served – a very small portion plated on a circular piece of banana leaf. Originating from Yogyakarta, this dish is often eaten at breakfast and comprises of fried fish marinated in milk, fried anchovies as well as steamed rice. Now, while one portion was enough for me – I'm not much of a breakfast person – locals will tell you that you need at least three or four servings to feel satiated. 
Soto Betawi
I've never been a fan of soup, much less chicken soup, but when a server at a small, family-owned restaurant told me in no uncertain terms that I just cannot leave the city without sampling Soto Betawi, I decided to give it a try. With bits of chicken and green herbs floating on top, not to mention the milky and ever so slightly gelatinous texture, this soup didn't exactly look inviting. Still, I dipped my spoon in for a tentative sip and became an instant convert. 
Contrary to its plain-ish appearance, Soto Betawi hits you with an aromatic burst of flavour from the very first sip. I was told that some variations of this soup may sometimes include buffalo meat, mutton or offal. As sides, you can either opt for rice cakes or a bowl of steamed rice. Some locals also like to douse it in soy sauce before tucking in. 

Ketoprak Jakarta
Available in both street stalls and restaurants, Ketoprak Jakarta is made up of lontong (rice cake), bean sprouts, tofu, cabbage, beehoon (rice vermicelli) and sliced boiled egg. It is generously covered in peanut sauce, deep-fried rice crackers and fried shallots before serving. A strange but absolutely delicious combination of ingredients that had me reaching for more. 
Most places allow you to choose your preferred level of spiciness – I once tried the medium spice level and it was still way too hot for me so if you're not used to spicy food, I would strongly urge to opt for the mildest level. Now, if you fancy burning your tongue off, by all means go for the highest spice level. Let me give you one advice though – always, always have a glass of ice-cold milk waiting next to your spicy Ketoprak Jakarta. Trust me on that. 
While it looks like a cosmopolitan metropolis bustling with non-stop activities, at the very heart of Jakarta lies a profoundly rich culture that's reflected in its many heritage sites. Other than sampling its diverse cuisine, one of the best ways to immerse yourself into traditional Indonesian culture is to take a stroll through Jakarta Old Town which still retains vestiges of its colonial past.
There you can visit the Fine Art and Ceramic Museum which was once the Court of Justice. Be sure to check out Gereja Sion as well, an ancient church that dates all the way back to the 17th century. Often considered as the oldest church in Indonesia, this building once served as a place of worship to the Dutch colonists. In the Old Town, you can also explore the Jakarta History Museum built way back in the 18th century when the city used to be called 'Batavia'. 
If you're lucky enough to be in the city during the Lunar New Year, I would really recommend a stroll through the local Chinatown located in West Jakarta. This place absolutely flares to life during the Lunar New Year, and you'll be treated to lion dances as well as Haka delicacies. Don't miss a visit to Ancol Harbour where you'll be able to cheer on ornate dragon boats as they race each other in open sea. 
Digital Nomads who are visiting Jakarta in August will also be able to attend the lavish independence celebrations that take place on the 17th of August. A national public holiday, the independence festivities usually consist of a flag-raising ceremony attended by foreign dignitaries and local governmental officials. On this day, you'll find lively neighbourhood celebrations with live music, face painting, tree climbing contests, sack races, tugs of war and an eating competition. 
If music is your thing, you may also wish to check out the annual October Jak Jazz festival – also known as the Jakarta International Jazz Festival – that regroups local and international artists alike.
Jakarta Nightlife
It's no secret that Jakarta perfectly harmonizes Indonesia's most beautiful values and customs, but rest assured that this somewhat conservative city still offers plenty to nocturnal revellers.
Unlike more laid-back Indonesian regions like Ubud and Aceh, this city has an effervescent nightlife with a plethora of clubs, bars and even markets or spas. Because Jakarta's night scene is constantly innovating, it's always a good idea to consult your hotel's reception desk or the local tourist office for a list of all concerts, performances and other nightly attractions in your neighbourhood.
Below are some of my favourite nightspots in Jakarta: 
Empirica
Open from 10:00 to 16:00, Thursday through Saturday, Empirica is perfect for digital nomads who want to experience Jakarta's nightlife without necessarily having to deal with the crowds or the noise. Known for having the longest bar in all of Asia, this chic club has a distinctively classy atmosphere with soothing LED lighting. Empirica often flies in international DJs for refined parties in its plush lounge.
Dragonfly
The most popular nightclub in Jakarta by excellence, Dragonfly is a prime nightlife choice among local socialites, professionals and digital nomads. In fact, I even managed to (surprisingly) indulge in quite a bit of networking in this trendy club. Just a heads-up though – this is one of the fanciest places in the city and there is a very strict formal dress codes for both ladies and gents. Often hailed as the best nightclub in Jakarta, Dragonfly is located in Graha Bip. With an IDR 200,000 entry fee, this cutting-edge venue is open from 21:00 to 5:00, Wednesdays to Saturdays.
La Vue Rooftop Bar
Another elegant venue, this bar is found on the sprawling terrace of Hermitage Hotel in Central Jakarta. From there, you will be treated to mesmerizing 360-degree views of the glittering city skyline. Open daily from 16:00 to 21:00, this upscale venue is also reputed for its handcrafted aromatic cocktails, home-brewed beer and seafood dishes. On the downside, this is also one of the most expensive bars in the city. La Vue Rooftop Bar is found in Cikini, a village in Central Jakarta. 
Kota Tua Night Market
The perfect nightspot for families, Kota Tua is one of Jakarta's liveliest night markets. Because it's close to the historic Fatahillah Square, this market is also very popular among tourists. Even if you don't necessarily need to buy anything, I would still recommend checking this place out at night to soak up the unique metropolitan vibe that permeates through the whole street. You'll find street performers, live music and bustling stalls offering everything from textiles to souvenirs or street food. Kota Tua market is open every day from 17:00 to midnight.
 Ritz-Carlton Mega Kuningan Spa
If you spend your days frantically typing away at your laptop like I usually do, there's nothing more soothing that a deep tissue Indonesian massage before bed. In true city style, Jakarta never sleeps, so you can always head over for a midnight pampering session at the Ritz-Carlton Mega Kuningan Spa. The damper is that because it's found in a luxury hotel, this spa is more expensive than most. On a brighter note, this is one of the rare few spots in the city where you can indulge in Herbal Compress massages, cleansing facial or even a Chili and Aloe Vera body treatment until quite late in the evening. Located in the business district of Mega Kuningan, this spa is open every day from 7:00 to midnight.
Things to do in Jakarta
Unlike other regions in Indonesia, Jakarta isn't exactly famed for its beaches. For example, the city's nearest beach, Ancol, can be something of a let-down, especially if compared to Lombok and Nusa Dua.
However, there's no denying that there's still plenty, and I do mean plenty, to keep digital nomads entertained during their stay in the city. For example, while Ancol beach doesn't have much to offer in terms of swimming or sunbathing spots, it does provide speedboats and ferries that will take you to other scenic islets where you can explore crystalline lagoons, go scuba diving or even camp right on the silky soft sand. 
Most activities in Jakarta are quite affordable so you can still do plenty of sight-seeing even if you're on a budget. Just be sure to watch out for tourist traps and grossly inflated prices because you'll encounter your fair share of them in the city. It's always a good idea to double check the prices online and if you're booking a tour, compare their prices with other operators.
I also learned (the hard way) that watchmen or security agents may even try to charge you for attractions that are entirely free to begin with, so keep an eye out about that too. 
Now that we've gotten those tedious words of caution out of the way, here are some of my favourite places to explore in Jakarta:

Monumen Nasional

While it's visible from various neighbourhoods in Jakarta, you just can't visit the city without checking out the Monumen Nasional up close. Colloquially referred to as 'Monas', this historical, 115-metre-high landmark was originally built in remembrance of Indonesia's independence from the Dutch. Located in Central Jakarta, Monumen Nasional is open daily from 8:00 to 15:00. An adult ticket will set you back 15.000Rp while children tickets cost 4000Rp. There's also a special student fare for 8000Rp, but this is only applicable to locals. If you're not afraid of heights, I would strongly recommend that you take the elevator up to the observation deck from where you will be treated to a bird's eye view of the city. I was lucky enough to reach the observation deck at sunset and the sights were absolutely mesmerizing. It's best to visit Monas on weekdays because it can get pretty crowded during the weekend. At night, the whole monument is illuminated in varying hues of blue that clash beautifully with the gold flame at the top, an iconic symbol representing the country's quest for freedom.

Thousand Islands

This is where city dwellers usually escape to during the weekend. With overwater bungalows reminiscent of the Maldives, Thousand Islands consist of a chain of miniature islands. Contrary to its name, the archipelago isn't exactly made up of a thousand islets, but there's still plenty to do and see- especially if you can spare a couple of days. The Thousand Islands are located off the north coast of Jakarta and the best way to get there is to hop on a speedboat shuttle from Marina Ancol. Most speedboats will charge you between IDR 110,000 and IDR 270,000 for a one-way trip. It takes around 25-30 minutes to reach the archipelago, depending on weather conditions. While I didn't get to visit all 108 islets, I absolutely adored my day trip to Pulau Tidung where you can snorkel or explore the picturesque terrain on a rental bike. This particular islet is also renowned for its 'Love Bridge' that you can cross on foot to reach another tiny speck of land surrounded by glistening azure waters. If you would like to discover the archipelago's many historical sites, be sure to check out Bidadari, Kelor, Cipir, and Onrust islands, offering archaeological remains and plenty of cultural attractions. Another favourite of mine is the Putri Island where you can even cross through a spectacular underwater tunnel. Like I mentioned, a day isn't quite sufficient to properly soak up everything that the Thousand Islands have to offer so don't hesitate to book one of the floating cottages or a beach hut. Or you can also do what I did and pitch up a tent right by the water's edge for one of the best sleeps of your life.

Dunia Fantasi & Ancol Dreamland

Perfect for digital nomads who are traveling with children, Dunia Fantasi & Ancol Dreamland is one of the oldest – and most popular – amusement parks in Jakarta. Think Disneyland with an Indonesian twist, complete with thrilling rides, rollercoasters, and even a waterpark section for both adults and kids. What I liked most about this humongous park is that it's divided into different sections that makes it easy for you to pick and choose what you want to visit, especially if you're strapped for time. Some of the sections include: Kalila, Fantasy Lights, America, Greece, Indonesia, Aisia, and Indoor Dufan. The park is open from 10 to 18:00 Monday to Friday and 10:00 to 20:00 on Saturdays and Sundays. Bear in mind that weekend tickets are more expensive at IRD 275,000 while weekday tickets cost IDR 195,000.

Jembatan Kota Intan

Okay, quick disclaimer – if you're not interested in the local history and culture, this place may seem boring to you. However, if you just so happen to be a history buff like me, you certainly can't afford to miss a visit to Jembatan Kota Intan. Located in old town Jakarta, Jembatan Kota Intan is the last remaining drawbridge that was originally built by Dutch colonists. You may or may not encounter a gatekeeper who will demand a few thousand rupiahs before letting you on the bridge and while can always tip him if you want to, bear in mind that this attraction is entirely free to visit and there's absolutely no entrance fee. I would absolutely recommend checking this place out at night when the illuminated bridge reflects over the water below. Because it's considered one of the most romantic spots in Jakarta, it's not uncommon to see amorous locals huddled up on the bridge. Granted, there's not much to do there, but you can always stop by to check out the cool antique architecture while you're visiting the Old Town.

Taman Mini Indonesia Indah

If you ask me, there's no better way to properly get a feel of Indonesia than by spending a few hours at the Taman Mini Indonesia Indah. Literally translating as 'Beautiful Indonesia Mini Park', this attraction is found in East Jakarta and consists of various pavilions showcasing the traditions, crafts, arts and history of each Indonesian province. You'll be able to explore over 20 replicas of classic chieftain houses that stem from islands such as Papua, Sulawesi and Aceh. Because this park is so immense, there's absolutely no way you will be able to cover all of it on foot but rest assured that you can always hop on a shuttle bus, Sky lift or even an Aeromovel fast train. Taman Mini Indonesia Indah also houses an artificial lake that replicates the Indonesian archipelago, several museums, sprawling gardens and a Birds Park. The park is open every day from 7:00 to 22:00. While the entry fee ticket costs Rp20,000, you'll need to purchase separate tickets for each attraction that you visit.

Mount Gede and Pangrango

The perfect destination for nomads who are into hiking, Mount Gede and Pangraro are both found in the Gunung Gede Pangrango National Park, just two hours south of Jakarta. Fair warning though, if you want to cover the whole terrain in one day, you're looking at a 10-hour hike, so this is not exactly suited to amateur hikers. At 3,000 metres above sea level, the summit of Pangrango offers the perfect vantage point over Indonesia's lush forests. From the very top, you might even stop the exceptionally rare Edelweiss Plant as well as exotic flora and fauna like the mouse deer or silvery gibbons. Now if you don't feel like hiking to the summit, rest assured that there's still plenty to see at the park. In fact, Gunung Gede Pangrango National Park is also home to the Cibeureum waterfall that can easily be accessed by following a scenic trail through the forest. It's important to know that the park requires all foreign visitors to hire a guide. You will be able to get a permit at one of the four points of entry. Valid for two days and one night, a permit costs Rp470,000 for adults. You'll also need to fork out Rp700,000 for your porter. Additionally, there's an entry fee of Rp270,000 for those who would like to visit the waterfall. Gunung Gede Pangrango National Park is closed during the rainy season (January to March).
Best Time to Visit Jakarta
Like most regions in Indonesia, Jakarta is blessed with good weather nearly all-year round, except for monsoon season. Since Indonesia lies in a subtropical area that straddles the equator, the climate can get quite humid, especially during summer. I would say that the best time to visit the city is between June and August when the average temperature is around 31 degrees Celsius during the day and 23 degrees Celsius at night with very little rainfall. 
Instead of four seasons, digital nomads will have to contend with a dry and a wet season. The wet season runs from October through May with recurrent floods during the monsoon. During the wet season, national parks and other sites of interest temporarily shut down. It's good to know that Jakarta is also prone to typhoons and very intense thunderstorms during the months of January and February. Because the Muslim holy month of Ramadan often coincides with the wet season, it's not uncommon to see most Muslim-owned restaurants and businesses stay closed during this time.  
However, if you can find a boat shuttle during the wet season, you'll still be able to visit the nearby Kepulauan Seribu archipelago and Pramuka Island since these islands are rarely prone to rain. 
Digital nomads visiting Jakarta between April and September will have to face intense summery temperatures so it's crucial to always stay hydrated. Loose cotton or linen clothing is recommended because of the soaring humidity. If you can't stand the heat, you can always escape to the coastal regions that tend to be a couple of degrees cooler than Central Jakarta. 
Jakarta for Families
Before we dive into this, I would just like to quickly point out that I do not have kids, nor did I travel to Jakarta with children. Still, it quickly became apparent that most areas of Jakarta are quite family-friendly and safe with ample entertainment options to please adults and kids alike.
It's worth noting that the local food scene may be an issue for foreign children, especially if they aren't used to spicy food. This is especially applicable to restaurants located in the Old Town, East Jakarta or smaller suburbs. On the other hand, virtually every international fast-food outlet that I've visited did provide a children's menu. Many restaurants and cafes in Central and South Jakarta have also adapted their menus to suit foreign palettes.
In terms of education, Jakarta isn't exactly known for its excellent public schooling. Besides, most classes are taught in Bahasa, so the language barrier will definitely be an issue for foreign children. For this reason, many digital nomads choose to send their children to international or private schools. There are around 69 private schools in Jakarta, and while they do follow the local curriculum, classes are held in English. 
Most residential neighbourhoods do have a day care, and if you're worried about the language barrier, rest assured that it's easy to find privately-owned centres with English-speaking staff. In Central and South Jakarta, parents can even enrol their little ones in day care centres founded by expats. 
As far as family attractions are concerned, that's the one thing you really don't have to worry about since there's always something to keep everyone entertained. 
Here are some of the most acclaimed family-friendly attractions in Jakarta: 

Ragunan Zoo
With over 3,600 animal species, this zoo is bound to thrill kids of all ages. Located in South Jakarta, this zoo is also home to the rare Komodo Dragons and families of orangutans. Because it covers 185 hectares, you'll certainly need at least half a day to soak up all the sights. 
Virtual reality experiences
This is something that your teenager will thank you for. Whether you're a gamer or not, it's worth checking out the many virtual reality experiences offered around the city. For example, the Sandbox VR in South Jakarta, provides an immersive, full-body gaming experience. Your kids will get to choose from an assortment of games, and they'll be provided with motion trackers, vests with sensors, PC backpacks, weapons and VR glasses. Groups options are available if the whole family wants to participate. 
Krakatoa Volcano
Once the most powerful volcano in Jakarta, Krakatoa still inspires fear and awe from locals. Even though there hasn't been a terrorizing explosion since the 1880s, this volcano is still active today and can easily be admired from a safe distance. You'll find many agencies offering tours and camping expeditions on neighbouring islands where the whole family can feast their eyes on this majestic volcano. 
Kidzania
The name says it all. This international amusement park found its way to Jakarta – more precisely at the Pacific Place, South Jakarta – and offers hours of activities to keep kids busy while parents indulge in some retail therapy. With entertainment units and game kiosks, this indoor park is also famous for hosting special kid-friendly activities on Independence Day or National Children's Day. 
Ganara Art Studio
Also located in South Jakarta, this studio is especially known for its art playground where children can run around, play and creatively express themselves. Best of all, Ganara Art Studio also hosts pottery, cooking and painting classes for the whole family.
Living in Jakarta
Jakarta Transportation
Being a capital city, Jakarta does offer an excellent public transportation system that connects most major areas. The city is notorious for its massive traffic jams, so hopping on any kind of public transportation is always better than summoning the gods of patience while stewing in your own private vehicle, in a never-ending line. 
While Uber is no longer available in Jakarta, the city does offer other ride-hailing services such as Grabcar and GoCar. Because these companies charge a fixed rate, you won't need to pay extra, no matter how bad the traffic is. 
Bajaj
These cute little auto rickshaws are my absolute favourite ways of getting around in Jakarta. Not only are they fun to ride in and extremely cheap (around IDR3,000 per kilometre), but you'll quickly realize that the drivers are absolute pros at navigating the notorious Indonesian traffic. On the flipside, some roads aren't suited to Bajas so you won't find them everywhere in the city. Don't be afraid to haggle since more drivers tend to overcharge foreigners. 
Airport train
An excellent addition to the city, the Soekarno-Hatta Airport Train connects you from Batu Center and BNI city to the airport. A one-way ride only takes around one hour, and the train is quite comfortable with clean washrooms, luggage racks as well as reclining seats with LCD screens. A one-way ticket costs Rp 70,000 but because cash is not accepted, you'll need to use credit or debit cards. It is also possible to buy tickets directly from the Railink app. 
Mikrolet
These minivans can accommodate small groups of up to 10 passengers and operate just like buses. There is no timetable so you may need to ask around to familiarize yourselves with their routes. The ticket price varies according to the routes, and you'll usually see a handwritten list of prices stuck to the passenger door. One-way trips may cost between Rp7,000 and Rp 8,000. 
Taxi
At Rp.7,500 per kilometre, taxis are more expensive but they're fast, comfortable, and easy to find. The main taxi companies in Jakarta are White Horse, Blue Bird, Express Group, Trans Cab and Taxiku. While you'll often find stationary taxis awaiting passengers in various areas, you can also download taxi applications or call the company to order a cab: 
Blue Bird: 021-79171234

Express Group: 021-1500122

Taxiku: 021-30032121

Trans Cab: 021-65553333

White Horse: 085100551445
Buses
Just like Mikrolets, it's pretty hard to find a bus schedule in Jakarta. They can also get very crowded during peak hours. While the majority of buses run from 5:00 to 22:00, you can find 24-hour bus services. Bus fares tend to run between Rp. 3500 and Rp. 9000 depending on your route. Cash payments are not accepted. Instead, you'll need to get a stored-value card from the bus station. I did notice that buses rarely run on time and there are frequent deviations due to traffic, so I would not recommend that you take the bus if you have an important meeting. 
Commuterline
Like its name suggests, the Commuterline is ideal for those with longer commutes. Clean and air-conditioned, Commuterline trains cover Bekasi, South Tangerang, Tangerang, Depok, Bogor and Central Jakarta. The fare is around Rp.2000 for the first 25 kilometres and around Rp. 1000 for the next 10 kilometres. Some trains also have female-only carriages. 
Tramway
Also known as TransJakarta, the city's tramway system has its own separate lanes, perfect for avoiding traffic. It's quite affordable, with an early bird, one-way ticket priced at Rp.2000 (5:00 to 7:00). Regular one-way tickets cost Rp.3500. You can easily get an e-ticket at the banks, supermarkets, and gas stations.
Fitness and Health
Like I mentioned before, the local food scene is very carb-heavy with rice or noodles at the forefront of every dish, even for breakfast. While the older generation doesn't seem too interested in health – Indonesian grannies will always push second or third helpings on you – the younger generation tends to be more interested in staying healthy and active.  
Jakarta's roads aren't pedestrian friendly so it's quite rare to see locals going for early morning or evening walks. However, apartment complexes, especially in upscale neighbourhoods, often have a small park with outdoor gym equipment. You'll also find a gym in virtually every neighbourhood in Jakarta. In fact, the city is dominated by three main brands: Fitness First, Celebrity Fitness and Gold's Gym which has around 70,000 active members (locals and expats alike). 
Gym memberships in Jakarta are fairly affordable, with a monthly package costing between IDR 600,000 and IDR 750,000 in the Business District. This normally includes access to equipment and three classes (Yoga, Zumba, Aerobics or Dance) per week. You'll need to fork over some extra rupiahs for private coaching sessions or extra classes. 
In residential areas, digital nomads will also find public swimming pools, but I don't recommend going to these in the weekend if you want to swim laps. There's very little supervision so kids are always splashing about and swimming in any direction, often bumping into those who are trying to do laps. While these public pools are quite cheap, they can also get crowded, especially in the summer. 
If money is not an issue, I'll definitely urge you to check out private pools such as the Aquatic Centre in Gelora Bung Karno, where a session can cost between IDR 75,000 and IDR 125,000.
Jakarta People
If there's one thing that Indonesians are famous for, it's their friendliness and hospitality – locals living in Jakarta are no exception. During my time in the city, it didn't take me long to understand why Indonesians are so often hailed as the most smiling people in the world. After all, smiling is an integral part of their etiquette, like bowing is for the Japanese or the Namaste gesture for the Indians. 
First-time visitors in Jakarta may feel a bit odd by strangers randomly smiling at them on the street, but this is just their way of making you feel welcome in their country. You can smile back, nod, or acknowledge them with a greeting in Bahasa, such as Halo (Hello), Apa kabar (How are you), or Selamat pagi (Good Morning). 
While it's perfectly normal for strangers to greet each other with a smile in Jakarta, do remember that this is a predominately Muslim nation with a conservative culture. As such, it is not common for men and women to shake hands. If you're a foreign man, the etiquette is simply to smile and nod in greeting, unless the woman extends her hand out first. 
Unlike more traditional areas of Indonesia, Jakarta is quite laid-back when it comes to clothing. While wearing more revealing outfits may earn you some shocked looks – especially from the older generation – no one will actually give you a hard time about it. After all, this is a highly polite city and they do want you to feel at home even if they don't approve your choice of clothing! 
Because Indonesians are so hospitable, it's very easy to strike up a conversation with them and some locals may even invite you to dinner at home. In fact, Indonesians firmly believe in the concept of Silahturahmi, which loosely translates as hospitable friendship. Initiating or strengthening the bonds of friendship between each other is deeply rooted in Indonesian culture, so much so that I once had a complete stranger discreetly pay for my meal while I was having lunch in a restaurant. 
So if you've been invited by some locals to join them for dinner, it's always a good idea to bring a hostess gift, even if they don't expect anything. Never, ever bring a bottle of wine or any other alcoholic beverage – this is considered disrespectful, especially by elder members of the family. Do remember to take off your shoes before entering their homes and when you greet them, always start by the oldest person first. In most Indonesian households, you will find three generations living under the same roof and grandparents are always treated with the upmost respect. 
Since spirituality is at the very core of Indonesian culture, you'll find places of worship all over the city. While not exactly forbidden, it's considered highly disrespectful for visitors to eat, drink or talk loudly near religious sites. If visiting a religious site, both men and women should also make sure that their shoulders and knees are covered.
Jakarta Insurance and Medical Care
While locals are covered by the Indonesian Universal Healthcare scheme, digital nomads and expats are legally required to have adequate medical insurance before traveling to the city. If you're moving to Jakarta through a corporate relocation system, your company will probably take care of the insurance for you. 
There are plenty of pharmacies in Jakarta offering generic and international brands alike. I was surprised to realize that several drugs, including sleep aids and antibiotics, are readily sold over the counter without prescriptions. I would suggest that you travel with your own medication because some brands can be hard to find. Some pharmacies also tend to over-inflate their prices, especially when it comes to international brands. 
Public healthcare in Jakarta is considered among the best in Indonesia, but it's still lacking in terms of equipment and infrastructure. Locals and foreigners alike are often evacuated to either Australia or Singapore for more serious conditions. Public hospitals in Central Jakarta are notorious for being overcrowded and understaffed, so it's always a good idea to opt for private healthcare instead. Public hospitals do have ambulances, but the under-staffing issue combined with the city's dense traffic means that you'll be waiting a while. For this reason, it's always best to get in touch with a private clinic in case of an emergency. 
Private clinics such as SOS Medika Klinik (located in Kuningan and Cipete) or Cikini Hospital (Menteng) have English-speaking staff and superior healthcare than most other hospitals. Most privately-owned medical centres also offer dental and optical care.
Make sure you are fully covered by reading our full Digital Nomad Travel Insurance guide.
Jobs in Jakarta
Given how vast the city is, there are quite a lot of opportunities for expats and digital nomads who wish to work in Jakarta. First things first though – you absolutely need to get a work visa before you can join the local job market, and these are hard to come by. Most of the time, only foreign nationals backed by large, multinational companies are approved. 
If you do have a work visa, landing a job in Jakarta tends to be quite easy for foreigners, especially when English is your mother tongue. Being proficient in a second language such as French or Spanish is always an added bonus. The tourism and hospitality sector in Indonesia is always on the lookout for foreign nationals who can fluently communicate with clients so don't hesitate to apply to internationally owned hotels and restaurants. 
While work permits are not readily issued to foreign nationals, the Indonesian Government tends to make an exception for native English teachers. Whether you're applying to a public or private school, you should have a TEFL certificate to be able to teach English in Jakarta. Foreign language teachers usually receive a starting salary of IDR. 15,000,000 per month and some schools (especially private ones) often provide complimentary accommodation in a shared apartment. 
The city also offers an extensive number of job-hunting companies that you can contact online or in person. Alternatively, you can always browse through LinkedIn or check out websites such as Kalibrr, JobStreet, Glints, Indeed, Jobindo, and The Jakarta Post.
Nomad Friendly
Value for Money
Internet
Workspace
English
Food
Safety
Health
Transportation
Friendly
Quality of Living
Cost of Living Jakarta
Here's the good news: it doesn't cost a lot to live comfortably in Jakarta. Of course, living in the city is still more expensive than living in, say, Bali for example, but it still provides excellent value for money.
If you would like to cut back even more on your expenses, you can always get a room in a shared apartment. For example, renting a bedroom in a shared upscale apartment in South Jakarta will set you back around IDR 4,500,000 per month. Shared accommodation in Central Jakarta may be just a little more expensive. 
Digital nomads who would like to rent their own place can expect to find a penthouse studio for IDR 5,000,000 per month while a one-bedroom place can set you back IDR 15,000,000/monthly. 
Gas and other utilities (including daily air conditioning) can cost between IDR 1,700,000 and IDR 1,800,000, depending on the number of people. If you're using public transportation, expect to spend around IDR 200,000 per month while you'll need to cough up around IDR 715,000 per day to rent a basic small car. Motorcycle rentals usually cost between IDR 50,000 and 55,000 per day but that's not the safest option, considering the poor road infrastructure and traffic.
When I stayed in Jakarta, I personally budgeted between IDR 3,000,000 and IDR 5,000,000 for eating out and entertainment. Do remember that alcohol is very expensive in Jakarta so you may wish to opt for mocktails to cut back on costs. 
All things considered, it's entirely possible to live in Jakarta for as little as IDR 12,000,000 per month which comes to around $850.