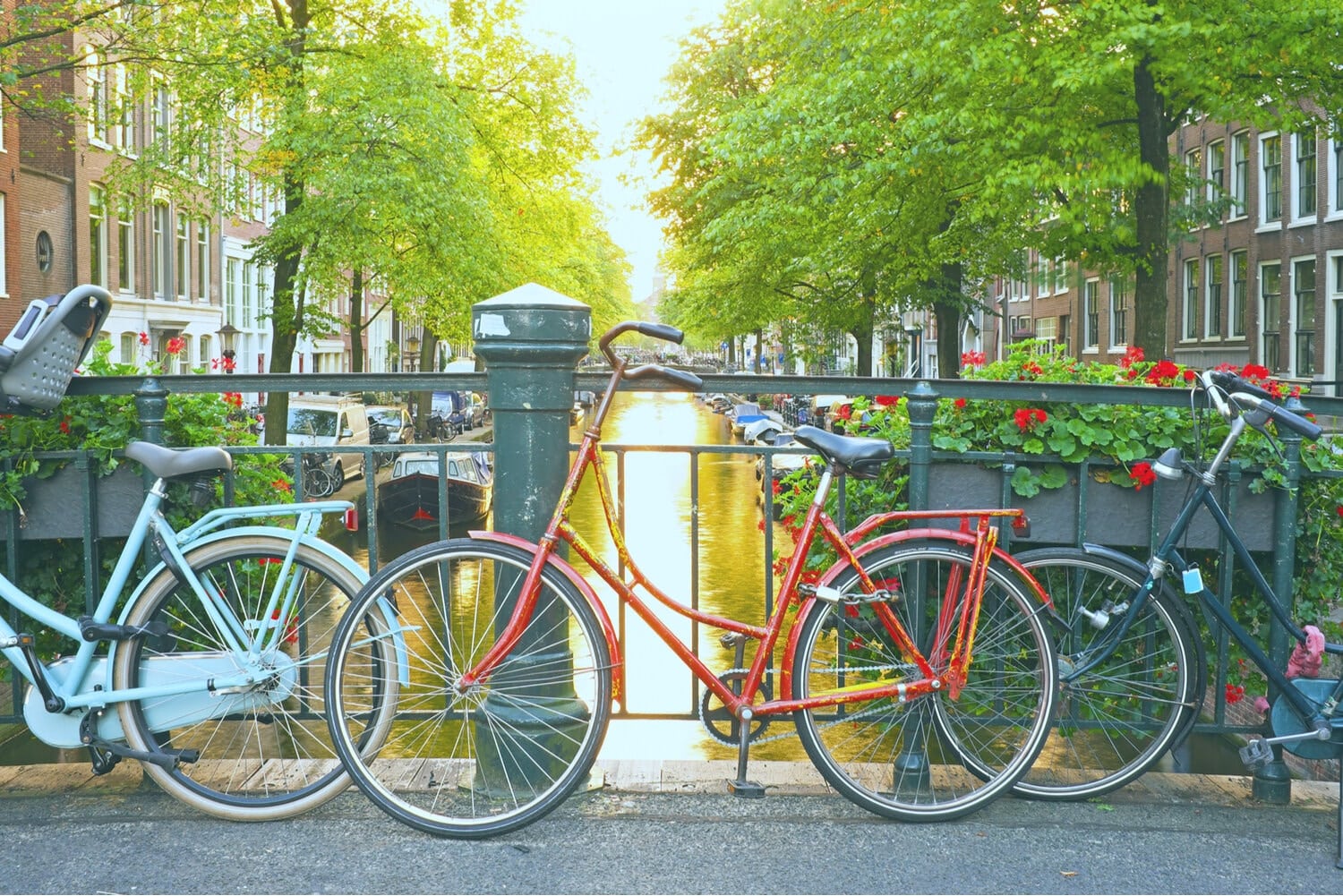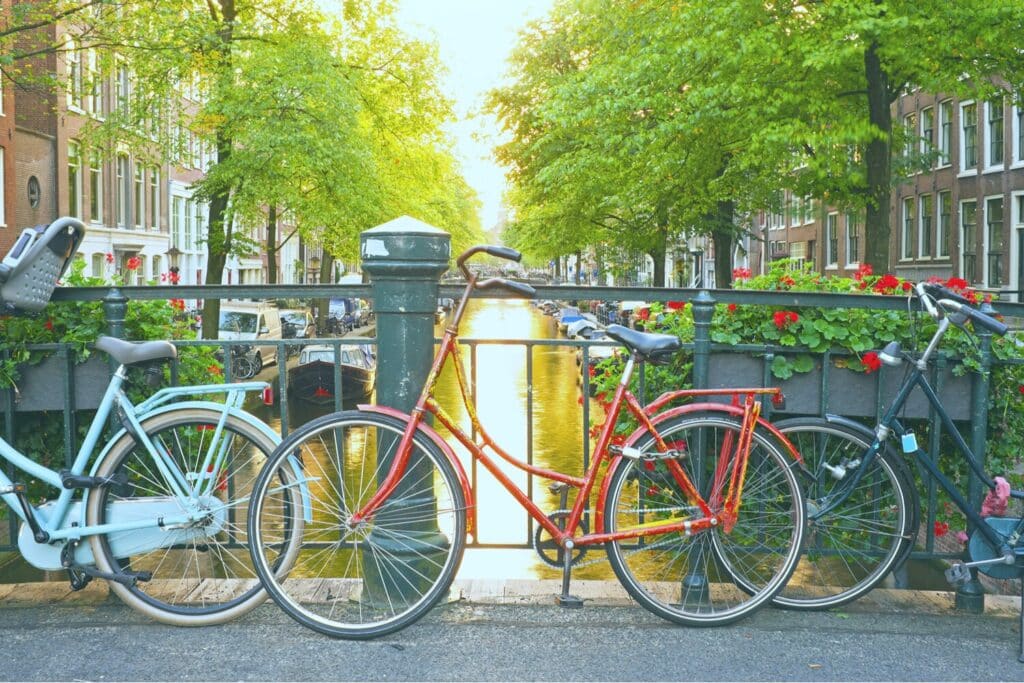 A Digital Nomad Guide to Amsterdam
Irvine Welsh describes Amsterdam thusly: "a town which allows us to air our prejudices, and neatly splits us all into hedonists or control freaks, liberals or conservatives". At first glimpse, Amsterdam appears to be a tourist's catalogue of hedonistic delights and a bastion of liberal policies. All red lights, fried bites, dizzying heights, peak nightlife with a few gorgeous painterly colored skies thrown in for historic good measure. However, if you delve a bit deeper, below the cliches and backpacker tales and movies, you'll see there is a lot more to tell about Amsterdam. 
Amsterdam is neither fever pitch nor a monument to itself. It is a thriving city that prides itself on its sobriety, its unpretentiousness. It's this attitude coupled with openness and innovation that has attracted many expats and companies to the city. The Dutch have a word that they like to describe as indescribable but amounts to the idea of coziness, gezellig. This is what Amsterdam is. 
Storybook-like, pretty, and quaint, the grachtengordel wraps around the city like a giant umbilical cord, feeding its denizens on the liqueur of a life that doesn't take itself too seriously, and enjoys the smaller things in life. Historically, Amsterdammers have taken pains to not be overly showy, or extravagant. They doe normaal (act normal). There are no delusions of grandeur. You'll often see this when Amsterdammers go out wearing the same clothes they've worn all day.
It's a city with a long, rich history and tradition that has fueled creativity and entrepreneurship. It's easy to fall in love with this city, with its throngs of flower shops and bakeries and canal boats. However,  with corona changing how we live, many things in Amsterdam have gone virtual, or closed. It remains to be seen how things will look once the pandemic is over.
Nomad Friendly
Value for Money
Internet
Workspace
English
Food
Safety
Health
Transportation
Friendly
Quality of Living
Living in Amsterdam Overview
Digital Nomad Personal Experience in Amsterdam
I came to Amsterdam from the United States to study my masters and fell in love with the rain, taxes, and language. Just kidding, those are actually my  least favorite things about this country. In the beginning, it was a lot of trying to navigate, mostly getting lost around the canals and being deathly scared of riding a bike without getting yelled or falling into a tramline.For me Amsterdam offered an international, forward thinking hub with lots to do and explore. It's also a great jumping off point for travel. In a short 2-hour flight, you can be in Spain or Portugal, less for Berlin and Copenhagen. France is right around the corner as is west Germany.As a freelance writer, I've had the freedom to travel around the Netherlands and Europe and explore. I found this freedom and openness of Amsterdam something of a breath of fresh air from the somewhat pruder attitudes of the States. The city itself is quaint and offers plenty of nightlife and creative, smart, innovative people. Some say the Dutch penchant for being direct is a bit too jarring. For me it's refreshing. 
You can easily start a business here. For Americans there is a visa called the Dutch American Friendship Treaty (DAFT), which allows you to move here with your own business or create a new one. There are also a number of networks which help and educate entrepreneurs. The sense of community is great here. Not to mention, there's nothing like riding around the canals in the summer or jumping on your bike for a jaunt through the countryside. You're free to be you and don't have to worry about judgement. 
Work in Amsterdam
Typical of any European capital, Amsterdam is awash in cafe culture and coworking spaces perhaps even more so as Amsterdam is heavily bounded by tech heavyweights and unicorns. There are co-working spaces that meet your every need, want and location, from designer and hip to old school wall and table. There are spaces with plants, spaces for kids, if you have them, spaces in former churches, industrial spaces, spaces with yoga, fussball, crossfit, flexible desk spaces,  spaces with cafeterias, fancy rugs and chesterfields, showers and plenty of caffeine to go around. Co-working spaces typically have flexible membership plans and desk rentals run around 150 euros per month and up with a wide range of packages and services. 
Internet
Internet options vary from cable, DSL to fiber optic but Amsterdam is well wired and speeds are some of the fastest in Europe. Ziggo/Vodafone have a monopoly on the cable/internet dynamics which in theory have higher speeds. Tele2, T-mobile, KPN are other major internet providers who also have tv and phone packages attached. The average cost is around 40 euros per month.
Best Places to Work in Amsterdam
Here are some of the most popular co-working spaces and cafes for digital nomads.  Third-wave coffee fanatics will be happy.
Bocca coffee
Local coffee roasters boasting a bean to cup process. Bocca's coffee is environmentally conscious and not too bad on the tastebuds either. The cafe itself showcases a range of art and has lots of space to lounge or get some work done. 
Coffee and coconuts
C&C in De Pijp was a former 1920's cinema. Today it's an eatery and cafe that occupies two floors with tons of space to grab a bite to eat or work on some decks. The menu also includes a decent selection of cocktails as well as breakfast, lunch and dinner, and even fresh coconut. It can get a bit loud if busy. 
Het bakhuys
This bakery, located near Wibautstraat and the University of Amsterdam, is always busy. There's pastries, savory and sweet, salads and sandwiches. Plenty of seating outdoors and in. Get there early for the best baked goods selection (breakfast is served till 2p.m. however).
WeWork
WeWork, Amsterdam's largest co-working outfit, recently opened up a new space, bringing their total to  4 spaces in Amsterdam. Located centrally, save for a Zuidas location, each space offers private offices, hot desk memberships, and dedicated desk spaces all with upgraded Covid-aware safety measures such as hand sanitizer, enhanced cleaning services and HVAC systems. 
Volkshotel
Yes, it's a hotel, and workspace. It also functions as an artist space, club, bar and restaurant. There's even rooftop hot tubs and a sauna for good measure. The Volkshotel, located in Amsterdam East, used to be a newspaper building, and then a squatter's paradise, but now operates in the vague space of uber-hip multifunctional meeting place/tourist stop. Each hotel room has a cute-minimal theme often on the smaller side.
StartDock
StarDock caters to the startup and scaleup crowd. The idea is to facilitate entrepreneurship while providing an atmosphere that promotes a sense of community complete with a communal lunch and Friday afternoon drinks. They have two prime central locations in Amsterdam. 
Some other co-working places to consider: The Thinking Hut is  non-profit, low-key, in Oost and Zuid. BounceSpace, is part barbershop, part coffee bar, part tattoo parlor, near Leidseplein and Vondelpark. White Label Coffee has great coffee, ambience and is perfect for those who reside in De Baarsjes.The Amsterdam Public Library (OBA) on Oosterdokseiland near Central Station is the largest in the Netherlands with a collection of 1.5 million books and periodicals, not to mention a view.. It has 190 computer terminals, a theater, a restaurant and terrace, located on the 7th floor.
Best Places to Live in Amsterdam
Best Neighbourhoods
Amsterdam proper begins at Central Station where it christens itself with the Ij, a rather calm watery passage that serves as the city's first welcome sign. It also connects to North, but we'll touch on that later.  After the IJ and Central, Amsterdam stretches into the metropolitan sprawl of East, West and South, with the Grachtengordel girding its center. A network of 160 canals holds the thing together. Each part of the city has a certain charm, some such as the East has a certain Brooklyn vibe, while, Center is upper class, historic and West is migrant, slow gentrification. 
De Pijp
The So-Hip-it-hurts Neighborhood. Conveniently center. Home to the Heineken Experience, as well as lots of local eateries and bars with decent cocktails and independent boutiques. Has a park popular with the dog population (Saphartipark). De Pijp is where you go for afternoon coffee, evening beer, snacks, dinner, and everything in between. The bar scene in this trendy neighborhood is popular with 20-somethings. The scene has admittedly gotten a bit older as these 20 somethings are starting to have families. You can't beat the Albert Cuyp Market for fresh delicatessa and produce, not to mention sugary, buttery Dutch sweets.
De Baarjes
In West, De Baarjes used to be a criminal hotbed. Now it's done the slow gentrifying thing and more good coffee can be found here then most of Amsterdam. But that's my hot take. De Baarjes is distinct for its rows and rows and rows of social flats built by this renowned Dutch architect Berlage.  Mercatorplein is its center and hotspot with De school calling a close second housing the former club of the same name. Nowadays, it's a gym and restaurant.
Jordaan
Historic and gorgeous. Serene, former working class, now the exact opposite, but chill. Creatives and families give it a low-key artsy/well-to-do, homey vibe. Lots of restaurants and art galleries. Noordermarkt hosts an organic market on Saturdays and a textile market nearby on Mondays. The Anne Frank house borders the Jordaan as does Westerkerk and Rozengracht. 
Westerpark
This neighborhood named for the enormous park next to is newer, and modern. Lot's of startup-y  type companies hold court here. The park itself is great for cafe culture and art. The Westergas is a famous round building used for techno raves and art exhibits. Not to miss in the summer. 
Noord
Amsterdam Noord or north has recently awakened from its sleepy student dormitory repository into a slowly third wave coffee chic sort of place. A place with art galleries and small community sponsored nightlife meets life spaces like Sexyland, and Garage Noord.
Oost
Oost feels like a distinctly different city. Once you cross the absurdly large Wibautstraat, you'll find something more akin to London row houses, or San Francisco, complete with water metaphors. Oost has a park, and the city's zoo (you can see the giraffes from a canal at the back of the zoo). It's also a gentrified place, with great bars, better cocktails and a mix of local, startup/corporate kind of vibe. 
Zuidas
Fun fact: Amsterdam is a banking mecca. ING has headquarters in Bijlmer as does ABNAMRO, Bunq even has some office space here. It's even known as the Financial Mile. Amsterdam south is only an 8 minute train ride from Schiphol and  is home to many architectural experiments. Zuidas is a rapidly expanding business district with 
Further on, slightly out of Amsterdam
Amsterdam fades into sleepy Amstelveen in the south which is noticeable by its large district flats, a landscape of almost bucolic apartment buildings punctuated by farmland and waterways. LG has their headquarters there and you'll find a large population of Koreans and Japanese calling this area home. There's some decent Korean BBQ in an innocuous spot looking vaguely vacant.Amsterdam International School is also located there. 
Find an Apartment in Amsterdam
Perhaps one of the more difficult things about moving to Amsterdam is finding an apartment. The Amsterdam rental market is infamously competitive, hard to navigate, and by no means cheap unless you're some sort of unicorn. Finding an apartment in Amsterdam typically means looking for a room in an apartment you'll share with 2 or 3 other people, having group interviews with your competitors, and waiting around for the decision. Lather, rinse, repeat. Depending on the time of year (university season means more students, more competition) you may be relegated to the depths of Amsterdam's newest suburbs (Diemen, Nieuwe West). In less competitive seasons, something more central is possible, but rent prices tend to be rather steep. 
While the experience can be far from satisfying, it's only a matter of time and diligence to find your Amsterdam home. The best way is to network. The second best way, albeit costlier, way is to go through a makelaar or housing agent. Makelaars are everywhere and can be found in little offices with pictures of hip, modern, ikea-d out aparts, lining their windows. Expat housing prices are generally higher. Expect to pay a commission plus 2 months rent. However, they will help you find what you want in an apartment and you'll have the apartment to yourself.
Most rental prices are exclusive. In Amsterdam, this means you pay extra for gas, water, heat, TV and internet. Many places come unfurnished, even to the point of having no flooring or light fixtures. Contracts typically start from 12 months at which point they continue, with a 1- or 2-month notice clause giving the landlord appropriate time to find a new tenant. 
Finding the perfect apartment can take time — figure at least 1 or 2 months to get your bearing straight and know what you want. You can easily find rooms to rent for shorter periods of time, such as month-to-month as you search for a more permanent abode. Short-term and serviced apartments are easy to find and include the Student Hotel, Short Stay Group, Yays Concierged Boutique Apartments and City ID.
Social housing is another option, however, usually only reserved for the lucky and Dutch. Rent-controlled homes or social housing has a cap of around 720 euros per month and is available only to those making below 39,0000 a year. These operate on a points-controlled basis/points system (woningwaarderingsstelsel). Rent is determined by numerous factors including size of residence, location, outdoor space and kitchen setup among other things. Most of these homes are available via housing corporations. 
Anti-squat or anti-kraak housing is another option. Squatting is illegal in the Netherlands and in an effort to stem the squatting tide, the government created a program to place people in empty buildings to keep them from disrepair. It is a very cheap option, but you can also be uprooted from your residence with a 2-week notice. There are also many rules to abide by and the rental agency will come around and check if you are complying. Also there is a high demand, so it is likely you'll be put on a waiting list.There are a number of anti-squatting including Camelot, Ad Hoc, HOD and Antikraak Direct.
Where to Look
Facebook has a number of groups such Amsterdam Apartments 4 Rent or I Need a Room!/Roommates in Amsterdam, and ISN Amsterdam Online Market, where people frequently post about rentals, rooms and vacancies. Funda offers a comprehensive listing of properties in Amsterdam as well as the Netherlands as a whole. It's also one of the most popular rental sites. Other sites include:  Pararius, De Key and  Kamernet.
Another option is Thanks to RentSlam, where expats and digital nomads can easily find a rental property in The Netherlands. The platform checks more than 400 reliable websites and matches all the available options to the search criteria and preferences of the potential tenants. If a rental property meets the requirements, it will instantly be sent by e-mail, allowing the potential tenant to respond quickly to that accommodation. There is no broker involved, so neither the potential tenants, nor the homeowners have to pay brokerage fees.
Cheap Places to Stay in Amsterdam
Hostels
There's been a designer, chic meets hipster meets ikea trend in lower budget hostels for years and Amsterdam rises to the occasion when it comes to tres chic hostels. Of course if you prefer, old school, grimier than thou, spartan, mattress and pillow flavors,  there are also plenty of those lining the path from Central Station to Dam Square. As for design-led hostels, Generator hostels host a slew of modern embellishments. Located near Oosterpark in Oost, a very up and coming neighborhood, Generator boasts a cafe, outdoor terrace, and 2 bars, chill-out areas included. 
Where to stay
Exclusive Member Benefits in Amsterdam
Similar Digital Nomad Destinations
Amsterdam Visa
Travelling to the Netherlands is relatively hassle free. The Netherlands is considered part of the Schengen area. For foreign nationals that are part of the EU, EEA or Switzerland, no visas are required. For U.S. citizens, a visa is not required if you stay for 90 days or less. Depending on the country you are visiting from, certain visas apply. There are several types of visas: Short stay or Schengen, Long Stay or MVV, Caribbean Visa, and transit visa. 
A short stay visa allows you to travel freely around the Schengen area within a 90-day period. Visitors to the Netherlands from certain countries can apply for this visa. A Schengen visa is valid for either 1, 3, or 5 years depending on the applicant's travel history. Long stay visas are for people who want to stay longer than 3 months. A residence permit is also required. These require a number of special documents and often are easily required with the assistance of a lawyer. The transit visa may be required for those who are transferring to another flight at a Dutch airport.
The processing time for a visa can take up to 60 days but 15 days or less is more common. Apply for a visa at the Dutch embassy or consulate at your country of origin. There is also a non-refundable fee for obtaining a visa which can be paid for when applying.
Culture and Food in Amsterdam
Dutch food is in a word, hearty. The culinary traditions are unpretentious and grounded in the rainy climate, northern latitude rounded with a healthy Protestant background. The Dutch are particularly unrelenting in their love of milk products, fried food and stamppot. Heavy and hearty soups like their famous pea soup lovingly called snert fill winter hearts up in a jiffy. Expect to find at least 5 kinds of milk and other milky substances and just as many fried delicatessa at your local Albert Heijn. The Netherlands also happens to be one of the largest food producers in the world, in particular sustainable agriculture. You'll see a lot of greenhouses and cows in the Dutch countryside. This has in part given way to a new wave of diverse and modern food culture that is present in Amsterdam.
But let's start with the fried fundamentals. Frikandel, vlammetjes, bitterballen, croquette, kastengels. These all comprise the category of Dutch bar snacks. Many of these fried treats serve as bar snacks to accompany their beer. Deep fried and delicious, bitterballen are quintessential to Dutch food culture. Bitterballen are filled with a meaty roux and typically served with a slightly spicy mustard. Kroquetten, another typical Dutch treat, are the big brother to the bite-sized bitterballen. They have a thing called patatje oorlog or war fries, topped with a thick dollop of mayo, peanut sauce and onions. 
There's an entire snack world fast food chain that is built around fried. They call it Febo. Febo is the stuff of drunken nights, and too many coffee shops, or just when you're feeling snacky. Febo is lockerfood. Yes. food in a locker. You can swipe your bank card and get nicely warmed grill burger, croquette (try the sate offering, it won't disappoint),cheese souffle, chicken corn, milkshake, or even something called bami inspired by the Indonesian noodle dish (like an eggroll dipped in a bouquet of breadcrumbs and deep fried with a middle of noodles, spices, and veg). 
But shall we move onto something a little healthier In recent years, plant-based options have become all the rage. Even Albert Heijn has a decent selection of vegan options aside from tofu. There's vegan pizza (try Mastinos), vegan junk food (aptly called Vegan Junk Food Bar), even vegan sushi (yes also called Vegan Sushi bar). 
Let's not forget the sweeter things. Dutch desserts are sugary, creamy and topped with loads of powdered sugar. Stroopwafel is the famous Dutch caramel waffle cookie best eaten with a hot coffee. Pancakes are not just pancakes here. They come with a million toppings savory or sweet. Fried dutch apple donuts called ollieballen and gluhwein make winters winter,  and appelcake fits for all the times in between. 
Another typical Dutch food culture fact: Amsterdam tends to have less than stellar, if not downright bad service. Don't expect to be waited  on hand and feet. Don't expect much at all. Dutch servers will take their time to serve you. And try as you might to get one's  attention, if they don't want to see you, they don't.Or more often than not, the server is not serving your seating area, so is helpless to do anything. Perhaps they'll put in a kind word to the rightful serving colleague but chances are slim. 
Amsterdam Nightlife
There's a point in the summer where the sun lingers into the night, slowly simmering, somehow creating an incandescent Van Gogh sky so sublime you'd think the apocalypse was nigh…. or you'd have to paint it. In summer, daylight can last well into the night giving the city an odd angelic feel, giddy with an energy and commotion that only copious amounts of sun and beer can lend. Pair with terraces, rooftop bars, tonics and other alcoholic commodities and repeat.
Winter's in Amsterdam are more for leaning into the frosty dark when you tuck yourself into a bar a bit longer, or stay till dawn at the club. Luckily, bar life is extensive and fully loaded with options depending on the type of night you want to have. 
Feeling clubby? Techno fuels the clubs of Amsterdam. Once home to the legendary Trouw, which was a converted newspaper factory. The owners then went onto build a dance darling in a former school, aptly called De School, which had a 24 hour license, art spaces, colossal chill out area/smoking lounge, outdoor terrace, gym and restaurant. Unfortunately, the pandemic brought an abrupt end to recess. Should they come up with a new project, it will be one to watch. 
Rembrandtplein offers up a wide range of clubs that covers most tastes for the location and ambience. Among them are Escape, Claire, and Air. Nearby on Reguliersdwaarstraat AKA Amsterdam's most famous gay street, you'll find Club NYX and karaoke bar extraordinaire Duke of Tokyo nestled in among a row of solid, bars, and restaurants. You'll be forgiven if you take more than one handcrafted, speakeasy cocktail from Door 74. 
In October, Amsterdam hosts ADE or Amsterdam Dance Event. Warehouses, squares, and every other free clever spaces are converted into dance palaces, replete with lounge areas, other parties stacked upon parties. In November, the International Documentary Filmfestival Amsterdam (IDFA) holds court, offering film labs, talks, and tons of documentaries from around the globe. 
Back to the bars. Bar life is vast and various, dizzyingly good with choices. You've got your old school brown cafes, or your very proper old Amsterdam joints with boozy old locals who tend to sing Andre Hazes when things start getting tipsy, to secret speakeasies where you need to be in the know, password and all (The butcher). Hotel bars, A'dam Toren (also a club) complete with high swings on the rooftop and an elevator ride that rivals Willy Wonka's. There's also big bars like WaterKant or Panache, and bars that thrive in tightness and darkness (Lux, Bar Bukowski), and outdoorsy bars (Hannekes Boom, Brouwerij't IJ). De Foodhallen in  West will serve your drink and food needs. 
Ton Ton Club has 2 locations for your convenience. The name is a tad misleading. Ton Ton is more old school arcade and bar than club. Think air hockey, board games, old school japanese table throwing game no one understands, Pac Man and an Asian inspired menu with loads of beers and creative cocktails. 
Things to do in Amsterdam
Amsterdam's high density living, plentiful bike paths, numerous greenspaces, avant-garde attitudes and vast arts and cultural life makes for a good, solid core of a city. Bars, clubs and restos reside in the center, with Leidseplein as the main center of attraction. Healthy nightlife hubs can also be found in each of the city's main arteries — Oost, Oud-West, and Zuid. The Redlight District holds an entirely different entertainment vibe itself along with its many head shops and famed windows. In support of this cultural ecosystem, you'll find a surprising amount of museums and dedicated shopping streets that cater to high-end brands, boutique and local, as well as your H&Ms and Primarks.  This disparate mixture of cultures and facets lend Amsterdam a distinctly unique feel. There's truly something for everyone here. 
Museums
Rijksmuseum


The

Rijksmuseum,

a place everyone knows and goes to complete the I've- been-to-Amsterdam checklist. Conveniently located on Museumplein central, entrance is free when you purchase an Iamsterdam city card. The card also enables you a visit to the Stedelijk and Van Gogh museum. While its

piece de resistance

may be Rembrandt's colossal painting

The Nightwatch

, a portrait of the civic guard, the Rijks houses a rather expansive and impressive collection. Ranging in time, it covers 800 years of Dutch history and art including ship models, jewelry, Delftware and arms. There's even an Asian Pavillion showcasing ancient Indonesian, Thai, Japanese, Chinese and Indian artifacts. 

Van Gogh Museum


The

Van Gogh Museum i

s located near the Stedelijk on Museumplein. Home to works by the troubled Dutch painter and his contemporaries, the museum consists of two buildings. One designed by Gerrit Rietveld showcases 200 of Van Gogh's paintings, 400 of his drawings as well as 700 of his letters. The second building, designed by Kisho Kurakawa, deals in temporary exhibitions. 

Stedelijk Museum


Like many modern art museums the

Stedelijk Museum

doesn't disappoint in its design. A large glass facade gives way to the  entrance of the museum also known as the Weisman building. Walk further back and you'll see a structure resembling a giant bathtub designed by Dutch architect Mels Crouwel. The Stedelijk regularly hosts film screenings, gallery talks and performances. It honors contemporary and modern art with a focus on CoBrA, De Stijl, Pop Art, and Bauhaus.

Anne Frank House


A visit to Amsterdam isn't complete without a visit to the

Anne Frank House

. Located on a canal near the Westerkerk, the museum first opened in 1960. The space where Anne, her family and 4 others hid is preserved as is her original diary. The rest of the museum houses temporary exhibitions exploring themes of discrimination and ideology. It is one of Amsterdam's most visited museums. Book a slot online early to make your trip easier as there tends to be a long line nearly everyday.

Hermitage


Fancy a taste of Russia?

The Hermitage

is a satellite of the State Hermitage Museum in St. Petersburg. It is located on the Amstel and was opened in 2009 after years of renovation converting the former retirement home into the exhibition space it is now. While there the museum hosts a history of Russian-Dutch relations and a history of the building, special exhibitions are the main event here. Special exhibitions are held approximately every 6 months and represent the darlings of Russian history and culture. Think Tsars, precious jewels, intrigue and Alexander the Great.

Tropenmuseum
The Tropenmuseum

or tropical museum is located in an old but beautiful building in Amsterdam Oost. It has an anthropological take whose exhibits explore  history of humankind in elegant and informtive ways while deftly touching upon difficult subjects such as slavery and the Netherland's own colonial past. 
Shopping
Retail therapy, we can all agree, can be much needed escape from the everyday.  Amsterdam has a  thriving shopping scene. The main shopping street in Amsterdam is located near the Flower Market in the center. The Kalverstraat and Leidsestraat are home to many major retail stores from mostly women's fashion, shoes with the occasional bakery and candy store thrown in for good measure. Think Zara, Uniqlo, Pull & Bear, Filippa K, HEMA, Bershka et. al.  Check out The Haarlemmerdijk for a variety of trendy shops, concept stores, independent labels, bars and specialty food shops.
The Nine Streets (De Negen Straatjes)
Looking for something more local in flavor, boutique-like, perhaps a little more vintage? The Nine streets have got you covered. Running along 3 canals, from behind Dam Square and on the way to the city's Jordaan area, these nine streets provide a pretty stroll through the city with some shopping and delicious eateries along the way. Here you'll find everything from second hand designs to beauty products, furniture, books, shoes and specialty stores. There are also many cafes and Dutch style brown cafes that will serve you a biertje with your tosti. 
P.C. Hooftstraat Van Baerlestraat: Upscale Shopping
For a high-end, exclusive retail experience head towards the area between the Museum district and Vondelpark starting at P.C. Hoofstraat. Here you'll find luxury brands like Dior, Chanel, Prada and Jimmy Choo. The buildings are elegant, and it's a nice walk if you're on your way to catch some museums. 
Markets
Local markets are typically held from Monday-Saturday. Here you can find the best bargains and an array of Dutch tastes (sweet, syrupy, gooey, stroopwafel, herring, seafood, pancakes), as well as arts and crafts and second-hand goods. Albert Cuyp in De Pijp and  Dappermarkt in Oost have specialty foods and general goods, Waterlooplein hosts a flea market, Noordermarkt houses a farmers market, and of course there is the famous bloemenmarkt or flower market.
Parks
Amsterdam is home to a largesse of green spaces and parks including its own forest (Amsterdamse Bos) filled with trails, grasslands and even a rowing course and lake. When the weather's good, these parks are perfect for going for a run or having a picnic and sun bathing. The parks of Amsterdam all feature artworks commissioned by the city. Vondelpark is home to a Picasso, lovingly known by locals as the fish because of its resemblance to a fish (it is actually supposed to be a bird). The city's main parks include: Oosterpark, Westerpark, Amstelpark, Rembrandtpark, Noorderpark, Flevopark and Saphartipark. 
Best Time to Visit Amsterdam
In a word, the weather in Amsterdam can be described as wet. If you're not a fan of the rain, then the Netherlands may not be the best option. In the winter, there is an average of 12 days a month and 9 days in spring. Wind is also quite prevalent. Each year, there are a number of heavy windstorms that rip trees from the ground and can cause quite some damage. Windy season lasts from March to November.
The climate of Amsterdam is sub-oceanic, influenced by the neighboring North Sea and westerly winds as well as it's location 6m above sea level.  It is also quite humid. As the city itself is surrounded by 3 bodies of water, the effect is warmer temperatures in the city than surrounding areas. Humidity is typically around 80 percent. Annual rainfall is 33 in. The average year-round temperature is 51 degrees fahrenheit. 
Winter's are often freezing but snow has been scarce the last few years. The average winter temperature is  3.5 °C/38.5 °F. Partly cloudy days give way to blue skies and golden sunshine in the summer, but cloudy days hold court for a large part of the year. Summers are often rainy as well and go back and forth from periods of heavy rain to periods of actual summer weather. The average summer temperature is 25°C/77°F.
Sunshine is also not a frequent visitor, with the highest average hours of sun in June and July at 7 hours a day.
Amsterdam for Families
Amsterdam is a great place for families. Kids get started on bikes here almost as soon as they can walk. They actually have special baby bikes with no pedals so kids can get the swing of things from an early age. Here are few family friendly attractions for kids:
NEMO Museum


The NEMO is a hands-on science museum that is fun for kids and adults alike. Explore energy, machines, the universe, water and much more. You can even experiment and learn about the history of science. In the summertime, head to the rooftop for some sun and free events and exhibitions. 

Amstel Park


Amstel Park located near Amsterdam Zuid, is perhaps the most kid friendly park in the city. It is home to a mini-golf course (2 actually, one is quite challenging and aimed towards the adult crowd), a train that winds around the park, a petting zoo, and a large playground. It's the perfect little getaway especially in warmer months.

Artis Zoo


The Artis Royal  zoo is home to elephants and giraffes, gorillas and other apes. Created in 1838, it is the Netherland's first official zoo. It is also home to Artis-Micropia, the world's only microbe museum, an aquarium and planetarium. 

Canal Cruise


Whether you are an adult or child, cruising around the Amsterdam canals is always a treat. You'll learn about the history of Amsterdam including some interesting tidbits about Amsterdam life back in the day. Some cruises include meals and drinks. There are even dinner cruises. You can also go at it yourself and rent a pedal boat or canal bike which is fun no matter how old you are. These start from 25 euro for an hour. Just be careful of bigger boats and bridges.
Living in Amsterdam
Amsterdam Transportation
Amsterdam can be reached by train from Schiphol. The ride is a short 20 minutes. From there you take the metro, tram, bus or cab to your place of stay. Schiphol is one of the main airports of Europe, so you can always find cheap and plentiful flights here. There is also a recently launched direct Eurostar train from Amsterdam to London which takes only 4 hours. 
Bikes or fiets run the city. Word to the wise, stop for bikes, because they will not stop for you. And by all means, do not get caught walking on bike lanes (fietspad). The Dutch tend to ride aggressively. You have been warned.  Bike lanes are typically painted red. There are approximately 320 miles of designated bike lanes in Amsterdam with nearly 900,000 bicycles in the city. Fun fact, each year over 10,000 bikes are pulled from the canals, many of them stolen. You can rent bikes for around 12 euros a day at one of the city's many bike shops. Bikes range from the classic omafiets/opafiets or granny/grandpa bike to electric bikes, bakfiets or cargo bikes used for carting around kids, to OVfiets which are bikes you can rent from the city. Steer clear of strangers offering to sell you bikes for €5-€10. These bikes are stolen. As a rule of thumb, always lock your bike (to something whenever possible), and 2 locks are better than 1). 
If biking is not  your bag, Amsterdam's public transportation system will get you where you need to go. Mind you, it might not be the quickest way, but with the recent opening of the North-South metroline, public transportation is the best it's been in the history of the city. The GVB operates public transport which includes, metro, tram, bus and ferry. Tickets can be bought on the train by card (cash is no longer accepted) or at vending machines at most stations.  One-way fare costs 3.20 for an hour. Day tickets start at 7.50. You can also buy a plastic personal or anonymous card called an ov-chip card for easier usage. These cards cost 7.50 and are rechargeable. The Iamsterdam city card starts from 65 euro and offers  multi-day transport as well as entrance into many museums and other Amsterdam attractions.  Ferries taking passengers and cyclists to Noord are free. Remember to check in and check out when boarding and exiting public transport.
Tramlines and bus stops dot the city center, travelling conveniently through major tourist destinations across the city. You'll find many trams travelling from Leidseplein, Waterlooplein and Rembrandtplein in the city center. Travelling out of Amsterdam? No problem. Trains are numerous and run frequently from Central Station. You can also catch major trains from Amsterdam Zuid station, Amstel Station, and Sloterdijk. Sloterdijk is also the main terminal for buses travelling long-distance throughout the Netherlands and Europe. Flixbus, Eurolines, and BlaBlaBus can all be found at the station. 
Trains are run by NS or the Dutch Railways and run frequently. You can use your OV chip card (  on the trains as well to explore everywhere from Utrecht to Groningen. Just make sure that your card has at least 20 euros on it to travel otherwise you won't be able to check in.  You can even take your bicycle along if you want. 
GVB and 9292 are popular route planning apps to use. 
Fitness and Health
The Dutch enjoy sports and spas. Biking is the most common and easiest way of getting around the city. In the past couple of years, fitness has become a thriving business. No matter what your style of workout, staying in shape is not hard to do. Boutique gyms, pop-up pilates, hot yoga, HIIT studios fill spaces once allotted to social housing and squats. It's super simple to find a workout tailored to you. If you've got ClassPass or OneFit most of the sporting facilities offer easy access to working out. 
There are plenty of gyms in Amsterdam that run the gamut from your basic treadmills and weights gyms, to midrange and high-end and luxurious gyms that have saunas and other fancier amenities. Chains like Fit for Free or Basic Fit offer affordable monthly subscriptions and multiple locations throughout the city. Sports City, Train More and Vondel Gym offer more of a  luxurious feel. Gustav gym, High Studios, Club Sportive, David Lloyd are the places to be for high end fitness. There is also a healthy economy of personal trainers that will fit your style of workout.
Studios specializing in boxing and contact sports are plentiful. There are also many swimming pools, indoor and out, these include wellness baths and sportier olympic sized pools. For rock climbing enthusiasts, you can head to the north to Monk Boulder Gym for a popular indoor climbing option or Klimhal in the west. Complete you post workout recovery at a freeze lab or koan float. 
Amsterdam People
The freedom loving Dutch have an aversion to being told what to do, but will gladly tell you what to do point blank. They are, some would say, very blunt. But their sense of humor is dry and mistaking this humor and bluntness can lead to hurt feelings, if you come from a less forthright background. They are also practical and exceedingly frugal. They love their holidays and beers and ice skating and deals. Did we mention complaining? They love to complain. It's a birthright.  But not too seriously. They are unpretentious, but do like a healthy dose of hair product (particularly the men) and they have a love of calendars. Fridays are made for leaving work early and borreling (work beers). Weekends are for family and friends (prescheduled of course). Work/life balance is very much an important thing There's a definite freedom and ease that defines Amsterdam culture and people. 
The Dutch in general are very open-minded and tend not to hide anything from each other. This goes to show in their attitude towards sex and drugs. They prefer to be informed rather than cushioned. It is precisely this tug and pull of practicality and openness, however, that fuels innovation and strength. It's a play of opposites that works well –they are great problem solvers. 
Amsterdam is an intersection of Dutch culture and international flare. There's a lot of room for creativity as well as capitalism. Amsterdammers are a diverse bunch, coming from all backgrounds and disciplines. There are a number of Surinamese and Indonesian stemming from their colonial past. There's also a large Moroccan and Turkish minority population that come from guest working programs. This has paved the way for an exciting mix of cultures that manifests in Amsterdam's food scene, art scene and daily living in general. Not to mention the large expat population, which is thriving.
Amsterdam ranks consistently as one of the most liveable cities for expats in the world.  There are upwards of around 200,000 expats living in Amsterdam from all corners of the globe. You'll encounter expats from students to highly skilled immigrants to retirees who have come to Amsterdam for its carefree attitude and high quality of living.  If you want to connect to expats or locals, there are a number of groups online you can join for support and an endless supply of answers. Facebook has a large and dedicated expat community as does Meetup.
Despite all this, much has been said about the difficulties of integrating into Dutch culture. Many expats often have a hard time breaking through to Dutch. It may often seem the dikes have been built and nothing is ever going to get through. While individual freedom is paramount to the Dutch, it does tend to lead to expats sticking together with the expat community and not expanding to get to know their fellow Dutchies. As with moving to any new place, learning the language and persevering even when everyone speaks english is key. 
Amsterdam Insurance and Medical Care
Health insurance in the Netherlands is compulsory for all residents. You must register for health insurance within 4 months of arriving. If not you will be asked to get insurance and then following another 3 months, you will be fined 426 euro. There are 2 main types of insurance: Zvw (zorgverzekeringswet), which covers basic medical costs and Wlz (wet langdurige zorg), which covers longer term health costs. Public insurance is typically deducted from your salary. Basic health insurance will cost around 100 euro per month. 
There are 2 kinds of fees: Eigen risico and premie. Eigen risico or own risk is how much you pay out of pocket each year. You must pay up to 385 euro a year as eigen risico.  Premie is the monthly premium you pay out each month. This is a fixed fee deducted from your bank account. You can also pay for extra insurance to cover things like dental, plastic surgery, hearing aids, and alternative treatments. 
There are a number of Dutch insurances to choose from including: UnitedConsumers, ZilverenKruis, OHRA, and De Goudse Verzekering. International insurances include: Cigna, Aetna, GeoBlue and SafetyWing. Use Independer or Zorgwijzer to compare insurance costs. Once you have chosen your insurance, you can register with a general practitioner or huisarts.
Medical care in the Netherlands is high quality, but there's a different mentality then from, say, the United States. You'll often be told to take a couple paracetamol and simply to get some rest. You really have to be your own advocate and ask the doctor if you need a prescription or a test. 
Make sure you are fully covered by reading our full Digital Nomad Travel Insurance guide.
Jobs in Amsterdam
Amsterdam is one of the tech capitals of the world. Startups are a huge commodity here. Unicorns like Messagebird, and Mollie which deal in online communications and fintech respectively. Amsterdam is a hub of innovation with a tradition of upcycling and recycling (for example, there are a lot of fintech companies here in various forms; fashion is also big). The Netherlands has an open business climate that welcomes a number of high profile international companies. Companies like Nike, Booking.com, Adidas, Uber, PVH Corp and GStar Raw all have headquarters in Amsterdam, mostly due to the great tax breaks the country offers.
That being said, jobs in tech are seemingly always available. IT and data science do well. Amsterdam is also a financial capital and has its own so-called ING city in Bijlmer. ING, BNP Paribas, ABN Amro all have offices here.  Jobs in investment banking and financial services are numerous. As there are many international companies, there are many places where english is the primary spoken language, and people come from all over the world. 
There are a number of job agencies and recruiters are everywhere. Of course, online resources like Linkedin, or Monsterboard are also very helpful.  Networking is an asset with job searching as it is with numerous other aspects of moving to a new country. There are also a number of job coaches that can offer you career advice and help you navigate the job arena in Amsterdam. Learning the language does also help immensely.
Check out our Digital Nomads Jobs Postings to find the best jobs available for Digital Nomads.
Nomad Friendly
Value for Money
Internet
Workspace
English
Food
Safety
Health
Transportation
Friendly
Quality of Living
Cost of Living Amsterdam
No one will say the cost of living is cheap in Amsterdam. The average parking spot will run you 5 euros, with a day costing you around 40 euros. Rent starts at around 600 euros a month. Groceries follow suit. A bundle of bananas at Albert Heijn is slightly higher than a euro (not the bio or organic kind mind you). Shopping at outdoor markets is much more affordable if there is one around you. And often at the end of the day, you'll get the best deals at these markets. 
Excluding rent, the average cost per single person is 900 euro a month. A net income of 2000 euro a month allows you to survive in Amsterdam without too many perks. This of course depends on where you live and where you choose to spend your money. Living in the center of the city will cost more than living in Diemen or in Amsterdam Noord. If you are considering buying a place, 200,000 euro is a good starting point for a one-bedroom apartment on the edges of Amsterdam. 
Paying for utilities like water, gas, and electricity will add to your bills. Also consider your internet and phone providers. These can all add up at the end of the month. Going out in Amsterdam also is not cheap.  Typically Amsterdammers like to buy rounds of drinks, switching from one person to the next, so don't be surprised at your bar tab. Expect to pay 20 euros or more for a good meal, extra for drinks.