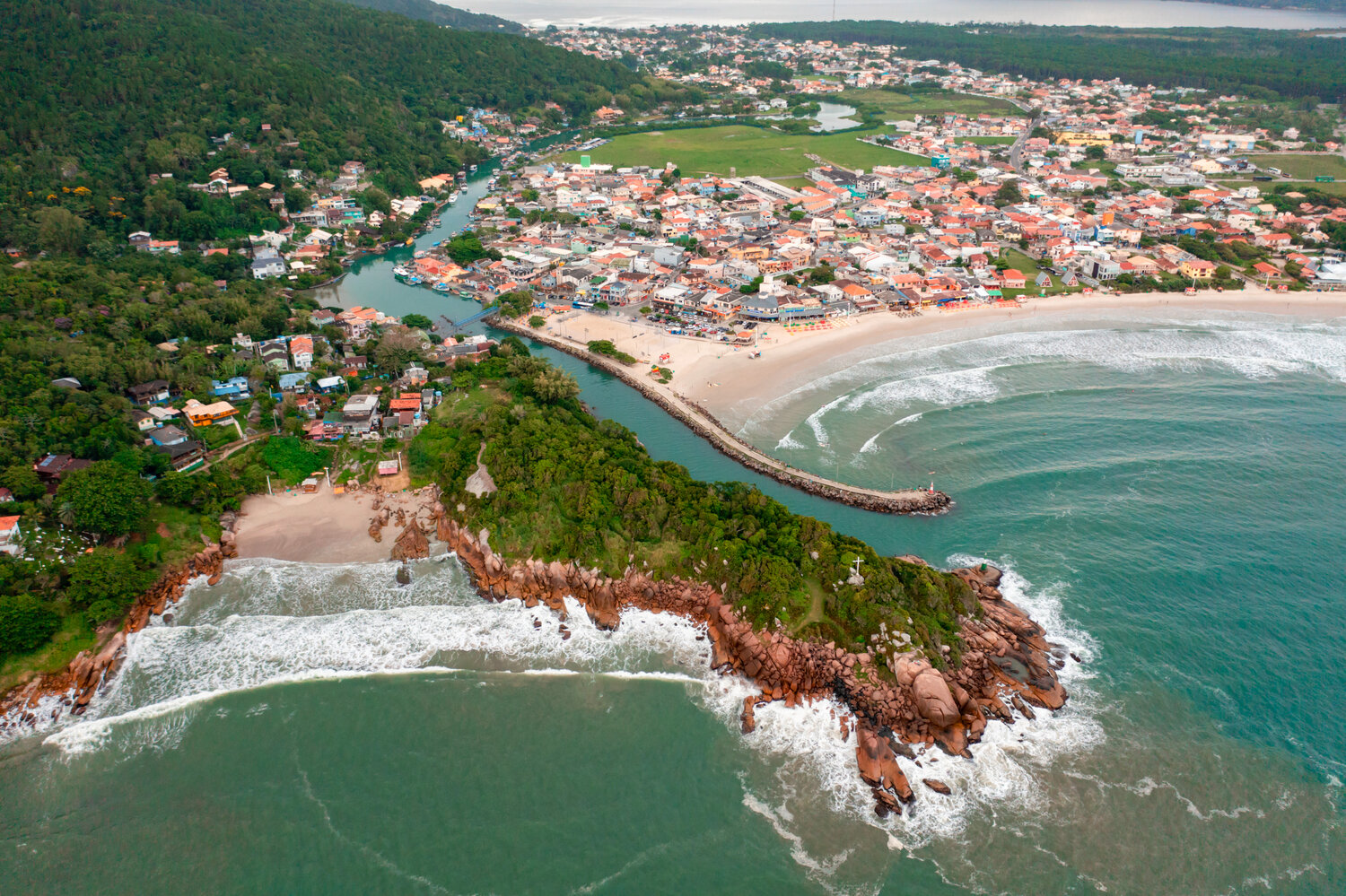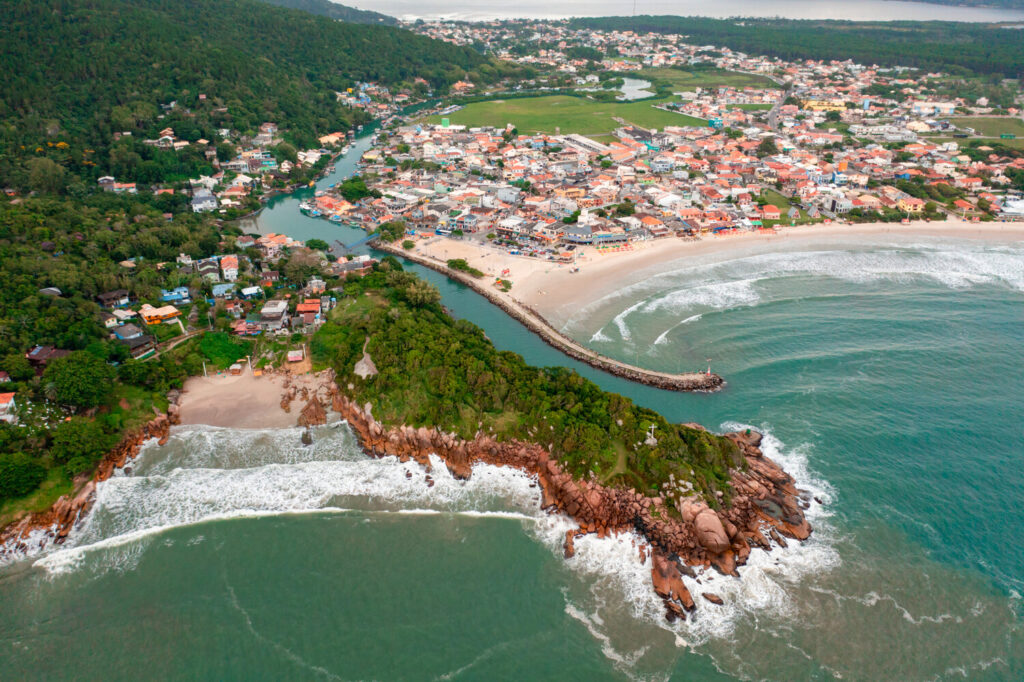 A Digital Nomad Guide to Florianópolis
Located in the south of Brazil, the sun-drenched city of Florianópolis –  often referred to by locals as Floripa – is a favourite haunt amongst wave-chasing surfers and digital nomads alike, and with its broad, sandy beaches, tasty Brazilian cuisine and and up-and-coming remote working scene, it's a great place to base yourself during the European winter to continue enjoying good weather and good vibes, too. 
Add to that the vibrant Brazilian culture, friendly locals and breath-taking landscapes you'll find here, and there's plenty to love about Florianópolis. The capital of southern Brazil's Santa Catalina state, it is actually an island with an impressive 42 beaches in total, which is connected to the mainland by the extraordinary Hercilio Luz bridge. With its saltwater lagoons, waterfalls and verdant forest, it's a nature enthusiast's dream, but don't let that fool you – as for those who want it, there's plenty of action to be had here, too.
Florianópolis is one of the most visited places in Brazil and one of the most popular backpacking destinations on the south coast, and it's easy to see why. It isn't just breathtakingly beautiful and achingly cool, but is fast becoming a hub for nomadic digital creators, offering a multitude of new coworking spaces encouraging both productivity and a collaborative way of working, and plenty of work-friendly coffee shops, too. 
For digital nomads travelling on and earning foreign currency, your money will go a long way here, which also makes living costs relatively cheap. Rent, groceries and eating out will all cost you a fraction of what they do in most European and American cities, for example – which means you'll have plenty of disposable income left over for partying the night away and socialising with the locals.
As is the case in much of Brazil, you'll need to be prepared for some bureaucracy at times, with simple processes like paying utility bills and sending parcels still frustratingly complicated and slow and many services still not accessible online. Brazil is, in some ways, taking its time to move into the digital age, but if you're prepared to embrace a slower and more traditional pace of life then you'll have no trouble settling in. If not, then the miles-upon-miles of golden, sandy beaches and crystal clear lagoons will likely soon change your mind – because with such beauty on your doorstep, it's hard to stay stressed out for long.
Nomad Friendly
Value for Money
Internet
Workspace
English
Food
Safety
Health
Transportation
Friendly
Quality of Living
Living in Florianópolis Overview
| | |
| --- | --- |
|  Meal, Inexpensive Restaurant | $4.41 |
| Domestic Beer (1 pint draught) | $1.50 |
| Cappuccino (regular) | $1.29 |
| Loaf of Fresh White Bread (1 lb) | $0.97 |
| Water (1.5 liter bottle) | $0.65 |
| One-way Ticket (Local Transport) | $0.85 |
| Basic Utilities (Monthly) | $57.63 |
| Internet | $21.32 |
| Fitness Club (Monthly) | $20.41 |
| Apartment (1 bedroom) in City Centre | $264.43 |
Currency: Indonesian rupiah (Rp)
[erw_exchange_rates_widget lg="en" tz="0″ fm="IDR" to="EUR,USD,GBP,AUD,JPY,RUB" st="primary" cd="" am="15000″][/erw_exchange_rates_widget]
ATMs
Max Withdrawal: Rp 3,000,000
Withdrawal Fee: Rp 30,000 – Rp 50,000
Use of Credit Cards: Mostly Cash
Digital Nomad Personal Experience in Florianópolis
Work in Florianópolis
Best Places to Work in Florianópolis
While internet speeds in Brazil aren't the best compared to many of the European and American cities frequented by digital nomads, Florianopolis does pretty well in the grand scheme of things, with average speeds standing at around 53.3Mbps.
And, with a variety of modern and friendly coworking spaces and laid-back WiFi cafes serving tasty cuisine and good coffee in which to set yourself up for a day of work, the digital nomad here is well catered to.
Here are some of our favourites to get you started:
We Cowork It Out
With private offices available to rent for $300 per month, plus a variety of communal workspaces at considerably less, We Cowork It Out offers the perfect set-up for all types of remote worker – whether you prefer to go it alone, or take a more collaborative approach. If you're looking for a quiet space with amazing views of the surrounding tropical landscape, then this place ticks all the right boxes, with floor-to-ceiling windows that let in plenty of natural light throughout the day. The main office, of course, can get busy – so bring headphones if you're not renting a private office and need to remain 'in the zone'.
O Sitio
Nestled in the heart of Lagoa da Conceição amongst the verdant foliage of the Atlantic Forest, if you're looking for somewhere truly unique to work then this place is for you. The perfect spot for nature lovers, O Sitio allows you to reconnect with the natural environment as you simultaneously connect to its WiFi network,  and with more than a thousand square metres of green space surrounding it, it offers a tranquil and calming atmosphere that will boost your productivity no end. Offering private parking, a fully equipped kitchen and various rooms and spaces that can be used as offices or rented out for events, this place has got all bases covered.
Impact Hub Floripa Primavera
Most digital nomads will be familiar with Impact Hub, and offering inspiring work spaces and a vibrant community, this buzzy branch is the perfect place to connect with others and get to know other nomads and remote workers in Floripa. A selection of hotdesks, private offices and event spaces are available, with a range of monthly packages to choose from depending on your needs. There are two other Impact Hubs in Florianópolis – Pedra Branca, and Beira Mar. We didn't try either of these out, but we've heard that they are just as good as Primavera.
Vilaj Coworking
If you're looking for a dynamic, creative and collaborative place to work, then look no further. Village attracts a range of entrepreneurs and remote workers from across the city and wider across the globe and was the very first coworking space to open its doors in Santa Catalina. A great place to maximise productivity and indulge in a spot of networking, with both private and shared office spaces available depending on your needs.
Cafes with WiFi
Cafe Cultura, Lagoa da Conceição
A stylish cafe that is perfect for breakfast, Cafe Cultura was one of our favourite places to stop for a decent cup of coffee. It does offer WiFi, but it can be pretty slow when busy. However, if you have portable WiFi or can do much of your work offline then don't let it stop you. If you need to connect to Zoom calls, however, then you might find it frustrating, so we'd advise going elsewhere.
The Coffee High Tech, Saco Grande
The Coffee has several branches in Florianópolis, all of which offer great WiFi and place an emphasis on serving up excellent coffee in a unique and sophisticated atmosphere that draws on inspiration from Japan. Think simplicity, minimalism and the best of Brazilian coffee.
Riviera Cafe, various locations
Again, there are several of these scattered across Florianopolis, including one in the Beira Mar shopping centre. Because of their largely central locations, they can get quite busy, but the WiFi is generally good and the coffee and salgadinhos are, too. They also do some great breakfast boxes if you're looking to grab and go – ideal for taking back to your coworking space to enjoy in a more peaceful environment.
Other WiFi cafes to check out in Floripa include Baruc Natural Praia Mole in Barra da Lagoa, Hangout Coffee SPOT in Santa Mônica and Leeds Cafe Store in Lagoa.
Best Places to Live in Florianópolis
Best Neighbourhoods
Florianópolisis a large city, with plenty of varied and different neighbourhoods to choose from according to your tastes, needs and budget. But in our opinion, there are three main areas you'll want to consider as a digital nomad living in the city to get the best of what this vibrant tropical destination has to offer.
Centro
The downtown area of Florianópolisis located at its heart, placing you right in the centre of all the action. If you're the type of nomad who likes to fully immerse yourself in the hustle and bustle of city life, then Centro is a great choice, with minimal tourism compared to the coastal areas but great access to the city's main attractions. Add to that the broad selection of shops, restaurants and bars scattered throughout the area, and you'll never be short of places to eat, drink and shop. Centro is located on the island, but connects to the mainland via a bridge – and with various public transport services running between the two, there's no need to worry about feeling cut off. Do bear in mind, however, that the nearest beach is around an hour's bus ride away – although if you have access to a car, then you can drive there in closer to 30 minutes.
Lagoa da Conceição
If you're here for the surfing, then head straight to Lagoa – a laid-back, beachside area that comes alive after dark thanks to a thriving nightlife scene. The perfect place to connect with other digital nomads, travellers and expats, the vibe here is relaxed and friendly, and you'll find plenty of budget accommodation and low-cost local eateries alongside all the essential shops and amenities you'll need. Lagoa is also home to a selection of coworking and coliving spaces and numerous internet cafes – and placing you just a stone's throw from the beach and the best waves of the day, there's no better place to be based.
Campeche
That is, apart from Campeche. Another surfing hotspot, it's a little more remote than Lagoa, but if you enjoy the extra tranquility that comes with it then it's an excellent choice. The surf is pumping, and the beach is in walking distance, but you'll find fewer bars, restaurants and shops in the vicinity, so if you choose to live here during your time in the city then you'll want to get used to cooking often at home.
Canasvieiras
If you're travelling with children, then you might like to consider family-friendly Canasvieiras. A beach resort featuring plenty of accommodation choices alongside a plethora of trendy restaurants, bars and shops, it also happens to be located close to some particularly beautiful beaches, with calmer waters that are great for swimming. To put it simply, it's the whole package, but because it's built to accommodate tourism, you'll pay a premium for accommodation here when compared to elsewhere in the city. If it's within your budget then we definitely recommend it.
Daniela
Looking for more of a sleepy town vibe? Then check out Daniela, a generally peaceful area that becomes popular with holidaymakers during peak season. To the south of the main beach here, which stretches on in a spectacular 3.5km expanse of golden sand, you'll be able to watch the sun go down each evening beyond the mangroves at the end of the Ratone River.
Find an Apartment in Florianópolis
There are various ways to find an apartment to rent in Florianopolis, the easiest of which often being simply by spotting the signs erected outside vacant properties.
ZAP Imóveis
 But if you don't have the time to go property spotting in your preferred areas of the city, then try ZAP Imoveis as a first port of call, which invariably offers up a selection of furnished apartments that are ready to move into and is based on a process designed specifically for digital nomads! Rent a property through ZAP, and you'll find fast WiFi, flexible contracts and reasonable prices, which can feel like a godsend after stressful apartment searches elsewhere.
Air BnB
As with finding accommodation in most major cities around the world, AirBnb is another good option in Florianópolis, and you'll find a range of rooms, apartments and homes available for short term rentals – but they can get pricey if you intend to stay for a longer period of time. If you've just arrived, and are looking for somewhere to stay to get you started, then booking an Airbnb online is a good way to set yourself up with a temporary base while you look to find somewhere longer term elsewhere. You can also try messaging your Airbnb host prior to arrival and letting them know you are looking for a longer term rental, as often, they will be open to negotiate on price in this case.
Additional sites to check out
Cheap Places to Stay in Florianópolis
Selina Floripa
Most seasoned digital nomads will have stayed at a Selina or two in their time, and these vibrant and friendly coliving and coworking spaces make for the perfect place to start life in a new city. Selinas Floripa, in pretty Lagoa da Conceição, is up there with the best of them and is perfectly located for watersports enthusiasts, who can sign up for courses here in paddle boarding, snorkelling and canoeing. It also happens to enjoy some pretty amazing sunrises, which are even better if you head down to the local beach to watch – and with friendly staff and usually, residents, too, it provides a great opportunity to make new connections and potentially, new friends.
Other places to search for affordable coliving and coworking spots in Florianopolis include:
Florianópolis Visa
Currently, there isn't a visa specifically designed for digital nomads looking to work remotely in Florianópolis – but nevertheless, it is relatively easy to enter and stay for up to six months thanks to a variety of standard visa options. Generally speaking, most nationalities are granted a 90 day stay in the country on entry, and can then extend this for up to 180 days in a 365 day period. Should you overstay, you'll be charged a daily fee for the period of time concerned when you leave – although this still isn't advisable even if you don't mind spending the extra money, as the potential legal ramifications are a risk most won't want to take.
Brazil is a large country and it would take you many months – if not years – to explore its highlights, so should you find yourself wanting to stay for longer than the permitted 180 days, you might like to look into one of the following options:
Extension of tourist visa: As mentioned, you may extend your initial 90 day tourist visa for an additional 90 days, generally without issue – but be sure to do this before the initial visa expires as otherwise, your application may be rejected.

Student visa: Students looking to study in Brazil are permitted longer stays, but if this is the case for you then you must apply prior to your arrival in Brazil at a Brazilian Consulate or Embassy – not on arrival.

Work visa: Should you land work in Brazil, then you may be eligible for a work visa, but you must apply to it before officially starting your role. However, you must have a guaranteed position already or your application won't be approved.

Investors visa: Should you fall so in love with Brazil that you'd like to invest in a business here, then you may be considered for an investors' visa. Currently, foreigners are required to invest a minimum of R$500,000 in a new or existing Brazilian company to be eligible. You may be able to secure a visa by investing less, but such cases will be considered subjectively so there are no guarantees.
Culture and Food in Florianópolis
Culture
Brazilian culture is unique in that it draws influences from many others, showcasing a melting pot of diverse influences due to the ethnic and cultural mixing of the colonial period. Brazil was officially 'discovered' by Portuguese diplomat Pedro Álvares Cabral and his fleet landed in Porto Seguro, in the state of Bahia, and was first colonised by the Portuguese as a result. However, there were, of course, many indigenous people already living in Brazil at that time.
In the late 19th and 20th centuries, a mix of Italians, Spaniards, Germans, Austrians, Armenians, Japanese, Chinese, Greeks and Poles landed and settled in Brazil, thus shaping the multicultural and multi-ethnic society we see today.
Nevertheless, due to three centuries of Portuguese colonisation by the Portuguese empire, it's perhaps no surprise that Portuguese culture has been the heaviest influence on the culture of Brazil, and that Portuguese was established as – and remains – the national language.
Cuisine
Brazilian cuisines vary greatly by region due to the mix of indigenous and immigrant populations the country is known for. While in the north, typical foods like feijoada (a rich and salty sausage and black bean stew) exhibit African influences, in the East, you'll find many Italian dishes like lasagne and polenta on the menu, while in the southern regions, which were more heavily colonised by German immigrants, you'll find several small villages filled with small cafes serving up traditional German hot chocolate and apple strudel.
Nonetheless, there are certain national dishes that are popular across the whole of Brazil and as a general rule, you'll find rice and beans to be the staple ingredients of almost every lunch and dinner in a Brazilian home. These are commonly accompanied by red meat – usually beef –  and salad, although foods like chicken stew and fish often feature, too. Throughout the summer months, Brazilians love to gather together with family for a churrasco – a barbecue featuring various cuts of meat and served alongside vinaigrette (a salsa made from onions, tomatoes and peppers) and farofa (a toasted cassava or cornflour mixture).
Food is an important part of Brazilian life, and in Florianópolisspecifically, fish and seafood feature heavily on most restaurant menus. The local moqueca – or fish stew – is a must try, and can be found at many of the restaurants here, particularly those located close to the beach. A sequência de camarão – or seafood platter – meanwhile, tastes just perfect when washed down with an ice-cold bottle of local beer, while the cuzcuz de tapioca, a popular dessert made with milk or cream, tapioca and plenty of sugar, is a decadent treat to round things off with.
Although you'll still find plenty of places to try traditional Brazilian cuisine – like the a kilo / self service restaurants, where you pay for your food by weight, and local botecos (bars where you can drink cold beer and eat snacks like feijoada and dobradinha), you'll also find plenty of more international dining options in Florianópolis. Brazil is home to the second largest Japanese population outside of Japan, so sushi bars are common here, and you'll also find plenty of burger joints and Italian eateries to choose from, too.
The suburb of Coqueiros, on the mainland, is a gastronomic hub, so if you're looking for a rich and interesting dining experience while in Florianópolis, then this is the place to be. The food and craft fair, which takes place each Sunday afternoon and evening at Parque de Coqueiros, is a great place to sample local delights like salgadinho pastries and brigadeiro chocolate truffles and is an opportunity to eat well but cheaply.
Florianópolis Nightlife
Florianópolis offers a vibrant and varied nightlife scene that caters to all tastes, and from stylish beach clubs to laid-back pubs, it has all bases covered and beyond..
Head to Jurerê beach or Lagoa at sunset for a lively atmosphere and plenty of cold beer, with a variety of food trucks, bars and clubs to choose from and Happy Hour coinciding with the end of the working day.
For a little culture, be sure to head to a local Forró  night and learn some moves – this romantic Brazilian style of dancing makes for a great way to meet potential romantic partners, and there is a thriving scene for it in Florianopolis, with parties happening throughout the year.
Here are some of our favourite venues to check out in Floripa for a night to remember, whatever your vibe happens to be:
Cafe de la Musique, Jurerê
Inspired by the European seaside resorts of Capri, Canne and Monte Carlo, Cafe de la Musique attracts a sophisticated crowd looking for a high-end night out, with international jet-setters and party fans making it their first port of call when visiting the city. Music varies, and once again, you'll find a vibrant events calendar that is packed with not-to-be-missed occasions. If you're planning on staying for New Year, then Cafe de la Musique offers one of the best Reveillon nights out in Floripa – but be sure to book well in advance, as this highly sought-after venue is the place everyone wants to be.
P12, Jurerê
If you're in Floripa during the summer months then P12, which opens in the afternoon and keeps going into the evening, is the place to be. This trendy beach club has hosted some big-name DJs and performers from around the world, including international sensation David Guetta – and serves up decadent cocktails in a chic setting, alongside the usual caipirinhas and beers.
Milk, Jurerê
A playground for the rich and famous, Milk is often frequented by celebrities, models and other VIPs and holds an esteemed reputation as one of the most stylish luxury clubs on the island. Offering a hip and modern feel and hosting various events of note throughout the year featuring famous DJs and musical artists, it's a nighttime destination you'll want to have on your radar.
Black Swan Pub, Lagoa da Conceição
If the laid-back pub vibe is more your style, then make your way to the Black Swan – and run, don't walk. This international venue, which is run by an Englishman, hosts a variety of live music events, with jazz and rock bands regularly making an appearance, and also doubles as a sports bar where fans can come and watch a variety of football, basketball and tennis matches, alongside other televised sporting events. Brits looking for a home from home will no doubt feel comforted by the Guinness and English lagers available on tap.
Of course, these are just a few options to whet your appetite – and with so many events happening throughout the year, the calendar is constantly being updated – so don't be afraid to ask around and chat to both locals and nomads alike to find out what's hot and what's not.
Things to do in Florianópolis
From breath-taking beaches to epic waterfalls, there is plenty to see and do while living the digital nomad life in Florianópolis. These were some of our favourites:
Surf at Campeche

Florianópolis is known for its excellent surf scene, and largely has Campeche to thank for it. Offering excellent waves in a beautiful setting, it's fairly consistent, with most of the surf here coming from groundswells. It can get quite busy in the water when the surf is up, but the beach is also a great place just to sit and watch others, too.

Visit the local market

Every good digital nomad city has a market, and Florianópolis' offering features an abundance of mouth-watering tropical fruits that you can stock up on for tiny prices. Local fruits like mango, pineapple and guava are well worth buying in bulk and taking back to your apartment, and you'll also find plenty of vegetables, artesanal goods and souvenirs if you're shopping for something a little different. Always busy with locals, it's a great place to get a taste of Brazilian life and practice your Portuguese while you're at it.

Wander the historical centre

The old town of Florianópolis is relatively small compared to other cities you may have lived in as a digital nomad, but it's still worth a visit, and is a lovely place to take an evening walk as the sun goes down before pausing at one of the local bars for a beer or caipirinha and a Brazilian petisco. At the weekends, the area takes on a new energy, with festivals and events drawing in crowds of people and making for a fun and lively vibe. From live music to capoeira, there's almost always something going on on a Saturday, and with sights including the Palacio Cruz e Sousa and the Catedral Metropolitana to take in along the way, it's the perfect way to get acquainted with the city when you arrive.

Stroll on the beach at Barra da Lagoa

Picturesque Barra Lagoa is a small beach town offering perfect waves for the beginner wanting to learn to surf, and with a number of surf schools located here, be sure to check it out if you're wanting to sign up for lessons. As the beach is long and flat, it's also a great place to take an early morning or evening stroll, or to sit and watch the sunset over an ice-cold bottle of Brahma.

Learn to kite surf

Florianopolis can be windy at times, which is one of the main reasons it offers such great surf. And surfing isn't the only sport this type of weather is good for, with kite surfing another excellent way for adrenaline junkies to pass the time. A dramatic and high-energy sport that will invariably require a few lessons to get you started, check out one of the kite surfing schools located along the area's 42 different beaches where you'll be able to purchase individual classes or buy a course of them to keep costs down.

Hike the Costa da Lagoa

If you're the outdoorsy type, then you'll adore the scenic five-mile hike along the pretty Costa da Lagoa – just be sure to choose a cool day to do it, or pack plenty of water and sunscreen. Taking you on a picturesque journey through jungles and past waterfalls, to the bayside area, where you'll find some of the best fresh, local seafood, if the heat gets too much for you then you can always take the 15-minute water taxi back at the end.

Check out the Hercilio Luz Bridge

The Hercilio Luz bridge was built to connect the island of Santa Catalina to the mainland, so you'll likely come across it – quite literally – at some point. The largest suspension bridge in all of Brazil, it stretches on for an impressive 819 metres and was built over four years in the 1920s. It's an impressive sight to see from a distance, and certainly worth snapping a few photos of.

Seek out the local street art

Florianopolis enjoys a vibrant art scene, and much of the enthusiasm for drawing, painting and the like has spilled over into the streets. Throughout the city, you'll find multiple pieces of notable street art, with a mural by talented painter Thiago Valdi a highlight. In all honesty, it would take you weeks, if not months, to locate them all, but you can certainly have fun trying to do so.

Discover local music

Choro Xadrez is a 'roda de choro' – in other words, a gathering of jazz musicians, and happens mid-week on the eastern side of the island. But this isn't your usual live music event, as it all takes place inside a tiny kitchen in Rio Tavares, where craft beer is on tap and the vibe is electric. If you're looking for something unique and cultural to do during your time in Floripa then this is a well-kept secret you won't want to miss.

Explore Blumenau

If you don't mind a bit of a journey, it's worth heading outside of the city to visit the cute German village of Blumenau, which is roughly a 2.5 hour drive away. Nestled amongst lush jungle vegetation, this quaint little bolthole was colonised by Germans during WWII and so offers up a really authentic feel – minus the weather, of course! Restaurants and cafes in Blumenau serve up authentic German foods like schnitzel and apple strudel, and the village also plays host to the second largest Oktoberfest outside of Munich, so if you're here at the right time of year then it's a must.
Best Time to Visit Florianópolis
Like much of Brazil, summers in Florianópolis are hot, humid and can feel oppressive – but by contrast, winters are long, cool and windy. Southern Brazil experiences the seasons more dramatically than cities do further north, and it can even snow here in the winter. You'll experience some cloudiness and rain throughout the year, which can be a relief during the summer and a welcome chance to cool off a little – if only momentarily.
Over the course of the year, temperatures typically range from 13 °C to 29°C, although they can reach as high as 32°C and as low as 8°C in the winter. The best time of year to spend time here is from late March to late June and between early August and early December. At these points, you'll be able to enjoy hot and sunny weather without the summer crowds, who descend from late December until the end of January, when many Brazilians take a month off work – and again from late February to early March, during 'Carnaval'. That said, the latter is also a spectacular time to visit from a cultural standpoint, if you don't mind the increased humidity and intense influx of holidaymakers and Carnaval-goers.
Florianópolis for Families
Thanks to its glorious weather and huge selection of beaches, Florianópolis is a great place for families with children of all ages, no matter how long you are planning on staying. 
Schooling and Education
Of course, if your children are of school age and you are looking to enrol them locally, then the types of education on offer will be a key consideration. International schools in Florianópolis itself are limited, but the Escola Internacional SOCIESC Florianopolis is a highly-ranked English international school that has adopted teaching methods based on the International Baccalaureate curriculum in both English and Portuguese.
The Associação Educacional Luterana Bom Jesus / IELUSC and the ​​Valley International School are other options but are located in other cities across Santa Catalina – while the Escola Internacional UniSociesc Blumenau is two hours from Florianopolis, in Blumenau.
Nursery Schools and Pre-Schools
If you're in need of some daytime care for younger children while you work, then a local berçário, or creche, is a good option. Open to infants aged from three to 18 months, some private nursery schools even provide bilingual activities to suit children of different nationalities – although these are usually in Brazilian Portuguese and English. Prices range from around R$200 to R$3,000 per month, depending on how many hours or days you wish to send them for and the area in which a nursery school is in. To enrol your child, you'll need to provide their birth certificate, proof or residence and a passport-sized photo, as well as their medical records, including an up-to-date vaccination card.
Family-Friendly Activities in Florianopolis
You'll find a multitude of family and child-friendly activities in Florianopolis itself, in our 'Things to Do' section, but one outside of the city that deserves a special mention is Beto Carrero World, in Penha. The largest theme park in all of South America, it features numerous rides and attractions for all ages and includes a zoo, themed villages, drama-filled shows and some breath-taking installations by DreamWorks. It's around an hour and 45 minutes'  drive from the centre of Florianópolis, but the kids are bound to thank you for it!
Living in Florianópolis
Florianópolis Transportation
Bus
The local bus system in Floripa is cheap and user-friendly, although some services can get crowded around rush hour. The Linhas Executivas bus runs between the downtown area and main beaches and costs around $2 for a single journey – it's easy to spot, because it's bright yellow!
Local buses run on the Sistema Integrado de Mobilidade – an integrated scheme – and leave from the TICEN terminal, one block east of the city's long distance bus station. To connect to any of the island's many beaches, you'll need to head to one of three other terminals – the Rio Tavares Terminal (TIRIO), the Lagoa da Conceição Terminal (TILAG), or the Canasvieiras Terminal (TICAN).
Buses from the TIRIO terminal will take you to southern beaches (take the 410 from Platform B at the main station and then transfer to the 563 when you reach TIRIO). To get to the city's eastern beaches, take the 330 to Lagoa da Conceição from Platform A, then the 360 to Barra da Lagoa (there are other buses also leaving from TILAG to other beaches in the area). If you're en route to Canasvieiras, then you'll want to take the 210 to TICAN.
For more of the latest information on bus routes and fares, head to www.floripanoponto.com.br
Uber
Uber is available in Florianópolis and is one of the quickest and easiest ways to get around and as in most places, works out as a cheaper option than taxis. 
Taxi
While taxis are available here, they can be quite difficult to get during peak times and especially during high season. The base fare for a taxi is around R$ 7.25, with journeys charged at approximately R$ 4.25 per kilometre there after. If you need a driver to wait for you while you attend an appointment or event, then you can expect the waiting time to be charged at R$20 per hour, which makes it far cheaper to simply book yourself an Uber to get there and then again when you are ready to leave.
Car
Car rental is reasonably priced in Brazil if you're travelling on or earning in foreign currency, and in Florianópolis, you can expect to pay between $300 – $400 USD per month. Considering it takes around two hours to get from the north and south points of Florianopolis, it's worth it if you intend to do a lot of exploring and will save you a huge amount of time.
Fitness and Health
Many Brazilians like to keep fit, and you'll often see them jogging or walking along various beachside promenades in the evenings and at weekends. If you prefer to get your exercise where there's air conditioning, then the good news is that there are some great gyms and yoga studios in Florianópolis. Here are our top picks:
Centro de Ser
A dedicated health and wellbeing space offering everything from yoga and pilates classes to martial arts, Centro de Ser features large windows that let in plenty of light, with views over the lake below. You'll also find a range of wellness treatments on offer, including massage, acupuncture and naturopathy.
World Gym
If you're looking for modern equipment and a fully-equipped fitness centre with a friendly and welcoming team on hand to help you out when needed, then World Gym is just the place. Staff can speak English, and the website is available in English, too – so if your Portuguese is a little rusty or you've yet to pick much of it up, then you'll be in good hands here. There are also plenty of fitness classes happening throughout the week, with something to suit all tastes.
Yogashala
Yogis will want to have Yogashala well and truly on their radars. A beautiful, bright studio located close to one of the main shopping malls in Centro, classes include both Hatha and Vinyasa yoga, with daily classes and expert teachers on hand to help you perfect your technique and get the most out of them.
Florianópolis People
Brazilians are warm, open and friendly from the get go, and are almost invariably happy to meet new people. Be prepared to be greeted with a hug at first meeting, and don't be surprised if you are invited to their family home for a weekend churrasco – one of the favourite Brazilian ways to socialise is over a barbecue and perhaps some beer.
Brazil is the most religious country in Latin America, with around 90 percent of the country following some sort of religion. And, thanks to the mix of different nationalities that migrated to Brazil during the 19th and 20th century, plus African influences from slavery 500 years ago, it is also the most religiously diverse.
Catholicism is the nation's main religion, however, and accounts for around three quarters of the population. As such, many Brazilians attend church on a Sunday and in some cases, throughout the week, and it is seen as much as a social event as it is a religious one.
The fact that Brazil is a religious country certainly doesn't mean Brazilians don't know how to party, however, and with a range of exciting cultural occasions and festivals happening throughout the year, some might say they even know how to do it best. Carnaval, which begins each year on the Friday before Ash Wednesday, is one of the biggest spectacles in the world, and something you have to experience at least once – Rio de Janeiro's is undoubtedly the most well-known, and sees the city's samba schools come together to battle it out to be crowned the very best. Each of the main schools spend many months each year designing their theme, building their floats and rehearsing. 
But Carnival in Florianópolis is just as exciting, and is an eclectic mix of samba, street parties and parades. It's a city that knows how to celebrate in style, and its diverse culture makes it a unique celebration when compared with elsewhere in Brazil. So, if you are invited to attend by the locals, then be sure to accept – you're guaranteed a fun-filled time and will no doubt walk away with some new friends, too.
Outside of the biggest occasion of the year, Brazilians love to spend their weekends at the beach – and Florianópolis, with its vast selection of stunning praias to choose from, this is especially true.
The Florianopolitan dialect, informally called manezês or manezinho, is a variety of Brazilian Portuguese heavily influenced by the Azorean dialect. Once, it was widely spoken across the Santa Catalina island, but today, it is mainly limited to the traditional Azorean settlements, so if you know a few words of Brazilian Portuguese then you'll have no trouble communicating with the locals. And, given that the majority of younger generations learn at least some level of English at school, with many also enrolled in more intensive language school courses, you should be able to get by even before you start picking up the local lingo.
Brazilians love meeting new people, and tend to know their neighbours well, you can expect to make connections quickly in Floripa. And, with a growing community of digital nomads and expats also residing here, at least for a time, you can expect to meet a diverse mixture of interesting people who will be happy to welcome you in.
Florianópolis Insurance and Medical Care
In Brazil, foreign nationals are entitled to emergency medical treatment in Brazilian public hospitals, but these tend to be very crowded at the best of times, and even more so given the current climate.
In order to access treatment at a private hospital, you'll need to provide evidence of sufficient funds in advance, or present a relevant insurance policy – so it's wise to take out as comprehensive a policy as you can afford before travelling into the country.
Make sure you are fully covered by reading our full Digital Nomad Travel Insurance guide.
Jobs in Florianópolis
Life is pretty good in Florianopolis if you're earning a foreign currency like US dollars, Euros or British pounds – but less so if you intend to make a living through a Brazilian wage. At the time of writing, there are 7.5 Brazilian reais to the British pound, 6.4 to the Euro, and 5.5 to the US dollar, so while any of these currencies will go a long way in Brazil and allow you to live comfortably, it's easy to see why earning reais won't afford you the same standard of living.
Casual bar and restaurant work pays poorly, with the monthly average salary for waiting staff equating to around $393. Considering the average cost of apartment rental in the centre of Florianópolis comes to around $248, this doesn't leave much to play with – and when you factor in monthly utilities, at around $52 per month, even less so.
In the current climate, and in the wake of the ongoing pandemic, such jobs are few and far between anyway, with many small businesses having suffered as a result – although in Brazil, widespread and ongoing closures haven't featured heavily in the recovery plan.
But one area in which there is always demand is in languages, with native English speakers considered particularly hot property amongst local language schools. Although English is taught to some degree in state schools, many parents who can afford the fees choose to send their children to language schools like CNA and Wizard in order to accelerate their learning. For Brazilians, the ability to speak English is considered of the utmost importance, particularly for those aiming for high-flying careers in areas such as medicine and engineering – so ensuring that children receive tuition in small groups, from native speakers, is a priority.
Nevertheless, salaries for this kind of work remain low, ranging from $700 – $1,100 per month depending on the number of hours worked and classes delivered. Working as a teacher can be a good way to pick up a little extra fun money, but if you want to live off it entirely then you'll need to be frugal.
There are, of course, some well-paying jobs in Brazil. The main industries here are mining, petroleum processing and iron and steel works, all of which often employ foreign workers who can bring in the relevant expertise, although this is usually done through contracts with large international and global companies. Brazil also exports a great deal of coffee and fresh produce, so jobs in farming and exports are another possibility.
Do also bear in mind that in order to work in Brazil, you'll need to apply for a work visa, which can be a lengthy process. Check out Visa Central for the full requirements.
Check out our Digital Nomads Jobs Postings to find the best jobs available for Digital Nomads.
Nomad Friendly
Value for Money
Internet
Workspace
English
Food
Safety
Health
Transportation
Friendly
Quality of Living
Cost of Living Florianópolis
Life in Brazil, for those earning foreign currencies, is pretty good, and the American dollar, British pound and the Euro will all go a long way here. As mentioned previously, the current exchange rate at the time of writing is 7.5 Brazilian reais to the British pound, 6.4 to the Euro, and 5.5 to the US dollar, which means your earnings as a digital nomad employed by a foreign company or as a freelancer will go a long way.
On average, you can expect to spend up to $1,600 per month living in Florianópolis, which will cover accommodation, monthly utility bills, car rental and coworking space as well as groceries and eating out – so a generous budget that includes the cost of socialising with friends. If you're the type who prefers to live a simpler life and get around on foot or by public transport, and you are happy enough working from WiFi cafes, then there are some considerable savings to be made on this amount.
Here are some examples of what you can expect to pay for the monthly essentials:
Per month in USD:
$1,200 – accommodation
$53 – monthly utilities
$300 – food
$150 – coworking space
$150 – car rental
$24 – public transport (monthly pass)
$100 – eating out
$200 – socialising with friends and connections
$120 – mobile / cell phone bill
As for day-to-day spending, you can expect to pay in the region of $1.61 for a domestic beer in a local bar, $1.20 for a cappuccino in a coffee shop or cafe, and under $5 for a meal in an inexpensive restaurant. A kilo restaurants – self-service style eateries where you pay by the weight of the food you put onto your plate are cost-effective places to eat some tasty local fare and will save you several reais or dollars a pop – just remember not to go overboard and pile on more than you could possibly eat, which is easily done in places like these!