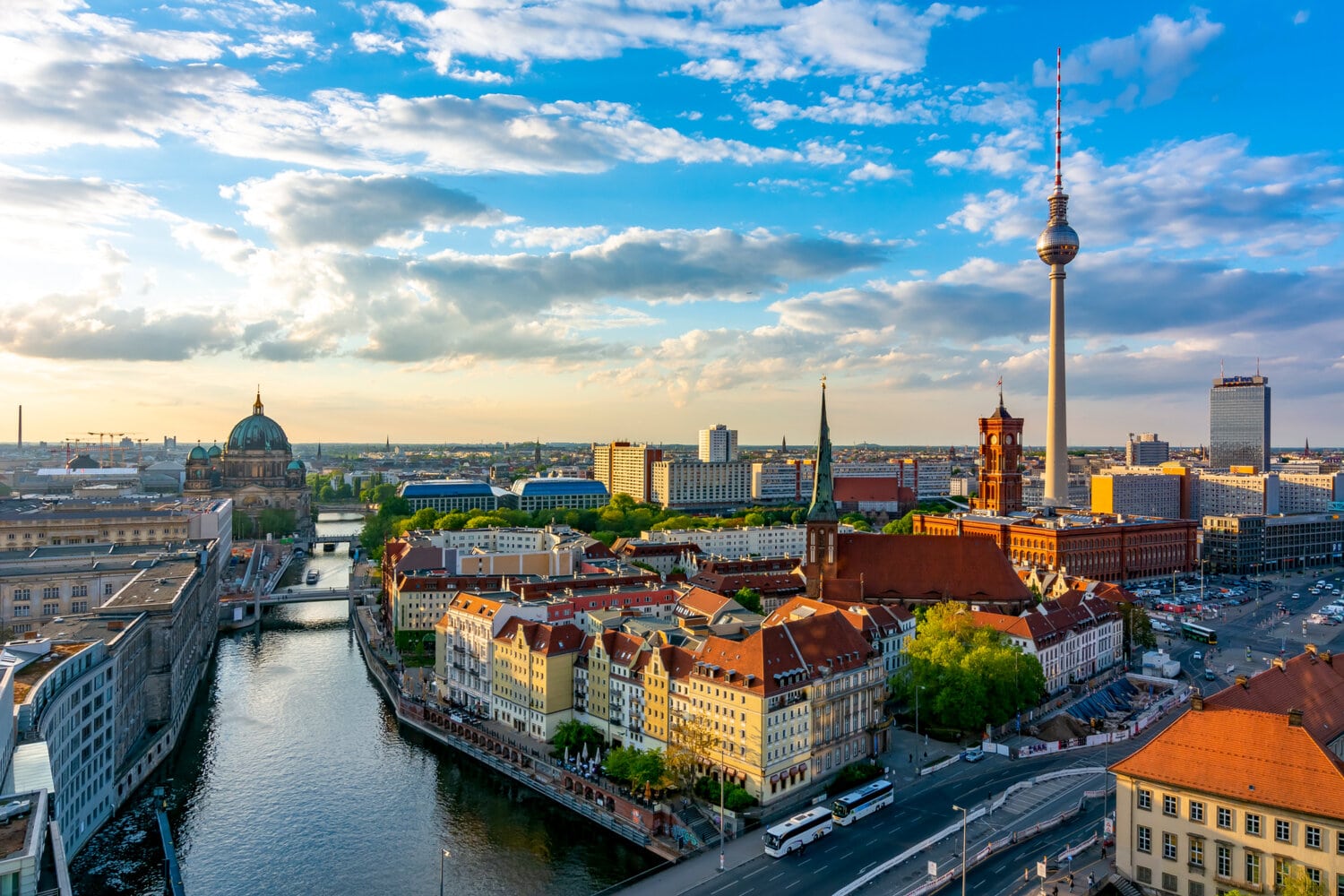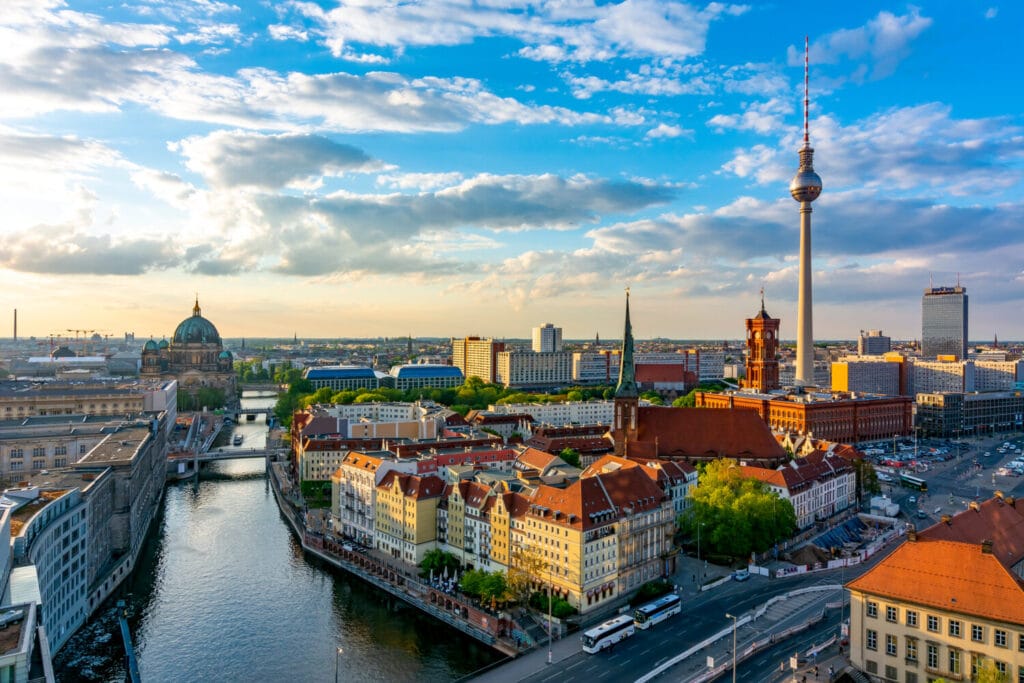 A Digital Nomad Guide to Berlin, Germany
Berlin is neither boring nor benign. Once a place of refuge for punk dogs and derelicts mixed with intellectuals and misfits — Nabokov famously exiled here and Bowie and Iggy also infamously commingled. Today Berlin is bereft of vanity. It's raw at the edges, with a punky, big-hearted sophistication filling out the rest. It's a story of a city built atop of wars, one that was destroyed only to be rebuilt over again. Rebuild, repeat. A city cut in two and forever being reborn. The result is something akin to unleashing the gates of heaven and hell simultaneously. The air is thick with history.
Where east meets west, a creeping eastern aura of Soviet nostalgia entwines with the alluring promises of artistic freedom and capitalist enterprise of western artifice. Indeed, the Wall, and its fall fueled a nascent sense of anything goes as long as it goes. So much so that nowadays most people come for the party, then stay for the camaraderie and cheap eats. 
Berlin excels at hanging out, stick-out-your-tongue and have a long chin wag and milchkaffee at a cafe, later cocktails at the same said cafe, then move down the street for more drinks, more drinks, until you're comfortably buzzed for the club. It's all about arrival time, and quality time spent on before club rituals.  Party for night, or two or three. Make it a month if you dare. Somewhere in between nightlife rituals and cafe time, Berlin goes to work. The urban fabric clings together in an irony not lost on its citizens. Berlin as a whole may not be the prettiest, or the most refined, but it is a place where you can live a thousand lifetimes at once.
Nomad Friendly
Value for Money
Internet
Workspace
English
Food
Safety
Health
Transportation
Friendly
Quality of Living
Living in Berlin Overview
Digital Nomad Personal Experience in Berlin
I came to Berlin twice to study. Once in highschool and once in college. After that I moved to Amsterdam and at some point I started spending a lot of time in Berlin. Such is the beauty of travel in the European Union. From the time I first came to Berlin, the city has gone through a lot of change. I remember there being a lot less English speakers back then. And there weren't as many expats in general. There was also more of a marked difference between the east and west especially from people native to the area.
I've found that there's always a great work life balance. Transportation is plentiful and although sometimes not the most comfortable place to be, it gets you where you need to be. As far as living in general, groceries are well priced, and grocery stores are convenient to get to. If not then your local Späti, will come in handy for those days when you run out of toilet paper.
For me Berlin is a place where you come to live out your punch drunk dreams; it's a bursting core of creativity and carefree freedom that makes this place a veritable wonderland for wanderers of all sorts. It's a place you can dip your toes in, a little or a lot and feel welcome. There's a scene for everyone. Berlin just seems easier to meet people and move to than a lot of other cities. Aside from the usual headaches of filling out forms, and finding a spot to live, Berlin is immensely welcoming. 
Work in Berlin
The work/life balance of Berlin is mirrored in the ratio of shiny silver Mac and the blackest of coffees. In other words, there is a briskness about work intertwined with a healthy appreciation for the finer things that happen after work. The workspaces in Berlin reflect this in the most serious but startupy kind of vibe. Think chillout/ stress out pods, ping pong or some sort of game lounge and open space concepts. Meanwhile, art-meets-punk meets curated third-wave coffee beans abound for absolutely exquisite cups. The only thing oddly lacking in this space is internet speed. Berlin ranks 10th for European cities with more than a million inhabitants with an average of 23 Mbps. Actually getting internet installed when you move in can take a couple weeks from when you sign the contract.
Best Places to Work in Berlin
Here are some cafes and work spaces to get you through the work day: 
Roamers
Grab a spot of brunchy lunch, or lunchy breakfast, or a healthyish snack, maybe a little bloody mary if it's that kind of day and be ready for some people watching and gawking. Great for business meetings and just lazy work days when you could use some inspiration. The service can be a tad on the slow side however. 
Kaffee 9
Attached to the food hall, Markthalle 9, Kaffee 9 has it all: its own roastery, wines, cocktails, cakes, and ample seating on high tables and high stools. The place tends to get full fast, and voices carry here, loudly at times. Another great place for meeting a client or just treating yourself to a solid espresso or negroni.
Holy Coffee
This Neukölln delight right on Sonnenallee is cozy, but curated. A light and airy atmosphere coupled with   great artisanal locally roasted beans, an amazing coffee machine to make superb drinks and a killer soundtrack make this place an automatic must for anyone with coffee lust. Also work. 
Berlin sprawls for miles and miles– the east west divide is real. Keep this in mind when shopping around for a spot to best flex your thought muscles and dive deep into what you do best. You'll want to stay close to home to avoid a massive commute. Biking can be your friend, but in the cold and rain, it's not so fun. The ecosystem of coworking spaces follows a form, function, taste menu. You can get shabby or chic, or high tech and glossy depending on your preferences. Here some options to explore that cover the best hubs of Berlin.
Mitosis
Community is the central theme of this Neukölln coworking space. It's a place where  you'll be likely to mingle with developers and playwrights along social media marketers and designers. There's a mitosis factory, event space and conference space, meeting rooms, pretty stellar kitchen area with a fierce coffee machine. You can rent a floating desk starting at 200 euro a month. It's surrounded by bars and art galleries, and trendy shops.
Enklave
Passing through the city or wanting a little respite from home, Enklave offers a hot desk for 8 euros a day and a monthly space for 100 euro a month (flex desk). Enklave is international and cozy with 3 levels of noise to suit your work style. It's on the smaller side with a max of 50 people but there's free beer and an outdoor terrace.
Spott Box
Spott Box in Wedding pulls off quaint and artsy with an exhibition room and photo studio. The thrust here is creativity.  Ahoy Berlin, funny name and nautical themes aside, Ahoy is located in Mitte and is voluminous with 24/7 access; you'll have plenty of space to roam here.
Best Places to Live in Berlin
Best Neighbourhoods
Any conversation about Berlin neighborhoods would be remiss without discussing the East and the West. The DDR's influence on the terra of east brought with it massive Stalinist constructions like the Plattenbau, and a pantheon of other visual markers that distinguish it from the West. In East, there are heaps of cheap fast foods and Spätis galore, factories turned into galleries; it's bustling. Truth be told, the East is where a lot of the happening spots are in Berlin. 
The West is glorious in its pretty, well-manicured apartments that contrast with the raw and edgy feel that  still inhabits East. West Berlin has the Zoo and Schloss Charlottenburg and the bombed out shell of the memorial church and the Victory Column. It has its quieter, suburban areas to the south and north. It somehow feels somehow more grown-up than East, calmer, more at ease with itself. 
Kreuzberg
Kreuzberg straddles west Berlin at the Mitte border and goes deep east into Kotti or Kottbusser Tor region following the blue and orange line or 7 and the 5. Kotti cuts into primal east Berlin vibes. A bit fragrant, a bit of a rollicking bum hangout and central meeting spot prior to a night out. Oranienstrasse is lined with restaurants and bars, throw in some yoga centers, markets, it's an eclectic mix of a street that pervades into West where you'll often see a cast of characters dressed in bedroom summer rave wear (even in winter). 
Wrangelkiez
The Wrangelkiez in particular, in the Friedrichshain-Kreuzberg area holds an artsy, anti-conformist feel filled with graffiti-clad buildings, many of them by the Italian artist Blu. Bounded by the Landwehrkanal, Gorlitzer Park and Skalizer Strasse, you'll find loads of hip restaurants, cafes, shops and bars– basically all you need with a bit of flavor. It's an eclectic mix of architecture ranging from ornate facades to more modern GDR era concrete and glass numbers. This kiez, like the architecture, casts a wide net, offering something from all walks of life. 
Prenzlauer Berg
Prenzlauer Berg, Wilhelmine buildings – blocks of apartments that form a ring around an inner courtyard typically including 5 stories, a rear building and side wings– are distinctive attributes of this historical neighborhood located in the southern district of Pankow. These buildings are pretty and rarefied in contrast with the more Stalinist high rise apartments dotting the area. Home to many galleries and to a vibrant arts scene, as well as bars and restaurants, and the kind of eateries and bakeries with avocado toast and designer donuts. Sort of boho young professionals vibe.
Friedrichshain
Friedrichshain – Like everything in the East, this area of Berlin connects to Kreuzberg via the fortress-y Oberbaum bridge, Friedrichain has gentrified it's more anarchist punk ways. Once home to mohawks, squats and dogs, F'hain now houses many design and media companies such as MTV. Simon-Dach-Strasse is the hip street with all the bars and boutiques. Boxhagener Platz, or Boxi, holds a variety of markets from antiques to organic sprouts and a decent flea market. There's even an old school cinema, covered in graffiti. Home of The wall. Also The East Side Gallery.
Wedding
Wedding – A little gem of a place. Multicultural Low key. Less gentrified, leaning on the poorer side. All this makes for a great haven for artists and students as well as the accompanying club and cafe culture. The Berlin Modernism Housing Estates are one of the main focal points, a Bauhaus construction and now a UNESCO world heritage site. Plötzensee is a nice little lakeside retreat that is steadily growing in popularity when the sun is shining. 
Find an Apartment in Berlin
Berlin's increasing capital in the tech world intertwines oddly at the intersection of an evergreen wunderkind kind of status in the art scene. Yet, somehow it also does wonders to solidify its reputation for being a thriving semi-cheap hotbed of parties, fun and fabulousness. Lately, however, the glass shoe doesn't seem to fit as nicely as it used to.  The influx of unicorn tech capital has actually upped the rent  in that slow alt-Silicon Valley divide and meditative kind of way. That is to say, bring on the gluten-free brezel  atop my semi-bloody bloody mary/beer hybrid. In essence, this coalition of odd bedfellows somehow makes the economy of Berlin less lowkey stasi Cold War and more free market friendly. 
It's important to be registered, that is to get what's called an Anmeldung pretty much before you can do anything in Berlin like getting a bank account or tax id or a visa. Registration can be secured at some short stay accommodations that cater to expats. This allows for plenty of time to get your passport, proof of income, employment contract, bank statements and other paperwork necessary for securing a more long term living arrangement.
Rent in Berlin comes in 2 flavors: Kaltmiete (cold rent) which means bare bones without heating and other utilities and Warm Miete (warm rent) which includes utilities and other running costs. You may have to register with a water and electricity supplier on your own for longer term rentals. Make sure you ask what is included in the cost to avoid any unwanted costs. Many people opt for shared living, called Wohngemeinschaft. Co-living is a great way to warp speed your city knowledge and connections, if your roomies are cool like that. Plus you share the cost of everything. 
As with any search for new accommodations, online is a good place to start. Here are a few that are popular:
Facebook has a number of groups dedicated to apartment hunting and finding apartments. 
Once you've made some progress, and scheduled viewings, prepare yourself for the viewing experience — something akin to charm on school on acid. In other words there will be competition. Make sure you bring all the necessary papers and all the enchantment you can muster. 
Some knowledge of German is always helpful especially in filling out and acquiring the endless forms you need to make yourself apartment renting ready. Once you are living fancy free, it is a difficult endeavor for landlords to kick you out of the apartment. 
Expect to pay 500+ euros a month to rent a shared place. One bedrooms typically start from the 900 euro range depending what area of the city you are in. But keep in mind, you can find 1 euro beer at almost any local neighborhood Späti. 
Cheap Places to Stay in Berlin
Bedding Berlin on a budget? Berlin is still a wallet-friendly paradise compared to the likes of Amsterdam or London. You'll never not find a hostel to stay at in Berlin; it's just a matter of amenities and quality.  Berlin hostels, like any good edgy European city,  run the gamut from designer, boutique feels to  blended concepts and eco-conscious. Many have hip and ironic themes
Exclusive Member Benefits in Berlin
Similar Digital Nomad Destinations
Berlin Visa
Travellers to Germany may require a visa for entry depending on the country of origin. In this case, visas are required for both long term and short term stays. Berlin is part of the Schengen Area, which comprises 26 member states and most of the European Union meaning you can move around freely once you've entered the area. Members of the European Union (EU), as well as Norway, Sweden, Iceland and Liechtenstein do not require a visa. However, if you intend to study or work, you'll need to register your address. 
Visas are issued via the Federal Republic of Germany. Visas are 60 euro. For non-eu nationals with agreements with the European Community, a stay of up to 90 days is allowed for semi-annual visits. If you intend to stay for longer than 90 days, you will need to apply for a long stay visa and a residence permit. You can enter Germany and apply for a long stay visa while there if you are a national of Japan, Israel, USA, Canada, Australia, New Zealand, and the Republic of Korea.
These are the 3 types of visa: Schengen visa, Airport Transit Visa, and National visa. The Schengen visa allows for different kinds of entry including, single, double or multiple entry. If you leave the country and come back, you are allowed to do so if it does not exceed the 90-day stay within 180 days rule. Transit visas are used for stopovers in Germany while traveling to another country outside the Schengen Area. National visas are necessary for stays over 90 days. 
Germany does have requirements in order to enter the country. These include: having travel health insurance, not posing a threat, being financially able to cover travel costs, and a passport that is valid for 6 months following your stay in the country.
Culture and Food in Berlin
German food culture situates itself around a trio of hearty delights, specifically of the bread and potato variety, heaps of saucy meats in many forms which is accompanied by lagers, and ales, with some craft brewed things thrown in for good measure. These rich and rustic meals won't leave you hungry. Fickle eaters will feel right at home here.  Some of the more popular of these include eisbein or pork knuckle, schnitzel, and wurst in the meat category. For the carbs, pretzels or Brezeln are highly snackable and you'll find pretzel stands throughout the city. Bread rolls and buns can be found in bakeries everywhere. Germans typically eat these rolls or brötchen for breakfast with jams or meat and cheese. As for the beers, the Berliner Weisse is a hoppy, refreshing, lemony beer great for drinking in the sun. Erdinger, Augustiner, Warstein, Berliner Kindl Weisse are all popular Späti beers found in Berlin. 
If you do Berlin, you have to do doner, no passing on this Berliner specialty (sublime vegan and vegetarian options are also not to miss in this category).  There's something about the meaty meets spicy, freshness topped with garlicky greens and veg that just does it. You don't even have to be hungover to enjoy the grilled goodness that is the doner.
On wurst. Currywurst, bratwurst, bockwurst, ketwurst. Tubular meat meets mustard in a fun and appropriate gastronomical way.  Wurst is very much a Berlin culinary event and in particular the currywurst sits high up on the wurst pole. Currywurst consists of a pork sausage that is first steamed then, deep fried which is then cut up and served in a pool of ketchup but ketchup that is slathered in curry. Get it with a side of fries if you're feeling funky. It's the stuff of oral delirium. Find them at any  SchnellImbiss or snack stand. Curry 36 and Konnopke's are renowned for their wurst. 
Aside from a large Turkish population stemming from the guest worker program in the 1960s, Berlin is also home to a vibrant Vietnamese community many of whom arrived in West Berlin on boats escaping the atrocities of the Vietnam war between 1975 and 1986. In East Berlin, many of Vietnamese contract workers opted to stay once the Wall fell. For an authentic slice of Vietnam in Europe, go to the Dong Xuan Center which occupies a series of 6 hangars in Lichtenberg. There are several restaurants here serving wallet friendly, Vietnamese classics among other delectable bites. It's always a good sign when the main crowd is Vietnamense
Markthalle 9 does Street Food Thursdays featuring feasts from around the world. Careful, you may overdose on snacks. Think takoyaki, handmade while-you-watch pasta dishes swimming in buttery  parm, melt-in-your-mouth ceviche, vegan donuts and korea meets tacos. Be sure not to miss this foodie tour. Bring cash. The rest of the week Markthalle is filled with a veritable cook's tour of fresh produce, hearty cheeses, pastas, wines, meats and desserts. You can also order takeout. Bone Berlin excels at fresh, uncomplicated, organic German meets middle East and Asia fusion type plates everyday. There's also Heidenpeters, a brewery where you can sip on Berlin's finest selection of craft pale ales and seasonal flavors.
Berlin Nightlife
Ladies and gentlemen, we are floating in space. 
Berlin is synonymous with a lot of things, but nightlife is the center of its shiny, jittery little heart– its pride and ecstasy in this phoenix of a city. Club culture, whatever your tastes, whatever your desires, whatever your fears, you'll find it here.The night belongs to everyone and everything. It's in the veins of a city propped atop layers of hot and cold wars, sprinkled with a heap of spies, and finished off with untold secrets and lies. Things tend to go bump in the night here. But first you have to get through the door.
One of the biggest doors, or course is Berghain, or Bergie as locals and regulars lovingly call it. Berghain is a techno palace housed in a sprawling old power station. It consists of Berghain proper downstairs and Panorama Bar up. There's even an ice cream shop if you know where to go. You can spend hours or days here. Your fuel? Techno (among other things). Techno drives, it throbs in the darkness. Livens your little souls. Makes ghouls out of saints and all that kind of naughty night imagery. But really, the music is good, the acoustics great, the vibe, weird and insane, but mostly you do you and that's all that matters. 
Other than the temple of techno, there's plenty more clubbing to be had in Berlin. Here are a few:
Watergate is perched along the Spree and its glass wall allows for a spectacular view while dancing the night away especially when the sun comes up. Quite a contrast from the dark feel of clubs in Berlin,  but some of the biggest names in djing have played here.
Ohm. Another power plant club. The battery room to be exact. Ohm is intimate compared to its neighbor Tresor and the music tends to be more experimental. 
Club der Visionäre. Great for summertime vibes. More of a bar than a club with its own tasty pizzeria. 
Golden Gate is located underneath an S-bahn station and is creaky, kind of dirty and usually brimming with too many people but the parties are banging. 
Hoppetosse. A club on a boat. Sister to CDV. 
://About Blank close to Ostkreuz and has multiple rooms and has a nice outdoor area great for warmer weather. 
In truth, Berlin nightlife expands beyond rave and raucous. Berlin nightlife embraces a devil may care attitude. If techno's not your thing, you can bar crawl the night away. You can have a long walk along the landwehr canal or go to a live show at Wild At Heart, SO36, Columbia Theater, et. al. Go to the kino am Potsdamer platz. Or the Mercedes Benz Arena, an odd entry into the city, but it loves to happen. 
For a chill night, appetizers and spritzers in Mitte. Move along to Kreuzberg for dessert. Head to Roses if you can get in before you head out. Or go to Santa Maria for excellent tequila soaked cocktails, half off at happy hour(s). Klunkerkranich is a rooftop bar located atop a parking lot in Neukölln.
Things to do in Berlin
For centuries Berlin has played an important part in European history. From the Thirty Years War and the Protestant Revolution to the Prussian rule and Nazis, this is a city that has seen things, has been the center of untold histories, wars, catastrophes, peace and pandemics. In other words, there's a lot for the eyes to take in, in Berlin. And the best way to get to know a city as entrenched in historical depths as this  is to have a long walk around. Start from the east then head west or vice versa. Follow the S-bahn or hop on a double decker bus. Have a milchkaffee or kiba along the way. Stop in a park. But not too long. There's always more to do and see here. 
 

Brandenburger Tor

You haven't been to Berlin if you haven't checked off the iconic and showstopping ode to neoclassical architecture that was built under Prussian king Frederick William II. Located in Mitte near Pariser Platz, the gate represents peace after the Thirty Years War and was originally called the Peace Gate. The Brandenburger Tor has come to represent a symbol of unity and peace in Germany and Europe.

Reichstag

One block away from the Brandenburger Tor to the north, lies the Reichstag building which houses the German parliament or Bundestag. The seat of power and history, was famously burned down in 1933 4 weeks after Hitler was sworn in. This led to the consolidation of the Nazi party's power. History aside, the Reichstag is an architectural feat in itself. At the very top of the building is a glass dome complete with a sunshield that provides  a lovely 360 view of Berlin.

Tempelhofer Feld Park

These days, it's all about getting out into nature in a safe, socially distant way that is. Tempelhofer Feld, an immense outstretch of land between Schöneberg and Tempelhof was historically a military practice ground and home to Tempelhof airport which shuttered its wings in 2008 after 85 years of service. The park is massive, with runways creating paths for actual running or skating or windboarding on land (it gets pretty windy here) or what have you. There's also a sizable urban garden filled with tomatoes and lettuce and other crops grown by the local residents. The perfect spot to wind down with a hefe weisse as the sun sets.

Vabali

Wellness and tranquility. A little Bali in Berlin. This tropical spa paradise is just a quick bus ride from the bustling chaos that is Hauptbahnhof. It's a quiet and unexpected treat for hot sweaty sauna lovers. There are 10 saunas, indoors and outdoors, hot tubs, a cold bath, a restaurant and bar, pool and chillout areas where you can relax or nap. And yes, you, go in nude.

Teufelsberg

Meaning devil's mountain in German, this is a manmade hill created after WWII by the removal of debris and rubble from the war. Obviously, there was plenty of it. It was buildt atop a Nazi military technical college which proved hard to destroy by explosion. Nearby there's an old abandoned Cold War listening station built by the NSA. Now the place is full of graffiti and other artworks. Film director David Lynch once sought to build a Transcendental Meditation School on the site, but was denied after a presentation that did not go as planned. You can pay a small fee to visit the gallery.

Museuminsel/Museum Island

A UNESCO World Heritage site housing five museums built from 1824 to 1930 by Prussian architects. The island is located on the river Spree in the middle of historic Berlin. The ensemble of museums include the Altes Museum dedicated the classical antiquities; the Pergamon Museum with the Pergamon Altar and Ishtar Gate; the Neues Museum whose themes are technology and construction; the Alte Nationalgalerie home to a 19th century art collection; and the Bode museum with sculptures and Byzantine art.

Memorial to the Murdered Jews of Europe

The innumerable atrocities of WWII are apparent in the sheer number of historical memorials and monuments there are in Berlin, each reminding us of the horrors of war. One of the most famous of these is the Memorial to the Murdered Jews of Europe. Composed of 2,711 concrete slabs in row upon row, in varying heights, with thin sobering passages in between.

The Eastside Gallery/ The Wall

This chunk of wall is the longest surviving piece of the wall that divided East and West Berlin. Following the fall of the wall, over 100 artists from around the world painted on the wall giving rise to the Gallery. Over the years, the Gallery has fallen into disrepair and some parts were even destroyed to give way to luxury apartments and other developments. It is currently under management by the State of Berlin.

Alexanderplatz/Hackescher Markt

Alex as it is affectionately known, is both a historical and commercial powerhouse. It's one of the main transportations hubs with trains, S-bahns, trams, and metros all stopping by. There's the Fernsehturm or TV Tower, that iconic fixture on the Berlin skyline. There's also plenty of shopping, with a mall nearby and other popular retail stores. The next stop over towards west is Hackescher Markt, with its labyrinth of small bars and boutique shops and restaurants. The shopping is pricier here but the items are unique and high end.

Bunkers

Berlin's underground represents dark and turbulent times as WWII was taking its toll on the battered city. The Reich managed to construct a network of bunkers throughout the city able to hold thousands of people. Many of the bunkers remain as destroying them would mean destroying large blocks on top as well. Many have been buried, but there are a few like the one at Gesundbrunnen where you can actually have a look at history.

Turkish Market

Every Tuesday and Friday, this outdoor street market hosts a veritable shopping mall of stalls selling everything from fresh vegetables, spices and cakes to socks and knives and cloth. The items are cheap, especially the produce towards the end of the day. It's right off of Kottbusser Tor and you can reach it by U1 at Kottbusser Tor or U8 at Schönleinstraße.
Berlin is brimming with things to do and something for everyone. You'll need plenty of time if you want to experience all that Berlin has to offer.
Best Time to Visit Berlin
Berlin lies on the same latitude as Amsterdam and Warsaw. It is decidedly less rainy and less cold, but still rainy and cold enough to not make you leary of the outdoors every once in a while. As it hugs the north eastern part of Germany this inland city has very much the same temperate climate as the rest of Germany. Berlin was built atop marshy woodlands and is part of the European Plain, a mass of land from the Pyrenees to the Ural Mountains that is largely flat and contributes to the seasonal temperate climate. Berlin is  surrounded by water, including the river Spree, which winds down into the River Havel, a tributary of the River Elbe. Because of the rivers, many lakes have formed around Berlin and its surrounding area. The largest of these lakes is Muggelsee, which is a fun to visit during summer if not a tad crowded at peak times. 
Here there actually are still 4 seasons. Summers are hot and winters are relatively mild with temperatures averaging  23/73 and 3/37 respectively. There are around 9 to 11 rainy days each month. July is the wettest month which is also coincidentally the hottest month. The cold season is slightly longer than the warm season. Each lasts a little over 3 months. April marks the start of clear and less cloudy days and this time lasts for around 6 months.  Overall, there's never really a bad time to visit, depending on your weather tastes.
Berlin for Families
While many digital nomads travel alone a growing number of remote workers are choosing to take their families with them
Living in Berlin
Berlin Transportation
Berlin's transportation map is a thing of beauty, drenched in German order and ingenuity. An ovalular hexagon with many legs sprouting from its body; the system covers 3 zones: A, B, and C. This comes with a multitude of transport methods including bus, tram, train, and even ferries. Zone A covers Berlin proper, ie, Mitte, Charlottenburg, Friedrichshain. The other zones get into more up and coming suburban/industrial areas where the rents are cheaper and the secret raves remain a secret. All this is operated by the BVG, a well-oiled, very efficient machine who have their own very funny and self deprecating social media presence. Let's put it this way, the BVG rolled out their very own competitively priced Uber-like service where customers can share rides with strangers going the same direction. It's called BerlKönig and it's not a bad choice.
Transportation itself ranges from Soviet era trams, sparking  electricity at audaciously high speeds, to the double decker and extra long buses that will take you throughout the city. Lets not forget  the underground trains and the sleek modern trams of west. The double deckers are mostly a west Berlin thing. You can find the open air  hop and off tourist version in east at Alexanderplatz. East is also where you'll find the  iconic Ampelman who boldly signals pedestrians to stay put, or go go go…put your merry foot to pavement if that's your preferred method of transport. Understandable if not. This city sprawls. You've got the S-bahn and the U-bahn (above ground fast train and underground metro respectively), which will get you almost everywhere you need. The S-bahn forms the famous ring around Berlin and also cuts through center. It's my transport of choice as its above ground has some nice soothing views. 
Fun fact: they do actually check if you decide to ticket dodge, or your ticket is amiss. More fun fact: there are tons of plain-clothes ticket "inspectors".  So unless you want to pay a hefty fine, ticket purchase is recommended. Luckily, you can purchase tickets practically everywhere at machines at stations or on trams and buses. A one-way or einzelfahrt costs 2.90 euro for A and B zones. There's a short trip option (Kurtzstrecke) that costs 1.90 euro and is good for 3 stops. This also applies to taxis. Tell the driver you want a short trip which is 2km and costs 6 euro. A day ticket or Tageskarte is 9 euros. Monthly and week passes are also up for grabs. Group tickets are also very doable. Dogs and bicycles are also allowed on public transport.  Just remember to time stamp the ticket on the bright yellow boxes located near the machines.
The  Berlin WelcomeCard offers unlimited travel around Berlin (choose from AB zones or ABC zones) as well as 25-50 percent off museums, and other major tourist destinations. From the newly opened Brandenburg airport,  there are a number of buses which connect to the U7 subway line at Rudow station and 2 S-bahns (S45 and S9) currently connect directly to the airport. Nowadays, medical grade masks are required on all public transport.
Fitness and Health
Berlin is thick with foliage and greenery in the form of trees and many, many parks. Most of these parks offer plenty of running paths and other athletic promises if you're into outdoorsy sports. It's perfect for pandemic workouts. 
Fitness trends around Berlin, usually fall slightly behind the States, and have more or an earthy crunchy vibe. Crossfit enthusiasts will find plenty of places to AMRAP and EMOM. CrossFit Mins is one to check out. And there are yoga studios galore. If you have Classpass or Onefit, or Urban Sports Club, you can check out some of the many classes and studios they offer. Make the city your very own sports club. One membership gets you access to affiliated gyms, spas, yoga and other fitness clubs. Many classes are in english, or they will gladly accommodate you if you have no idea what is going ol. Some classes can be very small, others filled, absolutely filled with people. There are more modern gym establishments particularly in the west. 
Go west for more upscale gyms or health clubs as they are affectionately known. For a unique and hot yoga experience check out Hotpod yoga, which takes places in what looks like a bouncy castle, this inflatable studio is heated to 37 degrees of dry heat. Evo fitness in Mitte, offers boutique experience complete with high-end equipment, a NYC lofty vibe that will contour your body via different training zones (Kinesis Lounge anyone?). Ride.bln offers fully bodycycling at 2 locations. 
Berlin does spas really well. It's the kind of thing you absolutely need after a long night of clubbing, or just a long day or week, or a pandemic year. If you're on a tourist vibe, spas are a nice reprieve from the World Wars stuff.
Berlin People
Berliners are a multicultural and eclectic bunch whose penchant for everything goes attitude is only upended by the German sense of everything goes but it must fit in a container. Berlin has many layers. 
You've got the club kids who emerge from the night looking like  they've  come out from under a rock that landed on them mid 80s, but with a very cold war era aura. You've got the older generation of omas and opas coupled with the  energy of the old stasi era, lookouts  and tattle tales; you've got the large expat community coming for the creative work and staying freebase club culture and the cheap hedonism that comes from a city recontoured by the shape of wars. There's the activists and the burgeoning Silicon Valley-esque scene with a hacker sensibility. And then we have artists and the dilettantes drinking milchkaffees and eating cake on a monday. 
In order to discuss Berlin, we should address German culture at large, splitting them by direction and pasting them back together again in a meta reverse, forward analysis of german history. They are in a word. Historic. Punctual, systematic. Appointment heavy, constrained.
Berlin Insurance and Medical Care
Germans are pretty risk averse; you can get insurance to cover almost everything. It mitigates things from going south when things don't go as planned. Say, for example you don't shovel the snow in front of your house and someone slips. Or if your apartment gets robbed, or your dog damages someone's property etc. etc., there is insurance to cover all sorts of risks. Having too much or not enough insurance is a typical ordeal expats face when moving to Berlin. Dog insurance is actually mandatory in Berlin. 
There's life insurance, health, dental, life,  personal property, personal accident, legal, personal liability insurance etc. 
Health insurance is mandatory when you live in Berlin for more than 3 months and is paid on a monthly basis. The system comes in 2 flavors, namely private and public insurance models. Public is more common and generally cheaper than private. Private insurance is a good idea if your income is high and you have more control over what is covered. So if you for what your what covered. The state covers insurance if you work and make at least  €4,950 and no more than €59,400 before tax a year. Employees will be covered for 
Public health insurance is taken as around 20% of your income. Employers pay for half of this cost. If you freelance, you also pay around 20% or your estimated income which is deducted from your account each month. The amount you pay each month depends on your annual income. 
To find the best insurance for you, consult an insurance aggregator such as Financescout24.
Make sure you are fully covered by reading our full Digital Nomad Travel Insurance guide.
Jobs in Berlin
Freelancers, creatives, crypto lords and coder types make Berlin the expat playground that it is. The city is a hub to many, many creative agencies, digital boutiques, yoga studios, restaurants and the nightlife. The arts and creative scene is strong but competitive. Although knowledge of German is important, it's  relatively easy to get a freelancer visa and set up your own business. If not, then speaking German fluently is key to landing a job and progressing in a company. A  There are tons of jobs in Berlin. It is a thriving scene particularly in the tech and the startup community. Jobs for developers, IT, UX, UI and graphic design are almost always to be found here.  Keep in mind there are a lot of foreigners in Berlin also applying for jobs and the level of German will determine who gets hired. A little effort goes a long way. NGOs are also big business in Berlin. If need be, there also plenty of temp jobs around Berlin.  Amnesty, ONE and Oxfam are all based in Berlin along with dozens of smaller organizations that range from sustainability to global activism and human rights. 
Facebook is a great source for finding jobs with groups like English Speaking Jobs in Berlin and Jobs in Berlin. Here are some other sites where you can find English speaking  jobs:
Check out our Digital Nomads Jobs Postings to find the best jobs available for Digital Nomads.
Nomad Friendly
Value for Money
Internet
Workspace
English
Food
Safety
Health
Transportation
Friendly
Quality of Living
Cost of Living Berlin
Many digital nomads between 20 and 40 come to Berlin for the artist vibes and standard of living. While the cost of living in Berlin has steadily risen, it still remains a competitive place to live in Europe. Expect to pay around 1500 euros  a month for a 900sqft furnished apartment in say Mitte, or more expensive areas of the city. Utilities for two people in the same space run around 150 euros a month. For a studio, expect to pay around 700-1000 a month plus 50 in utilities. A monthly transport ticket is 74 euros, but you can also get around the city easily by bike or opt for car sharing services or Uber. 
The bulk of your costs will go to paying rent, utilities, and things like insurance. There is still a controversial TV tax that  everyone must pay and goes to fund German public broadcasting. This comes to around 18 euros a month.  Weekly groceries vary from 200 euro upwards a month. Lidl and Aldi tend to be cheaper in prices for groceries and Edeka and REWE are pricier options. Turkish markets are also great for cheap and fresh produce. 
Eating out is pretty affordable with full meals with drinks starting at 20 euros. Späti beers start at 1 euro. At bars, expect to pay 3 euros for a beer. Many bars have a deposit you pay on top of the beer price. You get the deposit once you've finished your drink and returned the glass or bottle. You can take off the excess calories via a fitness studio which is typically 30 euros monthly.