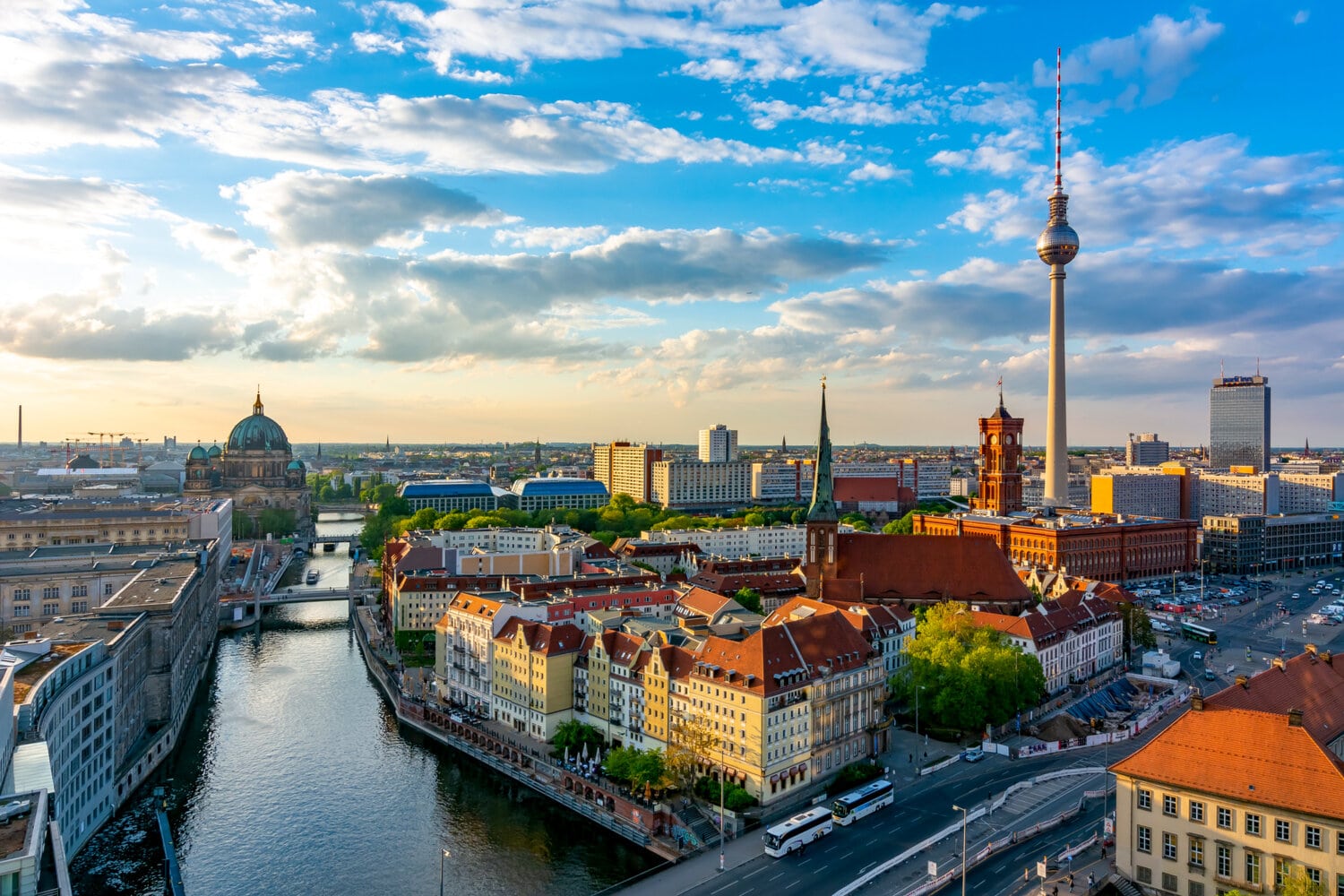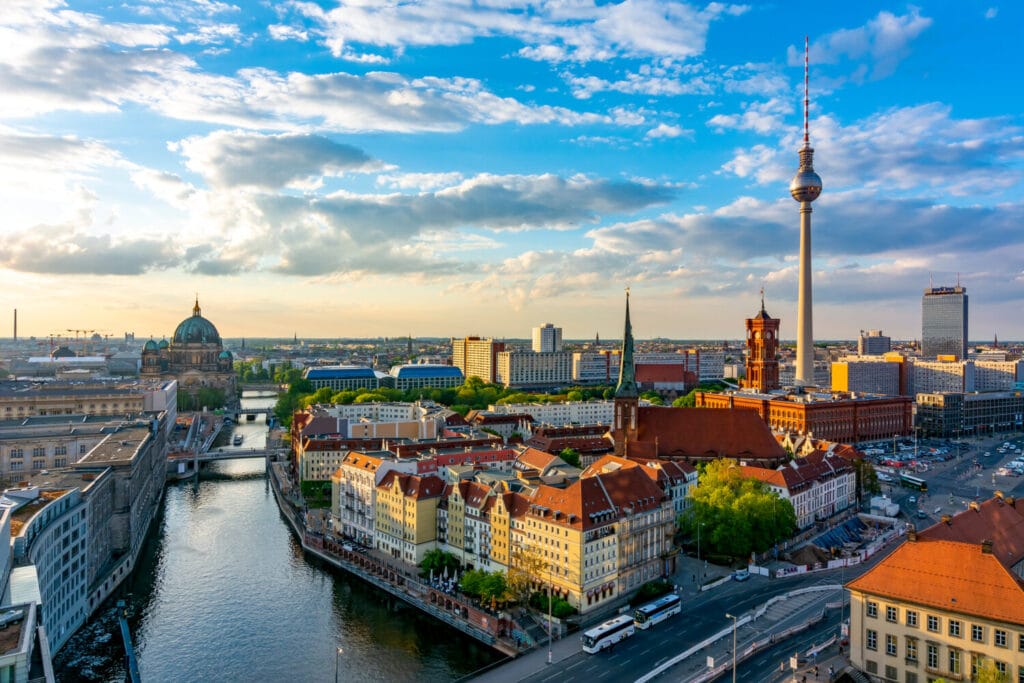 A Digital Nomad Guide to Berlin, Germany
Berlin is neither boring nor benign. Once a place of refuge for punk dogs and derelicts mixed with intellectuals and misfits — Nabokov famously exiled here and Bowie and Iggy also infamously commingled. Today Berlin is bereft of vanity. It's raw at the edges, with a punky, big-hearted sophistication filling out the rest. It's a story of a city built atop of wars, one that was destroyed only to be rebuilt over again. Rebuild, repeat. A city cut in two and forever being reborn. The result is something akin to unleashing the gates of heaven and hell simultaneously. The air is thick with history.
Where east meets west, a creeping eastern aura of Soviet nostalgia entwines with the alluring promises of artistic freedom and capitalist enterprise of western artifice. Indeed, the Wall, and its fall fueled a nascent sense of anything goes as long as it goes. So much so that nowadays most people come for the party, then stay for the camaraderie and cheap eats. 
Berlin excels at hanging out, stick-out-your-tongue and have a long chin wag and milchkaffee at a cafe, later cocktails at the same said cafe, then move down the street for more drinks, more drinks, until you're comfortably buzzed for the club. It's all about arrival time, and quality time spent on before club rituals.  Party for night, or two or three. Make it a month if you dare. Somewhere in between nightlife rituals and cafe time, Berlin goes to work. The urban fabric clings together in an irony not lost on its citizens. Berlin as a whole may not be the prettiest, or the most refined, but it is a place where you can live a thousand lifetimes at once.
Digital Nomad Personal Experience in Berlin
I came to Berlin twice to study. Once in highschool and once in college. After that I moved to Amsterdam and at some point I started spending a lot of time in Berlin. Such is the beauty of travel in the European Union. From the time I first came to Berlin, the city has gone through a lot of change. I remember there being a lot less English speakers back then. And there weren't as many expats in general. There was also more of a marked difference between the east and west especially from people native to the area.
I've found that there's always a great work life balance. Transportation is plentiful and although sometimes not the most comfortable place to be, it gets you where you need to be. As far as living in general, groceries are well priced, and grocery stores are convenient to get to. If not then your local Späti, will come in handy for those days when you run out of toilet paper.
For me Berlin is a place where you come to live out your punch drunk dreams; it's a bursting core of creativity and carefree freedom that makes this place a veritable wonderland for wanderers of all sorts. It's a place you can dip your toes in, a little or a lot and feel welcome. There's a scene for everyone. Berlin just seems easier to meet people and move to than a lot of other cities. Aside from the usual headaches of filling out forms, and finding a spot to live, Berlin is immensely welcoming. 
Work in Berlin
The work/life balance of Berlin is mirrored in the ratio of shiny silver Mac and the blackest of coffees. In other words, there is a briskness about work intertwined with a healthy appreciation for the finer things that happen after work. The workspaces in Berlin reflect this in the most serious but startupy kind of vibe. Think chillout/ stress out pods, ping pong or some sort of game lounge and open space concepts. Meanwhile, art-meets-punk meets curated third-wave coffee beans abound for absolutely exquisite cups. The only thing oddly lacking in this space is internet speed. Berlin ranks 10th for European cities with more than a million inhabitants with an average of 23 Mbps. Actually getting internet installed when you move in can take a couple weeks from when you sign the contract.
Best Places to Work in Berlin
Here are some cafes and work spaces to get you through the work day: 
Roamers
Grab a spot of brunchy lunch, or lunchy breakfast, or a healthyish snack, maybe a little bloody mary if it's that kind of day and be ready for some people watching and gawking. Great for business meetings and just lazy work days when you could use some inspiration. The service can be a tad on the slow side however. 
Kaffee 9
Attached to the food hall, Markthalle 9, Kaffee 9 has it all: its own roastery, wines, cocktails, cakes, and ample seating on high tables and high stools. The place tends to get full fast, and voices carry here, loudly at times. Another great place for meeting a client or just treating yourself to a solid espresso or negroni.
Holy Coffee
This Neukölln delight right on Sonnenallee is cozy, but curated. A light and airy atmosphere coupled with   great artisanal locally roasted beans, an amazing coffee machine to make superb drinks and a killer soundtrack make this place an automatic must for anyone with coffee lust. Also work. 
Berlin sprawls for miles and miles– the east west divide is real. Keep this in mind when shopping around for a spot to best flex your thought muscles and dive deep into what you do best. You'll want to stay close to home to avoid a massive commute. Biking can be your friend, but in the cold and rain, it's not so fun. The ecosystem of coworking spaces follows a form, function, taste menu. You can get shabby or chic, or high tech and glossy depending on your preferences. Here some options to explore that cover the best hubs of Berlin.
Mitosis
Community is the central theme of this Neukölln coworking space. It's a place where  you'll be likely to mingle with developers and playwrights along social media marketers and designers. There's a mitosis factory, event space and conference space, meeting rooms, pretty stellar kitchen area with a fierce coffee machine. You can rent a floating desk starting at 200 euro a month. It's surrounded by bars and art galleries, and trendy shops.
Enklave
Passing through the city or wanting a little respite from home, Enklave offers a hot desk for 8 euros a day and a monthly space for 100 euro a month (flex desk). Enklave is international and cozy with 3 levels of noise to suit your work style. It's on the smaller side with a max of 50 people but there's free beer and an outdoor terrace.
Spott Box
Spott Box in Wedding pulls off quaint and artsy with an exhibition room and photo studio. The thrust here is creativity.  Ahoy Berlin, funny name and nautical themes aside, Ahoy is located in Mitte and is voluminous with 24/7 access; you'll have plenty of space to roam here.
Best Places to Live in Berlin
Best Neighbourhoods
Any conversation about Berlin neighborhoods would be remiss without discussing the East and the West. The DDR's influence on the terra of east brought with it massive Stalinist constructions like the Plattenbau, and a pantheon of other visual markers that distinguish it from the West. In East, there are heaps of cheap fast foods and Spätis galore, factories turned into galleries; it's bustling. Truth be told, the East is where a lot of the happening spots are in Berlin. 
The West is glorious in its pretty, well-manicured apartments that contrast with the raw and edgy feel that  still inhabits East. West Berlin has the Zoo and Schloss Charlottenburg and the bombed out shell of the memorial church and the Victory Column. It has its quieter, suburban areas to the south and north. It somehow feels somehow more grown-up than East, calmer, more at ease with itself. 
Kreuzberg
Kreuzberg straddles west Berlin at the Mitte border and goes deep east into Kotti or Kottbusser Tor region following the blue and orange line or 7 and the 5. Kotti cuts into primal east Berlin vibes. A bit fragrant, a bit of a rollicking bum hangout and central meeting spot prior to a night out. Oranienstrasse is lined with restaurants and bars, throw in some yoga centers, markets, it's an eclectic mix of a street that pervades into West where you'll often see a cast of characters dressed in bedroom summer rave wear (even in winter). 
Wrangelkiez
The Wrangelkiez in particular, in the Friedrichshain-Kreuzberg area holds an artsy, anti-conformist feel filled with graffiti-clad buildings, many of them by the Italian artist Blu. Bounded by the Landwehrkanal, Gorlitzer Park and Skalizer Strasse, you'll find loads of hip restaurants, cafes, shops and bars– basically all you need with a bit of flavor. It's an eclectic mix of architecture ranging from ornate facades to more modern GDR era concrete and glass numbers. This kiez, like the architecture, casts a wide net, offering something from all walks of life. 
Prenzlauer Berg
Prenzlauer Berg, Wilhelmine buildings – blocks of apartments that form a ring around an inner courtyard typically including 5 stories, a rear building and side wings– are distinctive attributes of this historical neighborhood located in the southern district of Pankow. These buildings are pretty and rarefied in contrast with the more Stalinist high rise apartments dotting the area. Home to many galleries and to a vibrant arts scene, as well as bars and restaurants, and the kind of eateries and bakeries with avocado toast and designer donuts. Sort of boho young professionals vibe.
Friedrichshain
Friedrichshain – Like everything in the East, this area of Berlin connects to Kreuzberg via the fortress-y Oberbaum bridge, Friedrichain has gentrified it's more anarchist punk ways. Once home to mohawks, squats and dogs, F'hain now houses many design and media companies such as MTV. Simon-Dach-Strasse is the hip street with all the bars and boutiques. Boxhagener Platz, or Boxi, holds a variety of markets from antiques to organic sprouts and a decent flea market. There's even an old school cinema, covered in graffiti. Home of The wall. Also The East Side Gallery.
Wedding
Wedding – A little gem of a place. Multicultural Low key. Less gentrified, leaning on the poorer side. All this makes for a great haven for artists and students as well as the accompanying club and cafe culture. The Berlin Modernism Housing Estates are one of the main focal points, a Bauhaus construction and now a UNESCO world heritage site. Plötzensee is a nice little lakeside retreat that is steadily growing in popularity when the sun is shining. 
Find an Apartment in Berlin
Berlin's increasing capital in the tech world intertwines oddly at the intersection of an evergreen wunderkind kind of status in the art scene. Yet, somehow it also does wonders to solidify its reputation for being a thriving semi-cheap hotbed of parties, fun and fabulousness. Lately, however, the glass shoe doesn't seem to fit as nicely as it used to.  The influx of unicorn tech capital has actually upped the rent  in that slow alt-Silicon Valley divide and meditative kind of way. That is to say, bring on the gluten-free brezel  atop my semi-bloody bloody mary/beer hybrid. In essence, this coalition of odd bedfellows somehow makes the economy of Berlin less lowkey stasi Cold War and more free market friendly. 
It's important to be registered, that is to get what's called an Anmeldung pretty much before you can do anything in Berlin like getting a bank account or tax id or a visa. Registration can be secured at some short stay accommodations that cater to expats. This allows for plenty of time to get your passport, proof of income, employment contract, bank statements and other paperwork necessary for securing a more long term living arrangement.
Rent in Berlin comes in 2 flavors: Kaltmiete (cold rent) which means bare bones without heating and other utilities and Warm Miete (warm rent) which includes utilities and other running costs. You may have to register with a water and electricity supplier on your own for longer term rentals. Make sure you ask what is included in the cost to avoid any unwanted costs. Many people opt for shared living, called Wohngemeinschaft. Co-living is a great way to warp speed your city knowledge and connections, if your roomies are cool like that. Plus you share the cost of everything. 
As with any search for new accommodations, online is a good place to start. Here are a few that are popular:
Facebook has a number of groups dedicated to apartment hunting and finding apartments. 
Once you've made some progress, and scheduled viewings, prepare yourself for the viewing experience — something akin to charm on school on acid. In other words there will be competition. Make sure you bring all the necessary papers and all the enchantment you can muster. 
Some knowledge of German is always helpful especially in filling out and acquiring the endless forms you need to make yourself apartment renting ready. Once you are living fancy free, it is a difficult endeavor for landlords to kick you out of the apartment. 
Expect to pay 500+ euros a month to rent a shared place. One bedrooms typically start from the 900 euro range depending what area of the city you are in. But keep in mind, you can find 1 euro beer at almost any local neighborhood Späti. 
Cheap Places to Stay in Berlin
Bedding Berlin on a budget? Berlin is still a wallet-friendly paradise compared to the likes of Amsterdam or London. You'll never not find a hostel to stay at in Berlin; it's just a matter of amenities and quality.  Berlin hostels, like any good edgy European city,  run the gamut from designer, boutique feels to  blended concepts and eco-conscious. Many have hip and ironic themes
Similar Digital Nomad Destinations
___ Visa
Most nationalities
Culture and Food in ___
It is a common
___ Nightlife
nightlife
Things to do in ___
Title

Description

Title

Description

Title

Description

Title

Description

Title

Description

Title

Description
Best Time to Visit ___
hot, tropical climate
___ for Families
While many digital nomads travel alone a growing number of remote workers are choosing to take their families with them
Living in ___
___ Transportation
The traffic in
Fitness and Health
There are many great options for staying fit
___ People
Approximately 4,3 million people live
___ Insurance and Medical Care
Wherever you go to live as a digital nomad .
Jobs in ___
Foreigners are not allowed to work in
Cost of Living ___
Living in