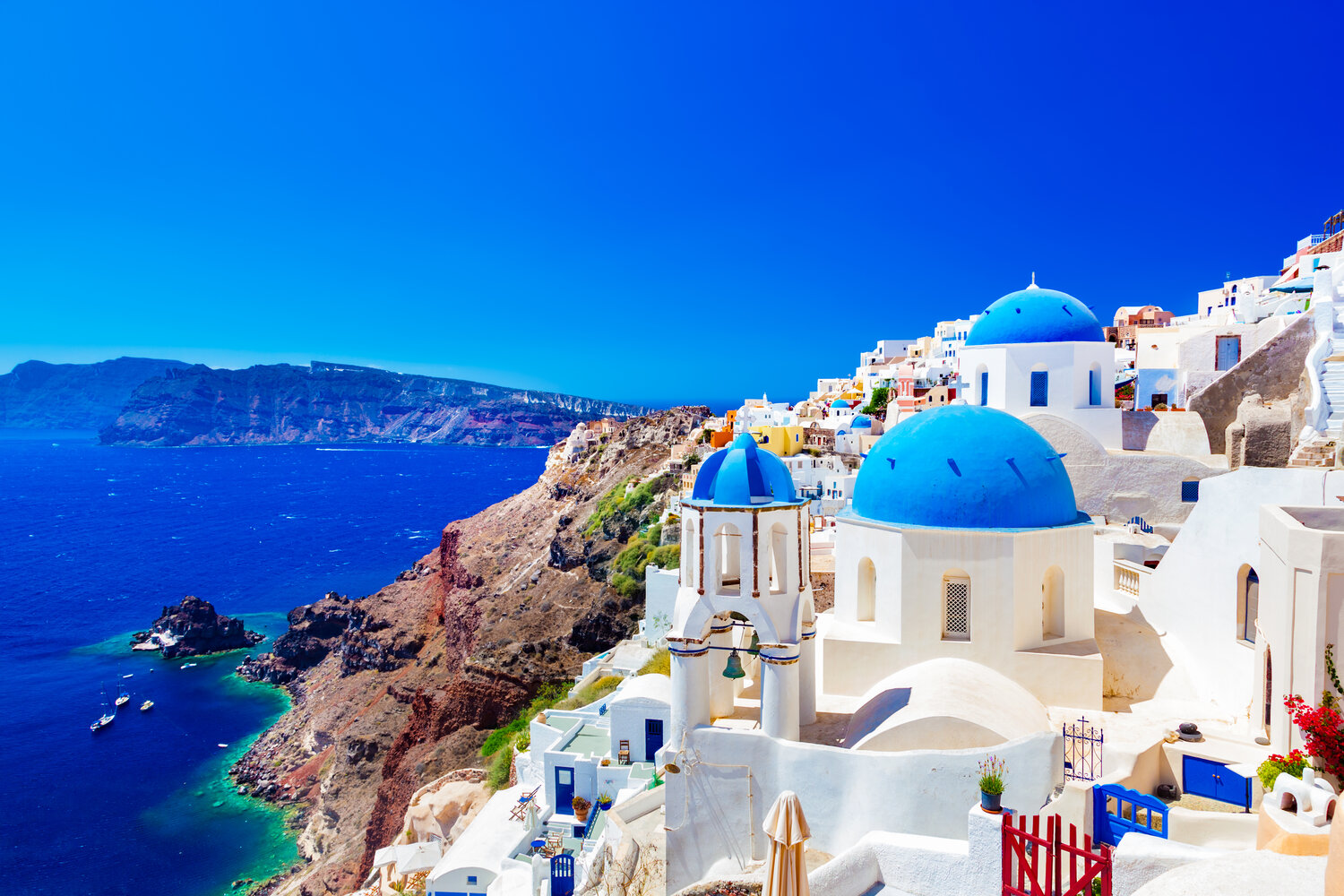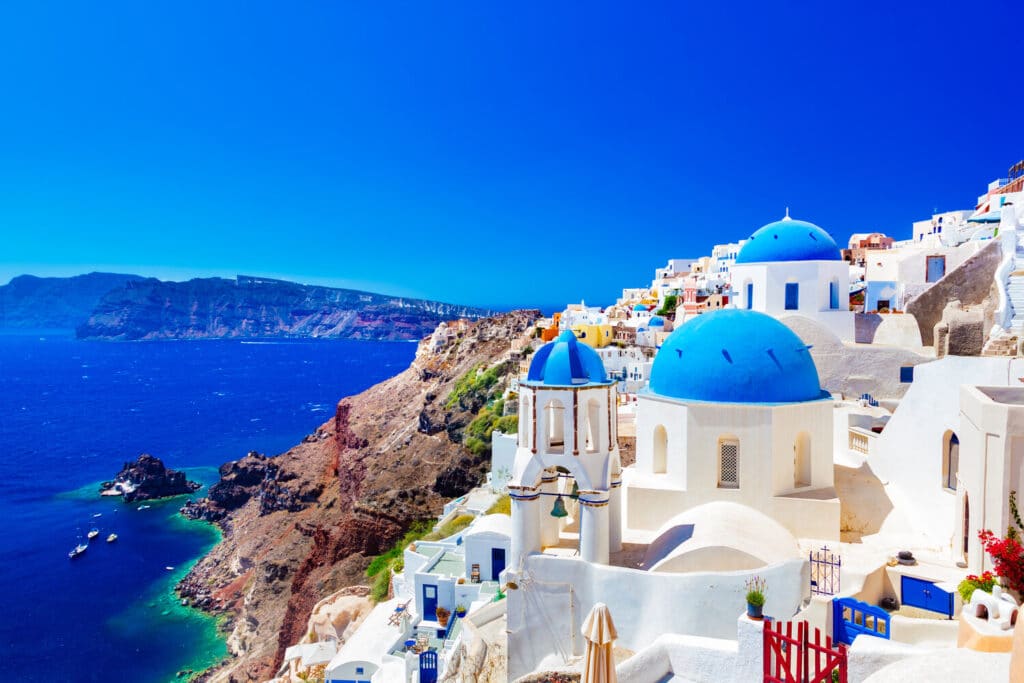 A Digital Nomad Guide to Santorini
Santorini is an active volcano island in the Cyclades group of Greek Islands. It is located between Ios and Anafi Islands. A dream island for a lot of people around the world, wishing to visit once in a lifetime. Famous for dramatic and breath taking views, stunning sunsets from Oia and all over the cliff edge. Fira , the island's busy capital, sprawls north into villages called Firostefani (about a 10 minute walk from Fira) and Imerovigli (the highest point of the caldera edge, about 20 minute walk from Fira).  A path running through these villages is lined with hotels, restaurant terraces and endless photo opportunities. These three conjoined settlements draw most visitors, together with the stunning and quite exclusive village of Oia in Santorini's north. There's a growing number of hotels in the island's south, offering caldera views to the north and northeast.  Akrotiri's views come cheaper than Oia's, but it's a fair way from the action of Fira. Take a note that it can get a much more expensive and crowded during high season as expected. High Season is during July and August, when hotel prices soar and viewpoints as well as beaches are packed with tourists.  The middle season and better time to visit, is usually during the months of April, May, early June, late September and October.  Things are quieter at the caldera edge, and considerably quieter on the beach side where accommodation bargains are easier. Santorini's commercial development is focused on the caldera clifftops with large clusters of whitewashed buildings nesting at dizzying heights and spilling cliff sides.  The island's interior is dotted with vineyards and traditional villages that let you see beyond the tourist hustle. Don't miss Pyrgos  , Megalochori and Emporio for great eats and a wander through charming backstreets, hidden gems.
Nomad Friendly
Value for Money
Internet
Workspace
English
Food
Safety
Health
Transportation
Friendly
Quality of Living
Living in Santorini Overview
| | |
| --- | --- |
|  Meal, Inexpensive Restaurant | $19.96 |
| Domestic Beer (1 pint draught) | $4.46 |
| Cappuccino (regular) | $4.73 |
| Loaf of Fresh White Bread (1 lb) | $1.05 |
| Water (1.5 liter bottle) | $0.89 |
| One-way Ticket (Local Transport) | $1.89 |
| Basic Utilities (Monthly) | $84.03  |
| Internet | $47.27 |
| Fitness Club (Monthly) | $52.52 |
| Apartment (1 bedroom) in City Centre | $500.50 |
| | |
| --- | --- |
| Child Friendly | |
| Cultural Tolerance | |
| LGBTQ Friendly | |
| Traffic Safety | |
| Nightlife | |
| Large DN Community | |
| Young Community | |
| Proper Hygiene | |
| Clean | |
Emergency Numbers
Police
100
Ambulance
166
Fire-fighters
199
Money Handling
Currency
Euro (€)
Max ATM withdrawal
€600
Tipping
Yes
Communication 
Languages
Greek
Calling code
+30
Time zone
UTC+02:00 (WET)
UTC+03:00(WEST)
Health
Tap Water
Drinkable
Vaccinations
None
Digital Nomad Personal Experience in Santorini
I have lived for a long time in Santorini and it is legendary, as setting and colours are magnificent. During busy period is crowded and the upper edge of famous Oia is sometimes impassable but you can settle in a café or bar at Fira , Firostefani or Imerovigli villages. Whitewashed houses clinging on to the rim of a volcanic abyss, cyan-domed churches rising over sparkling seas and beaches are usually with black sand.  Santorini's views over its cliff called Caldera, add up to an awe-inspiring spectacle. With two archaeological sites, a string of superb vineyards matched with a slew of gourmet restaurants and a small archipelago of its own, Santorini has emerged as the Queen of the Aegean. The east coast beaches are lined with black sand and on the south coast there is a string of beaches a bit multi-coloured sand like Red Beach. Visiting Santorini during winter time, from November to February, you will be impressed to see how is the island. You can find a house easier, get to know a lot of locals and really see the winter beauty of this island. You can wake up early watching the sunrise , have great breakfast time at the cliff side cafes or at the traditional villages at the mainland or watching the sunset . Can never be boring to watch this! A great Sunset to watch is in Ammoudi, Santorini's picturesque port, which lies 300 stairs below Oia village. You will have to walk down or drive and it's worth it. This charming bay has preserved a traditional atmosphere, like stepping back in time with traditional tavernas, restaurants and small colourful wooden boats around the bay. Have a glass of ouzo and a meze at the fish tavernas by watching the sun setting below the horizon.
Work in Santorini
Best Places to Work in Santorini
In Santorini, you are spoiled with a choice of many restaurants, cafes and quality food all day long. A well-known co-working hub is Cocohub Santorini , which offers cosy work areas as well as living areas. A perfect place to house a digital nomad. There are no other Co-working Spaces for the moment, but you can choose among the cafes with wifi all over the island, even spots to work near the beach side.
Galini Café
On the terrace of Galini Café ,you can enjoy the great decoration and the amazing caldera views. The café offers a delicious breakfast, light meals or snacks , desserts and drinks all day long or during sunset.
Irini's café
One of the most traditional café is Irini's café in Fira . A lovely and picturesque café preserves Santorni's local character. Serves traditional coffee and drinks.
Kastelli 1663
The Kastelli 1663 is a unique cafe situated in Pyrgos . Its decoration is simple, elegant and immediately gives you a sense of luxury. This café is placed within an amazing worth visiting art gallery.
Franco's Cafe
Franco's Cafe is perched on top of the charming town of Pyrgos offering a truly stunning view of the sunset. A tranquil atmosphere where you can have an amazing cocktail, snack, lunch, dinner and tarts.
Agaze
Agaze, a Greek bistro inspired by the tradition in the exquisite village of Pyrgos. A unique gathering place with vintage details, vivid colours, and lush plants where everyone feels at home.
Akrotiri Bistro
Akrotiri Bistro is located all the way at the southern tip of Santorini . They make some of the best coffees at this charming cafe that turns into a cocktail bar at night.
Theros Wave Bar
Theros Wave Bar an ultimate place to relax and spend some hours with a beach bar, a restaurant, lounge beds space great for relaxation and meditation.
Agios Georgios
A creative funky culinary remix with a Mediterranean elegant flavours can be found at Sea Side at Perivolos ( Agios Georgios ) Beach.  Pamper yourselves in the wooden deck chairs and experience the cuisine, the vibrant bar and the beach all day long. Wet Stories located at Perivolos Beach, serving Mediterranean dishes and signature cocktails to deliver a delicious experience.
Exo Gialos beach is the closest beach to Fira Town with black sand and pebbles.
Yalos
On the organized part of the beach there is a beach bar and restaurant called Yalos , where you can have a drinks or eat fresh fish and enjoy Mediterranean cuisine.
Behind the beach, you will see big holes in the volcanic rock that are used by the locals as storage areas to house their boats during the winter time.
Krinaki
Krinaki is an old winery ,called canava, at Finikia village of Oia , a great choice for traditional Greek and Santorinian delicacies .
Metaxi mas tavern , with delicious recipes of Cretan and Santorinian cuisine `,in a relaxing space , full of original dishes located in Ekso Gonia.
Overloking the harbour of Vlychada on it's south side Santorini , you can find Psaraki tavern , in a narrow balcony with good and fresh fish.
Framed between volcanic red rocks and the Aegean Sea, Amoudi Bay is a tiny fishing port about 300 steps below Oia.
There are about six or seven seafood taverns, giving you clear views of the setting sun and the white Cycladic houses of Oia.
Regarding wifi ,there is up to 200 Mbps Internet throughout Greece , but in the Greek islands it is not so fast ,might be till 50 Mbps. Make sure to find a place to live where the connection is solid as sometimes is not the most reliable .
Best Places to Live in Santorini
Best Neighbourhoods
Fira or Thira
Fira or Thira is the capital of Santorini and can be found on the west cost of the island opposite the volcano. It's the cultural and commercial centre of the island with museums, galleries, cultural events, shopping centres, a big variety of dining out and entertainment. Connected by a path at the cliff edge that starts above Mayor's office and finishes up on the hill at Nomikos Conference Centre. The volcano can be seen from every point.
Firostefani
Firostefani is an old village , which has merged with Fira and becoming one of its suburbs. The name Firostefani means Crown of Fira with amazing volcano views, narrow paths and predominant characteristics of white cave houses.
Kontochori
Kontochori is also a suburb of Fira , 15 minutes' walk from the main square . 
Ormos
Ormos is the old port of Santorini at the bottom of the Caldera . You can walk down the 600 steps or take the cable car. Large cruise lines drop their anchors and small fishing boats depart daily to the volcano and Oia  , to the hot springs or Thirassia .
Imerovigli is after Fira and Firostefani villages, on the way to Oia , which is the highest point and most central part of the Caldera . Imera means day in Greek and Vigla in latin is to guard (important point for the protection of the island).
There is a path from the Caldera walkaway to Skaros Rock and the chapel of Panagia Theoskepasti . 
Oia
Oia or Ia is a traditional settlement in the north of Santorini , also known as Apano Meria or Anomeria . Small white house's tier the hillside, splashes of okra, deep fuchsia, blue , oyster pink and earth red colours.  Interconnect walk paths, white washed small churches, breath-taking sunsets and maybe one of the most photographed place in Greece. Can be found at the highest point of Santorini , with panoramic views of the while island , declared a protected settlement in 1995.
Pyrgos
Pyrgos is a typical Fortress Settlement of the Cyclades .On the hilltop you can find ruins of Kasteli Castle , you can walk the narrow winding paths and watch the traditional architecture , neo classical mansions, small white houses , galleries , vineyards, churches and sunsets.
Kamari
Kamari is a cosmopolitan beach resort awarded with the Blue Flag. The water is deep and the sand is black with a variety of cafes, bars, restaurants , shops , supermarkets and a lively night life. 
Megalochori
Megalochori one of the most picturesque villages with historical mansions, old traditional houses, wine canavas waiting to be discover.
Perissa Perivolos
Perissa Perivolos are the seaside villages on the south coast of the island with several kilometres of black sandy beach.
Emporio
Emporio  villages is named from Emporio = Trade , where the medieval times the inhabitants used to build their houses side by side so they could protect themselves against the pirates. 
Akrotiri with great views , undeveloped beaches, tiny churches , fish taverns and home of Akrotiri Excavations and Castle.
Find an Apartment in Santorini
Accommodation in Santorini is not cheap during summer season and it is recommended living on the outskirts of the main touristic areas ,which will help you to save some money on your rental . A car or bike or public bus are great in case you want to live not so centrally. High season is on high demand and its more difficult to find a property during this time. Better to rent a place by avoiding  June , July and August for a long or short term. First try to make a booking for a while , in order to see and explore the island .Then you can find a short term rental on the spot , which suits your needs and taste. You can book your hotel , villa, holiday home through booking.com , Hotels.com, Agoda.com and Airbnb.com as there are many options and are more reliable. Nowadays the cancellation policy is more flexible and you can book by having the opportunity to make changes. Booking.com has genius loyalty program having a 10% discount on your bookings. Hotels.com has rewards nights where you can join and enjoy free nights. Agoda.com has discount coupons that  you can always use. Airbnb.com has a varitery of long and short terms rentals with flexible cancellation polity. A 3 star hotel on daily basis rental, starts from 70 to 200 euro ,  always depending the facilities and the location . Hotels of 4 or 5 stars are more expensive . By renting a long term property, you get a better price but you need to check if electricity ,water and wifi bills are included in the price. If you choose a house or apartment wisely at the outskirts and you dont use air conditioning, you can get a better deal with less expenses. Another option to find a house for short or long term is by asking a real estate agent or by asking among local people  . There are 2 web sites where you can find monthly or yearly rentals. Depending on your needs prices may vary from 400-450 euro to highier rates. Many real estates promote their properties on these sites.
During the inspection you should ask what is included in the price, as semi or full furtnished , home equipment , bed linen , electricity , water , wifi  , housekeeping. Santorini offers a variety of lodgings that will surely satisfy all demands. In central villages, where the heart of the island beats or in more peaceful areas of the periphery, for those who want to relax in total tranquillity or beach side. The famous areas to stay in Santorini is Fira, Firostefani, Imerovigli and Oia.  If it's your first time in the island, you should definitely stay on the caldera side, as that's what Santorini is famous for. The best way to save money on accommodations is to stay at a cheap Santorini hotel without a view and then enjoy the views on long walks along the caldera.
Cheap Places to Stay in Santorini
Santorini has expensive accommodation, though when doing some research, you will find many places on a budget. There are many different villages you could stay in, not centrally located, such as Perissa , Perivolos and Kamari village where you can find lower cost rentals and be at the beach side. Another place to stay is Akrotiri with enchanting volcano views and mid-range fees. Far away from the hustle and easy to chill out. Acqua Vatos in the heart of Kamari beach combines tranquillity, hip aesthetics and offers great service. Exceptional location near the long sandy beach, many cafes, restaurants, bars and shops and easy to travel around the island. In the traditional settlement of  Emporio and where time stops, you can enjoy Nalas Suites an ideal setting for those who decide an immersive cultural trip. All units are elegantly decorated with private terraces and outdoor Jacuzzi. Theoxenia Hotel is an ideal place to stay in downtown Fira with 9 rooms offering a modern touch and is just next to the best restaurants, shops, bars and old port. Sail Away House is a fully renovated traditional house located in the centre of Megalochori village , uniquely restored , cosy with private yard. Pension Kavalaris and Apartments is located in Messaria village with a big outdoor pool and a sun terrace offering studios, rooms and few self-catering units . Shades of White in Emporio main village , offers cosy  and chic accommodation in a serene atmosphere. Typical theran architecture with modern twists.
Greece Visa for Santorini
Greece is one of the participating Schengen countries that have agreed to allow free movement of their citizens within Santorini and other Greek Islands as a single country. A Schengen Visa is issued by the authorities who are interested in traveling to and within the Schengen Area. The entry requirements for Greece differ from country to country, so, it is advised that before you leave, check with your government and the nearest Greek embassy or consulate to know about the travel requirements. You need your passport valid for at least 3 months beyond return date and your passport must have at least two blank pages. Citizens of the European Union, United States, United Kingdom, Canada, New Zealand, and Australia do not need a visa or permit to travel to Paros for stays up to 90 days for tourism or business purposes. If you are traveling to Greece from other countries you need a visa by checking your nearest Greek embassy. Keep in mind that if you have citizenship in one of the European Union's 28 member states, you have the right to live in Greece without getting visa or residence permit. Applying for a residence permit will take some time and you will need to apply while living in the country, so you may want to get a visa first. The visa will allow you to stay in Greece for more than 90 days and that way you can live in the country for the duration of the application process.
Culture and Food in Santorini
Greek island has some unique agricultural products like the sweet cherry tomato, ripe pistachios, white fava beans. Well known for its special variety of tomatoes that grow nowhere else in the world, often made in to tomato paste. Domatokeftedes are tomato fritters , an excellent appetizer which can be found on many menus around Santorini.
The Santorini tomato has been submitted to the EU for PDO certification. It's noted for its high sugar content and flavour, which is believed to come from the combination of minerals in Santorini's special volcanic soil and that it grows with very little water. 
Many family owned tavernas that still operating in the traditional Greek way. Usually the father is out fishing, the son runs the restaurant, and the mother is cooking in the kitchen. The fish is so fresh that there's no menu. You simply visit the kitchen to pick out your fish from the selection of today's fresh catch. The fish is weighed, you're quoted a price, and when all is agreed, off you go to enjoy a beer and some delicious spread while your fish is grilled up.
Fava Beans is probably the most famous dish in Santorini which it's actually a yellow split-pea purée. The creamy dish is usually served warm with olive oil and lemon and sometimes topped with chopped onions or capers. Perfect as a healthy main or side dish. 
Capers can be found everywhere, hanging on the steep cliffs , breaking the cement in the yards or in ruins. Used to garnish salads and to give many dishes it's unique aroma and spicy taste. White Santorinian eggplant, is a rare type of eggplant that is distinguished by its white colour, shape, rich flesh and fruity and mild flavour, much sweeter than the common purple eggplant. It can be tasted in many forms and it is a must that you try it raw in salads, fried, as a paste called melitzanosalata and as the main ingredient in famous moussaka.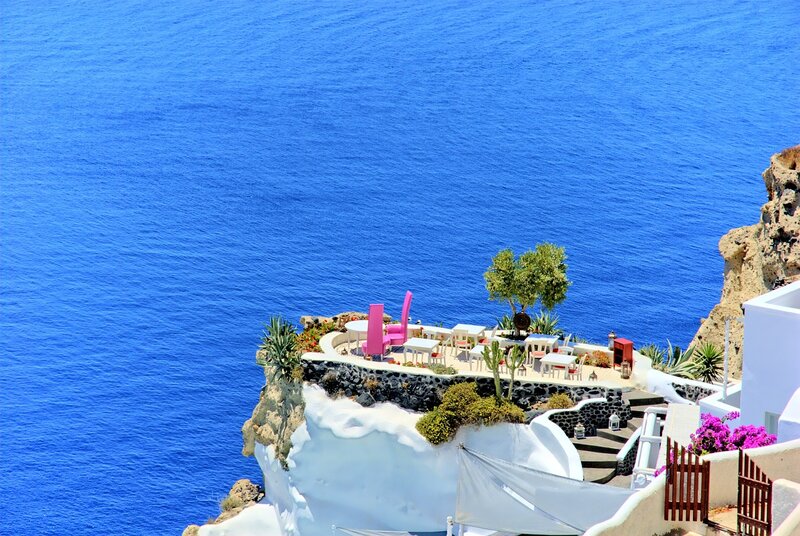 Katsouni  is a slightly different kind of cucumber named after the inhabitants of Santorini. It is smaller, thicker, cooler and lighter than the common cucumber and has some seeds. It is a necessary ingredient in the traditional Greek salad, plus it makes a great spoon sweet.  
Chloro is a special homemade sour cheese with creamy texture, made from goat milk. The unusual flavour and the fact that it is hard to find, make it a sought-after product of Santorini that cannot be found anywhere else. 
Santorinian wine is the star of its traditional products with a Protected Designation of Origin (P.D.O.) status. The island, which is full of vineyards, has a long tradition in winemaking and thanks to the rich, volcanic ground it produces unique varieties with exemplary flavours and aromas. Vinsanto, Assyrtiko and Nykteri are just some of the varieties than stand out. Visitors shouldn't miss the opportunity to indulge in a culinary journey by visiting one of the wineries, as well as taking a few bottles with them.
Santorini Nightlife
Santorini is famous for many things such as the volcano, the caldera, the sunset, the romance and so on. Some people might think that nightlife in Santorini is not one of them but they are actually wrong. There are many places on the island for you to enjoy your drinks, with loud or soft music, busy or quiet bars, big clubs with loud music and plenty of romantic ones. Best area to enjoy the night life is Fira. You can enjoy a cocktail and music at Casablanca Soul , a cosy cocktail bar in the heart of Fira with resident and guest DJ's. Casablanca Soul Bar is filled with people of all ages with funk, soul, house and alternative vibes, hosting live bands and different events.
Tango Bar
Tango Bar serves cocktails and drinks with a stunning caldera views. Pamper yourself with bubbly champagne or signature cocktails, that turns into a dance-floor when the night starts heating up. Kira Thira is the oldest bar in Fira , a laid back place in a cave house . Tropical Bar attracting its guests more for its laid-back attitude than for its appearance. Here you can watch rugby or football and cheer along with the other supporters.
Enigma, Koo and Mamounia
The biggest clubs in Fira are Enigma, Koo and Mamounia .Open air bars in any style such as café bars, lounge bars or live music can be found with reasonable prices for drinks and cocktails. Music ranges from classical, jazz, blues to mainstream, rock to traditional Greek. The streets in Fira town are all cobbled, with a few steps every now then, which makes it very hard to walk in high heels.
Kamari, Perivolos and Perissa
There are many nice beach bars which organize fun day and evening happenings in the popular seaside Kamari, Perivolos and Perissa. village of Oia also has few places to have fun but they are mostly lounge bars, not clubs. Seaside by Notos is a restaurant and beach bar with a romantic setting ideal for being away from crowds and with amazing cocktails updated every year. Perfect place if you want to start off your night with something quiet or great for a private dinner on the beach for two. Wet Stories is another famous beach bar with lounge chairs, sunbeds and giant bean bags on the beach.
You can also play beach volley or you can party as it gets louder in the afternoon and especially when there is a guest Dj . The summer-inspired décor and calming earth tones of the Yalos restaurant and bar creates an idyllic setting right by the sea, perfect for enjoying authentic dishes, fresh fish and mouth-watering appetizers. At the organized beach, you can swim and later enjoy a cocktail in hand Another alternative for night life,  is to take the morning boat from Santorini to Mykonos, which is one of the most famous nightlife island and spend a night there. Due to coronavirus changes might be occurred but almost all places got outdoor seating and drinking service. 
Things to do in Santorini
Among the attractions of Santorini worth visiting is the basilica of Agia Irini, discovered in Perissa that probably gave Santorini its modern name. 
Castles

The Mansion of Argyros in Mesaria, the Megaro Gyzi in Fira , as well as the Bellonio Foundation are all masterpieces of the more recent architectural styles. In order to truly get to know Santorini, you should definitely visit the castles of the island, especially the one in Emporio which is the best preserved and for sure the canaves which are the traditional wineries and the undercut cavern houses.

Lighthouse of Akrotiri

On the southwestern tip of the island stands the Lighthouse of Akrotiri, with the endless view of the Caldera. An important part of the local culture are the churches of the island.

Panagia Episkopi

Panagia Episkopi, built in the 11th century, is considered to be the most impressive church , followed by the Monastery of Prophet Ilias, Panagia tou Kalou, Panagia Sergena, Agia Matrona, Theotokaki. In the museums of the island the history of the region is unfolded, from both historical and folklore aspects, while the island hosts the world's only Wine Museum in a cavern.

Archaeological Sites

The archaeological sites of the island are also highly valued, as the prehistoric settlement of Akrotiri is considered one of the most important in the Mediterranean, while Ancient Thira, on top of Mesa Vouno Mountain offers its visitors plenty of thrills. Finally, the cultural traditions of the island, as they are kept both through the traditional festivals, as well as through the local products and the famous local wine, give the visitor a full picture of the importance of the island over time. Walks in and around Fira are spectacular, particularly heading north to Firostefani and Imerovigli along the caldera-edge pathway. Keep walking and you'll eventually reach Oia, but be aware that this is no small undertaking and the trail beyond Imerovigli can be rough. It's about 10km and a good three to four hours walk in one direction.

Visit the Vineyards

Santorini's lauded wines are its crisp dry whites and the amber-coloured, unfortified dessert wine known as Vinsanto. About a dozen local vineyards host tastings and some offer food, with scenery and local produce combining to great effect. There are almost nine indigenous types of grape that grow in the volcanic soil of Santorini. Aside from Assyrtiko, other whites are Athiri and Aidani. From the reds are Mandilaria and  Mavrotragano .They grow in thirteen separate wineries and are as good as any you'll find in Burgundy or Bordeaux. 

Watch the Sunset

Take the plunge at your hotel's infinity pool , your suite's private plunge pool, from the edge of a boat on a caldera cruise or on a black-sand beach on the east coast! Display from any waterfront seat come sundown and admire the nightfall. Prime and famous sunset is in Oia where thousands of tourists enjoy and applaud.

Boat Tours to the Volcanic Islands

Any tour your heart desires can be organised as there are dozens of agencies ready to help with winery visits, archaeology tours, sunset watching, photo tour and much more. The most popular option is a boat tour, and the classic itinerary takes in the caldera's volcanic islands of Nea and Palia Kameni, including a stop at the former's crater and the latter's hot springs. An exclusively black and red lava stone and barely any plants or trees. With the dark sand surrounding your feet, you can admire a tranquil view of the world's biggest Caldera and the whitewashed villages built on top. It is a very powerful scenery that should be witnessed and added to your bucket list of Santorini. Near the island of Nea Kameni there are hot springs where you can go swimming. As you close in towards the hot springs you will feel the water getting substantially warmer.

Thirassia

Thirassia is the second largest island of the Santorini archipelago and it's not easy to get to unless you are a part of an excursion or take the local ferry from Ammoudi in Oia. There are beautiful paths to hike in, crowd-free coves for swimming, unfussy tavernas, and, of course, totally different vistas of the caldera than from the main island opposite

Emporio

Emporio is the biggest settlement in Santorini with a prominent medieval character. The village has many renovated stone mansions that have turned into boutique hotels, traditional tavernas, and wine bars. As you stroll around the alleys you will notice some very interesting architectural details, such as the old steep stairs leading to upper floors, small neighbouring balconies that are almost attached to one another, colourful wooden doors and small arches. Bougainvillea trees and pergolas of vine leaves are adding up a natural and fresh note.
Away from Santorini travel headlines there's plenty to explore, from the open air cinema, to a cool microbrewery, white caverns adorned with artworks, cooking classes.
In recent years, there have been new alternative tours developed in Santorini in order to explore the island in a more unconventional way. 
A jet ski safari is an unforgettable experience and strongly recommended as you will have the chance to visit the beaches of Perivolos, Vlyhada, Red beach, Kampia, White beach, and Mesa Pigadia or more extreme tour enriched with visits to Skaros, Mouzakia Bay, Armeni Bay, Ammoudi Bay, Thirassia, and Aspronisi. 
Private helicopter transfers are a fun and safe way to get from one island to the other and allow you to enjoy a panoramic view of the Cycladic landscape like no other. During the transfer you will get to see the most beautiful places on the islands from a distance, including lovely whitewashed villages, impressive cliffs and the Volcano.
Sea kayak excursions is an alternative and fun activity for couples, groups of friends, and families.
Swimming and snorkelling are also part of the tour considered environmentally friendly.
No doubt about it, Santorini is like a dream island for a lot of people and a lot of us wishes to visit it at least once. The sights are breath-taking and it's slowly becoming a favourite of digital nomads too.
Best Time to Visit Santorini
Santorini enjoys a mild Mediterranean climate with year-round agreeable conditions. As opposed to the usual four seasons that most countries and islands in Europe receive, the year in Santorini is mainly split into two seasons summer and winter. December, January and February: The weather is cold, and windy. The island is really quiet with no tourists. Probably the rainiest months and the coldest. 
March: The weather remains cold but a small change occurs in March in relation with 3 previous months. More sun, less rain. April: The weather gets warm and it's the best month for sightseeing and hiking.
May: Weather is consistently sunny and warm and one of the best months of the year to visit when the temperatures are high and the chance of rain is low.
June: Hot and sunny weather when tourists arrive in large numbers.
July: Weather in July is hot and sunny. July is one of the busiest months of the year in Santorini. Book your hotel at least two months in advance to ensure availability.
August: The weather in August is hot and sunny with occasional strong winds (ideal for water sports). August is the busiest still popular time for travel to Santorini and huge numbers of families and couples arriving on the island.
September and October: The weather is much like June hot and sunny but cooling a little. The water tends to be warmer as it heats over the summer months. November: It's nice and still sunny but nights are colder.

Santorini for Families
This small island is where one of history's largest volcanic eruptions took place during the Minoan civilization. With strikingly gorgeous cliffs, colourful villages and towns and mind blowing Greek cuisine, chances are you'll never forget your time spent in Santorini. Families with kids can do cruising, water sports, swimming on the beaches and try the Greek cuisine, enjoy the ancient sites and the beautiful sunsets.
There are only a few kid friendly hotels in Santorini, due to the architecture of the island and we recommend to make sure you in which area you will book if you plan to spend holidays with your kids. An apartment or a villa in mainland ( not at the cliff side) is recommended with spacious living areas and all facilities. Better with no Caldera pool in case your kids are small. Unfortunately, no English-speaking schools are available and families can bring their children for the lifestyle and the local culture. There are many people living in the island and can assist with day care or English private lessons. Many swimming spots all over the island as kids love the boat tours where they can swim to the hot springs. Easy hop in and out to nearby islands for families with great ferry connections. You can explore the traditional villages of Pyrgos and Emporio with colourful walkways and alleys. Go to movies at Kamari Open Air Cinema , one of the most fun things to do in Santorini. There is a fantastic small spot to swim near Amoudi Bay , take the steps and go for cliff diving. Discover water sports like Jet Skiing, Flyboard, Stand up paddle , Jet boating, snorkelling , sea kayak , windsurfing and much more.You can find them on the most popular beaches like Kamari, Perissa, Perivolos and also Oia.
Living in Santorini
Santorini Transportation
In Santorini , there are only 25 taxis that serve the entire island, so during high season they can be hard to find. Taxis drivers do not use a meter and prices are usually negotiated before starting your trip. Usually Taxi fares from Santorini airport to Oia are 35€ to 40€ , to Fira 20€ to 30€ to the port 25€ to 35€ .
There are also many transfer companies or private drivers that can take you everywhere. There is no better way to explore this beautiful island . Drivers can be found in every village, at the port and airport as well as the central squares of Fira and Oia  a bit more expensive that the bus but they will take you to your destination faster.
The local road network is sufficiently good but it gets very busy in summer, so extra attention is required. You can use the public buses from the central bus station in Fira, the capital of the island, where buses depart very frequently. They cover routes to almost all places around the island and certainly to the most tourist spots. This is the cheapest way to get around in Santorini. Information can be found on www.ktel-santorini.gr
Please note that there are no direct buses from one side of the island to the other, and changeovers must be done at the Fira bus terminal.
Another and easy way to explore is by renting a car or a motorcycle . of course at your own pace and with access to the most secluded spots! A semi or private tour with a well-trained, experienced, local guides can help you to visit the most breath-taking  spots of Santorini and create wonderful memories that will last forever.
Renting an ATV is a great exploration by visiting sights that you wouldn't have been able to get to . Just make sure you drive carefully, plan  your route in advance and wear tons of sunscreen. You should be aware that the island can get extremely busy with tourists and the narrow roads may become congested. Drive carefully, and only rent a car  or a bike or an ATV , if you have experience behind the steering wheel .
Public Parking spots may fill quickly, especially in Fira and Oia Villages during peak time . You must have a European or an international driving license, as most rental companies ask for . Santorini's mule taxi is a tradition that is unfortunately renowned worldwide, as donkeys are used to walk up the steep climbs of the island and are a main attraction for tourists. Travelers are urged not to use donkeys as means of transportation because of the poor condition in which the animals are kept.
The Santorini cable car connects the old port with the town of Fira . It was constructed as a donation of the Nomikos Foundation. The cable car has a capacity of 1,200 people per hour (600 per hour in each direction)and the journey takes 3 minutes.
Fitness and Health
Many five star hotels including gym and fitness centres to their facilities. They might have fully-equipped gyms, free for their guests to use at their own leisure or at an extra fee for the walk-in guests . Among high-tech gym equipment, cross training machines, exercise bikes, complete range of steel weights and a cable-lifting machine, sauna, steam bath and cryotherapy treatments. Hike the dusty trail that leads from the Boutari winery in the village of Megalochori to Thermes Beach, to discover the warm springs that have bubbled up in this secluded spot since Minoan times.
The whole island acts as a sort of a private fitness canter due to all the hills and steps. A great exercise is to walk down the steps from Fira to the Old Port and back up or the hike from Fira town to Oia which takes about 3 hours. Beaches are perfect and you can combine walking or jogging with a refreshing swim afterwards by the sounds of the waves. Yoga with Mickey is all about balancing your body, heart and mind by using the heart as the pivotal point around which all else revolves.   Dru is a graceful and potent form of yoga, based on soft flowing movements, directed breathing and visualisation. Qualified massage therapists with a personal passion for health and wellbeing can be found with highly skilled in a variety of massage techniques. There are also many healing courses and treatments available such as Pilates, Shiatsu and silent or meditation classes.
Santorini People
Santorini is a part of the Cycladic group of islands and the entire population is about 13,500 people. Everyone is very friendly, even if there is a bit of a language barrier with some of the older locals. During winter and low season people are more involved with soil products, such as wine, fava beans (cultivated for more than 3500 years ) , collecting capers and cherry tomatoes . There is a museum dedicated to the cherry production at Vluchada.
Local people are rather welcoming and hospitable people featuring a fluttering attitude towards their culture. Through many centuries, they have managed to preserve numerous original customs and traditions which are reflected in all spheres of their modern lives. 
Local people are known for their welcoming character and tourists should not deny invitations to visit their house. The culture features numerous curious traditions and customs considering guests reception and parties. Traditionally guests should be met with a welcome drink.
At the end of the season, there are impressive fireworks reproducing the Minoan Volcano eruption which took place about 4000 years ago. This special festival program includes fireworks, dance performances and great music concerts.
The Santorini Jazz Festival is popular and the venue is one of the most unusual places on the island , precisely the Open Air Cinema Kamari where you can hear jazz , funk, soul, country, fusion. 
In regards to the jazz festival, music lovers will also be able to be attracted by the International Music Festival at the Petros M. Nomikos Conference Centre. Musicians from all over the world come to the island to entertain the festival's visitors and you get to listen to the classic pieces of music by outstanding composers, both past and present. Megaron Gyzi Festival event is dedicated to art. 
Another festival of art takes place from June to October and is the island's longest event. It is a festival called the Santorini Arts Factory, held in the cultural centre with the same name that can be found in the city of Vlihada. At this time, the gallery hosts exhibitions of contemporary artists, theatre shows, as well as master classes and music concerts.
Easter in Santorini is simply one of a kind!  You will discover many traditions creating a magical setting.
Local traditions are involved with smells and delicacies. Bakeries of all villages of Santorini are pretty busy during the Easter days. The housewives all day long are coking cheese pies, buns, Easter cookies and melitinia a traditional delicacy.
The Epitaph decoration in the island begins early in the morning of Good Friday by women and girls of the village with flowers from their garden. After that follows the Apokathilosi and from that moment there is only monastery bells sounds. The evening the Epitaph Procession takes place around every village. In Pirgos thousands of little tins full with oil setting on fire at every path the Epitaph will pass by, creating an incredible sight full of contrition. Women sprinkle with Cologne the Epitaph followers.
Santorini Insurance and Medical Care
State healthcare in Greece is not completely free and you may still have to pay to use some parts of the healthcare system. It is recommended to have a private health insurance for medical expenses and hospitalization in case is needed. With a private insurance, you have access to private healthcare all over Greece and in Santorini.
If you are staying in a hotel, the hotel will provide with a list of private doctors that they will call to assess your symptoms and conduct a COVID-19 test. If you have your own accommodation you can find details of English speaking, private doctors. If you are tested positive, the Greek authorities will ask you to quarantine until advised otherwise. You may be able to remain in your existing accommodation, or be required to transfer into a state hospital or other government-provided accommodation. Costs related to transfer to alternative accommodation and treatment at state healthcare facilities will be covered by the Greek Government. 
The Hospital of Santorini is located in Karterados village and is operated under the supervision of the Ministry of Health. It owns advanced medical equipment and a qualified staff that provide high quality healthcare services to the island's residents and visitors.
There is a number of reasons why people enjoying their holiday bear a higher risk to be involved in emergency situations such as an acute illness or more complicated cases because of an injury caused by an accident. Regional public and private clinics are operating all day long.
Make sure you are fully covered by reading our full Digital Nomad Travel Insurance guide.
Jobs in Santorini
Greece is working to bring more digital nomads to its islands. Thanks to legislation passed in the Greek Parliament last year, digital nomads who come to Greece can take advantage of a 50 per cent tax break for the first seven years. Ostensibly those are Greek taxes we're talking about, which is something to consider. You should of course check out tax laws in relation to your individual situation.  Extended stays in Greece, can be tricky to arrange if you don't hold a European passport, due to Schengen regulations. Remote workers with only British or American passports, need to be mindful that they can only stay in Schengen countries such as Greece for 90 days in any 180-day period. After 90 days, they have to leave the Schengen zone for another 90 days before they can return. Finding a job in Santorini as a foreigner with the current unemployment rate, can seem counter intuitive at first but during high season more people wanted in travel industry. If you're coming from an EU-EEA member state, you can basically reside and work in Greece without any restriction. If you're not coming from an EU-EEA country, you will need to apply for a residence/work permit. Like any country, Greece has its fair share of bureaucracy and navigating it can be daunting for the uninitiated. Global nomads and long term travellers can find convenient and several ways to work digital while they can enjoy the Greek hospitably and the beauties of the Aegean Sea.
Check out our Digital Nomads Jobs Postings to find the best jobs available for Digital Nomads.
Nomad Friendly
Value for Money
Internet
Workspace
English
Food
Safety
Health
Transportation
Friendly
Quality of Living
Cost of Living Santorini
Living in a Greek island during the touristic period, might be at the cost of 500 euro per month for a private studio including electricity, water, Wi-Fi bills and semi furnished. As there are no special workspaces you can easily work in a local café serving breakfast, coffee, lunch or dinner. In all coffee places, you can spend from 4 to 10 euro for a drink or breakfast or snack and no extra fees for using their place.
Regarding your transportation, I would recommend the public bus system which works perfectly or rent a scooter per month for long term. In case you are centrally located you don't need a daily transportation as you can easily walk to nearby places.
Eating out is pretty affordable especially if you eat where the locals go and in this case, you can keep costs down. Meal or Dinner expect a range of 10 to 15 euro, for a beer around 5 euro and for a drink from 7-15 euro. If you prepare your own meals, cost can be cheaper. Be aware that grocery cost is a bit expensive in Greek islands as all products coming by boat from the capital as well as the petrol.
Overall cost of living in Santorini comes to 1500 euro for renting a place, spend for a coffee or snack in a café and work, have lunch or dinner at your own home or in a tavern, use boat or public bus transportation, bike and few leisure activities.