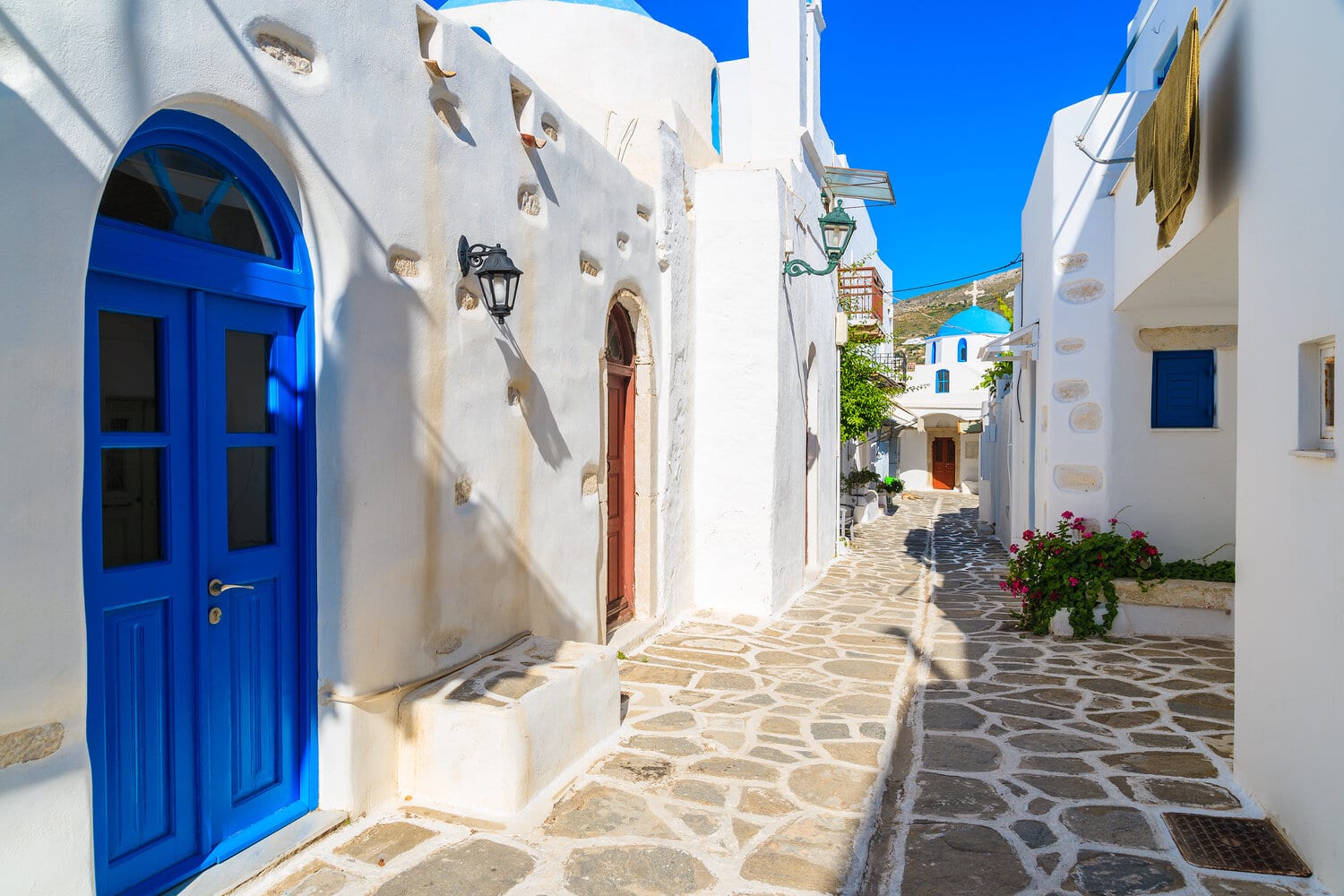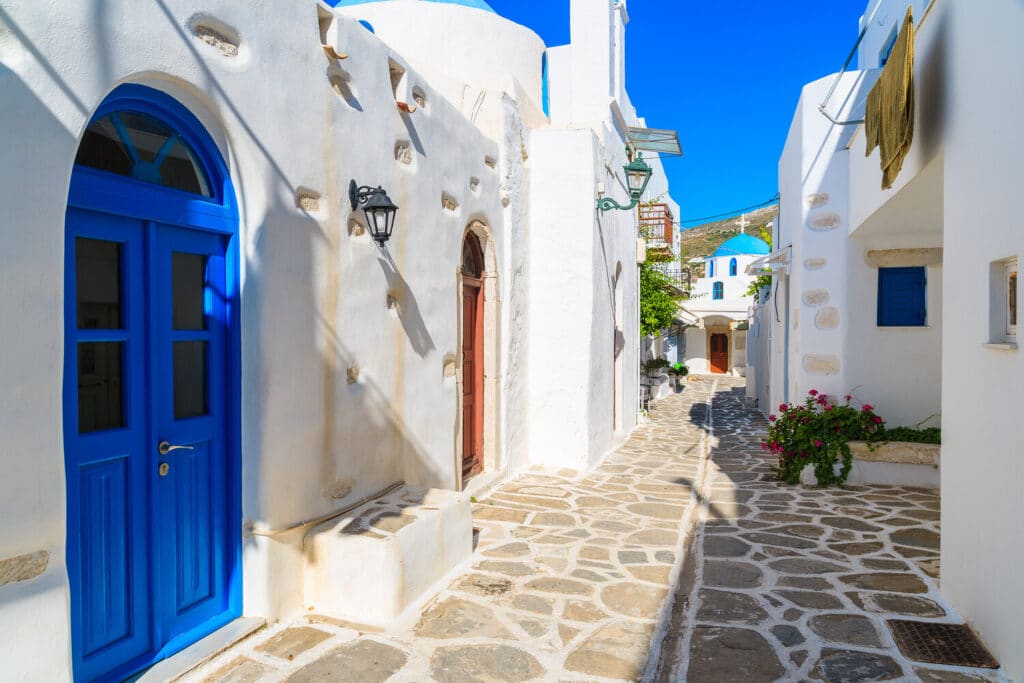 A Digital Nomad Guide to Paros, Greece
Are you ready to discover this paradise? Breathe in and smell the salty sea air!  
Paros is one of the bigger Cycladic Islands, in the Aegean Sea well known for its beaches and many picturesque villages.
Maybe you have been dreaming of visiting the extremely popular islands of Greece such as Santorini and Mykonos. I would definitely recommend that it's time to add Paros to your itinerary as it has it all. 
Parikia is the bay side island's capital, boating and transportation hub for the Cyclades region. Naousa is the second main village, considered the most beautiful fishing village with a natural harbour, full of elegant, chic cocktail bars, restaurants and taverns. Both are full of traditional café's, taverns, luxurious restaurants, many bars and shops.
Traditional whitewashed houses with blue windows and flowered yards, long walks in the labyrinth stone pathways, exceptional Greek architecture, countless small churches, beautiful azure waters in 120 km of coastline, and endless sandy beaches.
Paros is popular worldwide for its Cycladic architecture and character and makes it the perfect destination full of interesting places to visit and things to do.
The best time to visit Paros is between April and October where the weather is good and allows beach activities. The months of July and August are the hottest and the busiest as it gets really crowded!  Prices for flights and hotels would be more expensive during the high season, on the contrary those who are willing to visit during low season can find the least expensive prices for accommodation and services.
Get around the island and don't miss anything. Enjoy the golden beaches and swim in the blue Aegean Sea during the summer months. Explore the beautiful mountain villages, the fishing harbours, castles, churches ,the famous Marble Quarry and the Valley of Butterflies.
Nomad Friendly
Value for Money
Internet
Workspace
English
Food
Safety
Health
Transportation
Friendly
Quality of Living
Living in Paros Overview
| | |
| --- | --- |
|  Meal, Inexpensive Restaurant | $15.76 |
| Domestic Beer (1 pint draught) | $3.68 |
| Cappuccino (regular) | $3.36 |
| Loaf of Fresh White Bread (1 lb) | $1.05 |
| Water (1.5 liter bottle) | $0.89 |
| One-way Ticket (Local Transport) | $1.26 |
| Basic Utilities (Monthly) | $202.63 |
| Internet | $39.77  |
| Fitness Club (Monthly) | $49.89 |
| Apartment (1 bedroom) in City Centre | $386.01 |
| | |
| --- | --- |
| Child Friendly | |
| Cultural Tolerance | |
| LGBTQ Friendly | |
| Traffic Safety | |
| Nightlife | |
| Large DN Community | |
| Young Community | |
| Proper Hygiene | |
| Clean | |
Emergency Numbers
Police
100
Ambulance
166
Fire-fighters
199
Money Handling
Currency
Euro (€)
Max ATM withdrawal
€600
Tipping
Yes
Communication 
Languages
Greek
Calling code
+30
Time zone
UTC+02:00 (WET)
UTC+03:00(WEST)
Health
Tap Water
Drinkable
Vaccinations
None
Digital Nomad Personal Experience in Paros
I have visited Paros several times over the past years and as a digital nomad I must admit that this island combines modern and traditional elements in the most unique way with its architecture, vivid nightlife, trendy bars, small villages, wineries, pottery workshops, endless beaches, sea sports activities, hiking paths and great food.
You will notice the variety of ages that visit this magical island, from young people, families, older or younger couples and singles which creates a great mix.
Discover this beautiful island during low season such as May, June, September, October, meet new friends and live like a local.
Parikia is the capital of Paros, but Naousa is the place to be.  Naousa is the most lively and cosmopolitan destination. During the day it is a quiet fishing village, full of small shops, cafes and during the night it is a shopping and eating heaven.
In the centre of the town cars are not allowed and it's a joy to stroll its streets or take a coffee under the shade and watch people walk by. You can find countless boutiques, restaurants, cafes, bars and clubs in the little narrow white alleys. During night time in the high season, the town is packed with tourists. Worth visiting and exploring the town early in the morning when the streets are quiet and empty.
Naousa is a great place to base yourself and rent a car or scooter to go around or organize your trips.
During the day, it's the place where you can sit for hours, enjoy a cup of coffee and work or even sit at the water's edge by watching the Aegean Sea at the old port of Naousa.
You will never have a hard time finding a great café to work from. This island really offers an amazing laid back lifestyle.
Work in Paros
By traveling or living in Greece and especially in Greek islands you need to learn the laid-back lifestyle and Greek culture.
Greek people pride themselves on their hospitality skills and for good reason. 
They are known for their kindness and generosity.
Everyone in Paros and in Greece, greets hello and goodbye or even with two kisses, one on each cheek. 
Everyone loves nothing more than sitting with a cup of coffee and chat for hours. You will have no trouble finding a café to work especially during day time.
Dinner starting late and breakfast as well as brunch can be all day so expect to find a big selection in many places.
In Paros you are spoiled with a choice of many restaurants and cafes, service and quality food all day long.
Best Places to Work in Paros
Sousouro café
an all-day corner café, located in a picturesque little alley in the old town of Naousa.
A place to relax and have fun, open every day for coffee , breakfast, cocktails and selected music.
An organic menu offering creative combinations of fresh fruits, smoothies, shakes and power dishes.
Distrato Cafe
Distrato Cafe is located in the centre of Parikia old town, offers you a variety of all-day food choices including vegan dishes. Recently renovated, it is now a vibrant place between two paved streets where you can enjoy your breakfast, brunch or dinner.
A beautiful courtyard café famous for its good coffees and generous breakfast and lunch dishes. The tables are set under a huge tree in the middle of a courtyard, creating a beautiful shade and a fresh ambience that is perfect for the hot summer days. 
Amelie
Amelie, a well known blend of sophistication , hippie bar and restaurant facing the bay of Naousa with excellent coffee , good service and ambience.
Marmitta
Marmitta , a Greek and Mediterranean Cuisine , located in Naousa which has meat and vegan options. It's a restaurant that serves Greek traditional cuisine like rice rolls in vine leaves, chickpeas, salads, filled tomatoes with bulgur, imam and pasta. 
Bebop
Bebop in Parikia offers you a breath-taking turquoise sea view, fragrant coffee and a big variety of refreshing cocktails during sunset. A relaxing atmosphere with jazz sounds or live music events are occasionally organized.
In the same area there is Koukoutsi , a small café bar located at the central square.
The café has been operating for a long time and it is the favourite of the locals coming all day long for a cup of coffee or a quick beer. It also serves wine, ouzo,raki or souma with many traditional Greek appetizers  .  You can take a meal of salad or mackerel or fresh seafood catch.
Ramnos Café
Ramnos Café is located on the main street of the famous Lefkes village. Ramnos is a bush with small red fruits, used to grow on both sides of the street. A relaxed place with views from the terrace.
There are no Co-working Spaces for the moment , but there are many cafes with wifi all over the island , even spots to work near the beach side.
You can have a table to work and great working wifi , get a cup of cappuccino, have your lunch or get something sweet to eat .
There is up to 200 Mbps Internet throughout Greece , but in the islands it is not so fast ,might be up to 50 Mbps. Make sure to find a place to live where the connection is solid as sometimes it is not the most reliable . 
Definitely do a speedtest or ask the owner for a proof of speedtest before committing to a long term rental.
Best Places to Live in Paros
Best Neighbourhoods
Naousa
A fishing village located on the northern part of Paros around 10 kilometres away from the port of Parikia town.
The village is around the tiny harbour with traditional fishing boats and the remains of a Venetian castle.
There is no car access which gives you the opportunity to walk this beautiful village, find amazing shops, cafes, restaurants, traditional taverns, clubs and local bakeries in the narrow white alleys.
During high season this small village is packed with tourists shopping and looking for a place to eat, drink and enjoy. It's a photographer's dream!
Explore and get lost among the traditional Cycladic stone streets, blue domed churches and find the best local desserts to spoil yourselves!
Parikia
Is the largest settlement and capital of Paros and the main port.
The boardwalk might not be the prettiest part of Paros, but once you venture into the heart and authentic part of Parikia, you will find that traditional Cycladic architecture that we all love so much. 
From the village square with small shops you will be led to the walls of the Frankish castle and walk the streets with whitewashed old houses and coloured flowers. Numerous cafes and some beautiful churches.
The newer part of Parikia has developed left from the port with many hotels, supermarkets and taverns. About 1 kilometre away , the road leads you to Livadia beach.
Lefkes
Is one of the largest villages of Paros on the hill covered in pine trees. An authentic village hidden between the mountains, perfect for escaping the touristic areas. It's worth spending some time wandering the alleys with its white houses, narrow pedestrian streets, and the Venetian architecture. Explore the village which offers you the opportunity to relax and respond to the music of nature.
Is also perfect for visiting after a long day to watch the sunset.
Marpissa
Is 17 kilometres east of Parikia built on the top of a small hill. An attractive village, with beautiful 16th and 17th century houses, windmills and traditional churches.
Marpissa is amphitheatrically built. Should you wish to feel the spirit of the village, follow the path leading to the monastery of Agios Antonios and watch the stunning view from the top of the hill.
You can have a snack as there are few cafes and taverns in the pedestrian area.
Piso Livadi
Just past Marpissa and you cross the small pinewood, you'll find the fabulous, sleepy, fishing village of Piso Livadi. 
Walk along its prominent harbour wall admiring the fishing boats and the blue waters.
Grab your swimsuit and enjoy the sandy beach after a long journey.
There are so many great restaurants to have lunch in here that makes it perfect. Exceptional local dishes to taste with ouzo or wine.
During summer time, there are boats that depart from the port of Piso Livadi to Naxos, Ios, Santorini, Amorgos, Mykonos, Delos, Antiparos and Koufonissia. The ticket for those who want to go on an excursion off Paros is quite cheap. 
Find an Apartment in Paros
Accommodation in Paros is not cheap during high season and it is recommended living on the outskirts of the main touristic areas ,which will help you to save some money on your rental .
Many apartments and houses can be found in villages and towns on the island . A car or bike or public bus are great in case you want to live not so centrally.
High season is in high demand and it's more difficult to find a property during this time.
Better to rent a place by avoiding July and August for a long or short term.
First try to make a booking in a hotel or house or apartment or villa for a while , in order to see and explore the island .Then you can find a short term rental on the spot , which suits your needs and taste.
The main port of Parikia is more quiet while Naousa is busier . Small villages near Naousa can be an alternative.
You can book your hotels , villas, holiday homes through booking.com , Hotels.com, Agoda.com and Airbnb.com as there are many options and are more reliable.
Nowadays the cancellation policy is more flexible and you can book by having the opportunity to make changes.
Booking.com has the Genius loyalty program giving a 10% discount on many of your bookings.
Hotels.com has rewards nights where you can join and enjoy free nights. 
Agoda.com has discount coupons that  you can always use.
Airbnb.com has a variety of long and short term rentals with flexible cancellation policy.
A 3 star hotel on daily basis rental, starts from 20 to 170 euro 
,  always depending on the facilities and the location . Hotels of 4 or 5 stars are more expensive .
By renting a long term property, you get a better price but you need to check if electricity ,water and wifi bills are included in the price.
If you choose a house or apartment wisely at the outskirts and you don't use air conditioning because of breezes, you can get a better deal with less expenses.
Another option to find a house for short or long term is by asking a real estate agent or by asking local people  .
There are 2 websites where you can find monthly or yearly rentals. Depending on your needs prices may vary from 400 euro to higher rates.
Many real estates promote their properties on these sites.
It is suggested you rent a property for a while and then make an appointment with real estate agencies when you are there.
During the inspection you should ask what is included in the price, as semi or fully furnished , home equipment , bed linen , electricity , water , wifi  , housekeeping.
Paros offers a variety of lodgings that will surely satisfy all demands. In central villages, where the heart of the island beats or in more peaceful areas of the periphery, for those who want to relax in total tranquillity.

Cheap Places to Stay in Paros
Acqua Vatos Paros is a hotel located in Parikia. A complex of 12 rooms, modern decorated and boasting unique proximity to the beach of Parikia and the harbour as well as the vibrant nightlife of the capital.
Guests can enjoy the friendly and cosy accommodation with the highest hospitality standards.
Margarita's Studios is located in a peaceful and pleasant neighbourhood of Parikia, offering a selection of 4 clean and comfortable self-catering studios & 1 apartment of 4-6 persons, within easy access to all the attractions of Parikia.
The studios are just 400 meters from the quaint shops, stores and boutiques along Market Street and also just a short walk to the many seaside restaurants, clubs and cafes of Paros town. It offers great rooms with breakfast facilities, studios with kitchenette and a 2 room family apartment. 
Villa Anna Maria is a great accommodation option for your stay, located in the picturesque village of Aliki, in a beautiful and quiet spot that offers serenity and relaxation.
Just 80m away from the golden sand beach of Agios Nikolaos and less than 350m away from Aliki Village centre, where you will find traditional Greek taverns, bars, shops and anything else you might need during your stay.
Spiti Georgia is a fine and cosy summer apartment, in a short walking distance from the village of Drios. Golden Beach is only a 5 minute drive and Farangas Beach. The harbour town of Piso Livadi is just a 10 minute drive, where you can find outstanding taverns.
Greece Visa for Paros
Greece is one of the participating Schengen countries that have agreed to allow free movement of their citizens within Paros and other Greek Islands as a single country. A Schengen Visa is issued by the authorities who are interested in traveling to and within the Schengen Area.
The entry requirements for Greece differ from country to country, so, it is advised that before you leave, check with your government and the nearest Greek embassy or consulate to know about the travel requirements. 
You need your passport valid for at least 3 months after the return date and your passport must have at least two blank pages.
Citizens of the European Union, United States, United Kingdom, Canada, New Zealand, and Australia do not need a visa or permit to travel to Paros for stays up to 90 days for tourism or business purposes. If you are traveling to Greece from other countries you need a visa by checking your nearest Greek embassy. 
Keep in mind that if you have citizenship in one of the European Union's 28 member states, you have the right to live in Greece without getting a visa or residence permit.
Applying for a residence permit will take some time and you will need to apply while living in the country, so you may want to get a visa first.
The visa will allow you to stay in Greece for more than 90 days and that way you can live in the country for the duration of the application process.
Culture and Food in Paros
Greece is a food heaven and Paros island too! You can eat cheap and so well.  Get ready to eat lots of bread, it is crucial to life here as rice is in Asia. You can eat it with your coffee and marmalade during day time for your breakfast or you can dip it in eggplant salad or to thick & creamy tzatziki or to Greek salad with olive oil or you can use it to soak up any sauce from a homemade Briam which is the Greek version of ratatouille or soak up to saganaki shrimps, a dish prepared in a small frying pan. Bakeries are all over the island, full of fresh bread and many treats.
While traveling, tasting local cuisine is always something delightful,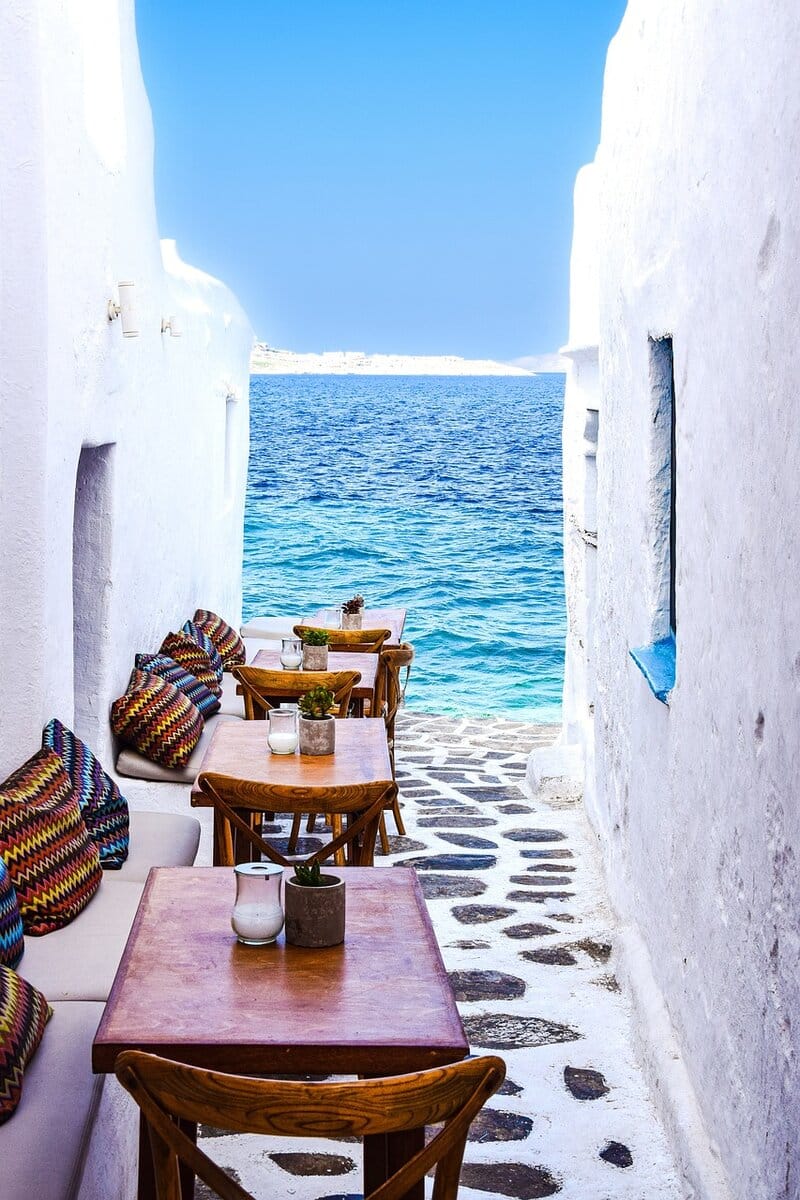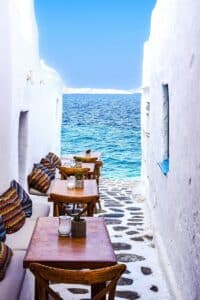 exciting and tasteful.
Find authentic cuisine in seafood restaurants and taverns serving delicious selection of local delicacies. 
Best place to eat is in Parikia and Naousa where you can find traditional seafood dishes such as grilled octopus, Gouna the roasted mackerel, kakavia a amazing soup made of fish and vegetables, karavalous boiled snails with garlic sauce , dishes with squid and calamari.
Also try vegetarian options as petimezinia a pumpkin pie, mizithra a tasteful white cheese, kolokithokeftedes fried zucchini balls, dolmadakia little wraps with vine leaves, Greek salad with feta cheese and virgin olive oil, revithia ston fourno baked chickpeas . Not to forget the famous Moussaka and Souvlaki in all kinds of versions with pita or not with chicken or gyros or kebab etc.
A great pairing to fresh fish or small dishes is Souma the local raki of single distillation of grapes. Is not to miss out! The distillers open in autumn to make souma for family and friends.
Try Manolis Moraitis wine, a local wine brand which is quite aromatic. The winery of the Moraitis family is on the beach of Naousa.
As you walk the alleys across the charming small shops, the best dessert is loukoumades , heavenly fried donuts, served warm , drizzled with honey , walnuts and toasted sesame and cinnamon on top. You can choose to add toppings like ice cream or Nutella.
Paros is alive all day and night, people sit for hours to drink a cup of coffee, a glass of wine or ouzo or souma with a meze, small side plates like appetizers, and always with friends or family.
Greek people eat, drink, talk, laugh, argue, and they enjoy their time together. 
Dinners with Parian friends are endless. In Greek culture food is so much more than sustenance, it's about culture, comfort, family and life itself.
The stranger would be seated at the head of the table, which is the place of honour, offered the first plate with the best portion and eat as if they are in their own home, encouraging them not to be shy.
The Greek concept of hospitality is called filoxenia, an expression of an authentic relationship between guest, stranger based on generosity, courtesy, and friendship.
Paros Nightlife
Paros is the third island of Cyclades that has become famous for its exciting nightlife with drinking and dancing venues. You can start your evening walking with a light cocktail or fresh juice at the bars of Parikia ,right on the beautiful waterfront. You can find atmospheric bars on the street along the coast which turns into a pedestrian zone during summer or even bars built at the edge of the rock. On your way to the top of the village, you can make a stop at one of the classic bars and clubs to enjoy some loud music. The beautiful capital of Paros is surrounded by plenty of bars and legendary clubs, which play loud music and offer all kinds of drinks and cocktails. 
Even more exciting is the party scene of Naousa with a great selection of bars and clubs for all tastes. Small bars are countless and very busy, staying open until the early hours during summer time. In the rest of the island, the night scene is less noisy. 
The harbour of Naousa and the magical streets of Parikia are packed with people especially in July and August. 
Entertainment never stops and it covers all tastes! Quiet bars with a view of the Aegean Sea and soft music, busy bars with loud music and big clubs with loud music. Paros has become a very active island in recent years and has plenty of early night or late night entertainment options which attracts tourists from all over the world.
Open air bars in any style such as café bars, lounge bars or live music can be found with reasonable prices for drinks and cocktails. Music ranges from classical, jazz, blues to mainstream, rock to traditional Greek.
If you want to enjoy an alternative type of entertainment and you want to avoid the crowds during high season, you can go out for a drink in Marpissa, Piso Livadi, and Drios. In Piso Livadi, you will also find the well-known beach bar in Punda Beach for day and evening parties.
Another alternative is to take the morning boat from Paros to Mykonos, which is one of the most famous nightlife islands and spend a night there.
You can also take the morning boat from Paros to Santorini and enjoy the amazing sunsets with plenty of nightlife opportunities with great views.
The combination of those 3 Greek islands, is an ideal mix for a relaxing and vibrant weekend.
The island of Paros was made so fashionable and developed its tourism because of the natural beauties. The local community has taken care and well organised its infrastructure by exploiting the high cost of the expensive neighbouring islands.
It has 2 aspects, the touristic side in Parikia or Naousa with their popular and crowded beaches and beach bars and the other side featuring the local colour of the tranquil and peaceful villages.
Due to coronavirus changes might have occurred but almost all places got outdoor seating and drinking service. 
Things to do in Paros
Don't miss Antiparos island, a much more relaxed island vibes than Paros. The ferry departs from Pounda beach and it takes from 7 to 30 minutes' ride, always depending on weather conditions.
When it's very windy, there are regular boats departing from Paroikia.
The heart of this small island is at the main harbour with whitewashed streets , shops, cafes, bars and restaurants.
At the heart of the town, there is the Venetian Castle of Antiparos, a castle made to protect the residents from pirates. There is also an impressive cave near Agios Giorgos with stalactites and stalagmites.
All whitewashed churches and chapels are open and on their name day they celebrate. Just right in front of the harbour there is one called Agia Marina. On July 15th to 17th there is a 3 days festival, with violins by locals , showing the hospitality and the culture of the island , concerning activities  with yacht racing, triathlon swimming , race in the streets and dancing.
On June 25th to 25th, Agios Ioannis Prodromos is celebrated, where you see the burning celebration of May 1st wreaths at the port. Panagia Faneromeni 
is on 7th to 8th of September and is located in the enchanting cape, Petalida, where access is made either by fishing boat or by road. 
Agios Ioannis Spiliotis on 7th and 8th of May, is an organized feast in the courtyard area of ​​the Antiparos Cave. A particularly colourful feast with treats and local delicacies.
The winery tour and wine tasting should be on your list too.  Paros produces lovely wines such as red, white, and rose. There are many wineries around the island, but Moraitis Winery in Naoussa is very popular. Try with a snack and feel a part of the production as you will be shown this procedure.
Taste, feel and experience the local culture.
In Paros there are fun activities such as surfing, windsurfing, kitesurfing, various water sports from canoeing, kayaking ,jet skiing, scuba diving, typical bananas , turbo rides to snorkelling and wakeboard sessions by professional instructors.
Golden Beach, further down from Piso Livadi , is the most active beach and is well known for its water sports.  You can rent surfboards, wakeboards, stand up paddle boards or kayaks and go off on your adventure. The rental shops are right on the beach.
In Pounda sports centres, you can do water skiing , snorkelling, board sports and water games.
In Santa Maria beach, one of the finest beaches, there is a fully equipped campsite with diving centre , surfing etc.
Kolympithres bay is the ideal spot for beginners regarding water ski, as it is protected from strong wings.
The Windsurfing World Championships were held for many years at the Golden Beach, a world-famous number one destination for Kite-Surfing.
This island is circled by amazing beaches for all tastes. Easy to find many quiet, sandy beaches with sapphire water, or breezy beaches perfect for windsurfing, crystal clear water or even with healing mud for a natural spa.
Popular beaches are Kolymbithres, Santa Maria, Piperi, Krios, Agios Fokas, Ambelas, Livadia, and Monastiri which are located towards the northern half of Paros. Some popular ones in the southern half include Parasporos, Pounda, Golden Beach, Aliki, Logaras, Delfini, Messada, and Platia Ammos. 
Kolymbithres

 Just a short boat or car ride from Naoussa with crystal clear waters. You do not want to miss this one!

Golden Beach

 Blue flag beach ideal for water sports due the strong winds on that side of the island.

Pounda Beach

 Daily beach parties can be found , an ideal spot for young and adults looking to have fun.

Monastiraki Beach

A small secluded beach that can be reached by boat or car from Naoussa by climbing over the hill to reach the beach behind the old church. The waters are cleaner than the crowded beach in front of the restaurant.

Santa Maria

 An organized sandy beach close to Naoussa. Ideal for families or water sports.
Other nice beaches include: Logaras, New Golden Beach, Farangas and Ambelas.
Grab a car, bring some snacks, water and start the exploration!
Horseback riding is very recommended during sunrise.
An experience you will always remember. Wake up early and catch the sunrise and ride the horses by the sea side. Horses are well trained. 
There are several yoga and meditation centres on the island, offering you relaxation during your stay.
Meditation classes are daily as well as Buddhism and Pilates classes.
Yoga courses are usually on open air terraces with plenty of sea wind and a lot of space to enjoy.
The Church of a Hundred Doors (Panagia Ekatopiliani named in Greek) is the most historically important and best-preserved Christian Church of the Cyclades. Unique, impressive, imposing and containing several distinct and beautiful chapels inside. It takes its name from its plethora of doors, of which 99 can actually be seen, while the hundredth remains a mystery.
What is left of the Venetian Castle of Naoussa or Kasteli can be found at the end of the sea wall at the northern end of the harbour. The Castle, part of which has collapsed into the blue waters of the Aegean, is an interesting work.
In the village of Marathi you can visit the quarries from which Parian Marble, regarded as the finest of all, was sourced and from which some of the greatest sculptures and buildings in the Ancient world were made.
Go hiking as there are a variety of hikes and walks all over the island, taking you through ravines, past deserted windmills, to freshwater springs and even along the old Byzantine road. All you need is a map, stamina, motivation and a sense of adventure.
Easter is a memorable experience not to miss! The spiritual atmosphere during the holy week is a great scenery with streets full of candles, fireworks, celebrations and the representations of the passions of Christ which are unique memories. On Easter Sunday, the whole island celebrates with lots of food and much Parian wine.
Best Time to Visit Paros
The climate in Paros is Mediterranean and summer is usually very hot and very dry while the winter is rather rainy with mild temperatures such as 15 C degrees. 
Weather is hot and windy during summer time and sometimes really windy which is very important to know!
The Greek name is meltemi which is the strong, dry north wind of the Aegean Sea. This is during high season, when the island is open for tourism. May is a windless month.
The island has amazing weather from May to September. Water temperature is still cold and fresh for a few people but the air temperature is perfect to be out all day and night.
Windsurfers and sailors love these weather conditions, as it is a windsurfer's paradise and a sunbather's nuisance. 
From the middle of April, the day temperature is around 20 C degrees, mostly sunny and sometimes cloudy. This month is ideally for walks, hiking, cycling and relaxing days with good wine and delicious delicacies.
Summer is the ideal period for your holidays. In June, the water temperature is perfect but sometimes a bit colder in the early mornings. The air temperature can be between 22 to 25 C degrees and sometimes more. After sunset, it can become fresher and more pleasant. The months of July and August are the absolute high summer, with high temperatures as well as overpriced accommodation.
September is an amazing month and still suitable to swim. In October the season ends slowly but the weather is still good.
Paros for Families
People are very friendly with children and Paros is the quintessential recreation area for children! 
Unfortunately, not English speaking schools are available and families can bring their children for the lifestyle and the local culture.
There are many people living on the island and can assist with day care.
Many games and sports can be found on the beaches of the island, as well as many other activities, especially during summer time.
Special sports events are held, like cycling and children can participate in a cycling tour of Parikia. Children can also take swimming, sailing, tennis, horseback riding and diving lessons, at a reasonable price.
Tennis lessons are offered in a well-organized environment, ensuring children exercise, socialize and learn healthy habits in mini groups of up to 10 kids between the ages of 4 and 6 under the supervision of an instructor.
For youngsters, the Yacht Club of Paros offers sailing lessons too. All classes have a small number of children and instructors select the appropriate sailing vessel for each student by getting to know the boat and learning the basic safety standards.
The Paros Water Park located near Naousa, open during high season, covers an area of approximately 2 hectares with a private beach, pool, 13 water slides, a river and many other activities for hours of fun, suitable for a variety of ages.
You have access to the bar, self-service restaurant, sunbeds, umbrellas, lockers, changing rooms, medical centre and many more.
The island has amazing food, beaches, easy to walk villages, safe and comfortable to let your kids roam around by themselves.
Every restaurant having high chairs and people will always talk to your kids. They will offer something to keep them busy and they even offer to keep your stroller when there isn't space between the tables.
Living in Paros
Paros Transportation
Paros has a great public bus system that can take you to most beaches and towns on the island.  The KTEL buses serve visitors and permanent residents with a variety of routes and vehicles. All villages are linked both to each other and the two large towns of the island all year round.
This is convenient for all budgets, as the bus ride is up to 2,20 euro always depending on the route. You can find the bus timetable with all the routes at www.ktelparou.gr
You can also rent a car or a scooter, an easy way to explore the whole island. 
For renting a car or a scooter you need a driving license or your passport. It's common to be asked to provide a credit card for the car rental as a guarantee. 
For long term rental , you can ask for a better price. 
Due to many tourists during high season, it is recommended to pay attention while driving a motorbike.
There are many transfer companies or private taxi drivers that can take you everywhere very easy. There is no better way to explore this beautiful island . You can choose to hail a taxi from the street , walk to the taxi rank or call one of the local radio taxi companies. 
Should you wish to be independent and privately explore the island , a car rental is commonly found. 
Boat transportation is also easy to find , there are daily boat rides from the port of Naousa to nearby beaches for a very low cost. 
There are sea buses that carry out routes from Parikia to the beaches of Marchello, Krios, Kolympithres, Monastiri, Langeri and Santa Maria. 
Another way to explore is by quad usually called ATV or buggy transportation. For a quad you need an international driver's license. 
Both are more expensive and fancy but you can rent them for a few days or even for one day so you can have the opportunity of having the experience. 
You can spend a long time in Paros without really needing a car as the bus schedule can cover all major towns and also boat transportation works from both Parikia and Naousa town.
Getting to Paros is by domestic and quick flights as there are no international airports but a small airport. Flight is under an hour , about 40 minutes, from Athens the capital of Greece and Thessaloniki the second biggest city. 
However there are few international charter flights nowadays during the peak season . 
You could also travel to Paros by sea ferries . Many ferries leave daily from Piraeus main port and Rafina, another smaller port. Almost all ferries are comfortable and big and you can book online in advance . 
They make a round trip of the Cyclades and stop at many of the islands , it takes about 4 hours to reach Paros and you can enjoy the scenic views of the Aegean Sea and feel the air by the sea. 
Fitness and Health
There are several gyms that can help you plan your fitness schedule. You can find personal training as well as an effective work out.
Easy to find Hotels with gyms and beautiful views of the sea offering a peaceful sanctuary, with excellent leisure facilities and free internet access. Few have a tennis court and outdoor CrossFit gym to burn some extra energy.
However, Paros offers spectacular hikes, a great form of exercise and work out, during day time surrounded by fantastic landscapes.
There are several hike tours, such as Bike and Hike combining casual cycling with walking, easy hiking, with swimming break & a picnic. Bicycles are provided for a morning or sunset activity.
Beaches are perfect too and you can combine walking or jogging with a refreshing swim afterwards by the sounds of the waves.
It's a great destination for wind surfing and numerous water sports.
Many to be found at Golden Beach, New Golden Beach and Santa Maria.
There are also many healing, health giving courses and treatments available such as Yoga, Pilates, Shiatsu, various massage therapies and silent or guided meditation classes.
Aqua Motion is a relaxing therapeutic exercise based in water. Not only a relaxing experience for your body but also for your mind. There are sessions in private pools or in the sea suitable for everybody of all ages. 
Our health is affected by many factors and Paros island has all the characteristics of a healthy environment and offers many services for body and mind health.
Paros People
Paros is generally a safe island and the total population today is about 12,000 people.
Hospitable people, born near the sea, the earth, the salt, who know how to cope with the difficulties of life and appreciate every modernism that respects the land and their values. They invest in tourist development, while holding their history, traditions and culture in the highest esteem. The older generations offered and created. The younger ones worked, maintained, studied and returned to support their island with their knowledge and experience.
Paros is a great destination with wonderful seasons and with the beauty of each one.
In the heart of winter there are halcyon days, wonderful days with sunshine, low wind and good temperature. It's almost possible to swim.
Many shops, restaurants, bars, taverns and hotels in several areas are open all year. People are relaxed, comfortable and will welcome you anytime as during summer they never rest. Get to know the winter hospitality from a different perspective of the island and its activities. 
You can still sit on the beach, enjoy your coffee or meal under the dazzling Aegean sun and have a wonderful day! The winter sun will fill you with energy and positivity.
Everything goes smoothly and you will be able to reach the island with ease.
Paros has never been entirely dependent on tourism. Historically, it was known for its fine white marble. Today abandoned marble quarries and mines can be found on the island.
In small societies such as Paros, festivals are an opportunity to have fun and still bind people with tradition. Music, dancing, food, drinks in each village or church are not to miss. All the residents participate in the festivals, bringing souma or wine, pies, chickpea soup and other delicacies. It usually takes place at the square of the village or at the church 's courtyard. Traditional music by tsampouna ( gaida), laouto( lute ) and violin , followed by traditional dancing initially by local groups with national costumes and then the locals finish with their own dancing and singing. 
The largest festival of the island is the feast of Panagia on the 15th of August, both a religious and a large folk festival.
The history of Ekatontapiliani church begins in Byzantine legends, as it was likely constructed in the 4th century.
Agia Eleni, mother of Constantine the Great, stopped at Paros on her pilgrimage to the Holy Land to find the Holy Cross, in order to visit a small church. She prayed and vowed to build a large church on that very same site if she found the Holy Cross. She found the Cross and fulfilled her vow. According to a different legend, the temple was built by Constantine the Great at the request of his mother, who wasn't able to fulfil her vow.
Many artists come to Paros all year around such as painters, sculpture or photographers or poetry readers written by local poets.
In Paros most of the population can speak English except the older generation.
Paros Insurance and Medical Care
State healthcare in Greece is not completely free and you may still have to pay to use some parts of the healthcare system.
It is recommended to have a private health insurance for medical expenses and hospitalization in case is needed.
With private insurance, you have access to private healthcare all over Greece and in Paros.
Paros Health Centre is located in the centre of Parikia (100 meters from the port) and operates 24 hours.
Also, regional public and private clinics throughout the island are operating in the morning.
If you are staying in a hotel, the hotel will provide a list of private doctors that they will call to assess your symptoms and conduct a COVID-19 test.
If you have your own accommodation you can find details of English speaking, private doctors.
If you are tested positive, the Greek authorities will ask you to quarantine until advised otherwise. You may be able to remain in your existing accommodation, or be required to transfer into a state hospital or other government-provided accommodation. Costs related to transfer to alternative accommodation and treatment at state healthcare facilities will be covered by the Greek Government. The nature of your accommodation may differ from the specifications of your pre-booked hotel, villa or other place of stay. Depending on local arrangements, travellers in groups may be required to stay in separate accommodation (if a sufficient number of rooms is not available in one venue, your group may be spread across different accommodation locations).
Make sure you are fully covered by reading our full Digital Nomad Travel Insurance guide.
Jobs in Paros
Greece is working to bring more digital nomads to its islands.
Thanks to legislation passed in the Greek Parliament last year, digital nomads who come to Greece can take advantage of a 50 per cent tax break for the first seven years. Ostensibly those are Greek taxes we're talking about, which is something to consider. You should of course check out tax laws in relation to your individual situation. 
Extended stays in Greece can be tricky to arrange if you don't hold a European passport, due to Schengen regulations. Remote workers with only British or American passports need to be mindful that they can only stay in Schengen countries such as Greece for 90 days in any 180-day period. After 90 days, they have to leave the Schengen zone for another 90 days before they can return. 
Finding a job in Paros as a foreigner with the current unemployment rate, can seem counterintuitive at first but during high season more people want to work in the travel industry.
If you're coming from an EU-EEA member state, you can basically reside and work in Greece without any restriction.
If you're not coming from an EU-EEA country, you will need to apply for a residence/work permit. 
Like any country, Greece has its fair share of bureaucracy and navigating it can be daunting for the uninitiated.
Digital nomads and long term travellers can find convenient and several ways to work remotely while they can enjoy the Greek hospitality and the beauties of the Aegean Sea.
Check out our Digital Nomads Jobs Postings to find the best jobs available for Digital Nomads.
Nomad Friendly
Value for Money
Internet
Workspace
English
Food
Safety
Health
Transportation
Friendly
Quality of Living
Cost of Living Paros
Living in a Greek island during the tourist period, might be at the cost of 500 Euro per month for a private studio including electricity, water, Wi-Fi bills and semi furnished. As there are no special workspaces you can easily work in a local café serving breakfast, coffee, lunch or dinner. In all coffee places, you can spend from 3 to 10 Euro for a drink or breakfast or snack and no extra fees for using their place.
Regarding your transportation, I would recommend the public bus system which works perfectly or rent a scooter per month for long term. In case you are centrally located you don't need daily transportation and if there is a boat you can easily go to many beaches.
Eating out is pretty affordable especially if you eat where the locals go and in this case, you can keep costs down. Meal or Dinner expect a range of 5 to 15 euro, for a beer around 4 to 5 euro and for a drink from 7-15 euro. If you prepare your own meals, the cost can be cheaper. Be aware that grocery cost is a bit expensive in Greek islands as all products coming by boat from the capital.
Overall cost of living comes to 1300 Euro for renting a place, coffee or snack in a café while working, having lunch or dinner at your own home or in a tavern, using boat or public bus transportation, bike and few leisure activities.