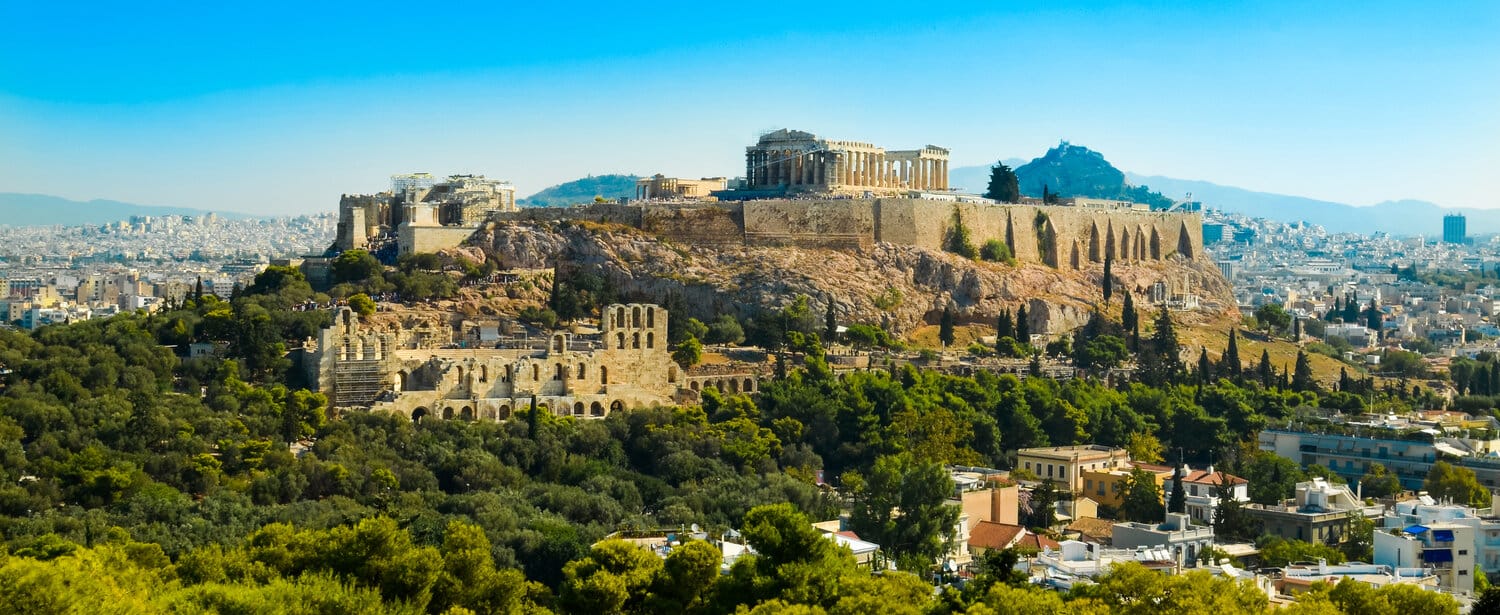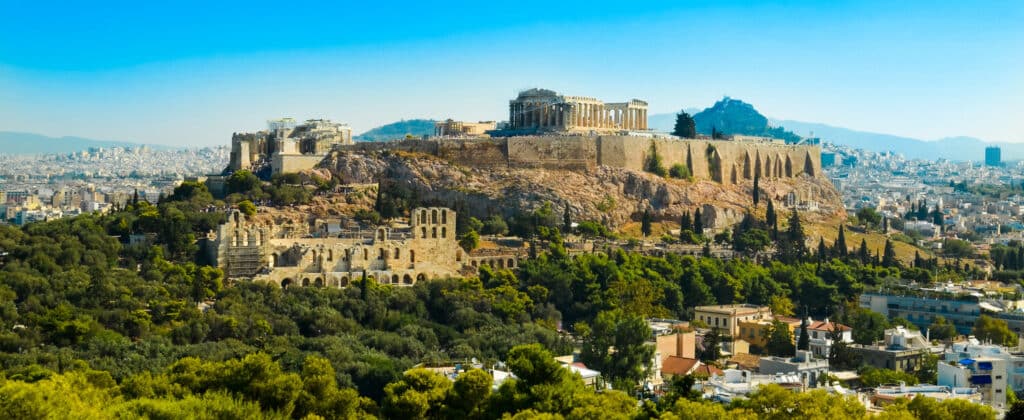 A Digital Nomad Guide to Athens
Athens is the capital of Greece, the largest city in the country and the main center of Greek economic, cultural and political life.
The history of Athens spans more than three thousand years, making it one of the oldest inhabited cities. During the classical times, Athens was a powerful city-state that was born together with the development of maritime navigation of the port of Piraeus and that played a fundamental role in the development of democracy. It was also a cultural center where many of the great artists, writers and philosophers of antiquity lived.
In addition, it is a city rich in archaeological remains, of which the most famous is the Parthenon on the Acropolis. Constructions from the classical Greek period, Roman and Byzantine monuments are preserved, as well as several notable modern constructions. It was voted the third best European city to visit in 2015 by European Best Destination and is one of the most visited tourist destinations on the European continent.
As a multifaceted meeting point between past and present, east and west, ancient history and contemporary politics, Athens is undoubtedly the definition of a city with a unique character. It has become not only a distinctive cultural center, but the epicenter of budding businesses. Representing a combination of the relaxed lifestyle and the set of possibilities for professional growth. Athens is the perfect destination for those seeking a dynamic and rewarding balance between work and personal life.
Nomad Friendly
Value for Money
Internet
Workspace
English
Food
Safety
Health
Transportation
Friendly
Quality of Living
Living in Athens Overview
| | |
| --- | --- |
|  Meal, Inexpensive Restaurant | $13.08 |
| Domestic Beer (1 pint draught) | $4.55 |
| Cappuccino (regular) | $3.35 |
| Loaf of Fresh White Bread (1 lb) | $0.85 |
| Water (1.5 liter bottle) | $1.02 |
| One-way Ticket (Local Transport) | $1.36 |
| Basic Utilities (Monthly) | $177.60 |
| Internet | $38.16 |
| Fitness Club (Monthly) | $36.45 |
| Apartment (1 bedroom) in City Centre | $518.26 |
Currency: Indonesian rupiah (Rp)
[erw_exchange_rates_widget lg="en" tz="0″ fm="IDR" to="EUR,USD,GBP,AUD,JPY,RUB" st="primary" cd="" am="15000″][/erw_exchange_rates_widget]
ATMs
Max Withdrawal: Rp 3,000,000
Withdrawal Fee: Rp 30,000 – Rp 50,000
Use of Credit Cards: Mostly Cash
Digital Nomad Personal Experience in Athens
In Athens the first thing I noticed is the privileged climate with so many sunny days. The better the climate, the happier people are.
People living in Greece may not have much, but they definitely know the right way to live. They are very laid back and don't stress as much about money as in other capitals. Greeks consider family, friends and enjoying life as priorities. Material things and professional success are generally in the background. This attitude was contagious for me and here I learned to take life more calmly.
The cost of living in Greece is substantially lower than in other capitals of Western European countries and if you earn at least 1.500 euros you can have a good time.
I also used to find easily fresh, great-quality ingredients in grocery stores and weekly farmers markets. And if you'd rather not cook, living in Athens offers the added benefit of having a more international selection of restaurants to choose from. Even with Michelin stars!
People have strong traditional values ​​and a powerful sense of pride in their culture. That's bad and good, it depends how you look at it. One of the most challenging aspects for me was that traditional gender roles are still the norm and women are expected to work but also to take on their traditional household responsibilities like cleaning, cooking, caring for children. There are certain things that a lady should not do and others that are proper to women. 
Greece is also known for its breathtaking landscapes and monuments. The rich history of Greece is evoked in every corner of Athens by the remnants of classical architecture that adorn the ancient city. Every day off is a day of exploration or relaxing on a café terrace overlooking the Acropolis. If you do this at least once a week it means that you start to understand Greeks.
Work in Athens
One advantage of Greece's challenging economy was the rise of startups and shared workspaces where you can also rent private offices. This type of office allows you to rent a space with all the infrastructure, services and amenities so that you can dedicate yourself completely to your work and not have to worry about configuring, managing, committing or facing the expenses of your workspace.
Best Places to Work in Athens
Impact Hub
For example, Impact Hub (28 Karaiskaki, Psirri) provides a flexible space for freelancers and small businesses in a neoclassical house with a wooded courtyard and an event space among other amenities. In addition, it is part of a global network with offices in more than 50 countries and where social entrepreneurship is the motto. Its members generate impact in many areas, such as social inclusion, democracy, human rights, environment, health, employment, education, technology, arts, migration and integration. They are a community of creators who build a radically collaborative world.
Selina Theatrou
Selina Theatrou (18 Theatrou Plaza, Historic Center), located behind the town hall and the central food market on Platia Theatrou, is a nomadic hostelry and also a coworking space. It is an ideal place for those who are traveling as well as for those who wish to make friends and connections in the nomadic environment. It's themed with strong colors, vintage sound cabinets, plush red couches, and bold murals. It gives you access to high-speed Wi-Fi, private wooden cubicles for phone calls, hot desks, dedicated desks, private office spaces, meeting rooms for 8 people, printers and free tea, coffee and cookies. When you finish work you can go up to relax at the rooftop bar on the ninth floor. There you can enjoy the incredible views of the Acropolis. You can pay shared desks per day from 10 EUR, weekly from 50 EUR or monthly from 135 EUR.
Spaces Ermou
Spaces is a global brand that offers premium coworking spaces everywhere from London to Amsterdam and Mexico City. In Athens it has two locations: Spaces Ermou (56 Ermou, Monastiraki) and Spaces Green Plaza (59-61 Agiou Konstantinou, Marousi, 151 24). Ermou's headquarters is the most complete. Located in an elegant gallery on Ermou, the main shopping street in Athens, it offers Silicon Valley-style coworking for high-tech companies, international companies and freelancers. Whether you're mind-mapping, meeting, collaborating or crunching numbers, the designer desks, tables, sofas, super-fast wifi and informal meeting areas provide the perfect place for every business need. So even if you want a quiet desk Monday to finalize the details of your plan, a large table Tuesday to coordinate with your team, a lunch table Wednesday to meet a new client, and a cozy coffee corner the rest of the week to vet potential candidates, Spaces has all the spaces you'll need. It has also meeting areas and workspaces on Instagram, a coffee bar and kitchen, and a rooftop terrace with views of the Acropolis.
Tzaferi 16
Tzaferi 16 (Tzaferi 16), located in the heart of the city, right behind the Benaki Museum on Pireos Street, is a former cosmetics factory turned into a modern coworking space. It is one of the best-loved coworking spaces in Athens. Here you can select tailor–made office services to suit your needs. This way you can create the package you want at the price you want. Monthly charges will be negotiated and determined following discussions with you. It offers a modern and sleek interior with high-tech equipment, vast office spaces, meeting rooms, an entertainment space, a cafeteria with unlimited supply of coffee and also has concierge services. 
If you still want to know more shared workspaces and private office options with a flexible and all-inclusive rental, you can inquire about other places as Athens has several options.
Best Places to Live in Athens
Best Neighbourhoods
There are many expats of different nationalities living in Athens who generally prefer to stay in the southern areas such as Glyfada, Voula and Vouliagmenis. For example, Ilioupolis is one of the cheapest beachless southern suburbs with the most apartment blocks. It is popular with former English teachers and married Greek couples. Glyfada, on the other hand, is divided into two sections: Glyfada on the coast and Ano Glyfada which is above and further from the sea. Ano Glyfada has apartments or villas and the properties are cheaper. In Glyfada you also find restaurants and taverns with different specialties. Voula is more elegant, with fewer tourists and with many restaurants and bars. However, it is not as lively as Glyfada and the properties are more expensive. Vouliagmenis, on the coast, is reputed to be the most expensive place in Europe. It has many restaurants and taverns as well as private villas.
Marousi
In the north of Athens, Marousi is one of the popular suburbs with expats even though it is not on the coast. The properties are cheaper and newer than those comparable to the south of Athens.
If instead you prefer to be close to all the tourist attractions so that you can visit them from time to time, you should consider the accessibility of the neighborhood and locate yourself in one of the downtown areas.
Plaka
Plaka, located under the Acropolis hill, is one of the oldest areas in Athens. The combination of Cycladic houses and neoclassical architecture makes this area extremely picturesque. It has many hotels, taverns, bars, cafes, shops and museums. It is important that you keep in mind that given how touristy it is, it is not a quiet area at night. Here you will find the Ancient Agora, the Tower of the Winds, the Temple of Zeus, the Acropolis and the Herod Atticus.
Monastiraki
Monastiraki, on the other hand, is an area of small alleys, local markets and antique shops. The most famous market in Athens is Monastiraki on Sundays.
Syntagma
In Syntagma you will find the Greek Parliament, Syntagma Square, several five-star hotels, travel agencies, fashion boutiques and bookstores, as well as the numismatic museum and the national gardens.
Kolonaki
Kolonaki is an expensive and luxurious neighborhood with stylish boutiques, high-end restaurants, and cafes. Wealthy Athenians live in this neighborhood, as it is also close to the city center. Kolonaki is next to Lykavittos Hill which offers breathtaking views of the Acropolis.
Thissio
Thissio (or Thiseio) is a quiet area near Plaka. Here you will find cool bars and cafes overlooking the Acropolis. It is a lively neighborhood with pedestrianized streets, including Apostolou Pavlou Street.
Psiri
Psiri is a gentrified neighborhood in ruins, popular with the youth. It has trendy cafes and bars, restaurants with live music and less luxurious shops in a laid back ambience with hipster vibes.
Gazi
Gazi is one of the areas with the most nightlife. Here is the Technopolis art complex, a cultural center that hosts concerts and events. If you like living like a local with easy access to some of the best clubs in Athens, then Gazi is for you.
Find an Apartment in Athens
Athens is a big city and it can be disorienting at first, so it is best to first choose a neighborhood that suits you. This will help you install in the new city faster. Also, while choosing a new home can be an exciting experience, in Athens you should be careful about which agencies you ask for help finding accommodation. You have to make sure that the agency you use is legitimate. The Hellenic Association of Realtors, the Federation of Greek Real Estate Agents and the European Confederation of Estate Agents (CEI) have the best lists of legal real estate agents so you don't have to worry about being scammed and losing money. However, you should always verify the membership of your real estate agent. Real estate agent fees vary. In general, for property purchases they are usually around 2% of the property price. Both the buyer and the seller pay these fees.
If you prefer to find a place on your own, without the help of agencies, you can start with the country-specific apartment search engines and portals. Some of the most popular ones are Home Greek Home (pretty popular and easy to use), The Blueground, Nestpick, Tospitimou, XE (huge classifieds site in Greece) and Craigslist (the first place I would check after testing out the Greek-specific search engines).
You can often find some hidden gems if you dig through the classifieds and Facebook groups. Both are a good source of deals. Between the Facebooks groups you will find some like:
Whenever possible, analyze the offers and request to see the apartment in a video call when looking for a house through these Facebook groups.
Enjoy your stay!
Cheap Places to Stay in Athens
If you have a limited budget, your best option is to share an apartment. If you are staying for at least a year, find new friends who also need to split the rent or, if you don't know anyone, contact couchsurfing.org hosts to ask if they want to rent a room. You can also check Facebook Groups to look for a room or roommates. For example:
If you're staying for a short time, you can also find a room to rent on Airbnb from 300 USD per month. If you prefer to be in a traveling environment, the most economical hostel in the city center is Zeus Hostel (Sofokleous 27, Monastiraki) from 8 EUR per night. Another option is Safestay Athens (Agias Theklas 10) with prices starting at 10 EUR per night and a nice terrace with panoramic city views.
Exclusive Member Benefits in Athens
Similar Digital Nomad Destinations
Athens Visa
The requirements to enter Greece depend on the country of residence of each individual, the length of stay and the reason for the trip.
As part of the Schengen area, citizens of any other state of the European Union or Switzerland, Norway, Iceland and Liechtenstein can enter Greek territory for stays of no more than 90 days during the same semester only with the national identity document provided when it is valid up to three months after the expected date of departure and has been issued in the last ten years.
On the other hand, citizens of Bulgaria, Croatia, Cyprus, Romania, Ireland and the United Kingdom do not need a visa to enter the Schengen area for tourist purposes, but they do need to present their passport.
In parallel, the Schengen states have reached a series of agreements with certain countries according to which their nationals are exempt from the obligation to present a visa to cross their borders, including those of Greece, when they travel as tourists for no more than 90 days. The countries exempt from the visa requirement to enter the Schengen area are: Albania, Andorra, Antigua and Barbuda, Argentina, Former Yugoslav Republic of Macedonia, Australia, Bahamas, Barbados, Bosnia Herzegovina, Brazil, Brunei Darussalam, Canada, Chile, Colombia, South Korea, Costa Rica, Commonwealth of Dominica, El Salvador, United Arab Emirates, United States, Georgia, Grenada, Guatemala, Honduras, Israel, Japan, Kiribati, Malaysia, Marshall Islands, Mauritius, Mexico, Micronesia, Moldova, Nicaragua, New Zealand, Palau, Panama, Paraguay, Peru, Solomon Islands, Samoa, Saint Kitts and Nevis, San Marino, Saint Vincent and the Grenadines, Saint Lucia, Holy See, Serbia, Seychelles, Singapore, East Timor, Tonga, Trinidad and Tobago, Tuvalu, Ukraine, Uruguay, Vanuatu and Venezuela.
The fact that they do not need a visa does not mean that citizens of those countries should not be able to present certain generic information at a passport control if required. On the other hand, some of these countries, such as Argentina, must request an online permit called ETIAS.
The rest of the residents of third countries are required to obtain a permit known as a Schengen visa for any visit of the same duration. The only exception will be the case of foreigners who are in possession of a valid residence permit or long-term visa issued by a Schengen state.
Visa information is subject to constant changes, so it is advisable to always ask the Greek embassy the requirements you need for entering the country.
Culture and Food in Athens
At first you may be overwhelmed by the number of tourist restaurants in Athens. However, if you scratch below the surface you will soon discover that the Greek capital is very gourmet and that traditional Greek food is much more than moussaka and souvlaki. The city has it all. From cozy and homey taverns to chic and contemporary venues that add a modern twist to old classic recipes.
Spondi (Pirronos 5, Athina), with two Michelin stars, is a reference point for gourmet people from all over Europe. Located near the first venue of the modern Olympics, the Panathinaiko Stadium, it serves a menu that changes according to the seasons. The food is inventive and full of exquisite flavors.
Funky Gourmet (Παραμυθιάς 13 και, Salaminos) is part of Elite Traveler's Top 100 restaurants in the world in 2017 and offers innovative cuisine inspired by Greek tradition. After it was awarded the first Michelin star in 2012, another was added in 2014, elevating its gastronomic reputation. I recommend trying the Greek bottarga tart with white chocolate.
Papadakis Restaurant (Fokilidou 15, Athina) does not have a Michelin star, but it is one of the best places to experience authentic Greek cuisine. Sitting in the foothills of Mount Lucabettus in the upscale area of ​​Kolonaki, it offers views of the impressive Acropolis from its dining terrace. Only the best and freshest seafood available is served, the menu changes every time the sun goes down.
Years after Costas Spiliadis opened the first Estiatorio Milos in Montreal and New York City, in 2004 Estiatorio Milos finally returned to Athens and inaugurated Estiatorio Milos Athens (46 Vasilissis Sofias). Here you will find simplicity, elegance and exquisite organic food. The fish served to diners is caught on line by a group of local fishermen and seasoned with authentic ingredients. The beautiful green terrace offers a wonderful summer oasis from the bustling city. It also has a private dining room. Celebrities who have dined at Milos include Beyoncé, Nicole Kidman, Madonna, and Gwyneth Paltrow.
GB Roof Garden, located on the roof of the Hotel Grand Bretagne, is one of the best gastronomic destinations in the city. Here you can taste the most sophisticated Mediterranean cuisine in the capital in an elegant setting overlooking the city. The restaurant serves dishes such as leg of lamb carre and duo, olive gnocchi with candied Florina peppers and yogurt, and sea bass candied in olive oil.
Athens Nightlife
Athens in the summer nights will not let you sleep because of all the fun you will have. Among the main neighborhoods to enjoy nightlife is Exarchia. It has incredible food and artistic vibes, and an endless variety of bars and restaurants. In Exarchia you can have a beer and enjoy it in the corner of a bar or you can even join the crowd dancing in the nightclubs. Gazi is also popular with lots of bars, clubs, restaurants, fun parties and great music. This stunning neighborhood of Athens will make sure your evening is unforgettable. Kolonaki, the elegant neighborhood of Athens, is popular for its high-end fashion shops, elegant restaurants, and venues for jazz parties and DJs. The luxurious atmosphere and the glamorous people around will make your night authentic. Patsion is home to one of the oldest bars in the city and has more affordable prices. Be sure to visit Au Revoir Bar to get a taste of ancient Athens.
The Clumsies, Located in Praxitelous, was voted one of the best bars in the world. It attracts crowds of all ages and has the most artistic infrastructure. This vintage place offers you a number of cocktails to choose from, many of which are imported.
Baba Au Rum, the first bar in Athens to rank among the best bars in the world, offers premium rums, high-quality beer and exquisite non-alcoholic herbal soft drinks. I recommend their aged rum that comes with a dark chocolate chip and their mai tai.
Six D.O.G.S. It is the home of rock music by different DJs and concerts by internationally renowned musicians. Cool but unpretentious, with a DIY aesthetic, you'll instantly feel part of the Athenian night scene here.
Retro-themed Tiki bar serves drinks in different shapes and is based on the ancient Greek theme. They also have a separate venue for their music concerts where they support new artists.
Heteroclito is an intimate wine bar run by an excellent team of Gallo-Greek sommeliers. The long list of exciting and affordable wines from small producers changes every month, with two specials for 2,50 EUR a glass. Recently, they began experimenting with appetizers and spritzers, made with sweet or sparkling Greek wines, paired with regional cheeses, olives, and mushroom chutney.
At Retiré you'll find potted olive trees, candles, and low seating on the Ergon House rooftop garden. The bartenders make amazing cocktails. Here you can enjoy a Greek salad flavored Bloody Mary or a Greek Negroni with black olives with views of the Acropolis.
Couleur Locale, located on a terrace on the third floor, allows you to be face to face with the Parthenon. For a softer and more cheerful atmosphere, head to the second-floor bar, where you can relax in the retro vinyl chairs with typically Athenian views of the scruffy rear of the surrounding buildings.
Russian Disco Meteorit is located in a basement near Syntagma Square. He is a legend in the Athens underground club scene. This was where the Russian crowd in Athens used to gather to remember the homeland at movie screenings and shots of vodka. It was later discovered by DJ duo Amateurboyz and became a nighttime sanctuary. It is only open on special occasions so it is advisable to be attentive since its parties are not to be missed.
In Cinderella the magic does not stop at midnight. This popular underground nightclub in Kolonaki features an illuminated dance floor awaiting your best disco moves. There is no mobile phone reception so you can fully enjoy yourself.
Rebound is the oldest gothic club in the city (it opened in 1968 in Platia Amerikis). Get ready to join in on the punk and darkwave chants under the red and blue lights. Here you can drink beer or dance. The club opens only on Saturdays between 1 and 7 am.
If you still want to know more places, you can explore the nightlife of Athens that will not disappoint you in terms of its variety and quantity.
Things to do in Athens
Acropolis of Athens

One of the first recommended visits in the city is the Acropolis of Athens, the most emblematic site of Athens and declared a World Heritage Site by UNESCO. At the top, is the Parthenon, the most famous monument on the Acropolis. This temple, dedicated to the Goddess Athena and built during the 5th century BC, is entirely made of marble and weighs around 20.000 tons. Here you will also find The Erechtheion (temple dedicated to both Athena and Poseidon), the Temple of Athena Nike, the Theater of Dionysus, the Odeon of Herodes Atticus and a stone theater that is still used for performances during the Festival of Athens. The best way to visit the place is to buy a combined ticket of 30 EUR that is valid for 5 days and includes an entrance to the Acropolis and an access to the other 6 main ancient sites of Athens: the Ancient Agora, Hadrian's Library, the Temple of Zeus, the Roman Agora, the Lyceum of Aristotle, the Kerameikos.

Acropolis Museum

You can also visit the Acropolis Museum to better understand the context and history of the Acropolis before visiting it. It exhibits about 4.000 ancient objects and artifacts found at the site. In addition, from the panoramic terrace on the third floor, you will also have a magnificent view of the Acropolis.

Ancient Agora

Another great place to see in Athens is The Ancient Agora which was the main square of ancient Athens. It was considered as the cultural, political, commercial and social center of the city. Today the site is in ruins, but it is still worth a visit, especially to see the Temple of Hephaestus. Built during the time of Pericles in 449 BC, it is one of the best-preserved Doric temples in Greece. If you liked the Acropolis Museum, then you should go to the National Archaeological Museum of Athens which is world famous for its collection of ancient objects belonging from the Neolithic to the end of Roman times.

Numismatic Museum

Cultural tourism enthusiasts can also visit the Numismatic Museum that exhibits more than 500.000 coins and medals, the Museum of Cycladic Art and its collections of objects from the Cyclades, the Benaki Museum with its 40.000 works of art from Antiquity to the beginning. of the 20th century, the National Gallery, with its works of art and sculptures from the post-Byzantine period, the Museum of Greek Folk Art, the Byzantine and Christian Museum, the National Museum of Contemporary Art, the War Museum and the National Museum of Story.

National Garden

The National Garden and Zappeion Park make up the largest public park in Athens. It is an ideal place to rest from tourists and breathe fresher air. The park is located between the Panathenaic Stadium and Syntagma Square.

Syntagma Square

Syntagma Square is the central square of Athens and the main meeting point of the city for demonstrations and sporting events. The House of Parliament has been located here since 1935, in a former royal palace built by the first king of Greece. There you can see the ceremony of changing the Presidential Guard with the famous traditional uniforms of the Evzones.

Panathenaic Stadium

The Panathenaic Stadium, or Kallimarmaro, was built in the 4th century BC to host the Panathenaic Games, a sporting event held each year to honor the Goddess Athena. There, athletes competed in track and field, wrestling, and chariot racing. The stadium had a capacity for more than 70.000 spectators, and gladiatorial fights were also organized here. It was originally made of wood but was completely rebuilt in white marble. After the fall of the Roman Empire, the stadium was abandoned and the stones were reused elsewhere. Much later, during the 19th century, the stadium was rebuilt to host the first Modern Olympic Games. Today, it is no longer used for competitions, as its dimensions do not meet the required standards. You can visit the inside of the stadium for 5 EUR. The ticket includes an audio guide and access to the track.

Shopping

If you want to go shopping in Athens, head to the paetonal Ermou street that runs from Syntagma Square to the Monastiraki district. Here you will find most of the international brands, as well as many bars and restaurants. On the same day you can tour the Monastiraki district. Monastiraki Square, with its Byzantine church, is the heart of this cosmopolitan neighborhood with narrow streets and shops of all kinds. Every Sunday the famous Monastiraki flea market is held in Avissinya Square with antiques and second-hand dealers. The atmosphere is a bit like that of the souks of Arab countries. Next to Monastiraki is the Plaka district, which is the oldest neighborhood in the city. Although it is a very touristy area, Plaka has a picturesque charm with its Byzantine buildings and neoclassical houses.

Roman Agora

The Roman Agora, in the Platka neighborhood, is another point of interest to visit in Athens. It was built between 19 and 11 BC. The most outstanding elements of the Agora are the Gate of Athena Archegetis with its 4 well-preserved columns, the Fethiye Mosque and the Tower of the Winds built in marble by Andronicus of Círrhus to be used as a compass, clock and weather vane.

Mount Lycabettus

For the best panoramic views of the acropolis, climb Mount Lycabettus. At 278 meters high, at the top it has a charming Orthodox Chapel of St. George.

Philopappos Hill

Philopappos Hill, also known as the Hill of the Muses, is another of the viewpoints to see Athens, the Acropolis, the port of Piraeus and the Attic Peninsula. There you can also admire a mausoleum dedicated to the Roman senator Philopappos, considered one of the benefactors of Athens. Here you can also visit the church of Agios Dimitrios Lumbardiaris, the Socrates prison and the remains of the Sanctuary of the Muses.
Best Time to Visit Athens
Greece is located in the eastern Mediterranean and due to its location, it has a classic Mediterranean climate. Athens is one of the European capitals with the sunniest days per year, with an average of 179 days without clouds and 157 days in which the sun is partially covered for a maximum of half an hour.
Average temperatures in Athens range from 9 °C during January to 34 °C during July. In winter, the precipitations are little and the temperatures moderate. The hottest months of the year are July and August, when the average monthly temperature reaches 34 °C. The coldest months are March, December, January and February with low temperatures of 7 °C. Sea water is warmer during July, September and August, with an average temperature of 25 °C.
In Athens the rainiest months of the year are November and December, during which the average monthly rainfall reaches up to 98 mm.
Athens for Families
Living in Greece with your children can be a wonderful experience that will leave amazing memories for your whole family. With beaches and outdoor adventures always available, it's easy to keep young children active. Also, Greeks are kind to children and children are generally happily accepted in restaurants and public places. In their culture, everyone educates children so it can happen that a stranger talks to your child and even slightly reprimands him in certain situations.
Most neighborhoods have a public plaza or park where children, supervised by parents, grandparents or babysitters, gather to play in the afternoon. It is not unusual to see children playing until 9 pm, so you may have to adjust your bedtime routines.
For school-age children, the most pressing concern for parents will be finding a suitable school. Athens has numerous private schools in different languages. For example, American College of Greece, Campion School, St. Catherine's British School, Byron College: The British International School, International School of Athens, Costeas Geitonas CGS School, Doukas School and St. Lawrence College, among others English-speaking. The Lycée Franco-Hellénique Eugène Delacroix is ​​French-speaking and the Deutsche Schule Athen, German. If you need a babysitter you can find a reliable one at nannuka.com or ask in the Facebook group: Foreigners living in Greece.
Living in Athens
Athens Transportation
Athens has an efficient and reliable public transport system with buses, trolleybuses, metro, tram and suburban trains in which all the necessary transfers can be made with a ticket.
A standard single ticket will cost you 1,40 EUR for a journey of up to 90 minutes. You can buy a daily pass for unlimited travel with all services for 4,50 EUR, a 5-day pass for 9 EUR, a monthly pass from 15 EUR or a 3-day tourist pass (includes roundtrip to the airport) for 22 EUR. People over 65, those under 18 and European university students under 25 can purchase the 90-minute ticket for 0,60 EUR.
The modern and fast Athens metro network has three lines that run through much of the city and operate every day between 5.30 am and midnight. Due to the dense traffic on the streets, this option may be the fastest and most recommended. With a total of 51 stations, the lines are divided into green, red and blue. On the three lines, the frequency varies between 4 and 8 minutes at peak times, 10 minutes in the evening and at night and 15 minutes on weekends.
The bus service in Athens has a frequency of 15 minutes, between 5:30 am and midnight. During the weekend the frequency is 20 minutes. It is very important to validate your ticket on the same bus, as failure to do so may result in a fine of up to 80 EUR. The bus service in Athens runs throughout the city and also to nearby towns.
The trolley or trolleybus is an ideal service to reach those places where the Athens metro does not. In many cases the units have exclusive lanes so they can be a fast and comfortable means of transport. There are 25 lines that run through the city. In general, the service is offered between 6 am and midnight and has an approximate frequency of between 10 and 20 minutes, depending on the day and time.
Despite being a bit slow, the Athens tram is one of the most practical and beautiful means of reaching the Piraeus area and touring the Saronic Gulf coast. It has a total of 48 stations and 3 lines that connect the city center with the coastal neighborhoods. It runs every day between 5:30 am and 12 am, and during the summer months on Fridays and Saturdays it runs all night.
For tourists who want to know the most emblematic places of the city, there is the possibility of taking Line 400. This tourist bus, whose stop is at the Archaeological Museum of Athens (Avenida Patision number 44), allows you to visit 20 places of interest. The service is offered every 30 or 60 minutes depending on the time of year: in summer there are buses from 7:30 am to 9:00 pm, while in winter from 10:00 am to 4:00 pm. It takes 90 minutes and offers stops at the Archaeological Museum of Athens, Omonia, Psyrri, Kerameikos, Thiseio, Monastiraki, Athens Market, Klafthmonos Square, Syntagma Square, Benaki Museum, National Gallery, Ambelokipoi, Kalimarmaron Stadium, Plaka, Acropolis, Temple of Olympian Zeus, Parliament and University. The ticket price is 5 EUR and can only be purchased on the bus.
If you prefer to drive but don't have your own car, the taxi service in Athens is one of the cheapest in all of Europe. The meter must be available so that the passenger can observe the expenses of their trip. One of the peculiarities of taxis in Athens is that they make stops even if they are traveling with passengers. The fare of the flag has a price of 1,19 EUR, the price per kilometer is 0,69 EUR and the minimum fare is 3,16 EUR.
Fitness and Health
In Athens, the most elegant, luxurious and equipped places to take care of your body are generally found within the most exclusive hotels in the city. Alternatively, there are also independent gyms and spas. Holmes Place Athens, located in Syntagma Square, has facilities including the latest equipment with music, TV, cardio and Wi-Fi, a 25m / 82ft pool with Jacuzzi, sauna and separate Turkish bath for men and women, free weights and a BoxFit area, a sportswear boutique, a cafeteria for smoothies and healthy meals, studios for scheduled classes, hairdresser and a spa next door. You can also book and plan your personal training session with certified professionals.
Street Workout Athens, the first outdoor gym in the city, offers outdoor facilities and training tools, such as a weight lifting machine with handles, push-up bars, dip stations, TRX, medicine balls, BOSU and heavy ropes. It allows you to opt for personal training or combine the guided run with sightseeing tours of Athens. A single 55-minute training session costs 15 EUR and the 1-hour guided run costs 35 EUR. 
Hot Yoga Niko Geo  brought Hot Yoga to Greece and they also feature Hot TRX and Pilates as well as non-hot yoga workout styles. It has a large team of certified specialists, including its owner Niko Geo, who is a yoga teacher and founder of the Yoga Alliance accredited Agni yoga school. The cost of a walk-in session starts at 16 EUR.
Grande Bretagne Hotel, the most iconic hotel in Athens, houses the luxurious GB Spa and a gym with a wide range of LifeFitness® cardio and resistance equipment, including treadmills, bikes and elliptical machines with an attached flat-screen TV.
At the Athens Hilton Hotel you can enjoy the magic of the Hiltonia Spa which includes an indoor heated swimming pool, a fully equipped gym, sauna, steam room and Jacuzzi. Certified instructors teach a variety of group classes including yoga, aerobics, water aerobics, dance and Pilates.
At Divani Apollon Palace & Thalasso you will find the only thalassotherapy center in Athens and one of the largest spas in Europe. This luxury hotel features a huge gym equipped with Technogym machines, other training tools and trained staff. 
Athens People
There are many clichés and stereotypes about the Greeks and we tend to generalize about them when in reality their inhabitants in each area have a different personality. However, there are some generalities that do apply to a large part of the population. For example, the claim that Greeks know how to lead a relaxed life. The carefree mentality seems to be inherent in Greek nature, including the Athenians. You will never feel the feeling that someone is stressed or in a hurry as is often the case in almost every capital city in the world. The factors that Greeks value the most are those that bring pleasure and enrich life both physically and spiritually: good food, family time and respect for traditions. On the one hand it is great because it achieves a balance with work life and on the other it makes the procedures slow and you have to be patient.
Furthermore, Greeks frequently express their opinion loud and strong. They are warm and very expressive people who are generally not afraid to say what they think and feel. The good thing about this is that it is not difficult to know what they think of you and they solve problems face to face.
Greek parents, as in many other countries, have a reputation for being very protective of their children and therefore tend to leave the family home quite late. In fact, when a Greek definitely leaves the family home, it is usually to get married and start a family.
Greece is one of the countries in Europe where people smoke the most. Many Greeks started smoking when they were 15 years old. In addition, a large number of Greeks do not respect the laws against tobacco.
Regarding food there are two things that you will see everywhere, pecorino cheese and coffees. The Greeks use pecorino cheese for all meals, from breakfast to dinner. On the other hand, the love of the Greek people for coffee is undeniable. At least once a day they drink this drink with friends or family, either at home or in the many cafes in the city. Don't be surprised if you stroll through crowded cafes during business hours.
Greece is known as a friendly country. In general, they help tourists when they are lost, they love to strike up conversation even with strangers and regardless of differences in age and origin. Greeks are delighted to introduce visitors to their country, and do not hesitate to open their doors to foreigners.
Athens Insurance and Medical Care
Greece has a public and a private healthcare system. The country's health standards are quite strong, despite the financial crisis it has been through.
The Greek health system is called ESY and it provides free healthcare to all citizens and residents of Greece. Also, you are eligible for this health system even if you are an expatriate, EU citizen, or unemployed.
EU citizens can use their European Health Insurance Card (TSE) to access state healthcare during a short visit. UK citizens can use their Global Health Insurance Card (GHIC).
Expatriates working in Greece make mandatory contributions to the public healthcare system, as do their employers. These contributions give expats access to the public system. As long as you are employed in a legitimate business, you won't have to worry about medical care.
Depending on income and the number of children to support, certain citizens can receive free health care. The fee for private doctors usually varies depending on their specialty, but most will charge a fee of between 50 and 100 EUR per visit.
Public hospitals in Greece are generally adequate and house professionals who do their best to provide quality care. However, bureaucracy, corruption and lack of funding significantly reduce the quality of care. There are also long waiting periods.
Private health services are popular with those who can afford them as they have a much better quality of care. Medical facilities often have newer and better equipment. Also, doctors and nurses in private hospitals are more likely to speak English well.
Make sure you are fully covered by reading our full Digital Nomad Travel Insurance guide.
Jobs in Athens
To be able to work in Athens, as a citizen of the European Union you will only need your identification or passport to be able to obtain the necessary documents. After three months of residing in Greece, you must request the Registration Certificate from the Aliens Department, regardless of whether your employer has requested it. It is a free document that you can obtain at your local police station. If you are from a country outside the EU, you must have a working visa, a passport, and a validated criminal background check from your home country. You should prepare to be patient and persistent when dealing with the local bureaucracy. Obtaining legal documents is quite a tedious process and not all the authorities will speak English.
In Athens, companies are looking for qualified and experienced professionals so, with the right qualifications and the work environment, you will have no problems finding a job.
The demand for speakers of English and other languages ​​in Athens is growing steadily, making the city a great destination for international job seekers. Proficiency in the English language is essential and any other language you speak is an advantage. The customer service industry, technical support advocates and customer service specialists, offers a wide range of opportunities for speakers of different languages.
The services, information technology and finance sectors are constantly growing in the Greek capital. Opportunities are also available from international companies seeking qualified individuals to take on roles in their Sales and Account Management, Digital and Content Marketing, or Business Development departments.
Check out our Digital Nomads Jobs Postings to find the best jobs available for Digital Nomads.
Nomad Friendly
Value for Money
Internet
Workspace
English
Food
Safety
Health
Transportation
Friendly
Quality of Living
Cost of Living Athens
Compared to other European capitals, Athens is considered one of the most affordable. A studio in the city center can cost at least 450 EUR per month while a 3 bedroom apartment around 700 EUR. For furnished and new apartments, the prices are higher. However, on the outskirts of Athens, prices drop a bit, varying by neighborhood.
The utility bills (electricity, gas, heat, water) for a studio will be around 150 EUR and 33 EUR for high speed internet.
Fortunately, if you choose to cook at home, your grocery bills are much cheaper, a great opportunity to start following new Greek recipes in your own kitchen. Supermarkets like ALDI and LIDL are good options for your weekly purchases. However, eating in a cheap restaurant is not expensive and it can cost around 10 EUR. But a three-course meal for 2 people in a mid-range restaurant will cost around 40 EUR.
Regarding the public transport, a standard single ticket will cost you 1,40 EUR for a journey of up to 90 minutes. You can buy a daily pass for unlimited travel with all services for 4,50 EUR, a 5-day pass for 9 EUR, a monthly pass from 15 EUR or a 3-day tourist pass (includes roundtrip to the airport) for 22 EUR. People over 65, those under 18 and European university students under 25 can purchase the 90-minute ticket for 0,60 EUR.