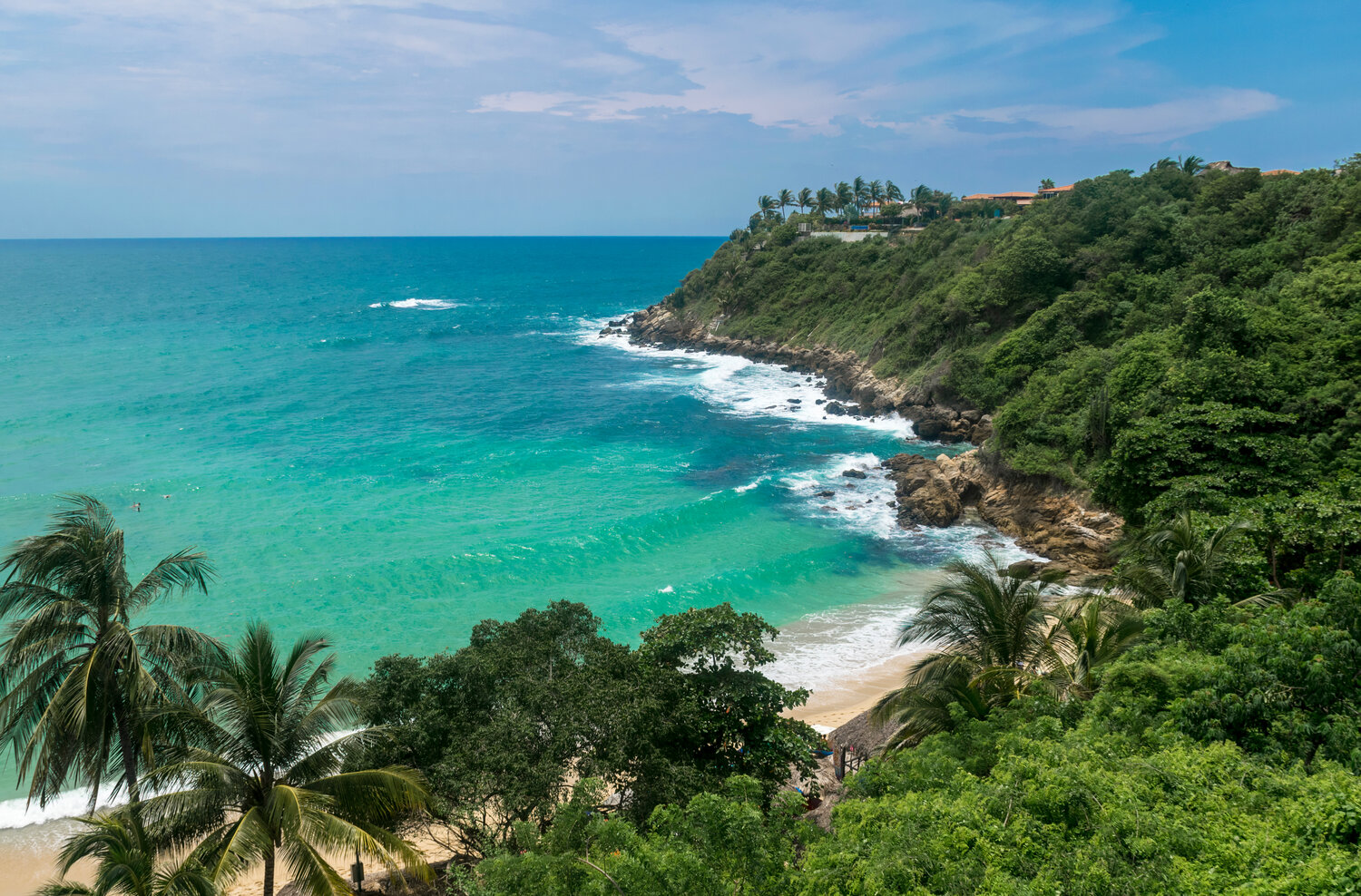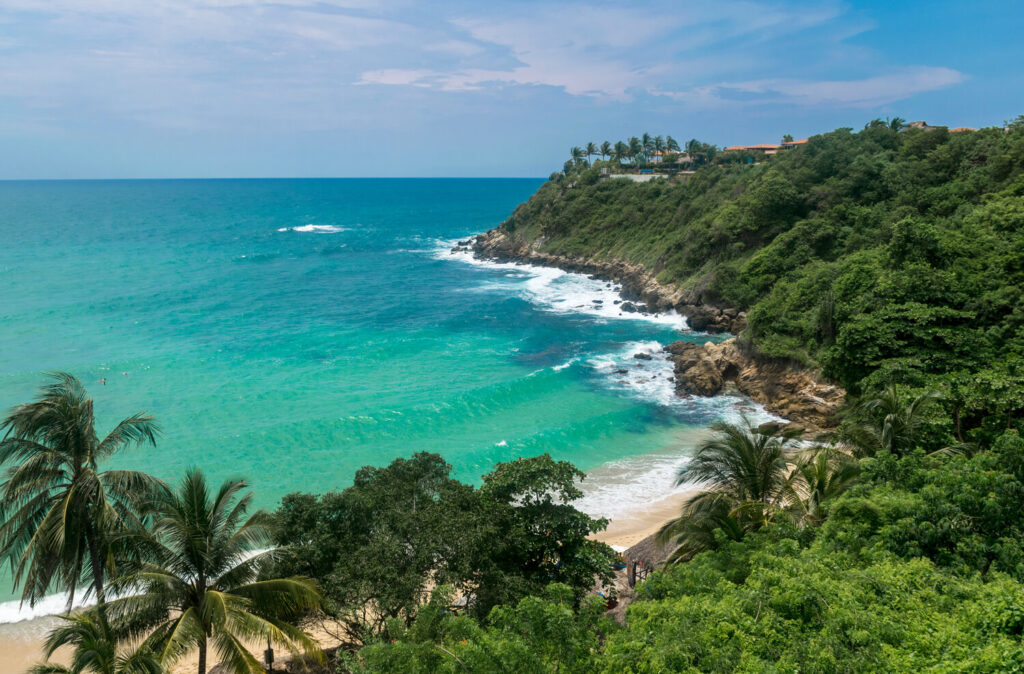 A Digital Nomad Guide to Puerto Escondido
What was once a hidden surfers paradise has since evolved into a party central of sorts on the traveler scene. Puerto Escondido is a unique combination of attractions, with a little something for everyone if you know where to look. 
It's a small harbor set in the culturally coveted state of Oaxaca – a scenic tourist town that sits right on the Southwestern coast of Mexico, often called the Emerald Coast. When translated into English the name of this charming metropolis means "hidden port." Historically, the beautiful bay was occasionally used to ship coffee and didn't even develop a  permanent population until the 1930s. 
While its popularity among a certain crowd has increased in recent years, it's still a far cry from some of the classic vacation hotspots like Tulum and Cancun. It caters to a more eclectic foreign clientele, meaning mostly backpackers, surfers, and of course, digital nomads. It has a laid-back, live and let live vibe that appeals to the younger traveler. Its rustic and authentic atmosphere makes for a special kind of beach paradise. 
Natural wonders abound here, with eight spectacular waterfronts to explore. These sandy shores are renowned among surfers, scuba divers, fishermen, and the ever-present beach bums. Rather than giant resorts, you'll find smaller locally owned establishments along the beach fronts, including rows of cafes, bars, and hotels ranging from fancy to no-frills. 
It's an ideal destination for soaking up the sun and the sea, all while kicking back with a cold boozy beverage and letting loose in some seriously idyllic surroundings. It's a perfect paradise if you're looking for the best of both worlds, the serene beauty of the Mexican coast paired with plenty to see and do in a charming, bustling town. Don't be fooled with its off-the-beaten-path location, it's always a happening hotspot for those looking for a good time.
Nomad Friendly
Value for Money
Internet
Workspace
English
Food
Safety
Health
Transportation
Friendly
Quality of Living
Living in Puerto Escondido Overview
| | |
| --- | --- |
|  Meal, Inexpensive Restaurant | $5.72 |
| Domestic Beer (1 pint draught) | $1.43 |
| Cappuccino (regular) | $2.27 |
| Loaf of Fresh White Bread (1 lb) | $1.30 |
| Water (1.5 liter bottle) | $0.43 |
| One-way Ticket (Local Transport) | $0.29 |
| Basic Utilities (Monthly) | $ –  |
| Internet | $16.67 |
| Fitness Club (Monthly) | $ –  |
| Apartment (1 bedroom) in City Centre | $291.78 |
Currency: Indonesian rupiah (Rp)
[erw_exchange_rates_widget lg="en" tz="0″ fm="IDR" to="EUR,USD,GBP,AUD,JPY,RUB" st="primary" cd="" am="15000″][/erw_exchange_rates_widget]
ATMs
Max Withdrawal: Rp 3,000,000
Withdrawal Fee: Rp 30,000 – Rp 50,000
Use of Credit Cards: Mostly Cash
Digital Nomad Personal Experience in Puerto Escondido
My personal experience in Puerto Escondido pertains to a three-month stint living and working as a digital nomad there. I was drawn to the idea of getting away from it all while making my way through the country of Mexico. PE is accessible only by domestic flights or a six-hour road trip from the vibrant Oaxaca City. It's easy to succumb to the bar fly scene in Puerto Escondido, but it's honestly such a spread-out town that there are plenty of more mellow spots to discover as well.
It seems that it became a big name for the surfer crowd ages ago due to the aptly named Mexican Pipeline, referring to the power and shape of the swell at renowned Zicatela Beach. Though I'm not one to hang ten myself, it's fun to watch the often professional-level surfers here, and they tend to bring a healthy and chilled out energy to the area. I am, however, super into the hip strips of streets to stroll down, as I love working in cute cafes and shopping in sustainable-focused spaces. 
Also, I'm an avid nature lover, and there's such a selection of beaches and to hit and wilderness to explore here for any mood. It's great to have different choices of coastline depending on what you're looking for. Though the sandy shores are rarely the spot to go for some seclusion, it's super easy to pop right outside of town and see some other stunning sights, such as Lagunas and Aguas Calientes. 
There's such an array of amenities, it was so easy to find anything I needed here, from eclectic eats to fun fashion finds to stunning surroundings to get some work done in. I love how rustic it feels without being remote. It's a great adventure that really feels authentic without sacrificing nightlife or decent Wi-Fi. I found that there's plenty of personality to go around in the gorgeous Pacific gem of Puerto Escondido.
Work in Puerto Escondido
Best Places to Work in Puerto Escondido
Selina
Selina is a cozy coworking space that offers maybe the most reliable Wi-Fi in town. It boasts the highest bandwidth and speed, at 20 Mbps. It is located just steps from Playa Zicatela. There are several different memberships available based on your needs. There are daily and weekly hotdesks for a super affordable fee, as well as private meeting rooms for more official business. 
If you prefer to stay where you work there are also many styles of long-term stays, either shared or private rooms, available that make it easy to be a digital nomad in Puerto. The atmosphere is modern, minimal, and comfortable. With the added bonuses of free coffee and tea, breathtaking views, and tasty plates to order, this is likely the best bet for working remotely here. 
La Julia
La Julia is an adorable little cafe that I love to frequent to get a bit of work done in Puerto Escondido. It's often not too crowded so it feels like a peaceful respite from some of the busy streets around. It has a gallery space and small market, as well, plus there are shelves of books to browse and buy and even a small pool out back for a quick dip. 
Grab a sweet slice of cake and a cup of perfectly roasted joe and soak up the cute and cozy ambiance at La Julia. It's easy to spend the day here and feel relaxed and productive at the same time. 
Cafe Nopal
Cafe Nopal is another highly recommended hidden gem for the digital nomads of Puerto Escondido. It offers plenty of freshly-baked pastries, vegetarian meals, and healthy beverages to enjoy while taking advantage of some reliable Wi-Fi in an intimate yet hip setting. Though set in the city, the rooftop terrace has some lovely views and a fresh breeze. 
Cafe Losodeli
Cafe Losodeli definitely caters to the digital nomad crowd. I also find it to be a better alternative to the often overcrowded Cafecito. They offer a truly tasty breakfast (the smoothies come highly recommended) alongside superior Wi-Fi for a great way to start the day off right. Everything is made fresh here, with plenty of vegetarian plates to pick from. 
The WhatsApp number is on the website, so it's easy to message and find out whatever info you need. The coworking space includes free coffee, tea, potable water, as well as access to the pool, garden, palapa, cafe of course, and bathrooms with showers. The surroundings here are lovely, with a cool and eco-friendly feel. They also offer accommodations. 
Sativa
Sativa is the epitome of palapa life. What more could you want from a temporary office than to be right on the beach? One pro tip I've learned the hard way is that it's best not to sit right in front of the ocean everyday with your laptop, as the salty breeze can get inside and erode away parts over time. Nonetheless, it's one of my favorite ways to work, especially with the golden sands and clear blue waters of Puerto as a backdrop. 
The lofted terrace space is so comfortable, with a picturesque panorama from the top and some cozy pillow-on-sand options underneath. I always like to treat myself to a drink during sunset at the end of the day when I work at Sativa. The menu here is affordable but it does have a more upscale feel to it, so be prepared to order a few things if spending multiple hours in the space. They host events as well, so I like to go on the weekdays to avoid any potential festive fray. 
Cafe Azul
Cafe Azul is more of a local spot, and I love its low-key vibe for spending an afternoon on my laptop. They serve up a wide variety of authentic local cuisine. I've found that every dish is fresh and delicious here. I usually go for lunch and a coffee and spend a few hours working, but the breakfast and dinner options here are tasty too. 
It's a bit off the beaten path and more down to earth than some of the trendier cafes that are more geared towards tourists. The space is covered but outdoors and surrounded by plants. It's a quiet place, perfect for getting some stuff done, but be aware that it can get crowded on the weekends around brunch time.
Best Places to Live in Puerto Escondido
Best Neighbourhoods
Rinconada
Rinconada is a quiet and charming residential neighborhood that offers the ideal environment for living in Puerto Escondido. It translates to "corner" in English, which is exactly how I like to think of it, my own cozy little corner of town that feels super safe. 
It is easy to arrive at several of the beaches from here, including Playa Coral, Playa Carrizalillo, and Playa Angelito. These coves can be crowded, but with strikingly calm waters they make for some of the best swimming spots around. It has a lot of relaxed shopping to offer, with a main boulevard that's lined with stores and restaurants on one side. 
La Punta
La Punta lies at the far end of Zicatela and has a bohemian vibe that is super appealing. It's seemingly overtaken with a wellness crowd that roams the pleasant sandy streets while really embodying the phrase no shirt, no shoes, no problem. The sunsets here are enough to convince anyone to commit to a lease.
At the crook of La Punta itself lies a perfect place to practice riding some waves. It's definitely recommended for surfers more than swimmers, but the ambiance can be enjoyed by anyone. It comes alive at night, as there are quite a few popular bars here to really let loose. It feels like its own little rustic village hidden away from the rest of the spread-out city. 
Adoquin
Adoquin is known as the tourist center of the city. A large statue of Benito Juarez marks its beginning, so it's pretty hard to miss. You're likely to find throngs of people here, wandering down the main drag lined with all kinds of storefronts, such as bars, hotels, cafes, restaurants, surf and handicraft shops, nightclubs, and tour operators. 
The name of the street is technically called Perez Gasca, and it was actually the first paved road in town. It's certainly the commercial hotspot and has an array of beachfront dining options as well. 
Mazunte
Mazunte is a bit farther out from the main drags of town, but well worth a consideration. It's considerably smaller and way less developed, and an out of the way oasis if you're seeking some seclusion and tranquility. It's easy enough to get a bus up the coast for quick trips into the city if you wish. Also renting or buying a vehicle always offers a nice degree of freedom for exploring Oaxaca. 
It's often referenced as a hippie hub, with a pension for attracting the alternative types. The beach is really the focal point of town here, with clear turquoise waters that stay gentle for easy swimming. 
Zipolite
Zipolite is a popular stretch of sandy coast that many visitors and locals alike tend to frequent. It can attract an older crowd than some other areas and is a spot that always has a party join. 
You may have heard of its reputation as a nudist paradise for free-spirited souls. However, while it does maintain the technical title of being the only clothing optional shore in Mexico, these sections are relegated to the far ends of the playa. It's better for surfers than it is for swimmers. 
The town is easy to navigate with a small array of gridded streets filled with brightly colored shops and restaurants that all feel fairly relaxed.
Find an Apartment in Puerto Escondido
It's actually easier than you may think to find an apartment in Puerto Escondido! As many travelers find themselves extending stays here all the time (and who can blame them) there are certainly enough spots that are set up for long-term rentals to go around. There's everything from rustic casitas that inspire simple living to fancy flats that feel like a dream getaway. 
Booking.com has a variety of options, and you can filter the selections based on your preferred amenities, but be sure to search apartments specifically. Always do a deep dive on the reviews here before committing to a place. 
I like to make sure there's free Wi-Fi, free drinkable water, because who wants to buy bottled all the time. Also a pool, this is easy to come by as almost every accommodation has one, so it feels like a silly luxury to skip. Plus having cute spots to work from when I don't feel like venturing out some days is a real coup of any homestay. 
A lot of real estate websites will list luxury villas and resort hotel spaces, so if that's what you're in the market for, go nuts. Facebook can be a great resource for finding places to live and is often overlooked. If you search for Puerto Escondido groups it's best to join a few and be sure to read the rules before posting or you're likely to be removed. 
People have had a lot of luck with Puerto Housing. Tomzap.com is also a surprisingly well-organized listing site. You'll find a comprehensive range of available abodes here, with all the details you'll need to decide and book something. 
Airbnb is always one of the first places to check and is also likely to give an idea of what to expect for different price ranges. While you may not find a sweet steal from here, it's easy to find something comfortable and mid-range, often with the added bonus of helpful communication from the host. This can really come in handy when arriving somewhere new for the first time. The general price range seems to be between 500 and 1200 USD per month. 
Renting something does appear to be getting more expensive each year here, but it also can be much cheaper during the low season. If you're looking for a super long-term setup, such as six months to a year, often a cheaper price can be negotiated. 
VRBO always seems to have a lot of options as well, though they are priced per night so that can quickly add up for longer stays. Look for a private studio fully furnished, a whole house, or anything in between with several easy-to-use filter options. It helps to always search for something flexible, in case you end up staying longer or leaving early, as we all know can happen with such a lifestyle. 
Regardless of which way you go, remember to check if the prices are in pesos, otherwise, you're in for some serious sticker shock. If you feel like it's a lot to commit to ahead of time, it's such an easy and relaxed option to book a hostel stay for the first two weeks. 
This is enough time to get the lay of the land without wasting much extra cash. Then ask some friendly faces around for recommendations or pop into any stay you see that seems like your vibe. Odds are people will be more than willing to help you get settled somewhere for the long haul.
Cheap Places to Stay in Puerto Escondido
Casa Daikiri is a classic choice for staying cheaply and comfortably in Puerto Escondido. Here there are dormitory rooms, private rooms, and suites. Some even come with their own kitchen. There's a beautiful pool on-site to swim in and some great chill spots complete with hammocks and lounge chairs. 
If you're traveling in a pair it's almost always the same price to rent a private room together as it is to stay in a dorm room, so keep that in mind. It's a great amount of space for the price. They also offer some very good packages to combine your stay with surfing, with coworking, or both. 
Casa Aloe is set in a secluded yet central location. It's only a few minutes walking to La Punta and Playa Zicotela, yet is tucked away on a small cul-de-sac. There are a few different kinds of cabanas available here. You can book a bed in a shared space or enjoy a private abode. Either way the rooms themselves are no-frills, but have everything that's needed and are clean and spacious. 
There is a shared kitchen available, as well as rooms that have their own. Some others boast stunning ocean views, as it's just minutes from the coast. It's certainly one of the more economical options around and even has an idyllic little garden space as well. 
Hotel Paraiso is a larger, but independent, hotel that has surprisingly cheap rooms available for the facilities. It has a classic charming feel to it and offers a large pool, excellent Wi-Fi, and panoramic vistas. It's both a colorful and peaceful place to set up shop. There are regular rooms, suites, and villas to choose from. 
It's easy to book online, or just message the Whatsapp number if there are any questions, such as booking for a long-term stay. The rooms are clean and cute, and most of them even have air conditioning. It's set only a short distance from the main bay of Puerto Escondido.
Puerto Escondido, Mexico Visa
Mexico is, fortunately, a country that has a very simple process for obtaining a tourist visa. For almost every foreign traveler, including from the U.S., the U.K., the Schengen area, Canada, and Japan, a 180-day visa is granted upon arrival. This costs a small fee and does not require any extra documents to be submitted beforehand. Always check to make sure your nationality qualifies for this rule, as there are a few exceptions and regulations can always change. 
Currently, 131 countries require a more involved visa process. This means filling out a simple application, which then takes about two days to process, and costs 44 USD. If you would like to stay longer than the approximate six months granted, it's easy enough to do a border hop. This refers to the process of simply exiting the country and coming back in again to obtain another full visa. As always, make sure your passport is valid for at least six more months after your date of entry. 
Mexico has joined the ranks of countries that are attempting to make it easier for digital nomads to live there. This means you can now apply for a certain type of temporary residency, and luckily Mexico makes it pretty easy. It's good for one year, with a possible extension of up to three years. 
To qualify you need documentation that proves you have earned at least 1,620 USD each month for the last six months or a bank account balance of 27,000 USD. The application for this must be completed and then taken to the nearest Mexican consulate, ideally from your home country. 
Then once the visa is approved and you're in Mexico you will need to apply for the temporary resident card, which costs 230 USD. With this visa, you can enjoy some perks that we nomads don't usually get to, such as opening a bank account here.
Culture and Food in Puerto Escondido
Fresh seafood is a major staple of this Oaxacan coastal town. Most places will have local fish dishes on the menu, and often they're fairly cheap and super delicious. This state is known as the land of seven moles, so be sure to try a drizzle of each one over some authentic Mexican meals while in town. 
Tlayudas are the favorite street food of the area. They're large crispy corn tortillas that almost resemble a Mexican pizza, served open face or folded in half and filled with beans, cheese, lettuce, avocado, and some kind of meat. Everyone has to find their preferred stand, but the one in the alley off of Calle de Moro comes highly recommended. 
Puerto offers an eclectic range of eateries, from modern spots for fancy feasting to more traditional bites in no-frills settings to healthy meat-free twists on classic Mexican dishes. Any type of cuisine you may be craving can generally be found in Puerto. There's a number of Italian joints that do some seriously impressive pizzas, like Benditos, the authentic Middle Eastern gem, El Sultan, and even an Asian fusion spot that's become a staple of the area called Lychee. 
vMercado Benito Juarez is the main market in the heart of the city. Hit it up for cheap and fresh produce when cooking at home or a quick and easy meal. It's a great way to taste all the traditional fares of the area. 
Chill A Kill is new on the foodie scene in Puerto and has become an instant coveted classic. The menu is creative and offers something for every palette and preference. The open-air setting is absolutely stunning. It's reasonably priced for super fresh and detail-oriented dishes. It's a bit off the beaten path in the Rinconada neighborhood. 
Agua Sala is one of the best beachfront restaurants in Puerto, which is saying a lot because you're sure to see so many here. The views are unparalleled, and you can even cozy up under your own personal cabana or palapa to indulge in all their delectable drinks and dishes. It's set right on Zicatela and is always a great call for watching the sunset. The menu is mainly seafood, perfectly prepared, and ideally paired with a craft cocktail or cold cerveza. 
Mar y Wana is a beloved establishment that serves as an all-in-one hangout. There's a variety of food vendors, a bar, and a club. Many flock to hang out here, so the energy is usually high and fun. It's hidden behind la piedra de la iguana in Zicatela. Often there will be live music and a few different spaces to enjoy, from decks with vistas, sand tables under string lights, and even a treehouse. It's on the fancier end of local price ranges, so it's a great place to treat yourself. 
One of the best things to do in any new town in Mexico is to try and find the best taco spot. La Parrilla Mixteca certainly fits the bill in Puerto. This place is the real deal. A sit-down, super lowkey joint, serving up authentic street-style Mexican eats. Everything is super cheap and unbelievably tasty, so be sure to go hungry.
Puerto Escondido Nightlife
The nightlife in Puerto Escondido has become legendary in recent years. An array of beachfront bars host dance parties with live music and overflowing mezcal on the weekends at Zicatela. If there happens to be a full moon while you're in town, head to the beach and you're sure to find a raging party that will go all night long. 
Party season especially peaks around the holidays, or any other national festival celebrations like Semana Santa. There are plenty of spots to enjoy a fun party vibe that's a little less hardcore on some of the other more laidback beaches as well. 
Palapita Bar is the best beach spot for tropical beverages with prime sunset viewing. It's easy to spot along the coast, just look for the giant pineapple in the sky! The cocktails here are so good, especially if you like the popular local liquor mezcal, and they have a great happy hour that usually draws quite a crowd as well. 
Get the pina colada that's served in a pineapple and snap a pic that's sure to get all your followers guessing what paradise you've discovered. The vibe gets extra cute at night, with cushions on the sand, wooden palette tables, and string lights all around. 
Casa Babylon is a lot of things. It's a library, live music venue, and above all an excellent bar to get the feel of Puerto and kick back with a few boozy beverages. Local bands frequent the stage here, for a fun and lively atmosphere later in the night. The bar is a bit of a dive, and their mojitos are especially tasty. 
If you head there earlier in the day it's a nice chill environment to grab a book from the exchange and a beer and relax a bit or play a board game. If you're hoping to let your hair down and dance the night away, this is a great choice. 
Located at the Bahia Principal is the lovely and always surprising Lamar Bar. It's a hidden gem that has live music of many different genres on the weekends and a small dance floor for a bit of boogying. They host salsa nights, jazz bands, DJs, karaoke, and even poetry events. The vistas looking out over the bay are stunning as well. The cocktail offerings are creative and delicious, and they serve a menu of mouthwatering sushi. 
Pez Gallo has got it all. This is the kind of place you want to make the most out of, so it's advised to go for a solid day drinking session, after all when in paradise it's never too early for margaritas, right? They have an impressive menu to pair with the tropical refreshments, and the best part is access to the sparkling pool and private beachfront lounge area. There's also excellent Wi-Fi here, so feel free to try the fun challenge of bringing your laptop and work until you're just a bit too tipsy to focus.
Things to do in Puerto Escondido
Playa Angelito

The beautiful beaches of Puerto Escondido are of course the main draw. Some are better for sunbathing and refreshing dips in the sea than others, so it's best to plan accordingly. Playa Angelito and Carrizalillo are two of the most idyllic secret coves for swimming in PE. Playa Angelito is ideal for nature lovers, and the calm waters are super serene for a little underwater exploring with a snorkel. It's connected by the same bay as Playa Manzanillo.

Playa Carrizalillo

Playa Carrizalillo is sheltered by some surrounding rocky outcrops, and also happens to have some of the best sunsets on the coast. The panorama from the top before descending to the scenic sandy shores is the perfect Puerto photo op. Both lack the strong undertow of some other beaches and there is also an abundance of palapas that offer some shade from the strong sun and refreshing cervezas.

Casa Wabi

Casa Wabi is a unique attraction for art lovers just northeast of Puerto. It's easily one of the coolest cultural sites in the area, and a must for any architecture aficionados as well. It's both an art foundation and an artist residency that promotes creative community engagement combined with international artistic expressions. They offer guided tours twice a week that take you through the awe-inspiring space, including large-scale installations and galleries. It's named after the Japanese concept of Wabi Sabi, the art of appreciating imperfections.

Fiestas de Noviembre

Mexican culture is known for vibrant celebrations and Puerto Escondido is no exception. Fiestas de Noviembre is an entire month full of local traditions and fun festivities. There are fishing and surf competitions, pageants, concerts, dance shows, and food fairs. Most events are held at Playa Zicatela or Playa Principal.

Playa Zicatela

The end of May has become a serious surf season in Puerto. It's when the Surf Open is held in the spectacular swell of Playa Zicatela, testing the skills of some of the most experienced surfers in the world with 15-foot waves. The national week-long holiday, known as Semana Santa, takes place in April and Puerto hosts quite elaborate revelries for it.

Playa Bacocho

Releasing baby turtles into the sea is a popular pastime in Puerto, and it's easy to see why. There's one that happens at the more remote beach just to the northeast end of the city called Playa Bacocho. There's a release most days at 5:00 pm in the proper season, which is October to May. It's such a special experience to hold a tiny little sea turtle and then let it free out into the ocean. There's a small donation fee that helps to support the project and keep the population of turtles on the beaches of Puerto protected and thriving. This center is the most common spot and is a certified conservation effort, but some other spots around town will organize similar releases as well. Surfing is certainly one of the best things you can do while in Puerto. The prime time of year to catch waves here is from April to September. The water is warm year-round, so there's no need for wetsuits. Playa Zicatela boasts such a strong swell that it's best for advanced surfers only, and they travel from all over to try their luck.

Playa Carazilliolo

If you're hoping to learn or improve some skills, there are many surf schools that offer amazing camps and courses, and a few of the beaches, like Playa Carazilliolo, have a better break for beginners. Bring your own board or rent one easily from any surf shops along the beach, or whatever hotel you're staying in.

The Laguna de Manialtepec

The Laguna de Manialtepec and the Laguna de Chacahua are two truly magical destinations set just outside of the city. They are well worth the journey, for a rare and alluring site called bioluminescence. The water is filled with phosphorescent planktons that are activated by movement within the lagoons. It happens a handful of times a year and is only visible at night, so book a tour or take your own wheels for an unmissable experience. Even without the ethereal glow, these havens of native wilderness have so much to offer. You can paddle the sparkling waters and spot some local wildlife species thriving in mangrove habitats here. Set super close to Manialtepec are the Atotonilco Hot Springs, a natural spa of thermal pools deep in the jungle.

Anador Escenico

One of the most stunning things to do in Puerto Escondido is the Anador Escenico. This is a short hike along the seaside that provides picture-perfect panoramas. Stone steps lead to a paved path that meanders over rocky cliff edges while the salty spray of the ocean splashes up on the sides. It's important to go only when conditions are safe, so it's best to check the tides before venturing out as some parts of the walkway are in need of a bit of repair. It starts from Playa Principal, meanders past El Faro lighthouse, and ends at an overlook named Sueno Posible. It's about a mile long in total and easy to navigate. If you're seeking some adventure, this is such a thrilling way to soak up the scenery.

Finca Las Nieves

Finca Las Nieves is an enthralling coffee farm in Oaxaca nearby in the Sierra Madre del Sur cloud forest. It has been producing legendary coffee beans since 1880 and currently puts out some of the most high-quality organic beans in Mexico. It's an impressively sustainable operation, and such a cool way to learn about the local practices used and the very involved process of making coffee as a whole. The farm itself is gorgeous, boasting excellent climate conditions for booming biodiversity. It's a wonderful way to get outside of the city and spend a day embracing the nature and culture of the region.
It's well-advised to really get out on the water while in Puerto. There are so many different ways to do this, and most involve some type of boat tour. Nothing's quite as spectacular as sailing the open seas off this paradisiacal Pacific coast. While tour operators are everywhere here, head right to the source at the marina, just north of Adoquin, to find some of the best deals. 
All kinds of charters can whisk you away to cruise the calm waters and spot an abundance of majestic marine life, including whales, dolphins, stingrays, and sea turtles, depending on the season of course. Some spots are also amazing for snorkeling right off the side of the boat. Fishing is another favorite pastime of the area, and you don't have to be an expert angler to catch some yellowfin tuna or mahi-mahi for dinner.
Best Time to Visit Puerto Escondido
The rainy season starts in late spring, and usually comes with some torrential downpours. This also results in a lot more mosquitos, so be ready to don bug spray daily during this time. The silver lining is that the entire town will empty out for this, creating a very serene surrounding. This also aligns with the hot, and super humid, period of the year, which is from June to October. As another added bonus, prices tend to drop at this time so it can end up being a much cheaper stay. 
October through May is the dry season, where the sun is shining bright from the blue sky every day. Of course, this also means an influx of visitors as well, so it can get quite crowded during this season. The dry season incorporates the cooler months, which can be so pleasant. The weather is still plenty tropical but lacks the humidity of previous months. Occasionally you may even need a light layer come nightfall, especially with the cool sea breeze coming in. 
If you're going for the surf, then, of course, it's important to think about the season. The biggest waves are in the mid to late summer. The annual Surf Open takes place in May, and surfers from all over the globe fill up the town. It's quite a sight to see if you happen to catch it. Late April to early September is generally considered the surf season by those in the know, with June to August being the busiest for barrell seekers.
Puerto Escondido for Families
Puerto Escondido has a solid variety of family-focused resources to offer. There are a few different schools in town, each with its own unique methods for education. El Manatial provides kindergarten, primary, and secondary school classes aiming for a comprehensive and engaging education to its students of all levels. 
Paplotes is a very small, private institution that follows the Waldorf Method, and has preschool and elementary school programs. Colegio Benjamin Bloom is a private institution set in the heart of Bacocho and offers a high level of education to children throughout the city. It comes highly recommended by many international families. 
Colegio Amistad is the middle school in town and offers a bilingual curriculum in English and Spanish. There are many Jardin de Ninos around town or daycares, so it should be easy to search and pick one that fits any family's specific needs. 
There are plenty of fun activities for the whole family to partake in in Puerto Escondido. As far as having some fun in the sun, Playa Angelito and Playa Manzanillo are probably the best bets for spending some quality beach time with the family. The current is practically nonexistent and the waters are calm and shallow. It's super easy to rent some equipment if trying out some water-based activities is of interest, such as paddle boarding, boogie boarding, or snorkeling. 
Playa Carrizalillo is great for any little ones hoping to learn how to surf here. Some hotels in the area are more family-friendly than others. Check out Hotel Villasol in particular. Puerto is generally pretty safe, steering clear of the bar scene in Zicatela or hanging out on the beaches late-night should ensure a family-friendly vibe during most of the recommended things to do here.
Living in Puerto Escondido
Puerto Escondido Transportation
There are a couple of different ways to arrive in the Pacific paradise of Puerto Escondido. There's a very small airport here, where flights can arrive from Oaxaca City, Monterrey, and Mexico City. Check national airlines for the best deals, like Aerotucan, Aeromar, and VivaAerobus. 
From the airport it's super easy to hop on a shuttle, where the price is split between all the passengers and usually ends up costing around 50 pesos or so, or take a private taxi for a few hundred pesos but arrive faster at your chosen abode. 
You can also take a commercial bus from Oaxaca City, which in total takes around six to eight hours. Estrella Blanca and ADO are two comfortable carriers for this journey. The even cheaper choice is to take a van, but this is not for the faint of heart, aka the easily queasy. They do leave about every hour from Galeana and Aldama. Either way, if the bus is your best option, be prepared for rough and windy roads for much of the budget-friendly but arduous journey. 
Once in Puerto, getting around is super easy. Much of the town is walkable, especially if you're sticking to the main areas, basically from Playa Carrizalillo to Playa Zicatela. If venturing further out to some of the other natural wonders of the region, which is always recommended, collectivos are the way to go. They're super cheap, running around 10 to 20 pesos, and easy to catch. A good rule of thumb to remember is that they generally operate from sunup to sundown. 
Renting your own mode of transportation can also be a great option in Puerto. This will offer an extra bit of freedom for exploring the Mexican coast. If you're an especially adventurous type or are planning to use Puerto as a base for a while, definitely consider this. Like a lot of places, it's a good idea to check out motorbikes for sale on Facebook Marketplace. As long as you test drive it and make sure it comes with the proper papers, it can be a wise investment to buy one and then sell it before you leave for a slightly cheaper price. 
Renting a scooter or motorbike is another way to go, especially for shorter stays. Kooks on Wheels is a reliable company with reasonable prices for this. Order wheels via Whatsapp and they'll even deliver it right to your door. 
It's easy to rent a car upon arrival at the airport, and it's also probably the safest and most reasonably priced place to do so. Taxis are also super affordable here, which is great if you're popping over to a nearby part of town to bar hop. Most rides within the city will cost around 50 to 100 pesos. 
Uber is not a thing in this part of the world. If there isn't a meter in the car, be sure to decide on a price with the driver beforehand. There's also a very different type of taxi to take here. Water taxis provide service between all of the sandy enclaves of Puerto, and what a fun way to get around.
Fitness and Health
While Puerto Escondido has garnered a reputation as a party town in its more touristy districts, it's also building a strong base of a health and wellness-minded community. As such, it's easier than ever to take care of your body while living in Puerto, especially if you know where to look. 
La Punta is one of the best places to base yourself if this is at the forefront of your priorities. It's a haven for bohemian backpacker types, and catering to this crowd means the coup of an array of accessible healthy products. There are many cafes focused on creating fresh and organic fares that are good for you. Spirulina serves up fresh snacks and juices, smoothies, acai bowls, and much more. Omnilife and Moringa Fresh and Wild sell a variety of vitamins, supplements, and natural and organic food products.
Vegetarians and vegans should have no problem finding plenty of healthy options to eat here, which can be quite a rarity in Mexico. Check out El Arbol, Taco Dog, Elephant Garden, and Cocofam just to name a few. 
Also, the surfer crowd usually requires a certain level of fitness, as it can be such an intensely physical sport, especially with these waves. Getting out on the water is a great way to exercise. Who needs a gym when you have a beautiful beach at your disposal? Spend some time swimming, surfing, or just jogging along the sandy shores to keep your body healthy. 
There are plenty of yoga classes offered at studio spaces around town, check the schedules for Yoga One Love, Arte y Espíritu, or Casa Corzo upon arrival, or even just ask around. 
Puerto Escondido People
The Oaxacan culture offers a rich and special peek into Mexican heritage. The name of this town originally refers to a local legend about a young Mixtec woman who was captured by pirates and then escaped at this very bay. Hence why it was referred to as Bahia de Escondida, bay of the hidden woman. 
More than half of the population is of indigenous origin, speaking over 15 different dialects. Today it's a tropical oasis populated by locals, tourists, and an increasing number of digital nomads. It's known for out-of-this-world waves, sweeping vistas, a buzzing party scene, and all in all a sweet slice of the simple life. 
In the 1960s a major highway was built to connect some coastal towns of Oaxaca with Acapulco. This is when tourists, and many surfers, began to discover and flock to these scenic shores. As such, it's the oldest tourist attraction in the region. With the eventual addition of potable water in the next decade, a very small population of permanent residents began to form. 
Many of the expats here are from the United States and Canada. It's a combination of those who enjoy lounging on the beach or some type of outdoor adventure such as fishing or surfing. It's commonly known as the birthplace of mezcal, and what a delicious moniker to adapt. It's also one of the poorest states in Mexico. 
Today many Mexican families travel from elsewhere in the country for a gorgeous getaway on this 60 miles stretch of captivating coastline. The general population is around 45,000 and is made up of mostly local fishermen, farmers, and those working in the tourism industry. Luckily, it has yet to reach the point of overdevelopment, and is dominated by locally owned and run businesses. 
There has been a long-standing dispute between the two separate municipalities that govern the city, San Pedro Mixtepec and Santa Maria Colotepec. It has managed to stay a bit wild and rough around the edges while trading its more rugged edges for a bit of comfort. 
As with traveling to any new country, it's important to treat the local people and their culture with respect. Learn some words in Spanish, if you don't speak some already, in an effort to be considerate. English is spoken here quite commonly, so it should be fairly simple to get around. 
Though it's considered a safe city with a kind community, it's always a good idea to take precautions as a foreigner in a new place. Don't carry valuables on you when adventuring around town and don't swim anywhere with a strong current if you aren't certain it's safe. 
Puerto Escondido is an ideal home base for anyone looking to enjoy a lifestyle that's a bit off the beaten path. It's surrounded with enchanting nature that infuses the energy with a bohemian flair. There's sea, surf, sun, sand, and while that's often the main draw, it's just the beginning. 
The city is surrounded by natural wonders to explore, towering mountains, hot springs, sparkling lakes, wild jungles, and more. It's set in the most biodiverse state in one of the most biodiverse countries in the world. It's an authentic experience in an alluring oasis that offers everything you need. It's no wonder why many who come decide to stay. Maybe keep that departure date flexible when venturing down to Puerto Escondido. 
Puerto Escondido Insurance and Medical Care
There are a few hospitals, along with several clinics, laboratories, and specialists available in Puerto. If you need dentists or ophthalmologists, it's easy enough to find someone good here. Appointments can generally be set up by phone or online. La Clinica Hospital Olvera Medical comes highly recommended by many expats in the community here. General practitioners, such as Dr. Omar Lopez Perez and Dr. Fransciso Serrano, are popular and also speak fluent English, which can be a convenient plus. 
The Angel del Mar Medical Clinic is the private hospital of the area. This is good for specialized procedures or emergencies, though it is small. This is more expensive than the public option, but still fairly reasonable compared to health care costs in the U.S. The public hospital is Hospital General del Puerto Escondido, which is larger and offers a wider range of services. 
Oaxaca City has more advanced options as far as medical care goes, so depending on the circumstance it may be advisable to set up an appointment there instead. As in all of Mexico, stopping by a pharmacy can be an easy fix to many problems. Physicians working here can recommend a medicine based on symptoms, most are over the counter and can give injections, clean wounds, advise on treatments, and conduct cheap and easy exams.  
It's often advised to purchase an international health insurance plan before arriving. Depending on the country you are from, there's quite a wide range of plans to pick from. On the lower end with a small amount of coverage, you can pay less than 100 USD for six months. On the higher end, with extensive coverage, it can cost over 1,000 USD. The best bet is generally to fall somewhere in between and pick a provider that has a few good reviews.
Make sure you are fully covered by reading our full Digital Nomad Travel Insurance guide.
Jobs in Puerto Escondido
A great way to look for jobs in Puerto Escondido is to look into volunteering in exchange for room and board. This is actually quite a common setup here. Sites like Worldpackers and Workaway charge a small fee to join and have an abundance of working opportunities in this vein. Just find a project that looks interesting and message the host. Some are for painting murals, some for bartending, and some for language exchange or even social media. 
Some hostels here have a rotating program like this, and you can just email them directly asking if there are any openings. Casa Losodeli is well known as one that many remote workers have enjoyed. Working as a Digital Nomad in Mexico, it really helps to be fluent in Spanish, or close to it. It can be difficult to find work as a non-national, so it's best to come with an online job and set up to work remotely from here. 
If you have a skill to share, it may be possible to get some classes going for cash. If you're a proficient surfer then even better, odds are you'll be able to teach. Join a company that's already up and running or self advertise and freelance some classes all on your own. Utilize the community here and ask around to see if anyone is in need of help. Ask local cafes and hostels if you can post some flyers offering skills like music lessons or massage therapy. It's always good to be aware of not taking away positions from locals in the community.
Check out our Digital Nomads Jobs Postings to find the best jobs available for Digital Nomads.
Nomad Friendly
Value for Money
Internet
Workspace
English
Food
Safety
Health
Transportation
Friendly
Quality of Living
Cost of Living Puerto Escondido
Puerto Escondido has been deemed one of the best value for money towns in Mexico. While it's certainly far cheaper than bigger cities, like Mexico City, and other tourist hotspots, like Cancun, it has risen in price over the years and will likely continue to do so. However, the laid-back atmosphere combined with the ubiquity of amenities, makes it ideal for that beautiful and budget-friendly balance. Certain luxuries feel affordable and you're never really roughing it too much without breaking the bank here. 
Dining out can be pricey if you're choosing to frequent all the beachfront establishments and ordering a lot of seafood regularly. On the other hand, hitting up street food stalls, market eateries, and other local shops for Mexican meals like tacos is very budget-friendly. 
On an average, around 150 USD for eating out every month seems reasonable. For food shopping, again it can be expensive if frequenting health food stores or buying imported goods, and cheap if subsisting on fresh fruits, veggies, and proteins from the market. It's likely to cost roughly 300 USD each month. 
If using public transport regularly, it can run up to about 50 USD each month. The booze budget will depend on just how much partying you're looking to partake in, but there's plenty of drink specials, and sticking to the local beer is certainly cost-effective. Around 50 USD feels fair for this. 
Entertainment can mean any number of things here, from yoga classes to renting surfboards to paying for a day pass at a fancy beach club, so working in around 100 USD each month for this is smart. Monthly rent for a mid-range spot that offers a private room and bathroom in a good area is probably going to run you between 600 to 900 USD.