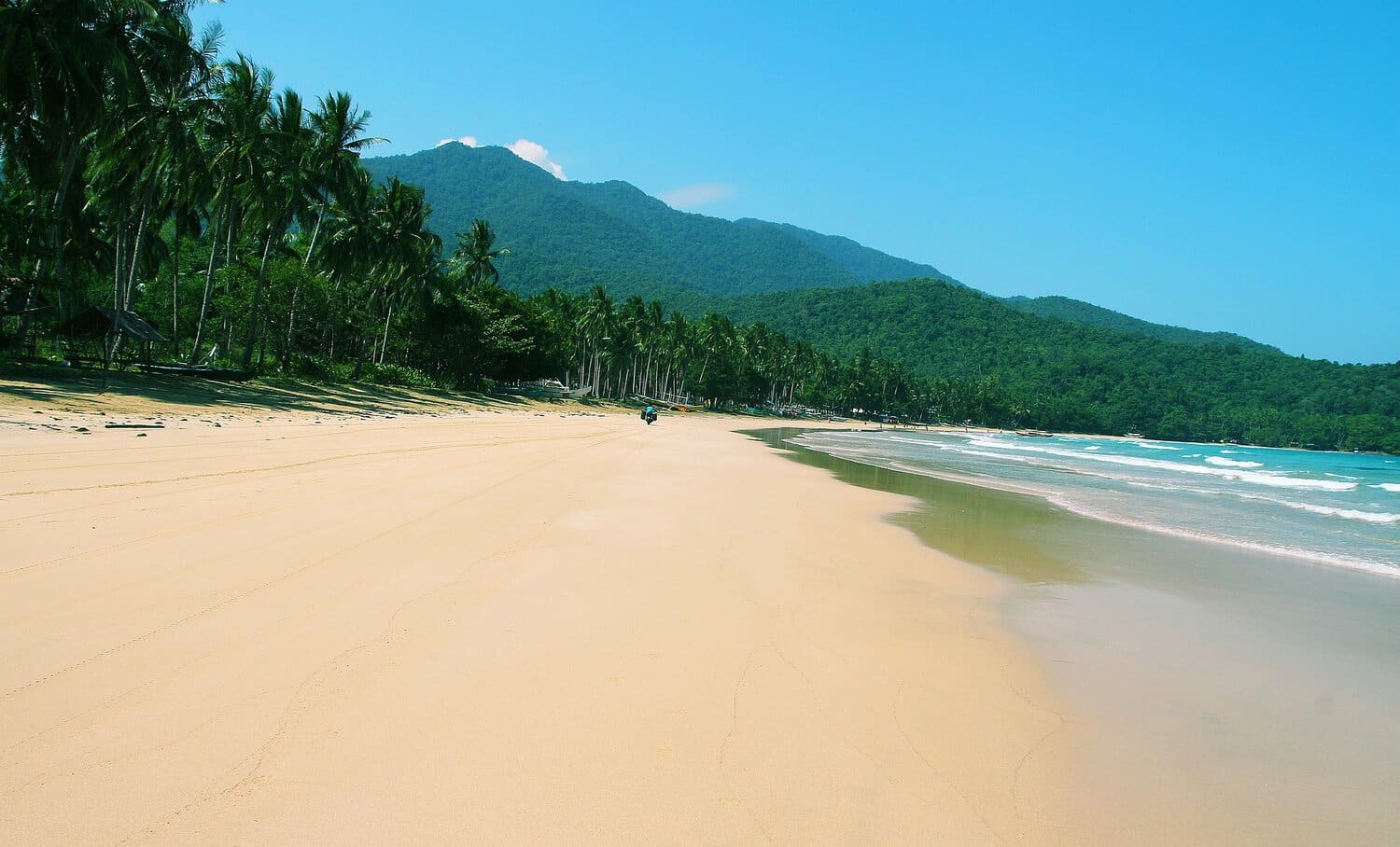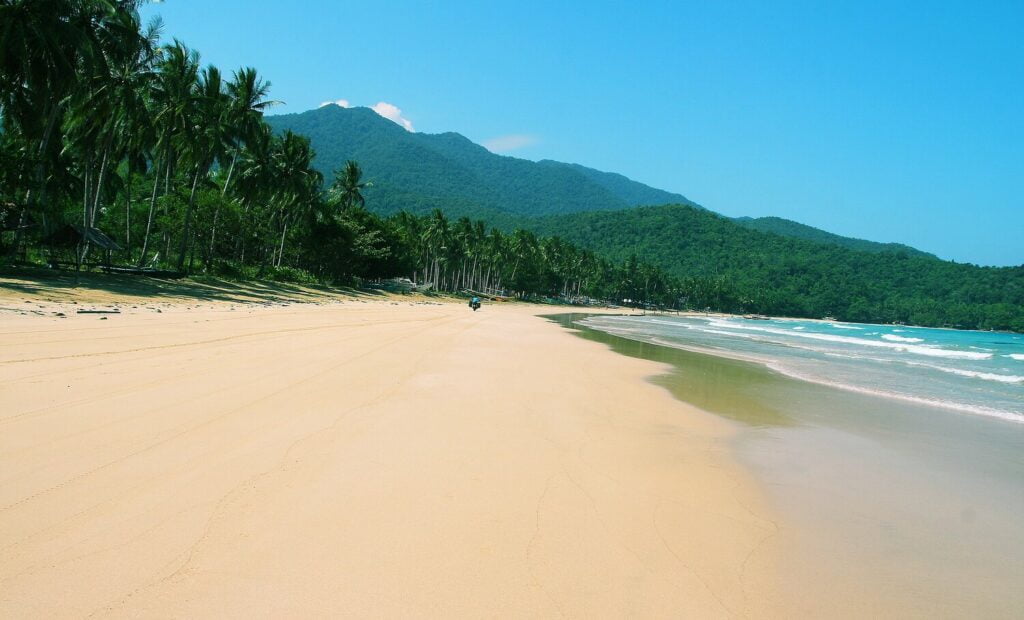 Puerto Princesa, Philippines
A Digital Nomad Guide to Puerto Princesa
Boat down its deep and massive, half-submerged cave system. Experience spine-chilling darkness and witness giant monitor lizards and long-tailed macaques. Sunbathe along its long and powdery white coastal beaches. Go on off-road tours through dirt trails, jungles, and mountains. Puerto Princesa City is a great introduction to Palawan's most biodiverse landscapes.
Puerto Princesa is located in west central Philippines and is the gateway to the 1,800-island Palawan. The city covers 2,500 square kilometers, about twice the size of Delhi and thrice the size of Rome, making it the largest city in the Philippines. It is also the greenest city in the country, having the most forest cover as well as eco-tours that support indigenous people.
Its deep, dark, and eerily silent cave system, the Puerto Princesa Underground River, is both a UNESCO World Heritage Site and one of the New 7 Wonders of Nature. Its 8km-long tunnel has made it the second longest navigable underground river in the world. It's surrounded by well-preserved limestone formations, glassy aquamarine beaches, and several thrills to try for tourists.
Outside this touristy area, you can rent a motorbike to explore more secluded beaches, go island hopping, firefly watching, and even surfing. Contact local organizations and you can arrange hikes to popular mountains or visit cultural sites such as tribal villages and handloom weaving workshops.
The city proper itself is low-key, covering only a third of the whole city. It's typical of a suburban town with low-lying buildings and many tricycles (tuk-tuks) to grow fast due to the hundreds of thousands of tourists streaming in every year. The main road cuts right through the center of the city, where the airport is, and is lined with bars, restaurants, and hotels.
From Puerto Princesa, you can take a van going to El Nido or either a plane or ferry going Coron, both towns equally mesmerizing for its islands and diving, at northern Palawan.
Nomad Friendly
Value for Money
Internet
Workspace
English
Food
Safety
Health
Transportation
Friendly
Quality of Living
Living in Puerto Princesa Overview
| | |
| --- | --- |
|  Meal, Inexpensive Restaurant | $3.23 |
| Domestic Beer (1 pint draught) | $1.18 |
| Cappuccino (regular) | $2.20 |
| Loaf of Fresh White Bread (1 lb) | $1.01 |
| Water (1.5 liter bottle) | $0.83 |
| One-way Ticket (Local Transport) | $0.20 |
| Basic Utilities (Monthly) | $114.36 |
| Internet | $47.04 |
| Fitness Club (Monthly) | $47.70 |
| Apartment (1 bedroom) in City Centre | $235.25 |
Currency: Indonesian rupiah (Rp)
[erw_exchange_rates_widget lg="en" tz="0″ fm="IDR" to="EUR,USD,GBP,AUD,JPY,RUB" st="primary" cd="" am="15000″][/erw_exchange_rates_widget]
ATMs
Max Withdrawal: Rp 3,000,000
Withdrawal Fee: Rp 30,000 – Rp 50,000
Use of Credit Cards: Mostly Cash
Digital Nomad Personal Experience in Puerto Princesa
Puerto Princesa has the fastest internet in Palawan. The city proper was most favorable for me when I needed extended time to do work online and do a lot of video uploads. I stayed just near Puerto Princesa Baywalk Park, which faced the sea, so I could practice yoga with beautiful views in the morning and do some gym or run in the evening. Most of my working hours were spent in the same hotel restaurant where the internet was fast and stable. If I wasn't in a hotel, I stayed in hostels generally to meet other backpackers to do adventures with.
The city proper is pretty quiet during the day because most of the tourists are shuttled in vans to the faraway tourist destinations. The three most popular tourist sites are the Underground River, the Island Hopping at Honda Bay, and the Firefly Cruise. Because the city is so huge, all of these tourist destinations take between thirty minutes to two hours to reach. Restaurants and bars are especially lively in the evening, when the tourists have come back from their adventures.
Without needing a stable and fast internet for video uploading, I spent my best days in Sabang, where the Underground River is located. Sabang is about 70km away from the city proper and takes two hours to reach by van. Other than the Underground River, the crown of Sabang's beauty are the white sand beaches, spanning a dazzling kilometer long at most. The sandbanks are wide, spacious, and breezy, and there aren't as many tourists compared to the city proper. Sabang was the best place to relax in Puerto Princesa while working on my laptop via a portable WiFi.
Sabang is surrounded by wonderful karst limestone mountains and there are at least four cave systems that you can explore. It would be best to stay here if you're doing a long video editing, book writing project, or something similar, because it's simply the most wonderful, biodiverse area in the whole city. Sabang is also where the action is at, and it's easy to befriend locals and tourists alike because of the friendly and open atmosphere.
Work in Puerto Princesa
When exploring Palawan, the most ideal work setup is to get your own Smart Pocket WiFi. You can get it at a local market or at any shopping mall for around $20 and reload it with LTE data from any convenience store. The latest pocket WiFi from Smart can now combine multiple signals from different cell sites for an improved data connection. This way you can work from anywhere in Puerto Princesa without being reliant on the site's WiFi connection. Either way, here are the best restaurants, cafés, and co-working spaces with great internet in the city.
Best Places to Work in Puerto Princesa
Gold Cup Specialty Coffee Roasters
This coffee shop is most visited by creatives and remote workers alike. It serves some of the best brews in the city and is coupled with Puerto's most stable and fast WiFi. There are two branches: one at Chiu Building along Rizal Avenue and another along Abad Santos Street. The branch along Rizal Avenue is a small coffee shop with at least 10mbps WiFi connection. The branch along Abad Santos features three rooms for those who need to work in silence. It's not a co-working space per se, but you can stay as long as you order. This one has an open setup on the second floor, giving the feel of that "city in the middle of the forest" vibe. Both branches have indoor and outdoor settings. The latter is good for when you need open air and a nicotine fix. 
Itoy's Coffee Shop
This café is popular for being Puerto Princesa's first coffee shop. It offers hot and cold brews, fruit shakes, pastries, and a wide variety of dishes, including options for vegetarians. It has an air-conditioned indoor area and an outdoor al fresco at the back. It's the only restaurant and café that's open until late in the evening (11pm) for when you need extended time to work. There are days when the connection gets cut off for a minute or two, which will kick you out of your conference calls. You can always pop right back in, but I wouldn't recommend this for very important meetings. Gold Cup's first branch is just across the street for when you need uninterrupted connection.
Coffee Bean & Tea Leaf
This coffee shop is found inside the shopping mall SM City Puerto Princesa. It serves great food and good internet at around 10mbps. However, your connection can only be good for an hour unless you purchase a Swirl Card. This card gives you unlimited internet access while inside the shop. It is located right at the Malvar Entrance to the mall, where you can come and go, or go farther inside if you need to do some last-minute shopping or groceries.
Think Space Co-Working and Study Lounge
Think Space is more of a study lounge than a co-working space, and they don't have a backup generator. It appeals more to students in the city than working professionals. Foreign remote workers pop in from time to time, but local remote workers don't stay here. Daily rates are reasonable at Php180 ($3.6), inclusive of unlimited coffee and popcorn. It has good air-conditioning and one of the fastest internet in the city at 100mbps. Think Space has a seating capacity of about 20 people, while its conference room is good for a maximum of 10 people. Additional services include printing ($0.30), use of a conference room ($8), and sleeping or napping quarters ($1.6).
Best Places to Live in Puerto Princesa
Best Neighbourhoods
Sabang
This area is where the famed Puerto Princesa Underground River is located, along with the first seven destinations included in the Things To Do. The underground river is only busy in the morning. If you're staying here, it's best to explore the area in the afternoon when most of the tourists have gone. There are plenty of beaches to explore, mountains to hike, and caves to see if you're the adventurous type. All accommodations are along Sabang Beach and can range from Php500 ($10) to Php6,000 ($120) a night. The cheap accommodations come with a bed and bath, while the high end ones come with swimming pools, WiFi, and free breakfast. Though it's not the best area to turn on a pocket WiFi, working from here can be the most fulfilling. 
The Capitol Block to Barangay Bancao-Bancao
This area is close to the heart of the city while still being surrounded by greenery and seclusion. Unlike the city center, people don't mill around here looking for things to do. It's refreshingly quiet but not eerie. Old trees line the streets and it's close to the sea, with the sea breeze wafting by from time to time. There is a Camella subdivision in this part of Puerto Princesa and many of the homeowners lease their furnished, two to three-bedroom apartments. Restaurants here offer local and European cuisine. Flora Villarosa Hotel also has a restaurant with great WiFi and a swimming pool if you feel like having a dip later.
Hernandez Street to Port Area
At the other end of Capitol block is the heart of the city. Compared to that above, this part of Puerto Princesa has a lot of going on day or night. After all, cruise ships dock here. There are some old acacia trees and there's plenty of sea and mountain views when you go to Puerto Princesa City Baywalk. People come here to run, exercise, walk their dogs, or just get a nice dose of lovely sunshine in the morning. From the baywalk, the Cathedral and the WWII site Plaza Cuartel are just two short blocks away. Big grocery stores, shopping malls, and a vegetable market are easy walking distance to each other in the area too. You can eat cheap at small diners for $1 a meal and you can find decent restaurants if you want something international.
Barangays San Pedro and San Miguel
These areas have the same vibe as the city center, except that this is busier because of the restaurants and bars. Crime rate in the city is very low so you can walk the streets in the evening without having to worry about thieves. San Pedro divides the north and south side of the city. This is also where the international airport is. What's nice about this area is that you don't have to go too far to have something to eat or find a party place in the evening. The bars at this part of the city are packed in the evening. There's often a live band and a lot of noise going on—if that's not too much for you. Two subdivisions worth looking into are Futura Homes and West Palms where homeowners lease furnished apartments.
Find an Apartment in Puerto Princesa
Finding an apartment in Puerto Princesa is easy nowadays. Homeowners are leasing apartments in newly built villages and complexes. Even pension houses have been converted into transient homes. Practically everything is posted on Facebook Marketplace and you can finalize your living arrangements even before your arrival.
The best ones would be a two-bedroom apartment, with semi-furnished living and dining area, air-conditioning, and WiFi for Php10,000 ($200) a month. You can also arrange a weekly rate with the owner if that works for you better. This is for places in the heart of the city. Manalo Street, which is parallel to the main street Rizal Avenue, offers many such apartments. The quieter area is on the side of the Capitol going to Barangay Bancao-Bancao. Nightlife is also alive once you cross over to Rizal Avenue. You can pick between nightspots with relaxing music, live bands, or loud/party music.
The heart of the city is on the other side of the Capitol going down to the port area. This part of Puerto Princesa is a bit more crowded but you can find plenty of restaurants and cafes for you to work in. There are many furnished rooms, studio units, and apartments to choose from in this area because of the universities and small to medium-sized businesses nearby. Prices can be anywhere from $60 to $180 a month.
The villages Barangay San Pedro and San Miguel offer two-bedroom apartments for $100 to $200 a month. Few of these will have WiFi and those in the lower price range are often bare. This area is still pretty close to the heart of the city by just taking a cab or a tricycle for 10 minutes. It's best to scout any of these areas by renting a tricycle and looking for "for rent" signages along the streets. That is, if you haven't found anything that suits your fancy at Facebook Marketplace.
If you're planning to stay in Sabang, which is two hours away from the city proper, you can either just go there or book your room online first. The more affordable accommodations in this area are not listed on the internet. They're not always fully booked unless it's summer or Christmas holidays. You might want to scout the area since all the accommodations are just along Sabang Beach. Renting a room here is at $10 to $120 a night. You can also request a discount if you're staying weekly or monthly. Please note that you will need a portable Smart Pocket WiFi when working in Sabang.
Cheap Places to Stay in Puerto Princesa
If you're staying in Sabang, Hill Myna Beach Cottages and Cafe Sabang along Sabang Beach are the most recommended. Both feature bamboo huts with fans and a private bathroom. There is no need for air-conditioning in this area as it gets quite breezy most of the time, especially at night. Prices vary depending on the season but you can get them as cheap as $10 a night.
If you want to stay at the heart of the city, you can pick among these four recommended accommodations All of them have decent WiFi. Hostel Privado offers clean and cozy 4-bed dorm rooms at $9 a night. It's located along Rizal Avenue near the airport and just a short walking distance away to SM shopping mall. Nearby, the highly rated hotel RedDoorz Plus (near Rizal Junction) is spacious, clean, and cheap at $14 a night, given it's close proximity to restaurants and the airport.
The hostel Treehouse Inn is also conveniently located at the heart of the city. It offers mixed dorm rooms at $9 a night, with a small lounge area and kitchen where you can prepare quick meals. It's just across SM shopping mall and a short walk away to the public market, groceries, and the Baywalk. Guni Guni Hostel is the latest addition in the city, with tastefully furnished, spacious dorms at $10 a night. It also has an artistic bar and restaurant serving Asian and American dishes.
Puerto Princesa Visa
Most foreign nationals can stay in the Philippines without a visa for 30 days. Citizens of Brazil and Israel can stay in the country without a visa for up to 59 days. You can check this website to see how this applies to your country. Here are the requirements for a visa-free stay in the Philippines:
A passport valid for at least six (6) months

Entry and exit flight tickets

Your hotel reservation or a letter from your host

Identification card
If you're planning to stay in the Philippines for more than the allotted VISA-free period, you can apply for a Philippine tourist VISA at a Philippine embassy or consulate. Requirements include:
Passport valid for at least six (6) months

Duly accomplished visa application forms

Passport photos (2 copies)

Proof of bona fide status as a tourist or businessman

Confirmed tickets for the return or onward journey to the next port of destination

Payment of relevant visa fees
Citizens from more than 30 countries also have the option to obtain their visa upon arrival in the Philippines. You may check this page if your country is included.
Once you obtain your Philippine tourist visa, you may extend your stay 30 days at a time up to a maximum of two (2) years at any immigration office. The immigration office in Puerto Princesa is located in the shopping mall Robinsons Place Palawan.
Department of Foreign Affairs
2nd Floor Robinsons Place Palawan
Puerto Princesa North Road, Brgy. San Manuel,
Puerto Princesa City, Palawan
(+63) 48 434 1771
Culture and Food in Puerto Princesa
Palawan's culture is a combination of tribal traditions and Spanish-American influences. You will notice the tribal woodwork and art among restaurants and hotels when you visit Puerto Princesa. These arts and crafts are made of wood harvested from the jungles and mountains. Palawan's tribesmen—each having their own language, culture, and tradition—carved these in their villages and sold them at the local market. Woodwork such as masks, pipes, and musical instruments depict their culture, art, and ways of living.
You can also get a glimpse of their lifestyle at the Butterfly Eco-Garden and Tribal Village (featuring the Palaw'an Tribe) or at the Batak Tribal Village (featuring the Batak tribe). You'll see them in their traditional clothes as they tell stories about how they hunt for wild boar, how they make fire and cook with raw materials, how they call the birds and sing their songs, and what sort of things they harvest in the forest to sell in the city. They're very friendly, innocent, and kind. They have a childlike sense of humor and naivety about the world.
Puerto Princesa's most popular cuisine are seafood, grilled dishes, and coconut-based Filipino food. These are best tried in the art gallery and restaurant Kauli and the grill and bar Kinabuch. These are the two most dined restaurants in the city, given their airy and friendly atmosphere as well as the delicious and affordable Filipino dishes. Some of Puerto Princesa's most known food products are cashews, raw honey (from the mountains), dried fish, and buti-buti. The last is made of unpolished native rice, pan-roasted and popped like tiny popcorn.
Puerto Princesa is also known for pearls, especially the rare Golden South Sea Pearls. They are among the largest and most valuable pearls in the world. They naturally come in gold color, and no treatment has been made to let them exude such a glowy, golden brilliance. White pearls, mother of pearls, and golden south sea pearls are available at Delman's Pearls and MBA Pearls and Accessories. One of these stores is part of the City Tour, where you can shop for these beautiful pearls at the end of your trip.
Puerto Princesa Nightlife
Night scenes come to life at both sides of the Capitol block in Puerto Princesa. Entertainment serves different kinds of folks, from the chill crowd to the loud ones, from small pubs to foam parties and bigger clubs. There is always something new to try every night, including dinner at the Puerto Princesa City Baywalk. At Baywalk, everything is within walking distance from each other. You can check out different hangouts one night at a time and have your fill for the evening.
If you're looking for a place to chill after dinner, most people head over to Balayong Bar of Ivy Wall Hotel. Located along Rizal Avenue, it plays mostly acoustic and jazz music. The live band also entertains music requests from the audience. If you like, you can also join the band to sing along. If you fancy something busier and chaotic, Kinabuch's Bar & Grill gives you just that. It has sports channels turned on at the bar, a pool table at one side, and plenty of seating for large groups eating or just hanging out for the night. At Kinabuch's, you can also try Palawan's woodworm delicacy tamilok, which tastes like oysters.
Near these two bars is Tiki Bar, where you can go on all-out party mode. The place has an exotic jungle vibe, with live music, DJs, and sometimes live performances. Due to the number of people ordering, the quality of their food and drinks are  sometimes sacrificed. People come here to get smashed on alcohol. It can get pretty wild in the late hours. You can also bar-hop along the whole stretch of Rizal Avenue, from the Capitol Block up to the airport.
If you want more of a hotel vibe, Princesa Garden Inn is a good place for late afternoon drinks and night-time fun. They have barbecue weekends and movie nights too. And if you're looking for a place to sing your heart out, private videoke rooms are plenty, the more popular one being Jukebox at One Manalo Place. There's a beachside party place too found at Blue Palawan Beach Club. This resort opened its bar and restaurant to cater to the partying crowd on weekends for a proper beach party.
Things to do in Puerto Princesa
The first seven destinations in this list are concentrated in Sabang, Puerto Princesa. This location is where the Underground River is found, about 70km or two hours away from the city proper.
Puerto Princesa Underground River (PPUR)

This is arguably the most captivating subterranean cave system in Asia. This UNESCO World Heritage Site covers a sprawling 22,200 hectares of mountain-to-sea ecosystem. At this size, it is about as big as Honolulu in Hawaii. A magnificent work of nature, the cave system itself was built for about 30 million years. Majority of the tourists in Sabang take the short 1.5km boat tour, which costs Php1,500 or $30 per person (permit included). The lines are long and it's most advisable to secure your ticket a day before. The ticket is available at the PPUR Booking Office in the city proper, or just at the pier in Sabang. Otherwise, you can skip the hassle of arranging your own trip by just booking a one or two-day PPUR Tour. This tour covers most of the destinations mentioned in this section. If you're the adventurous type, it is more advisable to find two or three others to split the cost of the boat going down half the length of the 8km Underground River. There are some huge geometric crystals, glittering minerals, and age-old bone fossils protruding on walls that are worth seeing. These areas are also great for long-exposure cave photography.

Sabang Beach

Located next to Sabang Port, you'll see this beach when you go to the Underground River. The white beach is long and wide, with turquoise warm water. You'll find two deserted beaches that are just as beautiful when you cross the jungle going to the zipline. The tides here are most calm between April and June, and wavy between November and March.

Sabang Mangrove Paddle Boat Tour

This boat tour (Php350 or $7 per person) explores the 47-hectare Sabang Mangrove Forest. It sports some of the oldest trees in the park, going as high as 45 meters and as old as more than 300 years. The guides will tell stories about the animals that creep, swim, and fly in the area, as well as the different species of mangroves that thrive here.

Sabang X Zipline

Located next to the Mangrove Paddle Boat Tour, this zipline covers 40 seconds of sea and island views and ends on an islet. You'll have to take a 10-minute hike to the starting point and wear a safety harness to do this activity. It costs Php550 or $11 per person.

Sabang Jungle Trail

Also known as the Monkey Trail, the Sabang Jungle Trail (Php200 or $4 per person) is an alternative route going to the Underground River. It takes about two hours to trek, covering 3.6 kilometers. A guide will take you down the trail as he explains the wildlife, amazing trees, and pockets of caves in the area. If you're lucky, you'll spot monitor lizards in the area!

Ugong Rock Adventure

This is a short 20-minute vertical caving experience in Sabang. You'll climb a mammoth limestone formation, go through passages and ladders, squeeze into openings, and reach the summit. At the top, pleasant views abound of surrounding green fields and other limestone formations. From the top, you can take a zipline, a zip bike, or walk back down to the entrance. The fee is Php200 ($4) for the caving, Php450-550 ($9-11) for the zipline, and Php500 ($10) for the zip bike.

Hundred Caves

Near Ugong Rock is Hundred Caves, another cave system in Sabang. A special tour (Php1,000 or $20) lasting two hours will take you to the caves' most impressive rock formations. You'll be shown interesting rock and crystal formations, cave ceiling aberrations, and an introduction to the wildlife that thrive in the cave system. There's a regular tour spanning an hour, costing Php1,000 or $20. A quick tour lasting thirty minutes costs Php350 or $7.

Honda Bay Island Hopping Tour

Get a taste of island hopping in Palawan with the Honda Bay Tour. This lasts a whole day for Php1,500 or $30 per person. Although these are in no way similar to the islands of El Nido or Coron, the islands themselves (Luli, Starfish, and Cowrie) are a great tropical experience. On these white-sand beaches you can enjoy swimming in the crystal clear warm waters or go jet skiing, cliff jumping, snorkeling, or board diving. There are drinks and snacks you can buy for when you get hungry. Lunch is also included in the tour, in a seafood buffet-style.

Iwahig Firefly Watching Tour

Just a short drive from the city proper, this tour is one of the most highly rated in Puerto Princesa. You'll first go to Iwahig River and have a delicious buffet dinner in a restaurant. After that you'll boat down the river for about 40 minutes in silence and in awe of the moving and flickering fireflies. It's one of the most unforgettable experiences in the city and costs Php1,500 or $30 per person.

Puerto Princesa City Tour

This half-day tour takes you to six destinations in the city proper. You'll come over the Baywalk, the World War II heritage site Plaza Cuartel, and then the Immaculate Conception Cathedral. These three are situated near each other. In the next area, you'll visit Mitra's Ranch and Baker's Hill, both offering unique experiences and sweeping views of the city and islands. You'll cap the trip off at the Palawan Rescue and Wildlife Center where you'll find endemic animals in Palawan. The trip costs only Php600 or $12 per person.
Best Time to Visit Puerto Princesa
Unlike other parts of the Philippines, Palawan is quite lucky. Of the 20 typhoons that pass by the country every year, rarely do they pass by the west side, where Palawan lies. In short, Palawan is nearly typhoon-free.
The best time to visit Puerto Princesa is between December and May when the weather is dry and sunny. Between June and November, there comes a slick of rain, which can make your tour a little uneasy.
The best time to see the Underground River and Honda Bay's islands is when the sea is at its calmest, between March and May. Strong winds and rough tides come in between November and March and boat tours may risk being cancelled.
When such things happen, the tours are usually rescheduled the following day. You can opt to do land tours instead, try out the city tour, or just lounge by the beach. Exploring jungles and visiting local tribes can also be a fun and unique activity.
The average temperature in Puerto Princesa is about 28° celsius (82.4° fahrenheit) during the day. It can get really hot, especially during the summer months April and May. It's best to always bring water and an umbrella or hat with you at all times.
Puerto Princesa for Families
Puerto Princesa is very family-oriented. All the 10 tourist destinations listed in the article are made for families with children in mind. Even the caving experiences listed here are all well-equipped with safety features and harness. Located 70km away from the city proper, Sabang still is the best area for family activities. Kids will surely enjoy the beach and making sand-castles there. The other activities are situated next to each other, making it easier to try them out. The destinations in the City Tour are great for kids too.
There are also several schools to choose from if you have kids and are staying longer in Puerto Princesa. The city's only international school, TLC International School serves to nurture children ages 1.5 years to 11 years old. Catering to international students, it has a curriculum based in the UK. They provide learning programs for nursery and primary children, challenging pupils to be the best they can.
In the city proper, there are three schools catering mostly to local children. There's Sunbeam Kindergarten Palawan which offers preschool learning. Palawan Little Angels Learning Center serves to teach nursery up to 6th grade. Meanwhile, Kids World Learning Center offers learning facilities from preschool up to secondary school.
If you have smart teenagers, you can enroll them in Puerto Princesa National Science High School. The entrance exam is difficult and only the most intelligent students get to pass it. An alternative is Palawan National School, the flagship campus and the largest public school in Puerto Princesa. Both schools cater to locals but international students are welcome to enroll. There is no problem staying in Puerto Princesa for as long as you like as the city itself is very safe for foreign families.
Living in Puerto Princesa
Puerto Princesa Transportation
How to travel to Puerto Princesa City
To get to Puerto Princesa City, you'd first have to fly to the Philippines via Manila or Cebu City. From either two, you can fly directly to Puerto Princesa City at the cost of around Php5,000 or $100. The flight is about an hour and the plane lands right in the middle of the city. From Puerto Princesa International Airport, you can take a tricycle going to your accommodation, starting at Php50 or $1, depending on how far it is. Traveling within Puerto Princesa's city proper starts at Php10 or $0.20. You can also take a taxi to travel from point to point.
How to travel to Sabang, Puerto Princesa
Sabang is where the Puerto Princesa Underground River is located. If you are going directly to Sabang in Puerto Princesa, ask a tricycle driver to bring you to San Jose Terminal. The terminal is about 10 minutes away from the airport. From San Jose Terminal, take a van to Sabang. You will have to wait a bit for the van to get full. The ride to Sabang takes two hours and costs Php200 or $4. The van stops right at Sabang Port. From there you can walk to your accommodation along the beach. All accommodations in Sabang are along Sabang Beach. From Sabang Port, you can also buy a ticket going to the Puerto Princesa Underground River, which is 15-20 minutes away by boat.
How to travel from Puerto Princesa City to El Nido
El Nido is located at the northern tip of Palawan's main island. From Puerto Princesa, you can find vans at the airport or at San Jose Terminal going to El Nido. You will have to wait a bit for the van to become full. The travel time to El Nido is 5.5 hours and the fare is Php600 or $12.
How to travel from Puerto Princesa City to Coron
Coron is a separate cluster of islands at the northern end of Palawan, farther from El Nido. From Puerto Princesa, you can either take a plane or a ferry going to Coron. You can book your flight with Airswift from Puerto Princesa International Airport to Busuanga Airport in Coron. The flight is 1 hour and 10 minutes, and costs Php2,500 to Php10,000 ($50 to $200) depending on the season. Once in Busuanga, get on a shuttle van to Coron's town proper. Travel time is 45 minutes and the cost is Php150 or $3.
To get to Coron by ferry, book your ticket with 2Go Fast Craft. Fare starts at Php1,350 ($27) and travel time is 11 hours. You can also get to Coron by first traveling to El Nido (see previous paragraph) and then take a ferry to Coron. Travel time from El Nido to Coron is 3.5 hours and costs around Php1,800 ($36).
Fitness and Health
It's easy to stay fit and healthy in Puerto Princesa. There are four fitness gyms in the city proper and one yoga retreat center a little farther away. Sunlight Gym is the most popular gym in the city. It's found inside Sunlight Hotel and faces a good window view of Puerto Princesa Bay. Equipment use is at Php1,000 ($20) a month or you can drop in for only Php75 ($1.5) per day. It also offers zumba and one-on-one training, and has programs for diet and fitness.
Another notable fitness center is CrossFit Hieroglyph, which is headed by a coach who worked in the US Military. It's the cleanest and most rigorous training center in the city due to its military appeal. It offers intense crossfit sessions starting at Php1,000 ($20) per day. You can also avail the 30-day pass for Php7,200 ($144). The two other gyms in the city are very similar, Fitness Camp and LVP Arena Boxing Gym, both offering gym equipment use, boxing, and mixed martial arts classes. Unlimited gym use is available for about Php1,000 ($20) a month.
Meanwhile in the outskirts of the city proper is Balay Kalinaw, the only yoga and detox retreat center in Puerto Princesa. It's an intimate ashram-style space for people who want to have a break from their hectic lives and settle down with yoga, meditation, and raw food detox. The center offers weekend and weekly retreats in artistic bamboo houses surrounded by nature.
Puerto Princesa People
Puerto Princesa is a melting pot of different cultures. Of its nearly 300,000 residents (as of 2021), a majority are from the surrounding islands who have come to work and live in the city. A small expat community also thrives in Puerto Princesa, many of whom have married a Filipino. It's not unusual to see Filipinas with a foreign partner and creating a family here. In fact, it is for this reason that there exists an international school—to cater to mixed races and other foreigners who have relocated in the city.
The original settlers of Puerto Princesa are Cuyonons. These natives are from the island of Cuyo who settled in Puerto Princesa to plant rice during the rainy season. Many of these Cuyonons for several hundred years went back and forth between Palawan and Cuyo during the harvest season. Others have settled permanently in Palawan and spread throughout the archipelago.
Other than Cuyonons, there are four tribes that exist in the city—the Tagbanua, Batak, Palaw'an, and Molbog. Most of these live in remote villages, coastal areas, or deep in the mountains where they maintain an off-grid, nature-based lifestyle. Each of these ethnolinguistic groups has their own language, culture, and belief systems. While many have been converted into Christianity, most of them still worship nature spirits. It's also possible to go on treks in the jungle and meet these tribes.
It's also interesting to note that the "Tabon Man", the oldest bones of Homo Sapiens in the Philippines were found in Tabon Cave. This wonderful cave is a must-see in Palawan, although it's almost 3 hours away from the city proper. The said fossils are 22,000 to 24,000 years old. This very discovery has earned Palawan the title "The Cradle of Philippine Civilization". You can learn more about this in the museum Palawan Heritage Center in the city proper.
Filipinos in general are pretty conservative, friendly, and welcoming, and the people of Puerto Princesa are no different. They've been influenced by Spain for more than 300 years, followed by the US for 50 years in the past century. It's quite normal to find Spanish words in their native language, whereas English is widely spoken by the locals. The other predominant languages in the city are Cuyonon, Tagalog, Visayan, and Hiligaynon.
Puerto Princesa Insurance and Medical Care
Since December 2020, Philippine tourism has been easing itself up to open to local and foreign tourists alike. Palawan, being the Philippines' number one travel destination, is no exception. Do take note of these requirements when traveling to Palawan:
Valid ID

QR-coded Tourist ID (QT-ID)

Negative RT-PCR test result within the last 48-72 hours prior to arrival

DOT-accredited hotel and tours booking

Return ticket
Nomads traveling to Puerto Princesa are required to have their own tourist QR code from StaySafe.ph system. This is for contact tracing purposes and for the s-pass travel management system inside the city. The local government is also requiring visitors' confirmed booking of DOT-accredited hotels and tour agencies in Puerto Princesa. Lastly, visitors would have to undergo an antigen test on the 3rd and 7th day of their stay in the city.
It is most advisable that digital nomads secure their own insurance prior to arriving in the city. When it comes to medical care, there wouldn't be much of a problem in Puerto Princesa. The city is the location of Palawan's main hospital, the Palawan Provincial Hospital. There are two other large hospitals in the city, Adventist Hospital Palawan and Palawan Medical City. If you get into a medical emergency, you can visit any of these three hospitals.
Palawan Provincial Hospital
220 Malvar Road, Barangay San Miguel,
Puerto Princesa, Palawan
(+63) 48 433-2621
Adventist Hospital Palawan
Barangay San Pedro,
Puerto Princesa, Palawan
(+63) 48 433-1247
Palawan Medical City
Barangay San Pedro,
Puerto Princesa, Palawan
(+63) 908-892-1346
Make sure you are fully covered by reading our full Digital Nomad Travel Insurance guide.
Jobs in Puerto Princesa
Puerto Princesa City is the center of commerce in the entire Palawan. Goods and marchandise get streamlined into the city first before being delivered to the rest of the province. These range from basic products like grocery items to household furniture and equipment, and even construction materials. That's why a majority of the jobs in the city are in the logistics and distribution industry. They often look for managers and field officers, as well as sales forces, truck drivers, and merchandise personnel.
The second largest industry are those who do lip service such as teachers, instructors, customer care, and technical support representatives. A volume of the students that graduate from universities work in these industries. The teachers are mostly hired by the local government, to aid in nurturing the minds of students from nursery to college. After all, the city is the center of education in Palawan too. Foreign industries have set up call centers in the city as well, employing most of the English-speaking young adults.
Other common jobs available in the city are managers, sales representatives, and marketing officers for hotels, restaurants, and merchandise stores. The tourism industry also gets a slice of the workforce, employing tour agents, hotel staff, and chefs and cooks. The concentration of jobs in this field is located in Sabang, where a majority of the tourist activities are.
Check out our Digital Nomads Jobs Postings to find the best jobs available for Digital Nomads.
Nomad Friendly
Value for Money
Internet
Workspace
English
Food
Safety
Health
Transportation
Friendly
Quality of Living
Cost of Living Puerto Princesa
The cost of staying in Puerto Princesa would first largely depend on where you're staying. Staying in an apartment costs between $200 to $300 a month, while staying in a hostel or hotel with great WiFi starts at about $300 a month. It's most advisable to rent an apartment if you're staying for months on end, and book only accommodations if you're staying for less than a month.
Food in the city can range from $1 to $10 per meal, while a regular meal in a decent restaurant costs somewhere between $3 and $5. Having two $5 meals a day for a month would cost about $300. The cost for coffee, mobile WiFi, and workspaces can round up to about $200 a month.
Transportation in Puerto Princesa's city proper is pretty cheap at $0.2 per ride, it's almost negligible, unless you are renting a motorcycle. You can rent a motorcycle starting at $6 per day, which would equate to about $180 a month. Add the gas and this can go somewhere between $200 and $250. Meanwhile, doing adventures comes at about $200 a month.
Overall, the cost of a comfortable stay in Puerto Princesa is at $1,200 a month.