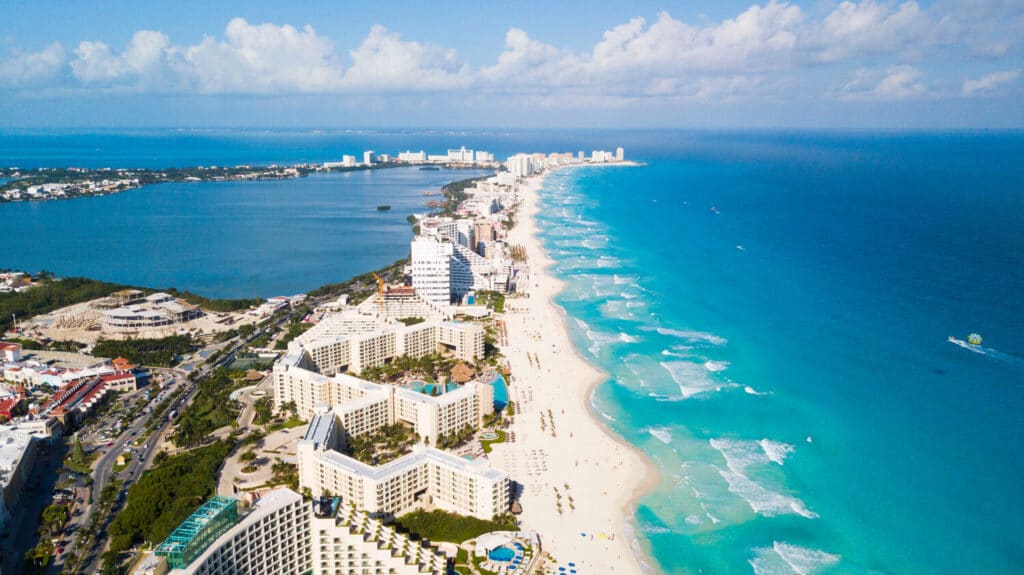 A Digital Nomad Guide to Cancun
An L-shaped island nestled on the Yucatan Peninsula, Cancun is known for silky stretches of white-sand beaches fringed by crystalline waters. This sun-kissed island is a popular destination among expats, digital nomads, and tourists for a number of reasons, but its main pull is no doubt the affordable cost of living.
With ancient Mayan ruins, delectable dishes, and some of the best nightclubs in Quintana Roo, it should come as no surprise that Cancun receives over eight million visitors each year. 
First-time visitors from Western countries will most likely be surprised by the slow, somewhat sluggish, pace of life in Cancun. As vibrant as its nightlife is, Cancun – like most Mexican regions for that matter – has quite a relaxed lifestyle. Mealtimes usually span across a couple of hours so people can properly savour the blend of ingredients as opposed to just chomping down on a sandwich in record time before returning to work. 
Despite their relaxed approach to life, however, it doesn't take one long to realize that there's a very strong work ethic that permeates through the city, as evidenced by the many 24/7 establishments dotted throughout Cancun. 
During your time in Cancun, you'll also come to the realization that Mexicans are quite proud of their country's cultural depth. In fact, the (unofficial) national motto is Como Mexico no hay dos which loosely translates to 'There isn't anything like Mexico' and after spending nearly half a year in this glorious country, I must say that I quite agree with them on that! 
As such, you'll find that Cancun preserved plenty of its ancient Mesoamerican relics, most of which are free or inexpensive to tour. 
While Spanish is the official language of Mexico, I never found language to be a barrier during my time in Cancun. Virtually every local that I've met was bilingual and even those who weren't super fluent knew some basic English words or phrases, so it was quite easy to communicate.
Nomad Friendly
Value for Money
Internet
Workspace
English
Food
Safety
Health
Transportation
Friendly
Quality of Living
Living in Cancun Overview
| | |
| --- | --- |
|  Meal, Inexpensive Restaurant | $8.87 |
| Domestic Beer (1 pint draught) | $2.11 |
| Cappuccino (regular) | $2.10 |
| Loaf of Fresh White Bread (1 lb) | $1.32 |
| Water (1.5 liter bottle) | $0.67 |
| One-way Ticket (Local Transport) | $0.59 |
| Basic Utilities (Monthly) | $78.30 |
| Internet | $26.10 |
| Fitness Club (Monthly) | $27.53 |
| Apartment (1 bedroom) in City Centre | $542.30 |
Currency: Indonesian rupiah (Rp)
[erw_exchange_rates_widget lg="en" tz="0″ fm="IDR" to="EUR,USD,GBP,AUD,JPY,RUB" st="primary" cd="" am="15000″][/erw_exchange_rates_widget]
ATMs
Max Withdrawal: Rp 3,000,000
Withdrawal Fee: Rp 30,000 – Rp 50,000
Use of Credit Cards: Mostly Cash
Digital Nomad Personal Experience in Cancun
With a solid community of remote workers from all around the world, Cancun can best be described as an absolute haven for digital nomads. Not only does the city offer various types of accommodation to suit all budgets, but you'll find complementary and reliable hotspots in virtually every neighbourhood. 
Digital nomads who are planning on staying in the city for a long time may wish to get a local SIM card that will make it easy for them to work on the go. If you're flying in from Canada or the US, you won't need to get a local SIM card since your regular card should come with free data roaming for Mexico. 
When getting a local SIM card, I can personally vouch for Telcel which apparently provides the most reliable 4G coverage in the country. Rest assured that you won't need to spend more than Mex$200 – Mex$300 to get a local SIM card. 
In terms of safety, Cancun is still safer than most Mexican cities, especially if you stick to populated areas, such as Centro and the Hotel Zone. Of course, it's important to take the usual precautions, such as not leaving your drinks unattended in bars, avoiding remote areas at night, and the likes. My local friends also advised me against traveling alone to the outskirts of Cancun where you'll find high-risk neighbourhoods, like Lopez Portillo and Bonfil. 
Another thing that I quite liked about Cancun was how easy it was to head to other Mexican provinces from the city. For instance, you can very easily get a shuttle to Playa del Carmen for around Mex$400 while a one-way bus (Ado) ticket into Tulum only costs Mex$262. 
If you're not watching your budget, you can even catch a flight to Mexico City for around Mex$1000, although prices in low season can even go down to Mex$600.
Work in Cancun
Best Places to Work in Cancun
I'll be the first to admit that Cancun doesn't have quite so many choices when it comes to coworking spots. However, the small handful of agencies that I've been able to find were quite well-equipped and reasonably priced. 
A couple of them didn't really meet my expectations in terms of Wi-Fi speed and reliability, but for the most part, most coworking spaces that I visited did offer fast connectivity. 
Here are some of the best-rated coworking agencies in Cancun:
Nex Offices
While Nex Offices has headquarters all through Mexico, I must say that their Cancun base was my absolute favourite. This agency attracts plenty of entrepreneurs since it provides different types of services to help companies grow, including workshops and courses. 
Common co-working spaces are bright and airy, enhanced by the informal vibe that permeates the place. If you need some peace and quiet to work – as is often the case for me – you can always subscribe to a private office. 
Located in Malecón Tajamar, this coworking spot is open from 8am to 7pm, Monday to Friday, and 9am to 1pm on Saturdays. Offering free coffee, Nex Offices also has a spacious lounge area, as well as an on-site café. Membership plans and prices are available upon request by emailing their offices on grows@nexoffices.com. 
Orbis Coworking
This co-working space is located in Vivendi Americas, one of the oldest malls in the city. Now, I'll admit that the building is a bit run-down and I did notice that this area is prone to connectivity issues but Orbis Coworking is one of the most affordable options in Cancun. 
The shared working space is surprisingly large, and I quite liked the addition of ergonomic seating. What I appreciated the most about Orbis Coworking were the two hours of complimentary conference room time each day.
In fact, I would say that this is the only agency in Cancun that offered free access to the conference room. You'll also find private and virtual offices, as well as boardrooms, locker rentals, on-site coffee shop, and a games room. A hot desk in the common area costs Mex$116 per day or Mex$2,030 monthly. Private offices will set you back Mex$4,500 while virtual offices cost Mex$1,276 per month. 
Colabora Cowork Cancún
Located in Plaza La Roca, Colabora Cowork Cancun is open from 9am to 7pm, Monday to Friday. I was really impressed by the refined interior that felt more like a posh hotel lobby than a common working area. In true office fashion, Colabora also has a small kitchenette with microwave, sink, coffee maker and fridge. 
Along with common working spaces, the company additionally provides Alternative Work Areas which basically refer to an intimate lounge where you can curl up with your laptop on the couch. Private offices and meeting rooms are available and there's even a pizza place on the ground floor of the building if (like me), you tend to get peckish when you're working. 
Membership rates are available by calling their offices on +52 998 500 6001.
beNuk Coworking
From the outside, beNuk Coworking doesn't really look like much, but I must say that I was quite pleasantly surprised by the laid back albeit super well-equipped interior. Since beNuk Coworking places quite a lot of emphasis on creating a distinct sense of community, they regularly host networking events so nomads can mingle. 
What I personally liked the most about beNuk Coworking was the private terrace where I got quite a bit of work done under the shade of their garden umbrellas. Inside, you'll find both office-like, formal seating areas as well as more casual spaces such as a bar with high metal stools. 
In terms of membership, I found the rates to be quite affordable with monthly packages for Mex$2,300/monthly. Day passes cost Mex$165 while a private office will set you back Mex$5,000 per person. 
alternative spots for remote working
Owing to the lack of properly appointed coworking spaces in Cancun, you may wish to check out some of these alternative spots for remote working in the city: 
Best Places to Live in Cancun
Best Neighbourhoods
Cancun is split into two main zones: Isla Cancun, which translates to 'Cancun Island', and Ciudad Cancun which means 'Downtown Cancun'. Now, the thing about Cancun is that it's a land of glorious contrasts. While one end may be super-relaxed and sleepy at best, the other end is pulsating with the incessant beats of live music, courtesy of all night raves. 
The good news is that wherever you'll stay in Cancun, you'll always be just a car, bus, or ferry ride away from most facilities. 
Below are some of the most popular neighbourhoods on the island:  
Zona Hotelera
Okay, this is the one place that you wish to avoid if you're traveling with the kids. However, digital nomads who want to be right where the action is may wish to consider dropping anchor on the Hotel Zone which to me, wasn't all that different from the Las Vegas Strip in high season. 
Because it's a highly touristy area, real estate prices on the Zona Hotelera are notoriously expensive. Additionally, you'll be quite far from local grocery stores but on the other hand, there are plenty of international supermarkets in this area. 
As far as the community is concerned, the Zona Hotelera is mainly populated by tourists, college students on Spring Break and quite a high concentration of European expats. In terms of safety, this area is surprisingly safe for a tourist spot, with most crimes limited to the occasional purse snatching. 

Downtown Cancun
One of the best things about living in the downtown area is that you'll get to mingle with both locals and foreigners alike. An excellent option for families, this neighbourhood is home to plenty of public and private schools, hospitals, pharmacies, and supermarkets. What I personally liked the most about living in the downtown area was the fact that I was within driving distance to both the beach and the city centre. Real estate prices were also quite reasonable, with plenty of budget-friendly and mid-range options speckled throughout the neighbourhood. 
The downtown area is especially known for popular spots such as Parque Las Palapas, a paved park where locals usually mingle and relax over drinks after work or enjoy a picnic during the weekend. Other highlights in this area include the Sky Zone, Cinepolis VIP Cancun, and Mercado 28. 
Puerto Morelos
Puerto Morelos may lie just a half hour's drive from the Hotel Zone, but it couldn't be more different than the notorious party area. Quite on the contrary, Puerto Morelo's quiet atmosphere is ideal for those who wish to get away from everything and focus on creative projects. With azure waters and golden sand beaches, this neighbourhood is quite far from the main tourist destinations, so you'll probably need to rent a vehicle to get around. 
There's a small but friendly community of locals who live there, so making friends shouldn't really be an issue. If you want to live like a local, you can always get a place on the west end of Puerto Morelo, which is where you'll find most Mexicans. On the other hand, digital nomads who want to get away from it all can settle in the Eastern half, known for its mangrove trees, lighthouse, and watering holes. 
Puerto Juarez
A sleepy seaside community, Puerto Juarez offers the perfect setting for those who would like to live right by the ocean's edge. Real estate prices in Puerto Juarez can be extremely expensive in the summer, but I have been able to find some pretty affordable options in the low season. While it provides an excellent jumping point for those who would like to regularly visit Isla Mujeres, this area lies quite far from the vibrant clubs and restaurants that Cancun is known for. 
Puerto Juarez is surrounded by beaches, although not every lagoon in the area is favourable for swimming or snorkelling. Rather, the neighbourhood beaches are known for their nautical activities such as parasailing, kayaking, and the likes. In my opinion, Puerto Juarez is the place to be if you're visiting in peak season (if you can afford the accommodation cost of course) since it provides some solace from the maddening tourist crowds.
Find an Apartment in Cancun
While the real estate market in Cancun was quite easy to navigate through, I would advise you to refrain from committing to a long-term lease until you've vetted the place for yourself. Since it's one of the most popular tourist destinations in the world, you'll probably need to weave your way through your fair share of scams. 
As such, it's never a bad idea to book a hotel for a few days while you comb through your short-listed properties and meet with the owners to ensure that you're getting your money's worth. This will also give you the opportunity to negotiate the price and conditions in person. 
Now, the local real estate market may be easy to weave through, but Cancun offers an absolute maze of vacation properties, studios, and apartment rentals. So for me, the hardest bit was narrowing down my choices according to my budget. 
Digital nomads who wish to curb their expenses may consider getting a place in the downtown area where studios cost between Mex$10,000 and Mex$15,000 per month while one-bedroom apartments will set you back between Mex$20,000 and Mex$30,000 monthly. Surprisingly enough, Isla Mujeres also offers affordable studios for as little as Mex$13,000 per month which is quite a bargain for a waterfront setting. More lavish apartments in Isla Mujeres can go up to Mex$30,000. 
If you're not watching those purse strings, you may also consider getting a place in the lively Hotel Zone. For this area, you will most likely need to budget between Mex$20,000 and Mex$40,000 per month for a centrally-located apartment surrounded by resorts, clubs, and restaurants. 
One very important thing to know when browsing for an apartment in Cancun is that the best deals are found in the local classifieds or on signs hung all throughout the city so keep your eyes peeled when checking out properties in person. 
While nearly everyone in Cancun speaks English, I did notice that most locals preferred to negotiate in Spanish so you may wish to brush up on those language skills or hire a translator to help you. Whether booking online or in person, don't be afraid to negotiate since haggling is something of a second nature for Mexicans. Consequently, it's entirely possible to negotiate anywhere between 1,000 and 3,000 (if not more) off the asking price.  
Digital nomads who would like to book their apartment online may wish to check out social media groups, such as Cancun Property Rentals and Cancun Property Rents. It's also worth exploring real estate companies such as Puerto Realty, Homes for Sale & Rent – Properties Cancun, Lemmus Inver México Real Estate, and Puerto Cancún. 
Do bear in mind that you'll need to pay agency fees if booking through one. You'll also be asked to provide documentation, such as copies of your passport and visa. Some agencies may additionally request a credit check and character reference. 
Another thing that's important to know when booking long-term (six months or more) apartments in Cancun is that utilities, such as water, gas, and electricity aren't usually included in rent. However, most short-term lettings do cover basic utilities.
Cheap Places to Stay in Cancun
A common misconception about Cancun is that it's one of the most expensive destinations in the world. While it's true that some parts of Cancun can be eye-wateringly expensive, I can assure you that it is entirely possible and quite easy to find inexpensive accommodation in the city. 
For starters, there are plenty of hostels in Cancun that offer rooms in mixed dormitories for as little as Mex$120 per night. On booking.com, you can also rent a private room in a common property for approximately Mex$150 nightly. It's also worth checking out Airbnb where you'll find options that range from Mex$300 to Mex$700/night. 
In light of losses incurred by the Covid-19 pandemic, the local government launched a new initiative to offer two additional free nights for every two nights booked at participating hotels. With this program, you'll also receive between 15% and 20% on select resort services and restaurants. 
Digital nomads who are traveling on a really tight budget may wish to subscribe to a work exchange program where they provide their services – such as helping around the property or watching over the kids for a few hours daily – in exchange for complimentary accommodation. If this is something that you think you would like, you can always check out sites such as World Packers and Work Away Info. 
Another alternative would be to check out Couchsurfing where there are nearly 7,000 hosts that are willing to provide free accommodation to foreigners. Contrary to what the name implies, you won't necessarily have to sleep on the couch. I used this site twice and both times, I was offered my very own private bedroom in the host's house.
Cancun Visa
Compared with several other countries, I found the Mexican visa application process to be quite straightforward and simple, with very little red tape or paperwork to navigate through. 
A huge draw is that the country offers a free tourist visa to an extensive number of nationalities. With this visa, you can easily stay in the country for up to six months. If you already hold a multiple entry visa for the Schengen Area, UK, Japan, Canada, or the USA, it's good to know that you do not need to apply for a visa if entering the country as a tourist or business visitor. 
While the tourist visa is free for most nationalities, you do need to submit an Official Entry Immigration Form before your arrival in the country. I would suggest that you fill out your form in advance to expedite your entry since your information will already be on the system. As such, the immigration officer only has to stamp your passport and you'll be free to enter the country. 
Digital nomads who are planning on staying in the country for more than six months can consider applying for a temporary resident visa. This entitles you to open a local bank account, work, and even own a vehicle or a plot of land anywhere in Mexico. 
You'll need to go through a screening process at the consulate first and I would advise you to apply early since this process takes a bit of time. It costs around Mex$800 to apply for a temporary resident visa and if approved, you'll get to stay in the country for up to four years.
Culture and Food in Cancun
It's no coincidence that Mexican cuisine has been popularized all over the world. Indeed, Mexican cuisine has even been hailed by UNESCO as an 'Intangible Cultural Heritage of Humanity'. The cuisine primarily consists of hot peppers, beans, and corn which is usually consumed in the form of tortillas. 
As far as the ingredients are concerned, fresh lime, onions, avocado, cheese sauce, and beef (broiled, roasted, or stewed) also take centre stage. Of course, it goes without saying that tortillas, quesadillas, and tacos are absolute staples in Mexican cuisine. 
During your time in Cancun, you may wish to check out local delicacies such as:  
Tacos Al Pastor

: Steeped in local history, this iconic dish dates back to the 1920s with the arrival of Syrian and Lebanese immigrants. This delicacy consists of super thin strips of pork roasted on a spit served on a corn tortilla. It is served piping hot with pineapple, freshly chopped coriander and diced onions. 

Churros:

This emblematic Mexican dessert can be found all through Cancun. Whether you want to enjoy it fresh from the fryer from a street food vendor or fry your own frozen churros (available at every supermarket), you'll most likely develop a rapid addiction to this moreish treat. The traditional way to serve churros is to generously dust them in cinnamon sugar before dipping them in chocolate sauce. Locals also love to dunk their churros into their steaming cup of espresso. 

Conchas

: Another street food that's readily available throughout Cancun, Conchas is a breakfast staple among locals. Not unlike a brioche bun, it has a sweet, fluffy interior that beautifully contrasts with the crispy, streusel topping. While I'm personally partial to the plain variety, Conchas also come in various other flavours, including chocolate, cinnamon, strawberries, and the like. 

Skirt steak and grilled onion tacos:

Nothing symbolizes Mexico more than this classic combination of flavours and you certainly won't have any trouble finding these in Cancun. The steak is usually marinated in lime juice and local beer and the tacos are often served with generous dollops of guacamole. These tacos are super affordable, with large portions ranging from Mex$60 to Mex$100. 

Tamales:

Cancun is often hailed as the best place on earth for Tamales. Wrapped in plantain leaves or, more commonly corn husks, tamales can be sweet or savoury. Often served at Christmas, savoury tamales are typically stuffed to the brim with spicy vegetables, cheeses, and meats before being steamed until the wrapping firms up. Sweet varieties include sweetened cream cheese, dulce de leche, cinnamon, evaporated milk, and candied fruit. 

Mole Poblano:

Easily recognizable by its thick, treacle-hued sauce, Mole Poblano dates as far back as 500 years ago. While each local family has its own version, this succulent sauce usually contains a plethora of ingredients, including Mexican chocolate sauce, cloves, anise, cinnamon sticks, pumpkin seeds, and chilli peppers. It's more commonly served over meats, chicken, turkey, or tubers.  
While Cancun is primarily known for its parties and excellent eats, digital nomads will also find plenty of cultural festivals and events that they can attend during their time in the city. In February, you'll be privy to one of the most vibrant events in the whole of Mexico: the world-famous Carnaval. 
Not unlike Mardi Gras in New Orleans, the entire city flares into colours, offering extravagant costume parties, free-flowing drink and food, as well as street parades. The Carnaval normally spans across five days. 
Nomads traveling with their families may wish to head to Cancun in April for Children's Day. During that time, you can expect ample children-friendly games and activities, including face painting and costume parties. Plenty of candy and traditional Mexican desserts are available and street vendors often hand out complimentary treats to the kids. 
Now, if you are not travelling with minors, don't miss a chance at attending the Fiesta de la Playa en Cancun in August. Quick note of caution though: this massive beach party is known for being wild, noisy, and raucous, stretching from Punta Nizuc to Cancun. Along with live music and dancing, it's also known for its Frisbee contests, fashion parades, surfing competitions, and more. 
Cancun Nightlife
I only had to spend two days in the city to understand why Cancun is so often hailed as the world's Spring Break Capital. Indeed, if there's one thing you can be sure of, it's that the island is practically brimming with hundreds of venues that you can check out after dark. 
It's no secret that Mexicans love to party, so you'll certainly find vibrant pubs, discos, bars, and restaurants open until the early hours of the morning. 
Chichen Itza by night

: While this Mayan pyramid attracts more than its fair share of visitors during the day, believe me when I say that visiting it at night is a whole other experience. This archaeological site bursts into life after sunset, offering a flamboyant sound and light show that will undoubtedly thrill adults and children alike. For around Mex$3,000, you can even get a package that includes a guided tour of the ruins during the day, dinner, and the light show in the evening although you'll only need to fork over Mex$450 per person if you want to skip the package. 

Pool party at the Mandala Beach Club:

That was easily one of the most fun things that I did in Cancun. Every Tuesday night, the Mandala Beach Club hosts a pool foam party, complete with aromatic cocktails. There's even a DJ offering live entertainment and a Jacuzzi for those who wish to avoid the maddening crowds in the pool. For around Mex$1,500, you can also get a skip-the-line ticket and trust me when I say that it's worth the splurge since the line is notoriously long. If you get a VIP package, you'll even be treated to complimentary drinks between 10.30pm and 3.00am, all served by a private butler of course. 

Coco Bongo

: Located right in the Hotel Zone – Cancun's most famous party area – the Coco Bongo nightclub is ideal for those who would like to party with locals and foreigners alike. Especially known for its spectacular acrobatic shows, parties, and live entertainment, this nightclub also hires celebrity impersonators to mingle and party with the guests. Since it's a major tourist draw, prices certainly are on the higher side, but I would totally encourage you to check it out at least once if it's within your budget. The official opening hours are from 8am to 1am, but in reality, the club doesn't usually shut down before 3am. Regular tickets cost nearly Mex$2,000 while a VIP entry costs Mex$4,000.

Daddy O: One of the oldest nightclubs in Cancun, Daddy O quickly established itself as the Spring Break venue in Mexico. This is one place where you absolutely need to splurge on a priority entry ticket since the lines can stretch down several blocks and bouncers usually deny entry once the club has reached its maximum capacity. With laser and light effects that perfectly match the DJ's thumping beats, this club also offers unlimited drinks to VIP ticket holders. This club regularly hosts themed parties, including bikini contests, costume soirees and the likes. Also located in the Hotel Zone, Daddy O is open every day from 10.30pm to 4am. Regular entry tickets cost Mex$1,700.
Things to do in Cancun
A popular gateway to Yucatan Point, Cancun is easily one of the world's most visited destinations with over four million tourists flocking to it every year. As a result, you can easily expect endless attractions and points of interest that you can visit when you're not working. Since I was traveling on a budget at the time, I was quite appreciative of the fact that most of these attractions were either free or quite inexpensive to explore. 
Below are some of my favourite things to do in Cancun: 
Ancient City of Coba Ruins

Believe me when I say that there's nothing quite like the awe-inspiring feeling of standing in the middle of the Mayan ruins, surrounded by relics and monuments that were carved over 1,200 years ago. During the tour, you'll also get to explore an intricate network of stone streets, passages, ancient houses, and even traditional playgrounds. Whether or not you decide to climb up the pyramid structures is up to you, but I would absolutely recommend it if you've got the stamina for it. Just a quick word of warning though: the trek to the very summit can be somewhat arduous, especially given the burning Mexican sun so be sure to take plenty of water with you. Given that it's one of the most popular tourist attractions in Mexico, I must say that I was quite surprised by how inexpensive the entrance ticket was (Mex$150). However, do bear in mind that guided tours and other such additions may bring up the rates.
Cancun Underwater Museum of Art
Another awe-inspiring experience that you just can't miss in Cancun, the Underwater Museum of Art was quite unlike anything I've ever seen before. Established by Jason deCaires Taylor and Jaime Gonzalez Canto, this museum aims at protecting marine wildlife, while creating an eco-friendly and safe space for divers to explore. 
Do bear in mind that in peak season, the museum welcomes over 150,000 visitors so if you want a more serene experience, I would recommend that you head there later during the day or in low season. This museum is located between Isla Mujeres and the Hotel Zone and the easiest way to access it is through a tour operator. 
With nearly 500 sculptures, the museum is made up of pH neutral concrete that has been specially formulated to withstand underwater conditions. One of the most popular (and my personal favourite) exhibition is the 'Silent Evolution' which depicts a group of figurines grouped together to symbolize humanity's harmonious existence. 
Along with a tour of the exhibitions, the museum also offers snorkelling and glass bottom boat adventures. You do need to have your diving certification to be allowed entry. Alternatively, you can always take a quick diving course in Cancun and get certified before visiting the museum. 
Isla Mujeres

Loosely translated as the 'Island of Women', Isla Mujeres has a highly laid-back atmosphere that stands in contrast to Cancun's vibrancy. Because it lies less than fifteen kilometres from the mainland, you can easily hop on a hydrofoil that will take you from the Cancun Convention Centre in half an hour or less. Prices usually hover around the Mex$200 range. I will admit that I was quite surprised by the sheer number of things there was to do on Isla Mujeres. I hadn't done much research on the place before heading there and for some reason, I was expecting it to be a tiny islet with a few nautical activities, quiet beaches, and nothing much to do. However, Isla Mujeres actually offers plenty of incredible sights, including the Garrafon Natural Reef Park. You'll also find golf courses as well as a charming little town with craft and souvenir stalls, quaint boutiques, and restaurants. Now, don't expect the same bustling atmosphere later in the evening. After sunset, the island quiets down and returns to its serene state so there really won't be much to do at night. Most bars and pubs close surprisingly early and the last ferry back to Cancun leaves at midnight.

Mercado 28 Market

Yes, I know. This is a market and not an attraction per se, but Mercado 28 is actually something of a historic landmark in Cancun. I do have to give you a quick heads-up about this place though: Market 28 buses don't actually take you to the market. Instead, you'll be dropped off in front of what appears to be a long strip dotted with small boutiques. Later, I found out that many bus drivers actually earn commissions from the boutique owners if they drop tourists on their strip instead of at the market entrance. So, if – like me – you get unceremoniously booted from the bus in front of the shops, just walk around six blocks down the street until you find Mercado 28's iconic pink archway. Once at the market, resist the urge to pay the asking price. My local friends told me that haggling was something of a sport at Mercado 28, which is why most vendors grossly inflate the displayed prices. They actually expect you to haggle, so don't hesitate to test those bargaining skills. Along with stalls of souvenirs, this market also showcases paintings and an art exhibition by local artists. If you ask me, this is also where you'll find the best Mexican chocolate in the country.

Swim with Sea Turtles

If you've always wanted to get up close and personal with the sea turtles, there's no better place to be than Akumal Beach. Located an hour's drive south of Cancun, between Tulum and Playa del Carmen, Akumal Beach is known for its high concentration of turtles, including giant leatherback and loggerhead. Best of all, it's entirely free to swim or snorkel with the Akumal turtles. Digital nomads who happen to be in Mexico from July to December may even get the chance to witness females laying their eggs. You'll see plenty of sea conservation companies patrolling the beach, making sure that the nests aren't disturbed. In fact, you can even hop on a boat to Isla Mujeres to visit the conservation centre and help guide the baby turtles towards the ocean.

Temazcal Ceremony

If you're interested in the local Mayan culture, you can attend or perhaps even partake in a traditional Temazcal Ceremony which refers to a purification ritual. You'll need to strip down to your swimsuit and then enter what locals call a 'sweat lodge' which is basically a makeshift sauna, complete with water and hot pebbles. Inside, there's a local shaman who will perform the ritual in pitch darkness. The shaman will chant ancient mantras while pouring water and various herbs on the hot coals. According to local legends, Temazcal is performed to clean the mind and body since the body sweats out harmful toxins during the shamanic chanting. The price for this ceremony normally varies between Mex$2,000 and Mex$4,000 per person.

Exploring the Beaches

The one thing that continuously draws people from all over the world to Cancun is undoubtedly its magnificent stretches of white sand beaches bordered by calm lagoons. Indeed, you'll never be too far from a beach in Cancun and the good news is that most of them are entirely free to visit. One of the most visited beaches in Cancun is undoubtedly Playa Delfines, known for its milky white shores and powerful currents. In fact, it didn't take me long to realize that this beach was something of a landmark in Mexico, with locals and tourists continuously flocking to it. Given the strong currents, it's not unsurprising to see people sitting in plastic chairs right by the shoreline, enjoying the sensation of the waves crashing against them. You'll also find plenty of street food vendors offering traditional Mexican specialities. Now, I do have to warn you that Playa Delfines can get exceptionally crowded and noisy, especially during summer. For a quieter atmosphere, you can always head over to Playa Chac Mool, located 10 kilometres to the east. While it's a popular spot for water sports, especially in peak season, it's definitely nowhere as crowded as other beaches in Cancun. This beach is shaped like a cove, complete with calm, blue-green waters.
Best Time to Visit Cancun
Cancun has a tropical dry and wet climate so there's not much difference between summer and winter although the hot season sees a lot more humidity. Temperatures usually range from 26 degrees Celsius to 34 degrees Celsius throughout the year. In fact, because the Yucatan current consistently brings warm southern water to Cancun, the temperature rarely dips lower than 26 degrees, even in the winter. 
Summer in Cancun normally ranges from April to September. With blistering heat and humidity, this period also sees the occasional rainfall. Digital nomads who are planning on visiting Cancun between June and October should prepare themselves for plenty of heavy rainfalls, complete with thunderstorms. 
On the other hand, this period is considered low season in Mexico, so not only will you be able to avoid the crowds, but you'll also benefit from the best rates as far as accommodation is concerned. 
However, I would advise you to refrain from booking your trip between September and October because that's peak hurricane season in Cancun and there's a high risk that your flight will be cancelled. High season normally ranges from mid-November to late May and during that time, you can expect a maximum of eight rainy days per month. 
If you're planning on staying in Cancun then, I would strongly suggest that you make most (if not all) of your reservations in advance because everything gets sold out pretty quickly in high season. 
Prices also tend to go up so be sure to budget accordingly. In high season, digital nomads and expats usually escape to neighbouring islands such as Isla Mujeres or Cozumel where they'll get plenty of peace and quiet to work.
Cancun for Families
I may not have travelled to Cancun with kids, but it was obvious right from the beginning that the island easily caters to families – as evidenced by the sheer number of tourists vacationing there with their children. For starters, Cancun offers plenty of family-friendly attractions such as: 
Jolly Roger Ship Pirate Show

: I'll admit that this one is on the more expensive side – with tickets costing around Mex$2,000 per person – but this was also one of the most thrilling shows I attended in Cancun. Perfect for both kids and adults, the Jolly Roger Ship Pirate spectacle also includes a firework show, sword fighting, as well as dinner and drinks. Located in the Hotel Zone, the Jolly Roger Ship is open every day from 6.30am to 10pm. 

Ventura Park

: Also located in the Hotel Zone, this park offers plenty of packages that you can choose based on your kids' ages. Rest assured that there's also a designated play area for toddlers and children below five years old. Popular packages include Wet 'n' Wild, Aaaahventura, Grand Prix, Fun World, Underworld, and Dolphinaris. Each package includes complimentary food and drinks. Regular tickets cost Mex$600, Platinum ones Mex$800, and VIP ones Mex$1,400. 

Xplor Adventure Park

: Offering adrenaline-pumping expeditions, Xplor Adventure Park lies in Carretera Chetumal. Open daily from 9am to 5pm, this park is open to kids aged 6 and older. You'll be able to indulge in unique expeditions such as zip-lining through the jungle, river rafting, and even swimming through a stalactite-filled underground cave. Tickets cost Mex$2,624 for adults and Mex$1,312 for kids. 
Digital nomads who wish to enrol their kids in local schools may wish to check out international or private institutions since local ones usually conduct classes in Spanish. Most expats and nomads opt for English-speaking schools such as the International American School of Cancun and the Tulum International School Cancun. These schools usually provide international accreditations like the International Baccalaureate. 
The bad news is that it's not easy to find an English-speaking day care or kindergarten for the little ones- although most teachers can converse in English. 
In terms of food, I noticed that most (if not all) fast food places provided kid-friendly menus. Diapers, baby formula, strollers, and the likes were all readily available in supermarkets or pharmacies.
Living in Cancun
Cancun Transportation
While Cancun has an excellent bus system, I would strongly urge you to splurge for an Uber or a taxi if you're coming from the airport, mainly because there aren't a lot of bus stops in residential zones. It's possible to book an airport taxi beforehand or calculate the fare online. 
When using a public taxi in Cancun, bear in mind that trips within the Hotel Zone tend to be far more expensive than elsewhere in the city. It's also a good idea to watch out for taxi scams, such as longer and completely unnecessary detours that will only up the fare. 
Some drivers tend to over-inflate their prices despite the taximeter and most will claim that the meter isn't working. Consequently, I would advise you to insist on the meter being on. Worse comes to worst, settle on a fare even before getting into the car. 
Like I mentioned before, there's a great bus system in Cancun that runs from the Hotel Zone to the downtown area. The main routes are the R2 and R1. Public buses usually charge a flat rate of around Mex$12 per trip within the city. You'll also find ADO regional buses that will take you from Chichen Itza to nearby towns, like Playa Del Carmen and Tulum. 
During your stay in Cancun, you'll also see plenty of tourists getting around on bikes. Personally, I never felt inclined to bike my way through Cancun, mainly due to the heavy traffic and poor road conditions. If you do feel brave enough to face those absolutely fearless Mexican drivers, rest assured that bike rentals in Cancun are quite inexpensive with prices ranging from Mex$200 to Mex$250 per day. If you'd like to rent a scooter instead, be ready to fork over between Mex$600 and Mex$1,000. 
My favourite way of getting around in Cancun was undoubtedly by Colectivo, which can best be described as a collective minivan that goes around the city, picking up passengers – not unlike Uber Pool. Traveling by Colectivo was an experience of its own with loud, traditional music blasting through the speakers and enthusiastic locals singing along. 
Colectivos are quite inexpensive, with most rides costing between Mex$40 and Mex$50. As fun as it was to ride on Colectivos, I need to point out that they're often very cramped: drivers charge per person, not per trip, and as a result, they'll try to cram in as many passengers as possible. I've even ridden in one that was so jam-packed that the door wouldn't even close – something that didn't seem to bother the locals!
Digital nomads who would like to explore the many scenic destinations that surround Cancun can easily hop on a ferry from the three main piers found in the Hotel Zone: Playa Caracol, Playa Tortugas, and El Embarcadero. A round-trip ticket to, say, Isla Mujeres should cost around Mex$450 for adults and Mex$300 for children. Ferries usually operate on a half-hourly basis from 9am to 9pm every day.
Fitness and Health
While Cancun has plenty of picturesque beaches and outdoor spots where you can get a workout, the truth is that it's often too hot to train outside. Consequently, you'll find that gym culture is very much a thing in the city. Most establishments are well outfitted with modern equipment and a wide variety of classes to pick from. Still, I must point out that upscale gyms – especially those located in the Hotel Zone- tend to be quite expensive. 
Extremely popular among locals and foreigners alike, Hustle Fitness is located on Lote 5. It is open from 6am to 9.30pm, Mondays to Fridays and 9.30am to 10.30pm on Saturdays. A monthly package costs Mex$1,500 but if you're going to be in the city for a long time, you can always get a 6-months package for Mex$7,200. Yearly memberships cost Mex$12,000. 
Alternatively, you can also check out Jazzercise Cancun, which is my personal favourite fitness centre in Cancun. This establishment offers energetic dance classes that combine kickboxing, yoga, Pilates and aerobics in the same session. According to our trainer, these classes can help burn up to 800 calories in an hour. Rest assured that you'll be super motivated thanks to the excellent section of pulsating local and international music. Located on Avenue Carlos J. Nader, Jazzercise offers classes from 7am to 9.30am Mondays to Fridays and 10.20am to noon on Saturdays. 
Locals also like to indulge in sports, such as association football, which is a firm favourite in Mexico, given the number of internationally reputed footballers who emerged from the country. Consequently, you'll find makeshift football grounds all through the city and you can even attend matches at the Atlante Football Club or Estadio Cancun 86 stadiums.
Cancun People
With a population of nearly 900,000 inhabitants, Cancun is known for being extremely welcoming to tourists and expats. I'll be the first to admit that the island has more than its fair share of touts – as is often the case with popular tourist destinations. Some places are grittier than others and you do have to constantly keep your eyes peeled for scams. 
However, for the whole part, Mexicans will welcome you with open arms and go out of their way to help you with anything you may need. Believe me when I say that it won't take you long to realize exactly how warm and hospitable locals can be. 
In fact, while exploring the Hotel Zone, I made friends with a local family who was on vacation from Merida. Since they were familiar with the area, they were kind enough to act as my unofficial guides for the day. Not only did they refuse to accept any form of payment, but they even picked up the tab at lunch, insisting that I was a guest in their country. 
The second thing that you will notice about locals is that they are exceptionally polite. For example, even though tips are by no means compulsory in Cancun, most locals will tip between 10-15% after a service has been rendered. Chivalry is still very much present in the city so it's not uncommon to see men offering up their seats or hurrying over to open doors for women. When eating out, men are usually expected to pick up the tab, regardless of who invited whom. 
I learned (the hard way) that it's important to take the time to say a proper goodbye in Cancun: I was in a rush to get to a meeting after dinner with some local friends and I just waved a quick goodbye before hopping in a colectivo. Later on, my friend texted me to ask if they did anything wrong and that was when I found out that hasty goodbyes in Cancun basically mean that you did not enjoy or appreciate their company. 
As such, always take at least a couple of minutes to profusely shake their hands, tell them what a good time you had, before bidding them 'Adios'. 
Along with Adios, some other key phases that you may wish to learn before flying to Cancun include: 
Buenos dias

: Good morning

Me Llamo

: My name is… 

Mucho gusto

: Nice to meet you 

Buenas noches

: Good evening 

Hola, cómo estás

: Hello, how are you?
Another thing that's considered impolite in Cancun is to curtly refuse any snacks or beverages offered to you. Whenever possible, accept the refreshments (using the right hand), but if you absolutely must decline, the polite way to do it is to say Ahorita, which means "not right now". 
If you're invited to eat at someone's house, allocate yourself enough time to indulge in some conversation after the meal since post-dinner talks over digestifs and snacks is something of a tradition in Cancun. Just a quick heads-up about the food: locals can be very heavy handed with the spices so if you don't have a lot of tolerance for fiery meals, don't hesitate to let them know beforehand.
Cancun Insurance and Medical Care
Unless you're planning on going to Riviera Nayarit or Puerto Vallarta, travel insurance is not currently required. However, it is strongly recommended to subscribe to a solid protection plan to help you in case of any unforeseen medical event. 
Since it is an international beach resort, Cancun has an excellent healthcare system with top-quality dentists, surgeons, doctors, and opticians from all over the world. Surprisingly enough, healthcare in Cancun is quite affordable, especially considering the level of care that the city provides. Virtually all local doctors are certified in both Mexico and the US. 
As excellent as the local healthcare system is, do remember that Cancun is quite a small city. As such, patients who require invasive and complicated treatments are often transferred to more specialized centres in Merida, which is four hours from Cancun. 
As previously mentioned, practically everyone in Mexico is bilingual, so the language barrier isn't normally an issue in hospitals. However, public hospitals – as perfectly equipped as they are – do have quite a bit of waiting time which is why expats usually choose to go for private institutions. 
It's important to know that private healthcare in Cancun is notoriously expensive, so this may not be a realistic option if you don't have adequate health insurance. Some of the highest-rated international healthcare centres in Cancun include International Medical Center TCMS in the Hotel Zone, Hospital Amerimed in Plaza Las Americas, and Hospiten Cancún, also found in the Hotel Zone. 
You'll find pharmacies just about everywhere in Cancun, including shopping malls. Some of them, such as Farmacias del Ahorro Zazil-Ha and Farmacias Del Ahorro Cancun are open 24/7. Prescriptions are not always required and while not all brand names are available, generic versions can easily be found in just about every pharmacy. 
Make sure you are fully covered by reading our full Digital Nomad Travel Insurance guide.
Jobs in Cancun
Here's the not-so-good news about Cancun: integrating the local job market can be exceptionally difficult, which is why most digital nomads stick to online jobs. If you do want to work locally, however, don't forget to consider the legal aspects such as applying for a work permit as well as a temporary residence visa. Applying for a temporary resident card in Mexico costs around Mex$3,500 although there may be additional payments such as the visa sticker exchange fee. It's possible to apply for a work permit online. 
Once you've gotten all the tedious paperwork out of the way, you can comb through job-seeking websites such as Citi, Indeed, Glassdoor, Jobs Abroad, and SimplyHired. It's never a bad idea to work a bit on your Spanish if you're seeking employment in Cancun – or anywhere in Mexico for that matter – because most job applications and interviews are conducted in the local language. 
Since it's such a popular holiday destination, you'll definitely up your chances of getting hired by the hospitality sector. Cancun is home to several international chain hotels that are always on the lookout for staff that can easily converse in other languages. It always helps if you're bilingual or even trilingual. 
Front desk agents normally earn around Mex$15,600 per month while Guest Service Executives can make up to Mex$40,000 monthly. If you've got your PADI certification, you can even apply to be a Scuba instructor, a position that will earn you between Mex$120 and Mex$250 per hour. 
Additionally, you can look into becoming an ESL teacher in Cancun, although most schools and colleges will require you to have a master's degree in English and either TESOL or TEFL certification. There's always a high demand for teachers in the city and foreign teachers can expect to make around Mex$30,000 per month. Some schools offer extra perks such as health insurance, housing, and complimentary transportation.
Check out our Digital Nomads Jobs Postings to find the best jobs available for Digital Nomads.
Nomad Friendly
Value for Money
Internet
Workspace
English
Food
Safety
Health
Transportation
Friendly
Quality of Living
Cost of Living Cancun
The thing about Cancun is that it can be a super-affordable place to live in just like it can drain all of your money in record time, which is why it's crucial to plan accordingly. Like I said earlier, try to head there in the off-season to snag up the best deals in terms of accommodation. If you want to curb your expenses, another important thing to remember is to stay away from the Hotel Zone. While it's certainly a terrific place to visit, living in this neighbourhood can get very expensive, very quickly. 
As such, the downtown area is perfect for digital nomads who don't want to spend a lot on accommodation. Flat sharing can set you back around Mex$6,000 per month while renting a studio all to yourself can set you back between Mex$10,000 to Mex$15,000 monthly. One-bedroom apartments in downtown Cancun usually cost around Mex$20,000 – Mex$30,000. 
For utilities, I would suggest setting aside approximately Mex$550/month for internet and Mex$1,800 for water, cooling, garbage disposal, heating, and electricity. Prepaid mobile tariff normally costs around Mex$2.60 per minute. 
Digital nomads traveling with kids should budget Mex$3,000 monthly for full-day, private day care centres while primary education costs around Mex$80,000 per month. Public transportation can cost between Mex$250 and Mex$350 per month, while renting a bike can cost between Mex$7,500 and Mex$8,000 monthly. 
For eating out, attractions, nightclubs, and the like, I personally set aside Mex$5,000 per month. All these expenses add up to Mex$22,350 which converts to around USD 1,100.