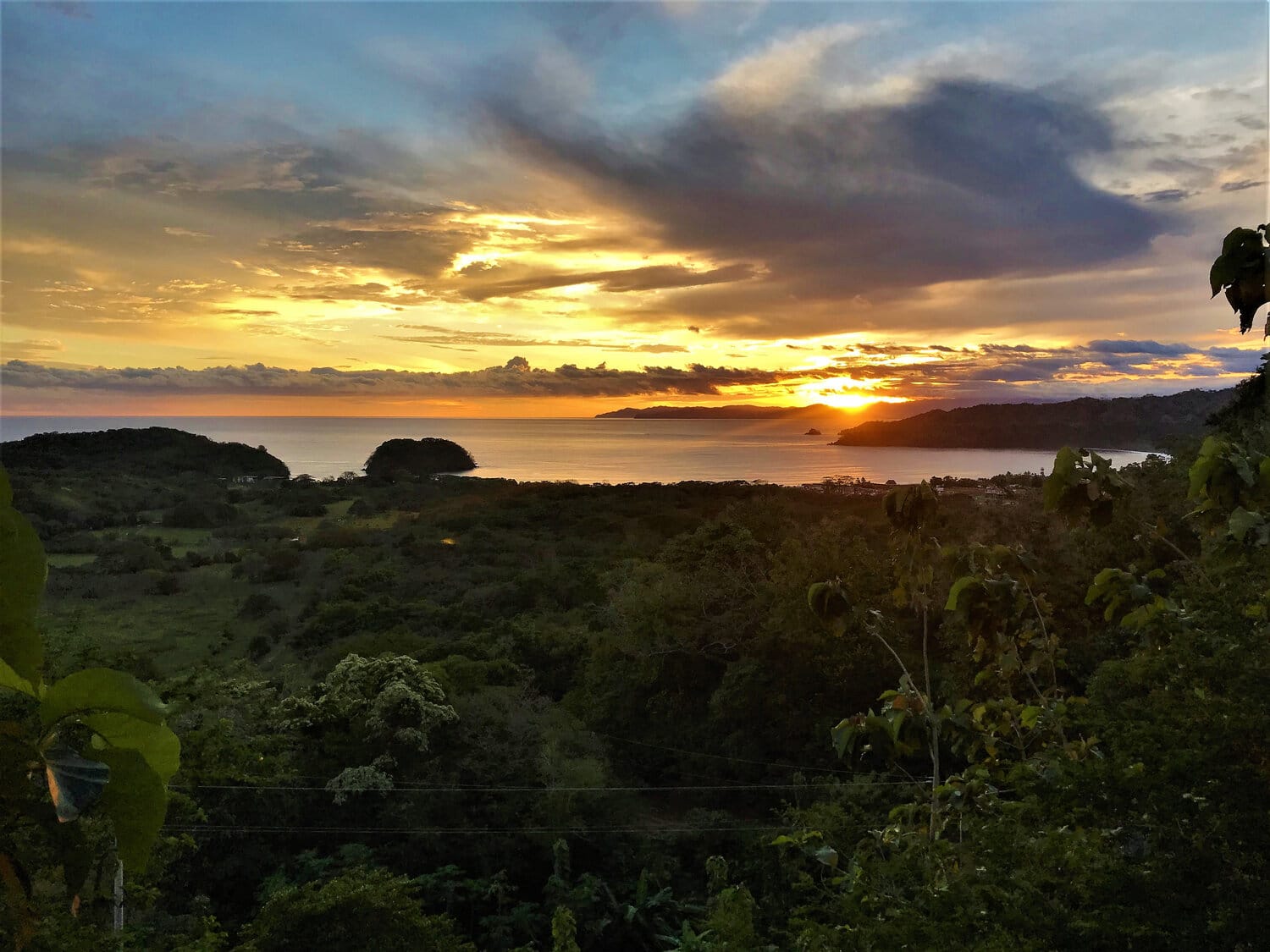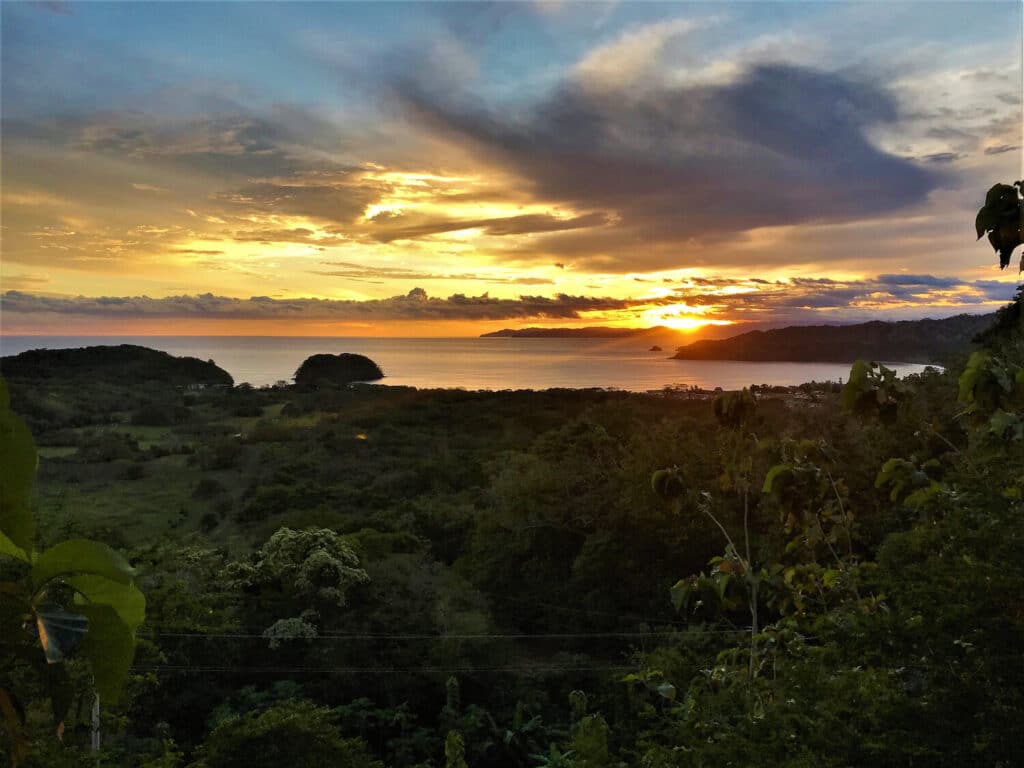 A Digital Nomad Guide to Playa Venao
Off the southern coast of Panama lies one of the most up and coming beach towns in Central America, Playa Venao. This less than touristy town is becoming more and more popular with digital nomads for its incredible surf, cheap cost of living and friendly locals.
While Playa Venao is definitely still off the radar when it comes to places to live, it is slowly but surely making a name for itself. The black sand beaches have a surf swell that is hard to beat in most parts of the world, and with it being less popular than the likes of Costa Rica or Nicaragua, you can still catch a wave without having to jostle for position.
The town has a reputation for being a bit sleepy and many of your days will be spent lounging by the beach or catching a wave. However, there are still a few things to do in Playa Venao if you need a break from the sand and sun. Best of all, it is extremely affordable. While Panama tends to be a bit higher in price than the rest of Central America, living in Playa Venao is pretty easy on the checking account.
So, if you are looking for a place to live the digital nomad life on a budget, with some of the best surfing in Central America, Playa Venao should definitely be at the top of your list!
Nomad Friendly
Value for Money
Internet
Workspace
English
Food
Safety
Health
Transportation
Friendly
Quality of Living
Living in Playa Venao Overview
Digital Nomad Personal Experience in Playa Venao
I spent a few months here while I was backpacking Central America and what was supposed to be a week-long trip quickly turned into a few months of surf, sand, and sun… and I was not upset about it.
If you are familiar with Central and South American hostels then I am almost positive you have heard of the hostel Selina and probably stayed in a few. Well, Playa Venao is where this company all began, and they have continued to build an extraordinary place for digital nomads or travelers to escape to. Their business model caters to those that are working and travelling with plenty of coworking space, fast Wi-Fi and a community of people just like you.
I cannot speak more highly of this hostel chain, as they provide everything you could possibly need (and more) while working on the road. In addition to being an all-around great place to stay, Selina Playa Venao also offers a variety of activities and tours to help you make the most of your time in Panama.
Some of my personal favorite things to do around Playa Venao include taking a surf lesson (or ten), going on a jungle hike, visiting the nearby town of Pedasi and exploring the many islands just offshore. But enough of that for now, we will jump into all of that later. First, let's jump into our digital nomad guide to Playa Venao.
Work in Playa Venao
Playa Venao has a lot to offer its visitors, however, as a digital nomad there are certain amenities and aspects that hold more importance than others. Mainly, and I know we are all thinking it, how is the Wi-Fi and where can I work? No worries, there are few places you can go to remain connected the majority of the time.
Starting with the most important aspect for a digital nomad, the Wi-Fi. Selina Playa Venao, as I mentioned earlier, is an excellent place to stay for anyone that is looking for a place to set up shop for a bit. Not only does this hostel have some of the best coworking space I have come across in Latin America, but the Wi-Fi is also incredibly fast. If you are not staying at Selina's, there are a few other places in town that have solid Wi-Fi as well, such as Cafe Playa Venao and Papaya Lounge
These two places usually have a few digital nomads working from them throughout the day and make for a great place to take a break from your hostel or home and work from somewhere new. I usually switch up my scenery every few days, just to keep things interesting!
I am going to be honest, the Wi-Fi speeds could be better and there are a few moments of the day where it completely cuts out. However, this is typical for most small beach towns in Central and South America. If you find yourself on zoom calls pretty often or having to upload hefty files, consider staying in a place with fiber optic connection. This is going to be your best solution to make sure you are always connected.
Best Places to Live in Playa Venao
There are a few options for accommodation in Playa Venao, however, as a digital nomad you want to make sure you have a place that has solid Wi-Fi and is going to give you the best bang for your buck. If you are on a budget, I would recommend opting for a hostel, as they usually have good Wi-Fi and are a great way to meet other travellers or digital nomads.
If you are looking for a more private option, there are a few Airbnbs and apartments that are available for rent in Playa Venao. These usually come with a kitchen so you can cook most of your meals at home and save some money, which is always nice. The easiest way to find long term accommodation in Playa Venao is to use Facebook groups, as people are always posting about rooms or apartments that are available for rent.
A few good ones to join are:
-Playa Venao Rentals & Sales
-Venao Buy & Sell
-Digital Nomads Panama
These are all great resources to help you find accommodation in Playa Venao, and the digital nomad community is very active on these groups so you can also ask for recommendations or advice on anything else you might need.
If you are on a budget and always want to stay connected with other travellers or digital nomads then some of the best places to stay in Playa Venao include Selina Playa Venao (obviously), Casa Bonita and Casa Bambu. All of these places have great reviews and are located close to the beach and main area of town
Make sure to check out Selinas Colive/cowork program, offering you a bed and the coworking space at an exclusive rate for month-to-month payments.
No matter where you decide to stay, I am sure you will enjoy your time in this beautiful beach town!
Find an Apartment in Playa Venao
Cheap Places to Stay in Playa Venao
If you're trying to save money
Playa Venao Visa
As a digital nomad, one of the things you need to be aware of is your visa situation. Depending on your nationality, you might be able to enter Panama on a tourist visa and stay for up to 180 days. I truly believe this is one of the best reasons to consider Panama a huge contender for digital nomads. Being able to stay in a country for six months without paying taxes or an entry fee is a dream!
For those of you that are not citizens of the US, Canada, UK, Ireland, Australia or New Zealand will need to apply for a tourist visa before entering Panama. The process is relatively simple and can be done online through the Panama Ministry of Foreign Affairs website.
Once you have your tourist visa, you can then apply for an extension which will give you an additional 90 days in Panama. This can be done by going to any immigration office in Panama, and the process usually takes a few days.
I recommend applying for your extension at least two weeks before your tourist visa expires, just to be on the safe side. However, if you want to stay longer than that or are from a country that does not have visa-free entry to Panama, you will need to apply for a different visa.
There are a few options for visas in Panama, and the one that is best for you will depend on your situation. The most popular visa for digital nomads is the Business Visa, which allows you to stay in Panama for up to one year and also lets you work for a Panamanian company. This is a great option if you are freelancing or working online, as you can easily find clients or companies to work for in Panama.
Another option is the Resident Visa, which lets you stay in Panama indefinitely and also gives you the ability to work. This is a great option if you have a job that allows you to work remotely, or if you want to start your own business in Panama. However, the process for this visa is a bit more complicated, and you will need to have proof of income or assets in order to qualify.
If you are just starting out as a digital nomad and are not sure a visa is best for you, I would recommend getting a tourist visa first and then applying for a business or resident visa once you are in Panama. That way, you can get a feel for the country and see if it is a good fit for you before committing to a longer stay.
The last option is the Retirement Visa, which is available to people over the age of 18 who can prove they have a pension or income of at least $1000 per month. This visa gives you the ability to stay in Panama indefinitely and also lets you work, so it is a great option if you are retired or have a passive income.
Culture and Food in Playa Venao
Panama is a land bridge that connects Central and South America, as well as a link between the Atlantic and Pacific Oceans. It is geographically part of Central America, yet its culture has been greatly influenced by the Caribbean and South America. Panama is a tropical paradise with gorgeous beaches, rainforests, unusual animals, birds and sea life that rivals anything you've ever seen before. The Panama Canal, often known as the "8th Wonder of the World," connects the Atlantic and Pacific Oceans, allowing this nation to become an international trading centre.
Panama is a melting pot of cultures, with a long history and common heritage. The country is flourishing as such today, with diversity, history and cultural tolerance widespread throughout it. Locals are quite proud of this fact. Panama's multicultural heritage can be traced to the country's indigenous roots and Spanish, Chinese, Afro-Caribbean and American contributions. Panama is recognized for its laid-back yet friendly vibe as a result of the diversity that comprises its population.
Like any beach town, Playa Venao comes with its own laid back, hang 10 culture. The vibe is definitely more surfer dude than anything else, which is to be expected given the waves that crash against the shore. You will find a slow-paced life here, with people taking their time to enjoy the sun, sand, and surf.
Along with the melting pot of cultures comes the melting pot of cuisine. Panama's history has resulted in a rich culinary culture that is as diverse as it is fascinating. It's tough to pinpoint the precise moments when distinct food cultures collided, but once they did, Panama's cuisine became unique, intriguing, and oh so tasty!
Panama is one of the most diversified countries in Latin America, owing to its long history of foreign influence. It's critical to grasp Panama's history and sociological culture before attempting to comprehend the nation's cuisine customs. Panama's culinary experience has been influenced by Spain, Africa, China, and North America, which is evident in the country's food culture. Panama's cuisine stands out not only for its foreign blend but for its use of fresh local ingredients to create tasty and healthy meals.
Rice and beans, plantains, yuca, seafood preparations like ceviche or sancocho de pescado, as well as meat dishes including chicken or pork are some of the most popular Panama meals. Beef is less popular than in other Latin American and North American regions. A typical Panamanian dinner will include a protein, rice and beans, a salad and fried plantains or yuca as a side dish. Typically, lunch is the main meal of the day in Panama, with a lighter dinner eaten later in the evening.
The use of fresh chili peppers, cumin, oregano and other spices adds a lot of flavour to Panama cuisine. The aji chombo, or "little hot pepper," is one of the most popular chili peppers used in Panama cooking. Whether in sauces or a marinade, this small but mighty chili pepper packs a punch!
Being next to the sea in Playa Venao means you will have your fill of fresh seafood. I still dream of the ceviche I had here, full of citrusy lime juice, fresh fish, onions, and cilantro. There is nothing better than sitting on the beach with a plate of ceviche and an ice-cold beer after a long day in the sun. You will find seafood used in all sorts of dishes, from simple grilled fish to more complicated seafood stews. No matter how it is prepared, you can be sure the seafood in Playa Venao will be fresh and delicious.
Due to the multi-cultural influence, Panama makes it easy to find a dish to your liking no matter what your taste buds are telling you. The climate is also perfect for growing an abundance of fruits and vegetables year-round. This means that no matter what time of year you visit, you will be able to find fresh produce to accompany your meals.
Playa Venao Nightlife
When the sun goes down, the party starts in Playa Venao. There are a few bars and clubs located in the town, as well as a couple of restaurants that stay open late. The vibe is definitely more low-key than other beach towns, but that doesn't mean there isn't anything to do at night.
One of the most popular night-time activities is to head down to the beach and enjoy a bonfire. The fires usually start around 9 or 10 pm, and they are a great way to meet other travellers and locals. Be sure to bring along some beers or rum, as well as some snacks to roast over the fire. S'mores are always my go-to choice!
You have to remember, Playa Venao is pretty small, so the nightlife won't be anything like you would find in a big city, but that's part of the charm! The relaxed atmosphere is one of the things that makes this town so special.
If you are looking to turn up on the weekend, head to the Selina. They have electronic nights, salsa, reggaeton and more. The party usually goes until the early hours of the morning, so if you are looking to dance the night away, this is the place to be.
La Barca Beach Club is also a great place to spend your evenings. They have a restaurant, bar and pool, and they often have live music on the weekends. It's the perfect spot to watch the sunset with a cocktail in hand… and I know it says club in the name, but you can expect a pretty laid back vibe here.
Whether you are looking for a place to chill with friends or a place to let loose and dance the night away, Playa Venao has something for you, as the sun sets you will see all the twinkling bar lights go on and the music start to play.
Things to do in Playa Venao
Surfing, Surfing, and More Surfing
If you are a surfer, or even if you have never surfed before, Playa Venao is the place to be. The waves here are some of the best in Panama, and there are plenty of surf schools where you can learn the ropes. Even if you don't want to surf, it's still fun to watch from the beach!
There are also plenty of other activities to keep you busy in Playa Venao. You can go horseback riding on the beach, take a yoga class, go for a hike, or even just relax on the sand with a good book. To be honest, it is quite easy to fall into the slow paced lifestyle with morning coffees and beach walks becoming a daily routine.
Depending on the time of year you are in Playa Venao you can experience different activities. If you are there during turtle nesting season (which is usually from May-October) you can go on a nighttime turtle walk with a local guide. These walks are really special, and it's an amazing experience to see these turtles lay their eggs in the sand.
From June to October, you will be able to see humpback whales migrating past the coast. There are a few tour operators that offer whale watching tours, and this is definitely something you don't want to miss. These giant creatures are absolutely amazing, and it's an experience you won't soon forget.
Playa Venao can easily feel a bit small so if you are needing a day or two then venture out and get off the beaten path, there are plenty of day trips you can take from Playa Venao. Isla Iguana is a small island located about an hour away by boat, and it's a great place to snorkel and relax on the beach. You can also visit the town of Pedasi, which is about a two-hour drive from Playa Venao. Pedasi is a lot quieter than most other beach towns in Panama, but it's still worth a visit.
Days when you can't be bothered to get sandy and sunburnt you can head on the opposite side of the beach which is home to a lush jungle for you to explore. The jungle is home to several hiking trails, and you're likely to see monkeys and other animals as you head towards the waterfall.
After a long weekend of partying, if you are needing some peace and quiet, head to Playa Cambutal. This is a remote beach located about an hour drive from Playa Venao, and it's the perfect place to relax and escape the crowds.
Although Playa Venao is still small, it's growing in popularity each year as more and more people are discovering this little slice of paradise. You will find an easy life here if you are looking for a place to relax, surf, and enjoy the simple things in life.
Best Time to Visit Playa Venao
You really can't go wrong visiting Playa Venao as the weather is beautiful year-round. The average temperature is 27 degrees Celsius (80 Fahrenheit), and the water is usually around 25 degrees Celsius (77 Fahrenheit).
The rainy season in Panama runs from May to November, but even during this time you can still expect plenty of sunny days. The rain usually comes in the form of quick showers that cool things down, and it's actually quite nice to be in the jungle during this time of year.
If you are looking for the busiest time to visit Playa Vanoa then December to April is when most people come. This is also when the waves are at their best, so it's a great time to come if you want to surf.
However, if you are looking for a more relaxed atmosphere then I would recommend visiting during the shoulder months of April/May or November. The weather is still beautiful, and the waves are good, but there are fewer people around.
If the weather isn't a priority but you are wanting to experience local customs and cultures, then I recommend visiting for the Carnival celebrations in February. This is a huge event in Panama, and it's definitely worth checking out if you are in the country at this time! You will find parties and celebrations going on all week long.
Regardless of when you visit Playa Vanoa, you are sure to have an amazing time! This little beach town has something for everyone, and it's the perfect place to relax and escape the hustle and bustle of everyday life.
Playa Venao for Families
To be honest, moving to Playa Venao with kids might be a little more challenging than moving to more established digital nomad hotspots. There are currently no international schools in Playa Venao, so you'll need to be prepared to home-school or find other creative solutions for your children's education.
If they are not at the age yet where schooling is a priority, you will be able to find nannies and other childcare solutions in Playa Venao. There are also a few playgroups and other activities for kids, so it's definitely possible to make it work if you are set on moving here with your family. You will find a small expat community of families in Playa Venao, so you won't be alone and could even consider starting a small school for all the children.
If you are dead set on the southern part of Panama, then I would recommend looking into the town Pedasi as it is a little more developed than Playa Venao and might have more of what you are looking for in terms of schools and activities for kids.
In regard to living in Playa Venao with kids outside of education, you really can't find a better place. The beaches here are absolutely beautiful and there are plenty of activities to keep the whole family busy. Enrol your little ones in surf school and language school to ensure they are learning new skills and becoming well acclimated with the culture of Playa Venao .
Living in Playa Venao
Playa Venao Transportation
Playa Venao is small, so once you have arrived, your two feet will do the job just fine. If you are planning on going into town or the surrounding beaches, bicycles and golf carts can be rented. Golf Carts are a great way to explore the town and beaches. There are also a few scooter rental places, but I would recommend avoiding these if you are not comfortable driving on sandy and hilly terrain.
If you are planning on staying in Playa Venao for an extended period of time, then you might want to consider buying a golf cart. They are not too expensive, and it will save you money in the long run if you are using it every day. You can also find used golf carts for sale, so keep an eye out for good deals!
There are few ways to travel to Playa Venao. The closest airport to Playa Venao is Tocumen International Airport (PTY), which is located in Panama City. From there, you can take a bus or a taxi to Playa Venao. The bus ride takes about five hours and costs around $30. The taxi ride is quicker, but it will cost you more money – expect to pay around $150 for the taxi.
If you are driving to Playa Venao, the journey takes about four hours from Panama City. The drive is relatively easy, and the scenery is beautiful. Just be sure to take your time and drive safely!
If you are taking the bus, I recommend getting a ticket with Panama Bus. They are reliable and have comfortable buses. You can book your tickets online in advance, which is helpful if you are trying to coordinate timing with the ferry schedule.
Another option and the most popular way to travel in Panama is chicken busses. I am sure you are wondering what in the world a chicken bus is. These are essentially school buses that have been painted brightly and decorated, they play music loudly and make many stops along the way to pick up passengers. They are definitely an experience, but not the most comfortable way to travel if you have a lot of luggage.
Fitness and Health
These are two things you really don't have to worry about in Playa Venao, as everyday life allows you to stay active and remain healthy, whether you are going for a morning surf or just a stroll along the beach.
There are a few gyms in town, as well as many yoga studios and Pilates studios. If you are looking for something outdoors, there are plenty of hiking trails and beach workouts that you can do. This is also a great way to meet others staying in town.
The most popular thing to do in Playa Venao is to surf, so if you are looking to get fit and have some fun, I would recommend joining a surf class. There are many experienced surfers in town who can show you the ropes.
It is also relatively easy to eat healthily in Playa Venao. There are many fruit and vegetable stands around town, as well as several supermarkets. You can also find organic produce at the weekly farmers' market. Most of Panama's cuisine is fresh and healthy, so you won't have to worry about eating too many unhealthy meals here. Specifically in Playa Venao, the seafood is caught fresh, so you can be sure that you are eating healthy and delicious when here.
Playa Venao People
Playa Venao has a population of about 500 people that live here full time. Like I said, it is small!! But what is little in numbers is made up for in community. The people are extremely friendly and welcoming to all visitors, whether you are staying for the weekend or want to add to the permanent residency.
The majority of the population is made up of locals, but there is a growing expat community as well. You will quickly get to know your neighbours and all the shop owners in town. This helps bring a sense of community that is often lacking in larger towns and cities.
Playa Venao is a great place to meet other digital nomads and travellers. There are many people here who are living the nomadic lifestyle, so it is easy to find others to connect with. One of the best parts about Playa Venao is that it is still relatively untouched by tourism. This allows you to really experience Panamanian culture and get to know the people who live there.
So I recommend diving in head first, enrol in a language school, learn Spanish, take a surf lesson with the locals and make some friends for life.
Playa Venao Insurance and Medical Care
This is something that is important to consider before coming to Panama, or anywhere else for that matter. Make sure you have good health insurance that will cover you while you are abroad. I also recommend getting travel insurance in case of any emergencies.
There are several clinics and hospitals in Panama City that can provide you with good medical care. However, if you are in a remote area like Playa Venao, it is important to know that the medical care is not as developed. There is one small clinic in town that can provide basic medical care, but for anything more serious you will need to travel to Panama City or another larger town.
It is also important to note that Panama does not have any reciprocal healthcare agreements with other countries. This means that if you are from the US, Canada, or any other country, you will not be able to use your health insurance here. You will need to purchase separate health insurance for your time in Panama.
Make sure you are fully covered by reading our full Digital Nomad Travel Insurance guide.
Jobs in Playa Venao
I cannot stress this enough. I do not recommend moving to Playa Venao without a job. There are not many job opportunities in town, and the ones that are available are mostly seasonal. This is not a place to come if you are looking for work, as there are very few options. This is a place to come if you are a digital nomad, remote worker or freelancer.
However, if you find yourself here without a job then there are a few options. The most popular option is work as a surf instructor. There are many surf schools in town that are always looking qualified instructors. If you don't have any experience, there are also several schools that offer training courses.
Keep in mind that the pay is not great, and you will be working long hours. But it is a fun way to make some extra money and meet other travellers. There are also a few other jobs in town, such as bartending and waitressing, but these are mostly seasonal and only available during the high season (December to April).
So, if you are thinking about moving to Playa Venao, make sure you have a job lined up first. It is not a place to come if you are looking for work, but it is a great place to live and work if you are a digital nomad or remote worker.
Check out our Digital Nomads Jobs Postings to find the best jobs available for Digital Nomads.
Nomad Friendly
Value for Money
Internet
Workspace
English
Food
Safety
Health
Transportation
Friendly
Quality of Living
Cost of Living Playa Venao
Panama has a reputation for being a bit more expensive than other Central American countries. However, this is not the case everywhere. Playa Venao is a relatively affordable place to live, especially when compared to places like Panama City or San Jose in Costa Rica.
You can expect to spend around $1000 per month on rent, food, and other basic expenses. This does not include things like travel, entertainment or nights out. If you are careful with your money, you could probably get by on less than $1000 per month. However, I would not recommend trying to live on a tight budget in Playa Venao. There are just not enough opportunities to save money here.
Of course, your cost of living will also depend on your lifestyle. If you like to eat out often, travel a lot and party every weekend, then your costs will be higher. However, if you are happy with a simple lifestyle, then you can definitely live cheaply in Playa Venao.
A basic apartment in Playa Venao will cost you around $400-$600 per month. A more luxurious apartment could cost up to $1000. Keep in mind that prices go up during the high season (December to April), so if you are planning on coming during this time, expect to pay more for rent.
Food is also relatively cheap in Playa Venao. You can get a decent meal at a local restaurant for around $5-$7. A meal at a more touristy restaurant will cost you around $10-$15. If you cook your own meals, you can expect to spend around $25-30 per week on groceries.
Travel is also relatively affordable in Panama making it easy to come and go as you please. A bus from Panama City to Playa Venao will cost you around $15. A plane ticket from Costa Rica or Colombia will cost you around $100.
Overall, I would say the cost of living in Playa Venao is affordable, especially when compared to other places similar to it in Central America.