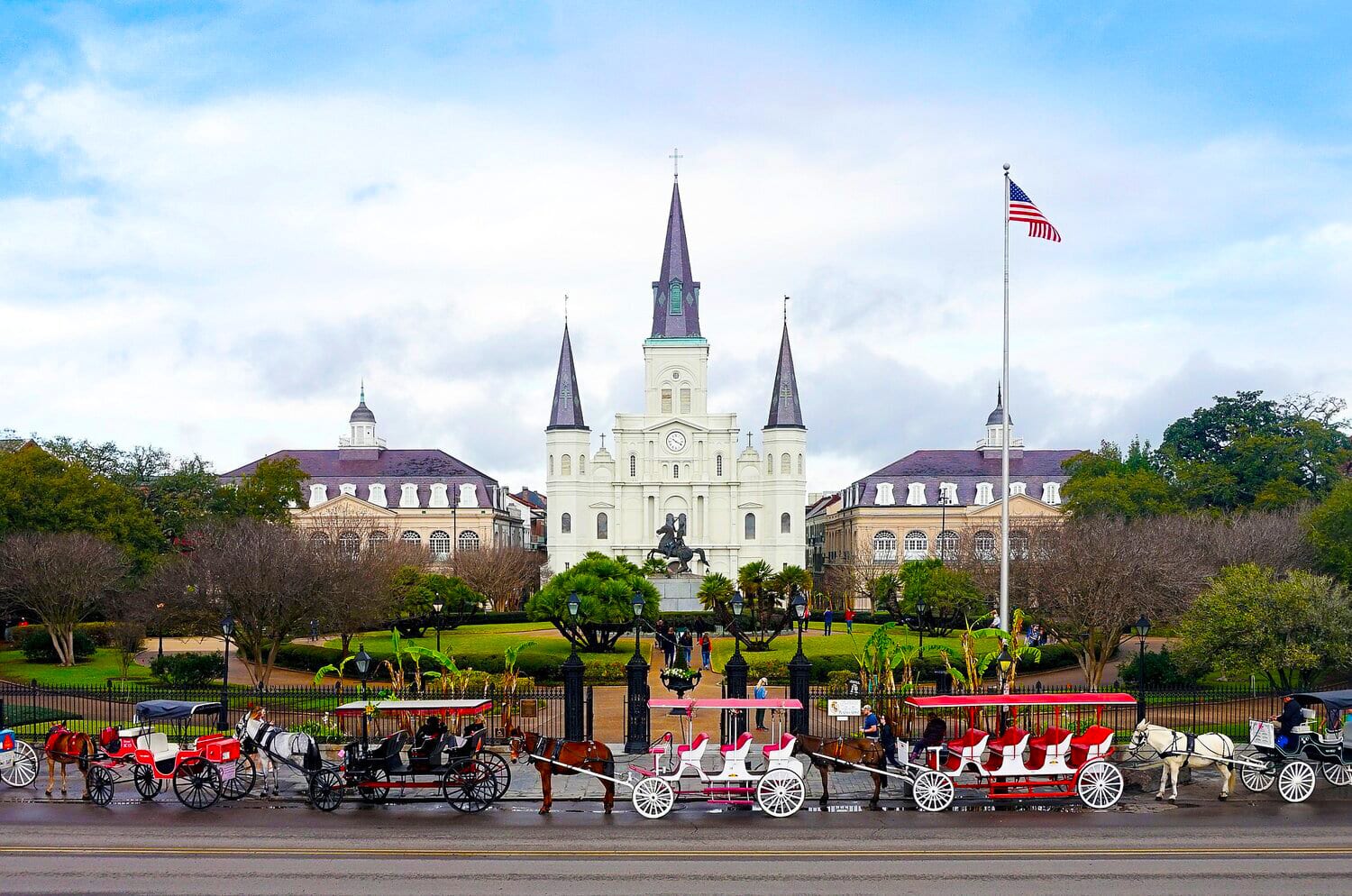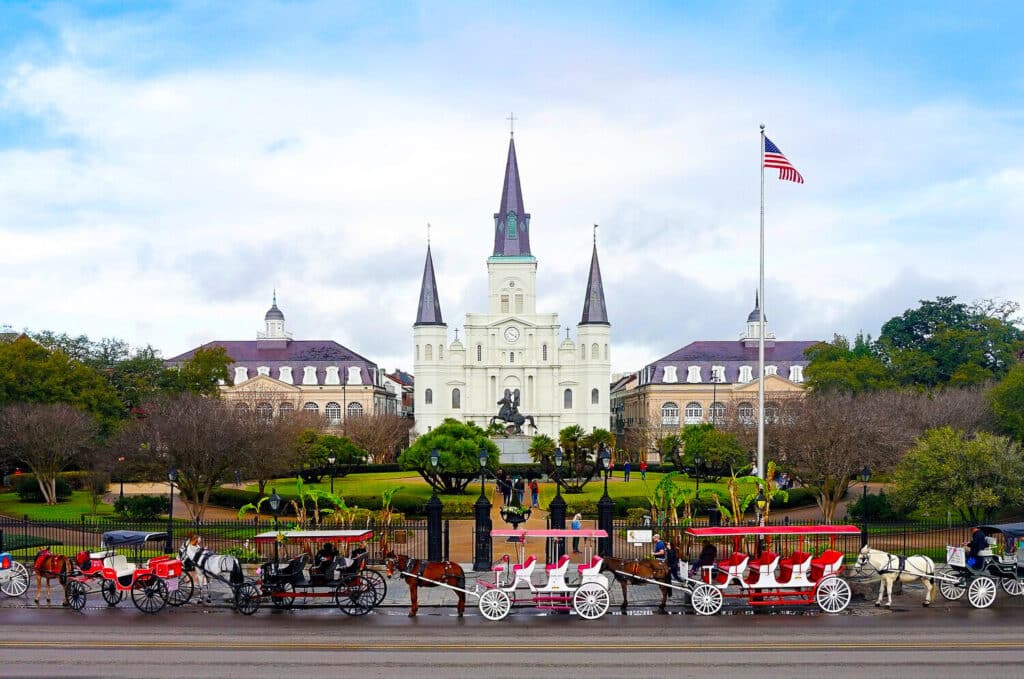 A Digital Nomad Guide to Louisiana
The mere mention of New Orleans evokes exciting thoughts, passions and visions of bright colours. New Orleans, or the Big Easy, is known for its vibrant festivals being the birthplace of jazz and of course Bourbon Street. However, it is a city full of fascinating history of both victory and tragedy. The roots of voodoo can be traced to New Orleans as well as a number of crazy tales about the early days of French and Spanish occupation.
Almost a million people call the wider New Orleans area home. The population continues to grow on the back of young people falling in love with NOLA and returning to stay for good. This has recently helped them become one of the fastest growing cities in the USA, and it isn't hard to see why. Allthough most visitors spend their time wandering the French Quarter and drinking on Bourbon Street, New Orleans has many layers to uncover. 
You can see New Orleans' story play out in its food and local language. It is a multicultural city whose mouth-watering cuisine combines African-American, Caribbean and European flavours all in one. While you may move to New Orleans to 'laissez les bon temps rouler' (let the good times roll), invariably it is the food that keeps people around. 
Beyond Bourbon Street, there is so much to explore that makes New Orleans a great place to be a digital nomad. You have Frenchmen Street with brilliant jazz musicians plying their trade, Magazine Street with laidback bars and DIY stores for any occasion. Then there are the famous above-ground cemeteries born out of necessity due to New Orleans being equal or below sea-level.
New Orleans is consistently rated as a great place for digital nomads to live. Its relaxing pace and international flair combined with a slightly lower cost of living creates a perfect tonic for online workers.
Nomad Friendly
Value for Money
Internet
Workspace
English
Food
Safety
Health
Transportation
Friendly
Quality of Living
Living in New Orleans Overview
| | |
| --- | --- |
|  Meal, Inexpensive Restaurant | $20.00 |
| Domestic Beer (1 pint draught) | $3.50 |
| Cappuccino (regular) | $4.32 |
| Loaf of Fresh White Bread (1 lb) | $3.33 |
| Water (1.5 liter bottle) | $1.65 |
| One-way Ticket (Local Transport) | $1.25 |
| Basic Utilities (Monthly) | $210.33 |
| Internet | $72.44 |
| Fitness Club (Monthly) | $52.90 |
| Apartment (1 bedroom) in City Centre | $1,395.85 |
Currency: Indonesian rupiah (Rp)
[erw_exchange_rates_widget lg="en" tz="0″ fm="IDR" to="EUR,USD,GBP,AUD,JPY,RUB" st="primary" cd="" am="15000″][/erw_exchange_rates_widget]
ATMs
Max Withdrawal: Rp 3,000,000
Withdrawal Fee: Rp 30,000 – Rp 50,000
Use of Credit Cards: Mostly Cash
Digital Nomad Personal Experience in New Orleans
New Orleans is an incredible place to call home. It is exciting and mesmerising; high paced in some areas, yet slow and relaxing in others. The Big Easy is a city where it doesn't matter whether it is a Saturday night or a lazy Tuesday evening, there is always something going on. 
This in itself sounds amazing, yet it can be a double-edged sword. Especially for young digital nomads, the temptation to go out and enjoy yourself can not only quickly eat away at your budget but also limit your work opportunities. A quick stroll through the French Quarter at 13:00 can still come with rowdy college kids stumbling towards the gutter. Striking a balance between enjoying New Orleans' famed nightlife and still completing your daily goals can be difficult to achieve. It becomes easier once you discover places like Audobon and City Park with walking trails, century old trees and plenty of grass that isperfect for people watching.
New Orleans' reputation precedes itself – it may be boisterous in parts, but it remains a mid-sized city. Consequently, it is possible to escape the noise in a way that wouldn't be possible in bigger cities like New York or LA. Rent in New Orleans is less compared to equivalent cities and around half of what you might pay in New York. 
For digital nomads looking for a city where you can work and play, New Orleans presents itself as a worthy option. You won't ever be bored here – its culture is unique, the food is spectacular and your evenings will be full of surprises.
Work in New Orleans
We know New Orleans has a lot to offer digital nomads outside of the work day, but what will life look like for you when that laptop turns on? NOLA has a large selection of cafés and restaurants that also include free Wi-Fi. For newbies, you might want to head down to the French Quarter (not Bourbon Street), enjoy a delicious beignet and work surrounded by historic buildings and the smells of Creole cuisine. 
For those who prefer to work in a quiet environment, New Orleans has a number of public libraries. These vary significantly with the older libraries providing a classic library space and those built post-Katrina favouring computers and online learning. 
When you are new to town, networking and being surrounded by like-minded individuals may be the way to go. This is what makes co-work spaces so desirable – fortunately, there are a few to choose from in New Orleans.
Best Places to Work in New Orleans
Club Discovery
Club Discovery was once a 10,500 square foot dance venue that has connection to the early days of New Orleans Bounce. It has since been transformed into one of the best co-work spaces in the city thanks to a complete renovation in 2018.
The look of Club Discovery is quite typical of co-work spaces as it is both modern and industrial. You will have access to assigned desks ($350/month), private offices ($650/month) or a basic co-work membership which begins at $200 a month and allows you access to the communal areas and all of the perks. These include beer on tap, arcade games and a full kitchen.
The Warehouse
Like the name suggests, The Warehouse comes with an abundance of co-workspace filled with members from varied backgrounds sharing ideas and inspiration. The exposed brick and vaulted ceilings provide the sense of ample space to spread out, relax and get to work.
The Warehouse offers day passes for $25, and starter memberships come in at $175 per month. The semi-private cubes ($400/month) come with 24-hour access, lockable storage and access to the conference rooms.
The co-work spaces is conveniently placed within the Bywater neighbourhood surrounded by great cafés and restaurants. Although the in-house café is sure to keep you well fed and caffeinated throughout the day.
Propeller
Propeller offers a 10,000 square foot collaborative workspace for digital nomads and local small businesses. Their co-work memberships begin at $175 per month with dedicated desks priced at $325 a month. For those who simply want to stop by every once in a while to escape the busyness of cafés, they also offer a day pass. This will cost you $20 per visit.
There is an added bonus of Propeller being within walking distance of the iconic Laurel Street Bakery who create all their treats from scratch by hand. 
Propeller is a non-profit organisation that helps digital nomads and local entrepreneurs to promote social issues and create solutions. Through their Impact Accelerator programs, they have helped over 250 entrepreneurs. 
Launch Pad
Launch Pad was the original co-work space in New Orleans. It is flooded by natural light thanks to the towering windows and is all-round a beautiful place to work. It is located within the CBD, which puts you within walking distance of a ton of cafés, restaurants and post-work drinks. 
Launchpad prides themselves on creating a collaborative and energetic environment that helps digital nomads take their work to the next level. There are Launchpad workspaces around the US, so there may be opportunities to move from one Launchpad to another. Communal spaces begin at $250/month, while permanent desks and private offices cost $450 and $600 per month respectively.
Best Places to Live in New Orleans
Best Neighbourhoods
New Orleans offers a point of difference to other major cities not just in the US but around the world. It is one of the few places where cost of living in the CBD and downtown can be same if not cheaper than in the suburbs. As you head away from the bustling heart of New Orleans, rent prices increase in many communities. These neighbourhoods are generally more family friendly as you say goodbye to the organised chaos of the French Quarter and endless live music. 
For digital nomads looking to experience what makes New Orleans so well-known, there are few reasons not to settle in downtown. You can enjoy the high-rise apartment life (buildings in NOLA aren't tall), a short commute to the best parts of the city and be within walking distance of the Mississippi River, the French Quarter and Lafayette Square. Public transport in New Orleans is fairly limited, so being close to so much will simplify your life if you are only sticking around for the short-term.
Other great neighbourhoods to live in and still be close to the fun and games are Marigny and Bywater. In Marigny you will find the wonderful Frenchmen Street which is home to the best jazz musicians in the city along with a slew of bars, restaurants and colourful homes. Bywater is a little further out and more rustic, yet it embraces its artistic side with plenty of visual arts productions. This is on full display at the unique Music Box Village.
Freret is around 15 minutes from downtown New Orleans and provides a better balance between the late nights and relaxing afternoons at the park. Freret is a part of Uptown that has seen a rejuvenation in recent years, and it has welcomed trendy retail stores and unique restaurants serving classic Creole cuisine. There is lots to do within walking distance, including a short trip to the expansive Audobon Park, one of the best in the city along with Tulane and Loyola Universities. St Charles Avenue is a couple of blocks away where you can take the streetcar all the way to the French Quarter. 
Magazine Street often gets overlooked by tourists who flock to Bourbon for hurricane cocktails, but it is one of the streets locals love the most. It runs for six miles (10km) from downtown out to towards Audobon Park. Magazine Street has many interesting bars, thrift stores and boutique shops but the best section is within the Garden District. The architecture here is different from everywhere else in the city, and like the name suggests, the neighbourhood is leafy and beautiful. Old mansions tower above the trees with dense green front-yards and it transports you to another time. You could spend days walking around the Garden District without getting bored and when combined with Lousiana-style cooking, pubs and shopping, it is one of the most interesting neighbourhoods in the Big Easy.
Freret and The Garden District are more family-friendly than Marigny and the CBD. While rent will be slightly higher, your living space is larger along a quieter atmosphere than the one downtown.
Find an Apartment in New Orleans
Neighbourhoods in New Orleans come with very distinct personalities. You may be able to sense when you have crossed into a new one simply based on colours, architecture and atmosphere. When you first arrive, consider spending time exploring New Orleans and finding an area that works best for you. You may love the thought of living downtown, but knowing all your options will help you make the right choice and settle in with more success. 
New Orleans is only becoming more popular as the years go by with a lot of younger workers coming to the city out of college. The housing market may not yet be as competitive as Los Angeles or New York, but it also won't be a walk in the park. It pays to put in the legwork, define your budget and understand what you can afford so you have money left over to enjoy the finer things in life.
Overall, the average rent in New Orleans is around $1100 per month, about $300 below the national average. That doesn't mean all parts of the Big Easy fall below the national average. Life in Bywater comes at a relatively hefty price tag, with the average monthly rent landing above $1900 per month. There may be opportunities to split rent with roommates, although single room apartments can often go for a similar price. If this fits within your budget, then that's great. Bywater is a trendy neighbourhood with all the fun of the French Quarter not far away. If not, there are plenty of neighbourhoods where you can spend less.
The median cost of an apartment in the French Quarter and CBD ranges from $1500-1600 per month. While homes in neighbourhoods such as the Garden District and Freret come in slightly under $1500 per month. Like anywhere, there are bargains to be had, particularly by renting out a room in a larger home, while moving further out of New Orleans towards Leonidas and the West End will bring some of the cheapest rent in the city at comfortably below $1000 per month. 
New Orleans' downtown is different to major cities around the States. NOLA has its fair share of apartment buildings, but it isn't a concrete jungle. However, homes around the central area tend to have small backyards and can feel quite cramped. This is the trade-off of having a short commute to co-work spaces and the French Quarter minutes away. If you prefer to have a bit more room to move, getting out of the CBD and into the suburbs will be a smart decision.
For New Orleans, the internet remains the best place to begin your apartment or home search. Websites such as Apartments.com, Pad Mapper, ApartmentList will help give you a great idea of overall prices for your preferred situation. Local Facebook groups can also be a handy resource, especially if you would prefer to have roommates. New Orleans Housing, Rooms, Apartments, Sublets, Roommates (a long name, I know) has over 16,000 members and multiple posts per day. (https://www.facebook.com/groups/200135023911082/)
Cheap Places to Stay in New Orleans
When Hurricane Katrina touched down in New Orleans, the city was changed forever. It led to a lot of rebuilding and with newer amenities rent prices have continued to increase. However, there is a trend of rent prices decreasing during the winter months. So if you are looking to move to the Big Easy during this time, you may be able to lease an apartment or home with less competition and at a lower price.
Another way to save money on your rent in New Orleans is to tap into any friends and acquaintances you may have, from close friends to your third cousin. Word-of-mouth is the best way to get a great deal especially in the more expensive neighbourhoods as often the best value listings never go public. Some old-school locals are known to simply stick a 'for rent' sign on the window and wait. 
Craigslist and the above-mentioned Facebook group are another great resource for lower rent. Like any similar websites, it is best to see the listings with your own eyes before signing on the dotted line. 
Although there are numerous cheap neighbourhoods where rent can fall to $600-700 per month, you understandably may have your heart set on being near Magazine Street or the French Quarter. If this is the case, teaming up with a roommate or two is a great way to not only lower your rent, but the cost of utilities as well.
New Orleans Visa
Gaining a visa to the United States isn't exactly a walk in the park. The US has a strict immigration policy that particularly affects those seeking work permits. For digital nomads, this can make it difficult to legally work within the US and New Orleans.
For nomads from countries included in the USA's visa-waiver program, you won't have a difficult time getting into the country as a tourist. By completing the ESTA application online (which is simple and quick), you will be able to spend up to 90 days in New Orleans before returning home or booking an onward flight. 
If you are not able to get an ESTA or wish to stay in New Orleans for longer than 90 days, you can apply for a B-2 visa. This will include going to a local consulate and completing an interview. If successful, you will be able to spend 180 days in the country. 
Both options, however, don't allow you work locally within the United States. If you're caught, you will have a hard time regaining entry in the future. 
Getting a work visa is a difficult task, and it will be dependent on family connections or being sponsored by a local company. This can be a long process, but it will allow you to remain in the States long-term.
Culture and Food in New Orleans
New Orleans' culture and cuisine are the two main aspects that attract over 17 million visitors to the Big Easy every year. Life here comes with world-class cuisine, lively entertainment and unique and colourful neighbourhoods. Chuck in warm temperatures and a background of jazz music, you can see why New Orleans is a city to be enjoyed.
Located on the Mississippi River, much of New Orleans' culture is connected and defined by the water. New Orleans was actually isolated from the mainland for almost 250 years. This brought forward multicultural fusion and set the city on a distinctive path much different from nearby cities. New Orleans combines African-American, French and Spanish cultures along with historic Creole and Cajun communities. Through the differences of all these cultures, New Orleans has developed into a city with it's own rhythm. 
Just a few years back in 2018, New Orleans celebrated its 300th anniversary. As you wander the streets of the New Orleans, you can feel every bit of the city's history thanks to architecture that tells tales of the past and were once home to history's most interesting characters. New Orleans claims to be the most haunted city in America where ghosts of pirates roam and Voodoo works it's magic. Local staples like gumbo and crawfish recipes are carefully handed down through the generations, giving each restaurant its own twist. 
The best example of New Orleans' history played out in the modern day, is in the local food. Cajun and Creole food are both native to the state of Louisiana. The Cajuns arrived in New Orleans after being exiled from Canada. Creole is harder to define, but generally means someone born in New Orleans with French or Spanish heritage.
They both have gone on to create a world-renowned dining scene that makes eating out in New Orleans an adventure in itself. There are subtle differences between the two cuisines, with Creole food using rich sauces and Cajun food tends to be more meat heavy. Either way, it remains easy to get them both mixed up. Popular Creole dishes include gumbo and grits, while Cajun brings jambalaya and boudin, a spicy sausage. 
Aside from Creole and Cajun cuisine, another must try during your New Orleans experience is, of course, the beignet. Essentially a doughnut, they are deep fried and sugar covered. The most famous location to find yourself a beignet is at Cafe Du Monde in the French Quarter. Here you can enjoy this delightful creation in a setting more like Paris than New Orleans. However, this isn't the only place to go. In fact, as a local creation you can find them all throughout the city in different forms, both savoury and sweet.
New Orleans Nightlife
The Big Easy is a city of festivals and events. Letting the good times roll is more than just a motto, it is successfully pursued in every way imaginable. New Orleans is a city that doesn't like to go to bed early regardless of what day of the week it is. It hosts a famous Mardi Gras every year, is the birthplace of Jazz and music can be heard right into the early hours. 
Wherever you go, there are opportunities to kick back and listen to the saxophone play, head to the theatre and cabaret or dance the night away with a hurricane in one hand. Bourbon Street and the French Quarter in general can become an irresistible place to spend your night. Due to the amount of tourism in New Orleans, an overseas driver's license isn't an acceptable ID. International travellers will have to bring their passport along for the ride. 
If you don't mind hanging out with hundreds of rowdy tourists, you can easily spend multiple nights visiting the dozens of bars on Bourbon Street. Each one slightly different than the last, some are dance clubs, live music venues, cabaret theatres, and some are just a simple place to pick up a strong drink. Alcohol isn't very expensive, and happy hour deals can see beers selling for just $3. This scene can quickly become overdone as you settle in to New Orleans life. Soon, you may search for a spot with more locals, but to begin with, it will be the place to go.
Once you have explored Bourbon Street, you may have gotten a slight taste of jazz. If you want to lean into that, then you have to head down to Frenchmen Street where brilliant musicians wow crowds until sun-up. Frenchmen Street become popular out of necessity as locals looked for a way to stay away from Bourbon Street. It has grown into a jazz mecca while remaining a point of difference to the madness only a few blocks away. One establishment you have to visit is The Spotted Cat, where a full band will have you swinging your hips for hours on end.
Magazine Street covers a much greater distance than Bourbon Street and offers a more laidback night out. Or, if you have your walking shoes ready, a long pub crawl could be the way to go. On Magazine Street you will find the full selection of dive bars to romantic cocktail rooms, sports pubs and delicious local food.
One of the best ways to explore the city and learn its history is to join one of the many night tours on offer. These can be purely historical although the best ones have a few interesting ghost stories thrown in. Take a break from the music and be prepared to have a few shivers sent down your spine. The buildings in the French Quarter tell an amazing story of both French and Spanish occupation, pirates, slavery and the clandestine early days of Bourbon Street. Along with that are Voodoo tours that dive into the superstitious culture that was a big part of New Orleans life.
Things to do in New Orleans
Walk the Garden District

Want to see beyond downtown New Orleans and not spend a penny? Then jump on the St Charles streetcar and make your way to the Garden District. This district is home to dozens of beautiful mansions, and it's filled to the brim with trees that rise out of the new pavement as if  they are clinging to the past. The Garden District is peaceful and a great place to simply walk and explore. It will be a welcome change from afternoons spent on the bustling downtown streets. You can finish your trip on Washington Avenue or Magazine Street for lunch.

New Orleans Swamp Tours

New Orleans is not just synonymous with jazz and partying, it is also right in the heart of Bayou Country. The Bayous helped develop the US through transportation on the water and was a major reason for New Orleans becoming what it is today. The swamps right outside of the city are a mix of fresh and salt water, and the alligators that live there are the highlight of the show. Along with feisty alligators that roam the waters, you can find crawfish while deer potter around in the forests. Joining a tour in the summer will give you more opportunities to spot wildlife.

Explore the Cemeteries

There may not be another city in the world where cemeteries are considered beautiful and a must-see attraction. However, New Orleans isn't your average city. The tombs are above ground due to the water level below the surface leaving you with hauntingly stunning designs to witness. You can explore the famous cemeteries for free, with the St Louis Cemetery being the most popular. Listed on the National Register of Historic Places, the cemetery is the home of the Queen of Voodoo, Marie Laveau and notorious pirate Dominique You. Due to its spooky nature, you can also join a ghost tour and walk through the cemetery and other haunted parts of New Orleans.

Visit the National WWII Museum

Opened on the 56th anniversary of D-Day, the National WWII Museum isn't just for history buffs.  The museum is home to a wide collection of films, artefacts and displays. It is a unique educational experience that doesn't shy away from the brutal realities of war. Admission into the museum is $27 for adults and the museum suggest you will need three hours to explore. However, you could spend all day appreciating the many exhibits from planes to Jeeps and the gift shop with 1940s inspired clothing.

Dance on Frenchmen Street

While it doesn't get any more boisterous than an evening on Bourbon Street, if you are after a more authentic NOLA experience, then Frenchmen Street is for you. Over four blocks you will find live music, packed bars and clubs along with delicious restaurants and galleries during the day. The live jazz is the main attraction here, so a visit to the Spotted Cat and Three Muses is in order. See what jazz is all about, and dance the night away.

Go on a Food Tour

In a city known for its mouth-watering yet unique cuisine, a food tour is the best choice to eat your way around New Orleans. There are so many restaurants to choose from so take the pressure off your hands and follow the experts. There are many types of food tours, each with their own different take on what makes the Big Easy such a foodie's heaven. Our pick is Sidewalk Food Tours – for $75, explore either the French Quarter or the Garden District sampling the best local creations.

Spend the Day at City Park

City Park remains one of the best spots in New Orleans to get some respite from the sun and the crowds. Enjoy a stroll around the various sections of City Park which includes the New Orleans Botanical Garden, and witness the Anseman Oak trees which are more than 600 years old. For kids, City Park has the Train Garden and Storyland, home to fairy tale characters. Later, you can enter the New Orleans Museum of Art ($15) or play an 18-hole round of golf.

Try a Beignet

You can't spend time in New Orleans without trying their homegrown beignets. First created in NOLA and handed down through the generations, beignets are a treat not to be passed on. Debate rages on about the best beignets in the city with Cafe du Monde being the most well-known place to go. Beignets can vary from sweet to savoury with each bakery or restaurant doing things a bit differently. Cafe Beignet is another place to check out if you prefer them sweet, otherwise head to SoBou for a savoury version.

Wander around Studio Be

Located in Bywater inside a massive warehouse is Studio Be. The work of Brandon Odums who specialises in large-scale murals is on display. It quickly gained a reputation as one of the best art showcases in New Orleans and dives into scenes of black culture and iconic figures. Brandon Odums, otherwise known as BMike, has also collaborated with 40 other artists to create these murals, some that span from floor to ceiling. The displays have most been created using spray paint and graffiti techniques and show off the full range of Brandon's incredible talent. Admission is only $10, and you could easy spend a few hours roaming the warehouse.

Party on Bourbon Street.

For digital nomads who end up spending a lot of time in New Orleans, you will no doubt graduate from Bourbon Street and begin to prefer other parts of the city. However, for newcomers, it remains an otherworldly experience that is hard to say no to. There are 13 blocks to travel along each with its own unique take on New Orleans nightlife. To truly appreciate why it is one of the craziest streets in the world, begin from Canal Street, grab yourself a hurricane and walk all the way down.
Best Time to Visit New Orleans
New Orleans has long and hot summers and plenty of rain throughout the year. However, unlike the northern cities, the rain isn't quite a miserable as it often provides some respite from the heat and comes tumbling down rather excitingly. That being said, the city lies quite low and is prone to flooding which can easily disrupt your commute around New Orleans. 
The best time to visit the Big Easy is between March and early May, along with late September to mid-November. This is when New Orleans strikes its best balance between its mild winters and scorching summers. Going outside at any time of the day is enjoyable, and you will be able to stroll through the parks without caking yourself in sweat. The evenings are lovely, and you can easily go out at night in t-shirt and shorts. 
The summer brings increasingly tropical weather with daily highs staying above 30C from late May into September. Heavy thunderstorms are common and often appear out of nowhere. These may seem like daily interruptions, but they quickly become a part of everyday life.
Winters in New Orleans come with temperatures dropping to the teens and will make any friends living through bitter winters increasingly jealous. This is the time to enjoy going for walks and seeing more of New Orleans without the crowds.
New Orleans for Families
New Orleans has a reputation for not being the most family-friendly city. It is a seen as a transient community, due to having a tourist economy and a party lifestyle within the CBD. However, that shouldn't put you off – there are family-friendly neighbourhoods that have a lot to offer kids along with the opportunity to grow up within a unique community. You will, however, have to do your research and spend some time on the ground in order to figure out where your family will best fit in.
Some of the more popular family-friendly neighbourhoods include Algiers Point located on the other side of the Misssissippi River. This is an historic neighbourhood where life is a bit slower, but the sense of community is strong. Others include Audobon and Lakeview which come with numerous outdoor activities, larger properties and improved public schools.
Speaking of public schools within New Orleans, many are still plagued with issues of underfunding and lack of staff that began post-Katrina. Not surprisingly, better public schools are found within more affluent suburbs, but may still not be to the standard you would expect from other cities. This has created a demand for private schools which are a popular option for those that can afford them. 
Although New Orleans is known for its rambunctious nightlife, there are many events and festivals that are kid friendly. Yes, this includes the Mardi Gras parade. You will find children's museums, zoos and aquariums, while Audobon and City Park have set aside areas just for the kids.
Living in New Orleans
New Orleans Transportation
If you know even a little bit about public transportation in New Orleans, you would have heard of its iconic streetcars. These beautiful creations have been transporting locals and tourists alike since 1835! The main St Charles streetcar line began that year and was one of the first passenger railroads in the world. To this day, you can jump onboard this streetcar and ride it all the way to Canal St in downtown. Not only can you enjoy the oldest continuously operating street railway in the world, but you can tick off a lot of sightseeing along the way.
A one-way ticket on this line will only cost you $1.25, but keep in mind that the driver will ask for exact change or give you credit towards a future ride. From Audobon Park in the south-west of town, it takes around half an hour to reach the end of the line on Canal Street which is right next to the French Quarter, so it is likely you will have a shorter journey into downtown. 
If you wish to connect to a different streetcar or bus, let your driver know, and they will give you a connecting pass for just 25 cents.
Streetcars were once more prominent in New Orleans, but many have been replaced by buses. While buses may not create as much romanticism, they are often less crowded and come with air conditioning, perfect for those hot NOLA afternoons. There are a total of five streetcar lines in the city, but the bus system is more expansive with 30 routes to choose from. As far as public transport goes, the bus is the simplest way of getting around the city and its surrounding neighbourhoods. 
The cost for the bus is the same as the streetcar and as they are run by the same organisation it is easy to transfer between the two. If you envision using public transport often, you can purchase an appropriately named Jazzy Pass that can last for one to up to 31 days. Prices vary from $3 for the single day pass and $55 for the monthly pass. This will provide you with unlimited use of both the bus and streetcar for the length of the pass. 
All streetcar lines run 24-hours a day which is its main strength over the bus network. If you are ever in the French Quarter in the early hours of the morning, you may be able to catch a ride home. The bus system ends at varying hours, but the majority of buses in the CBD, Marigny and the Garden District finish up at 23:00. Of course, Uber and Lyft are always a great option, especially when making your way home at night. 
Although New Orleans has warm weather almost all of the year, it is a flat city which makes walking and biking a great way to get around. Downtown and the neighbourhoods are easy to navigate thanks to a simple layout. There are also bike-share programs in New Orleans called Blue Bikes with stations placed all around the Big Easy.
Fitness and Health
With warm, year-round weather, there are many opportunities to be outdoors and remain active while you live in New Orleans. For a lot of locals, that means taking advantage of the many sprawling public parks in and around the city, including City Park and Audobon Park. Shady and beautiful, there is an abundance of trails to walk, run or bike on which will get your heart pumping. 
If you are familiar with New York's massive Central Park, you may be surprised to hear City Park is 50% larger. You will also be happy to know there are a variety of scenic paths around Big Lake and the Couterie Forest that will make your run much more enjoyable. Of course, the best part about this spot is that it won't cost you a dime. 
If you prefer to workout indoors or if the July heat is too much for outdoor activities, there are numerous gyms around New Orleans. These range from boutique gyms that focus on boxing (Le Boxeur) or climbing (New Orleans Boulder Lounge) to classic gyms with full weight rooms and classes. Elmwood Fitness is a local favourite with five locations, including two with 24-hour access. For those on a budget, there are major gym chains like Anytime Fitness with monthly passes for around $40.
New Orleans People
There can be no doubt that the people of New Orleans played the biggest role in making it the city it is today. There has been no major company arrival that brought mass migration, just the simple growth of a unique culture over hundreds of years. New Orleans has been under French, Spanish and now American control, so it can feel both like an international city and American at the same time.
New Orleans is a very welcoming and inclusive city – it is one of those places where you will quickly feel comfortable being exactly who you are. New Orleans doesn't pass judgement – you can dress how you want and even break out dancing in the street without passers-by batting an eyelid. It is one of the many reasons people visit and find themselves on the next flight back.
Living in New Orleans is expecting crazy things to happen yet being not at all surprised when they do, like wandering around the Garden District and spotting a wizard on a neon-lit bicycle. There isn't a single day in the year where it's not appropriate to dress up in costume and roam. Locals love to have fun, and you can expect your social life to be quite busy with plenty of evenings spent at nearby pubs or in the French Quarter. There are many cities in the States with vibrant nightlife and unique subcultures, yet New Orleans culture is the combination of all subcultures into one, forming a truly unique community.
That's not to say things are all perfect. There remain issues surrounding socio-economic inequality, and large sections of the city remain poor. The difference between affluent and struggling neighbourhoods can be stark. 
New Orleans has also seen it's fair share of tragedy, and its geographical location suggests it will see more in the future. However, it serves to only strengthen the sense of pride within locals. New Orleans is a provincial city, quite far from other major hubs. Locals have their own way of living and won't change for anybody. For those new to the city, it can take a while to pick up the little intricacies. 
Likewise, it will take a minute to begin to understand local slang and dialect thanks to Cajun and Creole cultures. The Louisiana accent in general is vastly different than other southern states, and it's no different in New Orleans.
New Orleans Insurance and Medical Care
America across the board is known for having a very expensive healthcare system. Digital nomads who won't have access to employment-backed health insurance should not make their way to the States without having some form of private health cover.
Finding yourself in a local New Orleans hospital, even just for basic treatment, can see the bills quickly pile up. A trip in an ambulance and emergency medical help won't come cheap and can blow out your budget. When you begin researching your private insurance prior to arriving in New Orleans, it is imperative that you find one that suits the USA. Some coverages will come with higher premiums if you find yourself in an American hospital.
If you do go to a hospital in New Orleans, you can rest assured that your medical care will be to a high standard. Across the board, US hospitals are of high quality, and New Orleans is becoming a healthcare hub for those living in the South.
Prescription medication, like hospitals, will likely be a lot more expensive than what you are used to back home. If possible, it will be worth taking your regular medication with you to stave off having to visit a local doctor in New Orleans.
Make sure you are fully covered by reading our full Digital Nomad Travel Insurance guide.
Jobs in New Orleans
Once you have completed the necessary steps and gained entry into the US with working rights, you will be able to seek employment once you arrive in New Orleans. For those who are in possession of a green card you will also be able to pursue citizenship further down the line.
If you weren't sponsored by a company and don't have a job lined up prior to arriving in New Orleans, you may be wondering what work will be available to you. The hospitality industry is the first choice for many and represents the easiest entry into the local workforce. Of course, New Orleans has a ton of bars, restaurants and clubs to choose from, and the hospitality industry here tends to be transient, so there are always openings.
The New Orleans economy has rebounded strongly post-Katrina, yet it still lags behind the national average and unemployment remains above average. This has created a lot of competition within skilled sectors like manufacturing and export. 
The good news, however, is that the education and healthcare sectors offer strong career opportunities and have grown steadily in recent years. New Orleans' schools remain understaffed and there are also major universities here such as Tulane and Loyola.
Check out our Digital Nomads Jobs Postings to find the best jobs available for Digital Nomads.
Nomad Friendly
Value for Money
Internet
Workspace
English
Food
Safety
Health
Transportation
Friendly
Quality of Living
Cost of Living New Orleans
New Orleans, compared to other major cities around the USA, offers a lower cost of living across the board. This makes it a very attractive destination for digital nomads who can expect to experience much lower rent compared to cities like LA, New York and Chicago, even a similar mid-sized city such as Austin. 
Of course, living in the more expensive neighbourhoods will eat into your budget, but there are areas where you will find cheap rent. For example, it may cost around $1500 per month to live within the CBD. But the well-located Algiers Point can see rent drop below $1,000 per month.
Eating out and enjoying the city's famed nightlife is a huge part of living in New Orleans. However, because of the number of tourists in certain parts of the city, you can expect sharp price fluctuations for meals and drinks. However, across the board, having a drink on your night out remains relatively cheap in the Big Easy.
Public transport in New Orleans is limited without a major train system, however, it offers an inexpensive way to get around with a single ticket costing $1.25 and an unlimited monthly pass going for $55.
On the lower end of the scale, you can live in New Orleans for around $900 per month not including rent. How you spend your time can quickly increase your cost of living, so it's important to know exactly what you can afford before you arrive in New Orleans.