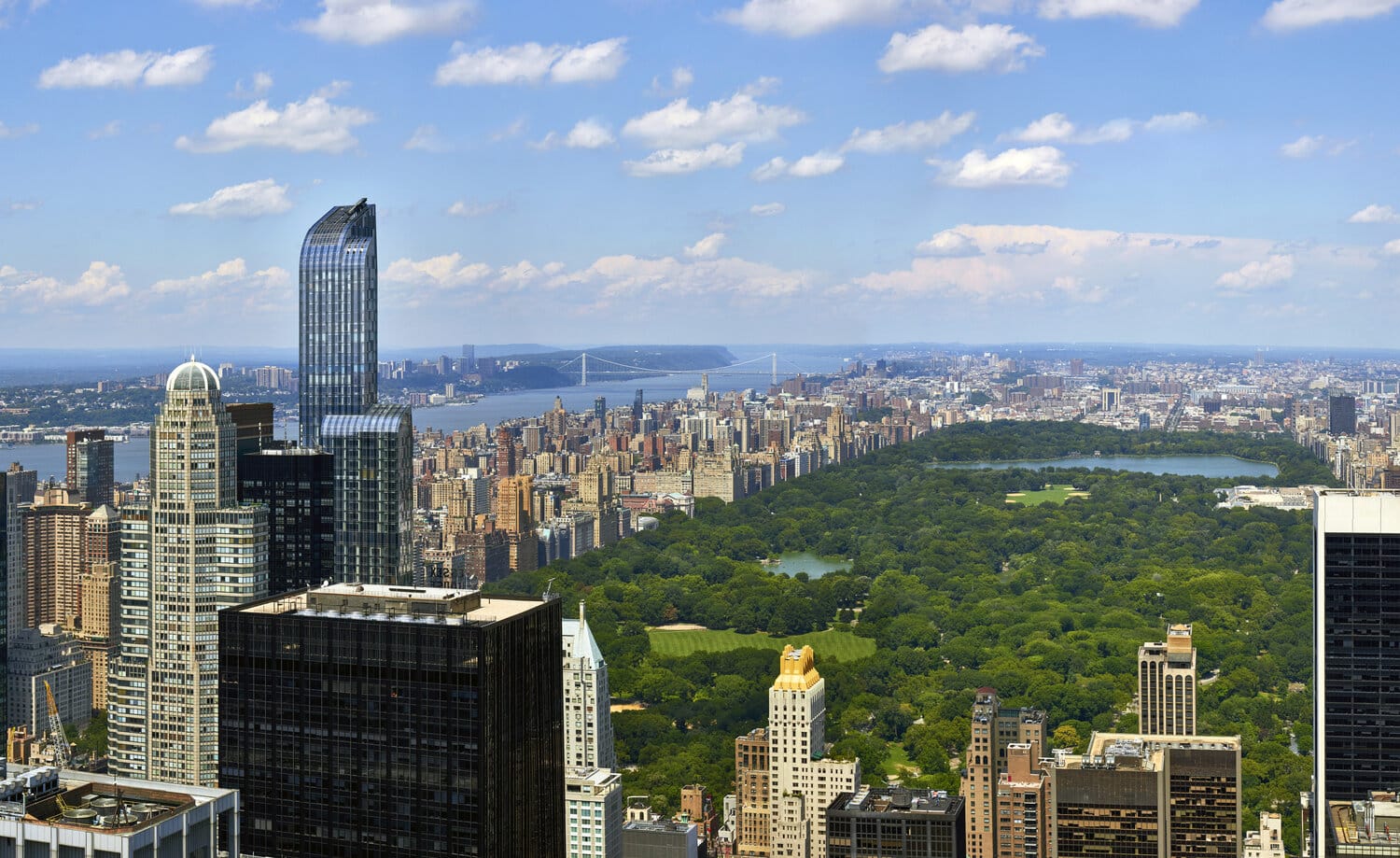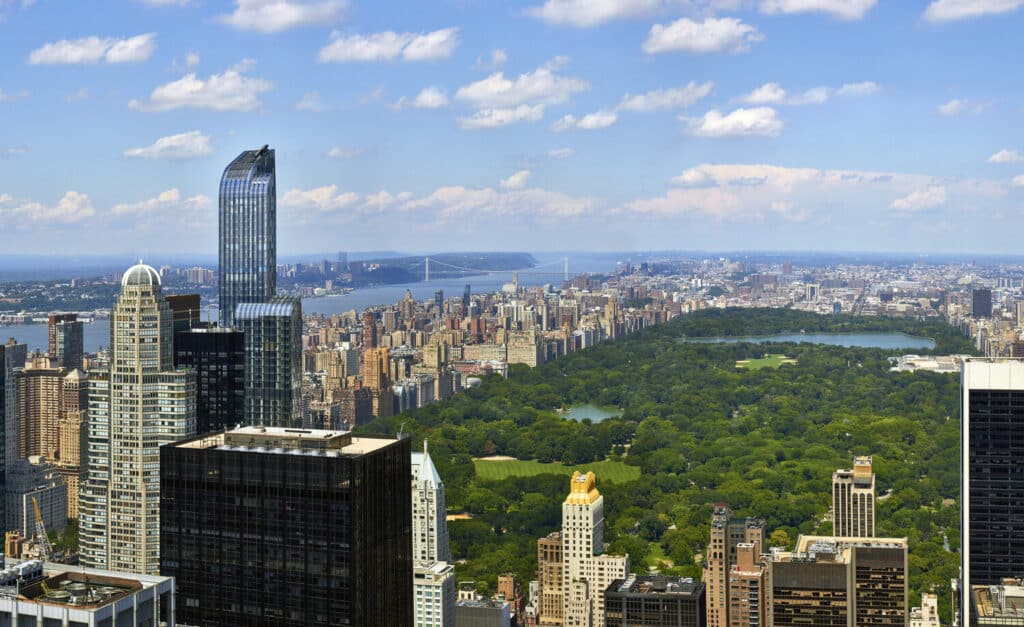 A Digital Nomad Guide to New York
New York City, or also known as the city that never sleeps, is located on the East Coast of the United States of America. With its 8.4 million inhabitants, it is the most populous city in the country and very popular among digital nomads. The city is one of the most important commercial and economic areas in the world where many international companies and organisations have their headquarters. 
New York is a popular tourist hotspot with countless attractions and things to do. Thus, about 50 million tourists come to New York every year, of which about 12 million come from abroad. The city is divided into five neighbourhoods, the so-called boroughs: Manhattan, Brooklyn, Queens, the Bronx and Staten Island. The Hudson River and the East River dive the city of New York into different parts and separate the boroughs.
New York is said to be the city with the highest cost of living in the United States and one of the most expensive cities in the world. Living here as a digital nomad will not come cheap so consider your budget carefully before you decide to move to New York City.

New York is a business hub and a great place to live as a digital nomad if your budget allows it. You can find anything you could possibly need or want here so many people end up staying and falling in love with the city. New York is possibly the most well-known and hyped city in the world so your expectations might be high when you move here. Just make sure your budget is large enough to sustain yourself and immerse yourself fully in these beautiful streets. There is so much to see and do from cultural attractions, parks, the nearby beaches, sightseeing and of course incredible food options. With so many things to cross off your bucket list for New York, you might struggle to find time to actually get some work done.
Nomad Friendly
Value for Money
Internet
Workspace
English
Food
Safety
Health
Transportation
Friendly
Quality of Living
Living in New York Overview
| | |
| --- | --- |
|  Meal, Inexpensive Restaurant | $20.00 |
| Domestic Beer (1 pint draught) | $8.00 |
| Cappuccino (regular) | $4.96 |
| Loaf of Fresh White Bread (1 lb) | $3.64 |
| Water (1.5 liter bottle) | $2.27 |
| One-way Ticket (Local Transport) | $2.75 |
| Basic Utilities (Monthly) | $160.74 |
| Internet | $65.65 |
| Fitness Club (Monthly) | $112.26 |
| Apartment (1 bedroom) in City Centre | $3,040.51 |
[erw_exchange_rates_widget lg="en" tz="0″ fm="EUR" to="EUR,USD,GBP,AUD,JPY,RUB" st="primary" cd="" am="1″][/erw_exchange_rates_widget]
Max Withdrawal: €400
Use of Credit Cards: Widely Accepted
Digital Nomad Personal Experience in New York
New York is a crazy city to live in and definitely not the best choice for beginner digital nomads. Only move to New York if you already have a sizable income and even then expect to lower your standards of living considerably.

New York will quite literally eat your budget especially when it comes to rent. You'll most likely find yourself living out of the city somewhere and have to take long commutes into account if you want to get anywhere. 
New York is preceded by its reputation and most of the stereotypes are true. It's loud and busy and there is always something going on. If you don't enjoy city life then maybe skip this one. If the idea of skyscrapers, crowded streets and tiny apartments excites you then this might just be your favourite city. 
As a digital nomad, you'll have the benefit of not being tied to a location. You could move to any neighbourhood in New York without having to worry about getting to your workplace. Of course, New York is a fantastic place for networking and immersing yourself in a community. I loved the fact that there is always something going on and you can find everything you are looking for right in the city. 
You will never be bored in New York but it can be an overwhelming place to live. Personally, I could not see myself staying there for a long period of time but for city lovers, it's definitely a place where you have to live at least once in your life. It's truly a magical city and you never know quite what to expect from it. The fact that New York is idealised so much by so many people around the world is proof that there is just something special about this city that you can't find anywhere else.
Work in New York
New York is the city of coffee shops and you'll pretty much never run out of places to work here. There is such a large selection of cafes and restaurants with wifi that it can be almost overwhelming to choose one. Take some time to find your favourite spots and people-watch while you work.

If you like quiet work environments you should give the New York Public library a try. Memberships are free and there is plenty of desk space to choose from. The environment is always quiet although the wifi might not be suitable for large uploads.

If you're looking for fast internet speeds definitely check out one of the following coworking spaces. The selection is so large that you'll always be near one in New York City.
Best Places to Work in New York
WeWork Coworking
WeWork Coworking in New York offers you 66 different locations to choose from spread across Manhattan, Queens and Brooklyn. Most are in close proximity to train stations and popular shops so commuting is easy. Memberships include 24/7 access, free flow coffee, tea and water, printing services and daily cleaning of facilities. Additional fees may apply for booking conference rooms or using the mailing service, depending on the membership. The monthly fee for the hot desk area costs between $310 and $700 depending on the location.
Greendesk Coworking
The Greendesk coworking space has a total of ten different locations in New York. Here, particular emphasis is placed on environmental friendliness and sustainability. In addition to modern furnishings, Greendesk also has a cafeteria, an outdoor terrace and, of course, a high-speed internet connection. There are over 5,000 registered members, mainly small business owners and freelancers. With a monthly membership, you get a certain number of free hours for conference room use as well as a number of free pages to print. Monthly hot desk access costs $199, or you can purchase a day pass for 30$. Private offices, fixed desks or virtual membership are also available.
 The Farm
The coworking space The Farm offers a rustic ambience combined with advanced technology. The founders brought parts of an old barn from Missouri to New York to use as design elements in the coworking space. You will love the many wooden elements and barn components scattered around this beautiful workspace. Hot desk area memberships are available for $179 a month. This gives you 24/7 access, free flow coffee, tea and water as well as the usual amenities like lockers to store your valuables, high-speed internet and printing facilities. This is a pet-friendly space so if you're travelling with a dog, you can bring him to work with you.

Voyager HQ
The Voyager HQ in New York is a meeting place for all those involved in the travel industry. The space includes 50 dedicated desks, a communal kitchen, three private offices and various sizes of meeting rooms. Regular events such as a happy hour or roundtable discussion facilitate exchange and getting to know each other within the community. Memberships are available for $249 per month which includes a private locker, a physical mailing address and 24/7 access to the building. A quota of 12 hours for use of the meeting rooms is included in the monthly price.
NeueHouse Private Workspace
Neuehouse is a 5-storey private workspace located close to Madison Square Park. Members tend to have various artistic professions, including filmmakers, architects, fashion illustrators or designers. The usual amenities such as high-speed internet, printer/scanner facilities and a state of the art facility are available. Depending on which membership package you choose, you get more and more benefits. Private offices, meeting rooms of various sizes are also available. For artists or the like, private studios are even available for rent.
Best Places to Live in New York
Best Neighbourhoods
New York is divided into the so-called five Boroughs which are Queens, Manhattan, the Bronx, Brooklyn and Staten Island. Then there is also Jersey City which is located very close to New York City but is actually a part of New Jersey, a completely different US state.

The New York metropolitan area is large so there are endless neighbourhoods to consider. In general, the further you move away from Manhattan the more affordable the rent prices will be. However, there are of course also more upscale areas outside of the city as well.
Manhattan
As a digital nomad living in New York temporarily you'll want to live in a central location with good public transport connections. If you're not too concerned about your budget and don't mind living in a small apartment you should look into renting a place in Manhattan. This is definitely the most expensive part of New York but you'll get to be as close to the action as it gets. Soho is a great neighbourhood within Manhattan. This is a hotspot for business opportunities, networking events and coworking spaces. As a freelancer, this is the place to go although prices will be astronomical.
Chelsea
Chelsea is another neighbourhood in Manhattan that should be high on your list of choices. This area is young with great nightlife and art galleries. Come here for a vibrant international atmosphere and a prime location on the island. Midtown, which as the name suggests includes the middle section of Manhattan is a fantastic place to live as a digital nomad. This is where life happens and if you're coming to New York to truly experience the city Midtown is the place to go.
Jersey City
Jersey City is actually also a decent choice for digital nomads looking to rent somewhere in New York. Located on the opposite shore of the Hudson River this neighbourhood is far more affordable than Manhattan with some decent options for small apartments. This is a new and upcoming area with a beautiful riverfront that has some of the best views around.
Bronx, Queens or Brooklyn
If you're looking for more affordable living options in New York you need to leave Manhattan behind and look in either the Bronx, Queens or Brooklyn. While prices here can't necessarily be considered cheap they will be at least a little bit more manageable than in the city centre. You will also get more square footage here and maybe even some outdoor space if you are lucky.
Fieldston or Spuyten Duyvil
Look at neighbourhoods like Fieldston or Spuyten Duyvil in the Bronx or Kew Gardens and Sunnyside in Queens. Some of these are a great spot for families with good schools and public transport connections nearby. Luckily in New York, you can get almost anywhere quite easily so you will never be too far from the city. Some more good neighbourhoods in the Brooklyn Area include Bay Ridge, Sunset Park and Crown Heights. You'll love the more quiet atmosphere here which is a completely different world compared to the busy streets of Manhattan.
Find an Apartment in New York
House hunting in New York will be a tedious task and shouldn't be underestimated. The selection of available real estate is large but the best apartments tend to go in a matter of minutes or aren't released on the market at all. If you have a large budget definitely consider getting in touch with a rental agency who will help you find a place that suits your needs. If you're coming to New York with your family, definitely start looking a while in advance to make sure you have the perfect place to stay once you arrive. 
Prices are high in Manhattan which you need to expect before you start looking. Studies show that the average rental price for a one-bedroom in the city is estimated to be somewhere around 3200$. If this sounds expensive to you then definitely get the idea of living in Manhattan out of your mind and start looking in the surrounding neighbourhoods which will be far more affordable. A little further away from the city, you could find apartments for around 1,500$ which is still high but at least a bit more manageable. Keep in mind that these apartments are not going to be the best you've seen. Manhattan apartments are notoriously small and sometimes don't even have a private bathroom. Adjust your expectations beforehand to make sure you aren't disappointed.
If you're going to be looking for an apartment yourself the internet is the best place to look. Try websites like Apartments.com, Zumper, Nooklyn, Street Easy or Pad Mapper. Spareroom is a  really useful website for finding roommates. You can also try Facebook groups which might have some apartments without a broker fee. If you know someone from New York ask them if they know of any vacancies or landlords looking for tenants. Having a personal connection might save you money and time so make use of it if you can.

When you first arrive in New York take some time to walk around and get a feel for the different neighbourhoods. If you have never been to the city before it might be difficult to imagine what the areas look like. You might be thinking you absolutely have to live in Manhattan but maybe a place a little bit outside could be a better option. New York isn't only Manhattan and you might really enjoy living in Queens or Brooklyn. Keep an eye out for apartment vacancy signs and ask around a bit.
In New York, there is a constant trade-off between space and location. Renting in the city will mean you'll have minimal space and most likely no office or place to work. You'll get a lot more for your money in neighbourhoods further away but have to factor in the daily commute and other downsides. If you enjoy working at coworking spaces you might not want to be on the train every day for an hour just to get there. If you're someone who enjoys working from home then maybe a larger place is the better choice for you.
Cheap Places to Stay in New York
New York is very expensive and finding low budget accommodation is more than tricky. Most apartments have a broker fee which can be as high as 15% of the rental price. The best way to avoid this is to keep an eye out for no-fee apartments. These aren't always easy to find but will save you a lot of money.

Even without a broker fee, an apartment in Manhattan will cost you a small fortune every month. Consider moving out of the city which will potentially save you hundreds. Neighbourhoods like the Bronx, Jersey City or Queens are much more affordable and not too far away from the city centre.

If you have your heart set on living in Manhattan then the best way to keep your budget low is to rent a room in a shared apartment. Keep in mind that any real estate in the city will be tiny. Most rooms only have a bed with little else. A one-bedroom or studio will easily cost 2500$ per month while you might be able to find a shared room for only around 1500$ if you're lucky. Keep in mind that these options will be very basic and tiny with next to no storage space. If you require a desk and a place to work a neighbourhood further out of the city might be a better option for you. If you don't mind the commute you could be saving a lot of money this way. Shared rooms in other neighbourhoods could only cost you around 800-1000$ per month.
New York Visa
The United States is very strict with its immigration policies and it is extremely difficult to live in the country permanently as a digital nomad. You have to apply for a visa to be able to enter the US.

There are some exceptions for this for example for ESTA eligible countries. This list of nationalities do not have to apply for a visa in person but can apply for a so-called ESTA online which is a lot faster and more convenient. There is no need to go to an embassy which is a huge benefit for those who qualify. An ESTA can only be used for 90 days and is only valid for tourist purposes. This means that you cannot work or earn money locally in the United States and there are harsh fines in case you get caught.

If you are not from an ESTA eligible country you need to apply for a US visa. This needs to be done via mail or in-person and could even mean you have to participate in an interview. The process can be tedious but the visitor visa allows you to stay in the United States for up to 180 days which is far better than for an ESTA.

Again, remember that you cannot work in the United States under these visa conditions. Acquiring a green card or work permit is very difficult and usually only possible if you are employed by a large firm. Finding a company to hire you from overseas is highly advisable if you want to stay in the United States long term.
Culture and Food in New York
The United States is not necessarily known for its unusual cuisine since you can find most "American" dishes all around the world as a sort of standard option. However, New York has some traditional dishes that are unique to the city because they are prepared in a specific way. 
When you're walking around the streets of Manhattan you'll soon notice little food carts everywhere selling different things. The most common options are hotdogs and soft pretzels although you'll find all sorts of foods are sold by these vendors. Absolutely make sure you try at least one hotdog which is served with relish, crispy fried onions and sometimes even sauerkraut, a German pickled cabbage. Hotdogs usually only cost 1$ or 2$ and are the perfect afternoon snack.

New York is known for its incredible Italian cuisine which has been adapted and Americanised. A New York pizza is usually sold per slice and can be purchased from many small restaurants around town. Pizza is a popular street food and an authentic New York slice has a lot of cheese and sauce and even needs to be folded in half to be eaten efficiently.

Then there is the New York cheesecake which has become a popular term around the world. This rich cake is usually mainly made from cream cheese and served plain without too many toppings. For an authentic experience visit the Cheesecake Factory, a large American restaurant chain with an extensive menu of different cakes and desserts.
A real New York bagel is another treat that is often attributed to New York City. This is a soft and dense type of bread roll which is doughnut-shaped and very shiny. Bagels are not baked but rather boiled which doesn't technically make them a type of bread but they are usually consumed in a similar way. You can buy them from bakeries or supermarkets and they are most frequently served for breakfast. Top a bagel with cream cheese or cold cuts and turn it into a sort of sandwich. New York is definitely the perfect spot to get into bagels. You'll find yourself missing them once you leave the city again.
New York is often considered to be very different from the rest of the United States. Because of its ethnic diversity, it's difficult to attribute a certain culture to New York City. Many cultures are actually represented and you'll find cultural celebrations from all around the world. New York is a very open place and welcoming for the LGBT community.

Many tourists come to New York City just before Christmas when the whole city is lit up with Christmas lights. This is a magical time to visit New York and you shouldn't miss it if you get the chance. New Year's is also a popular event and a great time to experience the nightlife. Then there is the 4th of July, America's independence day which is always celebrated with a large fireworks show.
New York Nightlife
There are so many nightlife options in New York you might struggle to decide where to start. From loud clubs to swanky cocktail bars and live music venues, there is just about anything you can imagine in this city. As the city that never sleeps New York has a reputation of being essentially open 24/7. If you love going out and enjoying yourself this is the place to go.
Keep in mind that due to alcohol restriction laws most clubs in New York are actually only available if you're 21 and over. Alcohol laws are strict so always carry a valid ID with you. In most cases, only US IDs or passports will be accepted so take care when you're on a night out so that you don't lose your passport somewhere along the way. Some great clubs in the city include Output, 40/40 or 1 OAK which attracts a more upscale crowd. Clubs almost always charge entry fees which are usually somewhere between 20-30$ but can be even higher depending on the venue. In some cases, you can redeem this price in exchange for drinks.
If a loud club is not what you're looking for then maybe check out one of New York's many cocktail bars. Prices will be quite expensive so expect to pay somewhere between 12$ and 18$ per cocktail. Some of the best must-try bars around the city include The Long Island Bar, Maison Premiere and the Dead Rabbit.
If you're looking for more affordable nightlife options in New York city you should try out venues like Jimmy's corner, Botanica Bar or B-side. These bars are a lot less fancy than some of the expensive cocktail bars but their prices are far more affordable. You can find a draft beer for as little as 4$ if you're lucky which is a decent price for New York.
Bars and clubs tend to close at around 4:00 am in New York city although some are open later unofficially. If you're out late make sure to take an Uber or taxi home as the subway can be unsafe during this time of the night. This is not always the case but try to at least avoid taking public transport at night when you are alone. 
New York has a very large comedy scene which is a great way to spend an evening with some friends or a date. Go to one of the popular comedy clubs like the Comedy Cellar, the New York Comedy Club or the Broadway Comedy Club. You can watch a wide variety of shows from both established comedians as well as newcomers. Open-mike nights are very popular where anyone can go up on stage and try their hand at stand-up comedy.
Then there are the live tapings of late-night shows you can attend in New York. Oftentimes you can simply wait in line and they will select people for the audience. For others, you have to buy tickets in advance. Some live shows taped in New York include The Daily Show, Late Night and the Tonight Show.
Things to do in New York
Stroll through Central Park


If you go to New York City without walking through Central Park at least once, you haven't really experienced the city. The 843-acre park was built right in the middle of the city and is one of the most famous attractions. Within the park are several ponds, including a large lake in the centre. There are also about 50 fountains, 21 playgrounds, several sports facilities and about 25,000 trees throughout the green space. There is definitely enough to see here if you want to escape the hustle and bustle of the city. The park is open daily from 6:00 am to 1:00 am.

The National 9/11 Memorial and Museum is located where the World Trade Center once stood. The bronze plaques surrounding the memorial are intended to commemorate the 3,000 people who died in the 2001 terrorist attack. In the museum, you will find more information about the events of 9/11 and its aftermath. Also on display are parts of one of the planes and a damaged fire truck. The entrance fee for the museum is 26$ and really worth it if you are interested in the history of New York. Visiting the memorial is free and there is no entrance fee.

The Empire State Building is 90 years old and still ranks 47th among the world's tallest buildings. The highest floor lies 373 metres above the ground. On the 86th and 102nd floors, you will find the observation decks accessible to visitors. In good weather, you'll have a beautiful view over the whole city in all directions from here. The combination ticket for both observation decks costs $75 per person. If the lower deck is enough for you, you can get the entrance for $42. The building is open to visitors from 12 noon to 2 am and offers a beautiful view of the city that never sleeps, even at night.

Seeing the Statue of Liberty while you are in New York is an absolute must. Whether from the shore or directly from the small island, this statue is definitely a sight worth seeing. With its 93-metre height, it is one of the tallest statues in the world and has been a UNESCO World Heritage Site since 1984. A ferry ride to the small island costs $19.25 and includes an audio guide and, if desired, a ranger guide. Climbing up to the crown of the statue costs an additional $3. As tickets here are limited and of course in high demand, you should book this at least a few months in advance. If you buy a ticket on-site, make sure that it comes from an authorised stand selling entrance tickets. There are always fake vendors around who will sell you tickets that are not valid.

Cross the Brooklyn Bridge

New York is full of interesting landmarks, including the famous Brooklyn Bridge. It connects Brooklyn to Manhattan across the East River and was the first permanent way to cross the river when it was completed in 1883. The bridge can be crossed on foot or by car and offers a great view of the New York skyline in both directions.

Walk the High Line


The High Line Park is an old railway line that has been closed since 1980 and was turned into a public park. Since there is always a lack of green space in big cities, the 1.45-mile long railway line was completely redone and is now home to countless plants and even small trees. It is very popular with pedestrians and joggers as there are no traffic lights or vehicles to watch out for. From the High Line, you occasionally have a great view of parts of the Hudson River, and there are many places to sit and relax. While you stroll up there, you can still see the old railway tracks, which now blend into the atmosphere with beautiful flowers and plants. The park is open around the clock and there is no entrance fee.

Walk through Times Square

New York's Times Square appears in many American movies and TV shows. The famous theatre district with its numerous neon signs is a sought-after destination for tourists and the subject of many photos. Around 460,000 people walk through Times Square every day. In addition to the 40 or so theatres and musical venues, you will also find numerous cafés, restaurants, the occasional fast-food chain, but also a few high-class restaurants. When the sun sets, Times Square becomes an impressive place with its countless illuminated signs. 

Visit Battery Park

Battery Park is located at the southern tip of Manhattan. From here you can see the Statue of Liberty, and the ferry to the island departs from here. The park was named after the former gun emplacement that was once located there. The trenches are now decorated with flowers and monuments. The park on the shore is a great place to relax and escape the hustle and bustle of the city. Among other things, this is probably the best place to watch the sunset.

St. Patrick's Cathedral is the largest cathedral in the United States built in the neo-Gothic style. The 123-metre-long and 53-metre-wide building stands is an impressive sight and a popular photo location. The interior of the cathedral can hold up to 2,400 people. It is a truly breathtaking piece of architecture and well worth a visit if you are in the area. You can also marvel at the huge organ with around 9,800 different pipes that can fill the entire interior with sound.

Admire the plants in the Botanical Gardens of New York

As in every major city, you'll find Botanical Gardens in New York. The 250-hectare site contains more than 1 million plants divided into 50 different collections and sections. You can also see a piece of the former forest here that once covered the whole of New York. The main conservatory, built-in 1890, is one of the main attractions and offers a magnificent orchid show every spring. The entrance fee is $22 for the gardens and a ticket to the Conservatory will cost another $6 on top.
Best Time to Visit New York
The best time to visit New York is somewhere between the end of June and mid-September. 
December to February mark the wintertime and will be very cold with a chance of snow. In winter, temperatures rarely rise above 9°C during the day and can drop to -2°C at night. Rain and snowfall can be frequent, so you should always wear warm and weatherproof clothing. From December to February there is an average of around 9 hours of daylight, although this can be shorter due to high cloud cover. 
From March to mid-June, spring arrives in the city and more people can be seen on the streets. The change is also clearly noticeable in the rising temperatures. While it is still quite cool in March, it gets much warmer from April onwards and temperatures reach up to 25°C during the day in June. For this period, you should still dress warmly at first, with the option of taking off a layer in case you feel warm. At night, however, it can cool down to 15°C from time to time. 
In July, temperatures finally reach their peak and sometimes climb up to 30°C. In the summer, the average daytime temperature is around 25°C and at night, it usually doesn't get colder than 22°C. However, there is a 30% chance of rain during these summer months. Therefore, it is best to carry an umbrella when travelling in the city in case a rainstorm hits. 
From the end of September, temperatures drop just as quickly as they rose in spring. While you can still expect around 20°C at the end of September, temperatures drop to as low as 8°C during the day by the end of November. The probability of cloudy weather is around 60%, although less rain is expected than in the summer months. 
New York for Families
New York is not the most family-friendly city in the world. It's large and loud and sometimes hard to navigate. That being said if you move to New York as a digital nomad with your family you will most likely not be living directly in Manhattan but somewhere in a quieter neighbourhood which will be a lot more manageable.

If you don't mind living somewhere a bit further away from all the action you could have a very enjoyable time in New York. Just keep your budget in mind and think twice whether you want to spend all this money on living in a large city with your kids. Rent is incredibly expensive in New York, even in the suburbs. You'll end up paying thousands each month which doesn't include your commute or living costs.

Having a car is almost always a necessity when it comes to moving somewhere new with your family. Especially with younger kids, you don't want to depend on public transport to get around. New York is known to have rough areas and especially late at night it's not advisable to take public transport with kids.

Of course, a large city like New York has an incredible selection of schools. Public school will be affordable and convenient since the main spoken language is of course English. There are also fantastic private school options such as the British International School of New York, the United Nations International School, the German International School and many more. You'll rarely find so many international schools in one place so there is a great selection for you to choose from. Unfortunately, they all charge very high tuition fees and are very expensive. Definitely factor this into your budget before you decide to relocate to New York with your family.
Living in New York
New York Transportation
New York City is an incredibly well-connected city and probably one of the only places in the United States where you don't need a car to get around. The city is so packed that parking is ridiculously expensive. Unless you are coming to New York with your family and living in the suburbs there is no real benefit in having a car. You can get almost anywhere either via bus, subway, ferry or taxi if there is no other option.

The most common form of transport in New York is the subway. The network is extensive and easy to navigate. It operates 24 hours and takes you around Manhattan and the surrounding neighbourhoods. Tickets rarely cost more than a few dollars and can be bought at the station.

If you're staying in New York for a longer time you should definitely consider getting a metro card. You can use it on both buses and the subway interchangeably and it can be recharged as many times as you like. This system is convenient and much easier than buying new tickets every time. If you're feeling overwhelmed by the large number of subway lines make sure to pick up a free subway map from a booth at a station or download one online.

The New York subway system is considered to be quite safe. However, late at night, it might be advisable to avoid using the subway if you are alone. Always keep your belongings close and be careful with pickpockets.

Another good way of getting around in New York is via bus. As a tourist, this might be a more enjoyable way to travel because you get to see more of the city. Buses tend to be a bit slower than the subway though and can sometimes get stuck in traffic. If you're trying to get somewhere fast they might not be the best option for you. You can use your metro card 0n New York City buses which is the easiest way to pay for a ticket. They only accept coins and no paper money so make sure you remember that if you need to pay in cash. Depending on the line buses will run every 5 to 15 minutes throughout the day. Some but not all even run 24 hours a day.
Taking the ferry is an absolute must if you're new to New York. You can use it to cross the rivers or go to a different neighbourhood or simply to enjoy the incredible views. The ferries are a lot cheaper than some of the tourist harbour cruises so if you want to see the city from the water this might be a great option. A ride only costs a few dollars and is definitely worth it.
New York is home to the iconic yellow taxis which you'll see all around town. Recently ride-sharing services like Uber have become very popular. They are slightly more affordable and it's much easier to find a ride since you can simply locate a driver from your phone. If you're coming home late at night it's definitely advisable to take a taxi or Uber.
Fitness and Health
If you like trying obscure new sports and fitness trends then New York is the city for you. You'll find anything here from underwater cycling, trampoline workouts or indoor surfing. The selection is endless and there are always new things to try. Of course, New York is home to some of the best dance studios in the world so if you've ever considered getting into dance now is the time. Classes vary in price and can cost anywhere between 15$ to 250$ per hour depending on the dance school and instructors.

If you enjoy working out in a traditional gym you'll be pleased to know that New York City has one of the best selections in the world. You can find anything from budget-friendly options, large chains to boutique gyms that are highly focused on a specific target audience. You can find some of the most affordable memberships starting at 15$ per month and prices go all the way up to 200$ per month for more upscale establishments. Take your time picking your gym to make sure you get the best possible deal. Most will offer multiple locations throughout the city which you can use interchangeably. Have a look at Planet Fitness and Blink for some more affordable options and Equinox and the New York Health and Racquet Club for more upscale environments.
New York is also a fantastic city to get into running. Especially the many parks as well as the river banks have some great running tracks. Definitely give it a go even if you usually don't really run. This is the perfect way to get to know the city while also staying fit.
New York People
Stereotypically New Yorkers are perceived to be rough and not the most friendly. New York is a city where nothing is unusual. Everyday encounters and situations can be so absurd and weird that a real New Yorker isn't shocked by anything. If you're moving to New York definitely expect it to be different from what you might know from other large cities. In New York, everything is larger than life and completely unexpected. With just under 8,5 million people there is always something new to see and do. 
Living in such a large city can feel overwhelming especially if you usually live in more rural areas. With endless possibilities around you, you might feel lonely and isolated initially as it can be quite hard to get to know people as a digital nomad. Definitely seek out coworking spaces and networking events to meet fellow remote workers. Utilise Facebook groups and connect with new people to make friends. A great way to get to know more people is to try out some new activities and hobbies. Take a painting class or try a new sport. Don't be afraid to make the first step and approach people. People in New York tend to be a bit reserved which might feel uncomfortable at first but you'll soon feel more at home. It will take a while to get your footing but you'll eventually fall in love with the city and all it stands for.
New York City is a very diverse and multicultural place. According to a consensus from 2010 44% of the population is white, 28% Latino, 25% African American and 13% Asian American. All world religions are well represented and there is a sizable population of Orthodox Jews.

Some neighbourhoods are grouped together according to nationality and ethnicity. Chinatown is one of the largest of these neighbourhoods and is a popular place for tourists and locals alike. You'll feel like you left New York behind and entered an Asian city. Come here for fantastic food, shopping and cultural festivals. There is also Little Italy which is located in Lower Manhattan and known for its authentic Italian cuisine.

Some lesser-known micro-neighbourhoods include Little Senegal, Little Poland and Flushing in Queens which is home to a large Vietnamese, Taiwanese and Korean population. Flushing is very well known as a micro-community as around 70% of the locals here are of Asian descent. It is home to the New World Mall, the largest Asian indoor mall on the East Coast of the United States.
You'll find almost every single nationality in New York and a corresponding community. This is a great city to come if you want to retain your roots to your home country while you embrace a new place. Connect to your own national community in New York or immerse yourself in another. There are endless options. If you're craving that one traditional dish your grandmother used to make chances are you'll find it somewhere in a hole-in-the-wall restaurant in the streets of New York.
New York Insurance and Medical Care
The United States is known to have a very expensive medical system. Under no circumstances should you move to New York as a digital nomad without having medical insurance. Treatments can quickly cost thousands of dollars if you do not have insurance even for minor medical issues. Emergency medical care in general like an ambulance ride or emergency room treatments will be very expensive. Make sure you obtain medical insurance that is applicable abroad from your home country. In many cases, insurance companies will charge higher premiums for treatments in the United States. Keep this in mind and double-check whether your insurance is valid there.

While prices can be high the quality of hospitals and medical care is very good in the United States. New York is a very large city with world-renowned hospitals so even complicated issues can be treated with no problem. There are different types of clinics so choose carefully which one you go to. Emergency rooms will usually have very long wait times so it's worth booking an appointment with a doctor if there is no urgent need to be treated.

For most medication, you will need a prescription which you can receive from a doctor. Again, medication can be very expensive if you are not covered by insurance. It might be worth taking specific medication that you need regularly with you so you don't have to worry about finding a new doctor who can prescribe what you need.
Make sure you are fully covered by reading our full Digital Nomad Travel Insurance guide.
Jobs in New York
Obtaining a work permit in the United States is very difficult as a foreigner. Anyone who is not a US citizen or holds a special visa needs a so-called green card to be able to work in the United States legally. The green card will let you gain permanent residency in the US and allows you to work in any field. 
If you do not have a green card or are employed by a company who sent you to the US to work you cannot legally earn money there. Make sure you conduct all your work online to avoid being fined and possibly even deported. The US is very strict about its laws regarding work permits. Should you be caught the punishments will be harsh. Make sure you are financially stable enough to earn all your money online before you come to New York. The city is expensive and you might be spending more than you expect.

If you do have a green card or have an American passport you can find a local job in New York. Since the city is so large there are a lot of unskilled jobs available. You could find work in the hospitality industry or in retail without too many problems. Skilled jobs are also available but the market is competitive so there will most likely be a lot of applicants. If you're looking for additional work online ask around at coworking spaces and networking events for any open job opportunities.
Check out our Digital Nomads Jobs Postings to find the best jobs available for Digital Nomads.
Nomad Friendly
Value for Money
Internet
Workspace
English
Food
Safety
Health
Transportation
Friendly
Quality of Living
Cost of Living New York
Living in New York on a budget isn't easy but you can at least lower your monthly costs slightly if you know how. For 2000$ you'll get a basic studio apartment in Manhattan although you could lower this cost of rent considerably if you look somewhere in Queens or the Bronx. You could find a room in a shared apartment for around 800$ if you don't mind the commute.

Some apartments have bills included although this will usually be the upscale apartment blocks in the city or along the river. These blocks also tend to have things like a gym, a shared terrace or even a pool. You'll pay a lot more in rent but all your expenses will be covered. 
Eating out and nightlife are very expensive in New York so consider this carefully before you decide to relocate. You could live off of around 1500$ per month in New York but this wouldn't include eating out or going to bars and clubs. This will add a considerable sum to your expenses.

Public transport is a great way to get around New York and there are unlimited monthly tickets available for around 120$. This is definitely worth it if you know you'll be commuting a lot. 
Sample expenses for one month
Essential costs
2000$ basic studio apartment

120$ bills for water, gas, electricity, wifi 

120$ public transport

200$ groceries 

30$ cell phone plan
_________________
≈ 2470$ total per month
Optional costs 
400$ eating out and nightlife

200$ membership at a coworking space

100$-150$ health insurance (varies greatly according to country)

250$ budget for sightseeing




40$ gym membership