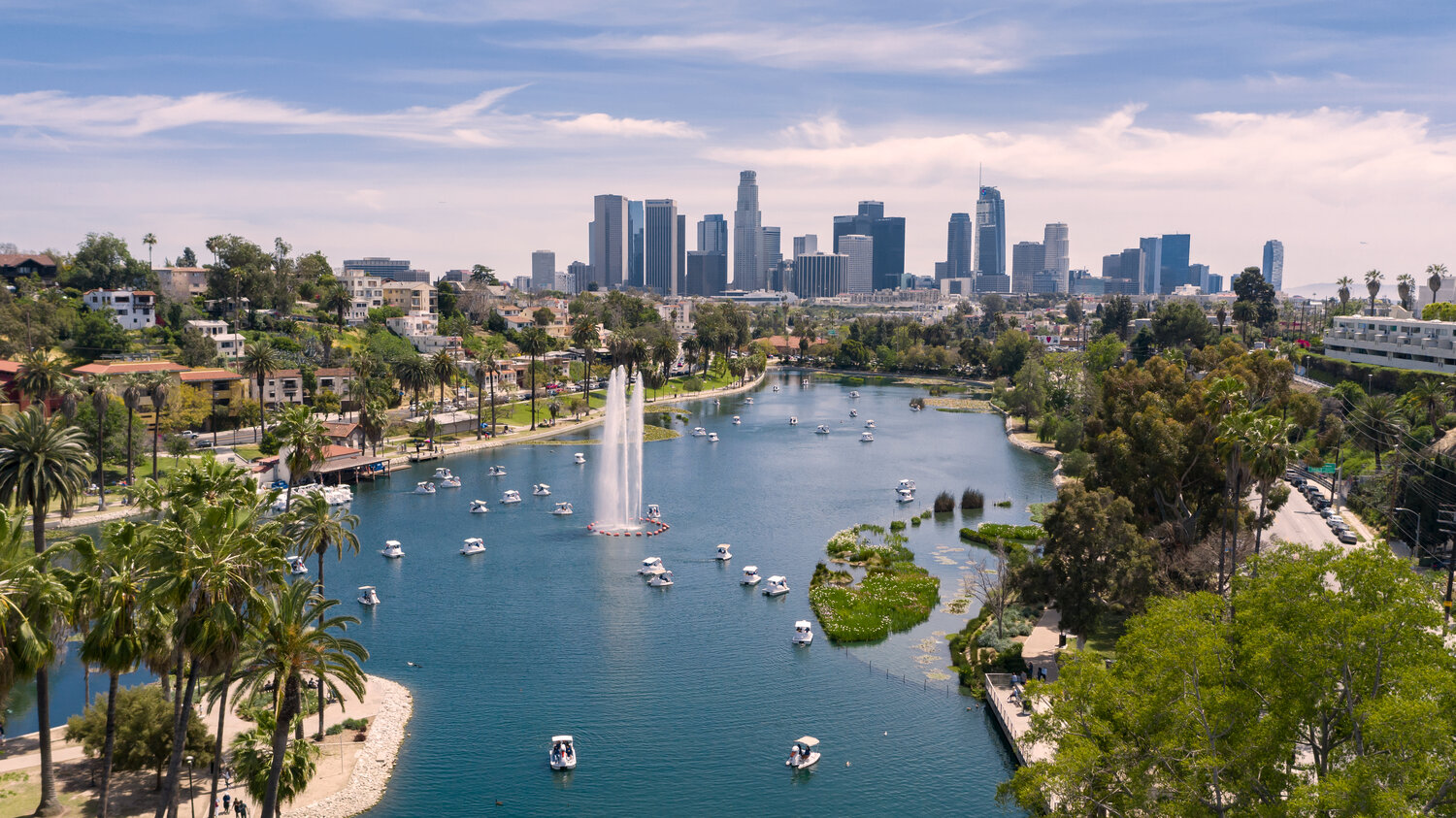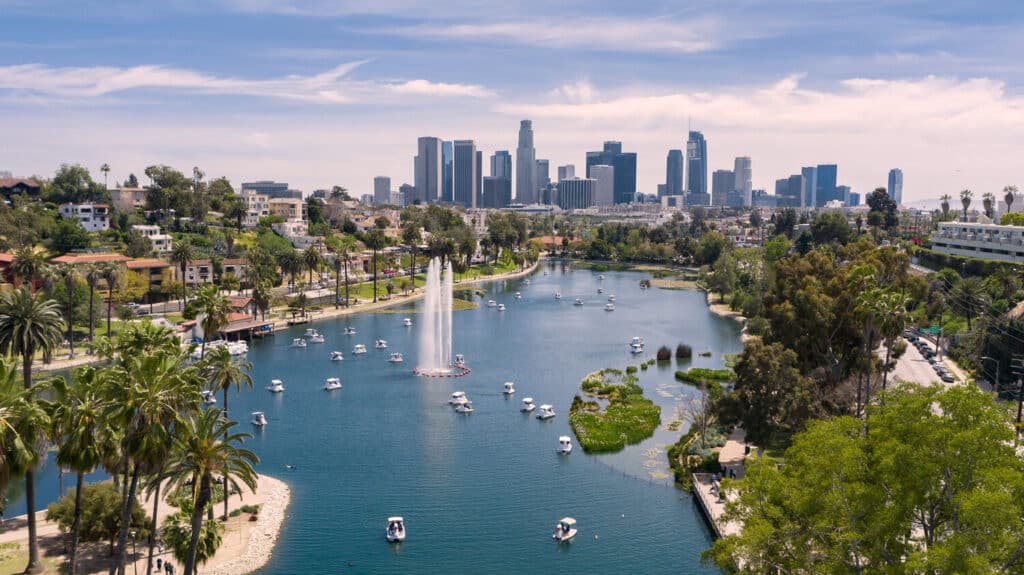 A Digital Nomad Guide to Los Angeles
Heavily influenced by the arrival of Hollywood's film industry back in the early 20th century, Los Angeles is often hailed as the epicenter for ambitious dreamers. As the third biggest metropolitan economy in the entire world, this city certainly offers ample opportunities in both the creative and non-creative industry. 
In fact, it's also known for its premier sports sites, art exhibitions, and some of the most important concert halls in the US. Let's not forget that Los Angeles is additionally home to myriads of celebrity coaches, organic farmers, hippies, and artists, all of which managed to forge a unique community that's nestled between the mountains and the coast. 
The second most inhabited city in the States, Los Angeles has nearly four million residents with a very diverse ethnicity. As such, don't be surprised to find enclaves such as Thai Town, Little Bangladesh, Little Tokyo, Tehrangeles, Little Ethiopia, Historic Filipinotown, Little Armenia, and even Koreatown, among a multitude of other ethnic suburbs. Of course, this means that you'll be able to sample authentic local cuisine from the many restaurants owned and operated by migrants from various corners of the earth – something that I particularly enjoyed during my time in L.A. 
One of the things I like the most about working remotely from Los Angeles – other than its spectacular cuisine of course – is how easy it is to explore other provinces from the city. For example, trendy Palm Springs is just over two hours away by car, perfect for digital nomads who would like to indulge in a luxurious weekend getaway. Both Big Bear Lake and the iconic Joshua Tree Park are a mere three hours away as well. 
Since it has such a thriving community of digital nomads and expats, you can expect ample opportunities to connect and mingle with people from all over the world. The city offers plenty of networking events all through the year, so be sure to keep an eye out for those.
Nomad Friendly
Value for Money
Internet
Workspace
English
Food
Safety
Health
Transportation
Friendly
Quality of Living
Living in Los Angeles Overview
| | |
| --- | --- |
|  Meal, Inexpensive Restaurant | $20.00 |
| Domestic Beer (1 pint draught) | $8.00 |
| Cappuccino (regular) | $4.78 |
| Loaf of Fresh White Bread (1 lb) | $3.14 |
| Water (1.5 liter bottle) | $1.85 |
| One-way Ticket (Local Transport) | $1.75 |
| Basic Utilities (Monthly) | $147.99 |
| Internet | $66.18 |
| Fitness Club (Monthly) | $44.81 |
| Apartment (1 bedroom) in City Centre | $2,302.41 |
Currency: Indonesian rupiah (Rp)
[erw_exchange_rates_widget lg="en" tz="0″ fm="IDR" to="EUR,USD,GBP,AUD,JPY,RUB" st="primary" cd="" am="15000″][/erw_exchange_rates_widget]
ATMs
Max Withdrawal: Rp 3,000,000
Withdrawal Fee: Rp 30,000 – Rp 50,000
Use of Credit Cards: Mostly Cash
Digital Nomad Personal Experience in Los Angeles
I headed to Los Angeles directly after a brief stint in New York and saying that I was in for a culture shock is a massive understatement. Everything, from the people to the prices, the climate, and even the buildings couldn't be more different than the Big Apple. Of course, L.A is still an expensive city to live in, but I must say that it was significantly more affordable than NYC. 
One of the (many) reasons why Los Angeles consistently appeals to digital nomads despite its hefty price tag is because it's one of the rare places in USA that managed to strike the perfect work-play balance. Angelenos are exceptionally hard-working, but they also party hard too. Consequently, this city offers numerous opportunities where you can get work done while feeling like you're on the best vacation of your life. Like virtually everywhere in the United States, you can expect super speedy and reliable internet, perfect for working on the go. 
Since it's a major tourist draw, you'll most definitely encounter more than your fair share of touts, especially in areas such as the Hollywood sign, Hollywood Walk of Fame, Venice Beach, and the likes. While the harassment is still far more tolerable than what I've experienced elsewhere in the States, I would still urge you to be cautious when strangers approach you. Angelenos are famously friendly to foreigners, so don't be afraid to interact with the locals while sticking to the usual precautionary measures. 
As far as safety is concerned, some parts of L.A are certainly grittier than most. Digital nomads who are traveling alone may wish to steer clear of places such as West Adams, South Los Angeles, Leimert Park, and Lincoln Heights since these areas are heavily populated by gangs. Elsewhere in L.A, foreigners are prone to petty crime like pickpockets or purse snatching but overall, most major areas have a relatively good track record in terms of safety.
Work in Los Angeles
One of the many good things about working remotely from Los Angeles is that you'll never run out of coworking spots. Not only is there a coworking space in every neighborhood, but most of them are open 24/7, perfect for getting work done in the middle of the night. Best of all, like virtually everywhere in L.A, you can expect super speedy and reliable internet. 
Below are some of my absolute favorite spots to work from when I'm in Los Angeles: 
Best Places to Work in Los Angeles
Carr Workplaces DTLA – Coworking & Office Space
Carr Workplaces DTLA – Coworking & Office Space Located in downtown L.A, this coworking space lies at the junction of the theatre, fashion, and financial district. It's also steps from the 7th Metro Centre Station which encompasses four DTLA lines. I have to say that I was quite impressed by the on-site amenities: unlike more 'traditional' coworking spots, this agency boasts an on-site restaurant, boutique, and even a movie theatre. There's even a mini gym where you can squeeze in a workout during your breaks. 
For $750 per month, you can rent a 24/7 office with a lockable door, business address, access to meeting rooms, as well as access to the Community Café which is always well-stocked with filtered water, tea, and gourmet coffee. Virtual offices cost $200 per month while a dedicated desk in the open-space common working area will set you back $440/monthly. 
CENTRL Office Downtown Los Angeles
CENTRL Office Downtown Los Angeles Also located in the downtown area, this agency has bright and airy common spaces, complete with elegant furnishings and oversized windows to let in plenty of natural sunlight. If you need some extra motivation to get work done, you'll be glad to learn that this agency even has an on-site bar with beer on tap, or kombucha if you're looking for something teetotal. 
In terms of membership, you can get a flexible package for $395/month. This gives you access to a hot desk in the common area, 24/7 access to a designated Centrl location, use of premium business amenities, $300 in monthly credits to book rooms and offices as well as $10 credits for printing. Alternatively, you can always get a 9:00 to 16:00 package with a hot desk in the coworking spot for $195/monthly. Digital nomads also have the possibility of booking a business address for $95 per month, including a business mailbox, 10% discount on rooms and office bookings, $10 monthly credits for printing services, as well as a one-day pass per month, valid at any Centrl agency. 
Village Workspaces
What I especially liked about Village Workspaces was that it was probably the only agency that offered a complimentary one-day membership when you book a tour. Located in West Los Angeles,  Village Workspaces offers 24/7 access as well as over 2,000 square feet of open-plan space. For sanitary reasons, there's even plexiglass dividers between tables. Complimentary refreshments (beer, wine, tea, coffee, and tea) are also provided. 
Amenities include super-fast Wi-Fi, meeting rooms, mail service, and locker rentals. The one thing that I wasn't thrilled about was the fact that Village Workspaces only offered a choice of two monthly plans which may be something of an issue if you're looking for a daily or weekly pass. The private office costs $800/month for one person or $1,350 for two people. A desk in the common space runs for $350. 
Epiphany Space
With large, airy spaces and a distinct emphasis on creativity, Epiphany Space is found in Hollywood. What I personally liked the most about this space is that it offers interactive experiences such as film screenings, festivals, and discussions, as well as Immersive Theatre, Art Exhibitions, and various workshops. The on-site staff additionally specialize in various fields, including life coaching, music, writing, and more. Since Epiphany Space encourages community events, there's ample scope for networking with fellow nomads from all over the world. 
In true office style, this coworking space comes with a kitchen where you can put together a quick snack. I will say that the common area can get a little noisy with everyone bouncing ideas around and talking about their projects but rest assured that Epiphany Space also provides a quiet room. Additionally, you can book a private office or settle on the back patio to work while soaking up the sun and the views. 
Kleverdog Coworking
Boasting colorful working spaces, Kleverdog Coworking is found in the bustling Chinatown area. With 24/7 access, this coworking space has a fun décor that's bound to keep boredom from settling in. Owing to its great location, you'll be within walking distance to some of the best food spots in the region, perfect for fueling up during lunchtime. Not only do you get complimentary parking within a three block radius, but Kleverdog – like the name suggest – is pet friendly, so there'll be plenty of pooches to keep you entertained when you're not working. 
This agency offers different plans including a 'Drop In' package where you can check out the place for a day. This package costs $25/day and provides access to the Flex Desk in the common area from 9am to 6pm. Alternatively, you can opt for the Part Time Flex package for $150/month. This option provides a 10-day, 24/7 access to a flex desk, locker, business address, and five hours of conference room time per month. For $275/month, you'll get daily, 24/7 access to a hot desk and ten hours of conference time each month. If you want your own dedicated desk, you'll need to fork over $375. 
Now, if you prefer a more informal work environment, like I do sometimes, you may wish to check out one of the many restaurants and/or cafés that cater to digital nomads: 
Go Get Em Tiger:

While this coffee shop has branches all over L.A, my personal favorite is the Highland Park branch. Admittedly, it can get quite crowded during the weekend, but weekdays tend to be fairly quiet, especially if you go there late afternoon. This café is open from 6:00 to 18:00 daily. 
Chimney Coffee House:

Chimney Coffee House lies in Chinatown and because it lies off the beaten track, this coffee shop provides a surprisingly quiet work environment. You'll even find plenty of free parking spots which, as everyone knows, is quite a rare thing to come by in Los Angeles. Wi-Fi does fall short of L.A standards, but their exquisite coffee more than makes up for it. 
Groundwork Coffee Co:

Located right at the heart of the Arts District, Groundwork Coffee Co was surprisingly spacious for a coffee shop. As such, rest assured that you'll always be able to find a table, no matter how busy the place gets. With both communal tables, a private upper section, and intimate booths, this spot is especially known for their Quinoa Bowls.
Philz Coffee: Open every day from 6:00 to 19:00, Philz Coffee is reputed for its pastries, custom-blended coffees, and other specialty drinks. Fair warning though- this café can get packed since it's exceptionally popular among college students. Wi-Fi is very reliable, even during peak hours, and I can absolutely recommend their Mojito Iced Coffee.
Best Places to Live in Los Angeles
Best Neighbourhoods
California's second largest city, Los Angeles is divided into numerous neighborhoods and districts, so rest assured that you'll be spoilt for choice when it comes to deciding where to live during your stay. In stark contrast to New York, L.A's neighborhoods are teeming with low-rise buildings, with just a handful of skyscrapers built on the outskirts and in the city center.   
Covering an area of over 500 square miles, the different neighborhoods all have their own personalities. In my opinion, it's never a bad idea to stay in an inexpensive hotel or Airbnb for a few days while you tour the various areas before deciding where to stay. If you're planning on using coworking spots, for example, it's worth getting a place near the agency of your choice otherwise you'll be stewing for quite a while in that notorious L.A traffic. 
Below are some of the best neighborhoods for digital nomads and expats: 
Downtown L.A
This is where most digital nomads and locals settle, mainly because of the attractive real estate prices and wide range of things to do. The large housing market means that you're bound to find something that matches your expectations and budget. Additionally, the Downtown area is often praised for its excellent public transportation system that may (hopefully!) decrease the time spent in traffic. 
What I personally liked the most about living there is that I was always within walking distance to cafés, bars, restaurants, and various networking events. While the downtown area has a great nightlife, it also provides plenty of excellent schools- public and private alike – so it's entirely suitable for families traveling with children. I personally did not feel unsafe in downtown L.A but it does have a reputation for being dangerous, so it's best to avoid high-risk zones such as Skid Row and Chinatown at night. 
Hollywood
Contrary to popular belief, it is possible to find affordable mid-range accommodation in Hollywood, especially if you're traveling off-season. Now, if you're not watching those purse strings, you may wish to check out Vine Street, an area known for its luxury condos, courtyard complexes, and high-rise buildings. This opulent area also has the reputation of being quite safe although their grocery stores and coffee shops are more expensive than elsewhere in L.A. 
While Hollywood does have some good schools and plenty of outdoor spaces, I wouldn't say that it's the best option for families. For starters, since it's home to some of the best tourist attractions in Los Angeles, Hollywood can get exceptionally crowded and noisy. Solo travelers, however, will undoubtedly enjoy the rooftop bars, antique movie houses, dive bars, and the many other entertainment options speckled across this legendary neighborhood. 
Mid-City
This is where you'll find the highest concentration of digital nomads and expats, mainly because this area lies close to the 10 Freeway which makes it easy for you to travel across L.A. I will say that some parts of this neighborhood are grittier than others, but for the whole part, the mid-city area can be quite a pleasant place to live in. 
What I like the most about this neighborhood is the strong sense of community that lingers throughout. This is a place where everyone knows everyone and it's not unsurprising to see extended families living just a block or two from each other. As such, you can expect plenty of neighborhood potlucks and similar events. In terms of accommodation, you'll find that most apartments are actually old low-rise office buildings that have been reconverted into Spanish and Craftsman-style housing units. 
East Los Angeles
East Los Angeles is known for its predominantly Latino community and consequently, you can expect to see plenty of authentic Mexican restaurants and/or produce. East L.A is also known for being one of the most affordable areas in the city, so you'll find numerous studios and one-bedroom units. I do need to point out that accommodation in the area is known for being on the smaller side. 
On a more positive note, life in East Los Angeles is pretty reasonable, with cheap eats and inexpensive – or even free- sites of interest such as the Latino Walk of Fame. With a stay in this neighbourhood, you will be fringed by the Commerce District, Boyle Heights, El Sereno, Monterrey Park, and Montebello. 
Highland Park
Once a separate town, Highland Park sits just a short distance from the downtown area and is often hailed as one of the city's most vibrant areas. Characterized by its brightly colored Victorian houses, this neighborhood has a very low crime rate, perfect for families. Streets are well-paved, stroller-friendly, and walkable, and you'll find plenty of mid-range accommodation surrounded by cocktail lounges. 
Highland Park is another neighborhood that has a close-knit community as evidenced by the many picnics and barbecue potlucks that are often hosted in the area's ten parks. Some areas of Highland Park can even feel like stepping back in time, thanks to the old-fashioned blocks and streets that have been perfectly preserved throughout the years.
Find an Apartment in Los Angeles
As easy as it is to find an apartment in Los Angeles, the unfortunate truth is that the real estate market is littered with scams. The first rule of thumb when browsing for an apartment in Los Angeles is if it's too good to be true, it probably is. Therefore, you may wish to stay away from overly-alluring offers at the risk of losing your money. To avoid scams, it's also worth checking the agent's or agency's online presence as well as their history first. I would additionally recommend that you double check their references and licenses. 
Now that we've gotten these tedious warnings out of the way, let's move on to the easiest ways to find an apartment in Los Angeles. Given the sheer number of options that will be available to you, your best bet will be to narrow your choices down according to your budget. According to U.S laws, you will be asked to provide a deposit (usually the equivalent of one or two month's rent), as well as copies of your visa and passport. Most agencies will also require character references as well as a credit check (copy of your bank statement) to ensure that you've got enough funds to cover your stay. 
It's also good to know that while most short-term lettings (three months or less) include utilities, it's not always the case, hence why it's so important to properly read the contract before you sign it. Longer leases do not include extra charges like Wi-Fi, electricity, and water so you'll need to budget for these separately. 
The average price for a one-bedroom apartment near the city center normally runs for around $2,800, although it is possible to find cheaper options. If you visit the city during off-season, you may be able to find a place for around $2,000 to $2,500 per month. West Hollywood also features less expensive options in winter with units ranging from $1,900 to 3,000 monthly. Digital nomads who can afford to splurge on accommodation may wish to check out upscale neighborhoods like Vine Street where you will find spacious and luxurious apartments from $3,000 to $7,000. 
Despite the agency fees, it's always a good idea to rent through one if you want to decrease your chances of getting caught up in a scam. Reputed companies in Los Angeles include Keyes Real Estate, Los Angeles Property Management Group, James Campbell Los Angeles Real Estate Agent, Stephanie Younger Group, and Los Angeles Real Estate Agents. Additionally, it's worth checking out holiday rental websites in the likes of Turnkey, Holiday Homes, Vrbo, and Casamundo. On social media, you'll also find real estate groups such as Los Angeles – Buy/Sell/Rent a room, apartment, house, condo, property, Los Angeles rentals: rooms and apartments to rent, and Los Angeles Housing, Rooms, Apartments, Sublets. While they do expose you to potential frauds, the advantage with booking through social media is that you'll get to connect directly with the owners and possibly negotiate on the price. In my experience, most owners are willing to knock between $200 to $500 off the monthly asking price.
Cheap Places to Stay in Los Angeles
It's no secret that Los Angeles is one of the most expensive cities in the world. In fact, it's just a little more affordable than other big cities like Paris, London, New York, and the likes. However, there are a few options that you can explore to cut back on your accommodation costs. 
For example, the most popular way of making sure that you won't need to spend a cent on accommodation is to browse through websites such as Couchsurfing where you will find nearly 83,000 hosts ready to open up their homes to you. 
If you don't mind working during your stay in the city, you can even check out work exchange websites like WorldPackers where you can apply for part-time jobs such as housekeeping, artists, maintenance staff, nannies, or even receptionists in exchange for complimentary accommodation. 
One of the great things about L.A is that there's never a shortage of hostels in the city. A bunk bed in a mixed dormitory room usually costs between $20 and $40 per nigh,t and you have access to shared kitchens and other common areas. On Airbnb, it's also possible to book a private bedroom in someone's house for as little as $45 per night, utilities and Wi-Fi included. 
There's no denying that your choice of neighborhood has a direct impact on the price. Like I mentioned before, East L.A is known for its affordable prices. On SpareRoom and Nestpick, you can even find shared accommodation that range from $700 to $1,300/monthly in areas such as East L.A, West Hollywood, or downtown Los Angeles.
Los Angeles Visa
U.S. immigration laws are notoriously strict, so it's very important to make sure that all your paperwork is in order if you would like to join the local job market. Without a proper work visa and permit, I would strongly urge you to stick to online jobs at the risk of facing heavy fines. If caught breaking immigration laws, your visa may also be permanently revoked. 
Most digital nomads tend to opt for a regular tourist visa which is the easiest one to get. Visa requirements usually vary per country, so it's worth checking the official U.S. Citizen and Immigration Services website before travelling. You can also pick up application forms or get more information at your local U.S. Embassy. 
Some countries are eligible for the Visa Waiver Program. If your country is found on the list, you can also apply for an ESTA that will allow you to stay in L.A or anywhere in the United States, for up to 90 days. In my experience, applying for an ESTA is quite straightforward, but you do need to pay an application fee of $14. 
Depending on your nationality, you may be called to your local U.S. Embassy for an interview after applying for a tourist visa. Additionally, it is possible to apply for a long-term stay, but these can be just as hard to get as business visas. Most of the time, long-term visas are only granted to those who have close relatives in the country. You also have a better chance of being approved for a long-term visa if you're going to Los Angeles to work for a renowned, multi-national company.
Culture and Food in Los Angeles
Los Angeles' cuisine perfectly embodies its diverse culture that has plenty of Western European, Oceanian, Eastern Asian, and Hispanic American influences. What I liked the most about the local cuisine is the glorious contrasts that it offers: owing to L. A.'s obsession with health and fitness, you'll find plenty of restaurants offering lean and vitamin-packed meals that cater to various diets. Similarly, there are ample food stalls dotted throughout the city serving up meaty tacos, creamy pastas, and greasy fast food. I also noticed that, in true Hollywood fashion, the local food scene is pretty flamboyant with restaurateurs often coming up with new and innovative combinations. 
Whether you're in the mood for healthy eats or a heartier dish, you may wish to check out some of the most popular meals in L.A: 
Street Tacos:

If there's one thing Los Angeles is known for, it's its abundance of taco stands scattered virtually all throughout the city. In my opinion, the best tacos are found in East L.A., where you'll find eateries such as East Los Tacos, Teddy's Red Tacos, and Tacos Ensenada. The local taco scene is especially dominated by fish tacos which often consist of tempura fish fillets, salsa, and sour cream. 
Sushi:

Yes, I know. Sushi is Japanese, not American. However, there's no denying that the city of Los Angeles massively popularized sushi throughout the years. In fact, locals will tell you that back in 1960, Japanese migrants actually invented the sushi roll right there in L.A.'s Little Tokyo, more precisely in a small restaurant known as Kawafuki. Some of my favorite sushi places in L.A. include Mori Sushi, Sushi Zo, and Urasawa. 
Mediterranean Gem Salad:

This salad is to Los Angeles what the Cobb Salad is to New York- although there are plenty of rumors that even the Cobb Salad originated from L.A. Created by

Sycamore Kitchen

, the Mediterranean Gem Salad rapidly became my go-to lunch in Los Angeles, mainly because it's so filling yet refreshing at the same time. It's made up of gem lettuce, peeled grapes, crumbled feta cheese, pitted dates, dukka, lightly toasted hazelnuts, grilled chicken, radicchio, and gem lettuce. Everything is tossed together with a red wine vinaigrette. 
Edible Espresso Cups:

Here's one to thrill those coffee lovers out there. While L.A. establishments are calling dibs as to who was the first to come up with this concoction, there's no denying that there's something gloriously satisfying about nibbling on the sweet, edible cup after it soaked up plenty of coffee: think the L.A version of England's biscuit-dunking tradition. If you want my advice, ask for a chocolate-lined or caramel-rimmed cup for an extra boost of flavor. 
Burger and Fries:

Nothing embodies American cuisine better than this classic combo. In-N-Out Burger boast an almost cult-like status across town, and while the very first outlet opened in downtown L.A., you can now see them through the entire city. In true Los Angeles fashion, you'll find numerous burger joints offering their own twists on this ageless dish, such as the Brie and Berry burger, Chilli burger, Short Ribs burger, and even the Rabbit and Rattlesnake burger – if  you're brave enough to attempt this, of course. 
French Dip Sandwich:

When a local friend told me that I must absolutely try the French Dip Sandwich at

Phillipe's

in Chinatown, I have to say that I was pretty skeptical at first. For starters, this was a French meal that was being served in the epicenter of Chinese cuisine. It didn't take me long to realize that this, right there, was perfectly emblematic of L.A.'s multicultural food scene. You need to get reservations in advance for Phillipe's since it's one of the most popular restaurants in the area, but if you do manage to snag yourself a seat, there's no denying that your tastebuds will thank you for it. Rest assured that there are plenty of other less crowded and more affordable stalls across L.A. that specialize in this delicacy. 
Orange Julius:

I know this is a drink and not technically a meal

per se,

but one just cannot talk about L.A cuisine without mentioning Orange Julius. Locals will tell you that this moreish drink was invented back in 1962 by Julius Freed who ended up opening a juice stand. This drink consists of vanilla flavoring, sweetener, milk, crushed ice, orange juice, and powdered egg whites. Yes, I know, it sounds gross. I wasn't too keen on trying it either. But trust me when I say that as unappetizing as this blend of ingredients sounds, it somehow works and is perfect for a scorching day in L.A. 
As far as the culture is concerned, Los Angeles is often referred to as the 'Creative Capital of the World', something that's reflected in its ethnically diverse art scene. Given that L.A. is one of the country's most important spots for television and movie production, you can expect plenty of film festivals throughout the year. Indeed, nothing spells glitz and glamour more than the L.A. Film Festival which is usually held in September each year. This event usually showcases music videos, panel conversations, short movies, documentary, and feature films. 
New Orleans may be the home of jazz, but the city of Los Angeles has plenty of festivals dedicated to jazz music as well. In July, for example, you'll be able to attend the two-day Central Avenue Jazz Festival which has been known to host names like Eric Reed and Barbara Morrison. Digital nomads traveling on a budget will be glad to learn that this festival is completely free to attend. It also features booths selling handicrafts, drinks, and L.A. street food. 
Each year, the Los Angeles Arboretum and Botanic Garden also hosts the Moonlight Forest – Lantern Art Festival, a family-friendly event that showcases lantern and light installations, interactive experiences, as well as plenty of cultural exhibitions. I had the opportunity of attending this festival and I was truly awed by the intricate lantern art depicting plants, dragons, and exotic animals. This festival also features live performances, including acrobats. 
Digital nomads who are visiting Los Angeles in November will be able to sit down to a traditional American Thanksgiving feast at most restaurants in the city. In fact, if you manage to land yourself an invitation for dinner at someone's house, you'll be able to enjoy a more authentic Thanksgiving experience. A secular holiday, Thanksgiving is an integral part of American culture and tables are often laden with roasted turkeys, cranberry jelly, candied yams, Brussel sprouts, mashed potatoes, and the likes.
Los Angeles Nightlife
If, like me, you spend your days typing away at your laptop frantically trying to meet multiple deadlines, you'll be glad to know that in true big-city fashion, L.A. offers a plethora of things to do and explore at night. 
Popular options include: 
Chinatown:

Like I mentioned before, Chinatown has a reputation for being dangerous at night, so I wouldn't recommend going there solo after dark. However, if you're traveling in a group, you may wish to check out Broadway Street in Chinatown. This place is particularly lively on Friday and Saturday nights, and you'll be privy to plenty of street performances. Characterized by its Dragon Gates, Chinatown is also home for its Central Plaza which has been built in such a way so as to perfectly replicate Shanghai's scenic streets. Not unlike Paris, the colorful buildings are all illuminated after dark, casting an almost mythical glow over the whole place. 
Riviera 31:

One of the most happening spots in the city,

Riviera 31

is found in the Sofitel Hotel. As such, prices are a bit on the more expensive side but if you can afford to splurge, I'd highly recommend that you check it out at least once during your stay in the city. On Mondays, this upscale club features Jazz Eclectic evenings while Wednesday evenings are usually dedicated to Salsa parties. One of the best things about this club – other than its amazing Kombucha-based cocktails- is their many surprise celebrity appearances. This club is open from 17:00 to 2:00 on Monday and Tuesday nights, noon to 17:00 on Sundays, and 17:00 to midnight on Wednesdays. 
Eighty Two:

Located in downtown Los Angeles,

Eighty Two

offers a retro setting that's only amplified by its arcade-style pinball machines, video games, and craft cocktails. While entry is free, the club does operate on a first-come, first-served basis so it's always a good idea to head there early especially on Friday nights. Their cocktail menu changes seasonally, but my absolute favorite drink at this spot is undoubtedly the El Burro which is a tequila-based drink infused with chili, tamarind, fresh lime, ginger, and soda. There's a different DJ virtually every night and you'll even find rotating food trucks right inside the club so you can fuel up after a night of dancing. Eighty Two is open from 17:00 to 2:00 every day except Mondays. 
Everson Royce Bar:

Located in the downtown Arts District, Everson Royce Bar is easily one of the most elegant bars that I've been to in L.A. With soft leather banquette seating, deluxe nibbles, and a sprawling, backlit bar, this spot is open until 2am on Thursdays, Fridays, and Saturdays, and 23:00 on Sundays and Wednesdays. Despite its nondescript exterior, this bar draws quite a refined crowd, so this is

the

place to be if you'd like to go celebrity spotting. In summer, Everson Royce also offers patio seating, beautifully illuminated by overhead fairy lights. Their eclectic menu boasts drinks such as Manie Taylor which combines lime, ginger, and scotch. 
Mayan Theatre: Despite its name, rest assured that this is definitely not a theater. Quite on the contrary, Mayan Theatre is one of the city's oldest dance clubs. Because it's a firm favorite among locals, this club is perfect for digital nomads who would like to connect with Angelenos. This is the one nightspot that I kept on returning to, mainly because of its exciting events such as Canaveral, Rata Blanca, and La India. The Mayan Theatre is also known for hosting local and international DJs alike. In my opinion, the only downside to this exhilarating club is that it's only opened on Friday and Saturday nights (21:00 to 2:30). 
Things to do in Los Angeles
There's no denying that L.A is emblematic of glamour, glitz, and all the finer things in life. As such, digital nomads can expect to find more than their fair share of activities and sites to explore when they're not working. Given the city's reputation for being expensive, I was surprised to see that some attractions were actually quite affordable, especially during low season.  
One of the great things about Los Angeles is that each neighborhood comes with ample entertainment, retail, and dining options so you'll never have to travel far to find something fun to do. 
Flea and Farmers' Markets

If there's one thing downtown Los Angeles is known for, it's the extensive number of markets dotted throughout. Not only will you be able to haggle for excellent eats, spices, fresh produce, and souvenirs, but the markets even feature antique furniture and jewelry – all at bargain price, of course. My favorite markets in L.A are the Larchmont Village Farmers' Market (Sundays), Silver Lake Farmers' Market (Saturdays and Tuesdays), Figueroa (Thursdays) as well as the Downtown LA market which is open from 9:00 to 15:00 on Sundays. Haggling is expected, so feel free to bargain to your heart's content!
The main L.A attraction by excellence, Universal Studios Theme Park boasts thrilling rides, all based on Hollywood's best movies. You'll also get to tour a working studio and get to see what goes on behind the scenes. Some of the park's highest rated rides include Despicable Me Minion Mayhem, Jurassic World – The Ride, The Simpsons, Transformers, The Walking Dead, and The Wizarding World of Harry Potter. Unlike traditional theme parks, Universal Studios' selection of rides are constantly changing. Now, if you're visiting during spring or summer, I would strongly suggest that you opt for a Skip the Line ticket to avoid the never-ending lines. If you can afford it, I can recommend the VIP Experience which gives you access to movie sets that aren't usually open to the public. I also loved the CityWalk which is basically a sprawling entertainment area where you'll find plenty of restaurants, shopping options, and theaters.

Rodeo Drive

Whether or not you're traveling on a budget, you just can't miss a trip to the awe-inspiring Rodeo Drive. Popularized by numerous movies and its never-ending collection of upscale designer labels, this swanky street symbolizes everything that Los Angeles stands for: fun, fashion, and endless entertainment. If you remember that iconic Rodeo Drive scene from Pretty Woman, you can treat yourself to a mani-pedi at The Nail Bar where you can watch the movie and sip on complimentary champagne during your treatment. A lesser-known fact is that Rodeo Drive also has its very own sidewalk tribute, not unlike the Hollywood Walk of Fame. The sidewalk stretches from the South Santa Monica Boulevard all the way to Wilshire Boulevard and houses names such as Princess Grace of Monaco, Manolo Blahnik, Donatella Versace, among others. When in the area, you may also wish to check out Anderton Court, a three-storey architectural project that was first established by Frank Lloyd Wright. Housing plenty of boutiques, this building is especially known for its stunning design and is considered one of Los Angeles' greatest landmarks. Additionally, you can also check out the colorful House of Bijan, which is especially known for its customized, canary-yellow Rolls-Royce that's permanently parked in front of the building. During high season, it's not surprising to see tourists gathered around the House of Bijan just to take pictures with the Rolls-Royce.

Venice Beach

Another popular tourist destination in Los Angeles, Venice Beach is characterized by its stretch of golden sand where tourists and locals alike love to jog, rollerblade, cycle or simply enjoy a stroll while watching the sunset. This area is also known for its eclectic street performers and funky boutiques. It extends towards a Skatepark which doubles as an outdoor art gallery filled with creative installations. Of course, one cannot talk about Venice Beach without mentioning the aptly named Muscle Beach which is often hailed as the 'Home of Bodybuilding'. Since people watching is something of a national pastime in Los Angeles, you'll often see locals gathered around Muscle Beach to watch fitness gurus pump iron under the blazing hot sun. Venice Beach is lively all year long, but it's especially animated during tourist season, so if you're visiting then, you'll be privy to live music and numerous food stalls offering freshly made funnel cakes, kettle corn, shaved ice, and various other delicacies that will make you feel like you're strolling through a fairground. A quick note of caution though: Venice Beach isn't exactly family-friendly (think Florida in Spring Break Season) ¸so this may be something to keep in mind if you're traveling with kids.

Located on Wilshire Boulevard, La Brea Tar Pits is open from 9:30 to 17:00 every day except Tuesday. Formed over 40,000 years ago, these Tar Pits unfortunately trapped a lot of animals throughout the years, and you'll be able to watch the staff excavate those fossils right in front of you. In fact, La Brea Tar Pits also has an on-site museum where you can learn more about the fossil recovery process and check out the reconstructed fossils of various prehistoric species. If you're lucky (and hopefully not squeamish) you can even see scientists working on bones or skeletons. Residents of L.A County can explore La Brea Tar Pits for free every day from 15:00 to 17:00 while non-residents need to pay an entry fee of $15. You can also opt for extras such as 3D movies for $6.

Hollywood Walk of Fame

Okay, nothing represents Tinseltown more than the Hollywood Walk of Fame. If you're traveling on a limited budget, you will be glad to learn that this attraction – as iconic as it may be – is entirely free to visit. In fact, I would say that posing by one of the stars on the sidewalk is something of an initiation rite for first-time visitors to Los Angeles. If you happen to be there at the right time, you may even get to see a public unveiling as a new star is added to the collection. Digital nomads who don't have time to explore the whole boulevard can easily use an online Star Search tool that will show them exactly where their favorite stars are located.  I do need to give you a quick heads-up about this area though: since it is one of the most famous attractions in Los Angeles, it's practically teeming with touts and various types of tourist scams. To be honest, this did dampen my experience since chances are that you'll be constantly approached. My advice would be to not engage and walk straight ahead or don't hesitate to call out to one of the nearby cops for help if you feel like you need it. Like I said earlier, this attraction is completely free so don't let anyone charge you an 'entry fee'.

Wells Fargo History Museum

Quick disclaimer: if you're not interested in the local history, chances are that you'll find this particular attraction boring. However, as someone who's always been fascinated by how life was back in the Wild West – not to mention during the Gold Rush Era – I immediately jumped at the chance of touring this museum. Located in downtown L.A, the Wells Fargo History Museum showcases ancient stagecoaches that were once used to transport just about everything, from mail to livestock, gold bullion, or even money. There's an exhibition solely dedicated to the Wild West where you can tour an old-fashioned Express Office that features a working telegraph machine as well as the famous twenty-seven-ounce gold nugget. This museum is open Monday to Friday.
Best Time to Visit Los Angeles
The city of Los Angeles is blessed with a Mediterranean climate with plenty of sun in the downtown area and along the coast. While it has a pretty temperate weather all-year-long, the climate is not considered tropical because it can get quite cold at night. The good news is that Los Angeles only receives around 35 to 40 days of rainfall per year, so it's an excellent destination to visit, regardless of the season. 
Still, I would recommend that you avoid Los Angeles in the peak of summer (July to August). This period is considered high season, so there will be massive crowds and queues everywhere. Additionally, the climate gets pretty scorching in the dead of summer, with an average daily temperature of 29 to 30 degrees Celsius. 
Prices also tend to increase during this period and it's near impossible to make bookings – unless, of course, you made your reservations in advance. In summer, the maximum temperature has also been known to climb up to 45 degrees Celsius due to the scorching winds from nearby deserts. If you do need to head there in summer, I would recommend that you go there in September when the weather is still toasty warm, but with significantly smaller crowds. 
In fact, the best time to explore the city is between September and November, and then again between March and May. These months are known for their better air quality, pleasant climate, and clear skies. 
Winter in L.A usually runs from December through February. During this time, the weather is significantly cooler with an average temperature of 20 degrees Celsius during the day and lows of 9 degrees at night. Personally, this is my favorite time for visiting the city since there are hardly any tourists and accommodation is exceptionally affordable. On the downside, several establishments close down during winter.
Los Angeles for Families
Like virtually everywhere in the United States, the city of Los Angeles easily caters to families traveling with children. There's an abundance of kid-friendly products, on the market and virtually all eateries come with a children's menu. Streets are easy to navigate and there are excellent schools in every neighborhood. Locals will tell you that Echo Park, the Arts District, Wellington Heights, and East L.A. are some of the best family-friendly neighborhoods in Los Angeles. 
The school system in the USA is broken down into five sections: Pre-school, Elementary School, Middle School, High School, and finally University or College. If you're planning on sending your child to a public school, it's important to know that the L.A school district that you live in will directly determine which public establishment your kids can attend. 
Local public schools usually have a great reputation, but some expats – at least those who can afford it – choose to send their children to private academies instead. It's also worth checking out the Independent Great School Organization website that grades various public schools based on performance, infrastructure, and the likes. 
Now, just like adults will never run out of things to do in Los Angeles, you can be sure that the little ones will always have plenty to keep them entertained as well. For example, Disneyland Park is right on your doorstep and offers the perfect setting for a fun day – or perhaps even a weekend – with your family. 
Digital nomads who are traveling on a tight budget can also check out the Griffith Observatory which offers free admission, science exhibits, a planetarium, and giant telescopes. On clear nights, the observatory even offers complimentary public viewing. One of the Griffith Observatory's best features is no doubt its unique vantage point that allows you to enjoy a bird's eye view of the L.A city skyline, including the Hollywood Sign. This facility is open from 10:00 to 22:00, Fridays to Sundays. 
The aptly-named Kidspace Museum also boasts plenty of events that are bound to thrill your kids. With plenty of interactive exhibits, this museum has over three-and-a-half acres of outdoor and indoor space where children can freely run around. Located in Pasadena, less than 20 minutes from Downtown L.A., this museum is open from 10:00 to 17:00 on weekdays (closed on Mondays) and 10:00 to 19:00 on Saturdays. The ticket price is $14.95. 
Just a short drive from L.A city center is found the Santa Monica Pier, another attraction that both kids and adults will no doubt enjoy. Characterized by its iconic giant Ferris Wheel, this pier has a gorgeous beach as well as a merry-go-round and roller-coaster. You'll also see plenty of food and souvenir stalls lined on the pier. As fun as this place undoubtedly is, I would advise you to be careful with your belongings since this area is especially prone to pickpockets.
Living in Los Angeles
Los Angeles Transportation
I'm not even going to try to sugar coat it for you: the traffic in Los Angeles is an absolute nightmare. As such, unless you're comfortable with the local roads, I would really advise against hiring your own vehicle to get around, especially if you're staying in downtown L.A or near the city center. If you do feel like you can brave the notorious traffic, however, you will be glad to learn that the roads are well-laid out and connect to most major highways. 
For example, if you're coming in from the North, you can easily hop on the Hollywood Freeway or the l-5. From the South, you will depart from the l-5 and later on merge into l-405 to reach the coast. Digital nomads traveling by car should also allocate themselves some extra time to reach their destination, especially during rush hours on weekdays (7:00 to 21:00 and 21:00 to 19:00). 
On a more positive note, the city of Los Angeles does have a good public transportation system that's quite easy on the wallet too. Here are some of the easiest ways to get around in L.A: 
Metro Line:

This was my favorite way of getting around in L.A, mainly because tickets were so inexpensive. Best of all, you can easily plan your journey and check train schedules on the official

website

.  A regular fare will only set you back $1.75, paid either by TAP card or cash. You'll need to pay $25 for a weekly pass or $100 for a monthly one. The Red Line is considered most useful for foreigners since it links North Hollywood to the Downtown Union Station while connecting with the Orange, Expo, and Blue Lines. 
Metro Bus:

There are three bus types with over 200 lines that cover L.A. as well as its outskirts. The Metro Local Bus is easily recognizable by its bright orange color and frequently stops along major tourist attractions and entertainment districts. If you're in a rush to get to your destination, I would recommend the Metro Express Bus (blue) or the Metro Rapid Bus (bright red) since these are equipped with special sensors that automatically keep the traffic lights green to ensure a quick commute. Metro Express Buses also connect the downtown area with L.A.'s business through some of the freeways. 
DASH buses:

These smaller buses can best be described as shuttles. They cover 33 routes across Los Angeles and connect with both the Metro Rail and Metro Bus lines. The major advantage with DASH buses is that they're exceptionally affordable, with most tickets usually costing between 25 to 50 cents only. The main areas serviced by these shuttles include the Fairfax Route, Downtown Routes, Beachwood Canyon Route, and the Hollywood Route. 
Car rental:

While this is not a service that I used, I was quite pleasantly surprised to notice that car rentals are quite cheap in Los Angeles. Major companies have branches in international hotels and the airports. If you reserve during low season, you'll be able to snag an even better deal, with prices running as low as $25 per day. During high season, prices normally go up to $38 to $50, depending on the models. 
Cabs and Ride Sharing: Most expats, tourists, and digital nomads typically hop in a yellow cab or opt for a ride sharing company to travel from the airport into the city. Both Uber and Lyft are available in the city and while the exact fare depends on your journey, these companies are known for being very affordable. Whether traveling by taxi or ride hailing, do remember that tipping is expected (15% – 25% of the fare). Alternatively, you can check out the FlyAway Nonstop Bus Service that connects LAX, Van Nuys, and Union Station. If you're staying at a hotel, it's also a good idea to check with the front desk since most L.A. hotels provide free airport shuttles.
Fitness and Health
If you're health conscious, you've certainly come to the right city. Indeed, not unlike Miami, there's a distinct health culture that permeates through the city, so you'll find plenty of Acai bowls, vegan fares, Buddha bowls, and the likes. 
Additionally, Angelenos are very much into fitness. A common joke in the city is that it's near impossible to go more than a few blocks without bumping into a coach of some sort. After all, this is the most cinematographic city in the world, so keeping fit is very much engrained in the local culture. Joggers usually flock to the beach, park, or the many picturesque hiking trails that surround the city. 
If you're more into indoor fitness, you may wish to check out the following gyms: 
Blink Fitness:

Located on E Century Boulevard, Blink Fitness is open from 5:00 to 23:00 on weekdays and 7:00 to 19:00 on the weekend. Prices start as from $10 per month for a basic plan (one year commitment) or $15/month for a zero-commitment contract. A $23/monthly package gives you access to all the equipment and exercise rooms, fitness classes, one free personal training session, and the opportunity to bring a guest. 
Gold's Gym: This is my go-to gym whenever I'm in L.A, mainly because it offers flexible membership options. You can even get a seven-day free pass to properly check out the premises before committing yourself. Located in the downtown area, Gold's Gym features a plethora of amenities, including an indoor pool, smoothie bar, hot tub, steam/sauna room, towel service, and the likes.
No Limit Training Facility:

This place is usually packed with people during summer, mainly because it offers plenty of outdoor amenities so you can soak up the rays while working out. Located in North Hollywood, this fitness center is open from 5:00 to midnight on weekdays and 9:00 to 21:00 on Saturday and Sunday. However, I will say that it's quite expensive though, with the monthly membership package priced at $350.
Los Angeles People
If you come from a northern European country and you've never been to the United States before, you'll most likely be surprised by how exceptionally friendly Americans are to foreigners. I was traveling with friends from Sweden and Finland, two countries known for being quite impersonal, and they were flabbergasted by how easily Angelenos would strike up a conversation with complete strangers. 
You'll also quickly notice that Angelenos can be quite loud and chatty, quite unlike New Yorkers. While they're quite hospitable and open, they do tend to be very direct – another thing that can come as something of a culture shock for those who come from more reticent countries. Greetings in Los Angeles are very informal, even in the workplace. First names are preferred, and colleagues or acquaintances usually shake hands while friends lean in for a quick hug. It's considered good form to maintain eye contact and smile during the handshake. 
Now, here's where it can get a tiny bit confusing if you come from a country like, say Italy or Spain, where boundaries are pretty much non-existent. When greeting someone, Angelenos often ask 'How are you?'. Bear in mind that this is just a greeting, not an actual question – something that I learned the hard way when I started whining to my Starbucks barista about how the blistering weather was giving me a headache, only to have her stare at me in baffled amusement.  So, when someone asks, 'How are you', skip the personal details and simply answer with a generic 'Good, how are you?' or simply, 'Good, thank you.' 
Given that most Angelenos are so extroverted, I personally did not find it hard to make friends or network with the locals. During networking events, it's customary to exchange business cards – even in this digital era. Business is often discussed over drinks, so don't find it surprising if you're invited to a bar to bounce ideas about or talk about collaborating opportunities. Virtually every Angeleno is involved in some kind of volunteering or philanthropic project so this can be another opportunity to connect with the locals. 
Another thing that first-time visitors to the States should remember is that tipping is mandatory. Unlike other countries where tipping is only expected in hotels, restaurants, and taxis, the tipping culture in Los Angeles extends to extra services such as manicures or pedicures, spa treatments, haircuts, and the likes, so be sure to budget extra for these. Don't forget that hospitality wages in Los Angeles (or elsewhere in North America for that matter) are significantly lower than other countries, so service attendants rely heavily on tips to make a living. It's also good to know that some restaurants don't include the service charge in bill, so you'll often need to tip separately. 
If you're invited to a baby shower or wedding during your stay in Los Angeles, you'll notice that the invitation usually comes with a gift register. Alternatively, you can also slip some cash in an envelope – although most people simply expect you to stick to the register. If you do want to gift money, $25 to $50 is considered acceptable, unless you're extremely close to the person. 
When interacting with Angelenos, you should also know that it's considered very poor form to simply turn up at someone's house uninvited. Locals may be extremely friendly and direct, but they're sticklers for etiquette, so be sure to call beforehand to ask if you can stop by. Arriving a few minutes late is perfectly acceptable. In fact, for larger gatherings, most hosts expect their first guests to be at least half an hour late in order to avoid the awkwardness of mingling with people you don't know.
Los Angeles Insurance and Medical Care
As great as Los Angeles is for digital nomads, I must admit that the American healthcare system can be pretty confusing, even for the locals. Now, don't get me wrong. USA has one of the best – albeit expensive – systems in the world, but there's always plenty of logistics and paperwork involved. 
Expats who are being relocated through their companies will usually receive a healthcare plan. Digital nomads and tourists should imperatively have proper insurance before flying to any U.S state or territory. It's very important to know that while hospitals will treat you in the case of an emergency, you may be left with a multi-thousand bill that you'll need to pay for out of your own pocket. For non-emergent cases, physicians may actually refuse to provide their services if you don't have health insurance. 
Now, if you do have insurance, you will be glad to learn that Los Angeles has some of the best clinics in the U.S. Cedars-Sinai Medical Centre on Beverly Boulevard, for example, is known for its exceptional level of care and top-of-the-line equipment. This is why this medical center is a firm favorite among A-listers such as Barbra Streisand, Alan Thicke, Denzel Washington, and the likes. 
The city is actually home to over 80 hospitals, most of which provide standalone facilities. There's not much difference between public and private healthcare in Los Angeles, although private establishments are known for being more spacious and luxurious, with less waiting time. 
As far as medication is concerned, you'll certainly find drugstores and pharmacies all through the city. While it's very easy to find virtually any medication that you may need, local pharmacies are extremely strict about prescriptions. Consequently, it's crucial to bring along all your prescriptions and other medical documents to be able to purchase most drugs.
Make sure you are fully covered by reading our full Digital Nomad Travel Insurance guide.
Jobs in Los Angeles
Like I mentioned previously, it's illegal to join the local U.S workforce until you've got all the required paperwork. Unfortunately, digital nomads cannot apply for a work visa until they've received a valid job offer from the States, which means that you'll need to apply for jobs even before you fly out. 
Some of the highest rated job seeking websites in L.A include: Indeed, BuiltinLA, ZipRecruiter, Monster.com, and SimplyHired.  If you're fluent in a foreign language or if you're considering an administrative position, it's also worth Checking out the Los Angeles Unified School District website where you'll find plenty of teaching and non-teaching positions available in schools throughout the city. 
Alternatively, you can also go through The California Job Department's website for openings in the education, finance, governmental, healthcare, and film sectors. It's also worth checking out social sites like LinkedIn which will put you in touch directly with your potential employers. 
Now, I do have to highlight how insanely difficult it is for foreigners to land a job in the United States. The local job market is already ferocious and since Los Angeles is basically a melting pot with migrants from all over the world, there are plenty of skills available right there in the city. To avoid complicated paperwork and logistics, most employers would rather hire a local than a foreigner. Of course, it wouldn't hurt to try your luck, but in my opinion, it's always a good idea to make sure that you've got something to fall back on in case you're not hired.
Check out our Digital Nomads Jobs Postings to find the best jobs available for Digital Nomads.
Nomad Friendly
Value for Money
Internet
Workspace
English
Food
Safety
Health
Transportation
Friendly
Quality of Living
Cost of Living Los Angeles
Los Angeles is often described by digital nomads and expats as an absolute dream come true. There's no denying that those lush hillside streets combined with the artsy, Hollywood-infused glamour draw thousands of people each year. It's also a city that very easily caters to digital nomads with its abundance of cafes and super-fast Wi-Fi hotspots virtually everywhere. 
The downer is that as amazing as it is to work from L.A, it does come with a rather hefty price tag. Like I said above, shared accommodation may cost you around $1,300 per month while renting your own place can range from $1,500 to $2,500/monthly. Real estate prices in affluent neighborhoods can even go up to $5,000 in low season and $8,000 in summer. 
Transportation will set you back around $100 monthly while utilities normally range around the $150 mark, including water, gas, electricity, and garbage pickup. For residential Wi-Fi, you'll need to budget between $35 to $50 each month, depending on the service provider you've subscribed to. 
For entertainment, I personally set aside $500 for eating out (tips included) and attractions. Bear in mind that in high season, you may need to add a few extra hundred dollars to your entertainment package since most prices go up. If you're planning on regularly going to the theatre or fancy nightclubs, you may wish to set aside some extra money since these are notoriously expensive in L.A. 
All things considered, the total living expenses for Los Angeles should come to around $2,300 per month, rent included.