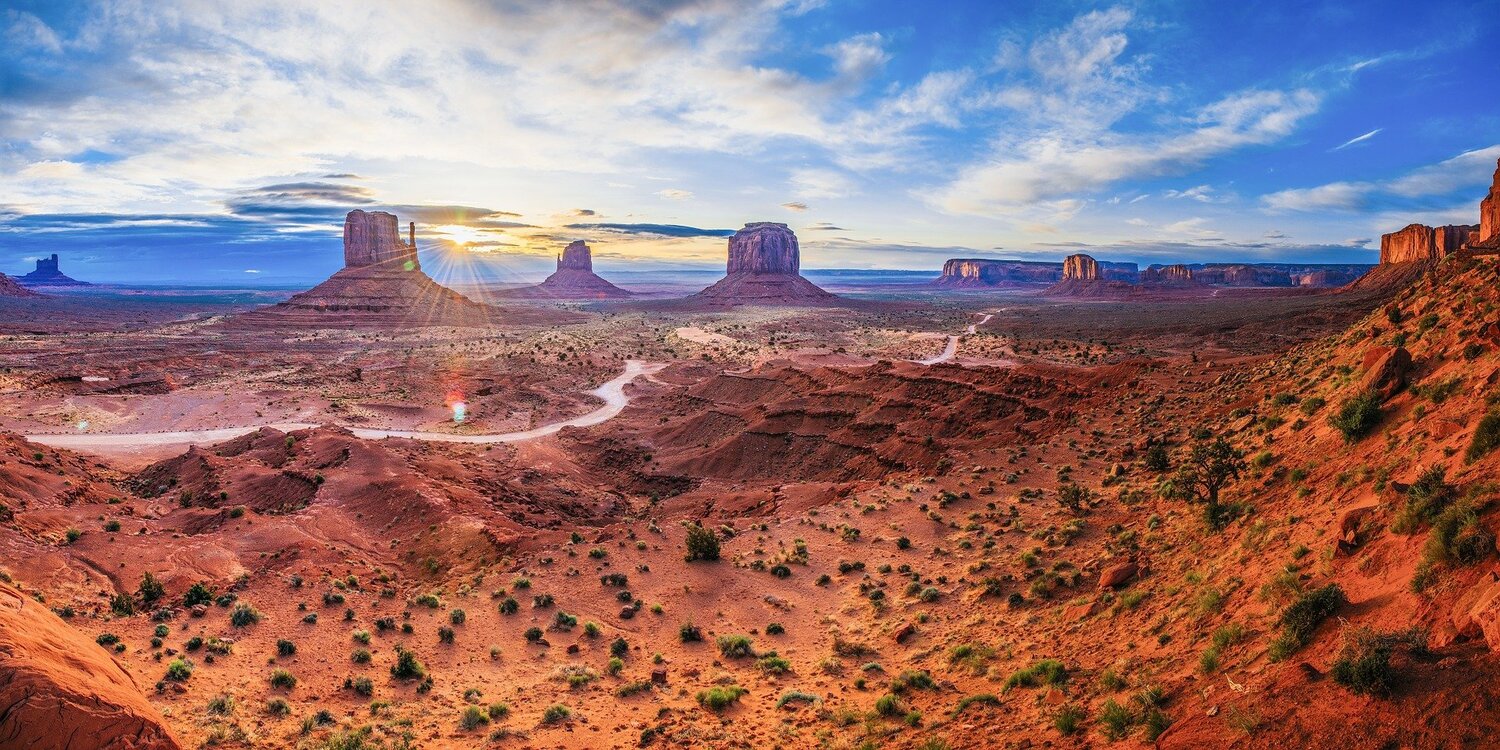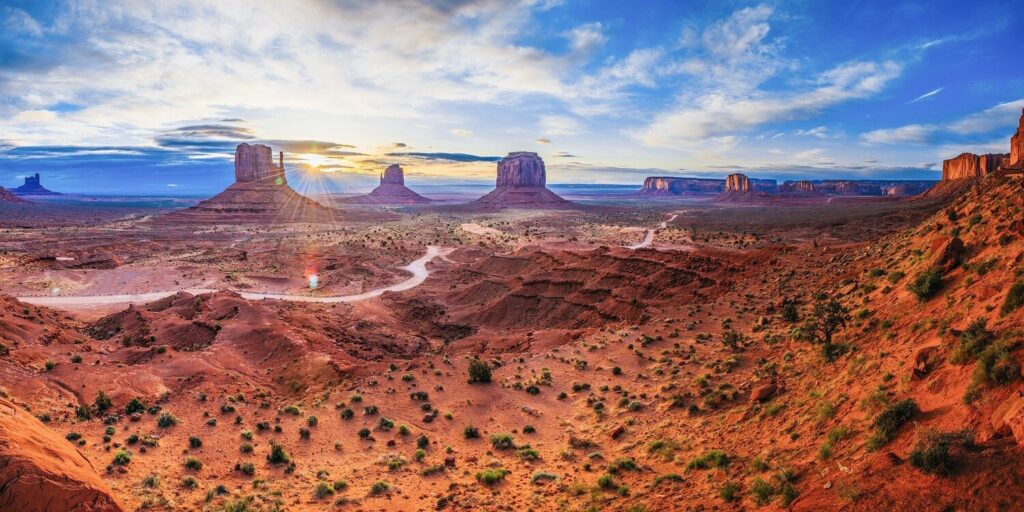 As a digital nomad, when planning your next step, it always involves A LOT of research. From site to site, you search for all the information you need on all the different aspects you need to consider before making a final decision on whether it's a wise choice or not. 
Well, fear not! I have not only compiled all that information but also spent days making sure it is accurate, while adding some personal knowledge as well. In this article, we are going to cover everything there is to know about living in the US for digital nomads. 
From the full visa process to which places in the US are most suitable for digital nomads, how much it will all cost, and even what time of year you should go. After reading this article, you should have all the knowledge you need to make an informed decision, or to help you with the process if that decision has already been made. Welcome to the ultimate digital nomad guide for the USA.
USA Digital Nomad Visa
The USA does not offer a dedicated digital nomad visa. They do, however, offer several visas for foreigners and residence permits to those who qualify for them. Some are more suitable for digital nomads than others. I am going to detail the most relevant visa and how to apply for this visa. I will also mention some other potentially less relevant options afterwards, in case you have a chance of qualifying.
Tourism and Visit Visa
These are non-immigrant visas intended for a temporary stay in the US. There are two classes of visas that fall under this category: The B-1 (Business) and the B-2 (Tourism). The B-2 specifically is probably the most accessible for digital nomads. While using these visas, visa holders are not allowed to accept employment within the US. 
B-2: Tourism
These visas are for use in the following circumstances:
Tourism, holidays, visiting friends/relatives, participating in a social event hosted by fraternal or social service organisations

Medical treatment

Participating in a contest or event relating to music, sports or other similar event for which you are

not being paid.

Enrolling in a short recreational course or other educational course that does not count towards a degree or give you credits. (E.g., A Pilates class at a resort)  
Things you are not allowed to do on a B-1 (Business), or B-2 visa (Tourism)
Obtain permanent residence in the US

Study 

Travel to give birth in the US so that the child will have US citizenship

Travel to the US for purposes of employment

Enter the US as a crew member of a ship or aircraft

Work as foreign press in any form of media 
Visa Waiver Program
Citizens of 40 participating countries can enter the US with no passport for 90 days. Many of these countries are part of Europe and Asia. Check out which countries participate in the Visa Waiver Program. The main thing you need to know is that you must have an e-passport (also called an ESTA- Electronic System for Travel Authorization) that is machine-readable and contains a chip with the passport holders' information. 
Perks for Citizens of Canada and Bermuda
Citizens of Canada and Bermuda specifically don't require a visa to enter the US and don't need a visa waiver either, barring several circumstantial exceptions which can be found at travel.state.gov. It might be helpful to mention that permanent residents who do not have citizenship for these countries do not get this perk and will have to apply for a visa the regular way.
The General Process of Applying for a Visa in the US
Online Visa Application
Fill in the DS-160 form online
The first step in the application process is filling out the Online Nonimmigrant Visa Application. Of course, this is only if you are not intending to go for a residence permit. This application is filled out online on a form called the DS-160.
Note: You may be asked to upload an ID photo of yourself as part of the application process. The photo may be rejected by the consulate or fail to upload unless it follows these strict digital image requirements. Some consulates and embassies require you to bring an ID photo with you to the interview as well, which must follow these photo requirements.
Print the DS-160
After filling out the application by following the link we provided, it is important to print out your confirmation page. You will need this for your interview, which comes later. 
Schedule an interview
Next, you will schedule an interview at the US embassy or consulate in your country. This interview is required of you if you are between the ages of fourteen and seventy-nine. If you do not fall within that age range, you are usually allowed to apply using courier services.
Go to the US Embassy website and search for your country. It will show you a list of links to embassies and consulates in your country. Click on the one where you want to have your interview.
From this point, it is different for some countries, but you should be able to follow the prompts. The general steps to follow will be to find "US Visas" on the website it takes you to (it may be a tab at the top or within the menu tab). This will usually take you to a page with all the information regarding US visas from the embassy, including contact details and physical addresses. 
Remember, you will look at the information for a non-immigrant visa interview. Depending on the specific instructions given on the website you will either phone them, email them, or follow online prompts to schedule your interview. 
Waiting times for visa appointments also differ according to several factors. Here, you can check Visa Appointment Wait times according to what city you are in. Just input the city where you will be applying for the visa, and the information on the wait time will be displayed. Your wait time will most likely be next to "Visitor Visa" if that is the visa you are applying for.
Pay the fees
Some countries are required to pay a reciprocity fee, also called a visa issuance fee over and above the non-refundable application fee. You can find out if you are required to pay a fee by following this link for Fees for visa services which leads to a run-down on all the different fees for different visas. Specific instructions on how and when to pay will also be found on the website for the embassy in your country that you found earlier when scheduling your interview. To give you an idea, the issuance fee will be around $160. 
Get your documents in order
You'll need the following documents for your interview:
DS-160 form/confirmation page that you printed earlier.

A receipt to show that the application fee has been paid.

Your ID photo (to the specifications mentioned earlier)

Other supporting documents. (Depending on which visa you are applying for, you may need things like a letter from a friend or relative who lives in the US, a contract, evidence of intent to leave the country when your visa expires or evidence that you can pay all costs of your stay).
Attend the interview
You'll attend your interview on the scheduled date and time. Try to be there at least fifteen minutes earlier or check for specific instructions regarding visa appointments on the website of the consulate or embassy in your country. In your interview, you will have to prove that you meet the requirements for the visa you applied for, and the consular officer will decide whether you qualify. This is not something to be too stressed about. They ask you a few questions and send you on your way, assuming you are not doing anything shady.
If you don't think the tourist visa is for you, there are several other options that you can look at, however, they all involve some form of work in the US or other reason to visit the US:
There is the J category of visas – these are for 'Exchange Visitors.' Those who are going to work at a summer camp, intern, teach or join/participate in any visitor programs in the US for a specified period of time. 

The H, L, O, P, and Q categories of visas – these are all 'Temporary Employment Visas'. They are for people who have been offered a job on a temporary or seasonal basis in the US, however, there are extremely specific requirements for each visa. 
Notes
If you have a valid visa in an expired passport, you can still use that visa until its expiration date in conjunction with your new, valid passport. Do not, however, remove the visa from your old passport.

Attempting to get a visa by intentionally obscuring the truth or fraud could get you banned (permanent refusal of visa) from the US.
What are the best places in the USA for Digital Nomads?
Jacksonville, Florida
The sunny city of Jacksonville is rated as the number one best city for Digital Nomads in the States. With lots of opportunities for co-working in shared spaces, lower rent as well as a relatively low cost of living compared to other major cities, it's understandable that it is ranked the highest. This city is also known to have lots of job opportunities, so if your schedule is not already full, you might pick up some extra work! 
But it's not all about your work-life. For your downtime, Jacksonville offers plenty of fun activities and services, like their gorgeous beaches, breweries, dining, museums and a bursting art scene. Not your thing? Never fear, Jacksonville has it all! The city has a myriad of outdoor recreation to offer, including scenic hiking trails and golf lessons. 
Austin, Texas
Austin comes in at number two for best places in the USA for digital nomads. Here you'll also find affordable co-working space, quality furniture rentals, and all the amenities that you'll ever need. Austin is known for its tech start-ups and entrepreneurs, so you'll be in good company here surrounded by driven, hardworking individuals. Austin has a buzzing culture and atmosphere, with music lovers, artists, foodies, museums, live concerts, bars, and nightlife alike. You might say it resembles a stained-glass artwork with its eclectic union of bizarre and wonderful people. You know it's a great place for a digital nomad when their motto is: "Keep Austin Weird". For outdoor enthusiasts, the city is halved by the Colorado River, which pools into Lady Bird Lake before continuing its course through to the other side of the city. It is the perfect place for paddle-boarding, swimming and boating. 
Las Vegas, Nevada
Another city on our list, that seemingly has it all: Art, food, nature, and entertainment. Of course, Las Vegas is most well-known for gambling, shopping, and nightlife, but it has more to offer! Long term, the rent is affordable, and housing is also relatively cheap. There are even houses with shared amenities available if you are on a budget, as well as great hotel deals for remote workers. Services for digital nomads are readily available and are of excellent quality. As for the more exciting things, there are too many to name, but here are a few – outdoor activities like hiking with stunning views for nature lovers, a unique art scene, comedy shows, the Burlesque Hall of Fame, and lots of other museums and amusement parks.  
Charleston, South Carolina
In Charleston, you'll find not only that rent is affordable, but also that there is a relatively low cost of living, including lower gas prices and real estate prices. Even more money can be saved on general living expenses during the offseason.
The city also has classy co-working offices and is known to host networking events, which are great for finding friends and expanding business opportunities. Though, the southern hospitality of the locals will have you meeting people with little effort anyway. The locals will give you a friendly welcome and most likely go out of their way to help you.
Well-known bars and restaurants like Oysters, Husk, Leons Fine Poultry, and Xiao Bao Biscuits can all be found here. The weather is warm, and the beach is nearby, as well as Sullivans Island and plenty of outdoor activities like the Cypress Gardens.
If all that is not enough to convince you, the city itself is spread out, laced with rivers, and covered in vibrant flowers in the spring. Several rivers merge with the ocean allowing the harbor to form. 
Charleston has a historical feel, with cobblestone streets and beautiful architecture dating back to the 1600s. But what good are cobblestone streets without the clopping of horse hooves and the rattle of carriage wheels, right? Well, within the French Quarter you won't be disappointed. It has been said that Charleston has the most distinctive downtown in America.
Pittsburgh, Pennsylvania
Pittsburgh is also known as The City of Bridges. As a city that resides at the junction of three rivers, it boasts more than 450 bridges! 
No longer predominantly filled with steel-related businesses, this city has come a long way and has a lot more to offer than in the past. 
Pittsburgh is an affordable place to live- so much so that it has ranked as one of the most liveable cities in the US. It is also spacious and very safe. Tech giants like Microsoft, Google, and Amazon have offices here. The Wi-Fi is fast, and there are lots of places where you can set up your laptop to work if you want a change of scenery from your apartment. 
This is the most charming city with a small-town feel! Here you will find beautiful views, art-lovers, local breweries, museums, parks, and the love of hip hop. They hold an art festival called Art All Night which lasts 22 hours!
When it comes to nature and outdoor activities, there are lots of those too. From water sports like paddle-boarding and kayaking on the rivers, to the less energized types of activities like visiting the National Aviary.
Lastly, if there's one thing you cannot miss in Pittsburgh, it is trying one of the famous Primanti Brothers sandwiches. 
Nashville, Tennesee
Nashville – the home of country music. Nashville has become quite a center for those who want to work remotely.  Here, you'll find a variety of affordable Airbnbs, and several cool little spots to work, outside of your accommodation. You could be working at a coffee shop and take a stroll during lunch to view the interesting and drastically changing architecture down the street, and still be back in time for your one o'clock meeting. 
Nashville is bursting with creativity and innovation. If you work in the creative industry or if you have a passion for anything art related – this place is ideal for inspiration and fueling creativity.  
Restaurants to check out in Nashville: Princes Hot Chicken, Hattie B's, and Roberts Western World.
New Orleans, Louisiana
New Orleans really is such a distinctive place. The city itself is older than the USA. Its heritage gave birth to jazz and a set of diverse, jovial locals, keen to have fun. They are known for their colorful cafes, mixed cuisine, annual Mardi Gras, and of course the French Quarter.
New Orleans is a hub for global companies in industries such as transportation, oil, energy, defense, finance, and healthcare.
Santa Fe, New Mexico
All you need for work as a digital nomad is a reliable internet connection and a power source. Well, Santa Fe has fiber and plenty of quirky places to plug in your laptop, but the real reason to go to Santa Fe is all the things you'll see and experience outside of work.
Santa Fe is another city on our list that has a very rich local history. Here you'll find buildings made of Adobe brick (also called mud bricks), which give the buildings a rustic look on the outside but are remarkably preserved (even luxurious) on the inside. Some of these buildings date back more than 800 years and are still in use! The New Mexico History Museum is found here, and historical churches, including Loretto chapel with its famous spiral staircase. 
The city is a great mix between preserved culture and modern life. A stroll down the street reveals a change from skyscrapers to colonial Spanish architecture and onto farmers' markets further down.
Santa Fe boasts sunshine almost all year round. During the summer it is popular for hiking and during the winter there is skiing. Any time of year you can take a lovely walk down Canyon Road art district to view all the art galleries. 
Lastly, for the Game of Thrones Fans, it is also the home of George RR Martin. So, if you desperately want an autograph, or perhaps to exact revenge for the death of your favorite character, this is where you may bump into him.
When is the Best Time of Year to visit the USA?
Generally, late March to late May (Spring) or late September to early November (Autumn) are the best times of year to visit the USA. This depends on the area you visit but overall, these times of year are quieter, so you'll have to contend with fewer people in the tourist destinations in comparison to Summer. The weather is also more temperate at these times of the year. 
Spring is a particularly ideal time to visit National Parks as it is warmer, you'll see more animals, and everything is just bursting with life. It also brings some gorgeous scenery to places like North Carolina, California, Florida, Nevada, Utah, Wyoming, and Texas.
Likewise, autumn offers you the epitome of what a seasonal change looks like with the bursting colors of leaves and landscapes changing from green to orange to red to brown. Another thing to consider for an autumn visit is that prices will sometimes be cheaper than in the summer and it's a great time for baseball!
These two seasons are a great time to go if you are someone who enjoys the outdoors, does not enjoy extreme temperatures, and prefers not to be in a crowd. 
Summer and winter can also be lovely times to visit certain places in the US. These both bring extremer temperatures but are suitable for specific activities held at these times of the year.
It is hotter from June to August (summer), and tourists flock to popular holiday destinations. It is also the summer holidays and the time of many festivals and happenings. If you are keen to join in on the festivities and enjoy the heat coupled with going to the beach, swimming in the ocean and all-round enjoying all water sports and outdoor fun, this is a wonderful time of year to go. Bear in mind that prices of everything (including accommodation) skyrocket at this time of year. 
From November to late February things get chilly. This is the time for winter sports like skiing and snowboarding, or indoor activities like reading, shopping, and movie-going.  There is often snow in the northern part of the US in these months. So, if you want to see the National parks in the snow, this is when you should go. 
Let's take a look at the variance between States of average yearly temperatures.
As a rule of thumb, the farther north you go, the colder it will be and the farther south you go the warmer it will be. Except Oregon and Washington, which seem to think that they are part of the warmer, Southern crowd.
For the most part temperatures of each State in Spring match the temperatures in the same State in Autumn.  
States

(listed generally from North at the top down to South at the bottom)

Average Temperature Range in Spring

Average Temperature Range in Autumn

Average Temperature Range in Summer

Average Temperature Range in Winter

Alaska

20-25 F

25-30 F

50-55 F

0-10 F

Further North

Maine

Montana

Idaho

Wyoming

Colorado

North Dakota

South Dakota

Minnesota

Wisconsin

Michigan

New York

Vermont

New Hampshire

40-45 F

40-45 F

60-70 F

10-20 F

Washington

Oregon

Nevada

Utah

Nebraska

Iowa

Ohio

Pennsylvania

Massachusetts

Connecticut

45-50 F

45- 50 F

65-75 F

20-35 F

California

Arizona

New Mexico

Oklahoma

Kansas

Missouri

Illinois

Indiana

West Virginia

Virginia

Maryland

Delaware 

New Jersey

Tennessee

North Carolina

Kentucky

50-60 F

50-60 F

70-75 F

30-45 F

Further South

Texas

Louisiana

Arkansas

Mississippi

Alabama

Georgia

South Carolina

Florida

Hawaii

60-70 F

60-75 F

75-85 F

50-60 F
You can find weather maps of the USA at currentresults.com
What is the cost of living in the USA (For digital Nomads)?
The average monthly cost of living in the US varies substantially across sources and depends largely on the individual's preferences. As a digital nomad, you can most likely get away with a much lower cost of living compared to the average US citizen, and since this article is for digital nomads, we are going to focus on the most cost-effective way to live and work remotely in the US. I have compiled a ballpark breakdown, using the seven basic expenses of a digital nomad. 
Your monthly cost of living could be as low as $1070 if you stay at backpackers' or at a friend/ family member's home rent-free. In the cheapest cities, you could live on as low as $2020 per month including rent – Pittsburgh is one of these cities.
Accommodation
The amount you spend on accommodation will vary according to the type of space you want to stay in. If it's predominantly hostels and backpackers, it could be extremely affordable, but not conducive to productive work and certainly not conducive to medium-term comfortability in having your own space.  
This is important to consider when choosing accommodation where you will be staying for a minimum of weeks if not a few months. Sharing a room with seven other people can really take its toll over time. Taking this into consideration, I have based my estimates on medium-range accommodation where you get a private room and either a private kitchenette or a shared kitchen and lounge. I have used four cities to account for the differences in cost of living in different places in the US. 
Airbnb estimates
Pittsburgh, Pennsylvania

$330 – $890 per month. Here, there are many options to choose from. Some are nicer than others.

Jacksonville, Florida

$640- $890 per month. There are lots of options and the places are generally nicer than Pittsburgh.

Santa Fe, New Mexico

$770-$960 per month. Only four stays showed up for that price range at the time of searching. The places were cozy and nice enough.

Las Vegas, Nevada

$450-$960 per month. Las Vegas has many more options than other places. The stays range from regular to very fancy.
Transport
Transport is the next biggest expense. As a digital nomad, you are usually left to use public transportation or Uber/some other kind of private transport. Your transport costs will depend on whether you tend to go out and travel around the area that you are in a lot, or if you tend to stick to your spot for the time that you are there. Obviously, your transport costs will be a lot higher if you are exploring every possible activity and restaurant versus doing most of your exploring close to your accommodation. 
According to studies, if you are doing a lot of traveling in and around your chosen accommodation then your cost for transportation could be as much as $375 per month. If, however, you are staying at your chosen place for several months at a time while exploring only the place in which you are stationed, then it could be as low as $125
Food
Food is another expense that can somewhat be controlled. If you are happy to live off the basics your monthly food cost could be around $150 per month, however, if you are a foodie and enjoy getting takeout multiple times a month or like to get the expensive milk, then your food cost could reach up to $400 (or more if you really splurge). Somewhere in the middle of those two figures is where I would budget for a month.
Toiletries
These are not a monthly expense, but in general, it works out to be just under $20 per month for toiletries. 
Leisure
One of the main reasons digital nomads do this, is for adventure! Sometimes adventure is free and sometimes it's far from it. Since you are working, obviously there isn't tons of time each day to go exploring, but you have evenings, weekends and sneaky in-between times to get in your dose of exploring.  Budgeting about $170 per month for excursions should do the trick. Some months you will do less than others, but in the end, it will all even out. If you plan to do a particular activity that costs more than usual, it would be wise to account for that in your budgeting. Do your research and anticipate what kinds of things you may like to do while in your chosen place, and how much they cost.
Co-working/Workspace
Co-working is not a must, but it can be extremely helpful if your accommodation is small or shared. It can also be very valuable for networking and even meeting new friends. Though many nomads prefer a coffee shop, I've included co-working in the cost of living as many nomads would consider this part and parcel of their travelling.  
Let's take a look at our four example cities for prices of co-working space, (and the price of a coffee in comparison, for those who prefer a coffee shop).
Pittsburgh, Pennsylvania

Co-working spaces are around $25/ $30 per day and monthly rates vary from $125-$720 for a whole month. There are also flexi options where you can use the office five times in a month for $40. There are even private offices for around $400 per month
A cup of coffee costs: $3.80

Jacksonville, Florida

Co-working space in Jacksonville costs around $25 per day, and $160- $225 per month. You can get a dedicated desk for $325-$350, and your own office for $210-600+ per month.
A cup of coffee costs: $3.90

Santa Fe, New Mexico

In Santa Fe a co-working space costs around $25 per day and access to a desk costs around $200 per month. If you want your own dedicated desk, you can get it from between $279 and $310 per month. A personal office costs anything from $310 to $1350 per month.
A coffee costs: $4

Las Vegas, Nevada

Las Vegas has tons of co-working spaces. These cost around $30/$35 per day or between $50 and $300 for a month.
A coffee costs: $2-$6
General Travel bits and bobs
If you are a digital nomad you are going to be paying for things like visas and travel insurance, etc. It would be wise to budget at least $50 for the travel insurance and look into the money you will have to pay for unforeseen extras, like potentially having to pay taxes.
Why is the USA a Great Place for Digital Nomads to work remotely?
While the US boasts generally fast internet and a relatively medium cost of living, these things do not distinguish it from any other country you might be investigating. Here are a few real reasons worth considering the US over other countries:
National Parks –

The US has many remarkably beautiful National Parks where you can see some of the most eye-pleasing scenery and interesting animals. From the formidable Grand Canyon to the Glaciers of Alaska, there are some wonders to behold here, many of which cannot be seen anywhere else in the world.

Diversity of character –

There is so much diversity between states and even different cities, that visiting multiple places within the US can be like going to entirely different countries. Going to the US gives you the opportunity to be immersed in several extremely different environments, new cultures, and unique ways of life, without all the extra paperwork that you would have to do if you were actually going to different countries. From the extreme differences in weather (snow in the north and sizzling heat in the south), to the strange and famous stereotypes of each state, I would say it is definitely worth experiencing it in a way that only someone who has lived there can. 

The "I've been there" effect –

Many of us grew up watching American television, movies, and series. Much of our pop culture is derived from the US – at least it is where I am from. The first time I went to the US I didn't anticipate how gratifying it would be to go to all the places I had seen on TV for so many years. It added so much extra enjoyment to all those forms of entertainment because finally, I could truly visualize the places being portrayed and the context of the culture in which the stories were taking place. It's true that traveling, in general, opens your mind, but traveling to the US truly does give you a better understanding of the different types of people, their fears, motivations, and how someone from a different country can have a completely different perspective of the very same world. With much of the world following the US's lead, it can be extremely eye-opening to get a better look at what it's like to live there.
Digital Nomad USA Conclusion
Considering all the information that we have looked at, the US would be an excellent choice for those who are citizens of Bermuda or Canada or those who can get a visa waiver, as they can get into the country with slightly less hassle. A big challenge associated with going to the US as a foreigner, however, is that it can be difficult to get a visa which allows you to legally live there as a remote worker. The other visas mentioned (aside from the tourist visa) all involve some form of temporary employment in the US – so if you are open to doing something a little different, you could also use one of those as your ticket to spend a few months there. This, however, is not ideal for those who have a full-time online remote job. 
Once you do make it to the US, it has a lot to offer digital nomads. You'll find a plethora of places to go, scenery to explore, activities to partake in, and tourist destinations in which to act touristy. There are many well-known places as well, which can be fun to visit. The cost of living is not overboard, but also not as affordable as say Southeast Asia is for digital nomads. All in all, if you can make it there, it is more than worthwhile.