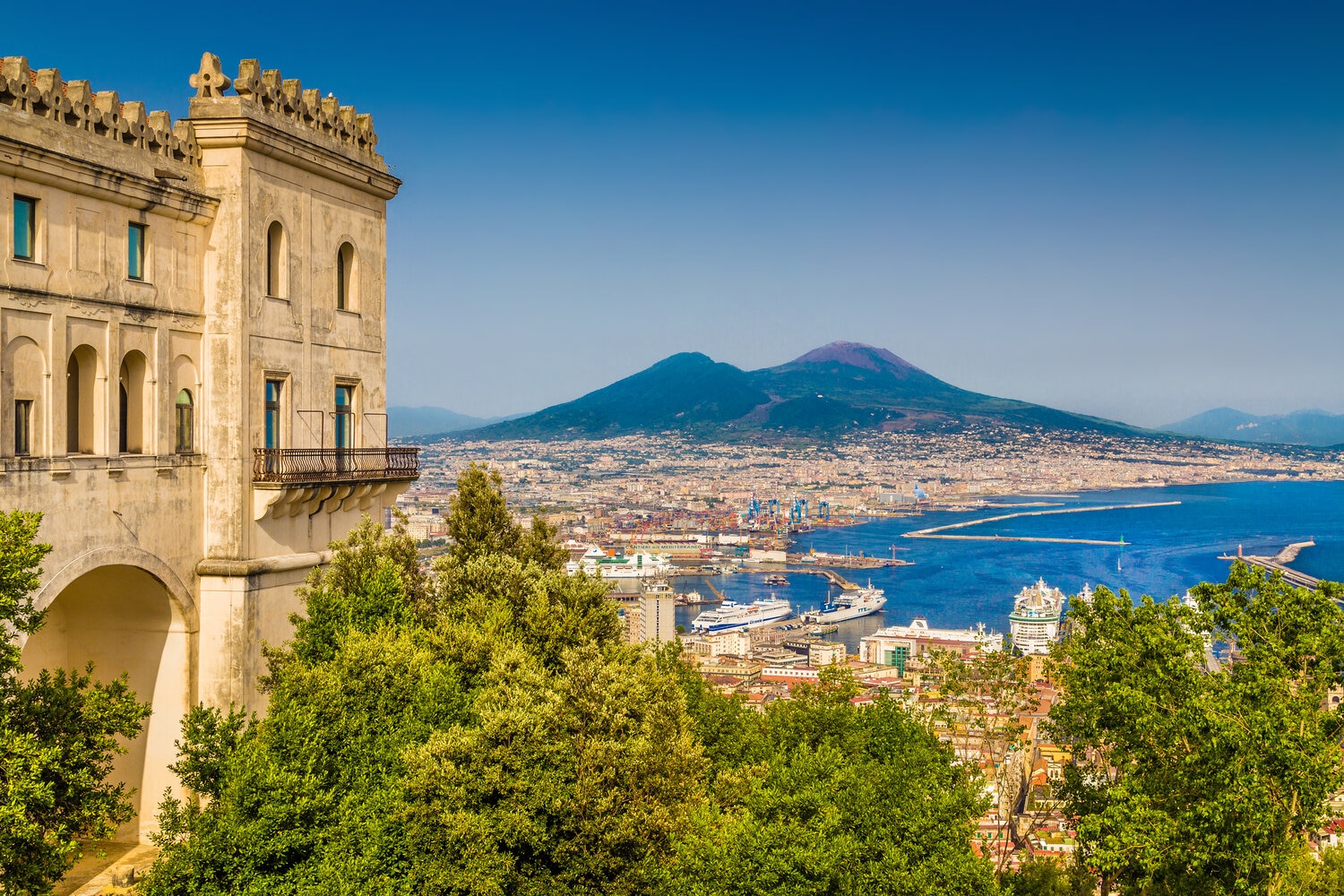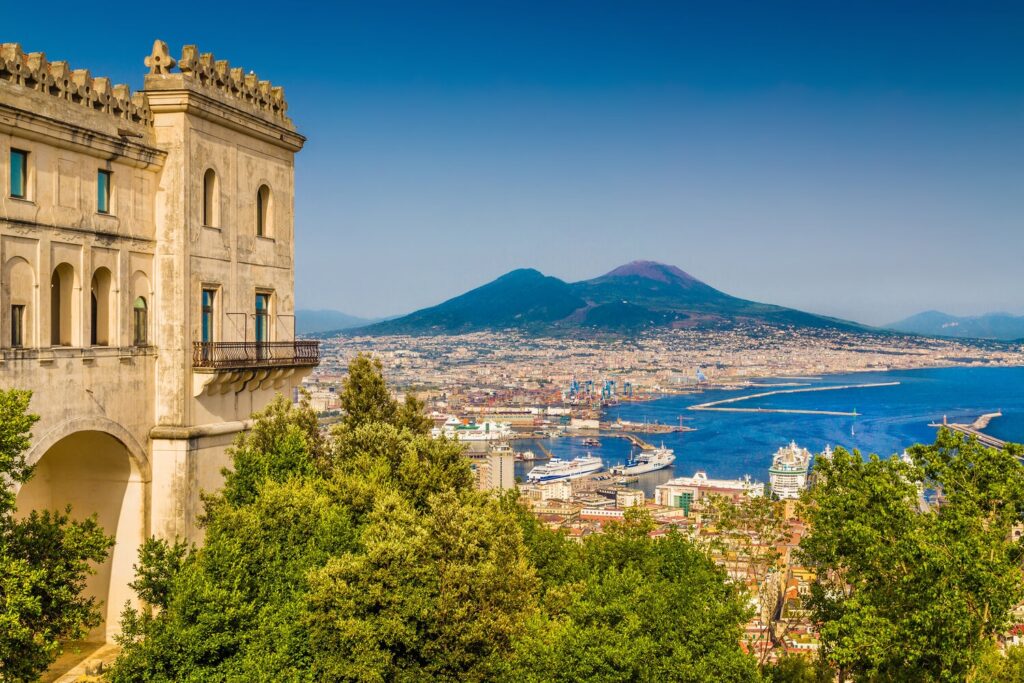 A Digital Nomad Guide to Naples
First established by Greek colonizers in the first millennium BC, Naples is nowadays hailed as the very soul of Italy. Steeped in history, this city is particularly renowned for its proximity to many antique sites such as the Ruins of Pompeii, Vesuvius, Nisida, and Herculaneum. Of course, like most Italian provinces, Naples is also known for its lip-smacking cuisine and glorious landscapes. 
While Naples doesn't rhyme with shoestring prices, I did find that the city is far cheaper than, say, Milan or Florence, so this may be the ideal destination for digital nomads who want to immerse themselves in the Italian lifestyle without spending a lot. The weather remains temperate throughout the year, although the mid-summer period can get particularly hot. More importantly, this city effortlessly caters to families, offering a wide range of kid-friendly amenities as well as international schools. 
Unfortunately, I must admit that Naples isn't exactly reputed for being a safe destination, especially given its Mafioso-infused past. You'll need to constantly keep your eyes peeled for scams and touts and I would advise against walking alone at night – at least in remote areas. However, I do want to point out that despite its reputation, I felt safer in Naples than I did in Rome where I was pickpocketed in a busy square. Other than being harassed by the occasional tout and taken on impromptu rides by taxi drivers who were desperate to add to their fare, nothing bad really happened to me in Naples even though I was traveling alone. 
Since locals often gather in pubs and bars until the early hours of the morning, I would say that it's even safe to go out in the evening, provided that you're cautious and stick to crowded places only. Some neighbourhoods such as Chiaia, Via de Mille, Posillipo, and the Piazza del Plebiscito area are all known for being quite safe. 
Areas that you may wish to avoid after dark – or at least be very vigilant in – include the notorious Quartieri Spagnoli (although it does have some excellent eateries), Secondigliano, and Pappacoda. 
Rest assured that there are plenty of police officers around, especially in touristy areas or neighbourhoods with a higher concentration of expats. Of course, whenever you're exploring a new city, it goes without saying that you should exercise caution, avoid talking to strangers, and leave your valuables at home.
Nomad Friendly
Value for Money
Internet
Workspace
English
Food
Safety
Health
Transportation
Friendly
Quality of Living
Living in Naples Overview
| | |
| --- | --- |
|  Meal, Inexpensive Restaurant | $12.46 |
| Domestic Beer (1 pint draught) | $3.40 |
| Cappuccino (regular) | $1.72 |
| Loaf of Fresh White Bread (1 lb) | $1.08 |
| Water (1.5 liter bottle) | $0.75 |
| One-way Ticket (Local Transport) | $1.47 |
| Basic Utilities (Monthly) | $188.18 |
| Internet | $33.48 |
| Fitness Club (Monthly) | $55.50 |
| Apartment (1 bedroom) in City Centre | $700.78 |
Currency: Indonesian rupiah (Rp)
[erw_exchange_rates_widget lg="en" tz="0″ fm="IDR" to="EUR,USD,GBP,AUD,JPY,RUB" st="primary" cd="" am="15000″][/erw_exchange_rates_widget]
ATMs
Max Withdrawal: Rp 3,000,000
Withdrawal Fee: Rp 30,000 – Rp 50,000
Use of Credit Cards: Mostly Cash
Digital Nomad Personal Experience in Naples
I'll admit that the first time I landed in Naples, my initial thought was 'What on earth have I gotten myself into?' 
Indeed, I had flown in from elegant Milan and I must say that the noise, gritty streets, and graffitied buildings were quite reminiscent of Old Delhi's rougher areas. Despite the short flight, the airline had somehow managed to misplace my suitcase, and I had been scammed by my taxi driver who took me on an impossibly long trip around the city before dropping me in front of the hotel, which incidentally, looked absolutely nothing like the pictures I saw online. My first few hours in Napoli had been brutal – to say the least – and I was already regretting my decision to spend a few days in the city. 
A few days down the line, however, I found myself prolonging my stay and what should have been a brief two-week stint in Naples quickly morphed into a three-months trip. 
The thing about the city is that it can admittedly be somewhat rough around the edges but beneath the surface lies one of the most charming destinations that I've ever visited. Nestled smack between rolling mountains and the azure Mediterranean Ocean, Naples also has a vibrant community of digital nomads – perfect for those who would like to connect with travelers from all over the world. 
For the most part, Naples offers decent Wi-Fi, although public hotspots can be somewhat choppy. I did end up getting a local sim card with unlimited data so I could get work done on the go instead of relying on public connection. According to locals, the best providers in Italy include WIND Telecomunicazioni, Vodafone Italy, and Telecom Italia. You can buy sim cards at the airport or in most stores across the city, but I would advise against getting one at the airport since you may end up paying extra. Prepaid sim cards usually cost between 8 to 10 euros, depending on the provider.
Work in Naples
Best Places to Work in Naples
One of the things that I liked the most about living in and working from Napoli was the extensive number of coworking spots scattered throughout the city. In fact, there were so many places to work from that I couldn't even cover half of them! Best of all, they all provided excellent amenities, reliable Wi-Fi and I was able to network with plenty of nomads from various corners of the earth. 
Below are some of my personal favorite coworking spaces in Naples:
Lightlive Coworking
Nestled in one of the most elegant buildings in the city, Lightlive Coworking has a soothing whitewashed interior right in the center of Naples. Extremely popular among freelancers from all over the world, this coworking spot offers fiber Wi-Fi, archive spaces, ergonomic seats, and even a personal chest of drawers for each digital nomad. 
You'll also find classic amenities such as scanners, printers, and a fixed telephone line with unlimited (local) calls. There's additionally a coffee corner where you can wind down and connect over a cup of local brew. Membership rates are available by filling out the contact form on their website. 
COWO® Coworking Napoli Centro Direzionale Re.Work
Located in the Business District, just steps from the Napoli Centrale Railway Station, COWO® Coworking Napoli Centro Direzionale Re.Work has a more formal, office-like atmosphere to it, perfect for nomads who need that kind of environment to work in. Spanning over 700 meters square, this spot has both shared tables and private workstations, depending on your requirements. 
You'll also find classrooms for e-teachers, meeting rooms, and multifunction spaces for conferences and other events. Digital nomads can contact the company through their website for a quote. 
Pz Re & Service s.r.l.
This was the coworking spot that I visited the most during my stay in Naples. To begin with, this company has a great eco-friendly approach that I absolutely adored. For example, all of their furniture is sourced from recycled materials and regenerated pallets. Digital nomads can choose from six individual or 15 shared workstations. This agency also offers printing and fax facilities as well as an expansive relaxation area, meeting rooms, and personal lockers.
Pz Re & Service s.r.l. is found just steps from the central Piazza Garibaldi. Daily passes cost 18 euros while a weekly pass will set you back 55 euros.
NapHub
If you've ever wanted to work in a palatial setting, here's your chance: located on the Riviera di Chiaia, NapHub is known for its refined layout, complete with towering marble pillars, Renaissance ceiling, antique chandeliers, and glitzy furnishing. In fact, I was told that the coworking space was built right in ancient halls that have since been restored to fit modern standards.
With a 100-person capacity, the ballroom can be rented for conferences and other events. There's also a library, meeting rooms, and spacious terraces where you can relax or soak up the sun. Open from 9:00 to 17:00, Monday to Friday, NapHub has private offices and shared tables alike. Digital nomads can email them on info@naphub.it for a quote.
Dialogue Place
Along with coworking facilities, Dialogue Place also features an Incubator designed to support social entrepreneurs and help them launch their businesses. With plenty of event spaces that can be used for workshops or meetings, Dialogue Place also provides access to internal events. 
Digital nomads will be able to access a well-appointment refreshment area, photocopying, printing, and scanning services, single stations, and meeting rooms. I also noticed that Dialogue Place had the fastest internet connection that I was able to find in Naples. 10-hour package costs 12 euros while 50 hours cost 50 euros. You can also register for a 100-hour package for 90 euros.  
Regus – Naples, Municipio
I have always been a fan of Regus' coworking spaces, having worked from several of their offices all over the world, and their Naples branch certainly did not disappoint. Admittedly, the prices are on the higher side but then again, Wi-Fi is super-fast and reliable. Owing to its popularity, you'll get to connect with professionals from various countries. 
For 254 euros per month, you can subscribe to a hot or dedicated desk in their communal area. A private and fully furnished office will set you back 270 euros per month while a virtual office costs 65 euros per month. Digital nomads can also use the meeting rooms at a cost of 26.5 euros per hour. 
Additionally, there are quite a few cafes throughout the city where you can set up shop for the day. Examples include: 
Il Caffé di Napoli

: I don't think I've ever seen this café empty. Quite on the contrary, it always seems packed with locals and foreigners typing away on their laptop. While it was always crowded, rest assured that you'll be able to work in peace since everyone seemed quite absorbed in their own projects. The staff is super friendly, and I was never rushed to leave. Best of all, their coffees were excellent and very reasonably priced. Il Caffé di Napoli is open 7:00 to 21:30, Monday to Saturday and 7:00 to 15:00 on Sundays.
Bar Mexico:

Despite its name, Bar Mexico features quintessential Italian brews. It is especially known for its spectacular Passalacqua coffee, which has to be

the

most delicious coffee I had in Italy. I especially loved this café's '60's-like interior, punctuated by the waiter's brightly-hued uniforms. Along with their Passalacqua coffee, I can recommend their scrumptious, fresh-out-of-the-oven pastries. Perfect for those who like to work in the early morning, this café is open from 5:30 to 20:30 Monday to Saturday, and from 8:30 to 15:00 on Sundays. 
Gran Caffè Gambrinus

: Reminiscent of those High Tea scenes from Downtown Abbey, this café is steeped in luxury. As such, you can expect prices to be on the higher side. I was told that Gran Caffè Gambrinus was first established back in 1860s, and it has since become something of a landmark in the city. If you ask me, the regal ambiance is best enjoyed by nibbling on a cream-filled cannoli washed down with a cappuccino. Unfortunately, this spot is extremely popular among tourists, so it's always packed and noisy. However, it's open until 1:00 every day (3:00 on Saturdays), so you can always head there after midnight if you want some peace and quiet. 
Stairs Coffee Shop: Half coworking space, half café, Stairs Coffee Shop offers fusion American and Italian cuisine. I quite liked the individual tables facing the exposed brick wall – perfect for shutting out the rest of the world as you work on your projects. Even though it's located in the heart of Naples, I would recommend their Cuban coffee which, in my opinion, is best savored alongside a flaky almond croissant. This coffee shop is open every day from 7:00 to 12:00 (1:00 on Saturdays).
Best Places to Live in Naples
Best Neighbourhoods
With a population of over three million, you can be sure to find more than your fair share of neighborhoods in Naples. The city is actually divided into thirty quarters that are regrouped into ten public community boards. 
Centro Storico
A UNESCO World Heritage Site, Centro Storico translates as 'Old Town' and is perfect for those who wish to immerse themselves in an authentic Italian lifestyle. Now, I do have to warn you that English isn't widely spoken in Centro Storico, and it can get quite boring if you're seeking adventures. However, this might just be the ideal neighborhood for digital nomads who are traveling on a budget. 
With cobbled lanes snaking through ancient medieval houses that seem frozen in time, Centro Storico also happens to be one of the most affordable neighborhoods in Naples, mainly because most stores are small-scale and family-owned. Unfortunately, it's not always easy to find a place to rent in the Old Town. In fact, if you want to live there, my advice would be to browse the real estate market in winter. 
Piazza del Plebiscito
In my opinion, this neighborhood is perfect for digital nomads who are traveling with their families. With a heavy concentration of locals and expats, Piazza del Plebiscito offers proximity to various schools, offices, retail, as well as entertainment options – ideal for those who would like to avoid lengthy commutes. 
Real estate prices in this neighborhood vary, but it is entirely possible to find a comfortable, mid-range apartment that won't break the bank. Personally, this is my favorite area in Naples, especially since it's close to lively spots such as Centro Storico. This neighborhood is additionally known for its beautiful architecture dotted by ancient columns. Steeped in the local history, Piazza del Plebiscito is also home to the Royal Palace. 
Vomero
Now, Vomero may be one of the most expensive areas in Naples, but if you're willing to loosen up those purse strings a little, this may just be one of the most picturesque neighborhood in the city. Indeed, upscale Vomero is perched on one of Naples' hilliest regions and as such, it offers unblemished views of Vesuvius, the Gulf of Naples, and the Centro Storico. 
This area is known for its artsy and hip population, not to mention its vibrant nightlife with pubs and clubs open virtually every day of the week. You'll also find plenty of boutiques specializing in vintage fashion and antique furniture. If you're planning on staying in Vomero, don't miss a trip to the weekly open-air market where you'll find plenty of Italian meats, cheeses, as well as fresh vegetables and seafood. 
Chiaia
Another upscale neighborhood, Chiaia also happens to be one of the chicest areas in Naples. With an architecture that's reminiscent of Milan's fashionable districts, Chiaia lies quite a long distance from the city center which is ideal for those who need plenty of peace and quiet to get work done. 
This area is especially known for its large community of digital nomads and hip cafes, so you'll have plenty of networking and collaborating opportunities. If this is what you're after, be sure to check out spots such as Ops Bar, Leopoldo Cafebar, Caffetteria Etoile, and Caffetteria dei Fiori, which incidentally happens to serve the best gelato that I tasted in Italy.
Find an Apartment in Naples
When browsing for an apartment in Naples, the first thing that you must bear in mind is that the further away from the coast you are, the cheaper your apartment will be. Real estate prices in Naples are generally more affordable than elsewhere in Italy, but properties near the coast or the highly-sought-after Amalfi Coast area are notoriously expensive. In fact, the average price for an apartment near the coast may cost around 2,000 – 5,000 euros per month, depending on the exact location and amenities. On the other hand, it is entirely feasible to rent a place for around 350 – 1,900/ monthly euros further inland.
Most locals live in the city where massive configurations of flat blocks tower around the center. Now, I do have to admit that finding an apartment in Naples can be something of a hassle. For starters, there are plenty of scams around so be on your guard. I even know someone who rented an apartment online, paid the deposit, and landed in Naples to realize that the place he'd 'rented' didn't even exist. If you can afford it, it's never a bad idea to stay at a hotel for a few days while you visit apartments in person. 
Secondly, I noticed that Neapolitans don't always resort to real estate agencies. As such, they'll usually advertise online or by putting up a poster in their window so keep an eye out for these notices when you're apartment hunting. I would say that the language barrier will most likely be something of an issue when negotiating directly with the owners. If you're not fluent in Italian, my advice would be to hire a translator because, take it from me, navigating the web of Neapolitan bureaucracy isn't exactly an easy task. 
For shorter rentals, you can comb through social media groups and connect directly with the owners. Some examples include Affitti Napoli Privati, Room for Rent Naples- Napoli, and Interno16HolidayHome Casa Vacanze. I also found some excellent deals on websites such as Nestpick and Idealista, which feature basic apartments for as little as 600 euros per month. On Airbnb, you can always find studios for around 500 – 700 euros per month. In my opinion, renting through a third-party website may be something of an advantage since the site will filter out most scams and assist you if there's something wrong with your rental. 
If you do want to go down the agency route, bear in mind that you'll usually need to pay two months upfront plus the agency fees. Some of the most reputed real estate agencies in Naples include Leonardo Real Estate – Agency Naples Historical Center, Gabetti Napoli Centro Museo Duomo, Agenzia Immobiliare Tempocasa Arenaccia, and Napolimmobiliare. When dealing with agencies, I noticed that most of their staff could converse in English but be sure to properly read your contract before signing it and pay close attention to the fine print. 
It's also important to know that utility fees such as gas, electric, and water are not usually included in long-term contracts, so you'll need to pay for these separately.
Cheap Places to Stay in Naples
In my opinion, the easiest way to save up on accommodation rates in Naples is simply to opt for couch surfing, that is, if you don't mind roughing it up a bit and crashing on someone's sofa instead of having a room all to yourself. In my experience, some hosts actually do provide a private bedroom instead of a couch so you might just luck out. On Couchsurfing.com, you'll be able to connect with over 12k hosts who are willing to welcome foreigners into their houses for free. 
Alternatively, websites such as Housing Anywhere offer the possibility of booking a bedroom in someone's house for as low as 300 euros per month. Digital nomads who don't mind staying in a shared dormitory can also check out Booking.com where they'll find hostels for as low as 11 euros per night. 
Like I mentioned previously, it's also important to pay attention to your choice of neighborhood if you would like to cut back on your accommodation costs. A popular option among backpackers and digital nomads travelling on a budget is the University Area, located in the southern city center. Because this neighborhood has a pretty high concentration of universities and students, it's always easy to get a budget-friendly to mid-range room or studio. 
A bit further away from the University Area is found the Port of Napoli which also offers inexpensive accommodation. For example, you'll be able to book a bed in a hostel dormitory for as low as 9 euros/night or a bedroom in a shared property for around 20 euros/night. The Port of Napoli additionally features small apartments for around 30-50 euros/night.
Naples Visa
For short stays, you can simply get a Schengen Visa that entitles you to up to three months in the country. Digital nomads can check if their country of origin is eligible for a Schengen Visa on the official Ministry of Internal Affairs website which is also available in English. Americans, Canadians, and most Europeans do not require a Schengen Visa and can freely enter the country as tourists for up to 90 days.
To apply for a Long Stay visa, you need to pay a fee of 116 euros and fill out an application form on the same website. Bear in mind that Long Stay visas are normally granted to digital nomads who are moving to Italy on a temporary basis for religious purposes, retirement, adoption, family reunification, education, or work. These visas are allocated on a case-to-case basis and the length usually varies from four months to two years. 
It's also very important to know that you will not be authorized to integrate the local job market unless your Italian employer applies for a work permit on your behalf. Once this permit is approved by the government, you can also apply for a work visa. 
Digital nomads who wisht to extend their stay in the country can also apply for a temporary residence permit while in Italy. Residence Permit Application Kits are available in virtually all Italian post offices, but I would suggest that you take a translator or a local friend along to help you fill it out since the forms are not available in English. Your residence permit form should also be accompanied by a Duty Stamp which costs around 16 euros.
Afterwards, the immigration officers will schedule an interview, during which you will be asked to produce documents such as copies of your passport, passport-sized pictures, proof of accommodation, health insurance, and proof that you have sufficient funds to live in the country. Residencies are usually granted for a duration of six to 12 months, although you can always renew it. With a temporary residence, you will be able to work in Italy and enter any European country without a visa.
Culture and Food in Naples
If you ask me, the best way to discover a new city is to connect with the local culture and luckily enough, Napoli meets all the quintessential Italian stereotypes – at least in terms of food. In my opinion, the very best meals are sourced from street stalls although you'll also find plenty of small, family-owned establishments offering authentic Neapolitan fares. 
Owing to its history, the local cuisine is inspired by Aragonian, French, and Romanian influences. Neapolitan dishes also feature plenty of Campanian touches such as the medley of cheeses, vegetables, and pastas that feature on most menus. In true Mediterranean fashion, the local cuisine boasts ample fresh produce, homemade carbs, and high-quality extra-virgin olive oil. As far as spices are concerned, Italians favor the use of fresh or dried herbs for a mellower and fragrant taste. 
Being the purist culinary geniuses that they are, Neapolitans frown on certain food pairings. For example, serving cheese with seafood is something of a cardinal sin in Naples – something that I quickly realized after being treated to a lengthy lecture by a disapproving server when I asked for some parmesan cheese to accompany my seafood spaghetti. I can also assure you that those rumors about Italians frowning on drinking cappuccino in the afternoon are entirely true. While no barista will refuse to serve you a cappuccino in the evening, you'll certainly receive more than your fair share of judgmental looks. 
All those little quirks aside, I do want to point out that the food in Naples is easily among the best that I've tasted in Europe. Processed items or artificially sourced ingredients are rarely on the menu, and if you don't exercise self-control, you might just head back home with a few extra pounds. A quick word of advice – be sure to pack those elastic-waist pants. You'll certainly need them by the end of your stay in Naples!
Here are some of my absolute favorite things to eat in Naples:
Neapolitan Pizza:

Largely popularized by that iconic pizza scene in 'Eat, Pray, Love', Neapolitan pizza can be found on just about every street in Naples – so rest assured that you don't have to line up for ages in front of the world-famous L'Antica Pizzeria Da Michele restaurant. In my opinion, this pizza is best enjoyed as plain as possible with the delightfully soft dough covered in gooey, cheesy marinara sauce and a few basil leaves on top. However, you'll also find variations with prosciutto or spicy Italian sausages. 
Fried Pizza:

This is an undeniably calorie-laden treat, and your arteries aren't going to thank you for eating it. However, one bite of the Neapolitan fried calzone and you'll quickly realize that you just couldn't care less about the health implications. While each restaurant has its own variation, most of the time, the fried pizza is stuffed full of smoked provolone, creamy ricotta, mozzarella, red peppers, and meat. According to the locals, the best place to experience this truly spectacular dish is at the Antica Pizza Fritta da Zia Esterina Sorbillo, but be prepared to wait a while. 
Lasagna Al Forno Napoletana:

After eating my way through Italy, I was surprised to see that Neapolitan pasta was quite different from elsewhere in the country. Indeed, the local pasta is deceptively simple with hardly any toppings so you can properly savor the freshness of the dough and tomato sauce. Lasagna Al Forno Napoletana only features thin slices of hard-boiled egg and meatballs sandwiched between pasta dough, cheese, and marina sauce, but it was easily the most delicious meal that I tasted in the city. Some variations include meat

raggu

instead of meatballs. 
Sfogliatelle:

The very first time that I visited a bakery in Napoli, two things became quickly apparent to me. One, Neapolitans have absolutely no issue with standing anywhere in the bakery to consume their flaky pastries, completely oblivious to the crumbs that were being scattered all over the floor. This actually seemed to be something of a tradition in the city. Second, Sfogliatelle has to be

the

Neapolitan pastry by excellence. Rich, flaky, stuffed to the brim with sweet ricotta, and covered in candied orange peel, this pastry is best enjoyed with a cup of espresso. Variations include cinnamon sugar instead of the orange peel. 
Given that food takes center stage in Naples, it shouldn't be surprising that most cultural festivals revolve around the local menu. For example, each year, the city celebrates Pizzafest, an 11-day festival aimed at honoring the different varieties of pizza. Along with complimentary samples all over Naples, you'll also get to participate in various activities, including pizza eating contests or pizza-making competitions. 
In February, Neapolitans also celebrate the Carnevale which is the Italian equivalent of Mardi Gras. You can expect the usual parades, street parties, live music, and masquerade balls. The Napoli version of Mardi Gras includes plenty of local snacks, including fried mini pizzas, gelato, and Chiacchiere – a classic Carnevale treat which basically consists of fried crispy dough sprinkled with powdered sugar.
Naples Nightlife
The good news about Naples is that you'll never run out of things to do at night. Quite on the contrary, I noticed that post-sunset is when the city truly flares to life as locals all come out to wind down after work hours. At night, there's an undeniably glamorous allure that permeates the city despite the gritty buildings and graffiti-laden streets. Close your eyes and you might just think you're in an artsy corner of Paris after dark!
One thing that you'll quickly realize during your stay in the city is that the Italians are extremely family-friendly, so it's not at all uncommon to see kids hanging out with their parents at the bar until past midnight, especially on Friday and Saturday nights. There are also plenty of underground pubs and impromptu soirees in the piazzas that you can check out after work. 
Bourbon Street Jazz Club
Not unlike its American namesake in New Orleans, Bourbon Street Jazz Club is a delightfully vibrant spot that's popular among foreigners and locals alike. While evenings are frequently animated by local jazz artists, you'll also be treated to soirées by music students from a nearby Conservatory. Drinks are reasonably priced, and the entry fee is 10 euros. Like most nightclubs in Italy, the entry fee is lower if you opt for a standing table. Located in Via Vincenzo Bellini, this club is open from 19:30 to 2:00 Thursday, Friday, and Saturday nights. 
Pepi Vintage Room
I don't know if it was the vintage charm or the delicious, handcrafted cocktails, but I found myself returning to Pepi Vintage Room week after week during my stay in Naples. Located in Vico San Domenico Maggiore, this club is open from 8:30 to 2:00, Monday to Saturday. Expert mixologists will whip up any drink of your choice and it also offers an extensive range of spirits, sangria, beer, and local wine. Prices are admittedly higher than usual but if you ask me, the delicious tapas and ambiance are entirely worth it. 
Spazio Nea
Part pub, part art gallery, Spazio Nea is framed by a Piperno stone staircase that dates all the way back to the 18th century. A popular spot among locals, this club frequently hosts art exhibitions that you can enjoy while sipping on the local wine. I noticed that Spazio Nea draws quite a lively crowd with young professionals gathering outside on the staircase over salami platters and Aperol Spritz during aperitivo hour. On select nights, you'll even be treated to live entertainment from local artists. Open every day from 9:00 to 4:00, this nightspot is found on Via Santa Maria di Costantinopoli. 
Teatro di San Carlo
It would be inconceivable to spend time in Napoli and not catch at least one show at the iconic Teatro di San Carlo Opera House. Hailed as one of the oldest theatres in the whole of Europe, this establishment regularly holds dance, plays, and opera performances each season. I would highly recommend that you head there early so you can take a moment to explore the Galleria Umberto I, known for its domed glass ceiling. Located just opposite the Piazza del Plebiscito, the Teatro di San Carlo Opera House is also connected to the Royal Palace. You can buy tickets or check out upcoming performances on their official website. 
Things to do in Naples
If there's one thing you can be sure of, it's that you'll never run out of things to do during your free time in Naples. In fact, even if you happen to be strapped for cash – as is often the case with digital nomads – rest assured that you'll find plenty of free things to do in Napoli. 
For example, the city offers numerous complimentary art shows and exhibitions that you can check out during your free time. Located in the heart of the city, the Madre Museum of Contemporary is known for its unique art and installation pieces by local artists and is completely free to visit on Mondays. Another attraction that's free to visit is the San Lorenzo Maggiore, a 13th-century French Gothic Cathedral which has over twenty side chapels, an apse, and a baroque façade. 
Now, if you do have some money to spare, here are some of the best things to do in Naples: 
Climb Mount Vesuvius

Okay, you just can't go to Naples and not visit this iconic stratovolcano that beautifully dominates the city's skyline. Even though it's notorious for causing mass devastation in both Herculaneum and Pompeii, Mount Vesuvius is one of the most magnificent sights in Naples. To visit the volcano, you can easily hop on a bus that will take you directly to the foot of Mount Vesuvius. This 40-minutes' ride only costs around 15 euros per adult. Bear in mind that at the volcano, you'll need to pay a 10-euro entry fee, but if you ask me, it's completely worth it since the ticket also entitles you to an English-speaking guide who will show you around. Even if you're not an avid hiker, I would absolutely recommend that you climb up the slopes of Mount Vesuvius. It's quite an easy, half hour's trek to the summit, and from there, you will be treated to unblemished views of nearby attractions, including the Tirone Reserve, Campanian Plain, Bay of Naples, and even the Valle dell'Inferno. The crater is open daily from 9:00 to 18:00 during summer and 9:00 to 16:00 in March and October. The ticket price for teenagers is 8 euros while children shorter than 120cm can enter the park for free. If you're visiting during summer, I would advise you to bring a hat, sunscreen, and plenty of water since the area is notorious for its long lines. Alternatively, you can also purchase a skip the line ticket with a tour agency.

Explore Pompeii

Most tours to Mount Vesuvius also include a trip to Pompeii, but if you're heading there directly from Naples, you can easily get a train from Napoli Piazza Garibaldi Station. These depart every thirty minutes and tickets normally cost less than three euros. At the station, you'll find two trains that will take you into Pompeii: the Circumvesuviana and the Metropolitano. Personally, I opted for the former since it stops right at the entrance of the ruins. Fair warning though – this train is usually the most packed so you may find yourself standing for the entire trip. If you want to avoid the crowds, you can always opt for the Metropolitano. Given Pompeii's painful history, touring the ruins can be quite a sobering experience. As you walk through the expansive ruins, you'll be able to visit ancient relics such as the Temple of Jupiter, Temple of Apollo, Case Del Fauno, and the Amphitheatre. The entrance fee for the ruins costs 11 euros for adults and 5.50 euros for children. Entry to the Herculaneum also costs 11 euros while you'll need to fork over 8 euros to explore the Archaeological Museum of Naples. If you're planning on exploring Pompeii, I do have to urge you to be extremely cautious. Since this site draws thousands of tourists per year, it's prone to pickpockets and scammers, so be sure to keep your valuables close and don't engage in conversation with strangers who approach you – no matter how friendly they appear to be. I would also recommend that you plan your trip as early as possible in the morning so you can get back to Naples during daytime.

Palazzo Reale

Built under Spanish rule, the Palazzo Reale is your one chance to step back in time as you explore the lavish private apartments that once housed the iconic Bourbon Kings of Europe. While it was first built back in the 1600s, this opulent palace has been restored hundreds of times. If you ask me, this grand establishment almost feels as though you've stepped right in a movie set. The Palazzo Reale is home to a museum, library, royal apartments, throne room, and even a theatre that used to host some of the best operas and plays in Europe. While you can pose for pictures with some of the antique backdrops, most of the furniture is roped off and not accessible to the public. This establishment is open from 9:00 to 20:00 daily – except on Wednesdays. Adult tickets cost 6 euros while young adults (18 to 24 years old) pay 3 euros. There's no entry charge for children under 18 years old.

Take a day trip to Almafi

You must have seen those glorious pictures of the Almafi Coast floating about on social media. The good news is that this delightful spot lies just a two-hours train ride from Naples- perfect for digital nomads who would like to embark on a scenic day trip. Alternatively, you can always hop on a ferry from Naples to Sorrento, and then take another boat from Sorrento to Amalfi. Known for its lush scenery, Almafi is perched on a rocky cliff that overlooks the azure Mediterranean.  During your day trip, you can always have lunch at popular seafront restaurants such as Sensi, Saracen Tower, Marina Grande, and Lo Smeraldino. If you're visiting Amalfi, I would also recommend that you check out the Blue Grotto, a truly spectacular sea cave where the sun pierces through an underwater cavity to illuminate the cave in a soft, blue-tinged haze.

Savour the local wines

Leave the hustle and bustle of Naples' city center behind and take a wine tasting tour in the countryside. While Napoli wine isn't quite as well known as the ones produced in Piedmont and Tuscany, you'll still find plenty of wineries to explore on the slopes of Mount Vesuvius. I can personally recommend the Bosco de Medici Winery which is open every day from 11:30 to 22:00. The wine tasting tour will take you throughout the vineyard where you can watch the vine workers in full action. If you visit during the right season, you'll also be offered the opportunity to try your hand out at harvesting. After the tour, you'll be taken into the tasting room where a sommelier will present you with various types of Vesuvian wine. What I liked the most about this winery is that there's also a restaurant on site so you can sit down to a typical Italian meal after your tasting session. Other popular wineries that you can explore in Naples include Vinicola De Angelis, Perrazzo Vini d'Ischia, Limonoro, and I Giardini di Cataldo.
Best Time to Visit Naples
Naples has a humid subtropical climate that's largely influenced by the Mediterranean weather. Because it has less than 40mm of rainfall, the climate cannot be classified as solely Mediterranean or subtropical. As such, you will be able to enjoy a moderate weather throughout the year, punctuated by temperate winters. Due to the continental influence, you'll still have to face uncomfortable highs in the summer, with temperatures of up to 35 degrees Celsius during the day. 
July is usually considered the driest month in southern Italy while November is the wettest. If you would like to avoid the summer crowd, you can always head over to Naples during the winter. In fact, the city is known for its mild winters although elevated areas such as Vesuvius are prone to the occasional snowfall. 
If you ask me, the best time to visit Naples is between early March and late April. The weather can get somewhat hot and humid at midday, but it's definitely far more tolerable than July's notorious summers. This period is also considered low season in the city, so you'll be able to benefit from the best rates in terms of tickets and accommodation. 
Digital nomads who are planning on doing a lot of sightseeing may wish to avoid visiting the city from mid-July to early August since these months are the worst in terms of crowds and climate. During this period, many family-owned businesses also tend to shut down as locals head to various parts of Europe for their own holidays so you can expect soaring high prices from the establishments that do remain open.
Naples for Families
Digital nomads who are traveling to Naples with their children will be glad to learn that Italy has an excellent school system. In fact, education is free for residents from the age of three until university. The local school system is divided into four stages: kindergarten, primary, junior, and high school. 
While there are over 800 public schools in Naples, most of them hold classes in Italian, so the language barrier may be problematic for most families. However, you'll find plenty of private schools and academies offering tuitions in English all throughout the city. Examples include British Council Napoli – Corsi di Inglese, the International School of Naples, Cambridge School, British Institutes Sede Centrale Napoli, and Helen Doron – English World Today srls. The annual fees for most private schools range between 4,500 – 9,500 euros and siblings are usually offered a 15% to 25% discount. 
You'll also find plenty of English-speaking day care centers in the city such as English Adventures Scuola Materna Internazionale, Made In English – Scuola Materna Internazionale, and Rainbow Playschool.
In terms of family-friendly entertainment, you can check out options such as: 
City of Science

: Colloquially referred to as the

Città della Scienza,

this interactive science museum is bound to thrill kids and adults alike, thanks to its many experiments, science exhibits, and cultural events. Located in Via Coroglio, this establishment also has a planetarium, science gym, as well as a children's workshop. It is open between 9:00 and 17:00, Tuesdays to Sundays. Tickets cost 13 euros for adults and 10 euros for kids (3 to 7 years old). 
Edenlandia

: Located in Viale John Fitzgerald Kennedy, this family friendly amusement park offers plenty to keep the kids entertained for hours. It's especially known for its rides, Go-Karts, and Ferris Wheel. While there is no entry fee, you do need to pay for individual rides. Prices range between 2 to 6 euros. The amusement park is open from 17:30pm to midnight, Monday to Friday and 10:30am to 13:00 on Saturdays, Sundays, and public holidays. 
Maronti Beach:

Located 55 kilometers from Naples, this extensive beach is perfect for a day trip that will undoubtedly provide some respite from the noise and bustle of the city. 
Easily accessible by bus, this beach provides both free and paid sections. I would personally recommend the free section if you really want to connect with nature since I found the paid areas to be too crowded, with resort-like pretentiousness. Just a stone's throw from the beach is found Cavascura Natural Springs, a secret spot where locals often indulge in a picnic right by the water's edge. 
Naples Zoo: Housing over 420 animals, the Naples Zoo lies just a quick walk from the Station Cavour. Admittedly, the zoo is on the smaller side, and it will take you around one-and-a-half to two hours to cover everything. Despite its size though, the Naples Zoo is usually packed with locals and their children. In fact, I've been told that this is the second Zoo that ever opened in Italy. The zoo is open from 9:30am to 19:00 on the weekend, and 10:00 to 18:00 on weekdays.
Living in Naples
Naples Transportation
While Naples has a meticulously laid-out public transportation system, I can understand how a first-time visitor may quickly become overwhelmed by the sheer number of options. But rest assured that once you get the hang of it, it becomes quite easy to get around Naples. 
The city is serviced by buses, funicular railways, tram, and a metro system, all operated by different companies regulated by Unico Campania. If this is your first time visiting Naples, I would highly recommend that you browse through Unico Campania's official website to familiarize yourself with the various routes, schedules, and prices. The website also offers a transport map specifically aimed at tourists. 
I would also recommend that you buy a Naples Pass online or at one of the tourist desks that you'll find all over the city. This entitles you to passes for public transportations, museums, and major attractions. Naples Passes also provide discounts for various pizzerias, restaurants, and other partner activities. You can even buy it before your trip to the city and activate it upon arrival. Digital nomads also have the possibility of buying a three-day Unico Artecard for Naples, Pompeoo, and the Herculaneum. 
Bear in mind that, except for direct airport transfers, most public transportations in Naples do not run until very late so if you're planning an evening out, your best bet would be to grab a public taxi.
Metro and Light Rail 
The Naples subway – colloquially known as Metropolitana – consists of Line 1, Line 2, and Line 6. These two lines cover most of the city, but I noticed that you do have to walk for a bit to reach a metro station. From what I've been told though, new stations are continuously being added to the city. In terms of ticket, you can choose from the five options below: 
Biglietto Orario (hourly ticket): This ticket is valid for 90 minutes and costs 1.50 euros

Biglietto Giornaliero (daily pass): This ticket is valid until midnight on the day of your purchase and costs 4.50 euros

Biglietto Settimanale (weekly pass): This ticket is valid until midnight on the last day of the week. It costs 15.80 euros 

Abbonamento Mensile (monthly pass): This ticket is valid until midnight on the last day of the month and costs 42 euros. 

Annuale Ordinario (annual pass): Ideal for digital nomads who are going to be in the city for a long time, this ticket entitles you to a year's worth of rides on the metro. It costs 294 euros. 
There's also a tram station that covers three routes. Steep roads are serviced by four funicular railways.
Bus
Exploring major attractions by bus was easily one of my favorite things to do in Naples, mainly because the city has an excellent bus system. In fact, if you don't have a lot of luggage, you can even hop on the bus right from the airport. It normally costs just around 4 euros to take you directly from the airport into one of the main squares or to the central train station. 
There are two main bus lines from Capodichino airport to the city center:
Alibus: This shuttle departs every 20 minutes and makes no other stop on the way. This is the fastest way of getting into the city center. On-site tickets cost 4 euros while online passes purchased in advance only cost 3 euros. 

3S Line: This bus route also departs from the airport but covers plenty of stops on the way to the city. It also covers Piazza Municipio and Central Station. This bus departs every half hour from the arrivals area. 
Ferry
Okay, Naples is no Venice, but I was still surprised to see the number of professionals who would commute to work by boat. An excellent way of beating the traffic, the ferry system also covers the Amalfi Coast, Sorrento Ischia, Procida Islands, and Capri. Tickets usually range from 14 to 23 euros and if you're in a hurry, you can always opt for a high-speed hydrofoil. 
To reach the port, you can take the Metro Line 1 to the Piazza Municipio which lies just adjacent to the Porto di Napoli. Bear in mind that locals also refer to the Porto as 'Molo Beverello'. 
Public and Private Taxis
While you'll find designated taxi stands all over the city, you can always flag one down when they're driving by. Official taxis are white and usually have black 'Comune di Napoli' signs on the side. 
Now, officially, taxis in Napoli are supposed to have a fixed rate. Prices start at 3.50 euros on weekdays and 6.50 euros on the weekend. However, if the driver suspects that you're not familiar with the local rates, they'll very often upcharge you so my advice would be to negotiate and agree on an upfront price even before getting into the cab. Most taxis should have a list of fixed rates displayed on the backrest of the passenger seat, but again, very few drivers actually respect the rates. 
Do remember that in Naples, the rate is also influenced by the total number of passengers as well. While tipping is not obligated, it's certainly appreciated although you'll quickly come to the realization that public taxi drivers usually help themselves to their own tips by refusing to provide change. 
Alternatively, you can always call for a private taxi to get you to your destination. In my experience, private taxi drivers tend to be less abusive in terms of prices. Popular options include Naples Private Driver, Taxi Private Napoli, Driver Taxi Napoli, Taxi Napoli 8888, and Taxi mister cab driver Naples & Amalfi coast.
Fitness and Health
 If, like me, you've had one too many Napoli fried pizzas, rest assured that there are plenty of gyms and fitness centers all over the city, namely: 
Gym mcfit Napoli

: Located in Largo Francesco Torraca, Gym mcfit Napoli is open from 7:00 to 21:00 on weekdays and 9:00 to 21:00 on the weekend. You can either opt for the Contratto Standard Package for 29,90 euros per month or the Contratto Flex for 34,90 euros/month which frees you from the standard minimum contractual obligation of 12 months. 
The New Athletic Napoli

: This gym is found in Via Agostino Depretis and offers plenty of amenities, including Aqua gym courses in the indoor swimming pool. Membership options range from 39,90 to 74,90 euros per month. You can also sign up for additional classes including martial classes, Zumba, and yoga. 
Fit Express Vomero

: One of the rare fitness centers that's open 24/24, Fit Express Vomero also happens to be one of the most affordable gyms in Naples. For 19,90 euros monthly, you will be able to access plenty of amenities, including cardio equipment, weight-lifting room, and various fitness classes. 
Ppt Fitness Gym

: Open from 6:00 to 23:00 on weekdays and 10:00 to 14:00 on the weekend, Ppt Fitness Gym is known for its extensive number of classes, including- but not limited to- Social Dance, Posture and Movement, Taekwondo, Total Body Attack, Evolution Pump, and the likes. The fitness area is well-equipped with modern cardio and body building equipment. Digital nomads traveling with their children will be glad to learn that this gym also has a kids' area for when the parents are training. 
According to the Bloomberg Global Health Index, Italy is one of the healthiest countries in the world – and that's despite the local carb-laden cuisine that's more often than not doused in plenty of extra virgin olive oil. As such, you'll find that are many ways to keep fit in Naples even if you don't subscribe to a gym membership. For example, you can join the locals in the early morning and late afternoon, jog on one of the scenic boulevards or go cycling in the countryside. Golfing, tennis, European football, and volleyball are other popular sports in the city.
Naples People
I'm not going to sugar coat it for you – on the surface, the people in Naples didn't exactly seem super friendly. As loud and passionate as most Italians generally are, I couldn't help but feel like the locals in Naples were a bit reserved and distant when it came to interacting with foreigners. My experience with interacting with the locals was also somewhat tainted by the sheer number of people who tried to scam me during my stay in the city. 
A common scam that you should watch out for is the Tax Police, also known as Guardia di Finanza. Uniformed police officers will approach you, often when you're leaving a restaurant or a shop, and they will demand to see your receipt for tax purposes. Afterwards, they'll find an excuse to fine you, and I did notice that most tourists would quickly pay the fine to avoid getting into trouble with the 'police'. Neapolitans dressing up as police officers is sadly an all too frequent occurrence in the city so if in doubt, you can call 113 or ask for their badge number. 
Of course, there are many exceptions, and I did notice that some locals – especially the younger generation – eventually warmed up after a while. In my experience, the best way to connect with the locals is over food or drinks. After all, it's no secret that Italians are passionate about good food, and I noticed that even the gruffest Neapolitan will open up over a conversation about the local pasta or pizza. 
Another thing that you'll quickly notice about Neapolitans is that as easily provoked and fiery headed as they are, they absolutely love to mingle with each other. After work, you'll very often see piazzas packed to the brim with families enjoying a stroll in the sunshine or friends sharing a beer while catching up on the latest news. The older generation normally meets up at cafes or pubs, often favoring Al Fresco seating spots so they can people watch. 
Like elsewhere in Italy, the usual way of greeting someone in Naples is to make direct eye contact, smile, and offer a handshake. Friends normally give each other air kisses near each cheek. Since the language barrier can sometimes get in the way, you may wish to learn a few basic phrases before heading into the city: 
Hello:

Ciao

 

Good evening:

Buonasera

Good day:

Buongiorno 

Please:

Per favore

Thank you:

Grazie

 

You're welcome:

Prego

 

Excuse me:

Scusi 
Do you speak English?:

Parla Inglese?

I'm sorry:

Mi dispiace

I don't understand:

Non capisco

 
While older Neapolitans aren't exactly well-versed in English, I did notice that they could understand basic French sentences, so don't hesitate to talk to them in French if this is a language that you happen to speak. 
During your stay in Naples, you will also realize that most locals are fiercely dedicated to their families. This is one of the rare countries in Europe where you'll find adults who still live with their parents just so they can help out with the bills while taking care of them. Some children do move out after high school, often migrating to cities like Florence or Milan.
Naples Insurance and Medical Care
Citizens of Europe, Iceland, Norway, and Switzerland who have a European Health Insurance Card are entitled to free, non-emergency care in public hospitals. International travelers should subscribe to a health insurance plan before flying out. Expats and digital nomads who are employed in Italy do qualify for the government's healthcare network. 
While public hospitals in Naples are quite well-equipped, the staff doesn't always understand English. For this reason, most digital nomads opt for private healthcare instead. Local private hospitals usually boast better facilities than public ones, but the quality of care is more or less similar to public establishments, given the country's overall reputation for great healthcare. However, it's important to know that private clinics in Naples can be nearly twice as expensive as public ones. 
Both private and public ambulances are known for being quite efficient and speedy. Emergency numbers are 118 (ambulances), 113 (Emergency help & police), 115 (Fire department), and 116 (Road assistance). 
As far as medication is concerned, you will find plenty of family-run pharmacies and drugstores throughout the city. In Naples, it's not uncommon for pharmacists to recommend medication and locals often head to the pharmacy instead of the doctor for minor issues like shallow cuts, sprains, or bodily aches. Many pharmacies stay open 24/24. Because brand names may vary, I would advise you to note down the generic name of your medication before flying out. While not all pharmacies ask for a prescription, it's never a bad idea to bring it along as well.
Make sure you are fully covered by reading our full Digital Nomad Travel Insurance guide.
Jobs in Naples
If you're planning on working in Naples, the first thing that I would advise you to do is take a crash course in Italian. Even if you're applying for an English-speaking position, knowing a few basic Italian phrases can go a long way in helping you secure a position. 
It's also important to make sure that you have the appropriate visa and work permit before integrating the local job market. Failure to do so may result in heavy fines and a complete revocation of your visa. 
I do have to warn you that Naples has quite a high rate of unemployment and as a result, the local job market can be ferocious. If you have a degree and a teaching certificate, your best bet would be to apply for the position of English teacher at one of the many international schools throughout the city. Teachers usually make between 1,800 and 2,000 euros monthly in Naples. 
Another huge draw is to offer private tuitions aimed at adults who wish to immigrate to predominantly English-speaking countries. 
International business, finance, and tourism are other sectors that you may consider pursuing if you would like to work in Naples. You'll find many resorts alongside the coast that are always on the lookout for bi-lingual employees, especially for positions such as Guest Relations Managers and Tour Guides. 
When browsing for local job opportunities, you may wish to consider websites such as Glassdoor, Indeed, Jobs in Naples, as well as iAgora. The majority of postings and descriptions are in Italian which is why most expats brush up on their Napoli dialect before joining the local workforce.
Check out our Digital Nomads Jobs Postings to find the best jobs available for Digital Nomads.
Nomad Friendly
Value for Money
Internet
Workspace
English
Food
Safety
Health
Transportation
Friendly
Quality of Living
Cost of Living Naples
While Naples isn't exactly the cheapest destination for digital nomads – especially if you're just starting out – there's no denying that it's among the least expensive communes in Italy. Indeed, living in Naples is significantly cheaper than glitzy cities such as Florence, Milan, or even Rome. 
Another great thing about Naples is that it's not exactly difficult to find affordable accommodation. Like I mentioned before, if you limit yourself to a basic one-bedroom apartment away from the coast, you can expect to spend between 400 to 1,000 euros monthly on rent. 
Utilities such as garbage services, electricity, heating, cooling and gas may cost around 155 euros for larger apartments or 100 euros for smaller studios. Transportation normally comes to around 45 euros monthly. If you're renting a vehicle during your time in Naples, expect to spend 1.61 euros/liter on gasoline. Internet (8Mbps) usually hovers around the 23 euros mark per month. A basic gym membership should set you back 50 euros/month while childcare (kindergarten or preschool) usually comes to around 240 euros monthly, although some upscale establishments can charge up to 450 euros per month. 
For entertainment, I personally budgeted around 400 euros for day tours, theater shows, admission tickets to museums and various attractions as well as eating out. If you're planning on taking day trips or weekend getaways to nearby communes, I would recommend that you add an extra 200 or so euros to your entertainment budget. 
This should come to a total of 1,600 euros per month (excluding gym and childcare), which converts to approximately $1,800.