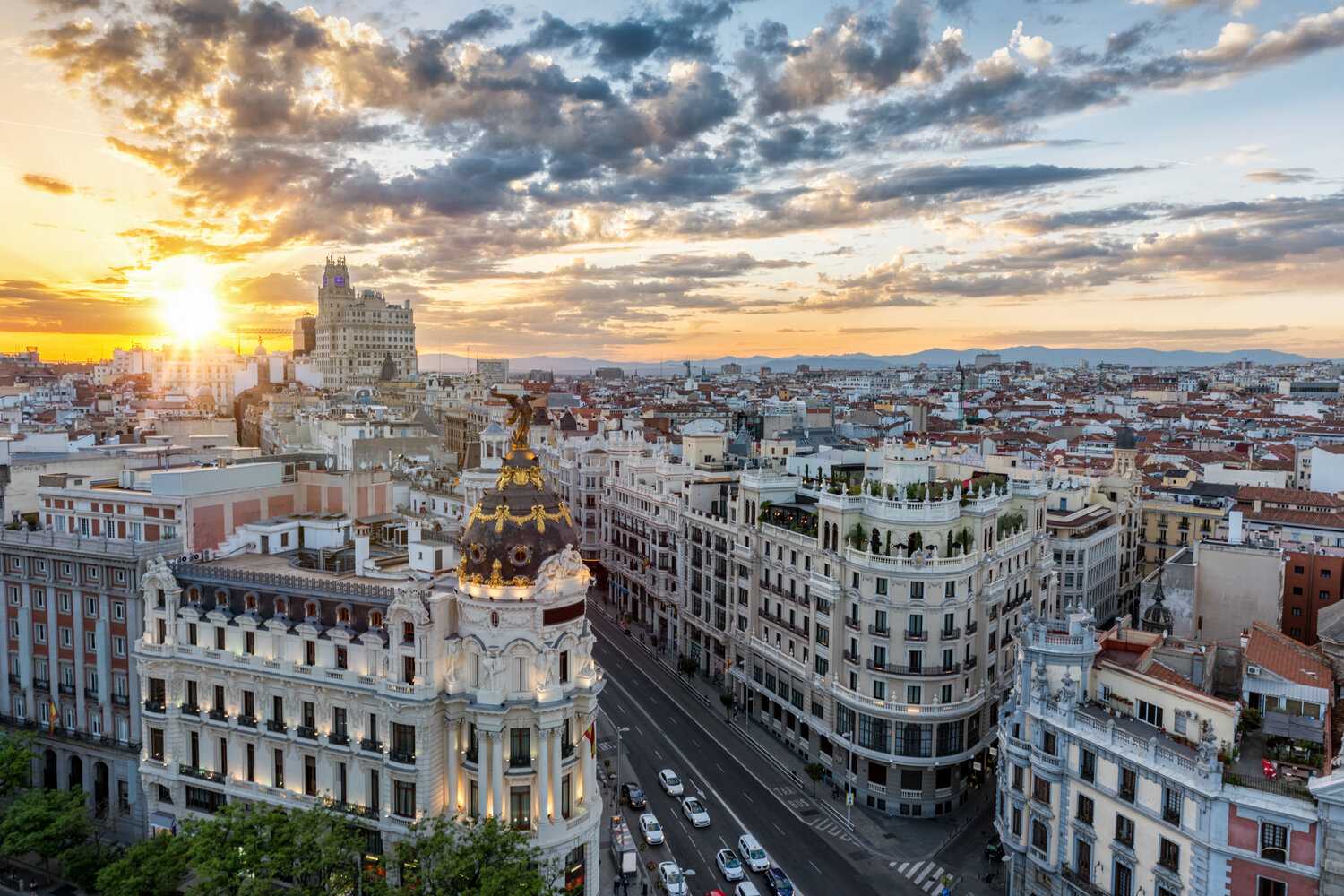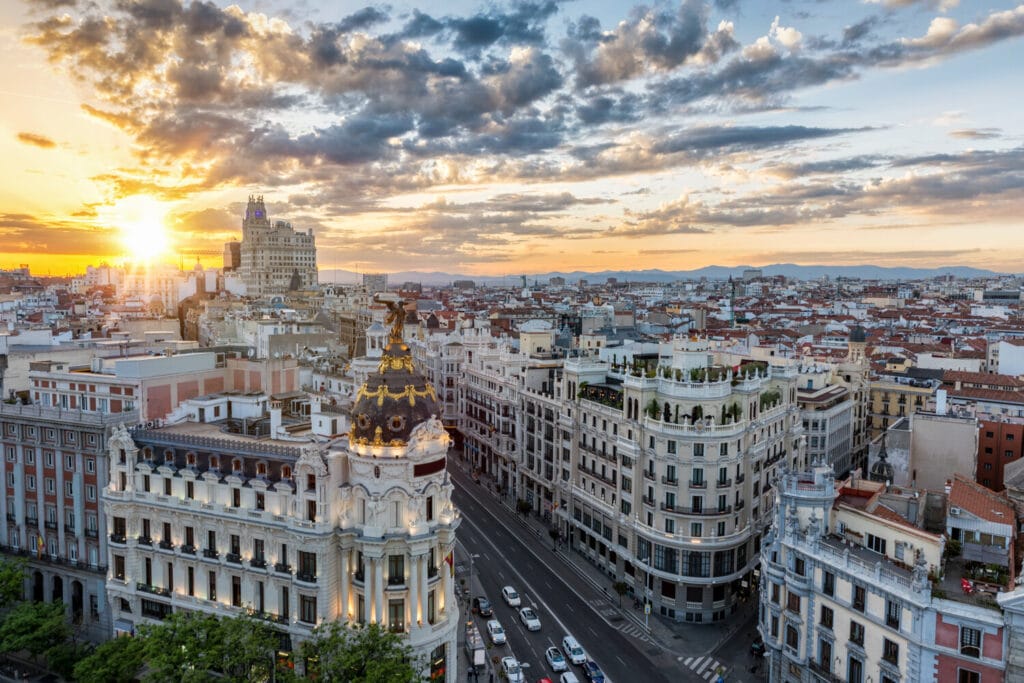 A Digital Nomad Guide to Madrid
Madrid is the capital and most populated city of Spain, it is also the political, economic, and cultural center of the country.
With a population of 3,334,730 million inhabitants (sense of the year 2021). It is the second-largest city in the European Union (EU), second only to Berlin. The capital municipality covers around 604.3 km2 making it the second-largest in Europe as well, with Paris being the largest.
* Data obtained from https://www.enterat.com/actualidad/habitarios-madrid.php
Madrid is located on the banks of the Manzanares River in the center of the country and of the Community of Madrid, of which it is also the capital. As the capital of Spain, it is the seat of government and residence of the Spanish monarch.
The urban agglomeration of Madrid has the third-largest GDP in the European Union and its influence on politics, education, entertainment, the environment, the media, fashion, science, culture, and the arts contribute to its status as one of the world's leading global cities.
 Madrid is considered the main financial center and the main economic center of the Iberian Peninsula and southern Europe, due to its economic performance, high standard of living, and market size. It houses the headquarters of the vast majority of large Spanish companies. Madrid is also the eighth most livable city in the world according to Monocle magazine, in its 2019 index.
Being one of the most visited places in the world, and Spain the second country in the number of annual visitors, Madrid is the official headquarters of the United Nations World Tourism Organization (UNWTO).
Although it has a modern infrastructure, it has preserved the appearance of many of its historic neighborhoods and streets, ivory white, its buildings radiate sunlight giving us a visual spectacle of its most outstanding buildings such as the Palace and the Cibeles Fountain, which have become monumental symbols of the city, like the Metropolis building.
In addition to them, among its main buildings and tourist attractions, we can highlight:
Main Square.

Madrid's royal palace.

Royal Theater with its Opera.

Buen Retiro Park

Building of the National Library of the XIX century.

Golden Triangle of Art.

Prado Museum

Reina Sofia Museum

Thyssen-Bornemisza Museum
Nomad Friendly
Value for Money
Internet
Workspace
English
Food
Safety
Health
Transportation
Friendly
Quality of Living
Living in Madrid Overview
| | |
| --- | --- |
|  Meal, Inexpensive Restaurant | $13.62 |
| Domestic Beer (1 pint draught) | $3.40 |
| Cappuccino (regular) | $2.25 |
| Loaf of Fresh White Bread (1 lb) | $1.01 |
| Water (1.5 liter bottle) | $0.75 |
| One-way Ticket (Local Transport) | $1.70 |
| Basic Utilities (Monthly) | $141.08 |
| Internet | $41.55 |
| Fitness Club (Monthly) | $43.48 |
| Apartment (1 bedroom) in City Centre | $1,015.47 |
Currency: Indonesian rupiah (Rp)
[erw_exchange_rates_widget lg="en" tz="0″ fm="IDR" to="EUR,USD,GBP,AUD,JPY,RUB" st="primary" cd="" am="15000″][/erw_exchange_rates_widget]
ATMs
Max Withdrawal: Rp 3,000,000
Withdrawal Fee: Rp 30,000 – Rp 50,000
Use of Credit Cards: Mostly Cash
Digital Nomad Personal Experience in Madrid
Madrid was the first city that received me as a digital Nomad. I remember arriving in Barajas and feeling at home, a strange belief that everything was going to be fine in this new stage.
The capital of Spain is captivating in many ways. When the metro leaves you at the stop that goes to Gran Via and you go up the stairs, you find one of the most beautiful avenues in the world in my opinion.
Most of the buildings are white or in light tones, which makes you need sunglasses because their architecture will blow you away. In Gran Via (famous avenue), despite having been the time of Covid, you can see a lot of people, and at least in my personal experience, with everyone I have spoken to, they have been very friendly!
The Madrilenian tends to be a very friendly person and to lend you a hand when necessary.
In my case, I met through a friend, two girls from Madrid who despite being a work day, managed to show me the city and its highlights.
The energy that the city radiates is wonderful, and if you visit its parks, for example, the Retiro Park, you will find that the daily life of the people of Madrid is very calm, especially in summer when they spend the afternoons in the park having picnics, doing sports, or going around in a boat through its small lagoon. The biodiversity of the park is also enchanting!
It is easy to get lost in Madrid while following old alleys. But when that happens, enjoy it, the city is safe and you will always find an avenue with public transport to guide you.
Work in Madrid
Best Places to Work in Madrid
Madrid has countless co-working spaces or cafes where digital nomads like you and me can work comfortably.
As in all of Europe and the United States, in Madrid you can calmly sit in a cafe and spend hours working, its internet is very good as well as its facilities!
I'll share with you a list of the cafes that I have visited and meet these characteristics:
Coffice – Workplace
Address: C. de Rodríguez San Pedro, 2
Coffice – Workplace was located close to where I was staying, so many times I would go there directly instead of going to a coworking space. It is very good, comfortable, quiet, spacious and with good vibes!
Their coffee is quite rich, and they have a very good brunch.
Nomade Cafe
Address: Calle de los Tres Peces, 22
The name attracts us all! It's very nice! You can have a very good time in the cafe! It is comfortable, but I would not choose it if I were to work remotely, since there are usually enough people who can deconcentrate us. They have a healthy menu that is worth trying!
Centro Cibeles Cafeteria
Address: Plaza Cibeles, 1A.
Classic cafeteria has very good spaces to sit quietly and work. It is located in the center of the city, so I recommend it if you are a tourist and you need a place close to the tourist attractions to visit.
Starbucks
We all know this cafeteria and we know that it offers an excellent option (which never fails) if we want a coworking space for the day. In my travels, I always choose it as it has key locations around cities, stations, and airports.
The coworking spaces in the capital city are incredible, providing us with very high-speed wireless connections and very comfortable workspaces according to the needs we seek as digital nomads.
Here is a list of the main ones, telling you which ones I have visited and the cost of some of them:
WeWork
Address:
1) Calle Francisco Silvela, 106.
2) Paseo de la Castellana, 77.
3) Calle Eloy Gonzales, 27.
4) Paseo de la Castellana, 43.
Hours: Closes 6 PM
Telephone: +34 919 01 76 50
Website: https://www.wework.com/es-ES
$: I used WeWork during my stay in Madrid and in almost all the places I have visited since it has branches around the world.
It has an approximate value of $ 200 every 3 months and you can visit any WeWork office in the world.
Jeronimo Madrid Coworking (Urban Campus)
Address: Carrera de San Jerónimo, 17.
Hours: 24 hours.
Telephone: +34 608 92 74 28
Website: https://urbancampus.com/coworking-spaces/íritu-madrid-coworking/
$: The base price of this incredible coliving place, for its coworking part is approximately $ 25. They have an incredible space, it is comfortable, and they have very good vibes. I recommend it!
Coworking The Factory
Address: Av. De Brasil, 17, 1ª.
Hours: Open 24 hours.
Telephone: +34 910 61 60 53
Website: https://coworkinglafabrica.es/avenida-de-brasil/
$: € 165 / month for a private office.
Coworking Snap
Address: Torregalindo, 1, Madrid.
Hours: Closes 8:30 PM
Phone: +34 66 02 45
Website: https://snapspain.com/?gclid=Cj0KCQjwm9yJBhDTARIsABKIcGZbeOymw6JfXFvY_tOwMxbufF9IzPo9Go2WMWs7vJIYyRWIkgTJTkAaAhoPEALw_wcB
The Shed CoWorking
Address: C. de Hermosilla, 48, 1º Derecha.
Hours: Closes 8 PM.
Phone: +34 910 82 10 72
Website:https://www.theshedcoworking.com/?utm_source=google&utm_medium=mybusiness
Coworking Community Madrid
Address: C / de Francisco Silvela, 47, 1º.
Hours: Open 24 hours
Phone: +34 917 56 82 23
Website: https://www.communitycoworking.com/
Coworking LOOM Princess
Address: C / Princesa, 5, 4ª Planta.
Hours: Closes 6 PM
Telephone: +34 664 84 97 67
Website: https://www.loom.es/
Goya Smart Coworking
Address: Calle de Núñez de Balboa, 35A, Floor 5 Office A1.
Hours: Closes 8 PM
Phone: +34 910 21 49 11
Website: https://www.goyacoworking.es/
Spaces – Madrid, Spaces Rio
Address: C. de Manzanares, 4.
Hours: Open 24 hours
Phone: +34 910 48 31 50
Website: https://www.spacesworks.com/es/madrid-es/rio/ 
Coworking Studio
Address: Tr.ª de Jose Arcones Gil, 3.
Hours: Closes 8 PM
Phone: +34 911 52 40 15
Website: https://www.coworkingstudio.es/
Cink Coworking
Address:
1) Av.de Manoteras, 24.
Telephone: +34 911 30 92 21
2) P.º de la Castellana, 194.
Telephone: +34 915 35 81 97
Hours: Closes 10PM
Website: https://cinkcoworking.es/
Undertake & Co
Address: P.º de la Habana, 15.
Hours: Closes 7:30 PM
Phone: +34 615 62 18 39
Website: https://www.emprendeco.com/
El Patio Coworking
Address: C. de Pizarro, 24.
Hours: Open 24 hours
Phone: +34 915 31 12 14
Website: https://elpatiodelapierna.net/
Best Places to Live in Madrid
Best Neighbourhoods
Doing a bit of google research I have found that the area in which I have stayed in my months in Madrid was one of the best residential areas of the Spanish capital.
Before making a real estate decision, you should know that Madrid is a very big city, as well as its distances. The rental price varies considerably concerning the distance you have from the center.
 Although it depends on the needs and lifestyle of each one, to help you in the task I have selected the five favorite areas to live in Madrid.
Chamberí
When you walk through its streets despite being very close to the historic center of Madrid, you can feel the day to day of the people since in this area we can find abundant services such as schools, hospitals, and shops, as well as many leisure options. In its delimitations, we can find a great variety of cultural offers, where the presence of several museums stands out.
It is usually a neighborhood with a lot of life, but a negative point of it is that it has few green areas and sports facilities: among them, the Santander Park and the sports facilities of the Canal de Isabel II stand out. And I train in the parks and it was difficult for me to find a place to do it in this neighborhood.
Architecturally, it is an area characterized by the presence of modernist, neo-Gothic, and neo-Mudejar buildings, which are worth visiting.
Moncloa-Aravaca
In google, appears as the second option to consider if you want to move to the Spanish capital. But let me tell you that it will be far away if what you want is to know the center of Madrid. It is a large delimited area that joins the university area with the Moncloa and Aravaca neighborhoods, here are the Argüelles neighborhoods, the most urban; Ciudad Universitaria, ideal for students due to its proximity to the Complutense University campus; Aravaca, where the old town coexists with the new developments of flats, townhouses, and chalets; El Plantío, with exclusive housing developments; and Valdemarín, where the most recent offer of luxury housing is concentrated. In its delimitation is Puerta de Hierro, which is one of the most exclusive areas of Madrid
Chamartín
Located in the north of the city, Chamartín is one of the best areas to live within the city of Madrid and also one of the most in demand. It is quieter than other fashionable neighborhoods in Madrid such as La Latina and it also has the Chamartín train station that connects the capital with the rest of Spain
 Its cultural and leisure side includes the National Music Auditorium, the Museum of Natural Sciences, and the Santiago Bernabéu stadium. 
Sanchinarro and Valdebebas
the new areas in Hortaleza
Located in the northwest of Madrid, there are two residential areas that have developed in recent years and where we can find many playgrounds, two hospitals, several schools, and a large shopping center. 
Although they are far from the city center, they have good communication. This neighborhood stands for its proximity to the Adolfo Suárez-Barajas airport.
Valdebebas has been configured as a sustainable area with many green areas and several kilometers of bike lanes.
Retiro
Those who prefer to live in the center of Madrid can find in the Retiro district the ideal place. Especially to live with children, thanks to the Retiro Park, one of the best green lungs in the capital. The counterpart is that the houses are more expensive the closer they are to the park, both for sale and for rent.
* Data obtained from https://madridsecreto.co/mejores-barrios-madrid/
Find an Apartment in Madrid
When looking for accommodation per month in Madrid you can feel a bit overwhelmed due to the number of options that you are going to find, from my point of view you should take into account the following options:
Renting a room in a shared apartment: (It was what I did) For students and young people it is usually the primary option since you share all the costs of water, electricity, gas, and internet, and their prices are usually quite affordable to a complete floor. You can find flats to share with one person or with lots! It depends on what you are willing to pay, there are gigantic floors that have more than seven rooms! In my case, I shared a flat with two people, with whom I shared many moments and did not have any kind of problem.
It is also an incredible way to connect with different people, whether local or not and that they can show you the most interesting places in the city.
It should be noted that this option is very good since, in Madrid, as in almost all of Spain, to be able to rent an apartment you need an NIE (we will talk about this later) and its minimum stay is usually at least 3 months (it is cataloged as a tourist stay between 1 and 3 months, and their prices are usually higher than residential 2 years). So if you are thinking of moving for a couple of months or an average stay, this is the best option.
Room prices typically start at $ 460 and climb to around $ 950.
Apartment rental: In this city, you can find a large number of apartments for rent, but you need to know that renting is not an easy task, its prices are usually very high (depending on the area, but the average is usually $ 1800). If we are very lucky, we can find flats starting at $ 1000, but let's not expect much comfort.
The studios are around $ 1000 to $ 1500 per month. These are usually very small, but they give us our personal space without having to share our "home" with anyone.
Depending on the age of the building, the area, and the communications with public transport.
Duplexes start at $ 1,400 and can climb to exorbitant prices ($ 2,500). The variables are usually the same for all the types of accommodation we are looking for.
It should be noted that the expenses that we can expect in the flats, regardless of whether they are shared or private, have an approximate charge of $ 200 per month in addition to all the services that may be included.
You will need many documents when renting your apartment in Madrid (unless you are Spanish). NIE, bank account, and deposit of two months in advance.
As you will see, if you are just starting, I recommend that you rent a room until you are sure if you want to stay in the city.
Cheap Places to Stay in Madrid
As I explained in the previous section, if what you are looking for is a low-budget temporary accommodation, you must take into account the following variables:
The closer to the center you are, the more expensive your accommodation will be (not to mention the wealthiest neighborhoods outside the city).

The more facilities you have nearby, the higher your price will be (such as hospitals, schools, parks, means of public transport, or outstanding tourist attractions).
If you are looking for a place to stay for a few days or weeks, you should try Couchsurfing or look at Facebook groups about accommodation in Madrid.
In these groups, you can also contact people who rent their apartment directly, which will be cheaper, without going through a real estate agency. What you will undoubtedly have to bear in mind is that, by doing it directly with the owner, you are tied to your standards. The "contract" is made by the owner, and if he wants to get you off the floor, he probably will. So I recommend you not to enter suspicious publications or those that have very low prices for very luxurious apartments.
Another option that you have to take into account to start, is to stay in hostels, their prices start at $ 15 and go up to $ 50 per night approximately, logically the cheaper it is, the fewer benefits it will have, you can also find very good offers in low season or discount.
At the end of the day, my recommendation remains the same, search the different portals for private rooms in shared flats.
Exclusive Member Benefits in Madrid
Similar Digital Nomad Destinations
Madrid Visa
On the visa issue, Spain has a very complex system if you want to settle in the country.
You need an NIE: Work permit for non-residents. This can be achieved in two ways:
With an employment contract.

Opening a local bank account.
The problem here is contradictory since to open a bank account you nearly always need your own NIE and to be able to have a work contract you also need this work permit.
The hack is to find a local company that is willing to provide you with a pre-employment contract, with which you can obtain a bank account and a pre-shift to obtain the NIE.
NIE shifts: In large cities, especially in Madrid and Barcelona (the cases that I know of) it is impossible to request a shift at the local police to request the NIE, what most of them do is see how to get a pre-employment contract in some nearby town or city that has more availability. In my case, I got tired of waiting and decided to leave Spain despite having a European Community passport. As I said, it can be extremely annoying and complex, but once you get it, everything is much easier.
If you are part of the European Union you will still need to obtain an NIE, but you can use the one from your own country and only validate it in Spain, you can visit their website for more information: https://www.interior.gob.es/web/servicios-al-ciudadano/extranjeria/ciudadanos-de-la-union-europea/numero-de-identidad-de-extranjero-nie-
Culture and Food in Madrid
One of my favorite topics when writing about these nomadic destinations, without a doubt, is food!
We are in a country where the culinary culture delights us with magnificent dishes worth trying one by one!
Imagine paellas, stews, tapas, potato and sausage tortillas, liqueurs, serrano hams …
It is known that Madrid does not have its own culinary identity defined by its region, but that over the years it was adapting dishes from different regions of the Iberian and North African peninsula, since being the capital of the Spanish kingdom, many people chose it to live, bringing with it its own food culture, the creation of inns was fundamental to create the pillars of Spanish cuisine. And it is precisely for this reason that Madrid has become one of the richest culinary regions in Spain and the world!
Recognized and imitated for its stews, perhaps the best-known dish is the "cocido madrileño"; Made with a base of chickpeas and vegetables, the vast majority add "salchichon" to it, making it one of the favorite dishes of all tourists.
"Los callos", a base of beef tripe and chickpeas, blood sausage, and peppers. Chorizo ​​sausage may also be used. The sauce must be very thick. This is probably the most recognized dish by the locals, in the best tapas bars.
"Las gambas al ajillo" is one of the most sought-after tapas by foreigners visiting the capital, and one of the most classic in the Madrid cookbook –although it does not attract so much preaching among the locals–. Its origin dates back to the Andalusian coastal towns, but it was established as a tapa in Madrid.
Another typical portion of the Madrid bars is the typical "Chopitos". It is made with the young of cuttlefish and squid. The important thing, in any case, is that they are crunchy and not very oily, something that unfortunately does not happen in most bars in the capital since they love to overdo it with the oil!
Castilian roasts and meats give way to the rich culture, they are usually made in wood-fired ovens, giving it a very particular flavor and tenderness. The famous image of a suckling pig being cut with a plate is famous in these latitudes.
"La oreja a la plancha" is one of the most typical portions in the bars of Madrid. Whether natural or marinated, accompanied or not by salsa brava, it is one of the "tapas" most sought after by tourists and locals, who seem to have created a cult for it.
The people of Madrid are great lovers of fish despite living geographically very far from the sea, the city has one of the largest markets in the world. Every morning fresh fish arrives from the coastal regions of Spain to fill restaurants and bars with a wide variety of seafood.
Desserts and sweets are also interesting in Madrid. The exquisite Torrijas, bread that is prepared and later dipped in butter or honey, is the typical dessert of the eastern week.
Madrid Nightlife
Without a doubt, Madrid's nightlife has a particular charm.
But we are going to talk from the afternoon, go to the terraces that decorate the Gran Via, to have a few beers watching the sunset, along with DJs who put music to a perfect moment.
Most of the terraces do not charge admission to visit them, but it is enough to reserve a table, these almost always have a period of stay of two hours, or an hour and a half, some all night. Since the demand, especially in summer, is very high!
In Madrid there is much more to offer than the terraces, a lot of tapas bars, pubs, cocktail bars, discos, bars and concert halls are available for you to visit.
Much of the nightlife in Madrid is concentrated in the areas of Huertas, Chueca, Malasaña, La Latina, Torre Europa, Argüelles and Moncloa. Each of them has its own atmosphere. Setting a clear style so that when you are in the city you can identify it at will.
Huertas:

The vast majority of nightclubs and bars are concentrated on Calle Huertas, Calle Cruz, and Plaza Santa Ana, this is a very popular area among tourists and students.

Chueca: It is the gay-friendly neighborhood par excellence in Madrid and concentrates a large number of bars of all kinds aimed at the LGTB public. It is a good area to go out for a few drinks first thing in the evening and to enjoy the terraces.
La Latina: It is an area with many tapas bars, restaurants, and pubs, so it is ideal for dinner or a few beers before jumping headfirst into the party.
Malasaña: It is characterized by its bohemian and alternative atmosphere. This is the area to go out if you want to listen to some rock, punk, metal, indie, or electronic music.
Torre Europa: Near the Santiago Bernabéu stadium, this area is considered one of the most fashionable to go out in Madrid and contains a good number of trendy bars. If you are into sophisticated bars and people dressed in the latest fashion, then surely this area will become your favorite place.
Argüelles Moncloa: Nearby there are a lot of university residences, so you can already imagine what you will find in this popular party area of ​​Madrid. People around here are usually a little younger than at other of the capital's party spots and the atmosphere is magnificent.
As you can see, no matter where you are, Madrid will always surprise you if you want to party!
It should be noted that currently due to the general global situation concerning Covid-19, nightlife in Madrid was affected and a series of legal recommendations were taken to prevent the virus from spreading, they are:
Closing of the establishments at 03:00 in the morning.

Bar consumption is not allowed.

Maintain a safe distance.

Use of a mask, except at the time of ingestion of food and drink.

Frequent hand washing and cross ventilation.

Indoor dancing is not allowed.

The capacity remains the same, that is, 50% indoors and 75% outdoors.
Things to do in Madrid
Madrid is undoubtedly one of the most visited cities on planet earth! And personally, it has fascinated me, from the treatment of its people to its architectural works, it is a fantastic city, full of options when it comes to going out to discover it! I hope that like me, it leaves you amazed!
That is why it seems appropriate to make you a very brief travel guide so that you do not miss at least the basics of this beautiful city that left me captivated!
What do you think if I tell you the 99 most visited places in the city? It may be a daunting task, but let's try it!
Museo Nacional del Prado: World-class European art collection

Royal Palace of Madrid: Regal 2,000-room palace, armory & garden

El Retiro Park: Vast 19th-century park with fountains

Museo Nacional Centro de Arte Reina Sofía: 20th-century Spanish artworks

Plaza Mayor_Madrid's vibrant main square

Thyssen-Bornemisza Museum: European art from 13th to 20th centuries

Temple of Debod: Reconstructed ancient Egyptian temple

Mercado de San Miguel: Stylish covered gastronomic market

Puerta del Sol: Bustling square with a famous clock

Calle Gran Vía: Famed street for shopping & dining

Catedral de la Almudena: Catholic cathedral with striking chapels

Santiago Bernabéu Stadium: Famous home ground for Real Madrid FC

Palacio de Cristal: 1887 glasshouse housing contemporary art

Plaza de Cibeles: Elegant square with marble monuments

Círculo de Bellas Artes: Arts center, performance venue and cinema

El Rastro: Historic flea market held every Sunday

National Archaeological Museum: Prehistoric to 19th-century objects

Puerta de Alcalá: Neoclassical 5 arched triumphal gateway

Museo Sorolla: Artist Joaquín Sorolla's house museum

Zoo Aquarium de Madrid: Land and sea animals from around the world

Plaza de Toros de Las Ventas: Neo Mudéjar style bullfighting arena

CaixaForum Madrid: Striking, contemporary cultural center

Real Jardín Botánico: Royal botanical garden with trails

Casa de Campo: Large park with boating lake & streams

Museo Lázaro Galdiano: Art & treasures in 19th-century mansion

Cybele Palace: Palatial white city hall buildings

Parque de Atracciones de Madrid: Amusement park with rides & attractions

Madrid Río Park: Riverside hub for walks, sports & events

Matadero Madrid: Arts center in a former slaughterhouse

Parque Warner Madrid: A theme park with several roller coasters

Plaza de España: Landmark square with Cervantes monument

Museo del Romanticismo: Romantic-era artworks and a garden cafe

Parque de El Capricho: Elegantly landscaped garden with lake

Teatro Real: Prominent opera house with shows and tours

National Library of Spain: Vast public library founded in 1712

Royal Seat of San Lorenzo de El Escorial: Imposing Renaissance palace complex

Cerralbo Museum: Eclectic art in a 19th-century mansion

Paseo del Prado: Boulevard lined with museum and stress

Real Academia de Bellas Artes de San Fernando: Fine art museum in 18th-century palace

Faunia: Zoo with animals in natural habitats

Plaza de Santa Ana: Major square lined with restaurants

Plaza de Oriente: Prominent square built in the mid-1800s

Museum of the Americas: American art, archaeology & ethnography

Naval Museum: Nautical science & naval history museum

Real Basilica of Saint Francis the Great: 1700s place of worship with a painted dome

Teleférico en Rosales: Cityscape cable car above river & parks

La Casa Encendida: Cutting edge cultural and social center

Museo Nacional de Ciencias Naturales: Animal & plant exhibits on 5 levels

Sabatini Garden: Landscaped royal garden & events venue

Museo del Ferrocarril de Madrid: Railway museum in a 19th-century station

Parque del Oeste: Landscaped park with meandering paths

Museo de Historia de Madrid: City museum housed in a former orphanage

Monasterio de las Descalzas Reales: 16th-century monastery with artworks

Calle de Alcalá: Iconic avenue with landmarks & plazas

Museo de Cera: Waxworks museum of famous figures

Centro de Cultura Contemporánea Conde Duque: Arts center in an 18th-century barracks

Neptune Fountain: Sea-themed fountain with Neptune statue

Juan Carlos I Park: City park with a train ride & sculptures

El Pardo Royal Palace: Palace estate & General Franco residence

Plaza de Colón: Traffic circle with a Columbus statue

El Oso y el Madroño: Celebrated local bear and tree statue

Fountain of the Fallen Angel: Statue of Lucifer over a fountain

Palacio de Velázquez: Historic museum displaying modern art

Monument to Alfonso XI: Colonnade with an equestrian statue

Corral de la Morería | Tablao Flamenco en Madrid | Espectáculo flamenco: Upscale fare & live flamenco nightly

Porta de Toledo: Commemorative gate completed in 1827

Calle de Fuencarral: Popular shopping street with a museum

House-Museum of Lope de Vega: 17th-century house museum of playwright

Metropolis Building: Landmark with beaux-arts architecture

Europa Park: Large park with 18 European monuments

Museo Nacional de Artes Decorativas: Furniture, ceramics & decorative pieces

Campo del Moro: Formal gardens with fountains & streams

Manzanares: River, park and garden and reservoir

Jardines de Sabatini Apartosuites11:Modern hotel with a vintage car museum

Cibeles Fountain: 18th-century neoclassical fountain

Plaza Castilla: Public square with a monument & views

Calle de Serrano: Posh boulevard is known for luxe shopping

Museo del Aire: Vintage military & civil plane displays

Plaza del Callao: Pedestrian square from the 19th century

Palacio de Liria: Art collection in an 18th-century palace

National Museum of Anthropology: Material culture from around the world

Quinta de los Molinos Park1: Tranquil park with seasonal blooms

Plaza de la Villa: Historical square with notable buildings

San Jerónimo el Real: Early-16th-century church with cloisters

Plaza de España: Scenic architectural complex & canal

Mercado de San Fernando: Unfussy marketplace with food & shops

Andén 0 | Estación Museo: Former 1919 Metro station, now a museum

Museo ABC: Free & stylish museum for graphic arts

Museo de Arte Contemporáneo: Museum with prominent writer's office

Museo Casa de la Moneda: Money museum with ancient coins & stamps

Faro de Moncloa: Transmission tower & observation deck

Mercado de San Ildefonso: Hip food hall for eclectic, global eats

Calle de las Huertas: Vibrant street for tapas & literary lore

Real Monasterio de la Encarnación: 1600s convent with an art-filled church

Kapital: Nightlife, theatre and music

Ermita de San Antonio de la Florida: Chapel with frescoes by a famous artist

CA2M Centro de Arte Dos de Mayo: Cutting-edge arts venue with workshops

Monumento Cervantes: Sculptures in memory of the famed author

Cerro del Tio Pio: Hilly park with skyline & sunset views
Best Time to Visit Madrid
Personally, the best time to visit Madrid is in the spring, or the beginning of autumn, since it rarely rains torrentially and its afternoons are usually very pleasant, with a gentle breeze taking the heat away from our bodies. Also, people tend to enjoy the city's attractions in these months! There are usually many discounts in the most recognized museums and tourist attractions.
In summer it is usually too hot, and most of its inhabitants flee in search of beaches on nearby coasts such as Valencia. Its temperatures in summer usually reach 40 °. Undoubtedly it becomes somewhat unbearable to visit the city as a tourist with these temperatures!
In winter, the opposite happens, they are usually very cold months, where people tend to stay at home rather than go out to enjoy life in its parks or tourist attractions. Although they say that at Christmas and New Year the city is worth visiting.
But let's look at its weather by average season:
Spring: With average temperatures that fluctuate between 12º and 21º, spring is very pleasant in Madrid.

Summer: Summer in Madrid is quite hot and dry. Average temperatures are usually 25º C, reaching maximums of up to 40º C

Autumn: During the autumn, temperatures usually fluctuate between 15º and 7º, with some rains in between.

Winter: Average temperatures can range between 9º and 6º and can sometimes be around 0º. Although it is not very common, some snowfall can fall from time to time and dye the city even more white!
*Data obtained from: https://madridando.com/el-tiempo/
Madrid for Families
Family life is highly recommended in Madrid, the number of parks that we can find throughout the city full of activities to share with the whole family is usually a great incentive when choosing it as the place to live.
Undoubtedly, it is important to note that the capital of Spain has many activities for children, looking for them on the internet I came across the following:
Strolling through El Retiro and other parks such as Campo del Moro, as well as going to the water parks are very pleasant plans to do with the family during spring and summer.
While in autumn or winter you can take the opportunity to visit with the family some children's museums, such as the Wax Museum, the National Museum of Natural Sciences, the Railway Museum, the Naval Museum or Museum of Illusions Madrid. For the little ones, you may be interested in spending a day at Magic Forest, the Kinépolis Madrid playground (a huge shopping center with 25 cinemas near Casa de Campo) where they can have fun sliding down a multitude of slides, hiding in endless mazes or climbing gigantic plants.
Another interesting proposal that the city presents to us for the whole family is IKONO, a peculiar interactive art gallery that invites visitors to enhance their senses through immersive activities, colors, smells, and textures.
Other proposals
Casa de Campo Park.

Madrid Zoo Aquarium Madrid cable car.

Madrid Amusement Park.

Faunia Nature Theme Park.

Warner Park Madrid.

Santiago Bernabeu.

Metropolitan Wanda.

Cinemas

Theaters.

Skateparks.

Pools.

Sports practice.

Windobona (Children between 4 and 12 years old can already feel the experience of flying!).

Madrid Safari.

The Enchanted Forest.
It should be noted that in Madrid there are many green spaces for outdoor activities such as barbecues, picnics, bike rides, sports practice, birdwatching, etc.
Living in Madrid
Madrid Transportation
Madrid's public transport is managed by the Madrid regional regular transport consortium.
To use its services you have to pay a series of fees, either in the form of a ticket, Metrobus, transport pass or tourist pass. Each one has different characteristics of price, duration, and covered areas.
The capital's metro has 13 lines that connect more than 280 km, making it one of the largest metro networks in the European Union. To be able to use it we can choose between the different types of trips and combine them with buses and trains (in some cases).
Ticket types
The single ticket: It is acquired at the same station or medium that you want to take. In some services, such as the commuter train, you can buy round trip tickets.
Single metro ticket:

€ 1.50 – € 2.00.

Depending on the area.
The metrobús: it is the qualifying ticket for both the metro network and the EMT bus network. It allows the realization of a total of 10 trips within the transport zone A of the capital.
Combined 10-trip ticket:

€ 12.20 – € 18.30.

Depending on the area.
The transport pass: allows the realization of an unlimited number of trips during its validity period, either monthly or annually. Their rates vary according to the age of the users, defined in three ranges (young, normal, and old season ticket) and according to the crowns, which are a model defined by the Transport Consortium, which organizes the Community of Madrid and some municipalities of Toledo. and Guadalajara in a series of concentric rings.
Monthly rates:

18.90 (2 zones) – € 52 (7 zones)

.
The tourist pass is valid for between one and seven days and can include two zones: zone A, which is the same as the transport pass; and the T zone, which includes them all. Their rates vary according to age, defined between normal (from 12 years) and child (up to 11).
EMT Tourist Ticket:

€ 18.30
The networks that concern the Madrid Transport Consortium are the metro and the EMT and intercity buses. On the other hand, the commuter train is managed by RENFE but fully integrated into the city's public transport network.
The prices of the trains are as follows:
Single ticket:

€ 1.70 – € 8.90.

Depending on the area.

10-trip ticket:

€ 10.00 – € 38.75.

Depending on the area.

Monthly commuter pass:

€ 28.90-€ 92.90.

Depending on the area.
To go to or from Barajas airport, the rate is as follows:
Airport Express Ticket:

€ 5.00.
In addition, there is the non-regular transport of people, which has its maximum exponent in the taxi. This sector lacks subsidies since it is financed by each of the users who use the service, through the rate-price system. This rate price is approved by the municipalities on which the taxis depend.
Like taxis, we have Uber and Cabify, whose rates are regulated by the same users. We can see that these are usually cheaper than taxis.
Fitness and Health
When it comes to talking about health and fitness, I want to tell you that in Madrid the offer on this topic is very varied.
We have gyms of all kinds, from conventional bodybuilding, CrossFit, gymnastics, martial arts such as Tae-Kwon-Do, Jiu-Jitsu, MMA, and Karate, also have yoga and meditation centers, etc.
The approximate monthly price of a conventional gym is around $ 40. If you go to a chain like MacFit or BodyFactory, you can choose the branch that best suits you according to the proximity.
To this we must also add the move by the government to make Madrid more sustainable, urging its inhabitants to use the bike as a means of daily transport, the entire city is connected in its avenues by bicycle centers that facilitate transportation, thus saving you money and crowds in public transport. Also, the government provides the parks with many facilities so that they can exercise without the need to attend the gym; In turn, in these parks, we can find many dance classes or functional training, and to attend them you have to sign up in the government app.
We can also find many personal trainers that for a low fee will help us stay motivated and fit!
Healthy life in the city seems to have become fashionable, people are taking care of themselves with food more than ever, and that generates that the flow of people who go out to run, walk or ride a bike has increased incredibly!
Awesome, right?
Madrid People
As I told you earlier at the beginning of this post, people in Madrid are usually very friendly. Obviously, as in the rest of the world, it depends on many factors. But, in my case, I have traveled Spain from end to end and Madrid and its people are undoubtedly on the podium! The treatment they have for the tourist and the visitor is optimal.
Not only people who work in tourism but also ordinary people, when asking for directions or advice on what to visit, feel very proud that we have chosen them to tell us a little more about their city.
It is also very easy to start a chat with young people in bars or the parks! The question they will almost always ask you is the following: Madrid or Barcelona? And you can imagine that they want you to answer. But they do it jokingly, despite being a city very proud of its traditions.
From three in the afternoon, it is common to find a lot of people in the bars, since the hours of tapas begin (actually it is at 17 or 18, but they like to start earlier) you can sit down to taste these delicacies while you talk to people, they like to talk about politics, soccer, and life in general.
It will not take long for you to realize that the Madrilenian is usually very proud and thinks that Madrid is the best city in the world. This tends to annoy Spaniards who are from other provinces. Referring to that they think they are the navel of the world. I think this is a common characteristic of all the capital cities of the world.
So the talks you have with them will focus on listening to them speak wonders about the capital.
What will surely make things a bit difficult for you is the language. Young people will without a  doubt speak English, but it is not very common for the average person to do so. So you will have to arm yourself with patience to understand them and thus be able to communicate because as I told you, they will want to help you.
Madrid people are football fans and their most recognized clubs are:
Real Madrid.

Atletico de Madrid.

Rayo Vallecano

Getafe..
Commonly, on game days you can see the supporters of these clubs cheering for their team.
As you will see, people in Madrid have their own very marked personalities and they are proud to feel this way. Many people may dislike them, remember that this is simply my appreciation of this topic, understanding that I never had any problem with someone in this city and they were always kind, helping me in whatever way they could.
Madrid Insurance and Medical Care
Health insurance is completely linked to the legal papers that you have under your belt.
As I explained earlier, obtaining the NIE is not an easy task, you will also need health insurance. But getting your health insurance can be done while opening your bank account, if you are under 30 years old, it will not be a complex job (if you have an EU passport).
By having your bank account, you have access to a prepaid health plan, for approximately $ 38 per month. Both bank account and health insurance must have it active for at least one year. Only after that period can you change or unsubscribe.
There are many prepaid companies (many of them linked to banks) that can provide you with advice on this issue. Just go to a bank you trust or that catches your attention and tell them that you want health insurance along with your bank account, it varies a lot according to the bank. Some have exorbitant fees relative to other banks.
Now speaking of health and hospitals, Madrid has the following centers:
HM University Hospital Madrid
Address: Pl. Del Conde del Valle de Súchil, 16
Phone: +34 901 08 82 12
HM Sanchinarro University Hospital
Address: C. de Oña, 10
Phone: +34 901 08 82 12
Gregorio Marañón Hospital
Address: Calle del Dr. Esquerdo, 46
Telephone: +34 915 86 80 00
Vithas Hospital Madrid Arturo Soria
Address: C. de Arturo Soria, 103, 105
Phone: +34 914 13 00 61
HM Nuevo Belén University Hospital
Address: C. José Silva, 7
Phone: +34 901 08 82 12
Make sure you are fully covered by reading our full Digital Nomad Travel Insurance guide.
Jobs in Madrid
The jobs in Madrid are related to your professional skills and if you speak Spanish and English well. It is very important for local companies or businesses that you speak these two languages.
The jobs that can be found in the city are various, from waiter to important positions in renowned companies. Something very common is the search for personnel without so much experience in companies with warehouses that need equipment for the warehouse, such as Amazon.
These positions, without a doubt, you should look for them on the different platforms that you surely already know, such as LinkedIn, Upwork, Glassdoor, Thousand ads, Facebook jobs, indeed, jooble or infojobs.
You have to know that in Spain, especially in Madrid, the minimum payout is € 1,100, which is equivalent to about $ 1,300. The average salary is € 2,200 (but do not expect this salary as soon as you arrive in the capital, it always depends on your tools, your previous experience, etc.) which is equivalent to $ 2,600.
Googling to be able to inform you with precision, the most sought after jobs in Madrid, without much experience are the following:
Delivery person: Full time

Customer Care representative: part-time

Sales assistant for a bakery downtown: Full time

Au Pair and Nanny job: (€ 400 a month) Full time

Senior Product Manager (Expert Systems AG): Full time

Industrial Product Engineer: Full time

Part-time sellers Madrid (H&M): Part-time

Account Manager Delivery – Madrid: Full time

Cleaning (€ 50 a day) Part-time

Maintenance Technician: Full time
Check out our Digital Nomads Jobs Postings to find the best jobs available for Digital Nomads.
Nomad Friendly
Value for Money
Internet
Workspace
English
Food
Safety
Health
Transportation
Friendly
Quality of Living
Cost of Living Madrid
Living in the Spanish capital could cost approximately (considering one person only): $1700 (€1450) to $2,066 (€1,742).
Let's see why we consider this total:
Accommodation: A studio in the city costs you about

$750 to $1000

per month! To this must be added electricity, water and internet:

$160.

Workspace: If you need a fixed place to work, coworking spaces have an approximate rate of

$ 80

to

$ 100

per month (WeWork). As I mentioned at the beginning of the post, WeWork has a quarterly cost of $ 200, while in other spaces it's approximately

$160.

Daily commute:  Monthly public transportation pass:

$65

Monthly subscription to a gym (every day):

$58 

Food: This is where it will depend on your expectations, if you want to go out to eat every day, you will have an approximate expense of

$500

up to

$ 750

per month!
But if you buy your products at the supermarket or food fairs, you save a lot of money and you will spend approximately $125 per month ($31.5 per week).
Leisure: Again, this item depends entirely on you, an approximate cost that seems right to me is

$300

. Spending that per month going out to bars or discos is extremely cheap, but as I said, it depends on you! For instance:
Dinner for 2: $35 to $50.
Movie tickets, regular session: $20
2 theater tickets: $45
1 cocktail or drink at a club or disco in the expensive area: $14
A beer in a neighborhood bar $5
*Information collected from https://www.expatistan.com/es/costo-de-vida/madrid?currency=USD