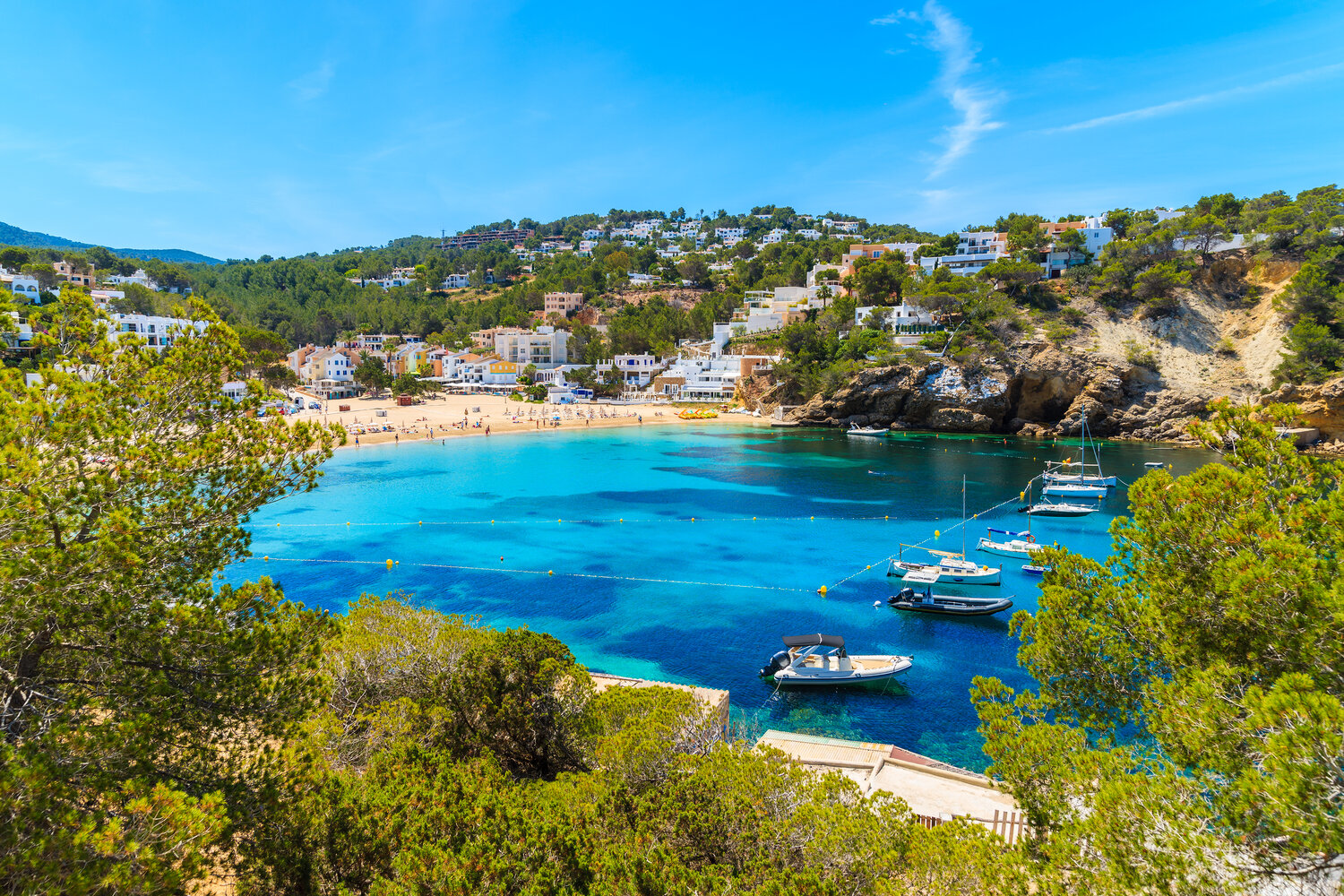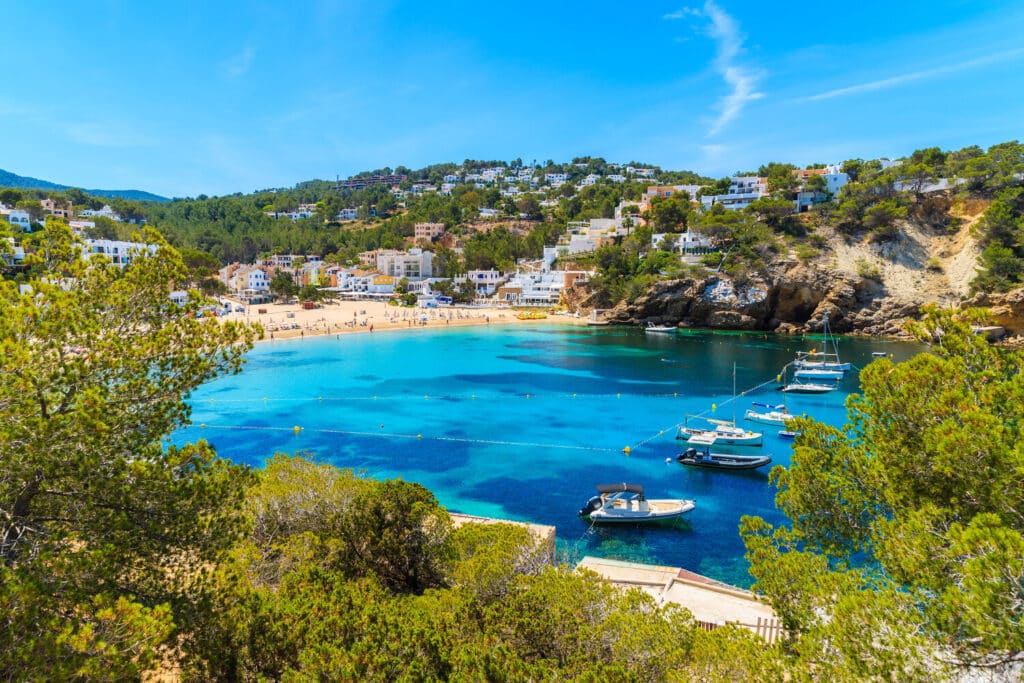 A Digital Nomad Guide to Ibiza
Ibiza, in Catalan Eivissa, is a Spanish island located in the Mediterranean Sea and which, together with those of Mallorca, Menorca and Formentera and several smaller islets, forms the archipelago and autonomous community of the Balearic Islands. It has an area of ​​572 km² and a population of over 147 thousand inhabitants, making it the second largest island in the Balearic Islands in terms of population. Ibiza is also the third largest Balearic island and the eighth in all of Spain.
The maximum distances of the island are 41 kilometers from north to south and 15 kilometers from east to west. It has a very irregular morphology formed by several mountains, of which the highest is Sa Talaia, with an altitude of 475 meters.
Ibiza is internationally renowned for the beauty of its coves and beaches and the quality of its waters, as well as for parties and discos, which attract many tourists. The island has a world-famous reputation for its nightlife and people from all over the world come here to go to famous clubs like Pacha, Space, Cream, Privilege, Es Paradis, Amnesia and Eden, among others.
However, the island is more than a party capital: Ibiza also boasts beautiful scenery, unspoilt villages of whitewashed houses, quiet neighborhoods, historic attractions, and fine sandy beaches. The waters are crystal clear turquoise that can be compared to those of the Caribbean, even though it is only 79 km off the east coast of Spain.
Don't expect to find good jobs here outside of the seasonal tourism sector. In short, it is an ideal place if you work remotely and you like to party or live quietly enjoying its incredible landscapes and its slow pace.
Nomad Friendly
Value for Money
Internet
Workspace
English
Food
Safety
Health
Transportation
Friendly
Quality of Living
Living in Ibiza Overview
| | |
| --- | --- |
|  Meal, Inexpensive Restaurant | $16.99 |
| Domestic Beer (1 pint draught) | $2.27 |
| Cappuccino (regular) | $2.63 |
| Loaf of Fresh White Bread (1 lb) | $1.89 |
| Water (1.5 liter bottle) | $1.05 |
| One-way Ticket (Local Transport) | $2.69 |
| Basic Utilities (Monthly) | $217.08 |
| Internet | $65.12 |
| Fitness Club (Monthly) | $51.53 |
| Apartment (1 bedroom) in City Centre | $1,519.56 |
Currency: Indonesian rupiah (Rp)
[erw_exchange_rates_widget lg="en" tz="0″ fm="IDR" to="EUR,USD,GBP,AUD,JPY,RUB" st="primary" cd="" am="15000″][/erw_exchange_rates_widget]
ATMs
Max Withdrawal: Rp 3,000,000
Withdrawal Fee: Rp 30,000 – Rp 50,000
Use of Credit Cards: Mostly Cash
Digital Nomad Personal Experience in
Ibiza
One of the cons of living in Ibiza is that in summer it is full of tourists and many places become noisy and have a party atmosphere. Also, the Ibiza property market is growing and house prices are not that cheap. When it comes to rentals, there are surprisingly few long-term rentals.
You can speak your language for a while, thanks to the widely established British, Italian, Dutch, German, and Latin American communities. But if you learn Spanish, things will become a lot easier.
The first thing I had to get used to is that here people go slower and you have to be patient. Nothing rushes them. Also keep in mind that on a weekday, many offices and businesses close during the day and will open later around 4 or 5 in the afternoon.
Choosing to live in Ibiza will mean that you are one of the privileged minorities to experience the beauty of the island in winter. When the clubbers go home, you will discover that there is much more than parties. You could find yourself in Cala Bassa without another person in sight, or enjoying the sunset from a totally new point of view.
Ibiza not only offers a beautiful turquoise sea and sandy beaches, it also provides the perfect setting for biking, hiking, horse riding while enjoying breathtaking views and discovering the most authentic side of the island. If you like outdoor activities like I do, you will love the island.
 When tourists leave there is a very close cosmopolitan community. The people of the island are friendly and making new friends was not a problem.
Crime is very low, and it is quite safe for women and children to go out at night. There are few break-ins and these tend to occur more frequently in the summer.
The quality of life is undeniably better. There is a good balance between work and family life. In general, people here enjoy life more, it can be the good weather or the relaxed attitude.
Work in Ibiza
There are every year more freelancers and even permanent employees who want to telecommute. Coworking spaces provide them with comfort, stability, an office with everything they need plus networking possibilities at a low cost and in a flexible way. Ibiza does not offer a large number of coworking spaces, but the ones that do exist here are sufficiently prepared. 
Best Places to Work in Ibiza
Origen Ibiza
Origen Ibiza (Carrer de s'Illa Plana 7), two minutes from the beach, is a workspace with shared spaces, private offices, meeting and event rooms, skype booths, reception of mail and packages, Wi-Fi, tv and slates, air conditioning, alarm and cleaning, among other services. It is a space for you, with different plans and rates. A fixed position costs from 260 euros per month and a flexible desk from 205 euros per month. 21% VAT must be added to these prices.
Coworking Santa Eulalia
Coworking Santa Eulalia (C / San José, 49, Santa Eulalia del Rio) is located in a strategic location in the heart of the municipality of Santa Eulalia. This workspace offers shared spaces, private offices, individual or collective desks, virtual offices, meeting rooms, conference room, industrial canon printer, equipped photo studio, touch monitors, relaxation room, soundproof room for video conferences, charging point for electrical gadgets, and 24/7 access. Here professionals from all sectors can carry out their activity independently, which also offers the possibility of synergies emerging between them. The flex full 24/7 membership costs 142 euros per month, a 24/7 hot desk 260,15 euros per month, and private offices from 424 euros per month.
Cowork Group Ibiza
Cowork Group Ibiza (Carrer de Sant Cristòfol, 13) is a shared space for entrepreneurs and brands in Ibiza. Together with their commercial and marketing team, and their collaborators, they propose you to be part of a creative and innovative team that works together to give you all the keys to the success of your business or brand. They have flexible offices, private offices, hot desks, 24/7 access, reception, scanner, printer, photocopier, air conditioning, meeting room, room for events, Wi-Fi and coffee for their members. 1-day pass cost 40 euros + VAT, a monthly membership 200 euros + VAT, and a plus membership 350 euros + VAT. 
Business Point Ibiza
Business Point Ibiza (Avinguda d'Ignasi Wallis, 31), located in a 400 m2 space on the sixth floor of an elegant building in the center of Ibiza, is a new way of conceiving work. It offers shared workstations, workstations distributed in an open space and private offices in the economic and administrative heart of Ibiza. It is accessible by car and by city bus. Just 50 meters away you can find a public parking lot. It also has an office box, meeting room and didactic classroom, a room for photography or exhibitions, food services, professional coffee machine, Wi-Fi, telephone, personal lockers, fax, printer, video projector and a secretary always present. At Business Point Ibiza you will find a dynamic work environment and constant incentives to cooperate, generate collaborations and new opportunities. It is not only about sharing space, but also ideas and projects. The workstations cost 90 euros per month, the private offices from 600 euros per month, the boardroom and the multimedia room 80 euros per day and the box office 250 euros per month. 21% VAT must be added to these prices.
Best Places to Live in Ibiza
Best Neighbourhoods
The seasonal nature of the island means that if you want to get involved in the community you must stay close to certain places or have your own car. San Antonio and the bay boast the largest English community throughout the year, while Playa D'en Bossa can turn into a ghost town. Much of the city of Ibiza remains open every year and is preferred by the Spanish. If you are going to have your own transportation, the available options are much broader.
Sant Joan de Labritja
In the north of Ibiza, you will find the beautiful municipality of Sant Joan de Labritja, with a spectacular landscape with unspoiled nature. Here you can find to buy a classic house or Ibizan style mansions, also called casas payesas; characterized by a simple architectural style, all in one floor, with a wide porch, wide walls and painted entirely in white. Although these types of constructions are the most abundant, there are also modern constructions.
Santa Eulalia del Río
The eastern area has the third largest municipality on Ibiza: Santa Eulalia del Río. The area begins after Cala San Vicente, reaching the outskirts of the capital. It has all kinds of shops, restaurants and a more active life throughout the year, not just in summer. In this area there is also the town of San Carlos, one of the most creative on the island and known for the famous hippie markets of Las Dalias and Punta Arabi. The buildings do not follow a pattern, and there is a mix of traditional houses with new construction such as apartments and mansions. Due to the location, it is one of the best areas to live on the island and the properties are expensive.
Santa Gertrudis and San Rafael
In the central zone, the main cities are Santa Gertrudis and San Rafael. It has many advantages for all those who want to enjoy a more active lifestyle. Here you will find from modern urbanizations to classical architecture buildings and all kinds of shops and services.
Dalt Vila
The southern area, on the other hand, is the oldest. Known as Dalt Vila, it has a large number of restaurants, shops, art galleries, museums, bars and boutiques of all kinds. A little to the east is San José. In this area there is one of the best-known coasts, the one that runs from Playa d'en Bossa. In recent years, San José has grown a lot in population and extension, and its prices have also risen.
San Antonio
In the west zone is the second largest city: San Antonio. It is a very bustling city in summer, it has a young and foreign audience. Therefore, in summer you can expect a lot of noise and parties until the morning seven days a week. It also has renowned beaches such as Cala Salada, Cala Compte and Cala Bassa. In the west is where people take the opportunity to enjoy the sunset, having the best-known points. The purchase prices are quite high and there is a lot of demand and little supply.
If you move with children, the north of the island is the area that will best suit your family. Ideal for those looking for a quiet lifestyle away from the crowds of the center, it also has its charm. Its hidden beaches, the coasts with white sand and crystal-clear water and its green valleys stand out. The eastern area is also a good option as despite being close to the center of Ibiza, it is far enough away to escape the hustle and bustle of the summer months.
The center and the south are less recommended options for families. The center is preferred by young people, during the summer there are many tourists and the prices are high due to its geographical position. The same happens with the western part of the island, where the presence of nightclubs is noticeable and noisy during the hot months.
Find an Apartment in Ibiza
The expat community in Ibiza is abundant. Some come at the beginning to work for a season, but many of them end up living on the island. However, the costs of living in Ibiza are quite high compared to other places in Spain. It is as expensive as other major cities in Europe, especially when it comes to renting.
Ibiza also has mostly holiday rentals and traditional rentals. The vast majority are furnished vacation rentals that are only available during the summer. Even many houses that are for sale can only be visited during the winter months as they are rented in the summer.
Renting a property throughout the year is much cheaper than renting by season. On Airbnb, prices do not drop below 1.200 euros per month for a studio in winter, and that same apartment can cost 2.600 euros per month in summer. If you want to choose to rent a well-equipped and modern apartment in Ibiza for a long time, you will pay between 650 (winter) / 800 (summer) and 4.000 euros per month depending on how many rooms you want and if it is located between the central districts of the city or on the outskirts. To rent a house can cost different prices up to 80.000 euros per month! If instead you want to buy your own house in Ibiza it will cost you between 3.000 and 7.000 euros per square meter.
To buy a property you will need a NIE (Foreigner Identification Number). The NIE number is a Spanish identity document for foreigners not residing in Spain. This NIE is also your Spanish tax number. Your lawyer, manager or the Spanish embassy in your country of origin can organize it for you. Without the NIE it is not possible for a non-resident to open a bank account or buy a house in Spain. Having a NIE will allow you to open a bank account; buy, sell or insure a property; arrange credit conditions or a mortgage; paying taxes; apply for a business permit and start a business; register with social services and organize the receipt of social security benefits; and apply for a driver's license. To buy a house in Ibiza you also need a Spanish bank account. The termination and transfer of the property is carried out before a notary and is registered in a notarial deed. The notary verifies if there are claims on the property and if the seller is the real owner. Due diligence must be performed by your attorney.
If you intend to rent a property, keep in mind that community fees are sometimes included in the rent, but you will have to pay for Wi-Fi, water, electricity, etc. You can do your search on idealista.com, which has an automatic English translation tool. Idealista operates in the local market and has publications from both real estate agents and owners. The website even gives you the phone numbers so you can call and ask what you need, though keep in mind that most don't speak English. You can also search for houses for sale on this page, if you plan to move for a longer time. Read the ads carefully, as many accommodations will say that they are only available during certain months. If you are in a hurry, it is advisable to hire an agent as they will know better how to filter what are temporary vacation apartments and which are not, although you will have to pay a commission.
Cheap Places to Stay in Ibiza
Life in Ibiza is anything but cheap and rentals are no exception. If you go with a group of friends or as a couple, you can rent an apartment through idealista.com and it will be cheaper by dividing the rent between all of you. If you are alone, I recommend that you look at idealista.com for room rentals that usually cost between 150 and 900 euros per month. Prices in summer go up while the rest of the year go down. There are shared apartments in the city center, which means you don't have to spend money on transportation either. It is advisable to contact them in advance because there are not many options and during the summer season as they are rented quickly.
Another option, less comfortable but more fun, is to rent a room in a hostel. The cheapest you can find is Hostal Florencio (Soledad 38, San Antonio, Ibiza) for 190 euros per month. Here you will surely find new friends and someone to accompany you to the beach or to do fun activities.
Ibiza Visa
The requirements to enter Spain depend on the country of residence of each individual, the length of stay and the reason for the trip.
As part of the Schengen area, citizens of any other state of the European Union or Switzerland, Norway, Iceland and Liechtenstein can enter Spanish territory for stays of no more than 90 days during the same semester only with the national identity document provided when it is valid up to three months after the expected date of departure and has been issued in the last ten years.
On the other hand, citizens of Bulgaria, Croatia, Cyprus, Romania, Ireland and the United Kingdom do not need a visa to enter Spain for tourist purposes, but they do need to present their passport.
In parallel, the Schengen states have reached a series of agreements with certain countries according to which their nationals are exempt from the obligation to present a visa to cross their borders, including those of Spain, when they travel as tourists for no more 90 days. The countries exempt from the visa requirement to enter the Schengen area are: Albania, Andorra, Antigua and Barbuda, Argentina, Former Yugoslav Republic of Macedonia, Australia, Bahamas, Barbados, Bosnia Herzegovina, Brazil, Brunei Darussalam, Canada, Chile, Colombia, South Korea, Costa Rica, Commonwealth of Dominica, El Salvador, United Arab Emirates, United States, Georgia, Grenada, Guatemala, Honduras, Israel, Japan, Kiribati, Malaysia, Marshall Islands, Mauritius, Mexico, Micronesia, Moldova, Nicaragua, New Zealand, Palau, Panama, Paraguay, Peru, Solomon Islands, Samoa, Saint Kitts and Nevis, San Marino, Saint Vincent and the Grenadines, Saint Lucia, Holy See, Serbia, Seychelles, Singapore, East Timor, Tonga, Trinidad and Tobago, Tuvalu, Ukraine, Uruguay, Vanuatu and Venezuela.
The fact that they do not need a visa does not mean that citizens of those countries should not be able to present certain generic information at a passport control if required. On the other hand, some of these countries, such as Argentina, must request an online permit called ETIAS.
The rest of the residents of third countries are required to obtain a permit known as a Schengen visa for any visit of the same duration. The only exception will be the case of foreigners who are in possession of a valid residence permit or long-term visa issued by a Schengen state.
Visa information is subject to constant changes, so it is advisable to always ask the Spanish embassy the requirements you need for entering the country.
Culture and Food in Ibiza
Ibiza also has options to offer at the gastronomic level, with tradicional dishes appreciated all over the world and a good number of first-class restaurants.
The most prominent is Es Tragón (Ctra. Cap Negret, s/n, 07820 Sant Antoni de Portmany), the only restaurant on the island that has been awarded with a Michelin star. It is located in a traditional house, immersed in a pine forest overlooking the Mediterranean. It has top quality products and finesse in the elaboration. It is dedicated to Mediterranean cuisine dishes that are transformed in an absolutely creative way.
Ca n'Alfredo (Passeig de Vara de Rey, 16), located in the heart of the capital of Ibiza, was founded in the 30s. It is an amazing place if you want to enjoy the authentic gastronomic essence of the island. Its walls covered with photographs of a long list of famous clients testify to its popularity. Recommended by the Michelin guide for the quality of its products, it also has a Repsol sun. It offers traditional Mediterranean cuisine with the best seasonal products. I recommend you try the squid stuffed with sobrasada or the country style sofrito.
At Es Xarcu (s/n, Cala Es Xarco, 07839 Sant Josep de sa Talaia), its spacious terrace has views of the Mediterranean and it is a very romantic place at sunset. It is a restaurant with an informal atmosphere, specialized in fish and seafood, which also offers high-quality rice dishes. Respect the local product, using a wide variety of authentic island fish. It is internationally famous for the extraordinary quality of its fresh fish and seafood. Mentioned in the Michelin guide, it also has two Repsol suns.
La Gaia (Passeig Joan Carles I, 17) is located in the luxurious Ibiza Gran Hotel. It is one of the most sophisticated places that mixes art, design and gastronomy. In addition to being distinguished with two Repsol suns, the Michelin guide recommends its creative food of a high technical level that bets on Mediterranean flavors fused with Asian and Peruvian elements. He always works with top quality products, taking advantage of the freshness of the best fish that can be purchased in Ibiza.
Can Domo (Carretera Cala Llonga, Km 7.6, 07840 Santa Eulària des Riu) offers haute cuisine with Mediterranean roots and has two Repsol suns and the recommendation of the Michelin guide. It is located in a 17th century house, in the mountains of Cala Llonga, in a romantic and intimate area surrounded by olive trees. The offer varies according to the availability of the product in its own organic fields, where the natural cycle of harvests is respected. I recommend the creamy rice with espardenyes or the eggs with foie.
ReArt (Carrer de Castella, 9), in the heart of the capital, has an industrial urban aesthetic. Its interior offers a cozy atmosphere and outside it has a large terrace. Its cuisine combines local products with certain flavors reminiscent of Asia, always seeking to escape the conventional. Following this philosophy, the menu varies greatly as it adapts to seasonal raw products, made up of what they collect from their own orchard and from local suppliers.
You can also enjoy lunch or dinner in other excellent restaurants such as S'Espartar, Es Ventall, Es Boldadó and Sublimotion with the most expensive menu in the world and its avant-garde gastronomy, among others.
Ibiza Nightlife
Ibiza is one of the world's enclaves for partying. The social scene is lively between May and early October, with plenty of bars to enjoy. However, the reason Ibiza is famous is that it is home to several of the biggest clubs on the planet. Nightclubs like Amnesia, Pacha, Privilege or Ushuaia, will make your days and nights incredible. In addition, all these venues organize themed parties on various days of the week with music icons such as Pete Tong, David Guetta, Martin Garrix and Carl Cox who perform regularly here.
Ibiza Town, Playa d'en Bossa and San Antonio are the main party centers, and San José and San Rafael also boast a vibrant scene for a perfect night out. The bohemian area of ​​Dalt Vila offers an eclectic mix of bars along its winding cobbled streets and is home to a vibrant gay neighborhood in the alleys of Sa Penya that comes alive at night.
If you prefer daytime beach parties, beach clubs like Blue Marlin Ibiza, Cotton Beach Club, and Nassau Tanit Beach host some of the most exciting events. Nikki Beach is another exclusive beach club and restaurant, located on the outskirts of Santa Eulalia, for which you will have to dress in an elegant and sophisticated way. You can arrive by yacht to start your night in style. In Playa d´en Bossa, around 5 pm venues like Bora Bora open their doors with a classic daytime party that hosts a great selection of local and international DJs. The party atmosphere along its beach, the longest stretch of sand in Ibiza, is vibrant throughout the day.
The lively Ibiza Rocks, located in the heart of San Antonio, offers parties at its main pool with a full schedule of events and fantastic music to enjoy under the sun.
Benirras beach, in the northwest of Ibiza, is famous for its sunset parties, being a popular spot for the local hippy community. Another great spot on the west coast is Sunset Ashram in Cala Conta, which offers stunning views of the surrounding landscapes of the island. If you are in San Antonio, then you can visit Cafe Mambo and Savannah, which offers live music and cocktails to start the night.
For those who want to enjoy a more exclusive setting, the sophisticated area of ​​Marina Botafoch offers the opportunity to rub shoulders with the rich and famous in truly extraordinary surroundings. Among the nightclubs, Pacha is one of the oldest and most iconic clubs on the island. Events are scheduled throughout the year. Lío and Heart Ibiza are also here, both offering a unique experience combining live music, performances and dinners with stunning views of the iconic Dalt Vila skyline. Keeper Ibiza can also be found in the area, offering a vibrant atmosphere and lots of uplifting music to dance the night away under a starry sky.
The famous Amnesia is housed in a striking building with different rooms, a spectacular terrace and a vibrant main room that hosts incredible shows and performances, providing an eclectic mix of techno, trance, disco and house.
The largest nightclub in the world, Privilege, has a swimming pool, garden and a stage with lively house or underground rhythms.
The clubs Ushuaïa and Hï Ibiza are located in the bustling town of Playa d'en Bossa and offer a night out of this world. Hï Ibiza stands where Space once lived and has gained notoriety for its event schedule.
On the east coast of Ibiza, you will find Es Paradis with a fascinating and glamorous garden, famous for its Water Festival. Situated relatively close by, the legendary Pikes Ibiza is a boutique hotel that hosts some of the best music events of the year with an eclectic mix of music genres.
When it comes to nightlife, Ibiza has it all.
Things to do in Ibiza
Dalt Vila

The historic walled town from the 17th century of the city of Ibiza, known as Dalt Vila, is located on Mount Puig de Vila. Crowned by the Cathedral and surrounded by imposing walls, it was declared a World Heritage Site in 1999 along with the oceanic posidonia meadows that surround the island, the Phoenician site of Sa Caleta and the Punic necropolis of Puig des Molins, a cemetery created by the Phoenicians, founders of the city in 654 BC. Dalt Vila is accessed through five doors. The most impressive is the Portal de Ses Taules, located in front of the Mercat Vell. Here, a drawbridge guarded by Roman statues, give access to the white streets of the historic center. During the 16th century, after several Turkish attacks, it was decided to replace the medieval wall with a much taller Renaissance one. You can start by touring the Renaissance walls and the seven Bastions, walk through the interior of its walls until you reach the Cathedral and end the day by walking in Carrer del Comte de Rosselló, from where you will get sensational views of the Cathedral of Santa María. I recommend you visit Calle Conquista where you will find a small walk with the handprints of various characters, among which Penelope Cruz stands out.

Towards the Cathedral

Towards the Cathedral, at the highest point of the old city, you will find interesting places to see in Dal Vila such as squares, palaces, art galleries, small bars and other important buildings to see such as the Church and Convent of Santo Domingo, the Church of Sant Cristòfol, the chapel of Sant Ciriac, the Puget Museum or the medieval pass of Sa Portella. If you like museums, the Puget Museum exhibits works by local painters Narcís Puget Viñas and his son Narcís Puget Riquer.

Marina Ibiza and Marina Botafoc

I also recommend you to take a walk along the promenade, called Marina Ibiza and Marina Botafoc. These are two of the most elegant areas of the capital city, where in addition to casinos, luxurious shops, restaurants and cocktail bars, you will be able to contemplate the most spectacular yachts in the world.

La Marina and Sa Penya

Between the promenade and the old town of Dalt Vila are two of the most beautiful areas: the fishing districts of La Marina and Sa Penya. In the narrow streets of La Marina you will find boutiques, restaurants, cocktail bars, souvenir shops and picturesque terraces. In both areas the parades of the great clubs of Ibiza take place.

Carrer de la Mare de Déu

Carrer de la Mare de Déu street is very famous since it is the main gay area of ​​Ibiza, as well as Carrer del Passadís and Carrer d´Alfons XII. Here you will find well decorated shops, tattoo studios, bars and restaurants with all kinds of tourists. It ends in the Plaza de Sa Torre, a very special corner that offers magnificent views of the sea.

Beautiful Coves and Beaches

During the day you can also spend the afternoon in its beautiful coves and beaches. The most beautiful are Cala Salada and Saladeta, north of San Antonio, a true paradise on earth. Also, Cala D´Hort, a narrow beach with crystal clear waters, and Cala Bassa, with families with children. Other recommended coves are Cala Tarida, Sa Caleta Ibiza and Cala Molí.

Cala D´Hort

Right in front of Cala D´Hort is Es Vedrá, a 382-meter-high islet, protected as a nature reserve since 2002. This islet is the center of many mysteries and legends, such as the belief that it has magical properties and energy accumulation. These legends attracted numerous artists, including musician Mike Oldfield, who was photographed in front of the island for the cover of his album Voyager. The best views of Es Vedrà are obtained from the Torre des Savinar or Torre del Pirata, a defense tower located on the coast. To get to this point, you will have to walk 20 minutes from the road. The tower is another of Ibiza's sites with an impressive view of the sunset.

Sunset View

The sunset from Cafe del Mar in the town of San Antonio, is one of the best known in the world. Here the sun hides with the rhythm of chillout music. Another place to watch the sunset is the cove of Benirras where they say goodbye to the sun with drums. This is one of the best places to watch the sunset in Ibiza, although it is advisable to arrive early because it gets very crowded.

Markets

Many people enjoy visiting Ibiza's handicraft markets such as the Mercadillo de las Dalias, the oldest on the island, and the Hippy Market Punta Arabí, the most genuine one. Inside a cliff of Port de Sant Miquel, is the Can Marcá Cave: a beautiful natural enclave over a thousand years old that you can visit. You can also go to small towns like Santa Eulalia with a beautiful historic center.

Ibiza Natural Park

The Ses Salines de Ibiza Natural Park is a protected area located between Ibiza and Formentera, which covers ​​16.000 hectares, of which 13.000 are marine. Although Ses Salines has been a Natural Park since 2001, previously, in 1995, it was already a Natural Reserve. The Posidonia Oceánica meadows, which are found in a large part of its extension, were declared a World Heritage Site in 1999. Within this park you can find the beach of Las Salinas mentioned above, and the beach of Es Cavallet, one of the most wild and natural of the island.

Formentera

The most important excursion you can do from Ibiza is the excursion to Formentera, another of the most beautiful islands in the Mediterranean with paradisiacal beaches. You can take a day trip or choose to stay for several days to explore it. From Ibiza there are several excursions that you can do outside the island as well as enjoy the tranquility of Ibiza and its crazy parties with international renown. Enjoy it!
Best Time to Visit Ibiza
Ibiza has a Mediterranean climate characteristic for its high temperatures during the summer and the mildness of the winter months thanks to the presence of the sea.
Winters in Ibiza are mild. During the coldest months, from December to March, temperatures can drop to 8 ºC and reach maximums of up to 16 ºC.
Summers in Ibiza are hot and dry. During the months of July and August average maximum temperatures of 30 ºC are reached and it is difficult for precipitation to occur.
The humidity on the island is very high, which makes both the cold and the heat feel more in the body.
There are few rainy days on the island but when it rains, the rainfall is very abundant. The months with the highest rainfall are concentrated mainly between October and December, although the rains are also common until April. The months where you can bathe on the beaches of Ibiza goes from the end of May to the beginning of October. During these months, the water temperature oscillates between 20 ºC and 25 ºC.
The high season takes place mainly during the months of July and August. To avoid crowds, I recommend visiting the island during May, June and September, although despite the fact that at this time the temperatures are pleasant, the party atmosphere is not the same. In addition, the hours of sunshine are high and you can do all kinds of activities.
Ibiza for Families
Ibiza is a good place to live for families with children all year round. Depending on the area you choose to stay in, you will find tranquility and an attractive lifestyle. There is a lot of unspoiled nature, it is not too cold during the winter and it has many options for outdoor recreation and health food stores. In addition, Ibiza has a large, dynamic international community with a lot of positive energy and people from different origins.
The island has good schools, especially in the private sector. You can choose to send your child to a public school that offers a free education. However, in public schools it must be considered that they teach in Catalan, which could delay the adaptation process of your child. On the island they speak Catalan and Spanish. The annual cost of a private school is between 5.000 and 12.000 euros per child. The most popular private schools are Morna International College located in Santa Gertrudis, which offers the UK national curriculum, and Mistral College in Can Misses near Ibiza Town. Also, the Lycée Français International d'Ibiza, which offers French education to international students. All these schools are highly recommended and popular with businessmen and expats.
Regarding the school system, kindergarten goes from 3 to 5 years old. Then comes primary school from 6 to 12 years old and then high school from 12 to 16 years old. Education from 6 to 16 years old is compulsory in Spain. After ESO (high school), children can choose to do Baccalaureate for 2 years and then go to university in the peninsula or in their country of origin.
Living in Ibiza
Ibiza Transportation
Ibiza is a small island, with a distance from end to end of around 41 kilometers and a width of 15 kilometers.
The best way to move around Ibiza is by car to be able to take better advantage of the schedules without waiting and with freedom of movement. You will save yourself a lot of time waiting at stops or transferring. There are also beaches and places that the bus does not reach. If you are going to rent a car, keep in mind that in the streets of the center of cities such as Ibiza town, San Antonio, or Santa Eulalia, parking is paid. You can cross from the peninsula with your car on the ferry or rent one at the airport or in any town.
Buses are also an option but they are slower. The island has approximately 40 lines that cover all the towns and many of its beaches. However, there are many beaches in Ibiza that the bus does not reach. To avoid wasting time waiting at the stops, you should check the bus schedules at https://eivissa.tib.org/ and https://ibizabus.com/. Rates vary between 1,55 and 4 euros depending on the distance and the company that provides the service. You can also buy a 20-trip voucher (T20). The prices of the voucher depend on the distances to be covered. For trips from 0 to 9 kilometers it costs 18 euros, between 10-14 kilometers 22 euros, between 15-18 kilometers 26 euros and for distances greater than 18 km 33 euros.
The Discobus allows you to move around Ibiza at night without the need to drive or travel by taxi. There are four Discobus lines that pass through the most famous bar and nightclub areas on the island. Line 3 connects San Antonio with the Port of Ibiza. The ticket costs 3 euros and runs every 20 minutes from 11:45 pm to 6 am. Line 3B connects San Antonio with Playa d'en Bossa. The ticket costs 4 euros and runs every 30-45 minutes from 11 pm to 7 am. Line 13-18 connects the port of Ibiza, Santa Eulalia and Es Canar. The ticket costs 4 euros and has a variable frequency from 11:50 pm to 6:15 am. L14 joins the port of Ibiza and Playa d'en Bossa in a circular route. The ticket costs 3 euros and runs from 0:30 am to 6:00 am.
Taxis are the most expensive option to get around Ibiza. In the main points of the island there are taxi ranks, however you will not always find one standing and in those cases, you will have to use the Radio Taxi service paying an extra fee. Taxis work with a meter and the daytime rate is 1,09 euros per kilometer and 3,65 euros for the flag drop. The night rate is 1,33 euros per kilometer and 3,65 euros for the flag drop. Trips to or from the airport also have a supplement of 1,80 euros.
Fitness and Health
If you have decided to take care of yourself or simply have a good time practicing sports, you should know that there are a good number of gyms in Ibiza. You just have to choose the one that best suits your needs.
Nirvana Fitness Center, located in Can Mariano Palerm Shopping Center in Sant Jordi, is one of the most popular ones. It has fitness machines and classes of pilates, yoga, gravity, tai chi, pole dance, cardio choy or kangoo, among other activities. In addition, if you want an exclusive training, they have personal trainers at your disposal. It also has another branch in Playa d'en Bossa with sea views: Nirvana Beach. It has the same amenities as the one in Sant Jordi and, in addition, it offers private boxing and kick boxing classes.
Rumi's Gym is located in Cala de Bou and has the facilities and machines of the large centers but in a more intimate space with a personalized service. They are also dedicated to teaching classes of all kinds such as kangoo power, G.A.P. or aerobics, and they have a sauna.
If there is a name that stands out among the luxury gyms in Ibiza, it is BFIT. Discover the pleasure of training in the largest fitness & wellness club in Ibiza with more than 5.500 square meters and 50 sports professionals. It has a large cardio and weight room with state-of-the-art Technogym machines and live DJs. In addition, you can enjoy the classes directed in their collective studio or pedal in the cycling amphitheater with 50 bicycles. It also offers personal training, a high intensity cross training box, spa, a beauty clinic, physiotherapy and a healthy cafeteria. Enjoy it!
Ibiza People
Ibiza has an area of ​​572 km² and a population of more than 147 thousand inhabitants, making it the second largest island in the Balearic Islands in terms of population after Mallorca, and the fifth in the entire country.
Ibiza is part of modern Catholic Spain with a culture that largely reflects that. However, Ibiza's historical isolation and occupation by various ethnic groups, including Muslims and Romans, has left their mark on architecture, art, and cuisine.
The Catholic calendar and the changing of the seasons are the main drivers of many of the community events. The unusual geography and myths surrounding landforms like Es Vedra also give you a mysterious and interesting dimension.
The pace can be much more relaxed than what you are used to and you should consider that many businesses close at nap time, between 2 pm and 4 pm. This difference in pace can often require more patience and flexibility than elsewhere, especially when compared to life in a big city.
People's love of family and food helps make Ibiza a pleasant and interesting place to visit at any time of the year. You cannot imagine a meal in one of Ibiza's restaurants without devouring mountain dishes of country bread, olives and aioli. On the other hand, family and close friends play a crucial role in their culture and frequently hold meetings and get together for every celebration that takes place.
From 1960 in Ibiza, as in all the Balearic Islands, a frenzied tourist growth began that here had its own personality, with the hippie movement that sought communion with nature. Over time this tourist movement changed radically and became a young and disco tourism, becoming the capital of the young party in Europe.
There may be no other heavenly destination that better reflects the social changes of the western world than Ibiza. Today Ibiza is still synonymous with party and nightlife. In it you will find the best nightclubs in the world. The current image of Ibiza for many current tourists is that: a place where summer becomes am endless party.
But Ibiza is not defined only by the summer parties and its beaches. In Ibiza there are many people who go to seek the tranquility of the island while young people have fun. There are also many contrasts between workers who pay almost their full salary for a rental during the summer months and where luxury yachts and billionaires are.
It also has a huge artistic and musical legacy and is packed with galleries, museums, live music, and cultural events.
Although it is easier to find tourists than islanders in Ibiza, it is an island with more open-minded people, where you will see much more acceptance of differences. Ibizans also have a strange appreciation of temperatures. While tourists wear bikinis and shorts in spring, they wear thick coats and wool hats. They appreciate that you try to speak in Spanish or Catalan. They are very collaborative with tourists, they are affectionate and they always recommend the best places on the island. They have a calm and relaxed character and they welcome all who come in summer.
Ibiza Insurance and Medical Care
The health system in Spain is ranked among the best in the world. Healthcare in Spain consists of both private and public healthcare. Around 90% of Spaniards use the public health system, which is called the National Health System. However, it is highly decentralized with service delivery organized at the regional level and poor accessibility and overdependence on the private sector remain problematic.
State healthcare is free for everyone who lives and works in Spain. This is paid in part with social security payments that will be deducted from your salary. Fortunately, the best health institutions on the island are better equipped to attend to everyone's medical needs. Here you will find Centro Médico Polivalente Siesta, Ibiza Medical Center and Can Misses Hospital, among many others. However, if you have a pre-existing disease, it is convenient to check if you can find here the specialists you need.
As an expatriate, you can get free state medical care if you are a resident of Spain and pay social security contributions; if you are a resident and recently divorced or separated from a couple registered in social security, a child residing in Spain, a pregnant woman residing in Spain, a person under 26 years of age studying in Spain, a state pensioner or if you are temporarily staying in Spain and you have a TSE card.
Spain has bilateral agreements with some countries, such as Andorra, Brazil, Chile, Ecuador and Peru, which allow citizens of these countries who visit Spain, for short periods of time, to obtain free emergency medical treatment.
Residents only have to pay part of their prescription costs if they make regular payments for public health insurance in Spain. They also have to pay for certain specialized medical procedures and may need additional private insurance coverage.
If you want to be treated by a specialist doctor, you must have a referral from a family doctor. Be aware that wait times can be long. If you have private health insurance, you will be able to see a specialist much faster than going through the public system.
The provision of private healthcare in Spain runs parallel to the public system. Anyone who is not eligible for state health care will have to purchase private health insurance or pay the full amount of medical costs at a high price. Many people also opt for private health insurance that allows them to access better and faster treatment. Private insurance is popular with expats and usually costs between 50 and 200 EUR per month, depending on the coverage plan.
Make sure you are fully covered by reading our full Digital Nomad Travel Insurance guide.
Jobs in Ibiza
Ibiza is the perfect destination for temporary workers during summer holidays. The most popular place to find a job in Ibiza is San Antonio, where most of the nightlife is found especially in the famous West End area. Other tourist complexes and towns are: Cala Llonga, Es Cana, Figueretas, Formentera, Ibiza Town, Playa D'en Bossa, Portinatx, Puerto San Miguel, S'argamassa, Sa Caleta, San José, Santa Eulalia and Talamanca. Bars, pubs and clubs need people to collect glasses, distribute brochures, as dancers, DJs, public relations and security personnel. Ibiza is in high demand for DJ and dance jobs for its best clubs. There are also many restaurants that have the usual positions for waiters, chefs and cooks.
Some of the larger hotels in Ibiza require temporary staff for the summer in reception, cleaning, entertainment and nursery. Most positions, such as receptionist, will require being multilingual.
Don't expect to make a lot of money in these types of jobs, this is largely about experience. If you are looking for a summer job to save money, this is not the place for you. Also, most of the jobs in Ibiza are paid in cash and illegally. In this case you will not need a NIE number or working visa.
For a legal or non-temporary job, you will need a working visa if you are from any country not belonging to the European Union. If you are offered a job that comes with an official employment contract, you will also need a NIE number (Foreigners Identification Number). Go to your local police station and fill out the necessary forms.
If you are a bilingual English teacher and you are lucky, you could get a teaching position at an international school. A good school can pay a salary of between 1.500 and 2.000 euros a month.
Additionally, there is a thriving rental and leasing market that requires English-speaking real estate agents and leasing agents. There are many derivative works in the sector.
This is not really the place in Spain to look for professional or office type jobs. For those, you should go to major cities like Madrid, Barcelona, ​​and Valencia. However, there are some management, marketing, IT, web design, legal, media, office, executive, and secretarial jobs.
Most of the jobs in Ibiza are obtained by being there in person, although you can also look in the classified section of local newspapers.
Check out our Digital Nomads Jobs Postings to find the best jobs available for Digital Nomads.
Nomad Friendly
Value for Money
Internet
Workspace
English
Food
Safety
Health
Transportation
Friendly
Quality of Living
Cost of Living Ibiza
Average prices in Ibiza are 1.24 times higher than in Spain. Furthermore, summer prices are dramatically different from winter prices. Prices are very high for tourists, but there are many ways to live in Ibiza in a cheaper way. For example, if you go to the local restaurants, you will find many places that offer discounts for residents. Supermarkets such as Lidl, Mercadona and Eroski are essential to get reduced prices on your purchases. You can even get a discount in some clubs with a NIE.
On Airbnb, renting prices do not drop below 1.200 euros per month for a studio in winter, and that same apartment can cost 2.600 euros per month in summer. If you want to choose to rent a well-equipped and modern apartment in Ibiza for a long time, you will pay between 650 (winter) / 800 (summer) and 4.000 euros per month depending on how many rooms you want and if it is located between the central districts of the city or on the outskirts. To rent a house can cost different prices up to 80.000 euros per month. If instead you want to buy your own house in Ibiza it will cost you between 3.000 and 7.000 euros per square meter.
Buses rates vary between 1,55 and 4 euros depending on the distance and the company that provides the service. You can also buy a 20-trip voucher (T20). The prices of the voucher depend on the distances to be covered. For trips from 0 to 9 kilometers it costs 18 euros, between 10-14 kilometers 22 euros, between 15-18 kilometers 26 euros and for distances greater than 18 km 33 euros. The Discobus at night costs between 3 and 4 euros. 
Taxis work with a meter and the daytime rate is 1,09 euros per kilometer and 3,65 euros for the flag drop. The night rate is 1,33 euros per kilometer and 3,65 euros for the flag drop. Trips to or from the airport also have a supplement of 1,80 euros. 
Dining in a restaurant in Ibiza can cost you, on average, between 35 and 40 euros. Instead, with 8 euros you can pay for a menu at a Burger King or a McDonald's. A cappuccino costs around 2,30 euros, a liter of milk 1,16 euros, a kilo of rice 1,83 euros, twelve eggs 2,67 euros and a kilo of potatoes 1,75 euros. In addition, a Captain Morgan White Rum can cost 14 euros and a Johnnie Walker Red Label 15 euros.