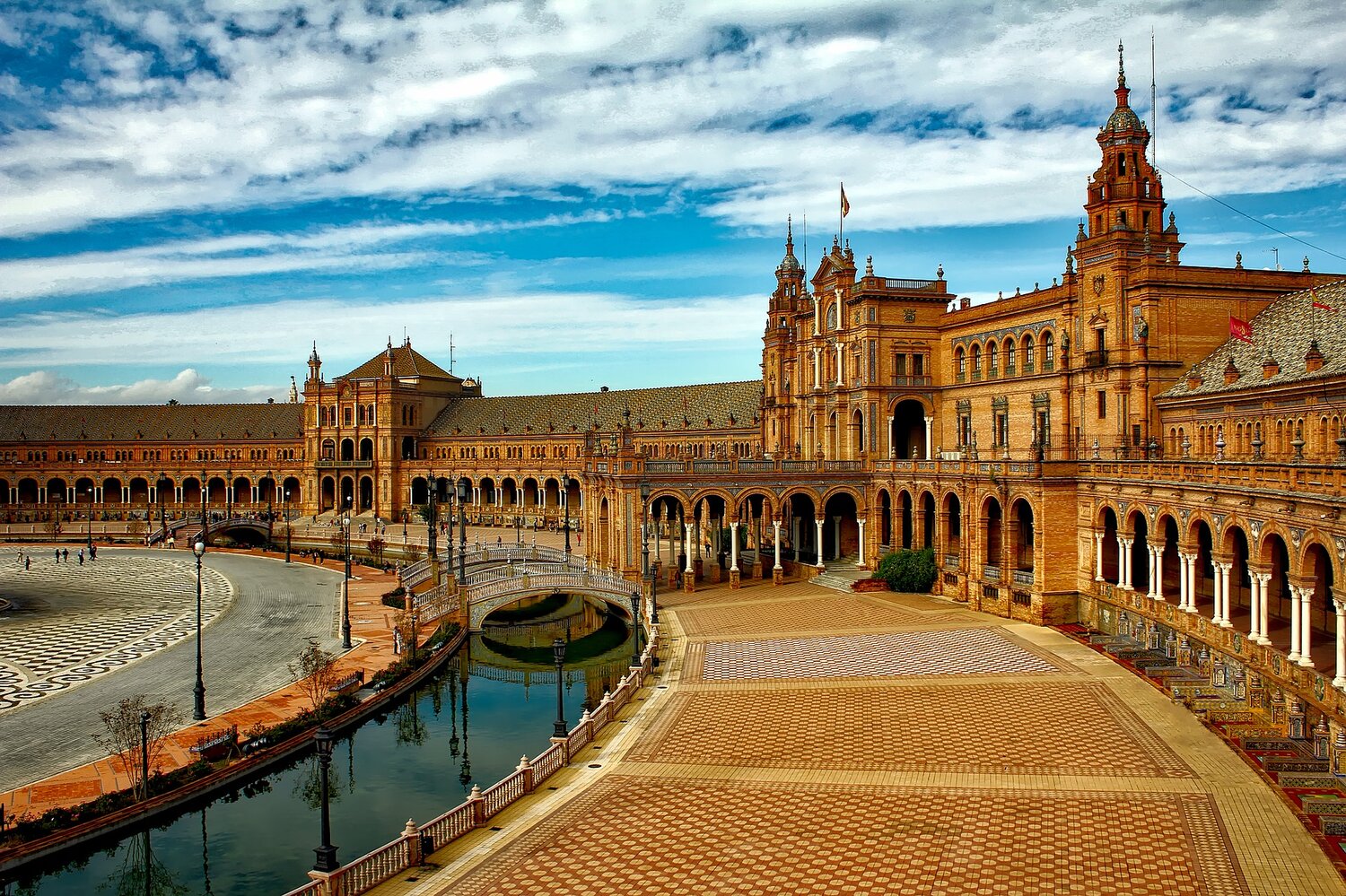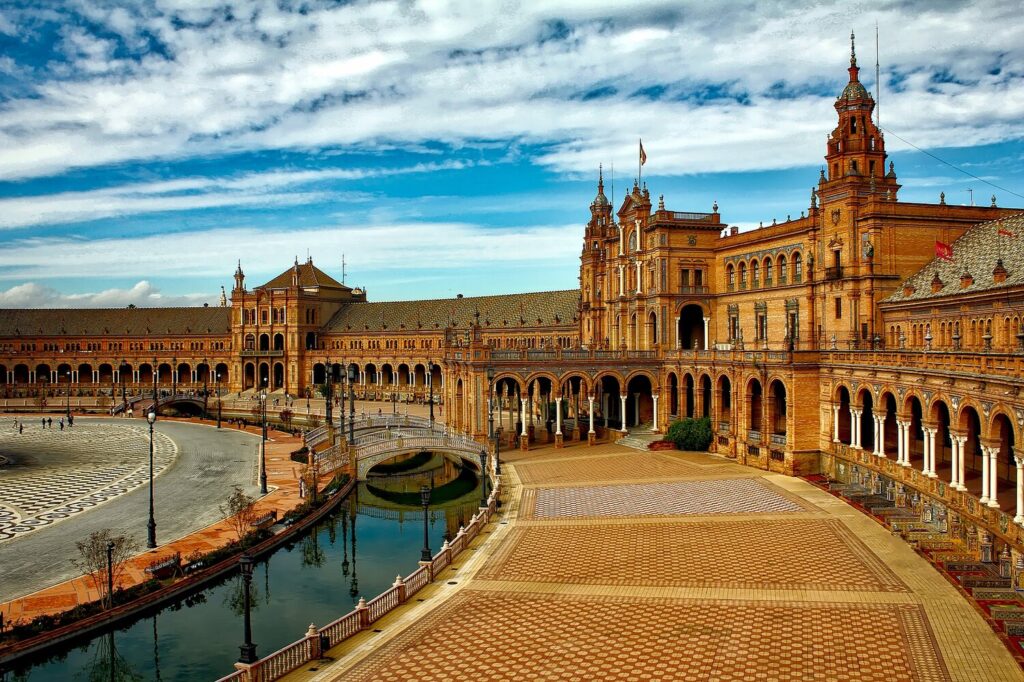 A Digital Nomad Guide to Seville
The capital city of Andalusia, Seville lies by the eastern banks of the Guadalquivir River in the south of Spain. This former Iberian town is blessed with excellent weather nearly all-year round, perfect for digital nomads who wish to escape Western Europe's notoriously gloomy rains. 
Given the healthy work-life balance that permeates throughout the city, it should come as no surprise that Seville has quickly established itself as one of the best destinations in Western Europe for digital nomads. There's a very laidback pace of living in Seville that took some getting used to, but this would also explain why Spaniards have the highest life expectancy in the world. 
Owing to its excellent location, Seville happens to be an excellent jumping spot for those who would like to explore other Spanish communes. For twenty euros, you can easily hop on a train and be in Madrid in less than four hours. Barcelona is a bit further away, but tickets are very affordable. If you just so happen to be into wild parties hosted by celebrity DJs, you'll be happy to know that Ibiza is less than two hours away by plane. During the weekend, digital nomads can also get an inexpensive flight that will take them into Portugal or other neighbouring countries in just over an hour. 
With lush landscapes and historic, centuries-old buildings, Seville is particularly renowned for its Moorish buildings, some of which date all the way back to the Golden Age. In fact, eager locals will tell you that the city was constructed by Hercules himself. Now whether you believe this or not is up to you, but there's no denying that Seville has some of the most stunning antique architecture in the world. Some of these ancient buildings have even been restored and turned into elegant spas.
Nomad Friendly
Value for Money
Internet
Workspace
English
Food
Safety
Health
Transportation
Friendly
Quality of Living
Living in Seville Overview
| | |
| --- | --- |
|  Meal, Inexpensive Restaurant | $11.31 |
| Domestic Beer (1 pint draught) | $2.26 |
| Cappuccino (regular) | $1.66 |
| Loaf of Fresh White Bread (1 lb) | $1.08 |
| Water (1.5 liter bottle) | $0.63 |
| One-way Ticket (Local Transport) | $1.58 |
| Basic Utilities (Monthly) | $120.69 |
| Internet | $37.97 |
| Fitness Club (Monthly) | $40.83 |
| Apartment (1 bedroom) in City Centre | $673.79 |
Currency: Indonesian rupiah (Rp)
[erw_exchange_rates_widget lg="en" tz="0″ fm="IDR" to="EUR,USD,GBP,AUD,JPY,RUB" st="primary" cd="" am="15000″][/erw_exchange_rates_widget]
ATMs
Max Withdrawal: Rp 3,000,000
Withdrawal Fee: Rp 30,000 – Rp 50,000
Use of Credit Cards: Mostly Cash
Digital Nomad Personal Experience in Seville
I must admit that the first time I moved to Seville as a digital nomad was more out of obligation than anything else – I was traveling on a tight budget at the time, and this just so happened to be one of the most affordable cities in Western Europe. 
I packed my bags, booked my flight, and headed there without the anticipatory thrill that I usually get when heading to a brand-new city. After all, I didn't know much about Seville, except that it had dirt cheap accommodation (at least by European standards) and reliable internet. I originally had my sights set on Norway so in a way, I felt like I was forcing myself to give this lesser-known Spanish commune a try – all because of my limited means. 
What I did not expect was to fall head over heels in love with this hidden gem nestled in Andalusia, not far from the shores of the majestic Guadalquivir River. 
Neither did I expect to find such a conspicuous community of digital nomads, tourists, and expats who flew in from all corners of the world to soak up the city's antique cobbled lanes, delicious tapas, and flamboyant shows. Best of all, Seville is the safest city in Andalusia with hardly any recorded cases of violent crime. Of course, it's always a good idea to be vigilant in crowded and touristy areas where petty thefts and pickpocketing may happen. 
While Seville is the fourth-largest city in Spain, it has a charming, small-town feel to it that's only punctuated by its warm climate and welcoming people. Most restaurants have free Wi-Fi, so you can always set up shop on a sun-kissed terrace and work on your tan while catching up on Zoom meetings. 
One note of caution though – the food in Seville is ridiculously delicious, not to mention inexpensive, so be sure to pack your baggy pants. Trust me when I say that you'll need them.
Work in Seville
Here's the good news about Seville – with reliable Wi-Fi, the city has some of the best-equipped albeit affordable coworking spaces in Europe. Because there's a spot in just about every neighbourhood, you won't need to commute far either. 
Below are some of my personal favourite agencies in Seville:
Best Places to Work in Seville
Arcadia Coworking Sevilla
Located a quick walk from the Old Quarter, Arcadia Coworking Sevilla lies opposite the ancient Quintero Theatre. Boasting an informal setting with plenty of natural light and a distinct emphasis on creating a sense of community, this coworking space offers plenty of options that you can tailor according to your needs and budget. With high speed 1GB internet, this agency provides a relaxation area, multipurpose room, kitchen area, conference booths, and complimentary tea or coffee. 
Digital nomads can choose from various packages. The Flex package costs 115 euros per month and provides full-time access to a traveling table as well as exclusive use of the meeting room. Alternatively, you can also get a fixed table for 135 euros per month. Arcadia is open 24/24 to members, but you can schedule a visit on weekdays between 9:00 and 20:00. 
Regus
Regus has coworking spots all over the world, and I've always enjoyed their refined, semi-formal environment. Their branch in Seville didn't disappoint – quite on the contrary, this was the one coworking space that I kept coming back to during my time in the city. Digital nomads can choose from serviced private offices with high-end furnishings or a bespoke office that meets your business' needs. 
While private offices cost between 180 and 348 euros per month, you can also book a shared desk in the coworking area for 169 euros per month. This gives you access to the lounge, office equipment, and live receptionist services. A virtual office will set you back 52 euros per month while access to the meeting rooms costs 19 euros per hour. Amenities include an underground parking, on-site restaurant, coffee and sandwich bar, vending machines, and videoconferencing studios. 
Coworking Sevilla
What I liked the most about Coworking Sevilla is that it organizes a plethora of events to help digital nomads from all over the world connect and collaborate with each other. At 125 euros/month, the Flex Membership offers 24-hour access to a table in the common area, Monday through Sunday. With this membership, you will also benefit from 1GB symmetric Wi-Fi, printing services, access to balconies, invitation to exclusive events, Coworking Visa, virtual office, basic storage, as well as complimentary coffee or tea. For 150 euros/month, you can get your own table in the common area while 400 euros/monthly gives you access to your private office with a key. 
If you want to check the place out before committing to a monthly package, you can always get a day pass for 15 euros per day. Access to the fully equipped multipurpose rooms costs 6 euros per hour. Coworking Sevilla also has a dining room and a kitchen that you can use to put together a quick lunch. 
Thinking Company – Coworking Sevilla
Centrally located next to an assortment of restaurants and cafes, Thinking Company- Coworking Sevilla is among the most affordable options I've been able to find in the city. Whilst on the small side, this company has a classic and delightfully informal charm to it. You can book a workstation in an intimate shared space with access to a 39.37 x 23.62-inch table for 40 euros/week or 110 euros/month. If you need a larger table, expect to fork out 50 euros/week or 150 euros/month. 
The Thinking Company is the only pet-friendly coworking space that I've been to in Seville and if, like me, you happen to love animals, you'll certainly be thrilled by the number of pooches that you can play with while you work. Located near the Plaza de Armas Station in Calle Bajeles, this agency features a spacious relaxation area, patio, meeting rooms, and virtual offices.  
Coworking La Bañera de San Luís
Boasting bright and airy working stations in the midst of thick foliage, Coworking La Bañera de San Luís has two agencies in Seville. Located in Pelicano Square, the Pelican Bathtub lies in an artistic neighbourhood and is open every day, 24/24. With oversized windows and parquet flooring, this coworking spot provides spacious table, fibre optic internet, bicycle parking areas, and a rest zone. You'll also have access to shelves where you can stow your belongings and documents. A common desk in the Pelican Bathtub costs 180 euros per month. 
On the other end of town is found the San Luis' Bathtub, La Bañera's second coworking area which lies in the quieter neighbourhood of San Luis. Set up on an interior patio, this spot is ideal for the winter since it even provides underfloor heating. I must say that this particular branch had a more formal and office-like feel to it. With the same facilities as the Pelican Bathtub, the San Luis Bathtub offers a weekly package at 75 euros/week or a monthly membership for 210 euros/month.  
Because of its prominent digital nomad scene, Seville also has a lot of friendly cafes and restaurants where you can work while savouring the local cuisine. Some popular spots include: 
Caotica Bookshop and Café

: A firm favourite among other digital nomads and local bookworms, this café looks more like a Renaissance library, complete with open shelves overflowing with books. With three stories, Caotica is also famed for its delectable artisan beer. On the flip side, because of its popularity, it can get quite crowded and noisy. This café is open 10:00 to 14:00 during the day and 18:00 to 21:00 in the evenings. 

Hotel de Empesas:

A cozy little hotel located in the city centre, Hotel de Empesas offers generously sized working spaces that cost between 150 and 450 euros/month, depending on your preferences. With 300 megabytes Optical Fibre Wi-Fi, the hotel is perfect for those who would like to network with other digital nomads since it houses travellers from all over the world. The lack of crowds means that you'll get to work in a very quiet environment. The working areas are open Monday to Friday, 9:00 to 20:00. 

Café Piola

: Located on the Alameda de Hércules, this café offers a charming, stone-walled interior with circular wooden tables. Because it also provides patio seating, you get to soak up the sun while navigating through work. Now, it doesn't exactly have a solid digital nomad scene, but then you'll certainly get to meet with your fair share of locals. If you would like to check out Café Picola, I can absolutely recommend their mulled wine and Avocado Toast- the digital nomad's snack by excellence. This café is open Monday to Sunday, 8:30 to 1:00 in the morning, ideal for those who need to work odd hours.

Virgin Coffee: Just a stone's throw from the Metropol Parasol, Virgin Coffee has a delightful, shabby-chic décor where you can work in a lively atmosphere. Because it's a fiercely guarded secret in the city, you can expect to see local patrons and very few foreigners. I must say that the owner was an absolute joy to chat with and, in keeping in line with the renowned Andalusian hospitality, he may even treat you to a couple of complimentary cookies. I was informed that their flat white coffee was legendary in Seville and after ordering one myself, I could absolutely see why. Tucked away in a whitewashed building between random stores, Virgin Coffee is open Monday to Saturday, 9:00 to 13:00.
Best Places to Live in Seville
Best Neighbourhoods
Thanks to Seville's layout, you're never too far from the city centre. Best of all, every neighbourhood provides numerous choices in terms of accommodation such as rooms in historic buildings, cozy studios, and various other options that you can choose from according to your budget. 
Macarena
An up-and-coming neighbourhood located in the north-eastern part of the Old Town, Macarena is a prime choice among expats, digital nomads, and young professionals from all over Europe. As such, you can expect to see your fair share of tapas bars, clubs, and restaurants. Despite its concentrated population of nomads, this neighbourhood has a very quiet and residential feel to it, and there's never a shortage of quaint little plazas where you can set up shop outside. 
As far as rental rates are concerned, I found that Macarena has plenty of budget-friendly to mid-range options, so this may be the best region if you're trying to curb your expenses. 
Feria
Often hailed as Seville's party district, Feria is where you'll find the largest concentration of foreigners, including zealous tourists who want to soak up as much as the city's nightlife as possible. While this bar-packed area has plenty of affordable accommodation, bear in mind that it's also one of the nosiest spots in the city. Additionally, some areas in Feria can be a bit gritty so it may not be the best choice for families. 
On the plus side, Feria is known for its excellent shopping opportunities, including vintage boutiques and flea markets. You'll also find plenty of quirky cafes with excellent Wi-Fi. 
Alameda
Now, this is the place to be if you would like to combine work with a bit of play. Covering the north to the centre of the city, this trendy neighbourhood is known for its plazas, fountains, and ample family-friendly entertainment options. Digital nomads traveling with kids will be glad to learn that Alameda is flanked by both local and international schools. It's also home to a number of co-working spaces and working cafes. 
Travelers looking for budget-friendly accommodation will be spoilt for choice when it comes to Alameda's many hostels and B&Bs. What I personally like the most about this neighbourhood is how it offers a wide array of things to do and explore while still maintaining a tranquil residential atmosphere. 
Alfalfa
With historical buildings and proximity to the city centre, Alfalfa has plenty of hipster cafes, narrow lanes, and idiosyncratic jewellery boutiques. Flanked by Santa Cruz, Plaza Cristo de Burgos, and Plaza Encarnacion, this region also has a pronounced art scene. Alfalfa has a young population of college students, so you can expect raucous parties, especially during the weekend. 
It's still good to know that Alfalfa is considered among the most upscale districts in Seville, so prices are steeper than elsewhere in the city. 
Triana
Digital nomads who would like to blend in and live like a local can head across the river to Triana. Locals will tell you that this is where the Flamenco was born and judging by the sheer number of Flamenco shows offered all in the southern part of Triana, it would be hard not to believe them.
Now if you want complete peace and quiet, you can always get a place in North Triana which has a very laid-back, almost desolate environment. I should highlight that while North Triana is very tranquil, it hardly has any restaurants or hotels. However, Macarena's many tapas bars do lie within walking distance. 
South Triana, on the other hand, is a bit livelier. This is also where most locals live so you can expect to find many restaurants, schools, pharmacies, and supermarkets in this area. I did notice that apartments in Triana are more spacious than elsewhere. 
Find an Apartment in Seville
While it's quite easy to find an apartment in Seville, I would still advise you to take the time to explore the different neighbourhoods before dropping anchor in a particular area. As I said before, each district has its own character and the real estate prices are often influenced by the area's proximity to touristy venues. 
Fair warning though – it can be quite difficult to find an apartment in Seville in August, mainly because most locals have escaped to cooler European climates for their summer holidays. Therefore, if you're planning on visiting Seville during the summer, it's always a good idea to book your apartment several months in advance. 
Now, while I found that Seville had better internet coverage than elsewhere in Spain, some districts are prone to the occasional breakage in connectivity. As such, when visiting an apartment, it's always a good idea to check the mobile phone and Wi-Fi coverage in each room.
Digital nomads can always check out international real estate portals such as Nestpick or HousingAnywhere to browse for both short and long term options. Alternatively, you can go through local property platforms such as Pisos, Yaencontre, and Idealista. In my experience, not only do local websites provide a wider range of options, but they also have better rates. 
However, bear in mind that the language barrier can be something of an issue when renting through a local agency. If you can't speak Spanish, it's always a good idea to hire a translator to fully understand your obligations as a tenant and the various conditions on your contract.
When renting a long-term apartment through an agency, you'll need to provide copies of your visa, passport as well as a copy of your payslip or bank account. Tenants will also be required to pay an agency fee. Since gas, utilities, and other expenses are not usually included in long-term lettings, you'll need to pay for these separately. 
To avoid the agency fees, you can even comb through social media groups and pages such as Buy, sell or rent property Spain, Long Term Rentals- Property Finders Spain, Rent Apartment Seville, and Seville Holiday Rentals. Since these platforms put you directly in touch with the owners, you'll be able to negotiate the price – even though I found that most locals are unwilling to budge once they've set their rates!
Now, in terms of pricing, I did notice that apartments in the city centre are far more expensive than those on the outskirts, with rates ranging between 1,200 euros and 1,800 euros per month. Like I said before, Triana is perfect for those who would like to mingle with the locals and apartment units in this region range between 500 – 1000 euros. If you would like to cut back on your expenses, you can always find a studio for around 300 – 400 euros. 
While apartments near touristy spots are notoriously expensive, the one exception to this seems to be the old Jewish Quarter of Santa Cruz. So, if you would like to be smack where all the action is, you'll be happy to learn that a one-bedroom apartment in this neighbourhood usually costs around 450 – 800 euros. Two-bedroom units can set you back 1500 euros. 
Cheap Places to Stay in Seville
In my opinion, early to mid-September is the ideal time to navigate the real estate market for the best deals since this is college season. As such, prices tend to go down given the sheer number of students browsing for accommodation. 
If you happen to be strapped for cash – like I was the first time that I visited Seville – be assured that the city does provide plenty in term of budget-friendly options. For example, on Booking.com, you can even find beds in a hostel dormitory for as little as 13 euros per night. Above all, I did notice that hostels in Seville are nowhere as dingy and run-down as most tend to be in Europe. 
On Couchsurfing, you will find over 13,000 locals and expats offering complimentary accommodation in their house. Digital nomads can additionally rent a room in someone's house through Airbnb where prices range between 20 euros and 50 euros per night. 
It's good to know that gas, utilities, and other expenses are usually included in short-term rentals (one to two weeks). Surprisingly enough, Seville has plenty of reasonably priced hotels in trendy areas such as Alameda de Hercules for as little as 30 euros per night. For longer stays, you'll find that websites such as GabinoHome, Erasmusu, and JustLanded offer plenty of flat-sharing options. 
Here's a tip from me if you're looking to cut back on rental costs – an apartment just on the outskirts of Seville can be far cheaper than actually getting a place in the city centre. For example, the little village of Carmona lies just a quick half hour's bus ride from Seville, but it offers rooms in shared houses for around 30 euros per night.
Seville Visa
Because it attracts expats, students, and digital nomads from all over the world, Seville has plenty of visa options that you can choose from according to your requirements. Members of the European Union or those traveling from Liechtenstein, Iceland, Norway, and Switzerland only need to present their ID or passport upon arrival. 
Seville falls under Schengen territory and as such, most digital nomads apply for Schengen Visas that entitle them to a stay of up to 90 days. You need to apply for this visa at least 15 days before your trip to Seville, and the price usually ranges from 35 euros to 60 euros depending on your country of origin. 
Digital nomads who would like to take up local jobs in Seville should get a work permit and visa. This is only applicable to those who come from non-Eu countries. It's also possible to work as a freelancer in Seville, but you will be asked to provide a business plan, proof of relevant experience and skills, as well as proof of sufficient funds. I should highlight that it's very difficult to be approved for a Spanish work visa, unless you're backed by a reputed multinational company.
Another option would be to have your employer apply for a Seasonal Worker Visa on your behalf. This is often granted to digital nomads who would like to work as an Au Pair or intern. For this visa, you will be required to provide evidence of employment, accommodation, and financial resources. 
It is also possible to apply for a long-term visa that enables you to stay in Seville for a maximum of 180 days.
Culture and Food in Seville
Anyone who's been to Andalusia can easily attest to the fact that food takes a centre stage in this commune and Seville is, of course, no exception. After all, this city does happen to be the birthplace of the Sangria. You'll quickly notice that eating out is something of a national pastime in Seville, with bars, cafes, and restaurants open virtually 7/7. 
What I personally liked the most about Sevillian cuisine was the lack of overly processed and artificial ingredients. Indeed, you'll find that even the cheapest eatery offers gloriously fresh seafood, locally sourced meat, and organic vegetables. 
Below are some of my absolute favourite things to eat in Seville: 
Churros

: Colloquially referred to as

Calientitos

, this classic Spanish dessert is best devoured piping hot and dipped in Nutella. Locals usually enjoy it for breakfast and if you ask me,

Bar Commercio

in Calle Lineros serves the very best churros in Andalusia.
Montadito de Pringá

: This pork-based specialty basically consists of leftover stew sandwiched in crusty bread. A staple in tapas bars, this delicacy is commonly served in bite-sized pieces. While these sandwiches are on the smaller side, I found them to be very filling. 
Vermouth del Grifo

: Okay, I know this is a drink and not an actual meal but it's impossible to talk about the local cuisine without mentioning this iconic Sevillian aperitif. This drink is especially favoured by the older generation and can be sampled in bars throughout the city. 
Salmorejo

: Initially, the idea of cold soup seemed quite unappealing to me. However, when I had the opportunity of trying a bowl of Salmorejo on a scorching summer's day, I became an instant convert. Exquisitely refreshing and light, this soup consists of pureed tomatoes, olive oil, vinegar, and garlic. While it is most commonly served alongside sliced bread, some tapas bar may serve it as a dipping sauce. 
Solomillo al Whiskey

: You'll very often see pubs and restaurants serving this hearty casserole during winter. A classic Sevillian dish, this is made from pork tenderloin generously covered with whiskey sauce. Lemons, potatoes, and flour are added to this stew for taste and thickness. Some variations use beef or chicken in lieu of pork.
Because food is revered above all things in the city, sweet treats play a prime role in most major festivals. For example, during the Holy Week and Lent, you'll often find locals distributing sweet breads and desserts such as Dulces de Coventos and Torrijas. Christmas tables are usually laden with Tortas de Polvoron (cookies served with sweet wine), Roscos de vino (pillowy donuts with powdered sugar), and Pestiños (deep fried, aniseed-flavoured pastry). 
Thanks to the convergence of cultures that exist in the city, there are plenty of religious and folkloric festivals all year long. During the Holy Week, for instance, Seville organizes lavish week-long parades punctuated by traditional costumes, music, and art. 
Every two years, the city also hosts what's known as the largest Flamenco Festival in the World. This festival spans over a month and gathers the best professional Flamenco dancers from all over Spain for free shows throughout Seville. 
In April, digital nomads can attend the Feria de Abril, dedicated to Spanish folklore. This lively, seven-day fair occurs fourteen days after the Holy Week and sees both men and women dressed up in their finest elegant costumes. During this time, you can browse through colourful stalls or even participate in a parade. Families will undoubtedly enjoy spending an afternoon in the Feria de Abril fair offering roller coasters, games, open-air dancing, as well as stalls selling tapas and various alcoholic beverages. 
Seville Nightlife
It's no secret that Spaniards like to party. While the nightlife in Seville isn't quite as wild or rumbustious as, say, Barcelona or Ibiza, rest assured that the city boasts a plethora of shows, tapas bars, and nightclubs that you can check out in the evening. 
In terms of safety, I found that Seville is just as safe after dark as it is during the day, but of course, you should always exercise caution when exploring a new place. There have been some reported drink spiking incidents in some clubs, especially in more touristy areas, so it's always a good idea to keep a close eye on your drink orders and never leave your glasses unattended. 
Here are some of the best things to do in Seville at night: 

Tapas Bar
It would be inconceivable to visit Seville and not check out at least one of their tapas bars at night. If there's one thing Andalusia is known for, it's the excellent tapas spots such as El Rinconcillo in Calle Gerona. Nestled in a 17th century building, this tapas bar is especially acclaimed for its classic Andalusian specialities such as Galician cockles, Huelva, Coquina clams, and Iberian Mountain ham. Prices are quite affordable, and I did enjoy their live music as well as their extensive wine list. 
Located just steps from the Seville Cathedral, Bodega Santa Cruz is another tapas bar that's popular among tourists and locals alike. If you visit on Friday and Saturday nights, you may even be treated to live Flamenco shows or Latin music. Their specialities include charcuterie boards and fried tapas. While their food is undeniably delicious, I must say that their prices are on the higher side, most likely due to their proximity to a tourist attraction. 

Flamenco Shows
As the birthplace of the Flamenco dance, you can expect to find your fair share of shows all throughout Seville. Located in an 18th century building, Tablao Alvarez Quintero offers some of the most affordable seats in the city, with tickets priced at 18 euros. What I liked the most about this place is that it offers a brief 15-20 minutes' Flamenco class that guests can partake in if they want. There are two shows per night, one at 19:30 and one at 20:30.
Now if you don't mind spending a little bit extra on your ticket, you can also check out El Palacio Andaluz located on Mathematical Rey Pastor y Castro Street. This high-end venue also offers two shows per night (19:00 and 21:30). Guests can book a show and drink package for 44 euros or show and tapas at 71 euros. Additionally, you can opt for the show and dinner package for 89 euros. This theatre is known for having the best acoustics in the city. 

Nightclubs & Bars
Seville is well-known for its excellent nightclubs, most of which don't even open until 1:00 in the morning. I can absolutely recommend La Terraza del EME, a rooftop bar which is found at the EME hotel. Known for being one of the most sophisticated spots in the city, La Terraza is particularly renowned for its spectacular views of the Giralda and for its aromatic cocktails. Open until 1:00 in the morning, Monday to Wednesday and until 2:00 Thursday to Saturday, this club is also the best place to mingle with other digital nomads and expats. I do have to point out that the prices are quite expensive though. 
For a more affordable option, you can always head to T de Triana which lies right next to the river. On Friday and Saturday nights, you'll be treated to live performances from international Djs or local Flamenco dancers. Patrons are always encouraged to get up and try some Flamenco steps on special theme nights. This nightclub happens to be where I had the chance to try the Agua de Sevilla cocktail – a lip smacking melange of orange juice, cream, brandy, cava, and rum. This club is open from 18:30 to 1:00 in the morning, Monday to Friday. 

Seville Aquarium
Okay, hear me out. I don't mean for you to waste your evening just staring at fish. Quite on the contrary, the Seville Aquarium offers visitors of all ages the chance to spend the night right by the shark tank. A thrilling activity that will undoubtedly please adults and kids alike, this adventure begins with a guided tour of the entire aquarium during which you'll get to admire over 400 aquatic species and learn more about the local ecosystem. 
Afterwards, the guides will lead you to the shark tanks where you can change into your pyjamas and relax in your sleeping bags right in front of the tanks, while watching the sharks swim around all night long. This activity runs from 20:00 to 9:00 and tickets cost 50 euros per person. 

La Noria de Sevilla
A firm favourite among amorous locals, this imposing Ferris Wheel is found right next to the Aquarium. If you ask me, there's no better way to soak up glittering views of the city and river from 40 metres above ground level. All 30 cabins have comfortable and spacious seats punctuated by atmospheric music. If you're visiting in summer, rest assured that the cabins are entirely air-conditioned. When the weather's clear, you can even spot Malaga twinkling in the distance. 
La Noria de Sevilla is open from 10:00 to 20:00 Monday through Thursday and 10:00 to 21:00 Friday to Sunday. Tickets cost 7.50 euros for adults and 5.50 euros for kids as well as senior citizens (over 65 years old).
Things to do in Seville
With hole in the wall pubs, cobbled-stone plazas fringed by orange trees, and bohemian quarters, there's no denying that Seville is bursting with an array of attractions that you can explore during your free time. Featuring UNESCO Heritage Sites in virtually every corner, Seville's rich history is best uncovered by touring the Baroque buildings, Roman ruins, and centuries-old Moorish walls. More importantly, there's never a shortage of agencies offering guided walking tours or private expeditions that you can personalize according to your budget and preferences.  
Here are some of my absolute favourite things to do in the city: 
Free attractions

If you happen to be on a limited budget, fret not – you won't run out of free things to do in Seville. In fact, I would say that this is one of the rare European cities that offers an extensive number of attractions that are just begging to be uncovered at no cost at all. I noticed that most historical sites provide complimentary entrance tickets on Monday afternoons. For example, the emblematic palaces of Real Alcázar, Palacio de Las Dueñas, and the Palacio de la Condesa de Lebrija are entirely free to explore on Monday evenings. You can pick up your complimentary ticket directly at the counter between 16:00 and 19:00 in the summer or 16:00 and 18:00 in the winter. Seville is also home to Catedral de Sevilla, one of the biggest Gothic cathedrals in the world. The good news is that this spectacular building is another attraction that's free to visit on Monday afternoons (16:30 to 18:00). This UNESCO World Heritage Site is especially famed for its intricately carved golden altar and the Giralda Bell Tower that stands at over 100 metres high. Another popular highlight at the Catedral de Sevilla is the 500-year-old Tomb of Columbus. Yet another UNESCO Heritage Site that's free to visit is the Archivo de Indias that was constructed in 1572. With vast rooms that look like they'd been plucked straight out of a Harry Potter movie, this site is ideal for digital nomads who would like to learn more about Andalusia's rich past. Among its many historical artefacts, the Archivo de Indias contains an assortment of antique documents and contracts that date all the way back from the time of the first conquistadors.

Guadalquivir River Cruise

If you ask me, there's no better way to see Seville than to cruise down the second-largest river in Spain. This iconic river once served as passage to ancient sailors who set up farming and metal mining communities in various regions across Andalusia. Most boat tours usually take you by popular sites of interest, such as the Monastery of Santa Maria de las Cuevas which is located on the tiny islet of Cartuja. You'll also sail past the Plaza de España's famous towers, the Barrio de Triana, the Plaza de Toros de la Maestranza, and the Triana bridge, considered the oldest in Seville. It's good to know that most agencies only offer tours in summer and spring. Now, while the majority of tours span across one to two hours, you can also book weeklong tours that will take you all the way to the edge of the Portuguese border with several stops along the way. These tours can set you back 1,500 euros (meals included) while one-hour trips only cost around 16 euros.

Real Alcazar

Game of Thrones fans will immediately recognize the Water Gardens of Dorne from the show. If you were impressed by how fabulous it appeared onscreen, I can assure you that the actual site looks twice as spectacular in real life. Located near the Cathedral, Real Alcazar is yet another attraction that has been recognized by the UNESCO World Heritage Site. Of all the (many) things to do and see in Seville, I must admit that Real Alcazar was easily my favourite. Originally a castle built for King Peter of Castile, this site was erected on the ruins of an Arabic fortress. The lower levels of Real Alcazar still retain vestiges of its ancient Arabic past while the upper levels feature European Renaissance architecture. If there's one thing that Real Alcazar is known for, it's the intricately tiled gardens with flowery trellis, orange groves, and stunning hedge mazes. I would strongly suggest that you set aside at least half a day to explore the building and the expansive gardens. If you're visiting in the summer, you might have to wait in line for quite a long time under that infamous Spanish sun. Alternatively, you can always book your tickets in advance on the website to skip the queue. I would also recommend that you book a guided tour if you want to learn more about the local history. Like most UNESCO sites in Seville, Real Alcazar is free to visit on Monday afternoons and you'll even get to bypass the queue if you grab your complimentary ticket online. For other days, the entry ticket costs 14.5 euros.

AIRE Ancient Baths

While most cities have ancient baths that you can tour, Seville plunges you right into them for an immersive experience. Rest assured that the AIRE Ancient Bath is nothing like the murky green waters reminiscent of Ancient Roman baths. Quite on the contrary, you will be in a spa-like environment with candlelit bath halls offering varying temperatures. Restored in the 16th century, AIRE is an ancient Moorish establishment located right at the heart of lively Santa Cruz. With vaulted ceilings, Roman Stalls, and Mudéjar coffering, this ancient hammam also houses an Andaluz-style courtyard with classic architecture. You'll be able to choose from various experiences, including but not limited to Couple's Massages, Wine Baths, or (my personal favourite), the Ancient Thermal Bath & Relaxing Massage. After your bath, you can head up to the roof terrace to enjoy a hot infusion while soaking up glorious views of La Giralda. I would absolutely recommend checking out the rooftop area in the late afternoon where you will be able to watch the sun go down over Seville. The prices vary according to your experience of choice, but it's a good idea to budget at least 100 euros.

Museo del Baile Flamenco

An immersive museum housed in an 18th-century building; the Museo del Baile Flamenco is the perfect stop for digital nomads who wish to learn more about the flamenco. Even if you're not really into dancing, I would highly recommend that you take a flamenco class, if only for the experience. The Spanish dance by excellence, this art form is especially known for its flamboyant costumes, rhythmic beats, and expressive body movements. The second-floor gallery contains exhibitions of photography, sculptures, and paintings from local and international artists alike, all centred around the flamenco's influence throughout Spain. Along with an extensive number of exhibitions, this museum also offers flamenco shows that you can enjoy in a courtyard setting. You can also book thematic, rhythm and palm, percussion, singing, as well as guitar lessons. You can buy tickets on the official website. The price varies according to your selected activities.
Best Time to Visit Seville
With almost 3,000 hours of sunshine per year, Seville is often referred to as the sunniest city in Continental Europe.
Owing to its elevation of 23 feet above sea level, not to mention its proximity to North Africa, Seville does experience blistering summers with temperatures that can soar up to 45 degrees Celsius. Digital nomads visiting Seville in summer (June to August) should absolutely bring their water bottles, sunscreen, and light cotton or linen clothing to avoid heatstroke. It's also recommended to avoid being outside at midday. On a more positive note, because summer is low season in Seville, you'll be able to get the very best deals in terms of accommodation and tours. 
Spring is generally considered the best time to visit Seville, and Andalusia in general. Not only does the thermostat hover at a pleasant 27-30 degrees Celsius between the months of March and May, but the iconic orange trees are in full bloom. While the city is prone to the occasional rainfalls in spring, you'll get to attend two of the major Spaniard holidays – the Holy Week of Semana Santa, and the Feria de Abril. 
Just like summer, fall doesn't attract too many tourists, so most hotels tend to slash their prices between early September and late November. Personally, this is my favourite time to visit Seville. The weather is neither too hot nor too cold, with highs of 25 degrees Celsius during the days and lows of 14 degrees Celsius at night. The lack of tourist influx means that you won't need to wait in line when visiting popular sites.
Now if you want complete isolation, head over to Seville between December and February where the temperature hovers around 16 degrees Celsius during the day and seven degrees at night. While there's only about five hours of sunlight per day, you'll be able to do your fair share of exploring without having to battle the heat – or the crowds for that matter. In winter, digital nomads can expect to have World Heritage Sites such as The Cathedral and Real Alcazar all to themselves. Of course, the cold is the perfect excuse to tuck into calorie-laden albeit delightfully hearty dishes such as Cazuela or Migas, which basically referred to fried breadcrumbs.
Seville for Families
I did not travel to Seville with a family, nor do I have children, but it was quite apparent to me that Seville is a family-friendly destination. 
For starters, the roads are quite safe and well-laid out with spacious, stroller-friendly pavements. All the restaurants that I've been too had a children's menu. Baby supplies (including formula) are readily available in pharmacies or specialized stores throughout the city. 
More importantly, Seville is known for its excellent public education that's free for children up to 16 years. Local parents usually send their kids to public or semi-private schools. Since they are subsidised by the government, semi-private institutions tend to be quite affordable. However, the language barrier may be an issue because most public and semi-private schools follow a Spanish curriculum. 
As such, expat families normally enrol their children in private academies. Do remember that these can be expensive, and the competition to get accepted is ferocious. Alternatively, you may also consider one of Seville's many International Schools such as Saint Gabriel English School, Colegio Internacional de Sevilla, British Institute of Sevilla SA, and English Connection. Most international schools are found near the city centre. 
Digital nomads traveling with small children can rest easy knowing that there's plenty of English-speaking day care centres to choose from in the city. Popular choices among expats include Helen Doron English Sevilla Este in the East, Sevilla Montessori School in the Centre, and Wonderland Bilingual Centre in El Salvador. 
During the weekend, you'll find that there are ample family-friendly activities around the city, namely: 
Isla Mágica theme park

: Found on the Isla de la Cartuja, this

theme park

is highly popular among locals and foreigners of all ages. It has six main areas, namely El Dorado, The Fountain of Youth, Pirate's Lair, Amazonia, Puerto de America, and Puerto de las Indias. Full-day tickets cost 35 euros per adults and 22 euros for kids. Afternoon tickets are less expensive. 
Plaza de España

: Located in the Marie Luisa Park, this sprawling plaza is home to four palatial bridge, each representing one of Spain's ancient kingdoms. While the plaza offers ample space for kids to play and run around, you can also book a boat ride so the little ones can feed the ducks further out on the water. 
El Bosque Suspendido Adventure Park

: Loosely translating as '

The Hanging Forest'

, this park is suitable for children of all levels and ages. There's no doubt that kids will enjoy the forest's Tibetan bridges, zip wires, rope bridges, and aerial circuits. Each activity is monitored by the park's staff. Rates vary between 10 and 40 euros, depending on the circuits that you've booked. 
Sala Cero Theatre: Cultural shows are at the very heart of Andalusian culture. Because Sala Cero aims at bringing the theatre closer to the younger generation, they often host kids-friendly programs as well as interactive shows that the audience can partake in. Located in the Old Quarter, this company also regularly holds musical evenings with tickets priced at 15 euros.
Living in Seville
Seville Transportation
Like most European cities, Seville is delightfully walkable, so you'll certainly find it easy to explore the town. Both locals and foreigners also like to get around on bicycles. Not only does the city has plenty of bike lanes, but you'll also find bike share programs such as Sevici. If you're worried about traffic, I can assure you that the bike lanes are perfectly safe and separated from other vehicles by high fencing and raised kerbs. 
Best of all, bicycles are extremely budget-friendly, with prices ranging from 15 to 40 euros, depending on the company and number of hours. Digital nomads who would like to travel by bicycle should bear in mind that helmets are mandatory. 
Vehicles in Seville drive on the right. When navigating a roundabout, priority is given to traffic coming in from the left. 
Below are some of the most popular modes of public transportation in Seville: 
Metro
While Seville's Metro system is quite modern, there's only one line so it may not be the most efficient way of getting around. The stops that are closest to the city centre are San Bernardo, Prado de San Sebastian, and Puerta de Jerez. I should point out that most people use the metro to explore the city's outskirts. 
The fare is quite affordable, with most one-way tickets ranging between 1.50 and 2 euros. If you think that you'll be using the metro on a regular basis, you can always get a day pass for 4.50 euros. These can be purchased at virtually every metro station.  
The metro line is open from 18:30 to 23:00 Monday to Thursday, 6:30 to 2:00 in the morning on Fridays, and 7:30 to 2:00 in the morning on Saturdays. On Sundays and public holidays, the trains run from 7:30 to 23:00. 
Taxi
Since Europe is notorious for its high taxi fares, I was pleasantly surprised by how affordable taxis were in Seville. Most official taxis only charge around 1 euro per kilometre during the weekdays. Expect to fork over between 2 and 4 euros per kilometres on the weekends and on weeknights. While tipping is not at all compulsory, locals like to round off the fare to the nearest euro. It's good to know that the rates can double during festivals. 
Airport rides can be particularly expensive, with rates ranging from 20 to 40 euros, depending on the day and time. It's quite easy to stop a cab in Seville – you simply need to raise your hand in New York fashion, and they'll pull over to the side of the road. Additionally, you'll find taxi stands near plazas and hotels. 
Buses
When the weather gets too rainy to bike around, buses are my preferred way of traveling across Seville. The public buses cover most neighbourhoods and they run until midnight on weekdays. The major areas, including touristy spots, are served by the C1, C2, C3, and C4 buses. You'll also find limited bus routes that depart from El Centro and Pardo San Sebastian until 2:00 in the morning. 
Like most modes of public transportation in Seville, buses are very affordable, with one-way trips costing less than two euros. It's possible to get a daily (5 euros) or three-day (10 euros) travel card from self-serve machines at the bus stop. It's good to know that while they provide unlimited trips across the city, the travel cards are not applicable for trips to the airport. 
You can consult the bus schedules on the official website. 
Ride Hailing and Private Taxis
Because of the excellent and affordable public transportation system, ride hailing isn't super popular in Seville, but you can still order private cars from companies such as Radio Taxi de Sevilla and Tele Taxi Sevilla. Rates are more or less the same as public taxis but the main advantage with ride hailing apps is that they don't usually overcharge you at night or on public holidays. 
Thanks to the affordable rates and ease of use, Uber is the prime choice among digital nomads and locals who need to travel to and from the airport.
Fitness and Health
Andalusians may like to eat, but that doesn't mean they're not health conscious. Like I said earlier, locals like to cycle everywhere they go, both for environmental and for health reasons. In the early morning or late afternoon, it's not uncommon to see the older generation doing stretches or light exercises on the plazas. Additionally, both locals and expats like to row down the river as a way of keeping fit. If you're planning on doing that, my advice would be to head over in the late afternoon, so you can witness a gorgeous sunset right from the water.  
Practically every neighbourhood in Seville has a yoga studio or gym with state-of-the-art equipment, personal coaching, and fitness classes. Popular gyms include Galisport, Cuesta Sport, Gym 21, and Cartuja Sport. Expect to spend between 30 and 50 euros per month for your gym membership. 
You can also subscribe to more upscale sports centre offering indoor rock climbing, aerobics, rugby, volleyball, badminton, and swimming. Centro Deportivo Hytasa in East Seville, for example, boasts an artificial grass football field, perfect for digital nomads who would like to soak up the locals' deep-rooted passion for this distinctively European sport. While these establishments are better equipped than regular gyms, they also tend to be far more expensive. 
Given that football is the national sports by excellence, there will be plenty of opportunities for you to attend local matches between the city's two rival teams – the Real Betis and the Seville Football club. Ticket prices usually vary between 50 and 100 euros.
Seville People
In my experience, the people of Seville are extremely hospitable and welcoming to foreigners. Xenophobia is not something that I encountered in the city – or anywhere in Andalusia for that matter. The older Sevillian generation is known for being closed-off, but I did notice that the younger generation is quite eager to interact with foreigners. As such, digital nomads may find themselves invited to lunch or coffee- or perhaps even to one of the Flamenco shows that they're so proud of.   
While they genuinely do like to network with foreigners, Spaniards have been known to take offense if digital nomads make no effort whatsoever to at least try to learn their language. You do not need to be fluent in the local dialects but it's always a good idea to learn some basic phases. In Seville, people usually greet each other by saying 'Buenas' or 'Hola', both of which can be used at any time of the day. 'Gracias' means thanks, and 'De nada' means 'You're welcome'. When parting, you can either say 'Hasta Luego' or 'Adios' to bid the person goodbye. 
Now, while kissing both cheeks is the customary greeting in Seville, it's considered good form to wait for the other person to lean forward for the kiss first, especially when interacting with a member of the opposite sex. Handshakes are the norm for business meetings and hugs are usually reserved for family members or close friends. 
Sevillians are far more open to chats than other Europeans, so don't be surprised if you find yourself drawn in a long and personal conversation right from the very first meeting. Locals can be quite curious about other cultures, and it's not generally considered rude to ask plenty of personal questions during a conversation. 
Family bonds are practically revered in Seville, so much so that kids usually attend late-night parties with their parents. In fact, it's not at all uncommon to see children or even young infants in bars with their parents until the early hours of the morning on Friday or Saturday nights. After high school, children move out of the family home to attend college, and many choose to settle in larger cities such as Barcelona or Madrid once they've graduated. 
Now, don't be alarmed by the sheer volume of chatter and laughter in local gatherings or parties. Sevillians talk so loudly that one can assume that they're fighting when they're in fact, simply engaging in friendly barter. Indeed, the illustrious phase 'work hard and party harder' never rang so true as when you're interacting with Sevillians. 
Religion is an integral part of Sevillian culture, with the great majority of locals identifying as Roman Catholics – as evidenced by the sheer number of ancient and modern churches that dot the city. Given that spirituality permeates virtually every layer of society, you'll find that most major holidays are centred around Catholicism. During Easter, locals embark on colourful parades as they carry floats adorned by religious effigies from their parishes to the cathedrals.
Seville Insurance and Medical Care
EEA and EU Nationals below retirement age are entitled to either reduced-cost or free healthcare during their holiday in Seville. If you belong to these categories, you will be asked to produce a European Health Insurance Card upon your arrival at the hospital. 
Medical insurance is compulsory for non-EEA/EU nationals. According to the World Health Organization, the single-payer healthcare system in Spain ranks seventh best in the world, so you can expect to have the highest level of care in both private and public hospitals. Unfortunately, public hospitals are infamous for their long waits. Patients often need to wait several weeks, if not months, to consult specialists or schedule non-emergency procedures. 
The majority of doctors in public hospitals do speak English, but this is not always the case with administrative and nursing staff. However, some hospitals do have translators who can provide their assistance. Virgen del Rocio and Virgen Macarena hospitals are quite popular among expats and tourists in Seville. 
Public and private emergency services in the city are highly efficient and all operators are well-versed in English. The general emergency number is 112. 
When it comes to medications, digital nomads will not struggle to find a pharmacy in the city. In fact, there's a surprising number of establishments that are open 24/24. Additionally, most Andalusian pharmacies do carry natural or alternative medication. 
Thanks to the city's strict price controls, medication in Seville is extremely affordable. You will more often encounter the generic version as opposed to popular brand names. Nearly all pharmacies will ask to see a doctor's prescription for antibiotics, sleep medication, and the likes.
Make sure you are fully covered by reading our full Digital Nomad Travel Insurance guide.
Jobs in Seville
Like virtually everywhere in the world, Seville's labour market was ferociously hit by the Covid-19 pandemic. You may also wish to know that Andalusia has among the highest unemployment rates in Europe. So, while it's undoubtedly difficult to find a local job in Seville, it's still possible if you have the required skillset and experience.
Before we go any further, I would just like to highlight that you absolutely need a work permit if you would like to work in the city, otherwise you will be subjected to heavy fines and your visa may be permanently revoked. 
Now that we've gotten that out of the way, let's start with the general labour rights and laws in Seville. Full time jobs usually entail 40 hours per week. Local companies usually have longer lunch breaks- colloquially referred to as siestas – between 14:00 and 16:00/17:00, but this tradition is gradually dying out. If you're working for an international branch, you will only receive the usual hour off for lunch. 
Digital nomads who have a degree and a teaching certificate can very easily find a job as an English language teacher. Private schools do pay more than public ones but there's far less pressure in public establishments. Alternatively, you can also give private tuition on the side although I must point out that this is not common practice in Seville. 
Because the city draws so many tourists from all over the globe, you can also try to apply for jobs in the hospitality sector in hotels, restaurants, and bars. Foreigners can also find work in architecture, engineering, IT, and manufacturing. Additionally, younger digital nomads may find it easy to get snapped up as an Au Pair, especially if they're bilingual. 
When browsing for jobs in the city, you can always comb through job hunting platforms such as XpatJobs, English Jobs Spain, and Glassdoor.
Check out our Digital Nomads Jobs Postings to find the best jobs available for Digital Nomads.
Nomad Friendly
Value for Money
Internet
Workspace
English
Food
Safety
Health
Transportation
Friendly
Quality of Living
Cost of Living Seville
As previously mentioned, Seville is among the least expensive cities on the European continent, both in terms of accommodation and entertainment. It's actually very easy to cut back on costs if you want to curb your expenses during your stay in Seville. For example, many digital nomads opt for shared accommodation in more affordable neighbourhoods such as Triana where a room can cost between 350 and 450 euros per month. 
A private one-bedroom apartment near the city centre may set you back between 600 – 1,500 euros, while accommodation outside the centre usually runs for 450 – 800 euros monthly. Studios cost around 400 – 500 euros per month although these tend to be quite cramped.
Electricity can be rather expensive in Spain so expect to spend around 150 euros on your electric bill. It's good to know that you will receive your electric bill twice a month. Other utilities such as garbage collection and water may come up to around 150 euros, billed once every three months. Wi-Fi (8Mbps) can cost around 23 euros/monthly. 
The monthly pass for public transportation usually wavers around 35 euros per month, although you can bring that cost down by renting a bike to get around. You can budget 100 – 150 euros/monthly for eating out and entertainment, but remember that there's still a plethora of things you can do for free in Seville. 
All things considered, digital nomads can lead quite a comfortable life in Seville for around 1,000 euros per month, which comes to approximately $ 1,200.