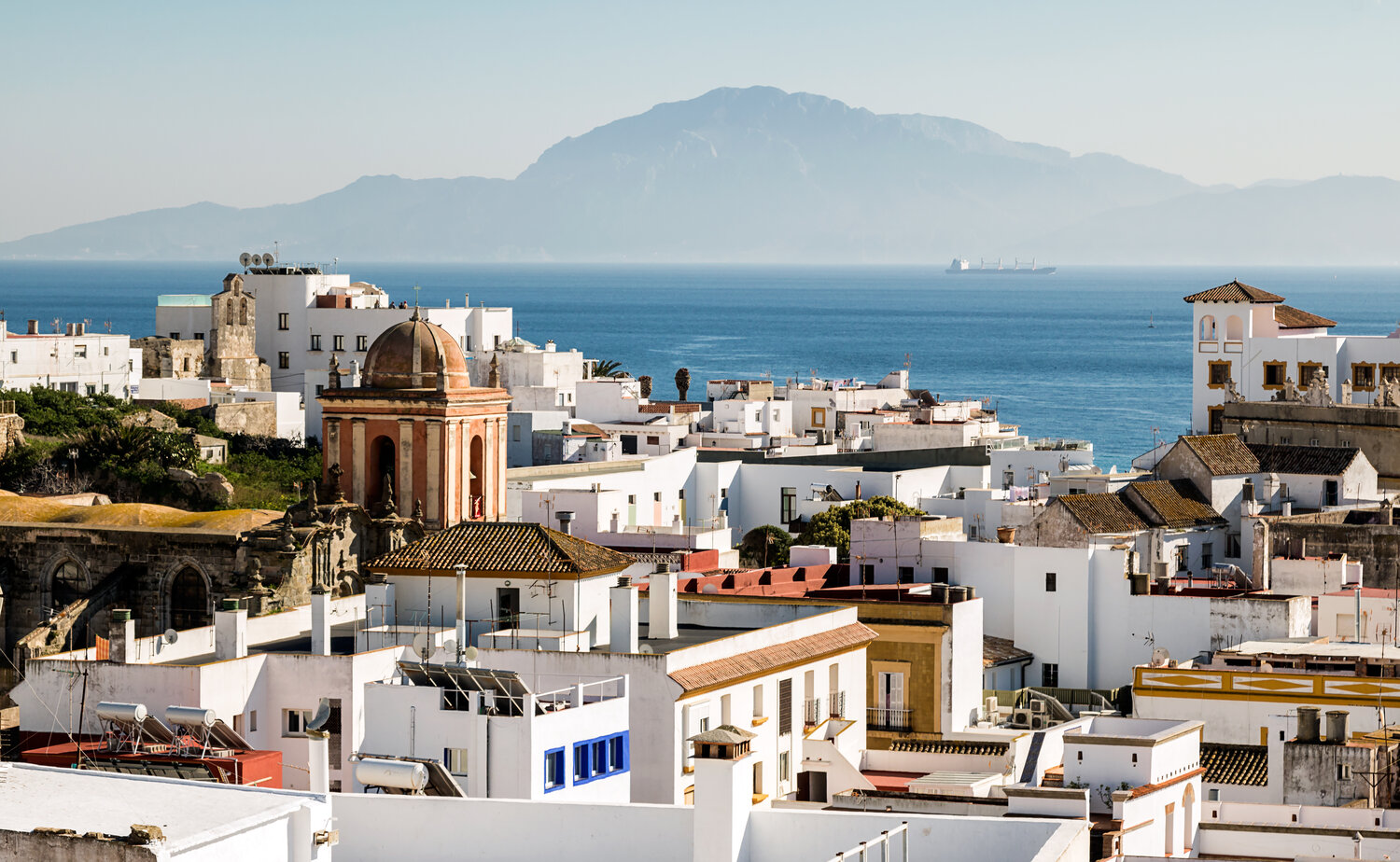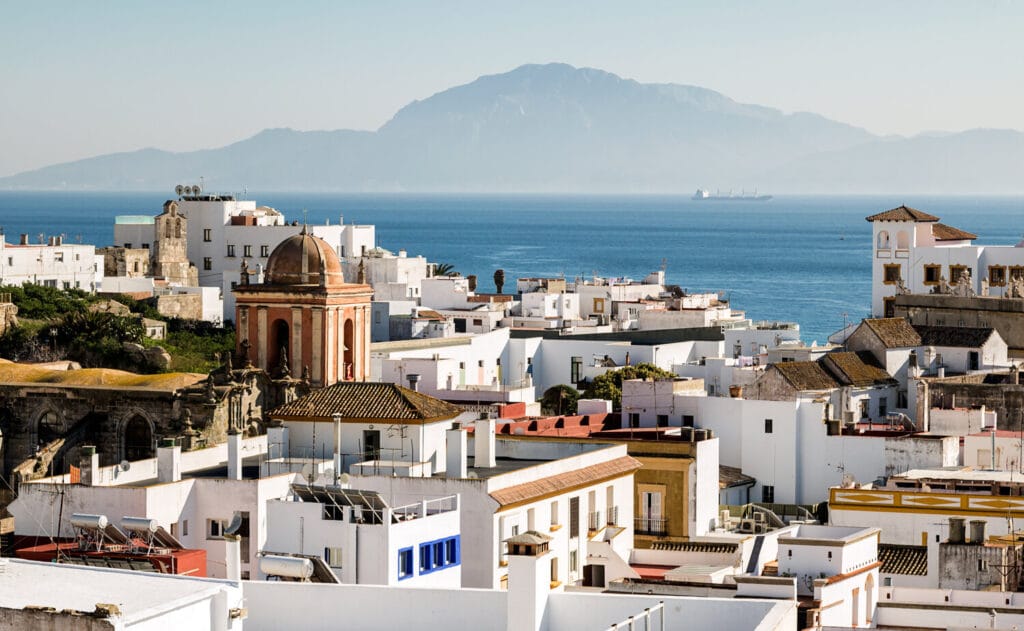 A Digital Nomad Guide to Tarifa
Tarifa is a Spanish municipality in the province of Cádiz, Andalusia. It has around 18 thousand inhabitants and is the most southern city in Europe, open to all civilizations since the dawn of time.
It is bathed by the waters of a sea and an ocean and caressed by two winds: the Levante wind blows from the East and inflates the sails of the boats and the boards that surfers throw into the waves, the Poniente wind blows from the West and brings rain and cool days.
In this city one continent ends and another begins. It is only separated by 14 kilometers from Africa. In between lies the Strait of Gibraltar, whose waters are a coming and going of marine currents inhabited by whales, killer whales, sperm whales and dolphins.
Also called "the capital of the wind", it is one of the best places in the world for surfing, windsurfing and kitesurfing. Its beaches are long, wild, with fine white sand and crystal-clear waters. It has one of the largest wind farms in Europe, where its mills are mixed with wonderful landscapes.
It preserves its old Arab fortress, remains of a wall and narrow streets in the center of the city with houses painted white. with a cosmopolitan atmosphere during the summer that make the visitor fall in love.
Its inhabitants are called Tarifeños and they are usually cheerful like someone who lives in an eternal summer. During the winter months there are few people, mostly locals, while during the summer prices go up and it seems that there are people in every corner since it is one of the most popular summer cities in Spain and Europe.
Due to the castle that dominates its contours, its white sand beaches and the atmosphere that young lovers of wind sports bring to it, it is mythical southern enclave to discover and enjoy at least one time in life.
Nomad Friendly
Value for Money
Internet
Workspace
English
Food
Safety
Health
Transportation
Friendly
Quality of Living
Living in Tarifa Overview
| | |
| --- | --- |
|  Meal, Inexpensive Restaurant | $9.61 |
| Domestic Beer (1 pint draught) | $3.39 |
| Cappuccino (regular) | $2.26 |
| Loaf of Fresh White Bread (1 lb) | $0.71 |
| Water (1.5 liter bottle) | $0.69 |
| One-way Ticket (Local Transport) | $1.24 |
| Basic Utilities (Monthly) | $90.06 |
| Internet | $33.91 |
| Fitness Club (Monthly) | $33.91 |
| Apartment (1 bedroom) in City Centre | $339.13 |
Currency: Indonesian rupiah (Rp)
[erw_exchange_rates_widget lg="en" tz="0″ fm="IDR" to="EUR,USD,GBP,AUD,JPY,RUB" st="primary" cd="" am="15000″][/erw_exchange_rates_widget]
ATMs
Max Withdrawal: Rp 3,000,000
Withdrawal Fee: Rp 30,000 – Rp 50,000
Use of Credit Cards: Mostly Cash
Digital Nomad Personal Experience in Tarifa
Te enamorará, el ambiente alegre y desenfadado de esta ciudad acogedora y cosmopolita. Si bien su temperatura media es de 17 grados, hay algo que es característico de la ciudad, y son sus vientos. Tarifa es el reino del Surf y del Kitesurf.
The town was a strong and walled city, coveted by dozens of cultures. There are still some paintings of the original Andalusian wall and one of the three old gates. It seemed to me a city with history and culture, although many do not pay attention to what remains of it.
Among its winding streets and its small squares shaded by tall palm trees, I discovered the churches of Santiago and Santa María, built on the disappeared mosques, and the cathedral, consecrated to San Mateo. Here I learned that the streets have to be narrow to avoid the wind and heat, that it is convenient to laugh at life and that the sea heals sorrows at night.
Tarifa is a white city that in summer mainly fills with colors and people who are not from there. Some come for its bars and nightlife, others for kitesurfing. On the other hand, during the winter it is emptied and the usual inhabitants remain, many of whom are from other parts of Spain but fell in love and stayed in the city. At that time, Tarifa becomes an intimate place where many restaurants close until summer and the meetings between friends prevail. The laughs never go away because Andalusians are like that, they joke even in the worst moments.
It is a place for people who like the wind, there are days when it is even difficult to walk. Also, for lovers of water sports who come in search of the perfect wave or who, like me, try to learn kitesurfing with friends or in one of their schools.
Here I felt at ease, as if I was living in a limbo of eternal summer and joy. I wondered if I should would stay longer but it is still a city very similar to a small town, which led me to go somewhere else with more things to do. However, every so often I miss the peaceful life of Tarifa.
Work in Tarifa
Tarifa is not a place where people usually come to work remotely or in an office. Most people work seasonally in bars, hotels or with something related to tourism. However, the small town has three coworking spaces.
Best Places to Work in Tarifa
La Cocotera
La Cocotera is a hostel that has a coworking space. In the historic center, just a few steps from restaurants and bars, the port and the beach, it offers a space to relax, get inspired by others and work. You can choose between private or shared rooms designed to make you rest and dream. It has rooms for two from 25 EUR, rooms for 4 from 40 EUR, shared rooms from 13.50 EUR per day per bed and studios with kitchen for 44 EUR per night. The coworking space is included in your accommodation. La Cocotera has a kitchen, rooftop with views of Morocco, washing machines, clothes dryers, lockers, chairs and comfortable work spaces, free hot drinks, high-speed Wi-Fi, standing desks and air conditioning. If you don't stay here, they charge you 10 EUR per day, 40 from Monday to Friday, 50 from Monday to Sunday, or 150 EUR for the full month. During the winter months, they give you the possibility of booking a complete meeting room.
Eat Code Kite Repeat
Tarifa is also home of Eat Code Kite Repeat, a digital nomad startup incubator for shared living and shared working spaces. They are software startup oriented, but all types of entrepreneurs are welcome to apply for a place in their incubator. They have a kitchen, free coffee and water, high-speed Wi-Fi and a chill out area. Prices start at 350 EUR per month.
Tarifa Garage
Tarifa Garage offer a nice, spacious and comfy shared office with fix desks, nice people, easy independent access and much more. For them, working remotely from Tarifa means being able to combine professional life and the best quality of living. Prices start at 150 EUR per month.
In addition to these three options you will find in Tarifa a lot of restaurants and cafes with Wi-Fi but during the summer they are usually full of people on vacation, noise and parties that can be a big distraction from work and daily tasks. The most convenient thing is to have a space where everyone is in sync.
Best Places to Live in Tarifa
Best Neighbourhoods
The area has 40 kilometers of coastline with extensive, almost virgin beaches. Most of the accommodation and infrastructure are located in the town of Tarifa.
The best area to stay in Tarifa is the urban center where you will find the largest offer of accommodation and supermarkets. In addition, the town is very beautiful and has a lot of movement and nightlife during the summer. It is convenient to stay in the center and go by car to the most remote beaches. Here all distances can be done on foot, if the wind allows it. 
The population is small and has a beautiful old town, delimited by the old medieval walls. In addition, strolling through its narrow-whitewashed streets full of shops, bars and restaurants, is worth it.
The beach area of ​​Tarifa is quite unspoiled, so outside this urban nucleus the accommodation offer is quite limited. If you prefer to live away from the hustle and bustle and the summer parties, the best options are the beaches of Valdevaqueros, Punta Paloma or Bolonia. But keep in mind that there are not so many accommodation options and the price will always be higher than those you find in the city center, since they are areas of greater tourism.
Valdevaqueros
Valdevaqueros Beach is 4 km long and about 120 meters wide and it is a deurbanized zone. This area is also famous for its large sand dune. It is one of the most popular beaches in Europe for kitesurfing and windsurfing. There you will find some windsurfing and kite schools.
Bolonia Beach
Another option is the Bolonia Beach. With its almost 4 kilometers in length and 70 meters in width, it is an excellent virgin beach with crystal clear waters that also attracts many people who love windsurfing and kiteboarding.
In both areas, the supply of housing is limited and is mainly used for tourism. That is why it is convenient to find a home in advance.
Find an Apartment in Tarifa
If you are going to look for accommodation in Tarifa, I have to warn you that it is the most expensive city in the area because it is an internationally frequented tourist enclave.
In Tarifa there are mostly vacation rentals and traditional rentals. The vast majority are furnished vacation rentals that are only available for a few months of the year.
On Airbnb, prices do not drop below 1.300 EUR per month for a temporary one-bedroom apartment during the winter and that same apartment can cost 2.500 EUR during the summer.
Traditional real estate agents often offer empty and unfurnished apartments for rent with a minimum stay of one year. For less than 700 EUR per month you will not find anything and of course you have to add the expenses and the month of rent that the agent takes. Community fees are generally included in the rent, but you will have to pay for Wi-Fi, water, electricity, etc. However, if you are in a hurry it is advisable to hire an agent since they will know better how to filter which are temporary vacation apartments and which are not.
You can also look at idealista.com which has an automatic English translation tool. Idealista operates in the local market and has publications from both real estate agents and owners. The website even gives you the phone numbers so you can call and ask what you need, though keep in mind that most don't speak English. You can also search for houses for sale on this page, if you plan to move longer. Read the ads carefully as many accommodations will say that they are only available during certain months.
Cheap Places to Stay in Tarifa
Life in Tarifa is anything but cheap and rents are no exception. If you go with a group of friends or as a couple, you can rent an apartment through Airbnb or idealista.com and it will be cheaper by dividing the rent between all of you. If you are alone, I recommend you look at idealista.com for room rentals that usually cost between 250 and 500 EUR per month. There are shared apartments in the city center, which means that you don't have to spend money on transport either. It is advisable to contact them in advance because there are not many options and during the summer season they are rented quickly.
Another option, less comfortable but more fun, is to rent a room in a hostel. The cheapest you can find is South Hostel Tarifa (Nave 204, Calle la Linea de la Concepcion) for 22 EUR per day. If you talk to the owners about renting per month, you can negotiate the price. Here you will surely find new friends and someone who will accompany you to the beach for the day, although if you work as a digital nomad it may not be the best option.
Tarifa Visa
The requirements to enter Spain depend on the country of residence of each individual, the length of stay and the reason for the trip.
As part of the Schengen area, citizens of any other state of the European Union or Switzerland, Norway, Iceland and Liechtenstein can enter Spanish territory for stays of no more than 90 days during the same semester only with the national identity document provided when it is valid up to three months after the expected date of departure and has been issued in the last ten years.
On the other hand, citizens of Bulgaria, Croatia, Cyprus, Romania, Ireland and the United Kingdom do not need a visa to enter Spain for tourist purposes, but they do need to present their passport.
In parallel, the Schengen states have reached a series of agreements with certain countries according to which their nationals are exempt from the obligation to present a visa to cross their borders, including those of Spain, when they travel as tourists for no more 90 days. The countries exempt from the visa requirement to enter the Schengen area are: Albania, Andorra, Antigua and Barbuda, Argentina, Former Yugoslav Republic of Macedonia, Australia, Bahamas, Barbados, Bosnia Herzegovina, Brazil, Brunei Darussalam, Canada, Chile, Colombia, South Korea, Costa Rica, Commonwealth of Dominica, El Salvador, United Arab Emirates, United States, Georgia, Grenada, Guatemala, Honduras, Israel, Japan, Kiribati, Malaysia, Marshall Islands, Mauritius, Mexico, Micronesia, Moldova, Nicaragua, New Zealand, Palau, Panama, Paraguay, Peru, Solomon Islands, Samoa, Saint Kitts and Nevis, San Marino, Saint Vincent and the Grenadines, Saint Lucia, Holy See, Serbia, Seychelles, Singapore, East Timor, Tonga, Trinidad and Tobago, Tuvalu, Ukraine, Uruguay, Vanuatu and Venezuela.
The fact that they do not need a visa does not mean that citizens of those countries should not be able to present certain generic information at a passport control if required. On the other hand, some of these countries, such as Argentina, must request an online permit called ETIAS.
The rest of the residents of third countries are required to obtain a permit known as a Schengen visa for any visit of the same duration. The only exception will be the case of foreigners who are in possession of a valid residence permit or long-term visa issued by a Schengen state.
Visa information is subject to constant changes, so it is advisable to always ask the Spanish embassy the requirements  you need for entering the country.
Culture and Food in Tarifa
Tarifa is a fishing village that has always lived off the sea. Every morning the fresh fish that sailors catch at night enters its port. Many of these fish go directly to the restaurants and bars of Tarifa, ready to be cooked.
In Tarifa you can find a wide variety of bars and restaurants that serve fish, as well as beef or pork, also very typical of the area, and other traditional dishes.
The best-known bars to go to eat fried fish are those in front of the port. El Puerto restaurant is one of the most popular ones for its delicious fish.
If you want to eat pork prepared in different ways, and all of them exquisite, you have to go to the Casa Juan Luis restaurant, on Calle San Francisco. To go to dinner, you must make a reservation many days in advance. That good it is!
The Lola Tarifa (Calle Guzmán el Bueno, 5) has incredible dishes and an extensive Jerez wine list in a magical setting. Located in the historic center of Tarifa, it offers its famous tuna sirloin, incredible scrambled eggs with cod or the Iberian omelette with salmorejo and ham.
Mesón El Picoteo (Calle Mariano Vinuesa, 1) has affordable prices, a very pleasant treatment and a 100% local cuisine. Its specialty is seafood. It is impossible to find better clams a la marinera anywhere else.
Anca Curro (Calle Moreno de Mora, 5) is a small traditional bar that offers a limited number of options but of high quality and in an atmosphere with a lot of personality. I recommend you to try ham with local wine.
La Codorniz Restaurant (Ctra. Cádiz-Málaga, km 79) has a terrace and a large lounge where diners can enjoy the traditional decoration. Generally, their offer is based on products from the area, always with exhibitors showing the fish they have available. Their homemade desserts are also remarkable.
Taberna La Morena (Plaza de la Paz, 2) is one of those places that haven't been in Tarifa for too long, but that have hundreds of reviews on Tripadvisor that rate it from "Excellent" to "Sublime". Here you will enjoy their amazing dishes in the heart of the old town of Tarifa, with a different gastronomic proposal: products from local suppliers, made with Asian and South American techniques to offer fresh and surprising food. I recommend you try the tacos de retinta pibil.
Silos 19 (Calle Silos, 19), located in an 18th century building and managed by the same owners as El Frances Tarifa, is one of the best hidden gems in the urban center. With a spectacular decoration and a modern menu with local products, it invites you to enjoy its creative Andalusian gastronomy. I recommend you try the presa ibérica.
Bibo Tarifa by Dani García (Arrabal Sector Valdevaqueros, 9), which has 3 Michelin stars, has a bit of everything: good food, good service, surfing and Andalusian character. He offers high quality cuisine with an incredible kitesurfing, paddle and windsurfing school.
Tarifa Nightlife
Since the 80s, when Tarifa became a surfing paradise, the city stands out for its multicultural atmosphere and its nightlife.
In Spain the night usually starts later. They come back from the beach around 8 in the afternoon. Afterwards, they go out to dinner between 9 and 11 pm. Only after 11 pm it is worth visiting the many bars in the narrow streets of the old town.
When the bars close, most of them at 3 am, people go to the clubs. The clubs usually open at 1 am but do not fill up before 2 am. 
Most of the bars and clubs in Tarifa are located in the historic center but also in the new part of town and even in the industrial estate.
Among the recommended bars is Cafe Central Tarifa (c / Sancho IV El Bravo), located about 100 meters from the church of San Mateo in the center of the old town. Its large terrace fills with people who enjoy relaxed music, drinks and tapas.
Bar Almedina is one of the most beautiful bars in Tarifa. It is located in the old wall of the Guzmán El Bueno fort near the town hall, inside one of the oldest buildings in Tarifa (3000 years) and witnessed the era of the Arabs on the peninsula. Every Thursday is Flamenco night and admission is free.
Cafe del Mar is a nightlife star in the area. Located in the industrial park at the exit of Tarifa, this place is distributed over 3 floors. On the ground floor there is a restaurant with Asian dishes and a long bar with plenty of space to enjoy a drink and the good atmosphere. The second floor has a bar and the third (the roof) has armchairs to enjoy the night or the day. Cafe del Mar takes you to Ibiza for a while.
Among the discos that are open all year round is La Ruina, located in the heart of the old town. Here you can enjoy house music in a modern and crowded environment.
Another option is DEN Tarifa, a trendy club decorated with a lot of style and a modern atmosphere. It is located in front of the port just 2 minutes away from the old town. There are always different DJs playing a variety of music, from house to soul music from the 70s.
Club New Rif is located across from the gas station, in the new part of town. The dance floor has a lot of space and there are several bars. The music doesn't stop until dawn. Here you will hear House and Techno shot by a young audience. It is ideal as the last stop before going to sleep because it is usually the last club to close.
Things to do in Tarifa
La Calzada is a street of a couple of blocks, very busy, that has many places to drink and eat something. In the surroundings of the Calzada is the old town, which is mostly pedestrianized and is full of small squares with bars where you can spend a happy afternoon. Strolling through its narrow-cobbled streets you will find the vast majority of places of interest to see in Tarifa. Among its characteristic bank houses are places such as the Church of San Mateo, the Puerta de Jerez, the Royal Prison, the Castillo de Guzmán el Bueno and the Plaza de la Alameda.
Spain is a country dotted with numerous medieval fortresses, most of them in an excellent state of preservation. In Tarifa you will find one of the best-preserved castles in all of Andalusia. Known as Castillo de Guzmán el Bueno, it was built in the 10th century by Abderramán III, Caliph of Córdoba, with the aim of controlling the passage of the strait and protecting the city from enemy attacks. Despite being a Muslim construction, the origin of its name derives from Alonso Pérez de Guzmán, warden of Tarifa, who at the end of the 13th century defended the city from Muslim attacks and even sacrificed the life of his son to save the city and its inhabitants. From the top of the castle you will enjoy excellent views of the city.
In addition to the imposing Guzmán el Bueno Castle, Tarifa had three walls that surrounded the city: the Almedina wall, the Aljaranda wall and the Arrabal wall. The Arrabal wall is the most extensive of the three, to which belongs the Puerta de Jerez, one of the most emblematic places in Tarifa. The huge gate was part of the perimeter of the old city walls, being the main access gate to the historic center for centuries. It was built in the 13th century and its external structure has an excellent conservation. Like the other remains of the wall that can be seen in Tarifa, the Puerta de Jerez has been declared a Site of Cultural Interest, being the only one of the old medieval gates that can still be crossed on foot.
For those who prefer the sea, Playa Chica is a small beach, located in the heart of Tarifa. This beach faces the Mediterranean Sea, so its waves are much softer than other beaches that face the ocean, ideal for sunbathing and enjoying the transparent water.
In Playa de Los Lances, also in the center of the city, you can bathe in the waters of the Atlantic Ocean. It is a very wide beach, with good waves for those who like to surf and ideal for watching the sunset. 
Tarifa is a strategic point of sighting of birds of short and long migration. You can also watch dolphins, whales and killer whales. The best time to do this fantastic activity is from April to October, when dolphins and whales swim between the Atlantic Ocean and the Mediterranean Sea. Choose one of the non-profit companies to do whale watching, since for them the main purpose is to protect these impressive animals. Among them is the organization FIRMM (Foundation for the Information and Research of Marine Mammals), which offer excursions in renovated glass bottom boats.
The surroundings of the city have a lot to offer too. 20 kilometers away, the almost 4 kilometers long Bolonia beach, is famous for its dune of more than 30 meters high, declared a Natural Monument, as well as for housing one of the best-preserved archaeological sites in Spain: the ancient Roman city of Baelo Claudia. It has been declared a National Historic Monument and its origin dates back to the 2nd century BC. This archaeological park is one of the best preserved of Ancient Rome on the Iberian Peninsula. Most of its buildings were built under the mandate of Claudio, where you can still see the remains of several temples, the forum and even a theater with capacity for 2.000 spectators.
On the other hand, Valdevaqueros beach, located halfway between Tarifa and Bolonia beach, is frequented mainly by surfers, kitesurfers or windsurfers. Keep in mind that it is one of the windiest in the Spanish geography.
If you plan to visit Tarifa by car, one of the places you cannot miss is the viewpoint of the Strait. It can be seen just 6 kilometers from Tarifa, on the national highway (N-340) towards Algeciras. From this viewpoint you will enjoy magnificent views of the strait, both on the European side and on the African side. It is an excellent place to realize the short distance that separates both continents. Next to the viewpoint, in addition to a parking lot, there is a bar-cafeteria, where they sell ice cream and all kinds of souvenirs.
Located 50 kilometers west of Tarifa, the town of Barbate is known for hosting some of the best beaches in the province of Cádiz. The beaches of Zahora, Caños de Meca, Pajares and Hierbabuena are true paradises by the sea. In addition, Barbate is also known for its fishing tradition, where bluefin tuna is the star dish of the local gastronomy.
Zahara de los Atunes is another town that is worth visiting. The white houses next to its wonderful beaches result in one of the most beautiful towns in Cádiz. Its beaches, its natural landscapes, the tranquility that it breathes and its fantastic gastronomy, invite you to spend a whole life in this place.
Tarifa and its surroundings have activities for lovers of history, animals, sports, beaches and small and unique towns. There is a bit for every taste.
Best Time to Visit Tarifa
Tarifa has a cool and windy climate given the prevalence of winds coming from the sea: the Poniente wind (west wind) and the Levante (east wind, more frequent and intense). Wind gusts of 80 km per hour or more are not uncommon but can occur in summer. Sometimes it can even exceed 100 km per hour.
During the course of the year, the temperature generally ranges from 11 °C to 27 °C and rarely drops below 8 °C or rises above 29 °C. The average temperature of the coldest months (January and February) is 13 °C, that of the hottest month (August) is 22.3 °C. 
Rainfall amounts to 630 millimeters per year, and has a Mediterranean trend. They are most abundant from October to February, when they are equal to or greater than 75 millimeters per month, while they become very rare in summer.
Winter in Tarifa runs from December to February, is mild, and is characterized by periods of sun, alternating with periods of bad weather, wind and rain. Even if the temperatures are mild, the wind can add to the feeling of cold. On the coldest days of the year, the thermal sensation usually drops to 4 ° C.
Spring, from March to mid-June, is mild, less rainy and sunnier. However, there can still be periods of bad weather, especially in March and April. 
Summer, from mid-June to mid-September, is mild and sunny, with some fog. In general, the temperatures are not very high, and they stay around 25 °C. The air is humid and the Levante wind blows insistently, which in some periods can be moderate, but in others it can be very strong for weeks. There can be cool days, with highs of 20 °C, even in July and August. On the hottest days of the year, the temperature usually reaches 30 °C.
Autumn, from mid-September to November, is mild and gradually rainier.
The sea in Tarifa remains cool even in summer, as it reaches a maximum of 23 ° C from July to September.
The best period for a sun and beach holiday in Tarifa is summer. It is good to remember that in periods when the wind is stronger, sunbathing on the beach could be annoying.
For excursions and walks, especially if you want to visit the cities of Andalusia such as Seville and Córdoba, it is better to choose April, May and October, since it is very hot there during the summer.
Tarifa for Families
Tarifa is basically a tourist city, charming to visit but without the infrastructure of a big city. The city with the most services you can find in the area is Estepona, 75 kilometers away, and Malaga is 160 kilometers away.
You are more likely to find a local international kitesurfing school in Tarifa than a private school serving the children of expats in English. Which should give you some indication of the number of expats living there. That is why it is important that your children learn Spanish. State schools teach classes in Spanish and private schools are at least 80 kilometers from Tarifa, on the Costa del Sol.
Your children will be free to come and go during the winter, although they should be careful when the city fills with tourists.
The reward of living in Tarifa comes in the quality of life. They will have a lot of contact with nature, with sports both on land and in the sea, and they will be able to learn one of the most widely spoken languages ​​in the world.
Living in Tarifa
Tarifa Transportation
Tarifa is a relatively small city, and therefore comfortable to move around on foot or by bicycle. Despite this, the Horizonte Sur bus company operates a bus line that can be useful for your trips and runs every 30 minutes.
The route he takes is as follows: El Cable / Las Torretas / Batalla del Salado / Margaritas / Cerro / Health Center / Pajaritos / Lidl / Barriada Sol / Retiro / Caleta / Puerta Mar / Guardia Civil / Puerta Jerez / Congo / Pool / Kiosko Juan / Mercadona / El Cable. The price is 1 EUR for adults and 0.50 EUR for children.
In addition, the same company operates a line that connects the bus station with the main hotels and campsites on the north coast of the city. The route is as follows: Bus station / Camping Río Jara / Hotel Dos Mares / Camping Tarifa / Hotel Hurricane / Camping Torre de la Peña / Explora-Tres Mares / Camping Torre de la Peña II / Camping Paloma / Camping Jardín de The doubts.
Finally, during the summer (from July 1 to August 31) a bus connects Tarifa with Bolonia beach from Monday to Friday.
The other great means of urban transport in Tarifa is the taxi. The main taxi rank in Tarifa is at the following address: Avenida de Andalucía (next to Puerta de Jerez). If you prefer to be picked up at a specific address, you can call Radio Taxi Tarifa: 956 79 90 77.
Fitness and Health
Tarifa has a great variety of natural spaces ideal for practicing adventure and nature sports such as trekking, mountain bike and swimming in open water. But above all, what characterizes this city is that it is one of the best places to practice wind sports like surfing, windsurfing and kitesurfing.
If you dare to take windsurfing or kitesurfing lessons, the Dos Mares hotel school (schooldosmares.com) is based on the town beach on a walking distance. A two-hour windsurfing course costs EUR 60 and a kitesurfing course costs EUR 150. You can also go to Tarifa with your own equipment of the sport of your choice and in the city you will find many new friends to go practice with.
If even when you are in a unique natural enclave you prefer to go to the gym, you can enroll in Fitness Studio Tarifa (Av. Andalucía 27). It is a complete gym with machines, a wide variety of dumbbells and bars, a squat rack, a work area for free weights and an area to work mobility. It also has qualified personnel who can guide you in your daily routine and attend your training needs.
Tarifa People
Each person is different, but there are common personality traits that mark the identity of a region. The inhabitants of Tarifa are Andalusian and the Andalusians radiate joy and also spread it among the people.
At any time, they can tell you the best jokes and if the joke is bad, they make it good with the way they tell it. They make you laugh in every way: by what they say, by how they say it and by their expressions. They love being the center of attention and entertaining their guests. Also, word games will surprise you with their intelligence.
Andalusians are open, sociable, warm and always ready to help. Be careful of their promises because no matter how good they are, they tend to get distracted with life and sometimes they consider that they may leave for tomorrow something they should do today.
Traditions are passed down from father to son thanks to a deep-rooted sense of family and a deep sense of belonging to the community.
The Andalusian knows how to savor the small pleasures of everyday life that, however simple they may be, turn into great ones. They are also very optimistic people. Even in the most adverse situations, they are able to see the bright side of things and look ahead. If necessary, they laugh at themselves.
There is much to learn from Andalusian humor, although you will deny its slowness and little efficiency for other things. The good side is that you will laugh a lot even if you try not to.
Tarifa Insurance and Medical Care
The health system in Spain is ranked among the best in the world. Healthcare in Spain consists of both private and public healthcare. Around 90% of Spaniards use the public health system, which is called the National Health System. However, it is highly decentralized with service delivery organized at the regional level and poor accessibility and overdependence on the private sector remain problematic.
State healthcare is free for everyone who lives and works in Spain. This is paid in part with social security payments that will be deducted from your salary. However, in Tarifa you will have to travel to another city like Malaga to find certain state health care specialists. If you have a pre-existing disease, it is convenient to check if you can find here the specialists you need.
As an expatriate, you can get free state medical care if you are a resident of Spain and pay social security contributions; if you are a resident and recently divorced or separated from a couple registered in social security, a child residing in Spain, a pregnant woman residing in Spain, a person under 26 years of age studying in Spain, a state pensioner or if you are temporarily staying in Spain and you have a TSE card.
Spain has bilateral agreements with some countries, such as Andorra, Brazil, Chile, Ecuador and Peru, which allow citizens of these countries who visit Spain, for short periods of time, to obtain free emergency medical treatment.
Residents only have to pay part of their prescription costs if they make regular payments for public health insurance in Spain. They also have to pay for certain specialized medical procedures and may need additional private insurance coverage.
If you want to be treated by a specialist doctor, you must have a referral from a family doctor. Be aware that wait times can be long. If you have private health insurance, you will be able to see a specialist much faster than going through the public system.
The provision of private healthcare in Spain runs parallel to the public system. Anyone who is not eligible for state health care will have to purchase private health insurance or pay the full amount of medical costs at a high price. Many people also opt for private health insurance that allows them to access better and faster treatment. Private insurance is popular with expats and usually costs between 50 and 200 EUR per month, depending on the coverage plan.
Make sure you are fully covered by reading our full Digital Nomad Travel Insurance guide.
Jobs in Tarifa
Tarifa is a small city, like a little town, that is filled with tourism mainly during the summer. For this reason, the vast majority of jobs revolve in relation to seasonal tourism. Work can be found in bars, restaurants, hotels, kitesurfing and surfing schools, and clothing and souvenir shops.
Although according to Spanish legislation to be able to work as a foreigner it is necessary to have a working visa, in reality not. The jobs are seasonal and many times they hire waiters, cleaning staff or kitesurf teachers without this documentation, only for the season.
The best way to find work in Tarifa is to go talk to the owners or managers of the bars, hotels or wherever you want to work as soon as the season begins. They usually need workers, but keep in mind that many are looking for job opportunities to enjoy the beach in their free time.
Check out our Digital Nomads Jobs Postings to find the best jobs available for Digital Nomads.
Nomad Friendly
Value for Money
Internet
Workspace
English
Food
Safety
Health
Transportation
Friendly
Quality of Living
Cost of Living Tarifa
Being a fashionable city for international tourism, the cost of living in Tarifa is high if one wants to maintain a good quality of life. Expect to pay at least 750 EUR per month for a studio in the center and of course you have to add the service costs that can reach 250 EUR and the commission rent for the real estate agent. Community expenses are generally included in the rent although it is always advisable to consult with the owners.
On the other hand, if you want to temporarily rent a studio during the summer through Airbnb, expect to pay 3.000 EUR per month.
You can have lunch or dinner in a medium quality restaurant for 12 EUR and a pint of beer in a bar will cost you 6 EUR while a glass around 2.5 EUR. A coffee costs between 2 and 4 EUR. Supermarket prices are similar to those of the rest of Spain.
Although it is a good idea to have a car, the cost of a bus trip is EUR 1 for adults and EUR 0.50 for children.
Private insurance is popular with expats and generally costs between 50 and 200 EUR per month, depending on the coverage plan.
Also, when it comes to sports, a two-hour windsurfing course costs EUR 60 and a kitesurfing course costs EUR 150. The gym membership cost around 40 EUR per month.
As you will see, Tarifa is neither as expensive as Barcelona or Madrid nor as cheap as the rest of the country.