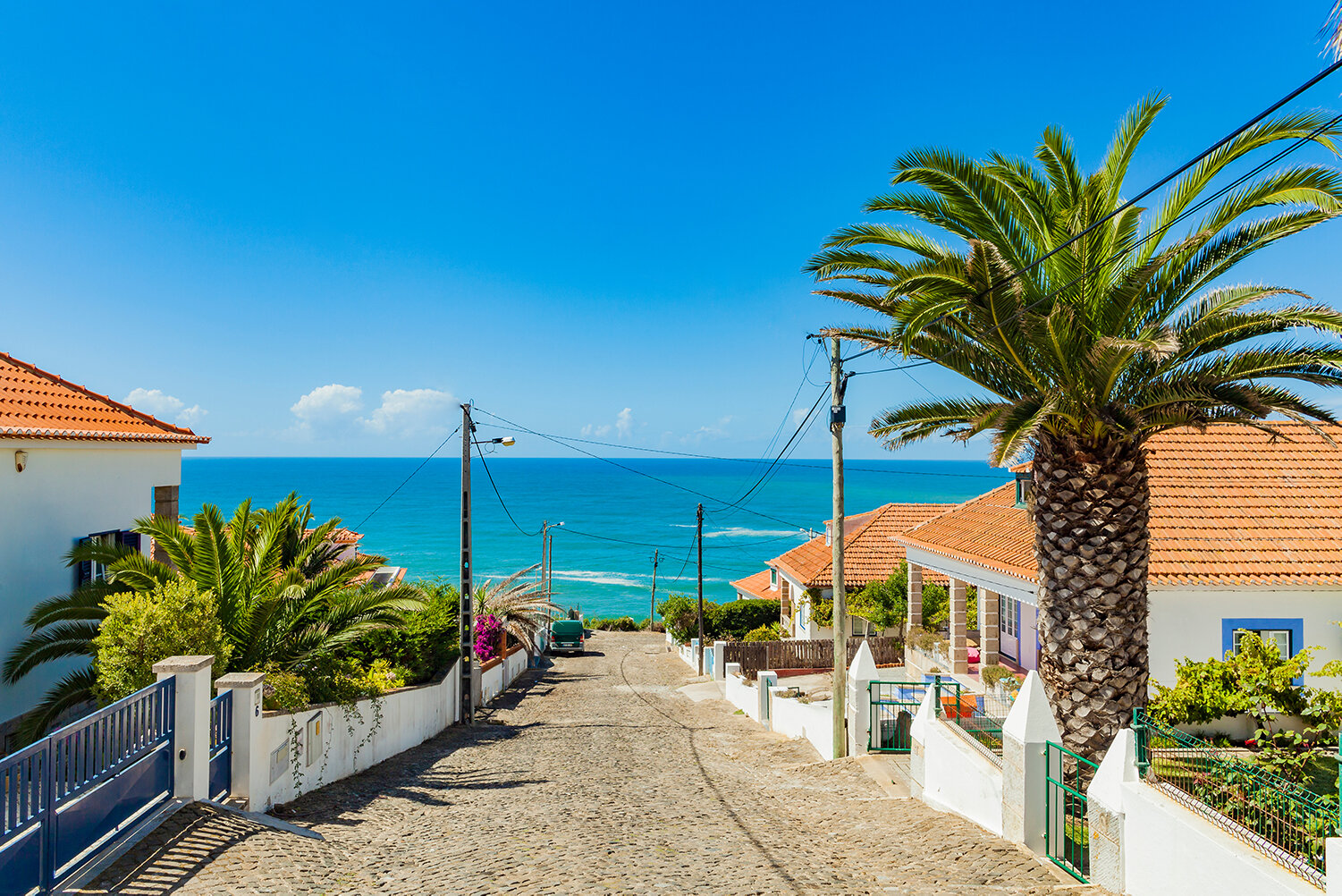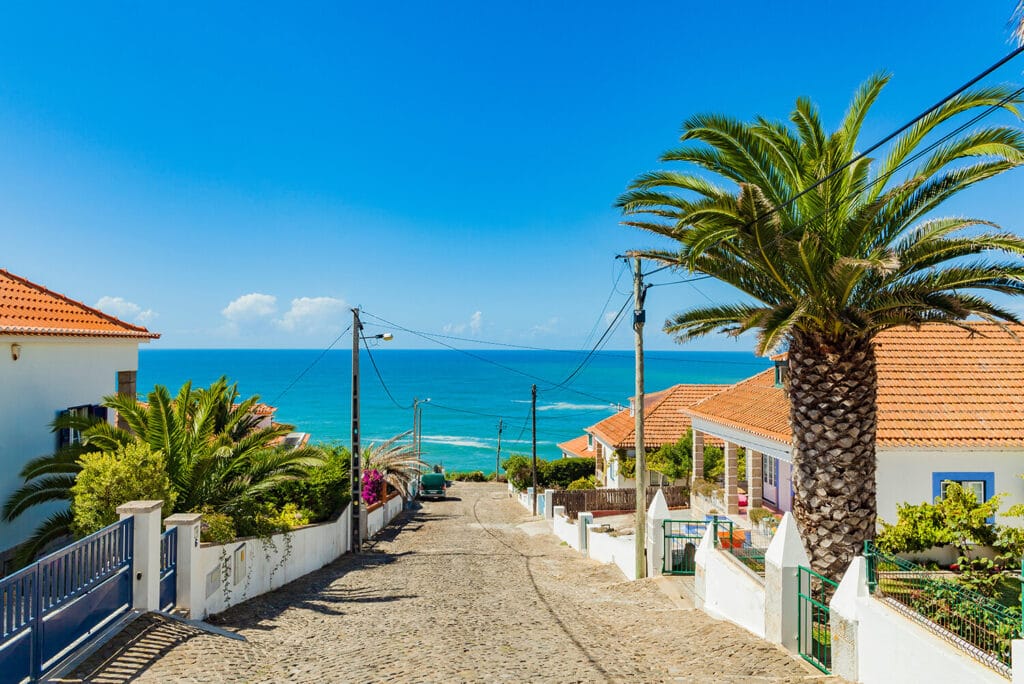 A Digital Nomad Guide to Ericeira
Aptly known as "Onde O Mar É Mais Azul"- the place where the sea is the most blue – Ericeira is a charming seaside town that lies just 50 kilometres from trendy Lisbon. As such, it's the ideal place for digital nomads who would like to get away from the hustle and bustle of the big city while still maintaining proximity to the capital. Because Ericeira also lies close to Sintra, you'll be able to go on a wine tour whenever the mood strikes. 
With some of the best surfing spots in Europe, Ericeira is also known for its excellent lagoons. In fact, according to local folklore, the town's beaches are so legendary that the former Queen Maria Pia of Savoy used to visit Ericeira on a regular basis just so she could swim in its lagoons. A chemical engineer once described the beaches as 'a focus of the major concentration of iodine in all of the northern Portuguese Coast' which may perhaps explain why elderly locals still believe in the ocean's restorative powers. 
If you're a first-time visitor to Ericeira, you might be somewhat surprised by the town's sluggish pace of life. Indeed, in stark contrast to nearby Lisbon, this place has a typical fisherman village vibe to it, so everything moves at a pretty leisurely pace. Locals tend to linger over lunch or coffee so it's not uncommon for a meal to span over two hours. Remember that the town's unofficial motto is 'Surf, Eat, Sleep, Repeat', and in my experience, this is something that the good people of Ericeira take very seriously indeed. 
Digital nomads who would like to lose themselves in the great outdoors will undoubtedly relish in the sheer number of nature-oriented activities: from paddle boarding on the Lizandro River to exploring the picturesque hiking trails, there's always something fun to do outside. If you happen to be visiting in the winter, rest assured that the town, although less vibrant than in peak season, still offers plenty in terms of entertainment.
Nomad Friendly
Value for Money
Internet
Workspace
English
Food
Safety
Health
Transportation
Friendly
Quality of Living
Living in Ericeira Overview
| | |
| --- | --- |
|  Meal, Inexpensive Restaurant | $10.92 |
| Domestic Beer (1 pint draught) | $4.18 |
| Cappuccino (regular) | $3.25 |
| Loaf of Fresh White Bread (1 lb) | $1.08 |
| Water (1.5 liter bottle) | $0.58 |
| One-way Ticket (Local Transport) | $1.64 |
| Basic Utilities (Monthly) | $65.50 |
| Internet | $36.03 |
| Fitness Club (Monthly) | $49.13 |
| Apartment (1 bedroom) in City Centre | $782.41 |
Currency: Indonesian rupiah (Rp)
[erw_exchange_rates_widget lg="en" tz="0″ fm="IDR" to="EUR,USD,GBP,AUD,JPY,RUB" st="primary" cd="" am="15000″][/erw_exchange_rates_widget]
ATMs
Max Withdrawal: Rp 3,000,000
Withdrawal Fee: Rp 30,000 – Rp 50,000
Use of Credit Cards: Mostly Cash
Digital Nomad Personal Experience in Ericeira
Brimming with cobblestone streets and classic European charm, Ericeira is full of hidden treasures that are just begging to be uncovered. 
Like most digital nomads and tourists, I first discovered Ericeira when I decided to take a weekend break from Lisbon. There was something about this little town that gripped me at once and I knew without a shadow of doubt that I would be back. Indeed, I flew back the following year, all set for two gorgeous months in this quaint commune. 
At first glance, Ericeira appears somewhat underdeveloped, especially if you're used to Portugal's sprawling metropolises. However, I must say that the town did have plenty of coworking spaces, cafes, restaurants, and even co-living spots for those who would like to mingle with fellow nomads from all corners of the world. While I rarely had issues with Wi-Fi, it's always a good idea to have your own mobile data, especially if you're going to be on the move. The three main network operators in Portugal are: MEO, Vodafone, and NOS. 
While it's relatively easy to buy a local sim card in Portugal, your best bet would be to grab one from the airport or at a convenience store in Lisbon before heading into Ericeira. You may be asked to provide a copy of your passport for registration purposes. 
In terms of hospitality, I can assure you that you're going to meet some of the friendliest locals on the Iberian Peninsula. Indeed, the residents of Ericeira are always smiling and relaxed – not to mention always up for a chat. Scammers and touts are exceptionally rare in this part of Portugal and the fact that Ericeira has a very low crime rate only serves to enhance the overall sense of well-being that permeates the place.
Work in Ericeira
Owing to its rapidly developing digital nomad scene, Ericeira has plenty of coworking spaces and cafes where you can settle down for a productive day. The good news is that virtually everywhere I've been to in Ericeira – or Portugal for that matter – had fast Wi-Fi, so video conferencing shouldn't be an issue. 
I must say that I was also quite impressed with the complimentary Hot Spots offered by restaurants and coffee shops – perfect for digital nomads who are watching their budget. 
Below are some of the highest-rated coworking spaces in Ericeira. 
Best Places to Work in Ericeira
The Salt Studio Cowork Ericeira
With light-flooded rooms, Salt Studio Cowork Ericeira offers a comfortable setting, complete with ergonomic chairs, whitewashed rooms, and plants. This was my personal favourite place to work from in Ericeira, namely because it offered super high-speed Wi-Fi. 
If you want to check out the place, you can always get a daily pass for 15€. Digital nomads can also opt for a weekly membership for 63€ or a monthly one for 180€, including 24/7 access and a dedicated desk. Those who are planning on being in Ericeira for a long time can choose the 90-day pass which includes a private office. This will set you back 473€. 
Kelp Coworking Space Ericeira
Now, this is the place to be if you're looking to meet other digital nomads for collaborating opportunities. Packed with foreigners and locals alike, Kelp Coworking hosts regular workshops, some of which are entirely free to attend. 
Best of all, this agency commands a prime location near both Praia do Norte and Praia dos Pescadores. You'll also find a bakery and an organic food shop in the vicinity, although the coworking spot does provide a kitchen with communal space. There's also a lounge area and a terrace from where you can soak up the sun during your breaks. 
Boasting 1GB fibre, this coworking space has affordable packages, with daily passes costing 12€ per day. A weekly pass in the communal area will set you back 60€ per week while a monthly membership with a dedicated desk costs 160€/month. This also includes access to the meeting room and to two phone booths. 
The Base Cowork Space
Located in both Lisbon and Ericeira, The Base focuses heavily on creating a sense of community, so this could be another place you may wish to check out if you're looking for collaboration opportunities. They regularly host events such as 'Meet Up and Networking', 'New in Ericeira Breakfast', as well as Plus 1 Culture Class to ensure that digital nomads can connect and break the ice. 
What I personally liked the most about this place was its proximity to the beach – perfect for a sunset stroll after work! In terms of packages, you can opt for a one-day Drop In Member package if you only want to give this space a try. This costs 15€ for 24-hour access fuelled by complimentary snacks, tea, and coffee. 
Weekly passes run for 75€/week while a year-long Hot Desk membership will set you back 129€/monthly. Dedicated desks are slightly more expensive at 179€ per month. If you've got a team, you may wish to consider a private office with a lockable door that accommodates 8 to 10 people for 1,990€/month. Members can enjoy 24/7 access to this coworking space while non-members can sign in through the front desk which is open from 9am to 4pm, Monday to Friday. 
Sunago Coliving & Coworking House
Offering both co-living and coworking options, Sunago Coliving & Coworking House boasts a traditional Portuguese architecture with a dedicated workspace and plenty of lush greenery. You can work inside but when the weather's sunny – which is nearly always the case in Portugal – you can always carry your laptop outside to work on the patio. 
The communal area inside is fitted with floor-to-ceiling glass doors so rest assured that you'll still be able to soak up the views even on those rarer rainy days. If you're also interested in their co-living options, you can book a private room for around 50€ per day or share a room with another digital nomad for 25€ per day. 
In terms of coworking packages, nomads can choose from a daily pass of 10€ per day or weekly pass of 40€. Monthly passes cost 120€ and these come with a 24hr access as well as a personal desk. 
If coworking spaces aren't really your thing, you can also consider the cafes below to get work done: 
cafes
Cyber Café Forum São Sebastião

Open daily from 8am to 8pm, this café draws quite a large crowd of local and international digital nomads so you may wish to avoid mealtimes if you need a quieter work environment. Wi-Fi was excellent for a café, and I absolutely loved their scrumptious pastries. Service was admittedly a bit slow, but this did not bother me since I'd settled in for half a day.

Mama's Caffes Ericeira

Another popular spot for digital nomads, Mama's Caffes Ericeira is open from 9am to 7pm daily. This place is especially known for its wood-roasted artisanal coffee which, hands down, was the absolute best I tasted in Ericeira. I'll admit that Wi-Fi did fall short when it came to Zoom meetings but if you have your own mobile data, this certainly is an excellent place to get work done.

Amour Soul Space

Located on Tv. do Jogo da Bola, this is one of the rare few cafes in Ericeira that stay open until 2am, perfect for night owls like me. Prices are on the higher side, though if you ask me, it's totally worth it. Wi-Fi is also decent and fast enough for video conferencing. This place is known for its excellent vegan options as well.
Best Places to Live in Ericeira
Best Neighbourhoods
Ericeira may be on the smaller side, but there are still plenty of areas to choose from in terms of accommodation. Since the town's communes are within easy reach of each other, you'll be able to explore several regions before deciding where to drop anchor during your stay in Ericeira. 
Because of its size, Ericeira isn't officially split into actual neighbourhoods as such, but digital nomads can browse through its many streets, beaches, and areas until they find a place that matches their personal preferences. 
Here are some of the best rated areas in town: 
Downtown Ericeira
For me, this was my favourite part of Ericeira. Not only is this area known for its super-affordable accommodation, but you'll also be midway between the beach and the town centre. Additionally, you'll be close to various amenities such as bike rentals, restaurants, grocery stores, and the likes. Best of all, you'll be aptly positioned to visit Mafra and Sintra. 
Apartments in Downtown Ericeira usually cost around 600€/monthly for a one-bedroom place, although it's entirely feasible to rent a basic studio for between 450€ and 550€/monthly, especially in low season. 
Sao Sebastiao
Home to one of the most rugged beaches in Ericeira, Sao Sebastiao may be centrally located, but it's easily among the most laid-back areas of town, perfect for digital nomads who are seeking plenty of peace and quiet to work on creative projects. 
In fact, Sao Sebastiao beach is one of the few beaches in Ericeira that's not crowded. It doesn't even have a lifeguard or any of the regular facilities that you'll see on other beaches. While not at all popular among tourists, this beach is mainly frequented by professional surfers and local fishermen. If you're planning on booking an apartment in the vicinity, it's good to know that the beach disappears when the tide is high. 
Like virtually everywhere in Ericeira, Sao Sebastiao is quite safe, but the place does have a remote feeling that may be somewhat daunting to solo travellers. 
Casal da Camacha Street
If you're travelling to Ericeira with your kids, you may wish to consider settling on Casal da Camacha Street or its neighbouring areas like R. Do. Rego and R. Alto Da Camacha. 
Not only are these areas extremely popular among local and expat families alike, but this is where you'll find some of Ericeira's most popular schools like EB1 JI da Ericeira and António Bento Franco. Additionally, this family-friendly spot is home to Pão da Vila – Escolas, a quintessential Portuguese bakery which serves the very best Pastel De Nata that I tasted in the country. 
Over there, digital nomads will additionally find a couple of supermarkets – including an Aldi – as well as international fast-food chains such as Burger King. Casal da Camacha also offers plenty of kids-friendly activities such as municipal pools, parks, and several surfboard rental places.
Find an Apartment in Ericeira
The good news is that Ericeira is one of Portugal's most affordable communes, so there'll be plenty of inexpensive options to choose from. Indeed, digital nomads can browse through an abundance of both long and short term apartments, co-living spaces, and hostels. 
From my experience, it's relatively easy to find accommodation in Ericeira. Unlike other European provinces, the real estate market is not riddled with scams. Although it's still always a good idea to stay on your guard and properly read the contract before signing. If the contract is in the local language, I would strongly urge you to hire a translator or request a contract in English to make sure that you properly understand every single clause before signing. 
Now, while it's extremely easy to book your accommodation online before you even land in Ericeira, I would also suggest that you think about staying in a hotel for a couple of days while you check out various apartments in person before committing yourself, especially if you're going to be there long-term. It's also very important to know that long term rentals (3 months or more) don't usually include utilities so be sure to budget adequately. You may wish to test the building's Wi-Fi speed and reliability before committing yourself to the place, especially if you're going to spend a lot of time working from home. 
Digital nomads who can afford to splurge a little may wish to consider the trendy area of Fonte Boat dos Nabos where real estate prices range from 1,800€ to 11,000€ per month. These sprawling establishments usually offer gorgeous views and deluxe amenities like communal pools or hot tubs. 
For mid-range options, you can drop anchor in neighbourhoods like Ribamar which offer plenty of excellent surfing spots. Accommodation prices in this area usually vary from 730€ to 4,500€ per month. In the greater downtown area and neighbourhoods like Outeirinho, you can even land an apartment for around 450€ to 1000€. 
There are quite a few real estate agencies that you can contact to help you find an apartment in Ericeira. Some of the highest-rated ones include: A Casa das Casas – The Ericeira Real Estate, Live in Ericeira, ERA Ericeira, Ericeira Hills – Luxury Holiday Villas, and West Life – Mediação Imobiliária Lda.
Digital Nomads may also wish to sift through the many real estate posts on social media. The main advantage with social media is that you'll get to communicate directly with the owners and there won't be any agency fee involved. As such, you can also try to negotiate on the price. Some real estate groups that I can recommend include Casas Na Ericeira, Ericeira Freelancers and Digital Nomads, and Ericeira Area Room and House Rental Find and Seek. 
Another option would be to check out booking websites such as InterHome, 9Flats, Idealista, and Kyero.   The main advantage with these sites is that you can very easily compare various listings and make the right choice according to your personal preferences, budget, location, and other requirements.
Cheap Places to Stay in Ericeira
If you're travelling on a very limited budget, fret not. Ericeira does offer plenty of inexpensive accommodation that you can choose from. In fact, you may even consider Couchsurfing which currently has 157 hosts willing to open up their homes to travellers. 
Alternatively, you may wish to sign up for a work exchange program whereby you devote yourself to a few hours of work per day in exchange for complimentary accommodation. The type of work you'll be required to do usually varies according to the program you're signing up for, but most of the time, it involves administrative, farming, social media marketing, or translation jobs.  Popular options include World Packers, WorkAway, and Hopper Jobs. 
Digital nomads who don't mind shared accommodation can also consider staying in a hostel. These are pretty inexpensive in Ericeira and on websites like Booking.com, you'll even find hostels for as little as 14€ per night. On Airbnb, it's entirely possible to book a bedroom in someone's house for around 50€ per night, Wi-Fi and utilities included. 
When choosing your accommodation in Ericeira, it's also important to know that your choice of neighbourhood will have a direct impact on the price. For example, the Downtown Area is known for its affordable options where you can even find studios or small apartments starting from 50€ per night. To cut back on accommodation costs, some digital nomads even opt for a place on the outskirts of Ericeira. Accommodation in Mafra, for instance, can set you back between 45€ and 60€ per night.
Ericeira Visa
Since Ericeira is part of the Schengen Area, European nationals do not need a visa to enter Portugal. Similarly, US, UK, and Canadian citizens are also allowed to enter the country without a visa for stays of up to 90 days. Be sure to check out the Schengen website to determine whether you need a visa to enter Ericeira based upon your country of origin. It's good to know that you can also request a visa extension while in Portugal. In fact, I was told that it's actually easier to obtain a permit or a visa whilst already in the country so long-term nomads may wish to enter with a visa-free stay of three months and then request an extension. 
For your request, you'll need to fill in a Portuguese Schengen Visa Application Form and provide documents such as passport-sized pictures, a valid passport, confirmation of insurance, as well as copies of your former visas. In some cases, you may also be asked for proof that you have sufficient funds to sustain yourself in Ericeira for the duration of your trip. Self-employed individuals may additionally be requested to provide copies of their business licence, Income Tax Return, as well as a recent company bank statement. 
Depending on your country of origin, you may be asked for documents such as a copy of your return ticket as well as an invitation letter by a local host or proof of accommodation upon arrival.
Culture and Food in Ericeira
In true Portuguese fashion, Ericeira boasts a scrumptious cuisine with plenty of seafood on the menu, courtesy of the bountiful ocean that surrounds the commune. 
If you're used to Portuguese cuisine, you'll know that olive oil features as the base of just about every local dish and Ericeira is no exception. Given the country's spice trade history, you can also expect an extensive variety of spices, including the popular piri-piri – tiny, flaming hot peppers. 
Below are some classic Ericeira dishes that you absolutely can't skip during your stay in town: 
Bacalhau Com Todos
Bacalhau is often hailed as one of the most popular dishes in Portugal. While I had the fried version during my time in Porto, I never even knew there was a boiled version until a friendly waiter recommended it to me. 
I must say that at first glance, Bacalhau Com Todos didn't exactly look appetising: there on my plate, was a rather sorrowful looking piece of boiled fish next to what appeared to be bland chickpeas and potatoes. A plate of raw garlic cloves, parsley, and roughly chopped onion was plopped down next to it. After one bite of my plain boiled fish, I'd all but resigned myself to a pitiful lunch experience when my waiter told me that I should mix everything together with plenty of olive oil, salt, onions, and everything else. 
I tried it – and it was a game changer. Those formerly bland notes suddenly soared to life and on my plate was the most delectable fusion of flavours and textures. This is one dish that I ate over and over again during my stay in Ericeira so if you're planning on ordering it, just remember to properly dress it up with the provided condiments first! 

Polvo A Lagareiro
Loosely translated as 'Octopus roasted in olive oil', Polvo A Lagareiro combines everything that the local cuisine is best known for: olive oil and gloriously fresh seafood. The tentacles are either diced into bite-sized pieces or chopped into chunkier portions before being generously marinated in olive oil. It's then roasted with plenty of salt and garlic. 
I've had Polvo A Lagareiro twice, and both times it was served with roast potatoes. But, I've been told that it's also served alongside crusty homemade bread. If you'd like to try this dish – and I highly recommend that you do – brace yourself for a lot, and I do mean a lot, of olive oil. Most restaurants also place a bottle of cold-pressed olive oil next to your meal, just in case you'd like to drown the octopus some more!  
Now it goes without saying that the best place to try this dish is at an oceanfront eatery where you can be sure to have exceptionally fresh seafood. 
Feijoada à Portuguesa
Okay quick disclaimer: I did not taste this dish at a restaurant. Rather, it was prepared for me by my local friend's grandmother, so the sheer deliciousness of the Feijoada may just as well be linked to whatever secret ingredient that's been passed down in her family for ages. 
Having said that, I did hear that this is a staple in Ericeira, especially during those colder winter months. Loosely translated to 'Portuguese-style Black Bean Stew', Feijoada à Portuguesa is often mistaken for a Brazilian dish. But like every Portuguese will tell you, the stew first originated in Porto. 
Now, mine was made with red kidney beans, but I was told that variations may include white beans or even lentils. Additions usually include pork, beef, chorizo, Farinheira sausage and, for the more adventurous, blood sausage. Leftovers and seasonal vegetables are also often tossed in for an extra dose of heartiness. 
Since music lies at the very heart of the local culture, you can expect plenty of festivals and shows during your stay in Ericeira. Their local philharmonic, Filarmónica Cultural Ericeira, often hosts musical events in various neighbourhoods. 
In July, for example, this group usually organises various festivities to commemorate the Feasts of Santa Marta. If you're visiting during that time, expect three days of musical traditions throughout Ericeira, including impromptu street performances and plenty of homemade goodies being distributed for free. 
On the first of July, you'll also be treated to the annual Sumol Summer Fest, an oceanfront celebration that honours the town's skate and surf culture. Plenty of local and international hip hop artists usually fly out to Ericeira to partake in the festivities.  
Digital nomads who will be there in January can attend the popular Festival of the Drunk and as the name suggests, booze flows rather freely during this two-day event.
Ericeira Nightlife
Buzzing with young entrepreneurs and Lisboetas seeking to escape the hustle and bustle of the city, Ericeira has a surprisingly great nightlife for such a small town. If you ask me, the best thing about the local nightlife is the lack of crowds that you'll normally find elsewhere in Portugal – not to mention those quaint, hole in the wall places that offer a delightfully authentic experience! 
Rest assured that plenty of places stay open until quite late, especially on Wednesday, Friday, and Saturday nights. It's good to know that, unlike elsewhere in Portugal, Ericeira's nightlife is particularly buzzing on Wednesday evenings instead of the usual Friday nights. If you want to avoid the crowds, your best bet would be to head to a club on a Saturday evening.  
In terms of safety, I personally found Ericeira to be just as safe after dark as it is during the day but of course, it goes without saying, you should always be cautious when exploring a new area at night. 
Here are some of my personal favourite nightspots in Ericeira: 
Hemingway's Cafe Bar
As any local will tell you, this place is absolutely an institution in Ericeira. While it offers delectable Portuguese coffee during the day, Hemingway's morphs into a tiny cocktail bar at night, complete with lowlights, soft music, frosty pints, and sometimes even live entertainment. Prices are quite reasonable for such a popular spot. 
While you'll find plenty of small metal tables cramped inside, patrons usually spill out into the alley outside to enjoy the weather on balmy summer evenings while sipping on their drinks. Hemingway's Café Bar is open from 6pm to 1am, Tuesday to Saturday. 

Discoteca Ouriço
According to my local friends, this is one of the oldest discos in Ericeira – and probably one of the rare nightspots where you'll find senior citizens dancing until the early hours of the morning. Despite its older-than-average patrons, this ocean-facing disco is hailed as one of the liveliest in Ericeira. 
This is also one of the rare establishments in town that literally stays open all night. In fact, it doesn't even open until 11pm and closes at 6am. If you're going there, I can absolutely recommend their Pisco Sour. Drinks are admittedly on the more expensive side, but I would say that the experience is totally worth the splurge. 
Ericeira Bar Pedro Pescador
An upscale lounge bar located on R. Dr. Eduardo Burnay Street, Ericeira Bar Pedro Pescador is open every day from 9pm to 3am. Because this place is more upscale than other nightspots in Ericeira, drinks and tapas are a bit more expensive. And while there's no official dress code, I did notice that most patrons dressed up. 
With soft purple lighting and an extensive selection of cocktails to choose from, Ericeira Bar Pedro Pescador often hosts special Art-themed evenings where local artists can showcase their work. Since it's quite popular among expats, this would also be the ideal place for digital nomads looking for networking and collaborating opportunities.
Things to do in Ericeira
Okay, here's the thing about Ericeira: while tourists usually like to vacation in the larger Portuguese areas like Lisbon, Algarve, or Porto, Ericeira is the holiday destination of choice for locals. As such, expect summers to be quite crowded and noisy, perfect for soaking up that distinct Portuguese vibe! 
Because it's a prime holiday destination in the country, you can be sure that there's plenty to see and do in this charming seaside community. Here are just a few of my favourite activities in Ericeira: 
Take Surf Lessons

A local friend told me that Ericeira is one of the best-kept secrets in the surfing community – at least as far as tourists are concerned: indeed, while most international tourists usually flock to the Algarve to brush up on those surfing skills, locals normally head to Ericeira. In fact, back in 2011, the town was actually recognized as Europe's Only World Surf Reserve and as such, the coastline is protected by the Save the Waves Coalition. While virtually all local coastlines offer terrific waves, locals tend to favour spots like Pedra Branca, Crazy Left, Cave, Ribeira de Ilhas, Coxos, Reef, and Sao Lourenco. Don't worry if you've never surfed before: I can assure you that there'll be plenty of lessons geared for beginners. In my experience, most surf lessons last around two hours, including theory, warm-up, actual practice, and feedback. Since it would be pretty unfathomable to head to Ericeira and not surf, here are some of the best rated surfing schools that you can consider during your stay:

Located on Praia do Matadouro Estrada Nacional Beach, this surf school is open daily from 9am to 7pm. Along with surfing classes, this company also hosts Stand Up Paddling and Body Boarding lessons. Single classes cost 30€ per person but you'll also find discounted family packages.

Ericeira Waves

Open daily from 9am to 8pm, Ericeira Waves usually holds lessons on Praia de Ribeira d'Llhas beach. This school offers various packages, such as a kids group lesson for 60€ per class or a group session of 160€ for five persons. Adult group lessons start from 40€ per person while private sessions will set you back around 90€ per person.

Surf Riders Ericeira

 Located at Rua do Carmo, Surf Riders Ericeira is made up of a vibrant team of surf-obsessed locals who offer surf and yoga lessons, as well as a surf camp for the more dedicated. This actually ended up being my favourite surf school in Portugal, namely because lessons were so exceptionally affordable. In fact, a beginner's class only costs 30€ per person. You also have the possibility of booking a half-day or full-day Surf Safari.

Take a Day Trip to Sintra

A quintessential Portuguese Town, Sintra is nestled within the gorgeous Serra de Sintra hills. Since it's just half an hour from Ericeira, this town is dotted with historic buildings such as the Castelo dos Mouros, the Quinta de Regaleira, the Palácio Nacional de Sintra, as well as the Palácio Nacional da Pena, which is my favourite site in Sintra. This Portuguese town is also reputed for its excellent shopping opportunities. Believe me when I say that there's nothing quite like the thrill of touring a traditional open-air market in Sintra, serenaded by live music juxtaposed by the loud announcements of the stallholders. The municipal market is particularly vibrant with colourful rows of textiles, fresh produce, and souvenirs. Now if you have some time to spare, you may even consider spending a weekend in Sintra which is especially renowned for its super-affordable accommodation. Personally, I took a bus from Ericeira which cost around 2.70€ for a 50-minute journey, but if you're not on a strict budget, you can always get a taxi which will cost 40€ for a 20 to 25-minute trip.

Go on a Wine Tour

Ericeira is known for its excellent wines so, if like me, you happen to be something of a wine aficionado, believe me when I say that you'll be spoilt for choice. The area is brimming with some of Portugal's best wineries and most tours are relatively affordable. Personally, I opted for a wine tasting bike tour that took us through the countryside and into the scenic town of Cheleiros where we explored the vineyards and sampled no less than six wines. This particular region is known for its Jampal, a unique variety of grape used in the local brews. If you're planning a similar tour, I would recommend that you set aside around two hours for the trip and 90 minutes for the actual wine tour. Do remember that you'll be biking for two hours. And while we did stick to a comfortable pace, make sure that your fitness level will be up for the tour. Alternatively, you'll find plenty of regular wine tours that you can book if you want to skip the whole biking thing. I can also recommend the many wineries at Mafra, located just ten minutes from Ericeira. Popular options include Vinho Comigo, Terroir BioWines & Spirits and Ramilo Wines.
Explore the Many Beaches

Well, if there's one thing that puts Ericeira on the map – other than its spectacular surf spots – it's no doubt its extensive array of gorgeous beaches. In fact, locals will proudly tell you that Ericeira has the very best beaches in all of Portugal. Now, if you happen to be staying near the town centre, fret not: Ericeira is a relatively small commune, so you'll find no less than five beaches within walking distance. The first time that I visited Ericeira was in summer, so the major beaches were always crowded. I'd all but resigned myself to squeezing through throngs of people until I found a small spot to lay out my towel when I discovered Praia de São Julião Beach, an absolute gem of a place located in Mafra, just ten minutes away. With towering sand cliffs, this beach was surprisingly tranquil and far less packed than others. Owing to its natural beauty, this place is also popular among photographers and influencers. When the sea's rough, it's not uncommon to see locals wading out in the water with their surfboards. But if you're looking for a less-crowded shoreline, this is definitely the spot.
Alternatively, you may also wish to check out Praia dos Coxos and Ribeira d'Ilhas, which just so happens to be an excellent surfing spot for beginners.
Best Time to Visit Ericeira
While it's located next to the Atlantic Coast, Ericeira has its own microclimate which runs about 3 to 5 degrees colder than the capital city of Lisbon. Because it's windier than elsewhere in Portugal, summer is fairly tolerable in Ericeira. 
High season normally runs between July and August when summer's at its peak, but if you would like to avoid the crowds, you may wish to head there between May and October. The weather is still warm during this time, but there'll be less tourists than usual because evenings tend to be a bit cooler, so be sure to pack adequately.
Digital nomads who are going to Ericeira to surf should preferably head there from September to November to enjoy some truly spectacular waves and sunsets. Now, if you're travelling on a tight budget, you can always check out Ericeira in the winter (December through March). While the weather will be no doubt cold, humid, and rainy, you'll benefit from the very best deals in terms of accommodation and tours. This is also the ideal time to avoid the crowds, so rest assured that you'll have the beach to yourself in winter.  
Spring in Ericeira normally runs from May to June and this is the prime time to go cliff diving if that's your thing. Not only are the waves perfect for this thrilling activity, but you'll be treated to gorgeous cliff views before your jump. Spring is also ideal for biking and hiking across town. Ericeira looks especially wondrous in spring since all the fruit trees and flowers are blooming. And while this season does bring a bit of rain, I would say that it's entirely worth it.
Ericeira for Families
In the interest of full disclosure, I'll admit that I did not travel to Ericeira with my family, nor do I have kids. However, it didn't take me long to notice that the town beautifully caters to the little ones. Most restaurants had a child-friendly menu, and kids-oriented products were readily available in all drug stores and supermarkets.
Families who are planning on staying in town for a long time may wish to consider sending their kids to private schools. Public schools usually conduct classes in the local language so this may be an issue if your kids aren't fluent in Portuguese. 
Unfortunately, there aren't quite that many English-speaking schools or day-care centres in Ericeira, with a few exceptions such as the International School of Torres Vedras, located in the northern area of town. As such, digital nomads usually choose to home-school their kids. 
Another option would be to give your kids a crash course in Portuguese prior to enrolling them in a local school. It's important to know that parents will be asked to produce their child's vaccine booklet as well as a National Health System Number (available once you've completed three months in Portugal).  Some schools may also request a Registration Certificate from a local doctor. 
On a more positive note, Ericeira is practically brimming with an assortment of family-friendly activities bound to thrill adults and kids alike. As one of the best surfing spots in Europe, you'll certainly find plenty of surf schools for all ages and activity levels.
If surfing's not your thing, however, you may wish to check out Claustrophilia Ericeira which, despite its ominous-sounding name, is basically a fun escape game that draws plenty of local and international families alike. Located in Largo Santa Marta 19, Claustrophilia Ericeira is open every day from 9am to 10pm. 
Alternatively, you can also take the kids to Santa Marta Park, a waterfront playground with plenty of thrilling activities, including ice-skating, mini-golf course, tennis courts, and more. This place is open from 8am to 10pm Monday through Friday and from 8am to midnight on the weekend.
Living in Ericeira
Ericeira Transportation
Since Ericeira is basically a tiny Fishing Town, it's relatively easy to walk around and enjoy the views. In fact, I was pleasantly surprised to realise that plenty of beaches were within walking distance to each other, including the popular Praia dos Pescadores and Praia do Sul. The town also has a pretty good public transportation system that links Ericeira to the airport, Sintra, and Lisbon city centre. 
I do have to point out that unlike more developed places like, say, Lisbon or Porto, the roads in Ericeira are narrower and I noticed that some people tend to drive pretty recklessly, so it's always a good idea to double up on vigilance if you're renting a car. The roads are in fairly decent condition, but there may be the occasional pothole that you'll need to watch out for. Digital nomads should also remember that cars drive on the right side of the road in Portugal, and you'll need to keep a valid licence on you at all times. 
Another important thing to bear in mind – especially if you're travelling with your family – is that kids less than 1.50 metres in height and under 12 years old are not allowed to travel in the passenger seat at the risk of being fined.  
Here are some of the easiest ways of getting around in Ericeira: 
Bus
If you're coming into Ericeira directly from the airport, you can always hop on a metro to Campo Grande for less than 2€. From Campo Grande, it's quite easy to get a bus that will take you directly into Ericeira for 6€. You can look up the bus schedule on the official website. 
If you're visiting Ericeira in high season, you can always take the Ericeira Beach Bus to get around town. While this bus is only operational during high season, it does connect all the best beaches and runs from 9am to 8pm. Tickets usually cost between 1€ and 2€. Given the dominant surfing culture in Ericeira, you'll find that buses are often equipped with board racks for your surf boards so don't hesitate to bring your gear along. 
Uber & Taxis
Not only is Uber available in Ericeira, but I never once had a driver cancel on me so I would say it's pretty reliable. The service is available round the clock and most fares should only cost between 3€ and 6€. 
While locals usually opt for Uber to get around Ericeira, I noticed they tend to rely more on regular taxis for out-of-town trips like Lisbon. This 40-minute journey usually costs between 85€ and 110€. 
Bikes
Most locals tend to go around on their bikes, so you'll see bike lanes just about everywhere in Ericeira. In fact, biking is so popular in town that plenty of agencies offer bike tours to explore some of the most popular attractions. Prices normally start at 10€ per day. 
Some of the highest-rated bike rental agencies in Ericeira include: 
Fitness and Health
It didn't take me long to realise that, compared to literary Porto and artsy Lisbon, Ericeira has a very distinct fitness culture. People there are very health-conscious which may explain the sheer number of diet-friendly options available on most menus. Heavily processed ingredients are simply not acceptable over there and kids often (willingly) have fruit or chopped up raw vegetables as their after-school snack. 
Locals are heavily into surfing and jogging so you'll often see them flocking to the beach in the early hours of the morning or in the afternoon. Mountain biking also seems to be quite popular in Ericeira, but most locals tend to save these expeditions for the weekend. 
Owing to the town's sheer adoration for fitness, you'll certainly be spoilt for choice when it comes to gym memberships. Here are just a few that I can recommend: 
Well, here's one that seamlessly offers the best of both worlds. Open daily from 9am to 9pm, this place offers yoga and surf-skating classes. Meditation and massage sessions are also available.

Rep Centro de Fitness Ericeira

This fitness centre offers all the usual gym equipment with some interesting classes such as boxing. Best of all, you'll be trained by former boxing champions and you may even get to challenge them to a match once your instructor thinks you're ready. They also offer personalised coaching, sports massages, as well as cross training and surfing lessons. This gym is open every day from 7am to 10pm and you can send in a quote request through their social media page.

Sandhi House

This guesthouse offers yoga and well-being retreats to suit various schedules and budgets. Their most popular package is the 3-Day Getaway Retreat (320€) which features 2 to 3 yoga classes per day, massages, breakfast, and accommodation. If you've got more time to spare, you can also opt for the 5-Day Wellbeing Getaway for around 510€ or the 7-Day Work, Inspiration & Selfcare Getaway which is priced at 650€ per person.
Ericeira People
Digital nomads who are planning on doing business in Ericeira should know that locals aren't exactly sticklers for punctuality. In fact, it's not surprising for them to arrive 5 to 15 minutes late to a meeting. Written documentation is considered extremely important in Portuguese culture, so it's always a good idea to bring along handouts to your meetings. 
As far as greetings are concerned, a firm handshake is often the way to go in a formal setting. Friends, relatives, and acquaintances usually give each other an air kiss behind each ear, beginning with the right one. While this is more common between women, men tend to greet each other with a handshake followed by a quick hug. 
When talking to the elderly, it's considered poor form to address them by their first names. Instead, you should call them 'Senhora' (Mrs.) or 'Senor' (Mr.). Wait for them to extend their hands or lean in for a kiss and a hug before returning the gesture. In Ericeira, and virtually everywhere else in Portugal, senior citizens are treated with the utmost respect. As such, it's not uncommon for grandparents to live with their adult kids in their later years. At mealtimes, grandparents are often served first and waited on until they finish their food.
In fact, the family unit in Portugal lies at the very core of the country's social structure which is why you'll often see relatives living on the same street. The Portuguese also happen to be some of the warmest and most hospitable people I ever met in the course of all of my travels. I was even invited to a local fisherman's house for dinner and even though it was fairly obvious that they weren't exactly a wealthy family, they left no stone unturned to prepare an absolute feast for me – all with the sole aim of making me feel welcome. 
During my stay in Ericeira, I quickly came to the realisation that the Portuguese don't merely look after each other, but they also look after foreigners too. Not unlike exceptionally hospitable countries like Japan, locals in Portugal will more often than walk or drive you to your destination if you ask them for directions. Contrary to bigger Portuguese cities like Lisbon or Porto, I also did not encounter any tout in Ericeira, nor was I harassed by vendors to buy something from them. 
Additionally, I was pleasantly surprised to realise that taxi drivers would often take shortcuts to quickly get me to my destination, even though it had a direct impact on the metre, and consequently, their fare. I must say that this was a nice change from most of my taxi experiences in Europe, whereby drivers would often take impossibly long routes in a bid to charge me more. 
Now, if you really want to connect with the Portuguese and integrate the local community, you may wish to learn the following phrases before flying out: 
Ola/Oi

: Hello 

Bom Dia

: Good Morning 

Boa Noite

: Good Night

Boa Tarde

: Good Afternoon 

Por Favor:

Please

Prazer:

Nice to meet you 

Obrigado:

Thank you 

De Nada

: You're welcome 
Com licença: Excuse me
Ericeira Insurance and Medical Care
Because Portugal has a tax-funded public healthcare system, basic medical services are free for both locals and EU citizens with a valid EHIC (European Health Insurance Card). In some cases, citizens of select EEA countries (European Economic Area) are also entitled to free healthcare in Portugal. 
Now, here's the not-so-good news: it's not exactly easy for digital nomads and non-European citizens to access the local public healthcare since they do not pay social security and aren't employed in the country. Expats must sign up as legal residents before receiving free healthcare while remote workers will need to get private health insurance. 
A lesser-known fact is that the Portuguese healthcare system is actually considered among the best in the world and ranks even higher than the United Kingdom in terms of health outcomes, accessibility, waiting times, and information. As such, you can expect excellent ambulatory care in case of an emergency. 
The great majority of doctors and nurses in Ericeira understand English, so language shouldn't really be a barrier. I do need to point out that since it's a small town, hospitals in Ericeira mostly offer basic treatments and serious cases are often transferred to Lisbon. The main healthcare centres in and near Ericeira include USF Ouriceira and Cintramedical Clinic – Ericeira.
As far as medication is concerned, I noticed that there are plenty of drugstores and pharmacies in Ericeira. You'll also find international names like Well. Vitamins, supplements, and painkillers like paracetamol are available over the counter, but you'll need to provide a doctor's prescription for sleep aids and the likes. 
Make sure you are fully covered by reading our full Digital Nomad Travel Insurance guide.
Jobs in Ericeira
Okay, I'm not going to beat around the bush here: it's not exactly easy for expats or digital nomads to land a job in Ericeira. Like I've said before, this is a very small town and locals often have to migrate to larger, more developed Portuguese cities to land a job. The average salary in Ericeira hovers around the 700€ mark. 
Another important thing to keep in mind is that it's illegal to work in Portugal without having a work permit and all the necessary documentation. If you're caught working without proper papers, you risk being fined, deported, and your visa revoked permanently. 
Now, if you have your papers in order and want to try your luck at landing a job in Ericeira, your best bet would be to apply for a position in the hospitality sector. Bonus points if you happen to be bilingual. Local lodges and B&B's are often on the lookout for staff that are fluent in English, French, or Spanish so it's worth checking out various establishments to see if they're hiring. 
Alternatively, you can also consider working as an English tutor on the side to pad your income: Portuguese high-school students or graduates often take crash courses in English before applying to British universities so if you've got a teacher's diploma, you may wish to look into that. 
When browsing for jobs in Ericeira, it's always worth checking the local newspapers and job seeking websites such as LinkedIn, TipTop Jobs, Glassdoor, and Indeed.
Check out our Digital Nomads Jobs Postings to find the best jobs available for Digital Nomads.
Nomad Friendly
Value for Money
Internet
Workspace
English
Food
Safety
Health
Transportation
Friendly
Quality of Living
Cost of Living Ericeira
All things considered, Ericeira easily ranks among one of the most affordable places to live in Portugal so it's an ideal destination for backpackers or digital nomads who are trying to curb their expenses. 
Food is super affordable in Ericeira so you can very easily get a Pastel de Nata and a coffee for as little as 2€ while a regular meal in a restaurant will set you back around 10€ to 15€. If you're planning on eating in, expect to spend around 200€ to 350€ monthly on groceries, depending on where you shop. 
I personally budgeted around 200€ per month for entertainment, but to be honest, you could easily get by on 100€/month or less since you can indulge in an abundance of free activities, including hiking Ericeira's picturesque trails or snorkelling in its wonderful lagoons. 
Transportation is just as affordable with most tickets costing around 1€ to 2€. If you're planning on visiting Lisbon on a regular basis, you may wish to budget around €500/month by taxi or 75€/month by bus. Alternatively, you can also hire your own car for around 420€/monthly, but like I mentioned before, Ericeira is a pretty walkable town with an excellent bus service so there's really no need to get your own vehicle unless you're planning regular out-of-town trips. 
As far as accommodation is concerned, you may wish to set aside 450€ to 1000€ for a small apartment in the downtown area or between 600€ to 2000€ in a more affluent neighbourhood. Utilities such as garbage collection, water, electricity, heating and cooling should come to around 60€ per month while internet normally comes to around 33€/monthly. 
As such, a month in Ericeira should come to around 1,200€/person per month which is approximately $1,300.