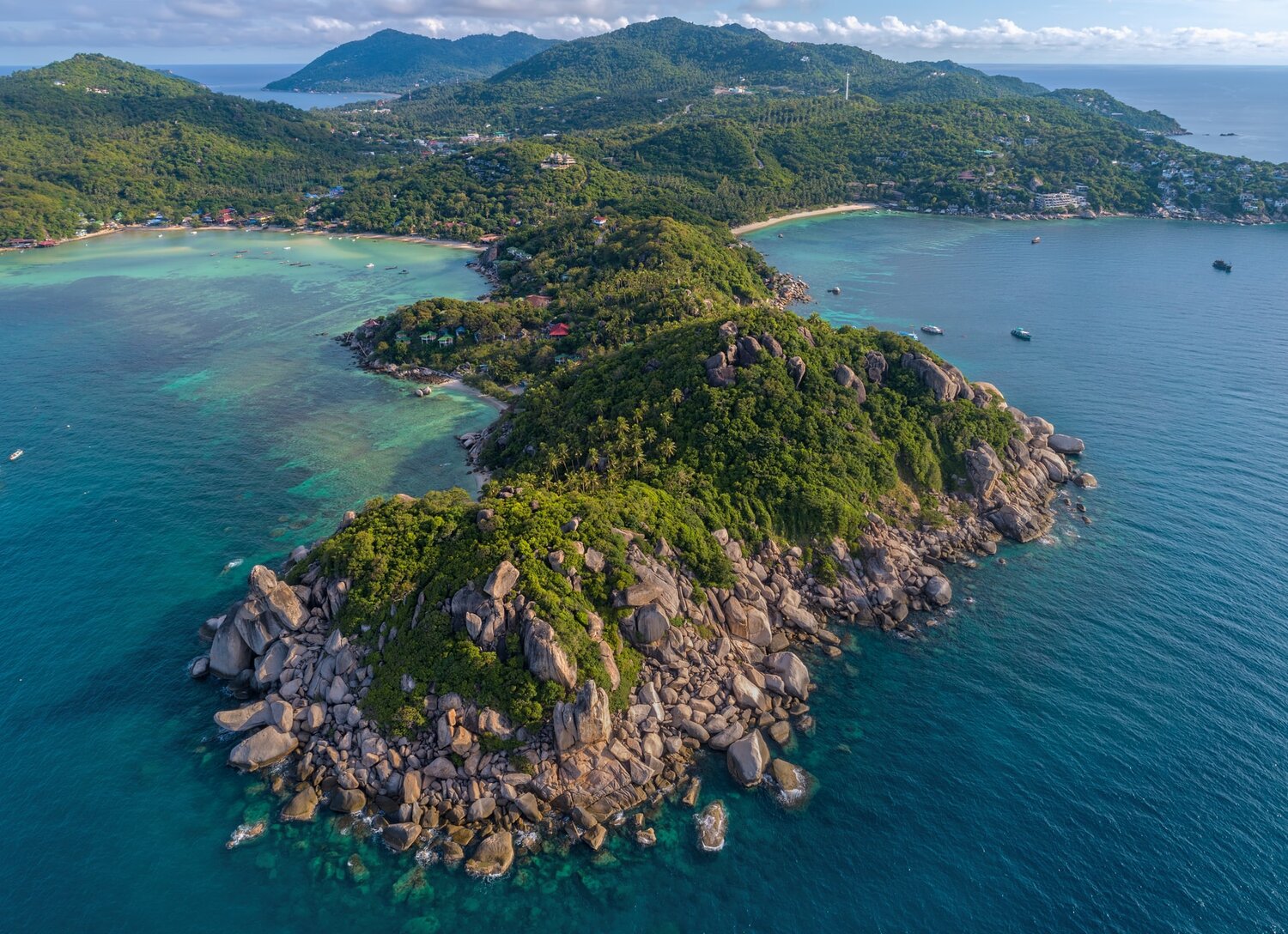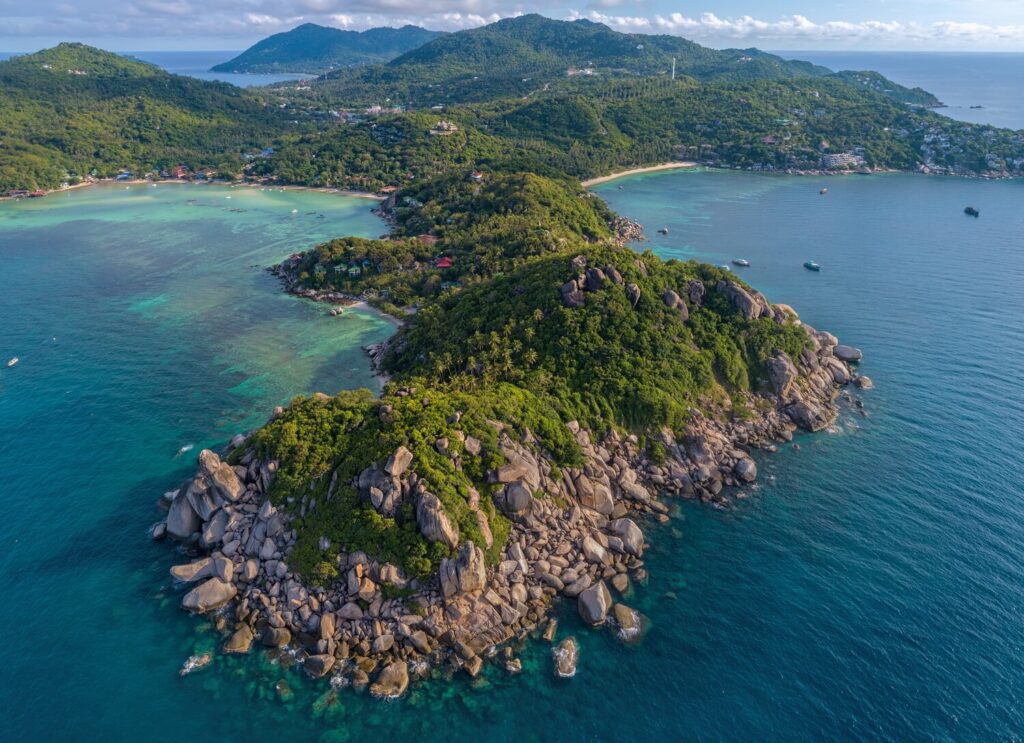 A Digital Nomad Guide to Koh Tao
More and more people are choosing to become location independent by moving to the Land of Smiles (and pad thai noodles). However, Thailand's east coast continues to fall under the category of off-the-beaten-track travel destinations. A small exception to this though, is the Samui Archipelago of Islands. Located on the East Coast, the set of three islands is gradually coming into the limelight. The arcipelago includes the diving island of Koh Tao, the partying island of Koh Phangan, and Koh Samui—an island known for its high-end resorts and spas.
Of the three, Koh Tao seemed to suit my needs and interests best. The smallest of the three islands, Koh Tao is no less than a utopian destination with a world of its own. It may have been a "sleepy" town years back, but today, Koh Tao provides for divers, beach bums, party enthusiasts, and digital nomads in equal measure.
What's more, despite being a small town with no airport of its own, Koh Tao is quite easy to reach. One can either fly down to Koh Samui, or hop onto an overnight train/bus to reach Chumphon. No matter what mode of transport you opt for, the last leg of your trip will require you to board a 2-3 hour long ferry.
Koh Tao is a sparsely populated island, with just a few thousand inhabitants. Back when it was completely uninhabited, the island has also served as a political prison—something I learnt from a Thai friend who was studying history in Bangkok.
The name "Koh Tao" translates to "Turtle Island"—a name given by local fishermen who described a turtle shape while looking at the island from their boats. Naturally, Thai is the most commonly spoken language here. But due to an ever-growing expat population on the island, English is being spoken by more and more people, thus making travel easier.
The cost of living in Koh Tao isn't extravagant, the weather is warm & tropical all through the year, the locals are warm and welcoming, and most importantly, internet connection is decent.
The first time I visited Koh Tao was when I knew…the island had great potential of becoming a hotspot amongst the digital nomad community.
Nomad Friendly
Value for Money
Internet
Workspace
English
Food
Safety
Health
Transportation
Friendly
Quality of Living
Living in Koh Tao Overview
| | |
| --- | --- |
|  Meal, Inexpensive Restaurant | $2.42 |
| Domestic Beer (1 pint draught) | $2.30 |
| Cappuccino (regular) | $2.05 |
| Loaf of Fresh White Bread (1 lb) | $1.26 |
| Water (1.5 liter bottle) | $0.48 |
| One-way Ticket (Local Transport) | $3.03 |
| Basic Utilities (Monthly) | $51.34 |
| Internet | $18.63 |
| Fitness Club (Monthly) | $48.48 |
| Apartment (1 bedroom) in City Centre | $371.19 |
Currency: Indonesian rupiah (Rp)
[erw_exchange_rates_widget lg="en" tz="0″ fm="IDR" to="EUR,USD,GBP,AUD,JPY,RUB" st="primary" cd="" am="15000″][/erw_exchange_rates_widget]
ATMs
Max Withdrawal: Rp 3,000,000
Withdrawal Fee: Rp 30,000 – Rp 50,000
Use of Credit Cards: Mostly Cash
Digital Nomad Personal Experience in Koh Tao
Throughout my 8-month stint in Thailand, the islands on the country's west coast seemed like the big thing. Phuket, Krabi, and Phi-Phi were touted as must-visit islands by locals friends, by tourism companies, and by travel blogs alike. I see why the three islands had their charm. Along with being exceptionally beautiful, they were quite easy to get to from Bangkok, as well as cheap to travel around due to being fairly developed for tourism.
As for me though, I'm generally more than happy swapping convenience for the chance of exploring a lesser-known, quieter destination. And so, I did some research on the east coast i.e., the Gulf of Thailand. This is when I learnt about the East Coast Thai Islands of Koh Tao, Koh Phangan, and Koh Samui. After conducting some research, I zeroed in on Koh Tao as my next destination.
I can't hide it. I love Koh Tao.
The island has a large community of expats,  delicious food—both Thai & Western, a relatively low cost of living, and is also one of the best diving sites in Asia. Naturally, Koh Tao is highly spoken of by divers and those with a particular liking for the water life.
But guess what? I'm neither of those. In fact, I don't even know how to swim. And despite that, Koh Tao managed to make me want to write a long guide about it.
What I liked the most about Koh Tao was the balance it had to offer. Whether you're into adventure water sports or quiet days by the beach, into a party-heavy nightlife or stargazing, and whether you're into solo-tripping or mingling around with fellow digital nomads, Koh Tao won't disappoint.
Koh Tao was where I went scuba diving for the first time, where I landed my first writing gig while travelling in Thailand, and also where I had the best vegetarian burger in the country.
Why Koh Tao is not as popular a destination for digital nomads yet is beyond my understanding.
Work in Koh Tao
If you're looking to work more than play, I'd recommend you to steer clear of Koh Tao. However, if it's the other way round, or a healthy balance you're looking to strike, Koh Tao might just be your next favourite destination for working remotely.
Now, if you're a digital nomad or in the process of becoming one, you're going to need an internet connection—there's no two ways about it. Back when I visited Koh Tao (in 2019), the island was home to just one co-working space.
As for me, since I'm a freelance writer, my work didn't demand high-speed Wi-Fi connection all the time. And so, I did not face many issues. Plus, since the island enjoys a strong 4G data signal, I got myself a local SIM card with an unlimited data plan, and used it as a hotspot for my laptop. The plan cost me around 1,500THB (47 USD), which wasn't a bad deal since this allowed me to work from anywhere on the island.
[You can purchase a sim card at any 7eleven—a convenience store you'll find in almost every part of Thailand. Also, if you're visiting for just a few days, my advice to you would be to consider buying the dtac Happy SIM Card. It offers spectacular data plans for shorter timespans, is cheap, and has an English-speaking customer support.]
All that being said, owing to Koh Tao's rapidly growing popularity over the recent years, a few cafes with decent Wi-Fi have cropped up here.
Best Places to Work in Koh Tao
Starting with the co-working space, here's a list of my personal favourite places you can work out of when in Koh Tao:
Tao Hub
The only co-working space in Koh Tao, Tao Hub is situated in one of the most populated and touristy areas of the island—Mae Haad Pier. Tao Hub is pretty basic. It's got tables, office-type chairs, a couple air-conditioned rooms, and a large outdoor area. Like many other coworking spaces, Tao Hub too, focuses on community living & development. It's always a great idea to stay up-to-date about upcoming events in the space such as yoga sessions, movie nights, and friendly ping-pong tournaments. In fact, events like these proved to be one of the best ways to meet & break the ice with fellow digital nomads for me.
Needless to say, Tao Hub offers a stable and high-speed Wi-Fi connection. Basics such as water, tea, and coffee are free. What's more, the space is open 24/7 throughout the year.
Personally, although my productivity levels while working from Tao Hub were great, I paid 500 THB/day (15 USD/day)—a price I found to be pretty steep. But if you're planning to visit more regularly, you could definitely try to strike a better deal. I had friends in Koh Tao who were playing 5000 THB (150 USD) or less for the entire month.
The Coffee House
Although service is a little slow, this is a fine place to catch up on some work while sipping on coffee. Along with fast Wi-Fi, the Coffee House has air-conditioning.
This is a Book Cafe
If you need peace & quiet to get work done, This is a Book Cafe is ideal for you. It has no distractions around, has comfortable seating, and offers delicious sweets & drinks.
Cafe Culture
Having a relaxed day at work? Head over to Cafe Culture, situated by the sea. I remember taking quick dips in the ocean every time I took a break from work. And as if that weren't enough, Cafe Culture has vegetarian, vegan, and gluten-free food options too!
Coconut Monkey
Coconut Monkey was hands down my favourite place to work from in Koh Tao. The coffee here is delicious, and so are the smoothies. That's not it! This was also one of the cheapest cafes I visited in Koh Tao [read 60THB (1.8USD) for 2 poached eggs and toast].
Tip: If you're somebody who likes working from different cafes everyday, I'd highly recommend staying close to the Mae Haad Pier, since a lot of the good ones in Koh Tao are situated here.
Best Places to Live in Koh Tao
Best Neighbourhoods
Given the tiny size of Koh Tao, one might naturally think that it doesn't offer many options when it comes to picking a neighbourhood to reside in. Surprisingly though, there are about 4 central areas in Koh Tao, all of which cater to very different needs.
So that you can zero in on the neighbourhood most suited to you, I'd advise you to ask yourself some questions. For instance, do you want to work from your room or from cafes? Do you want to engage in adventure watersports regularly? Do you prefer a jungle setting or a by-the-beach vibe? Would you rather walk to wherever you need to be, or would you be okay renting a two-wheeler? Are you a party person or do you prefer the peace and quiet? And of course, how much money are you willing to shell out?
From super cheap only-fan-and-cold-water rental rooms to private villas overlooking the ocean, Koh Tao has a wide range of options to suit your budget. As a general rule of thumb, remember that accommodation of any sort is cheaper in the jungles, and much pricier by the beach.
The Neighbourhoods in Koh Tao
Mae Haad
Mae Haad is the port town of Koh Tao. In other words, this is where you'll enter the island from. Mae Haad doesn't have much of a beach, but this is compensated by a number of other factors. If you choose to reside here, you will have easy access to everything you need—supermarkets, travel agencies, cafes, bars, restaurants, rental agencies for two-wheelers, as well as the only coworking space of Koh Tao. A number of hotels, guesthouses, and hostels are also concentrated in this area.
I was pretty tempted to stay in Mae Haad due to the convenience it offered, but the noise and the crowds were a huge turn off for me. If you too, prefer a quiet place like me, you might want to consider the next three options.
Sairee Beach
A 15-minute walk from Mae Haad will bring you to Sairee. Home to the most popular beach, Sairee isn't free from crowds either. However, I didn't find the crowds to be as bothersome because the beach here is long (about 1,500m) as well as wide, thus making it able to accommodate huge crowds. Sairee is known for its nightlife, bars. clubs, and full moon parties. While I'm nowhere close to being a 'party person,' I did enjoy heading to a seaside bar and enjoying a drink during sunset every now and then.
This neighbourhood is also home to some of the best diving centers in Koh Tao. So, if you'd want water sports to be a major part of your life, I'd highly recommend parking yourself in Sairee.
Chalok Bay
On days that I simply wanted a quiet place to be or watch a peaceful sunset away from big crowds, I'd make my way to Chalok Bay. Chalok offers spectacular views of Koh Tao's neighbouring islands—Koh Samui and Koh Phangan. Good part is, the bars and restaurants of Sairee are still pretty accessible. So, Chalok ends up giving you the best of both worlds.
Tanote Bay
Tanote Bay is the most populated, and perhaps the only place you can live on Koh Tao's east coast. However, most populated here by no means implies busy. Although Tanote Bay is connected by a concrete road, it is quite far. The distance is made up for by beautiful scenery, white-sand beaches, and turquoise waters. Tanote is surrounded by lush green hills, and is a great location to go sea kayaking, hiking, and rock jumping.
In a nutshell, if convenience and affordability come first on your priority list, I'd recommend you to pick between Mae Haad & Sairee Beach. On the other hand, if you want to be closer to nature, prefer solitude, and can afford to rent a private space, you should definitely consider Tanote or Chalok.
Tip: if you're keen on meeting and networking with fellow digital nomads, avoid staying in the two bays.
Find an Apartment in Koh Tao
First things first, narrow down on a neighbourhood based on your interests, demands, and budget. This will narrow down and simplify your hunt.
Now, while this may sound impractical, what helped me find an apartment in Koh Tao was to simply walk around, enquire, and keep my eyes open for any 'for rent' signs. While doing so, I came across Tommy Resort—a three-star resort located somewhere between Mae Haad and Sairee. The rooms were pretty basic and there wasn't much of a view, but I was able to crack a pretty good monthly deal with the owner.
If you'd rather have your stay finalised way before you get to Koh Tao, I'd recommend looking at Facebook groups. Simply search 'Koh Tao houses for rent,' and a bunch of groups will show up. The good thing about Facebook groups is that you might even be able to find somebody like-minded to share an apartment with. For all the womxn reading, I'd suggest you join a Facebook group called 'Host a Sister.' If you're lucky, you might be able to find a womxn in Koh Tao who's willing to host you for a couple days, or even weeks.
You can also, of course, find an apartment through a local agent. Alternatively, websites such as Booking, Remax, HomeToGo, and Agoda might help too. However, as per my experience, these options won't land you the cheapest deals.
As per me, the best thing to do is to check yourself into a hostel or an Airbnb for the first week. Take this time to get accustomed to the different neighbourhoods in Koh Tao, and to do your research on available rentals. Who knows? Maybe, you'll find a job that gives you a place to stay along with some cash.
The Cost of Renting an Apartment in Koh Tao
Accommodation costs in Tanote and Chalok are generally much higher than in Mae Haad and Sairee. One reason for this is obvious—rental options in the latter two are many more, thus driving down costs. Besides, in Tanote & Chalok, you'll mostly find private homes, villas, and resorts which are naturally much more expensive.
I have come across people paying monthly rents as low as 6,000 baht (190 USD). While that sounds like a rare deal, you should be able to find a decent number of rooms to rent for about 8,000-10,000 baht (250-315 USD) a month. Renting an apartment will cost you anywhere between 15,000-18,000 baht (470-560 USD) a month. Lastly, private villas or beachside rentals are most expensive, starting at about 20,000 baht (630 USD) a month.
If you're visiting Koh Tao in the off-season (October & November), be sure to bargain. Since this is the monsoon season, Koh Tao receives less visitors, thus driving down rental costs. The next best time to find good deals is in the months of April and May, when summer is at peak.
Cheap Places to Stay in Koh Tao
If you're on the lookout for a low-budget place to live in Koh Tao, hostels, inns, and guesthouses would be your best bet. Here's a list of places I trust:
Koh Tao Central Hostel
Super close to the pier and a 10-minute walk from Sairee Beach, Koh Tao Central Hostel offers 24-hour air-conditioning and high-speed Wi-Fi. What's great about staying here is that you get free access to the pool table, board games, and travel library at a brilliant sports bar right across the hostel.
Location: Mae Haad
Infinity Guest House
Infinity offers apartment-style rooms that make for a perfect fit for long-stay travellers and digital nomads. However, note that it can get a tad bit noisy here at night. On the plus side though, the owner of Infinity Guest House is one of the kindest souls you'll ever meet.
Location: Mae Haad
Nat Resort
Nat Resort at Sairee is my personal favourite. The place offers basic yet decent rooms at dirt cheap prices. What's more, Nat Resort is surrounded with several trees, which keeps the rooms cool even during the hot afternoons. You can find rooms (without air-conditioning) for as low as 250-350 THB/night (8-11 USD/night).
Location: Sairee Beach
Indie Hostel
While Indie Hostel is a little pricier than other hostels in Koh Tao, it is also much more comfortable and aesthetic. In addition, Indie Hostel is a great place to mingle with backpackers or fellow digital nomads. Unfortunately, it gets pretty noisy at night here too.
Location: Sairee Beach
JP Resort
Another one of my favourite places to stay in Koh Tao, JP Resort offers sea-facing views at incredibly low prices. The resort has a lovely private terrace with a swimming pool that faces the beach. A standard room for 2 with a seaview costs about 500 THB (15 USD) /night.
Location: Chalok Bay
Koh Tao Visa
On a whole, Thailand is pretty tourist-friendly. There are various types of visas, and it is best for you to go through the Thai Government's website to know which one suits you best. Naturally, the fee will depend on the type of visa you request, and the country you're from.
Thailand offers visa-free access to 64 countries. What's more, since January 2021, the exempt entry of 30 days for the 64 countries has been extended to 45 days. If you want to prolong your stay, you can extend your stay by 45 days by going to the nearest immigration office. Now, unfortunately, Koh Tao doesn't have an immigration office of its own. The closest ones are in Koh Samui, and in Surat Thani.
Extending your stay will cost you 1,900 baht (60 USD). While that may seem like a steep figure especially if you need just a few more days before you fly out, remember that every day past your visa's validity will cost you an extra 500 baht (16 USD). And in more complicated cases, you could even be at risk of being banned from entering Thailand again.
If you want to work remotely from Thailand legally, you'll need a Work Permit and a Non Immigrant Business Visa. The work permit will set you back roughly 100 USD, and will stay valid for a maximum of one year.
However, note that due to the volatile COVID situation across the world, visa-related rules and regulations are highly subject to change. It is always best to check with the Thai embassy in your country before you move to Thailand.
Culture and Food in Koh Tao
To be honest, I visited Koh Tao with not-so-high expectations on the food front. There were two reasons for this. Firstly, given the miniscule size of the island, I assumed that there would be limitations in terms of what I find. Secondly, I'm a vegetarian, and this naturally leaves me with much fewer options especially while travelling in south-east Asia.
However, Koh Tao left me pleasantly surprised.
The best pad thai I had over the course of 7 months in Thailand, was in Koh Tao. And it doesn't end at Thai food. Due to an ever-increasing expat population on the island, a huge variety of cuisines from across the world is available here.
What's more, whether you're looking for 50-baht street food or 500-baht luxury meals, Koh Tao won't disappoint. I remember visiting a chicken burger stall in Koh Tao, the owner of which was nice enough to whip up delicious vegetarian burgers for me every time I visited. 40 baht (1.25 USD) for a vegetarian burger! SO good!
Now, here are 5 places you must definitely dine at when in Koh Tao:
Ying & Yang – for Thai Food: Here's where I had the honour of having the best pad thai ever. Although service is a bit slow, the flavours make up for it. Note that this restaurant is always busy, so either book a table in advance, or keep some buffer time.

Barracuda – for Seafood: Barracuda has brilliant interiors, and an even better location (visit around sunset for the best views). Barracuda attracts visitors for its delicious food as well as its unique cocktails. A personal favourite at Barracuda is the chocolate cake…it melts in your mouth! If you happen to visit Barracuda, do ask for the owner Richard. He is a pleasure to chat with!

Chaba Tapas – for Salads and Tapas: Chaba Tapas is pretty much a one-stop-shop. They've got authentic Thai food, as well as continental items such as burgers, sandwiches, paella, etc. The best part? The restaurant serves a free tapas dish with every alcoholic drink you purchase during happy hours.

Zest – for breakfast: Zest has got the best coffee and American-style hash browns in town. A mini breakfast set that includes 2 scrambled eggs, bacon, and toast costs just 90 baht (2.8 USD). It's a steal!

The Stall with No-Name: A tiny stall on the way to Chalok Bay serves delicious yellow rice & chicken for as low as 50 baht (1.5 USD). Although I don't eat chicken, I remember my friends going gaga over the dish!
As for Koh Tao's culture, here's an interesting fact: the first humans to ever live on the island were political prisoners. However, it was the next group of settlers that actually ended up staying for long. They fostered a strong community that continues to exist to the present day. In order to preserve this community, the island celebrates a number of festivals annually.
One such festival you must try attending is the Koh Tao Festival. It takes place in March or April. This festival is a fun mix of music, environmental activities, food tastings, beach cleanups, and more. At the end of the festival, Koh Tao always ends up cleaner, livelier, and happier.
Koh Tao Nightlife
Nightlife was never something I associated Koh Tao with. It was always just diving & beaches that came to mind when I thought of the island. After reaching here, I was pleasantly surprised. A tropical paradise in the day, Koh Tao doubles up as a party hotspot by night.
Sairee Beach in Koh Tao is where most of the drama and magic unfolds at night. Funky new bars are cropping up every now and then, and these are just perfect to unwind after a tiring day spent diving, or working remotely.
There are a number of things to do if you're looking to have a big night out in Koh Tao. If you're new to the island and looking to have fun, I'd highly recommend you to go for the Koh Tao Pub Crawl—Asia's biggest pub crawl. It runs four nights a week; on Mondays, Wednesdays, Fridays, and Sundays. The event starts at Choppers Sports Bar in Sairee, and costs 480 baht (15 USD) per person. In return for the money, you'll get a free shirt, free shots, exclusive happy hour drinks, and the chance to explore a different side of Koh Tao. And as if that weren't enough, you will also be sure to make new friends!
As part of the pub crawl, you will hit 4 of the best bars in Koh Tao, which will include a pool party, live music, and cabaret. The party goes on till early morning, and you might even be able to catch the sunrise.
If a pub crawl sounds too exhausting and you simply want to head out for a few hours, here are some places to consider:
Fizz
Fizz has a chilled-out vibe, and is a great place to watch the sunset from. What I like the most about Fizz is its comfortable seating arrangement—BEAN BAGS! The music is great, with the volume always being just perfect. Happy Hours are from 4-7PM, perfect for a sundowner after a hard day at work.
BND Beach Club
This is the place to go if you want to watch one of those fiery fire shows. Drinks here are much cheaper than at a lot of other bars, with some cocktails selling for as low as 120 baht (3.7 USD) until 10pm. There's always some sort of event going on…for instance, Rock N' Roll Sundays or Wine Down Wednesdays.
Fishbowl Beach Bar
As someone who loves going for live music gigs, I fell in love with Fishbowl Beach Bar. Views from this bar are epic at any time of the day, and the cocktails are delicious. They also play beer pong here quite often, which is super fun!
The Beer Masons
If you're a beer lover, you can't leave Koh Tao without visiting The Beer Masons. They've got a spectacular selection of craft beers from Australia, New Zealand, USA, and more. The flavours are so unique, that you'll want to give all of them a try!
Things to do in Koh Tao
Dive

Koh Tao has come to be one of the best as well as cheapest places in the world to go diving. Its shallow coral reefs and clear waters have brought divers tête-à-tête with exotic marine species such as whale sharks, sea turtles, stingrays, and the yellow boxfish. Besides, since the island has more than 60 diving schools, the costs are pretty competitive along with the quality of training being incredible! Naturally, Koh Tao is also a great place to get your Open Water diving certification. The Discover Scuba Diving experience (just 1 dive for beginners) costs around 2,500 baht (80 USD). Entry level diving courses cost anything upward of 11,000 baht (345 USD), and last 4 days. As per my experience and knowledge, some of the best diving schools are Roctopus, Scuba Shack, and Mojo Divers. Mojo is especially great if you want to save money without compromising on your experience. If you opt for a diving course with them, they offer a free bed in a dorm for almost a whole week. Not a bad deal at all!

Go Beach Hopping

Koh Tao has a coastline of more than 21 kilometers, many parts of which remain undeveloped. Naturally, the island has several beaches tucked away, and waiting to be explored. As already mentioned, Sairee Beach, Tanote Bay, and Chalok Bay are some of the most popular beaches in Koh Tao. However, if you want to go off-the-beaten-track, here are some beaches you can explore:

Sai Daeng Beach

This beach can only be accessed through the Sai Daeng Beach Resort—one of the reasons why it is so quiet and peaceful. What's great though, is that you don't have to pay a parking fee or an entrance fee to go to the beach. Sai Daeng is a small beach, stretching out for just 200 meters. The beach is obstructed by huge rocks at both ends, dense palm trees offer just enough shade from the sun, and is one of the best snorkelling spots in Koh Tao. If you're in the mood, you can even hire a kayak for an hour here, and paddle your way to Shark Island—a small, uninhabited rocky island.

Freedom Beach

Despite being secluded, Freedom Beach can be a bit crowded at times. This isn't to say that the beach isn't worth visiting. Freedom Beach is located on the southern tip of the island. Nestled right amidst dense mangroves, it is blessed with crystal blue waters and sparkling white sands. Again, there are plenty of trees for shade, and for me, Freedom Beach was the perfect place to simply park myself in a hammock, read through the afternoon, and snorkel in the evening. There are also a few restaurants and a beach hut bar where you can grab some quick bites or a drink. If you do visit Freedom Beach. make it a point to walk to Taa Toh Bay—it's just around the corner. In addition, a 20-minute climb up through boulders and plantations will take you to John Suwan Viewpoint. For a mere 50-bath entrance fee, the 360-degree panoramic views offered from the top are simply out of the world.

Laem Thian Beach

Laem Thian can only be accessed on foot or by boat. A 45-minute trek from Sairee through lush green jungles and untouched flora and fauna will bring you to Laem Thian. The hike is as stunning as the beach in itself. Alternatively, you can also take your bike, and walk the last 1 kilometer to get to the beach. Laem Thian used to have a resort that shut down in 2011. This goes on to add to the abandoned, unexplored, secluded vibe of the beach. Laem Thian is a spectacular place to go snorkelling. Here, you will often find marine life that isn't found in other parts of Koh Tao. Visitors have even reported seeing sharks around Laem Thian. It was also here that turtles returned to lay eggs after their ten-year absence in Koh Tao.

Hike from Mae Haad to Chalok Bay

As somebody who loves to walk, I simply knew that I had to walk the coast to get to Chalok from Mae Haad. The trail along the coast is a narrow footpath, so you won't likely see much crowd here. You also get the opportunity to swim in the remotest areas of Koh Tao. Several parts you'll have to walk through can only be accessed on foot, which adds to the beauty and solitude. The coastal walk is one of the best ways to discover the island, and I'm not sure why it isn't as popular yet. So go on, and make the most of it. Don't worry about losing your way. The trail is clearly carved at all points. However, I'd highly advise downloading maps (offline) on your phone beforehand.

Climb Up to Koh Nang Yuan

Koh Nang Yuan has become one of the main reasons why tourists flock to Koh Tao every year. So, what's so special about it? Koh Nang Yuan is a set of three islands connected by a thin strip of sand, forming a stunning archipelago. I HIGHLY recommend this place for anyone who wants to snorkel without having any previous experience. What makes Koh Nang so sought-after though is the viewpoint here. A short hike up a flight of stairs will take you to the hilltop that most people come here for. The views are spectacular, but visitors need to pay an entrance fee (5o baht for Thais & 200 baht for foreigners). Getting to Koh Nang and back to Koh Tao can cost as much as 250 baht (8 USD) per person, making this trip an overall expensive affair. But if you don't mind spending that amount, please go for it. You won't regret it.

Sign Up for a Thai Cooking Class

If you enjoy cooking, you should definitely consider signing up for a Thai cooking class in Koh Tao. This is not just a great way to learn new recipes, but also to explore Thai culture and traditions. What's more, you'd be taking a piece of Thailand with you back home! Parawan's Cooking Class is one of the best options in Koh Tao. Parawan is a Thai lady who conducts cooking classes right in her home. From pad thai to spring rolls to Thai curries such as Massaman curry, Parawan will be sure to equip you with the nuances of doing Thai cooking right.
Best Time to Visit Koh Tao
Koh Tao enjoys a warm tropical climate throughout the year. It doesn't ever get cold here—the temperature across all twelve months ranges between 25 to 32°.
April, May, and June are the hottest months in Koh Tao, and it becomes quite difficult to step out between 11AM to 4PM. December to February are said to be the best months to visit in terms of the weather. This is also a pretty busy time for bars & clubs, so if you're into partying, this could be a great time for you to visit Koh Tao.
On the contrary, if you're looking to dive a lot, you should consider visiting between July & September. This is when there is maximum visibility in the water, thus increasing your chances to spot the vivid marine life Koh Tao has to offer.
October and November is the shoulder season in Koh Tao. This is when rains start hitting the island, and it also gets super windy and stormy. While most thunderstorms in the region only last a couple hours, rains can go on for days on end, making it pretty difficult to enjoy the activities Koh Tao has to offer.
Koh Tao for Families
Koh Tao is a splendid destination to enjoy with families. Given the number of outdoor activities it has to offer, Koh Tao is an especially great place to be if you want your kids to be fit and adventure-loving.
Pretty much most of the activities I've mentioned as of now are perfectly fit to engage in as a family. If you want to avoid the party atmosphere, it would be best to stay away from Mae Haad and Sairee. As per me, Chalok would be a great place to live in as a family. It's quiet, beautiful, and offers beaches with shallow waters making it perfect for kids to swim in.
If you are in need of a nanny for your kid(s), it would be best to ask around in your friends circles, or to check Facebook groups. Since there's not much of a demand or supply for the same in Koh Tao, be prepared for these services to be slightly expensive.
When it comes to schooling, I'm afraid there's not many options in Koh Tao. The island has mainly developed for the diving community, and facilities for families aren't as many. There are a handful of schools for young kids and kindergarteners, but the options are very few.
If you do want to live in this part of Thailand with your family, I'd highly recommend Koh Samui instead of Koh Tao, especially if you have kids. Koh Samui is much bigger and developed, thus offering a larger number of schooling options. Here, you'll also find a bunch of international schools.
Living in Koh Tao
Koh Tao Transportation
Once you arrive at Mae Haad Pier, you'll see a lot of moto-taxi drivers. They'll all be pitching their own rates, so make sure you're in the know about taxi fares. Taxis in Koh Tao are expensive. Depending on the distance, they can cost you anywhere between 100 and 1,000 baht (3 and 30 USD). If you already know where you need to go, it would be best if you can contact your hotel in advance, and have them arrange transport for you. Even if they don't offer free pick-up, you'll at least be sure you're not being overcharged.
Alternatively, you can also hop on to a taxi car a.k.a pickup truck taxis, that can be easily found at most major junctions in Koh Tao. If you're doubtful about where to find one, simply ask a local. These taxis operate on a sharing basis, so you'll only end up paying your share. This works especially well for solo travellers or couples. However, you'll probably have to wait a few minutes until the truck gets full. If you need the truck to leave immediately, you'll have to pay almost triple the cost, which ends up being quite a bit.
As for me, when I reached Koh Tao, I decided to simply walk, since I didn't have much luggage. This way, I was able to get acquainted with the town pretty quickly.
Walking around Koh Tao is a great way to notice and explore things you would miss out on a vehicle. It is an especially viable option if you're going to be living in Mae Haad or Sairee.
Anyhow, exercise extra caution while exploring Koh Tao on foot. Due to roads being extremely narrow, there are no designated footpaths. The busier streets are generally a chaotic concoction of people, vehicles, and animals. Be sure to always keep to the right of the street, and try to be mindful.
Lastly, one of the most convenient and economical ways to explore Thailand—Koh Tao being no exception, is by renting a two-wheeler. Rental rates range between 200 and 350 baht (6 and 11 USD) per day. Fuel roughly costs 50 baht (1.5 USD) per liter. There's a gas station called Jit Sin in Mae Haad. You will also find tiny shops selling petrol in glass bottles across the island. The latter is generally more expensive though.
If you plan on walking a lot, it would make sense to rent a bike on a need basis. If you decide on renting a bike, make sure you're doing so from a known, reputed place. It's best to ask owners at your place of accommodation for a reference. This is because motorbike scams aren't uncommon in Thailand. For instance, you could be charged an insane amount of money for just a few minor scratches. A good practice is to click pictures of the bike from various angles right at the time you're renting it out.
Also, if you plan on biking around Koh Tao regularly, I'd recommend renting a bike on a monthly basis. Alternatively, check out bikes on sale. You can always buy one, and resell when you're leaving. This will definitely be a much cheaper choice.
Fitness and Health
Needless to say, engaging in adventure sports and simply hiking in nature is one of the best ways to remain fit in Koh Tao. But even if you're looking for modern fitness facilities, Koh Tao won't disappoint.
Gyms and Fitness Centres
For those who prefer to hit the exercise machines in an indoor, air-conditioned environment, Koh Tao Gym & Fitness is worth checking out. For an island as small as Koh Tao, this gym is highly advanced with pro-level equipment, and professional trainers. You can either go for a monthly (or longer) membership, or simply visit as per need. The per-day rate is 200 baht (6.2 USD) which is a tad bit steep, so it's better getting a longer membership.
Yoga
An island like Koh Tao is bound to have opportunities to learn and practise yoga. Quite a few forms of yoga are taught in Koh Tao, and there are also yoga retreats for someone who is really looking to de-stress. There are several options for classes, and it is best if you ask around to narrow down on an organisation or trainer that suits your needs and budget best. As for my personal favourite, it's Grounded Yoga in Sairee. A good price to pay is about 250-300 baht (8-10 USD) for a 1-1.5 hour session.
Muay Thai
Also known as 'Thai boxing,' Muay Thai is a form of martial art and also the national sport of Thailand. Muay Thai is a great form of workout, which focuses on getting your whole body in shape. There are two main Muay Thai schools in Koh Tao—island Muay Thai and Monsoon Gym & Fight Club. Again, expect to pay roughly 300 baht (10 USD) per session. Monsoon also offers a traditional gym kind of setting, so you've got the best of both worlds there. While I haven't personally trained at Monsoon, I've heard especially good things about the staff and the generally friendly atmosphere here.
Koh Tao People
If you want to truly enjoy your time in Thailand, it is best if you are in the know about the cultural expectations and norms in the country. 
One of the reasons why my stay in Koh Tao was so good, was because of how genuine and hospitable Thai people are. From the cashiers at 7-Eleven's to random passer-bys on the street, most Thais will make sure they greet you with a smile. Men will greet you by saying 'sawadee khrap' and similarly, women will say 'sawadee khaa'.
Although most people in Koh Tao speak English, I did face language barriers with some of the locals. But most of them were nice enough to give it their best to converse with me. The pronunciations might not be perfect, but that doesn't matter—they'll try their hardest to make you heard, and that's a commendable quality!
Now, while Thailand is majorly dominated by Buddhists, they live in harmony alongside Muslim communities. Various sorts of festivals are celebrated communally.
However, always be mindful about shoe etiquette not just in Koh Tao, but in any part of Thailand. All temples, as well as most hostels, cafes, and other businesses will want you to take your footwear off before you enter. It's good to respect that, and so, wearing slip on shoes is most convenient.
If you choose to visit a temple in Thailand, make sure you are respectful of Thai traditions and customs. It is best for both men and women to avoid sleeveless shirts, and short bottoms. It is best to wear bottoms that cover at least the knees. Some templates will provide appropriate clothes for a small fee if you're not dressed suitably. If you want to offer the monks anything, make sure you place it in the cloth that they put forward.
Thais are also pretty non-confrontational in nature. I have worked with Thais in a business setting, and can personally confirm this. They generally don't bring up mistakes in public; they also highly look up to, and respect elders and higher authorities such as their boss or senior at work. This can be pretty important to know especially if you're going to be working with Thais. If you do have a grievance with your Thai colleague's behaviour, make sure you bring it up in-person, and are sensitive about it.
Overall though, my experience with Thais was spectacular. One of the main reasons why I wish to revisit Thailand is because I felt so at home—for which the people are definitely to thank. For instance, every time I needed to recharge my phone services, the staff at the 7-Eleven made sure they helped me out with the process right till the end, simply because I was new to it, and didn't speak Thai. It took anywhere between 15-20 minutes, but they happily helped me with a wide smile on. Always!
Koh Tao Insurance and Medical Care
It is highly advisable to get good medical insurance especially if you're going to engage in adventure activities in Koh Tao. There are several international travel insurance options you can pick from. These can cost anywhere between 4,000 to 8,000 USD per year. If you already have medical insurance where you are, find out if they offer options to upgrade to an international validity. It is also best to find out exactly what your insurance will cover to avoid confusion later.
As for the preventive measures, you're recommended to get all the routine vaccines such as chickenpox and polio, and others such as Hepatitis A, Hepatitis B, typhoid, and yellow fever. To be on the safe side, consult your doctor before flying to Thailand.
When it comes to the medical facilities in Koh Tao, there's a government hospital located in Mae Haad. It has 10 beds, and offers treatments for a number of ailments. For more serious injuries and illnesses, patients are transferred to Koh Samui or Surat Thani. If you simply need to see a doctor, you can choose from a number of private clinics on the island. Many of these are also equipped to look into scuba diving related injuries and problems. Sawasdee Nursing Clinic is especially great in this regard.
For medicines and minor medical issues, you can visit one of the pharmacies in Koh Tao. You'll find them in every town on the island pretty easily.
Make sure you are fully covered by reading our full Digital Nomad Travel Insurance guide.
Jobs in Koh Tao
There are quite a few jobs to find in Koh Tao, and as per me, a lot of these fit the lifestyle of a digital nomad. You'll be much likelier to find gigs if you're interested/okay working in the tourism and hospitality sector.
You can land a full-time or part-time job as a wait(er)/(ress), barista, or chef in any of the cafes in Koh Tao. You can also work as a photographer or videographer at some of the events and parties hosted in Koh Tao. Since yoga is picking up in Koh Tao, you can offer classes as an instructor. Naturally, you can also work in Koh Tao as a diving instructor if you're qualified to.
However, note that the money you'll make with many of these gigs might not be enough to support your digital nomad life in Koh Tao. Always make sure you have some sort of remote work going on, or have a Plan B to fall back on.
Websites such as workaway.info can land you great volunteering opportunities. You will often find listings that require volunteers for travel hostels. This will generally require you to work 15-20 hours/week in exchange for free stay and food. The work can involve basic-level cleaning, interacting with guests, organising events, etc. This is a great opportunity if you want to save some bucks on your stay, whilst meeting interesting people from across the world.
You can also try your luck by checking Facebook Groups such as Koh Tao Jobs.
Check out our Digital Nomads Jobs Postings to find the best jobs available for Digital Nomads.
Nomad Friendly
Value for Money
Internet
Workspace
English
Food
Safety
Health
Transportation
Friendly
Quality of Living
Cost of Living Koh Tao
Your cost of living will depend largely on the kind of lifestyle you like to lead. Do you want a whole house to yourself or are you okay with a bed in a dorm? Do you like splurging on parties or are you more of a nature person? Do you generally eat out or do you cook by yourself? These are some factors that will largely impact your monthly budget when in Koh Tao.
As mentioned earlier in the article, your accommodation can cost you anything upward of 5000 baht (155 USD) per month. As for food, a cheap streetside meal can cost you as little as 50 baht a meal, whereas eating in fancier restaurants will cost significantly more. If you want to save more money, you can even grab sandwiches or other quick bites from a 7-Eleven.
Getting your own bike is the best thing to do if you want to save costs on transportation. Frequent taxi rides can increase your monthly expenditure substantially.
On a low budget; if you get a cheap place to live, walk a lot, engage in low-cost or free entertainment, and don't spend much on food, you can live comfortably in Koh Tao on a monthly budget of about 15,000-20,000 baht (470-625 USD). However, this doesn't include costs incurred on emergencies, or on luxuries such as new clothes or fancy meals out.
Rough Estimates of Monthly Living Costs
Rent for a one bedroom flat: $300-$400
Utilities (internet, electricity, gas): $100
Transportation (provided you're renting a bike): $150 
Meal at an inexpensive restaurant: $3
Cappuccino at a coffee shop: $2
A liter of milk: $1.3
Domestic beer (0.5l): $2
A packet of 20 cigarettes (Marlboro): $2.5