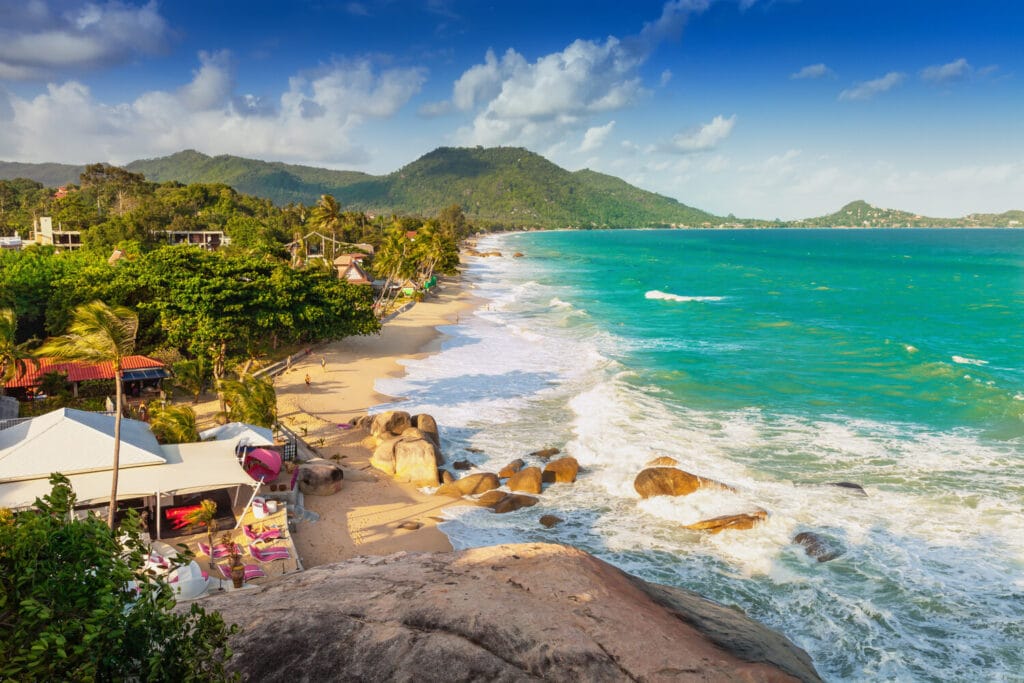 A Digital Nomad Guide to Koh Samui
Located in the Chumphon Archipelago, around 700 kilometres south of Bangkok, Koh Samui is one of Thailand's largest islands. Easily accessible by flight or ferry, Koh Samui has quite a large concentration of digital nomads and expats, mainly because of its excellent quality of life and affordable accommodation. 
Unlike other Thai provinces that I visited, Koh Samui has its own distinct set of beliefs and culture. The local population is largely Thai, but you'll also come across Muslim and Chinese communities due to the early Arabic and Chinese traders who migrated to the island. I absolutely admired how these ethnically diverse communities manage to peacefully co-exist with each other – not to mention with migrants from all over the world.  
In terms of connectivity, I would say that the island has adequate internet. Personally, I opted for a mobile data package after purchasing a local sim card at the airport. In my experience, mobile data is far more reliable than free hotspots, especially when it comes to videoconferences. 
The three main cell service providers in Koh Samui are: 
DTAC: This was my favourite provider, mainly because they've got excellent customer service. With DTAC, you can also access free hotspots not just in Koh Samui but all over Thailand. A weekly internet package will set you back THB 59, while the monthly package can range from THB 299 – THB 799. 
Truemove: While I did not personally use this provider, friends of mine did and they were quite satisfied with both the speed and reliability. You can get an unlimited monthly plan for THB 599 or monthly data that ranges from THB 199 – THB 899, depending on usage. The unlimited daily package costs THB 15, while the weekly plan may cost anywhere from THB 55 to THB 199. 
AIS: This provider is more popular among locals, mainly because of its affordable packages. For example, a monthly plan will cost you THB 488 for 5GB or THB 888 for 14GB. Weekly packages cost between THB 79 and THB 89, while daily unlimited internet is at THB 19.
Nomad Friendly
Value for Money
Internet
Workspace
English
Food
Safety
Health
Transportation
Friendly
Quality of Living
Living in Koh Samui Overview
| | |
| --- | --- |
|  Meal, Inexpensive Restaurant | $2.45 |
| Domestic Beer (1 pint draught) | $2.33 |
| Cappuccino (regular) | $2.07 |
| Loaf of Fresh White Bread (1 lb) | $1.27 |
| Water (1.5 liter bottle) | $0.49 |
| One-way Ticket (Local Transport) | $3.07 |
| Basic Utilities (Monthly) | $53.31 |
| Internet | $19.42 |
| Fitness Club (Monthly) | $49.08 |
| Apartment (1 bedroom) in City Centre | $375.77 |
Currency: Indonesian rupiah (Rp)
[erw_exchange_rates_widget lg="en" tz="0″ fm="IDR" to="EUR,USD,GBP,AUD,JPY,RUB" st="primary" cd="" am="15000″][/erw_exchange_rates_widget]
ATMs
Max Withdrawal: Rp 3,000,000
Withdrawal Fee: Rp 30,000 – Rp 50,000
Use of Credit Cards: Mostly Cash
Digital Nomad Personal Experience in Koh Samui
Out of all the places I travelled to as a digital nomad, I have to say that Koh Samui was easily among my favourites. Just like Phuket, there's an irresistible charm to Koh Samui that draws you in, and it was definitely the kind of place where I could envision myself living long-term. 
Not only are the locals extremely hospitable and warm, but there's a sense of well-being that permanently permeates the island. In fact, Thai people firmly abide by the concept of Sanook which means injecting fun in every aspect of life. During your stay in Koh Samui, you will quickly realize that locals very rarely sweat the small stuff. Even on days when everything is going wrong, they'll still manage to find and focus on the silver lining, hence creating a very pleasant living environment. 
Thai people are extremely hard-working, but they certainly believe in the concept of 'work hard, party hard.' As such, you'll find that locals very often indulge in after-work activities such as karaoke nights, bar hopping, and even night shopping. Respect for others is another thing that's absolutely ingrained in the local culture, so don't be surprised when locals randomly offer you a free ride to your destination or pay for your drinks. When I dined at small, family-owned restaurants, I was often treated to a few extra items at no additional charge. 
As nice as the locals are, however, it's important to still be cautious when traveling to a new country. The good news is that Koh Samui doesn't have quite as many scams and touts as other Thai provinces. You do need to be careful around extra-touristy areas such as Chaweng where there have been a few reports of drink-spiking incidents and pickpocketing. With these exceptions, I found Koh Samui to be quite safe, even at night.  
Work in Koh Samui
I must admit that I was a little bit disappointed to realize that there were only three coworking spaces on Koh Samui – and that's despite the sheer number of digital nomads on the island. However, I was able to visit all three, and I was pretty satisfied with the membership options they offered. Additionally, you'll find that most nomads in Koh Samui like working from cafes and restaurants, although these can get quite noisy if you go during mealtimes.
Best Places to Work in Koh Samui
Mantra Work Lounge
With deep accent walls, straw-coloured furnishings, and airy spaces, Mantra Work Lounge is perfectly laid out to boost those creative juices. Best of all, this place offers breath-taking views of the lagoon as well as high-speed and reliable Wi-Fi. You'll also find a well-stocked pantry with drinks and snacks, hot desks, printers, and blackboards. During break times, digital nomads can wind down in front of the television, PlayStation, or billiard table. 
Located in Tambon Mae Nam, Mantra Work Lounge offers plenty of reasonably priced options in terms of membership packages. For example, a daily pass costs THB 600 while a weekly package will set you back THB 3,500. Digital nomads can also subscribe to a monthly membership for THB 12,000. This spot is open from 9:00 to 21:00, Monday to Sunday. 
Mawin Café and Coworking space
Located right on Lamai Beach Street, Mawin Café and Coworking space has floor to ceiling windows so you can soak up the views and the sun while you work. With large common desks as well as private single-seater tables for those who need some privacy, this coworking space's Wi-Fi is fairly quick, even though the connection can get choppy during peak hours. You'll also benefit from ergonomic seating and standing desks. 
In terms of refreshments, I can absolutely recommend the nitro coffee brew from their café menu. Best of all, this space is relatively quiet, especially in the early morning or late afternoon, perfect for those who need a tranquil environment to work in. A hot desk at Mawin Café and Coworking space costs THB 30 per day. This café is open from 9:00 to 19:00, Monday to Sunday. 
WYSIWYG Coworking Space & Café
Located in Moo 2 on the east coast of the island, WYSIWYG Coworking Space & Café has a sleek, elegant interior with circular booths and oversized windows to let in plenty of natural lighting. Because it's found in COSI Hotel, this coworking spot is ideal for nomads who would like to network with travellers from all over the world. What I personally liked the most about this café is that instead of subscribing to a membership package, you can just buy something from the coffee shop to benefit from complimentary access to two stories of working spaces. 
Alternatively, you can reserve your own desk for THB 30 per day. I do have to point out that this coworking space doesn't have a private office, and it can get quite crowded owning to the fact that it's one of the most popular spots among digital nomads. Open 24/24, WYSIWYG Coworking Space & Café additionally features super-fast internet, a relax zone, and free on-site parking. 
If you can't land a spot in one of the island's three coworking spots, you can always check out one of Koh Samui's (many) working cafes. I did notice that most owners don't rush you to leave, so it's not uncommon to see digital nomads typing away all day long. 
cafes on Koh Samui
Horizon Café Samui:

Located in Nathon, this café specializes in organic coffee and tea. Vegan nomads will be glad to learn that Horizon Café also offers an extensive range of vegan products. While it has fast Wi-Fi, it can get quite noisy and crowded, so it's not suited to those who need a more tranquil work environment. This café is open Monday to Saturday from 7:30 to 18:00.
Coffee Way Lamai

: Thanks to its prime location on Lamai Beach, Coffee Way Lamai features delightful ocean views. What I liked the most about this place – other than its decent Wi-Fi and inexpensive eats – were the super friendly baristas who do go above and beyond to make you feel welcome. Since I didn't feel rushed to leave, I could easily set up shop for the day. Thanks to its popularity among digital nomads and expats, Coffee Way Lamai is also ideal for those seeking collab opportunities. 
Vikasa Life Café:

While it has an undeniably elegant beachfront setting in Bontji, Vikasa Life Café is on the more expensive side. However, it does have a delightfully tranquil ambiance so you can get work done with very little distraction. Wi-Fi was fast and reliable, perfect for video conferences. This café is open every day from 10:00 to 20:00, but I would highly recommend that you head over there in the late afternoon so you can enjoy a stunning sunset over the ocean. 
Summer by Coco Tam's: Okay, I'll admit that this particular café didn't always have the best Wi-Fi, but if you need to work offline, this might just be the place for you. With a very soothing environment, Summer by Coco Tam's is open from 21:00 to 18:00 Monday to Thursday and 9:00 to 8:00 on Friday and the weekend. I absolutely enjoyed their outdoor seating with lush foliage, rattan furnishings, and oversized windows. With an excellent selection of coffee, this café is quite animated on Friday nights.
Best Places to Live in Koh Samui
Best Neighbourhoods
Koh Samui is the one Thai province where I would absolutely recommend that you take the time to properly explore the various neighbourhoods before deciding where to live. The thing about this island is that as safe as it is, areas are drastically different from each other, and you might find yourself smack in the middle of a permanently noisy party zone. Alternatively, if you don't do your research, you might just end up in a remote neighbourhood that's quite far from most amenities. 
Surat Thani
Digital nomads who are traveling with kids may wish to check out Surat Thani on the East Coast of the island since most international schools are based there. Because it has quite a large concentration of locals, Surat Thani also happens to be super easy on the wallet. You'll find plenty of open-air markets selling fresh produce and textiles. 
Since it is on the small side, this city only houses about 133,000 people, so there's a very pronounced sense of community throughout. Like virtually everywhere in Koh Samui, Surat Thani has an excellent rate in terms of safety. 
Lamai
This charming area is my personal favourite place in Koh Samui, mainly because it's home to one of the largest and most spectacular beaches on the island. This is also where you'll find international grocery stores such as Tesco and Makro which offers excellent-quality cheeses, meats, fruits, and fresh fish. 
With a weekly farmer's market, Lamai has plenty of bars and restaurants that you can choose from. While it's undoubtedly an excellent region to interact with other nomads, I must say that Lamai can be on the pricier side. Friday nights tend to be somewhat noisy with loud music playing until the early hours of the morning. 

Lipa Noi
If peace, quiet, and isolation is what you're after, you may wish to check out Lipa Noi on the west side. Just a head's up though – you'll be quite far from most supermarkets, schools, and hospitals. Real estate prices can be quite expensive too with villas costing between THB 65,000 and THB 90,000 per month which is much higher than the average rental price on the island. 
On a more positive note, this area is one of the most scenic places in Koh Samui with spectacular sunsets and scenery. This is also one of the rare places on the island where you won't have to battle the crowds at the beach, even in high season. 

Chaweng
Chaweng is usually hailed as the party zone by excellence. As such, it may not be the best neighbourhood for you if you're traveling with your family. However, this busy spot is perfect for those who would like to be right where all the action is. In fact, Chaweng is packed full of restaurants, bars, and rowdy beach parties. It also draws quite a young crowd of foreigners, and you'll certainly find more than your fair share of souvenir shops. 
The traffic in Chaweng can be quite bad. Additionally, this neighbourhood is prone to petty theft like purse snatching and the occasional home break-in. If you're going to live there, it's also a good idea to keep your eyes peeled for touts and tourist traps. 

Bophut
Another neighbourhood that's excellent for digital nomads who wish to settle in a tranquil region, Bophut lies on the North Coast, just fifteen minutes from the airport. This is also the best place to be if you're looking for a fully authentic and immersive Thai experience. A traditional Fisherman's Village, Bophut has old Chinese stores as well as a two-kilometre beach fringed by coconut and palm trees. Unfortunately, the lagoon isn't exactly suited to swimming since the water is quite shallow and murky. 
Activities in this area are pretty much limited to boating, jet skiing, and beachside strolls in the sunset. On Fridays, you can also explore the Friday Walking Market with vendors offering local dishes, souvenirs, textiles, and other goods while live music plays in the background. 
Find an Apartment in Koh Samui
Unlike places like Phuket and Bangkok, I found it easy to find an apartment in Koh Samui. However, because there's plenty of white-collar frauds in Thailand, you may wish to rent through a real estate agent who will navigate the tedious paperwork for you. I also noticed that the language barrier was something of an issue when negotiating directly with apartment owners since not everyone was fluent in English. 
Of course, it goes without saying that you should adopt the usual precautionary measures and carefully read your contract before signing. Also make sure that all outstanding bills have been cleared by the previous tenants. If possible, it's never a bad idea to inspect the place in person before committing yourself. 
Do remember that agencies will usually charge a commission fee as well as a two-month deposit. For long-term rentals (six months or more), you'll also be asked to produce documents such as copies of your passport, visa, and proof of income. In some cases, you may also be required to open a local bank account for payment transfers, but this is quite rare. Some agencies can additionally request a credit check as well as a character reference. 
When renting an apartment in Koh Samui, it's important to know that long term rentals do not include utility prices so be sure to set aside some money for these. Depending on the building regulations, you may also be charged for Moo-Baan fees (gated community) as well as garden maintenance which can run for around THB 50 per month. Short term contracts usually include electricity, water, Wi-Fi, and garbage collecting fees. 
To avoid the language barrier, you can browse through social media to connect with other expats who are renting property in Koh Samui. In fact, for short-term lettings, your best bet would be to check out Facebook groups such as Koh Samui Expats, Last Minute Rentals Koh Samui, Koh Samui Property, and My Samui Real Estate. 
For longer stays, you can get in touch with reputed real estate agencies such as Maenam Hills, Conrad Properties, Properties Away Lamai, and Re/Max Island Real Estate. Personally, I didn't have any issue communicating with local real estate agents and found that they were all quite fluent in English. Airbnb also offers plenty of options with prices starting as from THB 6,000 per month for a studio or around THB 10,000 for a one-bedroom apartment. Two-bedroom places can cost up to THB 17,000. 
Like I mentioned above, neighbourhoods in Koh Samui differ from each other and this has a direct influence on the price. For example, because of its popularity among digital nomads and expats, apartments in Lamai can be on the more expensive side, with prices ranging from THB 30,000 to THB 50,000 per month. However, properties in this area are quite spacious, and most complexes include extra amenities such as swimming pools or fitness rooms. 
If you have a mid-range budget, you can always check out properties in Surat Thani where most apartments and houses tend to run for THB 7,500 – THB 15,000 per month. Digital nomads who do have some extra cash to spare may wish to consider higher-end neighbourhoods like Lipa Noi where you'll often need to fork over anywhere between THB 60,000 and THB 170,000 per month for a luxury, multi-room apartment.
Cheap Places to Stay in Koh Samui
Koh Samui may be a popular tourist destination, but that doesn't mean that it's hard to find an affordable apartment. Digital nomads who are on an extremely tight budget can even land free accommodation on the island through work exchange programs where you devote yourself to a few hours of labour per week in exchange for a place to sleep. Popular examples include Help Go Abroad, World Packers, and Workaway Info. 
Alternatively, you can also explore options such as Couchsurfing where you'll find nearly 1,000 local and foreign hosts who are willing to open up their homes for free. 
If you can afford to spare some money, you can always book a cheap hostel during your stay in Koh Samui. On Booking.com, you can even reserve a bed in a mixed dormitory for as little as THB 120 per night. Koh Samui also features plenty of guest houses with private bedrooms, private bathrooms, and shared kitchens. Prices for these usually range from THB 300 and THB 500 per night. Similarly, on Airbnb, you can always get a private room in someone's house for THB 400 – THB 800 per night. 
Digital nomads who are traveling on a limited budget should also pay close attention to their choice of neighbourhood. Generally speaking, areas with the highest concentration of locals tend to be more affordable. Therefore, you may want to consider neighbourhoods such as Maenam Beach, Bo Put, and Chang Wat where a small, basic studio can be as cheap as THB 6,000 per month.
Koh Samui Visa
In stark contrast to most Asian countries, I found it very easy to get a visa for Thailand. Before flying to the kingdom, you can always apply for a visa on the official immigration website. 
Most digital nomads opt for a regular tourist visa that entitles them to a stay of up to two months in the kingdom. You will be asked to provide copies of your air tickets, passport-sized photographs, proof of accommodation, and other travel documents. It's also recommended to have at least THB 20,000 per person or THB 40,000 per family in your bank account prior to traveling to Thailand. While most immigration officers do not ask for proof of funds, some may, and it's always best to be prepared. 
For longer stays, you can always go on a cheap visa run to one of the neighbouring countries or apply for a visa extension before your tourist visa expires. Additionally, you may also wish to check out the Smart Visa, a relatively recent concept that makes it easier for digital nomads to both live and work in the country. It should be noted that this particular visa is mainly granted to investors, start-up companies, as well as entrepreneurs who wish to start their own business anywhere in Thailand. The good thing about this visa is that you will be able to stay in the kingdom for up to four years. 
Travelers who wish to spend a few years in the country can check out the Thailand Elite Visa. Now, fair warning though: while this visa comes with a plethora of advantages, it's also shockingly expensive at around THB 600,000. On the flip side, it does grant you five years and multiple entries into the Kingdom. If you can afford it, you can also upgrade to the Elite Ultimate Privilege visa which costs a million Thai Bahts and offers additional perks in the likes of immigration concierge.
Culture and Food in Koh Samui
Koh Samui is well-known for its abundant seafood and coconut-based dishes, more often than not served with plenty of spices and a hefty side of carbs. I did notice that the food on the island vary according to region. For example, major tourist hotspots such as Lamai Beach and Chaweng Beach have plenty of international restaurants offering classic Western dishes. 
On the other hand, Southern Koh Samui is particularly reputed for its super-spicy fares with Indian, Malay, and Indonesian influences. Items such as salted eggs, Massaman curries, boiled Jasmine rice, and rambutan are pretty much staples all across the island. 
Personally, I just couldn't get enough of the following dishes during my stay in Koh Samui: 
Local seafood
In typical island style, seafood is easily available and quite inexpensive on Koh Samui. Indeed, you'll find squid, king mackerel, lobster, and king prawns in virtually every restaurant across the island. Seafood dishes in Koh Samui are usually packed full of quintessential Thai flavours with fragrant basil, coconut, ginger, lemon, and tamarind notes. 

Kalamae
I've never had much of a sweet tooth, and I must admit that I wasn't exactly eager to try Kalamae when I was told that it was the local equivalent of French caramel. But after giving my first Kalamae a (very) reluctant nibble, I was instantly hooked. 
This delightfully sticky dessert is made of coconut cream, palm sugar, and glutinous rice flour, all wrapped and steamed in a banana leaf. While it's said to have originated from the Hin Yai and Hin Taa markets, you'll find this delicacy in virtually every market and food stall across Koh Samui. 

Massaman Curry
An Arabic-inspired dish, the Thai Massaman Curry may look like classic Indian curry, but the flavour profile is completely different. It's generally made with chicken or beef, but in some areas of Koh Samui, it's also possible to get a pork-based Massaman curry. Additional ingredients usually consist of nutmeg, cinnamon, bay leaves, star anise, carrots, potatoes, and an assortment of other spices.
While some might say that this dish is a little bit too hearty for the humid Thai climate, I think it's perfect when washed down with an ice-cold beer to counteract the warming effects of the spices. Massaman curry is usually served alongside a heaping bowl of steamed rice. 

Som Tam
I was told by a restaurant owner that this fragrant salad originated from Laos, but local twists have been added to it. It usually includes refreshing ingredients such as green mangoes and papayas, all mixed with thin strips of barbecued chicken and cold sticky rice. The dressing normally combines sour lime juice, fish sauce, hot chilli, and palm sugar, all stirred together in a traditional granite mortar. 
Other variations of the Som Tam also include roasted peanuts, green beans, crab, dried river shrimps, and raw or fried eggplant. At restaurants, it's often served family-style in a huge bowl and shared in groups. 

Khao Phad
Okay, when I found out that Kaho Phad basically referred to Thai fried rice, I wasn't expecting much from it. However, it didn't take me long to realize that this was quite unlike any other fried rice that I've had before. For starters, most variations include lobster or crab, and all the ingredients are stir-fried with oyster sauce, jasmine rice, sugar, egg, garlic, and sometimes, liquid smoke. It's served alongside a small salad that consists of fresh tomato slices, parsley, coriander, chopped up onions and lime juice. 
Given that Koh Samui's population combines Buddhists, Muslims, and Sea Gypsies, you will be able to attend plenty of cultural festivals during your stay on the island. In November, for example, the island celebrates Loy Krthong which loosely translates as 'the festival of light'. Locals spend several days crafting and decorating small floats and on the night of the festival, they set their floats adrift in the sea, under the glow of the full moon. Some locals also place candles or scented incense on brightly painted banana leaves before offering them to the ocean. 
Wan Awk Phansa is another popular festival in Koh Samui since it basically signifies the end of the Buddhist Lent period during which believers abstain from tobacco, alcohol, and non-vegetarian produce. On Wan Awk Phansa, locals begin their day with an early-morning prayer session at the temples followed by offerings to the monks. During the day, you may even see processions with locals walking around temples while carrying incense sticks, lotus buds, and candles. In the south, locals commonly hold boat races during the day, followed by boat processions at sunset. 
In September, digital nomads will be treated to the annual Koh Samui Anniversary Festival which is usually held in Chaweng as well as the port city of Nathon. During this time, the entire island bursts into life, offering plenty of cultural exhibitions, craft fairs, concerts, and complimentary buffets set up on several beaches.
Koh Samui Nightlife
If, like me, you normally spend all day typing away at your laptop with hardly any time for lunch, you'll be glad to learn that there's always plenty to keep you entertained after work hours. There are nightclubs in just about every neighbourhood – including residential ones- and most tend to stay open until 4:00-5:00. You'll also find plenty of night markets, spas, as well as boutiques that remain open until quite late on Friday nights. 
Here are some of my favourite nightspots in Koh Samui: 
Soi Green Mango
Colloquially known as Koh Samui's party central, Soi Green Mango in Chaweng is one of the island's wildest nightlife areas. You'll find plenty of pubs, Go-Go bars, and clubs such as Green Mango Club Samui.
A firm favourite among foreigners, the Mango Club offers live EDM, house, and R'n'B music. While the official opening hours are from 21:00 to 2:00, this club usually commonly stays open until 5:00, especially during high season. 
Other popular clubs in the Soi Green Mango area include Sound Pub, Bar Solo, Mint Bar, Sweet Soul Cafe, and Hush Bar.
Coco Tams
I personally adored this club, because it places you right on the beach. Located adjacent to The Wharf Samui in Bophut, Coco Tams has oversized cushions and beanbags scattered on the sand so you can enjoy an aromatic cocktail right by the water's edge.
Fairy lights strung across coconut trees, swing sets at the bar, and live music only serve to enhance this image of tropical perfection. Admittedly, Coco Tams' soirees aren't as wild as other clubs in Koh Samui, but the drinks are very reasonably priced. On some nights, you will even be treated to a live fire show performance on the beach. Coco Tams is open daily from 13:00 to 1:00. 
Nikki Beach Club
Self-proclaimed as "the sexiest place on earth", this resort beach club is found in Lipa Noi. Like virtually everything in Lipa Noi, Nikki Beach Club is known for its expensive prices but if you ask me, it's totally worth the splurge. Because it's found on the west coast, this is also the perfect spot to soak up Koh Samui's legendary sunsets while sipping on a glass of Singha- the local craft beer. 
With cabanas, sun loungers, and sofas that you can rent (prices vary according to the season), Nikki Beach Club is particularly reputed for its extravagant, champagne-fuelled parties with international and local DJs alike. There's even a swimming pool so you can expect quite a few 'foam and pool' parties that usually go on until the early hours of the morning. 
Choeng Mon Night Market
Located in Bo Put, Choeng Mon Night Market is an enchanting venue that the whole family can head to after dinner. What I liked the most about this market is that it incorporates both regular and floating stalls that you can explore by hopping on one of the boats. There's also live music and plenty of street food being freshly prepared right in front of you. If street food isn't really your thing, you can always check out one of the many restaurants dotted alongside the Choeng Mon Night Market. While the majority of them feature classic Thai dishes on the menu, you'll also find a few Western fares. 
Choeng Mon Night Market is found just a few steps from Muang Samui Hotel. It is only open on Wednesdays, from 17:00 to 23:00.
Things to do in Koh Samui
Given that Koh Samui is one of the most popular tourist destinations in the world, you can be sure that you'll never run out of things to do on the island. Best of all, Koh Samui has plenty of free and budget-friendly attractions that you can explore during your spare time. 
The one thing that I would recommend is that you try to make as many reservations as possible in advance. Koh Samui may be the second largest island in Thailand, but it's still on the smaller side and can get quite packed in high season so it's never a bad idea to plan ahead. 
While Koh Samui was definitely far more tolerable than other Thai provinces in terms of touts – definitely keep an eye out for scams and overpriced packages. The rule of thumb is this: if a package seems too good to be true, it probably is. 
Digital nomads who want to go jet skiing should judiciously read their contract before signing it. Some companies may rent a faulty jet ski and then charge you a hefty compensation fee for "damages". As such, you may also wish to take pictures of your jet ski prior to signing the contact. 
Now that we've gotten these tedious warnings out of the way, here are some of the best attractions in Koh Samui:
Explore Koh Phangan

From Koh Samui, it's quite easy (and inexpensive!) to hop on a boat shuttle that will take you to Koh Phangan's idyllic shores in just a few minutes. Extremely popular for day trips, this island is known for its towering mountain ranges, thick jungles, and massive granite rocks perched on the silky shores. The lagoons are – if possible – even clearer than Koh Samui's, perfect for snorkelling and deep-sea diving. You'll also find plenty of family-owned eateries on the shore so you can savour local snacks while digging your toes in the sand. If you want to spend the night on Koh Phangan, rest assured that the island does come with plenty of budget-friendly accommodation, especially along the west and south coasts. Boat shuttle prices usually run from THB 190 to THB 350 for a one-way trip.

Take a Jungle Safari Tour

If you ask me, there's no better way to explore Koh Samui's famously gorgeous jungles than to book a Jungle Safari Tour, preferably by 4WD. I personally opted for a half-day tour for THB 4,000. The package included a licensed guide, pickup from my accommodation, and an absolutely scenic trip through the glorious Koh Samui Jungle. A quick word of advice though: this may not be the right adventure for you if you're prone to motion sickness, since there are plenty of bumps and humps along the way. Most Jungle Safari Tours also include a visit to the Mummified Monk Statue as well as the famous Grandfather and Grandmother rocks located just steps from Lamai Beach. You'll also get the opportunity to visit the island's largest waterfalls, most of which have calm pools at the bottom where you can enjoy a refreshing dip. One of the highlights of the Jungle Safari Tour – at least for me – was zip lining through the jungle and soaking up a bird's eye view of the surroundings.

Relax on the beach

Like virtually all Thai islands, Koh Samui is blessed with an abundance of pristine beaches that seem to stretch on for miles. I should point out that owing to their spectacular vistas, major beaches can get quite crowded in high season. I personally spent quite a lot of time on Lamai Beach, mainly because it's one of the best-kept secrets on the island and as such, you won't need to battle the crowds. While it's perfect for sunbathing, the lagoon surrounding Lamai Beach is quite rough and not exactly suitable for swimming. Alternatively, you can always check out Chaweng Beach on the eastern coast. Hailed as one of the longest beaches on Koh Samui, Chaweng has plenty of food vendors offering ice cream, smoothies, alcoholic and non-alcoholic beverages, as well as fried snacks. I was even surprised to see vendors walking around with portable barbecues so you can even buy a barbecued feast right off the grill. Surprisingly enough, while Chaweng Beach is a major tourist hotspot, I did notice that the vendors were far less pushy than elsewhere in Thailand. Another one of my personal favourite beaches on Koh Samui is Bang Po Beach on the North-western coast. This beach is reputed for its remarkable sunsets which you can appreciate while sipping on an ice-cold beer from one of the many beach shacks. This is also the ideal spot for enjoying nautical sports such as kayaking, parasailing, and glass-bottom boats.

Visit Pig Island

Okay, you just can't visit Koh Samui without checking out Pig Island. I'll admit that it's not as large or as exhilarating as the Bahamas' piggy counterpart, but if you ask me, it's still well-worth a visit. Colloquially referred to as Koh Madsum, this islet lies just off the southern coast of Koh Samui. While touring the islet, you may be lucky enough to come across Mr. Kit, one of the most hilarious locals that I encountered in Thailand. In fact, rumour has it that Mr. Kit was the one who initially introduced rescues pigs to the islet. To support Pig Island's sustainability, you can always book a private tour through Mr. Kit's agency, Pig Island Koh Samui Tours which includes a speedboat or long tail fishing boat transfer, feeding the pigs and even enjoying a refreshing swim with them.

Tour Ang Thong National Marine Park

Even though it's one of the most coveted attractions in Koh Samui, it's extremely easy to book a tour of the popular Ang Thong National Marine Park for an entry fee of THB 300 per adult and THB 150 for children. Boat shuttles usually cost between THB 1,000 and THB 2,000 for a two-way trip. The Marine Park actually regroups over 12 islets, and if you ask me, one day isn't enough to cover everything. Luckily enough, the Marine Park does provide a small cluster of bungalows that you can choose from according to your budget. Just a heads-up though: landing a last-minute room during high season is next to impossible, so be sure to have your reservations well in advance if you'd like to stay in the Marine Park overnight. Most tours additionally include a hike up Ko Mae Ko island's limestone karst slopes. From the summit, you will be treated to a glorious view of Emerald Lake. True to its name, this magnificent lake is acclaimed for its deep, emerald-tinted water which is fed by underground marine tunnels.
Best Time to Visit Koh Samui
Like virtually everywhere in Thailand, Koh Samui has a warm and sunny disposition practically all year long. While the Asian continent is often prone to violent typhoons, the island's geographical location means that there's a very low risk of being directly hit by a tropical storm. However, it does have a monsoon period with two seasons and multiple climatic zones. 
The hottest months in Koh Samui usually range from April to May. If you visit between September and October, you will most likely be hit by monsoon rains. While there are still some occasional sunny spells during the monsoon, several local businesses shut down to avoid water or wind damage. Most nautical activities are also cancelled. On a more positive note, low season is when you'll be able to snap up the very best deals in terms of accommodation. Best of all, you'll have Koh Samui's famously gorgeous beaches all to yourself. 
If you ask me, the best time to visit Koh Samui is from December to February. The weather is hot, but there's less humidity and rain so you won't need to worry about the occasional downpour. During this time, you can expect highs of up to 33 degrees Celsius during the day. At night, the weather's cooler with lows of 23-25 degrees. 
Digital nomads who are traveling to Koh Samui during high season should preferably book their hotels and/or Airbnbs in advance. To avoid heatstroke, it's also a good idea to wear loose linen or cotton clothing and stay well hydrated.
Koh Samui for Families
While it has a reputation for being Thailand's main party island, most areas of Koh Samui are ideal for families. The one thing that may not be entirely suitable to families with small children are the coastal roads that aren't well paved or stroller friendly. 
However, there are plenty of supermarkets and pharmacies that sell children-friendly products such as diapers, formula, baby bottles, and the likes. Additionally, Koh Samui has an excellent rate in terms of safety with most crimes limited to the occasional purse snatching. 
As far as schooling is concerned, digital nomads traveling with children will be glad to learn that there are five main international schools on the island: Greenacre International School, Oonrak Koh Samui Bilingual School, Lamai International School (LIS), PanyaDee, the British International School of Samui, and the International School of Samui. 
Most of these schools employ native English teachers and follow the Cambridge curriculum. There's plenty of emphasis on sports, drama, and other extra-curriculum activities.
Additionally, families will find that there's always plenty to keep their kids entertained. For example, Canopy Adventure Samui in Surat Thani is extremely popular among locals and foreigners alike. Perfect for kids who are seven and older, this activity basically consists of zip lining from one tree to the other while soaking up a bird's eye view of the surroundings. Some zip lines even take you over waterfalls and there are plenty of viewing platforms where you can rest and relax while connecting with nature. Canopy Adventure Samui is open daily from 9:00 to 18:00. 
Another excellent activity which the whole family can indulge in is the Escape Break Adventure which is found in the Beach Republic Resort. During this adventure, you will be asked to choose from two 'prison' rooms: Shanghaied and Cuban Crisis. Families are locked in one of the prisons, and they'll be forced to work together to figure out an escape plan within an hour or less. The Escape Break Adventure additionally features puzzle solving and hunting for clues while exploring different scenarios. It should be noted that this activity is suited to kids aged nine and older. The price is THB 1,000 per adult. 
Now if you happen to be an adrenaline junkie but don't want to compromise the safety of your kids, you can always check out EasyFly Indoor Skydiving designed to simulate an actual sky diving experience indoors and under full supervision. Open from 10:00 to 19:00 on Fridays, Saturdays, and Sundays, this experience consists of a vertical wind tunnel with gusts of up to 200km/h that will propel you high in the air under the watchful eye of your supervisor. Helmets and other protective gear are provided. Kids do need to weight 20kgs or more to be eligible for this activity. Tickets costs around THB 1,400.
Living in Koh Samui
Koh Samui Transportation
There are no public buses or even Tuk Tuks on Koh Samui, but rest assured that it's still very easy to get around, thanks to the modes of transportation below: 
Songthaews
This is undoubtedly the most popular way of getting around on Koh Samui. Pronounced 'Song-Tao', this vehicle can best be described as a pickup truck with two long benches that can seat up to 10 persons. Thinks converted golf carts, only much bigger. If you ask me, riding a Songthaew is a cultural experience on its own! It's quite common to see these vehicles packed to the brim with locals and foreigners alike with someone practically hanging off the back bumper when the Songthaew is at full capacity. 
While Songthaews have no set routes, they run through every major road and beach towns, with the exception of Choeng Mon. To flag them down, you simply need to stand by the side of the road and wave to the driver. The price normally ranges between THB 30 and THB 50, depending on the distance covered. 

Vehicle Rentals
While it's fairly inexpensive to rent your own car or motorcycle in Koh Samui – at least compared to other Thai provinces such as Bangkok – it does come with its own set of risks. For starters, the roads aren't exactly in good condition. Additionally, there are quite a few scams around where you will be given a hefty fee upon returning the vehicles for 'damages caused'. Be sure to only rent from reputed agencies and take videos of the vehicle prior to signing the contract. 
Most digital nomads prefer scooters, mostly because they're cheaper and quite easy to refuel. In fact, you'll find vendors selling bottled gas alongside the road virtually everywhere you go. You do need an international license to drive a vehicle in Thailand but to be honest, most agencies don't bother checking for documentation. Scooter rentals may set you back THB 3,500/month during low season, but the price can go up to THB 5,000 in high season. 

Taxis (Motorbike and Car)
If you don't want to rent your own scooter, you can always hop on the back of a motorbike taxi. Personally, this was my favourite way of getting around in Koh Samui. Not only are they cheap, efficient, and readily available, but the drivers know all the best shortcuts that will get you to your destination in no time at all. It's also possible to negotiate on the price, so don't be afraid to haggle. Some drivers actually expect it. In my experience, short trips cost between THB 50 and THB 100 while longer routes may set you back THB 200 – THB 400. You can easily recognize a motorbike taxi by the fluorescent vests that the drivers wear. They're usually parked near popular tourist spots. 
You'll also find plenty of regular auto taxis on Koh Samui, but I did notice that most drivers refuse to turn on the meter which means that they'll be allowed to charge any rate they want. On those rare instances when the driver did agree to turn on the meter, it started at THB 50 or even THB 100 instead of zero. As such, I would strongly suggest that you negotiate and agree on a price even before getting into the taxi. 

Ride Hailing
While Uber is not available in Koh Samui, you'll find other ride hailing options on the island with Grab being the most popular. I do have to admit that drivers weren't always available, and rides were often cancelled so this may not be your best bet when it comes to late-night pickups.
Another ride hailing app that's commonly used by the locals is NaviGo which tends to have cheaper fares than Grab. There is a THB 100 booking fee, and the rate usually hovers at around THB 25 per kilometre. Unlike Grab, I found it easier to book a ride through NaviGo, including late night trips and airport pickups.
Fitness and Health
The people in Koh Samui are very health conscious, so you'll often see locals indulging in early morning walks or afternoon jogs on the beach. Thai dishes usually feature plenty of fresh seafood, vegetables, and fruits so getting your five a day won't exactly be difficult. 
The island is also known for its Wellness Retreats such as Absolute Sanctuary where you can pick from various yoga, fitness, and detox programs. While you'll find plenty of gyms and fitness centres in various areas of Koh Samui, most of them are based in residential zones such as Surat Thani. 
Popular examples include  FitKoh in Surat Thani, Star Gym in Chaweng, Elite Gym in Surat Thani, and AirGym.Family, also in Surat Thani. Most gym memberships usually cost between THB 2,500 – THB 3,500 per month but some also offer daily passes for around THB 300 – THB 500 per day. You'll also be able to pick from various classes, including spinning, yoga, aerobics, Zumba, and more. 
If gyms aren't exactly your thing, you can also look into Muay Thai classes – the Thai sport by excellence. Muay Thai centres such as Jun Muay Thai, Superpro, and Jackie Muay Thai offer classes aimed at beginners and children. 
Digital nomads who would like to completely immerse themselves in this cultural sport may wish to book a Muay Thai retreat such as Lion Heart Samui which offers weekly, bi-weekly, or monthly packages that range from THB 12,500 – THB 40,000. These retreats usually offer on-site accommodation as well as restaurants that feature nutritious meals crafted by food specialists.
Koh Samui People
Even though Koh Samui was the last leg of my journey across Thailand, it was on this island that I truly understood why the Kingdom is so commonly referred to as 'The Land of Smiles'. As a digital nomad, I have explored various countries and provinces, but very few places made me feel as welcome as the lovely people of Koh Samui. 
Locals are fiercely proud of their island, and as such, they genuinely do want you to have an excellent time. Thai people are also known for their ability to maintain their cool in just about any situation: in fact, there's a popular saying in Koh Samui that states 'Jai Yen Yen', which translates to 'Cool your heart'. Therefore, you'll rarely see locals engaging in public arguments – not even in the rowdiest of pubs. 
While Thai culture is quite conservative, I was surprised to realize that the majority of locals – including the older generation – can be quite liberal in their approach. Given that Koh Samui draws tourists from all over the world, there's no dress code, and it's perfectly acceptable to walk around in shorts and crop tops even in the centre of the island. 
The one thing that you do need to be mindful of is that elders are highly respected – almost to the point of being revered – in Koh Samui. In restaurants, for example, it's not uncommon to see the staff waiting on and serving elderly patrons first, even if they came after you. Similarly, you'll find that most locals live in an extended family unit since taking care of the grandparents or elderly parents is considered an immense privilege. Grandparents often stay at home during the day to watch the children while wives take care of the housework or help their husbands run the family business. 
When interacting with an elderly local, it's considered poor form to address them by their names. Instead, you can call them 'Uncle'/ 'Aunty'. If you want to address them in their local language, you can say 'Yāy' for grandma and 'Khuṇ pū̀' for grandpa. It's also considered respectful to join your hands together and give a slight bow of the neck when greeting elderly people. Men and women don't usually shake hands in Koh Samui so if you're greeting a member of the opposite sex, avoid extending your hand until they do so first. When eating out with someone older than you, it's considered poor form to allow the older person to foot the bill, even if they insist on doing so. According to the unofficial rule, you're supposed to insist even more emphatically until they finally relent. 
Mai bpen rai is another sentence that you'll hear quite commonly in Koh Samui. This phase loosely translates as 'No worries', another saying that locals firmly abide by. Indeed, you'll very quickly notice that there's a very laidback pace of life on the island. I wasn't initially fond of how slow everything was, but I quickly got used to it. Unfortunately, this may also equal to slower service in bars and restaurants so be sure to allocate yourself some extra time if you're going to eat out. 
Koh Samui Insurance and Medical Care
Digital nomads who are planning on working in Thailand are required by law to have health insurance. Unfortunately, Koh Samui's public hospitals aren't exactly up to the same standards as elsewhere in Thailand.
In fact, state-owned establishments such as Koh Samui Hospital are notorious for their lack of proper facilities and never-ending lines, even in the emergency room. I also noticed that the staff working in public hospitals aren't always fluent in English, and you'd be hard-pressed to find a translator. State-owned ambulances usually take a long time to arrive and sometimes, the operators don't even pick up the call. 
For this reason, expats and digital nomads opt for private establishments – not only do these provide better infrastructure and facilities, but most of their staff are also fluent in English. Some of the best private hospitals in Koh Samui are: Bandon Hospital Koh Samui in Bophut, Samui International Hospital in Chaweng, Bangkok Hospital Koh Samui, also in Chaweng, and Thai International Hospital in Surat Thani. 
Serious cases are normally transferred to Bangkok or neighbouring countries such as Singapore. 
Pharmacies are readily available throughout the island and most of the time, you won't even be asked for a prescription. The prices are affordable, but most pharmacies carry generic brands. A friend of mine did have some trouble tracking down his blood pressure medication, so it's always best to pack as many meds as you can before flying out. Just a quick heads-up though: you'll find plenty of unlicensed stores masquerading as pharmacies on the island and buying medication from these establishments can be something of a gamble.
Make sure you are fully covered by reading our full Digital Nomad Travel Insurance guide.
Jobs in Koh Samui
Now, I'll be the first to admit that while finding a job in mainland Thailand can be something of a challenge, it's definitely not impossible. However, given Koh Samui's small size, do remember that it's even harder to land a job on the island. 
In fact, your best bet would be to look into the tourism and hospitality sector first, especially if you happen to be bilingual. The island relies heavily on the tourism industry so there'll be plenty of hotels, nightclubs, and even golf courses that may be willing to employ native English speakers. If you have the required qualifications, you can also look into hairdressing or beauty treatments. 
As in most South Asian countries, it's always easier to find a job as an ESL teacher. English teachers in Thailand usually make between THB 30,000 and THB 40,000 per month and some schools may even be willing to provide shared accommodation with another teacher. Like I mentioned before, however, there are just five international schools in Koh Samui, so you may wish to consider giving private tuitions on the side. 
Given the island's pristine coastline, many expats and digital nomads choose to invest in a speedboat or Longtail fishing boat so they can offer Island tours and other marine adventures. Alternatively, if you have the proper certification, you can even become a Scuba diving instructor. Owing to the island's heavy concentration of tourists, Scuba instructors can make up to THB 60,000 per month. 
What's important to remember is that you absolutely need a work permit to integrate the local job market. According to the Kingdom's Alien Employment Act, foreigners are not allowed to work in certain industries, namely agriculture, stonework, bricklaying, hairdressing, and wood carving.
Check out our Digital Nomads Jobs Postings to find the best jobs available for Digital Nomads.
Nomad Friendly
Value for Money
Internet
Workspace
English
Food
Safety
Health
Transportation
Friendly
Quality of Living
Cost of Living Koh Samui
Like I said previously, one of the reasons why Koh Samui draws so many expats and digital nomads from all over the world is because of its affordable cost of living. Bear in mind that one dollar equals to nearly 33 Thai Bahts, so you certainly don't need a huge budget to live and work from Koh Samui. 
If you don't want to spend a lot on accommodation, you can always share a house or an apartment with someone else or rent a room long-term in someone's house for around THB 10,000 – THB 12,000 per month. Alternatively, you can always rent your own basic studio in an affordable neighbourhood like Chang Wat for around THB 6,000 per month. 
For bills, you may wish to budget around THB 2,000 for utilities such as garbage, water, cooling, heating, and electricity. Internet usually costs around THB 700 for 60 Mbps. As far as transportation is concerned, you can set aside around THB 1,000 per month for taxis or around THB 5,000/monthly to rent your own scooter. Gasoline normally costs THB 30 per litre.  
Entertainment budgets for Koh Samui can wildly differ based on the kind of activities that you'd like to do and the season during which you're visiting the island. For example, if you're heading there during low season, I would recommend that you save around THB 5,000 for bars, cinema, eating out, boating, and the likes. In high season, your entertainment budget may go up to THB 9,000 if not higher. 
In total, your monthly expenses should be around THB 29,000 which converts to nearly 900 USD.