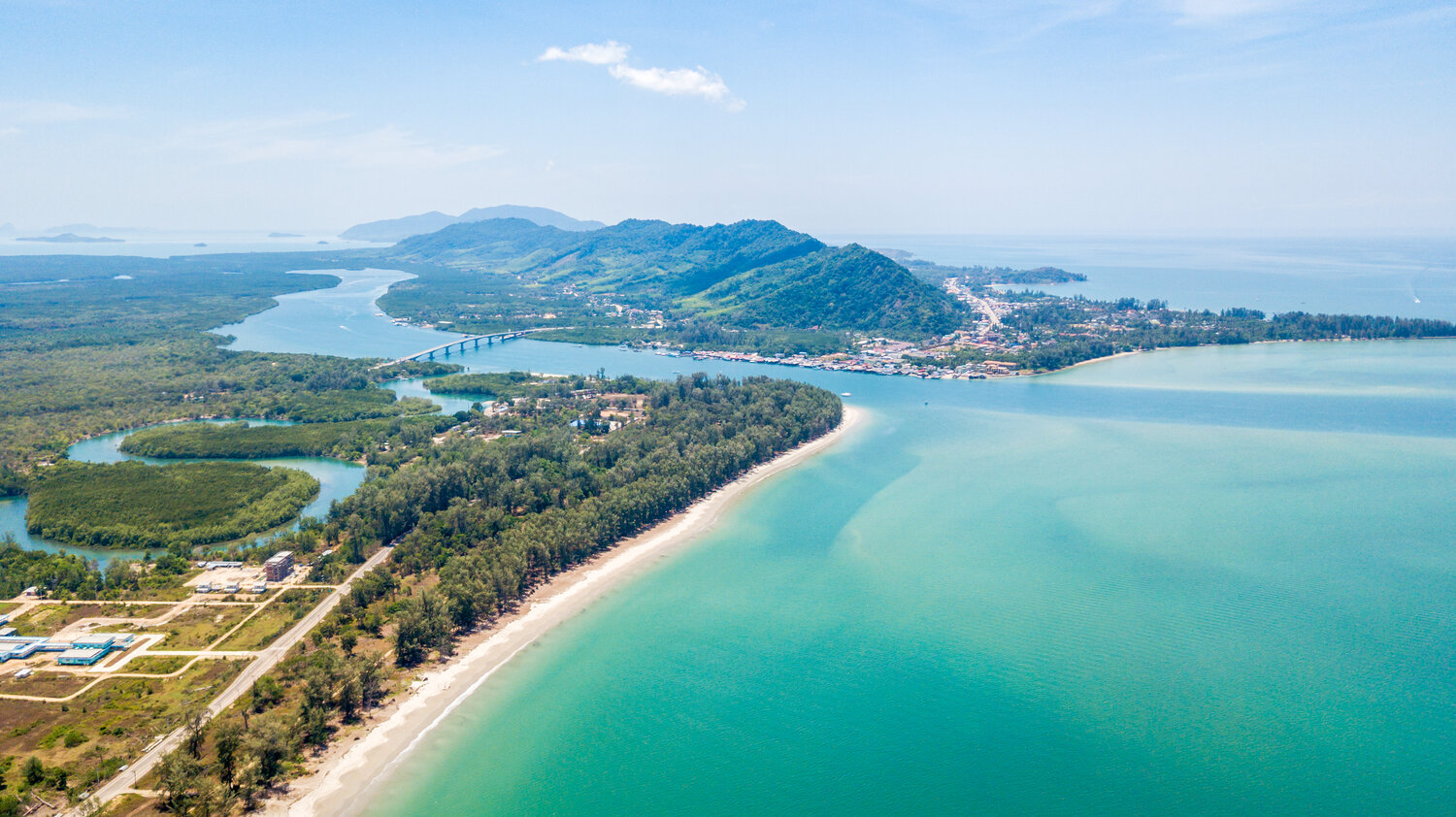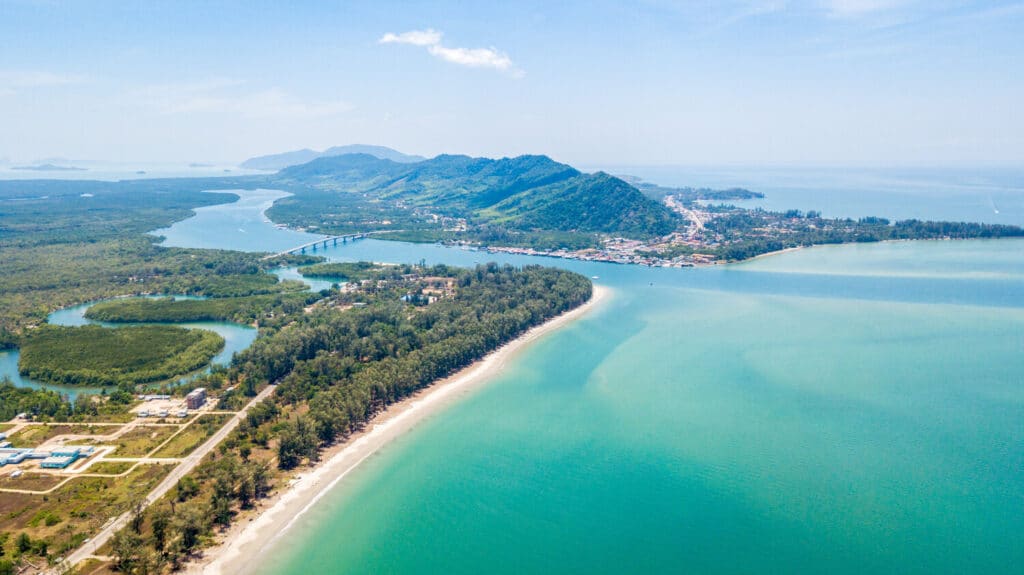 A Digital Nomad Guide to Koh Lanta
A beautiful archipelago located just off the West coast of Thailand, Koh Lanta is globally acclaimed for its shockingly clear waters, lush jungles, and cluster of 52 small islets. Virtually all of these islets are inhabited and as the largest, Koh Lanta Yai is where you'll find the biggest concentration of digital nomads. 
Admittedly, it doesn't have a lot of paved roads – especially along the coast – and the internet connection isn't as great as elsewhere in Thailand. Still, Koh Lanta attracts hordes of digital nomads each year, mainly due to its scenic sights and low cost of living. In fact, up until the late 1990s, the island was so underdeveloped that accommodation basically consisted of bamboo huts or small wooden cottages built on slits right above the lagoon – something that you can still see today. Of course, it has since modernized and nowadays, you'll find plenty of luxury condos with swimming pool or high-end resorts dotted alongside the coast. 
While it only measures 25 kilometers long and six kilometers wide with an area of over 80 kilometers squared, the island offers a wide range of attractions that you can explore during your free time. Extremely popular among backpackers – mainly because of its affordable lifestyle – Koh Lanta can be something of a party island, although I must point out that their raves are nowhere as wild as neighboring Ko Phi-Phi's. Of course, if it's peace and quiet that you're after, you'll certainly find more than your fair share of laid-back neighborhoods on the island. 
Getting to Koh Lanta from mainland Thailand is quite straightforward – while there's no airport on the island, you can always take a flight to Phuket, Krabi or Trang and then hop on a ferry to Koh Lanta. From Krabi airport, it's also possible to rent a car or taxi that will take you on a two-hour drive to Koh Lanta.
Nomad Friendly
Value for Money
Internet
Workspace
English
Food
Safety
Health
Transportation
Friendly
Quality of Living
Living in Koh Lanta Overview
| | |
| --- | --- |
|  Meal, Inexpensive Restaurant | $1.50 |
| Domestic Beer (1 pint draught) | $2.70 |
| Cappuccino (regular) | $1.80 |
| Loaf of Fresh White Bread (1 lb) | $0.54 |
| Water (1.5 liter bottle) | $0.60 |
| One-way Ticket (Local Transport) | $ |
| Basic Utilities (Monthly) | $90.07 |
| Internet | $33.03 |
| Fitness Club (Monthly) | $ |
| Apartment (1 bedroom) in City Centre | $300.24 |
Currency: Indonesian rupiah (Rp)
[erw_exchange_rates_widget lg="en" tz="0″ fm="IDR" to="EUR,USD,GBP,AUD,JPY,RUB" st="primary" cd="" am="15000″][/erw_exchange_rates_widget]
ATMs
Max Withdrawal: Rp 3,000,000
Withdrawal Fee: Rp 30,000 – Rp 50,000
Use of Credit Cards: Mostly Cash
Digital Nomad Personal Experience in Koh Lanta
Koh Lanta was among the first places I visited when I was just starting out as a digital nomad – mainly because of its inexpensive options in terms of accommodation and entertainment. I was travelling on a pretty tight budget back then, and the last thing I wanted was to spend most of my money on a place to crash. 
The archipelago was actually the third leg of my tour across Thailand – the first two being Bangkok and Phuket. I must admit that out of the three, Koh Lanta easily stood out as my favorite – it was devoid of Bangkok's noisy crowds and the locals were friendlier than the ones I encountered in Phuket. Best of all, the island had a far more authentic feel than other Thai provinces – perfect for those who want to fully immerse themselves in the local culture. 
Now, while Wi-Fi is pretty much ubiquitous throughout the island, I will say that some public hotspots are choppy at best and definitely not recommended for work meetings or video calls. Therefore, I would strongly suggest that you subscribe to your own internet package, especially if you're planning on staying there long-term. You can easily buy a local sim card with unlimited internet at Krabi airport or in mini marts across the island. 
The main providers in Thailand are AIS, TrueMove, and Dtac. Upon a local friend's recommendation, I personally opted for Dtac which offers an eight-day Happy Tourist package with a maximum speed of 100 Mbps as well as complimentary local calls. 
Like in every country, you'll most likely experience a few touts and tourist traps in Koh Lanta. However, I did notice that it was far more tolerable than, say, Phuket, for example. Other than the occasional pushy taxi driver and one guy who kept following me around until I would buy something, I think Koh Lanta was one of the places where I was the least harassed in Thailand.
Work in Koh Lanta
Best Places to Work in Koh Lanta
Here's the not-so-great news about Koh Lanta – as amazing as the island is for digital nomads, there's not a lot of choice as far as working spaces are concerned. In fact, Koh Lanta only has one single coworking spot and if you happen to be visiting in high season, you might not even be able to land yourself a desk. 
KoHub
If, like me, you can't stand working from the confines of your apartment, you can always check out KoHub, located in the charming village of Saladan. Now, I did visit Koh Lanta during off-season, so it was very easy to subscribe to a membership. What I particularly liked about this spot was that it offered the fastest Wi-Fi I've been able to find on the island.  You can choose between indoor or outdoor seating on the deck. I highly recommend the latter so you can experience the joys of working right under a typical thatched roof and soak up some sun while the balmy island breeze swirls around you. 
With close proximity to the beach, KoHub also features an on-site restaurant, special Skype rooms for online meetings, Hammocks, universal adaptors and a tranquil walking trail that runs through its 1,500 sqm tropical garden. Open 24/7, this coworking space offers plenty of options that you can choose from. For example, a daily pass will set you back THB 295, while a weekly pass costs THB 2,000. You'll need to fork over THB 6,500 for a month, THB 11,000 for 2 months or THB 15,000 for three months. 
Digital nomads who are planning on staying in Koh Lanta for an extended period of time can select from the six-month package at THB 26,000 or a yearly one at THB 42,000. I must admit that compared to several other co-working spaces across Thailand, KoHub offered some of the least expensive membership packages in the kingdom. 
While the island did not boast much in terms of coworking spaces, rest assured that it does have plenty of restaurants and cafes with free Wi-Fi where you can easily get work done during the day. These places are usually full of other fellow nomads typing away on their laptops, so you'll also find plenty of networking or collab opportunities. 
Fruit Tree Lodge & Coffee Shop
Fruit Tree Lodge & Coffee Shop: True to its name, the Fruit Tree Lodge & Coffee Shop is nestled among the trees. While the complimentary Wi-Fi can go in and out, this place offers a scenic setting in Pra-ae Village. This café is open from 7:30 to 17:00 every day, excluding Tuesdays. It even offers on-site accommodation as well as yoga classes. Especially known for their Colombian coffee, Fruit Tree Lodge & Coffee Shop also specializes in nutritious smoothies. My personal favorite item from the menu was the absolutely delicious Brie and Blackcurrant sandwich. 
Peak Café
Peak Café: Located on the beautiful shores of Klong Khong Beach, Peak Café has great Wi-Fi, but owing to its oceanfront location, it can get quite crowded and noisy. If you need a peaceful environment to work in, I would suggest that you head there early morning or late afternoon. The vegetarian and vegan-friendly spot is especially reputed for its super-friendly waiters. Believe me when I say that this is one place where you won't be rushed to leave, even if you only order a coffee. In terms of food, I can recommend their fresh tropical fruit bowls which is perfect for the humid tropical weather. Peak Café is open 8:30 to 17:30, Monday to Sunday. 
Jai-Dee Home
Jai-Dee Home: Now, this is the place to be if you would like to work while sinking your toes in the warm, soft sand. Located right on Klong Nin Beach, just steps from the water's edge, this restaurant has reliable Wi-Fi and some of the best dishes I've tasted in Koh Lanta. Because it does have a great bar, it can get quite packed in the evenings, especially on Friday and Saturday nights. The good news is that Jai-Dee Home offers a perfectly quiet environment during the day, especially off-meal times. 
Living Room Café
Living Room Café: What I personally liked about this place was how most of its items were freshly prepared in house, including their jam, sausage patties, granola, and the likes. Nestled at the very center of Koh Lanta District, this café is very popular among locals and foreigners. As such, it may not exactly be suited to those who need a quiet work environment. This place is particularly known for their breakfasts featuring continental, American, or local Thai fares.
Best Places to Live in Koh Lanta
Best Neighbourhoods
Despite its long and narrow surface, the island has plenty of neighborhoods that you can choose from, according to your budget and personal preferences. The thing about Koh Lanta is that its neighborhoods can stand in stark contrast to each other – while one end of the island is brimming with a constant flow of wild, booze-fueled parties, the other end is dead at best. As such, it really does pay off to take the time to explore the various areas before deciding where to settle. 
Klong Nin Beach
Let's start with the Western side of Koh Lanta which is where you'll find most tourists and party goers. Indeed, areas such as Klong Nin Beach, Phra Ae Beach, and Klong Dao Beach are especially known for having the wildest bars, pubs, restaurants, as well as notorious moon and mushroom parties. While the western coast is home to some of the prettiest beaches on the island, real estate prices in this area are undeniably on the higher side. Additionally, it's not exactly appropriate for digital nomads traveling with kids since it definitely has more of a party vibe than a family-friendly atmosphere. 
Saladan
If you have children, you may wish to consider places such as Saladan, which is where you'll find most local families. Often considered as the 'metropolis of Koh Lanta', Saladan is found in the north of the island. It's also the main exit and entry point into the island. 
What I personally liked about Saladan – other than its inexpensive real estate prices of course – was the friendly and hospitable atmosphere that permeates the region. Most locals live in wooden huts built on slits right above the water, but you'll also find cottages that you can rent further inland. Another excellent thing about Saladan is that it's a super walkable village so shops, restaurants, beaches, and mini marts are all easily accessible on foot. The majority of local and international schools are found in Saladan. 
Old Town Lanta
For super-cheap accommodation, you can also check out Old Town Lanta, on the East Coast. If you ask me, this is the best way to completely immerse yourself in the local culture since the Old Town is the one place in Thailand that managed to retain a more traditional way of living. On the downside, most locals in the Old Town don't really speak English so the language barrier can be something of an issue. With plenty of thick mangrove forests, the east coast is somewhat isolated, so you'll often need to hop on a Tuk Tuk to reach the best beaches and restaurants. 
South Koh Lanta
South Koh Lanta tends to be quieter, but there aren't a lot of options in terms of real estate, other than a few beach huts or bungalows overlooking the water. However, I must point out that the Far South Beach Area is generously blessed with the most spectacular sights on the whole island. With hidden waterfalls, soothing creeks, thick jungles and pristine beaches, there's no denying that the southern part of Koh Lanta is ideal for digital nomads who need complete isolation to work on creative projects. 
Find an Apartment in Koh Lanta
Given its small size, I found it easier to land an apartment in Koh Lanta than elsewhere in mainland Thailand. I was also pleasantly surprised to realize that there were fewer real estate scams on the island- although of course, you must always be on your guard. 
Never sign a contract without reading it and, if possible, it's always a good idea to visit the place in person before committing yourself to it. If you're renting long-term, it's important to know that unless explicitly specified, utilities such as electricity, gas, or water are not included, and you will be billed separately for these. It's also extremely important to check that past utilities bills have been paid off in full before signing the contract – friends of mine have had the unpleasant surprise to find themselves having to pay off the previous tenant's outstanding bills. 
Now that we've gotten these warnings out of the way, let's move on to the first thing that digital nomads want to know when it comes to finding an apartment in Koh Lanta – the price. Well, the good news is that Koh Lanta's apartments are surprisingly cheap and yes, that even includes beachfront bungalows. 
Having said that, you'll quickly notice price disparities depending on the region. For example, property on Klong Dao Beach, Kantiang Bay and Long Beach can be more expensive given that they're basically tourist hotspots. Indeed, a one-bedroom apartment in Kantiang Bay can set you back THB 53,000 per month which is far higher than the average price. On the plus side, you'll be nestled right between the beach and the jungle. 
Alternatively, you can always get studios, one-bedroom apartments, or even traditional thatched-roof huts for around THB 8,000 to THB 25,000 in more affordable neighborhoods such as the Old Town, Tambon Saladan, Klong Khong Beach, or even Klong Nin Beach. 
As far as the paperwork is concerned, it's good to know that long-term lettings in Koh Lanta start as from six months. Whether you're dealing with a company or directly with the owner, you will be asked for a copy of your passport, proof of income, work permit and sometimes even a character reference. Agencies can also ask for a credit check as well as a two-months deposit. 
Personally, I found my apartment by browsing through social media groups such as Koh Lanta Expats and Regulars, Thailand Real Estate and Rentals, as well as Koh Lanta Buy/Sell/Rent anything. The main advantage with booking directly with the owner is that you get to negotiate on the price and conditions – although I did notice that most owners stood firmly by their rates! 
While social media groups may be better for short term lettings (up to four months), it's always a good idea to book through a reputed agency for longer rentals. Some of the best local agencies include Koh Lanta Property Management, Lanta Island Property, Lanta Hideaways, and Your Lanta Property. When dealing with real estate agencies in Koh Lanta, I did not find the language barrier to be an issue since most agents are quite fluent in English.
Cheap Places to Stay in Koh Lanta
Given how affordable most apartments are in Koh Lanta, it's extremely easy to land yourself a budget-friendly room on the island – which might just explain the sheer number of backpackers and broke digital nomads that you'll see virtually everywhere. 
In fact, if you ask me, there's no better way to land complimentary accommodation in Koh Lanta than to browse through Couchsurfing. While the website is admittedly not super popular in most Thai provinces, you'll still find around 50 hosts on the island who are willing to welcome foreigners into their home, completely free of charge. 
On Airbnb, you can even book a room in shared flats or houses for as low as THB 360 per night, which equals to around 11 USD. Alternatively on Booking.com, you can always book beds in shared dormitories for as little as THB 200 per night.
Like I said before, your choice of neighborhood has a direct impact on the price. As such, it's always best to favor affordable neighborhoods such as Klong Khong Beach where you may even find ocean-view rooms in three-star hotels for around 400 THB per night. In Saladan, a small chalet can run for around THB 500/night while a two-bedroom bungalow can set you back around THB 1000/night. 
If you don't mind being tucked away in one of the island's least busy areas, you can always book a room in Lanta Old Town. This fishing village features rooms in old-school thatched huts for between 250 and 350 THB per night. On the downside, you'll be far from all the glitzy pubs and restaurants.
Koh Lanta Visa
Compared to most countries in the Southeast Asian region, it's quite easy to get a visa for Koh Lanta. I personally found their immigration website to be straightforward to navigate through although you may need to use Google page translator since the English version of the site isn't always accurate. 
Digital nomads may be interested in Thailand's 'Smart Visa' which was recently introduced to make it easier for foreigners to stay in the country for up to four years. There are four types of Smart Visas: 
Smart T

: This visa is applicable to Science & Technology experts who have a minimum income of THB 100,000 or more. 
Smart I

: This Smart Visa is more commonly granted to investors who are willing to inject at least 20 million Bahts in the country. With this visa, you will be treated to a fast-track service in all of Thailand's international airports. 
Smart E:

For this visa, you need to have a relevant Bachelor's degree and at least 10 years' work experience. The Smart E targets high-level senior executives who have a minimum income of at least THB 200,000 per month. 
Smart S

: This one is ideal for digital nomads who have their own start-up companies. You'll need to make a deposit of at least THB 600,000 which the country will hold for three months. 
Smart O

: The Smart O visa is applicable to spouses and children of any main Smart Visa Holder. 
Additionally, digital nomads who are only going to be in the country for two months or less may apply for a tourist visa on the immigration site. Bear in mind that you will need to submit documents such as copies of your plane ticket, proof of accommodation, as well as passport-sized pictures. In some cases, you may also be asked for a copy of your bank statement to show that you have at least THB 20,000 in your account. 
It is also possible to apply for a visa extension once you're in Koh Lanta. Personally, I found it easier to go on a visa run by hopping on a cheap flight to Cambodia before returning to Thailand after a few days. 
If you can afford it, you can also consider applying to the Thailand Elite Visa which grants you up to five years in the country. While it does provide multiple entries into Koh Lanta, this visa runs for around THB 600,000.
Culture and Food in Koh Lanta
In true Thai fashion, the local food scene in Koh Lanta includes plenty of spicy, sour, and sweet notes – all generously drizzled with oil and more often than not, served with a hearty side of carbs. You'll also find plenty of seafood on the menu – in fact, you'll even see plenty of beach vendors offering sea urchins and oysters freshly plucked from the ocean. 
Having said that, I did notice that Koh Lanta is one of the rare few Thai provinces where you'll also find healthier options. Not unlike Bali, the island is sprinkled with vegan, raw, or vegetarian restaurants, so rest assured that the local cuisine definitely caters to various palates.
However, I do have to point out that there's no international fast-food outlets on the island. If the local cuisine isn't quite up your alley, you'll certainly find plenty of eateries specializing in Western fares- although these can be more expensive. 
Some of my absolute favorite dishes that I tried on Koh Lanta included: 
Pla Kapung Neung Manao

: In my opinion, this is best enjoyed at a beachside restaurant so you can savor the freshest of ingredients. This dish basically consists of a whole steamed fish, abundantly flavored with cilantro, Thai chilis, fried garlic and lime soup. If you're not a fan of spicy dishes, you can always opt out of the chilis. It's usually served alongside a heaping bowl of freshly boiled rice. 
Yam Nua:

Basically a fragrant roast beef salad, Yam Nua was my go-to lunch when I was on the island. Ideal for a hot summer's day, this dish is made up of thin beef strips, chopped red onions, shallots, cabbage, carrots, and sprinkled with spearmint leaves. Most restaurants allow you to choose your dressing and if you want to be particularly adventurous, I can recommend the chili-infused lime juice and garlic sauce. 
Massaman Curries:

While it looks just like any regular Indian curry, the Massaman Thai curry has an entirely different flavor profile. Indeed, these curries utilize less spices, but more tamarind paste and coconut cream. Restaurants usually serve meat, fish, and chicken curries but you'll also find plenty of places serving up Vegetable Massaman. Like most Thai dishes, these are normally accompanied by steamed rice or flaky

Rotis

that you can dip into the sauce. 
Crab summer rolls

: Another refreshing snack that's perfect for the warm Thai climate, crab summer rolls are available in virtually every restaurant around the island. Some places even use fried octopus instead of crab. One word of caution though – the dipping sauce in Thailand is probably much spicier than what you're used to, so be sure to do a quick taste test before completely submerging your rice wrapper in it.  
Given that Koh Lanta is basically a melting pot that encompasses Muslims, Buddhists, and Gypsies, you can expect to find plenty of cultural festivals all year long. For example, if you visit Koh Lanta in March, you'll get to attend the annual Laanta Lanta Festival which takes place in the Old Town. Because this festival aims at preserving the local Chinese heritage, it features ceremonial shows, folkloric costumes and music, as well as free food samples from streetside stalls. 
Another popular festival in Koh Lanta is the Sat Duean Sip Festival which honors the ancestors. Also known as the Tenth Lunar Month, this festival is mostly centered on food. Families usually spend days preparing five traditional food offerings that are presented to the monks. Ornate carriages are also decorated and pulled through the streets of the Old Towns and Saladan. 
Twice a year, the island's sea gypsy community holds the Loy Rua festival during which brightly painted boats and vessels are symbolically filled with the villager's worries and sent adrift to sea at the end of the day. Believe me when I say that this is quite a sight to behold, with the decorated boats floating gently in the pinkish water at sunset while the gypsies softly chant their traditional songs in the background. 
Koh Lanta Nightlife
Okay, I'll be the first to admit that Koh Lanta's nightlife doesn't even begin to compare to elsewhere in Thailand like, say, Bangkok for example. Other than a small cluster of bars and clubs, the island doesn't quite have that many options in terms of evening entertainment. There are no shopping malls and only one cinema in Koh Lanta that closes quite early on most evenings. 
The one exception to Koh Lanta's temperate nightlife is on the West Coast where you'll find plenty of wild parties in raucous venues – think boozy college freshmen on spring break who want to dance the night away while experimenting with various substances. 
Still, if wild parties aren't exactly your scene, you can check out the few bars or clubs that do remain open until around 1:00 or 2:00. My advice would be to check these clubs out on Friday and Saturday nights because that's really when they flare to life. You may even be treated to live entertainment from local or international DJs. If you're interested in the local nightlife, you may also wish to check out the island's resorts, most of which regularly host vibrant parties for locals and foreigners alike. 
Pangea Beach Bar
Located smack on Long Beach, Pangea Beach Bar rapidly turned into my absolute favorite spot in Koh Lanta. Open Monday to Saturday from 12:00 to 2:00, this beach shack boasts straw huts and rattan furnishing with an open-air dance floor right there on the sand. Friday and Saturday nights are usually punctuated by live entertainment thanks to local DJs or musicians specializing in house music. 
While Pangea Beach Bar is particularly renowned for its extensive list of handcrafted cocktails, I can also recommend their grilled seafood which, more often than not, is fished right from the ocean in front of you. 
Free Descent (formerly Funky Monkey)
If you're into karaoke, this is the one place that you can't afford to skip. Indeed, their karaoke nights on Fridays are hailed as among the best on the island and everyone is urged to join in – so this may not be the spot for introverts. What I personally liked the most about Funky Monkey was how, despite its popularity, the establishment offers reasonably priced snacks and drinks. 
Found in Saladan, this karaoke bar is open Monday to Sunday, 17:00 to 4:00. Digital nomads who are visiting in high season should preferably head there early, because it tends to get quite crowded, and you may be denied entry once they reach maximum capacity. 
Freedom Bar
With a funky décor, neon lighting, and a treehouse-style architecture, Freedom Bar is certainly on the more expensive side but if you ask me, it's completely worth the splurge. Because it's so popular among foreigners, this spot is also ideal for digital nomads looking for networking or collaborating opportunities. 
In line with its super-casual vibe, Freedom Bar has oversized cushions scattered all over the floor so you can just kick back and relax with a drink while enjoying the live music in a multi-hued atmosphere. There are plenty of wooden tables and chairs available for those who would like to try one of their delicious dinner offerings. Freedom Bar is found in Lanta Emerald Bungalow, right on Liberty Beach. 
Irish Embassy Pub
I was quite surprised to come across a place like the Irish Embassy Pub in Koh Lanta. Standing in stark contrast to the bustling atmosphere that I have come to expect from most Thai clubs, this place has a refined and laidback interior – perfect for those who would like to enjoy a relatively quiet night out. In true Irish style, you can expect typical pub fares such as burgers, fish and chips, mushy peas, and the likes. It even serves Irish brews such as Guinness and Kilkenny Cream Ale.
On select evenings, the Irish Embassy Pub does host events such as retro nights, dart throwing or pool contents, open mic, and live music. Whenever there's an international football match on, you can expect the pub to come to life as European expats gather around the flatscreen to cheer on their favorite team. Open Monday to Sunday from noon to 1:00, this pub is found in Prae Ae.
Why Not Bar
Like most nightspots in Koh Lanta, Why Not Bar also features a super laid-back vibe with a casual dress code. It's found right on the beach and offers floor seating with large, plush cushions arranged in front of circular tables. While it does offer live music, this bar is especially known for its thrilling fire shows punctuated by rhythmic beats. These shows usually start around 22:00, but I'd recommend that you head over there at least half an hour earlier to ensure that you get a good spot. 
This up-and-coming bar is located right on Kantiang Bay, on the island's south coast. Around once a month, you will be treated to exhilarating parties so you can dance the night away right by the water's edge. Why Not Bar is open every day from 11:00 to 2:00 the following morning.
Things to do in Koh Lanta
I must admit that at first, I was worried about getting bored in Koh Lanta – after all, the archipelago's islands are all on the small size, and it was all too easy for me to imagine that I would run out of things to do in just a few days. 
How wrong I was! 
Despite its diminutive size, the thing about Koh Lanta is that it offers something new in just about every corner. Whether you're seeking thrilling adventures like cave climbing or something laid-back like simply stretching out on one of the (many) sunny beaches, rest assured that the islands are just bursting with an assortment of entertainment to keep you occupied on your days off. 
Here are some of my personal favorite things to do in Koh Lanta:  
Indulge in a yoga class

Given the distinctive wellness culture that permeates the island, you'll be able to find yoga classes in virtually every corner of Koh Lanta. For example, Oasis Yoga in Saladan boasts yoga classes in traditional stilted wooden treehouses. With ocean views on one side and jungle vistas on the other, this yoga studio offers both morning and afternoon classes for adults or children of all levels. While prices can be on the more expensive side, rest assured that it's also possible to find cheaper yoga classes. For instance, Lanta Yoga, also located in Saladan, offers sessions for around THB 300 for one and half hour.

Relax on the pristine beaches

There's no denying that the one thing that put Koh Lanta on the map is undeniably its glorious stretches of soft, silky sand. Luckily enough, all the beaches are entirely free to visit, perfect for digital nomads who are strapped for cash. In fact, you can even set up a cheap tent on one of the beaches for a memorable night, right by the water's edge. From most beaches, it is possible to rent snorkeling gear to explore the lagoon or hop on a 30-minute glass bottom boat ride for around THB 20. Long Beach, colloquially referred to as Phra Ae Beach, is one of the most popular beaches on the island. Located just a quick drive from Saladan Village, this beach does live up to its name and stretches for five kilometers. While I absolutely adored the crystalline lagoon, do bear in mind that the water goes deep quite quickly, owing to the sloped terrain. It's also one of the rare coastal places in Thailand that's not packed with restaurant tables and sunbeds. In high season, it's not uncommon to see food vendors lined up under the palm trees serving up inexpensive eats. On a less positive note, Long Beach can get quite packed and noisy owing to its popularity. If peace and quiet is what you're after, you may wish to check out the aptly named Secret Beach which is found between Khlong Khong Beach and Long Beach. Because it's quite easy to miss the entry, several foreigners just drive past the red dirt road, completely oblivious to the paradisiac setting that awaits mere feet away. As such, you'll mostly encounter locals, but if you head over there during office hours on weekdays, you might just get the entire place all to yourself. With a calm lagoon, this beach is also home to a herd of cows who often come to relax or munch on ripened coconuts. There's even a small, family-owned bar where you can sip on a refreshingly cool beer while chatting with the friendly owners.

Tour Mu Koh Lanta National Park

In stark contrast to the island's postcard-worthy sites stands the rugged terrains of Mu Koh Lanta National Park, located on the southern coast. First established in 1990, this marine park encompasses over 16 islets in the Koh Lanta group, including a part of Koh Lanta Yai. Easily recognizable by its lighthouse towering on the hill, this park is home to rocky outcrops and even a forest trail that you can hike through on your way to the shore. This park additionally features a few cycling trails as well as camping facilities. With an abundant marine life, this area also provides plenty of snorkeling opportunities. Best of all, you can even rent a bungalow right at the very heart of Mu Koh Lanta National Park. Prices for the bungalows usually range between THB 1,500 to THB 2,000 per night. The park is open from 8:30 to 17:00 daily. The entrance fee is THB 200 for adults and THB 100 for kids.

Uncover Koh Phee's Caves

Also known as 'Ghost Island', Koh Phee is a rock islet which is found just off the east coast of Koh Lanta. You'll find boat shuttles departing from the beach virtually all day long and the price for a two-way transfer normally ranges between THB 400 to THB 600. Once at Koh Phee, you can use ropes and tires to explore the many caves that the islet is known for. I do have to warn you that very few agencies actually provide safety equipment or even harnesses so be sure to do your research in advance. Now, if cave climbing isn't quite your thing, rest assured that you can always rent a kayak – perhaps even one of those transparent ones that went viral on social media – and explore the glorious turquoise waters around Koh Phee. Digital nomads who book a day trip through an agency may even be treated to lunch on one of the deserted islands in the vicinity. A quick note of caution though – do keep your eyes peeled for the mischievous groups of monkeys who might swoop over to snatch your phone when you're taking pictures. I would also recommend that you wear adequate shoes to explore the caves and perhaps even get a waterproof case for your phone if you're going to kayak. Sunscreen is quite essential considering how brutal the Thai sun can be, especially when reflecting off the water. Most tours to Koh Pee cost between THB 1,200 and THB 1,500 per person.

Stroll through Old Town Koh Lanta

One of the absolute best cultural experiences I've had in Thailand was venturing through the narrow lanes in Old Town Koh Lanta. Originally a settlement for the gypsies, the Old Town was built on slits over the water. What I personally like best about this place is how it retains so much of its ancient architecture, including old Chinese shophouses that you can browse through for local products. Of course, you'll also find your fair share of modern shops, including touristy stalls and smoothie stands. I would say that exploring the Old Town is the closest thing you'll get to stepping back in time in Thailand. Compared to Koh Lanta's lively and energetic buzz, the Old Town has a very slow, almost sluggish atmosphere – just like the bygone days.
Best Time to Visit Koh Lanta
Like all Thai provinces, Koh Lanta boasts a sunny and warm climate all year long. Instead of the four traditional seasons, the island has a dry and a wet period punctuated by bi-yearly monsoon rains. Owing to its geographical location (7.6 degrees above the equator), Koh Lanta has plenty of humidity, even during the monsoon so be sure to pack loose cotton or linen clothing. 
The dry season normally ranges from mid-October to early March, with the most populated months being December, January, and February. During that time, you can expect highs of up to 40 degrees Celcius during the day, so be sure to keep hydrated and always carry your sunscreen with you. At night, the temperature is more tolerable with lows ranging from 28 to 37 degrees. Owing to the sunny weather, this is the ideal time to indulge in nautical activities such as kayaking, catamaran trips around the islets, snorkeling, and the likes. 
Because the island is so crowded in dry season, you usually need to make reservations several days in advance. It's not always possible to land last-minute accommodation during summer so be sure to book your hotel beforehand. 
If you want to avoid the crowd and benefit from the best rates, you can always fly to Koh Lanta during the wet season between May and September. Locals usually refer to this period as the 'Green Season' since the lack of tourists usually mean a lack of pollution. In Green Season, you can expect plenty of heavy rainfall in May and June with some respite in July and August. The rain usually picks up again in September until early to mid-October. 
While you'll undoubtedly land the very best deals in terms of accommodation, the bad news is that there isn't a lot to do in May and April. In fact, most speedboat services to Koh Lanta stop running around this time although you'll still be able to catch the occasional ferry to the island. Most locally owned businesses remain closed during this time to protect the outdoor furniture from heavy gusts and rain. On the flip side, digital nomads working in creative fields will have the island virtually all to themselves with as much peace and quiet as they need to focus on their projects. 
Koh Lanta for Families
I may not have travelled to Koh Lanta with kids, but I did notice that the island easily caters to children and families in general. Baby formula, diapers, and other such products are readily available in mini-marts and pharmacies throughout the island.
I will say that not every coastal road is stroller-friendly though, given the number of potholes that I saw in Koh Lanta, but you'll certainly find better infrastructure in family-friendly neighborhoods such as Klong Dao in Saladan.  
While local schools hold classes in the local language, rest assured that there are plenty of international establishments for foreign kids, especially in Saladan. Popular options include Global Village School Lanta, Lanta International Language School and The International School of Asia, Koh Lanta. These schools normally specialize in international curriculums, including the American, British, and International Baccalaureate. There's plenty of emphasis on extra-curricular activities, especially yoga and nautical sports. 
If you have smaller children, you'll be glad to learn that the island does provide English-speaking day care centers such as the Happy Kids Kindergarten in Phra Ae Beach. 
In terms of entertainment, there's plenty to keep the whole family busy during the weekend. Some of the more popular family-friendly activities include: 
Khlong Jark Waterfall:

Located just steps from Kantiang Bay in the south, this waterfall is accessible after an easy stroll through the forest. The waterfall has a shallow pool, perfect for kids who would like a refreshing swim after their hike. 
Lanta Animal Welfare:

One of the best family-friendly destinations in Koh Lanta, the Lanta Animal Welfare is always on the lookout for volunteers to spend time with their rescue kittens and puppies. Kids will undoubtedly like walking the rescues or help the staff feed and bathe them. Located in Sala Dan, this non-profit organization is open Monday to Saturday, 10:00 to 17:00. 
Koh Rok Snorkeling

: Just a quick boat ride away from Koh Lanta takes you to one of the best snorkeling spots around. You can always book a full-day tour to Koh Rok that includes snorkeling expeditions, picnic lunch, and boat rides around neighboring islets. While day tours usually cost between THB 1,500 – THB 2,000, it's also possible to arrange for overnight camping trips on Koh Rok for an additional THB 500, tents and blankets included. 
Kayaking

: Given its popularity among expat and local families alike, it's quite easy to arrange for kayaking expeditions in Koh Lanta. Some agencies even offer kayaking tours through mangrove forests on the eastern coast so you can spot endemic creatures such as the mudskipper fish. Alternatively, you can also book a kayaking tour to various islands, including the Talabeng sea cave. Prices range from THB 800 to THB 1,500.
Living in Koh Lanta
Koh Lanta Transportation
Getting around Koh Lanta isn't quite as simple as traveling across more populated Thai areas such as Bangkok, Chiang Mai, or even Phuket. In fact, the great majority of digital nomads that I met preferred to get around on scooter. It's also possible to rent a car in Koh Lanta but this can get expensive very quickly. While this definitely had its advantages, I was personally a bit hesitant to rent a scooter owing to the fact that most Thai people drive like they've got a few extra lives tucked away somewhere. 
It's also important to know that there's no actual public transportation system in Koh Lanta. Most resorts, bungalows, and hotels lie within walking distance to popular restaurants or bars. Of course, given Koh Lanta's topography, you'll never be far from the beach, even if you rent a place near the center of the island. 
Here are some of the most common ways of getting around in Koh Lanta: 

Tuk Tuk
There are three main types of Tuk Tuks on Koh Lanta – regular ones, Tuk Tuks with sidecars, and those that look like pickup trucks- perfect for groups of up to ten people. While Tuk Tuks are quite speedy, I did notice that those posted in front of popular venues tend to charge more than three times the average transfer price, so don't be afraid to haggle.
If you're planning on spending a whole day exploring the island, I would also suggest that you negotiate with the driver to settle on a daily rate instead of the usual price per kilometer. The rate normally ranges from THB 50 – THB 80 for two kilometers. Bear in mind that Tuk Tuks in Thailand usually charge per person and not per trip. 
Scooter rental
Like I mentioned, this is the most popular way of exploring the island, both for locals and foreigners. In fact, if you don't mind braving the streets and somewhat demented drivers, this can actually be quite an inexpensive way of seeing the island. Even if I'm not a fan of driving in Thailand, I must admit that Koh Lanta has far less traffic than elsewhere in the kingdom. 
Most rental companies charge around THB 200 per day in low season and around THB 300 – THB 350 in high season. While some companies do ask for an international driver's license, most do not ask for documentation. As far as gas is concerned, it's usually sold by the bottle at roadside stalls. The price ranges from THB 35 to THB 45 per liter. 
Taxi
Owing to their expensive rates, taxis in Koh Lanta are more popular among tourists than foreigners. There are no taxi stands on the island, but you can simply stop by the side of the road or wave your hand and they will come to a stop. 
Sometimes, you can also spot some taxis parked in front of shopping centers. Prices usually depend on the route – for example, a one-way trip from Klong Dao Beach to Klong Khong Beach (around eight kilometers) will set you back between THB 100 – THB 200. Taxi drivers tend to charge more for late night trips.
Fitness and Health
Despite its party scene, rest assured that Koh Lanta isn't all about boozing and greasy Thai food. Quite on the contrary, there's an undeniable health and fitness culture in Koh Lanta – as evidenced by the sheer number of healthy restaurants and sporty activities available in virtually every neighborhood. Eateries such as Koh Lanta Noi Organic Farm and Restaurant, Pure Koh Lanta, and Tuesday Morning Small Talk Cafe are quite popular among expats for their low-calorie dishes sourced from fresh, organic produce. 
In terms of exercise, Muay Thai is the sports of choice among locals, especially the older generation. If you're interested in this sport, you can always check out specialized centers such as the Lanta Muay Thai Academy which is found on Long Beach. Along with Muay Thai classes, this club also offers private coaching, yoga, and fitness training. I did find their rates to be quite affordable: a six-month membership will set you back THB 3,500 while a yearly plan costs THB 6,000. A monthly subscription will set you back THB 1,000. 
Hiking and running are quite popular activities among both foreigners and locals. In fact, locals usually flock to the National Park in the south to enjoy an immersive stroll in nature or explore the many hiking trails. You'll also find people jogging on the beach in the early morning or late afternoon and as exhilarating as this is, I learned the hard way that you can't exactly go barefoot – there's plenty of broken bottle fragments (especially after the weekend) and sharp shell shards, so be sure to shoe up adequately.
Koh Lanta People
While I found the people in Phuket to be quite cold and somewhat resentful of the staggering number of tourists that invaded their island, I must say that interacting with the people in Koh Lanta was among the highlights of my stay. 
Not only were they exceptionally warm and hospitable, but I noticed that locals didn't hesitate to go out of their way to help you – more than once, I've been escorted to my destination while asking for directions. I've had locals pay for my drinks or meals and a friendly granny who owned her own little snack whipped up a special two-course meal just for me because regular menu items were too spicy. She didn't even charge me extra and refused to accept a tip. 
It didn't take me long to realize that the world-famous 'Koh Lanta Charm' was more than just an idiom on the island. This probably has something to do with the fact that the island regroups locals of various faiths and ethnicities who live in perfect harmony with one another. This multi-ethnic community primarily consists of three distinct cultural groups – the Thai-Chinese, Thai-Muslim, and the Sea Gypsies who are also known as the ChaoLay. I was told that the Sea Gypsies were the very first settlers to arrive to the island. 
Given that it's a predominantly Muslim nation, there's a fairly conservative culture on the island, but rest assured that there's no particular dress code for foreigners in Koh Lanta. Topless sunbathing is quite common in the West, especially on Long Beach, and it's not uncommon to see foreigners walking around in bikini tops and sarongs, even in the center. The only places where you're expected to cover up is near sites of worship. Still, no one will actually reprimand you if you're not adequately dressed. After all, locals may be conservative, but they do have an exquisitely humble and gentle demeanor, especially towards foreigners.
Local women, especially in the South, often go out in full burka. You'll also hear the Muslim call to prayer several times a day. On Friday afternoons, most Muslim-owned stores and restaurants close early since the owners go to the mosque for their weekly Jumah prayers. 
Just like elsewhere in Thailand, family units in Koh Lanta usually comprise of three generations living under the same roof – grandparents, parents, and children. Women normally live at home with their parents and move into their husbands' houses after marriage. Elders are treated with so much respect that the common way to greet grandparents is to bow down to touch their feet. During mealtimes, elders are often served first. 
If you would like to interact with locals in their native dialect, you can always learn the following phases before heading to the island: 
Hello: Instead of shaking hands, Thai people usually fold their hands together in a prayer-like gesture and say

Sah-Wah-Dee.
Thank you: When saying thank you, locals normally give a small bow of the head or again fold their hands together and say

Kop-Khun-Krub

for men and

Kop-Khun-Kha

for women. 
See you later: Laéw-Jer-Gan.
Koh Lanta Insurance and Medical Care
Not only do you need health insurance before heading to Thailand, but you also need to always keep copies of your coverage papers on you. While clinics will not deny you treatment without health coverage, bear in mind that the costs can add up very quickly and you'll be in for a very expensive surprise when they'll hand over your bill. 
The island has one major hospital in the Old Town and four medical centers located in Khlong Nin, Phra Ae, and Saladan. Both the Old Town Hospital and Siam Clinic in Phra Ae are open 24/24. Given the large number of expats who live in Koh Lanta, most hospital staff do speak English. It's also important to know that there are only two dental clinics on the whole island – Lanta Smile Dental Clinic and Lanta Denté Clinic.
As excellent as the Thai healthcare system is, I did notice that most hospitals on Koh Lanta are understaffed. Additionally, they're not as well-equipped as those on mainland Thailand. As such, some emergency procedures may be transferred to better-equipped areas such as Phuket, Krabi, Trang, or Bangkok. Given the island's small size and lack of traffic, ambulances are usually quick to arrive.   
While you'll find plenty of small pharmacies dotted all throughout the island, some medication – especially prescription drugs – may not always be available. As such, you may need to grab a ferry to a more developed island like Phuket for other meds. Most pharmacies carry generic instead of mainstream brands and I found the prices to be quite reasonable.
Make sure you are fully covered by reading our full Digital Nomad Travel Insurance guide.
Jobs in Koh Lanta
While Koh Lanta doesn't offer quite the same number of opportunities as Bangkok for example, it's still possible for digital nomads to land a local job on the island. 
Before embarking on your job search, however, it's crucial to make sure that all your paperwork is in order. Nomads need to have a valid Visa and work permit to be able to work in Thailand. Additionally, your employment should be in line with the country's Alien Employment Act which stipulates that certain work categories are only reserved for the locals. These include, but are not limited to, stonework, hairdressing, wood carving, bricklaying, and agriculture. 
Websites such as Careerjet and Linkedin can help you land a short or long-term job in Koh Lanta. Thanks to the many resorts on the island, English, French, or bilingual foreigners also have an excellent chance of getting snapped up by the hospitality industry. Scuba and boat charter companies, especially those owned by expats, are always on the lookout for English-speaking staff so it's worth connecting with them for any potential job opportunity. 
Like elsewhere in Thailand, there are plenty of teaching opportunities in Koh Lanta. In fact, you'll find many international schools looking for teachers and teaching assistants all year long. You will need to produce a copy of your bachelor's degree and teacher's diploma. Teachers usually make between THB 30,000 and THB 40,000 per month, although some schools- especially international academies- are willing to pay up to THB 50,000/monthly. Some institutions also provide complimentary accommodation in a shared apartment or villa.
Check out our Digital Nomads Jobs Postings to find the best jobs available for Digital Nomads.
Nomad Friendly
Value for Money
Internet
Workspace
English
Food
Safety
Health
Transportation
Friendly
Quality of Living
Cost of Living Koh Lanta
One of the reasons why Koh Lanta has such a dense population of digital nomads and expats is because of its affordable cost of living. Even if you happen to be on a severely limited budget, it's still easy to lead a comfortable life on the island – especially if you're judicious about some things, like your choice of accommodation and neighborhood. 
For example, a budget hotel room in the Old Town can cost around THB 4,000 per month. If you would like to have your own place, you can always get a one-bedroom place in Saladan for approximately THB 8,000 – THB 18,000 per month while a two-bedroom villa can set you back between THB 19,000 – THB 22,000/monthly. 
As for the utilities, I'd recommend that you set aside around THB 3,000 per month for basic items such as water, heating, cooling, and garbage disposal. A basic internet plan (21 Mbps or more) should normally cost around THB 1,100 per month and motorcycle rental usually runs around THB 3,000 monthly. 
Now, your entertainment budget largely depends on the type of activities that you're interested in. Like I said before, there are plenty of beaches, parks, and hiking trails that you can explore for free in Koh Lanta. If you're planning on eating out, getting massages, or visiting paid attractions on a regular basis, you may wish to set aside around THB 6,000 per month.    
This comes to a total of THB 35,100 per month- including accommodation – which is around USD 1,100 per month.