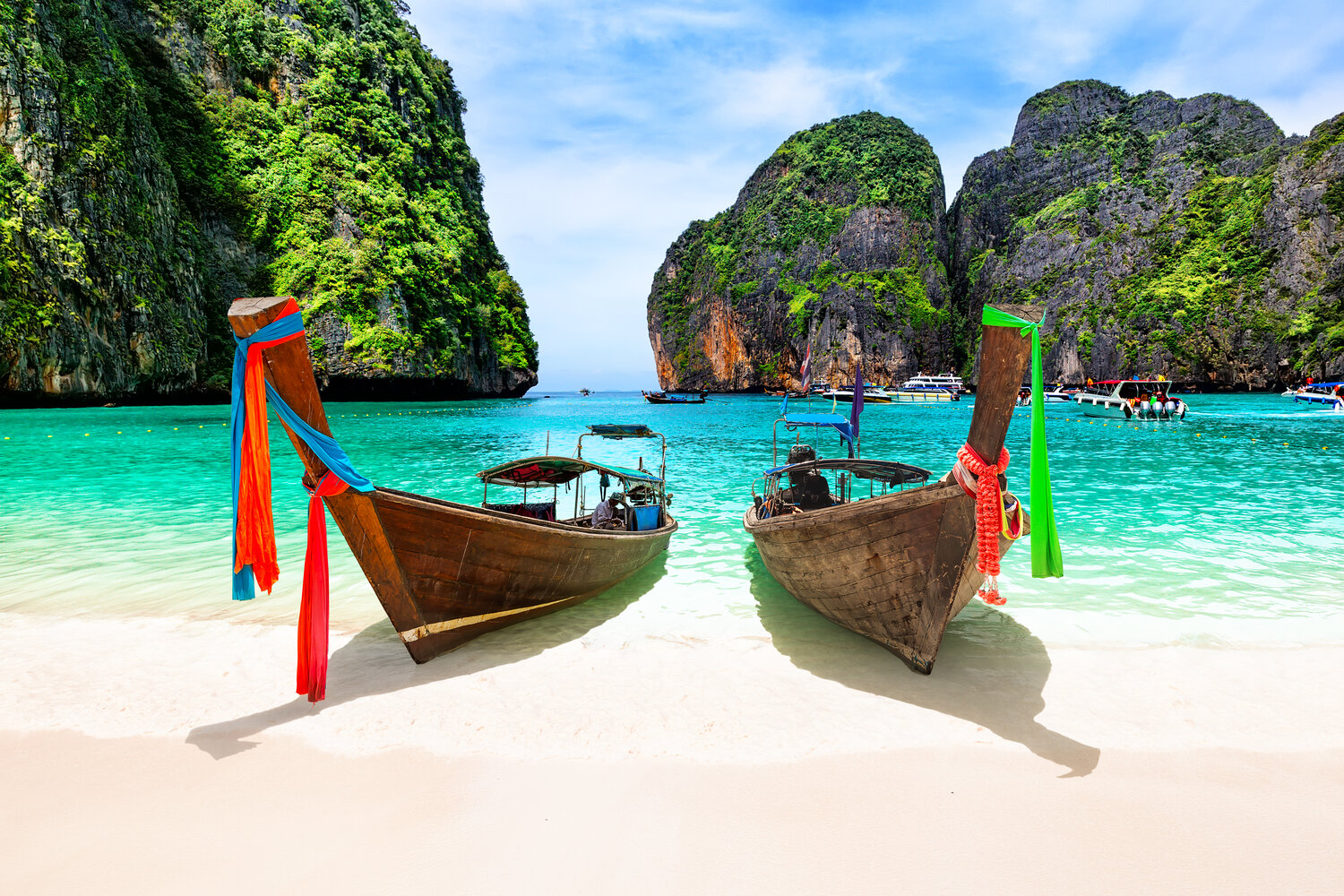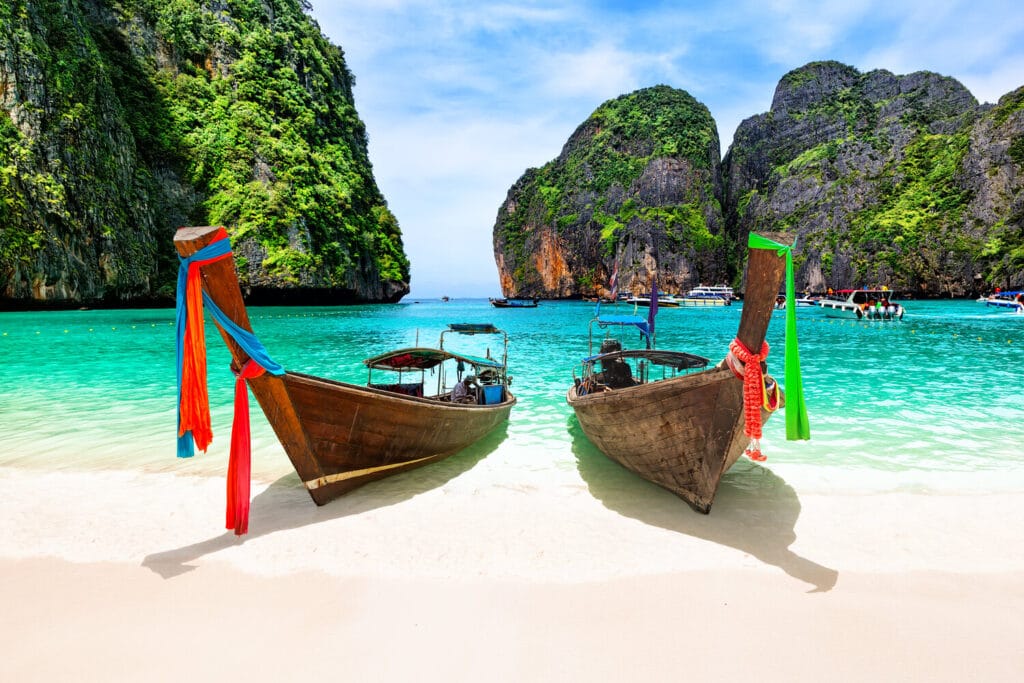 Digital Nomad in Thailand Guide
Choosing where to go next can be quite difficult as a digital nomad. Decision paralysis can be a particular challenge if it is the first time you are venturing out and trying this whole "remote working and travelling" thing. Thailand is a great option for veteran digital nomads and newbies alike.
Thailand has ranked as one of the best countries for digital nomads in the world. This is no surprise considering everything it has to offer. Not only is it an island paradise, but it also boasts some of the most innovative and buzzing cities in the world.
From its lush green jungles, pristine beaches, and strangely formed mountains in the middle of the sea, to bustling, noisy cities, skyscrapers, and quiet towns with a deep and rich history. Depending on where you go there really is something for everyone in Thailand (at least to stay for a little while).
In this article, we are going to break down every aspect of what it takes to live in Thailand as a digital nomad. We have jam-packed it with all the information you could ever need. 
From the full process of applying and getting your visa, how much it will cost you to live and work there, where you should go for the best all-round experience, what fun things happen there to help you decide, and what time of year is ideal to plan your trip.
There have been whispers of a digital nomad visa being offered by Thailand, but sadly we have found no evidence of this materialising yet. There are a few other options for digital nomads when it comes to living and working remotely in Thailand.
A total of 64 countries can enter Thailand without a visa for up to 30 days. These include the UK, US, South Africa, as well as much of Europe, Asia, and South America. Find out if your country qualifies for a visa exemption in Thailand. Scroll to the bottom of the webpage to find the list of countries.
This visa exemption can be obtained under the following conditions:
The visit is for tourism purposes only

You have a confirmed return ticket (whether by air or by road) that shows you will leave the country within 30 days. (Which you will be required to produce upon entry to the country.)

Proof of funds for the duration of your stay. (10 000 THB/ just under $300 per person.)
If you are thinking "Oh, great! I can just leave the country and return immediately every thirty days." No such luck. Since the pandemic, Thailand has been regulating the number of times a person can exit and enter the country consecutively and knuckling down on those who are doing repeated 'visa runs'.
If you want to stay for longer than 30 days you can apply for a tourist visa that lasts up to 60 days, or another relevant visa. Unfortunately, few options actually allow you to get a work permit in Thailand. You are either expected to be there for leisure or to work for a Thai based company. 
Thailand is not known for being too strict regarding working remotely on a tourist visa, so long as the work is for a company/client outside of Thailand, and you are not taking work opportunities away from the locals. However, it is still technically against the law to do this.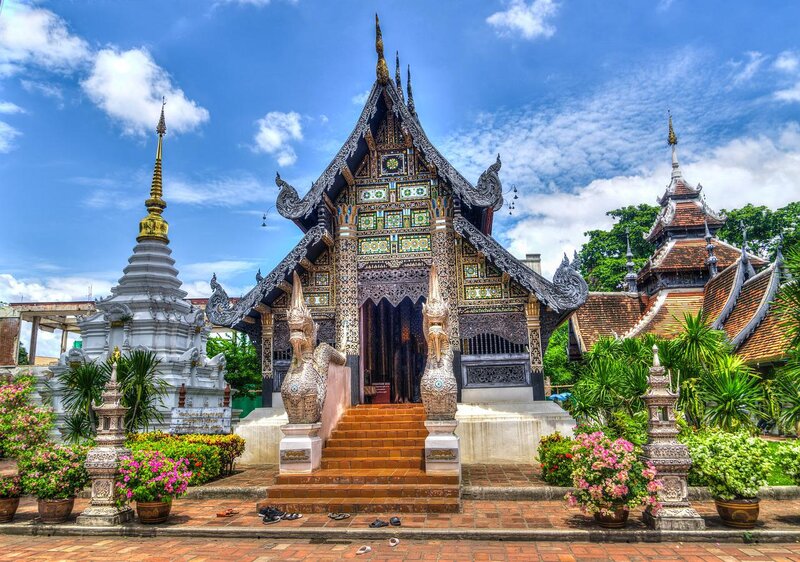 Thailand Visa Options
Tourist Visa
This visa is for the few who do not qualify for a visa waiver, and for those who want to stay longer than 30-60 days. The tourist visa is a single-entry visa and lasts 60 days, but can be extended once for a further 30 days by applying at the Office of Immigration Bureau or http://www.immigration.go.th/. 
Whether your visa is extended or not is up to the discretion of the Thai Immigration officer. It costs about $38, and you'll have to pay that each time you enter the country.
To enter the country using a tourist visa, you must be entering the country for one of the following purposes:
Tourism

Visiting family living in Thailand.

Getting medical treatment with a registered hospital.

You are a participant of MICE (Meeting, Incentives, Convention & Exhibitions) supported by TCEB (Thailand Convention & Exhibition Bureau).
The visa is stamped into your passport upon arrival in Thailand. Details for how to apply for this visa are expanded on later in this article.
Non-Immigrant ED Visa
This is a single-entry visa and lasts three months. If you choose to further your education in Thailand (this includes: university, training/curricular internships, Buddhism studies, Buddhism ritual activities, and religious missions) you can use that to get a non-immigrant ED visa. You can apply for an extension to extend the entire duration of your stay to one year.
The general documents requirements for this visa are:
Passport or travel document that is still valid for at least 6 months.

Photograph of you taken within the past six months.

Letter confirming the details of enrolment from the school signed by an authorised person with a copy of your ID or passport.

The school's registration certificate.

Letter of approval from the concerned authority under the Ministry of Education.
Specific documents required for each purpose can be found on the Non-Immigrant ED webpage of the official website. They include documents specific to the task, like a confirmation letter from the school or temple where you will be studying or attending.
Non-immigrant B Visa
The non-immigrant B-visa is the business and investment visa. This allows you to live and work in Thailand long-term. You either have to have a job or non-curricular internship for a Thai company (who will sponsor your visa on your behalf), or you have to start your own business in Thailand through the Board of Investment (BOI). 
This visa lasts 90 days and you can apply for an extension to make it a one year stay from the date you entered the country.
The general documents required for this visa are:
Photograph of the applicant, taken within the past six months.

Letter from a company confirming employment details of a partner company in Thailand.

Letter of invitation from a trading company in Thailand.
More details on specific documents needed for each purpose of entry can be found on Thai E-Visa Official Website: Business and Investor Visa
Long Stay Visa
This visa is only applicable for people over 50 and those who are married to a citizen of Thailand (and any of their children under the age of 20). It is a multiple entry visa, but you will have to stay in the country for a minimum of 90 days. 
It costs around $188 and can be extended two times for a further 90 days each time by applying at the same place or website as the tourist visa. To get this visa you must be a citizen of Japan, Australia, Denmark, Finland, France, Germany, Italy, the Netherlands, Norway, Sweden, Switzerland, the United Kingdom, Canada, or the United States of America.
Another option is the Smart Visa, which is a visa for people with expertise or executives, entrepreneurs, and investors. They can obtain this visa by investing in specific industries. It allows you to stay in the country for four years.
You can apply for a visa online or in person. The Thai E-Visa Official Website has a tool where you can check what kind of visa you should apply for to suit your needs.
The Thailand Visa Application Process
To check if you are eligible to apply online, go to the Thai E-Visa Official Website (link found above). You will have to input the country from which your passport comes, and the country in which you have permanent residence. Click "check" and a message appears telling you whether you can apply online or if you must apply in person at your nearest Thai embassy or consulate.
The online process:
Create an account

Fill in the application form

Upload supporting documents. Each embassy may have slight variances to the list below, but these are the general documents that you will need:

Passport or travel document that is valid for at least six months

Visa application form filled out

Evidence of exit travel from Thailand (E.g., air or bus ticket) paid in full.

Proof of financial means -For a tourist visa its 20,000 baht ($294) per person /40,000 baht ($1174,05) per family

4×6 cm photograph of the applicant taken within the last six months

Pay visa fee- For a tourist visa, it's $30 every time you enter the country.

Wait for the visa to be processed

Confirmation/approval received via email- print and present this to the Thai immigration officials at the airport where your documents will be checked, and your passport stamped with your visa.
What are the Best Places in Thailand for Digital Nomads?
Bangkok
Bangkok is the capital of Thailand. Here you'll find a relatively low cost of living and convenient transport. You'll be able to take your pick of coworking spaces- there are lots to choose from. This city also has affordable, and fast wifi and lots of options for accommodation. An interesting point to note is that some of the best SEO agencies are based in Bangkok. (Which is good to know if that is a large part of your business.)
There is excellent infrastructure- comparable to Europe, coupled with a lot of history. Temples and palaces are dotted around everywhere, but also skyscrapers and rollercoasters. Here you get to experience city life in a whole new way.
There is amazing street food (which, as a bonus, is more affordable than eating out), many activities to do and things to see, including museums, galleries, and beautiful temples. Bangkok also holds some cool markets like Chatuchak Weekend Market and Taling Chan Floating Market. The floating market is so picture-worthy that it came up as one of my Microsoft start-up screen photos. Vegetables and spices and rainbow-coloured umbrellas galore! Lastly, Bangkok also has quite a unique coffee scene.
There are a lot of foreigners who live here, so you can join a Facebook group or other group if you want someone to show you the ropes.

Chiang Mai
There are over 300 majestic temples to explore here! Chiang Mai is a city in Northern Thailand. A lovely and green place, with lots of outdoor recreation. There are waterfalls (Sticky Waterfall), there is hiking (Pilgrims Path) and even the Grand Canyon (Thailand edition) which is a gorge filled with water. It even has a floating water park atop. This place is more chilled and in the open air. 
Digital nomads love it here because it is peaceful with lots of nature and not many of the downsides that come with living in the city (like traffic and air pollution). It is also much cheaper than Bangkok and other cities in Thailand but maintains a high standard of service. 
There aren't loads of co-working places but there are extremely comfortable options. Including one called Punspace which has a big garden in which to take your breaks. The Wi-Fi speed is slower than in Bangkok but not too bad. 
Since there may be fewer accommodation options, your best bet for finding affordable accommodation is through expat groups on Facebook or using Airbnb for a long stay. 
It is also worthy to mention that it is extremely hot between February and March, and there are also fumes from the farmers burning their harvest leftovers, polluting the air at this time. 
Koh Phangan
Koh Phangan is known by tourists for the full moon party, but this spot has so much more to offer. (Although the full moon party with the glow in the dark and raging music can be quite the experience).
Only a ferry ride away from the surrounding islands and the mainland, this place attracts digital nomads from all over the world- so it's got a pretty cool vibe. 
There are lots of coworking spaces with fast Wi-Fi for the most part, and cafes where you can spend the whole afternoon working with no awkwardness. They are very welcoming, so long as you buy something. 
There is a strong 4G connection in the city so it would be advisable to hotspot off your phone if you want to have stable connectivity. It does get quite expensive during the high season, so plan according to your budget.
Here you get to enjoy night markets (like the Phantip Market in Thong Sala), jungle and/or beach life, gorgeous waterfalls and meeting other like-minded people like yourself. There are lots of fun things to do outdoors here including diving and hiking. You could even canoe around the whole island if you wanted to. Head over to Koh Phangan for yoga retreats and coconut trees!
Phuket
A lively, busy island situated in southern Thailand. There are plenty of co-working and accommodation options here to meet your needs. The wifi is insanely fast and there are lots of options when it comes to coworking. It is also remarkably affordable to live here.
Phuket gets very busy during the summer, so keep that in mind when planning. If you don't enjoy the vibe of the tourists and overcrowding, try to go in the off-season. It is not as picturesque as the islands, but it has excellent utilities for digital nomads and is by no means short of scenic views.
Phuket has actually been voted as one of the best places to live in the world. This is no surprise considering it boasts some of the most beautiful sunsets in Thailand. This island is also known for its cuisine, where you can learn about the culture and be immersed in a city with people who can show you the way.
You'll find gorgeous Buddhist temples, colourful streets with street food, and lively markets. There is also great access to the islands nearby and the mainland since it is connected to it by road. So, if you like to be where it's happening, check out Phuket.
Krabi
Welcome to the jungle! Krabi is a slightly more rural, coastal destination in the South of Thailand. With its cerulean ocean and limestone karst formations covered in woolly green vegetation, it is like stepping into the second Pirates of the Caribbean movie, except without the cannibals. On the contrary, Krabi is the perfect place for peace and quiet. So, if you prefer to be away from the hustle and bustle it may be the spot for you.
Krabi is the home to Krabi Tiger Cave and many other interesting caves that can be explored. You can go scuba diving, rock climbing, visit Buddha's footprint – which rewards you with a full circle scenic view of what lies below after climbing many many stairs- and paddle on the crystal waters while admiring the towering mountains on all sides.
While being "away from it all" is great, we all need to know that we will have access to the utilities we need as a digital nomad. There is access to good Wi-Fi everywhere and access to all the mainland comforts. It is generally affordable throughout, but most affordable in the main town, where you can get nicer places for lower prices. Just like many other places in Thailand, it is easy to get around on a hired scooter here.
Koh Lanta
A little island near Krabi, on Thailand's west side. Koh Lanta is a good place to go if you want to experience a more authentic Thai feel. There are still bamboo huts and wooden bungalows from before it got more developed. While many of them are modernised on the inside, it still reflects the culture better than the skyscrapers in Bangkok. The locals are friendly, and not as pushy as in many other places in Thailand.
Koh Lanta has lots of cool cafes to sit in and work, as well as a couple of awesome coworking spaces, (like Kohub). The wifi is not as amazing as in the rest of Thailand, but it is usually okay. Your best bet would be to buy a local sim card and data so that you don't have to stress about connectivity.
When it comes to the neighbourhoods in Koh Lanta, you'll be surprised at just how different they can be. It's definitely worth exploring the eclectic mix. The prices of accommodation are a bit higher in Koh Lanta, and harder to bargain down.
Some fun things to do in your off time are: go diving, snorkeling, do yoga, and drink cocktails on the stunning beach. You can explore the place on a scooter.

When is the Best Time of Year to Visit Thailand?
Generally speaking, the cooler (and cheaper) months of the year are November to February or June to September. These are the best times of year to go to Thailand.
However, there are several factors to consider when deciding what time of year to go to Thailand. Weather, events, and cost, all play a role. These three things vary throughout the year and across the country. We are going to look at each of these in the various areas of the country.
What time of year has the best weather in Thailand?
Northern Thailand- Chiang Mai
October-February 
The cooler months in Northern Thailand are from October to February. Temperatures average about 20-25 degrees celsius. This is the best time to go to this part of the country because you can use the temperate weather to enjoy all the outdoor activities.
March-May
From March to May, is the hottest time of year. It is, however, slightly drier than the Southern end of Thailand.
June-October
It rains heavily and sporadically from June to October in the North. This is because it is monsoon season. It is much cooler at this time of year.
Central Thailand- Bangkok
October-January
This is the best time for pleasant weather in central Thailand. It is cooler from October to January, with temperatures averaging 28-30 degrees Celsius.
February to June
From February to June things get hot. The heat radiates visibly in the air. (Okay that's an exaggeration, but it is extremely hot). Temperatures can reach as high as 40 degrees Celsius with high humidity. You probably don't want to be in Bangkok at this time of year.
July- October
This is the monsoon season in central Thailand. Generally, the rain is not constant though, with afternoon showers at the end of the day.
Southern Thailand- Phuket/Krabi
Southern Thailand only has a dry season and a wet season.
December- May
December to May is the dry season, and likely the best time to visit this area. Keep in mind it is the high season though.
The Southeast and Southwest coasts of Thailand specifically have excellent diving conditions and very warm ocean water (26-29˚C) from March to April, and December to January, respectively.
June-October
This is the wet/rainy season. The rain is also sporadic and won't completely ruin your time there if you decide to visit at this time of year.
What time of year is it cheapest to visit Thailand?
The short answer is from March to October. When it comes to costs, there are two seasons in Thailand. The high season, when tourists flock to the beautiful country, and the offseason, when most people stay home.
High Season
November-February
From December to January prices of flights, accommodation, and tourist attractions skyrocket. If you are on a budget, but still want to go at this time for the weather, it would be best to visit either towards the beginning or the end of this period and try to book well in advance.
Low Season
March-October
From March to October, is the off/low season. There are fewer tourists, and prices can drop by as much as 30% compared to the high season. It is quite rainy at this time of year, but if you prefer to dodge the crowds and save a pretty penny, then it really isn't so bad if you are diligent in planning around the weather forecasts.
What time of year do the best events take place in Thailand?
Most of Thailand practices Buddhism, so many festivals and celebrations take place on occasions that are special to them or culturally significant. Many of these happen at the same time every year. One or two of them are one-time events for 2022.
February
Chinese New Year (different every year. In 2022 it will be on the 1st of February) – In Bangkok, there are some raucous celebrations in the streets, with dancers and dragons and miniature explosions.

Maya Music Festival – An EDM music festival for those who love electronic music. (2022)
April
Songkran Festival (Water Festival) – This is like a giant water fight that goes on for three days! There is music and dancing and an all-around jovial atmosphere.
May
Boon Bang Fai (Rocket Festival) – This whole festival is centered around rockets and fireworks. The tradition behind it is that farmers shoot rockets in the air hoping that the Gods will send lots of rain for their crops. There is music and pageants and lots of rice wine.
June
Phi Ta Khon (Ghost Festival) – The spirits of the dead are celebrated. Costumes are worn, there is a parade, and there are fireworks.
August
Mother's Day (The Queen's Birthday)
July
Candle Festival – This festival celebrates Buddha's first-ever sermon and the start of their Lent. There are huge wax sculptures, dancing, and music.
October
Mekong Naga Fireballs – A remarkable natural phenomenon (presumably) where balls of orange-red light are seen rising above the Mekong River.
November
Lopburi Monkey Banquet (Food Festival for monkeys) – In this festival, a big buffet is prepared for over 3000 monkeys.

Yi Peng (Lantern Festival) – This festival takes place on the day of the 12th full moon each year, to celebrate the river goddess. Beautiful cultural lanterns are lit and placed on the water of the Peng River to create a marvelous sight as they float away.

Surin Elephant Festival – A celebration of elephants. Elephants are fed lots of yummy treats and there is a parade.
December
Father's Day (The King's Birthday)

Wonderfruit Music And Arts Festival – This is a festival with art, design, music, and cooking (by international designers and chefs). It takes place over three days.
Variable 
Wing Kwai (Buffalo Racing Festival) – The day before the full moon night of the 11th Lunar month at the end of Buddhist Lent, a big 100m buffalo race is held. There are also fete games. 

Full Moon Party – Every month the night before the full moon, a huge party filled with lights and glow-in-the-dark things takes place, with people from all over the world attending.

What is the Cost of Living in Thailand?
The average cost of middle-range living in Thailand is about $1000- $1500 per month. In some places (like Chiang Mai) you could even get away with less than $1000. It's all about saving where you can. Let's breakdown the costs of a digital nomad's major expenses using Chiang Mai as a lower priced option and Bangkok as a higher (but still comparatively low) priced option:
Accommodation
The biggest varying factor in monthly cost of living is the accommodation. It can cost you anything from $200 to $600+ per month, depending on where you are and what quality of accommodation you choose. It can be much more expensive if you opt for nicer accommodation.
In Chiang Mai:
A studio apartment in the city costs around $200 per month

A nicer apartment in the city with access to utilities like a kitchen and a pool area costs from $400-$600.

A small house on the outskirts of the city costs between $400 and $500 per month.

A fancier place with separate rooms and extra utilities or a more westernised feel will cost upwards of $1000 per month
In Bangkok:
A nicer apartment or studio (not necessarily in the city) costs around $250-$375 per month

A nicer apartment in the city with access to utilities like a kitchen, and transport costs $400+

An apartment with separate rooms and extra utilities (like air conditioning, a gym and pool etc.) will cost upwards of $800
Other options involve basically just crashing on someone's couch which can cost as low as $160 per month.
Food
You can spend under $200 per month on food if you mainly cook yourself and eat Thai food. If you are eating out a lot though, you can end up spending upwards of $400 per month.
A meal from a street vendor generally costs around $1

A full meal from a western restaurant is seldom more expensive than $20
The trick to saving money on food in Thailand is to stick to local foods. Western foods tend to be much pricier.  
Transportation
Public transport in Thailand is very affordable. You could opt for a train pass for the month, or you could hire a scooter and zoot around using that.
To hire a scooter, it costs $70 for a month

Fuel will cost you about $30 per month if you travel 30 km per day (using 23.7km/L as the scooters fuel consumption, and 25 baht per liter/73 US cents per liter as the price of fuel)

A train pass for a month costs $35.50
Toiletries
Toiletries are not necessarily a monthly expense but divided out, they cost an average of about $14 per month.
Toothpaste costs $1.80 

A 400ml Shampoo costs $1.80 

Deodorant costs less than $1

A six pack of Toilet paper costs $2.60, so two packs per month is $5.20

Laundry costs $0.5 – $1.5 per kg, so if we calculate an estimate of 4kg x $1 you get $4 per month
Coworking
Coworking has different costs depending on the place and the package you decide to take. I have broken down what these generally cost and added the average price of a coffee for those who prefer to work in a coffee shop.
Bangkok
A hot desk (working at a desk but it's first come first serve):
$8.40 – $10 per day

$32 per week

$90- $180 per month
A dedicated desk (you get your own desk that no one else can use):
A private office costs:
A cup of coffee costs around $2.50 – $4
Chiang Mai
Coworking space/hot desks:
50c (US cents) per hour

$1.40 – $8.40 per day

$24.50- 49.50 per week

$53.40-$145.60 per month
Dedicated desk:
$93.90- $127.90 per month
Private office:
Conference/ Meeting rooms:
50c (US cents) per hour for one person to have a video chat

$2.90 per hour for a room that holds 4-5 people.
A cup of coffee costs: $1.30 – $3 
There are also some coworking spaces (like Hub53) that offer co-living as well. Prices on these range from $102 to $120 per room per month.
Why is Thailand a Great Place for Digital Nomads to Work Remotely?
Stand-out utilities suited to the digital nomad lifestyle
There are so many places in Thailand that almost feel like they were made for digital nomads. You'll find that fiber is pretty easy to find (especially in the cities) and there is a huge variety of comfortable coworking options, for affordable prices. 
Many cafes and coffee shops are set up specifically to accommodate people who want to spend the day working there (like offering high-speed internet access after purchasing something). There are even 'co-living' spaces which offer both a workspace and a cool room to sleep in as well.
Immersion in unique culture and cuisine
Thai culture is hugely different to western culture, so if you are from anywhere outside of Asia, Thailand will be a particularly unique and exciting experience compared to just going to another country that falls into the western culture category. They have an interesting food scene and many festivals based on ancient traditions. 
In Thailand you get to learn a whole new history through the people and the landscape – a tapestry embroidered with temples, royal palaces, and beautiful sacred caves that whisper the secrets of the past as the breeze passes through them.
Ease of living
Thailand is remarkably affordable compared to most other countries in the world. Not only is the cost of living cheaper when directly converted to a different currency, but the spending power of a stronger currency is much higher in Thailand. 
It is also super convenient to get around town on a little scooter, or by using public transport. Not to mention the proximity and opportunity to hop over to neighbouring islands on the weekend and live it up for a couple of days, before returning to your chosen base to get on with work and more fun during the week.
Digital Nomad Thailand Conclusion
At the end of the day, there really is no reason not to go to Thailand, unless you are particularly precious about your comfort zone – which I highly doubt you are if you are a digital nomad. In Thailand, you get access to pristine beaches, idyllic weather at the right times of the year and pretty much all you'll ever need as a remote worker in a foreign country.
There are fewer visa barriers compared to many other countries, and the cost of living is extremely low, especially if you stick to local food and modest accommodations.
You may have to adapt to a different way of life if you are on a budget, but that is part of the fun! If that doesn't appeal to you, though (and if you are not too restricted by money), then you can have all the westernised conventions and foods that you want, yet still, choose to experience exotic and different things as an elective. 
It's the best of both worlds for those who are a little hesitant to jump right into something completely contrary to what they are used to. So why not give it a try?