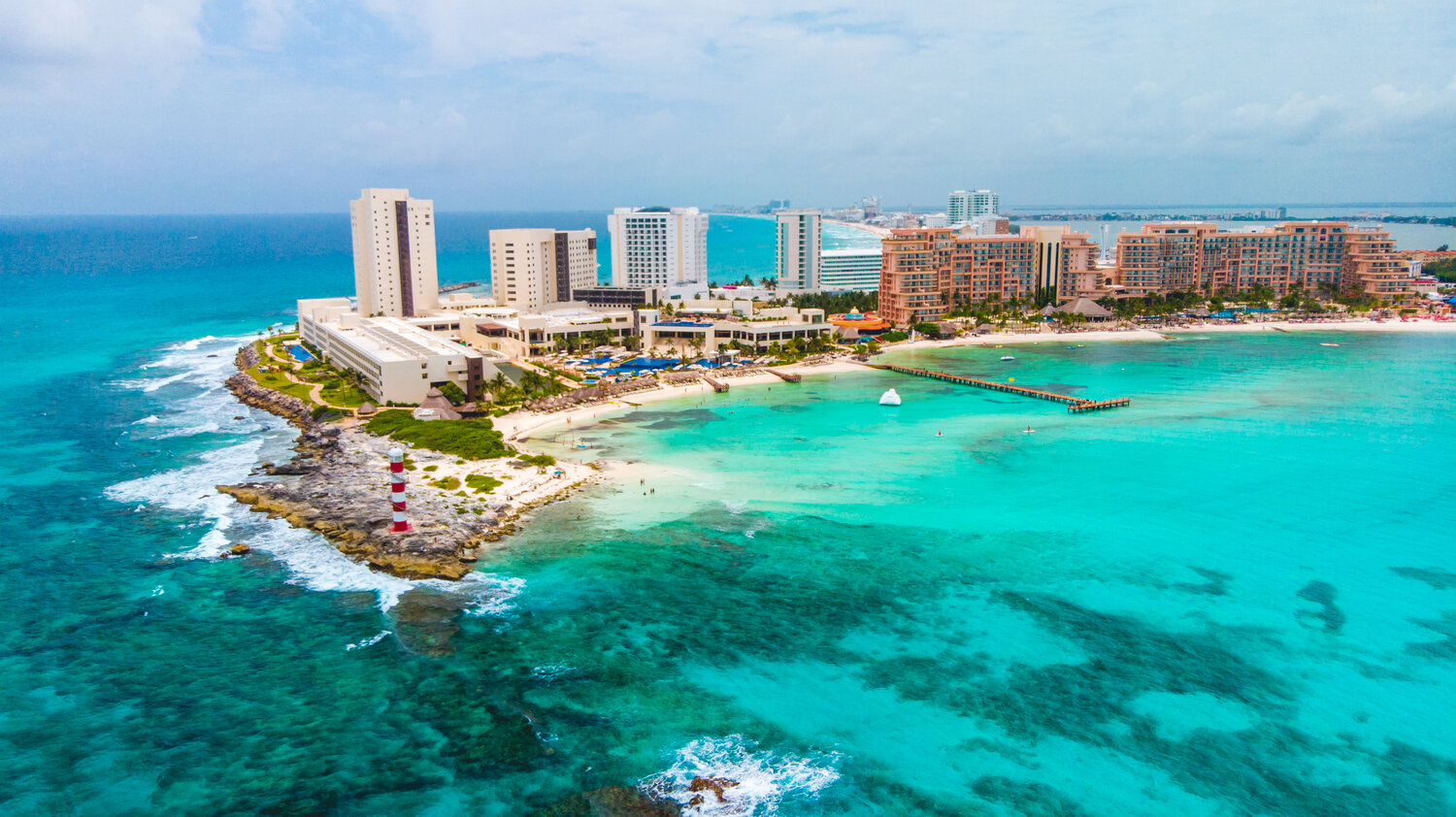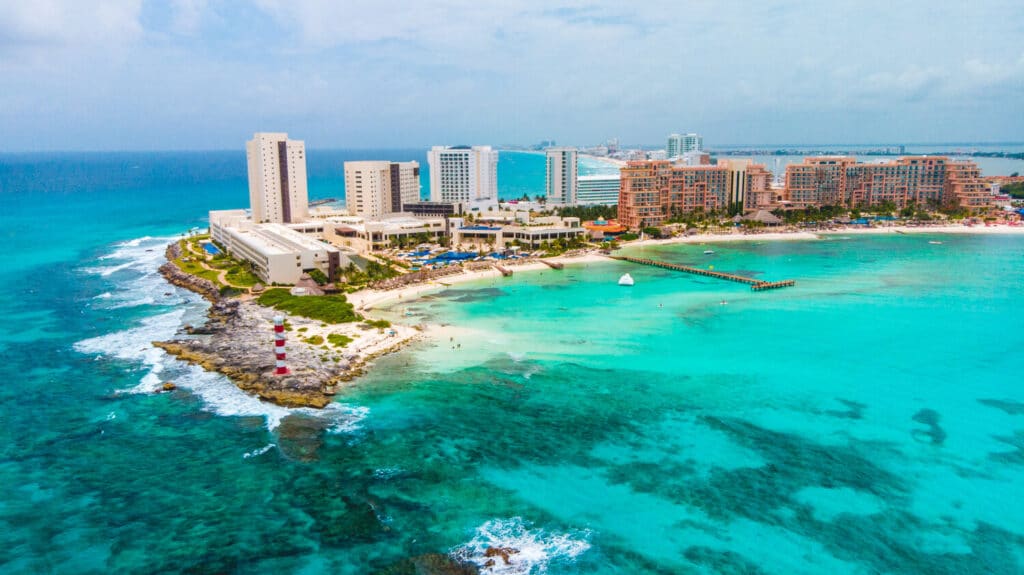 22 Things to do in Cancun, Mexico
Bienvenidos to colorful Cancún!
Cancun is one of the most popular tourist destinations in Mexico. Located in Quintana Roo, Cancun is home to 972,000 people and welcomes over 10 million tourists each year. People are flocking to this upbeat city for its world-renowned beaches, stunning resorts, and vibrant nightlife. But there's much more to do in Cancun than just relaxing on the beach.
Many head to Cancun and spend all day and night in the hotel zone, while you are destined to have a good time there, you will find many more experiences throughout the city. Spend some time in the center to get a feel for the culture and taste some of the flavorful cuisine or head to the famous Chichen Itza for a day of history.
With so much to do and plenty of sunny days, you'll never be bored in Cancun.
Best things to do in Cancun, Mexico
1. Go Scuba Diving or Snorkeling
Cancun has some of the best scuba diving in the world, with crystal clear waters and an abundance of marine life. There are many scuba diving operators in Cancun that offer both beginner and advanced dive courses.
A must-see while scuba diving is the underwater museum near Isla Mujeres,  which is the largest underwater museum in the world. The museum has over 500 life-size sculptures that were designed to promote the conservation of marine life. There are plenty of day trips leaving from Cancun that include this underwater stop!
If you're not interested in scuba diving, you can still enjoy the underwater world by snorkeling. Snorkeling is a great way to see the vibrant coral reefs and tropical fish that Cancun is famous for.
Do not snorkel in the hotel zone, the currents are a bit too much to enjoy yourself and there is little marine life to see in that area. I recommend joining a snorkeling tour to explore further offshore and see all the best spots in the area.
2. Explore Cancun's Hotel Zone
When you arrive in Cancun, you will notice the city is divided into two areas: ciudad Cancun which is the downtown area, and then the hotel zone which is about 20km from the airport.
While Cancun is more than just a resort town, the hotel zone is definitely worth exploring and is where many people stay for the entire duration of their trip. This 14-mile long island is home to some of the best resorts, restaurants, and nightlife in Mexico.
The hotels in the Cancun hotel zone range from luxury all-inclusive resorts to budget-friendly hotels. It is always busy with tourists and fiestas day and night! Walk the strip, lay on the beach, or try your luck at one of the many casinos.
3. Grab a Drink at Señor Frogs
Cancun is famous for its nightlife and there are many bars and clubs to choose from, but where should one go during the day? One of the most popular spots, especially with tourists, is Señor Frogs. A lively restaurant with LOTS of alcohol.
This chain restaurant originated in Puerto Vallarta but has since spread to locations all over Mexico, the Caribbean, and the US. The Cancun location is right on the beach and has a large outdoor seating area with views of the water. You will find beach bums barefoot sporting their swimwear looking for a strong cocktail!
Señor Frogs is known for its fun atmosphere, cheap drinks, and live music. Many of the bartenders will be seen pouring tequila directly into guests' mouths while blowing whistles and creating a lot of attention, so if you are a bit shy maybe have a few beers before heading here!
If you're looking for a place to drink, dance, and have a good time, Señor Frogs is the place for you!
4. ATV at Xplor Park
One of the most popular ways to spend a day in Cancun is heading to one of the famous parks to go ATVing. The outskirts of Cancun centro are full of jungles and rocky terrain making it perfect for exploring on wheels. 
One of the most popular parks is Xplor, an adventure park with zip lines, ATVs, rafting, and more. It is located about 45 minutes from Cancun, but is definitely worth the drive!
ATVing is a great way to explore the jungle and get your adrenaline pumping. The staff at Xplor will provide you with a helmet and safety briefing before setting you loose on the trails.
Don't worry if you've never driven an ATV before, it's very easy to learn and there are many paths to choose from depending on your skill level.
Some other parks include Xel-ha and Xcaret.
5. Catch A Lucha Libre Show
Lucha Libre is a form of Mexican wrestling that has been around for centuries. It is a very popular sport in Mexico and shows are happening all over the country, especially in Cancun. 
A Lucha Libre show is a must-see while in Mexico. The wrestlers wear colorful costumes and masks and put on a very entertaining show. The matches are often between good and evil, with the good guys (Tecnicos) fighting the bad guys (Rudos). You will see the famous masks being sold in the markets and plenty of locals and tourists getting amped up to see the show.
The shows are very theatrical with acrobatic moves, wrestling, and plenty of props. Although the rules on this show may appear to be simple, it is not easy for a novice to win. Each bout usually lasts three rounds and concludes with someone being flung from the ring.
Lucha Libre shows are held in arenas with a ring in the center and bleachers around the outside for seating. You can buy drinks and snacks from vendors walking around inside the arena.
Every Tuesday, Friday, and Sunday night, Lucha Libre events take place at Arena Cancun downtown. A front-row seat costs about $12 USD making it a cheap option for those traveling on a budget.
6. Mayan Museum & San Miguelito Ruins
The Mayan civilization was one of the most advanced in the world and occupied Mexico and parts of Central America for centuries. The Mayans were known for their art, architecture, and astronomical knowledge.
Cancun is home to a museum dedicated to the Mayan culture as well as ruins that are worth visiting.
Following the building of the National Museum of Anthropology in Mexico City (1964) and the Museo del Templo Mayor (1987), the Mayan Museum of Cancun is the most significant new construction at the National Institute of Anthropology and History of Mexico since.  It houses one of the country's most important archaeological collections since it includes not only the most relevant state-level pieces, but also a selection of iconic pieces from Palenque, Chichén Itzá, and Comalcalco.
The museum is built to complement the natural surroundings, as intended by architect Alberto García Lascurain. The park has many outdoor spaces that allow visitors to enjoy Cancun's weather and stunning views.
The exhibition area is eight meters tall and contains three exhibition rooms. The showrooms are within hurricane-proof glass walls, defining the surrounding walkways and providing a stunning perspective of San Miguelito Forest Park and Nichupte Lagoon.
Also included in the Visit to the Museum is a visit to San Miguelito's archaeological site, which is accessible via a route of the museum's lower corridor. This location includes at least four sets made up almost entirely of wooden houses and palm structures where families resided during the final years before Spanish conquistadors arrived.
7. Party at One of Cancun's World-Famous Nightclubs
Cancun and "party" are pretty much interchangeable! You can't go to Cancun and not hear about their incredible nightlife. It feels like a sin to not spend at least one night dancing the night away! The nightlife is so much fun and something is going on every single day of the week!
The clubs in the hotel zone attract world-renowned DJs and are always packed with people ready to dance the night away after a relaxing day on the beach.
Some of the best clubs include
In Cancun, Coco Bongo is the most popular dance club. They have acrobats, cover bands, and DJs who keep the party going strong. It's a bit of a hybrid between a nightclub and a Las Vegas show!
If you're searching for a night on the town, try out The City, which has celebrity DJs like Tiesto, Fergie, and Paul Van Dyk who perform regularly. With three floors and nine bars, the club can accommodate up to 5000 people each night.
Looking to go straight from the beach to the club? You'll find that the Mandala Beach Club is a hit with both locals and visitors. This outdoor house music club opens every day at 9:30 PM, featuring fantastic music as well as delectable tropical drinks, and feel free to arrive in your bikini.
If you're searching for techno and house music, professional dancers, light shows, and body painting then look no further than Dady'O. There are five bars on the premises and two floors where you may dance until dawn.
The drinks are continuously flowing and the music is pumping all night long in Cancun. If you want to experience the true party atmosphere of Cancun, then you need to check out one of these clubs!
8. Relax on One of Cancun's Many White Sand Beaches
After all the dancing and exploring, you're going to need a day (or two) to relax on one of Cancun's world-renowned beaches. With over 13 miles of coastline in the hotel zone, there's plenty of beaches to go around!
Whether you're looking for a quiet spot to relax or a lively beach with plenty of people, you'll find it in Cancun.
Some of the most popular beaches include:
Playa Delfines is Cancun's biggest beach. It is also notable for the iconic Cancun sign and for being free of hotels or resorts, making it a favorite among locals. Because of the strong currents, swimming is not recommended.
If you are traveling with your family or small children then Playa Tortugas is going to be your best option as it is a great beach to go swimming in because it has very small waves that allow you to swim. It can become a bit crowded during high season so make sure to arrive early to get a good spot! Don't worry about packing a lunch, you can enjoy a drink or seafood at one of the many oceanfront restaurants.
Looking to get off the sand and into the waves, then head to Chac Mool Beach for some water sports! Water sports equipment may be rented from numerous companies on the beach, making this lovely beach a paradise for water sports enthusiasts.
Traveling with friends that all want a little bit of something different, Playa Forum is the beach for your crew! It's a winning combination of eccentric vibes and relaxation. It is located behind the most popular club in Cancun, the Coco Bongo. This beach is chock-full of restaurants and bars and day clubs to keep the party going from the night before.

9. Explore a Cenote
While Cancun has plenty of commercialized properties, one thing you cannot miss if you love nature and natural landscapes are the cenotes that are scattered all throughout Quintana Roo.
A cenote is a sinkhole that's filled with fresh water that has created an underground cave that you can swim in and explore. They are found all over Mexico and are popular tourist attractions. Cenotes were once used by the Mayans for sacrificial rituals.
There are many different cenotes to choose from and each one is unique in its own way. You can find some that are open-air with a jungle setting or ones that are underground with stalactites and stalagmites.
Some of the most popular cenotes include:
Gran Cenote
This cenote is located in the town of Tulum and is one of the most popular ones to visit. It's an open-air cenote with a small cave that you can swim through. The water is crystal clear and there are plenty of fish to see.
Dos Ojos
Dos Ojos is another popular cenote that's located in the town of Playa del Carmen. It's an underground cenote with two "eyes" or sinkholes. You can explore the caves and see all the stalactites and stalagmites. The water is also crystal clear with plenty of fish to see.
Nowadays, people come to cenotes to swim, cliff jump, and explore. There are many cenotes located near Cancun, making it the perfect place to explore them.
10. Visit the Ancient Ruins of Chichen Itza
Chichen Itza is one of the most famous archaeological sites in Mexico. This ancient Mayan city was once one of the largest and most powerful cities in the Mayan empire. Today, it's a UNESCO World Heritage Site and one of the New Seven Wonders of the World.
Chichen Itza is located about 2 hours from Cancun but a must see while you are in the country. You can join a tour or take a local bus to visit the archeological site. Visitors can explore the ancient ruins, learn about the Mayan culture, and see the famous El Castillo pyramid.
The El Castillo pyramid is the most iconic structure at Chichen Itza. This majestic pyramid stands at 30 meters (98 feet) tall and has 91 steps on each of its four sides, totaling 365 steps.
11. Explore the Jungle From the Treetops
Not everyone is looking to spend their vacation lounging on the beach or partying at a club. If you're looking for an adventure, then Cancun has plenty of activities to keep you busy.
One of the best ways to explore the jungle is from the treetops on a zip-line tour. If you are afraid of heights this might not be your idea of a good time. Luckily many companies that offer zip-line tours in Cancun vary in length, difficulty, and price giving you some options.
Most zip-line tours will take you through the jungle and over cenotes. You can also find tours that end with a rappelling descent into a cenote. These tours are a great way to get your adrenaline pumping and see Cancun from a different perspective.
There are several zip-line attractions in the Cancun region. The closest theme park with zip lines is Selvatica. They have a variety of packages with ten different zip lines available.
If you still aren't convinced, many of the parks have many other things to do like ATVing, snorkeling, and swimming. You can still have your adrenaline rush… just a little closer to the ground.
14. Visit Isla Mujeres
Isla Mujeres is a small island located off the coast of Cancun. The island has crystal clear blue waters and is only a 30-minute ferry ride away! It's a popular day trip for tourists and can be reached by ferry from Puerto Juarez.
The island is only 4 miles long and 1 mile wide so you can easily explore it in a day. There are plenty of things to do on the island including snorkeling, scuba diving, releasing turtles, and exploring the Mayan ruins.
Everyone gets around by golf cart and many of the restaurants have 2 for 1 margaritas making it hard to leave this little slice of paradise. Make sure to check out the famous Soggy Peso and enjoy one of the best sunsets in all of Quintana Roo.
Many boats in Cancun have day trips to Isla Mujeres and park the yacht near the sand giving you beautiful views of the island and the ability to swim in the calm waters. Isla Mujeres is a great place to relax and enjoy the Caribbean lifestyle. There are many beach bars and restaurants where you can sit back, relax, and enjoy the view.
15. Go Shopping at Mercado 28
Mercado 28 is a large outdoor market located in Cancun. It's the perfect place to find souvenirs, Mexican art, and handcrafted goods. The market is open every day from 9 am to 9 pm and is easy to get to by taxi or bus.
Mercado 28 is divided into two sections, the north side which is mostly souvenirs and the south side which has more Mexican art and handcrafted goods. You can find anything from t-shirts and shot glasses to paintings and pottery.
If you're looking for a souvenir to take home, this is the place to go. Mercado 28 is also a great place to buy gifts for friends and family. You can find unique items that you won't find anywhere else.
You may try your negotiating skills here. You can walk away with a fantastic bargain if you refuse the seller's first price. Stop by one of the local restaurants around for food at a fraction of Hotel Zone cost and double the flavor!

16. Swim with Whale Sharks
Swimming with whale sharks is an experience you won't soon forget and Cancun is one of the best places in the world to do it. These gentle giants are the largest fish in the world and can grow up to 60 feet long! Luckily, they are filter feeders and only eat plankton so you have nothing to worry about.
From June to September, they migrate to the waters off the coast of Cancun to feed on plankton. Whale sharks are found in the open ocean and can be seen swimming near the surface.
Several tour companies offer whale shark tours. The tour includes a boat ride to where the whale sharks are and a snorkeling excursion. Most tours last about 4 hours and can cost anywhere from $100 – $150 USD.
If you happen to be in Cancun when whale sharks are migrating this is a can't miss incredible experience. These massive creatures are gentle giants and it's an out of this world experience to swim alongside them in the open ocean.
17. Eat Street Food
One of the best things to do in Cancun is to eat street food. This is some of the best and most authentic Mexican food you will find. There are many street vendors throughout Cancun selling everything from tacos to elotes (corn on the cob). I can not recommend getting out of the hotel zone enough for proper Mexican food!
The best place to find street food is in the downtown area at Parque Las Palapas. This is where you'll find the most street vendors selling all kinds of traditional eats! Grab some of everything, your taste buds are going to thank you!
If you're looking for an authentic Mexican dining experience, street food is the way to go. The food is fresh, flavorful, and CHEAP. Grab your food and watch the controlled chaos of the locals in the park around you.
18. Take a Day Trip to Cozumel
Cozumel is the second most popular tourist destination in Quintana Roo. It is a small island off the coast of Cancun but bigger than Isla Mujeres. It's a popular tourist destination with its own airport, hotels, and resorts. The island is known for its clear blue waters, world-class diving, and Mayan ruins.
Cozumel is only a 45-minute ferry ride from Cancun. Once you're on the island, there are plenty of things to do. You can lounge on the beach, go snorkeling or diving, visit the Mayan ruins, or go shopping.
There are plenty of tour companies that offer day trips to Cozumel. The cost of the ferry ride is usually included in the price of the tour. Cozumel is a great place to spend a day if you're looking for some fun in the sun!
19. Temazcal Ceremony
One of the most popular things to do in Cancun is to attend a temazcal ceremony. Temazcal is a type of mezcal made from the agave plant. It is a traditional Mexican beverage that has been around for centuries. The temazcal ceremony is a way to learn about the history and culture of this traditional drink.
Temazcal is a ceremony where you drink temazcal and listen to the stories of the gods. The ceremony is led by a shaman who will guide you through the experience. The ceremony takes place in a tiny hut and is rooted in Mayan mythology. You take your clothes off and enter the sweat lodge, which is heated using hot rocks and water, turning it into a sauna.
During the temazcal ceremony, which is held in complete darkness, the shaman pours water over hot rocks while chanting and using various plants to call on supernatural beings.
The Aztec version of the Mayan sweat lodge ceremony is considered a purification ritual that cleanses the body, mind, and soul. You enter into a profound meditation as your body sweats in the tiny hut.
During the ceremony, you will learn how to make temazcal. You will also have the opportunity to taste different types of temazcal. The ceremony usually lasts about 2 hours and costs around $50 USD.
If you're interested in learning about the history and culture of temazcal, then this is the activity for you. The ceremony is a great way to learn about the traditions of the mayans.
20. Get a Massage
If you're looking for a relaxing day, then head to one of the many spas in Cancun. There are plenty of options to choose from, so you're sure to find one that fits your needs.
Cancun is home to some of the best spas in Mexico. If you're looking for a luxurious experience, then head to the Le Blanc Spa. This spa offers a variety of treatments, including massages, facials, and body wraps.
If you're on a budget, then there are plenty of cheaper options available. You will see many advertisements for massages on the beach, these will all be cheaper than the services offered at the hotels.
Spending a day at the spa is a great way to relax and rejuvenate. You'll leave feeling refreshed and ready to take on the rest of your vacation.
21. Sailing at Sunset
Unfortunately due to all of the tall hotels in the hotel zone the sunsets from the beaches in Cancun are not the best as the sun sets behind the buildings. So to see the amazing sunsets the beaches have to offer you need to get out on the water!
Enjoy the colorful sunset while sailing on a catamaran while the wind plays with your hair. Most sunset sailing trips out of Cancun include an open bar and food, so you can sit back, unwind, and take in the view.
Typically, these journeys take around 2 hours and are covered by a 100 percent refund if the weather is too bad.
Sailing at sunset is a great way to enjoy the beauty of Cancun. The sunsets from the water are some of the best in the city. If you're looking for a relaxing evening out, then sailing at sunset is definitely the activity for you!
22. A Day at Isla Contoy
Isla Contoy is an uninhabited island located about 30 miles north of Cancun. This island is a protected nature reserve and is home to over 150 species of birds.
Isla Contoy is only accessible by boat, so you'll need to take a tour from Cancun. The tour will take you on a boat ride through the mangroves, where you'll have the chance to see crocodiles, turtles, and iguanas.
Once you reach the island, you can explore the nature trail or go snorkeling in the crystal clear waters. You'll also have the opportunity to see some of the rare birds that call this island home.
A day at Isla Contoy is the perfect way to escape the hustle and bustle of Cancun. You'll get to experience the beauty of nature and see some amazing wildlife. This is definitely an activity that should not be missed!
Things to do in Cancun Conclusion
Toes in the sand and a drink in hand, Cancun has everything you need both for a tropical vacation and for remote work!  With its world-renowned beaches, stunning resorts, and vibrant nightlife, it's no wonder Cancun is one of the most popular tourist destinations in Mexico.
Whether you want some adventure or a break from the hustle and bustle of life in the city, you are sure to find it in Cancun. From scuba diving and exploring ancient ruins to sailing at sunset and getting a massage, there is something for everyone in Cancun!
So what are you waiting for? Book your ticket to Cancun today!