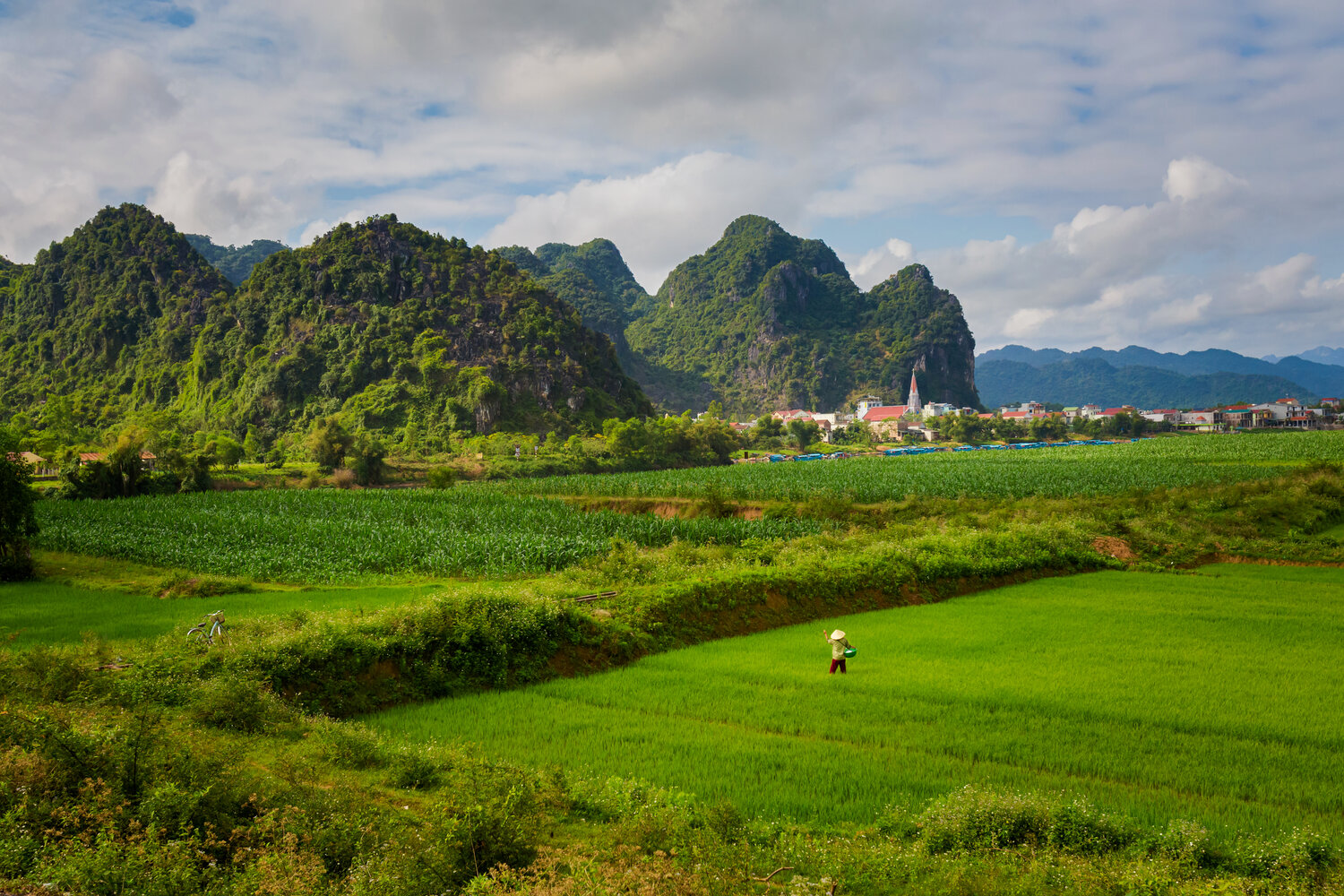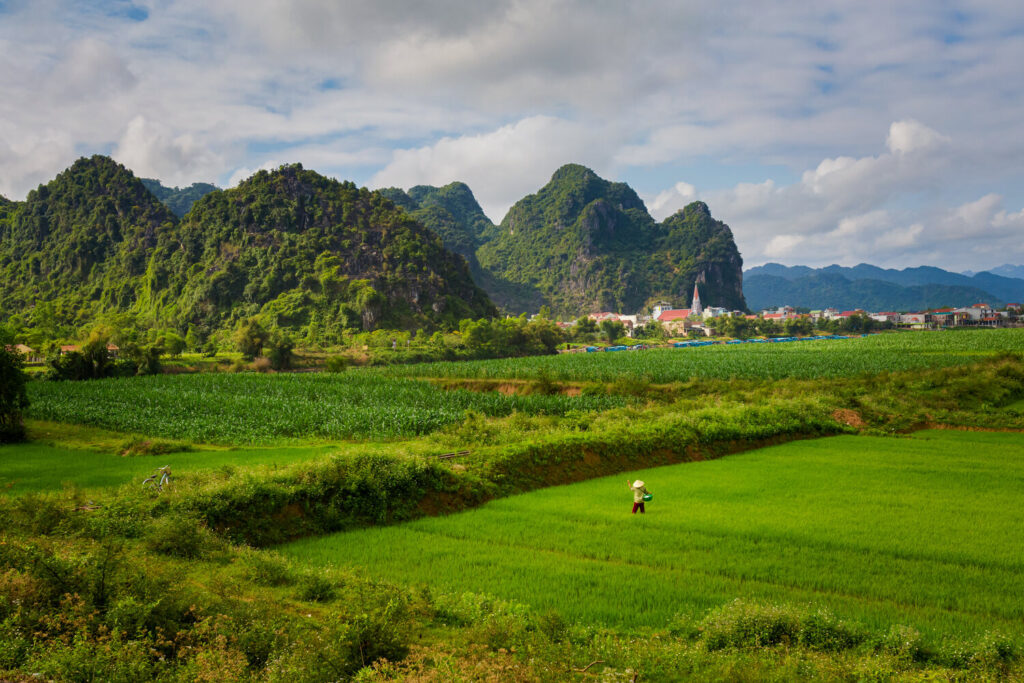 A Digital Nomad Guide to Phong Nha
A diamond in the rough, Phong Nha is a true hidden treasure of Vietnam. Located in between Hue and Hanoi, this explorer's paradise is the home to the world's largest cave and some of the most magnificent Karst mountains in the whole of Asia. A stunning destination, Phong Nha houses some 500 caves, 30 of which are easily accessible to tourists. 
However, don't be detracted, caves and mountains are far from everything this town has to offer. From gorgeous hikes to the UNESCO World Heritage site that is the Phong Nha National Park, the area does not disappoint. The painting-like fauna intertwines with the craggily mountain range in a maze of natural wonder. Odd botanical gardens, waterfalls and Bong Lai Valley will surely wow anyone.
The cherry on top of the cake is definitely the people. This farming forward community does not shy away from the welcoming and easy-going reputation of Vietnamese people. They are some of the kindest people you'll meet, always ready to help and to tell a good story, making you almost forget the terrible past they went through. 
During the Vietnam War, Phong Nha was a strategic town that linked the north and the south of the country. Soldiers would come to Phong Nha for the final part of their training, and, through to a strategic use of the caves and natural landscape, the area served as a crucial checkpoint to get personnel and supplies to the southern part of the country. Linked to the area is the fundamental role of women in the Vietnam war. With the hope of a prosperous and better future they helped maintain the Ho Chi Minh Trail open, and other operations such as bomb diffusion and placement, waystations management, supply operations and management of hospitals and other infrastructure. Ham Rong Bridge in Phong Nha, holds a particularly important meaning. 
Lately, and since 2009 with the discovery of the Son Doong cave, Phong Nha has been growing in popularity.
Nomad Friendly
Value for Money
Internet
Workspace
English
Food
Safety
Health
Transportation
Friendly
Quality of Living
[visualizer id="2664″ lazy="no" class=""]
[visualizer id="2660″ lazy="no" class=""]
Living in Phong Nha Overview
| | |
| --- | --- |
|  Meal, Inexpensive Restaurant | $1.31 |
| Domestic Beer (1 pint draught) | $0.66 |
| Cappuccino (regular) | $1.30 |
| Loaf of Fresh White Bread (1 lb) | $0.79 |
| Water (1.5 liter bottle) | $0.45 |
| One-way Ticket (Local Transport) | $ |
| Basic Utilities (Monthly) | $22.52 |
| Internet | $8.28 |
| Fitness Club (Monthly) | $ |
| Apartment (1 bedroom) in City Centre | $350.40 |
Currency: Indonesian rupiah (Rp)
[erw_exchange_rates_widget lg="en" tz="0″ fm="IDR" to="EUR,USD,GBP,AUD,JPY,RUB" st="primary" cd="" am="15000″][/erw_exchange_rates_widget]
ATMs
Max Withdrawal: Rp 3,000,000
Withdrawal Fee: Rp 30,000 – Rp 50,000
Use of Credit Cards: Mostly Cash
Digital Nomad Personal Experience in Phong Nha
Phong Nha is a beautiful little town, with an important recent history and plenty of natural wonders to explore. However, it is better suited for a small trip rather than a place to live and work, as a freelancer in a long-term basis. Not because of the people or the ambience it exudes, not at all, but because it does not offer much in terms of ease and comfort, for that lifestyle. It's a quaint little town that charms for its authenticity and natural grace. However, the lack of accommodation and co-working spaces due to its underdeveloped touristic scene are both its downfall and what makes it so magical. The people are lovely, and food is brilliant, and in that sense go for it if you want to exit the radar, isolate and appreciate wildlife. But, in my opinion you'd be better served in Ho Chi Min or Hoi An, or even Dong Hoi. 
Don't be discouraged though, you'll find that going for a few days to explore the national park and caves is plenty of time, plus if you stay in a nearby bigger city, access is quite easy and cheap so you can always go back for more.
Work in Phong Nha
Regardless of the lack of coworking spaces options, Phong Nha can be adapted for work as a freelancer. Plenty of coffee shops, restaurants and hostels are welcoming and offer great free WIFI. 
Best Places to Work in Phong Nha
Phong Nha Coffee Station
Phong Nha Coffee Station is a personal favorite. A welcoming friendly joint, their coffee is superb, and their soda bread is to die for. A great spot to do some great work and grab a bite on the side. 
Trung Nguyên E-Coffee
Trung Nguyen E-Coffee is air-conditioned with a friendly owner and staff. There are multiple tables to work at and a diverse set of drinks. You can also get free tea and coffee when you sit down.
MoGo Coffee
MoGo Coffee boasts great service, delicious coffee, and a fantastic view. There is also great Wifi and a hammock where you can chill while looking out at the beautiful river.
Tree House
Tree House Café is a cute little western style coffee shop. Great coffee, both Western and Vietnamese, good food and nice atmosphere, this one is always a safe bet. 
Most of these places, as well as others, will offer Free WIFI with good speed, especially given the remoteness of the area. In Phong Nha 3G and 4G coverage is usually quite nice as well.
Best Places to Live in Phong Nha
Best Neighbourhoods
 In the town of Phong Nha, or Son Trach, its official name, Hostels and Guesthouses are mainly concentrated in three main areas: along the river within the town, in the Bong Lai Valley and in the countryside.
The Riverfront
The riverfront is, without a doubt, the most popular of these. Most travelers choose this has their temporary abode and, as such, a myriad of establishments are located there. Phong Nha's only international Hotel, the Victory Road Villas, is also in the area. Most restaurants also concentrate around this strip that runs for around 2 km. However, because it's such a small little town, the restaurant scene is quite underdeveloped. 
Bong Lai Valley
About 8 kms away from the town, the Bong Lai Valley is a gorgeous rural precinct filled with farmstays. If you plan on staying in Phong Nha for a while and want to experience true calm and rural life, this is the place to be. The valley also offers some local and familial eateries as well as a bunch of river activities. 
Countryside
In the countryside, you'll mostly find homestays and you'll be able to enjoy the rice fields up-close, with great views of the city from afar. Access to the town is quite easy and there's a few hostels and family-owned restaurants in the villages that surround Phong Nha. 
Most of these types of accommodation should offer inexpensive private facilities, WIFI, air conditioning and bikes to rent. Some even have pools, which for an odd reason looks a bit displaced in rural Vietnam. Owners are genuinely friendly and helpful, eager to make your stay as best as they can. Most hostels and homestay should have a restaurant, but just ask to eat with the families for an insight to their culture and amazing Vietnamese traditional food, sure to bring a smile to your face. Besides, the restaurants in these hostels usually only offer the tourist style Vietnamese food, so if you want authentic, take your shot. Décor is standard and lacks traditional and local motifs. But where they lack in interior design, they make up in personality and kindness.
Find an Apartment in Phong Nha
Phong Nha rental scene is quite underdeveloped as well. Online offers are rather limited, though you may be able to find some options. You are better off staying in a hostel or farmstay for a couple of nights and, if you want a more long-term solution, personally go scoutting for apartments. Agencies like Vingroup, Colliers International Vietnam, IQI Vietnam or Dat Xanh Group may be able to help, but due to the remoteness of the area this is not guaranteed. I would personally go to Phong Nha and talk to locals. See if they can indicate any places, they'll know the town and are always keen to help. 
Bear in mind that there are many restrictions for emigrants to owning land in Vietnam. If you want to buy instead of renting you'll own the house but not the land, which is property of the State and you'll have to lease.
Apartment Rentals usually go for an average of 300/400 USD a month and electricity circles around the 60-80 USD per month. Gas and water are extremely cheap and go for 2 USD a month each. WIFI and TV plans go for around 15 USD for both.
Cheap Places to Stay in Phong Nha
One of the most beautiful landscapes that Vietnam has to offer, it comes to no surprise that Phong Nha has been the witness to an emergence in new hostels and guest houses. However, this is still in its embryonic stages, and most stays are small family owned guesthouses, that charm for their coziness and cheap price. 
Easy Tiger, Nguyen Shack and Gecko are three of the best Backpacker hostels. They are located all close to each other and, assuming they are not full, just swing by and try to get a room. Easy Tiger in particular, is lively and a great option. 
You can obviously stay in the Victory Roads Villas, the international hotel of Phong Nha. With big rooms, a central location, good facilities, and stunning décor, is a great stay for families. The Café and bar offer great views and are really nice. 
Carambola Bungalows is a true budget enthusiast's delight. This 6-bungalow stay has super nice staff and is fairly priced, plus only 1 km away from the main center. 
10 km away though, you'll find Phong Nha Farmstay owned by Ben and Bich. It's one of the first accommodations to emerge in the area and is perfect if you want to explore the rural Bong Lai Valley or the caves. The free bikes make it easy to get anywhere. However, bear in mind that due to its distance to the town center you'll most likely eat most of your meals and hang out in the homestay itself.
Phong Nha Visa
Regarding Visas there are 24 countries that have Visa Waiver Agreements with Vietnam, for periods ranging from 14 to 90 days. A list can be found on official websites. If yours is not on the list you can apply for an e-Visa, available to citizens from 80 countries. The e-Visa is one of many visa options you can choose from to enter Vietnam. Certainly the most convenient, it costs 25 USD and is valid for 30, on a single-entry basis. Note that it usually takes a couple of days to process, and your passport must have at least 6 months of validity. My advice would be to apply 3 business days prior to your trip and to print it out as soon as its processed. 
If you plan on staying for a while and base yourself out of Vietnam a work visa would be best. They last for 2 years and are extendable, however consider that you should apply 30 days before going to Vietnam and usually takes 20 days to process. 
https://www.vietnam-visa.com/ this website has a lot of usefull info on procedures and documentation needed.
Culture and Food in Phong Nha
Vietnam is known for dishes such as: Bahn Mi, Pho, Momos, Nem Cuon, Banh bao and Banh Xeo, and plenty of other classics. However, aside from these staples, the area of Phong Nha is known for Chao Banh Canh, a type of brothy rice noodle soup, with a kick of spice and sometimes served with spring rolls, and Banh Bot Loc, a shrimp and pork clear dumpling, cooked in banana leaf and eaten with chilly sauce. 
Grilled fish is a local specialty with bighead carp, river shrimp on offer broodstock fish. And please don't forget the famous delicious eel. Similarly, Phong Nha is also known for their Thit Nuong, barbecue chicken, pork or beef served with chutney and just a treat to the senses. 
Likewise, Phong Nha is a stage of cultural diversity. Apart from the clear nature-forward and rural tradition, the area has an interesting history linked to the French colonialism and most recently the Vietnam war. 
Home to a few different ethnic groups, the Arem, Ma Cong and the Ruc people, currently live in and around the area. Until 1962 these indigenous people lived mostly in the forest, in bamboo huts and houses, or in the Caves, surviving out of the land and what they managed to hunt. They use simple tools and basic clothing made from lianas and bark and are well versed in natural medicine. However, in 1992 the Vietnamese government set up two settlements to house the around 475 indigenous people. 
Beside the touristic acclaim, the Caves also hold some religious meaning, as an old Cham Temple, dating back to the IX or X centuries, was discovered inside Phong Nha Cave and is considered to be an important site of worship. 
A few festivals liven Phong Nha as well. The Drum Beating festival of the Ma Cong people, the Fairy's Water Begging festival of the residents in the Son River valley, the Tuong singing Festival of Khuong Ha and the full moon festival in Third Lunar month of the Lunar Year in Minh Hoa district, are but a few that could be singled out. They are charming and lively and a great way to immerse yourself in Vietnamese culture.
Phong Nha Nightlife
One cannot really say that Phong Nha is know for their nightlife. Actually, other than a few hostel and homestay linked bars, there is not much. Easy tiger is easily the best option out there. Enjoy their drink deals, that change every day, or just the western style cooking on offer, for the amongst us who crave it. The bar closes at 11pm, however stroll down to the street for the usual afterparty at a different bar, where the vodka from the countertop jar is free to those who dare to try it. Though I don't blame you if the goat's leg and testicles divert your most noble intentions. 
The town also has one nightclub-type establishments, Andy's Lounge Disco, if you want to trade in the trekking shoes for a dance ensemble. 
Regardless, the people of Phong Nha love a good party and are obsessed with karaoke.
Things to do in Phong Nha
Phong Nha is known for its vast network of caves and underground systems. Some more accessible than others, they are a true jaw dropper. Be it through zip line, a days-long expedition into the national park or a simple walkover, the effort is always worth the try. The next cave is ever more pretty than the last one, in this perfect marriage of light, rock formation and flora. 
Phong Nha Cave

A trip to Phong Nha Cave, from where the park takes its name, is an amazing experience. If you head to the pier, at the end of the main street, you can rent a boat with a guide. You'll be able to explore the cave in all its glory, all whilst on a descending ride along the Song Con River. There is not really a need for Guided tours unless you require an English-Speaking guide. The prices for boats are fixed, but just wonder around the docks and see if you can find other tourists with whom to share the fees. You can also hire a kayak and do the trip that way. Though the underground river and cave extends further, the boats only go 1 km deep, place where they turn back to let travelers walk in the rock formations baptized with animals and mythical names. There is even a buddha rock. Whilst you're at it, allow yourself to follow the signs through the never-ending staircase, leading up to the Tien Son cave. As you snake up the pathway the national park emerges offering great views until you find the hidden entrance to the Cave.

Paradise Cave

Paradise Cave is the farthest, as it sits a whapping 20 km south of Phong Nha. Also known as Thien Durong, this cave is a must if you're only planning to come to Phong Nha once. Open to the public since 2010, it marvels for its multi-colored stalagmites that accompany you as you descend. There are some organized visits that you can take, but you can also enjoy it on your own, which to me is the best way to tackle it.

Dark Cave

For the more adventurous ones, Dark Cave is a great option. You can only visit it in organized groups, but you don't need to book in advance. Just show up and they'll put you in the next excursion. You enter with a bang with a zipline into the water filled cave. Life vests and light equipped helmets are required, for the cave is as dark as the name suggests. As you venture through the tunnels, you'll find a mud pool and continue to circle back to the main cave. To exit, you are encouraged to turn off your helmet, and swim towards the light at the end of the tunnel where more ziplines and climbing gear awaits to bring you to the exit.

Hang En Cave

Hang En Cave is a massive cave located in the middle of the jungle and far from any easy road access. The only way to experience this true gem is by taking a 2-day 1-night tour. Oxalis Adventure tours is the only operator that is licensed to take you there. The tour is not cheap as it will set you back roughly 330 USD, however it is truly worth it. The experience is unique and, the limited number of persons per tour, allows you to have a more personalized and tailored experience. Guides will take tents, food, and all of your belongings to the cave, where you spend the night.

Son Doong

Potentially the best-known cave, Son Doong is the crown jewel. Acclaimed for being the largest, this cave is a thing of beauty, nonetheless, access is tricky. The expedition requires high-level experience in camping, climbing and rappelling, and it will set you back 6 days of your time, plus a USD 3,000 fee, let alone the long waiting list. Found in 2009 Son Dong Cave is heavily featured as the picture perfect scenery for Phong Nha. However, be conscious that most won't be able to see the moss covered natural architecture, beautifully lit from above that is this wonder of the world.

National Park

Aside from the Caves and the national park, Phong Nha also offers a beautiful green countryside scattered with trails and hikes galore that you can take.

Bong Lai Valley

Bong Lai Valley is a great option for those looking to relax. Stop by Pub With Cold Beer, the Bong Lai Rattan House o rthe Bong Lai Swing Nature Farm, for food and drinks and a token hammock, or just make a wish at the Duck Stop.

Phong Nha Botanical Garden

The Phong Nha Botanical Garden is plentiful in flora varieties. Easily explored on a two-wheeler, the itinerary crosses the park, stops at the majestic Thac Gio Waterfall and the stunning Anh Lake, until you reach the end. Far from ordinary, this is more of a jungle turned into an open-air museum with classified plant species.
Finally, as in any Southeast Asia destination markets are a must. Phong Nha Market is located near the Phong Nha – Ke Bang Tourist Center. Bring cash and be ready to bargain. The best time to go would be between 6 am and 9 am as it is the busies and liveliest time. Many stalls close for lunch from 11 am to 2 pm and open after until 6 pm, obviously depending on the time of year.
Best Time to Visit Phong Nha
Like many other parts of Vietnam and Southeast Asia in general, Phong Nha weather can be devided into 2 main seasons. The dry season from April to August and with average temperature of 36º C and the Monsoon season from September all the way to March, with heavy rain being the norm. The time of the year you should be aware of would most likely be the flood season that runs roughly from September to mis-November. Most years the town is flooded for days at a time and you're better off just avoiding Phong Nha during that time. Song Dong Cave expeditions will thus operate only from January to August due to the weather conditions and water levels. 
Winter months can be quite chilly so prepare your jackets, however summer, is usually very hot and a time for magnificent storms that can be both scary and a feast to the eye. 
Personally, I would suggest going around May or June where you can enjoy the heat without it being intense, and see the Caves right before the touristic season starts all over the world.
Phong Nha for Families
Phong Nha is more directed for backpackers and adventure junkies as its main attractions are the caves and the wildlife. However, it is to some extent kid friendly. It is an extremely secure town and there are plenty of outdoor activities the kids can take a part on. Bong Lai Valley is an amazing tranquil area if you want to settle with your family and the Victory Roads Villas Hotel is perfect for its big and spacious rooms, and their commodities. 
There are a few Vietnamese schools in the area, but the closest international school would be the Hoi An International School.
Living in Phong Nha
Phong Nha Transportation
Located around 170 km north of Hue and about 500 km south of Hanoi, the best way to get to Phong Nha is probably by plane to Dong Hoi, the nearest urban center and the Capital of Quang Bing. There are plenty of domestic flights that go to the local airport and some international ones as well. 
Another option to get to Phong Nha would be through train on the main Hanoi – Ho Chi Minh railway line, or even by bus. Overnight sleeper buses leave daily from Hanoi and take around 9 hours to get to Phong Nha, they cost around VND 250,000. You can also pick up a bus from Hue, Danang and Dong Hoi. 
Within the Town itself, biking is the best option. Available almost everywhere, bikes are a cheap and easy way to enjoy the nooks and crannies of the town, and explore picturesque vistas of the National Park. However, don't expect much. Cheap comes with a prices and the low-quality can be annoying at times, especially if you are planning on biking for the whole day.
Another option for transportation would be to rent a motorcycle. Nonetheless, consider yourself warned, drivers are crazy, and ridding without experience in Vietnam is a one-way ticket to an accident. Plus, if you don't have a license, be sure that any insurance will be void. 
If you are planning on doing a serious trip you might be better off just hiring a motorcycle taxi. It's a pretty good way to explore the area at an inexpensive rate. 
Fitness and Health
Some of the Hostels and Tourist accommodations in Phong Nha offers small little gyms that will suffice in a pinch. However, in Phong Nha you'll probably get your fit fix from all the trekking, climbing, walking, and kayaking you'll do. As a nature exploring destination, you're better off just turning the caves and trails into your personal gym and stay in shape that way. Several outdoor adventure and water sports are available in a perfect marriage of fitness and picturesque, as you'll get to see more of the park, caves, and river all while burning off the dumplings from last night.
Treks and trails galore flood the whole area, however if you want to go off the beaten path, be carefull as there are many unexploded mines lurking around from the Vietnamese war. A guide is advisable.
Drinking water is usually not safe straight from the tap. Always use bottled drinking water for any application, be it drinking, brushing teeth, or even making a cup of tea or coffee.
In the case of an emergency where you need to go the hospital, an English-Vietnamese translator will probably be required to help you. The Staff Members at both Easy Tiger Hostel and Phong Nha Farmstay are fluent in English and will be able to assist.
Phong Nha People
Despite their troubled past, the people of Vietnam are some of the kindest and most welcoming folks you'll meet. The Vietnamese are melting pot of cultures, languages and historical backgrounds. They charm with their livelihood and for their love towards eats and coffee, whereby you can really witness the power of food to unite people. They love to share a good story and to listen to your adventures, over nice a cup of Vietnamese coffee or a family dinner. Generous and warm this country never seizes to amaze me. However, they might a be bit reluctant in sharing their personal experience, for the older generations are still scared from the war. 
Phong Nha has grown substantially due to the recent boom in tourism. It is for this reason that locals are so interested and keen to talk with foreigners, offering genuine smiles, laughter and good vibes in general. The new generation of Vietnamese is personally unfamiliar with the devastation the country suffered years ago, as they don't have the personal account. They contribute largely to the light and welcoming ambience that the country exudes. 
Men and women of the region are extremely hard working, and grateful for the work they do. Occupations vary from fishing to farming, running the restaurants and hostels of the town, etc. The lifestyle is simple and pure. 
You'll definitely see the true side of Phong Nha if you visit during one of the biannual boat races. Dragon boats fight for a first place and spectators cheer on with comradery and excitement.
Phong Nha Insurance and Medical Care
Phong Nha is equipped with a non-English speaking small clinic, but no Hospitals, the nearest being in Dong Hoi. However, and if possible, I would advise you to go to Ho Chi Minh or Hanoi, as the hospital of Dong Hoi is not the most advanced. 
There are a few pharmacies located near the market, usually open from 7:00 AM – 7:00 PM selling basic medical day-to-day supplies, but with limited stock for emergency situations and more complex cases. 
Emigrants can use the public health facilities of Vietnam, as long as they are contributors to the compulsory health insurance, applicable to foreigners employed under Vietnam labor contracts. Regardless, this is not always enough to protect people from the full costs of healthcare, leading many expats to opt for private medical insurance in Vietnam, that can set you back $4,000 for an individual plan and $11,500 for the family plans, varying according to company.
Make sure you are fully covered by reading our full Digital Nomad Travel Insurance guide.
Jobs in Phong Nha
Job opportunities for foreigners in Phong Nha are scarce and mostly revolve around the tourism industry. You can become a tour guide for the caves and parks, as well as an interpreter if you know Vietnamese. Help out in the hostels and farmstays, or serve at the bars and restaurants. Other than that Phong Nha is better as a tourism destination. 
Teaching English is also a good option as the demand is high and most expat teachers like to concentrate in Ho Chi Minh or Hanoi, turning the Phong Nha market almost empty and looking.
Check out our Digital Nomads Jobs Postings to find the best jobs available for Digital Nomads.
Nomad Friendly
Value for Money
Internet
Workspace
English
Food
Safety
Health
Transportation
Friendly
Quality of Living
Cost of Living Phong Nha
Living in Vietnam is affordable and will vary according to the place where you choose to settle. On average, a month of expenses will probably set you back around 400-500 USD with rent going for an average of $300 and groceries $50 per month.
Transportation is also extremely affordable be it if you choose public transportation or to buy/rent your own vehicle. 
Phone bills are on average 5$ a month.