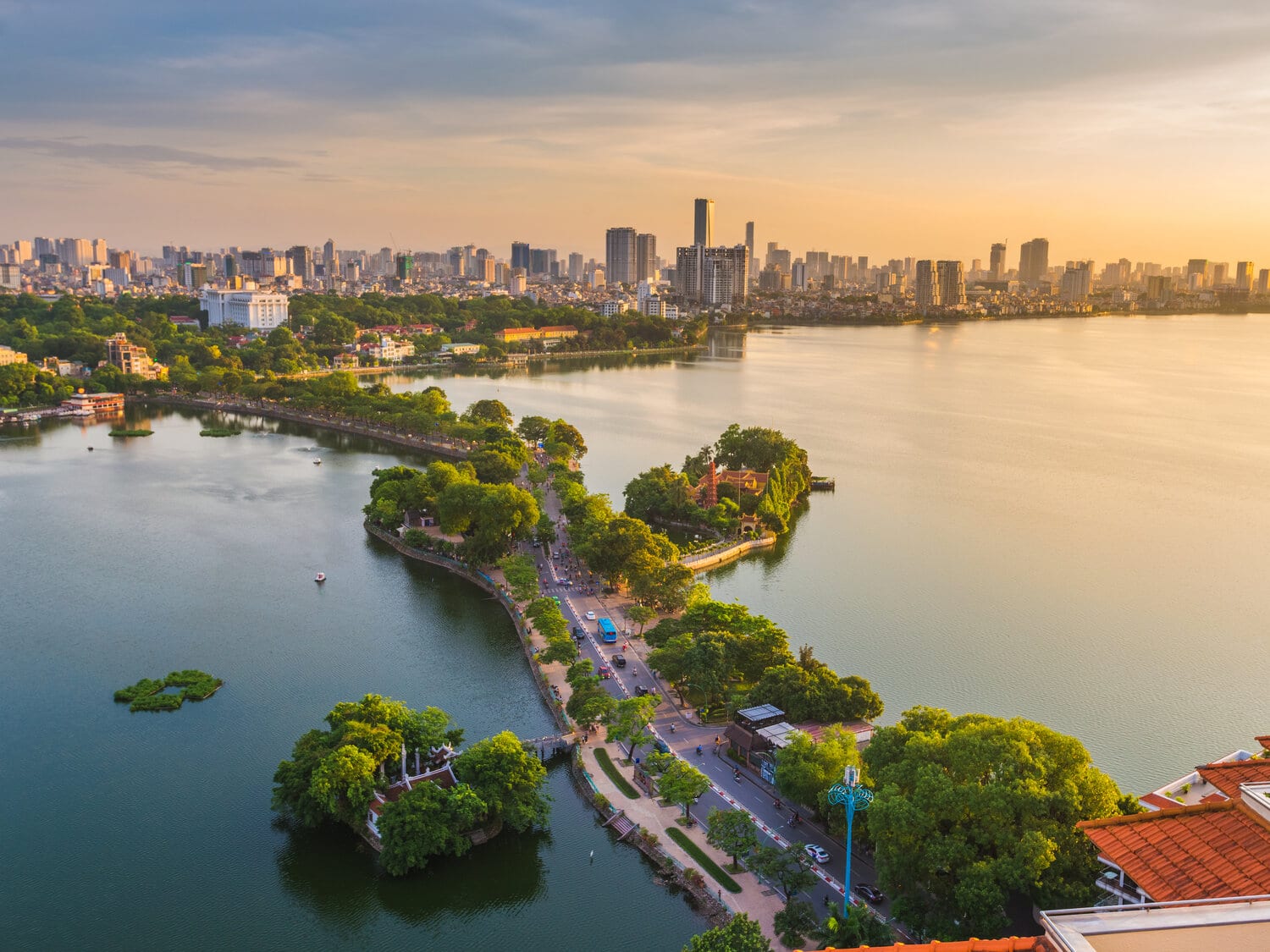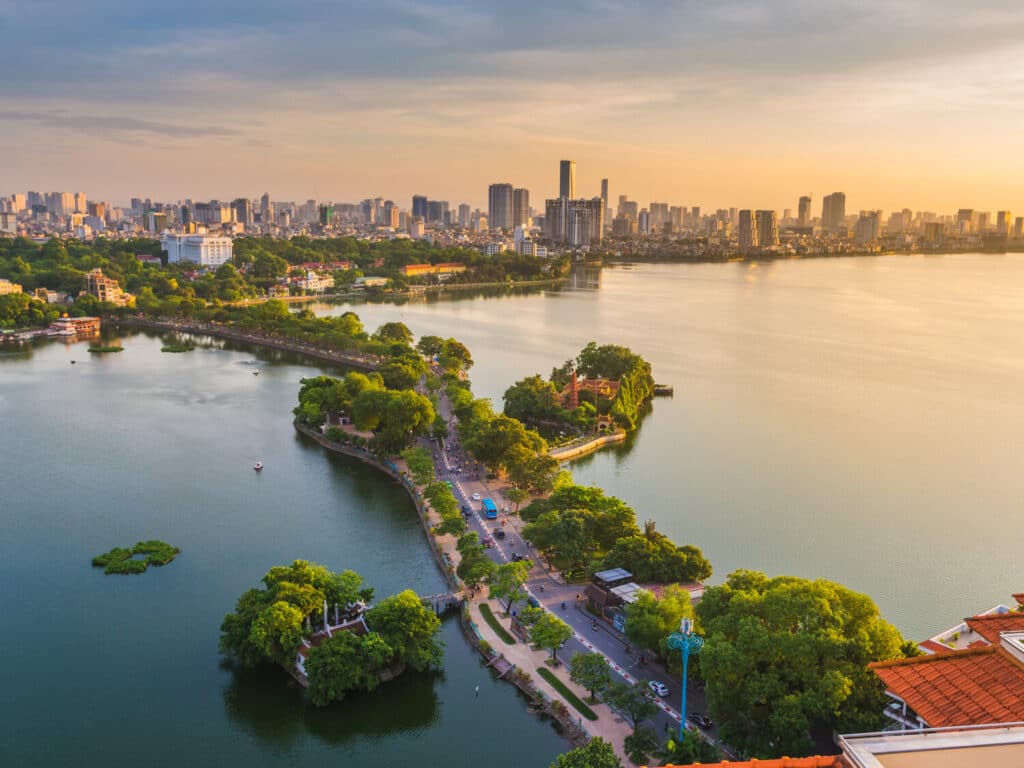 A Digital Nomad Guide to Hanoi
On the banks of the Red River, Hanoi is one of the world's most ancient cities. Now with a population of over 4.8 million people, it has grown beyond being the nation's capital to become a fascinating city in its own right. 
Since the end of the Vietnam War, the nation has continued to build itself into an exciting destination, not just for remote workers, but for backpackers and casual tourists alike. Hanoi, in the foreground of misty mountains, has become a happy medium between the organized chaos of Ho Chi Minh and the more relaxed Hoi An.
And we haven't even mentioned the delicious Vietnamese cuisine.
Hanoi was once a French colonial city and maintains much of that historic architecture and culinary influence in the modern day. The city's street food, along with mom and pop eateries, present the best of Vietnamese cuisine throughout its history. Hanoi is a great city to explore on foot, head out in any direction and simply get lost within its winding streets full of crafts, bars and banh mi. 
Around Hanoi is a tranquil countryside that unveils what early life in Hanoi would have been like. Beyond the city's vibrant nightlife, you will find towering mountains and cooler temperatures that belie Vietnam's standing as a tropical climate. 
With a low cost of living and a great way of life, it is no surprise that many digital nomads come to Hanoi and take a long time to move on.
Nomad Friendly
Value for Money
Internet
Workspace
English
Food
Safety
Health
Transportation
Friendly
Quality of Living
Living in Hanoi Overview
| | |
| --- | --- |
|  Meal, Inexpensive Restaurant | $2.08  |
| Domestic Beer (1 pint draught) | $0.88 |
| Cappuccino (regular) | $1.77 |
| Loaf of Fresh White Bread (1 lb) | $0.70 |
| Water (1.5 liter bottle) | $0.52 |
| One-way Ticket (Local Transport) | $0.31 |
| Basic Utilities (Monthly) | $59.94 |
| Internet | $10.25 |
| Fitness Club (Monthly) | $23.71 |
| Apartment (1 bedroom) in City Centre | $339.34 |
Currency: Indonesian rupiah (Rp)
[erw_exchange_rates_widget lg="en" tz="0″ fm="IDR" to="EUR,USD,GBP,AUD,JPY,RUB" st="primary" cd="" am="15000″][/erw_exchange_rates_widget]
ATMs
Max Withdrawal: Rp 3,000,000
Withdrawal Fee: Rp 30,000 – Rp 50,000
Use of Credit Cards: Mostly Cash
Digital Nomad Personal Experience in Hanoi
Vietnam was right at the top of my list of destinations to continue life as a digital nomad. Vietnam as a whole provides an easy visa system that makes long-term living in Hanoi a possibility without pesky work or residency visas.
On arrival, my suspicions that Hanoi would be a great city to open up the laptop and settle down for a while were proven correct. I'll admit, usually I prefer my cities to be a grid shape, so it's easy to get around. Hanoi's streets are anything but simple. They are windy and unpredictable; it makes it easy to get lost, which I came to love. The ever changing streets forced me to wander all over the city, stumbling upon new and exciting restaurants, museums and nightlife. 
A lot of cities in Asia have intense and chaotic traffic. Some would say it is a part of the charm. Vietnam takes things to another level, with a mass of scooters, swarming like bees around every turn. It appears crazy, but this is everyday life for those born and raised in Hanoi. So much so that if you walked out into the swarm, they would gracefully float around you without a care in the world. 
If you aren't comfortable riding a scooter or don't want to learn, then Hanoi can be a hard city to settle into, as taking a taxi everywhere can quickly become a drag.
Hanoi is anything but quiet and peaceful. If the hustle and bustle of city life rubs you the wrong way, then straight up, Hanoi may not be your next destination as a digital nomad. But if you are someone that enjoys exciting population hubs, with secrets behind every corner, Hanoi has the potential to rope you in.
Work in Hanoi
Vietnam is known for amazing coffee. The flavour is distinct and so is the smell. For these reasons, the café scene in Hanoi is bright and happening. There are a ton of coffee shops you can simply walk into and begin the day's tasks. Add in some classic bakery goods and relatively strong WiFi, a lot of digital nomads simply find their local spot and return every morning.
Some of the best cafés in the city do more than just sling delicious warm beverages. Some feel like cozy living rooms, which is certainly the case at Auden Coffee. In the Tay Ho District, this café offers a bohemian interior matched only by the smoothie bowls. With reliable WiFi, plenty of workspaces, couches and outlets, Auden is a digital nomad favourite.
One underrated part of living in Hanoi are the public libraries. Here you can avoid the crowds and spending too much money on café treats. Hanoi's public libraries are free to use and there are many to choose from, particularly in the districts around Ho Guom.
The National Library of Vietnam is a standout, although not public, yearly memberships begin at only $7. Here you will find a 3rd floor entrepreneur suite, excellent WiFi and work facilities designed for students and remote workers. 
However, sometimes you need that community and source of inspiration that comes with joining a cowork space.
Best Places to Work in Hanoi
HanoiHub, Ba Dinh District
Ba Dinh is one of the quieter, less touristy areas of Hanoi, which makes it a great location for one of the best cowork spaces in the city. HanoiHub remains close enough to the Old Quarter for a midday lunch or post work drinks without being distracting for those hard at work.
The interior design is bright and colourful, immediately putting you at ease when you walk inside. Working among such a perky layout makes it easy to maintain an upbeat vibe even if the work is dragging. 
The space includes both private offices and communal areas. The communal space is home to bean bags and standing desks, along with regular desk setups, so you can keep things fresh all day long. 
With a mini-library, a relaxation room and a kitchen, there are many ways to take a break and switch off without leaving the hub.
Memberships vary, including by the hour and evenings only. The most popular is the Hub VIP. This is a 3-month individual membership priced at $196.
Toong
Toong has five locations around Hanoi, each with their own differences. Overall, Toong cowork spaces aim to blend Vietnamese tradition and modern work life, which has helped it become one of the most popular cowork communities, not just in Hanoi, but all of Vietnam.
Toong Trang Thi is the oldest and arguably the best space of the five on offer. Being just a few minutes' walk from Hoan Kiem Lake and a quick trip from the Old Quarter, this location offers beautiful daily walks and activities in close vicinity.
The cowork space is in a repurposed French villa that is easily mistaken for a residential building. But inside are private offices and extensive communal spaces. The desks are long so there is plenty of room to work without feeling cramped.
Owing to its popularity, the community at Toong is quite diverse, allowing for great networking and social opportunities for those who are new to Hanoi.
There are daily hot seats which begin at $6.50 and their monthly memberships cost $83.
Best Places to Live in Hanoi
Best Neighbourhoods
Hanoi is likely to differ from your home city, even if you disregard the nuances that make Hanoi such a fun culinary and cultural destination. There is a wonderful balance between Hanoi's districts or neighbourhoods owing to the lack of (read none) community zoning. 
For these reasons, by Vietnamese standards, there are no distinctively poor districts in Hanoi. This, of course, is significant news for digital nomads who wish to call the city home. You can live in any part of Hanoi and enjoy your experience.
Tay Ho
But like any city that is popular among expats and digital nomads, there are some neighbourhoods that are geared more towards your situation as a remote worker. Tay Ho is one of the most popular districts in Hanoi for newcomers. After all, living near a 53-hectare lake is an attractive proposition.
Once a sleepy village on the edge of the city, Tay Ho is now the very definition of trendy. With modern cafés, boutique retail stores and hotels, the district is one of the more refined parts of Hanoi, which of course ups the price tag. However, a lot of Tay Ho's early charm remains, with mouthwatering street food, thriving local markets mixed in with western gyms, schools and nightlife. Cheaper rent here ranges from between $300 and $500.
Ba Dinh
Ba Dinh, otherwise known as the French Quarter, is the political centre of Hanoi. Ba Dinh is home to embassies and government buildings along with Ba Dinh Square, where independence was at last declared in 1945. The general lifestyle here is cheaper than in Tay Ho and with the abundance of real estate many newcomers choose to live in Ba Dinh because of cheaper rent. Your monthly rent in Ba Dinh can be as low as $200.
Many residents take the short drive to Tay Ho on the weekends but there is much to see and do in Ba Dinh. The leafy boulevards featuring French architecture and museums are full of authentic Vietnamese culture. For digital nomads moving with school-aged children there are two good international schools in Ba Dinh. Both popular with remote workers and local families.
Dong Da
Directly below Ba Dinh is the Dong Da district. Both neighbourhoods overlap each other and share many similarities, especially on an educational front. This district is home to the best universities in the city, including FTU and Hanoi Law and Medical School. Because of the bevy of student-focused accommodation in the Dong Da district, it is a simple area to find cheap apartments at roughly $200 per month. 
Ciputra
If you aren't worried about your budget, then consider exploring the neighbourhood of Ciputra and see if it is the right type of extravagance for you. On the west end of West Lake, Ciputra offers not just wonderful lakeside views but also views of the Red River. 
With a nearby golf course, international schools and plenty of parks to enjoy, Ciputra is one of the nicest districts to live in Hanoi. Rent prices fluctuate from between $700-$1800 per month. 
Nam Tu Liem District
Lastly, is the Nam Tu Liem District, a relatively new neighbourhood in Hanoi. With rapid development there are always multiple landlords looking for tenants, creating some of the cheapest rent in Hanoi. The only downside is that it takes around 30 minutes to make your way into the Tay Ho district.
Find an Apartment in Hanoi
With many of Hanoi's best neighbourhoods now covered, you should have a good idea of what to expect and what areas may suit you best. On arrival, unless you have something locked away, it is a great idea to check yourself into a centrally located hostel or hotel. 
From there you can spend a few days getting your bearings and understanding the districts on a personal level. There's no point rushing, only to move once more after a few weeks.
Thankfully finding an apartment that suits you shouldn't be an arduous task. Just like back home, one of the major ways to find an apartment is by looking at local listing sites. If you aren't familiar with the Vietnamese language, this can be a tricky task, however, the most popular real estate site in Vietnam, Bat Dong San has an English version. 
Other sites make use of the unpredictable Google Translate and posts are usually from local Vietnamese owners that may not speak a word of English.
For digital nomads, sometimes the informal approach is the simplest and allows us to settle into our new city quicker. There are several Hanoi Facebook groups that can help find you an apartment in less time than engaging with a real estate agent. 
Hanoi Massive is the main Facebook group featuring over 47,000 members. Along with being a constant source of entertainment there are rental listings being posted daily. Because of the international and local community that are members of the group, the language barrier is essentially eliminated. 
The success of Hanoi Massive has spawned a variety of similar groups that also cater towards housing. Another option is Hanoi Massive Housing with over 30 posts per day.
If you are someone that likes to be thorough, add in a visit to our old friend Craigslist as a part of your daily house search. There will be a lot of cross-platform posting but there's every chance you could grab a bargain that wasn't listed on Hanoi Massive. 
Lastly, as you make your way around Hanoi on foot exploring your new city keep an eye out for 'for rent' signs. In popular digital nomad areas, landlords often cut to the chase and advertise in English hoping to attract remote workers as tenants. They mainly use these signs on street-front properties, which in a city of dark alleys, are hot real estate. Although finding a sign takes a bit more luck than scrolling through Facebook it could land you a great apartment in your favourite part of town. 
Checking out your new apartment before signing on the dotted line is important no matter where you are in the world. Housing standards and regulations in Hanoi can be loose, so it is vital to explore every property before moving in. For this reason, it is always best to begin your search in person after moving to Hanoi.
Cheap Places to Stay in Hanoi
Life in Hanoi is fairly inexpensive overall, but there are still ways to cut down on your rent. One of the most common ways is to move to popular student areas such as Dong Da or further out to the Na Tu Liem District. 
If you want to live within the most happening parts of the city, you can live in the many alleyways that are in districts like Tay Ho. These alleyways have much cheaper rent than street-front properties but this isn't an option for everyone. 
The alleyway is where trash is dumped awaiting pickup from a collector. Heavy rain can cause the trash to spread throughout the alley, making it a frustrating journey to and from your apartment. There is rarely a view and no natural light coming into your home. Most digital nomads new to Hanoi quickly find that the lower cost isn't worth living down an alleyway.
Hanoi Visa
Quite a few nationalities enjoy visa-free access to Vietnam, including many Asian and European countries. However, these visas last for a measly 15 days. For those that need a visa or wish to stay longer than 15 days, you will need to apply for a visa ahead of time. 
Again, currently you cannot arrive at the airport and get a visa unlike nearby Thailand and Indonesia. Avoid being the person on your flight (there's always one) that embarrassingly gets sent back to their previous destination.
For a basic tourist visa you can apply online, and there are many websites, some legit, some less so that will try to gain your services. I have gone with VOA in the past with no complaints. Once you have been granted your approval letter, you will collect your visa at your point of entry into Vietnam. The 3-month visa is the best option and costs around $30.
Once your time is up, you can either move onto your next destination or complete a 'visa run'. The cheapest option is to catch a bus to Laos and wait a few days. But aside from that being an uncomfortable journey, going to Bangkok and returning through airport immigration is a much simpler option than going through a land crossing.
While you cannot technically work on your tourist visa and we don't condone breaking the rules, the reality is that these rules aren't strictly enforced. Many nomads who take up teaching in Vietnam do so on their tourist visa as going through the work permit process is a frustrating exercise.
To get a work permit you will need a sponsor who will offer you a position within Hanoi. This can be tricky to do from your home country, particularly if you want to teach and have no prior experience. If it is granted, you won't have a great understanding of your work life until you find yourself at your new job.
Culture and Food in Hanoi
Hanoi is the northernmost city in Vietnam and although it has close connections throughout history to Ho Chi Minh City and other regional areas, it has developed many of its own cultural traditions. 
Vietnam's capital has two distinct personalities. Hanoi is both an ancient city that dates back over 1000 years and one that was developed by French colonial power to align with the style of Paris.
Through these differences Hanoi has developed a wonderful atmosphere and unique character. With local lakes, fed by the impressive Red River, spacious local parks, and tons of cafés, Hanoians enjoy getting outside and maintaining a strong social life. 
At any time of day you can see them enjoying the leafy streets, whose beauty contrasts to the jarring sounds of scooter horns. These same streets wonderfully mix traditional Vietnamese cuisine in combination with the relatively new French influence. It should be no surprise that you can walk through any district in Hanoi and enjoy delicious pho before tucking into a perfectly made baguette.
French-style bakery goods are found all over town, an aspect of modern Vietnamese cuisine that helps separate Vietnam from other countries in the region. The local banh mi, a small baguette with meat, vegetables and a tangy taste, has grown in popularity to become a staple at any Vietnamese restaurant around the world. 
Hanoi has many fantastic banh mi 'shops' on any corner of the city, the vast majority are inexpensive and will quickly become a go-to lunch or afternoon snack during your time in the city. There are a few that, while more expensive, are more than worth it.
Banh mi Tram in the Hoan Kiem district has a varied menu, but it's the special home-made sauce that makes it one of the best places to try Banh Mi. Likewise, Banh mi Nguyen Sinh has a unique flavour profile that differs from all vendors in Hanoi. The options are slightly expensive, but the home-style cooking is to die for.
As you make your way around Hanoi, you will notice a ton of makeshift noodle stands serving all sorts of Vietnamese cuisine. Like any place in South East Asia, if the stand has a decent line, it is bound to be delicious. 
For this reason, you never know what you may stumble upon during your first few weeks in the city. You can read every listicle and check local ratings, but it's the random street food vendor that doesn't advertise who will win over your heart with their scrumptious creations. 
Overall, Vietnamese dishes use a regular blend of herbs and spices that combine wonderfully with the sweet and sour flavour of their traditional cuisine. When served hot, the freshness of the ingredients makes it easy to enjoy even in the height of summer.  
Although famous for its nightlife, the Old Quarter is also a great place to go as a newcomer to enjoy many local eats in one place.
Hanoi Nightlife
Hanoi's nightlife, like the city itself, can be divided into two parts. On one side you have the boisterous backpacker scene, complete with little stools and plenty of Bia Hoi and the local nightlife which by comparison is pretty tame.
Drinking in Vietnam, especially compared to Thailand, is stunningly cheap. A favourite experience for a lot of nomads in the city is sitting down on a random street alongside a server and a keg. For around 30 cents you can get a cup of local brew and watch the cars go by. 
The first port of call for new arrivals and those that can't get enough of Hanoi's dirt cheap nightlife, is the Old Quarter. In the Hoan Kiem district, unsurprisingly the Old Quarter comes with charming colonial architecture, temples and pagodas.
Because this district was once the centre of manufacturing and commerce, each street in the Old Quarter specialized in one specific category of trade. But now those streets have been transformed into a hub of restaurants and bars serving cheap eats and even cheaper drinks. 
Beer Street is the most popular and is an essential nightlife spot for anyone coming to Hanoi, digital nomad or not. The street is full of people from all over the world, sitting on tiny plastic stools in front of tiny plastic tables. 
If you arrive early enough, you will be able to grab a table right in front of your chosen bar. However, as the crowds flock in, more tables and chairs are added in until they flow well out onto the street.
A pint here, much like the street keg, is crazy cheap, and hovers between 20 and 40 cents. It therefore isn't hard to imagine how the night can quickly get out of control.
An hour or two will pass and things will seem fine and dandy until the noise of distant sirens reaches the street. From there, beer in hand, you will be asked to stand up and move to the side. In total bewilderment you will watch seasoned pros stack the chairs and tables in a matter of seconds, completing the job right as the police arrive.
Not to worry, once the cops are on their way, your little table and chair will be put back into place and your night will go on.
Other popular nightlife districts in Hanoi include the ever-popular Tay Ho neighbourhood, around 15 minutes north of the Old Quarter. Here you will find several boutique nightclubs and live music venues and the district provides a greater balance between nomads and youthful Hanoians. 
Hanoi Rock City is one of the best spots in Tay Ho. When it opened it helped pioneer live music in Hanoi. Throughout the week they have a number of events crossing many musical genres from reggae to heavy music. Other clubs include BirdCage for the underground dance scene, playing anything from the 80s to contemporary pop and Savage which brings international and local DJs to play in front of a massive dance floor.
Things to do in Hanoi
Walk around Hoan Kiem Lake

Hoan Kiem Lake is a go-to spot for an early morning stroll or a weekend picnic. With many great local eats nearby, grab yourself a bite and kick-back in the luscious green space. With beautiful views across the lake, resident temples and the backdrop of the Hanoi skyline also means Hoan Kiem is also a wonderful spot for photos. The lake itself is thought to be mystical, with a resident turtle calling Hoan Kiem home. This turtle is a hero in a prominent Vietnamese legend. Keep your eye out when you visit, because you may just see turtles moving around the water.

Visit Bach Ma Temple

Found in Hanoi's Old Quarter, Bach Ma Temple is the oldest in the city. It was originally built long ago, in the 11th Century during the era of Emperor Ly Thai To. Some of the original temple remains, with the last restorative work dating back to the 18th century. On arrival, you will notice the temple's outstanding construction, with gorgeous interior patterns and engravings. It is easy to get swept up in the temple's peaceful ambiance.

Lotte Tower Observation Deck

For the best view of Hanoi, go high above the skyline. Make your way to the Lotte Tower Observation Deck, which is on the 65th floor. From there you can take in the panoramic views of the city, point out your new home and admire the Old Quarter which extends into all directions. Once you have soaked up the view, you can explore the rest of the tower, which includes a hotel and a stunning rooftop bar. Come up here to end the week with a cocktail on the top of the world.

Explore the Imperial Citadel of Thang Long

For an excellent representation of both Vietnamese culture and architecture, without the influence of the French occupation, a visit to the Imperial Citadel in the district of Ba Dinh is a must. Now a UNESCO World Heritage Site, the Citadel stands at 40 metres high, with the flag raised up above the central tower being one of the most recognisable sights in Hanoi. The Citadel was once the centre of historic Hanoi while also being the political hub for 800 years. Come and explore incredible artefacts that date back to the 6th century, many of which were found as recently as 2004.

Ho Chi Minh Mausoleum

Ho Chi Minh is one of the most important figures in Vietnamese history, not only influencing the path of his country but the fortunes of many larger nations. Today he rests in the Ho Chi Minh Mausoleum, one of the most visited attractions in Hanoi. A visit to the mausoleum is a wonderful, eye-opening experience that will bring you closer to understanding just how much impact he had on Vietnam. Keep in mind that the mausoleum's security is tight and there is a dress code that includes no shorts, skirts and sleeveless tops.

Dong Xuan Market

You can experience the busiest and largest indoor market in Hanoi at Dong Xuan. The extensive market combines local arts and crafts, souvenirs, accessories and clothing. The market also comes with a sprawling dining space packed with street vendors selling local eats, from the classic pho and banh mi to more exotic dishes such as fried frog and duck blood soup. Dong Xuan is a big part of the local Hanoian lifestyle, so if you are excited to ditch the backpacker scene, you can enjoy an authentic Hanoi evening right here.

Military History Museum

Whether or not you are a history buff, the Military History Museum is one of the best of its kind. The museum houses a significant amount of historic weaponry, artefacts, and fighter planes including a Soviet MiG. The museum does an amazing job of taking you through the Vietnam War and unveils much of what it was like from a local perspective. There are many galleries, and displays that go into great detail and for those wanting to learn, the museum can keep you hooked for hours. It can jar and may challenge common perceptions of the war, but for anyone living in Hanoi, the Military History Museum is an important experience.

Hanoi Old Quarter

You may have experienced the Old Quarter at night, with an evening of beers and hookahs, but Hanoi's Old Quarter is still a fantastic place to explore during the day. Complete with colonial architecture, busy narrow streets and a constant flood of scooters, the Old Quarter is an exciting place to be. There are no soaring high rises in the Old Quarter and it maintains a lot of its original charm. Aside from restaurants and cafes, you will find an abundance of classic silk shops, and little stores selling handmade crafts.

Ba Vi National Park

Get out of Hanoi for a day or two and enjoy the pristine air in the Ba Vi National Park. Ba Vi is around two hours west of downtown Hanoi and provides the perfect escape from traffic, crowds and noise. The national park is known for its famed three-peak mountain that soars rapidly into the sky. From the tallest peak, Dinh Vua, you can take in the long-range views of the countryside from a temple built in the 11th century. If you don't feel like an uphill hike, save yourself the trouble and head to the spa resort for natural therapies in a spectacular setting.

Thang Long Water Puppet Theatre

Water puppetry is an ancient art that has had a long association with Hanoi. There are several spots in the city where you can witness this historic and unique Vietnamese art. The original and best theatre in town is the Thang Long Puppet Theatre. Come and watch the puppets dance on the liquid stage with the help of expert puppet masters. A common feature of most shows is the Legend of the restored Sword of King Le and the tale of the giant turtle who calls Hoan Kiem Lake home.
Best Time to Visit Hanoi
Hanoi is a beautiful city at any time of year, however, it goes to another level between October and December. With the city experiencing its dry season, everyone is out and about, enjoying the lake, going to Ha Long Bay or heading out into the mountains. 
If you are someone that enjoys the outdoors, this is the time to explore the best of Northern Vietnam. Temperatures range between 22C and 29C with the brisk December mornings dropping to a cool 15C. 
Along with the spring months, between February and April where the temperatures are in a similar range, these months are great for completing all the touristy things you want to do, including a full-day walking tour without collapsing in a pool of sweat.
Between the spring and autumn, Hanoi has its summer. But like all places in a tropical monsoon climate, the summer is the wet season. With the influence of the southwest monsoon, Hanoi experiences pounding daily rain, and when it stops, the humidity skyrockets, thanks to mid-30 temperatures and a high UV index. 
For long-term digital nomads in Hanoi, this won't be a concern, it will simply be a change of seasons. But if you only have a short time to spend in Hanoi, it is best to avoid the wet season so you can sip your coffee on the street and walk all over town.
Hanoi for Families
Even though Hanoi has crazy traffic and poor air pollution at different stages of the year, Hanoi is a safe place for children and families. There is very little crime in Hanoi, most of which are opportunistic and rarely involve foreigners. 
For education, Hanoi has a variety of options for school-aged children, spanning from public to international. Public schools in Hanoi have a reputation for being over rigorous, however, overall, this means public school students don't receive a starkly substandard education. 
Despite the decent quality of teaching, most nomads choose to send their children to an international school, which negates the language barrier and allows the kids to continue with the curriculum they were following back home.
International schools in Hanoi are of a high standard, with the British International School of Hanoi and the Hanoi International School being the most prominent. All international schools in Hanoi experience a competitive entry process. Therefore, as soon as you know Hanoi is your family's next destination, begin applying. 
Outside of school you will find there are a lot of fun things to do in Hanoi with kids, many of which were listed above. Getting around town with kids in town is sure to raise your heart rate at the beginning but things will settle into place after a short while. 
While there are many theme parks and zoos, much of what we love as travellers the kids will enjoy too, including food tours, getting around Hanoi on a cyclo and enjoying the water puppet theatre. Bring the young ones to the Nghia Do Park to burn off their energy on an extensive playground.
Living in Hanoi
Hanoi Transportation
The traffic in Hanoi, just like Saigon, is nothing short of hectic. Thousands of motorbikes manoeuvre through the tight streets en masse, creating bottleneck intersections. Then there are the cars and buses that share the same roads, forcing them to muscle their way through the city. Because of the closeness of everyone on the road, horns are blown incessantly, as a warning to fellow motorists. 
Moving around Hanoi on a motorbike is both the most simple and most chaotic way to get from A to B. Locals use their bikes for all sorts of reasons, from carrying family members to transporting refrigerators and live animals. The vast majority of expats and digital nomads who are living in Hanoi for any length of time will either rent a bike long term or buy their own. 
Motorbikes can weave through the dense traffic a lot easier than cars, but for newcomers to the world of South East Asian driving, it pays to take your time and get used to the ebb and flow of the community before becoming an over-confident rider.
Traffic signs and regulations aren't tightly upheld and are often seen as more of a suggestion. Without the hard and fast rules, it's hard to know what to expect. With practice and patience you will find yourself in rhythm with the local traffic, along with having an easier journey through Hanoi.
If you don't feel like joining the chaos and jumping onboard your very own scooter, then you will have the opportunity to make use of the taxi equivalent. Xe om (pronounced 'say-ohm') are motorbike taxis which can be found on the corner of any street in Hanoi. Your driver is as confident as he is aggressive and he will get you across town the quickest for just $2 to $3.
There is no subway system or above ground metro railway in Hanoi. The only common form of public transport is the bus system. Due to their immense size, they struggle to get around Hanoi at a reliable pace. A bus ticket is cheap which also leads to most buses being overcrowded and uncomfortable. 
Regular vehicle taxis are prominent throughout Hanoi and provide a welcome respite from the pollution and noise. Taxis are inexpensive but during the morning and afternoon rush hours, a car almost becomes redundant because of the clogged intersections. During the busy times it can take three times as long to make your way through the city.
Many digital nomads forego buying a car of their own because of this and choose to ride their own bike or jump on a xe om. For adventures out of the city, a car is handy but with private drivers being so cheap, they become the most popular option.
Fitness and Health
If you're someone that loves to put on a pair of joggers and go for a run on the local streets, then you may have to do some adjusting in Hanoi. The crowded streets and smog aren't great for runners and cyclists. 
However, the beautiful lakes in Hanoi provide the perfect change of pace with running tracks and a bike route. If you are based in more touristy or upmarket districts, you will probably have a local western-style gym within walking distance (Tay Ho is also home to a crossfit studio) along with indoor swimming pools.
Hanoi People
Through the former emperors, to colonialism, the Vietnam War and ever-changing political ideals, the people of Hanoi have stayed true to traditions and ancient culture. Because of this, nomads who have spent significant time in Saigon will notice that Hanoians come across as more serious, speak much faster and display less emotion. 
Hanoi culture remains socially complicated because of various etiquettes and hidden rules that can be hard to decipher, even if you have lived in Hanoi for years. There are a lot of social obligations, especially when it comes to gift giving and being invited into a household. In a lot of walks of life this will be because of a blossoming friendship, however in Hanoi it could be just a courtesy. 
Similarly, social hierarchy continues to be a major part of everyday life. While this mostly involves respecting your elders, everyone is very much aware of their standing in society and naturally they won't do anything to improve their lot. This can lead to a mentality of revering your idols and being unattached to those on the same level.
But as digital nomads our interaction with local Hanoians, whether in the workplace or out in public, will mostly be positive. Hanoians take a lot of pride in their city. You can't convince them that food or coffee is better anywhere else. They are a happy and spirited community. 
Getting to know people within the community can be difficult, especially if you aren't interacting with university aged locals. The language barrier is big in Hanoi and much of Vietnam. This is the number one challenge for newcomers who want to explore more than just the backpacker scene.
Likewise, locals will almost always assume that you are a tourist and are therefore within their target market. Being pestered on the street to join a tour or jump in a taxi is a pretty common experience in a lot of lower socio-economic countries, so many digital nomads will know how to deal with it.
However, for new travellers it can become hard to differentiate between what you are seeing and what locals are actually like. But with patience and a little luck on the language front, you will find that Hanoi is a very open and kind city.
Hanoi Insurance and Medical Care
Vietnam is a socialist republic and all citizens enjoy health coverage. However, for those on a tourist visa this will not apply to you. If you have gained a work permit, many employment packages will include a local health insurance that will keep you covered for the length of your contract.
In Hanoi there are two major clinics and one hospital that provides health care to an international standard and has English-speaking staff. There are also several hospitals of international quality that have French, Japanese and Korean backgrounds.
Along with providing regular hospital care, physiotherapy, dentistry and counselling, you will also find adequate 24-hour emergency care. However, for more advanced surgeries, you may have to fly to Bangkok or Singapore.
For those that don't have access to local health insurance, it is important that you sign up for private health insurance before you arrive in Hanoi. Although the standard of private health care in the city is very good, there is a stark difference between the private and public sectors. International doctors with diverse training backgrounds bring quality care and a lower language barrier, and they all work in the private sector.
Pharmacies in Hanoi are relatively well stocked and it's simple to find common prescription and over-the-counter medication. But the selection will probably fall short of what you are used to, along with government restrictions on some prescription medication that has been deemed to be addictive. 
Common treatments for depression and anxiety can fall into these categories. It is best to bring your prescription medicine with you and then deal with a private doctor once you are settled in Hanoi.
Make sure you are fully covered by reading our full Digital Nomad Travel Insurance guide.
Jobs in Hanoi
With such a low cost of living, Hanoi is one of those destinations where digital nomads won't have to gain secondary employment in order to scrape by. However, as you weave into the local community, you may come across some exciting opportunities. 
Teaching is the primary job of choice for those moving to Hanoi. If you want to make a move onto this career path, then you're in luck. Although a lot of schools will advertise online hoping to secure a student with a bachelors degree and teaching experience, in reality if you make the right connections you will be able to teach in Hanoi without a work permit and any formal education.
Of course, for those without the necessary qualifications and permits, major international schools are ruled out. But the public school system offers plenty of opportunities.
Skilled work in Hanoi can be few and far between, with such a strong language barrier employment opportunities in fields other than teaching are hard to attain. These are the sort of jobs that may arise once you have spent time in Hanoi and made the acquaintance of other remote workers and expats.
Check out our Digital Nomads Jobs Postings to find the best jobs available for Digital Nomads.
Nomad Friendly
Value for Money
Internet
Workspace
English
Food
Safety
Health
Transportation
Friendly
Quality of Living
Cost of Living Hanoi
The overall cost of living in Hanoi is quite low. Rent is always your major expense wherever you are in the world, and rent in Hanoi can set you back between just $200 and $300 per month. This is for a nice, yet basic apartment in most of the districts around the city. You can double that for a nice flat in a more popular area.
From there, the rest of your budget will depend on how much you choose to spend eating and drinking out. If you choose to indulge in Hanoi's cheap and delicious dining options three times a day, then your budget can jump up by around $300. 
Renting a scooter is a must for many digital nomads, and will run you around $5 per day depending on your bargaining power. Monthly rentals come in at $70. For this reason, many choose to buy their own scooter with prices ranging from $300 to $600.
Although the Internet and cable TV are crazy cheap, by comparison electricity is very pricey. A single air conditioner running through the heat of day will cost you $50 per month.
All up after rent, you can expect to spend between $450 and $600 a month and live comfortably.