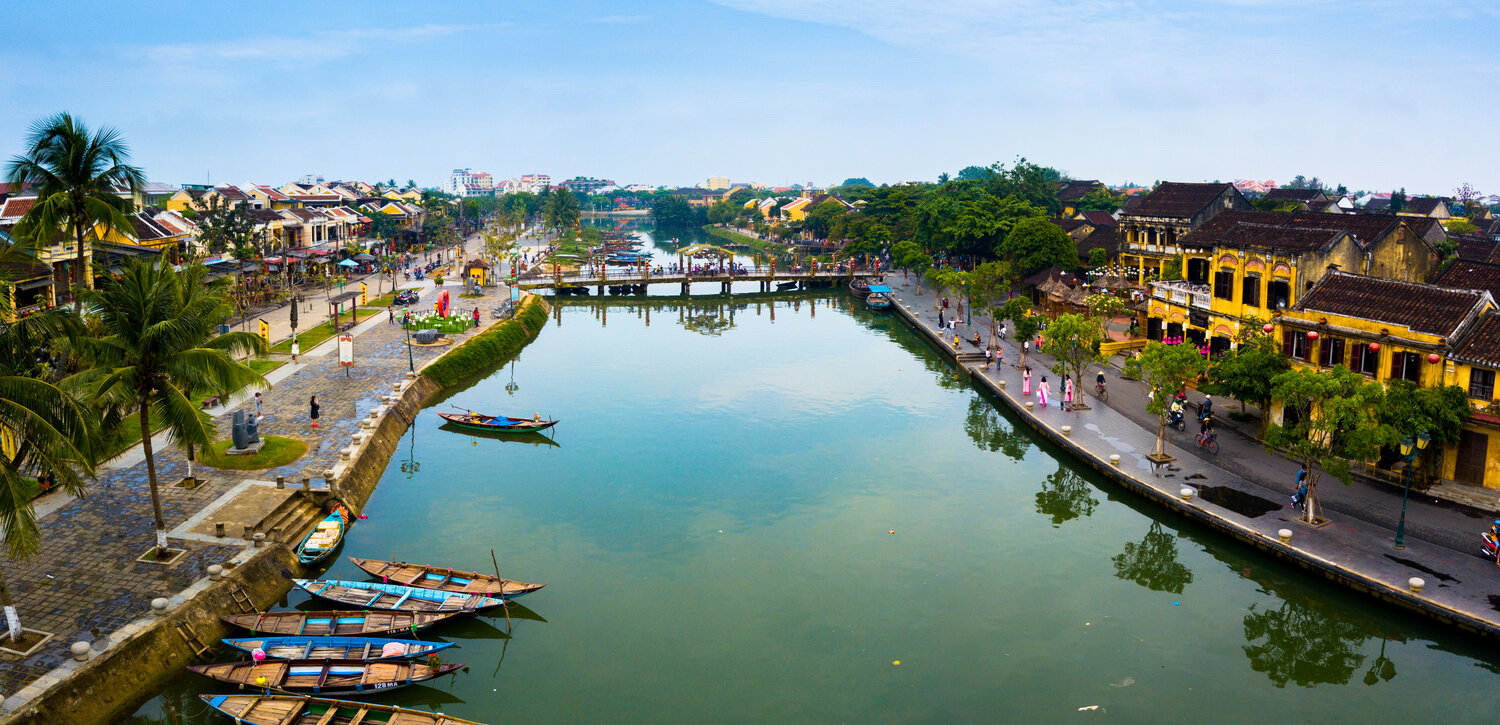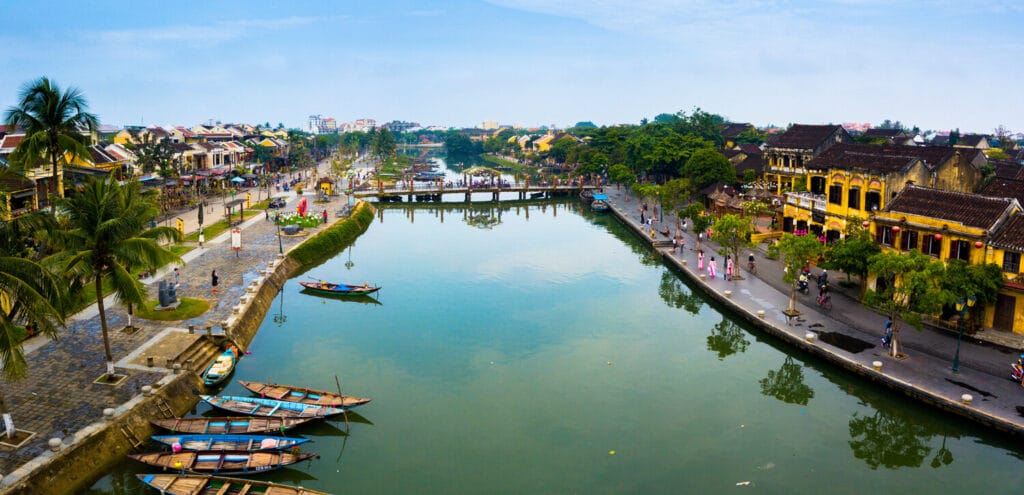 A Digital Nomad Guide to Hoi An
Known as the 'Venice of Vietnam', Hoi An is known for its narrow canals that wind through the town. The buildings and streets of the old fishing village reflect its diverse culture and the many international influences that have left their mark over its history. The name 'Hoi An' translates to 'peaceful meeting place' and was formerly known as Fai-Foo by locals.
Hoi An is a port town turned tourist hot spot with just over 150,000 residents. Situated on the Vietnamese central coast it is home to a well-preserved and UNESCO World Heritage site listed Ancient Town.
From the 15th to 19th-century Hoi An was a burgeoning trading port that welcomed merchants from China, Japan, and even Europe who sold and bought local and international goods until sediments in the Cai River made it inaccessible. Signs of Hoi An's golden age are still apparent in the city when strolling through the Old Town and looking at the pagodas, Buddhist monasteries, and ancestral houses that are still standing. 
An eclectic mix of French colonial buildings and Chinese architecture makes the city very unique and leaves hints to its history. Because the town sits so close to the Thu Bon River, it often gets flooded during the rainy season – so we advise traveling here when it's dry or living in a part of town that won't get flooded. The locals look forward to this season as it helps with nourishing the soil and for their crops. 
Digital nomads are flocking to Hoi An for its balance between nature and city life, affordable cost of living, expat-friendly workplaces, and welcoming locals.
Nomad Friendly
Value for Money
Internet
Workspace
English
Food
Safety
Health
Transportation
Friendly
Quality of Living
Living in Hoi An Overview
| | |
| --- | --- |
|  Meal, Inexpensive Restaurant | $1.85 |
| Domestic Beer (1 pint draught) | $1.00 |
| Cappuccino (regular) | $1.42 |
| Loaf of Fresh White Bread (1 lb) | $0.79 |
| Water (1.5 liter bottle) | $0.45 |
| One-way Ticket (Local Transport) | $0.30 |
| Basic Utilities (Monthly) | $44.36 |
| Internet | $9.35 |
| Fitness Club (Monthly) | $34.80 |
| Apartment (1 bedroom) in City Centre | $223.46 |
Currency: Indonesian rupiah (Rp)
[erw_exchange_rates_widget lg="en" tz="0″ fm="IDR" to="EUR,USD,GBP,AUD,JPY,RUB" st="primary" cd="" am="15000″][/erw_exchange_rates_widget]
ATMs
Max Withdrawal: Rp 3,000,000
Withdrawal Fee: Rp 30,000 – Rp 50,000
Use of Credit Cards: Mostly Cash
Digital Nomad Personal Experience in Hoi An
Hoi An for me was a designer's dream. Spilling with beautiful fabrics in rich colored silks and different kinds of cotton, I was on cloud nine. One thing you MUST do when staying in Hoi An is getting yourself some custom-made clothes – this is what Hoi An is famous for – its bustling garment industry. 
When planning my trip through Vietnam and getting tips for where to go and what to do – there was not a single person who didn't mention this city. When I arrived there it felt different from the other Vietnamese towns I had been to before. The air smelled sweet, the energy was more relaxed and the already friendly locals were even more hospitable.
I arrived in Hoi An on an overnight bus from Nha Trang. It was the destination I was most excited to visit in Vietnam. To those traveling on an overnight bus – do not be alarmed if the bus makes unexpectant stops along the way and prepare yourself for a night filled with the sound of honking horns. Keep your possessions close by and I recommend taking a small blanket with you because the air conditioner on the bus can be chilly. 
I was lucky to never experience any problems with missing possessions but the reality is that it does happen, just be smart and always keep an eye on your things to make sure nothing goes wrong. A little trick I learned from a very savvy traveler was to only keep a small amount of cash in your wallet and the rest in your socks in case you do get stopped and asked for money from locals. 
Hoi An is the ideal place to work from – its relaxed vibe makes it perfect to set up shop in one of the local coffee cafes and get working. I always feel inspired working from new places and if you were in Hoi An at the same time as me you probably caught me typing away whilst sipping on an iced Vietnamese coffee – this is a traditional drink which is made with coffee and condensed milk and is as delicious as it sounds!
Work in Hoi An
Hoi An is a digital nomad's dream. The combination of a relaxed lifestyle, warm weather, and plenty of workspaces that cater to freelancers make it the perfect place to work remotely. 
The first suggestion when it comes to working from Vietnam is to remember to pack a power adapter. If you forgot to take one with you, don't stress, they cost about $US3 at a local store and are readily available. 
The wifi is very good and readily available in most places. We also suggest buying a local phone plan with data that will ensure you can stay connected to the internet even if there are disruptions to the wifi network. Or if you've discovered a secluded spot, then the pre-paid SIM cards are ideal to hot spot yourself from. An unlocked monthly SIM card with 3GB of data costs around $US9 and this can easily be recharged. Keeping a portable battery pack is another good way to save yourself from panic if there is a power outage. Make sure it always stays charged, you never know when you will need to use it!
It's easy to forget to take breaks when you're very focused on your work. Set an alarm and make sure you stretch out your body and avoid looking at a screen for a few minutes every hour. Many chairs in Hoi An have a stiff wooden back so if you're planning on staying for a while it won't hurt to bring a small pillow with you to keep your back cushioned. 
If you're not already on it, check out Coworker.com – it's THE PLACE to search for workplaces around the area.
Best Places to Work in Hoi An
If you want to be in a quiet, professional space surrounded by other local and international nomads then one of the co-working spaces in Hoi An would be the ideal place for you. 
The most popular co-working space in Hoi An is this one – it's home to digital nomads, remote freelancers, entrepreneurs, and innovative creatives who make up a diverse community of coworkers. 
Price: A 1-day pass is $US9, 1 week costs $US57 and there are also longer-term and flexible options available 
Internet Speed: Download 63.3 Mbps Upload 64.6 Mbps
Address: 105 Lê Thánh Tông, Cẩm Sơn
This is an ethical workspace that gives digital nomads flexibility to come and go whenever it suits them. They make all their products using recycled materials and in terms of price – this is the cheapest workplace you will find.
Price: Instead of charging a day rate, all you need to do is purchase a drink.
Address: 8/1 Nguyễn Thị Minh Khai
Coffee Shops
There's no better feeling than finishing some work while sipping on a cup of coffee, and Hoi An has a great coffee culture to enjoy. 
This cafe has the best breakfast menu with acai bowls, smoothies, and fresh juices. You must come here at least once. The long benches at the back of this cafe are popular with many freelancers. Keep in mind there is no aircon here so sit near a fan to avoid getting too hot. 
Prices: You can have an amazing breakfast for under $US5 at Rosie's. 
Address: 8/6 Nguyễn Thị Minh Khai 
This is one of the few co-working spaces with aircon. It's not cheap (by Vietnamese standards) but the cheese boards, sandwiches, dip platters, and french toast are worth it! Freelancers like this cafe to work and socialize at so it's also a good place to meet new people.  
Price: Expect to pay at least $US7 for a meal.
Address: 277 Cua Dai Road
A hidden gem of Hoi An, this cafe is a peaceful and calm workspace that not so many people know about.  
Prices: Quite average price point that caters to western customers.
Address: 69/3 Phan Chu Trinh
As the name suggests, the menu has a range of avocado and mango-inspired dishes. The cafe is delightful with a nicely decorated interior, good internet connection, and chill music. 
Price: A coffee will set you back around $US1.2 and a smoothie $US2.5.
Address: 82 Thai Phien
If you're after a very aesthetic cafe to snap pictures at – this is the place. It's a small cafe but the pastries are basically free when you order a coffee. 
Price: A coffee costs $US1.30 and pastries start at less than a dollar. 
Address: 473 Hai Bà Trưng
Best Places to Live in Hoi An
Best Neighbourhoods
Hoi An is a small town but the type of lifestyle does vary from place to place. If you are planning on spending most of your free time splashing in the water, then consider living in an area closer to the beach. If nature is your kryptonite and you seek calm then take a look at Cam Thanh. Party lovers plant yourselves in An Hoi and night owls we suggest living centrally in Old Town.
Read on to work out which area is best for you!
Old Town
If it's your first time in Hoi An and you would like to stay in an area with lots of hustle and bustle then the Ancient Town is the place for you. The historic center of the town and where most of the cultural activities happen, it has plenty of character and you will enjoy getting lost between windy alleyways, colorful buildings, and traditional shops.
Cam Pho
Looking for a trendy area that's a bit friendlier on the wallet? Cam Pho is the place to be! Located just to the north and west of Ancient Town, Cam Pho is within walking distance to all the main attractions in town and it's easy to get to the countryside from here. 
An Hoi
Any local will tell you that the best nightlife is in An Hoi. It's a small island on the other side of the Thu Bon River and a lively neighborhood where you can find all sorts of quirky buildings, bright houses, and interesting cultural activities. 
Cam Thanh
The best place for families to live in is Cam Thanh. It's a quiet and peaceful village along the river to the east of Hoi An. Located between the beach and the Ancient Town it's the perfect spot to explore Hoi An from. Life here is a bit more relaxed and you will be surrounded by natural attractions such as rice paddies, streams, and rivers.
Cam Chau
Cam Chau is the trendy part of town and the place to be if you want to have a mix of city and country life. East of the town center Cam Chau borders on the beach and river and is the perfect place to explore everything Hoi An from.
Find an Apartment in Hoi An
First, decide on your budget and have a list of your 'must haves' with you. We also recommend when looking for a place to choose one that already has the internet installed. People say that it's quite a hassle to get it up and working and can take up to a few weeks. Once you're clear on what you want then it's time to start looking. 
Here are a few ways in which you can approach house hunting:
Through an agency
The easiest way to find a house or apartment to rent is to contact an agent who will support you through the process. They can organize property inspections that match your search requirements and take care of all the paperwork for you. 
Post on Facebook Groups
Join some Facebook groups and have a look on there. The great thing about social media is that you can ask very direct questions and connect with other digital nomads in the area who can give you some good tips for house hunting. 
Speak to locals
It's always a good idea to ask around about housing. It's a small expat community and chances are someone knows someone who can help you. People are always coming and going so you might meet someone who is trying to fill their apartment. 
Cheap Places to Stay in Hoi An
Being apprehensive about booking long-term accommodation before seeing it in person is completely normal. Book yourself into a hostel or Airbnb for a few nights while you find more permanent housing. 
I stayed in hostels during my entire time in Hoi An and found the common area a great place to get some work done. The hostel staff are super friendly and always willing to help you find a quiet spot.
Here are some great hostels in Hoi An: 
Hoi An Visa
Getting a visa for Vietnam is not difficult but there are a couple of options. There are 1 month, 3 months, 6 months, or 1 year with single entry or multiple entry options. It's best to decide ahead of time which one is best for you. 
If you plan on traveling around South East Asia we recommend making sure your visa allows for multiple entries. The cost for a visa ranges between $US25-135 and the closest International Airport to Hoi An is in Da Nang. 
The first option to get a visa is to go through a travel agency (which is what I did) and have it organized before you leave for the trip. The travel agent usually takes your passport and sends it off to the Vietnamese embassy in your country and this option means that you can focus on planning your trip while a professional takes care of all the logistics. Remember if you are arriving by land or sea then you must apply for a visa through a Vietnamese Embassy.
Visas can also be done online and are a good middle point for those who do not want to go through an agency but want to have permission to enter the country before arriving. Apply through the official Vietnamese Immigration website, select the country you are from and follow the instructions to apply for your E-Visa. When you arrive at the airport the Immigration officers will have your documents ready and will issue you your entry visa straight away. 
As you've guessed, the last option is to request a visa at the airport.
How is this done? When you fly in (or on the flight) you will be handed a form to fill out which you have to give to the Immigration Officer at the airport who will check the document and give you an approval stamp. You pay for the visa on the spot and after this, you are free to leave the airport and begin your adventure in Vietnam. 
Do remember that everything takes time, and organize to do this at least one month before departing to avoid rushing and take any delays into account. These two options guarantee that you can enter the country and you skip the queue at the airport for those who are getting it upon arrival.
Culture and Food in Hoi An
Hoi An is a city with a rich culture and strong traditions. There is a lot of French influence in the area that comes through in the lifestyle and the food. Considered by many as the 'foodie' capital of Vietnam, all the culinary options in the town will make your tastebuds go crazy! 
Hoi An Traditional Dishes
The local people take great pride in making traditional dishes such as Cao Lau, Hoanh Thanh, Banh To, and Banh It Gai and the reason that has such an authentic taste is that the recipes are usually handed down from one generation to the next. 
There are some staple dishes such as Banh Mi (which translates to bread) that are a must-try! The bread sandwich is in the form of a baguette, and was introduced to the country by the French, and is filled with local ingredients such as liver paté, cold cuts, pickled vegetables, and fresh herbs.
Culture
The locals of Hoi An also have a deep connection to their culture and heritage and you can see that in the folk songs and traditional culture festivals that happen in the town every year. On the 14th day of every lunar month, the Ancient Town transforms into a festival of lights as locals celebrate the full moon lantern festival. This is a magical experience that you must see when in Hoi An. 
History
Immerse yourself in the history of this town and take a walk through the ancient streets and alleys to get a feel for how people live. In the 16th and 17th century Hoi An was a major Southeast Asian Trading Port, and today the Ancient Town is a UNESCO World Heritage Site. 
Then cross the Japanese Bridge which stands as a landmark that once separated the Japanese community from the other cultures living in this area. Make sure to visit Phuoc Kien Assembly Hall, the most famous hall in the Ancient City, and where the Chinese from Fujian celebrated their cultural heritage. 
Shopping
Hoi An is known for its tailoring industry so we suggest getting some custom-made clothes. Ask around for recommendations to the best tailors! To buy something that's already made the best place to go to is the Hoi An Night Market, and for something a little bit more high-end try the Hoi An silk village where you will find luxury textiles, handmade lanterns, and more!
Art
Hoi An's popularity with tourists and its creative energy make it the perfect place to display work from emerging and established artists. Home to several art galleries you can easily get lost in a sea of photographs and paintings in the Ancient Town. My personal favorite is the Réhahn Gallery which houses photographic gems from Réhahn who loves capturing photos of people in a very organic way.
Hoi An Nightlife
Hoi An lights up at night – literally. The streets in the Ancient Town come to life with hundreds of shining lanterns. Tradition is such an important part of the culture in Hoi An and you will see this when exploring the city at night. Dance performers come out and serenade those passing by with their sensual movements and songs. Candles will be floating down by the Thu Bon River when the sun goes down. 
The nightlife is spread out across the Ancient Town and by the Riverside and includes a range of bars, cafes, artist lounges, live music venues, and clubs all of which are very expat-friendly. The evenings are the perfect opportunity to mix with locals and other international locals and get to know the city from a different perspective. 
You'll find lots of happy-hour deals on drinks and a range of international DJs playing different music mixes. Most venues stay open until late (around 3 am), are easy to get to, and within a short walk of each other. 
Regardless of whether you prefer a more relaxed evening or dancing the night away, there is something for everyone in Hoi An.
Here is a list of some popular nightlife places to check out:
Hoi An Night Market -this popular market has more than 50 vendors selling an assortment of local food, clothing, jewelry, and trinkets.

White Marble Wine Bar – a gorgeous wine bar in a refurbished heritage-listed building.

Q-Bar – the place to be if you want to sip on a fancy cocktail – definitely worth the slightly higher price point.

Dive Bar – where all the expats hang out! Come here to meet and mingle with other digital nomads. 

Mango Mango – a local bar with great views of the Japanese Covered Bridge, Thu Bon River, and Hoi An Night Market.

Hoi An Sports Bar – this Australian-owned sports bar live streams NRL, Super Rugby, AFL, Australian Open Tennis, and NBA games.
Things to do in Hoi An
Taste local food

Some of the best food in Vietnam comes from Hoi An. You can taste the freshness of the local ingredients that come straight from the farm in every bite. Enjoy some authentic street food from street sellers (just make sure it's cooked to avoid any upset tummies) and try specialty dishes such as Cao Lầu,  Hoành Thánh, and Mì Quảng from some of the best restaurants in town. We suggest you try the delicious Banh Mi at Madame Khanh!

Cycle the countryside

Rent a bike from a local bike shop and discover the countryside. The route from the Ancient Town to Cam Thanh road and the rice fields in Cam Chau will give you an insight into how the local Vietnamese people live whilst gazing at the lush greenery and tranquil lakes along the way.

Get on on the water

You can't leave Hoi An without taking a sunset cruise on the Thu Bon River. The boat ride takes about half an hour and for the best views, it's best to leave before the sun starts setting.

Discover Hoi An's history

To understand Hoi An's history, take your time exploring the Ancient Town. It's a very special place and comes to life at night from all the colorful lanterns floating along the Thu Bon River. During the day take a walk across the Japanese Covered Bridge that was built in 1595 and is a symbol of connection between the Chinese and Japanese communities that lived in the region at that time.

Go cafe hopping

There's a pretty big cafe culture in Hoi An and for the brunch lovers out there you can't go past a fresh juice at Rosie's Cafe or a delicious shake at Le Fe. If you want to have a relaxing afternoon, people-watching Hoi An Roastery is the perfect spot to do that. For more cafe recommendations check out the 'What Hoi An Has to offer' section.

Spend the day at the beach

An Bang Beach is located 7km outside of the Ancient Town and is one of the most beautiful stretches of sand you will find in Vietnam. There will be local sellers walking around with fresh coconuts, beers, and other snacks that you can enjoy while relaxing under the sun.

Take a cooking class

You don't need to be an expert in the kitchen to learn how to make some tasty Vietnamese food. Check out the classes at Red Bridge cooking school and then show off your new culinary skills to friends and family back home!

Enjoy a night out

The diverse mix of people who live in Hoi An contributes to its bustling nightlife. Check out Mango Mango for fancy cocktails or Soul Kitchen for live bands and DJ sets.

Watch a cultural show

Lune Productions host a range of circus, dance, and musical performances in Vietnam and around the world. Get yourself a ticket and don't miss the chance to see a show at the newly built Hoi An Lune Centre in the town.

Shop for gifts and souvenirs

Hoi An is THE place for anything custom made – be it a suit, a bag, or a dress, treat yourself to a new tailor-made outfit! Apart from that, the Central Market is a great place to find little souvenirs and trinkets and to shop for Vietnamese-inspired fashion head to Metiseko.
Best Time to Visit Hoi An
The best time to visit Hoi An is between March and May when it's not too hot and it doesn't rain (usually). During this time of the year, you can experience all that Hoi An has to offer without feeling drained by extreme heat. 
March is the best month to see the streets covered in colorful blossoms and green gardens and fields. May to August are the hottest months and the best time to cool off at one of the many beaches. The air can feel quite humid and you will want to protect yourself from the sun during this time.
If you are going to Hoi An for a few months we suggest that you go between February and August when the temperature in Hoi An fluctuates between warm and hot days with sunny, clear skies. 
From September to January is the wet season and the temperature tends to be rainy, cool, and cloudy. Because Hoi An is situated in the center of Vietnam it does get hit quite hard by the tropical storms from around September each year and depending on the rainfall it can experience flooding. The coldest days are in January so if you're a digital nomad chasing the sun take this into account.
Hoi An for Families
Even though Hoi An is mostly popular with backpackers, there are many family-friendly activities and schools for kids. Compared to other cities in Vietnam, Hoi An is a very child-friendly town with lots of open spaces and resorts that cater to nomadic families. 
Schools
Hoi An has a big international community and there are a few international schools where to enroll kids at: 
Hoi An International School –

is a not-for-profit school that opened in 2018 and offers classes to students from early years, primary school, and secondary school. This is a small school that offers great quality education. 

Green Shoots International School –

this is a very diverse school with students from over 28 different nationalities enrolled here. It caters to kids from the age of 2 up to 16 so they can comfortably complete their education. 
Daycare
If you're looking for some babysitting support while you have some work to do or just simply need a pair of extra hands there are a few options available.  Depending on the age of your child/ren and the type of help you are looking for consider the following: 
Live-in babysitter or Au Pair –

if you want someone to take care of the kids around the clock then it could be worth considering a live-in aid. This is very typical for foreign families to have, and it's up to you to decide if you would prefer this person to be a local or an expat who shares your native language. 

Kindergarten or Hotel Childcare –

many hotels that cater to foreign guests have a childcare center where you can leave your kids while you run some errands or have work to do! 
Activities
A Farming & Fishing Tour –

most kids love water and this is a fun and educational activity where they can learn about how locals source their food.

Join a Food Tour –

we suggest hiring a local guide to take you to all the best degustations in Hoi An. It's great for kids too because the guide can tailor your tour to make sure it's child-friendly.

Take a Lantern Making Class – kids love making things with their hands, so sign them up for a DIY class that you can enjoy together and then float the lantern down the river in the evening.
Living in Hoi An
Hoi An Transportation
Compared to other Vietnamese towns, Hoi An is easy to get around. The compact city can easily be covered on foot or with a little help from an electric motor. We suggest using a motorbike to get around town or hiring a driver or Taxi for any day trips.
Motorcycle
The best way to get around town is on a motorcycle. There isn't any public transport in Hoi An and if your destination is not within walking distance we recommend hiring a motorcycle. There's plenty of rental places in town and it will only set you back around $US5 per day for a bike. Otherwise, consider a long-term motorcycle rental for approximately $US50 per month. The cost of fuel is also very affordable, around $US3 to fill up a tank and if you prefer not to be in the driver's seat you can hire a local rider who will take you around town. 
Don't be alarmed if your fuel gauge breaks or there is something wrong with the ignition of your motorbike – this is all too common and to be expected in Vietnam. 
Taxi or Personal Driver
Even though there is a lot less traffic in Hoi An compared to the big cities such as Ho Chi Minh there are still a lot of vehicles on the road and locals are not very keen on obeying the traffic rules. If you're traveling with your family it's a better idea to go by car and try booking with reliable companies such as Faifoo and Mai Linh to make sure your driver is accredited and you won't be ripped off. 
Cycling
The fastest and most cost-effective travel method is by bike. Roads inside the Ancient Town of Hoi An do not permit cars, taxis, and motorcycles to enter during peak hours – from 8:30 am to 11:00 am and from 3 pm to 9:30 pm. You can ride around safely during these times and bicycles are easily rented from any bike rental shops or a local hotel. The rental price per day is around $US1.50. If you're living in Hoi An for a while we recommend getting your own bike to avoid the hassle of renting a different bike each time. 
Cyclo
Cyclos are a type of motorized bicycle that can fit up to 2 people. You can rent them from a store in the Old Town and they can be rented for around $US1 per kilometer, but you can negotiate to rent them for an hourly or fixed price.
Fitness and Health
There's a reason why so many people come to Hoi An to relax and reconnect with their bodies and mind. The large digital nomad community in the city means that there are countless massage and beauty parlors that provide head-to-toe (literally) treatments and at very affordable prices. Since Hoi An has so many outdoor activities it's easy to stay active with walking tours, bike rides, and indoor gym facilities.
Here are some of the best wellness clinics in Hoi An: 
Ma Spa

– tucked away from the main city street and located right in the rice field this spot is paradise. Come here for a range of spa and massage treatments. 

Ozone Spa

– all the staff here are trained by Thai massage experts to give you a very relaxing experience. Choose from treatments such as sauna, facials, manicures, massage, and more!  
And here are the best fitness studios to visit:
SuperFit Gym

– a modern and trendy gym, this fitness studio has a range of equipment and classes. Memberships and daily passes are available.

Tuan Toan Fitness Centre

– a standard gym in the Tan An district, this gym has everything you need to have a great workout.

Crossfit – Fitness & Yoga center – this is the coolest gym in town and has a great range of HIIT and functional training classes.
Hoi An People
You will fall in love with the people in Hoi An. The locals are so friendly and welcoming that Hoi An will feel like home in no time at all. Vietnamese people by nature are very caring and always willing to help how they can. 
Some people can be very direct
Be prepared for some locals to be quite frank. This comes down to the language barrier. Try not to take it personally, they are doing their best to communicate with you and offer you their service. Understand that haggling is part of the culture and a lot of the Hoi An economy relies on tourism so don't get annoyed if someone tries to sell you things you don't need. 
Lots of digital nomads
It's quite an international town where you will have the pleasure of meeting people from all different countries. Digital nomads and backpackers love Hoi An for its warm weather, delicious food, and cheap cost of living. 
Petty crime
It does happen so do be careful and take good care of your personal belongings. If you have items that are quite valuable to you, we suggest taking out a travel insurance policy to make sure you're covered if something does go wrong. 
Sex work industry
Quite common in parts of Southeast Asia, sex work does not have the same stigma that it does in other western countries. Many women (and men) sit in bars with customers sipping on a drink or catcalling pedestrians in the evening hours. You might want to avoid these areas at night if you're traveling with kids or if this is something you are not comfortable with.
Hoi An Insurance and Medical Care
Travel insurance is a must! When you're a Digital Nomad unexpected things can happen and it's important to be insured when something doesn't go to plan. Do not travel to Vietnam (or anywhere) without medical insurance and cover for your possessions. 
We know that you take good care of your personal belongings but there are some things outside of your control such as luggage getting lost or travel delays that a good insurance policy will cover you for. 
We suggest checking aggregator sites to get an idea of the prices and then booking directly with the company. If you are Australian (like me) I recommend checking out Compare The Market to choose a travel insurer. 
I always like to pay a little extra for the $0 excess option which means I can make as many claims as I need without any extra costs. I have used Allianz Travel Insurance in the past and I can say that they are quick and easy to deal with if you do need to make a claim.
Here are a few Travel Insurances designed for digital nomads and long-term travelers:
Make sure you are fully covered by reading our full Digital Nomad Travel Insurance guide.
Jobs in Hoi An
You can check out some expat jobs in Hoi An here. There are lots of Digital Media jobs popping up in Hoi An so editing, social media, website design, and graphic design skills are highly sought after. There is also the option of teaching English at a local school – lots of expats have done this during their time abroad. Or if you're between contracts you can volunteer at a hostel for a couple of hours a day in exchange for accommodation and some meals to keep your expenses down. 
We suggest linking into the existing Expat Community in the town and chatting to people who have already lived there for a while. It's the best way to get advice from local expats on how to break into the freelance market. 
Do take into account that if you are working on projects for local clients that the pay may look a bit different from what you might be paid for the same type of work in your home country. On the flip side, being able to use your skills to help local businesses grow is an extremely rewarding experience. The cost of living is very affordable and you don't need as much money to get by in Vietnam when compared to other countries.
Check out our Digital Nomads Jobs Postings to find the best jobs available for Digital Nomads.
Nomad Friendly
Value for Money
Internet
Workspace
English
Food
Safety
Health
Transportation
Friendly
Quality of Living
Cost of Living Hoi An
Hoi An is a very popular place for digital nomads to settle down for a while. It's very affordable and you can enjoy a high quality of life for a great price.
You can rent a house for $US250 per month. This won't be anything fancy, but if you're open to spending a bit more than the minimum $US500 will get you a nice two-bedroom house and for $US600-800 you can rent a three or four-bedroom place with lots of space, and plenty of bathrooms. Vietnamese people love bathrooms for some reason!
The other option is to stay with a family in a Homestay for around $US300 – this will include all the utilities such as TV, internet, air conditioning, cleaning, and breakfast so it's a pretty sweet deal! 
Food is pretty cheap and if you don't like to make a mess in the kitchen it's very affordable to eat out most of the time.  
If you enjoy cooking then the best place to get all your fresh fruit and vegetables is at the Hoi An markets. Pick up a kilo of potatoes for around 35,000 VND and some bananas for 25,000 VND.
The best markets to visit are:
Hoi An Central Market – this is the biggest market and you can't find pretty much everything here. 

Tiger Market – this gets going at around 8 am and we suggest getting there early, it only takes 5 minutes to cycle there from the Ancient Town.   

Ba Le Market – located just off Cua Dai this market is about a 15-minute bike ride from the Ancient Town. 
Essential items such as toiletries and general groceries can also be found at the markets. Don't forget to bargain – it's part of the culture!
For more international products there are a few shops around town such as AP Mart and A-Mart that stock brands from overseas. 
You can check out a more detailed breakdown of expected living costs here.