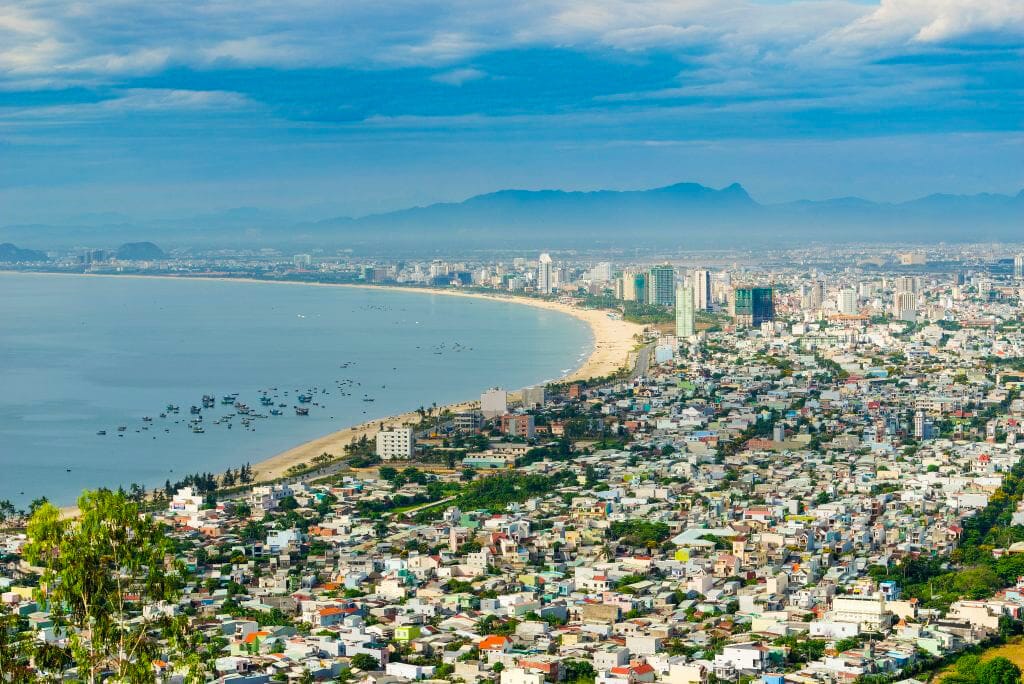 A Digital Nomad Guide to Da Nang
Da Nang is the fourth largest city in Vietnam and is located halfway between Hanoi in the south and Ho Chi Minh City in the north. This coastal metropolis is the perfect combination of urban places and natural wonders making it a great destination for travelers from all over the world. 
In the 16th century, the neighboring town of Hoi An was of much higher significance than Da Nang, but after the announcement of King Minh Mang in 1835 that European vessels were only allowed to trade at Han Port, Da Nang developed into the largest commercial port in Central Vietnam. Only in 1975, Da Nang gained complete independence after more than 100 years of colonization from the French and Americans. Signs of the foreign takeover are apparent all over the city in the European architecture and French-inspired cuisine in the region. 
Da Nang's rich history makes it a fascinating place to live in. The mix of natural attractions, international influences, and strong tradition and culture has seen it be a very popular summer destination for people to visit. The best time to go is in the summer, which is the dry season, and avoid getting caught in (potential) floods during monsoon season. Da Nang caters to a range of budgets so whether you are after a high-end experience or a budget getaway you can comfortably settle down in Da Nang for as long or as short as you desire. 
The best way to enjoy Da Nang is to start the day off with a delicious brunch and Vietnamese coffee at one of the trendy cafes in town and then head over to a coworking cafe to get some work done. Continue the day by taking a lunchtime walk along My Khe Beach and relax in the evening with a watermelon cocktail, watching the sun go down either from the beach or a fancy bar overlooking the nearby mountains.
Nomad Friendly
Value for Money
Internet
Workspace
English
Food
Safety
Health
Transportation
Friendly
Quality of Living
Living in Da Nang Overview
| | |
| --- | --- |
|  Meal, Inexpensive Restaurant | $1.85 |
| Domestic Beer (1 pint draught) | $1.00 |
| Cappuccino (regular) | $1.42 |
| Loaf of Fresh White Bread (1 lb) | $0.79 |
| Water (1.5 liter bottle) | $0.45 |
| One-way Ticket (Local Transport) | $0.30 |
| Basic Utilities (Monthly) | $73.74 |
| Internet | $11.13 |
| Fitness Club (Monthly) | $22.29 |
| Apartment (1 bedroom) in City Centre | $391.43 |
Currency: Indonesian rupiah (Rp)
[erw_exchange_rates_widget lg="en" tz="0″ fm="IDR" to="EUR,USD,GBP,AUD,JPY,RUB" st="primary" cd="" am="15000″][/erw_exchange_rates_widget]
ATMs
Max Withdrawal: Rp 3,000,000
Withdrawal Fee: Rp 30,000 – Rp 50,000
Use of Credit Cards: Mostly Cash
Digital Nomad Personal Experience in Da Nang
It wasn't part of my plan to visit Da Nang but thanks to suggestions from fellow travelers on the way, I ended up spending a few days there while traveling through Vietnam. Fellow nomads I met along my travels recommended that I stop here and enjoy the beautiful beaches, interesting architecture, and trendy cafes. 
What struck me was how easy it would be to settle down in Da Nang and get used to living in the city. There were a lot of other international travelers and people working in the city who spoke a good level of English so it was easy to communicate with them. 
Da Nang is much smaller than Ho Chi Minh but you still get the feeling that you are in a big city. I spent my days there relaxing on the different beaches in the morning and working from different cafes in the afternoon. 
I did some sightseeing on my day off and was amazed by the famous Dragon Bridge which stretches across the Han River. Whenever I am in a new place I love learning about the history and culture of that city, so if you're the same as me I recommend going to the Da Nang Museum of Cham Sculpture (built by the French) to see ancient artifacts and learn more about Vietnam's colonial past. 
Da Nang is an amazing spot for outdoor activities and I was a little bit disappointed that I didn't get time to go to the Marble Mountains and take a ride on the Ba Na cable cars. Make some time to do some of these activities. Usually, they can be booked on the spot or if you are planning a big day trip you can do that through a local travel agent a day or two in advance. 
Work in Da Nang
Da Nang is a bustling city with many entrepreneurs so it's very easy to find a comfortable workspace. 
The first suggestion when it comes to working from Vietnam is to remember to pack a power adapter. If you forgot to take one with you, don't stress, they cost about $US3 at a local store. 
The wifi is very good and readily available in most places. We also suggest buying a local phone plan with data that will ensure you can stay connected to the internet even if there are disruptions to the wifi network. An unlocked monthly SIM card with 3GB of data costs around $US9 and this can easily be recharged. Keeping a portable battery pack is another good way to save yourself from panic if there is a power outage. Make sure it always stays charged, you never know when you will need to use it!
It's easy to forget to take breaks when you're very focused on your work. Set an alarm and make sure you stretch out your body and avoid looking at a screen for a few minutes every hour. 
If you're not already on it, check out Coworker.com – it's THE PLACE to search for workplaces around the area but we've listed a few spots that we love for you below.
Best Places to Work in Da Nang
Co-working spaces
If you want to be in a quiet, professional space surrounded by other local and international nomads then one of the co-working spaces in Da Nang would be the ideal place for you. 
The central location makes this coworking space one of the most popular ones in Da Nang. It's accessible 24/7 and is a great place to work from with its natural light and city views.  
Price: $US3 per day or around $US50 per month
Internet Speed: 100 megabit fiber
This is the best place for startups and digital nomads to get work done. Also located in the city it makes it easier to meet with clients or catch up with friends for a drink after you're done. 
Price: $US3 per day or around $US50 per month
Internet Speed: 100 megabit fiber
Coffee Shops
Da Nang has an amazing cafe culture and there are so many great coffee shops to choose from. Here are a couple of our favorites: 
This cafe is worth a visit just for its architecture and interior design. It's filled with lots of natural light and has plenty of space for you to get comfortable for a few hours and get some work done. You must try the signature coconut coffee from here!
Price: Average cafe prices, but expect to pay between $US1.30 and $US2.50 for a coffee.
Address: k27a/21 Thái Phiên, Phước Ninh, Hải Châu, Đà Nẵng 550000
43 Factory Coffee Roaster
A visual feast, this roastery is considered the most 'stylish' cafe in the entire city. As the name suggests the coffee roaster is in the back, where you can go and see how your coffee is being made. The wifi is also quite good and it's nice to come here on warm days and enjoy an icy drink under the sun. 
Price: The menu varies between $US2 and $US9!
Address: Lot 422, Ngô Thi Sỹ, Bắc Mỹ An, Ngũ Hành Sơn, Đà Nẵng 550000
To escape the hustle and bustle of the city, head to The Hideout Cafe! Here you'll instantly feel more relaxed. The cozy interior makes this a good spot to do some reading or catch up on some work at. 
Address: 72/24 Nguyễn Văn Thoại, Bắc Mỹ Phú, Ngũ Hành Sơn, Đà Nẵng 550000
Price: The average price of a coffee is $US1.50.
Best Places to Live in Da Nang
Best Neighbourhoods
Da Nang is a big city so it makes sense to choose an area to live in that best matches your lifestyle. If you prefer a more urban city vibe consider Hai Chau. To make the most of the beaches in Da Nang and be in an expat-friendly area then My An might be the best place for you. Those of you who love nature and more quiet areas have a look at Hoa Hai. Whether you want to be in the bustling center or closer to nature there's a location for every nomad. 
Keep reading to discover some of the best areas to live in Da Nang:
Hai Chau
Considered a high-end district, Hai Chau is the perfect location if you want to be in a bustling 'urban' area. Known as a cultural and commercial hub, it's filled with lots of great shopping spots, trendy cafes, fancy bars, and business centers. It's also close to some major attractions such as the Da Nang Gothic Cathedral, and the Han Market where you can pick up fresh local produce and handmade artisan products. Expect to pay a bit more in this area for accommodation.  
My An
My An is the area where most digital nomads live. It's a little bit more expensive than other neighborhoods but it has a great nightlife scene and is right next to My Khe Beach. If you prefer a more relaxed coastal lifestyle this district is still very central and popular but doesn't have the crowds of some of the other more urban areas. It's a nice place to devour some sushi, Pho, and Korean BBQ, do some surfing, and enjoy the beautiful sunset over the water.  
Hoa Cuong Bac
Close to lots of family attractions, it makes sense to live here if you are traveling with kids. There will be plenty of activities to keep them engaged and for parents, there are many nice retreats to escape to when you need a little 'me' time. Hoa Cuong Bac is also considered a safe area and the incredible Hoa Cuong Caves are also nearby to visit on a day off. 
Tho Quang
Known as the creative part of town, Tho Quang has a great art scene and is home to Dong Dinh Art Museum and Art in Paradise. This is a popular spot for couples, friends, and nomads to vacation in so you'll always be seeing new friendly faces around. We suggest renting a flat here if you want to be within walking distance of the famous Goddess of Mercy sculpture and busy night markets. 
Hoa Hai
Hoa Hai is a tranquil neighborhood in Da Nang. If you love the outdoors and want to be close to many of the natural wonders in Da Nang, settle down here. You'll find the Marble Mountains, lots of Buddhist shrines, and plenty of temples around. It's also a popular pilgrimage site and is home to the famous Non-Nuoc Beach which is the perfect place to go for a swim or surf.  
Find an Apartment in Da Nang
First, decide on your budget and have a list of your 'must haves' with you. We also recommend when looking for a place to choose one that already has the internet installed. People say that it's quite a hassle to get it up and working and can take up to a few weeks. Once you're clear on what you want then it's time to start looking. 
Here are a few ways in which you can approach house hunting:
Through an agency
The easiest way to find a house or apartment to rent is to contact an agent who will support you through the process. They can organize property inspections that match your search requirements and take care of all the paperwork for you. 
Post on Facebook Groups
Join some Facebook groups and have a look on there. The great thing about social media is that you can ask questions directly and connect with other digital nomads in the area who can give you some good house hunting tips. 
Speak to locals
It's always a good idea to ask around about housing. It's a big city but the expat community is not so huge and chances are someone knows someone who can help you. People are always coming and going so you might meet someone who is trying to fill their apartment. 
Cheap Places to Stay in Da Nang
Being apprehensive about booking long-term accommodation before seeing it in person is completely normal. If you've just arrived in the city, book yourself into a hostel or Airbnb for a few nights while you find more permanent housing. 
I stayed in hostels during my entire time in Da Nang and explored different cafes around the city to get my work done. The hostel staff are super friendly and always willing to help you find a quiet spot if you choose to work there.
Here are some great hostels in Da Nang:
Da Nang Visa
Getting a visa for Vietnam is not difficult but there are a couple of options. There are 1 month, 3 months, 6 months, or 1 year with single entry or multiple entry options. It's best to decide ahead of time which one is best for you. 
If you plan on traveling around South East Asia we recommend making sure your visa allows for multiple entries. The cost for a visa ranges between $US25-135 and there is an International Airport in Da Nang. 
The first option to get a visa is to go through a travel agency (which is what I did) and have it organized before you leave for the trip. The travel agent usually takes your passport and sends it off to the Vietnamese embassy in your country and this option means that you can focus on planning your trip while a professional takes care of all the logistics. Remember if you are arriving by land or sea then you must apply for a visa through a Vietnamese Embassy.
Visas can also be done online and are a good middle point for those who do not want to go through an agency but want to have permission to enter the country before arriving. Apply through the official Vietnamese Immigration website, select the country you are from and follow the instructions to apply for your E-Visa. When you arrive at the airport the Immigration officers will have your documents ready and will issue you your entry visa straight away. 
As you've guessed, the last option is to request a visa at the airport. 
How is this done? When you fly in (or on the flight) you will be handed a form to fill out which you have to give to the Immigration Officer at the airport who will check the document and give you an approval stamp. You pay for the visa on the spot and after this, you are free to leave the airport and begin your adventure in Vietnam. 
Do remember that everything takes time, and organize to do this at least one month before departing to avoid rushing and take any delays into account. These two options guarantee that you can enter the country and you skip the queue at the airport for those who are getting it upon arrival.
Culture and Food in Da Nang
Da Nang is situated between the North and South of the country and this mix makes for a very interesting culture. Elements are inspired by western cultures such as the shopping malls and the traditional markets and handmade memorabilia more closely resembles the south.
Food
Da Nang is known for its street food! Step outside of your comfort zone and try some local delicacies such as grilled snails, or other insect friends on a stick. A few must-try places are the restaurants along Ong Ich Khiem street where you can enjoy street food such as sweet soup, Nam cake, pork rolls, snails, mixers, and all at a very low price! Check out Bikini Bottom for a trendy brunch spot, and Pham Hong street, for famous Thai eats! 
History
There are a few museums you can visit to get a better look at the history of Vietnam. The Fifth Military Division Museum is worth a visit. Here you will learn about the city's fight for independence during the French and American wars. We also recommend doing a walking tour of the Community houses which is a series of 5 heritage buildings that represent the various cultures and history of the people who lived in the different districts of the city. Individually the houses are known as Bo Ban, Hai Chau, Nai Nam, Qua Giang, and Tuy Loan Communal House and they're open daily with a small admission charge to enter. 
Culture
Da Nang is a mix of cultures. Firstly the traditional Vietnamese culture, but also the European culture that was important to the country from as early as the 17th and 18th century. Vietnam was colonized by the French who even renamed the city 'Tourane' in 1889. Some of the famous resorts were built by the French in the 1920s where wealthy Europeans and Vietnamese would go to take holiday and during the Vietnam War, the beaches in Da Nang became a popular spot for American soldiers to come for rest and recovery.  
Shopping
The shopping opportunities are plentiful in Da Nang. There are countless western-style shops such as Nike and Levi's at the Lotte Mart in downtown Da Nang. Upstairs of this shopping complex is a massive supermarket, and on the top floor is a bowling alley, arcade center, and skating rink. This is located in Nai Nam street and is about a 10-minute cab ride from the airport. 
To find some unique gifts, handicrafts and art pieces by local artists head to the Han Market! Operating since the French occupancy in the 1940's it's a significant landmark in town. If you're looking for something special Vietnamese silk is very highly regarded, as are wood carvings and hard stone products – these make for great gifts and decorations around the house. You can also buy fresh fruit and vegetables here! The Con Market is the biggest and busiest produce market in the city. Go here to stock up on some groceries but be prepared that it does get very crowded! Don't forget to bargain!
Non-Nuoc Fine Arts Village is located at the foot of the Marble Mountains and there are countless brands selling marble products and offering marble-making workshops. Another good spot for unique finds is the Da Nang Souvenirs & Cafe which is right next to the Han Rives and sells authentic souvenirs at reasonable prices. The cafe that's inside the store is also fantastic, and we encourage you to try an iced coffee to cool off from all the shopping. 
Art
The best place in Da Nang to immerse yourself in the emerging art scene is at the Old Soul Art Hub. It's a place that runs creative workshops and houses temporary art exhibitions by local artists, the entry is free but it's encouraged to purchase some art to support the artists. It's also a popular place for expats to meet up and hang out.
Da Nang Nightlife
The nightlife in Da Nang is one of the best in the country. With a mix of high-end rooftop bars, European-inspired lounges, nightclubs, and casual expat bars, most with views of the Han River and famous Dragon River bridge there's a venue to suit any taste! You can enjoy a range of fancy cocktails, spirits, local beers, and imported wines while meeting and mingling with locals, digital nomads, and travelers. Da Nang venues stay open until 3:00 am, which is quite impressive when compared to other cities.
You'll find that the best nightlife spots are located alongside the river around the Hai Chau district and bar hopping from one place to the other is easy and only takes a couple of minutes. The other popular area to grab a drink is by the beach, there's plenty of nice options around there and you can watch the sunset while sipping on a mango mojito. 
Exploring Da Nang when the sun goes down is a good way to get to know the city from a different perspective. The shop fronts are lit up and the combination of street lights and people walking around makes for an interesting atmosphere. Take a walk alongside the Han River and be mesmerized by the reflection and colors of the Dragon Bridge that lights up at night!  
Here is a list of some popular nightlife places to check out:
New Phuong Dong Nightclub – this is THE club to be. Open since 1994 they play a range of music from EDM, disco, and house to rock, jazz, and funk. Go here for a wild night out in Da Nang!

Seventeen Saloon Da Nang – is a live music venue. We suggest going here to listen to the local talent and enjoy views of the Han River

Golden Pine Pub Da Nang – a popular hangout spot for digital nomads, this is a casual bar where you can meet some new people. 

Billabong Pub & Restaurant – an Australian-owned night venue that offers a range of western-style meals and is open late most days.

Bamboo2 Bar Da Nang – this is a popular sports bar where you can go to watch NRL, Super Rugby, AFL, Australian Open Tennis, and NBA games. 

Minsk Bar – this is a cozy reggae-themed bar in the An Thuong area which is loved by expats and locals. 
Things to do in Da Nang
Spend the day at My Khe Beach
A 32km stretch of white sand beaches, this was dubbed the most beautiful beach by American troops who were in Da Nang during the Vietnam War. Multiple resorts, restaurants, and cocktail bars line the promenade and it's also a popular spot for sunbathing, fishing, snorkeling, jet-skiing, and surfing. 
Climb up the Marble Mountains
Made up of five limestone and marble hills, the Marble Mountains have some of the most stunning views of the city. Located 9km outside of Da Nang in the Hoa Hai district each mountain is named after a natural element; Thuy Son (water), Moc Son (wood), Hoa Son (fire), Kim Son (metal), and Tho Son (earth). If you don't want to hike the entire way there is also an elevator service that takes you to the top. 
Hike Son Tra (Monkey) Mountain
Popular with motorcyclists and hikers, this is a national park that is 693 meters above sea level. With breathtaking views, it's a must-visit destination when staying in Da Nang. The Linh Ung Pagoda at the top of Monkey Mountain hosts the tallest statue of the Goddess of Mercy. It's located 12km north of Da Nang in the Son Tra Peninsula.
Walk across the Dragon Bridge
Dragon Bridge is the longest bridge in Vietnam, measuring 666 meters long, and is a hot spot for photographers and tourists. It has six lanes and crosses the Han River. It's most famous for the golden dragon feature which the locals believe symbolizes power, nobility, and good fortune. On the weekends it lights up with LED colors and puts on quite a show – with fire breathing after 9 pm.  
Visit the Phap Lam Pagoda
A very serene spot, the Phap Lam Pagoda is a great place to escape the city frenzy. The Pagoda is inside a double-story building on Ong Ich Khiem Street. Take a stroll through the perfectly manicured gardens and enjoy some local street food from the vendors nearby. 
Ride a motorcycle through the Hai Van Pass
The Hai Van Pass is one of the most popular and famous spots among travelers in Vietnam. Situated 500m above sea level, with panoramic views of the surrounding nature, Da Nang City, Tien Sa Port, Son Tra Peninsula, and the South China Sea it's the highest pass in the country. Rent a motorcycle and cruise along here – don't forget to pack your camera, there's plenty of photo opportunities here! 
Get cultural at the Cham Museum
Founded during the French colonial rule in 1915, the Cham Museum is the only museum of its kind in the world. Filled with 300 terracotta and stone sculptures from the 7th-15h century it commemorates the ancient culture of the Vietnamese indigenous Cham tribe. Walking through the ten exhibition rooms you will get an insight into the lifestyle and rituals of the tribe that goes back as far as 192 AD. There's a small entrance fee to enter, but it's worth it!
Pay a visit to the Da Nang Cathedral
An architectural delight, this catholic church makes a statement with its pink exterior, stained-glass windows, and big bell tower. It's located within walking distance of the Dragon Bridge and the Church also known as Con Ga Church (Rooster Church) was built by the French in 1923. You can enter the Church for free and it has great views of the city from the top. 
Want to spend a day frolicking in the waves, with soft white sand between your toes? Then catch a 20-minute taxi ride to the famous Nuoc Beach. There are lots of water activities here to enjoy and a variety of restaurants for when you get hungry. The beach stretches for about 5km so we recommend taking a stroll down the coastline towards the Marble Mountains and enjoying the views of one of the most beautiful beaches in the world. 
Absorb some history at the Fifth Military Division Museum
This is a huge museum that contains a glimpse into the history of Vietnam. Many of the photographs and memorabilia inside were taken by soldiers of the Fifth Division, hence the name of the museum. Home to aircraft, military tanks, weapons, and more used during the French and American wars. The entrance fee is $US1.75 and to take photos costs an additional 45 cents.
Best Time to Visit Da Nang
The best time to visit Da Nang is between March and May when it's not too hot and it doesn't rain (usually). During this time of the year, you can experience all that Da Nang has to offer without feeling drained by extreme heat. 
March is the best month to see the streets covered in colorful blossoms and green gardens and fields. May to August are the hottest months and the best time to take a trip to some nearby beaches. The air can feel quite humid and you will want to protect yourself from the sun during this time.
If you are going to Da Nang for a few months we suggest that you go between February and August when the temperature fluctuates between warm and hot days with sunny, clear skies. 
From September to January is the wet season and the temperature tends to be rainy, cool, and cloudy. Because Da Nang is situated in the center of Vietnam it does get hit quite hard by the tropical storms from around September each year and depending on the rainfall it can experience flooding. The coldest days are in January so if you're a digital nomad chasing the sun take this into account.
Da Nang for Families
Even though Da Nang is quite popular with digital nomads who travel alone or as a couple, there are many family-friendly activities and schools for kids. Compared to other cities in Vietnam, Da Nang is a very child-friendly town with lots of open spaces and resorts that cater to nomadic families. Do keep in mind that the city is very big, and it can be easy to get lost so when you're heading out as a family, stay close together! 
Schools
Da Nang has a big international community and there are a few international schools where to enroll kids at: 
APU American International School –

is an international school with the American education system that has been offering classes at the Da Nang campus since 2015. They offer classes to students from kindergarten to year 12 and prepare the students well for further education. 

Green Shoots International School –

this is a very diverse school with students from over 28 different nationalities enrolled here. It caters to kids from the age of 2 up to 16 so they can comfortably complete their education. 
Daycare
If you're looking for some babysitting support while you have some work to do or just simply need a pair of extra hands there are a few options available.  Depending on the age of your child/ren and the type of help you are looking for you could try out a: 
Live-in babysitter or Au Pair –

if you want someone to take care of the kids around the clock then it could be worth considering a live-in aid. This is very typical for foreign families to have, and it's up to you to decide if you would prefer this person to be a local or an expat who shares your mother tongue.  

Kindergarten or Hotel Childcare –

many hotels that cater to foreign guests have a childcare center where you can leave your kids while you run some errands or have work to do! 
Activities
Asia Park –

this is a massive amusement park with over 80 rides! It's located in Da Nang and is guaranteed to be a fun day out for the entire family. When you're there, don't forget to go on the famous neon-lit Ferris wheel  'Sun Wheel', the views from the top are incredible! 

Ba Na Hills Fantasy Park –

this is an indoor theme park on top of Ba Na Chua Mountain. Not for the faint-hearted, the rides are designed for the bravest! Think of a 29m tall drop ride, and a 21m tall climbing wall. 

Cu Lao Cham Marine Park at Cham Islands –

take the kids on a natural escape and explore a little bit outside of the Da Nang city center. You can go on a speedboat ride along the coastline and swim in the clear waters. It's easy to get to, either take a bus or drive to Bach Dang Pier and from there a boat will take you to the Islands.
Living in Da Nang
Da Nang Transportation
Getting around in Da Nang is pretty easy. It's the fifth-largest city in Vietnam and has very developed transportation options for its citizens to use. Here are some of the best ways to get around town:
Taxi or driver
Due to the city's large population, there's a lot of traffic on the roads most of the time, but especially during peak hours and many locals are not very keen on obeying the traffic rules. If you're traveling with your family it's a better idea to go by car and try booking with reliable companies such as Taxi Xanh and Mai Linh to make sure your driver is accredited and you won't be ripped off. 
Motorcycle taxi
The best way to get around town is on a motorcycle. Since the city is not walkable (depending on where you are going) we recommend hiring a motorcycle. There's plenty of rental places in town and it will only set you back around $US6 per day for a bike. Otherwise, consider a long-term motorcycle rental for approximately $US50 per month. The cost of fuel is also very affordable, around $US3 to fill up a tank.
If you prefer not to be in the driver's seat you can hire a local rider who will take you around town. This is called Xe Om and can be booked via the platforms Grab or Bee and it's basically an uber motorcycle. 
Don't be alarmed if your fuel gauge breaks or there is something wrong with the ignition of your motorbike – this is all too common and to be expected in Vietnam. 
Bicycle
The fastest and most cost-effective travel method is by bike. Roads in Da Nang are less congested compared to the other major cities such as Hanoi and Ho Chi Minh so you can ride around safely. Bicycles are easily rented from any bike rental shop or a local hotel and the rental price per day starts at around $US2 and goes up depending on the bike model. If you're living near the beach in Da Nang we recommend getting your own bike to enjoy the views of the coastline when you're doing your daily errands. 
Public transport
Da Nang also has a public transport system but it's not the most popular way to get around. The busses can get a bit overcrowded during busy times and not take you directly where you want to go. It's a cheaper option compared to hiring a driver but not the most reliable. To see the bus timetable download the DaNa Bus app or check google maps. 
Fitness and Health
If you're an active person it's easy to fall out of the habit of doing regular exercise when you move to a new place. The good thing is that in Da Nang there are more fitness clubs than you can ever imagine and staying fit and healthy will be very easy to do. Also, don't forget to take care of your mental wellbeing by treating yourself to a massage or spa session every once in a while to help you to relax.
Here are some of the best wellness clinics in Da Nang: 
Ngoc Linh Spa

– this is the best place to get a massage and the staff is very friendly and welcoming.

Cham Spa & Massage – located next to the Han River this is an oasis for those wanting to escape the noise of the city. Take some time out in the spa, followed by a massage to relax your body and mind. 
And here are the best fitness studios to visit:
HD Fitness Centre

– a trendy gym in the heart of the city, you can find all the weights and training equipment needed for a great workout session. 

California Fitness & Yoga Centre

– a hybrid studio that offers different classes such as kickboxing, yoga, dance, and a range of personal training options. This is perfect if you're after a mix of classes and training by yourself on the gym floor.
Da Nang People
Being a major city there is a big mix of people and nationalities. You can get by with English, a lot of people (especially the younger generation) have learned English at school but it also helps to learn some basic Vietnamese phrases, the locals will appreciate your effort! 
Typically Da Nang residents are friendly and willing to help foreigners but due to the busy lifestyle, they can sometimes come across as dismissive. Don't take this personally as locals often have to work very hard and very long hours to make ends meet. 
Some people can be very direct
Be prepared for some locals to be quite frank. This comes down to the language barrier. Try not to take it personally, they are doing their best to communicate with you and offer you their service. Understand that haggling is part of the culture and a lot of the Da Nang economy relies on tourism so don't get annoyed if someone tries to sell you things you don't need. 
Lots of digital nomads
Being a big city, there are a lot of opportunities for people from all different countries. Digital nomads and backpackers love Da Nang for its cosmopolitan lifestyle, warm weather, delicious food, and cheap cost of living. 
Petty crime
It does happen so do be careful and take good care of your personal belongings. If you have items that are quite valuable to you, we suggest taking out a travel insurance policy to make sure you're covered if something does go wrong. 
Sex work industry
Quite common in parts of Southeast Asia, sex work does not have the same stigma that it does in other western countries. Many women (and men) sit in bars with customers sipping on a drink or catcalling pedestrians in the evening hours. You might want to avoid these areas at night if you're traveling with kids or if this is something you are not comfortable with. 
Da Nang Insurance and Medical Care
Travel insurance is a must! When you're a Digital Nomad unexpected things can happen and it's important to be insured when something doesn't go to plan. Do not travel to Vietnam (or anywhere) without medical insurance and cover for your possessions. 
We know that you take good care of your personal belongings but there are some things outside of your control such as luggage getting lost or travel delays that a good insurance policy will cover you for. 
We suggest checking aggregator sites to get an idea of the prices and then booking directly with the company. If you are Australian (like me) I recommend checking out Compare The Market to choose a travel insurer. 
I always like to pay a little extra for the $0 excess option which means I can make as many claims as I need without any extra costs. I have used Allianz Travel Insurance in the past and I can say that they are quick and easy to deal with if you do need to make a claim.
Here are a few Travel Insurances designed for digital nomads and long-term travelers:
Make sure you are fully covered by reading our full Digital Nomad Travel Insurance guide.
Jobs in Da Nang
The best thing to do is to come with a job already organized or with a couple of reliable freelance clients. It's common for someone to run their own online business or work for a company remotely from Vietnam. Also, try to link into the existing digital nomad community in town and chat to people who have lived there for a while, they will most likely have some good tips. 
If you're looking for new projects, there are some good platforms such as Upwork and Fiverr where you can offer your freelance services or bid on job postings and remain location independent. Join some local digital nomad Facebook groups where like-minded people post about opportunities or you can introduce yourself and let the community know what services you offer as well. Another popular job for international workers in Vietnam is to teach English. This is a great way to meet new people, get to know the locals, and teach valuable skills to your students. 
Do take into account that if you are working on projects for local clients that the pay may look a bit different from what you might be paid for the same type of work in your home country. On the flip side, being able to use your skills to help local businesses grow is an extremely rewarding experience. The cost of living is very affordable and you don't need as much money to get by in Vietnam when compared to other countries.
Check out our Digital Nomads Jobs Postings to find the best jobs available for Digital Nomads.
Nomad Friendly
Value for Money
Internet
Workspace
English
Food
Safety
Health
Transportation
Friendly
Quality of Living
Cost of Living Da Nang
Da Nang is a very popular place for digital nomads to settle down for a while. It's very affordable and you can enjoy a high quality of life for a great price.
You can rent a one-bedroom, one-bathroom apartment in a trendy expat area for around $US450 per month and includes internet and cleaning 1-2 times a week! Keep in mind that living in an expat area will always cost a little bit more than if you live in an outside area. It's also good to know that most apartments come fully furnished so that includes the bed, couches, fridge, etc. Electricity can be a bit higher if you're working from home and using the Air Conditioner all the time – in saying that a 'high' amount is $US30. Which is still not bad! 
Transportation if you rent a scooter is around $US60 in total, which includes the monthly rental fee and filling up with gas twice a month. Using a grab car or motorbike is also a good option if you prefer not to drive on your own and the fares depend on where you are going.  
Eating out is very cheap so a lot of the time it's much easier to order food than to make it. A combination of eating out (most meals) and buying some essential groceries and things like bathroom items and toilet paper will bring your food expenses to around $US200. You can spend a lot less but this is a calculation based on very minimal restrictions and eating at nice 'expat' places. 
There's a lot of free entertainment you can enjoy such as camping, hiking, swimming and even at most venues there's no entrance fee. To enter a bar or club you don't need to pay anything, but it's expected that you buy a drink inside so your entertainment expenses vary based on the activities you do. 
It's easy to live a very comfortable lifestyle in Da Nang, and getting 'unessential' services such as gym memberships, massages or beauty treatments every week are very affordable and can come to about $US65-100 per month depending on what you get and how often. 
On average a digital nomad couple will spend up to $US850, or $US600 for a single person living very comfortably in Da Nang.