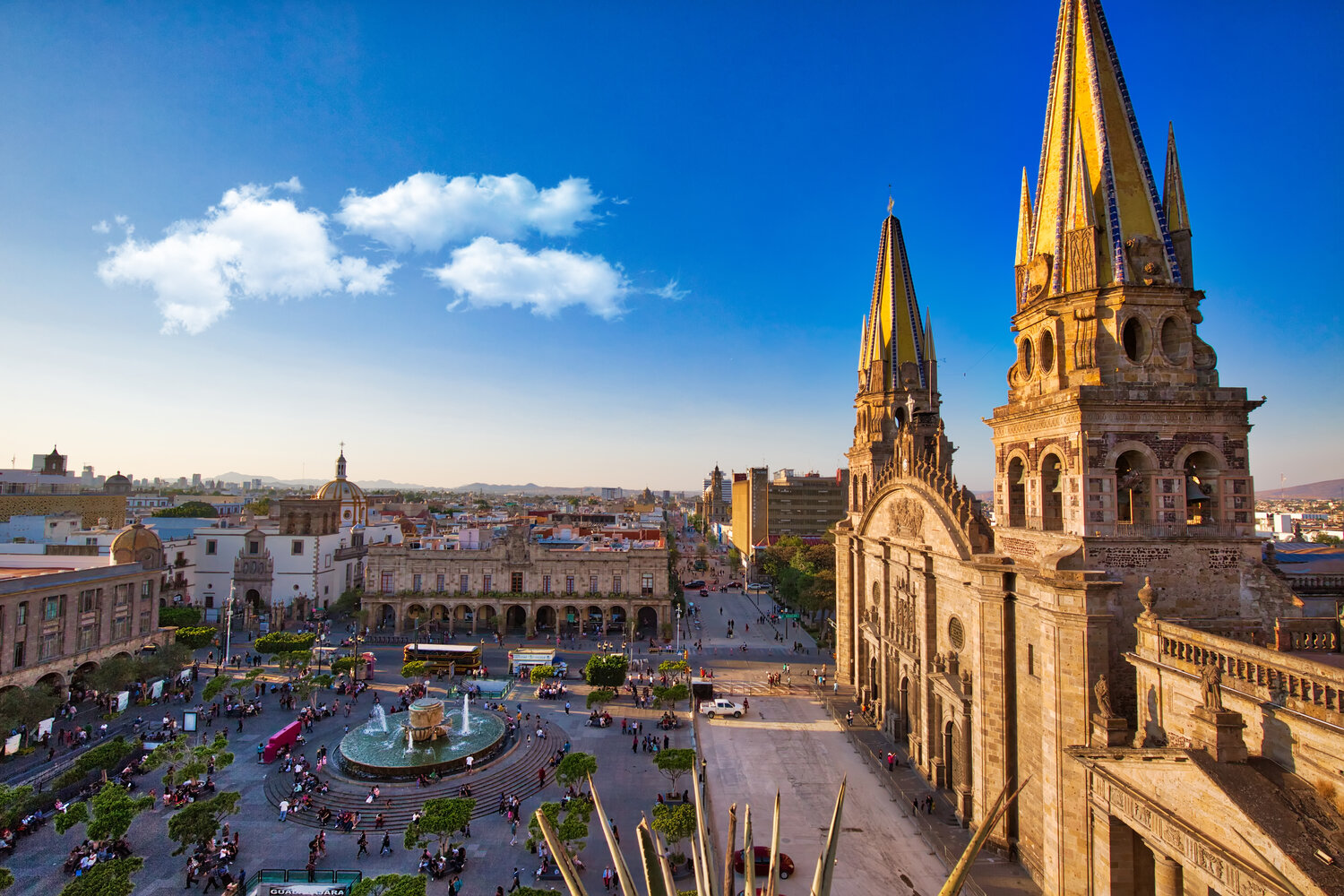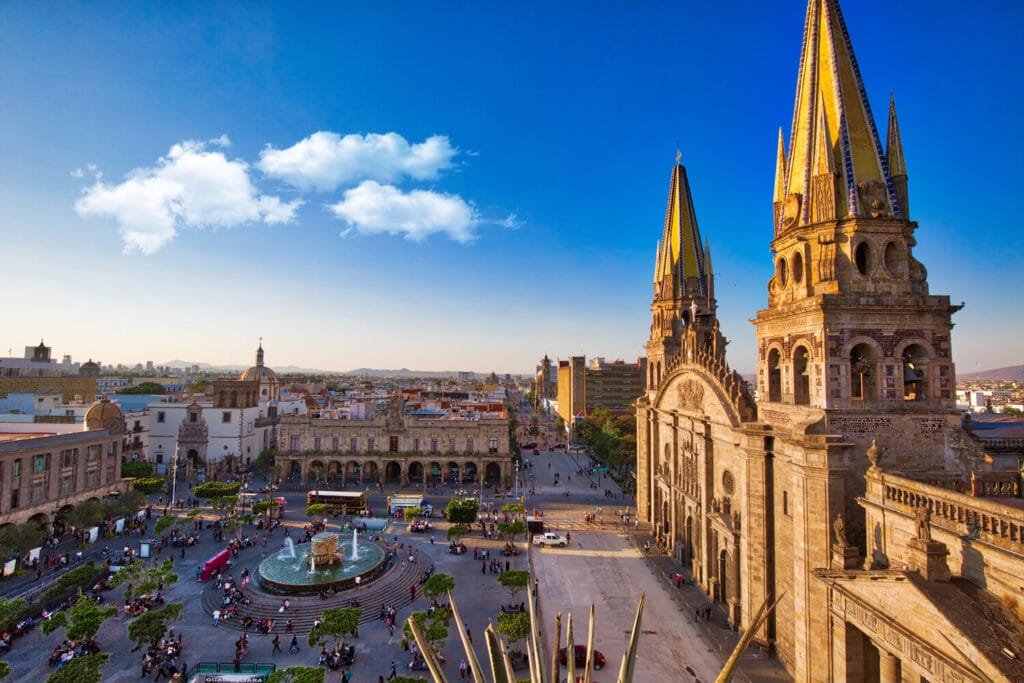 A Digital Nomad Guide to Guadalajara
In today's world, many of us are grabbing our laptops and heading out the door to work from pretty much anywhere that has wifi! So with an unending list of places, why would you go to Guadalajara? Well, let me tell you, Mexico's second largest city, Guadalajara, is quickly becoming one of the most popular places to move to in Latin America. The cost of living is low, the weather is warm and sunny, and there are plenty of coworking spaces and cafes that offer free Wi-Fi.
If you're looking for a city with a long-standing history of rich culture and traditional Mexican food options, look no further than Guadalajara. This city is filled to the brim with flavor, culture, night life, and best of all it won't hurt the bank!
Guadalajara quickly became one of my favorite cities in Mexico, being smaller than Mexico City but with all the amenities and more. I spent a little over a month exploring this cultural hub before deciding it was the place for me. There are plenty of digital nomads in the city making it easy to find friends and establish a community, which can make or break an experience.
Nomad Friendly
Value for Money
Internet
Workspace
English
Food
Safety
Health
Transportation
Friendly
Quality of Living
Living in Guadalajara Overview
| | |
| --- | --- |
|  Meal, Inexpensive Restaurant | $6.31 |
| Domestic Beer (1 pint draught) | $1.51 |
| Cappuccino (regular) | $2.22 |
| Loaf of Fresh White Bread (1 lb) | $1.60 |
| Water (1.5 liter bottle) | $0.82 |
| One-way Ticket (Local Transport) | $0.48 |
| Basic Utilities (Monthly) | $31.11 |
| Internet | $28.65 |
| Fitness Club (Monthly) | $24.31 |
| Apartment (1 bedroom) in City Centre | $398.80 |
Currency: Indonesian rupiah (Rp)
[erw_exchange_rates_widget lg="en" tz="0″ fm="IDR" to="EUR,USD,GBP,AUD,JPY,RUB" st="primary" cd="" am="15000″][/erw_exchange_rates_widget]
ATMs
Max Withdrawal: Rp 3,000,000
Withdrawal Fee: Rp 30,000 – Rp 50,000
Use of Credit Cards: Mostly Cash
Digital Nomad Personal Experience in Guadalajara
Working from your laptop has so many advantages, like being able to move anywhere in the world with wifi but finding a place that you can truly create a life and call home for a while is not always the easiest. Thankfully, at the height of the COVID pandemic, I was able to find that place in Guadalajara, Mexico! The second largest city in the country! 
Guadalajara had everything I wanted and needed, from a low cost of living to a thriving nightlife. I was able to ride my bike to work and spend the day at one of the many coworking spaces, leave the office right before the cerveza meet ups and spend every night on the streets enjoying drinks with my friends. When I originally arrived I was nervous about meeting other expats and not being fluent in Spanish. After a few mornings walking the streets and exploring the many different parks and mercados my nerves were calmed as so many digital nomads call this cultural city home. Guadalajara is huge, home to over 1 million people, it is continuously growing and many areas are becoming more and more accessible to digital nomads making it easy to meet others. With weekly classes, I was able to advance my Spanish and interact with the locals on a greater scale..
I found the city so intriguing with its historical landmarks and its prominent green spaces. This is the perfect location for those who love to be outdoors and spend their time in open spaces. This city continued to satisfy everything I was looking for in a place to live. Whether it was a day trip to a small magical town, picking fresh fruit for the week, or enjoying the mariachi's in the streets. 
I always felt safe in the city and the locals made me feel like family, with a low cost of living, reliable public transportation, and the ability to settle in so naturally I always felt at home in Guadalajara. As the metropolis expands and becomes more popular for digital nomads, I believe Guadalajara will develop into a unique meeting place for people looking for culture as well as convenience.
Work in Guadalajara
In the past few years, Guadalajara has become a hub for many entrepreneurs and digital nomads to live. Since many are starting their journey of working outside of a designated four walls you will find many coworking spaces in the city. To meet the growing number of remote employees, more and more coworking spaces are opening up. Depending on your budget and how long you want to spend in "the office," Guadalajara has a variety of possibilities. Here are my two favorite coworking locations for you to explore.
Best Places to Work in Guadalajara
Nevermind
Nevermind is located right between the Americana, the Arcos Vallarta, and the Ladron de Guevara areas, it is easily accessible from all parts of the city and right in the middle of a ton of cafes and bars when you need to escape the "office".
The best part of Nevermind is undoubtedly their internet speeds! Every desk has its own network cable, which ensures adequate speed at 200 Mbps for downloading and 143 Mbps for uploading on average. I would come here when I had a big project due, or needed to view a lot of videos. If it was a day where I just needed to be online here or there I could move about the office and use their wifi. A little bit slower but definitely gets the job done!
IOS offices
IOS has 4 locations in Guadalajara. And while all of them are great, mine and many others' favorite is at America's 1500 Tower. This coworking space offers everything you need from fast internet, standing desks, plenty of office space, and even private rooms for calls. However, the best part of this office is the view.
The high rise gives you incredible views of the city all around and a lovely terrace to enjoy the nice weather when you need a break. The offices also offer free beer and coffee along with an onsite cafe to rejuvenate you before your 3 o'clock meeting.
If you want to work in cafés and restaurants, then Guadalajara also has something for you! The majority of cafes and restaurants provide free WiFi as well as pleasant areas where you can unwind with a cup of coffee and your laptop in the morning.
Many of the international and freelancers work in these well-known coffee shops, making it simple for you to do business while also connecting with other nomads.
Matraz Cafe
Matraz Cafe is one of my favorite places to work when I don't want to feel like I am working! On nice sunny days, they open the windows and the doors to a beautiful seating area with plenty of greenery to inspire and re-energize you! It is almost near impossible to not meet other digital nomads when you are at Matraz!
The House Cafe
Is the perfect spot to put your head down and get a lot of work done! With an indoor and outdoor seating area, you are able to find plenty of room to spread out your work. The cafe tends to be filled with digital nomads as they have big tables to work with others and steady wifi! However, it can get a bit noisy, so make sure to bring your airpods!
These are just a handful of possibilities for working from home in Guadalajara. This city is continually expanding and doing an excellent job of catering to the new generation of work. When you're tired of your apartment, don't worry about finding a nice place to work for the day, you will find plenty!
Best Places to Live in Guadalajara
Best Neighbourhoods
There are a few neighborhoods in Guadalajara that have begun to increase in the number of expats giving you quite the options for housing. It will all depend on where you want to live and how much money you wish to spend on rent. While the city has a low cost of living, where you live may have a significant impact on the rest of your budget and impact your assimilation into Guadalajara.
Chapultepec
Chapultepec is a neighborhood in Guadalajara that is quickly becoming popular with digital nomads. It is constantly growing and transforming into a modern area with plenty of tall apartment buildings giving amazing views of the city. I loved living in this area as it is a great place to live if you want access to all the amenities the city has to offer. The neighborhood is close to the city center, has plenty of coworking spaces and cafes, and new bars are always popping up creating a great nightlife. The downside to Chapultepec is that it can be quite expensive.
Col America
Col America is right behind Chapultepec in the running for the most popular place to live for expats. This area is perfect if you are a young professional as the area is full of businesses and high rise apartments. The atmosphere just feels like success. Due to the number of expats that are moving to this area many landlords are more willing to work with foreigners than in other areas in Guadalajara. If you are struggling to find a place to rent, check out Col America, there is potential for low availability, so when you find somewhere you like don't wait too long! 
Chapalita
Chapalita is the most popular area in Guadalajara for expats. Chapalita is west of the city center and has a lot to offer digital nomads. There are plenty of coworking spaces, cafes, and restaurants in the area. The walkability in this area is the best in the city and there are plenty of greenspaces to get outdoors and enjoy the amazing Mexican sun. The downside is that it can be a little bit noisy and there isn't much of a nightlife. However, because it is on the outskirts of the city center it is more affordable than other neighborhoods.
Zapopan
Zapopan is a suburb of Guadalajara located west of the city center. This area is one of the wealthiest areas in the Mexican state of Jalisco. Zapopan is a great option for digital nomads who are looking for a more laid back area to live in, but still want to be close to the city center. There are plenty of coworking spaces and cafes in Zapopan, and it is a great place to be away from the hustle and bustle when you want to get some work done. Just a 10 minute drive from the city center and you are back in action.  
Tlaquepaque
Tlaquepaque is an art district located about 30 minutes from Guadalajara. This is a great option for digital nomads that are looking for a more creative and artsy atmosphere. There are plenty of cafes, restaurants, and coworking spaces in the area. You are guaranteed to be inspired living in this neighborhood with the constant art events and creative galleries! If you love music and are considering learning how to salsa, hea
Find an Apartment in Guadalajara
Finding a place to live may be difficult in any city, but it's especially challenging in a new one. Fortunately, finding an apartment in Guadalajara doesn't have to be difficult.
With so many people moving to Guadalajara there are plenty of living options popping up every day, and the simplest approach to figure out what's available and tour different parts is through a rental agency. Although using a rental service will cost you more than if you were to go out on your own, you're more likely to get precisely what you want without any surprises.
If you have some leeway in your move-in dates, I recommend spending some time in the city to determine which neighborhood you like best and look for "for rent" signs around town. Locals are extremely helpful, you could just step into a cafe and ask if anyone knows of a place for rent. If you can call and talk with the landlord personally you are much more likely to get a good rate!
Once you've chosen a district to live in, the rest of the process will go much more smoothly and quickly. If you opt for a rental agency, give them a list of things you want (such as location, pricing and other specifics), and they'll take care of the rest. However, keep in mind, if you decide to go with a rental agency they typically require at least a 3-month commitment.
An alternative, and probably the most popular option, is through Facebook or other social media. There are many Guadalajara groups of residents wanting to rent out their homes directly without the fees of an agent, making this a win-win for both of you. If you know Guadalajara is where you want to be, start looking a few months in advance and make sure to put on notifications so you will know when properties become available in the district you desire. They also tend to have quite a bit of shared properties if you are looking to find some roommates and lower your monthly costs.
You will find rental properties ranging from 300 USD to 1,000 USD depending on the location, time of year, and what's included. Many flats will come furnished and include your utility bills. The average price of a flat in Guadalajara is 500 USD. If you use a rental agent they will usually charge you half of your first rental payment should you decide to sign with them.
Cheap Places to Stay in Guadalajara
If you are operating on a tight budget I would recommend looking at flats outside of the city, such as Tlaquepaque and Zapopan. With an accessible bus system, you will be able to be in Guadalajara proper within 30 minutes. This will allow you to cut your costs down by as much as 200 USD. Do be aware that you will lose a lot of access to the reasons digital nomads are moving to Guadalajara if you choose to live outside of the city. 
If you're still undecided about whether or not Guadalajara is the place to call home for a while and aren't ready to commit to a property, there are some fantastic hostels available for as little as $11 per night. This would allow you to test out the city without breaking the bank. Two of my favorite hostels are Selina Hostel and Hostel Hospedarte Chapultepec. You will find a lot of internationals and digital nomads staying in these hostels.
Guadalajara Visa
Mexico is one of the easiest countries to become a digital nomad due to its easy entrance for many countries. If you are a digital nomad from the United States, Canada, or the European Union, you will not need a visa to stay in Mexico for up to 180 days. If you are from any other country, you will need to check with the Mexican embassy in your country to see if you need a visa.
If you are planning on staying in Mexico longer than 180 days you will have two options in regards to visas
Temporary Resident Visa

Permanent Resident Visa
With a temporary resident visa, you can stay in Mexico for up to four years. If you're visiting Mexico to study, work, join a relative of Mexican nationality, or invest in the nation, this is the visa for you.
The Mexican government has expanded the Temporary Resident Visa to digital nomads, with the condition that applicants must show proof of $1,036 in earnings for six months outside of Mexico. If they are accepted, residents are not permitted to work additional jobs within Mexico and receive money in pesos.
Another alternative is to visit Central America once every six months to extend your tourist visa. I'm not saying this is legal, but it's a viable option that I used for a year without penalty, plus you get a weekend getaway!
Culture and Food in Guadalajara
There is a reason Guadalajara is ranked the 8th best Latin American city to visit! The people, the food, the tradition, it is a city blossoming from every corner. Guadalajara is a city with a rich culture and history. The city was founded in 1542 by the Spanish conquistador Nuño de Guzmán. The name of the city comes from the Spanish word "guadalaxara" which means "the place where water flows abundantly". The city has been heavily influenced by both Spanish and indigenous cultures.
Guadalajara is also a very musical city. Mariachi music originated in Guadalajara and has even been nicknamed the "City of Mariachi". You can find Mariachi bands playing throughout the city, especially in the Plaza de los Mariachis. Every year at the end of the summer, Guadalajara hosts the largest international mariachi festival. The whole city comes together to fiesta for 11 days straight. Over 500 mariachi bands come and perform. The streets are decorated for the parade, full of colors, flowers, and plenty of dancing throughout the city! This is a can't miss event in Guadalajara!
The beautiful aspects of Mexican culture are present everywhere in Guadalajara from the people to their cuisine. Locals seem to always be smiling, welcoming you into their country. Many modern Mexicans speak English, but many older ones only speak Spanish. It won't hurt to brush up with Duolingo!
The people of Mexico are known for their warmth, and much of it revolves around their flavorful cuisine.  Guadalajara is the birthplace of the Mexican dish "Torta Ahogada" which is a pork sandwich that is drowned in a chili sauce. Yum! The city is also home to many other traditional Mexican dishes such as "pozole", "menudo", and "tamales". While the city is known to have some of the best food in all of Mexico and world-class chefs on every corner, I will never get over the late night street food in Guadalajara. Whether it is a sauced up elote or my personal favorite, el pastor taco… this is what living in Guadalajara is about! The incredible food and the amazing people who make it.
You'll discover that many expats are interacting with locals and it would be hard not to. With their laid back lifestyle and latin flair, the people of Guadalajara bring you in like familia!  Many people who move to Guadalajara are attempting to learn Spanish or bachata, so don't be shy; join in the fun and make some local buddies! It will assist you in becoming more accustomed to your new environment.
All you really need to know is what una mas cerveza means, and you will do great!
Guadalajara Nightlife
Guadalajara is a city that knows how to party! The nightlife here is incredible and one of the main reasons for the flux of digital nomads. From world-famous clubs to trendy bars, there is something for everyone in Guadalajara. Regardless of the season, Guadalajara's constant good weather lets you hop from bar to bar on any given night and see plenty of people out and about in the streets.
Whether you are looking for a classic Mexican cantina with a mariachi band on the street or a fancy cocktail on a high rise, Guadalajara has it and at a much cheaper price. No wonder people come for vacation and end up moving here. While Mexico is known for its tequila and mezcal over the past decade, the craft beer scene in Guadalajara has become extremely popular!
Here is a list of my favorite places to head to on a night out in Guadalajara.
Traditional Cantinas
Cantina La Fuente
This is mine and many other's favorite classic cantina bar in Guadalajara. Located in an old boiler room you will find a rough and tough local hangout with cheap beers and tequila. Enjoy your drink while being accompanied by a band almost every night and plenty of locals that will welcome you as your own!
Pro tip: Don't order a cocktail at this bar, keep it short and sweet with a cerveza or a tequila on the rocks.
Cantina La Iberia
The oldest cantina in Guadalajara, Cantina La Iberia opened its doors sometime in the 1870's and is still one of the most popular places on the block! You can learn so much about the history of Mexico just by spending a few nights in this bar and listening to the stories of the cantina's patrons!
If you are looking to get a little rowdy, try their famous La Batanga de Doña Chela, a cocktail similar to a long island. The drink contains vodka, tequila, aguardiente rum, Coca-Cola, lime and mint.
Bar Zapotlán
If you are big into sports or futbol, this is the cantina for you! Packed to the brim with locals when a mexican futbol team is playing, you will be right in the middle of all the excitement! Zapotlan has a long list of drinks to order and tends to be poppin right after work. It is a great place to meet other digital nomads and enjoy a match. Make sure to arrive early as it gets really crowded on the weekends.
Cocktail Hour
Oliveria Cocktail Bar
Oliveria is the perfect place to visit if you enjoy an outdoor seating area with hand crafted cocktails. Known for their talented mixologists, you can either order your go-to or let the bartender get creative. Either way, you will not regret a night at this swanky bar. The drinks can be more pricey than other places in Guadalajara but it is well worth it!
La Occidental
A great place to go if you are wanting some finger foods with your drinks. La Occidental opens in the early afternoon making it a great stop before you head to a proper dinner. The food is exceptionally tasty and the drinks are massive! But hey, I am not complaining, and it seems none of the guest's aren't either as this place is always busy!
Joselito Mezcal
This little bar is a collision of a traditional Mexican canteen and a trendy hipster pub in the city's core, perfect for those days you want to feel a little closer to home. Joselito Mezcal has an incredible drink selection and ambiance. It's a wonderful way to spend some time relaxing with some local music and drinking a beer or one of the unique mezcal cocktails.
Breweries
Cerveza Loba
For a fun afternoon, head to Cerveza Loba! This brewery has a restaurant and tasting room making it the perfect way to sip on some brews while learning about how they were made! They currently have 9 beers and are continually creating new recipes and brewing new batches to deliver throughout all of Mexico.
Minerva
As the largest brewery in the country, Minerva is a must stop in Guadalajara. The brewery has been open and operating for 16 years and was really the pioneer of the craft beer scene in Mexico. Join a tour and a tasting at the upscale brewery to get more familiar with the different types of beers and how they are made.
Dance Clubs
Kin-Kin
Kin Kin Dance club has a trendy party atmosphere thanks to its red-lit brick walls and disco balls whirling, beckoning you in from the streets. The bar is famous for its top notch mixed drinks, which include gin, vodka, and mezcal. All night long, DJs play international and local electronic music. Make sure to arrive early or prepare to wait in line as it is often full to the brim on weekends.
Bar Americas
Bar Americas is one of my favorite clubs to end the night as it is a fantastic place to continue dancing until dawn if you want to keep going. The huge underground space has two rooms with several bars, elevated seats, and a dance floor where you may groove to cutting-edge DJs' electronic music, some nights you can catch reggaeton and hip hop… those are my favorite nights!
Things to do in Guadalajara
As a digital nomad, you will quickly find that there is never a dull moment in Guadalajara. The city has plenty of things to keep you occupied both day and night.
Go on a Hike in Parque Mirador

If you're looking for a great way to start your day, go on a hike in Parque Mirador. The park is located on the top of a mountain and offers stunning views of the city. The hike is not too difficult, but it is definitely worth the views.

Take a Day Trip to Lake Chapala

Lake Chapala is located about an hour outside of Guadalajara and is the largest lake in Mexico. The lake is a great place to go for a day trip and enjoy the beautiful scenery. You can also go fishing, swimming, or take a boat ride on the lake. Many expat communities live out near the lake, making it a great place to meet other expats and spend a weekend.

Government Palace

The Government Palace is a beautiful building that was constructed in the 16th century. The palace is home to many murals and sculptures, and is well worth a visit.

Museo de las Artes

The Museo de las Artes is an art museum located in Guadalajara. The museum features many different types of art, from paintings and sculptures to architecture and design. The museum is a great place to go if you are interested in Mexican art.

Mariachi Monument

The Mariachi Monument is a statue dedicated to the mariachi music of Mexico. The statue is located in the center of Guadalajara, and is a must see for anyone who is interested in mariachi music.

Guadalajara Cathedral

The Guadalajara Cathedral is a beautiful cathedral located in the center of Guadalajara. The cathedral was built in the 16th century and is one of the most popular tourist attractions in the city.

Tlaquepaque

Tlaquepaque is a town located just outside of Guadalajara. The town is known for its pottery, glassware, and handicrafts. Tlaquepaque is a great place to go if you are looking for souvenirs or gifts. There are also many restaurants and bars in Tlaquepaque, making it a great place to spend an afternoon or evening.

Explore Historical Center

The historical center of Guadalajara is a great place to go for a walk and explore the city's rich history. The historical center is home to many beautiful buildings and churches, and is a great place to people-watch.

Templo Expiatorio del Santísimo Sacramento

The Templo Expiatorio del Santísimo Sacramento is a church located in the historical center of Guadalajara. The church was built in the 18th century and is one of the most beautiful churches in the city.

Plaza de Armas

The Plaza de Armas is a square located in the historical center of Guadalajara. The square is home to many different monuments and sculptures, and is a great place to relax and people watch.

Cabañas Cultural Institute

The Cabañas Cultural Institute is a museum located in the historical center of Guadalajara. The museum is housed in a former hospital, and features many different exhibits on Mexican culture and history. The museum also has an in-house café, which is a great place to have a cup of coffee or tea and relax.

Craft Beer Tour

Guadalajara is home to many different craft breweries, and a craft beer tour is a great way to sample some of the best beers in the city. The tour will take you to different breweries, and you will get to try a variety of different beers. Some of my favorite breweries are Cervecería Minerva, Cervecería Wendlandt, and Biercafé.

Jalisco Philharmonic Orchestra

The Jalisco Philharmonic Orchestra is a world-renowned orchestra that is based in Guadalajara. The orchestra frequently performs at the Teatro Degollado, and tickets can be purchased online.

Tequila Day Trip

The town tequila is located just outside of Guadalajara, and a day trip to the town is a great way to learn about the history of tequila. The town is home to many distilleries, and you can tour all the different ones and taste different types of tequila. Take the Jose Cuervo tour to be picked up in Guadalajara and dropped back off at the end of the tour… trust me, you will need the ride. The trip will take you to a tequila distillery, where you will get to see the process of making tequila. You will also get to try a variety of different tequilas, and learn about the different types of tequila.

Parque Colomos

Parque Colomos is a large park located in Guadalajara. The park is a great place to go for a walk, and there are many different trails that you can follow. The park is also home to a variety of different animals, including peacocks, ducks, and iguanas.

Visit the Guachimontones Pyramids

The Guachimontones Pyramids are a set of pyramids located just outside of Guadalajara. The pyramids are believed to have been built in the 7th century, and are a popular tourist attraction. The pyramids are a great place to go for a walk, and there is a small museum located on-site that tells the story of the pyramids. They are open from Tuesday to Sunday from 9am to 5pm.

Mariachi Bands

If you are looking for something to do on an evening out, enjoy some of the mariachi bands all over the city while you sip a $3  cocktail. Mariachi bands are a popular form of entertainment in Guadalajara, and you can often find them performing in the streets. Mariachi bands typically wear traditional Mexican clothing, and they play a variety of instruments, including guitars, violins, and trumpets.
Best Time to Visit Guadalajara
Guadalajara has some of the best weather in, dare I say, the world. It is sunny almost every day, and the temperature is never too hot or too cold. It always feels a bit like springtime which is an absolute dream. The average temperature ranges from 18-25 degrees Celsius (64-77 degrees Fahrenheit).
Because of the higher altitude, the city experiences a dry season from November to April, and a wet season from May to October rather than a summer or winter season.
The best time to visit Guadalajara is from November to April when the weather is sunny and mild. However, the wet season which is From May to October can also be a great time to visit Guadalajara as the city comes alive with festivals and celebrations.
Either way, there really isn't a bad time to visit Guadalajara and I think your mental health will thrive in the mild climate.
Guadalajara for Families
Guadalajara is probably not the very first place you think of when you consider moving your family. Mexico has a long standing history of being dangerous and unsafe for travel. However, I have found Guadalajara to be as safe as any other tourist city. There is crime and petty theft, and I recommend not walking alone at night, but there are plenty of opportunities for you and your children to thrive in this cultural hub!
You will find plenty of public daycare options at an affordable price in Guadalajara, this is perfect for allowing your child to grow accustomed to the culture and locals in the area. Many of the teachers speak Spanish and will assist in helping your child learn the language. If you are looking for an English speaking daycare, you will have a few options among the international community but the rate will be much higher. Many of the expats in the area hire a local nanny to watch their children until they are of school age. This allows them to be at home and also learn Spanish alongside their English.
Guadalajara has multiple schooling options for your children. There are plenty of public schools in the city that your kids will have access to. However, the curriculum is not as forward thinking as many western countries and the lessons are taught in Spanish. This may not be an option for you if your kids do not understand the language. Luckily, with a large number of expats in the area, there are multiple international schools for you to enroll in. These will cost more than public education but could really enhance the trajectory of your child's future!
There are also many different extracurricular activities available for children in Guadalajara. Some of the most popular activities include soccer, swimming, and dance.
On the weekends or during school holidays, your children will have many things to do. Gaudalajara has a lot of activities for young kids. Spend a day at one of the city's historical museums, ride bikes at Parque Metropolitano or explore the Acuario Michin Guadalajara to see ocean life. Many events and festivals are held in the streets throughout the year, bringing local families and expat families together.
In the evenings, you can enjoy a family-friendly meal at one of Guadalajara's many restaurants. The city has a wide variety of cuisines to offer, and you're sure to find something that everyone will enjoy.
Living in Guadalajara
Guadalajara Transportation
If you live in the city center the most convenient way to get where you are going in Guadalajara is on foot. Walking around the city is the best way to see it, and many of the city's major sights, such as the Guadalajara Cathedral, or all your favorite pubs are within walking distance from your front door. If you are living on the outskirts of the city or taking a day trip somewhere, you can take a bus, buses are very popular among locals so be prepared to not have a lot of space. For commuting in and out, the metro system has two routes that could be the most convenient for getting in and out of the city. Taxis and rental cars are options as well if you are in a jam, but will cost you more.
On Foot
The city center of Guadalajara, which is pedestrian-friendly, has many of the city's top activities and plenty of coworking spaces. Walking is the most convenient and hassle-free way to get around in this area. It's also easy to navigate around downtown thanks to its grid design.
Bus
Another alternative is to take a Macrobús. They are a great option since they make stops near several of the city's top sights. The majority of Macrobús trips cost 6 Mexican pesos (less than 50 cents), talk about a cheap ride! If you plan on riding the bus frequently, it's probably worth your while to purchase a Macrobús transit pass at any of its stops and swipe once you're aboard (passes are $15 pesos, or about $1). This eliminates the trouble of having the correct change.
Metro
For those that are living outside of the city, this really is your best option. Commuters use the metro's east-west and north-south lines to travel between their residences and jobs. Once you have reached the city center, most of your destinations will be within walking distance. The cost to use the metro is 7 Mexican pesos (about 50 cents) per trip, or passengers may purchase a chargeable card for 20 pesos ($1) at any metro station.
Taxi
Taxis are going to be your most pricey option in Guadalajara but likely will not break the bank! If you are going to grab a ride at any of the downtown taxi ranks make sure to negotiate a price or have them turn on the meter. I can't tell you how many times I have forgotten and had to pay double the price. Uber also operates in the Guadalajara area and is what I recommend using since the price is set for you and the app tracks your location. Make sure to double check the car's license plate before getting in and have them verify you are in the correct uber.  
Car
In Guadalajara you may easily stroll, take a taxi, bus, or metro throughout the city, but if you are wanting to rent or purchase a car while you are here, that is an option. Although I don't recommend driving in Guadalajara as it just feels unnecessary, it is doable. The roads are good to drive on, you may get stuck in a bit of traffic but it is nice to have on those long weekends when you want to head to Vallarta or Tequila, all that's required is a valid U.S. driver's license.
Fitness and Health
To be honest, Guadalajara is not known for residents who have a healthy lifestyle or have fitness as a top priority.  Most people here are more focused on having a good time, eating delicious food, and embracing Mexican culture. Which is all fine and dandy if you are on holiday!
Since Guadalajara is the second largest city in the country you will still find a plethora of gyms, yoga studios, and running clubs throughout the city for you to join and create a healthy lifestyle in your new city. There are also plenty of outdoor activities to do as well. The weather is perfect for running, biking, or hiking year-round. If you are looking for non traditional ways to stay fit or healthy, take a bachata class in the city. It will get you moving and help you to meet others in the area as well as embrace the culture.
Over the last several years, Guadalajara has developed a number of new options for healthy eating, including several restaurants that cater exclusively to vegans and vegetarians. Mexicans love their carne, which used to make it a little harder to find restaurants if you are vegan or vegetarian but it is starting to become more and more popular in the city. If you follow this way of life, I suggest going to the market for in-season fruit and visiting these vegan-friendly restaurants.
Vegetariano Zanahoria

El Vegano

La Flaca
Guadalajara People
Guadalajara is HUGE. The city has over 1 million residents, while the larger metropolitan area has a population of over 5 million. The city comes in second to Mexico City, with the largest population. When a city has so many people you can guarantee a lot of diversity, which is one of the things I love about Guadalajara.
Guadalajara is where Mariachi started and where tequila comes from, just knowing these two things gives you an insider's look into how hard they can fiesta in the city! The people are so ingrained in their culture and have such a rich history that being able to experience the different ways of living is incredible. The people of Guadalajara are warm and inviting and will treat you as if they have known you their whole life. After all, the city is known as THE Mexican city in Mexico.
Many of them will know basic English and will do their best to help you around the city if you are lost. The younger generations will be more fluent, but it is a great opportunity to practice your Spanish and the locals will love you even more for it!
The Mexican people are always up for a good time because of their strong culinary and fiesta traditions. Because few individuals spend time inside, it's simple to interact with the locals. You'll discover your local community growing if you're willing to accept their customs and appreciate their culture. You will continually be surrounded by great people as long as you put yourself out there!
Guadalajara Insurance and Medical Care
The Instituto Mexicano del Seguro Social (IMSS) is Mexico's national healthcare system. IMSS coverage is available to foreign individuals who reside and work in Mexico. It's a popular go-to for expats with a temporary or permanent residency visa, given its low cost of $500 per year for residents.
However, healthcare in Mexico is not very high quality. Public hospitals are often crowded, and the main language spoken will be Spanish. Non-emergency treatments may require a long waiting period. Some patients might be given higher priority than expats owing to membership level if you get local insurance. It may be difficult to receive comparable care as you are used to. Depending on your location and how much money you have, the finest procedures aren't necessarily accessible.
In most parts of Mexico, you will be able to obtain correct procedures and medicine, although it will cost you. In Mexico, you must pay the entire cost of any procedure before it is started. It might be significantly less expensive than most western hospitals, but it can still take a bite out of your bank account. There's a lot of concern when moving to Mexico as a financial emergency may be totally reliant on your funds. Fortunately, there are several international healthcare plans to choose from.
Some coverage plans to consider for expats are Cigna Global, and for U.S. Citizens is the GeoBlue Xplorer.
Make sure you are fully covered by reading our full Digital Nomad Travel Insurance guide.
Jobs in Guadalajara
Many individuals are not relocating to Mexico in order to seek employment, and I would not recommend relocation without a strategy for generating an income. Don't worry if you can't work remotely with your current profession; there are several International employment alternatives for people that want to travel the world!
While landing a position at an international office in Mexico may be difficult, there are several teaching possibilities available. Since Spanish is the primary language, many private and international schools are searching for English teachers to teach primary kids. You can get your TEFL certificate online and start applying.
English teachers in Mexico earn far less than if they were to teach in their home country, but they will still be able to live a comfortable lifestyle and take their summer vacations to explore the nation!
Check out our Digital Nomads Jobs Postings to find the best jobs available for Digital Nomads.
Nomad Friendly
Value for Money
Internet
Workspace
English
Food
Safety
Health
Transportation
Friendly
Quality of Living
Cost of Living Guadalajara
One of the most beautiful things about Guadalajara is the low cost of living! With prices rising everywhere, Guadalajara makes it easy to enjoy all the luxuries in your life at a lower cost! On average the cost of living in Guadalajara is 65% lower than other major metropolitan cities and 10% lower than Mexico city!
Depending on your budget, you can expect to have a high quality of life with a low price tag. You will find many rental options from upscale flats in Chapultepec to chic bungalows in the art district. If you are a social being and prefer to eat out, you will have a range of options from Michelin star chefs to those yummy street tacos. Head to the local Mercado to get fresh fruits and veggies for less than 10 USD. Let's break down how much you can expect to spend living in Guadalajara.
The average cost of living for a single person in Guadalajara is 800 USD per month including rent. Rent is going to be your most expensive cost, ranging from 300 USD to 650 per month for a one bedroom flat. Your other monthly expenses will range depending on your lifestyle. Here are a few examples of average prices in Guadalajara.
Utilities: 30 USD per month
Transportation: 25 USD per month
Office Space: 100 USD per month
Cappuccino: 2.19 USD
Beer: 1.50 USD
Street Tacos: 1.00 USD
Inexpensive meal: 6 USD
Water bottle 1.5: 0.60 USD
With low prices, constant sunshine, and a cultural center, Guadalajara is an ideal location for a digital nomad. You'll discover that your money goes further and your pleasure levels rise.