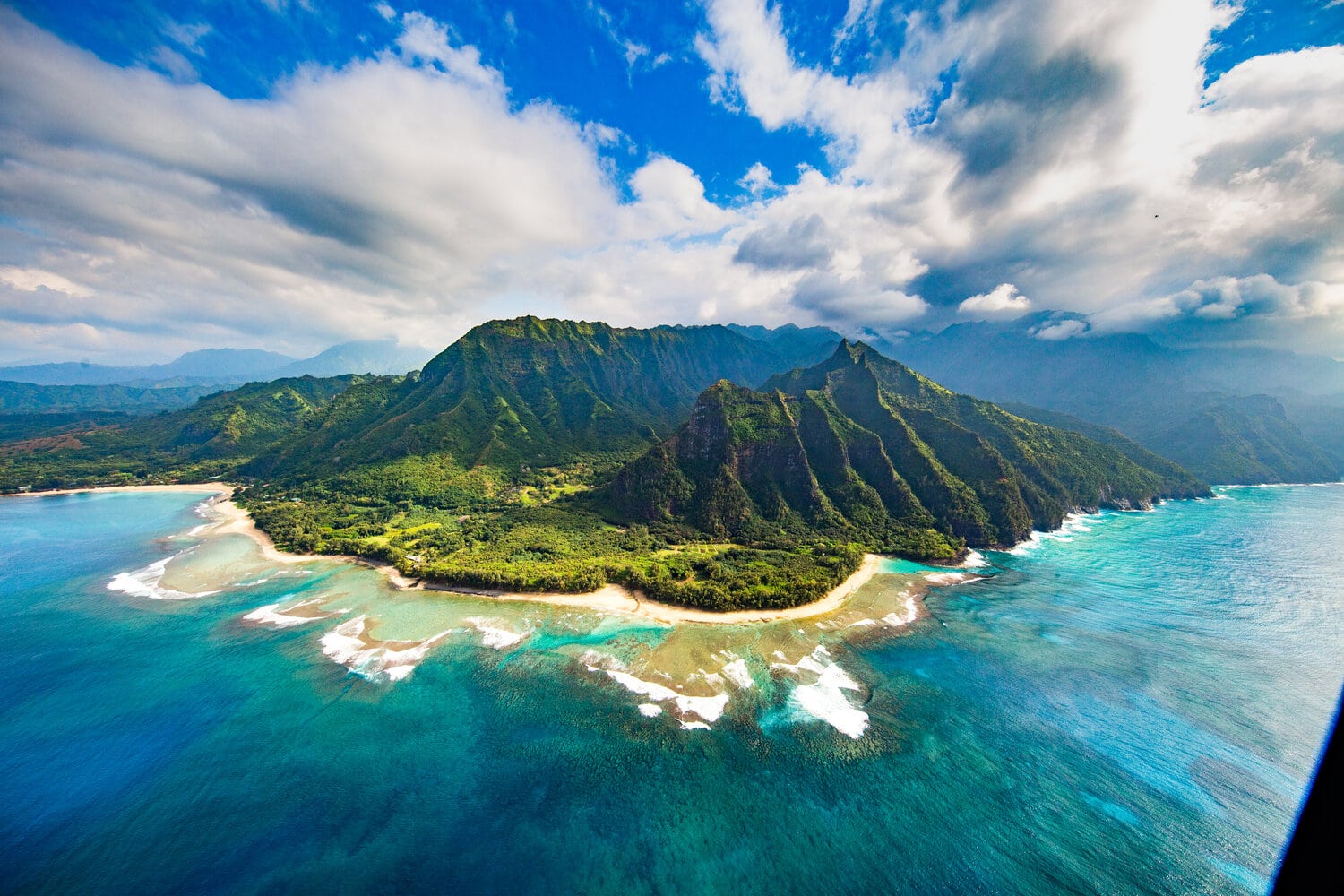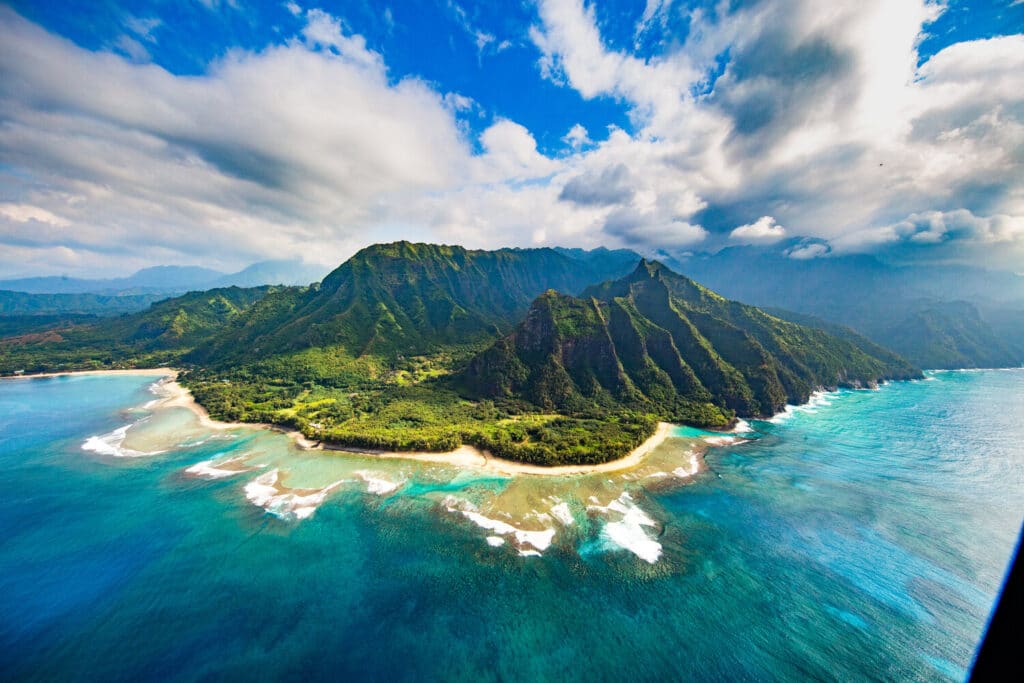 A Digital Nomad Guide to Hawaii
Hawaii consists of a chain of islands located in the Pacific Ocean and has been an official part of the United States of America since 1959. The islands have diverse landscapes with numerous volcanoes, natural waterfalls, lush forests and beautiful white-sand beaches. The climate is warm and comfortable year-round and attracts thousands of tourists as well as surfers from all around the world every year. The islands are home to about 1.5 million people and a large community of expats and digital nomads. English and Hawaiian are the official languages in Hawaii although only a small community of people still speak the native language.
The island chain consists of a total of eight main islands with smaller side islands. Over 130 islands are part of Hawaii, many of which are very small and uninhabited. The largest and most famous islands are Hawaii (also called the Big Island), Maui, Kauai and O'ahu. The island chain is of volcanic origin and still has several active volcanoes on different islands although dangerous outbreaks are extremely rare.
Hawaii is a tropical paradise and an extremely popular tourist destination. Due to its remote location living costs are quite high here and it might be tricky to stick to a budget. Hawaii is definitely worth it though and many digital nomads who come to the islands temporarily actually end up staying and making it their permanent home. The islands are especially popular among mainland Americans who are looking for a tropical paradise but aren't quite ready yet to leave their own country. Although Hawaii is a part of the United States it almost feels like its own little country. The culture is unique and the standards of living are very high making it the perfect place for digital nomads who are looking for a warm, tropical climate, beautiful beaches and a new place to explore.
Nomad Friendly
Value for Money
Internet
Workspace
English
Food
Safety
Health
Transportation
Friendly
Quality of Living
Living in Hawaii Overview
| | |
| --- | --- |
|  Meal, Inexpensive Restaurant | $18.00 |
| Domestic Beer (1 pint draught) | $7.00 |
| Cappuccino (regular) | $5.43 |
| Loaf of Fresh White Bread (1 lb) | $6.10 |
| Water (1.5 liter bottle) | $2.57 |
| One-way Ticket (Local Transport) | $3.00 |
| Basic Utilities (Monthly) | $282.08 |
| Internet | $66.61 |
| Fitness Club (Monthly) | $58.34 |
| Apartment (1 bedroom) in City Centre | $2,051.43 |
| | |
| --- | --- |
| Child Friendly | |
| Cultural Tolerance | |
| LGBTQ Friendly | |
| Traffic Safety | |
| Nightlife | |
| Large DN Community | |
| Young Community | |
| Proper Hygiene | |
| Clean | |
| | | |
| --- | --- | --- |
| Emergency Numbers | Police | 911 |
|   | Ambulance | 911 |
|   | Fire-fighters | 911 |
| Money Handling | Currency | U.S. Dollar ($) |
|   | Max ATM withdrawal | 1000 $ |
|   | Tipping | Yes |
| Communication  | Languages | English |
|   | Calling code | +1 |
|   | Time zone | UTC – 10:00 |
| Health | Tap Water | Drinkable |
|   | Vaccinations | Yes |
Digital Nomad Personal Experience in Hawaii
Hawaii is an absolute dream location for digital nomads. As a digital nomad, I love to live in places where other people would go on their vacation so it's no surprise I immediately fell in love with Hawaii. I have to admit that before coming here for the first time I did not actually know that there are multiple Hawaiian Islands. Tourists might simply "go to Hawaii" but if you're living on the islands for a while you'll notice that the distinction is very important.
I spent most of my time in O'ahu which is where the capital Honolulu and the largest airport are located. This means that most digital nomads tend to gather here and it's the best place to start in my opinion. You can always move to one of the quieter islands later on but I think for new digital nomads coming to Hawaii, O'ahu is the place to go. You'll find plenty of things to do and see here and the largest digital nomad community in the area. They might sometimes be a bit hard to find but once you've made a few connections you'll be integrated into the community quite quickly. My favourite things about living in Hawaii (or should I say O'ahu) as a digital nomad was the lifestyle. You might hear that Hawaii is expensive which is definitely true but for me, it was 100% worth it for the unique experience I was having.
Everything is very laid back and immediately feels like home. Of course, the incredible nature and scenery have a large role to play in that as well. Life simply has to be good when you're spending your lunch break surfing at the beach or hiking through dream-like landscapes. Hawaii is a little piece of paradise and should be at the top of every digital nomad's list of must-see locations.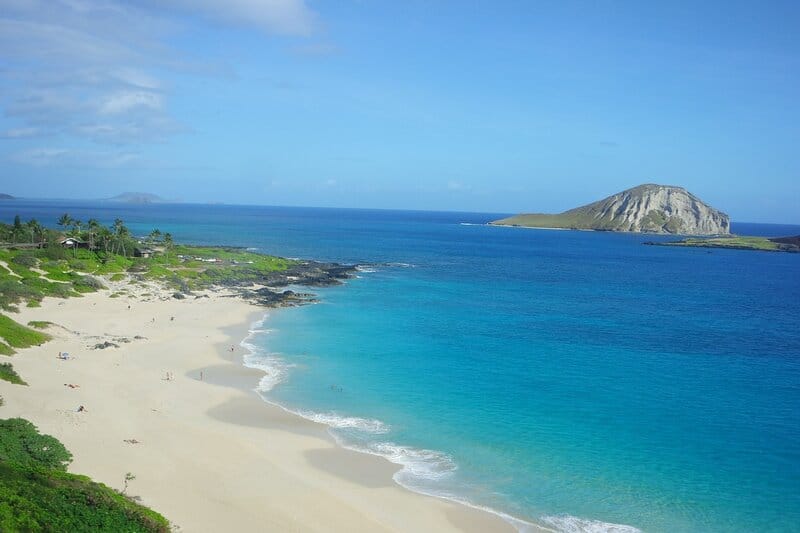 Work in Hawaii
Hawaii has a fantastic selection of little cafes and restaurants that are perfect for working remotely. Unfortunately, the internet connection can be a bit slow in some places, especially on the smaller islands. Your best bet at finding high-speed wifi will definitely be on O'ahu which is also the location of the best coworking spaces. 
Best Places to Work in Hawaii
Treehouse Coworking Space
Treehouse Coworking space has 2 locations on the island of O'ahu. One is in Kailua, only about five minutes by car from the beach. The other is in Kahala, closer to Honolulu. This coworking space prioritises the exchange of knowledge and encourages creative work and collaboration. In addition to a modern coworking space, there is an outdoor area to relax or work and a meeting room. The monthly fee is $250 for limited access from 8:00 am to 5:00 pm on weekdays or $325 for 24/7 access. Both prices include a $120 voucher for use of the meeting room, free coffee, a personal business address and 60 pages of black and white printing. There are regular social events that you get exclusive access to as a member. If social events are your main priority, they have a social membership for just $90 per month and day passes are available for 25$ from 8:00 am – 5:00 pm.
BoxJelly Coworking
BoxJelly coworking actually has two workspaces located in the south of Honolulu that you can use interchangeably. With their industrially furnished coworking spaces, these facilities foster creativity and thinking outside the box. Besides the usual amenities like high-speed internet, a locker for your valuables and various meeting rooms, there is also free parking, showers and super-friendly staff. Furthermore, the BoxJelly coworking spaces are pet friendly, so you can bring your four-legged friend along. For $275 a month, you'll get a membership for the hot desk area as well as unlimited access to common areas and events. Dedicated desks and private offices are also available.
Hub Coworking
Just a 5-minute walk from BoxJelly you'll find the Hub coworking space. This popular coworking space also has an industrial interior design that creates a friendly and open work environment. It consists of private offices as well as a large shared working space with a communal kitchen, meeting rooms and event spaces. Memberships are available in a variety of packages, with the monthly unlimited hot desk membership costing $285 and giving you 24/7 access to the building. Included in this price is a 100$ credit, which you can use to book meeting rooms. Furthermore, besides high-speed internet and the usual amenities, the Hub coworking also has surfboard storage, a bike rental, showers, weekly member lunches as well as free tea, coffee and even free beer at the end of the day. Fixed desks and private offices are also available for rent. Check out the website linked above and see which of their plans suits you best.
Sandbox Coworking
The Sandbox is a community centre located in Honolulu right by the University of Hawaii. Spread over about 1,200 square meters you will find a collaboration and event space, a digital media studio, a separate coworking space, meeting rooms and small private offices. The goal of this unique coworking space is to foster creativity, innovation and entrepreneurship and support every single one of their members. There are two different monthly memberships. For $125, you can get access to the collaboration space from 7:00 am – 6:00 pm Mondays to Fridays, free parking, whiteboards, and free use of private booths. For $375 a month, in addition to the above amenities, you will have a private desk with filing cabinets in the coworking space, 24/7 access to the building, free mail service, and credit for six hours of free use of the conference rooms. A day pass for access to the collaboration space starts at $15 and private offices are also available upon request.
Best Places to Live in Hawaii
Best Neighbourhoods
Hawaii consists of several islands and you should take your time choosing one that is perfect for you. Each one of the islands is beautiful in its own way although O'ahu is probably the most popular among digital nomads. This island is not only home to the Hawaiian capital Honolulu, but also to one of the larger international airports and other useful amenities for digital nomads, such as gyms, coworking spaces and nightlife. 
Other than Honolulu, O'ahu has many smaller towns and quieter areas to choose from. For digital nomads, Windward Coast and North Shore tend to be the most suitable places to live for a while although they can be expensive. Honolulu is also a fantastic choice because of its incredible beaches, lively nightlife, great restaurants and historic sites. As the capital city of Hawaii, you will find lots of things to see and do in this area. If work is your number one priority as a digital nomad, getting yourself a place in Honolulu is highly recommended. That way you will be close to a good selection of coworking spaces and networking opportunities. Honolulu is also one of the few places in Hawaii where you can live comfortably without a car as most things are within walking distance or easily reachable by public transportation.
North Shore is a bit quieter than Honolulu and closer to nature. Here you can find stunning nature reserves, waterfalls and the perfect sandy beaches. The seasons of spring, summer and fall are usually very quiet in this area. In winter, many surfers come to North Shore for some of the biggest surfing competitions in the world which attract thousands of visitors.
Windward Coast is located in the east of O'ahu around 45 minutes out of Honolulu. You should stay here if you want to get close to nature and appreciate the incredible beauty of the Hawaiian Islands. This area is a little cooler than the rest of O'ahu but also a lot greener. Here you will find pristine sandy beaches perfect for swimming and relaxing but, of course, there is also a lot to see and do close to Windward Coast and the surrounding area. Many hiking trails to viewpoints or waterfalls but also the Kualoa Ranch, the film location of Jurassic Park are located close by.
While O'ahu is a great choice for digital nomads, you shouldn't forget about the other Hawaiian Islands. On the Island of Hawaii (also called Big Island), for example, you should take a closer look at Kona which is a smaller town with plenty to see and do. The waters off the coast of Kona are very clear and calm and ideal for snorkelling if you are keen to discover the diverse underwater world of Hawaii. Furthermore, you will find many historical sights, restaurants and stores in the vicinity and beautiful rental properties to choose from.
If you want a little bit of everything that Hawaii has to offer, then you should choose to stay in Maui. This island has a fantastic mix of nightlife, beautiful beaches, great restaurants and outstanding nature. Especially the southern and western coasts of Maui are incredibly beautiful and a favourite among tourists. The town of Wailea and its surrounding area which are located in the south of the island are rather quiet and relaxed. This is the perfect place to stay if you are travelling with your family and kids. The town of Lahaina, located in the western part of the island is a bit busier than Wailea. Here you will find a colourful mix of nightlife, shopping, beaches, historical and cultural sights. Definitely consider finding a place to stay here if you value a laid back atmosphere.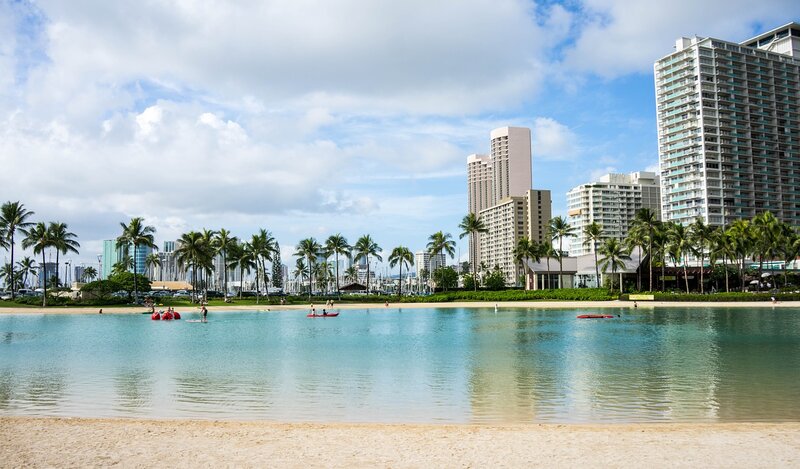 Find an Apartment in Hawaii
For digital nomads coming to Hawaii for the first time, it is recommended to stay in a hostel, hotel or Airbnb for the first few days before deciding on a long term rental. This is the easiest way to have a look at the different neighbourhoods and then decide where you want to stay permanently. You can, of course, book long term accommodation before you arrive in Hawaii, however, you might want to look at a rental first before committing or paying a deposit. There are always plenty of places to choose from on the islands so finding an apartment or house won't be a problem. In cities like Honolulu, most people live in condo apartments, some of which even have a beautiful ocean view. The prices of course depend on the amenities and location of the accommodation and can go as high as a few thousand dollars a month. 
Hawaii has a large number of tourists which means the rental market is expensive and highly saturated. However, most landlords only rent short term for very high prices or for leases of more than six months. This usually requires a deposit and signing a contract so if your visa only lets you stay in Hawaii for a limited amount of time finding a rental might be tricky. Expect to pay higher rent prices than you might read online since landlords will charge you short term prices. Your best chances of finding a rental for only a few months will be during the low season when fewer tourists are visiting the area. This means rental prices will be lower and the selection of houses and apartments will be much larger.
The best place to find a place to stay will be online. Make sure you're checking long term rentals, not holiday homes which will be far more expensive. Have a look at websites such as Zillow, Longterm Lettings, Apartments.com or Hotpads.
If you're coming to Hawaii with your family you might not have the time to go house hunting or look for the perfect place to stay. A great option is to hire a realtor or property agency to help you find a place. This might be a bit more expensive than finding a place to stay by yourself but you'll save a lot of time and won't have to worry about navigating the local laws. Hawaii has plenty of realtors who are specialised in expats and will cater to all of your needs.
Rental prices in Hawaii will depend a lot on location as well as the season. The islands are priced very differently and range from luxurious multi-million dollar homes to more affordable properties. In general, the Big Island (Hawaii) is considered more affordable for general living costs while O'ahu and Maui are more expensive. The others lie somewhere in between. However, don't let this be the main factor for deciding which island will be your new home. It's definitely possible to find something reasonably affordable on all islands if you look hard enough. That being said, rental prices are of course expensive in Hawaii. Depending on where you're looking, a one-bedroom apartment will easily cost around 1000$, most likely even more. If you're looking for something in Honolulu expect to pay at least 1500$ and a two- to three-bedroom house will cost well over 2000$. Again this depends a lot on the location and also the amenities of the property.
Cheap Places to Stay in Hawaii
Every digital nomad, of course, wants to pay as little as possible for accommodation, but with the best possible benefits. This is definitely possible, even in an expensive location like Hawaii. The cheapest option for finding a place to stay in Hawaii will most likely be to rent a room in a shared house. You only occupy one room and might share the bathroom with other people if necessary. Depending on the location, you could find a basic room for around $600 a month.
The Hawaiian Islands are very popular and a big hotspot of digital nomads. A good way to connect with like-minded people and find affordable accommodation is to utilise one of the many digital nomad Facebook groups that are popular in the community. Often you will find a few people who are either looking for someone to fill an empty room or someone interested in renting a shared house. This strategy will not only save you money but also connect you to other digital nomads and help you be a part of the local community.
If you don't mind sharing a room, you should consider staying in a hostel long term. These normally charge around $25 or more per night but sometimes offer discounts for longer stays. 
If saving money on rent is most important to you and you want to spend as little as possible on accommodation, then you will certainly find something suitable further inland. Here, of course, you will find little public transportation, but you get a lot for your money compared to the coast and other tourist hotspots.
Exclusive Member Benefits in Hawaii
Similar Digital Nomad Destinations
United States Visa for Hawaii
Hawaii is part of the United States of America, meaning you either need to apply for a visa or a so-called ESTA to be able to go there. Both of these are short-term options meant for tourists. It's very difficult to obtain a working visa for the United States and can even be next to impossible for foreigners. If you're planning on coming to Hawaii as a digital nomad you should be working entirely online since there are high penalties for working locally without the correct visa.

An American visa or ESTA will let you stay in the United States for 90 days at a time (there are longer ones available but these can be difficult to obtain). This means you will have to exit Hawaii after three months. Of course, these visa regulations depend on your own nationality but in general, this will be the case. ESTAs are relatively easy to obtain and can be applied for online. They are usually valid for an extended period of time and can even be used multiple times if you exit the country in-between visits. Of course, if you are an American citizen these rules do not apply and you can simply relocate to Hawaii and stay for as long as you like. If you're an international digital nomad who wants to stay in Hawaii for an extended period of time you might encounter some problems. The United States are quite strict with their long term visas and it's usually only possible to obtain one if you either have family in the country or if you are employed by a large firm that is sending you there. There are other options but they are very expensive and time-consuming so think carefully before planning to move to Hawaii permanently.
Culture and Food in Hawaii
Hawaii and its different islands have a very unique culture and, of course, dishes you won't find anywhere else in the world. Since the islands are isolated in the Pacific Ocean their culture remained unchanged for many years and produced fascinating customs and traditions. You'll love the delicious foods that Hawaii has to offer. One of the most popular ones is laulau which is made from the leaves of the Taro plant. These are often stuffed with pork or fish and cooked in an underground oven until they are soft and delicious. You'll find laulau on all Hawaiian islands and it's a very popular dish amongst both locals and tourists.
The Hawaiians love to cook in underground ovens which adds a unique smoky flavour to many dishes. The food is often left in the ovens for hours making it extra tender. Much like laulau, the famous Kalua pig is also cooked underground until the meat is soft and flavourful. Some people claim it reminds them of pulled pork so if you enjoy meat dishes this is definitely something that should be at the top of your list of must-try foods in Hawaii.
While laulau uses the leaves of the taro plant, the roots are actually a staple in Hawaiian cuisine as well. They are used to make poi, which is a common food you'll find in many Hawaiian dishes. The root is mashed and pounded to create a paste although the consistency varies from almost liquid to a thicker pudding. It's somewhat similar to mashed potatoes or yams but has its own unique flavour that is very difficult to describe. Definitely try it at least once while you are in Hawaii.
Then there is poke, a raw fish dish that is comparable to Japanese sashimi. This is a favourite among seafood lovers and is often considered one of Hawaii's top delicacies. Served with different sauces, vegetables and toppings this dish is a delicious and healthy food that will easily become your new favourite.
Hawaii has many traditions and customs that have become very popular among tourists. Many large resorts and hotels offer activities and shows for their guests to get to know the local culture better. While much of this is for show and to please the guests there are actually great authentic ways you can get to know Hawaii's culture during your stay. You might be familiar with the lei, a traditional garland of flowers, seashells or other natural materials that is worn around the neck or on top of the neck. It was formerly used to show the rank of native Hawaiians although today it is commonly given as a welcome present. You'll find different types of lei all around the island and hotels and other accommodation frequently present them to guests on arrival.
You might have also heard of the famous Hawaiian luau, which is another name for a celebratory dinner party or gathering. While the name luau actually stemmed from a mistranslation it has commonly been adopted and is now a popular tradition all across the Hawaiian Islands. A luau focuses on good food and good company and is always a fantastic way to end the day in Hawaii.
Hawaii Nightlife
The island of O'ahu is known for its diverse nightlife, with the most nightclubs and bars in Hawaii. Especially the areas of Chinatown, Downtown Honolulu and Waikiki are very lively and perfect for a night out. Here are some of the most popular bars and clubs in O'ahu:
With its breathtaking view over Waikiki from the rooftop terrace, this bar serving traditional Mexican cuisine has conjured up the perfect spot for drinks and dinner in the early evening hours.
This downtown bar has live music with a DJ on most nights and a great drinks menu. The beer selection is huge and there is something for everyone for decently affordable prices. The food is incredible as well and especially the freshly made pizza is a must-try.
If you value delicious cocktails and excellent service this bar is for you. Every evening there is live jazz music which creates a relaxed atmosphere perfect for unwinding after a busy day. Since the bar is located in a hotel it has a strict dress code. T-shirts, beachwear and flip-flops are not permitted.
The Beach House Aloha Tower is a great open-air bar with live music. You'll love the lively atmosphere in this one-of-a-kind location. With a view of the ocean, it's the perfect spot to enjoy a burger and a beer or two.
Despite its small dance floor, this club is full every night. The DJ usually plays a colourful mix of hip hop and house music and the atmosphere is always fantastic. However, a cocktail can cost up to 12$ so it's not the best place to go if you're on a budget.
The minimum age to get into this club is 23 which is very strictly controlled, so don't forget your ID if you want to visit District. It is a very modern club and the music tends to be RnB and Hip Hop. Admission is $20-30 for men depending on the event and there is usually a discount for women.
If you're looking for a change from clubs with live DJs, The Republik has different bands perform every night with all types of music. Check the event list on their website beforehand to make sure you are there on the correct night. If possible, buy your ticket online, as the lines can get very long for popular concerts.
Even if going to a busy bar or club is not for you there are still plenty of things to do in the evenings in Hawaii. Every Friday there is a fireworks show on the beach at the Hilton Hawaiian Village Hotel that you can't miss. If you want you can buy a ticket to watch the fireworks from the hotel pool, but you can also just watch from the beach for free.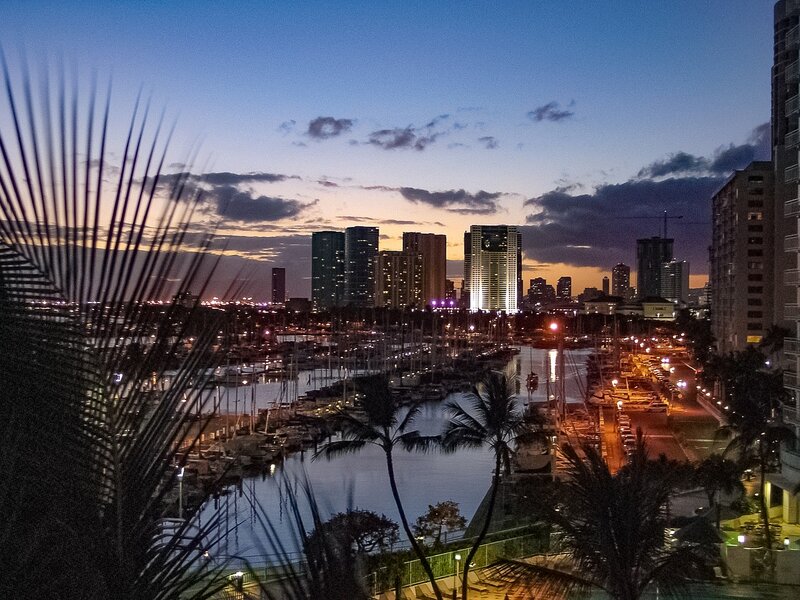 On the last Friday of every month, there is an event called Eat the Streets in Kaka'ako Park. From 4:00 to 9:00 pm, over 40 different street food stalls offer all kinds of different snacks and dishes. From pizza and burgers, homemade lemonade or something sweet for dessert, there is something for everyone here.
On the islands of Maui, Kauai and Hawaii you will find fewer nightclubs, but more relaxed bars with live music or karaoke. While there is still plenty of nightlife on these islands, O'ahu definitely has the best selection.
Things to do in Hawaii
Explore the Hawaii Volcanoes National Park

Located on the island of Hawaii is the Hawaii Volcanoes National Park which is a UNESCO World Heritage Site. Here you will find the most active volcano in the world, Mount Kilauea and the highest volcano in the world, Mauna Loa, as well as a museum and the Volcano Art Center. You can either walk on your own and visit the park via one of the many hiking trails or you can book a tour in advance, preferably via the internet. It is most likely difficult to see and do everything in one day at the Hawaii Volcanoes National Park, so coming here on multiple occasions here is highly recommended. There is an entrance fee of $30 per car if there are fewer than 15 passengers.

Island Hopping

If you have enough time in Hawaii and want to see all the important sights, you should definitely check out the other big islands. There is so much to see and do that you can spend multiple weeks and you still won't get bored. There are flights between the islands that you can take for island hopping and some ferries are also available.

Discover Hana Lava Tube

The island of Maui is the location of the Hana Lava Tube, or also known as Ka'eleku Caverns. These tube-shaped tunnels were formed when lava flowed from an erupting volcano as the outermost layer cooled and hardened. Keep an eye out for the famous lava balls which resemble a snowball as well as the frozen lava waterfalls. Admission to the caverns is $12.50 per person and is well worth the experience especially if you're visiting with kids. The tour through the tunnel system is self-guided and takes about 40 minutes. Always remember to wear sturdy shoes and no flip flops or sandals as it can be slippery inside the cave.

Admire the Akaka Falls

In the north-east of the Big Island, you'll find the approximately 135-meter-high Akaka Falls. This impressive waterfall should be high on your list of things to do in Hawaii and is the perfect photo location. A 700-meter long hiking trail through the lush tropical vegetation leads to great vantage points with views of the free-falling Akaka Falls. Nevertheless, the self-guided hiking tour is not to be underestimated, as it requires a certain physical effort and fitness level. The park is open daily from 8:30 am to 6:00 pm and costs 5$ admission plus a parking fee of 7$.

Hike the Koko Crater trail

Hawaii is probably most well-known for its stunning natural beauty and lush tropical forests. The Koko Crater hiking trail is often called "Nature's Stairmaster" or "Stairs of Doom" and is actually an abandoned railroad track. It was built by the US military for the construction of bunkers during World War II to carry supplies up the mountain. Today, the old tracks are officially used as a hiking trail, but it is not to be underestimated. The approximately 1,000 steps climb more than 330 meters in just under 1,5 km making it extremely steep and physically exhausting. The hike is rewarded with a breathtaking view of Hanauma Bay, the endless green vegetation of the mountain and the breaking waves of the ocean. Parts of the trail were not very well preserved over time, so you should be careful in some places. Wearing sturdy shoes and bringing lots of water is highly recommended.

Visit Iolani Palace

The Iolani Palace once served as the seat of the royal family of Hawaii and then as the headquarters of government for many years. Today this impressive building is open to visitors as a museum and has partly been restored to show how people used to live here. You can visit the original throne room, the state dining room, the royal suites and much more. A guided tour of the palace costs $27 per person although a self-guided audio tour is only $20. Tours last somewhere between 60 to 90 minutes approximately and tickets are available on-site or online.

Dive the Corsair plane wreck

The islands of Hawaii are home to an incredible underwater world. Off the coast of O'ahu, many wrecks were intentionally sunk to serve as artificial reefs. The Corsair Plane Wreck, however, lies on the seabed because during a routine operation in 1948 the engine failed and the plane had to conduct an emergency water landing. Fortunately, the pilot was unharmed but the plane sank and now sits on the bottom of the seabed almost undamaged. Today it is a popular place for experienced divers who dive here at a depth of about 30 meters along the anchor line. This area is known for strong currents, so hiring a boat with a guide is highly recommended. At the wreck site, you'll be able to spot garden eels, stingrays and many other marine animals.

Explore the abandoned Coco Palms Resort

The Coco Palms Resort was built in the 1950s and was the first luxury resort in Kaua'i. Stars like Elvis Presley and Frank Sinatra were huge fans of the once impressive hotel where a room cost around $400 a night. However, in 1992 a strong hurricane severely damaged parts of the Coco Palms resort and because the insurance companies went bankrupt, the damage was never repaired. Today, the resort sits untouched and empty, slowly becoming one with nature. Seeing the inside can be tricky and you should ask for permission before you enter if you see people around the area or on the property. Much of the abandoned complex has been preserved and you can admire the leftover furniture and imagine how this luxury resort must have once looked.

Discover the Blue Room

The island of Kauai is the location of an impressive wet cave also called "The Blue Room". The sunlight on the clear water in the cave creates a brilliant blue light, which gave the cave its name. The higher the water level in the cave the better the effect with the blue light. This cave has so-far been spared by the large crowds of tourists that come to Hawaii and can be considered almost a hidden secret that needs to be at the top of your bucket list. On the way to the cave, you drive along great sandy beaches and lush green pastures, which already makes it worth the trip. You can park close by at the "Ke'e beach parking overflow lot" which is easy to find on Google Maps. Keep an eye out for a small hidden path that will lead you directly to the cave. The floor of the cave can be very slippery so make sure you wear sturdy shoes and always hold on to something to avoid falling. Don't forget to pack your camera if you visit the Blue Room. The photos will be absolutely spectacular.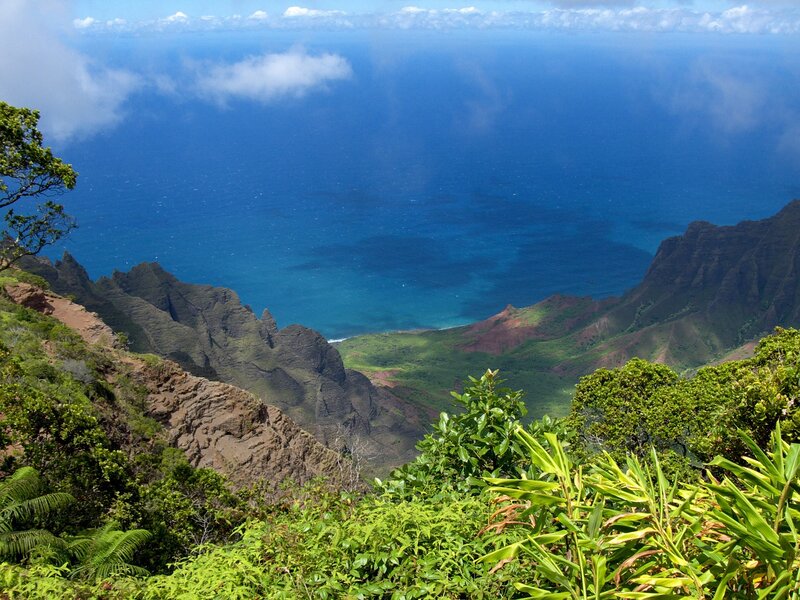 Best Time to Visit Hawaii
The weather in Hawaii is mild all year round with pleasantly warm temperatures and varies very little between summer and wintertime. However, keep in mind that, the humidity is around 70%, which makes the average daytime temperatures of 25°C (in winter) to 29°C (in summer) feel even hotter. At night time, temperatures tend to only drop a few degrees Celsius especially if you stay close to the coast. In Hawaii, every 100 meters of elevation means a drop in temperature of about 1°C, so if you travel to the higher parts of the islands, bring a sweater or thin jacket so you won't be cold. Hawaii usually never experiences any snow despite its high mountains, however, in 2019 it actually snowed for the first time on the island of Maui which came as a great surprise to all inhabitants.
It can actually be tricky to divide the months in Hawaii into a clear wet and dry season. Sometimes the winter is dry and warm and flooding can occur even in summer, although long rain showers are usually rare. However, generally, the summer months are warm, with lots of sunshine while in winter there are more frequent short rains and stronger winds. The nice thing about Hawaii's weather is that it changes so frequently. This means that you can go from rain to bright sunshine in a matter of minutes and will never have to worry about having to deal with rain for too long.
Hawaii's weather can be unpredictable and usually depends on location and altitude. To be on the safe side, it is always worth packing a light rain jacket or umbrella so you'll be prepared for spontaneous downpours.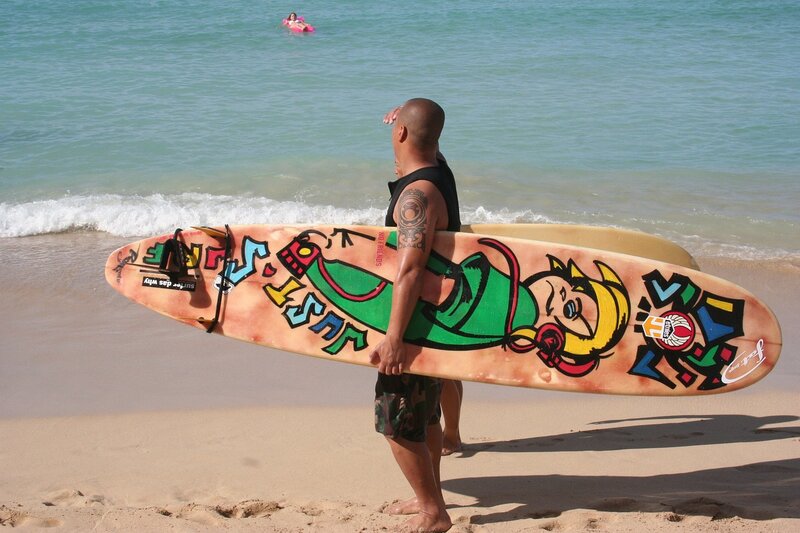 Hawaii for Families
The island chains of Hawaii are an absolute paradise, especially if you're a digital nomad travelling with children. Growing up by the beach and surrounded by incredible nature is a once-in-a-lifetime experience and will always be something that your kids will remember. Unfortunately, since the islands have such a remote location everything in Hawaii is quite expensive and travelling with the entire family means that having a car is an absolute necessity. School runs, doctor's visits and after school activities will make it really difficult to get around by public transport all the time especially if your children are still quite young.
The islands of Hawaii, Maui and O'ahu have a decent selection of schools for different levels of education. You'll find quite a few private schools on O'ahu which might be a good option if your children usually visit international schools, but they cost $10,000-$20,000 per year, which is not exactly cheap. 
Most children will love Hawaii's beautiful beaches of which there are fortunately plenty to choose from on the islands. Spend your days by the water as older children can enjoy snorkelling and water sports and the younger ones can play in the shallow waters. Another popular attraction for kids in Hawaii is the Sea Life Park which is located in the east of O'ahu. Here you can get to know the unique underwater world of the islands and observe sea turtles, sea lions, dolphins and many other animals. 
Going on a whale watching tour is another must-do experience for the entire family. From December to May many Kohola and humpback whales can be seen off the coast of the island chain. There is a wide variety of tour providers to choose from on each of the islands. Prices vary from 40$ to 85$ per person, depending on the size of the group and the type of boat. For more information check out this website here.
If you're a Jurassic Park Fan you absolutely need to visit Kualoa Ranch Private Nature Reserve. They offer fun activities for the whole family, with ATV rides, ziplines, horseback riding and much more. You'll feel like you're actually in the movies and might even encounter a real dinosaur. Check out their offers here; the kids will absolutely love it!
Living in Hawaii
Hawaii Transportation
For a longer stay on one of the islands in Hawaii, it is definitely worth renting or buying a car or scooter. It's very difficult to go sightseeing or explore the islands without your means of transportation so unless you are living in Honolulu you'll most likely need a car in Hawaii. You can find affordable rental cars on the websites Priceline.com and Hotwire.com for example but the rates vary of course depending on the season you come. If you already know that you're going to need a car during your stay, it is worth booking as early as possible to get the best rates. If you don't want to rent or buy a car, you'll be limited to the public bus system and expensive taxis or ride-sharing services. Here is a quick summary of public transport on the major islands of Hawaii.
O'ahu
The island of O'ahu has the best coverage of buses with regular departure times. On their website (TheBus) you can find a map with all the stops, plan your journey and see schedules for different routes. The buses stop at most tourist attractions although more remote locations can be tricky to reach.
Maui
On Maui, you can take the bus (Maui Bus) between the different communities in Central, Haiku, Kula, Upcountry as well as South and West. The routes are not as extensive as in O'ahu but still lead to most tourist attractions.
Kauai
The island of Kauai, like Maui, has a smaller but convenient bus network. You'll be able to get to most places although you might have trouble finding a bus late at night (Kauai Bus).
Hawaii (Big Island)
In Hawaii, you should have no problems taking a public bus (Hele-On Bus). They run regularly and stop at all strategic points. For times and routes, you can check the map on their website.
Lanai and Molokai
Unfortunately, there are currently no public buses on either island, so you will have to resort to other means of transportation.
On some of the islands, you will also find free buses that take you to important locations. The routes can be found on the respective websites so make sure to check them out if you're on a budget. A normal bus ride costs around 2$ one-way but there are also hop-on and hop-off buses that will be slightly more expensive. If you can't find your stop on the bus websites, you can find the nearest bus route on Google Maps as well as departure times.
Besides the public buses, there are also taxis, shuttle services and Uber that you could use to get around. Always make sure your taxi driver uses a taximeter to avoid overpaying and scams. 
If you want to get from one island to the next, the easiest way is to fly. Each of the larger islands has its own airport although connecting flights can be expensive. A ferry is also available as an alternative to flying, but it does not operate between all islands. The ferry only runs between Moloka'i, Maui and Lana'i and costs $30 per person one way ($20 for children). For exact departure times, check out this website, where you can also buy your tickets.
Fitness and Health
When you think of Hawaii, you think of sun, beaches and surfing. The climate is perfect for spending time outdoors and whether it is on a surfboard in the water or on a hike to the top of one of the many volcanoes, you will definitely sweat a lot here. Many of the beaches are perfect for jogging or riding a bike, which is a great way to explore the area and get to know the islands.
Of course, if you're not a fan of the warm temperatures and high humidity you can also work out in an airconditioned gym. On the island of Hawaii, the selection of gyms is quite limited and expensive at an average monthly fee of $109. On O'ahu in contrast you'll find a lot more gyms to choose from and monthly prices are much lower at around $60. You'll get considerable discounts if you're willing to sign a long term contract though so consider if this is an option for you. Sometimes there is an additional registration fee so keep that in mind before you sign up. There are few or even no gyms at all available on the other Hawaiian Islands.
If you enjoy martial arts you'll be pleased to know that some gyms also offer training in boxing, muay thai or MMA. The prices vary greatly depending on the gym but if you book multiple lessons you'll most likely be able to get a good price.
Whether you are a beginner or a pro surfer, Hawaii offers the perfect wave conditions for every experience level. If you don't have your own surfboard, you can easily rent one in one of the many surf stores. Expect to pay 20-30$ for 4 hours and up to 50$ for the whole day. For beginners, it's always a good idea to hire a surf teacher to help you out in the beginning. Lessons will cost somewhere between $40 and $125 per hour, depending on where you want to surf.
Hawaii People
The islands of Hawaii are a very ethnically diverse place and pride themselves in being very multicultural. There is no racial majority and with a population of just under 1,5 million, you'll find people of all backgrounds and ethnicities. A large number of people living in Hawaii are Asian or white although there is of course also the native Hawaiian population who are sometimes also referred to as Pacific Islanders. Due to its unique location in the middle of the Pacific Ocean, the people of Hawaii were actually isolated for many hundreds of years after Polynesians settled on the island many hundreds of years ago. This is partly why Hawaii has very distinct traditions and a culture that cannot be found anywhere else in the world. It's, of course, a paradise for tourists who love the friendliness of the people and the laid back lifestyle.
Hawaiians are known to be very welcoming and open towards their many visitors. You'll find a good mixture of actual Hawaiians who have lived there their whole lives as well as expats who have chosen these incredible islands as their home. Of course, in recent years a growing digital nomad community has settled in Hawaii although the high prices have caused some to shy away from relocating here.
You definitely won't find the bustling digital nomad hotspots in Hawaii that you might be used to from South East Asia, southern Europe or even South and Central America. Hawaii is definitely a lot more exclusive and more popular among American digital nomads rather than the more international crowd you'll find elsewhere. It can only be predicted that the islands will become more and more popular in the future though. 
Almost everyone in Hawaii speaks English which is to be expected since it is part of the United States. However, you have to consider that it is geographically very far away from the mainland so of course, these islands are unlike what you might be used to if you've been to the US before. Native Hawaiians have their own language which is not as widespread as it used to be but definitely still in existence. Of course, you'll know the famous term "Aloha" which is the Hawaiian way of saying hello. You'll come across many other Hawaiian terms during your time on the islands and maybe even pick up a few basic sentences. The language is quite beautiful as you can tell by the names of the Hawaiian Islands. The name "O'ahu" means gathering place while "Maui" refers to a popular folk hero and deity who has become very common in popular culture.
However, it is not necessary to learn the language before coming to Hawaii. You'll be able to communicate everywhere with just English. If you are interested in learning Hawaiian you'll find small local language groups that will offer lessons. However, due to the fact that only a few thousand people actually speak the language fluently, this is not a widespread activity so it might take some time to find someone to teach you properly.
Hawaii Insurance and Medical Care
In the United States, medical care is known to be very expensive if you don't have insurance. Even simple treatments can cost thousands of dollars so don't relocate to Hawaii if you do not have adequate insurance. In most cases, it's advisable to obtain insurance from your own home country which applies to different countries around the world. This tends to be the most affordable option for digital nomads although there are exceptions.
The United States is definitely a place where you should always have insurance even if you're only spending a few months in Hawaii. The potential costs of treatment are astronomical so it's not worth the risk. Many health insurance companies actually charge more for the United States so always double-check if your policy includes it. Sometimes you might have to pay an additional charge so it's worth checking before you go.
All this being said, luckily Hawaii has excellent medical care even for more serious issues. A lot of wealthy Americans retire here which means you'll find world-class facilities and specialists. The best hospitals can definitely be found on the island of O'ahu which is where Honolulu is located. Some of the other islands have much smaller facilities so serious issues are almost always transferred here. If you want to have peace of mind and know that you'll always be close to great medical care you should definitely choose to stay in O'ahu. For minor issues, doctor's appointments are usually easy to book without long wait times.
Make sure you are fully covered by reading our full Digital Nomad Travel Insurance guide.
Jobs in Hawaii
Keep in mind that you need the correct visa and work permits to earn money locally in the United States. This is very difficult to obtain as a digital nomad and is usually only possible if you apply for a skilled local job with a large company. You'll need a green card to be able to work legally in the United States, which is the name of the work permit foreigners need. The process of obtaining one is lengthy and complicated. If you do not have a close family member who is American or an existing job in the US it's most likely not worth it.
However, if you want to relocate to Hawaii permanently this will be the best strategy to do so. Apply for jobs in a relevant field and always disclose your visa situation before you accept a job offer. The employer might be able to help with work permits although this is mostly the case for large companies. Of course, all of this only applies to non-American citizens. As an American, you can work in Hawaii and earn money locally. Since the islands are quite small, the remote job market is not very large though.
Wages can be low and since living costs are so high finding a casual job might not be sustainable to support a digital nomad lifestyle. Make sure you're earning enough as a digital nomad to cover all your expenses before you decide to go to Hawaii. There is no guarantee you'll be able to find work quickly and bills will soon start to add up.
Check out our Digital Nomads Jobs Postings to find the best jobs available for Digital Nomads.
Nomad Friendly
Value for Money
Internet
Workspace
English
Food
Safety
Health
Transportation
Friendly
Quality of Living
Cost of Living Hawaii
Hawaii is located very far away from the mainland so everything here is a lot more expensive than what you might be used to. Since goods need to be transported by plane or ship you'll pay a lot for daily items that aren't produced on the island. You might have to adjust your lifestyle slightly if you want to live in Hawaii on a budget. Eating out and nightlife will cost you a lot so cooking at home is highly recommended.
Rent will be your largest expense of course and if you want to have a decently sized space you'll easily pay 2000$ per month. If you want to lower these costs slightly you should consider joining a share house instead which could be as affordable as 600$ per month if you're lucky. You also need to consider that if you truly want to experience Hawaii you need to have a car to get around. You could either rent one for a while or buy one if you plan on staying longer. This will be a considerable investment and will add costs like insurance and gas to your list of expenses. Definitely budget carefully before you decide to move to Hawaii as a digital nomad. You'll be spending more than you expect.
Sample expenses for one month
Essential costs
1200$ basic one-bedroom apartment

150$ bills for water, gas, electricity, wifi 

100$ public transport

300$ groceries 

50$ cell phone plan
_________________
≈ 1.800$ total per month
Optional costs
400$ eating out and nightlife

270$ membership at a coworking space

100$-200$ health insurance (varies greatly according to country)

300$ budget for day-trips

60$ gym membership

150$ gasoline