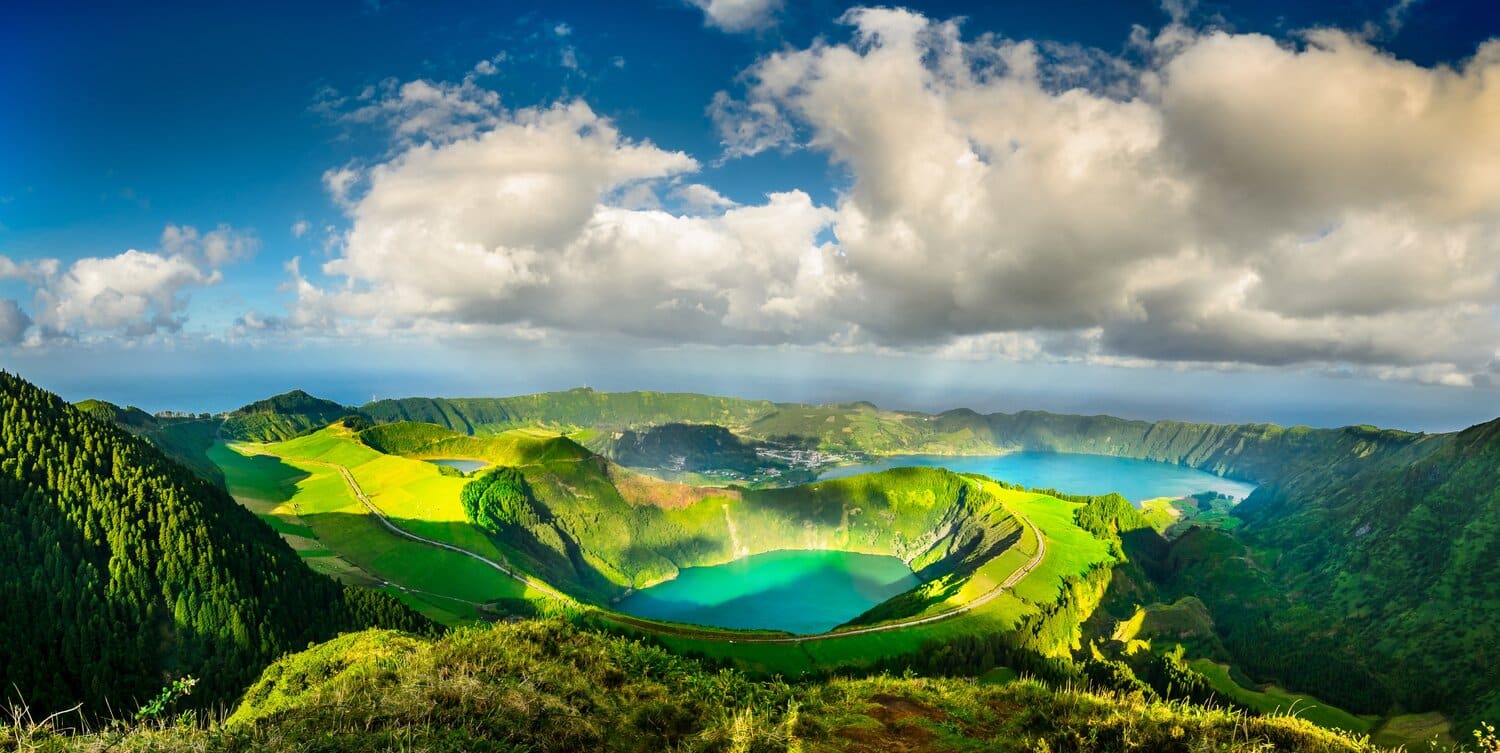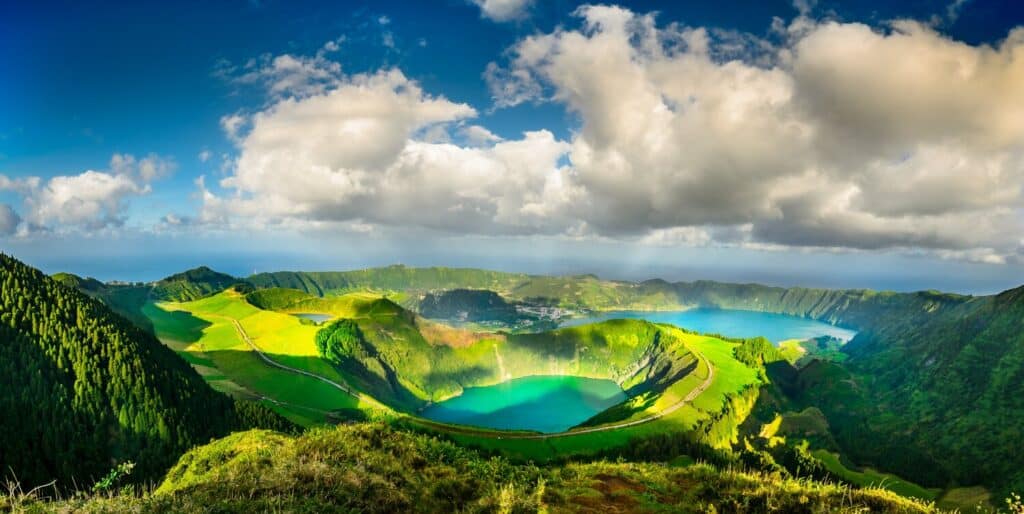 A Digital Nomad Guide to Azores
The Azores are a chain of islands located in the Atlantic Ocean about 1300 km from the Portuguese mainland. They consist of nine large islands and several smaller ones, which form an autonomous region belonging to Portugal. Their location is extremely remote, and even some of the individual islands actually lie more than 100 kilometres away from each other. Internationally, the Azores are not the most well-known destination, although they have become popular among European tourists over the past years. Flights are becoming more and more affordable as low-cost air carriers are implementing new routes to help tourists reach the Azores.
Distributed across an area of about 2350 square meters, almost 250,000 people live on the Azores. Around 600,000 tourists visit the islands every year, and a growing number of digital nomads choose to call them their temporary home. In addition to tourism; agriculture and cattle breeding are the main occupations on the islands, and most of the landscape is quite rural. Come here for hiking, swimming and lots of other outdoor activities. This group of Islands is truly unique with its fascinating history, active volcanoes, versatile nature and incredible underwater world. Each island has something different to offer, like waterfalls, volcanic caves, natural swimming pools or black-sand beaches. The Azores are sometimes described as the "Hawaii of the Atlantic Ocean" and definitely deserve this title. While their climate is far less tropical, the volcanic setting and maritime lifestyle do resemble Hawaii. Luckily the Azores are far less expensive and an excellent place for digital nomads who are looking for an experience close to nature on a budget. You won't find as many remote workers or expats in general on the Azores as in the rest of Portugal. However, the community is very tightly-knit and welcoming to newcomers who haven't been to the islands before.
Nomad Friendly
Value for Money
Internet
Workspace
English
Food
Safety
Health
Transportation
Friendly
Quality of Living
Living in Azores Overview
Digital Nomad Personal Experience in Azores
The Azores are a truly magical place, and coming here as a digital nomad is highly recommended especially between the months of May-September. If you're looking for a place off the beaten path and genuinely unique, then the Azores are a perfect choice. Everything here is all about nature and the great outdoors. The digital nomad community is small, mainly because the Azores are somewhat of an insider tip and not as popular as destinations like Mexico, Bali or the Philippines when it comes to remote workers.
However, these beautiful islands have a lot to offer and might just be your new favourite place to live and work. Despite their remote location, the Azores are actually not as expensive as you might expect. If escaping the tourist crowds is something you're trying to do, then definitely give it a try. Don't come here expecting to find packed clubs and beach parties but also don't make the mistake of assuming that nothing ever happens here. The Azores have just the right amount of events and nightlife without turning into an overly touristic destination that has lost its authenticity.
I'd recommend the Azores for digital nomads who want a break from busy cities and crowded beaches and get back in touch with nature. Families who love being outdoors or remote workers who want to take some time to settle down for a while and try out slow travel should definitely come here and enjoy the incredible beauty of the Azores. Working and travelling at the same time should be about trying new places that some people might not have heard of before. If you find yourself returning to a handful of spots over and over again, it might be time for a change, and the Azores are the perfect choice for that. You might just find yourself falling in love with these unique islands.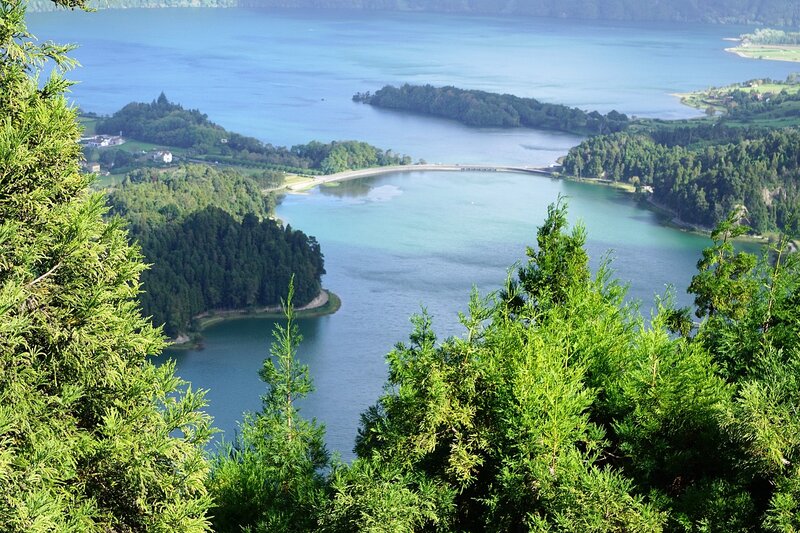 Work in Azores
Best Places to Work in Azores
You'll find the majority of coworking spaces on the island of Sao Miguel, which is the most densely populated. Of course, there are cafes and restaurants that can be used as workspaces available on all islands, however, not all offer wifi. Luckily, there are some great affordable coworking space options to choose from, so getting a membership is highly recommended. Here are some of the best ones.
UnOffice
Located in the southwest of São Miguel, the UnOffice coworking is located just a quick 10-minute walk away from the harbour. This coworking space emphasises collaboration, sharing ideas, and creating a strong community. The workspace offers modern furnishings, plenty of light, high-speed internet, a cafe, meeting rooms and private offices on request. Furthermore, workshops and training sessions are provided for members on a regular basis. Prices are available on request, and a coliving combination is also possible.
One Solmar Business centre
Overlooking the harbour in Ponta Delgada, the One Solmar Business Centre offers different types of workspaces perfect for digital nomads. You can choose between a coworking space with reserved tables, private offices and a virtual office option. A lounge and dining area, high-speed internet, meeting rooms, lockable drawers, AC and 24/7 access are available to all members. The monthly fee is around $130 for the open plan area, although there is a surcharge for reserved seating. A day pass from 9:00 am and 10:00 pm costs about $13.
CEmpA Workspace
CEmpA Workspace offers different types of offices that you can rent on a monthly basis. This coworking space costs just $95 per month, making it one of the most affordable. For this price, you will have access to a locker, high-speed internet, and a meeting room for 2 hours, as well as access to the common area. A private office starts from $180 per month, which includes a table and three chairs on about 7 square meters. The possibility to set up a postbox is available for around $20 per month.
Dwell Azores

Probably the most laid-back coworking space to work in on the islands is Dwell Azores. With a view of the sea, swing chairs and a terrace, this coworking space is all about enjoying island life while you work. The team regularly organises meetings and events for members to share and exchange ideas. In addition to the usual amenities such as fast internet, a shared kitchen, there is also water, coffee and even a wine flat rate available to members. There are also showers on-site, so you can come here straight from the beach. Dwell offers daily ($12), weekly ($60) and monthly ($110) rates as well as on-site coliving.
Novovento Cowork & Coliving
On the west coast of São Miguel, you will find Novovento Workplace. This is far more than just a coworking space and feels more like a guesthouse with attached workspaces. The Workplace is equipped with super high-speed internet, desktop monitors, AC and a fantastic sea view from your desk. The terrace overlooking the ocean might have an even better view, though, so grabbing your laptop and working from here is highly recommended. At Novovento's, you can enjoy a lot of social events, like an after-work barbecue or outdoor activities together with other digital nomads living here. You can book a single, double or shared three-bedroom, and the use of the coworking space is included in the price. The rent for a single room (long term) lies at around $36 per night.
VilaWork
VilaWork is a small coworking space located in the northern part of Sao Miguel, not far from CEmpA Workspace. Inside the building, you will find private offices, meeting rooms, event spaces, a computer room and of course, a coworking space. The monthly membership costs $59, which includes 24/7 access to the building and lots of useful amenities. Of course, VilaWork has high-speed internet, air conditioning and a comfortable lounge area to relax in on your lunch breaks. The space has lots of natural light and provides its members with their own personal locker. Private offices are available upon request and start at $180 per month.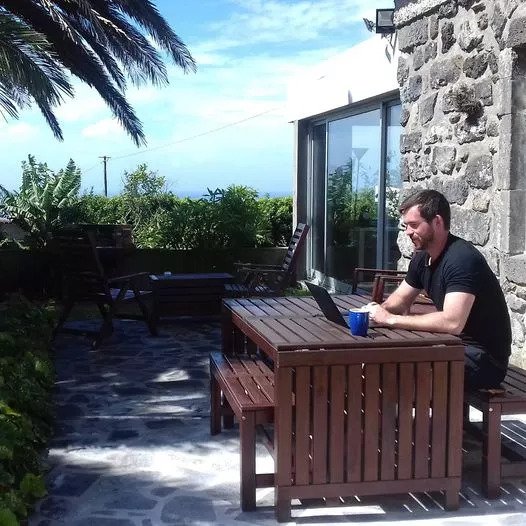 Best Places to Live in Azores
Best Neighbourhoods
The Azores consist of nine major islands, which are clustered together in three different groups. The central group is the largest and includes Terceira, Sao Jorge, Pico, Faial and Graciosa. In the west, you'll find Flores and Corvo, and Sao Miquel and Santa Maria are located in the east. You need to keep in mind how far away these groups are from each other, and switching between them is not always quick. Most people coming to the Azores will visit more than one island though, as they're all very different from each other, and it's worth seeing as many as possible.
Sao Miguel
Sao Miguel is the largest island of the Azores and also the most densely populated, with over 140,000 people living there permanently. Ponta Delgada is the capital city of the Azores and is located on the island. If you're coming to the Azores for the first time, this is a great place to start as it's the location of the largest airport on the islands. Sao Miguel has a little bit of everything and is a fantastic place to get an overview of all that the Azores have to offer to both tourists and digital nomads. If internet speed is important to you, we highly recommend staying somewhere close to Ponta Delgada as the connection can sometimes be a bit problematic in more rural areas. Sometimes considered the greenest island of the Azores, Sao Miguel has a great combination of volcanoes, beaches, hot springs and plenty of wildlife. This is arguably the best place for digital nomads on the Azores because of its co-working spaces and accessibility.
Terceira
Terceira is the second most populated island of the Azores. This is probably the best spot for nightlife, so consider staying on Terceira if you enjoy a more lively atmosphere. While you won't find too many busy clubs on the island, there is an excellent selection of bars and live music venues. Of course, like all of the islands of the Azores, the natural beauty of Terceira is astonishing, and there are plenty of outdoor activities such as paragliding or scuba diving to choose from.
Santa Maria
Santa Maria has the southernmost location of the Azores, which means the climate here is mild, and the scenery looks slightly different from the rest of the islands. It's a very laid back island with not too much going on, so come here if you value peace and quiet.
Graciosa, São Jorge, Pico and Faial
These islands are great for sightseeing and weekend trips and are considered one of the main capitals for sailing pit stops and ocean life lovers. They are very quiet and rural with lots of opportunities for adventure sports and hiking but not much else. The internet has improved drastically here over the last few years and you can now roam the web at as high a speed as any other main city in the world. Faial is also home to one of the more Digital Nomad Friendly environments I have ever come across and includes comfortable co-working and co-living facilities along with restaurant and cafe's to work from.
If you're up for a cultural adventure, check out the wine tasting in Pico, a great experience with incredible views!
Corvo and Flores
Corvo and Flores are the western islands of the Azores and are both very small and remote. Only a small number of people actually live here, and much of these islands is a protected natural reserve. Most people come here only for a few days, so they might not be the best spot for digital nomads.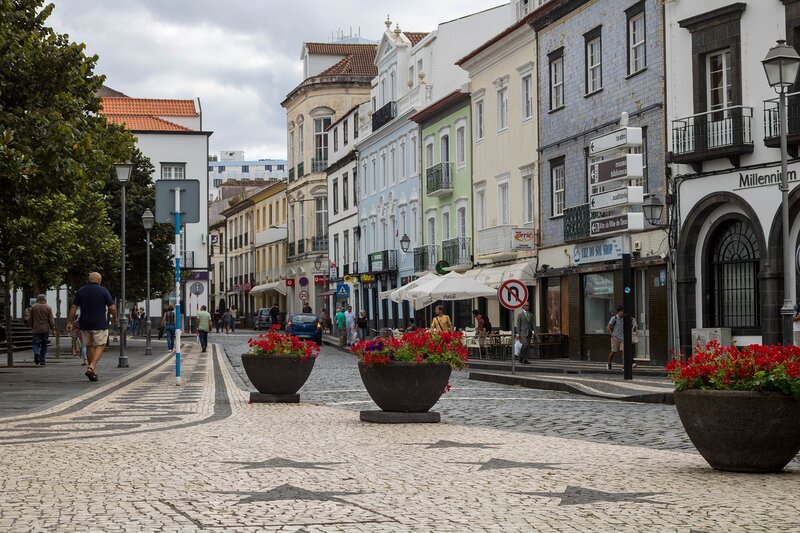 Find an Apartment in Azores
Finding an apartment or house in the Azores is not too difficult. The islands are relatively unknown and have not experienced an extreme tourist boom, such as the nearby Canary Islands or Madeira. If you have some time to spend on house hunting, you should definitely wait to rent an apartment until you arrive on the islands. You can find a place to rent for the first days or book a hotel or Airbnb until you decide on a more permanent spot. Then you can take your time and compare different islands to figure out which one is right for you. This will help you find the perfect place to stay and avoid any disappointments on arrival. Since the Azores have so many different islands to choose from, it can be challenging to figure out where to rent an apartment. Prices will vary depending on which island you're looking at, although they tend to all be reasonably affordable. You can get a lot for your money here, considering they're so beautiful, making the Azores a highly underrated digital nomad place. If you've ever dreamed of island life on a budget, you'll be pleased to know that the Azores are the place to go. Depending on the location, you can easily find a 2-bedroom house or apartment for around 550$ per month. This will usually be furnished, and utility prices will be pretty low since the climate on the Azores is so mild. In winter, you won't have to spend too much on heating and summers are usually not too hot, so there isn't a need for constant air-conditioning.
While long term rentals are easy to find on the larger islands, some of the smaller ones like Flores or Corvo will only have a minimal amount. They aren't the best locations for digital nomads, but you should search for an apartment or house in person rather than online if you chose to stay here.

Even in the capital city Ponta Delgada, the rental prices are very reasonable. You'll pay around 650 to 800$ for a two-bedroom apartment with a central location. This also depends on seasonality, of course, as many landlords are renting out their apartments on a short term basis during the high season in summer. It's therefore advisable to go house hunting in the months of October or November or early in the year in January to March.

Looking for an apartment in person is highly recommended for digital nomads looking to come to the Azores long term. However, if you're unable to spend time on house hunting or want more security, you can definitely find a place online. Have a look at the websites Idealista or Longterm Lettings.com for a good overview of what's available. Make sure to get any contracts you're signing translated from Portuguese into English, so you don't have any risk of misunderstandings. Try to look at a property in person before you pay a deposit or commit to a contract to avoid disappointments or scams. This is not a frequent occurrence, but you should always be on the safe side when renting abroad.
Cheap Places to Stay in Azores
Accommodation on the Azores is very affordable, so even if you're on a budget, you won't have trouble finding an affordable place to stay on these beautiful islands. Most of the islands have very similar prices, although the availability of accommodation tends to be a bit more limited on the smaller islands. The absolute cheapest way to live on the Azores will be by renting a room in a home somewhere. This will be mainly with local families who have a spare room and sometimes even provides meals for their tenants. This isn't always the case, though, and you might be charged extra. You will most likely be able to find a room under 200$ and even as low as 150$ for a very basic one. The location won't be very central, but if you're on a budget, this is incredibly cheap. If you want a bit more privacy during your stay on the Azores, you'll find basic one-bedroom apartments for around 350$, some even located in the city of Ponta Delgada. Of course, you'll have to pay utilities as well, but these rarely go above 100$, most likely less. 
While the Azores only have a very limited number of hostels, you could also consider renting a room in one for a while. You'll most likely be able to negotiate a reasonable price if you're staying for a while, especially during the low season when fewer tourists visit the islands. Some places might even offer work for accommodation opportunities where you won't have to pay anything but will do basic cleaning or maintenance duties a few hours per week. In any case, the Azores are incredibly affordable and a fantastic choice for digital nomads on a budget.
Azores Visa
The European Union lets its residents move freely between countries without the need for visas or even passports. If you are from a country in the EU, you can simply move to the Azores without any further need to apply for a visa. However, after three months, you will have to apply for a registration certificate which is usually easy to achieve. However, this process is rarely monitored so it is only really necessary if you plan to stay for an extended period of time.

For international digital nomads from outside of the EU, the process of getting to Portugal is a lot more complicated. You will have to apply for a Schengen visa which is valid for three months and lets you move freely around the European Union. You'll be able to switch between countries without issues, so this visa is very convenient. However, it cannot be extended, making it very difficult to stay longer than three months. You will have to exit the EU and re-enter after a designated time period. It's, therefore, a lot easier to keep your stay on the Azores limited to three months which will keep you from having to worry about visas. If you want to stay longer, you should apply for a long term visa with a Portuguese embassy on the mainland. This process can be expensive and time-consuming. Not all applications are granted, so consider carefully whether this is the right choice for you.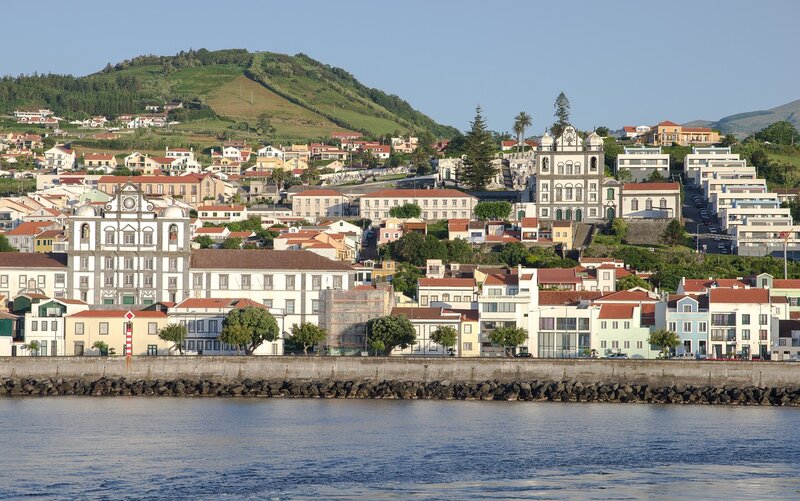 Culture and Food in Azores
The Azores are incredibly isolated, so they have a very unique culture and cuisine that is distinctly different from the rest of Portugal and Europe. One of the most famous products that the islands produce is actually cheese. Around half of the cheese in Portugal originates from the Azores. It is mainly produced on the island of Sao Jorge and has made the Azores world famous. Sometimes compared to Parmesan, the Sao Jorge cheese is meant to be tangy, salty and even a bit spicy. The cheese is produced from cow's milk, making it creamy with a unique taste. The cows on the Azores live a happy life grazing on lush pastures overlooking the ocean. This is meant to make the cheese better than any other and one of the most important products produced on the islands.
Of course, islands located in the middle of the ocean produce a lot of seafood. The Azores are primarily known for their great tuna, where one fish can weigh several hundreds of pounds. Most of the tuna caught off the shore of the islands is actually exported to Japan, but of course, you'll still find many local restaurants offering fresh fish and seafood. Definitely try all the grilled fish dishes that are commonly served on the island and will leave you wanting more.
One of the most incredible and unique dishes prepared on the Azores is the Cozido das, Furnas. It originates in the small town of Furnas, located on the island of Sao Miguel. This is the only town where it is prepared authentically, so definitely make sure to try it here. What makes the Cozido das Furnas special is the fact that it is cooked in an actual volcano. Holes are dug in the volcanic soil, which emits geothermal heat. The Cozido is then slow-cooked for many hours, making the contents tender with an incredible flavour. Cozido can consist of many different things but is traditionally a mix of various meats and vegetables forming a sort of stew. To go with your Cozido das Furnas make sure to order a local wine which pairs really well. The Azores produce different kinds of wines, and the whites especially are absolutely delicious. The island of Pico has actually been named a UNESCO world heritage wine region.
Many of the dishes traditionally served on the Azores are soups or different types of stews. This originates from a time of volcanic eruptions in the islands where resources were limited, and cooking involved whatever was available at the moment. The so-called "holy ghost soup" includes a mix of bread, broth, different meats and vegetables. It is commonly served on the Sundays after Easter and is hearty and delicious. Some traditional stews also include seafood like octopus or other types of fish.
The Azores are also famously home to the only tea plantations in Europe, making tea an important beverage on the islands. On Sao Miguel, you'll find multiple tea producers who offer tea tastings and unique blends, making the perfect gift to take home to friends and family.
Azores Nightlife
The Azores are quiet islands and aren't really known for their exceptional nightlife. You'll find a good selection of bars and small nightclubs where live music is played, but don't expect a huge nightlife scene. If you do plan on going out in the evenings, here are some of the best spots on the islands.
Cella Bar
Cella Bar is located on the island of Pico overlooking the Atlantic Ocean. It's a bar and a tapas restaurant and makes for a great place to relax both during the day and in the evening. Located in the port town of Madalena, Cella Bar often offers live music and always serves excellent drinks. Tourists and local Azoreans who enjoy the breathtaking view with a glass of wine gather here regularly for a fun night out.
The Gin-Library

The Gin Library is the perfect spot for gin lovers and offers a great selection of different gins to try. The experienced staff will teach you all you need to know about local gin production while you taste your way through the large selection of spirits. If the weather is nice, you can sit outside, although it's almost cosier inside. Make sure you book a table before you go, as the bar is very popular.
Arco 8
Acor 8 is an old warehouse that has been converted into a bar. They offer regular events with live music that attract both locals and tourists. The drinks are not too expensive, and the atmosphere is generally relaxed. 
Bar Do Pi
The Bar Do Pi is a beautiful spot with lots of space and a great outdoor area overlooking the water. On some nights they'll have live music or a DJ and happy hours with special offers. The cocktails are delicious and the perfect way to cool down after a long day. A small beer only costs about 1$ making the Bar Do Pi one of the most affordable spots around. Definitely come here if you're visiting the Azores on a budget.
Chaminé Club
On the island of Santa Maria, you'll find the Chaminé Club, which is one of the few nightclubs in the area. There are two floors playing different music, so you'll get to choose which one fits your needs. In addition to tourists, the club has lots of local visitors as well. Drinks are very affordable for a nightclub, so this is the perfect spot to dance the night away on the Azores. It does tend to get quite crowded here later in the night so try to arrive before midnight to get a little space on the dancefloor. They usually have special events going on, so have a look at their Facebook page for more information.
The Twins Club
This is an older club, located on Terceira, which offers live music on two different floors. The atmosphere is laid-back and feels more like a lively bar than a club. Come here to have drinks with friends and to relax and unwind after a long day of work. With different music styles available, The Twins Club has something for everyone.
Lava Jazz lounge
The Lava Jazz lounge often puts on live music, and their events are very popular among the local Azoreans. It doesn't matter whether you're a fan of jazz, this bar is an absolute must-go place, especially if you're new to the island. This place is all about the music and creating a good atmosphere. Located on the southwest coast of São Miguel island, the Lava Jazz Lounge can be a bit tricky to reach, and you will need to either drive or get a taxi to get there.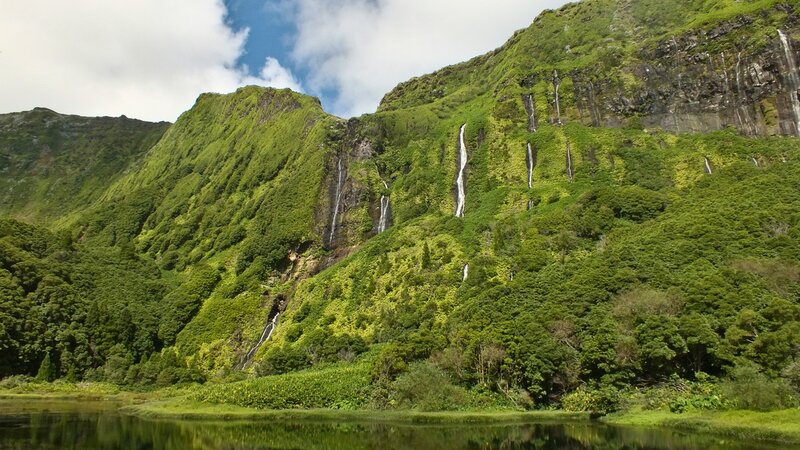 Things to do in Azores
Whale Watching

Whale watching is one of the best things you can do on the Azores and a once-in-a-lifetime experience. More than 20 different species of whales can be spotted close to the islands, making it the perfect spot for first-time whale-watchers. Since some whale species do not tend to leave the area around the Azores to migrate, you will be able to see whales year-round. Most boat companies guarantee you'll be seeing whales on your trip, and it is very rare for tourists to not spot any. Dolphin and whale watching tours always last a few hours and can be booked on several of the islands. Prices vary depending on the length of the trip but will generally be reasonably affordable.

Explore the rich underwater world

The Azores have an incredible underwater world and are a perfect spot to learn how to scuba dive. In addition to seeing whales and dolphins, the underwater world of the Azores is absolutely breathtaking with turtles, sharks, rays and numerous fish, which populate the shallow reefs around the island. Due to the volcanic landscape of the Azores, the seafloor is covered in craters and caves, which were formed by lava thousands of years ago. For more experienced divers, there are also several shipwrecks to discover. Almost every island has diving schools offering different certifications and day trips for diving.

Climb Mount Pico, Portugal's highest mountain

On the island of Pico lies the highest Mountain in Portugal, which stands at a height of over 2300 meters. The climb is not suitable for beginners as it is pretty much all uphill and, for the most part, very steep. If you're planning to go all the way to the top, you should begin the climb early in the morning, as the total journey will take you around five hours. Don't forget to bring plenty of water and wear sturdy shoes for this hike. Warm clothes are also recommended as it can get very chilly and windy at the higher elevations of the mountain.

Explore Algar do Carvão

An absolute must-do experience on the Azores is to visit one of the ancient lava caves. In the middle of Terceira lies the Algar do Carvão cave which lets you descend about 100 metres to explore the hidden underground world of the Azores. The Algar do Carvão is a massive hole in the ground with steep stairs that let you descend all the way to the bottom. The inside of the former volcano is completely covered with moss and other plants, making it hard to believe that it was actually once an active volcano. The lava formations are fascinating and seem like they came from another world. The cave even includes a large underground lake with crystal clear water. Plan to spend at least one or two hours here and don't forget to wear comfortable shoes. The entrance fee is 7$ per person, and the way down takes about 15-20 minutes.

The Azores are known for their speciality teas, especially the Gorreana tea, which is sold worldwide. The Chá Gorreana plantation is located on the island of São Miguel and has over 135 years of history in tea cultivation. Visit the tea plantation and learn all about the production process and origins of this unique blend of tea leaves. Of course, a visit to the plantation also means a tasting of the different varieties grown there. Don't forget to buy some tea to take home to friends and family.

The Museu de Angra do Heroismo in a former 15th-century monastery is located on the island of Terceira. Inside the museum, you can admire old ceramics, weapons, ancient coins and works of art to learn more about the history of the Franciscans who populated the area hundreds of years ago. You can also visit the church of the old monastery and admire the stunning architecture. Take a guided tour of the museum, where an expert guide can give you more details about the history of the area and its religious significance.

Explore one of Pico's historical vineyards

Pico is a beautiful island full of lush greenery. An absolute must-visit here are the UNESCO World Heritage vineyards, which make this island so famous. Due to the volcanic rock soil on the Azores, the grapes that grow here are particularly sweet, making them ideal for wine production. You can visit the over two hectares of vineyards with a guide who will tell you all about the winemaking process. Afterwards, you'll get to enjoy a delicious wine tasting to help you decide which wine is for you. There are many smaller vineyards scattered around the island, so you can pick and choose which one you visit. A tour that lasts about 6 hours costs about 90$.

Hike to the Salto do Cabrito

The Salto do Cabrito is a beautiful waterfall located on the island of São Miguel. If you go by car, you can park directly at the starting point in the village Caldeiras. The hike takes about two hours and leads through lush forests with stunning views. Since this waterfall is not very well known yet, you most likely won't encounter too many other people on your hike. When you reach the waterfall, you can take a refreshing bath. Just remember to bring a towel and a change of clothes as the hike back might be chilly.

Learn all about pineapples

Pineapples are a very popular fruit on the Azores, and learning about how they grow has become a tourist attraction. On the island of São Miguel, there are several pineapple plantations where you can see each step of a pineapple's life and learn all about the process of planting and harvesting. This isn't necessarily a big attraction, but still a great stopover if you are on the road anyway. A tour is usually free, and you can buy a freshly harvested pineapple at the store afterwards to support the local businesses.

Mão de Deus church

Also located on the island of São Miguel lies the breathtaking church of Mão de Deus. The ancient building is absolutely beautiful, and the view from the small hill where the church stands is definitely worth the climb. Especially on sunny days, the view is absolutely stunning and the best spot for unforgettable pictures, so don't forget to pack your camera.
Best Time to Visit Azores
Winter in the Azores lasts from January to March, but temperatures rarely drop below 10°C at night. During the day, it can get up to an average of 16°C, but frequent rainfall is to be expected. The water temperature averages at  17°C, making it too generally cold for swimming, although it is technically possible. From April to June, the weather becomes more pleasant from month to month. In June, temperatures can rise above 20°C during the day and drop to around 15°C at night. Despite the warmer temperatures, you can encounter occasional rains in these months, but they do not last more than a few hours before the sun comes out again. 
From July to September, it is finally summertime in the Azores. Temperatures reach a high of 25°C which feels a lot warmer in the sun. The water temperature, with an average of 23°C, is perfect to go for a swim. In the summer months, the Azores rarely have rainy days, and the weather will be mostly dry. You can enjoy up to nine hours of sun per day making these islands ideal for a summer holiday. In the autumn months of October to December, the weather varies greatly and can be very unpredictable. It can sometimes be nice and warm one day and then cold, rainy and windy the next. Daytime temperatures drop from 21°C in October to around 17°C in December. Keep in mind that temperatures vary at different altitudes, and unexpected rainfall can always occur. The Azores are said to have four seasons in one day and are known for their unpredictable weather, so always be prepared for anything.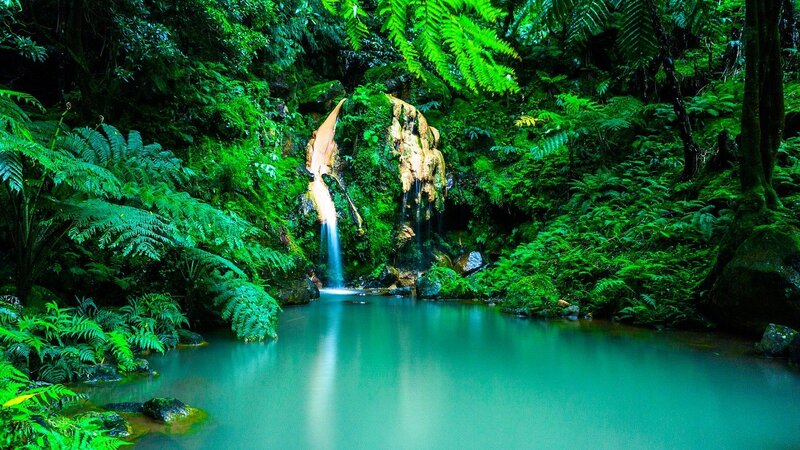 Azores for Families
The Azores have plenty of opportunities for outdoor adventures that the entire family can enjoy. One thing to consider before you relocate to the Azores with your family is definitely the school situation. There are no international schools located on the islands, so finding education in English may be tricky. The larger islands have a good selection of local schools, which will be in Portuguese, however. If your children are already a bit older, this might be problematic and could impact your life in the Azores considerably. Look into remote schooling programs as an alternative or consider homeschooling. Younger children shouldn't have any issues with adapting to a new language. Portuguese is a relatively easy language to learn, especially for children aged eight and below. Like most things on the island, child care is relatively affordable on the Azores. 
With the ocean at your doorstep, taking the kids to the beach is an absolute must in the Azores. No matter which island you choose to stay on, you'll never be very far away from the ocean. Older kids can learn how to surf, go snorkelling while the young ones will love playing in the sand. Going to a waterfall is also an excellent option for a weekend family trip. Caldeira Vehla and Lagoa do Fogo are excellent choices as you don't have to walk very far. This waterfall is surrounded by hot spring pools making it perfect for swimming and playing.
While not every digital nomad coming to the Azores will necessarily need a car, it's highly recommended for families with small children to rent or buy one. The islands are steep, and it can be challenging to navigate them without your own car. Whether you're getting groceries, running errands or want to go exploring, it most likely won't be possible without a car if you're travelling with kids, so consider this before you choose to relocate to the Azores.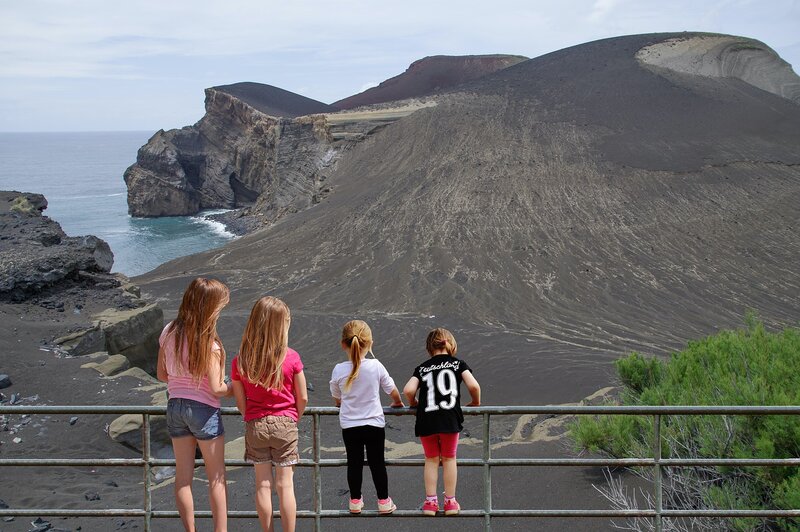 Living in Azores
Azores Transportation
All Azorean islands except Corvo have a public bus system which will take you around to important locations. It's used mainly by locals although it can be a great way to go sightseeing or exploring as well. Prices are very affordable, and the buses are comfortable and safe. However, bus stops are limited, and buses can be unreliable, so public transport might not be the best option if you're coming to the Azores as a digital nomad. The buses will be helpful occasionally, but it's still highly recommended to get a car during your stay. If you're staying in Ponta Delgada, you might be able to get around without a car but consider that the weather can be unpredictable on the Azores, so you might encounter frequent rain or storms, which will make walking to places difficult. Taxis or driving services are also an option, but this can get pricey over time, especially if you're using them regularly. A good option is to rent a car for shorter periods of time and only when you really need it. That way, you won't have to worry about buying a car which might not be worth it if you're only staying on the Azores for a short period of time. This also applies to trips to neighbouring islands, which you'll most likely do at some point in time. 
Always get additional insurance when renting a car on the Azores. Driving on the islands might not seem like a challenge, but you shouldn't underestimate how narrow some roads in rural areas can be. You'll encounter dirt roads in parts of the islands where scratching or damaging a rental car is incredibly easy and will happen quickly, especially to inexperienced drivers. Insurance is definitely worth it.
If renting your own car is not an option for you, you can also hire local tour guides to take you on half-day or full-day tours around the islands. Often they have a few secret spots on their list, which aren't known to most tourists. 
To switch between the islands of the Azores, you can take either a ferry or plane. The nine main islands all have an airport and a port where the ferry docks. However, the ferry does not operate between all the islands every day and is also dependent on the weather. If you get seasick quickly, you should definitely opt to fly instead, as boat rides between the islands can be very bumpy even in calm seas. A one-way flight from one island to the next will cost you around $100 and is operated by Azores Airlines. The flight times can vary, depending on whether it is high or low season. In the summertime, there are several flights a day. While they are far more limited during the winter. Ferries frequently operate during the summer but will stop entirely in the winter time, making the islands even more isolated than they already are. Be prepared to be stuck on the islands for a while if you're visiting during this time.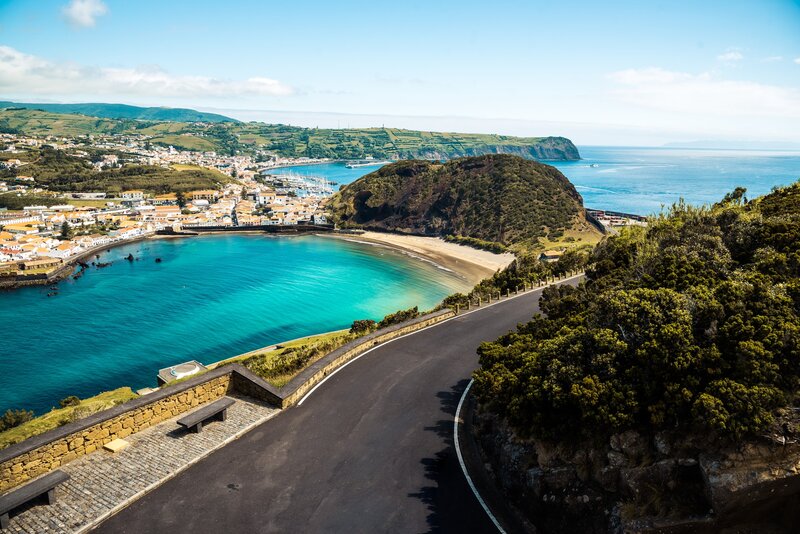 Fitness and Health
The Azores are ideal for people who love the great outdoors and want to spend as much time as possible outside. There is a fantastic selection of trekking and hiking routes for both beginners as well as more advanced hikers. With nine islands to choose from, you won't find yourself getting bored as new adventures await at every corner.
If you prefer to get your workout done inside, you should check out some of the gyms available on the island. SP fitness boutique, Crossfit Azor or Health Club are fantastic choices if you're based on the island of São Miguel. The price for a monthly membership starts at $55, which is reasonable if you plan on going frequently. There are a few gyms on the island of Ilha Terceira as well, like Marquito's Gym or Juncal Fitness Academy, which are roughly in the same price category. Lower prices are available if you sign up for a six- or twelve-month contract. 
Besides gyms and hiking, you could join a scuba dive school to stay fit, like the Azores dive centre, which offers regular dives at different locations. The daily scuba dive trip will cost you $55, but they offer package deals for more affordable prices if you book a 12-dive pack ($39 per dive) in advance. 
If the weather is nice, you should definitely try going on a run during your stay on the Azores. This is a fantastic way to get to know the islands and appreciate their beauty in your daily life. A great spot to run is always the beachfront area, where you get a nice sea breeze to cool you off. 
Azores People
People from the Azores are called Azoreans, and they usually consider themselves distinctly different from those from mainland Portugal. Although these islands are technically a part of Portugal, they don't have very much in common with it when it comes to culture and traditions. Of course, Portuguese is spoken on the Azores, however, Azoreans have an unusual dialect which has been described as having French influences. Each island speaks a slightly different dialect, although the difference can be hard to tell for foreigners. Sao Miguel has the most famous and noticeable accent with lots of French words and pronunciations. English is a widespread language on the Azores, and Azoreans are used to tourists who don't speak Portuguese, so communication should not be an issue. However, in some more rural areas away from tourism, you might find it a bit more challenging to communicate, so picking up basic Portuguese might be helpful. Even if you just know the basics, you'll be able to navigate daily life much better, so consider taking a few language classes online or finding a local tutor.
Azoreans are known to be very friendly and welcoming to tourists as well as expats. Everything on the Azores is still very traditional, and old values are appreciated. Many locals live in little rural villages, although the standard of living is still relatively high. However, there is still a clear divide between the tourists and the local Azoreans on the island. As tourists pour in, the very affordable prices of this area have been rising, which lead to some economic inequality. Rent is still incredibly cheap on the Azores but not as cheap as it was twenty years ago. This has disadvantaged some locals who don't earn enough to keep up with the price increases. Consider giving back to the local community if you're a digital nomad coming to the islands. Spending your money locally will have a considerable impact on people's lives, so supporting the economy is highly recommended.
The Azores are also still quite religious, much more so than mainland Portugal. Christian holidays are celebrated with processions and elaborate festivities, and a large number of Azoreans are strict Catholics.
The Azores may be small, but they have a large, tightly knit expat community that consists mainly of mainland Europeans but also some Americans. The islands have become an attractive location for retirees or digital nomads who are looking for an affordable place to live. This is one of the few places in Europe where you can live on a budget while still getting to enjoy incredible natural beauty and scenery. If you're struggling to get in touch with other digital nomads in the Azores, make sure to check local Facebook groups like "Expats in the Azores" to keep an eye out for meetups. These groups will also be helpful for finding apartments, getting advice on living in the Azores and of course all the best tips for sightseeing.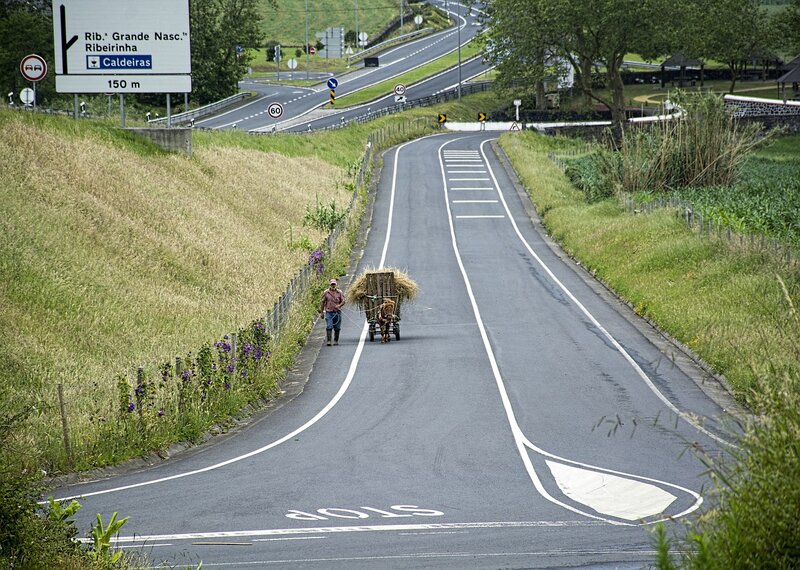 Azores Insurance and Medical Care
Portugal generally has very high standards when it comes to medical care. That being said, the Azores are tiny islands located thousands of kilometres from the mainland, so you won't find the same situation here as in larger Portuguese cities. Minor medical issues can easily be treated on the Azores, however, it is common for more severe emergencies like complicated operations or life-threatening conditions to be evacuated to the mainland. This is usually conducted by the Portuguese air force, which is based on the island of Terceira. Every major island of the Azores has a medical centre, although some are pretty small. There are three larger hospitals which are located in Sao Miguel, Terceira and Faial. Sao Miguel has the largest hospital due to its location in the capital city and many people who live on this island. The hospital on Terceira is a bit more modern, though. If medical care is something you are worried about when moving to the Azores, you should consider staying in either Terceira or Sao Miguel, which have the best access to hospitals and doctors.
Non-emergency medical care in the Azores is definitely up to a high standard. You will have no problems getting a doctor's appointment, and most medical staff on the major islands speak a good level of English, so communication shouldn't be an issue. Always make sure you have medical insurance from your own home country, which is applicable abroad. This is extremely important so you can avoid paying high bills and fees for treatments. Medical care in Portugal is affordable, but without insurance, it can easily cost hundreds of euros. Make sure you are fully covered by reading our full Digital Nomad Travel Insurance guide.
Jobs in Azores
The Azores are small islands which are mainly rural and dependent on farming or livestock activities. Finding a job here will not be straightforward and might take some time and research. In general, it is not recommended for digital nomads to work locally on the Azores as it could be taking away work from locals who are much more dependent on the income. While citizens of the European Union are technically allowed to work in the Azores without any visa requirements, this should only be considered if you truly plan on making the Azores your long term home. For digital nomads who are only coming to the islands temporarily, it is recommended to have a reliable online income that will cover any expenses. Since living costs are extremely low on the Azores, this tends to be quite manageable. Local jobs tend to be quite hard to come by. During the summer months, when tourism picks up, there will be seasonal work available. However, again, this should be reserved for local workers who depend on these jobs to survive. Skilled jobs are rare in the Azores as even the capital city, Ponta Delgada, is extremely small.
Most nationalities will need a special permit to work and live in Portugal and the Azores. This can be hard to come by, so if you aren't an EU citizen, you should make sure you're earning all your money online and not locally. Fines are high if you were to get caught earning money on a tourist visa, so it's never worth the risk. If you do think you'll be staying in the Azores for an extended period of time, you should apply for a long term visa which will allow you to work in Portugal at a relevant embassy.
Check out our Digital Nomads Jobs Postings to find the best jobs available for Digital Nomads.
Nomad Friendly
Value for Money
Internet
Workspace
English
Food
Safety
Health
Transportation
Friendly
Quality of Living
Cost of Living Azores
It's no secret that the Azores are extremely affordable. Rent prices are incredibly low, and you can really get a lot for your money on these beautiful islands. If you're truly on a budget, you could most likely live here for only around 600$ per month if you choose to rent a basic room with a local family. However, keep in mind that getting around by public transport might be affordable but will also be extremely limiting. If you truly want freedom to explore the islands, you should look into buying or renting a car. Keep in mind that you won't be able to transfer your car from one island to the next very easily, so only commit to this if you're 100% sure you'll be staying on a specific island. Having a car will increase your monthly costs slightly with expenses such as insurance or gasoline. Still, the living costs in the Azores for digital nomads are very low so definitely consider coming here if you want to save money on your travels while still maintaining a high quality of living.
Sample expenses for one month in
Essential costs
500$ basic one-bedroom apartment

80$ bills for water, gas, electricity, wifi
80$ public transport
200$ groceries
40$ cell phone plan
_________________
≈ 900$ total per month
Optional costs 
200$ eating out and nightlife

150$ membership at a coworking space
100$-200$ health insurance (varies greatly according to country)
300$ budget for day-trips to other islands
60$ gym membership
80$ gasoline