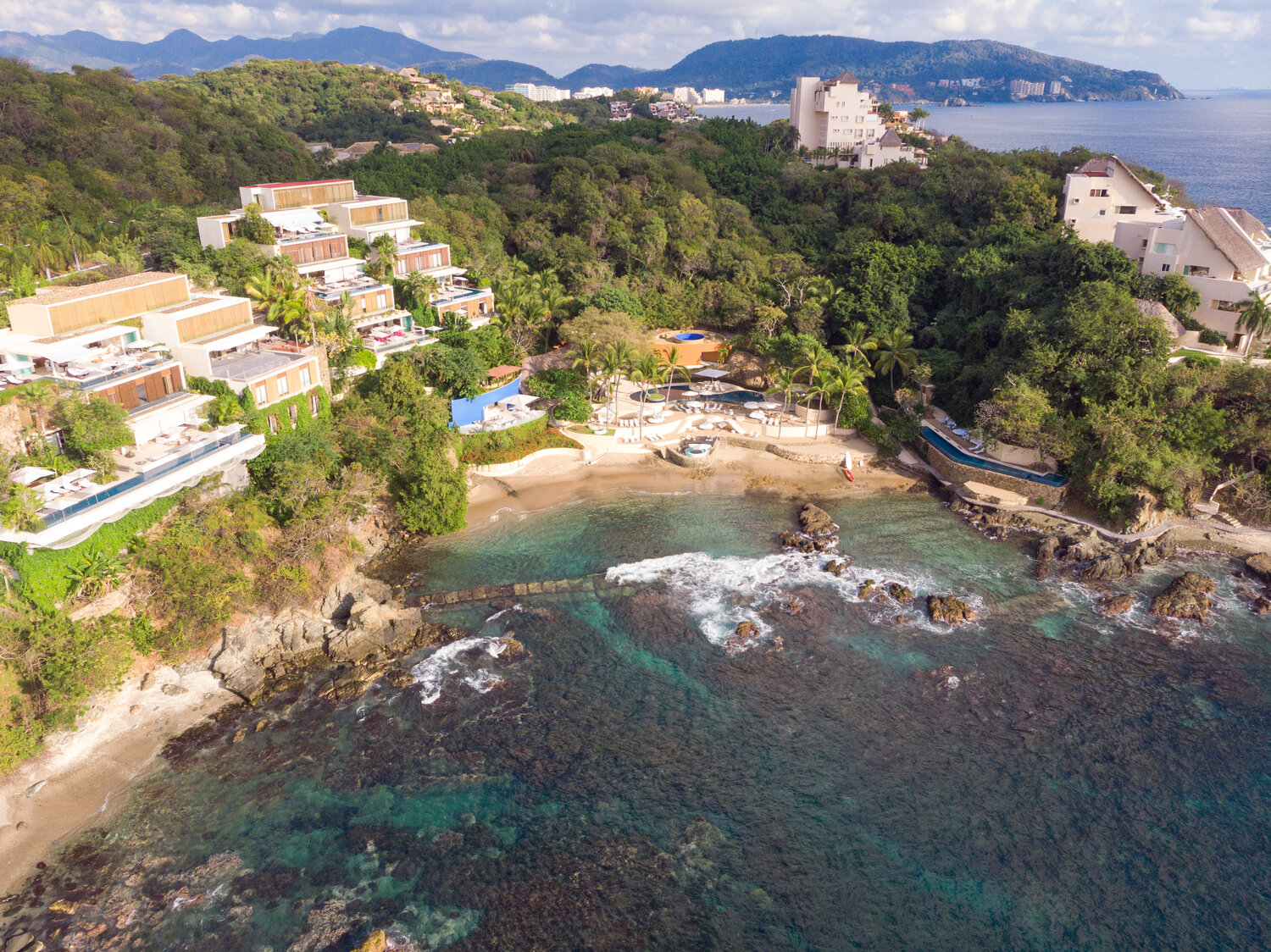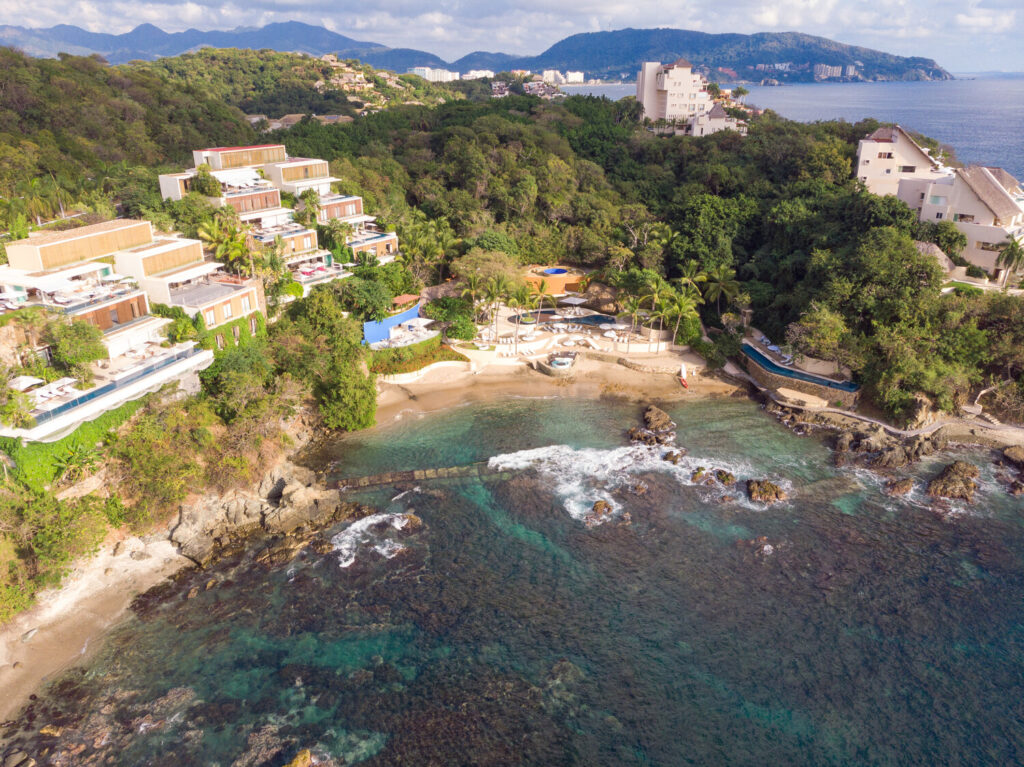 A Digital Nomad Guide to Zihuatanejo
Zihuatanejo is a coastal city in Mexico set in what's known as La Costa Grande in the state of Guerrero. Though it's a mouthful, you may have already heard of it from the classic film Shawshank Redemption, as the paradise the pair plans to meet up at after prison. A secluded seaside paradise, it's far more authentic than the overdeveloped Ixtapa next door or the crowded resort town of Acapulco down the coast. The people are friendly, and the lifestyle is laidback. It's known for its stunning and sweeping sandy beaches and the colorful central downtown that is both accessible and alluring.
Sandwiched between the Sierra Madre del Sur Mountains and the clear blue expanse of the ocean with coconut bearing palms dotting the landscapes in between, it's truly a tropical oasis. Once a sleepy fishing village, its name means "the place of beautiful women." This refers to the divine land in native Nahuatl folklore where goddesses would arise in the afternoon to lead the sun at dusk into the dark realm of the dead. The peaceful and picturesque Pacific balanced by the warm and vibrant Mexican culture makes Zihua, as it's affectionately known, an ideal destination to set up shop. It's an off-the-beaten-path paradise and a true delight for any adventurer. 
Many of the local population are fishermen or working in the hospitality and tourism industries. Up until now, it has been popular for foreigners who make up a small community of retired expats, some surfers and a few fishermen. Zihua often gives the impression that you've discovered some secret sanctuary separate from the usual vacation hotspots in Mexico for Digital Nomads. Some of its neighboring towns feel totally untouched and are perfect for day trips, weekend getaways, or commuting if you prefer to live in a slightly more remote and relaxing atmosphere. These neighboring villages, Playa Blanca and Barra de Potosi, offer often empty beaches. Their coastline is dotted with a few fancy homes or luxury hotels and many enamoradas, offering the freshest fish you'll find anywhere and plenty of beachfront beverages.
Nomad Friendly
Value for Money
Internet
Workspace
English
Food
Safety
Health
Transportation
Friendly
Quality of Living
Living in Zihuatanejo Overview
| | |
| --- | --- |
|  Meal, Inexpensive Restaurant | $3.88 |
| Domestic Beer (1 pint draught) | $0.73 |
| Cappuccino (regular) | $0.97 |
| Loaf of Fresh White Bread (1 lb) | $2.53 |
| Water (1.5 liter bottle) | $0.97 |
| One-way Ticket (Local Transport) | $0.85 |
| Basic Utilities (Monthly) | $26.69 |
| Internet | $48.53 |
| Fitness Club (Monthly) | $19.41 |
| Apartment (1 bedroom) in City Centre | $506.92 |
Currency: Indonesian rupiah (Rp)
[erw_exchange_rates_widget lg="en" tz="0″ fm="IDR" to="EUR,USD,GBP,AUD,JPY,RUB" st="primary" cd="" am="15000″][/erw_exchange_rates_widget]
ATMs
Max Withdrawal: Rp 3,000,000
Withdrawal Fee: Rp 30,000 – Rp 50,000
Use of Credit Cards: Mostly Cash
Digital Nomad Personal Experience in Zihuatanejo
I lived in all three places throughout my year in Zihuatanejo in 2021, staying six months longer than I originally anticipated. Zihua has a way of doing this to you. Playa Blanca was the most remote and for me, the best, as I find I don't need much more than a sunset and a cold corona to keep me happy. The community of locals are amazing here and always happy to help with anything you may need. Barra is slightly more bustling, with several large tiendas and plenty of food options around. As the main city, Zihuatanejo has all the amenities and so much to discover. I feel like I stumbled on a new storefront or stall everyday when wandering the streets of each neighborhood. You can easily find your own little community here for whatever you are interested in. I found it very hard to leave this part of Mexico in the end, as I knew I'd never find anything like it again. 
Work in Zihuatanejo
The city of Zihua has many options for any digital nomad. In the city center, the Wi-Fi is often reliable. The average internet speed at any of the cafes or spaces to work around town is about 20 Mbps. If you go to the smaller villages nearby it may not be as reliable. Keep in mind that if the Wi-Fi goes out in one place at Playa Blanca or Barra it's likely down in both towns until fixed. However, it's not super common and usually only after a big storm. 
It's always a good idea to have a SIM card as a backup. They are incredibly cheap in Zihua and can be purchased and topped up easily at any OXXO. If you have AT&T, which works very well in the area, then you will need an OXXO. If you have Telcel, which is the most commonly used by locals, you can get it topped up at almost any tienda around. 
Best Places to Work in Zihuatanejo
El Viverito
El Viverito is one of the best spots to set up a little work station in Zihua. It's a charming cafe that also happens to be a cute little plant store. Grab a table ensconced in greenery, or take a tiny two top by the pool. The Wi-Fi is fast and free to use. They offer top notch tortas and plenty of tasty breakfast options as well. Feel free to stay the day sipping only on coffee and a vast array of agua frescas. It feels like a natural oasis right in the middle of Centro. The staff is very friendly and relaxed, and the ambiance is ideal for a chill yet productive day. What's a better work break than a dip in the refreshing swimming pool?
La Terricita
La Terricita has two locations in Zihua. One is on Adelita Street in La Madera and the other on the waterfront overlooking the bay. Both offer a tasty selection of treats to try. It can be busy during the breakfast rush, so it's best to go after when things slow down a bit and you can take your time working here on the free Wi-Fi. The coffee is some of the best as are the fresh juices. You can get a light baguette sandwich for lunch or a proper Mexican meal for dinner – either way, the ambiance at both locations is quaint and relaxing for a day of typing away. 
Loot is deemed a surf and lifestyle store in Zihua. A unique new collective for the city, it's a lot of things all rolled into one. They're a haven for creativity in La Ropa, as a gallery space, cafe, rooftop restaurant, bar, clothing store, surf shop, and barbershop. They aim to honor and elevate the local culture through artistic collaborations and craft fares. It's the ultimate cool place to spend some time working with gourmet coffee, fresh fusion foods, and a creative and friendly atmosphere. There are plenty of vegetarian, vegan, and gluten free options available as well. 
In Centro
In Centro you will find a few different nooks around the city made for public gathering spaces. The trees around it will be wrapped in brightly colored cloth so they are both beautifully festive and hard to miss. All the furniture is made from upcycled pallets, including chairs, benches, and swings. If you have a SIM card for data, then this can be a great little place to set up shop for the day, and it's both comfortable and totally free. 
Collectivo
If you want to take some time out of the city, hop in a quick Collectivo to the pristine beaches of Playa Blanca. Here, several of the resorts will let you chill by their luxurious pools overlooking the ocean and use their Wi-Fi for the day as long as you order some food or drinks. Try Portofino or Escondite. Some, such as Bella Vista, will offer the same but for a minimum price of 250 pesos per person for the day. Nothing motivates me like the perfect paradiscal panorama as my workplace setting.
Best Places to Live in Zihuatanejo
Best Neighbourhoods
El Centro
El Centro is the bustling heart of the city made up of oldfashioned narrow streets and full of an ample array of shops, restaurants, bars, boutiques, and arts and crafts. It's where you will find the impressive main market, a great place to wander the day away past endless stalls of local goodies, plus fresh produce and meat. On the streets, you'll see vendors of all sorts, from seasonal fruits to homemade agua frescas. If you're looking to live where it all happens, then Centro is certainly the choice for you. 
La Madera
La Madera is a charming part of town that is far more tranquil than some of its noisier neighbors. Wander the walkways along the coast for breathtaking panoramas or weave your way amongst the brightly colored abodes. It's set nicely in between Centro and Ropa for that ideal balance of quiet but busy enough. You're likely to be greeted with warm and welcoming saludos from neighbors as everyone goes about their business of their day. There is still plenty to see and do, but this area allows you to really embrace that slowed down pace of Zihua life. 
La Ropa
La Ropa is set atop a steep ascent of the mountainside. Looking over all of Zihua, the small uncrowded streets hold many surprises here. The Playa itself has the best waters for swimming in – spectacularly clear and always calm and warm. There are more resort-style hotels lining this part of the coast than there used to be, but if you walk far enough down the stretch of sandy shore, you will find the local haunts and plenty of peaceful beach to play on. 
Playa Principal
Playa Principal serves as the charming Marina of the city. It also includes Paseo de Pescador where you can watch the local fisherman head out to sea as the sun rises over the Pacific, and where they will return triumphant with tuna, snapper, and more. You can buy the fresh catch of the day anytime here. There are plenty of areas where locals will gather for community events, and you'll find tourists browsing the boutiques along the waterfront as well.
Find an Apartment in Zihuatanejo
On Airbnb, you will find condos, entire apartments, or rooms for rent inside of an already owned casa. Normally the affordable prices for a basic room will run around 400 pesos per night. If you're able to double that price point, then you can easily find yourself in a seriously luxurious set up. This site does offer a few small, family-run guest houses such as Casa Lao and Amueblos Diamantes. The price points here are reasonable and spaces are simple but sweet.  Villa Lupita gives you great bang for your buck, providing a stunning pool and garden area for a small, shared condominium building. Casa Bruna is a cheap and cheerful choice, as the added bonus of the rooftop area is a real treat. 
VRBO has plenty of comfortable apartment and studio options available as well. Most of them work out to be around 20,000 pesos or 1,000 USD a month. If you're renting for longer, you can often negotiate a better price point. The apartments often offer a cute and private hangout area which is great for working remotely from your personal space. The studios will usually provide a communal section like this as well, it can be anything from just a plant covered corner with a table and few chairs or hammocked terrace with a lovely view.  
Zihuamia and Don Francisco Properties are great sources to contact if you're having trouble finding a place to rent on your own through these sites. They offer a range of rentals from reasonably priced apartments downtown to luxury hillside villas. Email or call and they will put you in the right place for your ideal price, though there will of course be an extra fee added for such services. 
Of course, you can check the usual sites for booking hotels and villas such as booking.com or agoda, but with the absence of any hostels designed for travelers or long term stays you can quickly find yourself outside your monthly budget. I'd recommend staying in a simple accommodation and then splurging on a weekend in a fancy resort if you feel in need of some extra luxury. 
If you have some extra time to spare, volunteer! There are plenty of organizations in the area doing great work that will offer room and board for a few hours of your time assisting with their passion project. If you're an animal lover, check out some nearby do gooders such as Surfers for Strays in Troncones or Amigos de Animales in Playa Blanca. Workaway is the best site to research any such opportunities in the area.
Cheap Places to Stay in Zihuatanejo
As Zihua is not exactly a backpacker destination (yet), you'll be hard pressed to find the typical hostel style stay. However, there are plenty of budget hotels around the city for cheap and nice accommodation. The good news is that almost anywhere you book is sure to come with a pool. 
Departamentos Lalo runs around 700 pesos per night. Each apartment is outfitted with a patio, fully equipped kitchen, air conditioning, and private bathroom. The Wi-Fi is free and reliable, allowing you to do any work you need outside by the pool. It's in a convenient and safe location. 
Hotel Las Salinas is a small family run joint. The decor is simple and basic but provides everything you need. You can book an economic room for 450 pesos per night, or treat yourself to a bungalow with a seating area and kitchen for 1000 pesos. There's free purified water available, which will keep you from having to buy bottled all the time. It's only a five-minute walk from Centro. 
One of the cheapest around is Hotel Isis at 375 pesos per night. The service here is good and everything is very clean. Each room has a private bathroom and air conditioning, and there is a shared kitchen for communal use. It's generally quiet in the area surrounding the hotel, and the Wi-Fi is reliable. The outdoor pool is small but a nice way to refresh during the midday swelter.
Zihuatanejo Visa
Obtaining a visa for coming into the country is a super simple process. Mexico offers visa exemption for some countries which is valid for a stay of 180 days if it is for tourism. If you want to stay longer than this, the easiest thing to do is a border hop. Just exit the country in any manner you wish and come back in to receive another visa for 180 days. If you do this too many times you may run into trouble, so it's worth looking into obtaining a type of residency if you want to stay for several years. This visa exemption applies to 70 countries, including the US, UK, Canada, Japan, and the Schengen Area. 
If you do require a visa, the application is uncomplicated. It takes two days to process and costs 44 USD. There are 131 countries that need to complete this visa process. Give yourself a few months in advance to apply for it just to be safe. It's always good to check online for your country's specific requirements. Some do require an FMM Card upon entering as well. This document is obtained electronically before traveling into the country. The form is simple, requiring only basic information and a payment of an additional fee. Always make sure your passport is valid for at least six more months from your date of entry.
Culture and Food in Zihuatanejo
Take a cooking class to get the best of both cuisine and culture. Patio Mexica is a great way to learn about and enjoy the traditional food of the area. Monica is an amazing teacher who will guide you through the culinary process step by step, including going to the market and finding the freshest ingredients. Then in an informative yet informal open-air setting, show you how to make authentic popular plates of the area from scratch. 
For street food, you will find a few vendors with stands along the sides of the street, usually they will offer tamales, fresh fruit, ice cream, or drinks. Most places for quick eats costing a few pesos are restaurants or stalls. You will find many at the Mercado in Centro. Plenty offer cheap and fast tacos, carnitas, or sopes. Escobar's is by far the best if you ask me. If you need to cool off, stop at any Paleteria for a handmade popsicle at 15 pesos or less. 
Comida Casera is one of the best things you can get in Guerrero. This means you're getting an authentic and traditional home-cooked meal. It comes with rice, beans, tortillas, and whatever meat they have made that day. Sometimes it's pollo con mole, other times it's bistec a la mexicana. Whatever they are serving up, you're in for a delicious dish. The savory pork soup called Pozole is a popular pick here as well. They have entire restaurants dedicated to just this so be sure to give it a try.  
Seafood is plentiful around any part of Zihua. All kinds of mariscos will be available at restaurants and tiendas, and everything is always fresh. It's common to come across shrimp, octopus, tuna, marlin, and more. You can order any way you wish, in ceviche, fried with coconut, or grilled with spices. One of the most popular seafood dishes of this specific region is called Tiratas. It's made with fresh raw fish (whatever the catch of the day is, usually tuna or sailfish) that is marinated in lime juice. It's mixed with fresh onion and spices and served with tortillas or saltines. It's the perfect meal for a warm day in the golden sun of the coast. 
Tacos de Carbon Vina are, and I do not say this lightly, the best tacos I've ever had. A well-kept secret, you'll be hard pressed to find another tourist who knows about this hidden gem. It's on the far end of the city and only opens after 6 PM. It's a sit-down space that serves only six types of meat, all cooked to perfection, and each offered until they inevitably run out. The portions are hefty for cheap, and you can add whatever fixings you want on top yourself. 
If you're a vegetarian or vegan, it can be a hard place to eat out as most of the food is centered on carne and queso. However, there are a few spots around town catering to these crowds – try La Raíz de la Tierra or La Ola. Your best bet will be to buy fresh ingredients from the local market and cook most of your meals at home. If all else fails, there is always guacamole! 
In general, the food scene is very accessible, and you can really find something delicious around every corner. It's important to note that there are regional styles of serving certain dishes here. You may order a quesadilla expecting to get a soft tortilla folded in half and end up with a fried pastry. You may order tacos expecting a small tortilla topped with meat, onion, and cilantro only to receive an order that looks much like a flauta topped with crema and cotija. There are no chains in Zihuatanejo (only Ixtapa) so don't expect to see a McDonalds or a Dominoes like you normally do in a city. They do have a diverse scene, so if you're craving cuisines other than Mexican, don't worry – it's easy to find Chinese, Italian, and American eateries.
Zihuatanejo Nightlife
There are plenty of places to party in Zihuatanejo depending on your preferred vibe. Keep in mind if you travel to the smaller, sleepier towns nearby like Playa Blanca or Barra, it's likely everything will be closed after sunset. However, up until then, you can get giant margaritas or pina coladas for only 80 pesos as you soak up the ocean scenery. 
In Zihua, there are many busy bars near the marina. If you wander the streets along the harbor, you're sure to find the happening place for the evening, just look for the lights and music. Mezcal is a popular drink of the area, just think of it as Tequila's smokier cousin. If you like the flavor, this is the place to get the good stuff. The typical drink you will find at most places are Margaritas, Pina Coladas, Coronas, or Victorias. If you're feeling very adventurous, try the local Coco Loco, served in a fresh coconut and a heavier heaping of hooch than most can handle. 
Canto de las Sirenas is a bit outside of where you may find most other bustling bars. It's a bit of a hidden gem and doesn't usually get started until after 22:00, while other watering holes can be winding down. You may have to pay a cover, but it's always lively with locals having the time of their lives with some of the best bands around. Get ready to dance, sing, and share smiles with strangers over drinks until the early hours. 
Kokomo Bar offers the typical traveler atmosphere. It's a small hole in the wall with shelves stocked full of every type of booze imaginable. Grab a seat at the bar or one of the few tables, and you're in for a night of lively fun with locals and visitors alike. Banidido's is also a popular choice with loud music and plenty of TVs for watching sports. They have certain themed nights with live music and dancing such as Salsa. There is plenty of space to accommodate everyone, as it can fill up quickly. 
El Manglar is a special destination for a serene evening. It's set in a stunning mangrove, hidden away behind the bay. Though perfectly safe, it may not be for the faint of heart as there is a large population of crocodiles on site. They stay behind a small fence, mostly to allow the iguanas to roam free and thrive as well. From Playa La Ropa you can find it just over a small footbridge. Let loose in the secluded jungle landscape with a few expertly mixed cocktails as you watch in wonder at these prehistoric looking creatures.
Things to do in Zihuatanejo
The Parthenon is something of an alluring urban legend in Zihua. Set high up in the hills, see if you can spot it from the shores of La Ropa. The tale goes that it was once the home of infamous corrupt police chief El Negro. He worked in Mexico City in the late 1970s creating around him a culture of fear and immorality. He used his illegally obtained fortune to build this Greek-style palace. Once lavishly decorated with faux classical statues, gardens, porticos, and pools, it's now a dilapidated ruin of its former glory. Tread carefully, but there is often a single guard who will let you explore the expansive grounds for a small fee. 
Playa La Ropa

Parasailing is available easily from the shores of Playa La Ropa. They will send someone up every 20 minutes or so. It should only cost about 400 pesos and it is as thrilling as it is stunning.  They will strap you in right from the sandy beach, pull you by boat so you soar around the entire bay, and land you safely right back where you began.

Bioluminescence of Zihua

If you swim at the right place at the right time, you can experience the bioluminescence of Zihua. It's best and brightest between the months of December and May. The plankton in the sea produces and emits a light that causes a natural and magical phenomenon where the ocean waters appear to sparkle. It's best on the shores of Playa Blanca, with no light pollution or people to interfere. Try it out during the new moon when the sky is as dark as possible.

Surfing

Surfing is a popular pastime in this laidback city. Barra de Potosi offers some of the best waves around, as its swell is superb. It's fun for everyone from beginners to those more experienced. The break is soft so its always safe, and it's best to go in the morning or the evening. It's easy to rent a board for a couple hundred pesos from Chimi, the local surf guru. His board storage space is right by the beach with a surfer painted on the side so you can't miss it. It's never too crowded, so it's easy to paddle out and catch as many waves as you want. Troncones is also a popular haven to hang ten. It's similarly uncrowded and undeveloped, with local shops and hotels without the touristy touch. The waves can be a bit bigger here, so it often draws in the more serious surfers. You can easily rent a board from Tsunami Surf in Troncones Point. Both are about a 30-minute trip from Centro on a collectivo.

Campamento Tortuguero Ayotlcalli

Campamento Tortuguero Ayotlcalli is a fabulous sea turtle rescue and conservation center. The beach of Playa Blanca is a popular nesting site for several species, and this center works hard to protect them. For a small donation, you can hear an informative talk on the subject to learn all about the project and at the end you will get to release a newly hatched baby sea turtle out into the ocean as the sunsets. It's really a win-win.

Whale Watching

Whale Watching is one of the best things to do in Zihuatanejo. You can take a tour from any of the beaches and an expert will guide you exactly where to go to get the best sightings of these majestic and massive sea creatures. From December to April is the best season to see humpbacks as this is when they swim effortlessly through the warm waters of the Pacific. If it's not the season, you can still take a beautiful boat tour out to sea and odds are you will encounter other marine life, such as dolphins. Dive Zihua and Picante Cruises are popular picks, but there's also plenty of individual outfits that will take you out on their vessels and show you all there is to see in the sea. They are easy to find down by the marina or by simply asking around at any hotel or restaurant.

Spearfish

As a former fishing village, this town has still got a diverse and vibrant scene for the anglers out there. You can charter a boat to take you out on open waters in search of the catch of your dreams. There are other tours you can do as well, such as learning to spearfish. Many times, if you take a guided excursion, they will cut and cook whatever you have caught right on the boat. Inshore, you're likely to reel in snapper, grouper, mackerel, and yellowtail. Offshore get ready to hook sailfish, marlin, tuna, dorado and wahoo. You can also rent a reel or bring your own to fish right off of the pier in Playa Principal. Barra de Potosi is a town still heavily reliant on fishing, so head down to join the small group throwing nets or casting lines straight from the shore.

Scuba Diving

There are several spots you can go scuba diving off the coast of Zihua at different depths, ranging from five to 30 meters. There are some coral reefs to see, along with brightly colored fish, manta rays, and sea turtles. The water is fairly clear, though not what most would deem ideal conditions. It's a fun experience and definitely worth a look at the local underwater ecosystem. However, if you've been diving and snorkeling in some hotspots around the world, this plunge might not live up to the same standards. The current is never too strong, so it's a great place for beginners. Some better snorkeling spots are Los Morros, the large rocks you can see sticking out of the ocean directly across from Playa Blanca, and Las Gatas around the far end of the coastal curve past Playa Ropa.

Plaza del Artista

There is a farmers' market every Saturday in the city at Plaza del Artista in Playa Principal. There are vendors of an array of all natural, local, and handmade products. Called Eco-Tianguis, it's a veritable haven for gourmet and artisan goodies with plenty of organic vegetarian and vegan treats as well. There's fresh produce and recycled crafts to peruse or purchase. There are often events as well, from lectures of local environmental groups to live music to enjoy as you browse the booths. It's a great way to meet people in the community and support local businesses.
Best Time to Visit Zihuatanejo
Zihuatanejo exists in a tropical climate all year-round. The dry season is also the cooler season, which is from October to April. The coldest month is January, with average temperatures around 26 degrees Celsius. This simply means you may need a light layer in the evening, and you probably won't have to sleep with the fan on. It never gets so cold that the beach isn't enjoyable, and the sea stays warm in every season. During this time, it's consistently sunny with blue skies nearly every day. The afternoons always stay hot, and the sun stays strong. The most popular time for tourists is from November to February, as to escape the Winter in their home countries. 
The hot season is also the rainy season which is from May to September. The hottest month of the year is July, with temperatures reaching up to 36 degrees Celsius. While the rain does conveniently help to cool down these high heats during this time, it can be quite humid, and it often means the mosquitoes are out in full force. However, many enjoy the relaxing and cozy climate at this time of year. Everything slows down, and the rain can be very beautiful and a welcome change of pace, especially if you enjoy a good thunderstorm. This is the least busy season, so you won't find nearly as much tourist activity.
Zihuatanejo for Families
Zihua is an extremely safe city, and there's plenty to do that's kid and family friendly. Some resorts cater to children and will provide childcare services, events, and activities for all the little ones. Look into Hotel Villa Mexicana and Marea Villas for this type of set up. 
Jardin de Ninos is an amazing daycare in the area. Instituto Montisori is a private education institution based on the teaching system of the same name. Colegio Bertha Von Glumer is a place for private preschool, primary, and secondary education. There are plenty of public primary and secondary schools to choose from as well, named Miguel Hidalgo y Costillo, Cuitlahuac, Leona Vicario, Antonio Abarca Memije, Benito Juarez, and Adolfo Lopez Mateo. Colegio Integral Rotterdam provides preschool, primary, secondary, and high school levels of learning and is one of the best spots to enroll in the area. 
Many of the nonprofits hold summer camps for kids in the more rural areas such as Amigos de Animales and Campamento Tortuguero Ayoticalli. La Ropa is a great beach for children to frolic on. There's plenty of space, the sand is soft, and the waves are gentle for swimming. Bring some beach toys to spend a day under the palms building sandcastles or searching for the perfect shell for their collection. 
Go horseback riding on the beach! This can be arranged on any of the beaches in Zihua, and it's a fun activity for the whole family. The horses are well trained, and it's such a memorable experience especially at sunset. 
Visit Casa de La Cultura. This is a community space that offers all kinds of classes to adults and children alike. They have a wide range of skills and hobbies to explore from dance to arts to crafts to instruments to acrobatics.
Living in Zihuatanejo
Zihuatanejo Transportation
You can arrive in Zihuatanejo by plane or by bus. The bus station is in the center of the city, and there's only one where every company converges. There is an international airport as well called Ixtapa-Zihuatanejo, and it's set halfway between Zihua and Barra de Potosi. Flights often come from Mexico City, US, or Canada, along with a few other popular provinces in the country.  
One of the best things about Zihuatanejo is how accessible the city is. The entire city is a manageable size, and all of the neighborhoods really are walkable. It's also incredibly easy to get from Zihua to its surrounding towns using the small white shuttle buses that you will see everywhere you go. They are called collectivos or combis, and you can get anywhere for only a few pesos. Each has the name of its destination plastered across the front, and you can flag them down from any point, though there are specific bus stops where you can sit and wait for the one you need to show up. Keep in mind they stop running by about 19:00 or so. 
Taxis are also easy to find if you're looking for a faster and more comfortable ride. Anywhere within the city should be about 50 pesos. If you take one farther out to the Airport or even to Barra, it will be a few hundred pesos. Sometimes they will add an extra fee on top if it is late at night or if you request the air conditioning to be turned on. Tipping is customary for some things in Mexico. As a foreigner the taxi driver will usually expect this from you, so it's nice to give some extra pesos once you arrive. If you like your driver and think you will be taking taxis often, it's a good idea to get their information so you can just call whenever you need them, most will offer this service. 
If you need to rent a car, it's best to do this at the airport, though it is really very expensive. Depending on how long you are staying, it can be cheaper to buy an old car – vintage beetles are surprisingly cheap in the area. You can also often find motorbikes for sale on Facebook for 5,000 pesos. Be sure to check what paperwork is required – sometimes a special license is needed, especially for a motorbike moving between towns. If you want to get a regular driver's license, here it's very easy. You will just need to pay as there is no test required. 
If you are driving, be prepared to go through some military checkpoints. These are very normal and there is no need for alarm. They very rarely stop you or ask you anything at all. There are special police that deal only with traffic in Zihua, so make sure you are following all of the speed limits and driving rules. Like anywhere, you can hear stories of scams, such as the cops asking for bribes if they pull you over or people stealing your license plate while parked and then asking for money to get it back. I personally have never experienced anything of the sort and don't believe it to be a cause for concern, however it's often best if those situations arise to just pay and chalk it up to part of the lifestyle.
Fitness and Health
There are many great options for staying fit
Zihuatanejo People
The culture of Zihuatanejo has a way of sticking with you. It worms its way into your heart and there it stays, forever holding the joy and freedom that comes with a life of simple pleasures in a natural oasis. A large part of this alluring atmosphere is the warm and welcoming people of the area. Like anywhere you travel, it's important to be safe, smart, respectful, and considerate of the culture. Learn a few words of Spanish and most will be happy to help you figure out the rest. The town is very safe, and the community is kind. 
Zihuatanejo was originally known as Chequetan. Its full moniker today is technically Zihuatanejo de Azueta. This is after Jose Azueta, who fought in the US insurrection at Veracruz in 1914. Among the first inhabitants were the Coixcas in the 15th Century, part of the pre-Hispanic dominion called Cuitlatepan. The main settlement was then called Xihuacan, whose ruins you can still visit today, it's the only trace remaining of this era and its people. In 1520 the Spaniards arrived, sent by Cortes in search of gold.
In the 19th Century it was a favorite town for Spanish explorers to stop on their shipping routes. They often used this port, and the coconut palm tree was brought over from Asia on these such occurrences, changing the landscape of Zihua forever. To this day, you will find a surplus of fresh coconuts everywhere you go while here. 
Still a sleepy little fishing village in the 1960s, there was a sudden rush of celebrities hiding out on the untouched shores of Zihua. Mick Jagger came to party, Timothy Leary set up a studio, and Betsy Johnson built a hacienda. Many from Hollywood were spending their days in Acapulco at the time, while Zihua was attracting the free and forward thinkers of a generation. 
In the decade following, the formation of Ixtapa right next door as a luxury resort destination changed the landscape of the city as well. With an influx of travelers to this region in Guerrero, Zihua altered its scene to meet some overflow traveler needs while still managing to maintain its original small town charm and authenticity. This unique personality is what makes Zihua such a special place, a special and strong identity all its own. 
Today the community holds a few festivals every year. One is Sail Fest, which raises funds for disadvantaged children in the area. It takes place over the course of five days in February, and over 100 sailboats come from all over to participate. The International Guitar Festival is held here for a week in March. It's beloved by locals and tourists who travel from around the globe to attend. 
Although tourism has taken over much of the economy here, fishing is still very much a way of life for the people of Zihua. Today, the port is used mostly for the daily fishing activities of pangas and only occasionally for ferries, charters, or cruises. Most of the fish caught here stay local, to feed families and support restaurants. Some are shipped throughout the state of Guerrrero. In addition, it has recently become a popular destination for Sportfishing offshore.
Zihuatanejo Insurance and Medical Care
The cost of procuring private insurance always depends of course on your country of origin, your age, and how comprehensive a plan you choose to purchase. Normally for Mexico it will cost anywhere from 400 USD to 2,000 USD per year. 
The quality of medical care in the area is quite good. Emergency medical services can be expensive but routine procedures are always reasonably priced. There are private hospitals you can visit as well as the public IMSS. You will not be covered for costs here unless you first obtain residency. 
There are small clinics throughout the city that provide any number of services you may need. In addition, the pharmacies are well stocked and can often suggest a treatment based on your symptoms if it's not too serious. You won't need prescriptions for many of the same things you might elsewhere, and medication is often affordable, so it's always worth an ask. 
You will find an array of dentists, dermatologists, specialists, pediatricians, gynecologists, optometrists, and more. It doesn't hurt to email and ask ahead at a doctor you plan to visit to see if there will be someone available at your appointment who speaks English if your Spanish skills aren't up to snuff. 
Most hotels have a doctor on call that they will be able to use on-site quickly in case of an emergency. You can also dial 065 without a SIM card. It's always good to have the name and number of a doctor who comes recommended, Dr. Grayeb is a popular pick for a general practitioner of expats.
Make sure you are fully covered by reading our full Digital Nomad Travel Insurance guide.
Jobs in Zihuatanejo
Finding a job as a non-national in Zihuatanejo can be difficult as industries are limited. It definitely helps to be bilingual, in which case you may be able to get a gig at one of the resort hotels or at a school to teach English. You can always ask around at the bars in town, but it is likely they will be fully staffed or not interested in hiring someone who isn't a local. 
There are volunteer opportunities as well as housesits here, so be sure to explore all your options. Check Workaway and Trusted House Sitters for some alternative avenues. These setups will often allow you to exchange work for other things, like a weekly meal stipend or a place to stay rent free – sometimes both. It's ideal to have these placements sorted out online and confirmed before you arrive. 
Think about what special skills you have to offer before coming. Can you teach those skills to others, for example instructing how to play an instrument or surf? If so, you can look into seeing if anyone is interested in a private tutor. English lessons are often good for this as well. If you have social media, marketing, or photography skills, ask around or post on group forums for the area to see if anyone is in need of your services. The community here is extremely kind, and you'll always find someone who is happy to help.
Check out our Digital Nomads Jobs Postings to find the best jobs available for Digital Nomads.
Nomad Friendly
Value for Money
Internet
Workspace
English
Food
Safety
Health
Transportation
Friendly
Quality of Living
Cost of Living Zihuatanejo
The expected cost of living here can depend entirely on how you wish to exist in the space. From my experience it can be quite easy to do on a budget, but if you wish to enjoy some of the finer things in life then it's easy to spend as well. 
A low-end budget should end up being around 18,000 pesos per month or 900 USD. If you have personal priorities that require you to spend on the high end, your cost of living can be closer to 55,300 pesos per month or 2,800 USD. 
Rent should set you back between 12,000 to 40,000 pesos a month depending on if you go for a budget studio or a nice villa. If you are renting your own space instead of staying in a hotel, you will probably need to pay utilities. Electricity can be expensive here, so often this will run at about 1,000 pesos per month. If you choose to get a SIM card as a backup to using Wi-Fi, it will be about 500 pesos a month depending on your plan, but this should be more than enough. 
Insurance will be between 30 USD to 150 USD per month depending on your plan. Drinks are fairly cheap here, so even if you plan on having a few beers a day or going on some big nights out over the weekend, it shouldn't add up to more than 2,500 pesos each month. Transportation, if you're using collectivos, won't be more than 500 pesos a month. If you have another vehicle (keep in mind gas is very expensive here) or if you are using taxis, it can be closer to 3,000 pesos.
An entertainment budget is always good to have for those times you need to treat yourself to some shopping, a beachfront massage, a night at the movies, or a day trip to explore the scenery. I would say give yourself around 800 pesos per month for this. 
Food costs can vary greatly. If you exist on some cheap street tacos and tortas here and there, plus shop at the local markets for your groceries to cook at home, you can save a lot of money and still enjoy the delicious dishes in the area. The market will provide everything you need at a great price – queso, meats, eggs, vegetables, fruits, beans, rice, etc. This should end up at about 1,250 pesos per month in this manner. 
However, if you find yourself at the seafront restaurants quite often, ordering their main meals of fresh fish dishes and you are grocery shopping for creature comforts from other western countries at the massive Mega Soriana (trust me when I say they sell everything you could ever want) then your food costs can quite easily be closer to 4,500 each month.