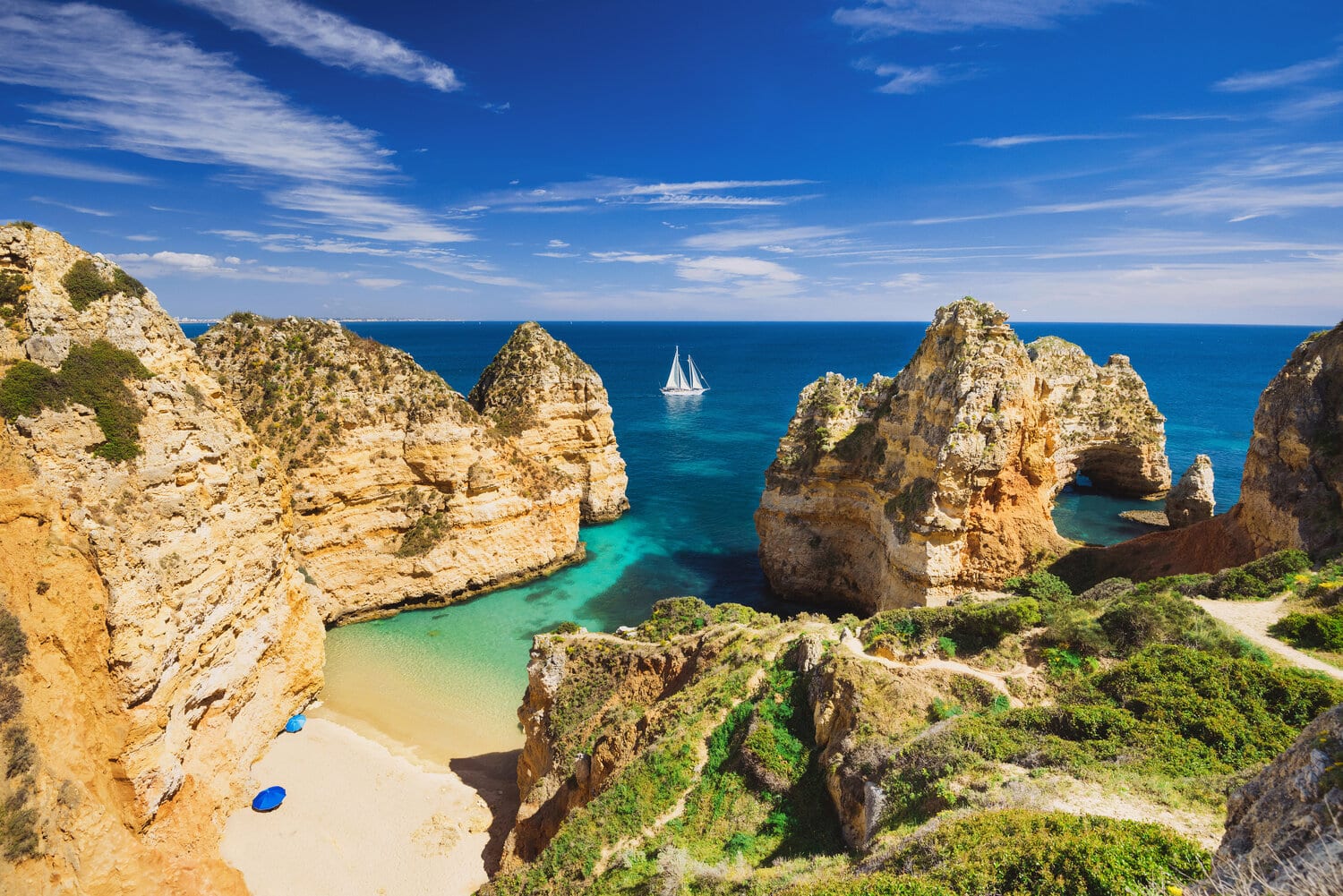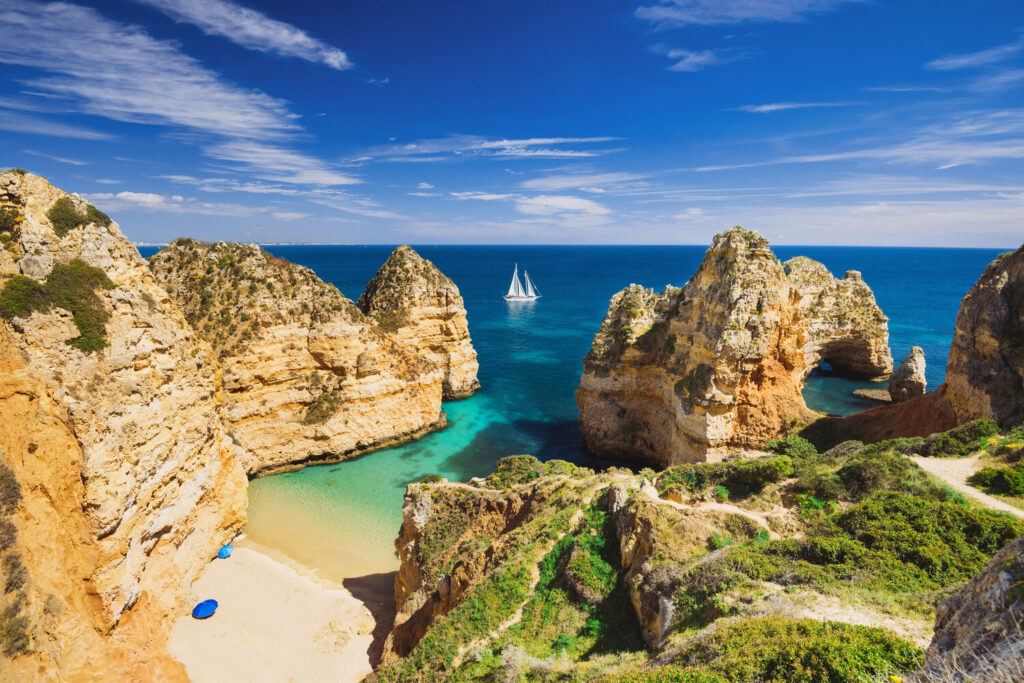 A Digital Nomad Guide to Algarve
The Algarve is a big area in the south of Portugal. It stretches along the coastline of the Atlantic over a distance of around 150 km. In the West is another 50 km of shoreline. The area shares a border with Spain in the east and the Atlantic in the west. It's just under 5000 square meters in size. 
Portugal has only one neighboring country: Spain. It's a medium-sized country in the southwest of the Iberian Peninsula. The country's capital is Lisbon. Portugal is part of the European Union as well as the monetary union. The country's currency is Euro.
The Algarve contains 16 municipalities of which the capital is Faro. This is also the city where the international airport is located.
The biggest economical activities of the Algarve are tourism, and the production of food such as seafood, fish, and fruits is also important. Tourists love the weather, nature, and cultural activities. The ex-pat community is expanding as many people are looking to relocate permanently to the Algarve. It's also a popular holiday destination among the Portuguese who are living in the Northern or interior part of the country. The number of permanent inhabitants of around 500000 doubles to over one million in summer due to the addition of tourists.
The Algarve has some remarkable beaches. In the natural park of Ria Formosa, you need to take a small boat to reach the beach which is divided over several islands. More to the west, close to Lagos, there are grottos made of limestone. Some of these grottos have beaches inside of them. These beaches can be reached with motorboats or by swimming for those that dare.
In the north lies the area of Monchique with forests which look as they come straight away out of fairy tales, and a mountain chain. The highest mountain there is Fóia at 902 meters high.
Nomad Friendly
Value for Money
Internet
Workspace
English
Food
Safety
Health
Transportation
Friendly
Quality of Living
Living in Algarve Overview
| | |
| --- | --- |
|  Meal, Inexpensive Restaurant | $11.35 |
| Domestic Beer (1 pint draught) | $2.04 |
| Cappuccino (regular) | $1.99 |
| Loaf of Fresh White Bread (1 lb) | $1.24 |
| Water (1.5 liter bottle) | $0.89 |
| One-way Ticket (Local Transport) | $2.10 |
| Basic Utilities (Monthly) | $143.31 |
| Internet | $37.84 |
| Fitness Club (Monthly) | $37.84 |
| Apartment (1 bedroom) in City Centre | $851.36 |
Currency: Indonesian rupiah (Rp)
[erw_exchange_rates_widget lg="en" tz="0″ fm="IDR" to="EUR,USD,GBP,AUD,JPY,RUB" st="primary" cd="" am="15000″][/erw_exchange_rates_widget]
ATMs
Max Withdrawal: Rp 3,000,000
Withdrawal Fee: Rp 30,000 – Rp 50,000
Use of Credit Cards: Mostly Cash
Digital Nomad Personal Experience in Algarve
I was very happy when I heard I would be sent to the Algarve for work. I imagined the region to be very green and looked forward to spending some time in nature. After the 8 months I spent there, that was indeed the aspect that stood out most to me. The northern part of the area was characterized by green and hills, while the south was more flat. I absolutely loved the coastline which I thought to be divided into 3 different parts with each its own features. The east with flat, wide stretched beaches which were perfect for sunbathing and swimming in the ocean. In the middle lies the nature reserve, Ria Formosa, a system of islands that are connected with the ocean. The west has a magnificent rocky coastline.
I was mostly working in the east and covered the area until the middle of the Algarve. I had an apartment in Spain, just over the border. It was a very modern, gated community with golf courses in the neighborhood. There was a small supermarket with some kind of small cafe attached to it, but I always preferred to drive down to the charming village of Ayamonte. The village square was so vivid in the evenings, with restaurants all around it. In the middle were always children playing, while the adults would exchange gossip on the benches or one of the terraces of the cafes.
The only thing I had some issues with (and still have) was the time difference between Spain and Portugal. As I was working in Portugal, I put my watch and phone on Portuguese time. However, when making plans with my colleagues in Spain, I was late a few times as I had the time wrong.
I loved how easily accessible everything was, and on the days off where I didn't have plans to meet up with others, I enjoyed taking my car and just drive around until I passed an interesting village. I found the freedom of discovering such places an exciting feeling.
Work in Algarve
Each village and city has at least a few places to work from. In the last few years, WiFi coverage has improved considerably. You'll be able to log on at restaurants and bars, but there's even free WiFi in some public areas such as beaches and parks. Some shopping malls also offer this free access, mostly in their food areas, so you can even work from there. Portugal is in the top 20 of countries with the fastest internet connections in the world so it's a great destination for remote workers.
Coworking spaces are popping up all over the Algarve, and not only in the bigger cities. New ones keep opening and are creating new places to work from. The below list contains some examples but there are more available.
Best Places to Work in Algarve
Cowork Aljezur
Cowork Aljezur: Aljezur is a village in the northwest of the Algarve. This small but cozy coworking place offers you a desk in a colorful environment with plants. You can choose between a pass for a half day (4 hours) for 8 USD or a full day pass (10 hours) for just over 14 USD. You can also check with them in case you want to book a longer period. Pre booking is always necessary. Cafes and restaurants are next door so you have a few options for lunch.
Alandra Square Coworking
Alandra Square Coworking: is a coworking space in the heart of Faro. You can choose between day passes for 9.75 USD or monthly membership from 87 to 122 USD. The price depends on how big you want your desk to be. There's a small lounge area where you can take your break while relaxing in a bean bag and watching TV.
Hub Ativo
Hub Ativo: this coworking place is located in Porimão. They rent out office spaces to companies but also have a coworking area with desks for remote workers. They have several options on memberships such as daily, weekly, or monthly. The working area is very clinical so you won't have any distractions while working.
Coworksurf
Coworksurf: this isn't just a coworking space but a coliving space too. In the guest house, they've arranged an area with desks, WiFi, and ergonomic chairs. The founders divide the name into 3 parts: Co for living with others, Work for the coworking area, and Surf for the surfing opportunities nearby. This place lies in the village of Sagres.
Mucancas
Mucancas: this coworking space is located in the historical center of Loulé. A castle wall from 1268 is incorporated into the building so it's truly historical. Coffee, tea, water, and a shower are included in the membership. One day costs just over 18 USD and one month just over 365 USD. There's no 24-hour access.
Coworker.com is a great search engine to look for coworking spaces. It lets you specify your search per city. You can also book directly through the website.
In case you prefer to work in a coffee shop, you have an even bigger amount of choice. The Algarve is filled with cute bakeries and great cafés. A few examples are below.
Al Gharb Coffee Roasters
Al Gharb Coffee Roasters: the word 'Al Gharb' was the name given by Arabs to the southern part of Portugal in the Middle ages. The shop sells specialty coffees but also brews them for their coffee shop. They have a garden that is perfect to work from in combination with the cakes and brunch on their menu.
Svitlana Cafe
Svitlana Cafe: this cafe is located in a small village on the border with Spain, called Vila Real de Santa António. You can work from here the whole day while indulging in breakfast, lunch, dinner, and scrumptious homemade cakes.
Other possibilities are: the IKEA Lounge Area in Loulé, Iguana Cafe in Albufeira, and Mar d'Estorias in Lagos.
Best Places to Live in Algarve
Best Neighbourhoods
Overall, the Algarve is a great destination from East to West. There are many great cities and areas to live in.
Faro
The first one is Faro, being the capital of the Algarve. There's a great combination between historical buildings and modern facilities. It's a big and lively city, where everything you need is close by. On the outside of the city lies the airport, and there's the big shopping mall called Forum.
Tavira
Tavira is located further to the east and is one of my favorites. It's a smaller city with winding streets made of cobblestones and filled with small houses, a beautiful park, and a shopping street. The Gilão river finds its way through the city to debouch in the Atlantic. Close to the city lies Tavira Gran – Plaza, the shopping mall.
Albufeira
Albufeira is the largest city of the Algarve, and also the most famous one. There are two different parts: the New Town with the Strip where the nightlife is located, and the Old Town where you'll find many restaurants and bars. These areas tend to get very crowded and loud during the high season, so it's better to look for a place to live further from the center. The beach of Albufeira, Praia da Falésia, is a famous, prize-winning beach with breathtaking limestone cliffs.
Vilamoura
Vilamoura is a more exclusive neighborhood not far from Albufeira. The harbor is filled with expensive yachts and you can visit one of the fancy beach clubs or the casino. Unsurprisingly, this is a relatively expensive neighborhood.
Portimão
Portimão: this place has grown from a fishing village into a city with over 55000 inhabitants. The city lies in the West of the Algarve. Characterizing are the big apartment blocks. One of the most famous beaches of the Algarve can be found here, the Praia da Rocha. The fortress Fortaleza de Santa Catarina de Ribamar was built on top of the cliff and overlooks the ocean, the river, and the city.
Lagos
Lagos: this city lies next to Portimão. It lies on the Bensafrim river and is visited by many tourists. The area has several interesting natural landmarks such as Ponta de Piedade, Bravura Dam, and a national forest. The city center is located close to the harbor and has a lovely square and lively shopping streets. Many digital nomads choose to live here even though housing costs more than in other cities.
Silves
Silves: a very beautiful town in the south of the Algarve. The first thing you'll notice is the impressive walls of the fortress on the hill. Due to the hilly landscape, there are small, steep streets to wander through while you discover the historical center. The new part of the village is mainly reserved for housing.
Loulé
Loulé: this village is located inland. Located on top of a hill, it provides some amazing views. The town is famous for its weekly market.
Monte Gordo
Monte Gordo: this is a small village in the east of the Algarve. Most foreigners living here are older people as the whole town and beach are flat and easily accessible. 
Vila Real de Santa António
Vila Real de Santa António: a small village on the border with Spain, along the Guadiana river. From here you can cross to Spain on a small ferry. The cozy city center has a shopping street and many restaurants and bars.
Find an Apartment in Algarve
Airbnb is very popular among digital nomads, so booking early is a must. Private rooms and rooms in hostels cost around 550 USD. Apartments are available between 1200 to 2500 USD per month. Prices vary a lot depending on the area.
Booking is another online and secure option that helps you to find guest houses, hostels, and apartments. For an apartment, you can count on at least a budget of 1000 USD. As this is about the minimum, you can expect a one-bedroom located a bit further away from the beach and city centers. 
A site specifically for digital nomads is Digitalnomads.pt. Apart from some general information, it also contains a search engine where you can search accommodations while filtering per city. The site has merged with Flatio, which you can follow on Facebook and Instagram to stay up to date with special offers. Apartments tend to be cheaper than on the other sites, so it's not a bad idea to follow them.
There are also some Facebook pages for digital nomads in the Algarve. Examples are Algarve Portugual Digital Nomad/Entrepreneur Conscious Community and Western Algarve Digital Nomads and Freelancers. On these, you can often find posts from people trying to rent out their place. Algarve Houses to Rent or Sell is also a great group to be a member of, this way you can stay informed about new listings.
Once you've found a place, it's not a bad idea to agree on just a one-month period to rent. This way, you are sure to have a place to stay, but can still try it out during that period and look around for another place in case you're not completely satisfied. At least you will be able to look around in a relaxed way.
Don't just agree on the rental price the owner suggests to you. Try to negotiate and bring the price down, especially when you plan on renting long-term.
Utilities, depending on how much you use, are at an average cost of 150 USD. In summer, you'll probably need AC, and in winter you'll need heating so there's no big difference between the seasons.
There are also several places that combine coliving with coworking. Coworksurf in Sagres is an example and so is A Good Place in Vale da Telha, the southwest of the Algarve. It's a villa which is used as a coliving space in summer, where you can also get your work done. In winter, they only offer the coworking part. You can rent for one to two weeks at 299 USD a week. A cleaning fee of 30.5 USD is extra. The place has two kitchens, a swimming pool, and a barbeque area so you'll have everything you need close by. The price is more expensive than an apartment but you'll have more space and it's a great way to meet new people. You can share grocery shopping with the other tenants and can work from home so you'll also be able to save on transportation and coworking spaces.
Cheap Places to Stay in Algarve
Dorothea's Little Room is a cozy, Portuguese-style private room in Faro. At this location, you're in the middle of the Algarve and close to the airport. There's also free WiFi, and the AC and heating are included, making it a good option for a longer stay. On top of this, breakfast is included as well. Don't expect any luxury but you get what you pay for. The monthly price is 550 USD. The WiFi isn't always very fast, so I recommend buying a SIM card. The guest house lies in a more remote area, but restaurants and one bus stop are within walking distance.
Dreams House Hostel is located very close to the city center of Faro and for 513 USD you'll get a bed in a dormitory. The hostel is clean, modern, and has everything to cover your basic needs. You can work from the terrace on the roof, or from the lounge. As you have a free WiFi connection in the entire hostel, you can save on costs by working from your new home. There's a dormitory for women only as well.
In the west, in the city of Lagos, lies Lagos Marina Guest House. A bed in a mixed dormitory will cost you 550 USD. The place is located close to the beach so in some rooms you'll have an ocean view. Most rooms have balconies, and there's also a shared terrace. The free WiFi allows you to get your work done without having to go outside.
These are only a few examples of great guesthouses and hostels that are available in the Algarve.
Algarve Visa
To enter Portugal, you should be in the possession of a passport or ID that is valid for another six months from the moment you enter the country.
Citizens of the EU can stay up to 90 days without a visa. There is also a list of countries that have a visa-free deal with Portugal. Citizens of countries such as Canada, the USA, Japan, Brazil, Korea, and Mexico don't need a visa to visit. Make sure not to exceed your stay. Non-European citizens should leave Europe after this period for another 90 days before they can enter the country again.
As Portugal is a part of the EU, citizens of other European countries can work during these 90 days and extend the visa if necessary.  In this case, you will have to register yourself as a resident at the SEF (Serviço de Estrangeiros e Fronteiras), the Portuguese immigration and border service agency. In the Algarve, their office is based in Faro.
The two most common visas for Portugal are the Schengen Visa or National Visa. There are three types of Schengen Visa:  airport transit, seasonal work, and short-term. This last visa is the one granting people to enter and stay up to 90 days per period of 180 days. There are two types of National Visa. The first allows a temporary stay for one year. This Visa is multi-entry and is given for reasons including work, study, and medical purposes. The second is the residency visa which is valid for 4 months and allows you to enter twice.
Both the short-term visa and airport visa cost 74 USD (60 EUR), the temporary-stay visa 92 USD (75 EUR), and the residency visa fee is 110 USD (90 EUR).
Culture and Food in Algarve
Most of the traditional dishes of the Algarve have something to do with fish and seafood but even for those who aren't a fan of the foods that come from the sea, there's something on the menu. There is, of course, an influence of the food from other parts of the country as well.
Portimão is known for the Sardinha Assada which are roasted sardines. They are either put in the oven or on the barbecue and are a typical summer dish. When you're in the area in August, you should pass by their sardine festival.
Pastéis de Nata are famous all over Portugal. They are individual tarts with a base of puff pastry filled with egg custard. The pastries were invented in the 17th century in a Catholic monastery and the recipe was sold when they closed. Nowadays, you can find them at almost every Portuguese bakery.
Aguardente de Medronhos or Medronho is a spirit made from the fruit of the medronho tree. The trees can be found in several places in Portugal, and in the Algarve, they're mostly found in the area of Monchique. The alcohol level of the drink is quite high and it's usually drunk neat.
Conquilhas à Algarvia is clams that come straight from the Atlantic. They are cooked with onion, garlic, and Portuguese sausage.
Dom Rodrigos are sweets that originate from Tavira. They are made from a combination of eggs, cinnamon, sugar, almonds, and fios de ovos (also called angel hair, these are egg yolks that are pulled into thin threads and then boiled in sugar syrup), and placed in colorful wrapping paper. They are great as a gift or souvenir to remember the Algarve by.
Cataplana de marisco or Seafood Cataplana combines different kinds of seafood in one dish. Standard are lobster, clams, and squid but other seafood can be added. The seafood is fried in a mixture of tomatoes, white wine, and herbs which serves as the sauce for the dish once it's served. The name cataplana comes from the dish which is used to make this style of food, and other cataplanas exist such as the ones with meat or fish.
Frango Piri Piri or Chicken Piri Piri is one of the most famous dishes of the Algarve. You'll find it in other places in Portugal too, but the dish originates from Guia, a village not far from Albufeira. The chicken is either marinated in a spicy mixture and then grilled, or grilled first and then covered with spicy sauce. The sauce consists of chili peppers and olive oil combined with several herbs and spices.
Due to the high amount of sunshine, there are also several vineyards in the Algarve and each region produces its own wine. Most of these are red but a small quantity of fresh white wine is also being produced. Even though the Algarve is not famous for its wine, it's definitely worth a try.
Apart from restaurants serving these traditional dishes, you'll find almost any cuisine available in the Algarve. From fast food to Chinese, to Indian and Marokkan, the choice is up to you.
Algarve Nightlife
The center of the Algarve's nightlife can be found in Albufeira. The city is flooded with young people of many nationalities coming to party all night, and often continuing during the day. Those that love to party and go on bar crawls should definitely visit this town. The newer part contains the so-called Strip, where bars and clubs are side by side, and the old part has bars and restaurants too so is also a great area to go out.
There are also nice clubs and lively bars in other towns and cities, but those that want to relax a bit as well and not be caught in the bustle and noise of partying youngsters could better avoid Albufeira.
In Albufeira, there are several Irish Pubs where you're able to enjoy a great selection of cold beers. An example is Sherry's bar. A famous cocktail bar is Matt's Bar. At the bar, you can try to ride the mechanical bull and enjoy happy hour. They also organize classes to learn how to mix cocktails and boat parties on Saturday evenings. Other cities with great nightlife are Vilamoura, Faro, and Portimão. In several bars, you'll find artists bringing live music, and in case you prefer to make your own music, you can visit one of the karaoke bars.
For those that prefer more traditional music, there are Fado performances. This Portuguese folk music has a kind of melancholic sound to it. Some evenings are combined with dinner while others are performed in special locations such as in churches. This last example gives a very beautiful sound and atmosphere to the music.
With that many beaches in the Algarve, you are sure to find a few places that organize great beach parties.  Nosolágua lies in the harbor of Portimão and offers great food, a laid-back vibe all day, and a breathtaking sunset.
People have to be over 18 to be served alcoholic drinks in Portugal. However, not all bars take this rule seriously.
Those that like to gamble can try their luck at the Vilamoura Casino. Aside from the tables and slot machines, there are several restaurants. There are often shows and events at this location.
In the Algarve and Spain, shopping centers are open in the evenings as well, and often until 10 PM. Just remember that all shops in Spain are closed on Sundays. I forgot a few times and drove all the way to the closest mall just to return empty-handed. The movie theaters are often within the shopping malls and stay open longer than the restaurants and shops. A ticket to a movie is cheaper in comparison to other European countries, and so are the snacks.
Some of the golf courses are also open in the evening. They offer twilight fees for those that wish to avoid the heat in the summer.
A mixture between art and entertainment is FIESA, just outside of Albufeira. Very talented sculptors have created a world of sand on this location which is open to visitors in the evening as well. As an extra, there are often events and performances.
Things to do in Algarve
It's safe to say the Algarve has everything. You'll find such an extensive offer of activities that you'll never be bored during your stay.
There are some unique historical and natural landmarks that shouldn't be missed, and several villages and cities that are worth a visit, even if it's only to wander through the small, cobblestoned streets or relax on a bench on one of the beautiful squares. Examples of these places are Tavira, Vila Real de Santa António, Lagos, and Silves.
Cape Saint Vincent

A must-see is the Cape Saint Vincent, which is the most southern point of the Iberian Peninsula and Europe. It was once thought this place was the end of the world and on windy days, it can still seem like it. Even on a day with clear skies, the waves crash on the rocks 75 meters below. There's a small building with a lighthouse and a cafe. You can imagine how amazing the view must be from there.

Ponta de Piedade

In the neighborhood of Lagos lies a rock formation called 'Ponta de Piedade'. From on top of the cliffs, you get a panoramic view of the formation and the ocean. A stairway has been built along the rocks, leading you down to the beach. Try to avoid visiting in summer as it gets really busy and people are even queuing up on the stairs. Try also to avoid a day with heavy rain as you'll not be able to see much.

Cave of Benagil

One of the most amazing activities I've done is a boat trip to the cave of Benagil. This rounded cave has an opening on top and a beach inside. The cave and other magnificent grottos lie in front of the coast of Lagos. There are several suppliers of boat trips of which some start in other villages. As I had a car, we drove up to Benagil and booked a trip on the beach there. This is a very popular place so if you don't want to risk having to wait, I advise you to pre-book a boat trip at an excursion office.

4×4 Trip

It also pays off to discover the north of the Algarve. With a trip in a 4×4, you'll be able to access the hills and unpaved roads. These organized trips usually take you to farms where you can taste and buy local products, and handicrafts such as basket weavers. You'll also come across beautiful fields filled with wildflowers, which lie in the northeastern areas of the Algarve.

Tuk-Tuk

A fun way of transportation is a Tuk-Tuk. Guided tours are available in several places but I particularly enjoyed the one in Tavira. We started at Cabanas de Tavira and followed the back road to the center of Tavira, and the small botanical garden close to the church. We even saw flamingos on the way. We topped off the experience with a boat trip through the Ria Formosa but these can also be booked separately. It was amazing to watch the sunset at this nature conservation.

Climb the Foia

In the northwest lies the area of Monchique. The village is one of the highest and most beautiful of the Algarve. Close to the village lies Caldes de Monchique, a natural spring that was discovered by the Romans. From here, you can walk through beautiful nature and even climb the Foia, the highest mountain of the Algarve.

Igreja do Carmo

A unique landmark lies in Faro. At the Igreja do Carmo, you'll find the Capela dos Ossos (the chapel of bones). As the name might suggest, this chapel is completely made of human bones. They once belonged to the monks that served in the church and that had died. As the cemeteries were overcrowded their bones were used to build this chapel. The bones and skulls are placed in such a way, that they also seem to be the decoration of the chapel. It's a bit of a creepy place with the skulls seeming to keep an eye on the visitors.

Castelo de Silves

The Castelo de Silves is one of the Algarve's castles that you can still visit. It was built by the Moors in the Middle ages and used to rule the entire region of the Algarve, and defend the important trading village of Silves. From the castle, you can look down at the village where you can also go to visit the Gothic cathedral.

Mercado Municipal de Loulé

There's another castle in Loulé but the village is mostly visited because of its market. On Saturdays, there is a gypsy market which is known as the biggest market of the Algarve. On this day but also on other days, you'll find the smaller Mercado Municipal de Loulé. This is a covered market selling products such as food, fabrics, and souvenirs.

Cycling and Walking

The Algarve is also the perfect place for activities such as cycling and walking, but with the ocean nearby there's also a variety of water activities. You can go diving, surfing, kite-surfing, snorkeling, or on boat trips. There are several boat trips where you go to look for wild dolphins. Those that suffer from seasickness and don't like rocky boat trips, can opt for a trip on the Guadiana river. These boats are quite big and let you enjoy the views of Spain on one side, and of Portugal on the other, while sailing on the calm water. The boats are equipped with a bar so it's the perfect surrounding to have a drink.

Extreme Activities

Daredevils can opt for more adventurous activities such as skydiving, bungee-jumping, and zip-lining. The zip-line is quite unique as you start in Spain and end up in Portugal only a few minutes later. While you slide over the Guadiana river at a speed up to 90 km, you're still able to take in the magnificent views of the area.

Shopping

Shopping is available all over the Algarve. You can head to one of the bigger malls or visit the shops within the villages and cities, so you can combine browsing the shops with sightseeing.
The Algarve is also a perfect starting point to visit Spain or other parts of Portugal. You'll find that trips to Seville and Lisbon are regularly organized.
Best Time to Visit Algarve
The warm weather is one of the reasons why the Algarve is such a popular holiday destination. It's open for tourists all year round and has 4 seasons. Thanks to its position in the south and the influence of the Atlantic, it has one of the most pleasant climates in Europe.
Summers are mostly hot and dry, and winters are often mild but with a considerable amount of rainfall. The wettest month is December, with between 20 to 25 days of rain. September to January tends to be the months with the most rainfall. Keep this in mind when you're planning on visiting during that period. Compared to other European countries, however, the amount of rain is still lower.
The more to the south of the region, the more hours of sun there are. So the beaches are the best place for sunbathers. August is the month with the most sunshine. This is also the month with the highest sea temperature, around 22 degrees Celsius. The Algarve is the region with the most sunshine in Europe.
The highest temperatures are measured in the eastern and middle parts of the region and decrease towards the West. The interior is approximately 5 degrees Celsius higher than the coastal area, and at Cape Saint Vincent it's roughly 10 degrees Celsius cooler than in other parts of the Algarve. The warmest month is July and the coldest is January. Temperatures vary from an average of 16 degrees Celsius in winter to up to 30 degrees Celsius in summer.
Algarve for Families
The level of education in the Algarve is good, and children can spend their complete school career in the region.
There are plenty of daycare options. Nurseries usually take in children between 4 months and 3 years of age, and pre-schools from 3 until 6 years old. Public pre-schooling is free, private ones charge up to 488 USD a month.
Compulsory education in Portugal is 12 years in total, from ages 6 to 18. Basic education is divided into three cycles which children attend between the ages of 6 to 15. The last three years are secondary education.
There's a large range of primary schools and secondary schools, and there are international schools as well. The Barlavento English School and Vale Verde International School are located in the west, close to Lagos. More to the middle and closer to Faro are the Vilamoura International School and The International School of the Algarve. In the eastern part is the Eastern Algarve International School of Tavira. All these schools follow the British National Curriculum. Some with minor adjustments to it. Public schooling is free while private schools have tuition. Secondary education is not free.
For higher education, there's the public university in Faro: The University of Algarve. It has a small branch in the west, in the city of Portimão. They have a wide variety of available fields of study.
There are many activities you can do with your children. Among the most popular are the water parks such as Aqualand and Slide & Splash. At one of the many adventure parks, your kids can climb in the high ropes and complete obstacle courses. At the Lagos Zoo, you can take your family to see a variety of animals. Zoomarine is a mix between a theme park, waterpark, and animal park. They also organize Zoo Marine Guardians and Sam's Club which are summer camps for children. 
There are also several boat trips. On the pirate ship, there's children's animation, but a grotto trip or a dolphin-watching trip is exciting as well. Other water activities such as sailing, stand-up paddle, and surfing are also available. And the beach is always a child-friendly option as well.
If you're looking for something a little less active, you can also take your children to one of the cultural locations such as the castle in Silves, Centro de Ciência Viva (an interactive museum with three locations), or Cape Saint Vincent.
Living in Algarve
Algarve Transportation
The Algarve is a highly developed area. Since 1960, many foreigners have found their way to the region so there was pressure to expand.
There is one highway running through the Algarve, the A22. It starts at the Guadiana International bridge which connects Portugal with Spain and almost leads all the way to the West. A road tax has to be paid on this highway, and this can be arranged automatically by a card that is put on the windshield of every vehicle. Each time the vehicle passes a registration point, the device will beep. The invoice is sent to the person the vehicle is registered to. There are also other options to pay the tax electronically such as prepaid cards or badges.
Most Portuguese people avoid the tax by avoiding the highway and using the regional roads. These aren't always in mint condition and are often crowded. Most of the time, the road only has one lane in each direction making it very hard to overtake a driver that is going very slow. The highway, however, is mostly empty, so a good option in case you're in a hurry.
If you want to rent a car, there are many agencies available. The most well-known are Europecar and Hertz. To rent a car for one month, prices start just under 2200 USD. There are smaller offices with cheaper options, but make sure they offer good insurance and breakdown service.
Public transportation is available all over the Algarve. It's cheap, clean, and punctual, though not the fastest way to get around. By train, you can cross the Algarve from West to East, and visit other cities in Portugal. By bus, you can take rides inside a city, or all over the region. Just like the train, you can connect to other cities in the country, and even cities in Spain. 
A bus ticket costs under 2 USD and is valid for 1 hour, while a day pass costs under 4 USD. An intercity train to Lisbon costs approximately 30 USD one way, and inside the Algarve, the prices depend on the distance you want to travel. From Faro to Lagos for example, you'll roughly pay 10 USD one way.
You can also move by bicycle. There are several shops in every city where you can rent one. Especially in summer, the weather is perfect for it, and the cycling paths are well-maintained. You can even hop over the border to Spain by taking the small ferry over the Guadiana river. You can rent a city bike for half a month for 200 USD. An e-bike is more expensive at roughly 450 USD per half month, but you'll be able to make longer trips with it.
Taxis are available and fairly easy to find. Inside of the city, the drivers should use their meter, while they'll calculate a bigger amount for longer distances. It's always best to agree on the price before you get in. It's common to pay a higher price at night than during the day. It's a habit to leave a tip for the driver which is around 10% of the total amount. You can also use Uber in the Algarve.
Fitness and Health
Those in the Algarve that want to stay fit and healthy have several choices. There are gyms all over the region so you'll have plenty of choices. Gyms often give you the choice between gym access only or a combination with classes. Memberships usually cost around 37 USD per month. Some gyms also offer day passes, perfect in case you're on a budget, and even people who only stay short-term won't have an excuse not to work out. Other activities that are often available at gyms are yoga, tai chi, combat classes, HIIT, Zumba, Pilates, step, body combat, etc. In other words: there's something for everyone.
As staying in good health is something that isn't only achieved by sports, some gyms and health clubs also offer nutritional advice. 
Thanks to the wide offer of clubs and activities they provide, you won't face any difficulties finding a place to work out that suits your needs. That there are a lot of options, also means you can compare prices and choose according to your budget.
The hills in the northern part are perfect to go hiking or cycling for those who like to be challenged a bit more. Those that prefer a more relaxing experience can stay closer to the ocean. There are many bicycle paths in great condition.
Golf is also a very popular sport in the Algarve. There are several beautiful courses on which golf championships are regularly hosted. The possibility to play with oceanviews makes the Algarve Europe's best golf destination.
Algarve People
With the Algarve being such a popular place among tourists and digital nomads, you'll have no issues meeting other people. You can opt for coliving or coworking or talk to people while you're out and about.
Talkalgarveforum.com is a site set up to share tips and get friendly advice, but also to get to know new people. In case you're having trouble making friends, this might be a way to meet people. There are also many Facebook pages and groups through which you can connect with other expats and digital nomads.
The expat communities often organize events and there are places run by foreigners to make it possible to meet each other. Examples are the Dutch snack bars or British supermarkets.
If the expat scene isn't what you're looking for you can connect with the Algarvians. As in many tourist destinations, the locals are very kind and friendly. Most of them work in hospitality and are very welcoming to tourists. The Algarvians are used to visitors from all over the world and are very open and sympathetic. They go out of their way to help others.
There's a difference between the Algarvians living in rural areas and those that live in the city. Citizens in smaller villages tend to question authority and find traditions very important. The citizens of the Algarve are also less rigid and conservative than the Portuguese living in the north of the country. Most of the Portuguese are convinced that they are living in the countries most beautiful city.
There's a different pace than in western Europe. Life moves slower, and there's less stress. Especially in the smaller villages in the north, where you'll mainly find people making their living on agriculture, you'll notice how they don't focus on the stressful things.
People also warmly greet each other, by giving each other hugs or kisses. They like to get together at cafes or on the benches on village squares to discuss the day or exchange gossip.
The Algarve is a mixture of new and modern facilities which are required by the membership of the EU, and old buildings and traditions which are important heritage. It's this balance that makes the Algarve such a wonderful place.
The main language is Portuguese but most of those who work in tourism, and the younger people speak English.
In terms of religion, 80% of the population belongs to the Roman Catholic Church. There has been a decline in church attendance over the last few years but many still get baptized and married in church. A small percentage of Anglicans, Muslims, Jewish, Buddhists, and Hindus are also present. All these other religions enjoy the freedom of worship.
Although the Algarve is a safe place to live and crime is relatively low, the biggest amount of reported crimes are pickpockets and bag snatchers. The thieves are often well trained and will target you in crowded places. Make sure to keep an eye on your valuables at all times.
Algarve Insurance and Medical Care
Portuguese healthcare has improved over the last decade. EU citizens visiting Portugal have the right to free healthcare in emergencies and pay a low rate in all other situations. For children under 18 and people over 65 healthcare is completely free. Those that are on a short visit, can just be asked to show their Europese Health Insurance Card at the hospital or the GP. Long-term visitors can get a medical card through their residency permit. 
Hospitals and clinics are either public or private. The private facilities are more modern but have higher rates. For a consultation, you'd pay around 25 USD in a public health care facility, while in a private one, you'd pay 60 USD, more than double. This price difference is one of the reasons many people lean towards public healthcare. A common disadvantage at public hospitals is, however, the low speed of treatment. Having to wait for medical investigations and some procedures can be aggravating. Public hospitals are often understaffed. It's therefore not a bad idea to have international health insurance and visit private hospitals.
Many doctors speak English, but not all of them. In case you don't speak Portuguese, it's not a bad idea to take someone with you that does.
It's preferred to first visit a healthcare clinic before going to a hospital. In urgent situations, this rule, of course, doesn't apply.
Every village or city has one or more pharmacies. They tend to close for a few hours at lunchtime between 1 PM and 3 PM. Most medication is available with or without prescription, only gets considerably more expensive when you don't have one.
Make sure you are fully covered by reading our full Digital Nomad Travel Insurance guide.
Jobs in Algarve
Unsurprisingly, most job vacancies are in tourism or tourism-related companies. Hotels, car rental businesses, and excursion companies are some examples of places where you could go when looking for a job. As always in tourism, the more languages you speak, the higher your chance will be to find something. Make sure you have an up-to-date CV and print out some copies to pass out while you visit some of these places in person. It's always good to leave a personal impression. Salaries in the Algarve are relatively low, especially in the tourism business.
Portuguese companies are hiring as well, but bear in mind they'll mostly require a certain level of the Portuguese language. English schools might only require a native level of English so it's worth a try to contact them. 
You'll also be able to find a lot online. Linkedin is a great source and tool to network, so your profile should be complemented with all recent information. You can also use search engines and look on forums such as Expat.com, and Algarve-jobs.com.
It's not very easy to find a job, so my advice is to be well prepared and persistent. The unemployment rate in the Algarve is high so the competition is high. If you can't speak Portuguese, now is the time to start learning. Make sure all your information is up to date, and try to visit employers in person if you can. Take any job you can so you can build up experience to reach your dream job.
Check out our Digital Nomads Jobs Postings to find the best jobs available for Digital Nomads.
Nomad Friendly
Value for Money
Internet
Workspace
English
Food
Safety
Health
Transportation
Friendly
Quality of Living
Cost of Living Algarve
The expected cost of living depends on the style of life you want to have.
The biggest part of your budget will go to monthly rent. This cost is relatively high, especially in more expensive areas. In case you want to decrease costs, you can look for a cheaper area or smaller place.
You can save costs on gym memberships by choosing one where you only have access in the afternoon. Another option is to use day access passes in case you don't go often. There's no need to pay for a monthly membership if you only go three times a month.
Public healthcare comes at a lower price, so you don't necessarily need insurance. However, it's always better to be safe than sound when it comes to your health, so I wouldn't advise against international insurance.
There are many different supermarkets in the Algarve. Some of them are a bit less expensive, such as Aldi and Lidl, and I found grocery shopping just over the border at the Spanish supermarket Dia to be even less expensive.
For transportation, it's possible to use public transport only which is widely available and well arranged. If you do need a car, you can save money by staying off the highway.
In short, the Algarve is a great place for those digital nomads that prefer to stay in a European country. The Algarve is one of the sunniest and cheapest on the continent. The versatile landscape and many activities offer the perfect opportunity to relax after work.